Cold calling is an age-old sales strategy that helps businesses turn prospects into leads and customers. With the advent of the internet, digital marketing, and social media, there's been less focus on traditional marketing channels.
But even in 2023, cold calling and other tried and true methods bring organizations billions of dollars in revenue each year. Broadcasting, print, direct mail, and telemarketing are still worthwhile marketing, advertising, and sales strategies.
Cold calling is a sales staple, even today. SDRs and sales reps must be able to make outbound calls and answer phone calls from prospects and leads. It's a necessary skill set, and it isn't easy—you need the right game plan.
This article will discuss the best times for cold calling. More specifically, we'll cover the following topics:
Does the time you call really matter?
Best times to call for the most impact
Frequently asked questions
Let's get started.
Quick Links:
Does the Time You Call Really Matter?
Yes, calling at the right time matters. The more ideal the time is that you call, the greater your answer rate will be. A higher answer rate will naturally increase sales conversations and opportunities. More connections equal more sales-qualified leads (SQLs) and more closes.
If you call too early, your contact might still be asleep or on their way to work. Even if they're already at work, they'll probably spend the first hour of the day prioritizing tasks and responding to emails. This is even more probable if it's Monday.
If you call too late, likely, your contact won't answer. Their mind is probably off work and onto their personal life. Chances are they've got their partner and potentially a family at the forefront of their list of priorities. When the workday is over, most people go grocery shopping, make dinner, and spend time with people close to them.
It's best to call prospects and leads when they're most likely at work.
SDRs and sales reps should call their strongest prospects and leads at the right time when engagement is highest. Generally speaking, that's Tuesday, Wednesday, or Thursday—late morning or late afternoon.
Fortunately, sales sequencing technology has made it easy to schedule discovery calls. You can effortlessly plan your outbound telemarketing efforts while making them as effective as possible.
Best Times for Cold Calling to Make an Impact
When determining the best time for cold calling, it's important to consider both the ideal time of day and the day of the week.
The best day of the week and time of day for cold calling can be found below. We'll also discuss the worst time of day to make a sales call.
Best Day of the Week for Cold Calling
According to all the available research, Tuesday, Wednesday, and Thursday are the best days of the week for cold calling.
CallHippo conducted a 30-week study of 15,800 call attempts from 1,200+ clients in over 15 countries. It looked at which work weekdays were optimal for conversations. The results, listed from best to worst, were as follows:
Wednesday (195 conversations)
Thursday (135 conversations)
Tuesday (95 conversations)
Monday (90 conversations)
Friday (60 conversations)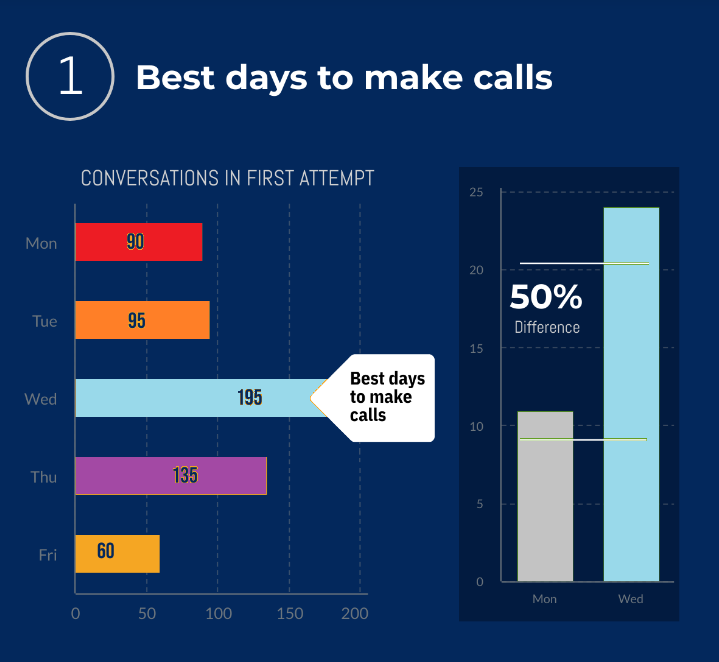 Image Source: CallHippo
Another study from Yesware analyzed over 25,000 calls and found that Tuesday and Thursday had the most phone calls that lasted over five minutes. InsightSquared also tracked thousands of calls to determine the best time to cold call. Its results showed Tuesday to have the highest connect rate at 10%.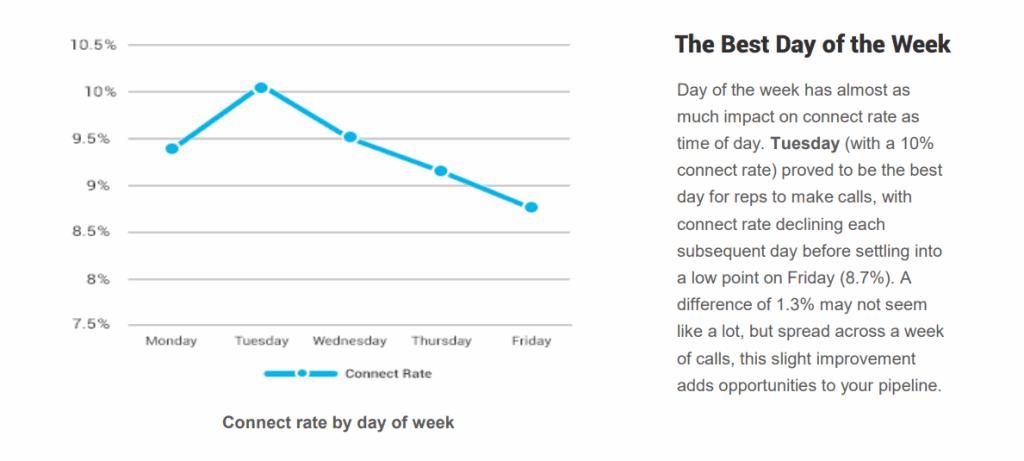 Image Source: InsightSquared
A recent, massive study from InsideSales collected three years of data and analyzed 100,000 call attempts. It found Thursday to be the best day to cold call, followed closely by Wednesday.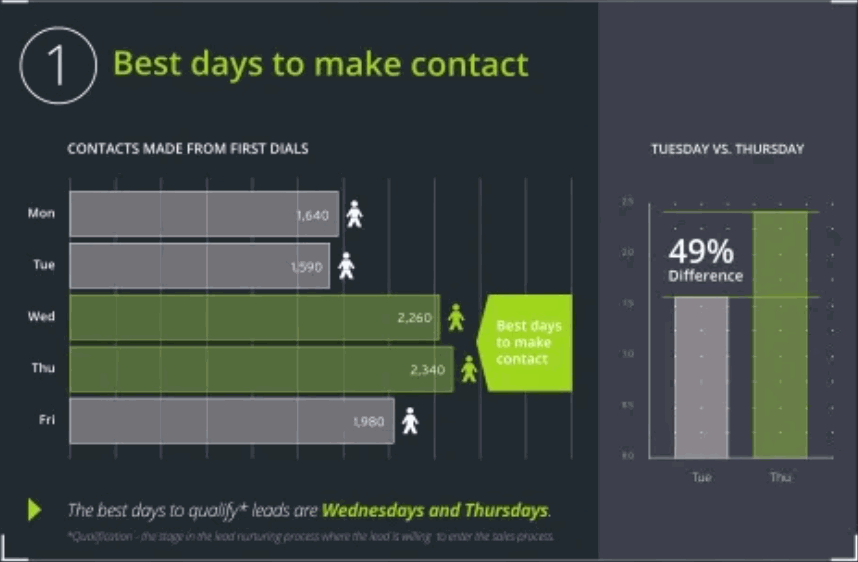 Image Source: InsideSales
In summary, here are the best days for cold calling according to these four studies:
CallHippo: Wednesday
Yesware: Tuesday and Thursday
InsightSquared: Tuesday
InsideSales: Thursday
The results are clear: The best days to cold call are either Tuesday, Wednesday, or Thursday.
The days you should avoid most are Saturday and Sunday. Weekends are when most prospects and leads are busy with their personal life and not focused on work.
Monday and Friday should also be avoided if possible. The first day of the work week is generally spent responding to emails, attending meetings, and dealing with pressing tasks. Your prospects are likely to prioritize their workflows and deliverables.
Friday is too close to the weekend. Many employees mentally "check out" after a long work week and are thinking about their weekend plans.
Best Time of Day for Cold Calling
Based on available studies, there are two ideal time windows for cold calling:
Late morning (10 AM to 12 PM)
Late afternoon (2 PM to 5 PM)
The CallHippo study mentioned above also uncovered the best time of day to cold call. It concluded the following:
Best time: 4 PM to 5 PM
Second-best time: 11 AM to 12 PM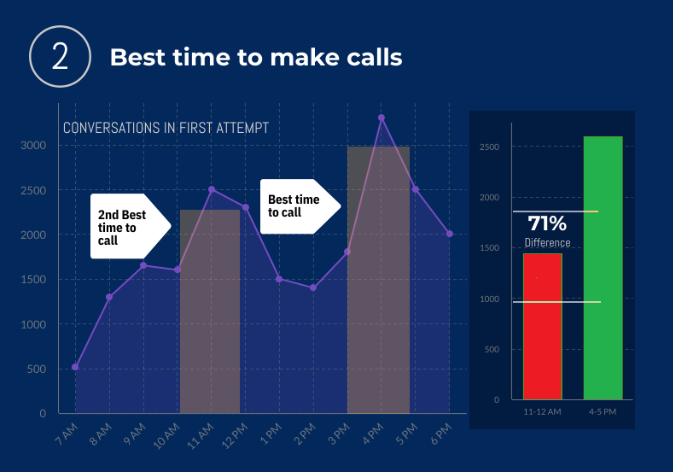 Image Source: CallHippo
InsightSquared's research came to a similar conclusion. It found that 10 AM to 11 AM was the time of day with the highest connect rate, with the rate remaining steady until 4 PM.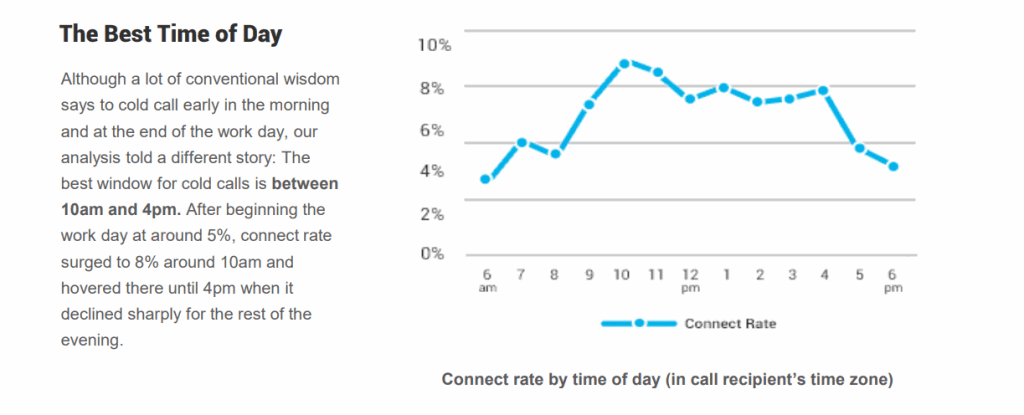 Image Source: InsightSquared
The same three-year, 100,000 call attempt study from InsideSales also looked at the best time of day to make contact. They found 4 PM to 5 PM to be the most ideal time to call and 8 AM the second-best time.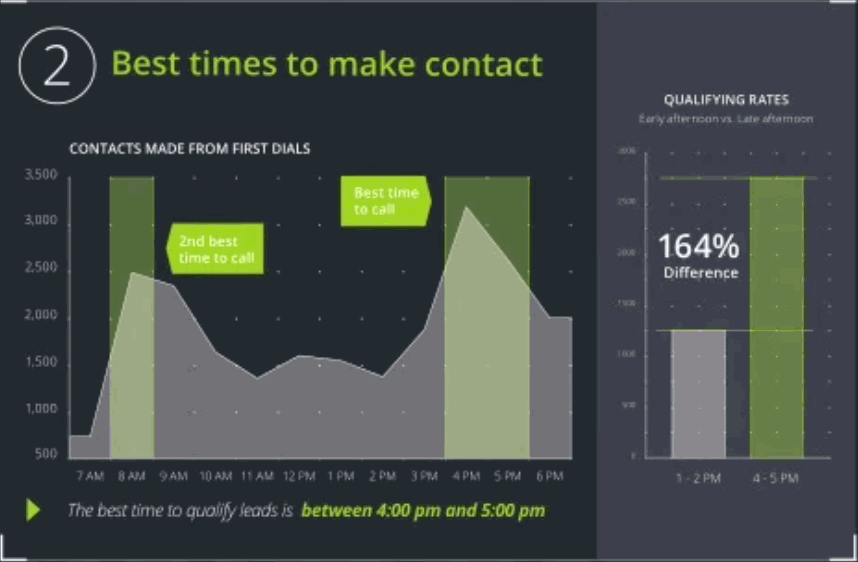 Image Source: InsideSales
Revenue.io also conducted a study on the topic. The company's senior director of RevOps looked at connect rates over 90 days. They concluded that 4 PM to 5 PM had the best results, followed by 3 PM to 4 PM and 5 PM to 6 PM.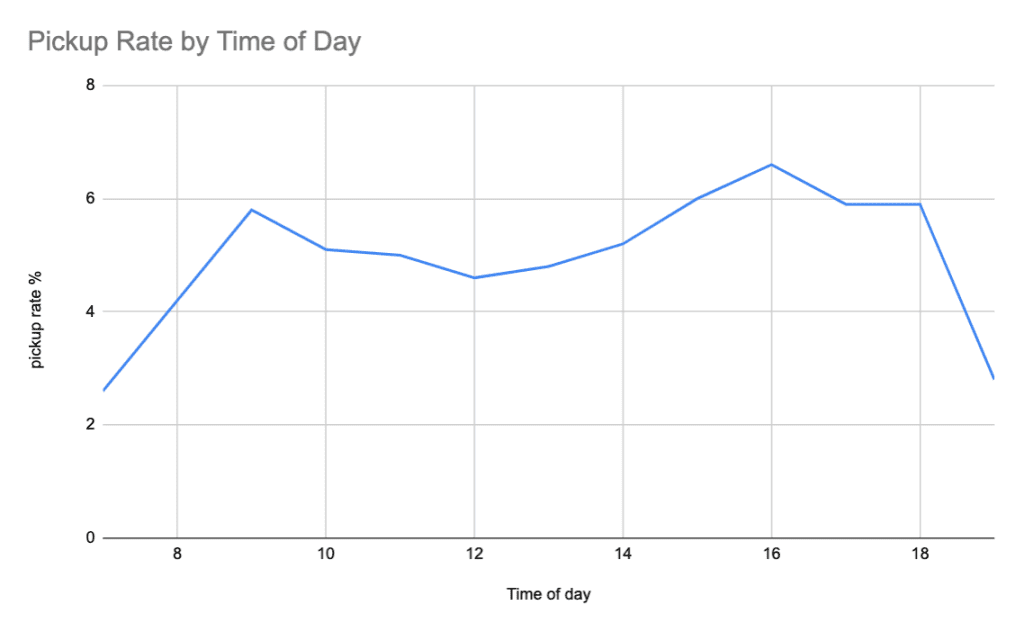 Image Source: Revenue.io
Averaging these four studies creates a general pattern:
CallHippo: 4 PM to 5 PM
InsightSquared: 10 PM to 11 PM
InsideSales: 4 PM to 5 PM
Revenue.io: 4 PM to 5 PM
Late afternoons consistently have the best connect rates in most studies conducted. Late mornings are also a good time for cold calling. Consider that your company's results will vary depending on your type of business and industry. Be sure to track your own results so that you can adjust your company's technique as needed.
Worst Time of Day to Make a Sales Call
The worst time of day to make a sales call is early in the morning, during lunchtime, and after work. Your prospects and leads will be too busy attending to personal and work-related affairs and will be less likely to answer the phone.
The worst days for cold calling are Saturday, Sunday, and to a lesser extent, Monday and Friday. The weekend is when employees live their personal lives, not thinking about work. Monday and Friday each have their concerns we should discuss.
Monday is the first day of the working week, and because of this, it'll be the busiest. Your prospects and leads will respond to emails, attend meetings, and deal with urgent tasks and workflows.
Friday is too close to the weekend for it to be an effective day to cold call. After a hard week of work, your prospects and leads will have their minds on the weekend. They've probably got plans which start as early as Friday night.
Don't complicate things: avoid calling on Saturday, Sunday, Monday, and Friday.
Tips for Making Your Cold Calls Count
Cold calling at the right time will improve your connect rate and, therefore, your close rate. It'll lead to more prospects turning into leads and then confirmed sales. But timing isn't everything. Several factors are at play during a successful call.
Below are four tips that can make your cold calls more effective.
Reduce Lead Response Time
The quicker you respond to leads, the higher your conversion rates will be. Research from CallHippo has shown that connect and qualification rates decrease when lead response time increases. In fact, after the first hour, there's an 8x decrease in connect rate.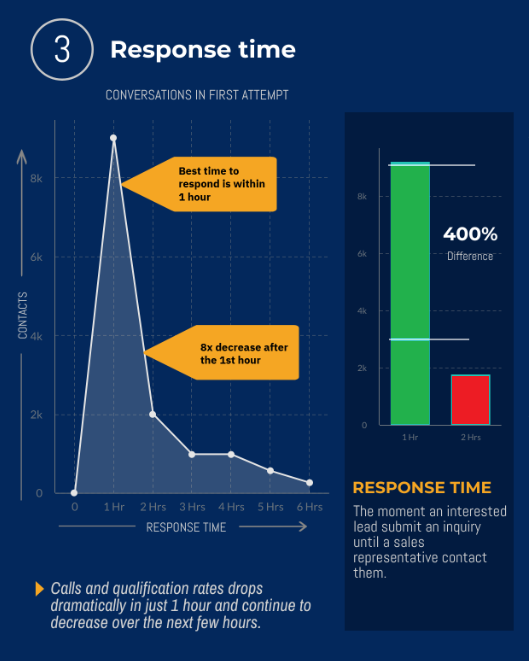 Image Source: CallHippo
Lead response time is crucial; your SDRs and sales reps must respond quickly to your prospects and leads. Businesses that respond within five minutes have a 100x greater chance to connect than those that take more than an hour.
Some studies Thame looked even deeper; companies that respond within one minute increase their chances of conversion by 400%. Consider that 63% of organizations don't respond within the first hour. That's a shocking number in terms of missed opportunities.
Responding promptly increases your chances of answers, qualifications, and sales success. You'll also improve customer satisfaction, which has been shown to play a vital part in the buying experience.
Be Persistent
Salespeople need to be persistent and make follow-up calls. Most sales reps stop following up after calling prospects three times, but research shows that reaching out five times increases close rates by 70%.
Research from CallHippo has determined that you should call at least six times. You can easily double your connect rate by simply making a few extra calls.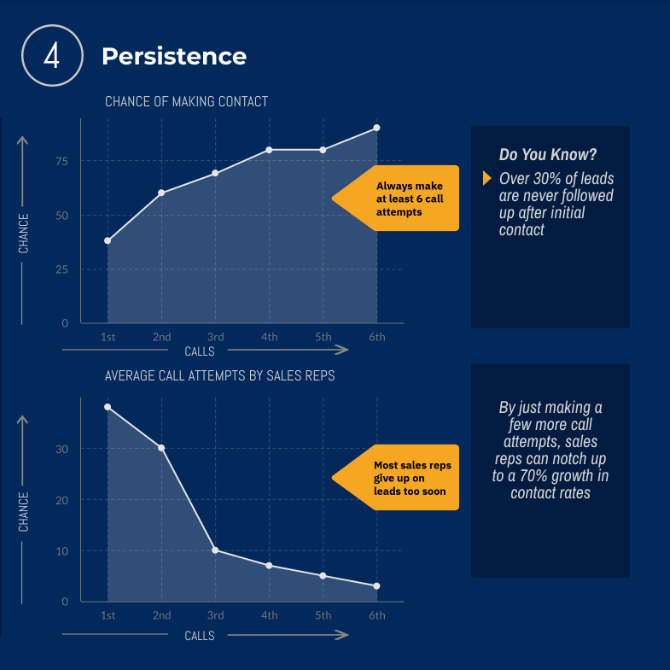 Image Source: CallHippo
Persistent follow-up can make a huge difference. What´s shocking is that nearly half of salespeople only make one call to follow up. An extra effort from your sales team can put your company ahead of nearly half of the competition.
Watch Your Tone
A salesperson's tone of voice can greatly influence the success of cold-calling efforts. Even if you have the perfect cold calling script, it can all go horribly wrong if the tone is off. Remember: It's not just what you say but how you say it. Voice modulation should be a priority for all sales reps.
Automate Your Cold Calls
Back in the day, sales reps had to manually dial the phone number of each prospect and lead. This was very time-consuming, especially when working through huge contact lists. Today, outbound auto-dialers have made this practice obsolete.
Automating your cold calls increases your sales reps' productivity. They'll be able to connect more calls and gain more leads for a more successful campaign.
FAQs About Best Times for Cold Calling
Do you have any unanswered questions? Here are some FAQs:
Is cold calling still effective?
Yes, cold calling is still effective. The digital age has changed marketing and sales, but the telephone remains a profitable channel. B2B lead generation tools have made cold calling more effective, and high-quality contact databases can ensure your campaigns are targeted.
Is 7 AM too early to cold call?
Yes, 7 AM is too early to cold call. Research shows that the best times of the day to cold call are late morning and late afternoon. This correlates with 10 AM to 11 AM and 4 PM to 5 PM. Seven AM is too early because workers are still waking up, getting ready, and commuting to the office.
Are Fridays a good day to cold call?
Fridays are not a good day to cold call. Research shows that the best days of the week for cold call days are Tuesdays, Wednesdays, and Thursdays. Fridays are too close to weekends; workers aren't keen to add more to their plates after a long work week. 
What You Need to Remember About the Best Times for Cold Calling
Cold calling is a timeless strategy for sales teams that want to find, nurture, qualify, and close more prospects. Even in our digital-centric world, picking up the phone and dialing can be the best way to close a potential sale.
Bonus: Check out some cold-calling memes and send them to your cold calls team.
Cold calling requires a well-thought-out approach. It's essential to have a game plan that combines the product or service, the right script, and the right timing. When you call a prospect or lead at the most appropriate time, you'll increase your chances of connecting, qualifying, and closing.