Every day, your sales team members need to make important decisions. For instance, your product team must make various design choices, while your marketing and sales departments must choose how to interact with your existing and potential customers. These decisions need to be informed by a detailed and accurate customer profile. If you can create an effective customer profile, your teams will find it easier to make the right choices at the right times.
However, crafting a great customer profile is an art.
In this piece, we'll show you how to create a customer profile by covering the following sections:
The reasons why customer profiles are important
The steps you should follow to create customer profiles
Examples of customer profiles you can use for inspiration
Templates for customer profiles you can use to get started today
The best tools to use for customer profiles
Let's get started. You can create a truly amazing customer profile today!
What Is a Customer Profile (and Why Should You Use One)?
Essentially, a customer profile is a description of your groups of customers. These rich profiles include details of key characteristics, such as:
Income
Location
Business size
Purchasing preferences
Interests
These customer profiles help you build and share clearer pictures of your ideal customers.
Here are the key ways these profiles can benefit your business.
Boost your marketing results.
A Customer profile can make it much easier for your marketing team to hone in on the appropriate prospects. Marketing professionals can use rich customer profiles to guide their messaging and configure various campaigns.
Identify valuable opportunities.
To maximize the impact of your sales team's impact, you must take the time to sort through your fresh leads and move the most valuable opportunities through your sales pipeline. Customer profiles can expedite this sales process and make it more accurate.
Address your prospect needs.
The best salespeople can build strong ties with their prospects and understand their pain points. Your salespeople can be even more effective with a clear understanding of your customer profile.
Harmonize your customer experience.
It's critical for each of your customers to have a smooth experience throughout their journey with your business. If all your team members are united in their understanding of your customer, it will be easier for them to deliver that experience consistently.
How to Create a Customer Profile (Step by Step)
Now that we have a clearer idea of why customer profiles are important, let's dive into the step-by-step process you should follow to create them.
1. Audit the way your product or service is used.
First things first: It's important for you to start the process by auditing the exact ways your product or service is used (and by whom).
You'll want to understand your product or service intricately, then use this insight to start building more practical information. Here's a look at the information sources you might use as part of this audit.
Data you've collected over the years
For instance, you'll be able to glean a lot about user intent and preferences if you operate a SaaS platform.
Information from your sales department
You'll need to dig into your CRM and collect qualitative information to understand who purchases your product and why.
Insight from your marketing department
You should dig into data to understand who's interested in your product and ways to connect with them.
Once you have this high-level understanding, some patterns will naturally start emerging. For instance, you might find that businesses of a particular size use your product/service the most or that most of your users are in one particular location.
2. Connect with your customers.
Once you have a series of assumptions and a strong foundation, you'll want to connect with your customers and get their first-hand insights. These insights can help you shape your strategy and better understand your customers.
Here are a few techniques you can use to collect this insight:
Create and dispatch surveys while using a platform like SurveyMonkey.
These tools can help you collect quantifiable data, which you can sort through and use to make data-backed decisions.
Coordinate 1-1 interviews.
If you're unsure about the way your ideal customers perceive your product/service, you could coordinate these sessions to develop a keener understanding.
If you want to collect detailed feedback, you might decide to dispatch surveys and offer incentives for completion. This technique will help you collect more detailed feedback.
These steps can help you connect with your customers and understand whether you're building an accurate customer profile.
3. Fill out your customer profiles.
Now that you've collected lots of information during the last two steps, it's time to put your findings to work and create your customers' profiles.
To effectively accomplish this goal, you'll want to follow these sub-steps:
Collate your findings.
Collect all of your data in one place, then sort through it. This sub-step will make it much easier for you to uncover patterns and key insights.
Create the first draft.
Now that your findings are clearer, you'll need to create a great first draft. In a moment, we're going to offer you a suite of examples and customer profile templates you can use for inspiration.
Collect feedback from your team.
To make sure your customer profile is accurate and useful, it's important that you share them with the rest of your team and collect their feedback. For instance, you should communicate with sales and marketing to make sure your customer profile is accurate.
4. Use your customer profiles.
Now that you've created your customer profile and shared them with the rest of your team, it's time to put them to use.
You should accomplish this goal by outlining a trial period for your customer profile. For instance, your teams could use your customer profile for a month and regularly assess whether they work.
At the end of the one-month trial period, you should collect feedback from all of your key stakeholders. Then you should revise your customer profile in light of this valuable feedback. This process will help to refine and polish your customer profile to reflect actual use.
5. Maintain your customer profiles.
By now, you'll have a practical customer profile you can use to guide your sales and marketing activities.
But it's important for you to stay on top of them and ensure that your customer profile reflects reality. Here are a few techniques you can use to make sure you regularly maintain your customer profiles:
Schedule a regular time to revise your customer profiles.
Make sure you incorporate new insights from your sales team.
Use your marketing to monitor any changes or developments constantly.
By using these techniques, you'll be sure to benefit from a useful customer profile.
5 Examples of Customer Profiles That Will Inspire You
Wondering exactly what a good customer profile might look like? Here's an example of five great customer profiles you can use for inspiration:
1. Five Abilities – Rick Wong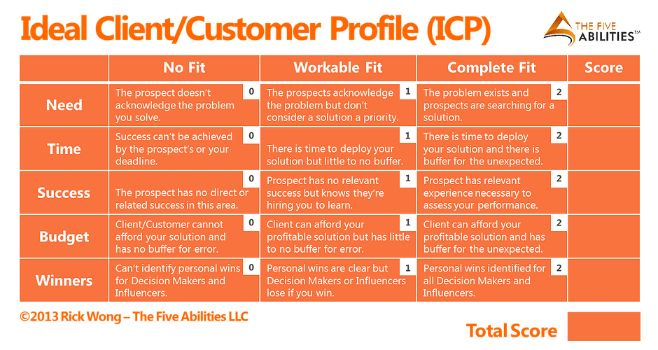 This example of an ideal customer profile from Rick Wong shows a great way to determine whether a prospect is viable. This system uses five key criteria to assess each prospect or group.
Each criterion has three possible outcomes, each of which has a score. You should go through each section and attribute a score to your customer in each category. By the end, you'll arrive at a final score, which you can use to rank and sort your customers.
For instance, you might decide that any customer with a score above six is considered ideal. This system will give you a fast, rough way to quickly sort through a high volume of prospects.
2. Infrastructure Group LLC – Ideal Customer Breakdown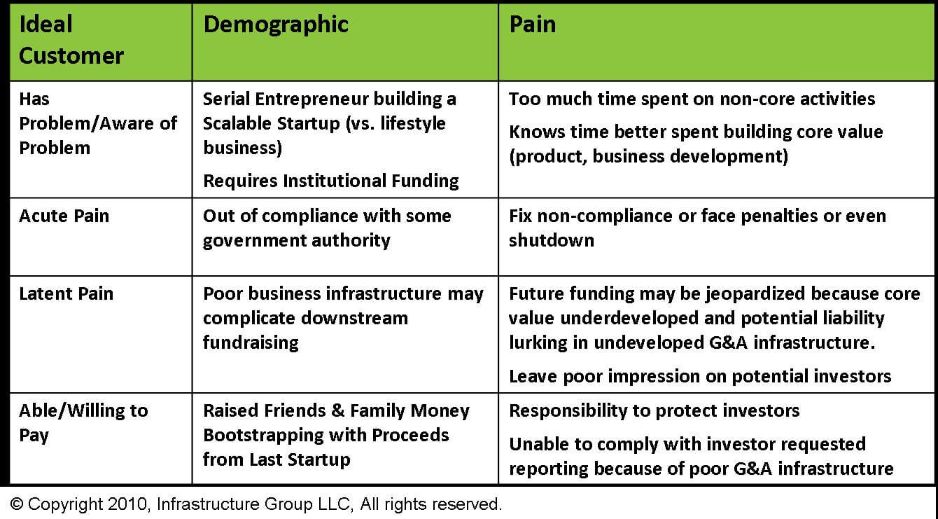 This example breaks down your customers according to the severity of their pain points. Again, each group is further broken down into demographic groups for the teams within your business to paint a clearer mental picture.
This particular example places a strong emphasis on trying to understand the pain points and perspectives of customers. This great lesson illustrates how important it is to understand that your customers have particular frustrations or pain points (and whether you can serve them).
3. ringDNA – Buyer Personas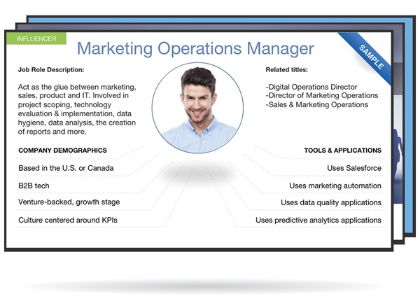 This customer profile example from ringDNA shows us a more traditional buyer persona. In this example, this business has provided a helpful image to help salespeople visualize who they're targeting.
This profile also has a host of useful demographic and firmographic information. So it paints a more complete image and answers key questions your team members might have about their prospects and customers.
Since this example focuses on tools and applications, it is particularly helpful for SaaS sales. Specifically, this feature can help these businesses to gauge whether their solution will fit alongside the customer's existing tech stack.
4. HubSpot – Distinct Groups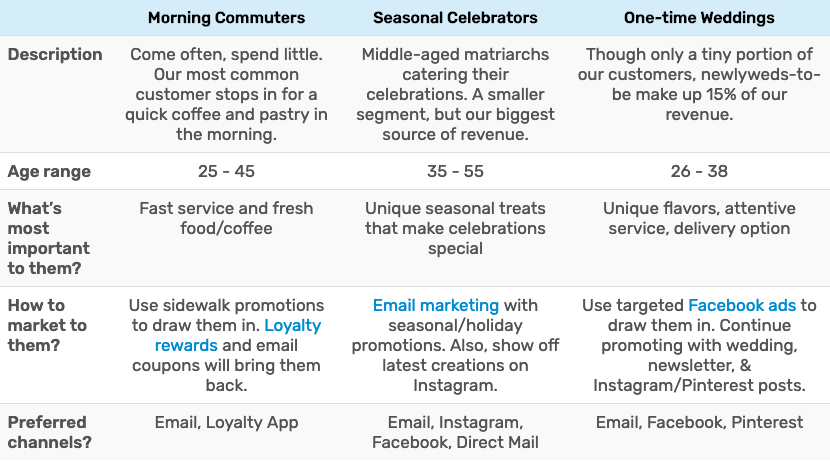 In this example from HubSpot, it's great to see how this fictional business used the same table to divide its ideal customers into three distinct groups. This layout makes it easy to compare the different profiles.
This type of table is very useful if you have multiple customer profiles. Again, their profiles are broken up into a few different areas, so you can better understand your customers and their preferences in a few areas.
This nice, simple example also offers actionable insights. By using the information in this table, you'll be able to make practical decisions about marketing and sales.
5. Business 2 Community – Ideal Customer Profiles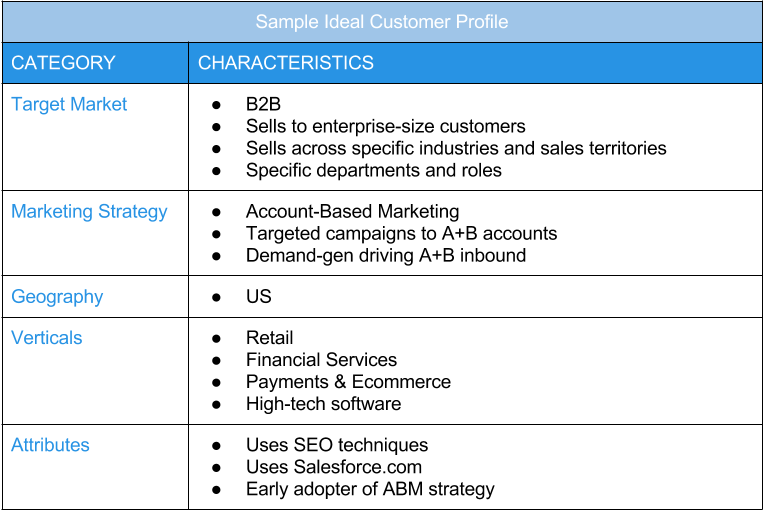 This great customer-profile example comes from the Business 2 Community. It breaks its customer profile into five key areas, which should provide your teams with all the information they need to get started.
After you read over this example, you can see how easy it is to replicate it at scale. For instance, if you have a series of distinct customer groups, you'd be able to quickly create different profiles that will guide the activities of your team members.
7 Customer Profile Templates to Get Started Today
Now that we have a better idea of your customer profile, let's look through seven awesome customer profiles templates you can use to get started. You'll find a link and description for each template. So you can choose the best option for you and get started immediately.
1. Customer Profile Template – Demand Metric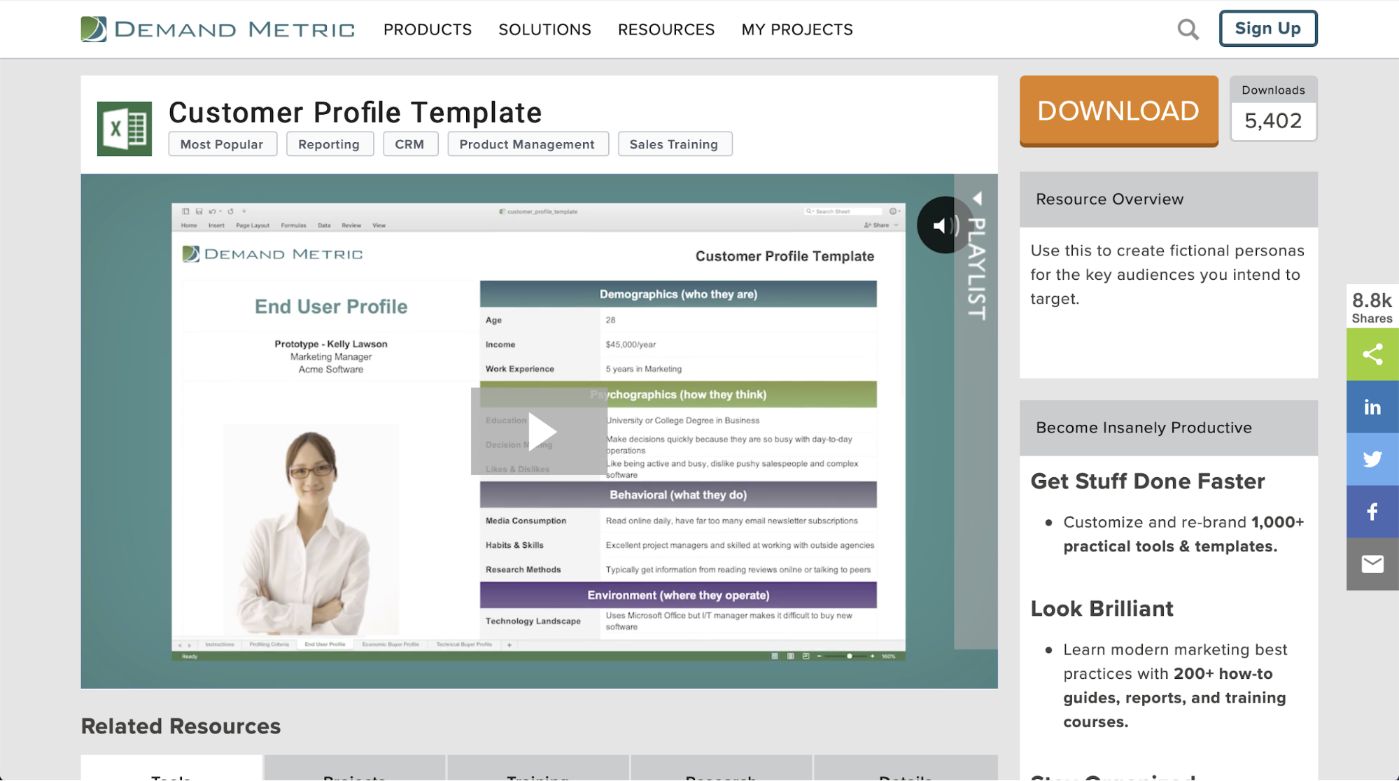 This great customer profile template from Demand Metric makes it simple for you to put together buyer profiles in Excel. If you invest a short amount of time, you'll be able to create attractive, data-driven profiles that drive value across your business.
2. Aeroleads – Customer Profile Template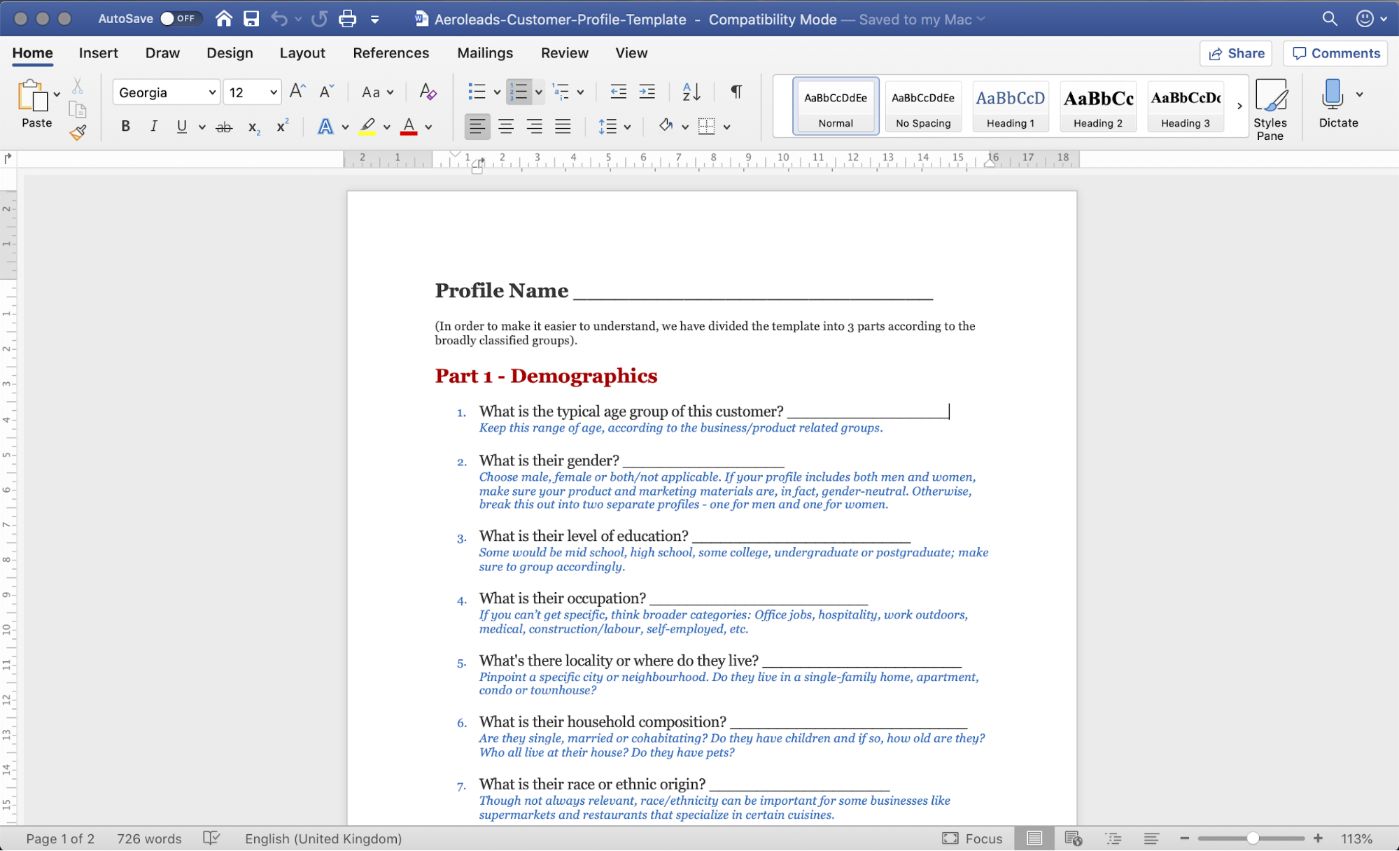 This awesome customer profile template from aeroleads can help you create a detailed and insightful customer profile that answers important questions.
This template will provide you with a series of questions you can use to build a clearer picture of your customers and the ways you can better serve them. It's broken down into three key sections to build a rich profile of your customers.
3. Fit Small Business – Profile Your Customers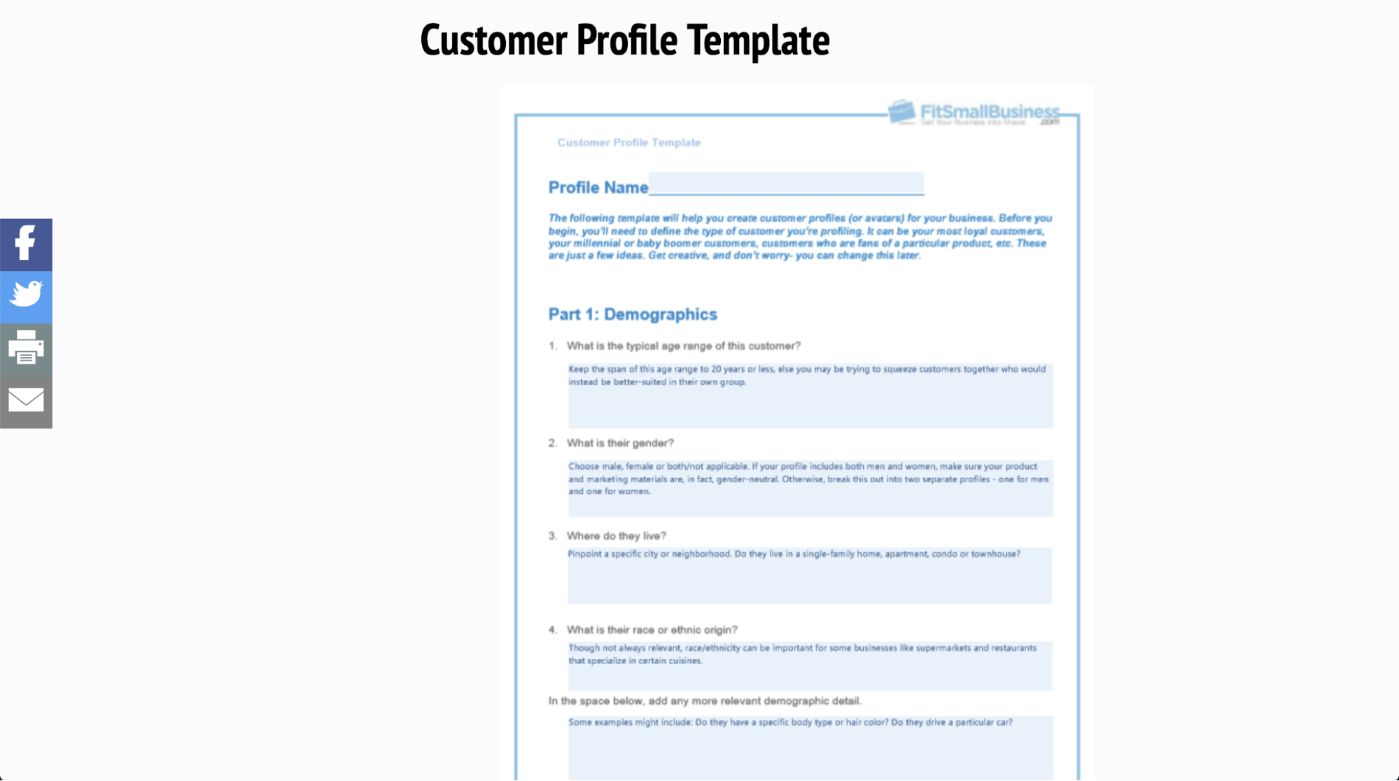 This customer profile template from Fit Small Business can help you build rich profiles for your different customer groups. Whether you're profiling your local customers or fresh prospects, this template can help you.
And since it's possible to download the template in Word and PDF, you can create profiles using whichever tool you prefer.
4. Mirasee – Customer Profile Template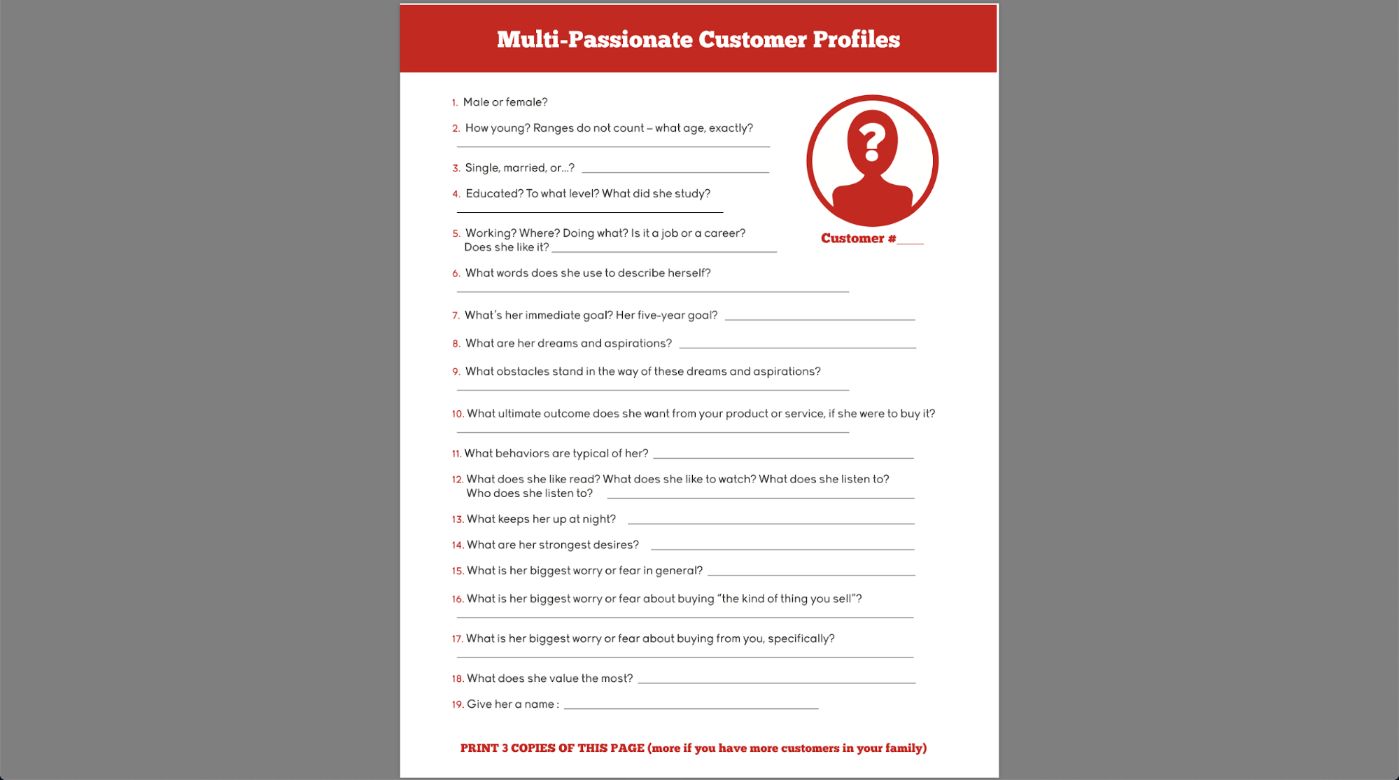 This customer profile template from Mirasee offers three pages you can use to build a detailed and diverse customer profile. The first page offers some demographic questions, while the second presents a series of labels you can use for your customer.
The final page allows you to outline the different relationships between your customers (and whether they reveal any opportunities for synergies).
Given its focus on those connections, this customer profile template is probably most useful for B2C businesses.
5. Advanced Systems – A Detailed Customer Profile Template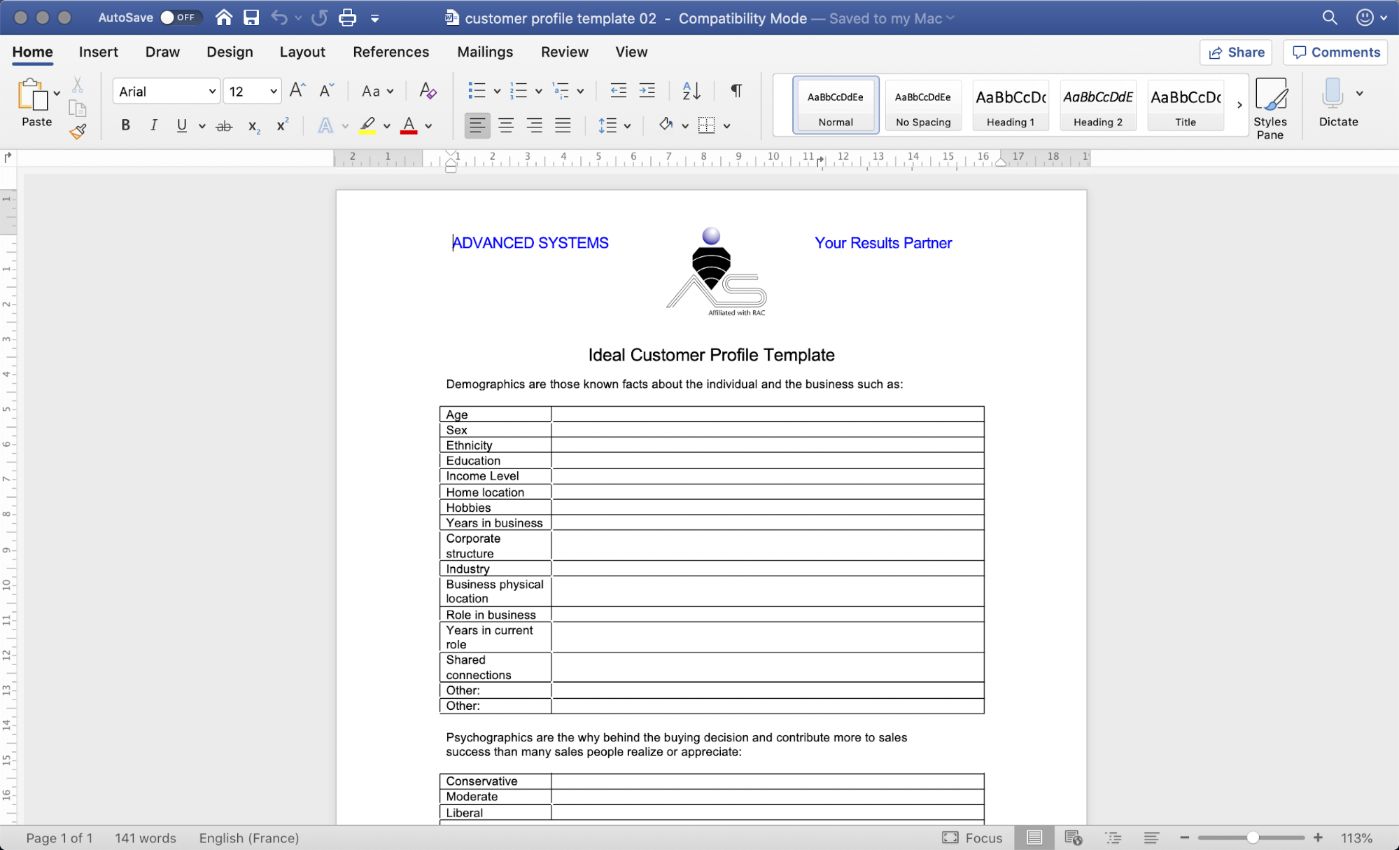 This customer profile template from Advanced Systems gives you ample space to fill out each customer's various demographic and psychographic details. Like the other templates, this option provides interesting fields to help you create a robust form.
In particular, we like that this template includes a psychographics section, which can help you provide your salespeople with some interesting information they can use to work as effectively as possible.
6. Claire Pitts – Dig Deeper Into Your Ideal Customer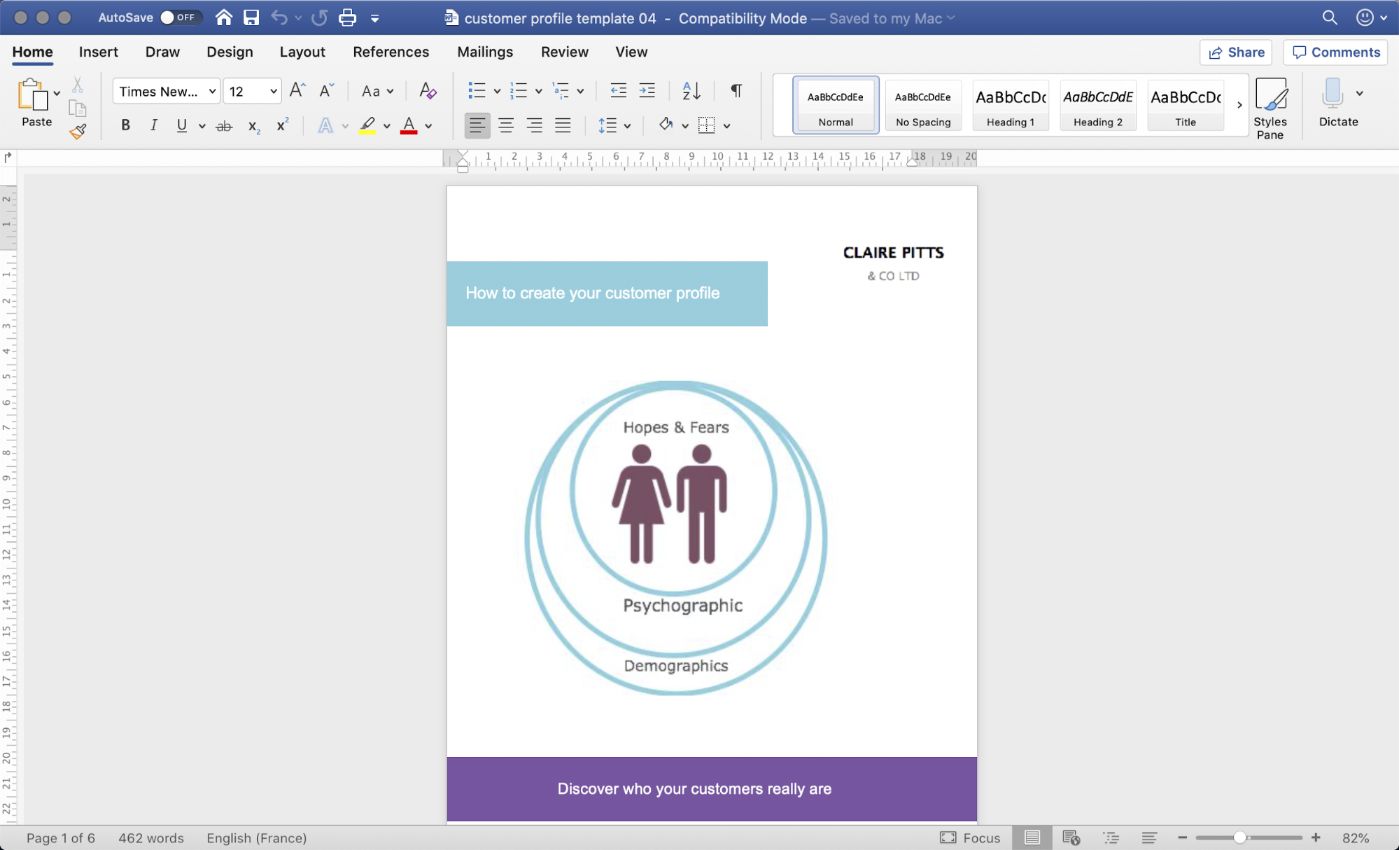 This customer profile template from Claire Pitts makes it easier for you to create a detailed, insightful buyer persona that pays particular attention to psychographics. This focus on psychographics is particularly useful for B2C businesses that need to understand customers en masse.
In addition, it's possible to combine this template with one of the others and create something that's capable of guiding your various activities.
7. Market Republic – Ideal Customer Profile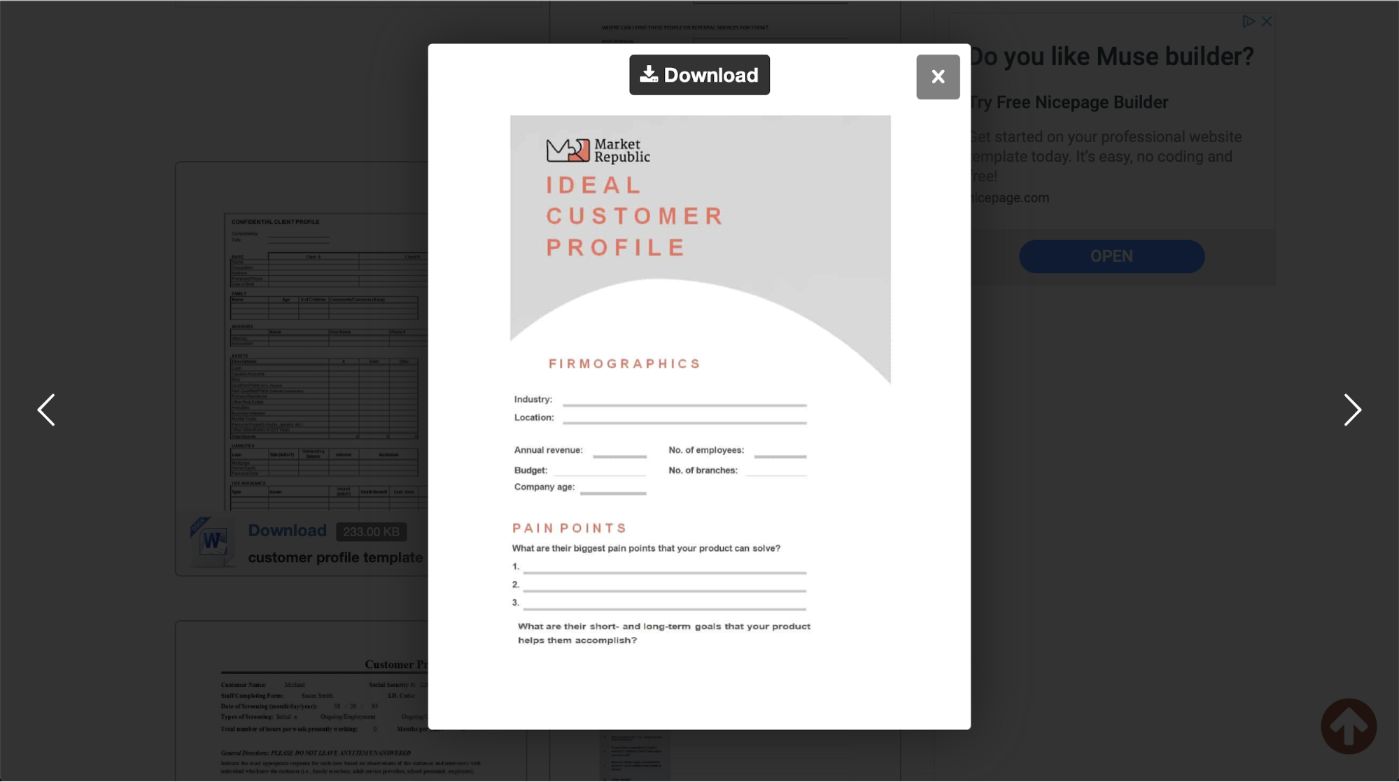 This ideal customer profile from Market Republic addresses all of the key areas that any good profile should cover. You'll find that there's a lot of space for you to fill out important demographic and practical information.
Like many other templates in this list, this option steers you toward a strong focus on pain points.
Customer Profile Software That Helps You Target the Right Audience
When you create your customer profiles, you'll need to use the best software on the market. Here's a look at some examples of the best customer profile software spanning different categories.
If you're hungry for more tools to reach your target audience, be sure to read our piece on 10+ powerful customer profiling software solutions you should start using.
HubSpot CRM – Powerful Customer Tracking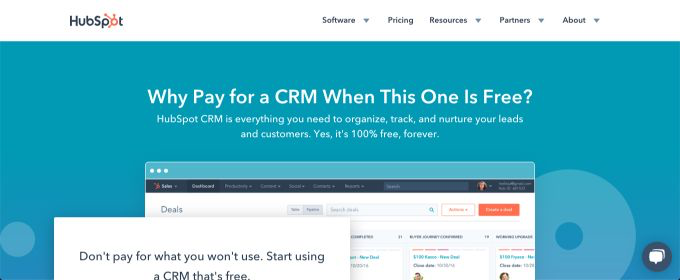 HubSpot CRM is a powerful CRM solution that caters to businesses of all sizes. This tool empowers sales and marketing teams that elevate their productivity, and provides them with all the tracking, reporting, and third-party integrations they need.
When it comes to creating customer profiles, this CRM solution is very useful, given that it offers a lot of reporting capabilities. This feature makes it easy for your organization to get great insights.
UpLead – Powerful Data Enrichment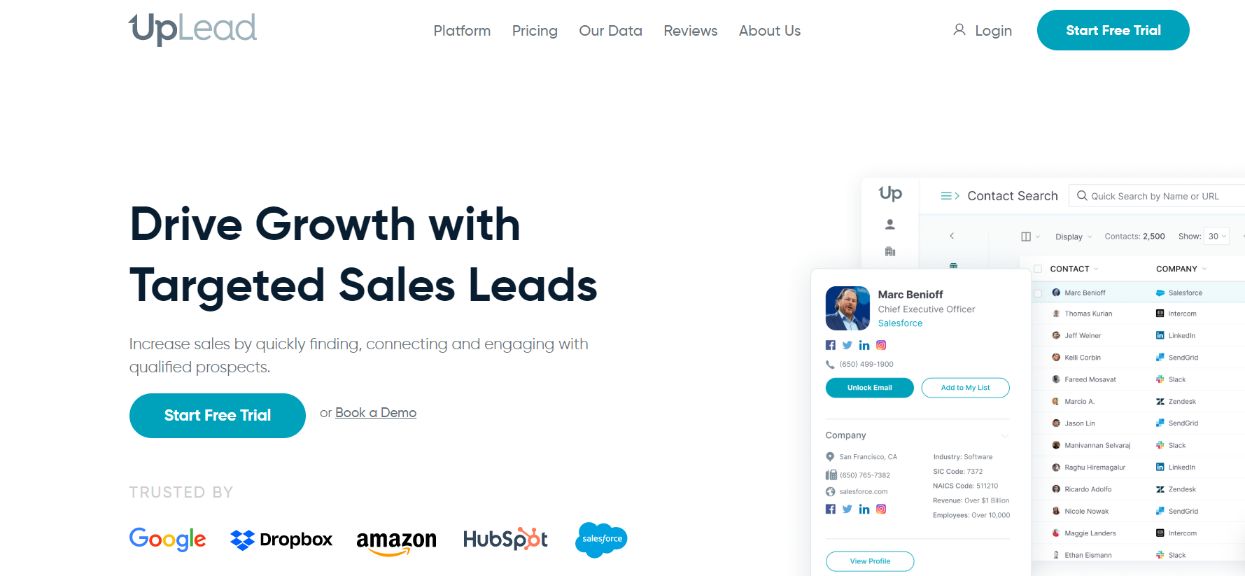 UpLead is a feature-rich B2B lead generation platform that helps businesses quickly find, connect, and engage with qualified prospects.
This is an ideal customer profile software because it helps businesses effortlessly sort through the best, highest-quality leads. Sales and marketing professionals can use Uplead's platform to search through over 140 million business contacts. Then these professionals can use 50+ criteria to zero in on their ideal leads.
SurveyMonkey – Flexible Survey Software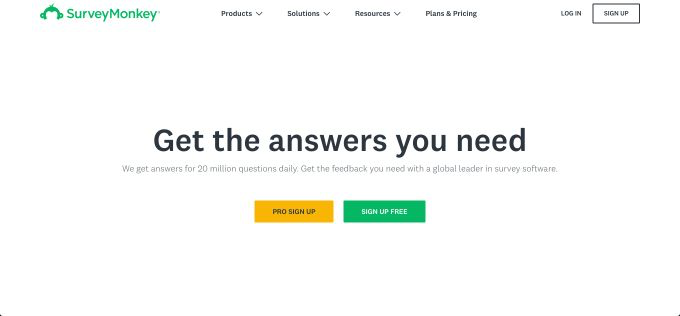 SurveyMonkey is a robust survey platform that helps businesses connect with their customers in exciting ways. This platform makes creating attractive, detailed surveys with high completion rates easy.
This tool is very useful for businesses wanting to learn more about their customers to create great customer profiles. Using this tool to send out a great survey could receive intriguing, useful information.
Make My Persona – Simple Customer Profile Creation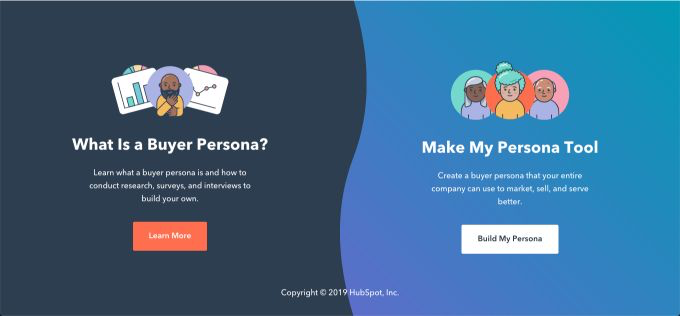 Make My Persona is a HubSpot tool that allows businesses to create professional, customizable customer profiles via an intuitive generator.
If you're looking for a fun, simple way to put together your customer profiles, then Make My Persona is a great choice. This slick tool makes it easy for you to build customer profiles and start putting them to good use immediately.
UXtweak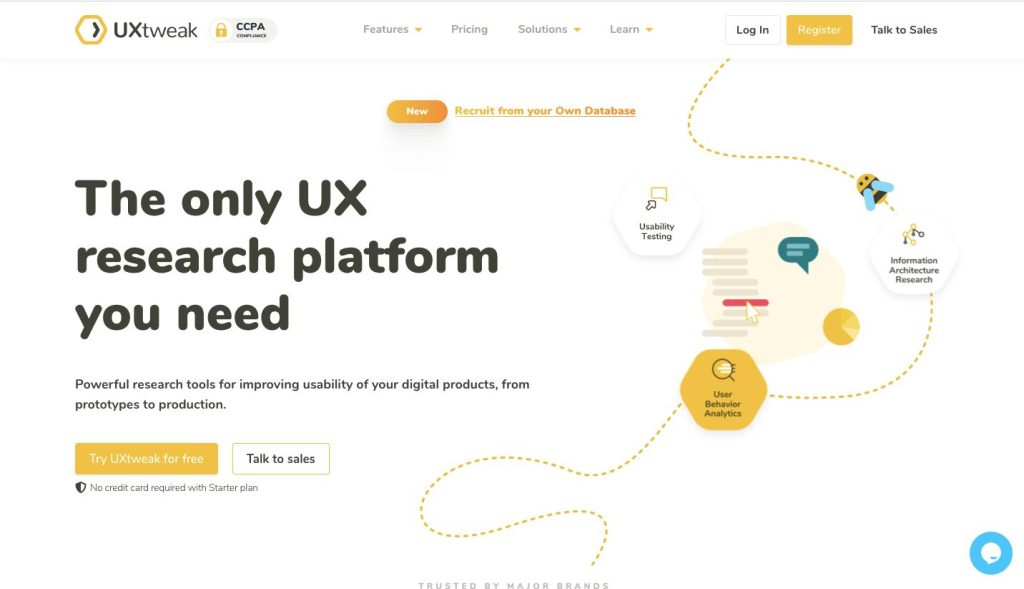 UXtweak is a powerful user research platform that helps gather customer feedback and product insights through surveys and different types of user tests.
By implementing this tool, businesses obtain detailed customer feedback on the product's performance and its potential drawbacks. Such information can prove crucial in adjusting one's product to fulfill expectations and better understand the target customers.
UX software like this will ensure that your customer profile obtains all details necessary for the success of your product and marketing or sales campaigns thanks to the perfect understanding of customer pain points, wishes, and needs.
Closing Thoughts
We hope this post helps make you a master of customer profiles! As we've covered, these tools are very useful for your business if used correctly.
After you've put together great customer profiles, you'll need to put them to use and seek out your ideal customers. To access high-quality lead information and make the most of your customer profiles, start your free UpLead trial today.