Reaching decision makers isn't always easy, but it's critical for your sales process.
The more time you spend trying to reach a decision maker, the less you'll have to make sales. However, decision makers are often guarded behind gatekeepers, SPAM filters, and many other obstacles.
That's why, in this article, we'll teach you four different, effective ways to reach decision makers. We'll show you free and paid ways to do so, and equip you with the right sales prospecting tools to reach decision makers consistently and frequently.
Let's get started.
Quick Links:
1. Be introduced by common connections
One of the most effective ways of reaching decision makers is by leveraging common connections.
Common connections give you a better chance to reach your decision makers because someone they know is vouching for you. That will make it far more likely for you to successfully reach an actual decision-making person, and get a better chance at pitching your solution.
To start, you can get creative with what you already have. You can find common connections on LinkedIn who may be in charge of making the purchasing decisions at their companies.
You can also leverage your social media through promos and giveaways based on your userbase bringing more people to your page and engaging with it.
And, for high-level clients, you may simply ask them directly if they happen to know someone in need of your services. Often, if you've already shown the value you bring to the table, a satisfied customer will be happy to come up with new leads for you.
Advantages
Here are the advantages of including referrals in your decision-making process:
Extremely reliable: Referrals often lead to decision makers who are very likely to convert.
Warmer introduction: The referral may often be the main reason you establish the first contact, so it's easier to bypass any gatekeeper.
Free: Often, the only thing you need to do to get referrals is to simply ask.
Disadvantages
Here are the disadvantages of using referrals to find decision makers:
Not easy to scale: The referrals you receive are limited by the number of customers you have willing to make referrals.Hard to use it reliably: You would never want to risk a business relationship by begging for referrals, so it's hard to get new leads consistently through this method.
2. Send a direct email that offers value upfront
Email marketing can become your best solution to generate sales and reach the right decision maker when it's done correctly. You may even rely on it as a part of your sales process and as your main way to attract new leads.
The key to making email marketing work is by nailing the introduction.
How so? A good introduction gives your new lead a reason to engage with you immediately.
The best introductions are brief, hyper-personalized, and cut to the chase. You should introduce yourself and immediately show why your solution is the best and explain the value you're offering to them.
Give them enough of a taste of how, when successfully implemented, your solution can give your decision makers the most benefits.
You don't need to cut to the sale just yet. Instead, you need to show them why they need your solution.
But, with different user personas, it may be hard to know if you're offering the right value to the right lead. That's why you need as much lead data as possible. This will allow you to properly segment your decision makers and engage them with the right information at the right time.
The easiest way to do this is by using tools like UpLead to enrich the data you already have, verifying your email addresses, and giving you the information you need to segment them properly.
And once you've exhausted your data, you can use UpLead to create decision-maker data to generate new leads and find decision makers reliably.
You can identify users with the right decision-making capabilities by filtering UpLead's gigantic database through their job information, company data, and more. This allows you to get as much information as possible to quickly identify the right decision maker for your solution.
Learn more about UpLead's data enrichment and lead-generating capabilities here.
Advantages
Here are the advantages of using direct email to reach decision makers:
Very cost efficient: When done right, there's a minimal cost to direct email, making it the best solution for companies that need a large volume of leads.
Can reliably generate leads: Direct email campaigns can be continuously fed data from tools like UpLead to find new potential decision makers.
Entices the decision maker to learn more: By focusing on your value up front, your decision maker may get to their "aha moment" earlier and find a reason to purchase from your company.
Disadvantages
Here are the disadvantages of using direct email to reach decision makers:
May be expensive: When you don't have enough data to segment your users or generate new ones, keeping up a direct email strategy may not be feasible.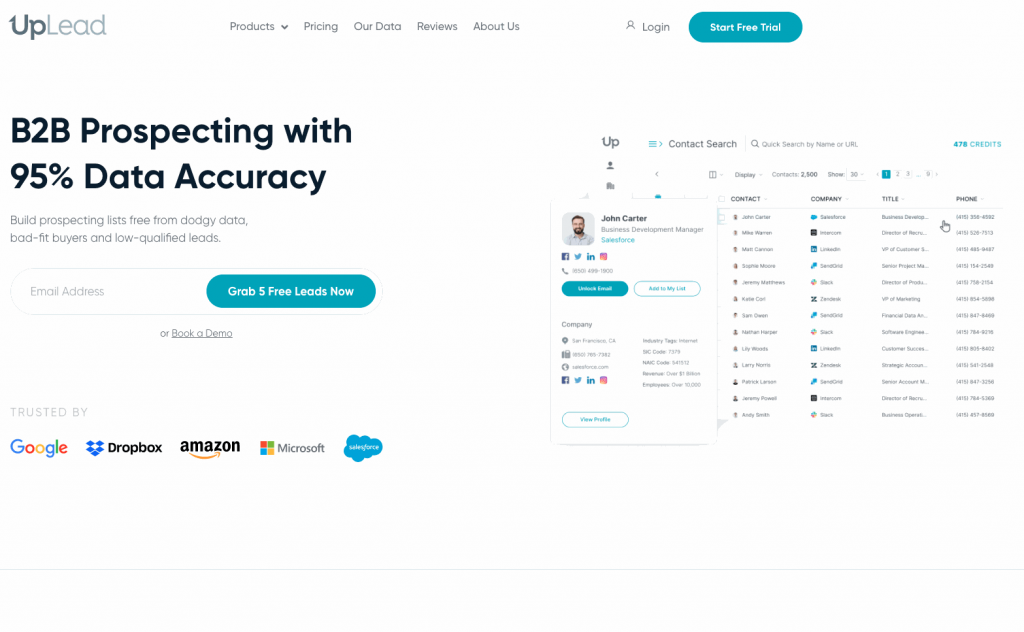 UpLead gives you access to over 108 million professional profiles. Here's how to use it: 
You can also use UpLead to enrich the information you have on your email leads. That way, you make sure your data is up to date, and can use it to easily segment your audience according to their characteristics.
UpLead's data comes with a 95% accuracy on it. Right before you download your emails, they get verified in real-time to ensure you're getting valid, reliable emails. That way, you know you're getting data you can trust.
1: Find the right decision makers
Filter through the large UpLead database by looking up decision makers that match with the characteristics of your target audience.
2. Download the data
Once you've found the right leads, you can download the lead list to add to your marketing purposes.
As you download your leads, UpLead verifies all emails in real time to improve deliverability, making sure at the last possible second that you're getting valid, reliable data.
3. Repeat and automate
Once you've found the right way to generate the right decision-maker data, you can integrate UpLead with your CRM to make it even easier to generate leads and follow up on them.
You can also use UpLead with Zapier to automate as much of the process as possible, allowing your team members to focus their time on sales and less time on finding the right decision maker.
Start Your 7-Day Free UpLead Trial
Lead generation doesn't have to be all that painful. With UpLead, you can easily connect with high-quality prospects and leads to grow your company.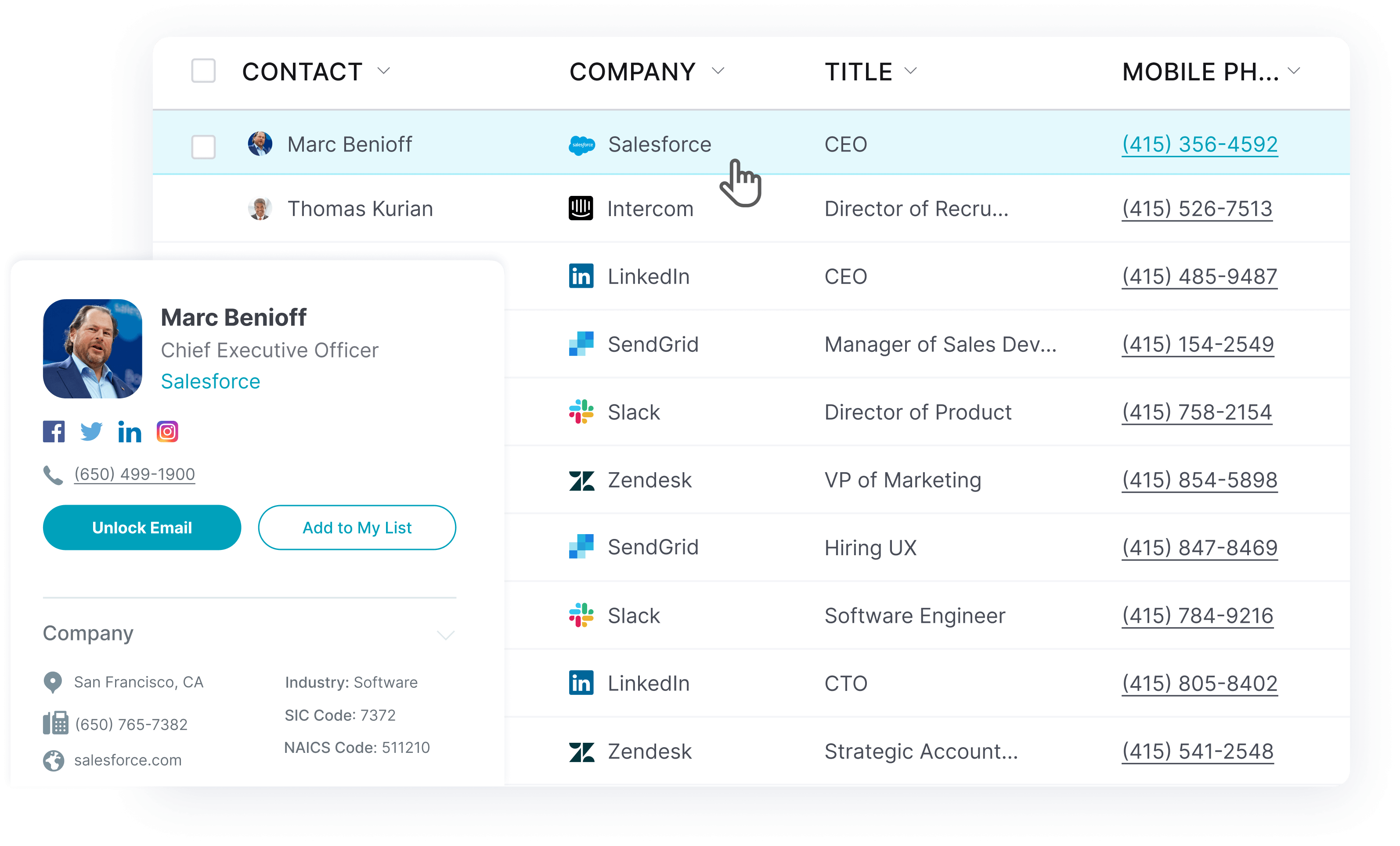 3. Approach people tactfully on social media and try to establish a mutually beneficial relationship
Social media can be a powerful way to find decision makers due to various factors.
With social media, you can find users with the power to make purchasing decisions, keeping them engaged until they decide to convert into paying customers.
Social media also helps you engage with both smaller groups and larger groups, depending on the kind of following you have. This allows you to use your preferred approach with social media to seamlessly integrate into your lead's corporate life and keep your solution in mind when they're making important decisions on improving their situation.
Once you're generating enough of a buzz, you can openly invite them to engage with you for anything, from generating customer data to selling them a solution. The key to success is to provide value before approaching them.
You can use your social media profile on LinkedIn to approach the right decision maker and offer the right solution. With LinkedIn ad targeting options, you can identify a decision maker's title, company, job functions, and more. You can then use that data to approach them through a direct inMail message.
If you focus on providing value on social media first, your reputation will precede you, and you'll be far more likely to influence decision makers and establish a mutually beneficial relationship.
Advantages
Here are the advantages of using social media to approach a decision maker:
Personal and effective: Since people are more likely to pay attention to a message on social medial than in their email inbox, you can establish a relationship more quickly with the right decision maker.
Highly-focused solution: By using LinkedIn and UpLead's Chrome Extension, you can quickly handpick the right decision maker and download their data.
Disadvantages
Here are the disadvantages of using social media to approach a decision maker:
Time-consuming: It can take time to establish a good social media presence to increase your chances of converting other users.
Hard to get the right data: If you're only using LinkedIn, it'll be challenging to get all the data you need to pursue all users with decision-making capabilities.
Tips to Connect with a decision maker on LinkedIn
Here are a few tips for connecting with users with decision making powers on LinkedIn:
Customize your connection request by adding a well-thought-out note
Instead of sending a generic connection request message (or worse, no message at all), add a well-thought-out note to your connection request.
Make sure you introduce yourself and offer a quick example of why your solution may be the best solution for their company.
Keep it customized and brief.
Make sure to have at least a couple of 1st-degree shared connections before sending a request to the decision maker
No one likes spam. If you send a message to someone who doesn't know you nor have any connections to you, your message will likely be thought of as spam and dismissed immediately.
That's why you should make sure you have at least a couple of shared connections to users with decision-making capabilities.
Increase your reach by spending time developing and growing your LinkedIn profile and network.
4. Build trust with gatekeepers, and ask for an introduction
Gatekeepers are often feared by people new to the sales business.
However, experienced salespeople not only work around gatekeepers, but they know how to use gatekeepers to get to the right decision maker.
To do this, prepare yourself before meeting or contacting the gatekeeper. When contacting them, you should try to be your charming self, knowing exactly how to answer their expected questions.
Advantages
Here are the advantages of building trust with gatekeepers:
Allows for more successful sale efforts: Since the gatekeeper's job is to make sure the decision maker only receives valuable information, an introduction by the gatekeeper is more likely to result in a sale.
Gives you an in when other efforts fail: If you haven't been able to reach the right decision maker, like a CEO or another high-level employee, gatekeepers may be easier to reach and engage with.
Disadvantages
Here are the disadvantages of building trust with gatekeepers:
Time consuming: It can be extremely time consuming to build trust with gatekeepers by building the right inbound content and marketing strategies to reach them.
Hard to scale up: Unless you're using lead generation tools to help you, you may find it hard to keep generating consistent user data to feed your marketing strategies.
FAQ on Decision Makers
Here are answers to common questions regarding decision makers and how to find them:
What is a decision maker?
A decision maker is a user who can affect the final decision of purchasing a solution like yours. These users must have corporate decision-making power and are usually part of the leadership team.
Who are known to be the decision makers in a company?
Any user with decision making-power or involved in the decision-making process is a decision maker. These decision makers look for possible solutions to their pain points and may be in charge of purchasing for various departments.
Why is reaching decision makers important?
Reaching someone with actual corporate decision-making power is crucial to ensure your sales process is reliable and cost effective.
Is it hard to get in touch with decision makers?
Decision makers are often shielded by executive assistants and other employees that act as gatekeepers, keeping people from contacting the decision makers without a valid reason.
Using tools like UpLead, you can quickly and easily generate leads, find the right decision makers in seconds, and circumvent gatekeepers altogether.
Are sales intelligence tools really helpful to reach decision makers?
Yes, the right sales intelligence tools will help you research an organization, develop the right strategy, and come up with the right solutions to your customer persona's pain points.
Conclusion
The more data you have on your decision makers, the better the chances to convert them. Start gathering decision-maker data and find the right leads with UpLead.
Try UpLead for free today.
Start Your 7-Day Free UpLead Trial
Lead generation doesn't have to be all that painful. With UpLead, you can easily connect with high-quality prospects and leads to grow your company.