Cold calling is still a very effective sales strategy… as long as it's done right. In this article, we'll go through everything you need to make successful cold calls. We'll show you where to find cold calling leads, how to call them, and how to improve your cold calling script.
By the end of this article, you'll know everything there is to know about successful cold calls and how to make them.
Let's get started.
Quick Links:
What Is Cold Calling: Definition & Meaning
Cold calling is a sales strategy that involves a sales rep making a sales phone call to a potential lead without prior contact. This method has been around for decades, and it remains an effective and low-cost way to proactively generate sales.
To make successful cold calls, you need to develop an approach suited to your customer persona. It's also important to generate cold leads from trustworthy sources. This will ensure you aren't wasting time with sales calls that never reach the intended contact.
What Does the Cold Calling Process Look Like?
The cold calling process usually starts at the lead generation stage. There are multiple ways of generating leads proactively, including lead research and the use of lead generation tools.
After generating your leads (a list of phone numbers), you'll need to create a cold calling script. Be sure to allow for variations according to the characteristics of the leads you're contacting. Once sales reps have their scripts and their list of leads, they can pick up the phone and start calling.
During the phone call, the sales rep should qualify the lead to ensure they're speaking to the right decision-maker. Then they can focus on developing a personal connection, establishing rapport, and determining whether to move to a sales pitch.
Cold calling can also be local and involve in-person visits from door-to-door salespeople.
Cold Calling Statistics for Prospecting Success
Want a few data-driven insights? 63% of salespeople say cold calling is the most disliked part of their job. That's probably because cold calling can be ineffective over 90% of the time.
If you want a successful cold calling process, you'll want to provide your sales reps with a good script that allows them to personalize their sales pitch. Be sure to keep the team motivated with bonuses and rewards.
Suprisingly, up to 62% of businesses rely on marketing data that is between 20-40% incomplete or inaccurate. Make sure you aren't one of those businesses. If you want your business to grow and thrive, give your team accurate, high-quality data. It will ensure they aren't wasting precious time on lead information that's useless.
Best Cold Calling Tips & Techniques:
Here are some cold calling best practices:
Choose the best time to make cold calls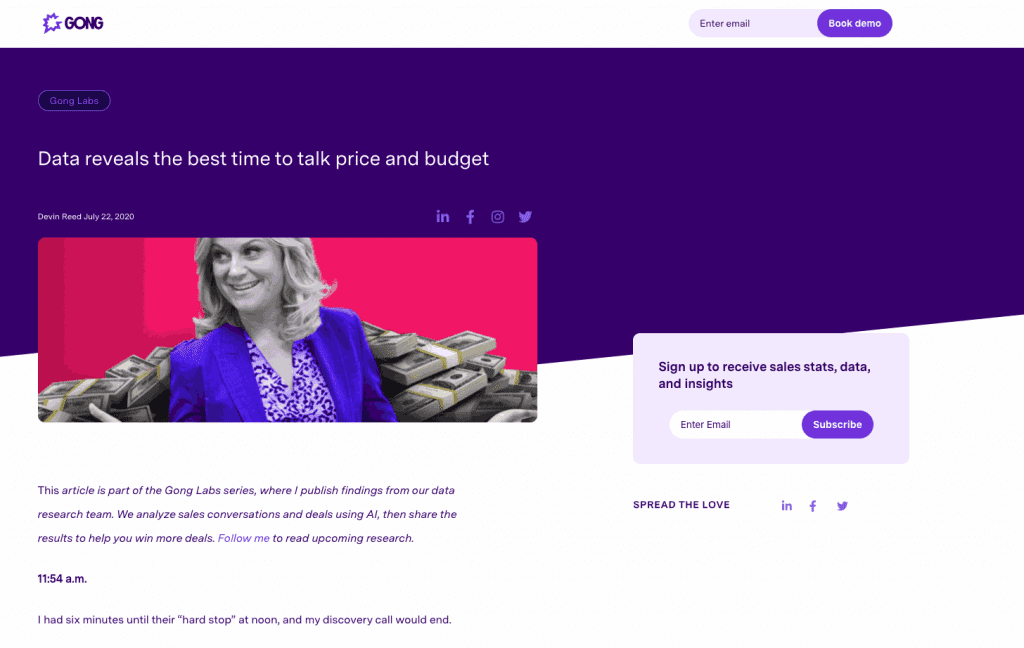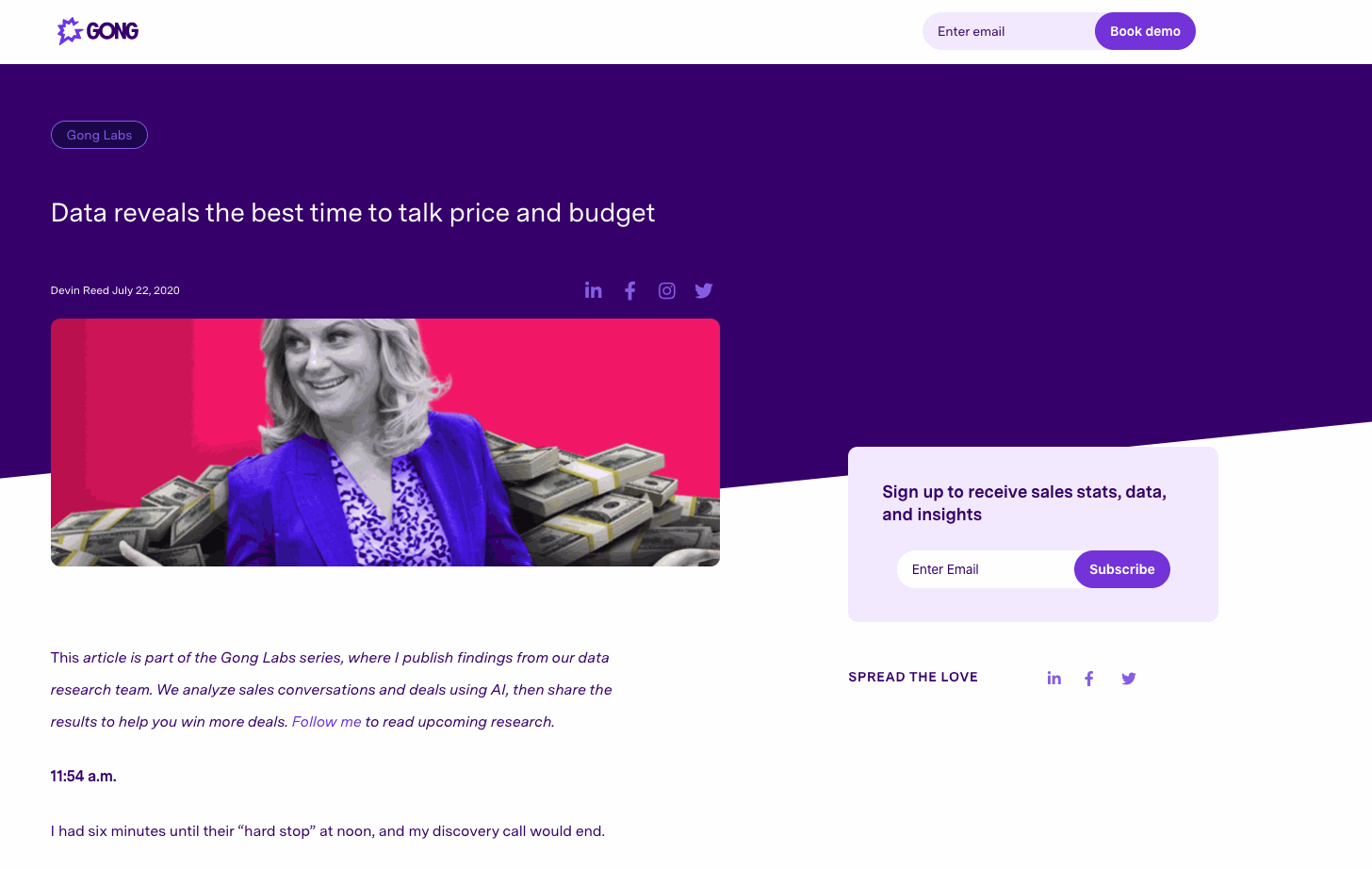 Making a cold call at the right time is almost as important as the content of the call itself. Maximize your chances of success by calling at the times your cold prospect is more likely to pick up the phone.
So, what time is best? Usually, the best time to make a cold call is between 4 pm and 5 pm (local time for the customer.) That's the time of day when a majority of prospects are wrapping up their duties while still at work.
Which day is it best to call your cold prospects? According to a recent study by Gong, the best days for successful cold calling are Wednesday and Thursday. This makes a lot of sense since, by Wednesday and Thursday, the hectic beginning of the workweek is over, but people are still in an active working mindset.
After all, who wants to take a sales call late on a Friday?
Use UpLead to find, connect & engage with qualified prospects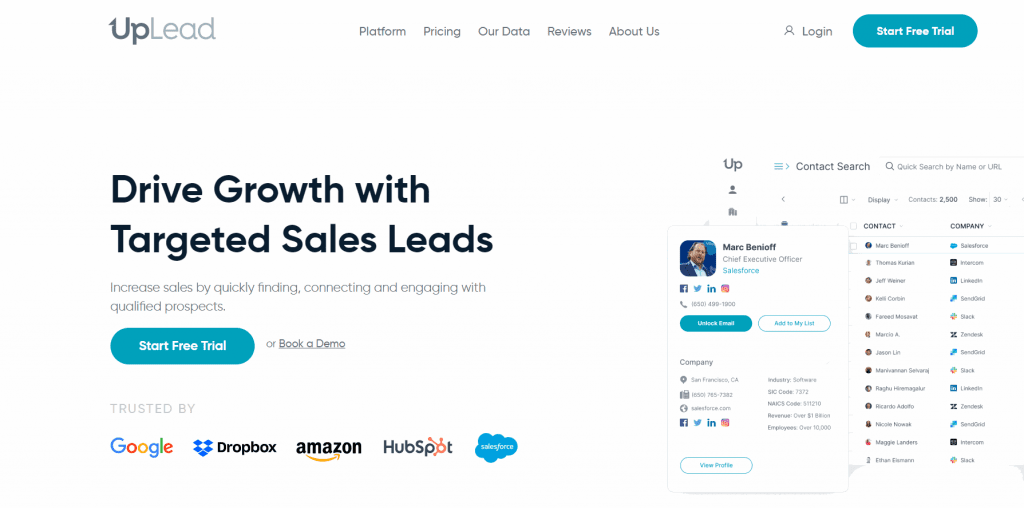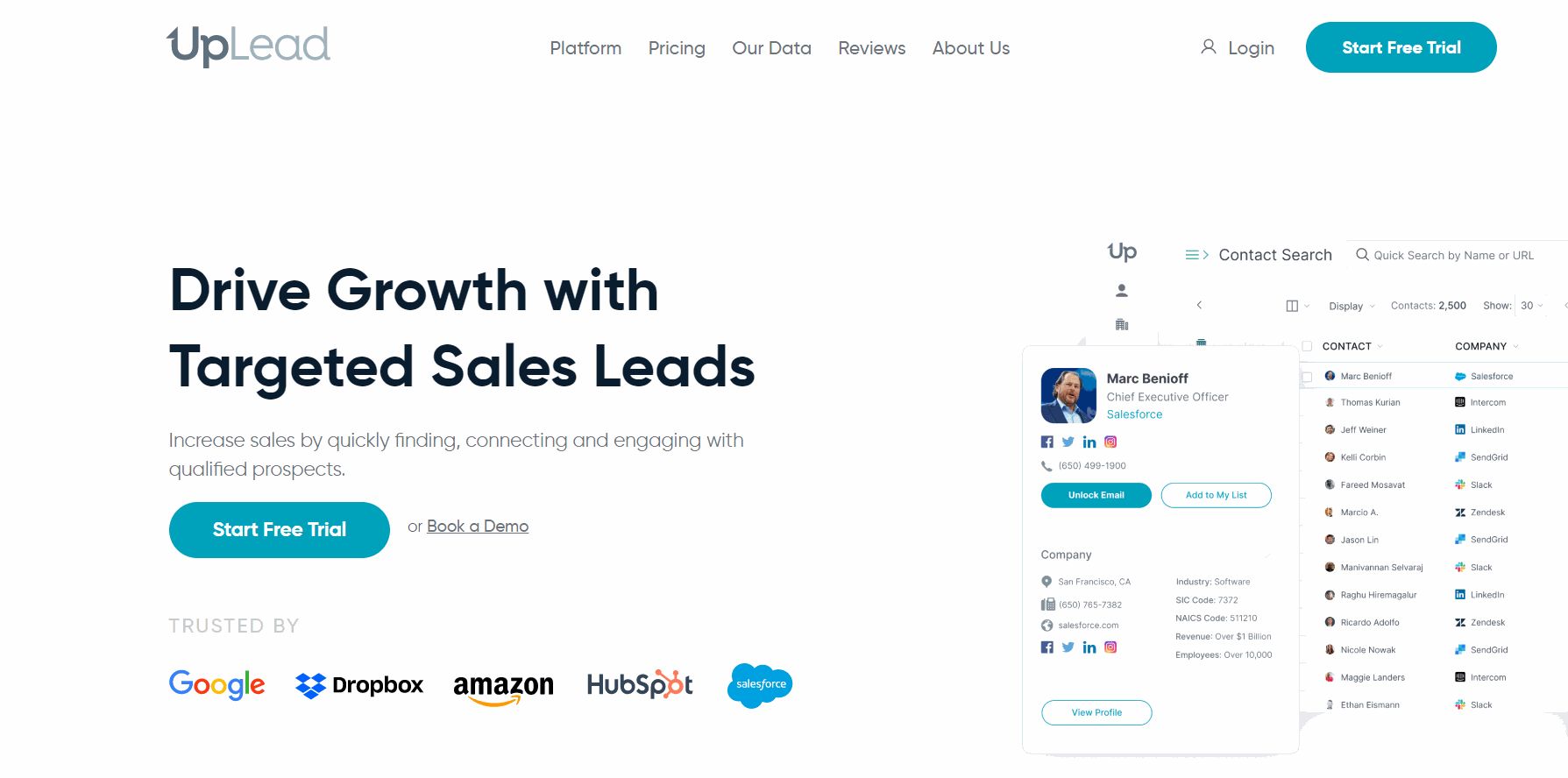 If you want to build accurate lead lists for your sales team as efficiently as possible, you'll want to use UpLead.
UpLead helps you build highly-accurate lead lists for your sales team in mere minutes, allowing you to generate leads almost on command. Unlike many other lead generation tools out there, UpLead's data is backed by a 95% data accuracy guarantee, ensuring your sales teams aren't wasting time cold calling with stale data.
UpLead also features vibrant user profiles, which help your sales reps learn more about their leads before calling them.
Try UpLead today, and see if it's a good fit for your business.
Start Your 7-Day Free UpLead Trial
Lead generation doesn't have to be all that painful. With UpLead, you can easily connect with high-quality prospects and leads to grow your company.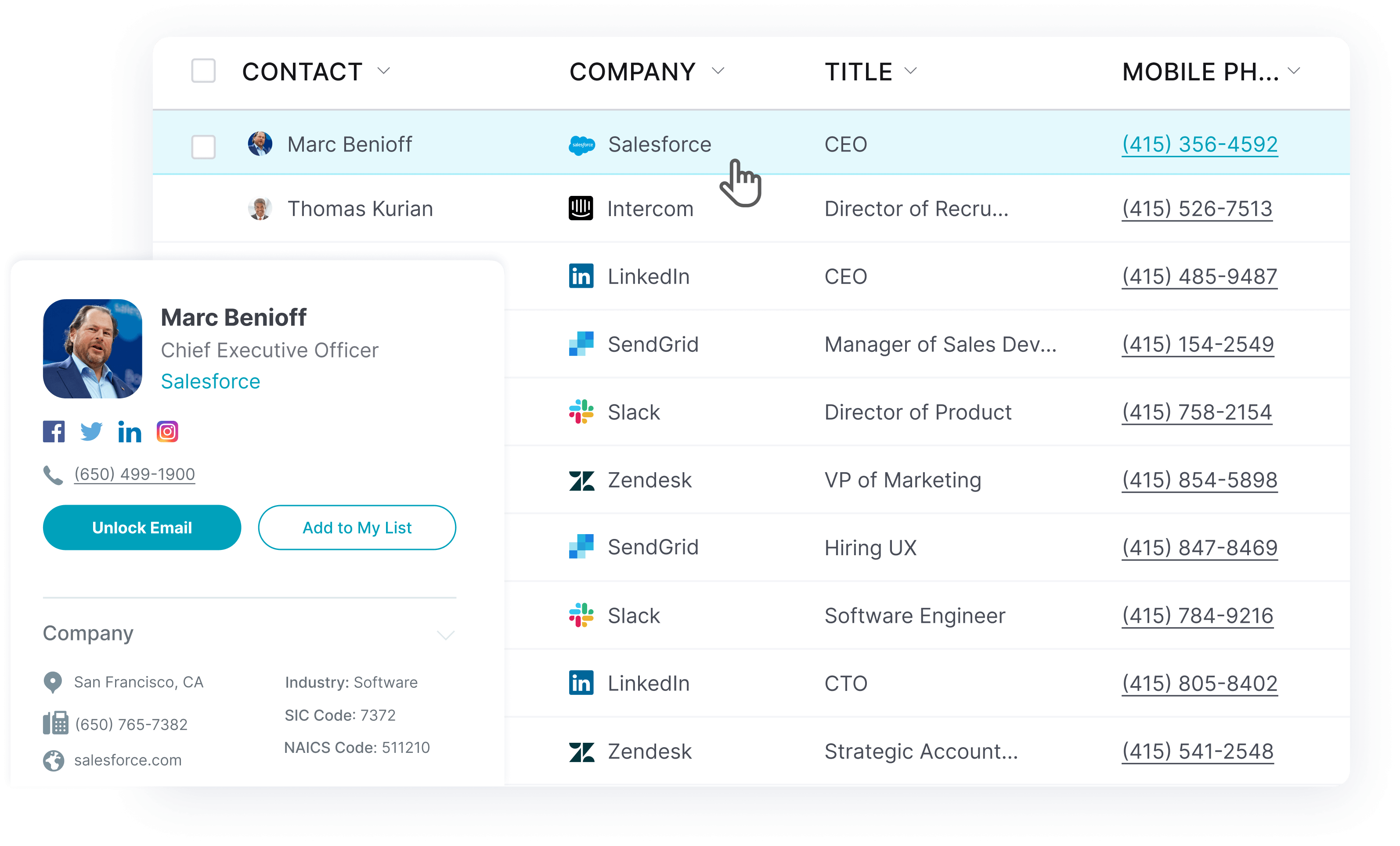 Ask the right questions to get prospects to talk to you
Of course, cold calls are most effective when the lead finds your product or service compelling. Asking the right questions will make your conversation as relevant as possible to the individual on the phone, increasing their interest in your solution.
Start by making sure your leads are as segmented as possible. You should strive to have as much personalization as your budget and resources allow. Instead of wasting time boasting about your company, ask probing questions to qualify your lead. 
Once you've determined that the person you're talking to is the right decision maker and have identified their pain points, it will be easier to make them a hyper-relevant offer.
Use a kind tone of voice & open-ended manner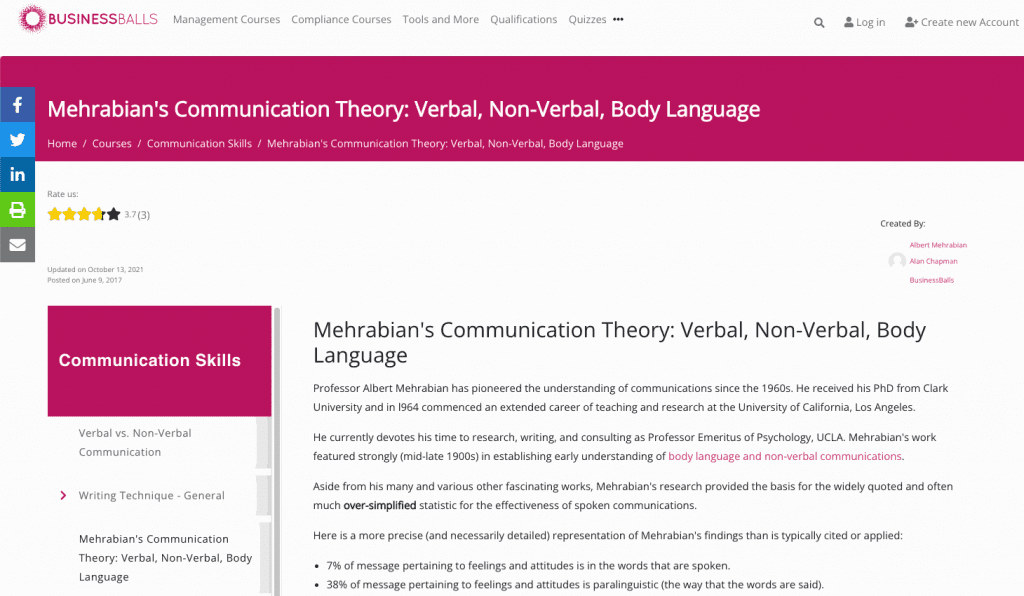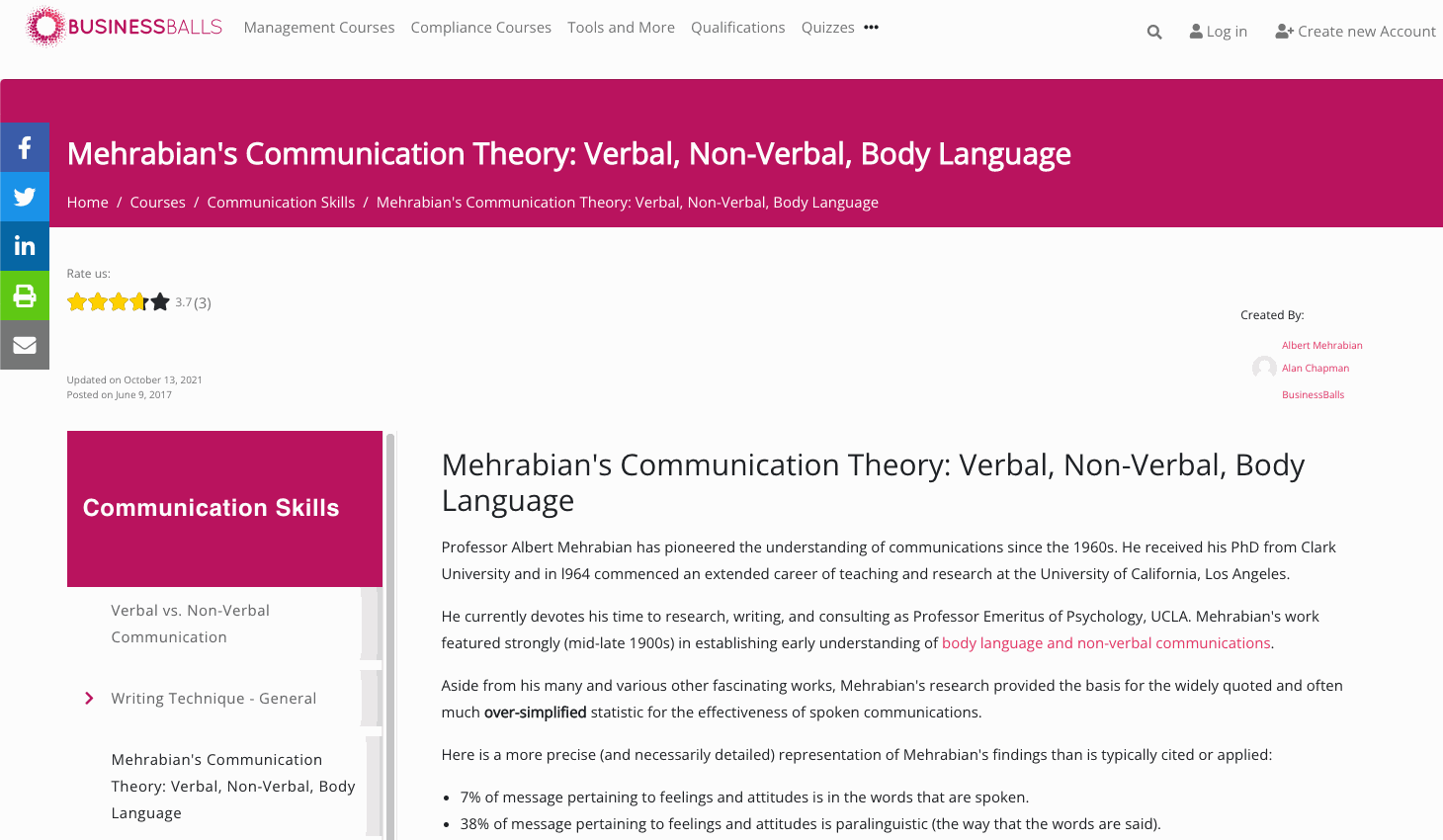 Your sales team should know that their facial expressions while talking on the phone are very important, even if their leads can't see them. That's because our facial expressions have a big impact on our tone of voice. According to research by Professor Albert Mehrabian, 38% of communication is perceived from the tone of voice a person uses, as opposed to just 7% of the actual words being spoken. (The remaining 55% comes from body language.)
This can pose a challenge, especially for sales teams that make a large quantity of cold calls every day.
Counter this by training your sales teams in cold calling techniques. Teach them to give their sales pitch organically, instead of having them closely follow scripts.
Be polite yet persistent
When it comes to cold calls, persistency is key. But the high levels of rejection that are so common in cold calling make remaining persistent very challenging.
Combat this by making sure your team follows up on all leads who haven't rejected their offer. To avoid the risk of harassing potential customers, limit follow-ups to four or five attempts.
This will ensure you're giving leads a good chance of conversion without wasting time on leads who aren't ready to make a purchase.
Highlight your product's benefits & efficiencies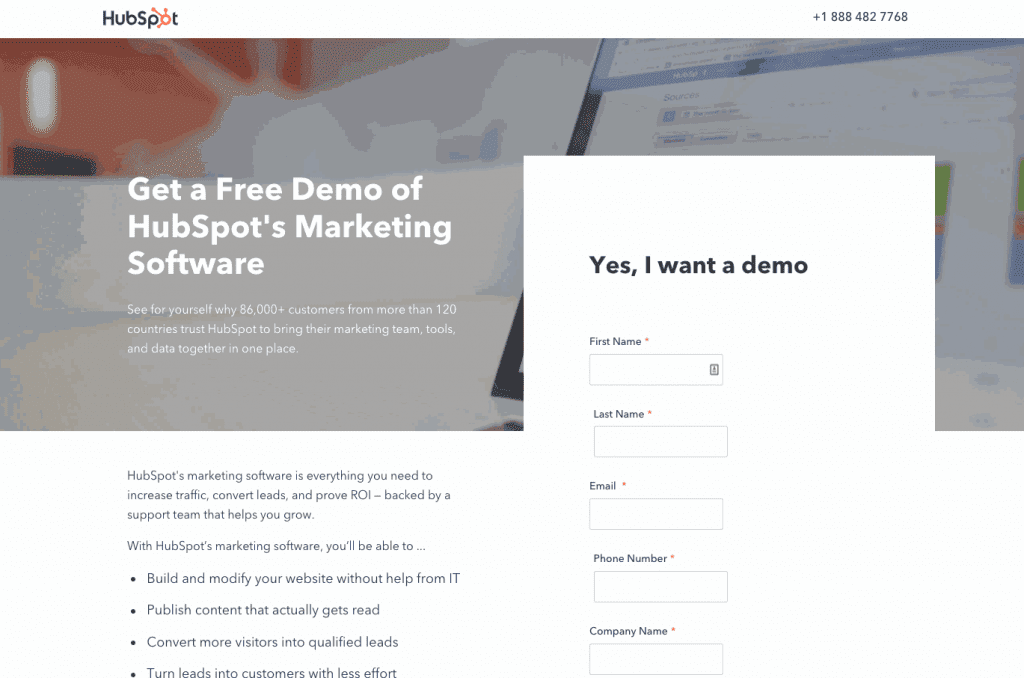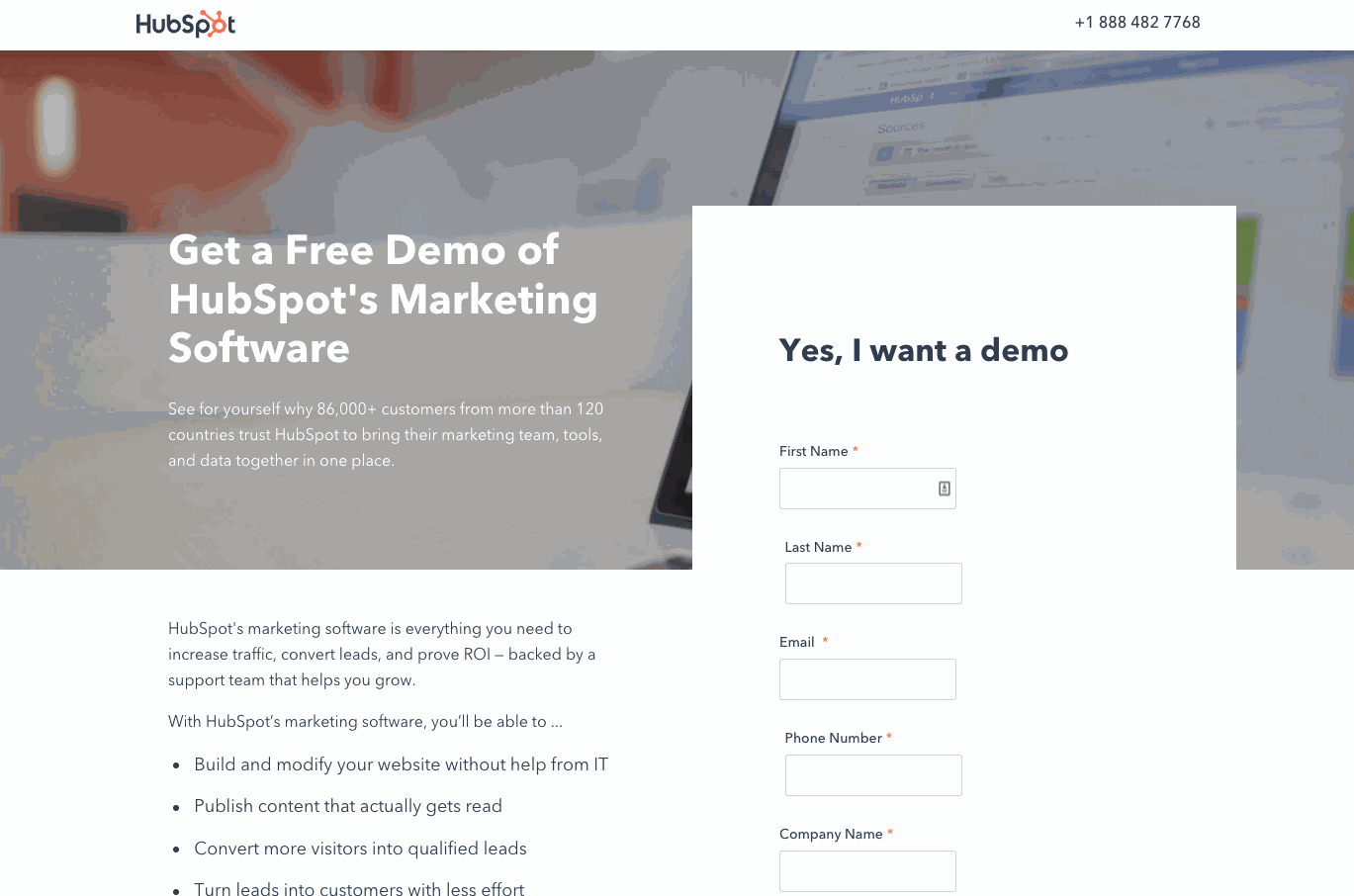 A common beginner's mistake is to feature an award or recognition prominently on their homepage. While they might assume that their audience is interested in their accolades, most potential customers want to do the validation themselves.
Instead, follow HubSpot's lead. Although HubSpot has won multiple awards, its landing page focuses on specific ways the tool can help its users.
Your audience will always be more interested in how you can help them. Help them envision using your solutions to solve their pain points.
Leave effective voicemails or use pre-recorded voice messages
Voicemail is a necessary aspect of cold calling. Don't avoid leaving a message, and don't try to improvise one at the last moment. You should prepare your voicemail message to make it compelling for the lead to call you back.
Prepare a simple template with the main points you want to convey in a voicemail. This will allow you to keep your message as short and effective as possible.
You can also create a pre-recorded voice message that's ready to go when you need it. That way you can focus on giving one great pitch and use it multiple times, rather than trying to compose a fresh message over and over again.
Schedule strategic follow-ups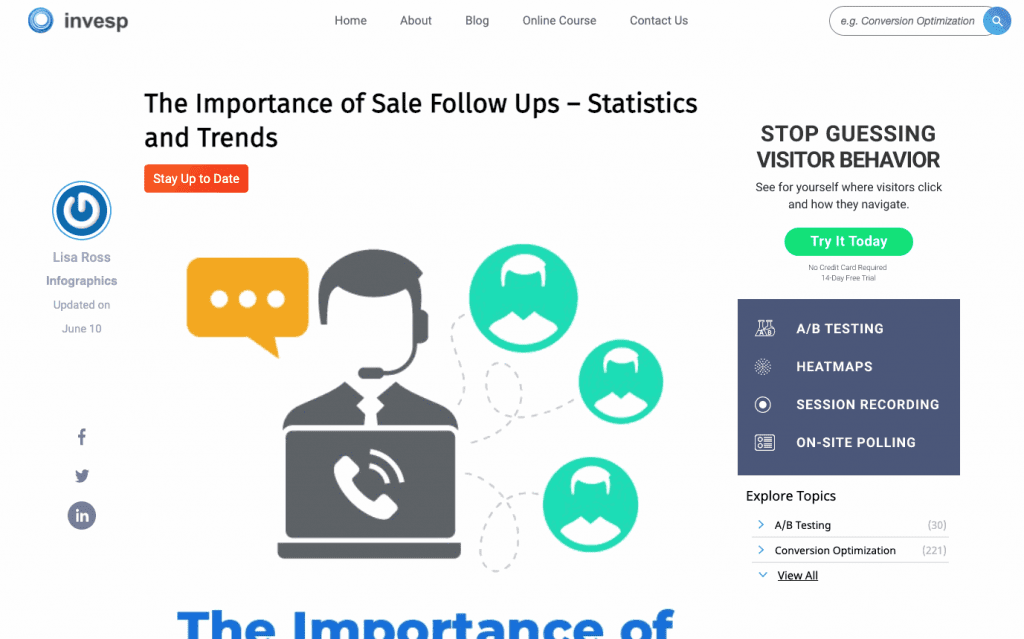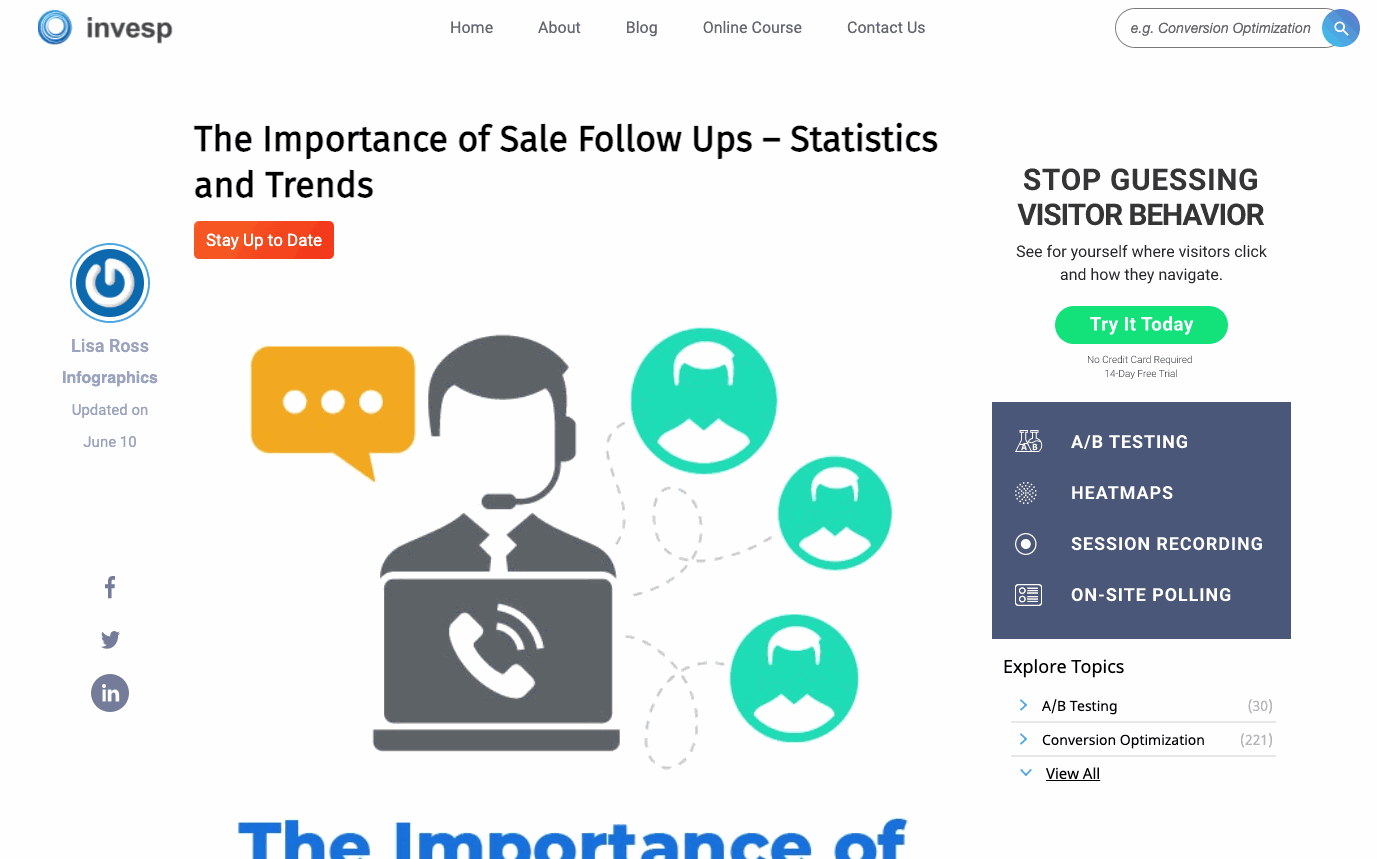 If you want your cold call efforts to be successful, you need to follow up at all stages of the sales process. According to Invesp data, 60% of customers will say no four times before saying yes, but 48% of salespeople don't follow up even once.
It's best not to leave it up to your prospect to contact you. Follow up at least two to four times before giving up on a lead who has previously expressed interest in your solution.
Use a multi-channel approach
Cold calls tend to be more effective when leads are warmed up by other strategies. By reaching customers through different channels at the same time, you increase the chances of successful cold calls by your sales team.
Combine cold calling with cold emailing to follow up without being intrusive, and make sure your other marketing campaigns are working alongside your cold calling efforts.
Learn to deal with aggressive prospects
One big disadvantage of cold calling is that you can't know for sure if it's a good time to call a prospect. Due to the nature of phone calls, it can also be hard to accurately read the prospect, and it can be easy for the prospect to dehumanize the sales rep.
Aggressive prospects are unavoidable. The faster you learn to deal with them, the better you'll be able to manage your cold calling efforts while maintaining good moral among your sales team.
According to The Sales Blog, salespeople can endure aggressive prospects by remembering that it's not personal. Instead of taking insults to heart, they can focus on seeing if there's a sliver of useful criticism in the lead's aggressiveness. If the criticism is unwarrented, then it's not worth focusing on.
If the situation gets too dicy, you can simply apologize and hang up.
Analyze reach rates for future improvements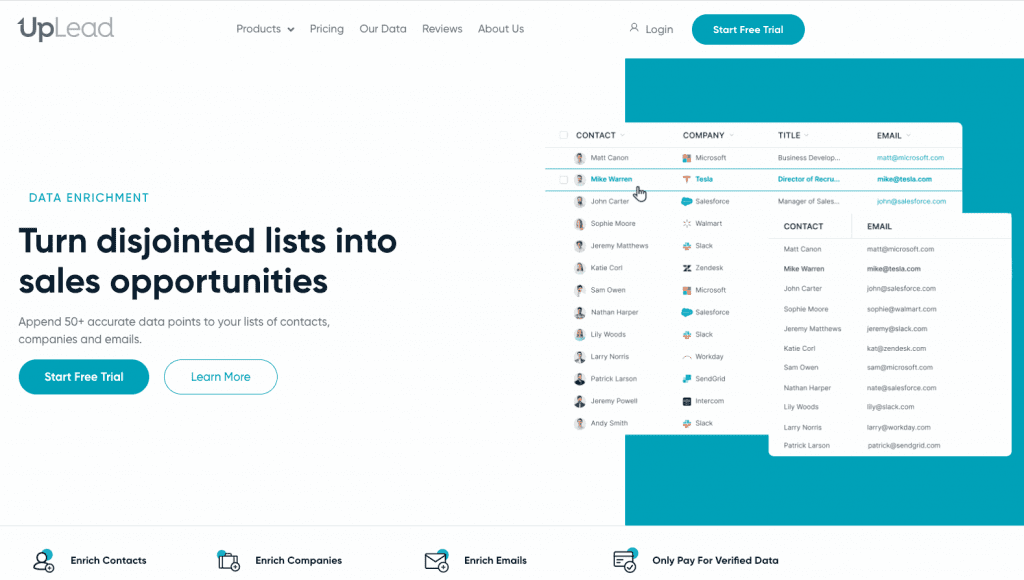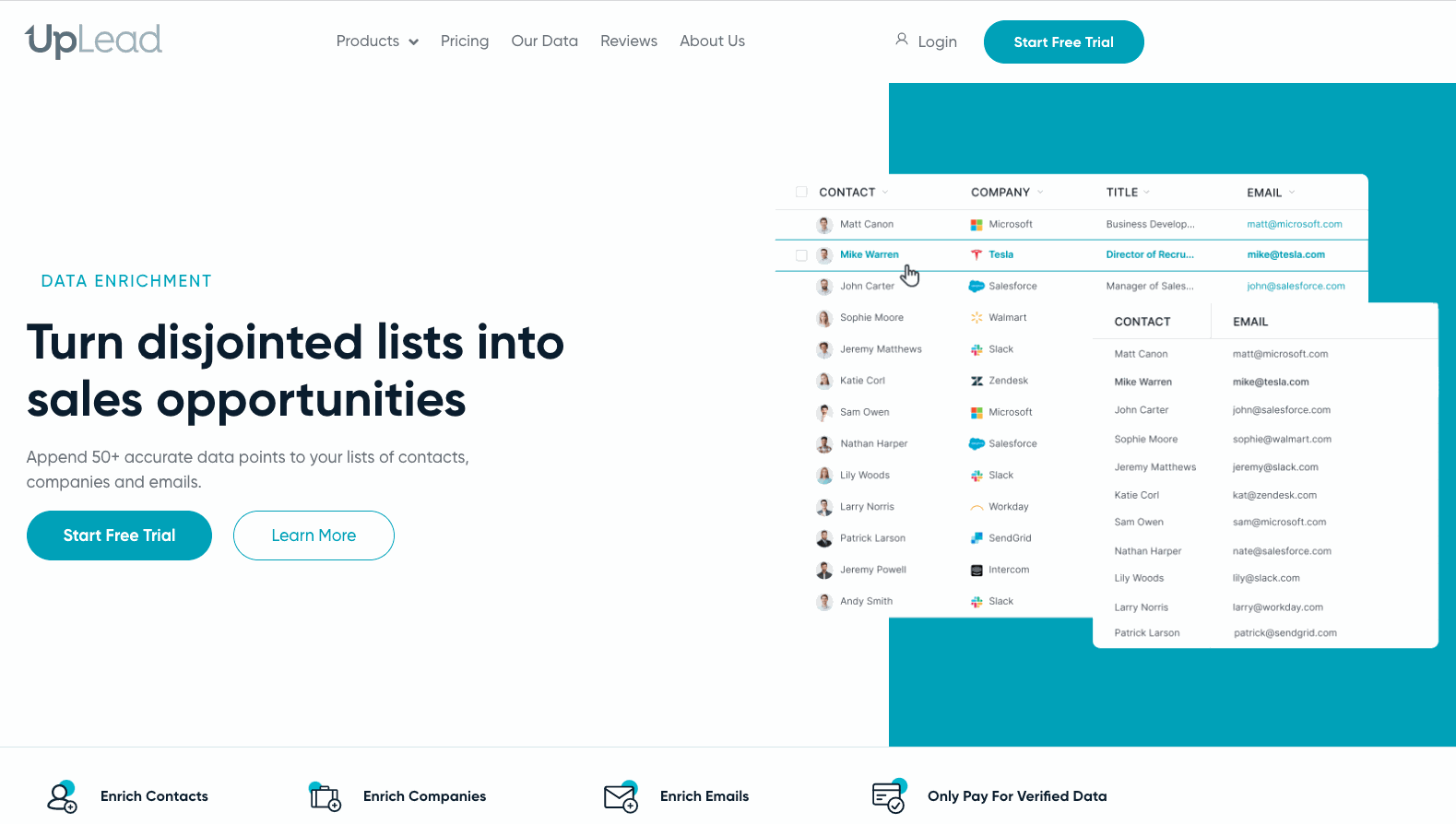 The best way to make sure you're on track is by using data-driven insights to analyze current efforts and figure out where to go next. However, if you want to trust your data-driven insights, you need to make sure your data is as optimized as possible.
Follow data hygiene guidelines to make sure you're removing old, stale data. You can also use data enrichment platforms to quickly and affordably freshen up your database with validated email addresses and phone numbers, along with updated lead data.
Popular Methods for Qualifying Prospects on Cold Calls
Here are two of the most popular methods for qualifying prospects:
CHAMP (Challenges, Authority, Money, Prioritization)
CHAMP focuses on qualifying prospects by resolving their pain points through the sales process.
This method is based on the following: a solution must only be sold to leads who need it to solve ther Challenges. Then, the cold caller must determine the Authority of the person by making sure they're the right decision-maker, and have the Money in their budget to afford the solution.
Finally, the sales rep determines the Prioritization of the prospect by checking how ready they are to make a purchase.
BANT (Budget, Authority, Need, Timeline)
BANT is another popular qualification method developed by IBM that prioritizes the capability of the prospect and their likelihood to make a purchase.
This method starts with the sales rep determining if the prospect has the Budget to afford the solution, and if they have the Authority to make the purchase. Then, the sales rep must evaluate if the prospect Needs the solution and determine the Timeline of when that solution would be likely purchased.
What Is Cold Calling Software & What Is It Used For?
Cold calling software provides companies with digital tools that help salespeople get the leads they need, sell to them, and keep track of them. Here's the best cold calling software available for sales reps:
UpLead for building B2B cold calling lists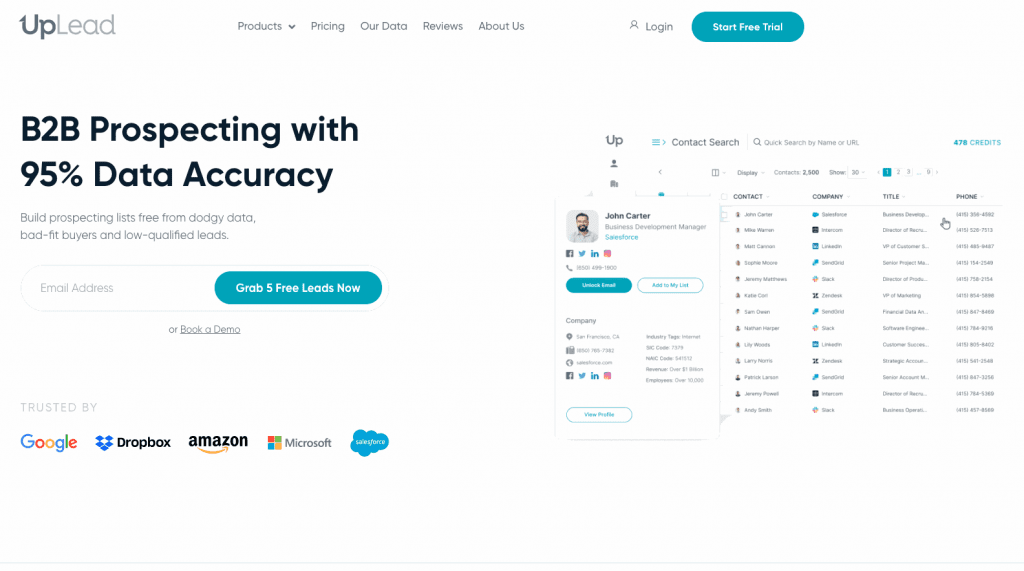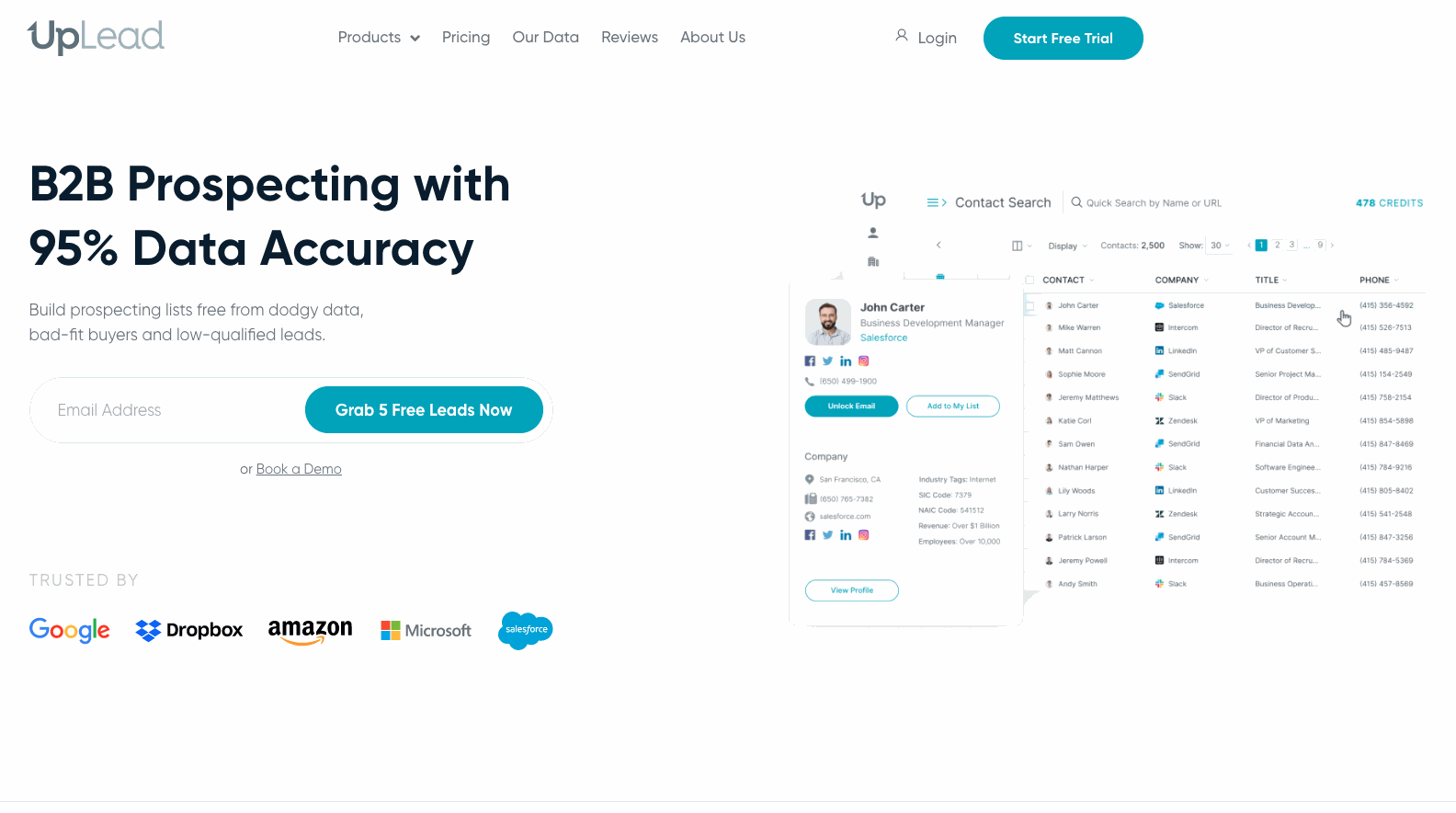 If you want to generate accurate cold leads quickly, you can't go wrong with UpLead.
Backed by a 95% data accuracy guarantee, UpLead is a powerful lead generation tool that allows you to generate the cold call prospects you need almost on command.
Simply filter the large B2B database by inputting the characteristics of your target audience. Then, you can browse through the leads, choosing the ones you're interested in manually, or selecting leads in bulk to get them downloaded.
All emails are validated in real time right before you download them to ensure you're only getting fresh information.
UpLead can also help your sales reps familiarize themselves with their leads through vibrant profiles. These profiles flesh out each lead, making it easy for your sales team to personalize their cold call approach.
Try UpLead today and see if it's a good fit for your company.
Start Your 7-Day Free UpLead Trial
Lead generation doesn't have to be all that painful. With UpLead, you can easily connect with high-quality prospects and leads to grow your company.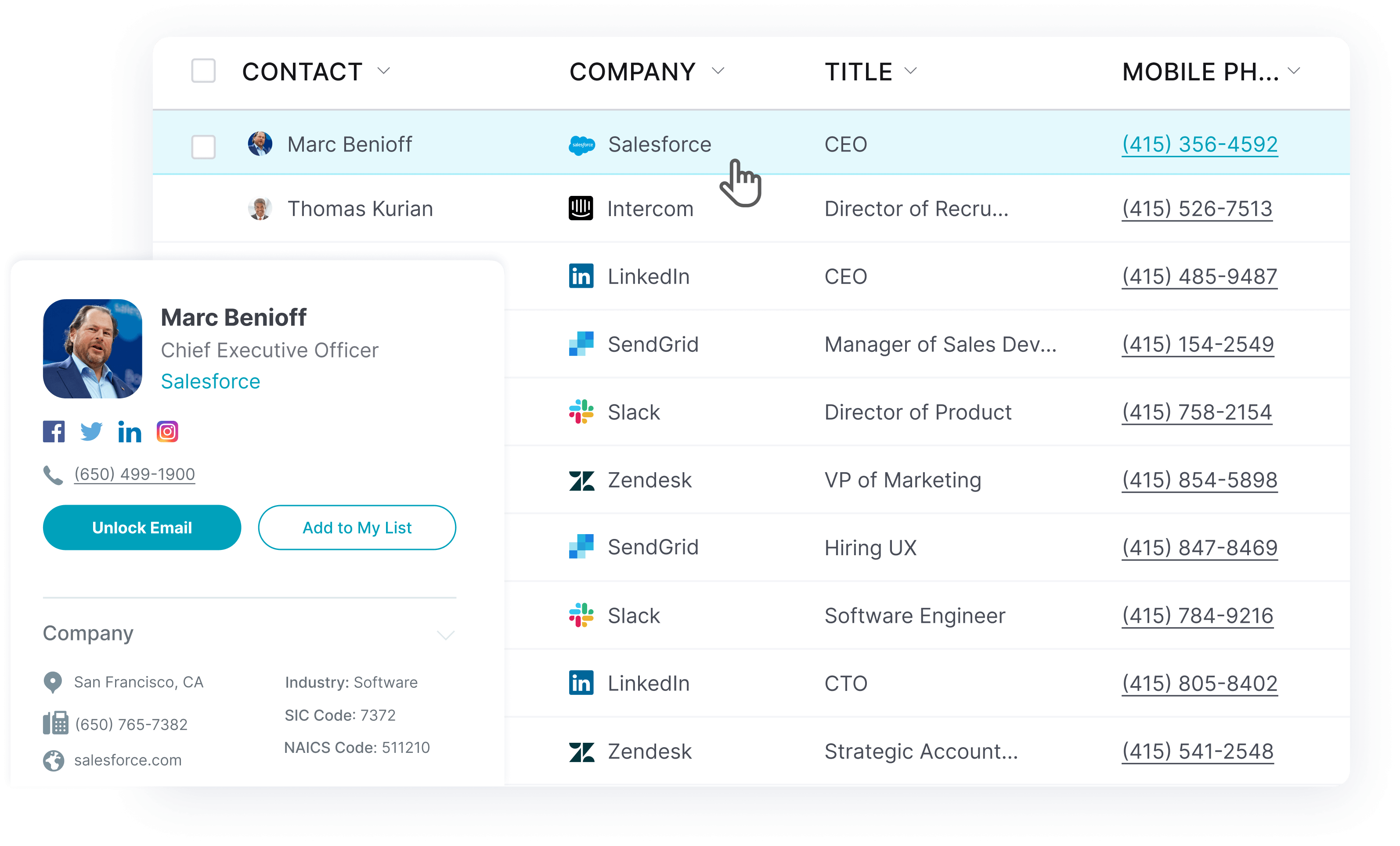 LinkedIn Sales Navigator for Social Selling and Lead Generation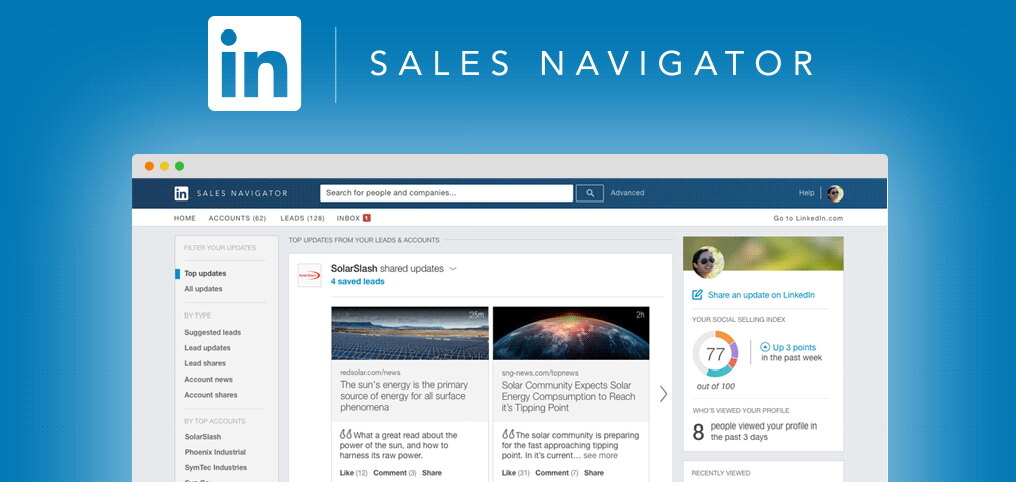 LinkedIn Sales Navigator is a great tool for generating leads through social selling. Social selling is a great way of generating warm leads, and getting references to cold leads you can call later. 
The Sales Navigator gives users access to the large LinkedIn profile database, allowing them to filter profiles according to their needs. This tool works well when paired with filtering users by their job position, location, and other LinkedIn profile information. With it, users can quickly find any leads for cold calling efforts that fit within their customer persona.
Although the platform can't generate phone numbers for your cold calling efforts directly, you can pair it with other tools and Chrome extensions to get the phone numbers you're looking for.
Aircall for cold calling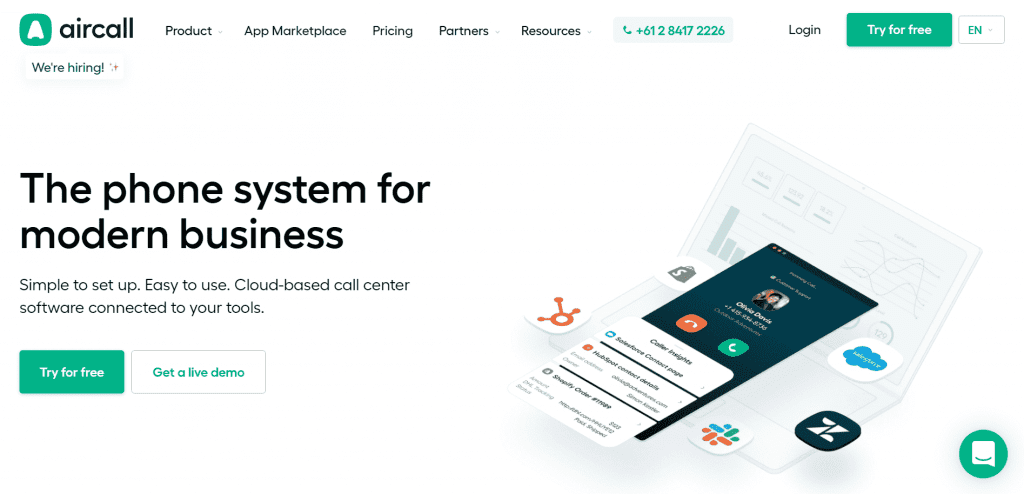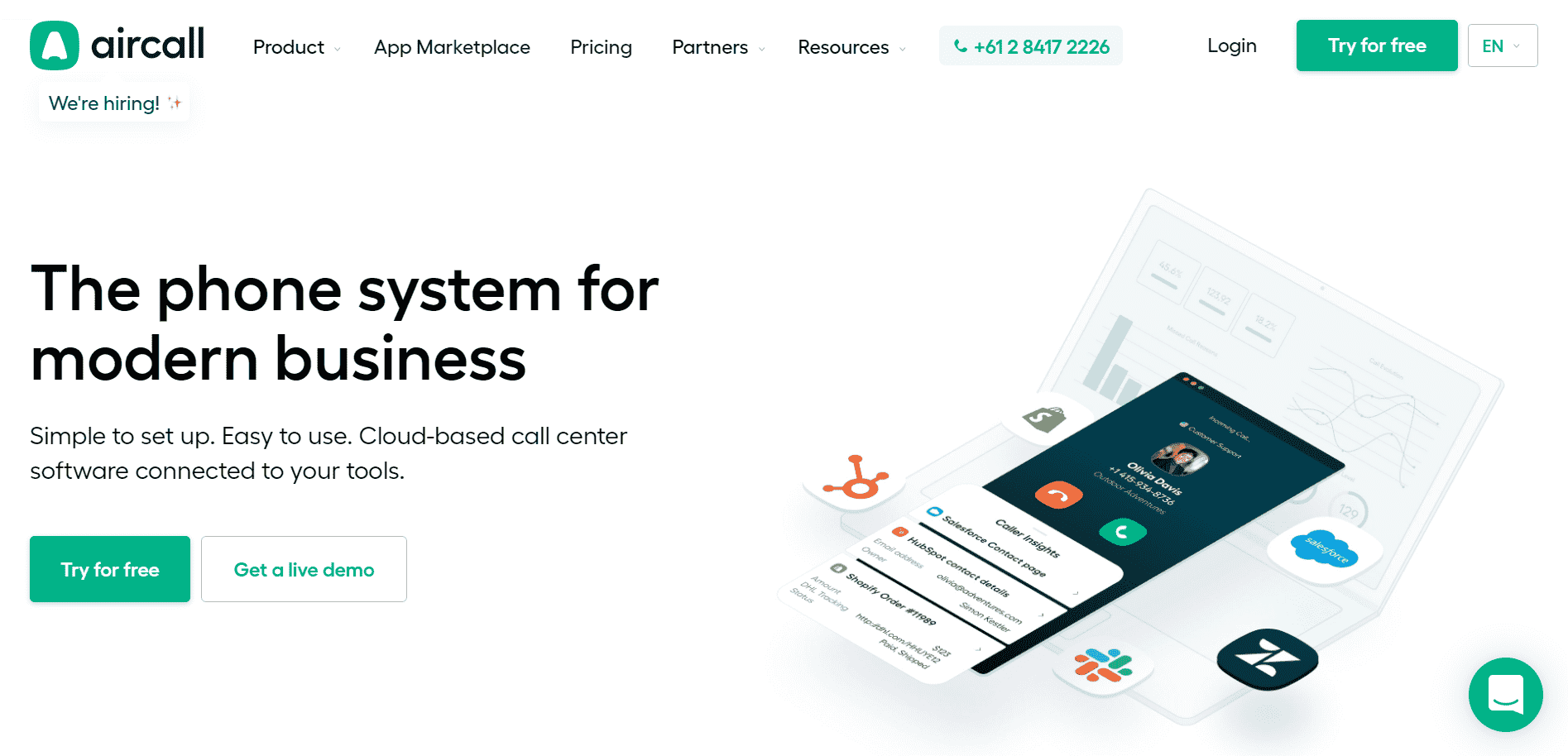 Aircall is a powerful and robust cloud-based phone system tailor-made for cold calling.
Using this tool, companies can connect their cold calling efforts with their CRM and other tools to ensure a streamlined multichannel approach. Aircall has a very simple and intuitive UI. In addition, the platform is optimized for remote workers, making it perfect for multinational companies.
HubSpot to connect sales reps with leads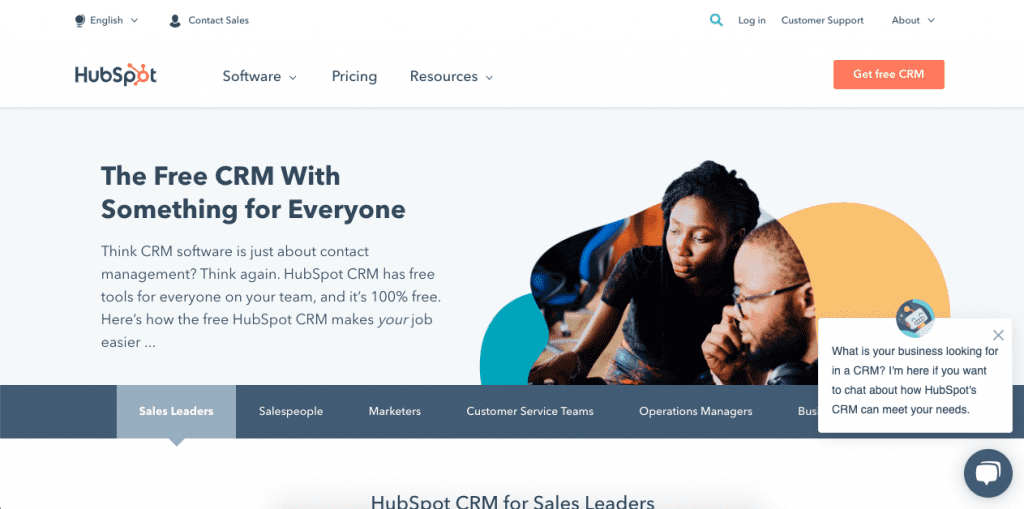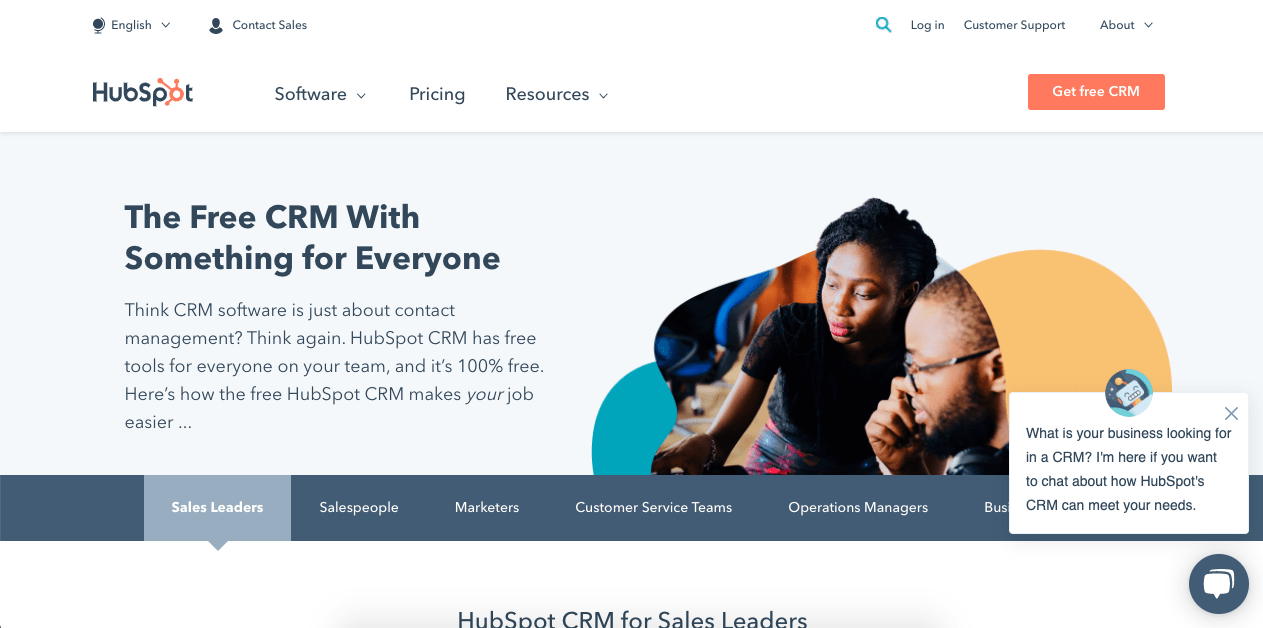 HubSpot CRM is a popular and award-winning CRM made for sales people and customer care teams to keep track of their leads and customers.
This platform comes with multiple useful features that are reasonably priced, and it's powered by a robust foundation.. With HubSpot, sales reps can keep track of their leads while managers keep track of their team.
The versatility of the platform, paired with its famous forever-free tier, makes HubSpot CRM an attractive option for businesses of all sizes.
Benefits of Working with Cold Calling Scripts
Here are some of the benefits of using good cold calling scripts:
Sound more prepared & polished
Scripts make it easy for your salespeople to sound professional and to convey the benefits of your product or service accurately. Many companies also give sales reps a script with talking points to help them counter common objections.
The right script has important information about the product and helps your sales team feel confident and prepared.
Fewer mistakes
You can also use scripts to minimize common salespeople mistakes and to help your team navigate complex topics.
Personalization opportunities
A good cold calling script is not a script set in stone. It's more of a guideline that's flexible enough to tailor to any prospect. By developing a script, you can help salespeople build rapport organically, and guide your team through adopting proven cold calling strategies into each call.
Less training time
Scripts allow you to minimize the amount of training needed to familiarize your sales team with your product and cultivate their selling skills. In fact, an excellent script can make a good sales person out of anyone, even if they've only had minimal training.
Examples of Cold Calling Scripts
Ready to create your cold calling script? Here are examples of some of the best cold calling scripts to get you started:
Basic cold calling template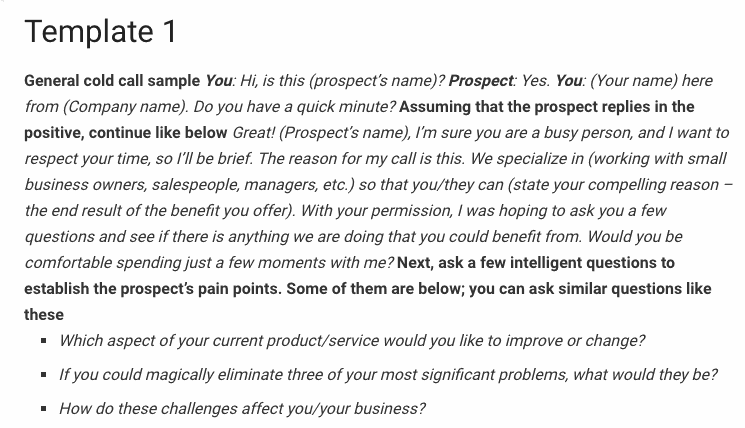 Made by MarketMeGood, this simple and elegant cold call template is a great place to start creating your cold call script.
The template flows through multiple questions and informs the lead about your company—all while staying brief and on point. The template can easily be adapted into any cold calling campaign.
Scheduling a demo presentation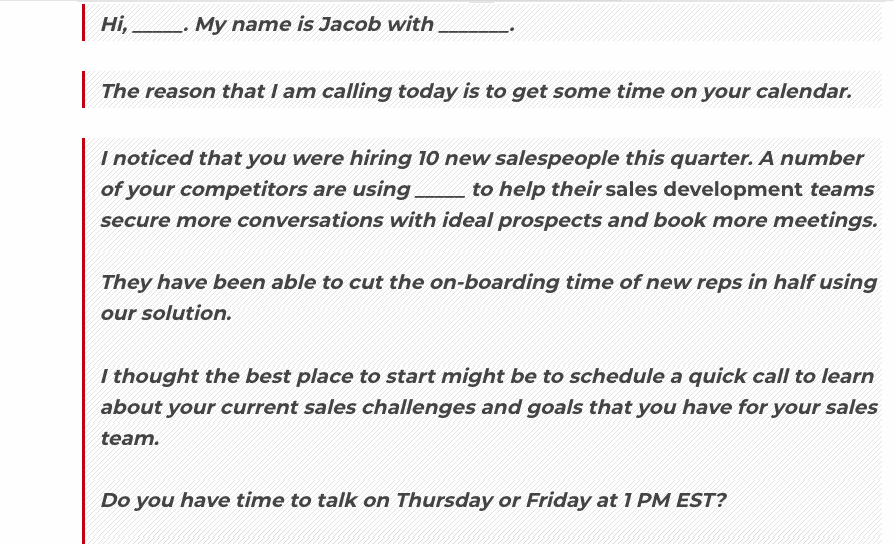 This script by Rise Fuel is a great way to schedule a demo as quickly as possible. This carefuly worded and well-constructed script is built to be as persuasive as possible in as few words as possible. That helps sales people be persuasive without taking up too much of the lead's time.
Qualifying from the start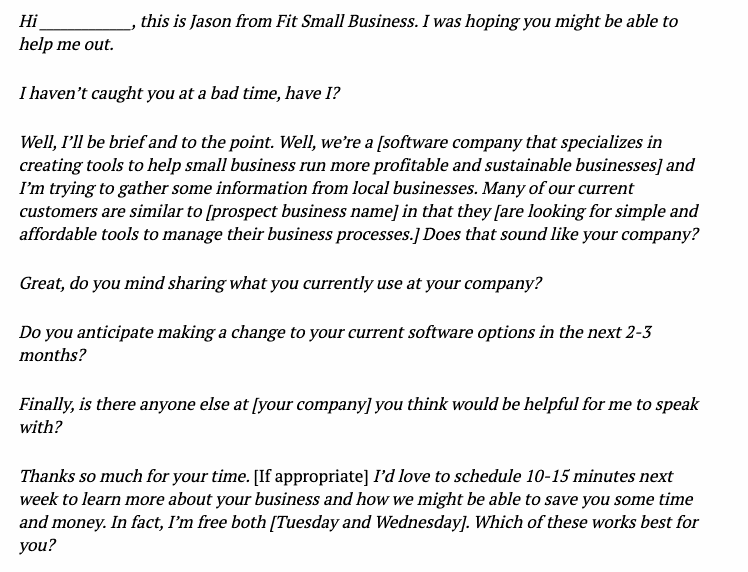 Written by Fit Small Business, this simple script is made to gather as much lead data as possible in just a couple of minutes. The script is written to allow sales people to qualify leads efficiently so that they can redirect their efforts to another individual if necessary. This script is polite and professional, and leaves a good impression regardless of the call's outcome.
The 30/50/50 Rule for Cold Calling
Here's a common and proven B2B benchmark your sales team can aim for:
Reach rate: minimum 30%
You should ensure that over 30% of your cold calls actually connect to the lead. Anything less will likely create a bottleneck effect on the rest of the sales process.
Meet this goal by ensuring you have high-quality data, and by having a healthy, multichannel lead generation strategy.
Qualify rate: minimum 50%
Out of the prospects who have been reached, salespeople should aim to qualify at least half of them. This involves interacting with the lead enough for them to provide the necessary information.
Improve your qualify rate with tighter, more persuasive scripts, paired with proper sales training for your staff.
Conversion rate: minimum 50%
Out of the leads qualified to move forward, salespeople should aim to convert at least half of them. At this point, the leads will be highly-qualified, so sales people should be able to convert them relatively easily.
Closely monitor the conversion rate at this stage of the sales funnel. If the conversion rate gets too high, it could mean your sales people are taking too long to close the sale.
By keeping it close to 50%, you ensure a healthy and time-efficient sales process.
Deadly Cold Calling Mistakes to Avoid
Here are some cold calling mistakes you do not want to make (or you'll appear in a popular cold calling meme):
Skipping research before making a cold call
Few things are more detrimental to your cold calling efforts than skipping lead research before picking up the phone. This is especially true when salespeople are dealing with highly-qualified leads or high-priced solutions.
Some tools like UpLead show sales reps vibrant lead profiles, allowing them to learn lead data quickly before making their calls.
Impersonal scripts
Once you've done your lead research, you can use that data to personalize your script. Go through each step of the script, adding or removing parts as you see relevant. You can place the lead's technographic information direclty into the script, allowing you to work with an accurate representation of your lead's current situation.
From there, your salespeople can quickly see what their leads will find appealing about your solution, and use that information to help make the sale.
Rigid script reading
A cold call script shouldn't be something you memorize or simply read out loud. It should be a set of guidelines that help salespeople improve their efforts while decreasing talk time.
You can help your sales team make successful outbound calls by developing a script that requires their active involvement. Allow them to inject their personal style into the sale.
Not knowing the product you're representing
A sales person should be well informed about the product they're selling. By knowing their product in and out, they can quickly identify how it can benefit their leads.
However, when it comes to the sale of large, complex solutions, training an average salesperson on the ins and outs of technical services may be too time-comsuming. Whenever possible, hire salespeople who are already familiar with the kind of solution you're selling. New sales people who are less familiar with the technical aspects of your solution can receive focused training that will help them get started making sales. As they progress in the company, you can offer continual training to promote a deeper, technical understanding of your solution.
Talking too much & not listening to the customer
With so many probing questions to ask and so many features to pitch, it's easy to forget an important aspect of your cold call: listening to your lead.
Engage your lead in the conversation by ensuring the questions you ask are open-ended. This will help you discover which topics ignite the lead's interest, and help you find ways that your solution could solve their pain points.
Not following up
With all the effort put into connecting your salesperson with the lead, you want to make sure your team is always following up.
You can use multiple CRM and cold calling tools to plan a follow-up as soon as the sales rep has finished a call, and schedule the follow-up to be made at an appropriate time. Remember, it's important to follow up multiple times before giving up on a lead.
Looking for best practices? Check out our article on cold calling tips to get the tips and tricks you need to thrive.
Cold Calling vs. Warm Calling
Whereas cold calling typically refers to contacting leads who have no previous knowledge of your product or service, warm calling focuses on following up with leads who have already expressed interest.
Warm calling is usually completed as a follow-up with leads captured through lead magnets or door-to-door salespeople.
You can generate leads to warm call by creating attractive lead magnets and promotions, improving your inbound efforts, and using lead generation tools to qualify your leads before making a sales call.
Although warm calling is often more effective than cold calling, it also involves a lot more work. That's why a healthy balance of cold and warm calling is usually preferred. That balance will generate and engage leads through a multichannel strategy.
FAQ on Cold Calling
Here are some answers to frequently asked questions regarding cold calling:
Is cold calling illegal?
No, cold calling in general is not illegal. However, cold calling should still follow the law, which often has strict guidelines on how and when a company can reach out to a lead. Laws regarding cold calling often include the use of a do not call list that users can register for upon request.
What is the purpose of a cold call?
The main purpose of cold calling is to proactively reach out to a lead to introduce them to a product and make a sale. This process, however, involves a number of steps. A good cold call ensures you're reaching the right decision-makers, qualifying them, and setting up a time and place to develop the customer relationship and complete the sale.
What does no cold calling mean?
"No cold calling" often refers to users who have asked to stop receiving cold calls. Abiding a no cold calling request is often a matter of legality.
If a person expresses that they do not wish to be contacted, they should always be placed on a do not cold call list.
Most cold calling platforms have tools that can easily place people on a list to prevent them from being contacted again.
Cold Calling: Conclusion
Cold calling is a great way to generate sales proactively. Other sales strategies can be time-consuming to develop, and are based on waiting for leads to come to you.
Want to start your cold calling efforts?
With UpLead, all you need to do is to input the characteristics of your user persona and let their platform do the lead generation for you. You can then create an effective script for your sales team, so they can start making sales and helping your business grow.
Try UpLead today, and see if it's a good fit for your company.
Start Your 7-Day Free UpLead Trial
Lead generation doesn't have to be all that painful. With UpLead, you can easily connect with high-quality prospects and leads to grow your company.