Effective marketing and lead generation center primarily on knowing your customers. Demographic information about leads, such as age, gender, location, and income level, are important details you can use for your company's growth strategies, but you shouldn't stop there. Purchase intent gives you a clear picture of your target audience's mindset.
It tells you where they are on their customer journey and how close they are to taking advantage of your products or services. Knowing how close they are to making a purchase can increase your focus and guide them further into your sales funnel. 
Predictive analytics explore how engagement, buyer behavior, demographics, marketing, and purchase intent converge. These factors affect a customer's readiness to purchase. Ideally, your leads display a high purchase and buying intent.
Quick Links:
What is Purchase Intent in B2B Marketing?
Purchase intent, also known as buyer intent or customer purchase intention, is the likelihood of your target audience buying a product or service from your company. The goal is to boost purchase intent by leveraging marketing strategies, thereby increasing the likelihood that your customer will make a purchase.
Evaluating purchase intent requires data on previous buyer behavior. Computer models are used for quantitative analysis to predict near-future consumer outcomes. These computer models use demographics, customer engagement, buyer or consumer behavior, and even seminar attendance to analyze B2B marketing strategies.
Collecting data for analyzing purchase intent or buyer intent requires evaluating online activities such as webinars and other customer engagement strategies, downloads, website traffic, and clicked paid ads.
B2B marketers should assess the purchase intentions of their clients by analyzing these factors and by reviewing demographic information, keywords used, email open rates, engagement rates, and human behavior data.
These analytics will help you understand your clients and develop a marketing strategy based on your target client's intent to purchase your product or service. You can use the data to create a marketing funnel that connects with your audience and gives them the information they need to trigger a sale.
Why Is Purchase Intent Crucial for Sales?
If a customer shows strong intention, they will likely purchase a product shortly. Recognizing when customers have reached the point where a sale is possible and the right marketing strategy using purchase intent can increase sales. 
A focused intent marketing strategy can help you build a funnel to increase consumer conversions and revenue as quickly as possible. When you leverage provider purchase intent data, you know which customer segments are most likely to buy. This information can help you boost sales through cost-efficient methods. 
How to Gather Purchase Intent Data
Purchase intent data can be mined from your existing customer base through different marketing activities and strategies or from third parties.
There are two types of intent data:
1. First-Party Intent Data
First-party intent data is gathered directly through website traffic, engagement activities, sales, and marketing efforts.
This internal data comes from direct interaction with leads and customers, such as visitor comments, email open rates, and social media engagement. Tracking tools, customer relationship management systems, email marketing software, and website analytics help companies collect internal intent data.
Google Analytics evaluates your website traffic and is a rich source of intent data that you can leverage for all your lead generation and marketing strategies. You can track visitors' journeys from your landing page and help answer questions such as: What link do they click next? What leads them to purchase something from the product page? What can you do to keep visitors from clicking away from your website?
First-party intent data is crucial to analyze your leads' actions when interacting with your brand online, reading your emails, or signing up for a marketing event. Their participation and engagement increase their purchase intentions. Intent data helps you analyze why and how effective your marketing approaches are.
2. Third-Party Intent Data
Related data that does not come from your organization is third-party intent data. Many companies use third-party software for data collection and analytics that meet compliance standards for gathering information.
Using third-party data saves time and frees up your marketing team to accomplish the more complex task of analyzing purchase intent data. Since you'll already know the kind of customers intent on purchasing your product or service, you can accelerate lead generation. Work on formulating a strategy that responds to your potential customers' actions and signals.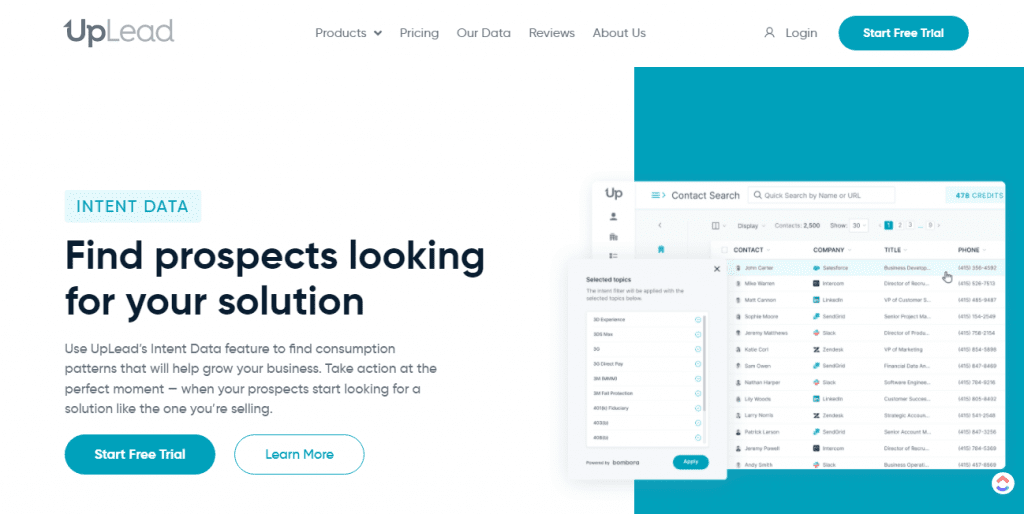 UpLead's Intent Data feature can help you generate lists of engaged leads, segment and prioritize them, and approach them at the right moment with the right message. You can learn what potential customers want to know before purchasing and use that information to improve your marketing efforts.
Third-party intent data can help B2B marketers determine their target audience's most effective customized marketing approach. You can optimize your sales cycle and improve your marketing strategies for focused and account-based marketing or advertising campaigns.
Leveraging intent data means streamlining your marketing efforts and giving each account the personalization it needs. You can easily engage your leads with the appropriate marketing push they need to complete their buying journey.
Start Your 7-Day Free UpLead Trial
Lead generation doesn't have to be all that painful. With UpLead, you can easily connect with high-quality prospects and leads to grow your company.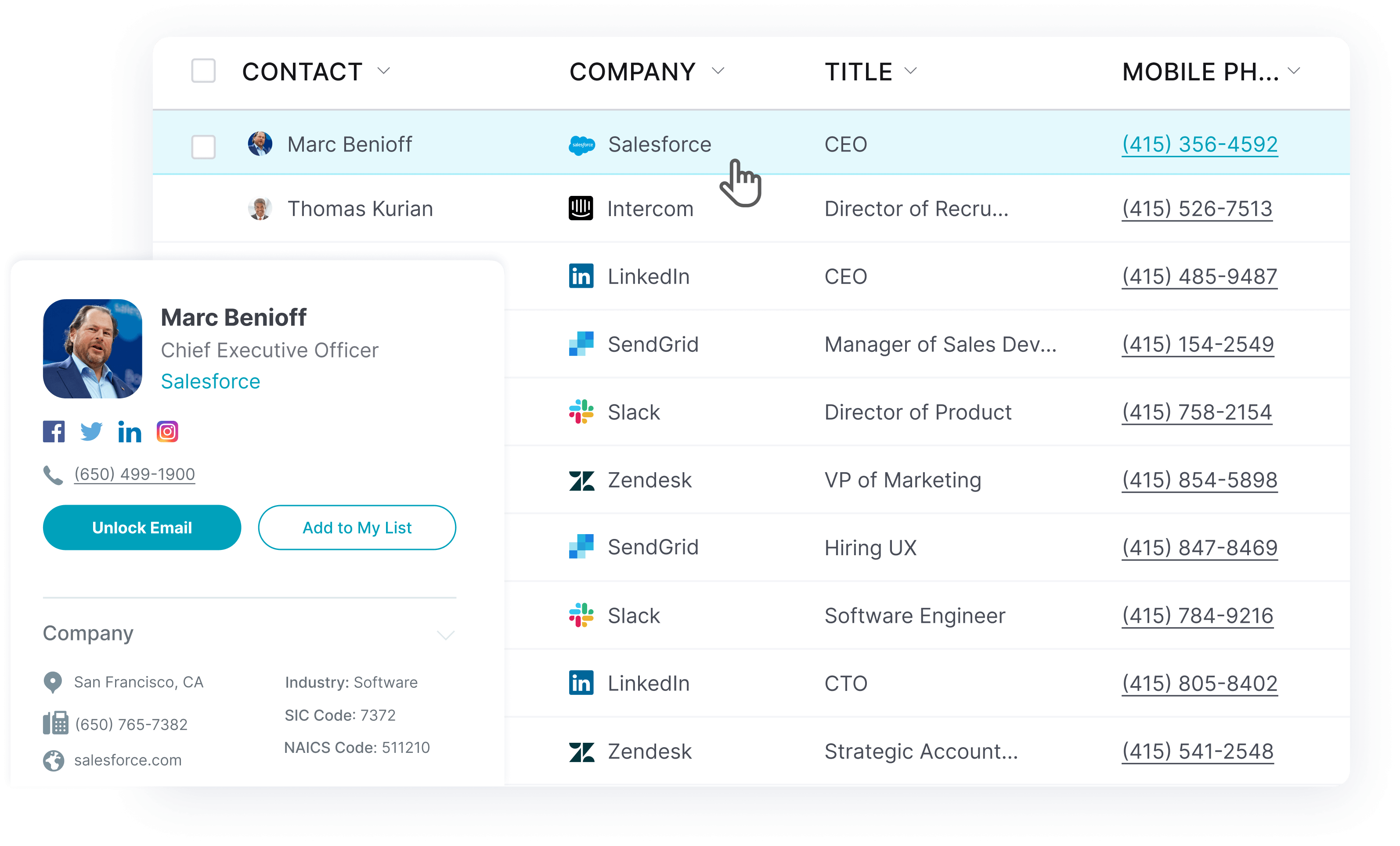 6 Tips to Generate Leads and Sales Using Purchase Intent
Now that you've collected the data you need and have ways of determining purchase intent, here's how you can use this data strategically for long-term success.
Below are six tips to help you leverage purchase intent data to your advantage.
1. Build Your Account-Based Marketing Strategies
Using purchase intent data for your account-based marketing campaigns and strategies can shorten your sales cycle and improve your retention rates with B2B clients. Whenever possible, your team should apply marketing and sales strategies to each individual account, allowing for greater customization and personalization that suits your clients.
Using purchase intent data for account-based campaigns can lead to higher retention rates. Clients are more loyal when you provide excellent service and the exact solution they need. Account-based strategies help build stronger brand-customer relationships that can last for years.
2. Analyze Your Sales Funnel
Analyze your sales funnel to determine which leads exhibit a higher purchase intent that could lead to a sale. Different types of leads may show either informational or transactional intent.
Informational intent means your leads are looking for content that will educate them on the solutions your brand can provide.
Transactional intent is behavior that indicates they are actively seeking to make a purchase. This could include activities such as looking at rates on your pricing page, using a highly-specific keyword, or putting items into a shopping cart.
Use purchase intent data to determine where your leads are in your marketing funnel. Are they at the awareness stage, consideration, decision, or purchase point? Knowing their stage in the buying process will help you build a marketing funnel that will generate revenue in the short and long term.
3. Determine Precise Advertisement Targets
Knowing your audience's buying intent allows you to create marketing strategies that are intent-based as well. You can optimize your advertising campaign and generate higher conversions using intent-based ads.
Intent-based advertising is incredibly cost-efficient because it ensures that more ads will likely reach their intended targets. Whether you use programmatic advertising, email marketing, social media marketing, or paid ads, your marketing messages will resonate with your prospects and increase response and engagement rates.
You don't need to create ads from scratch; you can retarget your existing ads. Determine the right audience based on their browsing behavior and buying intent. Use their online activity to deliver relevant content that will encourage them to move forward on their customer journey.
4. Focus on High Intent Keywords With SEO
Identify relevant keywords your target audience uses and integrate them into your search engine optimization (SEO) strategies. Once you have purchased intent data, you can also analyze the intent behind the keywords and create content that can translate into revenue.
When leads use high-intent keywords, their intent is largely transactional, which means they are very close to purchasing a specific product. Your SEO and marketing strategies should leverage these keywords to trigger a sale as quickly as possible.
Focusing on high-intent keywords will help you generate SEO leads, boost your ROI, and convert leads into repeat or loyal customers.
5. Create a Lead Scoring System
Once you've generated your leads, you can create a lead-scoring system to assess them. This can help you rank your leads and understand where they are in their customer journey.
Lead scoring may incorporate factors such as supplier, pricing, and engagement, depending on your niche. It's best to develop a lead scoring system unique to your business and to use historical data to assess which strategies successfully boost conversions. 
Purchase intent data will help you analyze your audience's behavior on your company's website. You can use this data to compare past and current consumer behavior, which will help you determine which leads are closer to making a purchase decision.
6. Differentiate Content To Maximize ROI
Content marketing is incredibly effective—consider the e-commerce boom and the slew of businesses transitioning to the digital landscape. A robust content marketing strategy is vital to reaching your target audience and converting them into paying customers.
Create blog posts, infographics, videos, and other high-end content that is relevant and valuable to your target audience. Provide specific information that will make you an authority in your industry. Use long-tail and high-intent keywords to capture leads very close to the purchase point of their customer journey.
Leverage market research to gain insight into content marketing channels. Speed up your return on investment (ROI) by focusing on one or two platforms where you can get the most engagement. Tailor your content to perform well; minor details such as photo choice, caption length, title, and content angle can significantly affect engagement numbers.
Well-researched, specific, useful content that addresses customer pain points will bring your target audience to your door—and more organic traffic means more conversions and revenue.
FAQs Regarding Purchase Intent
How Is Purchase Intent Calculated?
Intent does not remain constant over time, so it is challenging to calculate. Concrete data related to intent include demographics, psychographics, and behavior. While these factors are identifiable at certain points, they can change quickly.
Marketers use a scale to measure purchase intent through customer surveys. There are two purchase intent scales: the Likert and Juster scales. The Likert scale for buying intent uses 5 points, where 5 indicates "will purchase" and 1 indicates "definitely will not purchase."

The Juster scale uses 11 points to identify the respondent's intent; each number represents an even more specific response. However, many marketers note that neither scale can truly provide a complete picture of purchase intent or buying intent at any given moment. You may opt for artificial intelligence, which can create computer models and use all available data to measure purchase intent accurately. 
What is Purchase Intent Data?
Purchase intent is behavioral data based on a customer, target market, or company's online behavior and activity. This data can include website visits, previous online purchases, and engagement on different platforms.  
Secret Weapon for B2B
Customer demographics are only one dimension businesses need to consider when developing a sales strategy. Purchase intent is an important element and one that can lead to long-term success for your business. Leveraging your target market's buying intent can streamline marketing strategies, generate leads, increase conversion rates, and significantly boost revenue. 
UpLead can be your partner in harnessing the power of purchase intent. We can help you get the most accurate intent data on the market and drive marketing strategies that will quickly capture your target market.
Start Your 7-Day Free UpLead Trial
Lead generation doesn't have to be all that painful. With UpLead, you can easily connect with high-quality prospects and leads to grow your company.