When it comes to agency leads, more is infinitely better than less. The more leads you have, the better your chances of getting more clients.
However, not any lead will do. If you want to thrive, you not only need to generate more leads, you need to generate quality leads.
This article will go through the best techniques to generate leads. We'll discuss various options for organically generating leads and buying them so you'll never run out of new leads.
By the end of the article, you'll know exactly how to generate the sales leads you need.
Let's get started.
Quick Links:
1. Use a professional lead generation tool
A professional lead generation tool is the easiest way to generate leads.
Lead generation tools allow you to generate leads, letting you practically buy new clients quickly. You can also use lead generation tools to enrich your lead data with personal information and generate a steady stream of potential customers.
Advantages of using a tool for agency lead generation
Here are a few advantages of using a tool for agency lead generation:
They're a fast way to generate quality leads: Lead generation tools allow you to sort through their databases, looking for potential customers among your target audience and getting their contact information immediately.
They can populate your sales funnel: You can generate leads according to where they are in the buyer's journey and buy leads for each step of your sales funnel.
They can help you generate leads as you browse: Some lead generation tools allow you to generate leads as you browse LinkedIn or company websites to generate hyper-focused leads easily.
Try Uplead to generate more agency leads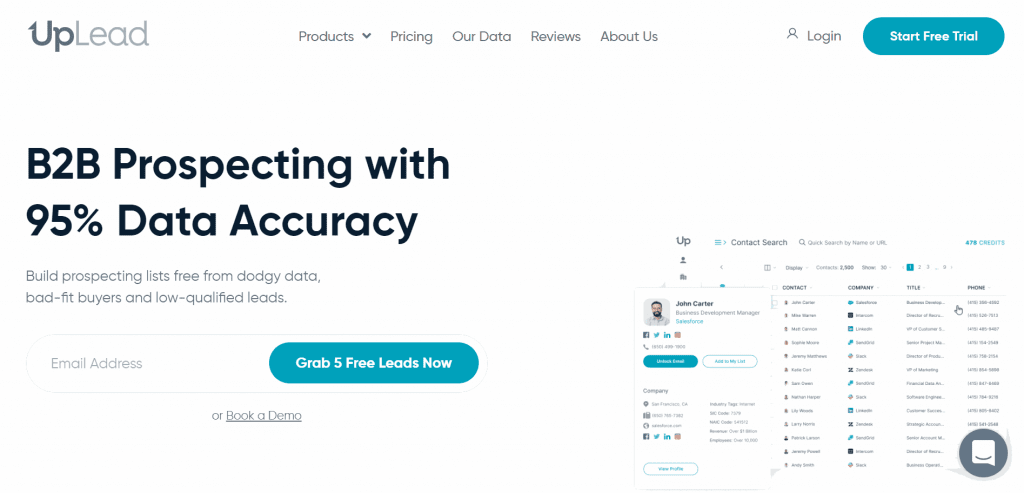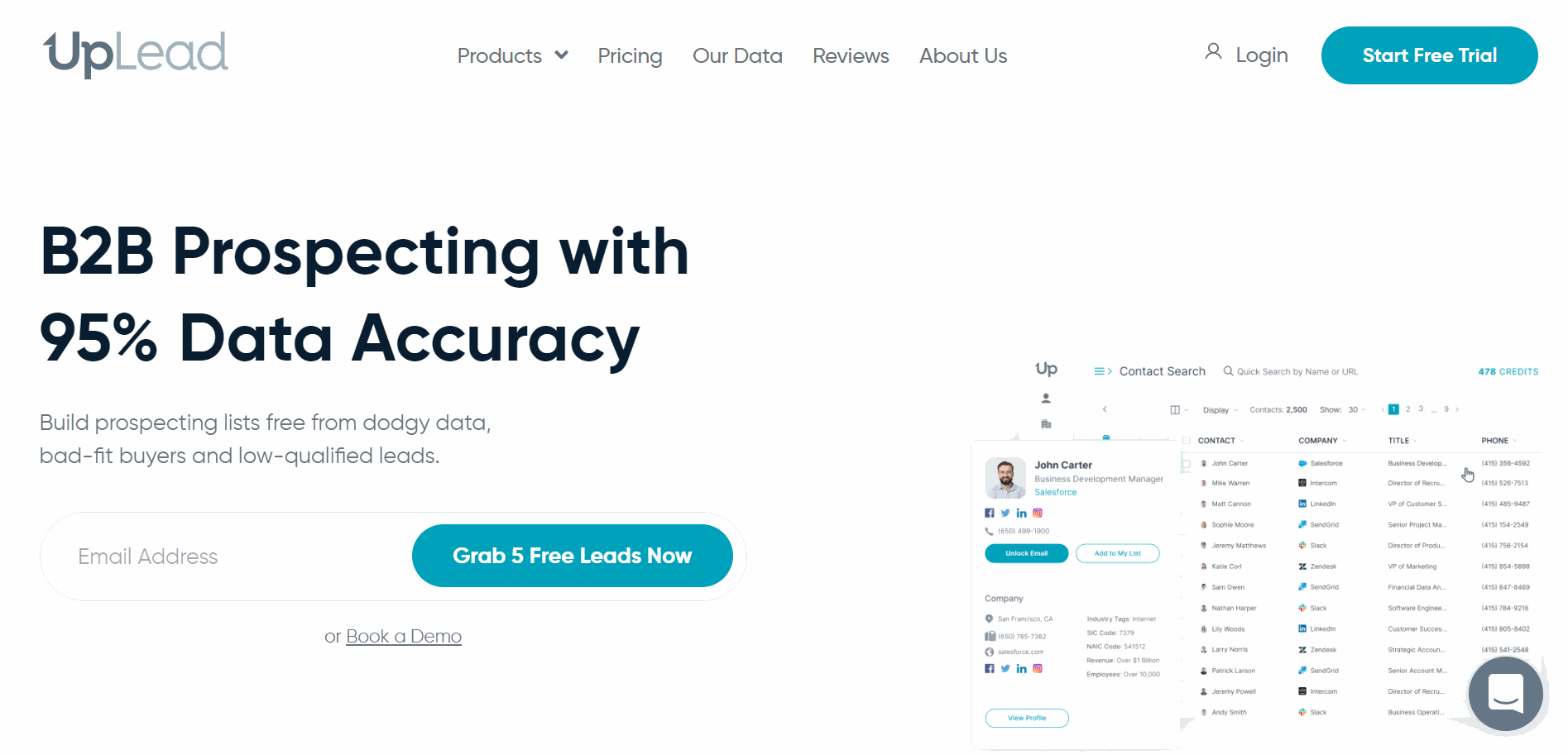 UpLead is a lead generation platform with powerful features that allow you to generate all the leads you need.
Browse through UpLead's 135+ million business profiles, easily filtering your search with criteria like company size, industry, and technographic information. Once you're ready to download the leads you need, UpLead verifies all emails in real-time to ensure deliverability. That way, you know you're only paying for data you'll actually use.
Use UpLead's Chrome extension to generate contact information as you browse job postings and company websites. Then integrate UpLead with your customer management tools to send those leads to the right marketing campaign.
Got lead data already? Use UpLead to enrich your data with accurate contact information like their telephone number and validated email, as well as the personal information you need to segment them effectively. That way, you'll ensure you have all the customer data you need to cater to their needs properly.
Unlike most tools out there, UpLead offers a 95% data accuracy guarantee, ensuring your marketing emails and cold-calling campaigns have the data they need.
Try UpLead for free today to see if it fits you well.
Start Your 7-Day Free UpLead Trial
Lead generation doesn't have to be all that painful. With UpLead, you can easily connect with high-quality prospects and leads to grow your company.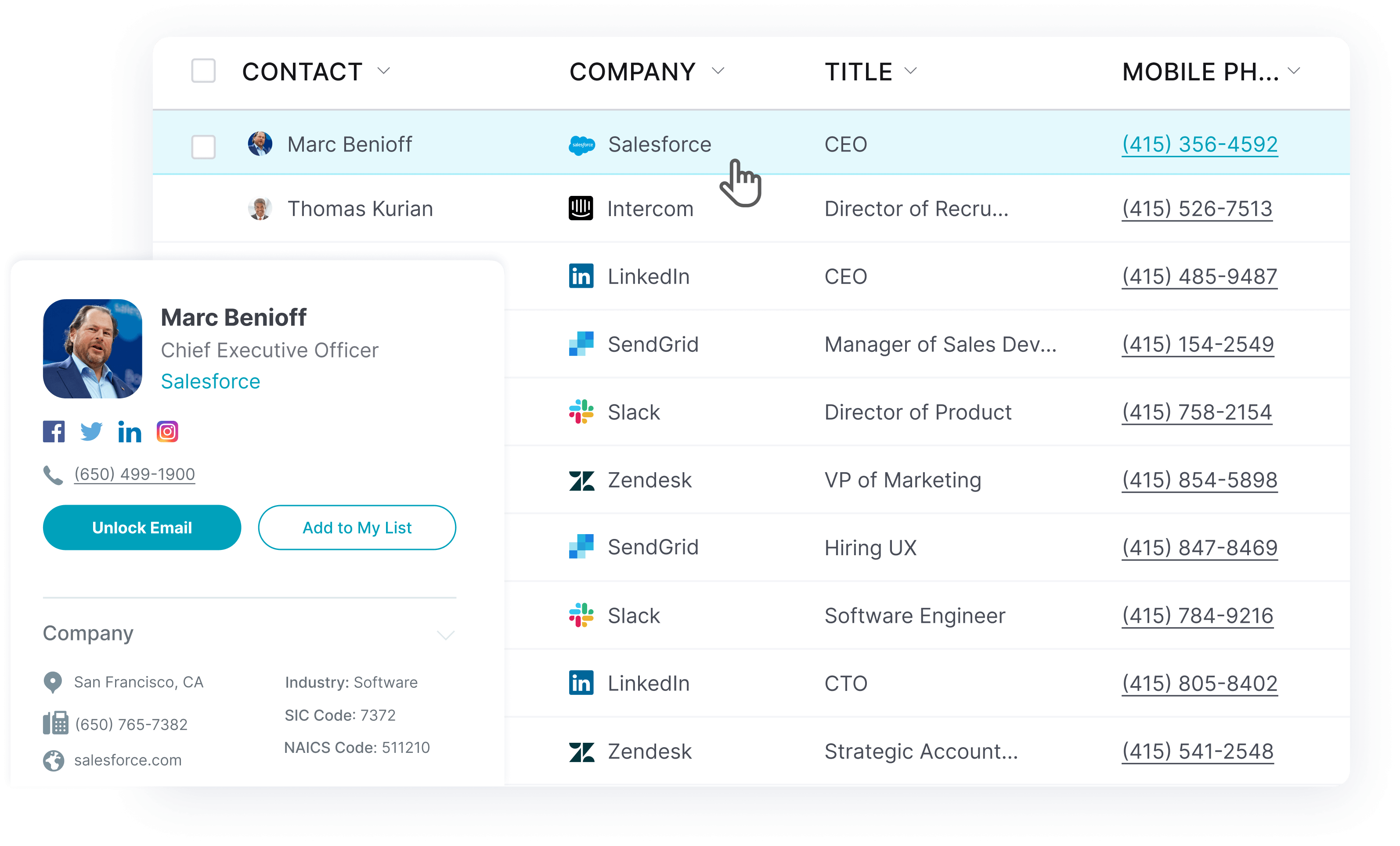 2. Create content that satisfies the needs of your target audience
Another way you can generate leads is through inbound marketing efforts, generating content that targets the right audience. This satisfies the query needs of your target customers and ensures they become a buyer when they're ready to buy.
Main types of content to generate agency leads
Here are the main types of content to generate leads:
Blog posts & informational articles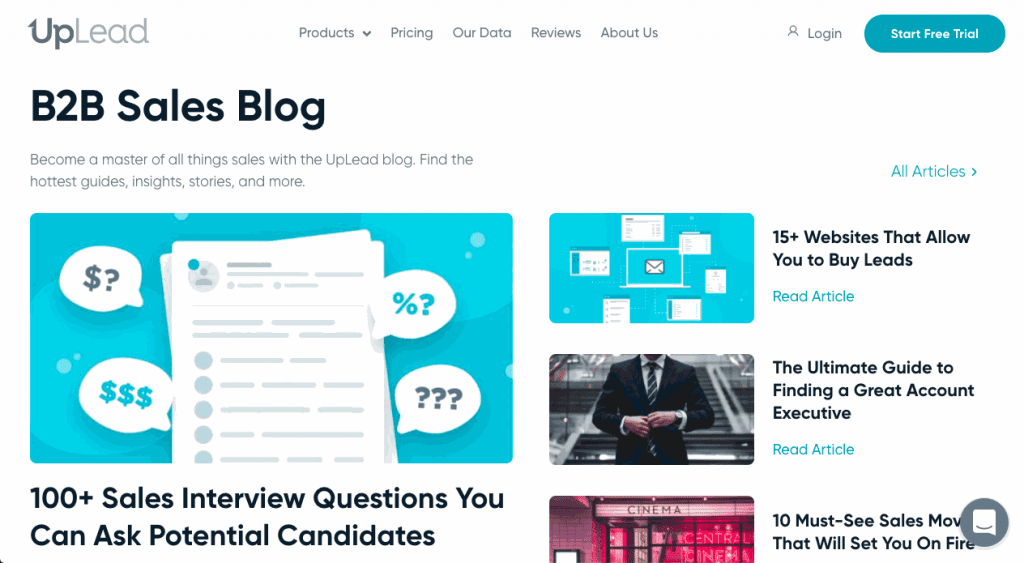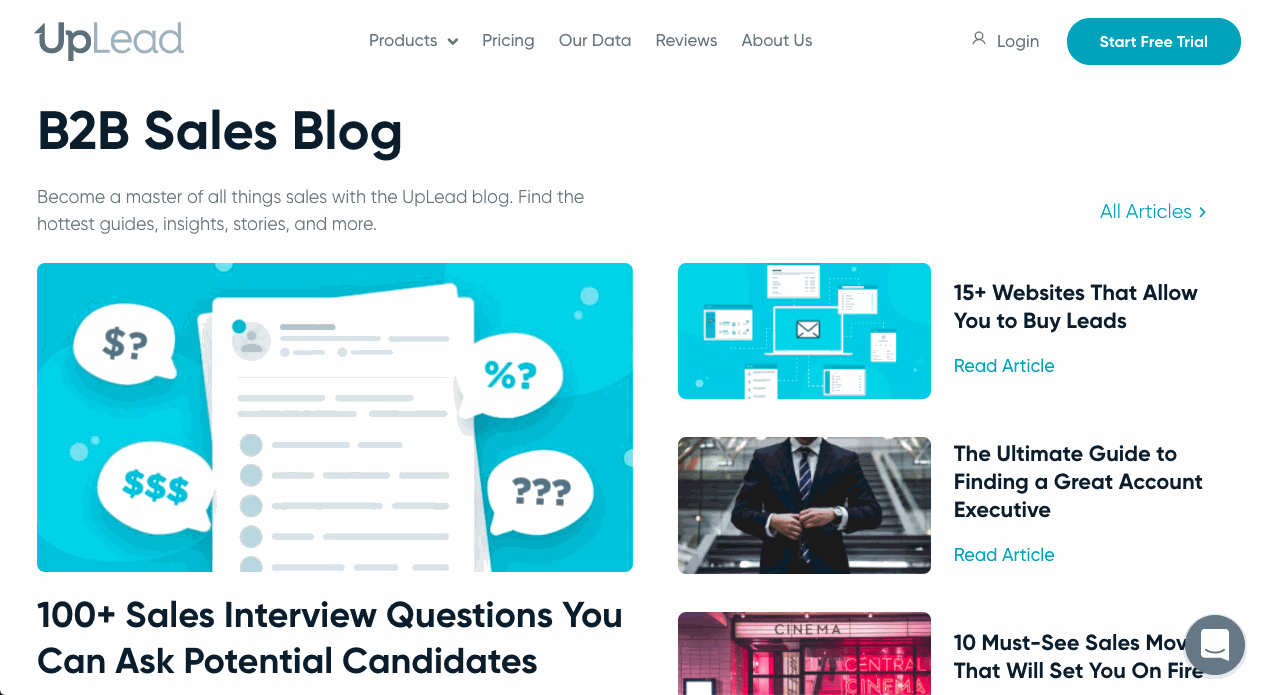 UpLead's B2B blog
The easiest way of targeting keywords is through written content. Blog posts and articles can fulfill your audience's queries and attract different user personas.
Write articles focused on SEO-friendly, evergreen content around long-tailed keywords. You can develop this content based on the customer journey, answering the questions your user may look up.
When done correctly, these articles can continue to generate leads, educate your potential customers, and establish you as an industry authority.
Social media posts
Social media posts effectively nurture long-term leads to making a purchase. They also keep your audience engaged and informed.
Focus on high-quality content on a couple of social media platforms rather than having average-quality content on them.
Gated content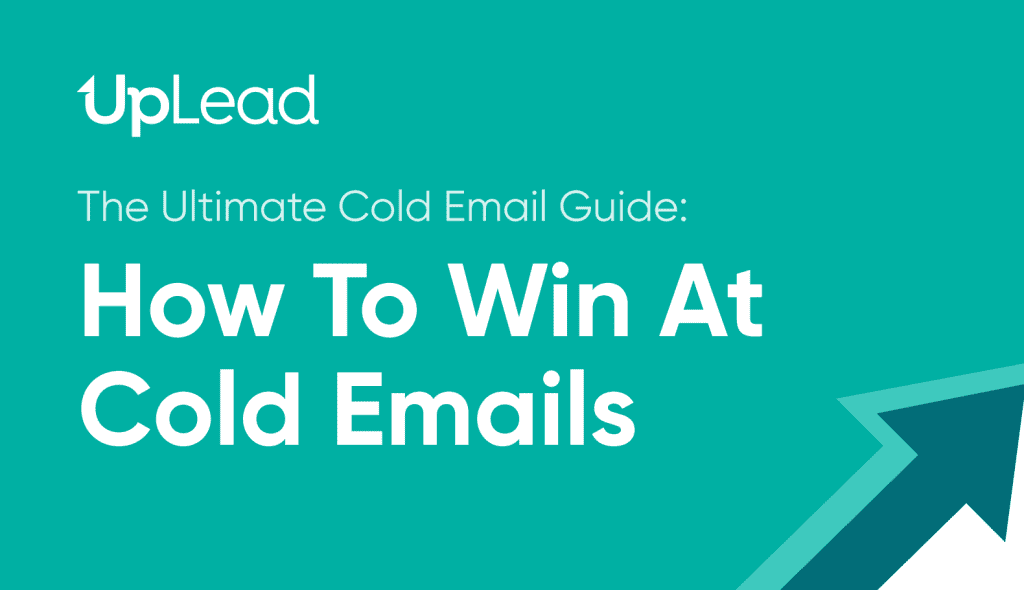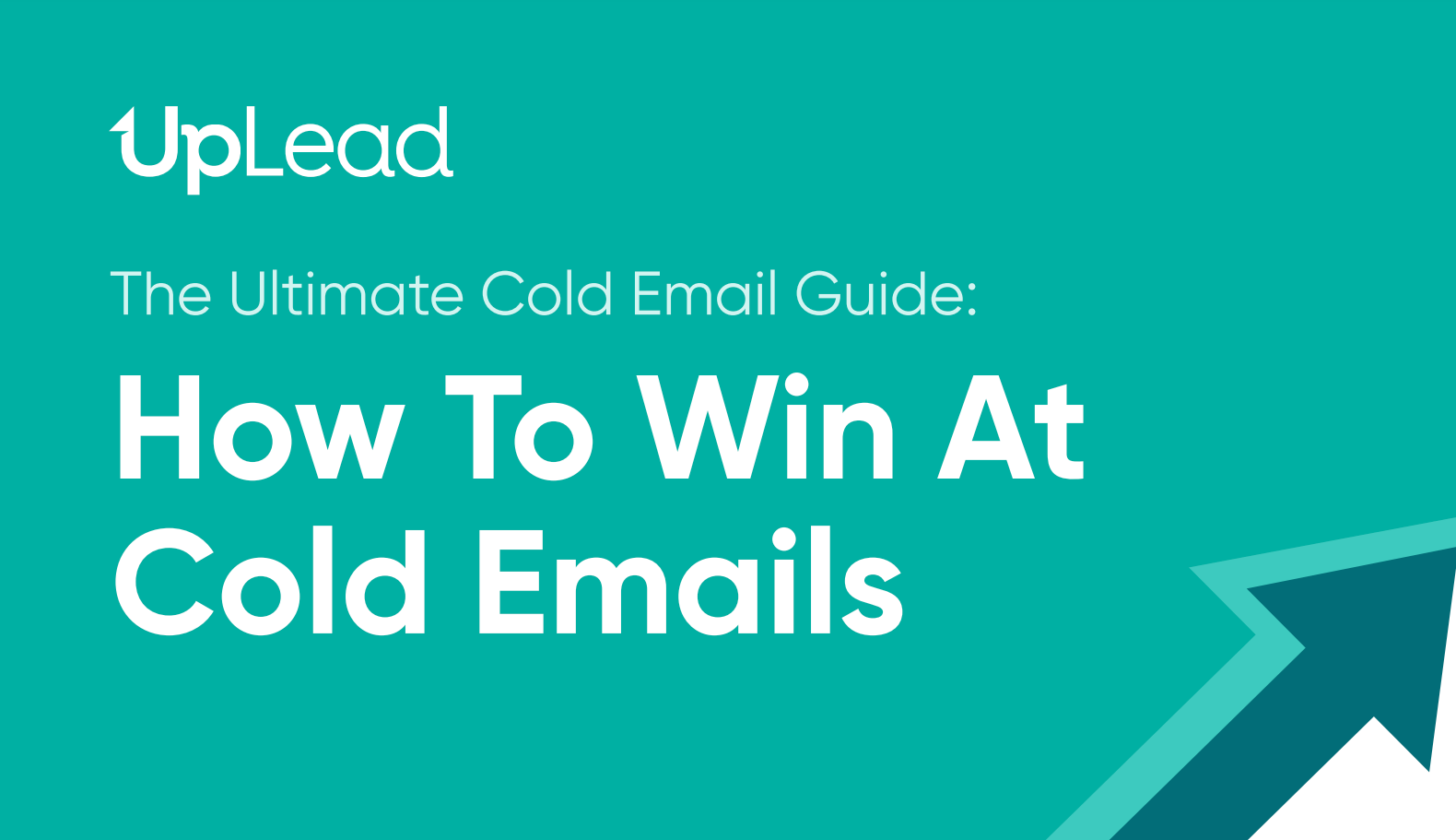 UpLead's valuable cold emails ebook
Another great way to obtain leads' personal information is using gated content, like ebooks or video courses. Gated content will also incentivize your target audience to learn more about your company.
But just having gated content isn't enough. Make sure to delight your customers by overdelivering, ensuring your content is top-notch so you can keep engaging users long after consuming your content.
Bonus: Check out the lead generation books we recommend reading to learn more about them.
Podcasts
Podcasts are more popular now than ever. Although time-consuming, developing and keeping up with a podcast can be a powerful way to generate laser-focused leads.
Develop podcasts around your leads' interests, so you can start tapping into a stream of listeners who fit within your client demographic.
Online courses & webinars
Like gated content, online courses and webinars are another highly effective way of exchanging lead information for quality content.
Take advantage of all the recent surfacing tools to learn and work online to develop an online course that looks great and converts leads.
Newsletters
Nowadays, users are more interested in personalized newsletters than generic marketing emails with coupons.
Listen to your audience, and develop newsletters based on their discussions. Produce highly valuable, targeted content to ensure your audience will read your newsletters and look forward to them.
3. Invest in SEO & SEM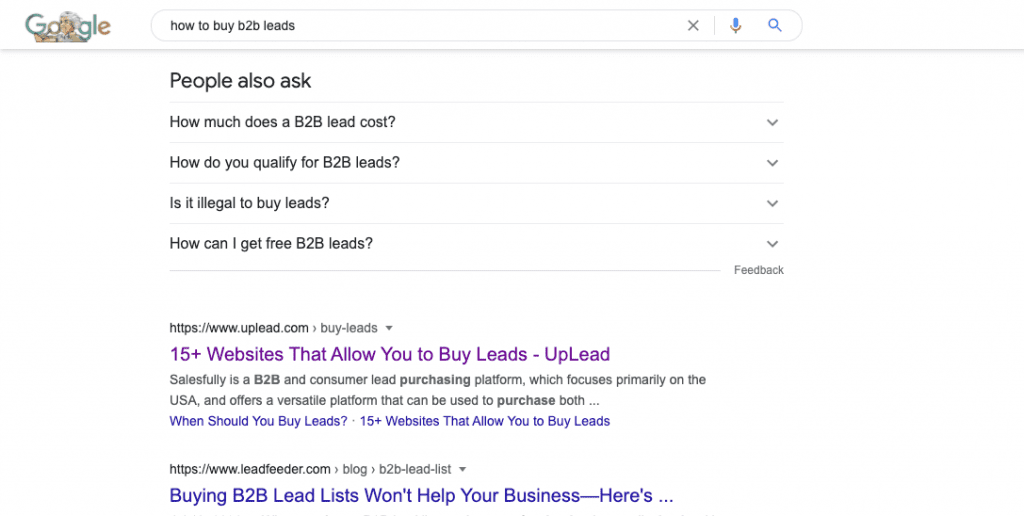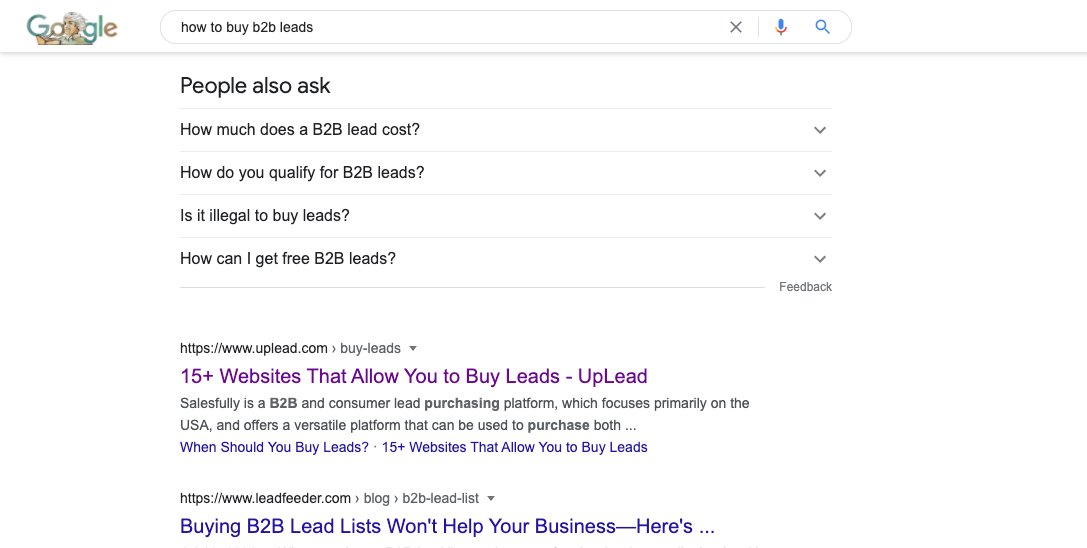 Both Search Engine Optimization and Search Engine Marketing are great tools that can be used to your advantage.
Here's a closer look at both of them:
Why SEO is important to generate agency leads
Here are a few reasons why SEO is vital when generating B2B leads:
It's extremely cost-effective: Even the most modest startup will likely be able to optimize its website and generate SEO-friendly content semi-regularly fully.
Allows for long-term lead generation: Good SEO marketing efforts can continue generating leads long after they're created.
Fosters brand authority: Through targeted articles, a brand can become an authority in the industry.
Why SEM is important to generate agency leads
Here are a few reasons why SEM is vital when generating leads:
Immediate results: If an ad is targeted successfully, it can generate a constant stream of traffic regulated through the ad's budget.
Hyper-targeted audience: SEM efforts allow users to buy their way to a lead ready to make a purchase, ensuring their brand is the first thing they see.
Fairly cost-effective: As long as the right keywords are being targeted, SEM efforts can easily be regulated to generate more than their cost.
Many agencies buy SEO leads via SEM campaigns.
4. Build a strong social media presence that appeals to potential agency clients
Most people use some form of social media, so your brand should be there too. Your profile should rival the presence of your audience's influencers if you want it to be effective.
Here's a closer look at your social media presence and tips for boosting yours:
How to generate agency leads with some of the most popular social media platforms
Here's a close look at how to generate leads through a strong social media presence:
YouTube
YouTube videos are a rising method of developing SEO-friendly content to generate leads through organic traffic.
High-quality YouTube videos can quickly generate leads, and evergreen content ensures you will continue to generate leads for years to come. If you can't develop a channel yourself, search for YouTube creators that are targeting your niche, and offer to partner with them.
LinkedIn
Although LinkedIn groups are pretty much a thing of the past, users can always find new ways to connect with others through a strong LinkedIn presence.
Update your LinkedIn profile and make sure you're listing and boosting your connections. Once you have a strong profile, you can aid yourself with the LinkedIn Sales Navigator to connect you to a limitless list of potential leads.
You can also create organic LinkedIn content to build an audience and boost your profile presence. Make sure your content is fully optimized for LinkedIn, and it's as shareable as possible.
Instagram
Instagram allows you to generate leads through strong visuals. Although some users follow business Instagram profiles for sales and coupons, most follow them for content.
Favor content that makes it easy for people to tag other people in the comments and boost your presence by following the users who you'd like to have as followers.
Twitter
Twitter makes it easy to maintain users by engaging them with short texts. This allows businesses to instantly inform users of new products, services, sales, and other relevant information.
Boost your Twitter account by engaging with users, listening to their customer experience, and allowing that feedback to inform your strategies. Make sure you're also creating valuable and sharable content that your audience can engage with, and keep focusing on growing your Twitter following organically.
Facebook
Although having a Facebook business page is the easiest way to increase your visibility on that social media platform, Facebook groups are far more engaging.
Although harder to create and foster, Facebook groups of niche audiences can create a high level of engagement and can even become self-sustainable. Create the ideal group to solve your target audience's main pain point and grow it through promotions that increase user engagement.
Pinterest
Unlike most social media platforms, Pinterest allows you to generate highly qualified leads — if used properly directly.
Choose the right categories for your content, and develop unique images and videos that target relevant keywords so users can find them, pin them, and follow you. You can find a highly engaged Pinterest audience through the right content creation efforts.
5. Partner with influencers in your niche
Sometimes, the best way to make your way into a niche is by paying an influencer to make the introduction for you.
Find the right bloggers and influencers according to your target audience's interest and profile. Then, contact them to ask for a quote and offer a free trial or sample so they can test your solution.
Although it can be expensive, influencer endorsement can yield immediate and long-lasting results.
Alternatively, you can target highly relevant blogs and offer to write an article for them. Guest posting allows you to promote your solutions through the right channels while creating powerful backlinks for SEO purposes.
6. Create a solid referral program that aligns with your goals for agency lead generation
The best leads are often those generated by your own clients. However, not everyone knows how to ask for a referral without appearing pushy or awkward.
Start by focusing on asking for referrals from your happiest customers. You can offer them a benefit, like a free upgrade or temporary discount on their current fees, for any of their referrals who convert.
Once proven, you can develop the necessary infrastructure to create a referral program where both the referral and the client receive benefits once both are paying customers. Then you have to let your users know how to use it, and they'll keep it in mind whenever they meet someone else with the same pain points.
7. Proactively foster agency lead generation when participating in relevant industry events
Lead generation isn't just an online thing. Live events are still great opportunities for businesses to generate strong leads and create business networks simultaneously.
If you want to keep things virtual, you can even host online events, offering other companies the opportunity to bring in a guest speaker to promote their business while educating your audience.
Make sure you have a simple process for following up with any potential customers you meet by recording their information in the right database. You can then use that database to create automated follow-ups and redirect those leads to your sales team.
8. Create landing pages that are optimized for agency lead conversion
If you want to thrive in your online marketing efforts, you need to nail your landing pages.
Start by making sure your landing pages have all the information your visitors need to become leads. Find a good reason to ask for their email address and reward them with a coupon or newsletter access.
If the goal of the landing page is conversion, try to streamline the page as much as possible, going as far as removing your navigation menu from the page and leading directly to a purchase. All distractions, like banners or coupons, should be removed, keeping only the data related to your brand and an explanation of the reason the lead should convert.
9. Offer free trials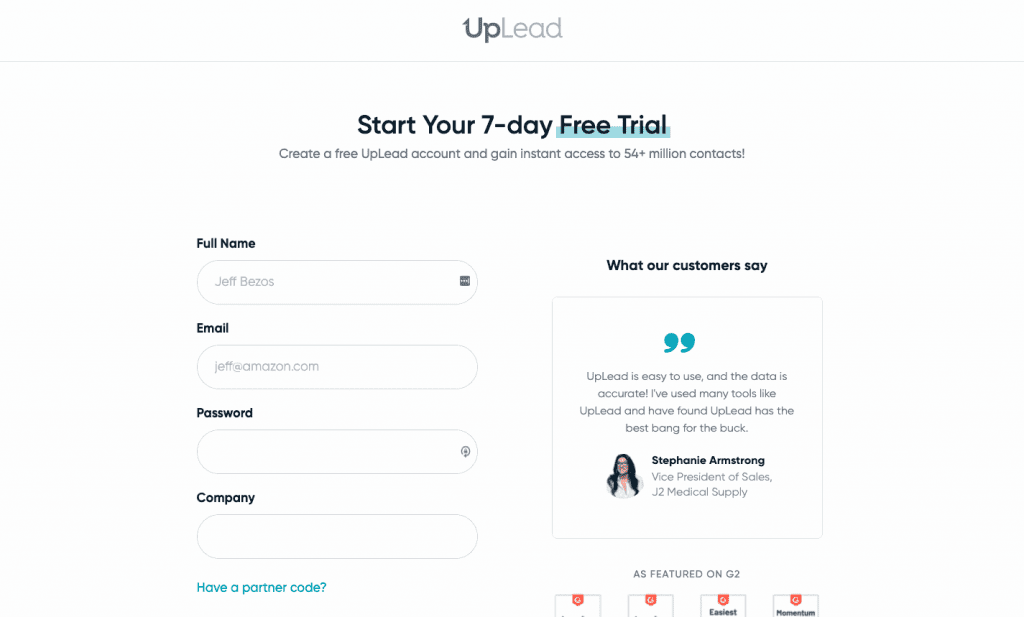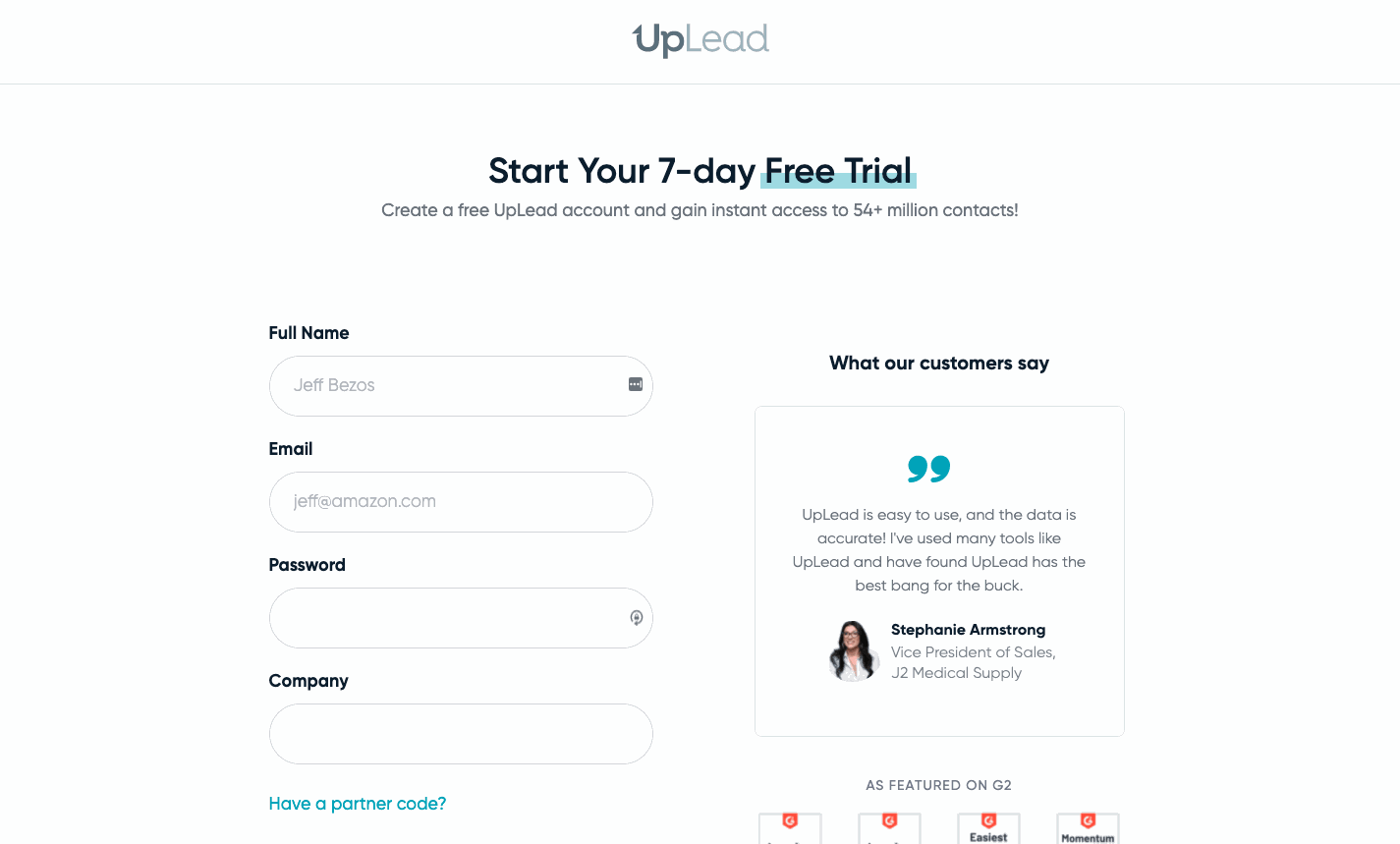 The best way to get users to see how your solution can solve their pain point is to let them try it themselves.
Free trials often involve users creating an account with valuable personal and contact information. A free trial also familiarizes your leads with your solution and encourages more sales leads to convert.
Ensure your free trials are as targeted and easy to understand as possible. Offer a limited version of your solution that your target audience can experience, letting them know how much more they can get if they convert.
10. Design and execute a killer email marketing campaign
Email marketing campaigns are popular for one reason: they work.
Email marketing is extremely cost-effective and can generate leads — if you know how to segment your audience.
Develop email marketing campaigns around each step of your customer journey, nurturing the leads who aren't ready to convert and sending those that are to your sales team.
FAQ on Generating Agency Leads
Here are the answers to frequently asked questions surrounding lead generation:
What does lead generation mean?
Lead generation is a digital marketing term that refers to the process of finding new sales leads and segmenting them into the right marketing campaign. This creates a sales flow for the sales team to focus on reliably.
Can I generate agency leads for free?
Multiple lead generation programs allow users to generate leads for free. Platforms like UpLead allow you a limited time to generate leads, ensuring you get reliable lead data for your marketing campaigns. You can also generate reliable leads for free by using email marketing, social media, and SEO-friendly content, among other methods.
How can I generate more leads for my sales team?
There are multiple ways to generate more leads for your salespeople to engage with. The easiest and fastest way is through lead generation tools, which allow users to generate all the leads they need on command and enrich the lead information they already have.

Make sure to also focus on SEO-friendly, high-value content, and a strong social media presence to keep generating the leads your business needs.
What are the pros of using a professional tool to generate agency leads?
A professional tool gives users the power of marketing agencies, generating ultra-tailored leads according to their customer information. Lead generation tools allow users to create email lists in minutes and establish a flow of leads for their salespeople to target.
Are agency lead generation tools expensive?
Not necessarily. Although some lead generation tools are extremely expensive, the right lead generation tool for you should generate more money than it costs. The best way to ensure you're getting what you paid for is by favoring lead generation tools that guarantee the quality of their data and have a strong database to browse.
Agency Leads: Conclusion
There are many free and paid ways for your salespeople to generate leads for your marketing efforts.
If you want to start generating email lists and targeting new customers, UpLead is your best bet. With UpLead, you can filter through business profiles according to their data, like industry, company size, location, and more.
And, with a 95% data accuracy guarantee, you know you're only getting data that truly works.
Try UpLead for free today, and see if it's the right lead generation tool for you.
Start Your 7-Day Free UpLead Trial
Lead generation doesn't have to be all that painful. With UpLead, you can easily connect with high-quality prospects and leads to grow your company.