It's not easy to survive in the digital marketing-driven world if you don't have quality leads or a viable lead generation strategy. Simply generating leads isn't enough; they must be of high quality and have a strong likelihood of conversion.
Your SEO Business needs quality leads to be successful. So, where can you find them? Let's find out.
Quick Links:
What Is an SEO Lead?
SEO leads are the optimized and polished contact details of SEO clients. These clients are often businesses needing SEO agency services such as backlinking, content optimization, guest posts, dominant search dominance, social media marketing, and more.
Lead types can vary based on marketing and sales strategies. The various kinds include MQL, SQL, warm leads, and hot leads.
Reasons to Buy SEO Leads
Businesses need an audience to promote and sell products or services, so almost every company needs SEO services. SEO agencies promise to increase reach, sales, and conversions. While the benefits of SEO services are clear, it takes a lot of effort to find businesses ready to purchase your services. This is where buying SEO leads comes into play.
Buying free SEO leads can multiply your conversions and rapidly increase revenue. However, it's important to choose leads with a high likelihood of conversion; they should be fresh and fit the description of your target audience. Buying SEO leads makes sense for:
An Underflowing Sales Pipeline
An empty sales pipeline means a hindered sales process. If your sales pipeline is on the verge of emptying, your SEO business needs more clients.
For Faster Results
Think of a time when your highest-paying projects are about to complete or when you have added more employees but don't have enough work to keep them engaged.
Traditional SEO lead generation requires a great deal of patience and hard work. Purchasing them can result in faster, more successful marketing and sales campaigns.
Optimally using your Resources
Nearly 36% of sales professionals spend most of their time engrossed in lead generation. SEO agencies already need marketing specialists to promote their clients' businesses. Reserving marketing resources or finding time to promote their own business seems to be a tough task.
Buying SEO leads is a great choice for businesses who want to launch a marketing campaign without bogging down their sales team with lead generation tasks. It is also useful when working with a smaller team. Sales representatives will have more time to invest in developing client relationships and making sales.
How to Buy SEO Leads to Gain More Clients
SEO leads are crucial for digital marketing businesses. Here are some key factors that should be considered while buying SEO leads and selecting an ideal lead resource for your business.
Buy SEO Leads From a Database
Lead databases should include pre-vetted information related to potential clients' buying behavior. The information should be highly organized and easy to find.
With a premium lead database, SEO agencies can quickly launch a marketing campaign using a broad range of quality leads with a high likelihood of conversion.
Reputation Matters
It's important to find SEO leads from a reputable lead database.
Choose a tool offering a data accuracy guarantee, real-time verification, and a free trial or leads to test the service before investing. Reliable customer support is also an important factor.
Only Buy Relevant Leads
Ensure you're approaching the right customer base by only purchasing relevant leads (A.K.A. buying targeted email lists).
Your customer profile should be clearly defined before you purchase any lead data. Otherwise, you may end up with contact details for leads who were unlikely to purchase your product or service to begin with.
Choosing the Best Lead Database
Choose a lead database carefully. The database should feature verified and updated leads and integrate well with other tools and technologies for easy data import/export. It should also provide a way to verify the leads and offer a variety of lead types at competitive prices.
Amount of Data
Large databases are more likely to contain the number of leads necessary for success.  UpLead has an impressive database with over 135 million B2B contacts with active email addresses and 14 million+ detailed profiles of global companies. Their platform guarantees over 95% accuracy, so you know you're getting quality contact information.
Filter Criteria
For instance, if you have filters like type of lead, lead accuracy, lead size, and many more, you can define your exact requirements. Search filters will narrow down the list of leads and allow you to choose the best ones for your SEO business.
Accuracy Rate
Only accurate and updated SEO leads have the potential to deliver results and improve bounce rates. Surprisingly, around 25-30% of generated leads go to waste due to inaccurate data.
Leads for SEO-related services should come with at least a 90% data accuracy guarantee. UpLead promises 95% data accuracy, ensuring you get the quality leads you need.
Where Can I Buy SEO Leads?
Let's look at some of the best lead providers on the market to help your SEO business succeed.
UpLead
UpLead is well-known in the SEO industry. Their platform offers accurate, results-driven B2B business SEO leads. Assorted integrations ensure that scraped data is pushed directly to the tools and software you're already using. Their email verification tool lets you verify an email address in seconds so that you know whether or not it's valid.
For example, you could use UpLead to search for people with a job title that includes the term "SEO" working at companies that received $10 Million or more funding.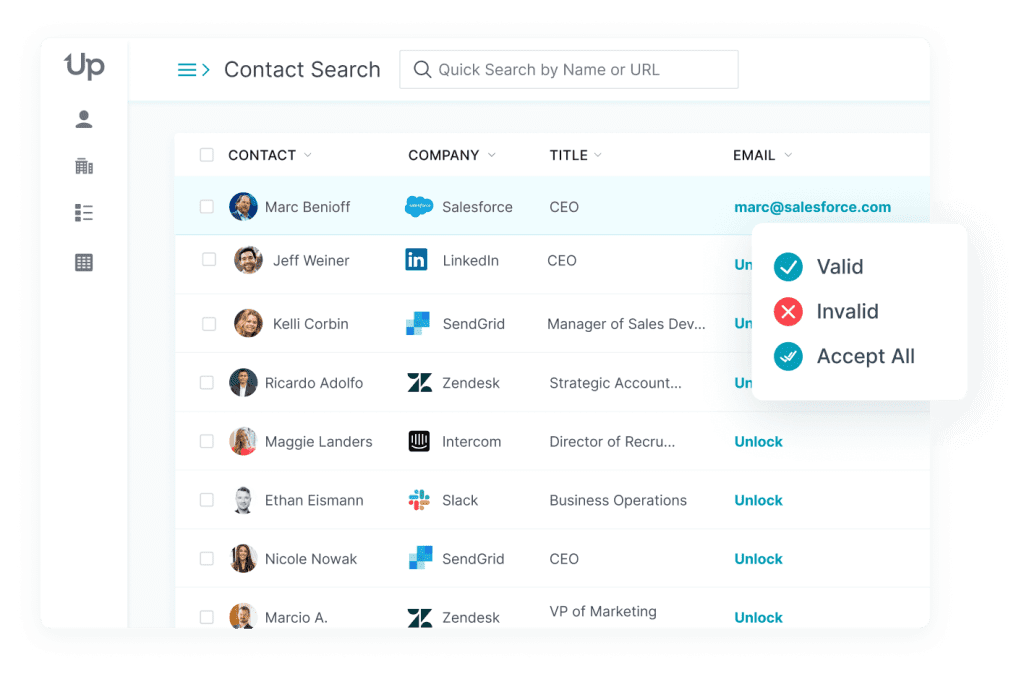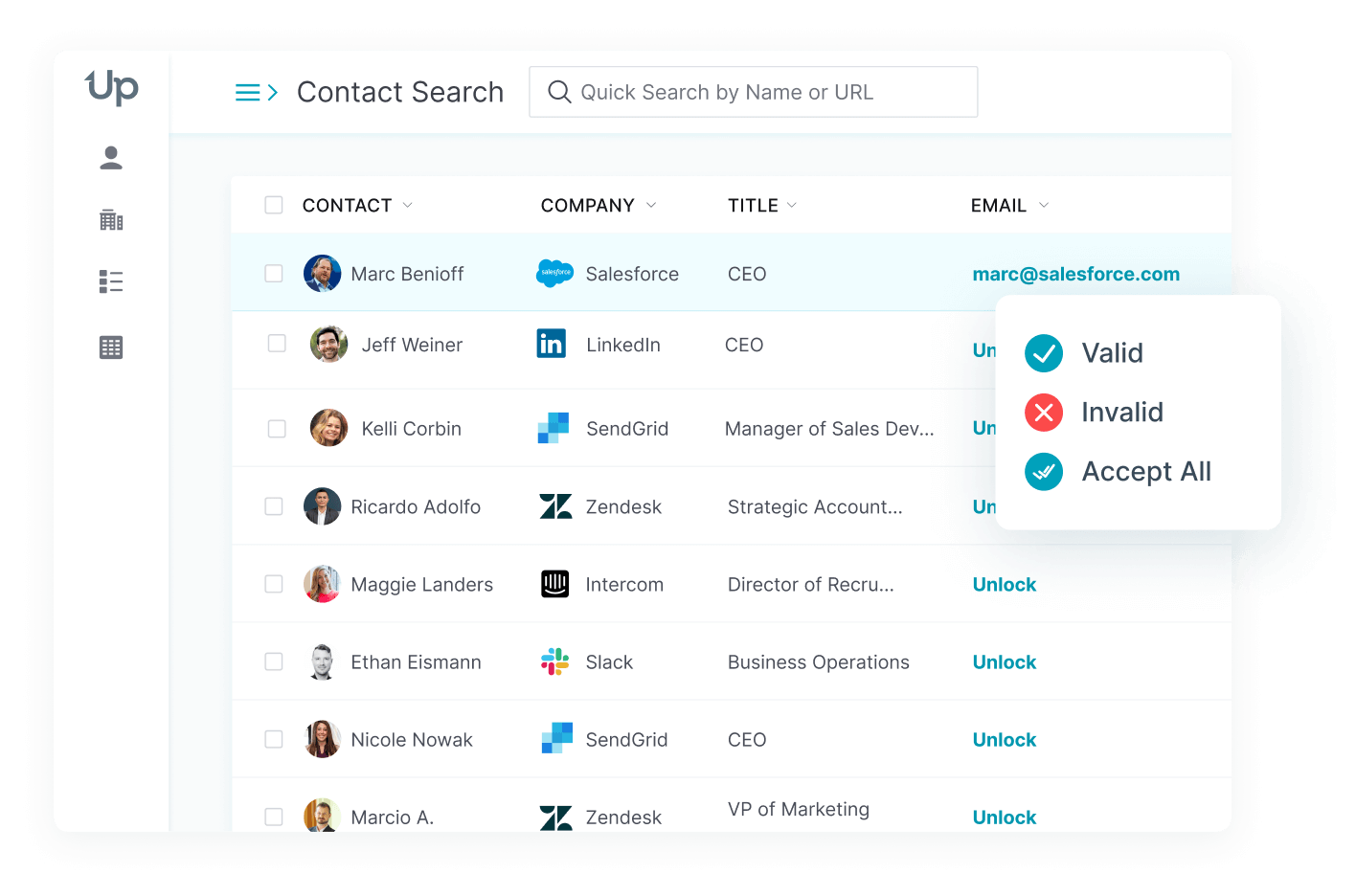 UpLead's API feature promotes easy lead scalability. You can quickly access SEO lead data with their free Chrome extension. Three paid subscriptions are offered at a reasonable price and a limited free trial period. You can check our pricing in detail on our website.
Try UpLead today and see if it's a good fit for you.
Start Your 7-Day Free UpLead Trial
Lead generation doesn't have to be all that painful. With UpLead, you can easily connect with high-quality prospects and leads to grow your company.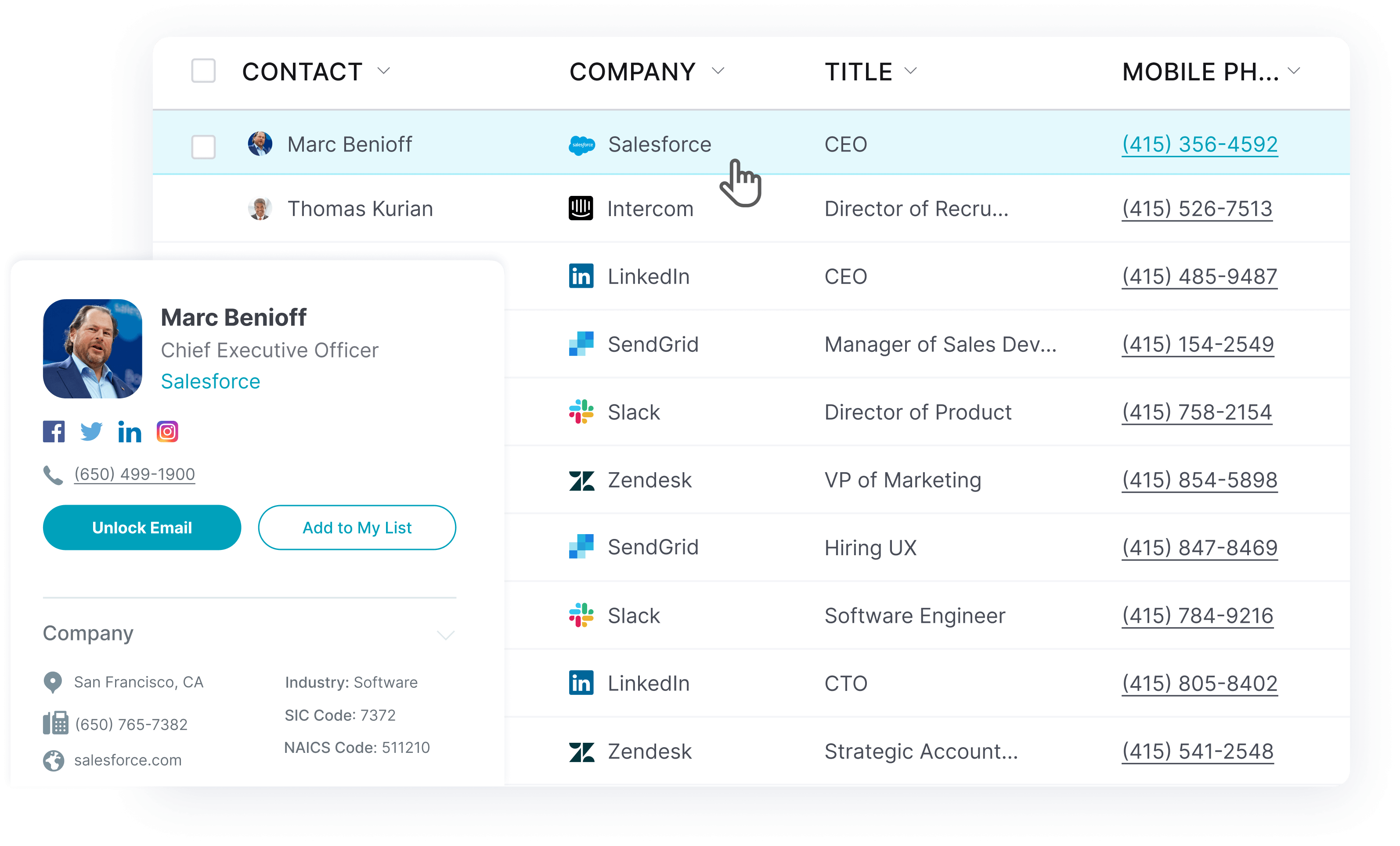 Hunter.io
Hunter.io helps you find the active email addresses behind a website. 
The tool provides a handy search tool that helps you find the contact details associated with any domain. Its database includes over 100 million email addresses and can be navigated with multiple search filters.
UpLead is a strong Hunter.io Alternative.
Voila Norbert
This platform features an exhaustive email database that you can use for various purposes, such as digital marketing, PR, business promotion, sales, and more. With a simple interface and powerful AI, it will help you quickly find business email addresses.
Unfortunately, Viola Norbert doesn't offer a data accuracy guarantee, so you won't know if the contact details you obtain are worth your time and effort.
FAQs About SEO Leads
Is it worth it to pay for leads?
Finding leads through traditional means is extremely time-consuming. Buying quality leads can expand your customer base and increase sales opportunities. It can help supply your sales pipeline, allowing your marketing and sales team to focus on other crucial tasks.
How can I improve my SEO leads?
Lead generation services are just part of the picture. You can generate SEO leads organically by targeting the right keywords. You should also ensure that you have a great local presence and an optimized website.
Is lead generation and SEO the same?
No. Lead generation is the process of obtaining contact details for potential customers, while SEO focuses on increasing search engine visibility for clients.
What You Need to Remember About Buying SEO Leads
Only buy qualified SEO leads from lead databases that promise accuracy, diversity, transparency, and verification.