TopSEO agencies provide services to clients around the world.
What are the best ways to find new clients for your SEO business?
Here, we'll show you where to find the SEO leads your agency needs. We'll cover the best ways to find potential clients, and even show you how to get SEO clients to contact you.
By the end of this article, you'll know the basics of SEO leads, how to use them, and where to find them.
Let's get started.
Quick Links:
What Are SEO Leads?
In the context of this article, SEO leads will refer to potential clients of SEO businesses. These clients are looking for SEO services to improve a business website, help with content, enhance link building, and other SEO strategies.
While there are thousands of companies in need of SEO services, there are also a lot of SEO agencies. Therefore, it can be challenging to break through the noise and reach potential clients in the SEO industry.
How to Qualify Leads for SEO Services?
There are multiple ways an SEO agency can qualify its leads.
Generally, lead qualification divides leads into at least three groups:
Cold leads: Users who may be familiar with your solutions, but aren't actively looking to purchase them.
Warm leads: Users who know your solutions and are just getting started on their customer journey.​​
Hot leads: Users who know your solutions fairly well and are looking to make a purchase now.
Cold leads are usually easier to find than warm and hot leads. However, it will take a lot more effort to convert them into clients, since they need to be approached and informed about both their need for SEO and your solutions for their company.
Warm leads are better placed in nurturing campaigns, where the leads can be educated and kept engaged until they're ready to make a purchase. Finally, hot leads are best placed directly in contact with your sales team so that your agents can make the final effort to convert the lead into a client.
The best way to qualify leads is by using highly-accurate data to determine their initial qualification status. You can easily achieve this even with your current dataset using data enrichment tools to gain the information you need to segment them. .
How to Generate SEO Leads?
Here are a few SEO lead generation ideas:
Use B2B List Building Software and Run Cold Email Campaigns
Lead generation software can generate leads practically on command, allowing you to quickly find and contact qualified leads.
Instead of spending a lot of money on time-consuming marketing approaches, you can generate qualified leads immediately using list building tools. That way, you can focus your time and money on engaging them with cold email campaigns.
Using a list building tool is simple—just input the characteristics of your target audience, pick the leads you need, and download them. Then, you can place them into effective cold approaches to qualify them and make the sale.
However, not all list-building tools are of equal value. These tools are only as good as their data. Bad data can negatively affect your deliverability and IP reputation.
As a rule, only use list-building tools that can prove their data accuracy or give some guarantee on the quality of their data. You can also use list-building software to build up a list, and place the list through verification services to make sure you can use it. However, instead of verifying the data separately, it's usually better to use lead generation tools with an integrated verification service.
Use Local SEO Strategies to Rank For Cities
Local SEO is a great way to generate leads regardless of how large or small your SEO agency is.
Local SEO strategies capitalize on your location to offer you lists of leads. They also allow you to focus on one area at a time so you can prioritize efforts on areas with more lead density.
Start by making sure your SEO agency is listed on Google and appears both as a Google rich result and as an organic result for relevant "near me" queries. Also, make sure to collaborate with other local, non-competitor companies to get valuable backlinks and exposure.
Offer Free SEO Audits
Nothing turns more heads than the offer of free, useful information. Most companies with a website would love to know their SEO score and areas of opportunity for free.
Free SEO audits allow you to break through the noise and reach high-quality leads at better conversion rates. Using this tool not only helps you start a conversation, it helps show your potential clients projections of how their website is doing now, and how it could be doing if they hired your SEO agency.
You can develop a free SEO audit tool and feature it on your website to automate the whole process. Then, simply direct traffic to the tool and use it as a lead magnet. If you want to start in a lean way, you can use SEO automation tools and provide the free SEO audit manually.
Make Strategic Partnerships
There are multiple companies out there that would love to share leads with you in exchange for a share of the profit.
Companies in web design, paid marketing, online PR, and other industry-related fields may be interested in partnering with you and offering your services to their clients—as long as it's both good for the clients and profitable for them.
You can start contacting potential partner companies locally in your niche. Find out if they're open to a strategic partnership, and offer a percentage of your initial earnings. You could even offer to do the same for them with your current clients, instantly generating leads for both parties.
Consider Referral Programs
Like strategic partnerships, referral programs are a great way to generate cost-effective leads. Referral programs involve incentivizing your current client base to generate leads for you. Referral leads are not only cost-effective; they're also highly valuable and easy to convert.
Set up a referral program that gives existing clients a percentage of your initial earnings for every referral that converts. Instead of treating referred clients like any other lead, consider setting up tailored marketing campaigns to give them more personalized attention.
You can use lead generation platforms with data enrichment capabilities to quickly enrich your list of referred leads, or a Chrome extension to aid your lead research.
Answer Questions on Quora
Quora's ecosystem makes it easy to get leads simply by answering basic questions.
Instead of pitching your SEO services, focus on giving useful and solid advice through a profile connected to your SEO business.
Start by setting up your profile. Set up a personal profile with your relevant SEO qualifications, and make sure you're featuring your website on your profile. Then, you can start scouting for SEO-related questions.
You can set up a Quora strategy the same way you create an SEO strategy—by prioritizing long-tail queries with relevant traffic and without good answers. Then, you can focus on writing short and helpful answers. Look for an organic way to mention your SEO business, like relating your answer to a relevant client interaction. However, avoid sounding like you're trying to sell something at all costs.
Use Social Media Campaigns
Social media marketing can be a great way to find users in need of search engine optimization services and generate quality leads. By targeting social media queries, you can tap into niches and communities, and even generate your own.
Once you build a good social media profile, you can start running ads and other social media campaigns to generate more leads. You can start with simple ads. These will redirect traffic to lead magnets so you can start generating leads right away. Then, you can focus on building a larger following of valuable leads and nurture them with engaging content.
Use social media groups to find communities of engaged users, or create and nurture your own group of quality leads.
From quick and effective lead generation tactics to long-term lead generation strategies, social media is an effective way of both increasing brand awareness and generating SEO leads.
Enable Live Chat
Live chat used to be annoying and optional. Nowadays, live chat is an expected feature. Not having a live chat could cost you some of your valuable organic search engine traffic. If users can't find a quick way to get into contact with you, they may just leave the site.
Smart chatbots with advanced action-triggered responses can help you generate more leads and ensure your traffic has a better chance of converting into a sale.
Rather than trying to code an advanced AI chatbot, you can use no-coding solutions like Messagely to set up live chats and chatbots in mere minutes. Be sure to customize them to ensure they're as smart and useful as possible.
Instead of setting up complex chatbot workflows from the ground up, start slowly by focusing on resolving user queries as they appear. Always let users know how and at what time they can contact a live agent, and don't forget to set up a mailbox to follow up with users who make contact after business hours.
Use Podcasts
Podcasts have quickly become a preferred marketing strategy. Thanks to multiple free podcasts apps, podcasts can be an effective way of reaching your potential clients' ears.
Having your agency appear on established marketing and online business podcasts can be a great way to reach potential clients, as long as the price is affordable. Fortunately, with so many podcasts to choose from, there's probably one out there that's both reasonably priced and in your niche.
If you have the time and resources, you can also develop your own SEO-related podcast. Since there are relatively few SEO agency podcasts, you could set one up in a market that's still growing.
Although all that's needed to make a podcast is a microphone and a speaker, you'll fare better if you focus on hyper-relevant, valuable content, and invest in audio editing to give a sense of quality and cohesion.
Social Selling
Finally, social selling can be a great way to find new leads organically through social media.
Make sure you have good profiles in the most relevant social networks. Then, develop content to publish on your accounts that is both relevant and easy to share. Follow the right profiles to keep up with trends and to make it easier for people to find you and your company.
Whereas social media marketing revolves around simply creating and sharing marketing content, social selling uses social media to interact with users, help them with their pain points, and develop customer relationships.
With the right social selling strategies, you can generate valuable and cost-effective leads.
Where to Buy SEO Leads?
Here are a few tools where you can buy leads for your SEO company:
UpLead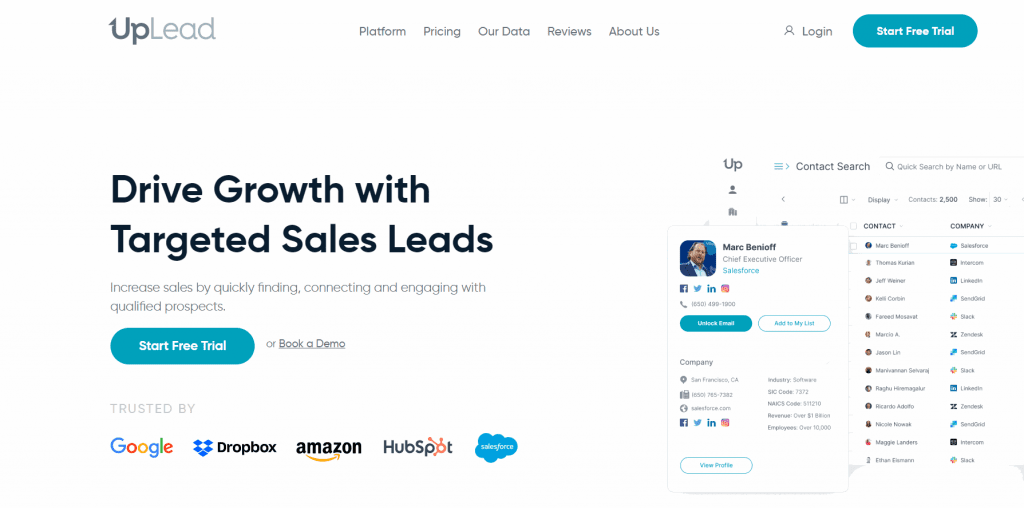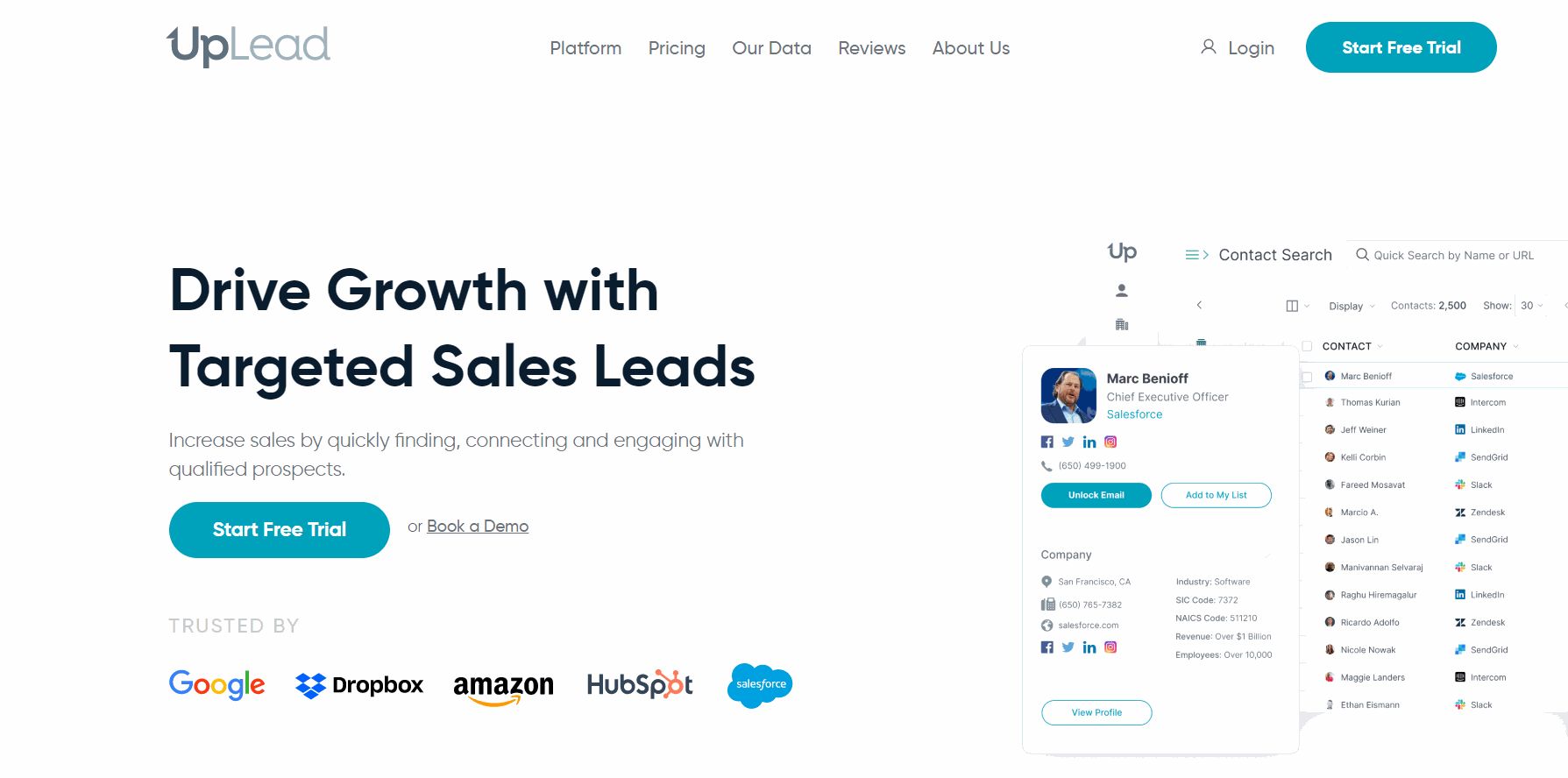 UpLead
is one of the
best lead generation tools
that allows you to find all the SEO leads you need.
Generating lists of quality leads is as simple as looking them up. Just input the information for your customer persona, select the leads you want, and download them. UpLead will verify all email addresseslin real-time to ensure deliverability.
Once you have your list, you can place them in the right digital marketing strategy to nurture them and convert those ready to make a purchase. Your sales team can quickly get to know each SEO lead through vibrant profiles that provide additional data.
Integrate UpLead with your existing digital marketing tools and start generating leads on command.
Try UpLead for free today.
Start Your 7-Day Free UpLead Trial
Lead generation doesn't have to be all that painful. With UpLead, you can easily connect with high-quality prospects and leads to grow your company.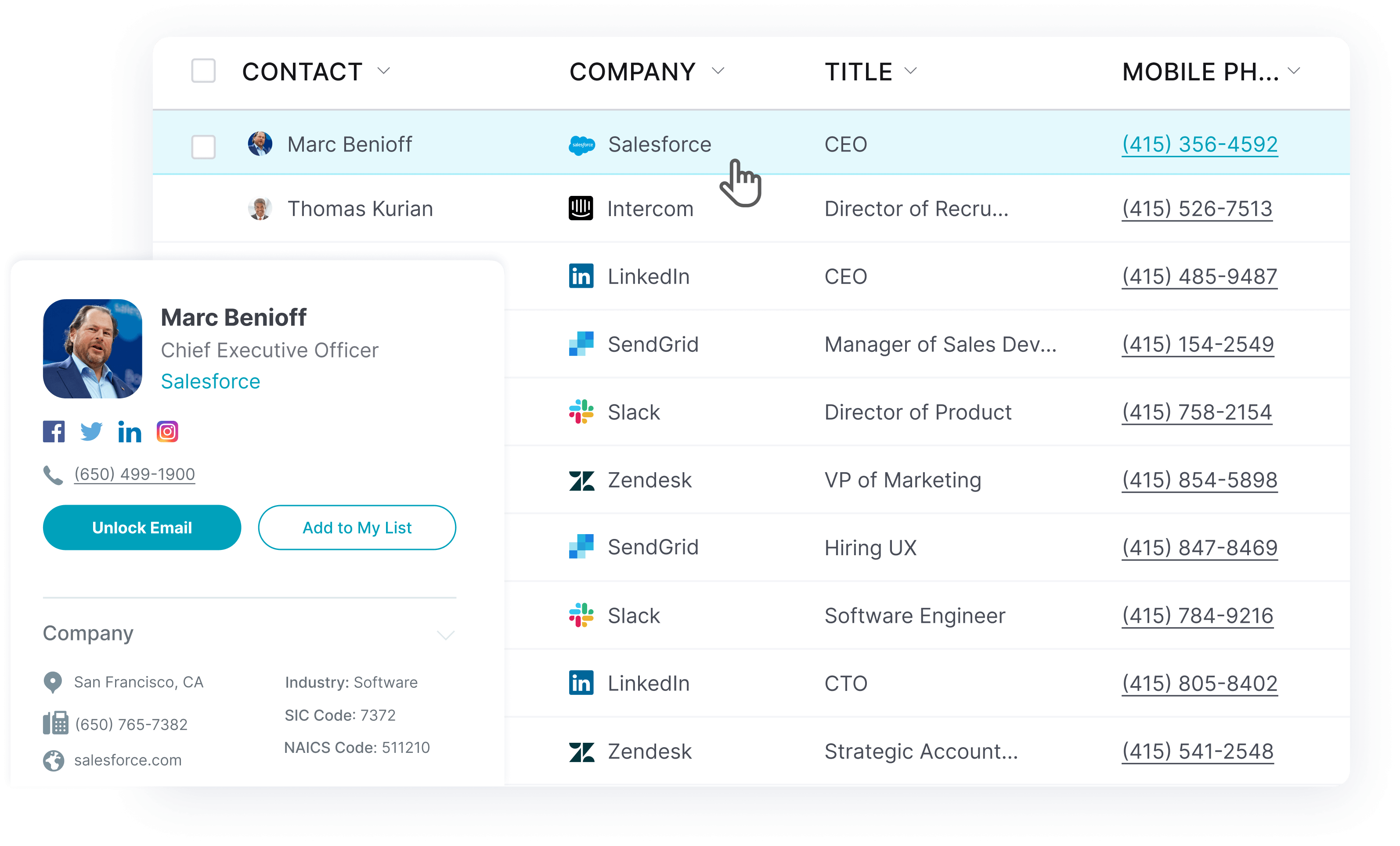 Lusha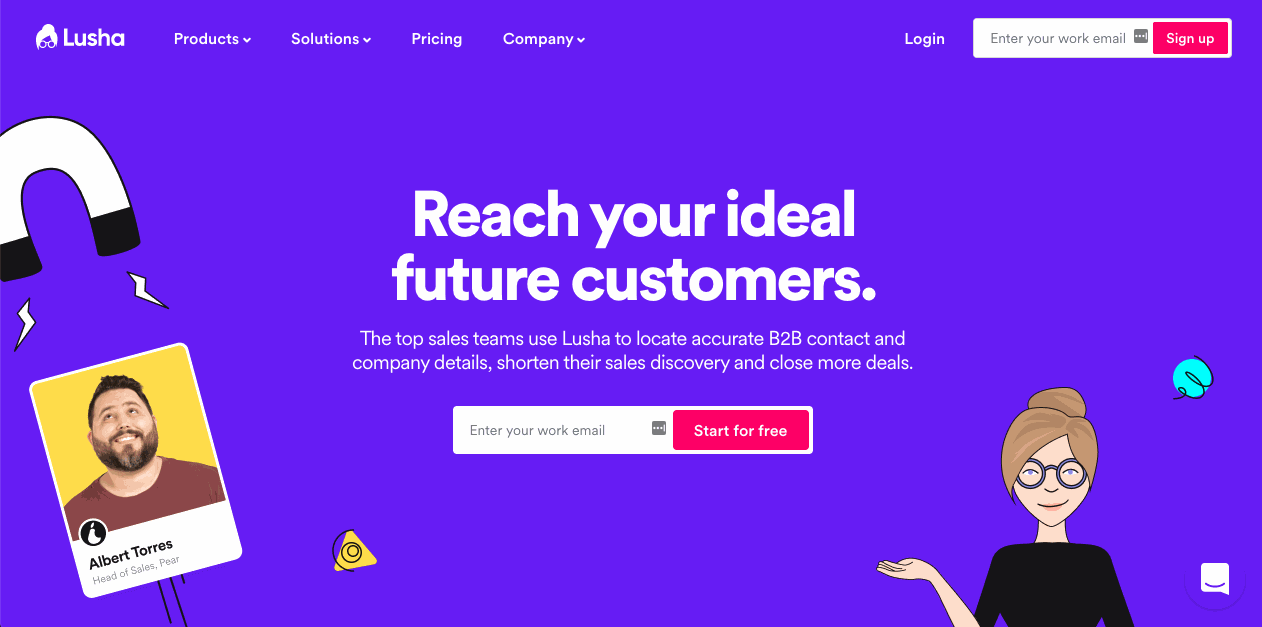 Lusha is a colorful and popular lead generation tool that allows users to browse through a large database with personal and professional information.
The platform features a simple UI that allows users to access online directories in search of their leads. It also features a useful API, multiple integrations, and a limited free account for free leads.
However, beyond the free tier, the platform can become an expensive tool, especially for users looking for advanced options and features.
D7 Lead Finder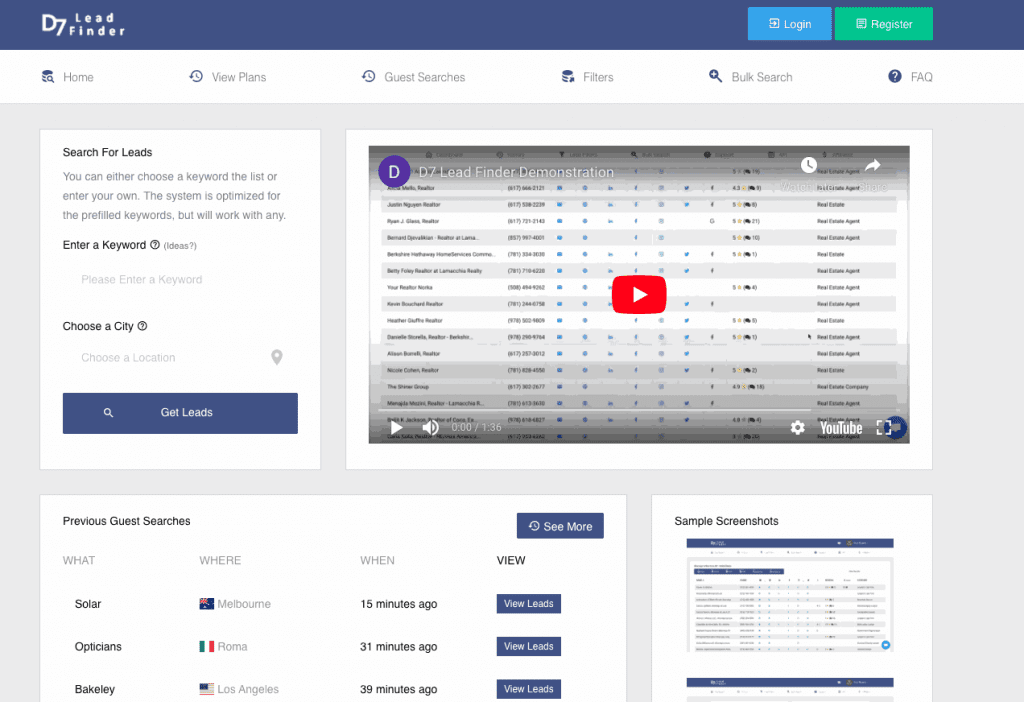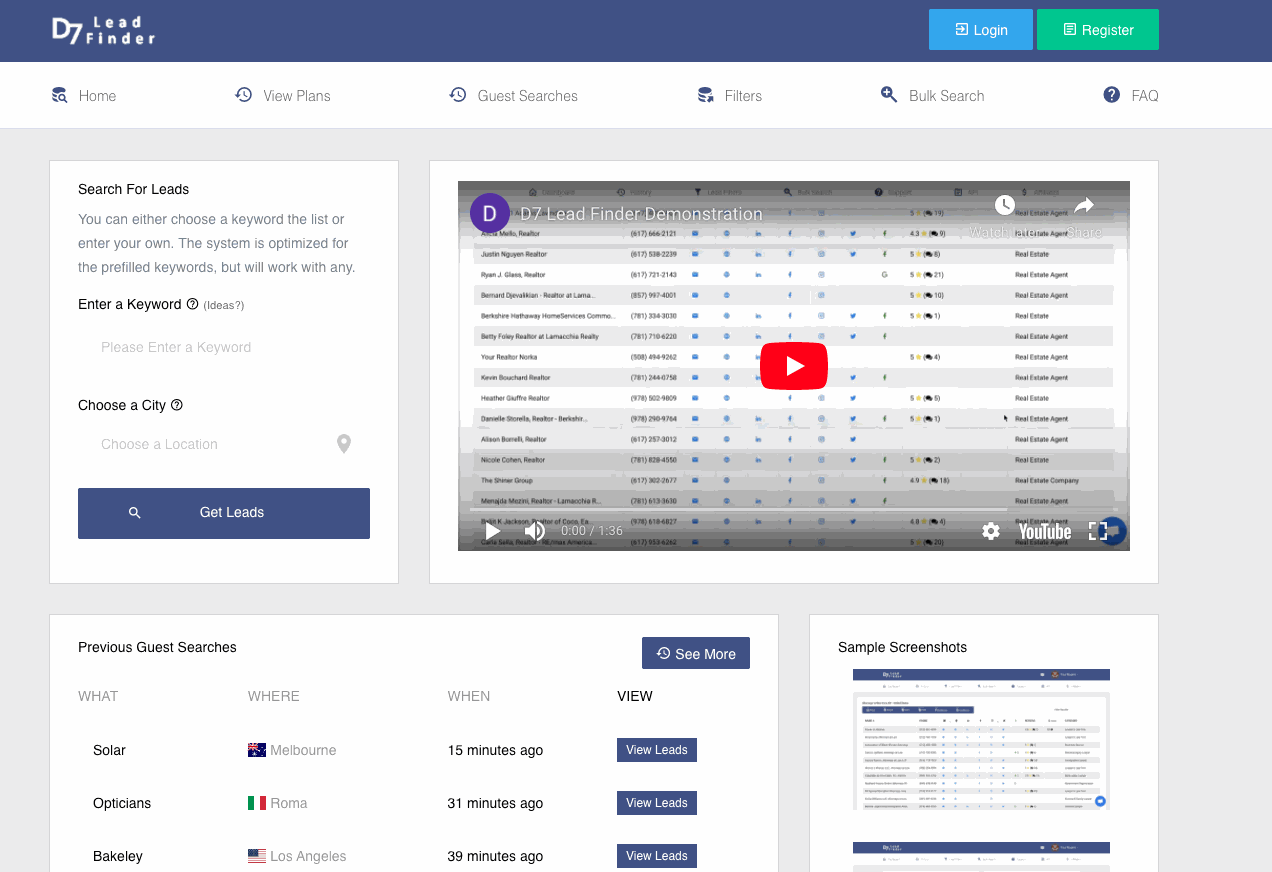 D7 Lead Finder has over 65 million profiles of potential leads.
This platform features a somewhat clunky UI which, despite its outdated look, is still very functional. It also comes at a very affordable price, offering up to 5 free leads per day.
However, D7 Lead Finder doesn't integrate with other tools and lacks some basic features, so it's better used as one part of a larger lead generation system. You'll need to use a separate data verification tool.
Adapt.io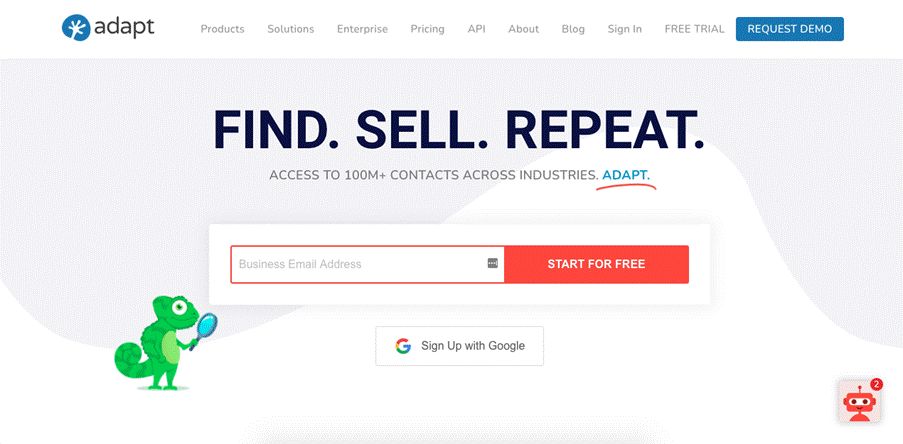 Adapt.io is a tool that allows users to search for specific SEO leads and to generate leads in bulk.
This platform claims to have directories and mailing lists with over 100 million profiles for users to search through. Although it seems to have a higher bounce rate than other platforms, it's still consistently accurate and easy to use.
Adapt.io is blocked by LinkedIn, so you'll have to pair it with a Google extension if you're going to search for leads there.
Easyleadz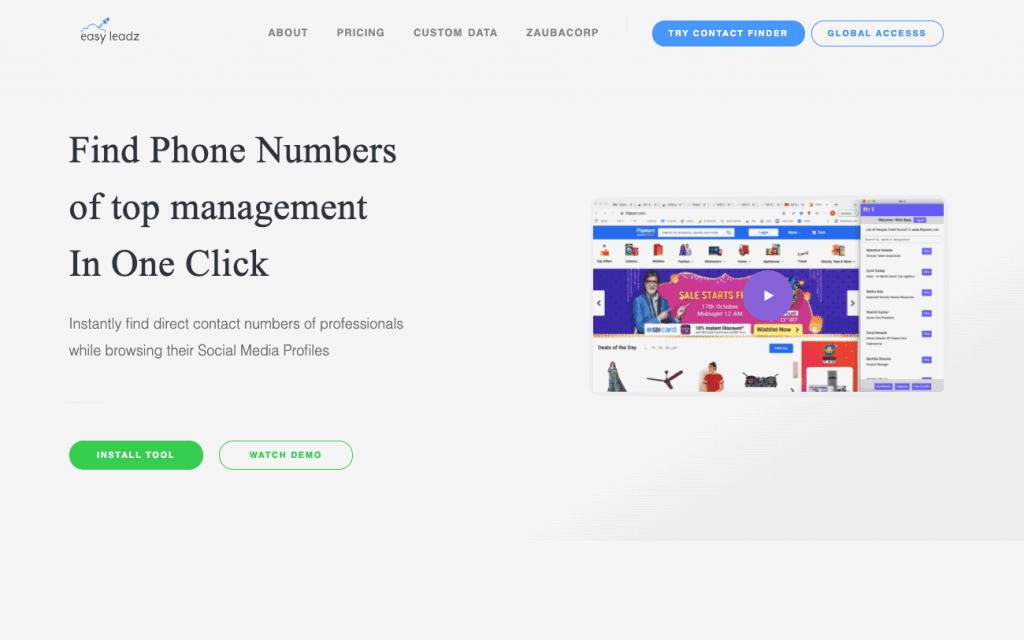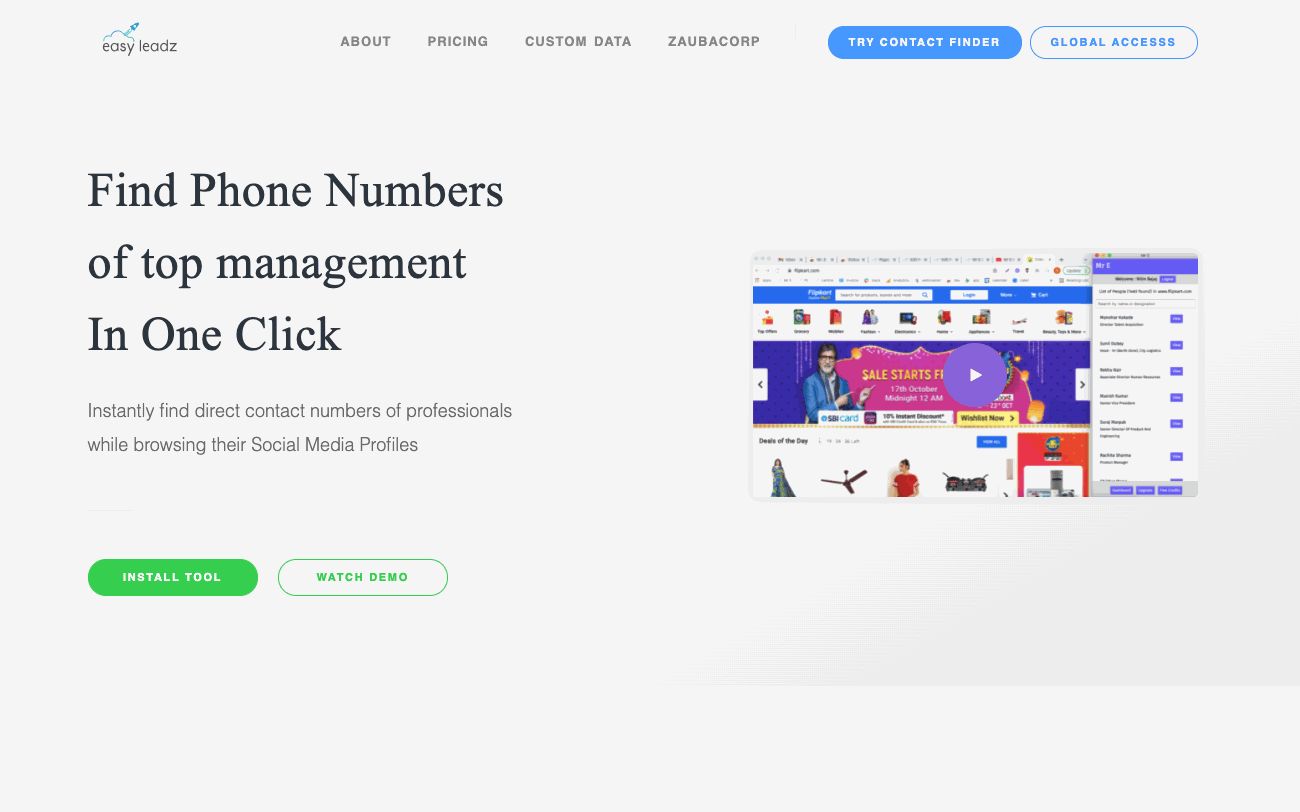 EasyLeadz is a lead generation platform with a database of B2B profiles and marketing data.
Instead of offering a large and complex app, EasyLeadz comes in the form of a simple add-on. This tool helps users generate leads as they browse social media profiles, collect data, and aim with lead research.
This platform is designed to generate one SEO lead at a time, and is less effective for bulk lead generation. If you want to generate leads in bulk, you'll have to pair EasyLeadz with other, more complex tools. That being said, it's still a good tool for individual research.
MegaLeads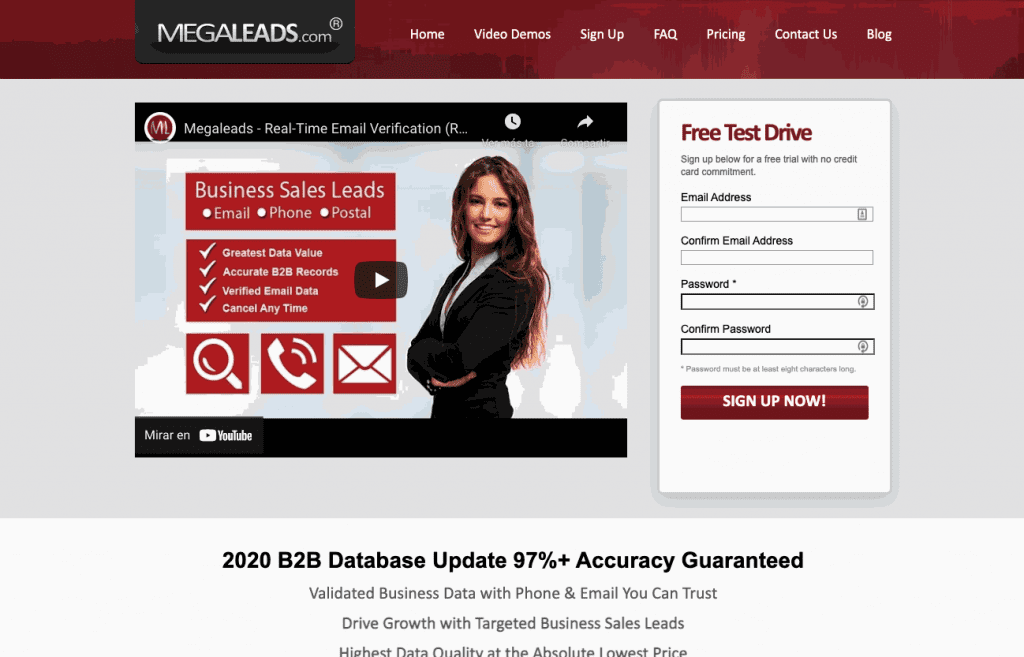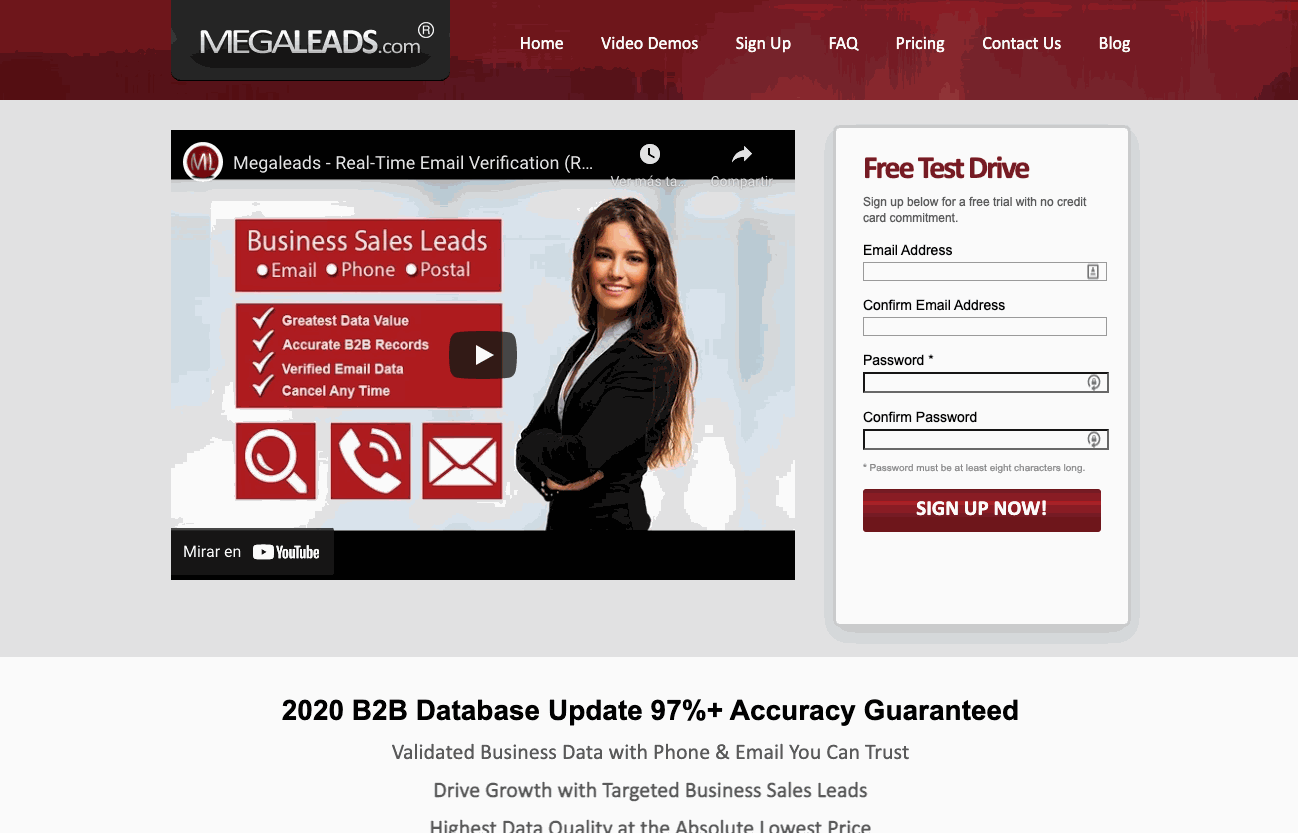 MegaLeads is another lead generation platform offering users millions of business profiles, along with phone numbers and email addresses.
Although we couldn't find any data accuracy guarantee, MegaLeads is one of the few lead generation tools that come with real-time email verification, which increases confidence in their data quality.
With largely accurate leads and good customer service, MegaLeads has been a trusted lead generation platform for over 25 years. Their headquarters is in the United States, and their product is reasonably priced..
Salesfully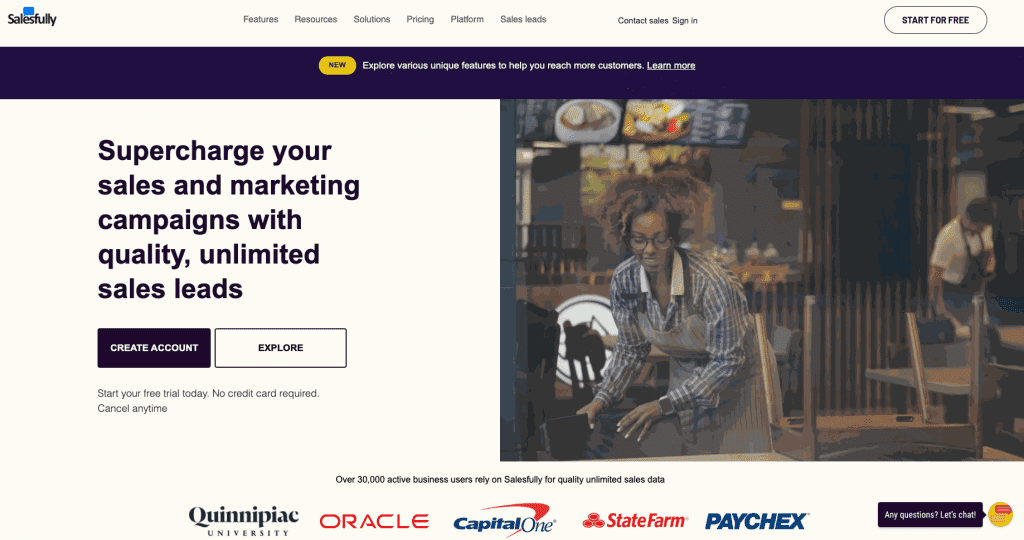 Salesfully is a subscription lead generation engine designed to produce leads for each stage of the sales funnel.
Users can browse Salesfully's large database, narrowing down results through multiple filters to find clients looking for quality SEO services. With a database featuring both B2B and B2C contacts, this platform offers ample data fields for each potential client, including their contact information.
Salesfully has average prices and offers users a 30-day money-back guarantee with all plans.
AeroLeads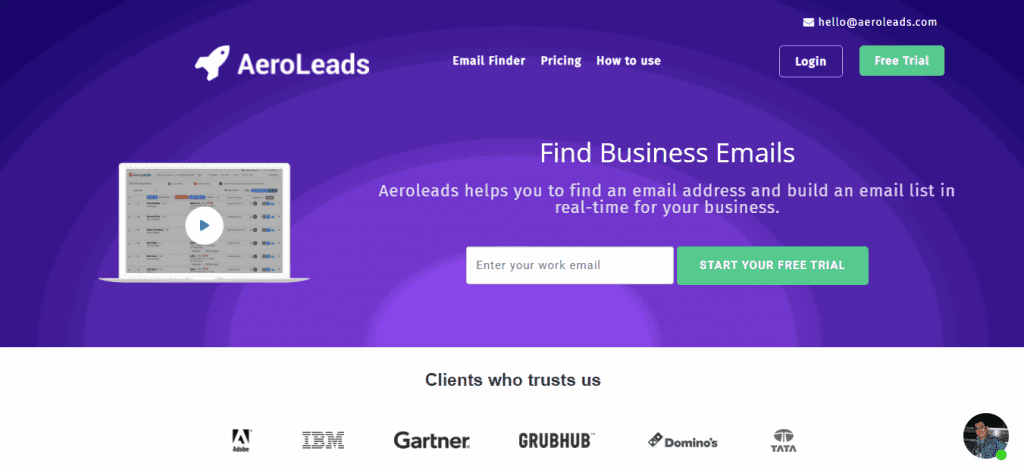 AeroLeads offers users a way to generate lead lists through multiple sources, including Google and LinkedIn profiles.
This platform features business profiles with email addresses and phone numbers, which are validated in real-time before the information is downloaded. It comes with multiple prospecting and sales intelligence features, allowing users to generate leads as needed.
This web-based solution helps users capture, nurture, segment, and verify leads. However, using it with other platforms like Zapier and Salesforce is only possible with the two most expensive tiers.
DiscoverOrg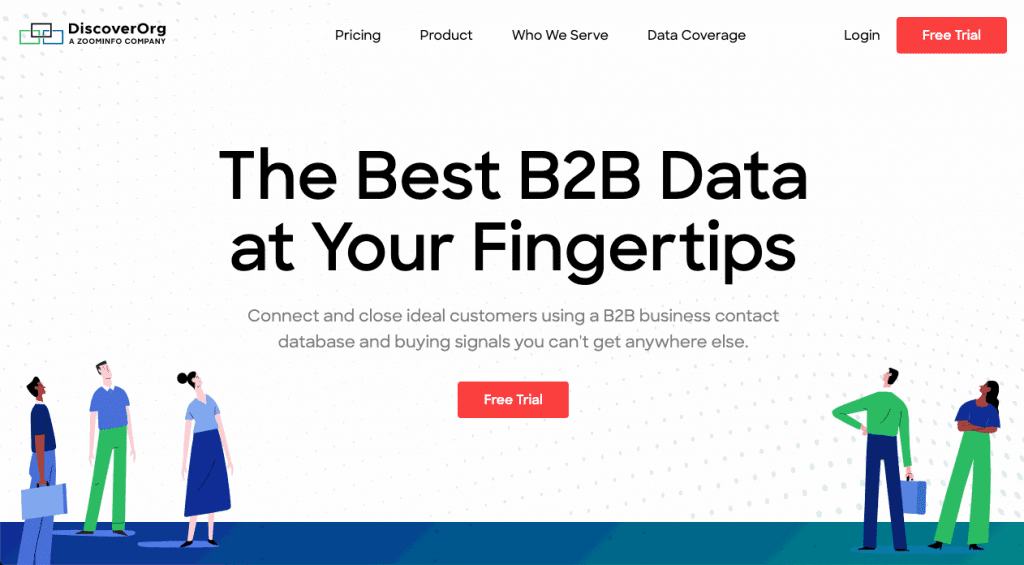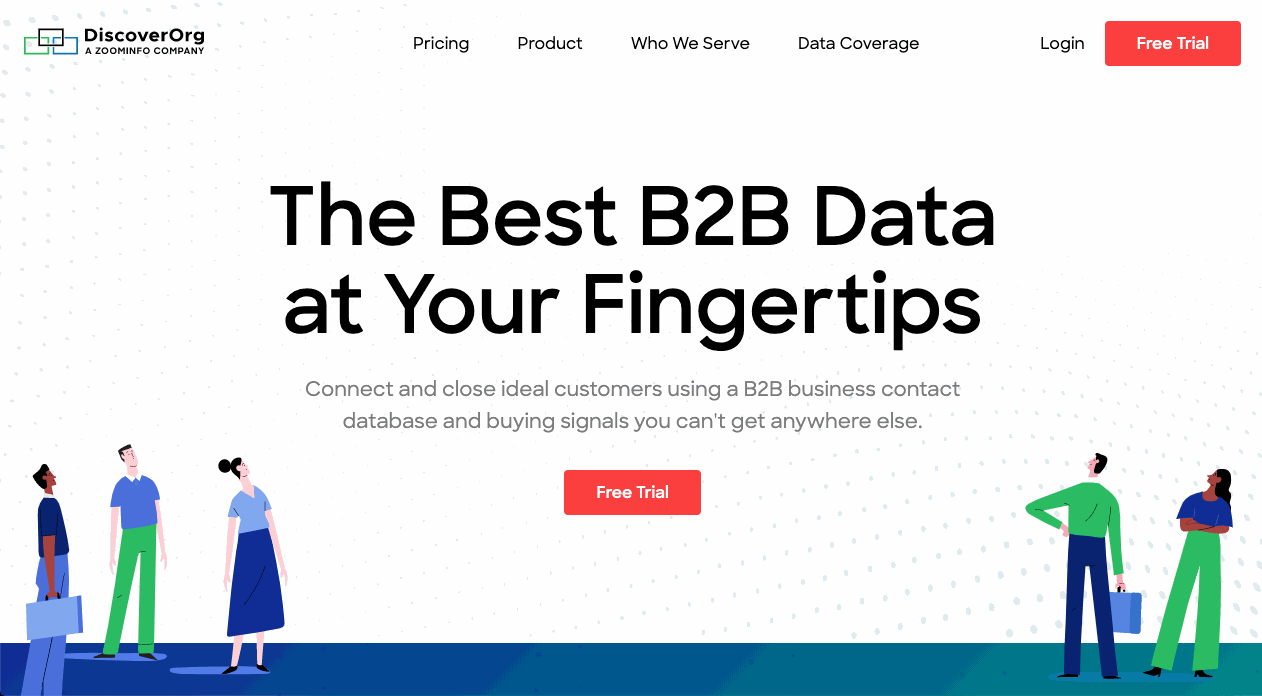 DiscoverOrg is another tool users can capitalize on to locate quality SEO leads.
Although it's one of the most expensive tools on our list, DiscoverOrg may be worth the price. It comes with multiple lead acquisition features designed to help users act at the right time through multiple insights and buying signals.
This tool also comes with useful recruiting features and marketing capabilities designed to nurture and convert leads as soon as they're downloaded.
Leadiro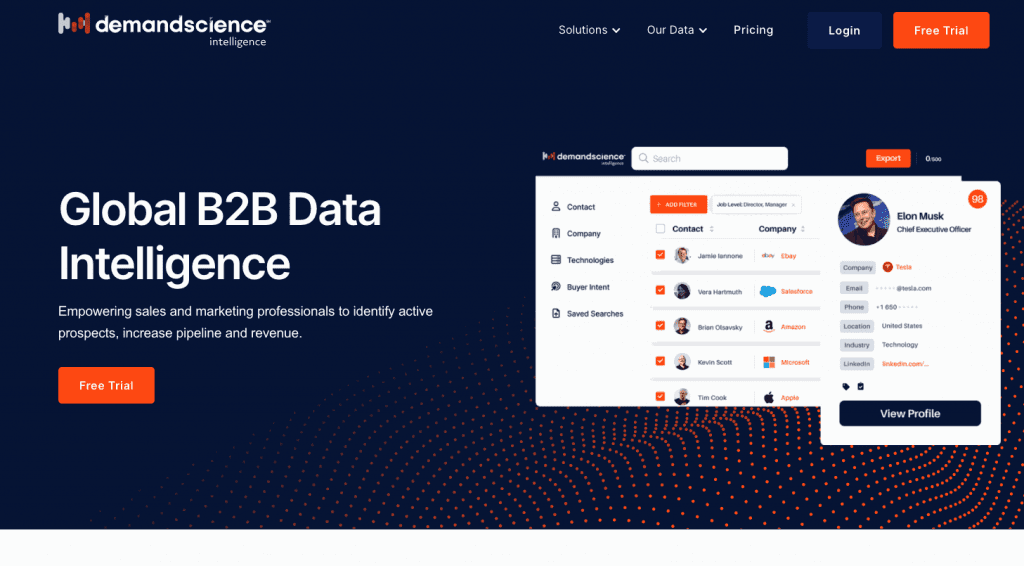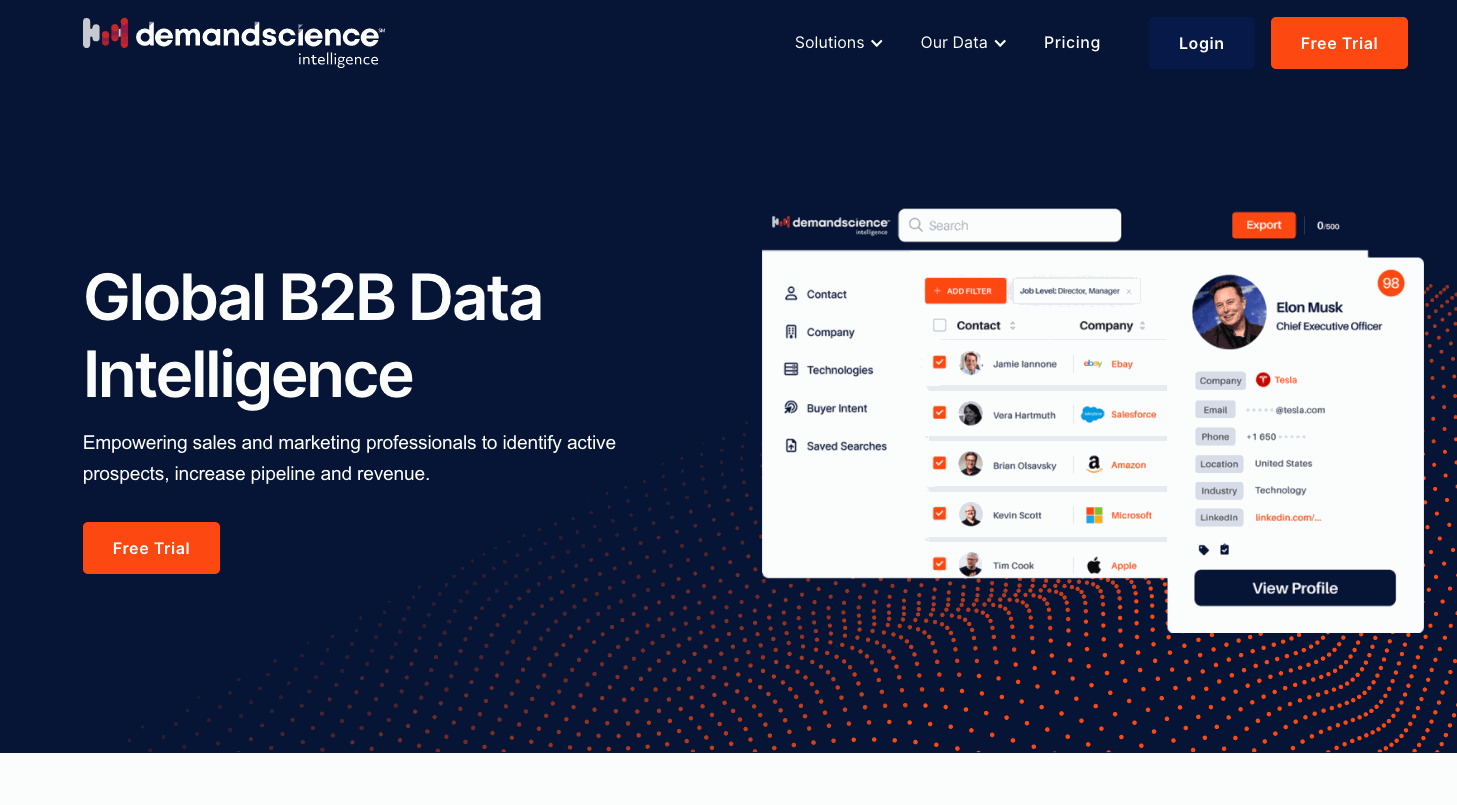 Designed for B2B-focused sales teams, Leadiro is a lead generation platform with millions of accurate business contacts.
This platform provides users with email addresses of contacts from 108 countries. It comes with account-based marketing, advanced data selection, and other useful features.
Unless you're using their free plan, the costs of using Leadiro can quickly add up. Since it only integrates with three tools, it may be difficult to use with all your current tools and integrate it into your sales process.
FAQs on SEO Leads
Here are the answers to a few common questions on SEO leads.
How do beginners get SEO leads?
Beginners can get SEO leads through SEO campaigns, digital marketing efforts, and lead generation tools. They can also offer guest blog post articles to popular sites.
How to get SEO leads from your blog?
Start by offering highly valuable and relevant blog articles. Then, you can use inbound content marketing. Focus your blog on lead generation, pointing to valuable lead magnets while marketing your agency as an industry leader.
Ensure that your blog post answers the query first. Then, find organic ways to sell your services and advertise your company. Growth Marketing Pro recommends blogging regularly, with at least 5 articles a week, to gain velocity on Google rankings. Outsourcing content creation may be a good approach if your in-house team is unable to meet weekly publishing targets.
How much are SEO leads?
The cost of leads for SEO agencies will depend on the kind of tool you choose and the amount of effort you're willing to put in.
Whereas some lead generation tools can be expensive, they can help save money in the long-run if you use them correctly. Some lead generation tools offer a limited amount of free leads.
Whatever you're paying for SEO leads, make sure you're getting valuable data. You should only use tools that guarantee their data's accuracy.
What does it mean to buy SEO leads?
Buying SEO leads means getting lists of leads in exchange for money. This allows you to immediately generate SEO leads that can be placed in cold marketing campaigns and nurtured to become paying SEO clients.
Conclusion
Leads are vital to your SEO agency. Instead of spending money on expensive Google ads and investing valuable time in other lead generation techniques, use tools like UpLead to quickly find the leads you're looking for.
Try UpLead for free today.
Start Your 7-Day Free UpLead Trial
Lead generation doesn't have to be all that painful. With UpLead, you can easily connect with high-quality prospects and leads to grow your company.