UpLead is a affordable InsideView​ alternative.
Here's why you should consider switching…
Established in 2005, InsideView classifies itself as "a technology platform that provides data and intelligence solutions to solve sales, marketing, and other business challenges." At UpLead, we offer a simplified InsideView alternative that delivers powerful B2B data solutions to clients spanning many industries and countries. Considering factors like features, budget, and data quality, which platform is the right fit for your business? Read on to find the answer.
Our points of comparison revolve around what tend to be the defining selling points of any B2B data intelligence platform: database size, pricing, contract obligations, update frequency, and special features. Looking at these factors and how they differ between UpLead and InsideView will help you determine which platform will meet your company's needs more effectively.
Database Size
According to the InsideView website, the company uses more than 40,000 data sources to collect and maintain B2B records. The resulting database includes 400 million "company and contact records." Sources include social media, the web, specialty data vendors, news sources, credit bureaus, and crowd sourcing.
At UpLead, our database of B2B leads includes more than 108 million verified business contacts from 200+ countries around the globe.
The Verdict: InsideView Wins!
Regarding size, InsideView scores the win on paper. The company's database of 400 million contacts exceeds UpLead's database of 108 million B2B leads. With that said, our strength at UpLead is the verified nature of our leads—something we will discuss at length later in this post.
There is one caveat to keep in mind about the database size InsideView claims, which we will get into in the pricing section as we discuss how the company breaks down costs for its products and services.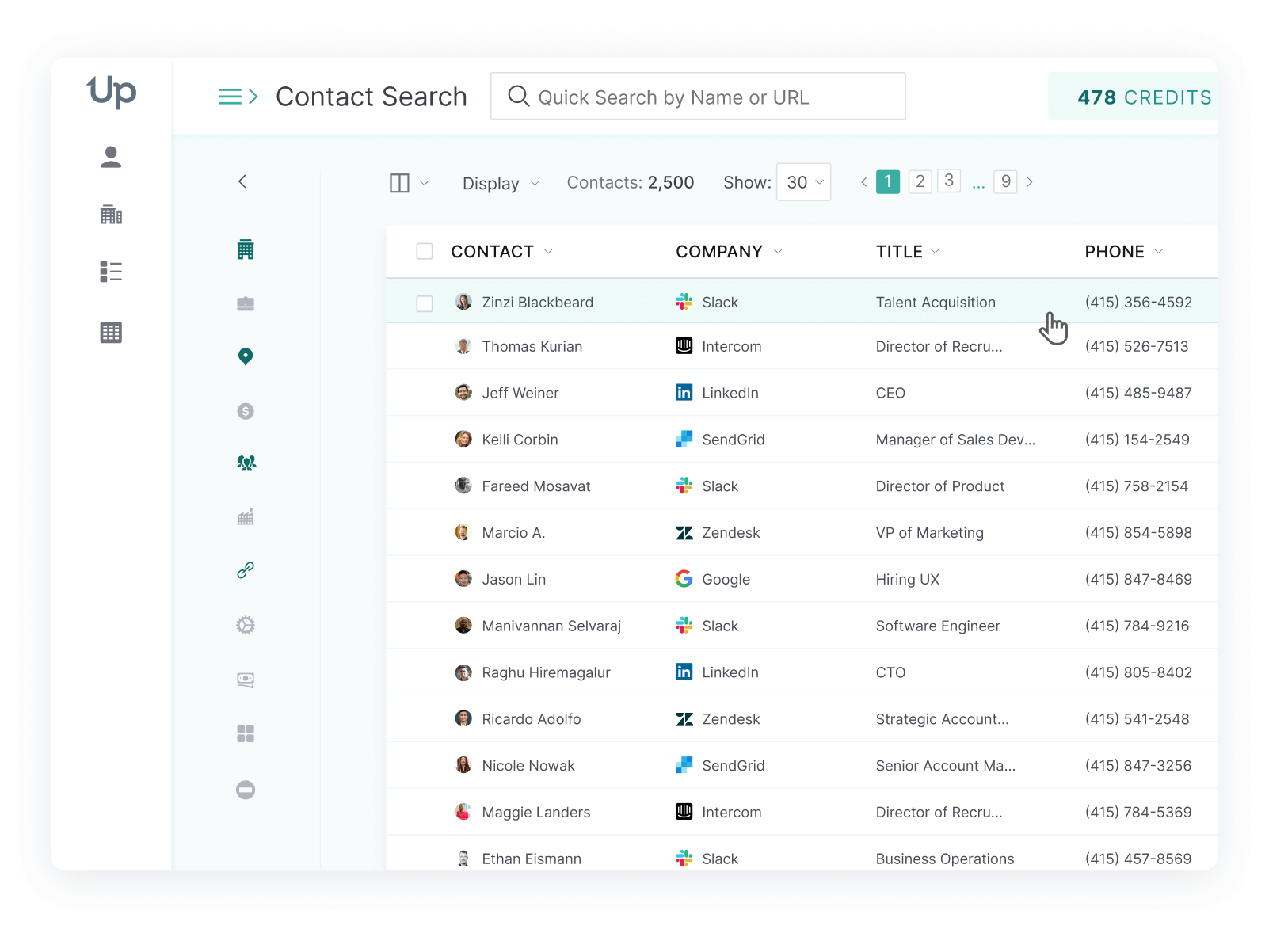 Pricing
InsideView is a somewhat confusing platform because the business does more than just sell B2B market intelligence. InsideView sells separate products and services for planning go-to-market solutions, cleaning up and updating the contacts in your CRM, enriching contact profiles for new leads, and of course, finding new leads.
The comparison between InsideView and InsideView competitor UpLead is technically between UpLead and the "InsideView Target" product. InsideView Target lets companies build custom profiles for the ideal prospect (using details like demographics and firmographics) and provides B2B contacts that match the criteria.
It isn't clear from the company's website exactly how much it costs to use the platform. Several internet sources suggest InsideView's pricing starts at $99, but since the company has so many different products and services, it's difficult to know for sure if that price reflects InsideView Target's rates or another part of the platform.
It's worth noting that while InsideView claims to have 400 million contacts, the InsideView Target platform focuses on a smaller segment of that database: 32 million contacts from more than 13 million companies. These numbers bring InsideView Target and UpLead a lot closer regarding database size than they look at first glance.
InsideView cost—or InsideView Target cost, more accurately—is likely determined on a credit basis. Depending on the subscription you work out with InsideView, you will be given a certain number of credits. Each credit is good for one contact export or download.
UpLead uses a credit system, too, but we're a bit more transparent about pricing terms and service tiers. We have four tiers—Essentials,Professional, Ultimate and Enterprise—each of which offers credits for gradually higher prices.
The UpLead pricing structure is simple:
Essentials: 170 credits per month for $99
Plus: 400 credits per month for $199
Professional: 1,000 credits per month for $399
Enterprise: Pricing and credit numbers are customized based on what your business needs. The Enterprise packages start at 10,000 credits per year
Like InsideView Target, UpLead offers a free trial version, so you can test-drive our software and get the hang of using our database before you make a commitment.
The Verdict: UpLead Wins!
It's difficult to reach a verdict without transparent information about how much InsideView bills for a Target subscription. To learn more about InsideView pricing, you will likely need to reach out to the company directly to get a subscription quote.
It's worth noting UpLead is just generally one of the most affordable B2B intelligence platforms available. If your company is looking for a lead generation platform that will deliver quality leads without breaking the bank, you'd be hard-pressed to do better than UpLead in pricing.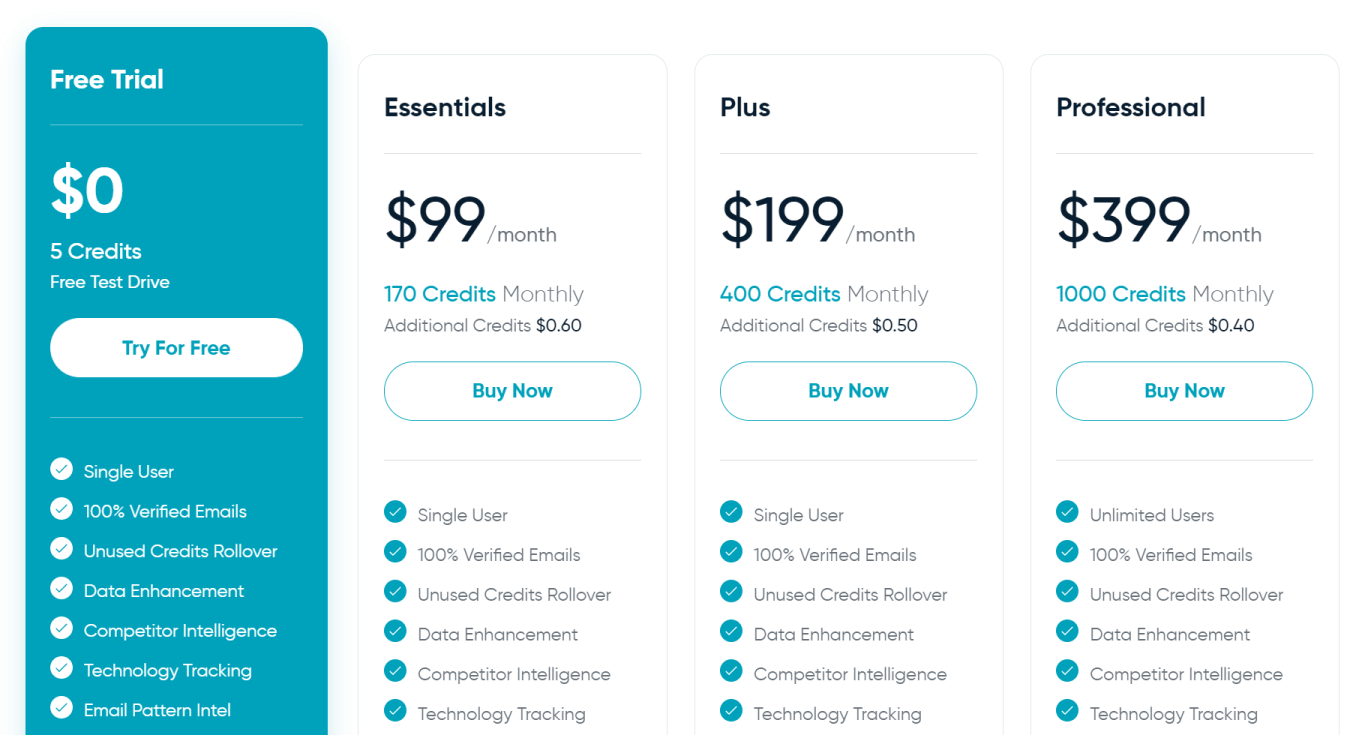 Contract Obligations
One of our biggest strengths at UpLead is we don't expect our customers to sign contracts. If you decide to purchase, for instance, our Professional subscription for a month, you aren't locked in beyond that month. You make the $399 payment and get 1,500 credits to use in our database. Those credits never expire, which means you can keep using them until they are gone.
Once you've exhausted your credits, you can decide whether you want to buy another set of credits with us or try another B2B database platform. The choice is yours.
Most B2B data vendors lock their customers into contracts for at least one year. In these cases, you are expected to make that monthly payment 12 times per year to retain access to the B2B database. While UpLead does offer 12-month commitment packages—complete with discounts on our usual rates—contracts are not the norm for us. Most of the companies that work with us prefer to purchase more credits as they need them, avoiding a monthly payment that might not make sense for them to pay.
On the FAQ page for InsideView Target, the company says, "a contract term should be valid for a minimum of 30 days." More commonly, contracts with InsideView last for 12 months. While the company doesn't require customers to sign a year-long contract, the norm with businesses using InsideView Target is to maintain a 12-month contract.
The Verdict: UpLead Wins!
If you want flexibility and budgetary control, then you probably don't want a contract for your B2B lead generation platform. While InsideView is certainly better than some other big data vendors, which offer no options other than year-long contacts, our model at UpLead is more flexible.
Update Frequency
It's clear from reading the InsideView website that data accuracy is vital to the company. On the page for InsideView Refresh—InsideView's product for updating your existing B2B contact list—there is a statistic claiming prospect and customer data changes "at a rate of about 70 percent per year."
InsideView uses a few different strategies to update and validate data. The company uses algorithmic "triangulation" to compare multiple data sources. This process determines data accuracy by looking for a consensus across multiple sources or databases. InsideView largely relies on its data sources for updates, which means update frequencies vary for different data points and contacts depending on the source of that data.
The company does validate the email addresses in its databases every 30 days regardless of whether the original data source has been updated. Each B2B contact profile includes a "Last Validated" date. InsideView also claims some data points are validated in real-time, but it doesn't specify which ones.
At UpLead, we use real-time validation on every email address in our database. When you download a new contact, we automatically initiate the validation process. This process pings the email address in question, which returns one of three statuses: Valid, Invalid, or Accept All.
Valid and Invalid are what they sound like: Valid addresses are live while Invalid ones are not. We remove Invalid emails from our database so they can be manually checked by our team. Accept All addresses are hosted on email servers that are set up to receive all messages. These addresses cannot be 100-percent validated, so you have the option of downloading them or opting to view Valid addresses only.
The Verdict: UpLead Wins!
InsideView's reliance on thousands of different data sources proves to be both a blessing and a curse for the platform. On the one hand, all those sources mean InsideView has a huge database. On the other hand, InsideView relies on outside sources for data updates, which means there isn't much consistency in how frequently the data on the platform is updated.
At UpLead, we use real-time validation on every single email address to make sure you will never send an undeliverable email to one of our contacts. InsideView tells you exactly when a contact was last updated, which is handy, but ultimately UpLead wins this one.
Special Features
InsideView, as the "technology platform" that it claims to be, offers a broad array of services and features. We have already discussed several of these, including data enrichment and contact list updates—InsideView also offers products and services for sales intelligence, technology install base data, and customer relationship management. The problem? All these things manifest as separate products rather than features built into one comprehensive B2B data intelligence platform. You will have to pay more, in other words, to unlock all the features InsideView has to offer.
The Verdict: UpLead Wins!
InsideView is a more technologically-advanced and feature-rich platform than UpLead. However, as a dedicated B2B intelligence tool, UpLead offers more out of the box than the InsideView Target tool does without a higher level of investment.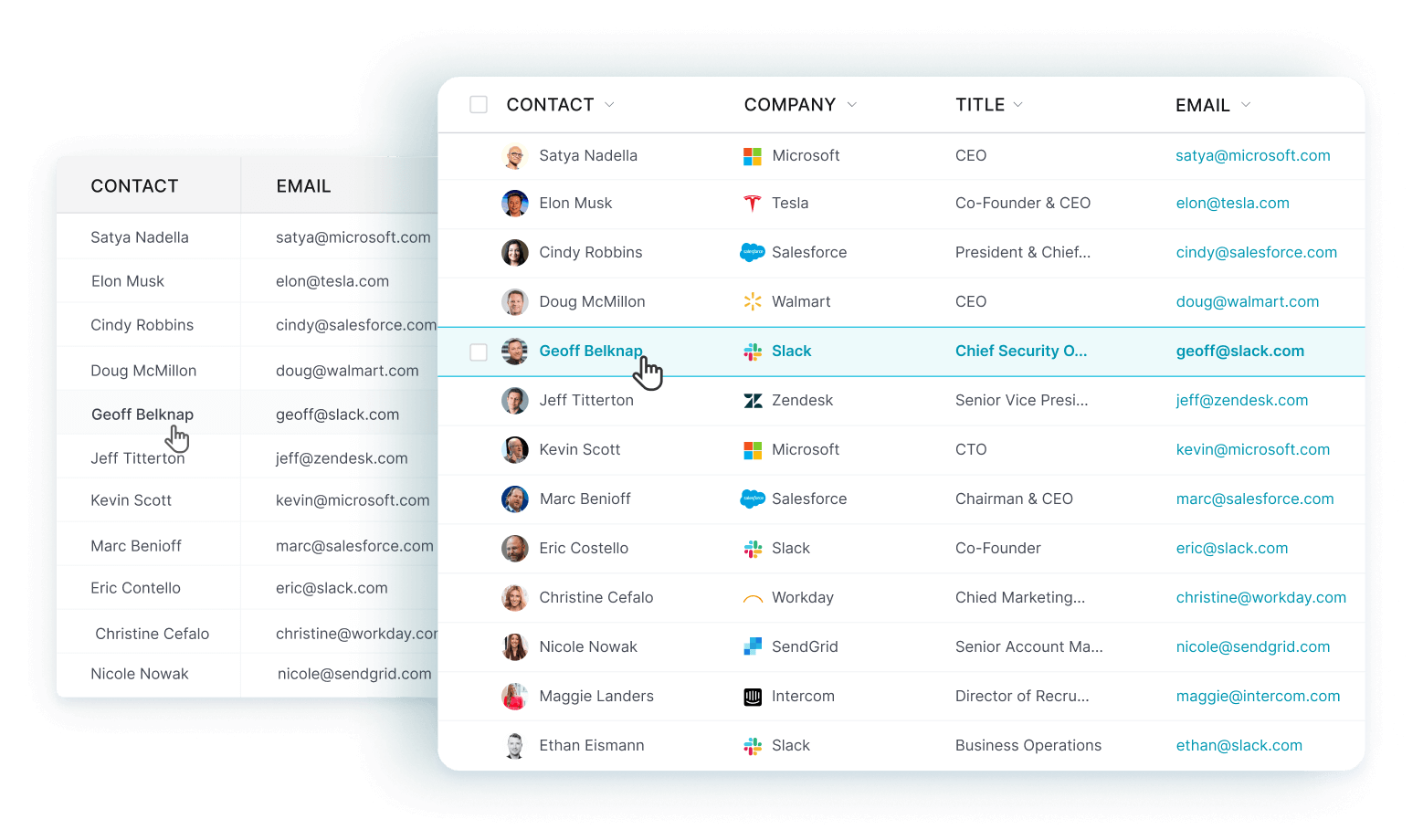 Final Verdict: UpLead Beats InsideView!
InsideView is a powerful and intriguing platform for B2B data intelligence. Regarding simplicity, price, features, and up-to-date data, UpLead offers more value per dollar. Especially for small- or mid-sized businesses with limited budgets but not-so-modest needs, UpLead offers the perfect balance of cost, intuitive usability, and database reach.
Ready to give UpLead a try?
We hope you enjoyed out comparison guide between UpLead and InsideView. Getting started with UpLead is easy and can be done in just a few minutes. To start your 100% free 7-day trial (no credit card required), just click here. If you still have questions simply click the chat widget in the bottom right-hand corner of this screen. We hope you enjoy UpLead.
Want to grow your business faster?
Sign up for a 100% free no-risk trial today!
Try UpLead free for 7 days. No credit card required. Plans start at just $99/month with no contract.
Disclaimer: The third party's name is utilized for comparison purposes only and is the trademark of its respective owner. UpLead claims no rights whatsoever in the use of such name and/or any related trademarks. UpLead is not affiliated with the third party referenced on this page.