Increasing revenue is one of the major goals all companies try to achieve. Business leaders seek different strategies to generate new leads and close more sales. One such method that has become increasingly popular is RevOps: revenue operations.
RevOps is a holistic approach that unifies your marketing, sales, and customer success teams. It has been shown to increase customer satisfaction and customer retention. You might be able to acquire new customers, but can you keep them? 
Studies have shown that it's more expensive to create a new customer than it is to keep an existing one. The job doesn't finish when you close the deal. Consider utilizing RevOps to get your revenue-generating teams on the same page.
Need to learn about RevOps? Don't worry. This article will cover everything you need to know about RevOps (revenue operations), including the following:
What is RevOps?
Revenue operations examples
Benefits of revenue operations
Implementing a RevOps strategy
Important revenue operations metrics
How UpLead can boost your RevOps Strategy
How to know if RevOps is right for your business
Frequently asked questions
Let's get started.
Quick Links:
What is RevOps (Revenue Operations)?
RevOps (revenue operations) aligns all revenue-generating teams involved in the end-to-end sales process. This largely means marketing, sales, and customer success, but it can also include other departments, such as finance and product.
RevOps is a business strategy that maximizes revenue growth and optimizes the revenue cycle—from first contact to post-purchase. It identifies inefficiencies and bottlenecks that impede the end-to-end sales process. It aims to improve operational efficiency by providing operations support for the internal teams.
Revenue operations make it easier for marketing, sales, and customer success to do their jobs. Marketing can focus on the lead generation process and creating content, while Sales can concentrate on building relationships and closing leads. Customer success can work on post-purchase support and customer service.
More specifically, RevOps focuses on improving personnel, software, systems, processes, and data. Managing and optimizing these elements allows your company to improve several critical business functions, which include lead management, customer data management, and overall pipeline management.
When implemented correctly, revenue operations can create a predictable, replicable revenue stream for your company. It provides accessibility and transparency for managers and the C-suite; it gives a complete look at the revenue cycle.
Revenue Operations Example: How RevOps Drives Growth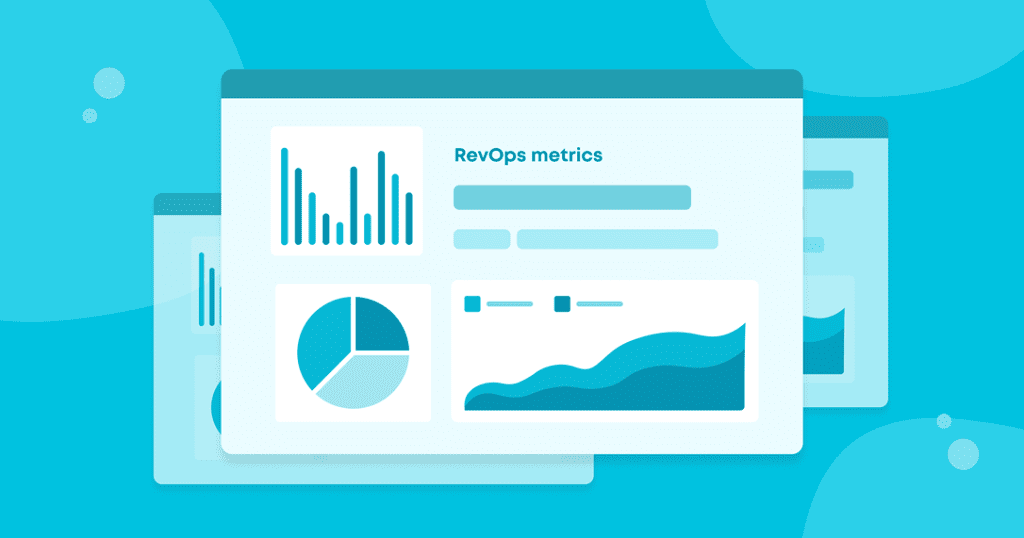 To better understand how RevOps works and how it drives growth, let's go through a mock example of successful implementation.
Imagine a mid-sized IT services enterprise that has more than 200 employees. This company was struggling with several problems, including the following:
Inefficient processes caused by revenue-generating teams that are disjointed and isolated
An overly long sales cycle
A sales process that lacks visibility and transparency
These problems created an inefficient and unpredictable revenue stream. To combat these issues, the company decided to utilize a RevOps strategy. A cross-department team was constructed, with representatives from all departments, including marketing, sales, and customer success.
The team then set realistic goals to outline success and how to track and measure performance. The team then began looking for and adopting several tools that could help them execute their revenue operations approach. These applications help to streamline and optimize processes and workflows.
They started utilizing data analytics to measure and track marketing key performance indicators, which enabled the marketing team to find bottlenecks and inefficiencies that they could improve. The data is uploaded and synchronized in real-time to a centralized platform accessible to all departments. It provides transparency and keeps everyone on the same page.
The RevOps strategy was successfully implemented and resulted in several positive business outcomes. The company's sales cycle was significantly shortened and alignment between the marketing, sales, and customer success departments improved. 
Benefits of Revenue Operations
Research company Gartner predicts that 75% of the "highest-growth" businesses in the world will have a RevOps model by 2025. When properly implemented, a revenue operations strategy can bring an organization several benefits, including the following:
Improved organizational alignment between departments
Increased customer retention
Better long-term strategic planning
More accurate revenue forecasting
Research from Boston Consulting Group showed that RevOps adoption provided top B2B tech brands with significant benefits. The increased organizational alignment led to several positive business outcomes, including the following:
A 10-20% improvement in sales productivity
A 100-200% increase in ROI digital marketing
A digital marketing ROI improvement of 100-200%
A lead acceptance increase of 10%
An internal customer satisfaction boost of 15-20%
GTM expenses decrease by 30%
The research also showed clear revenue operations benefits for publicly-traded businesses:
A 71% improvement in stock performance
A 15% increase in profits
A 19% boost in growth
A 10-20% improvement in sales productivity
A 15-20% boost in internal customer satisfaction
A 30% reduction in GTM expenses
A high-quality revenue operations team brings all the departments involved in the revenue cycle together to encourage consistent growth. It syncs and unifies all systems, priorities, and processes so that they can work toward a common shared goal.
RevOps streamlines the MarTech stack and empowers marketers. The marketing team can focus on engaging with prospects and converting and nurturing them into qualified leads. They'll utilize more technology and data compared to the other departments in the sales process.
The sales team also benefits significantly from revenue operations. The RevOps manager communicates with sales reps and informs them of any problems headed their way. These issues are solved so the sales department can focus on closing leads.
Even the customer success team benefits from a greater awareness of customer problems and pain points due to the increased alignment between departments. Customer success managers can provide support and better attend to customers' needs. RevOps puts the department in a position to offer a high-quality post-purchase experience. 
Simply put, having a dedicated revenue operations strategy can help you optimize your business processes, decrease expenses, and increase revenue. That's the bottom line: more consistent, predictable growth for your organization. 
Implementing a RevOps Strategy
Although revenue operations seem complicated, their implementation is relatively simple. You can easily create a RevOps strategy for your company by following the steps detailed below.
Step 1: Clearly Define Goals
The first step to creating a RevOps strategy is like any other plan: creating well-defined goals. You must outline why you need RevOps and what you hope to achieve from its implementation.
Here's an example to help you understand:
You need revenue operations because you found a strong lack of organizational alignment between your revenue-generating teams. Intra-organizational conflicts between your marketing, sales, and customer success departments negatively affect the revenue cycle.
Specifically, some of these issues include the following:
SDRs receiving poor-quality data from the marketing team
Contact information isn't being updated in real-time
Workflows are being misaligned and/or overlapped
RevOps can rectify all of these issues. It'll increase alignment between all the internal teams involved in the end-to-end sales process. This increase in organizational alignment will decrease intra-organizational conflicts and increase operational efficiency and revenue growth.  
Step 2: Build Strong Teams
There's no catch-all team structure when it comes to RevOps. Each business is unique and varies in type, industry, annual revenue, number of employees, and location. Some of these factors will dictate your company's ideal RevOps team size and structure.
For instance, the size of your company and its annual revenue will determine how big your revenue operations budget is. Other factors include the complexity of your end-to-end sales process and the nature of your products and services.
For a larger company, here's how the revenue operations organizational chart might look:
Director of Revenue Operations: Manages the revenue operations and oversees the entire end-to-end sales process. Reports to the Chief Revenue Officer—CRO. It has several managers that report to them.  
Marketing Operations Manager: Oversees operations for the marketing team. Has potentially several analysts that report to them. Reports to the Director of Revenue Operations.
Sales Operations Manager: Oversees operations for the sales team. Has potentially several analysts that report to them. Reports to the Director of Revenue Operations.
Customer Success Operations Manager: Oversees operations for the customer success team. Has potentially several analysts that report to them. Reports to the Director of Revenue Operations.
Systems Operations Manager: Oversees the data and technology associated with the revenue cycle. Reports to the Director of Revenue Operations.
The analysts of each manager are tasked with identifying and addressing business performance-related issues. They collaborate with each respective internal team and will review and analyze related data.
Your RevOps team has several responsibilities that relate to the end-to-end sales process—here's a basic rundown:
Operations Management: Improving the performance of the end-to-end revenue cycle by assessing, optimizing, and updating company-related policies and business processes.
Enablement: Problem-solving and troubleshooting issues that interfere with the revenue-generating teams' capacity to engage with prospects, leads, and customers.
Insights and Analytics: Development of short and long-term reports from several sources. The primary focus is to enhance workflows and organizational alignment.  
Technology Implementation: The company technology stack's research, implementation, and management across the entire end-to-end sales process.
Learning and Development: Implementing training and onboarding for employees to help them use new systems and processes. 
Compliance and Regulation: Maintaining workflow regulatory compliance at several levels, including company, state, national, federal, and international standards.
Successful RevOps teams will have clearly-outlined mission statements. They'll know its goals and objectives and understand why the company requires revenue operations. They will also have a data-driven approach to decision-making and well-established business processes.
Successful RevOps teams will be able to communicate and collaborate efficiently. They'll always be willing to experiment and test new ideas and strategies to find ways to improve and optimize continually. Consider these elements when putting together your revenue operations team.
Step 3: Invest in the Right Tools
Once you assemble your revenue operation team, you can research, consider, and invest in the right tools. Technology and data play a large part in the RevOps approach to optimizing the revenue cycle, allowing you to measure performance, align targets, accurately forecast revenue, and generate predictable growth.
The most important tool for revenue operations is your CRM platform. You must ensure that your company's CRM provides the necessary features and functionalities to position your RevOps strategy for success. More specifically, it should allow you to do the following:
Contact and Activity Tracking: So that your prospects and leads can be monitored from a centralized platform. Your revenue-generating teams can uncover where they are in the buyer's journey.
Revenue Forecasting: You can utilize historical and real-time data to make accurate projections and set realistic revenue targets.
Revenue Analytics: You can track and measure performance across several channels related to the end-to-end sales process. Your revenue-generating teams can gain valuable insights that inform them of strategic decisions going forward. 
AI-powered Analytics and Insights: You can use artificial intelligence capabilities to manage and manipulate data.
Individual Account Dashboards: Your revenue-generating teams have a page for each prospect, lead, and customer. This page can be accessed by all members of the RevOps team for complete transparency.
Third-Party Data Aggregation: You can transfer data from other platforms your company uses. This guarantees that all internal teams are sharing their data.
Third-Party Integration: So that you can integrate your CRM with your other technologies within your stack.
Aside from the CRM platform, several other software applications can boost your RevOps strategy. For instance, a B2B lead generation tool like UpLead can boost your efforts.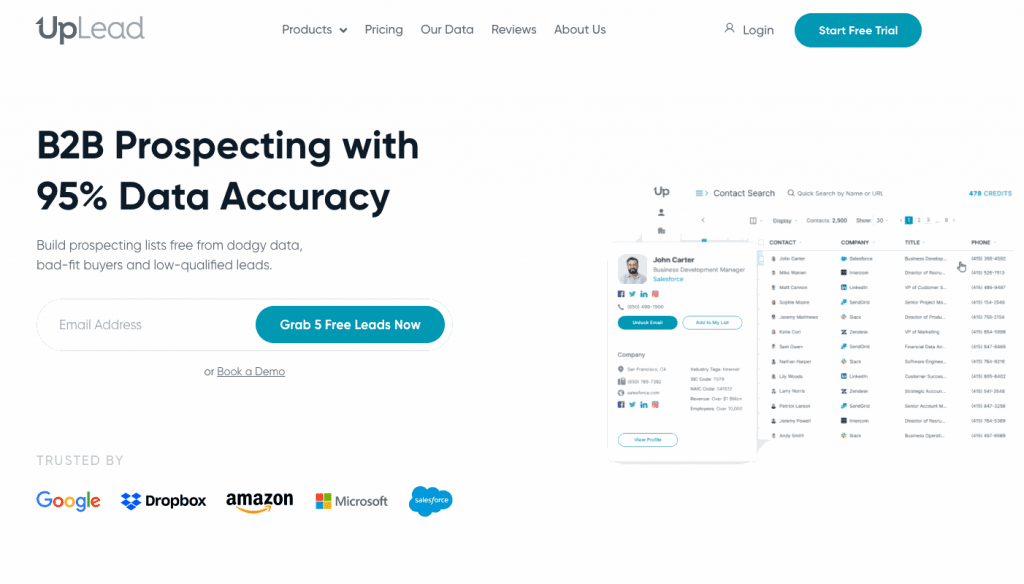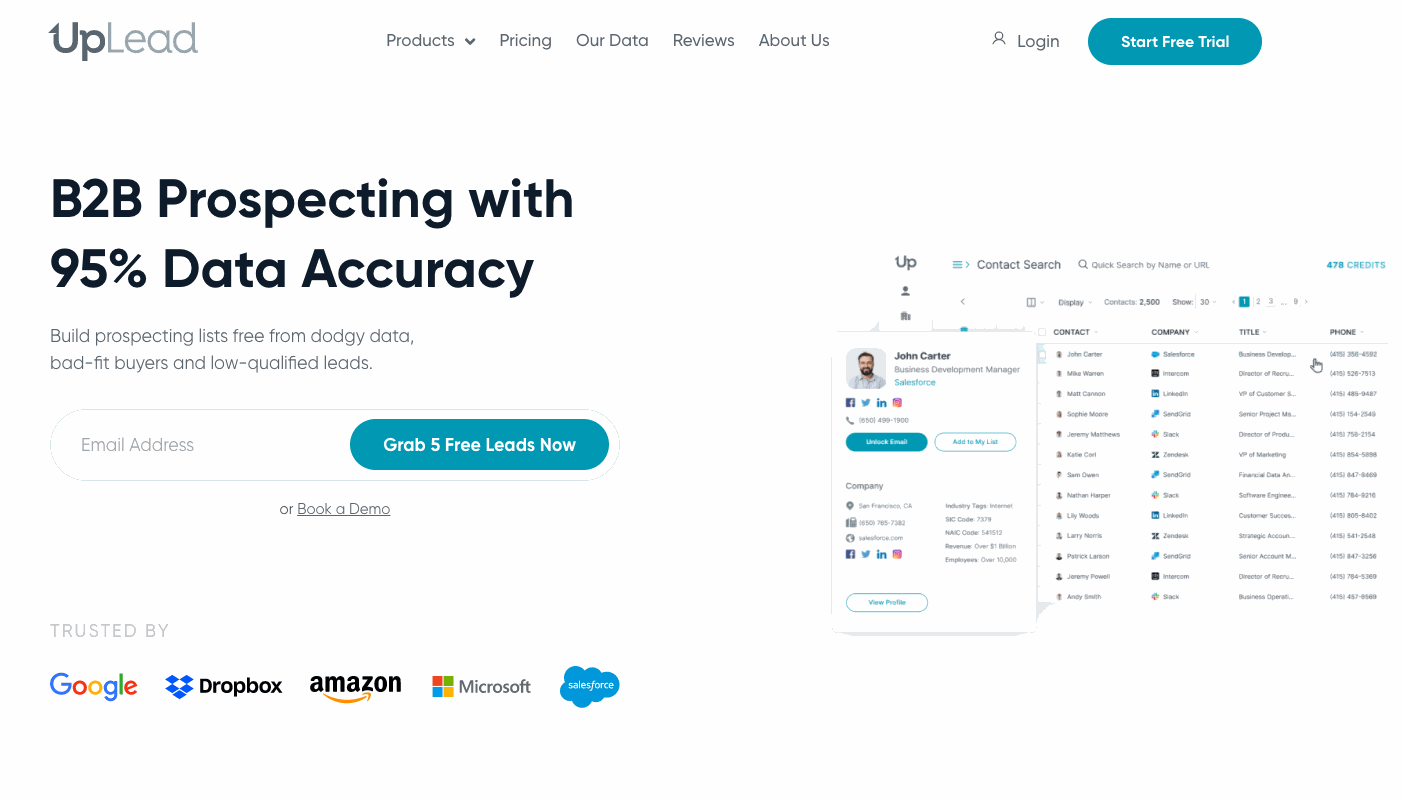 UpLead is a B2B lead generation tool that makes it easy to find the highest-quality leads for your company. It offers customers access to an extensive contact database, which includes 108+ million B2B contacts and 14+ million company profiles.
UpLead gives customers access to a large contact database. You can use over 50+ search filters to find the highest-quality leads for your company, and its database features over 108+ million B2B contacts with email addresses.
You can also use over 50+ search filters to conduct granular searches to find the perfect prospects for your company. Some of these filters include the technology stack used, company size, and annual revenue.
Your RevOps strategy's success depends on how many leads your company generates. UpLead makes lead prospecting an easy process.
Step 4: Track and Adjust Your Approach
You can begin your revenue operations efforts with your RevOps team assembled and your technology stack in play. The last step is to track now, measure, and adjust your approach on an ongoing basis. You'll need to keep an eye on the important metrics we discuss below.
Important Revenue Operations Metrics
The use of technology is a big part of revenue operations. There are several key performance indicators that you should be tracking for your RevOps strategy. These indicators are important because they help forecast revenue and create predictable growth.
They also detail the performance of all your revenue-generating teams involved with the sales process, and this intel can be used for strategic planning purposes. A revenue operations approach that's data-driven is essential.
We've listed the most important metrics below.
Cost Per Acquisition (CPA): CPA is the expense of acquiring a new customer. It's also known as Customer Acquisition Cost—CAC for short. Cost Per Acquisition includes employee salaries, marketing and sales costs, equipment/tools, and more. 
Annual Recurring Revenue (ARR): ARR is the total revenue generated from recurring sales over one financial year. It represents the value your company generates from its subscription and contract-based customers over twelve months. ARR is one of the key metrics that help track organizational growth and progress.
Customer Lifetime Value (CLV): CLV is the total revenue you can expect to generate from a customer throughout their entire relationship with your company. Customer Lifetime Value helps you forecast revenue and cash flow. It also provides information that can be used to create pricing, acquisition, and retention strategies. 
Win Rate: Win rate is the percentage of closed sales opportunities into confirmed sales. It's calculated by dividing closed deals by the total amount of sales opportunities over a specific period of time. Win rate tells you how successful your sales team is at converting sales-qualified leads into paying customers. It's also sometimes called close rate.
Customer Churn/Customer Turnover Rate: Customer churn is the percentage of customers who terminate their business relationship with you over a timeframe. It's also called Customer Turnover Rate. A high turnover can suggest that your customer service is lacking. You can use this information to guide your customer success team strategically.
Sales Cycle Time: The length of time your end-to-end sales process lasts—from first touch to closed deal.
Pipeline Velocity: The rate at which leads progress through each phase of your revenue pipeline.
Forecast Accuracy: A calculated percentage that expresses how predictable your revenue targets are.
Upsells and Renewals: The total revenue your company generates from selling new products and services to existing customers and renewing existing contracts and subscriptions.
Depending on the nature of your business, you may track all of these metrics or only some of them. For instance, if you offer a product or service with a one-off cost, you wouldn't need to consider renewals.
These performance indicators are so vitally important to the success of your RevOps efforts. They let you know how well your sales cycle is functioning and how efficiently your revenue-generating teams perform. 
These metrics inform you of what strategic moves your organization should make. For example, a high customer turnover rate could suggest your customer success team is dropping the ball. With this information, an appropriate course of action can be taken to remedy this issue. 
Use UpLead to Boost Your RevOps Strategy
The success of your revenue operations strategy will come down to how much revenue you can generate. You need your end-to-end sales process firing on all cylinders—and it starts with your marketing team generating new leads.
There are several ways to find high-intent prospects for your company. You can run digital marketing demand generation campaigns on social media or create SEO-optimized content to attract people to your website. You may also run paid advertising campaigns across several digital channels.
However, these strategies require a considerable time investment and leave the prospecting up to chance. Instead, why not consider using a lead generation platform like UpLead?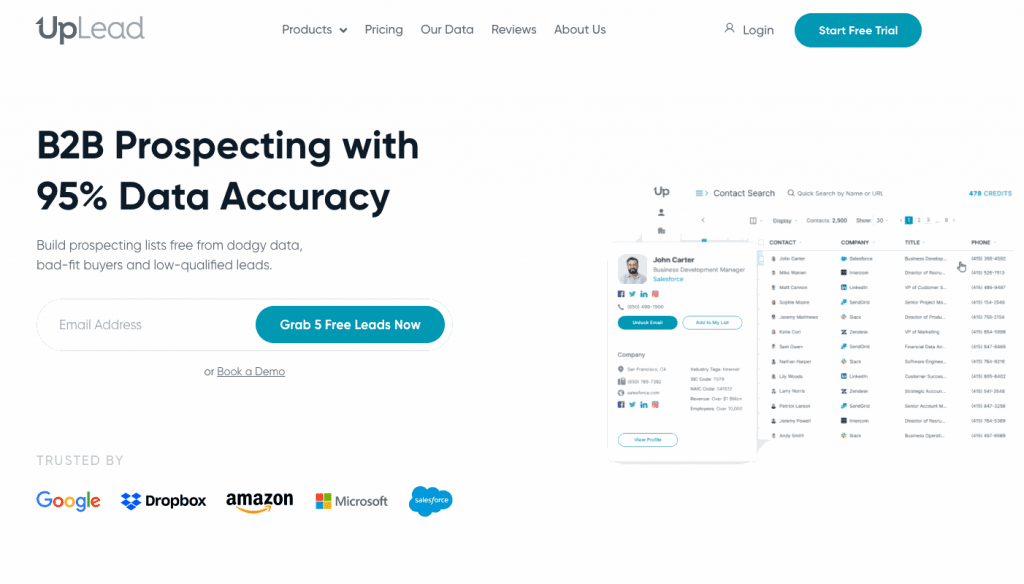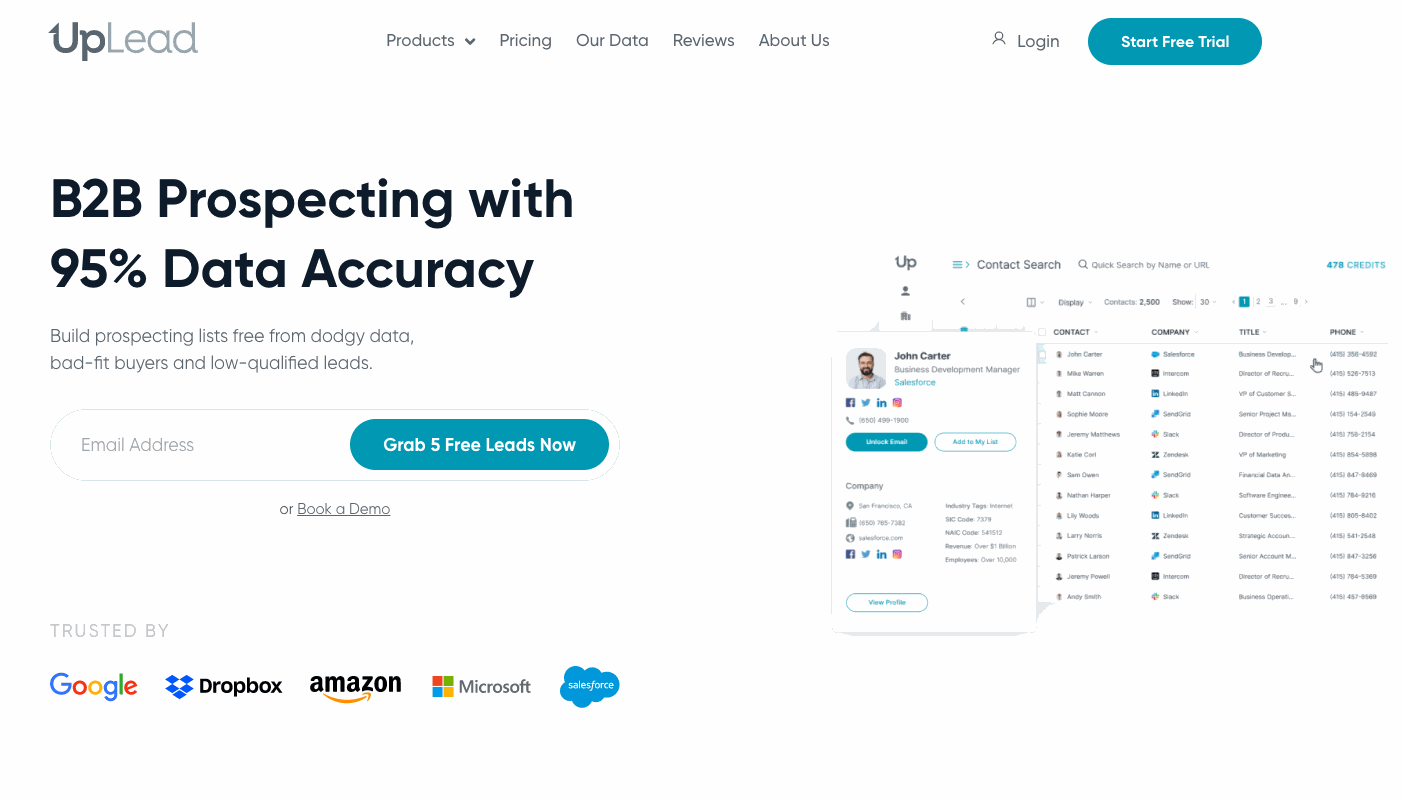 UpLead is a B2B lead generation platform that makes it easy to uncover prospects for your business. The cloud-based software gives its paying customers access to a massive contact database.
UpLead's B2B contact database features over 108 million contacts with email addresses. There are 14+ million company profiles, including email addresses, direct dials, and mobile numbers. A 95% data accuracy guarantee ensures you get the right information.
Customers can use UpLead's robust suite of features to sift through the B2B contact database. You can find the best prospects with over 50+ search filters, including demographic, firmographic, and technographic data points.
The demographic filters allow you to search through the database and find key decision-makers. Firmographic filters, like company size, annual revenue, and geographic location, help you uncover the best brands for your outreach campaigns.
You can also use the technographic feature to find and uncover companies by their technology stacks. UpLead tracks over 16,000+ technologies.
Revenue operations is all about optimizing your end-to-end sales process. Your revenue cycle starts at the top of the funnel; it needs high-quality leads to function. Whatever product or service your company sells, UpLead can help you find your ideal, high-intent prospects. 
How to Know if Revenue Operations is Right for Your Business
Revenue operations is an effective strategy that can benefit businesses of all types, sizes, and industries. It's a flexible approach that optimizes your sales process to maximize revenue generation.
However, RevOps might not be ideal for your business. Several factors can influence the effectiveness of its implementation.
So, how do you know whether or not it's suitable for your company? You should consider adopting a revenue operations strategy if your business is trying to achieve the following:
Scale up while prioritizing transparency and accountability
Alignment of revenue targets across your internal teams (marketing, sales, customer success, etc.)
Get all revenue-generating teams focused on the right key business metrics
Decrease intra-organizational conflicts
The way companies think about the revenue cycle has changed. There has been a shift toward organizational transparency and accountability—from the front lines to the C-suite. Businesses are seeking to increase alignment across all departments.
Your revenue targets and goals will be inconsistent when your marketing, sales, and customer success aren't in sync. This disconnected silo approach leads to finger-pointing and a loss of trust, leading to decreased operational efficiency and revenue generation.
RevOps lets you get your internal teams on the same page and focus on the important metrics. It helps create a thriving ecosystem where all the revenue-generating teams work together. Revenue operations could be the right solution for your company.
FAQs About Revenue Operations
What is the difference between revenue operations and sales operations?
Sales operations (SalesOps) is a subset of revenue operations (RevOps) and deals with optimizing the sales team. This can include things such as lead management, sales forecasting, territory management, CRM training and development, automation, and data.
On the other hand, revenue operations (RevOps) focuses on improving the entire end-to-end sales process. This includes sales operations, marketing operations, and customer success operations. RevOps addresses aspects like organizational alignment and the customer experience and journey.
Sales operations and revenue operations were used interchangeably in the past. This explains why there can be some confusion regarding the two strategies. They've become more distinct concepts in recent years.
What is a revenue operations manager?
A revenue operations manager is a centralized ops role that deals with managing the RevOps strategy. For smaller-sized businesses, a revenue operations manager might be a solo employee. They'll manage a team of RevOps specialists for larger enterprises, acting as the point of contact.
The position involves several responsibilities that relate to the revenue cycle. A revenue operations manager will lead a team of RevOps specialists and oversee the end-to-end sales process. They'll also collaborate with representatives from the marketing, sales, and customer success teams and other departments. 
A RevOps manager will also harness different technologies to track the revenue cycle and its important key metrics. Some examples include CRM platforms and MarTech software. They'll also communicate with leadership to establish strategic priorities and provide the C-suite with data-driven reports. These are just some of the basic responsibilities of a RevOps manager. 
What does a revenue operations specialist do?
A revenue operations specialist will work with representatives from your marketing, sales, and customer success departments, as well as others. They aim to bridge the gap between these teams along the sales process and increase organizational alignment.
It's a centralized ops role with several different responsibilities and deliverables. A RevOps specialist will identify critical issues that impact the revenue cycle. They'll communicate and collaborate with marketing, sales, and customer success to handle these problems.
A revenue operations specialist will also evaluate and look to optimize existing processes, technologies, programs, and systems. They'll be working with the company technology stack, so data hygiene is a considerable responsibility.
Communication with the C-suite is also part of the role. A RevOps specialist will brief the business leaders and provide them with data reports. The revenue operations specialist is responsible for executing the business strategies outlined by the leadership team.    
What You Need to Remember About Revenue Operations
Increasing revenue is a primary business goal for all companies. Business leaders always look for new ways to innovate, streamline, and optimize the revenue cycle. RevOps has helped many businesses acquire new customers while also retaining existing ones.
This article covered everything you need to know about revenue operations. We detailed what it is, its benefits, and how to implement a RevOps strategy for your company. We also covered important metrics to measure and track.
When implemented correctly, a revenue operations approach aligns internal teams and can lead to several positive business outcomes. Some of these include increased customer acquisition, satisfaction, and retention. All of this leads to one thing: more revenue.