Every business needs management tools to maximize performance and keep everything running smoothly. Sales forecasts are a critical tool that businesses use to measure their progress and check everything is going to plan. Here's a closer look at why sales forecasts are important and how to create them. We have some great templates for you too.
What Is a Sales Forecast – And Which Factors Impact It?
Sales forecasts are data-backed predictions about the sales volume that a business will experience over a specific period of time.
A sales forecast is very important, given that it provides the foundation for almost all other planning activities. Businesses will rely on accurate sales forecasting to better understand how they should plan financially and execute their gameplan.
This means that sales forecasts really have the potential to make or break a business.
As with anything in life, though, nothing is certain. Sales forecasts can be affected by a range of factors. This means that businesses have to prepare for any and all eventualities.
Here's a look at some of the factors that can affect sales forecasting:
A lack of sales history
Sales forecasts are often built using historical data. Businesses analyze previous results to extrapolate and create predictions. If a business is starting out and lacks a good body of historical sales data, it will struggle to put together an accurate sales forecast.
The type of business
Each industry has its own series of unique challenges and quirks. Those factors are sometimes unpredictable and they could affect a business' revenues. The ad tech industry, for instance, is often rocked by new data privacy regulations.
Outside factors
Some businesses find that everything is moving according to plan before they are blindsided by an unpredictable event they cannot control. Consumer earnings may plummet, for instance, and cause people to restrict their spending.
Inside factors
Some businesses are forced to change their pricing or payment structures. This new dynamic can often have unpredictable effects and cause a business to veer off course from what its sales forecast predicted.
Why Should You Establish Sales Forecasts?
Sales forecasting is essential for every business. Here's some of the key reasons.
Perform accurate financial planning
Sales forecasts help the CFO and financial team understand how much cash is going to becoming into a business. This gives businesses a better understanding of how they can use that capital, and makes it possible to calculate what profit they can expect over a given period of time.
Plan sales activities
A sales forecast can help executives with sales planning. Those executives will understand how many salespeople to employ, for instance, and which quotas and targets to attribute to each of those salespeople. This means that an accurate sales forecast can help salespeople to understand and hit their objectives.
Coordinate marketing
A sales forecast will have a big impact on marketing. The sales forecast might show, for instance, that sales are waning and a bigger investment needs to be placed within marketing. It might also show that a particular product or service is failing to deliver appropriate amounts of value.
Control inventory
A sales forecast gives businesses a good understanding of how much inventory they will need to purchase and retain. This is an important factor and it helps businesses to strike a balance between overstocking and running out of materials. This is also the case for SaaS businesses, which needs to provision for customer support and success.
Avoid fluctuations in price
An accurate sales forecast helps businesses to maintain consistent pricing on their products and services. A poor sales forecast might mean that a business is forced to adjust its pricing unpredictably. This tactic is often the result of panic and without the proper strategy, it serves to jeopardize the profitability of a business.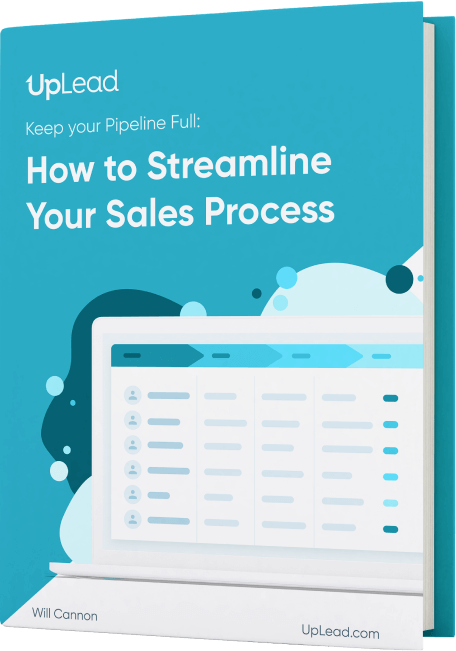 Establish a Solid Sales Process!
Learn how to build an efficient, scalable and high-converting sales process for your sales team.
I agree to receive emails from UpLead, and can unsubscribe at any time.
How to Forecast Sales – The Best Sales Forecasting Methods
Businesses around the world use a range of sales forecasting techniques. Here's a closer look at some of the key methods that you could use.
Opportunity Stage Forecasting
What is it?
This sales forecasting technique calculates the likelihood of deals closing throughout a pipeline.
Most businesses use a sales pipeline that is divided into a series of sections. The likelihood of converting a prospect increases the deeper into the sales process the prospect moves. To get the most from this technique, it's critical that the team digs into the current performance of the sales team.
After that analysis, the probabilities might look something like this:
Sales Accepted lead

: 10% probability of closing

Sales Qualified Lead

: 25% probability of closing

Proposal sent

: 40% probability of closing

Negotiating

: 60% probability of closing

Contract sent

: 90% probability of closing
Using these probabilities, it's possible for you to extrapolate an opportunity stage sales forecast. You'll simply want to take the potential value of the deal and multiply that by the win likelihood.
Who should use it
This is a great sales forecasting method if you have access to historical data, lots of leads in your pipeline, and you need a quick estimate. It's important to understand that this isn't the most accurate option, though, given that there are lots of random factors affecting those probabilities.
Length of Sales Cycle Forecasting
What is it?
This sales forecasting method finds the average length of your sales cycle. This helps you to predict when your deals are likely to close and reveal opportunities for your sales team to expedite the sales cycle.
This method is simple. You can find the length of your average sales cycle using the following basic formula:
Total # of days to close deals / # of closed deals
Let's imagine, for instance, that you find the following:
We closer four deals and all together, it took 131 days to close them. This means that the average length of our sales cycle is 33 days.
Equipped with that information, we can look to our pipeline and estimate how likely we are to close deals based on how old they are. The closer a deal moves toward the average sales cycle length, the more likely it will be closed.
Who should use it
This is a great sales forecasting method for sales managers who want to learn more about the deals that are spread across their pipeline. They can use this method to differentiate between different types of groups, for instance.
Sales managers might find that the average sales cycle length is much shorter for web leads, for example, when compared to email leads.
Historical Forecasting
What is it?
Historical forecasting is a very quick and simple sales forecasting technique. The process involves looking back at your previous performance within a certain timeframe and assuming that your future performance is going to be superior or at least equal.
This is a useful reference because it helps you to really get to grips with seasonality and the outside factors that affect your sales. You might find, for instance, that the holidays are a particularly slow time for your business and looking at historical data can help you to prepare.
With that said, historical forecasting has its issues. It assumes that buyer demand is going to be constant, which is in no way a given. This could mean that you overestimate your sales statistics and operate using an in accurate sales forecast.
Who should use it
This forecasting method is ideal for a business that needs a quick and easy way to project how much it is going to sell over a given period of time. With that said, historical data should be used as a benchmark as opposed to the foundation of a sales forecast.
Lead Pipeline Forecasting
What is it?
This time-consuming sales forecasting method involves reviewing each lead within your pipeline and determining how likely the deal is to be closed. That likelihood is determined by exploring factors like the value of the opportunity, the performance of your salespeople, seasonality, and more.
This is a time-consuming method and it often makes sense for those businesses that have a lower number of high-value leads – it wouldn't necessarily be efficient or make much sense for a SaaS business, for instance.
The big benefit of this method is the accuracy that it provides. If you have reliable and rigid data to base your analysis upon, you will find that this method can give you a deeper insight into each lead.
Who should use it
This method makes sense for those businesses that have a lower number of leads. Inside salespeople, for instance, will want to get a clearer picture of every lead within their pipeline. This method isn't really appropriate for SaaS businesses that operate according to volume.
Test Market Analysis Forecasting
What is it?
Businesses often launch exciting new products and services. But without the historical data, it can be difficult to get accurate sales forecasts. Test Market Analysis forecasting is the process of developing a product or service and introducing it to a test market to forecast sales and get an approximate on future sales.
This limited rollout gives businesses the opportunity to track the performance of the new offering and monitor things like consumer awareness, repeat purchase patterns, and more. This is a data gathering exercise and it feeds businesses with the information they need to create accurate sales forecasts.
Who should use it
This approach is perfect for those businesses that need to perform a real-world experiment to gather useful information. A new business can use sales forecasting to use its sales data to predict where future sales can come from. This can limit the cost, since it's an effective way of having a busy sales pipeline. The limited rollout of the product is also useful from a product perspective, given that adjustments can be made according to feedback.
A big issue with this form of forecasting is that one test market may not be like the others. Your data might not reflect the wider reality, so it's important that you make prudent choices that provide you with accurate information.
Multivariable Analysis
What is it?
As the name suggests, this method calls upon the analysis of a range of variables to get the clearest picture possible. This means that if the method is performed well, it can often provide the most accurate forecast.
If you use this technique, you will want to bring together factors like the average length of your sales cycle, the performance of your salespeople, historical forecasting, and more.
The success of this method hinges upon two key factors within your business: 
the accuracy of your salespeople and their reporting

the quality of the forecasting tools that you use.
It's critical that both of these factors are in place to make sure this forecasting method has the best chance of success.
Who should use it
Multivariable forecasting is most appropriate for larger and well-organized businesses that have the data and tools necessary to blend a range of forecasting methods into one. If you need the most accurate forecast method possible, this could be it.
Intuitive Forecasting
What is it?
Your salespeople are on the frontlines and their experience is very valuable. They often have a good idea of how likely they are to close a particular deal, and they can use educated guesses to assess the situation.
Experienced salespeople are able to take emotion out of the equation and rely on their experience and knowledge to make accurate predictions. Some businesses decide to incorporate those gut instincts into the way that they forecast a particular sale.
Some businesses, for instance, will add a score to the conversion probability of their various prospects according to the gut feeling of their salespeople.
Who should use it
This intuitive forecasting method is particularly useful for businesses that lack historical data. Without the quantifiable data to provide the basis for your sales forecasting, you might have to turn to the more qualitative assessments from your salespeople.
The downside of this sales forecasting method is clear, though. These assessments are highly subjective and you might find that your salespeople are often more optimistic in their projections. This means that those projections should be taken with a pinch of salt, but they are better than nothing.
Sales Forecast Examples
We know the theory, but how about the practice? Let's take a closer look at what those sales forecast methods look like in these awesome examples.
Standard Business Plan Financials
This example from Tim Berry (chairman and founder of Palo Alto Software) takes a look at what a startup sales forecast might look like.
Tim sets the scene and describes Magda's situation – she wants to open a small café in an office park.
He goes on to show how Magda would establish a base case, estimate her monthly capacity, and what type of sales she could expect. To wrap up, she goes through her month-by-month estimates for her first year and estimates her direct cost.
This is a great exercise and unmissable reading for new entrepreneurs dreaming up a new venture.
Sales Forecast Guide by Toptal Research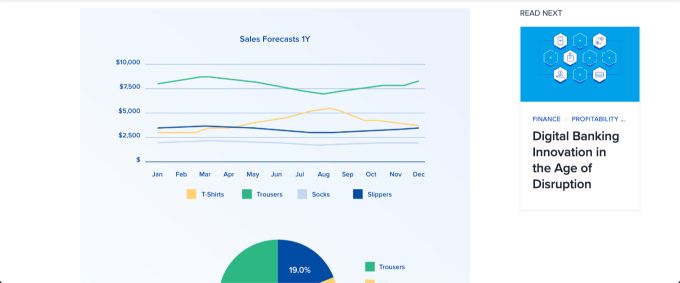 This simple sales forecasting guide from Toptal Research also includes a simple example that forms the basis of the guide. This simple visuals and data will give you a good idea of how you can put your sales forecasting efforts together and what it will look like.
This example also shows that you can attractively forecast sales and inform the sales teams.Sales forecasting doesn't have to be boring columns of data, but you can bring your sales forecast to life with colourful visuals.
Detailed Sales Forecast by Microsoft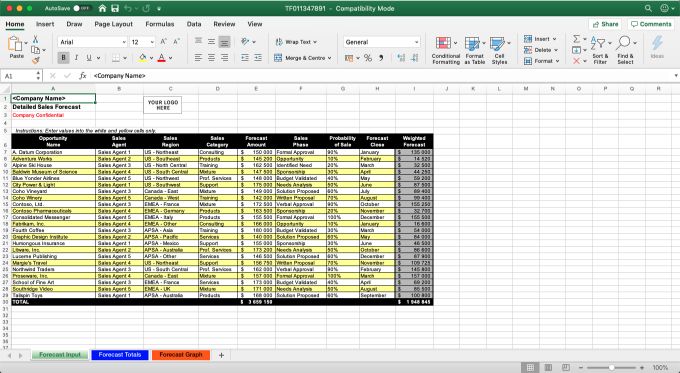 This detailed sales forecast template from Microsoft makes it simple for you to estimate your monthly sales projections.
The formula comes with pre-built formulas and worksheet features that result in an attractive and clear template. The template also relies on a weighted sales forecasting method that is based on the probability of closing each opportunity.
Even if you do not use this exact template, it's a great file to use. It can give you a great idea of the information that you need to include and how it might come together in a spreadsheet format.
Sales Forecast Templates
Looking for your own sales forecast templates to get a running start? Here's a look at some of the most practical and useful templates out there.
Sales Forecast Template for Excel by Vertex42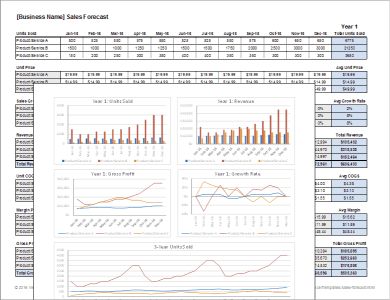 This free sales forecast template helps you to keep a handle on key pieces of information like unit sales, growth rate, profit margins, and gross profit.
The template is already set up to help you compare and analyze a range of products and services on a monthly basis. The chart also includes a range of sample charts that can be used to effectively and accurately communicate the contents of your sales forecast.
The same worksheet can be used to create monthly and yearly forecasts. You can play with the template to find the exact view and information that you are looking for. 
Sales Forecast Template by Freshworks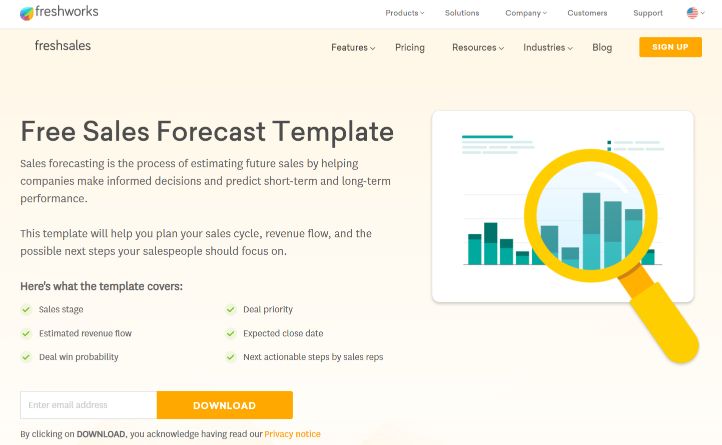 This simple forecasting template helps you to put together an effective sales forecast. This finished product can then be used to grow your revenues and hit your quotas.
This template is particularly effective for small businesses and startups that need to project sales and prioritize deals at the early stages of their business. Freshworks also explains that the template can help businesses to achieve a higher rate of on-time delivery as well as accurate hiring projections.
The free sales forecast template is very intuitive to use. Again, it's great to flick through the spreadsheet to understand what you need in a sales forecast and how it can be put together.
Free Sales Forecast Template by Fit Small Business
This sales forecast template is perfect if your CRM doesn't currently offer built-in sales forecasting. This template can make it much quicker for you to create a forecast from scratch adjusted to your own particular needs.
The template is available in a range of formats including PDF, Excel, and Google Sheet. This is great news if you are creating your small business on your own terms and you have limited access to software.
Again, this template is clear and simple to use. All of the fields are explained within the spreadsheet itself – you don't have to worry about going elsewhere to find definitions.
Sales Forecasting Tools
Looking for the sales forecasting tools to take your activities to the next level? Here's a look at some of the standout options.
Pipedrive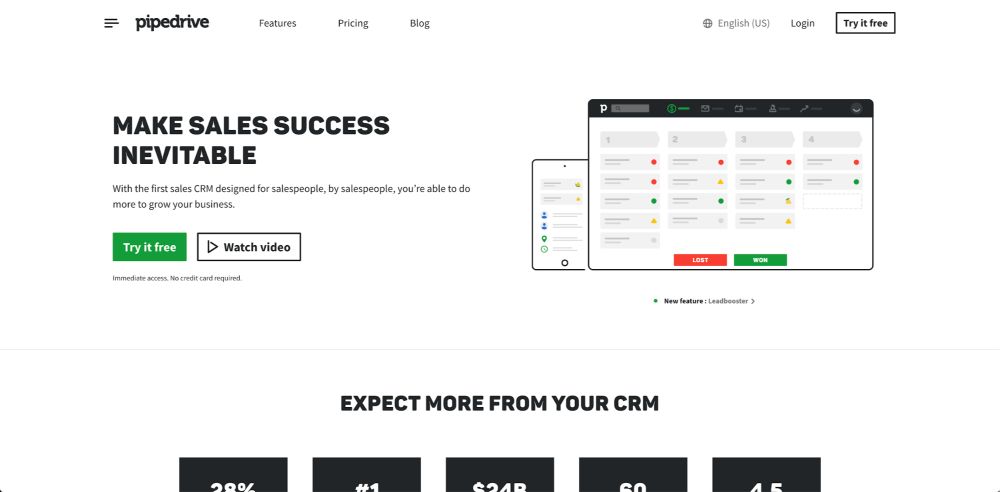 Pipedrive is a sales CRM that is designed for salespeople, by salespeople. It is a robust CRM that includes all of the features that a sales team needs to achieve sales success and grow their business.
The tool also includes a forecasting tool. This tool acts as a personal sales manager that helps salespeople to choose the right deals and activities at the right time. This helps salespeople to become a better closer.
This function is, by all accounts, very useful for salespeople and managers alike. The forecasting tool can also be customized to match the specific needs of salespeople.
Smart Demand Planner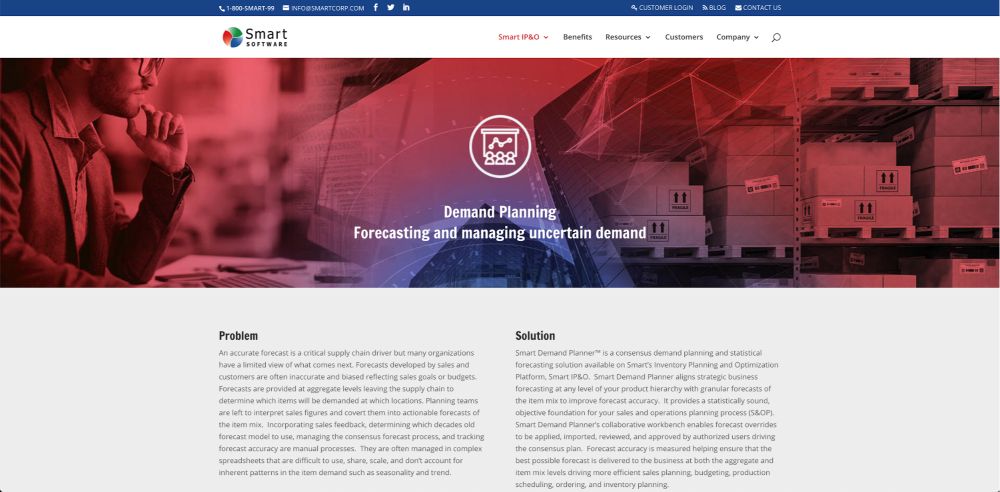 Smart Demand Planner is a consensus demand planning and statistical forecasting solution that understands how critical accurate forecasts are to a business.
The tool was built upon the premise that forecasts are often inaccurate and that this can cause a range of issues. What's more, the traditional sales forecast often resides within a complex spreadsheet that is difficult to use, share, and scale.
The tool aims to fix those issues by aligning strategic business forecasting at all levels of your hierarchy. Smart Demand Planner aims to offer an objective foundation for your sales activities that is statistically sound.
amoCRM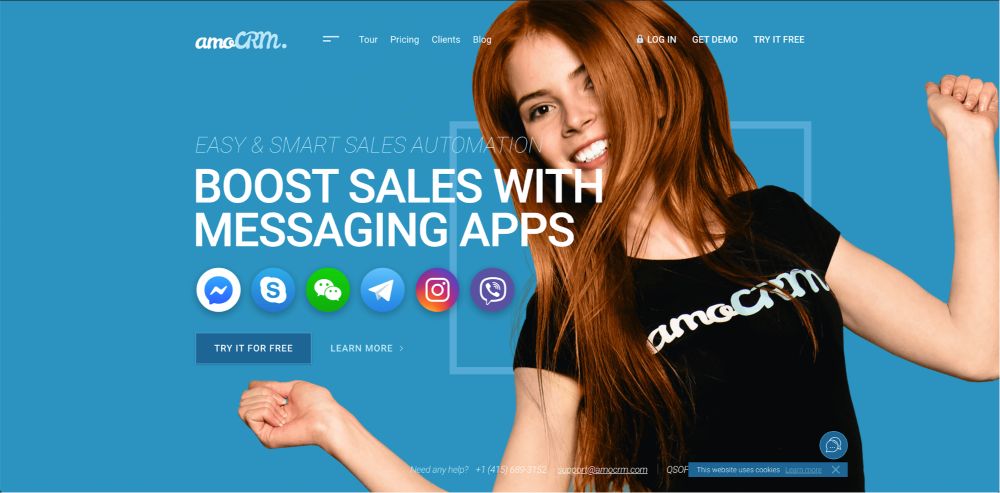 amoCRM is an easy and smart sales solution that focuses on the world of messenger-based sales. The platform understand the popularity and potential of messenger apps, so it offers a whole new way of using the channel to create valuable relationships.
The tool also includes visual, real-time reports that give salespeople and managers powerful insights. These analytics can be used to set targets and also forecast future sales. What's more, they can measure performance and identify target areas.
The visual look and feel of the platform makes this a very intuitive option. It is more than capable of driving value through accurate forecasting in businesses where messenger-based selling is critical.
Conclusion
As we have seen, forecasts are critical to the success of your business. They can be cost-effective for a new business, keep sales teams and sales reps informed, and more. However every business also needs the leads to make those forecasts a reality. Learn more about UpLead today and how our platform can help you to find, connect, and engage with qualified prospects.