A dedicated, well-equipped Sales Operations team can empower your sales department to sell more effectively and close bigger deals. But what exactly is a Sales Ops team? And how do you put one together? To put you on the path to sales success, let's answer both of those questions
What (Exactly) Is Sales Operations. And When Do You Need It?
Sales operations (aka business operations or sales support) refers to the activities and processes that are used to help a sales department sell more effectively and meet its goals. These activities and processes are executed by the Sales ops team, which leverage big data and the most sophisticated sales tools to support the rest of the department. For instance, that team might be responsible for managing and optimizing a robust CRM or refining the overall sales process.
The exact tasks will vary from one business to the next, according to the complexion and needs of the sales department.
When to Create a Sales Ops team
Sales ops helps add structure to any sales department. The work of the team can help you constantly optimize workflows and boost results. But when does it make sense to create a sales ops team?
In the early days, sales departments might not necessarily need a sales ops team. With fewer team members and a simpler workflow, these departments can get results if they work in an agile way.
But as a sales department continues to mature, it will be time to think about creating a team. This team can offer strategic guidance that brings order to chaos and improves results.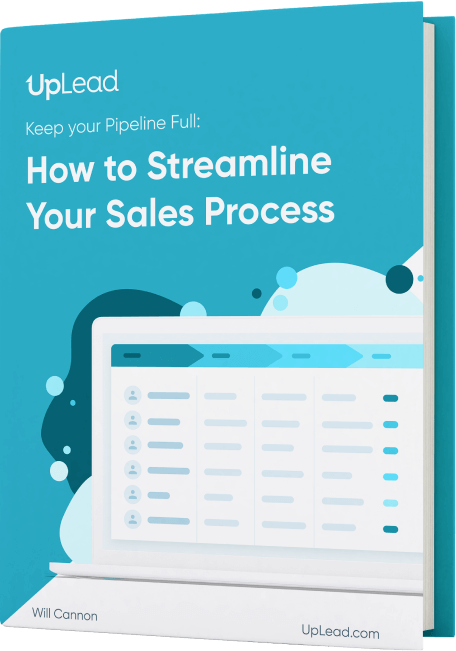 Establish a Solid Sales Process!
Learn how to build an efficient, scalable and high-converting sales process for your sales team.
I agree to receive emails from UpLead, and can unsubscribe at any time.
The 6-Step Workflow to Build Your Sales Operations Department
Now that we have a better idea of what we mean by a sales operations team, let's take a closer look at the 6-step workflow you can use to create it. If you follow these steps, you'll be sure to put together an effective team.
1. Define Your Sales Operations Process.
You'll need to think about how your sales ops team is going to work. Which tasks do they need to perform, and how will they accomplish them? If you answer this question first, your answers will help you later.
So let's take a closer look at the common tasks you'll need your sales ops team to perform.
Optimization of the

sales process

Automation of tasks (where possible)

Training and development of your compensation strategy

Administration and optimization of your CRM

Digital asset and knowledge management

Creation and presentation of sales reports

Sourcing and management of tools
As you can see, the sales ops team will create a lot of value in your sales department. But since putting together a team that's capable of executing in those areas is no easy task, you'll need a plan to build the right team.
Scaling your sales ops team
The key to building an excellent sales ops team is making the right additions to the team at the appropriate time. So you'll want to assess the growth of your company, in order to ensure you make additions at a strategic time.
Matt Cameron is a managing partner at Sales Ops Central. He put together this excellent maxtrix, which can help you plan your decisions.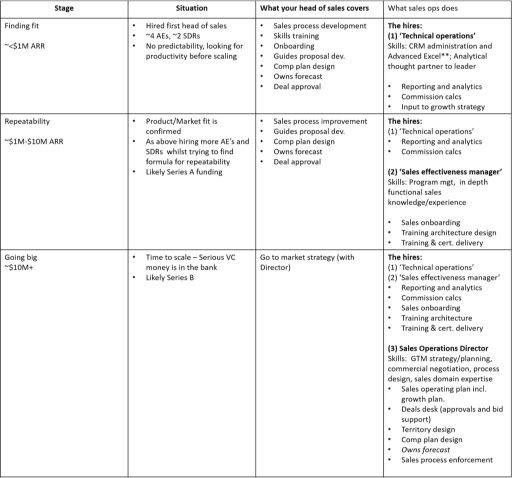 https://www.saleshacker.com/what-is-sales-operations/#buildingsalesops
In his example, Matt explains that the head of sales should be responsible for hiring a "technical operations" representative. This professional will be responsible for managing the CRM, and his or her voice will be important for shaping the growth strategy of the sales team. These quick wins will level-up the sales team.
With the technical operations team member in place, it's time to hire a sales effectiveness manager who will take care of onboarding and training your sales team. This practice can help drive harmony on your team and inspire everyone to move forward together.
When following the sales effectiveness manager, Matt recommends that sales ops teams enlist the talents of a sales operations director. This professional will play an important role in the sales operations team and help shape strategic decisions.
While the context of every business is unique, this matrix can give you a good idea of the way you might want to put together an effective sales operations team. Essentially, you'll need to secure your essential team members, in order to cover critical tasks. Then you can elaborate on their hard work with more specific roles.
We'll take a closer look at the roles you'll need within your sales operations team later in this piece. So stay tuned.
2. Agree on Sales Operations KPIs.
Now you've clarified exactly what the sales operations process will look like, and you've put together a plan for building a team. So it's time to take a look at the KPIs you'll use to assess the performance of your team.
Here's a closer look at some of the most important KPIs you'll need to monitor.
Sales Forecasting Accuracy
Your sales operations professionals will work very hard to try and optimize your sales forecasting activities. The more accurate those sales forecasts, the more effective you'll be at planning your overall sales activities. Therefore, it's important to measure your sales forecasting accuracy over time.
Average Win Rate
Ultimately, your sales operations professionals must work very hard to help your sales department close more deals and win more sales. So you should measure the efficacy of your sales operations team by monitoring your average win rate.
Average Deal Size
Your sales ops team should also work hard to secure a higher-quality deal, as well as a higher volume. So you should monitor the size of your average deal, in order to gauge the impact of your sales ops team.
Average Sales Cycle Length
To slash the length of the average sales cycle, Sales ops teams can work lots of magic behind the scenes. This practice can make your team more effective and efficient.
Lead Response Time
Every sales department wants to reduce the amount of time it takes leads to positively respond to pitches. To ensure the success of this goal, sales operations departments can perform a range of tasks. So it's important to measure the impact of these tasks on lead-response time.
Number of Prospect Meetings
To do their best work, your salespeople need a steady stream of high-quality leads. Your sales operations team can help them book more meetings, and you should be sure to measure the volume of these meetings.
3. Here Are the Sales Operations Roles You Should Hire For (+ How to Structure Your Team)
Putting together any new team is a challenge, which is certainly the case when it comes to assembling an effective sales ops team. Here's a look at the key sales operations profiles you'll want to hire (in the right order).
This strategy is largely based on that of Matt Cameron, managing partner at Sales Ops Central, who shared his thoughts about building a sales ops team.
Technical Operations Advisor
To begin, the head of sales will hire a technical operations advisor. This professional will use his or her unparalleled analytical skills to handle reporting and analytics. He or she will also track sales operations KPIs and play an important part in the growth strategy of the team.
This important rep will also act as the go-to CRM administrator. He or she will use analytical abilities to care for the CRM and ensure it surfaces the most relevant information for the sales team.
Sales Operations Analyst
The sales operations analyst help marketing and sales teams by handling and managing a sales process' workflow and improve the sales cycle.
Sales Effectiveness Manager
Your business has hit the next level of growth, and your sales team has expanded. So it's time to hire a sales effectiveness manager. This rep will rely on extensive sales knowledge and experience, in order to enhance the results of the sales department.
The sales effectiveness manager will be responsible for designing useful sales training and delivering it. He or she will also handle the onboarding of new sales department members and will work hard to ensure he or she is up-to-speed and capable of delivering.
Sales Operations Manager
If a business decides it's time to take sales operations to the next level and unlock enhanced results, it will need to hire a sales operations manager. This manager will call on sales strategy experience to create the sales-operating plan and oversee the strategic vision of the sales team.
For instance, the manager will often be responsible for dividing up territories and crafting the sales forecast. The manager will also need to enforce the sales process and keep everybody up-to-speed.
4. Sales Operations Training You Can Share with Your Team
Once you've assembled your team, you'll want to make sure you provide them with the appropriate training and inspiration. Here are five excellent sales operations resources you can use to bolster the knowledge of your team members.
Sales Operations/Management Specialization – Coursera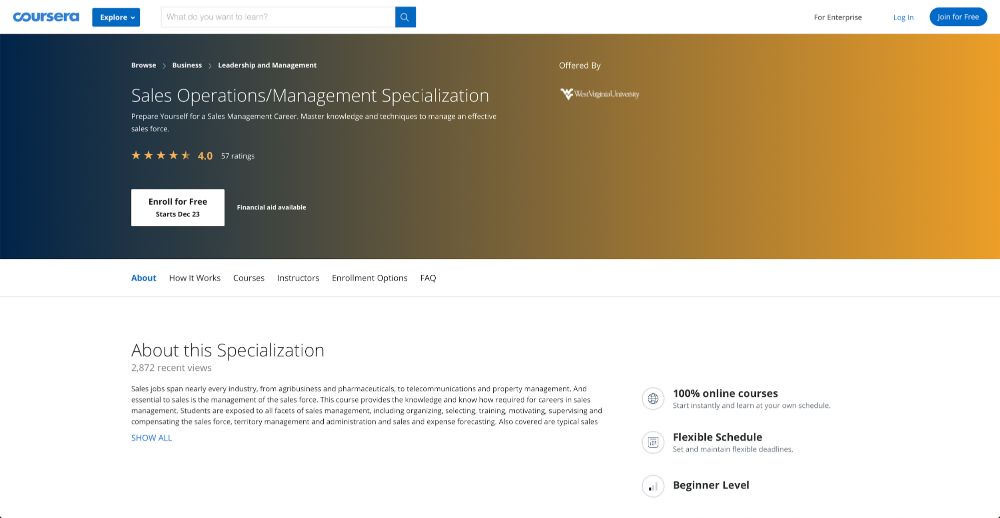 This course is offered by West Virginia University. It can inspire your team members to take their sales operations knowledge to the next level. It's a 100% online course, which offers a flexible schedule and takes around six months to complete.
If you want to inspire your sales team members to enhance their overall sales knowledge and take the next step toward a promotion, this option would be great for you.
Enroll in this sales operation course for free.
3 Core Sales Processes for Sales Operations to Enable Revenue Growth: SBI TV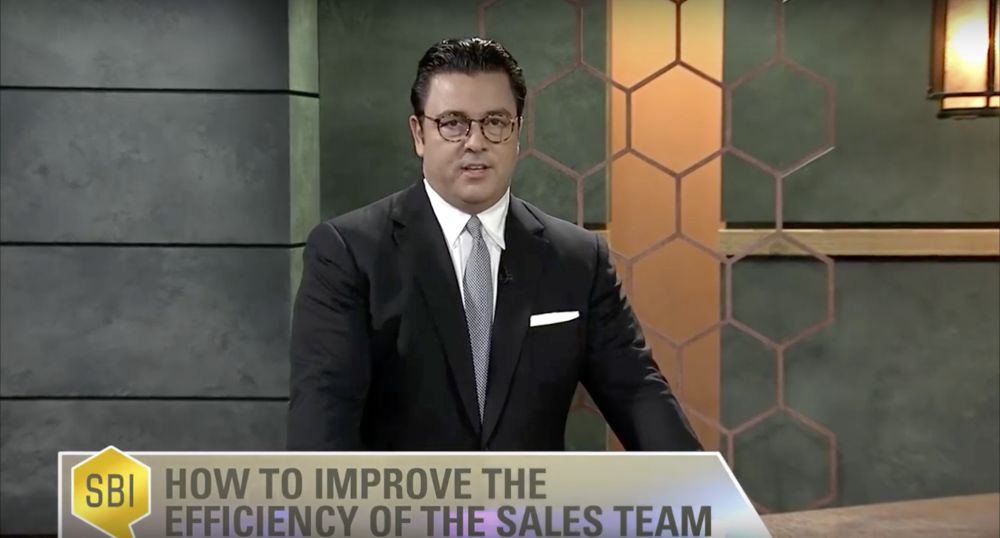 SBI is a revenue-growth consulting company that puts out some really high-quality content, which could be very useful for any sales ops team. This particular video takes a look at three core sales processes that can be used to drive revenue growth.
While this content is targeted more toward senior-level sales ops staff, it can be very useful for sharing a big-picture vision with your team.
Watch the video from SBI.
The Sales Operations Playbook: Datanyze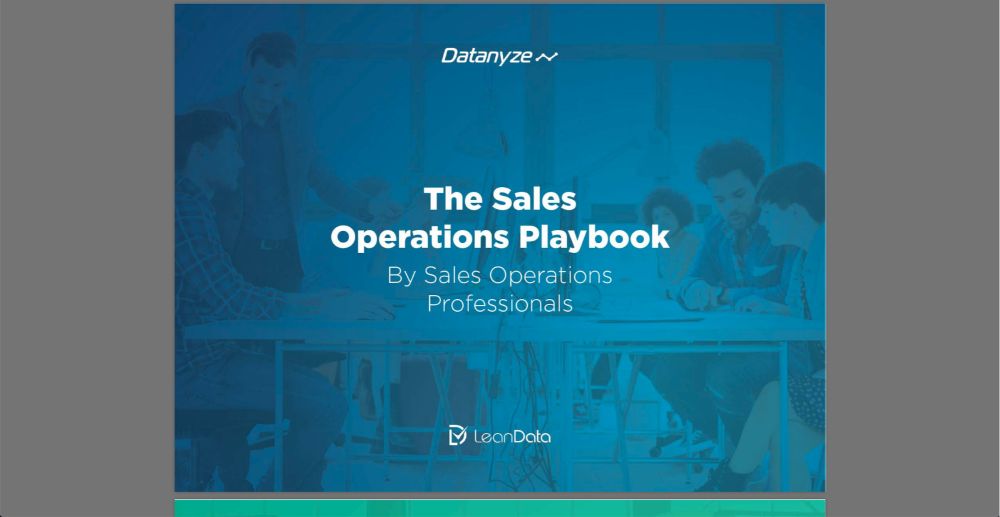 If you want your team members to strategically dig deeper into sales operations, this playbook does a great job of offering a precise and interesting overview. Equipped with this playbook, your team members will develop a shared understanding of sales ops.
This tool also offers some insightful advice for sales ops managers looking to advocate for their team in a growing business.
Read the sales operations playbook.
Sales Operations Podcasts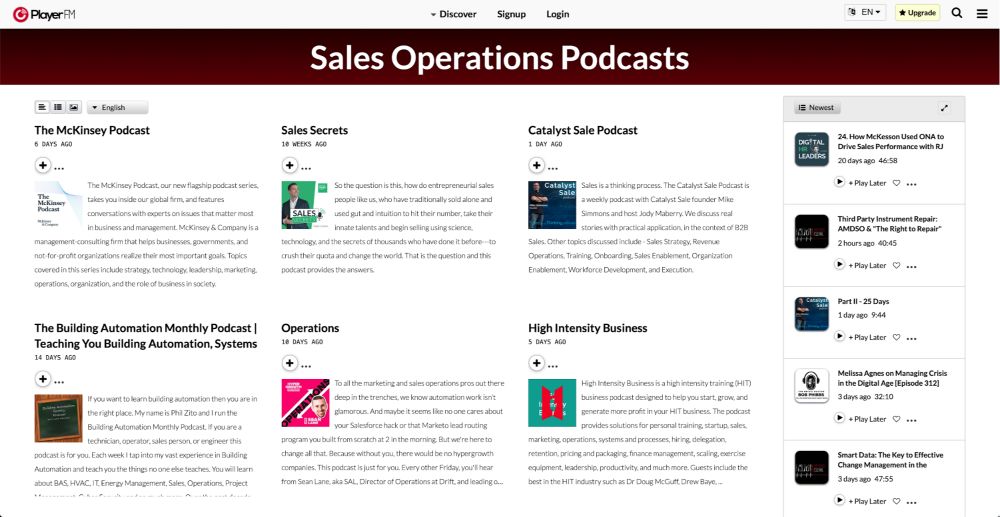 Podcasts are all the rage right now. So we have so many choices right now, we feel spoiled. You'll find a number of podcasts dedicated to sales ops, which are helpfully catalogued here.
If you share your favorite podcast with your team members, you'll be sure to impress them and push their knowledge of the latest techniques and tools further.
Find your new favorite sales ops podcast.
The Essential Guide to Sales Operations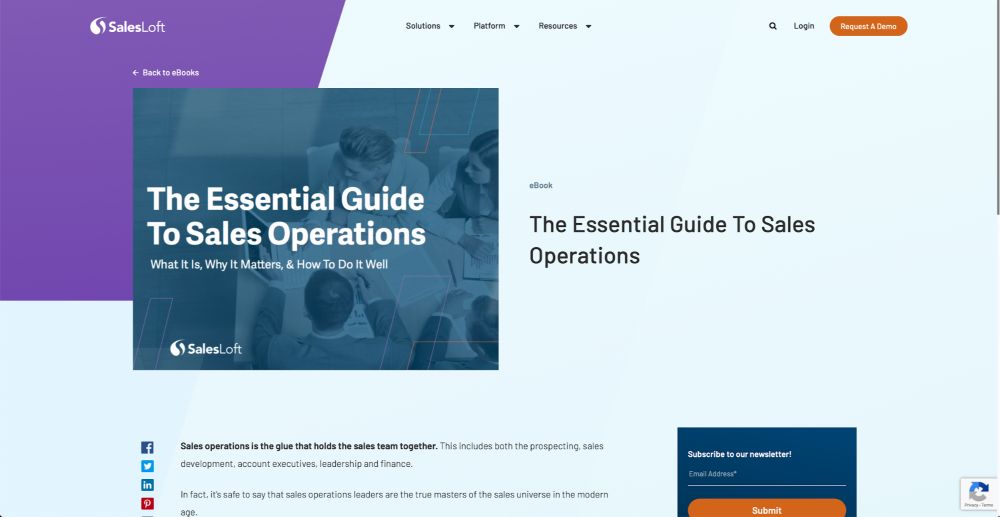 This useful guide is offered by SalesLoft. It offers another perspective on sales ops. It covers what sales operations is, why it matters, and how sales ops managers can achieve success.
If you're a sales ops manager hoping to boost buy-in among your team members, you might want to share this resource with them.
Read the essential sales operations guide.
5. To Take a Shortcut, Apply These 5 Actionable Sales Operations Best Practices.
If you're going to successfully grow your sales operation team, it's critical for you to learn from the managers who came before you. Here's a look at some actionable sales-operations best practices that can put you on the path to success.
1. Use the right tools.
Sales ops are a cutting-edge part of sales. As such, you'll need to fully leverage the most powerful tools out there. So you should regularly review your software suite and pay close attention to the feedback from your team members. They'll be the ones on the frontlines using the tools each day.
The best sales ops teams keep an ear to the ground and take the time to stay on top of industry trends. So sales ops managers should be the first to know about a new killer tool that could unlock fresh efficiencies or results.
2. Master your CRM.
The sales ops team will become responsible for maintaining the CRM. This difficult task will often involve trying to police the way it's used by the other team members within the sales department. So the best sales ops teams use CRM as an opportunity to drive harmony in the wider sales department.
When you launch your own sales operations department, you should prioritize the maintenance of the CRM. So create guidelines and deliver training, in order for the rest of the sales department to understand the value you can deliver.
3. Advocate for your sales operations team.
A number of different profiles work together in perfect harmony within any sales department. The salespeople are on the frontlines, and they'll often receive a lot of the credit. So it might feel like lots of the sales operations work goes unnoticed.
But a good sales ops team will often diligently work in the background, which keeps the whole operation together. So as the manager, it's important to advocate for your team and celebrate their hard work. You should become a champion for your team and make sure they get the credit they deserve.
4. Track the impact of your team.
Once of the best ways to make sure your team gets the appropriate funding and recognition is to diligently track your KPIs. So your team members should have the skills necessary to maintain detailed and accurate reports that chronicle your performance over the course of a typical year.
You should use these detailed reports and numbers to illustrate the impact of your team. This practice will help you elevate the reputation of your team internally and secure the additional funding to grow your team.
5. Create a culture of excellence.
It's very important that the sales operations team leads the sales department by example. This team of elite sales professionals will use their unparalleled experience and understanding, in order to shape the overall sales strategy. And their activities can be truly inspiring.
If you work very hard to create a strong culture of excellence within your sales operations team, you'll find that it permeates throughout the entire department. The best sales ops teams are able to spearhead the sales department, in order to push things forward.
6 Sales Operations Tools That Will Simplify Your Life
A good Sales ops team will use a wide range of tools and software to achieve its goals. Here's a look at the leading sales operations tools you'll want to equip your team with.
1. UpLead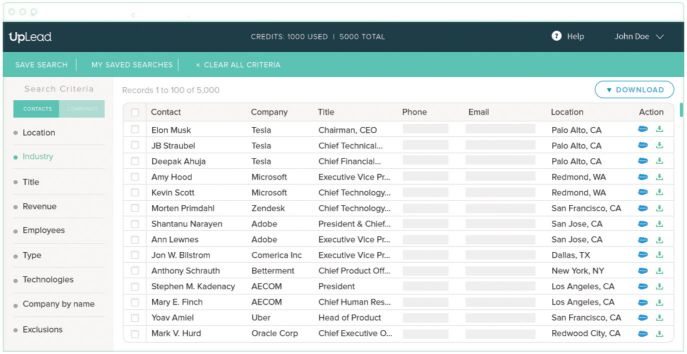 UpLead is a lead generation platform that empowers sales ops teams to drive sales growth with targeted sales leads. This tool makes it easy for sales operations professionals to find and deliver qualified prospects to the rest of the sales department. It also offers show-stopping features like data enrichment, real-time email verification, and more.
2. Invoca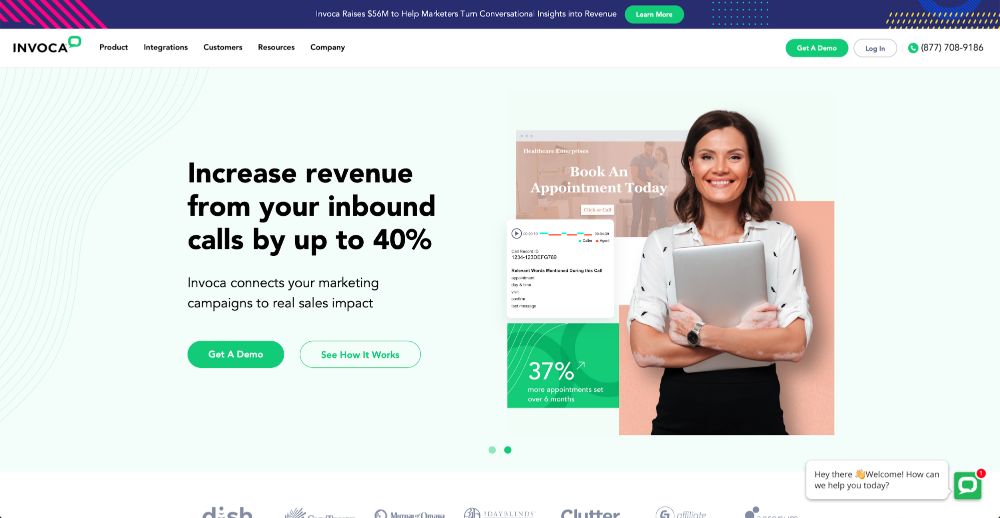 Invoca is an AI-powered call-tracking and analytics platform that feeds sales ops teams with granular analytics and insights. By using that data, sales operations professionals can understand exactly how the sales team is performing and dig deeper into the way their various customers perform, according to their sources.
3. Nextiva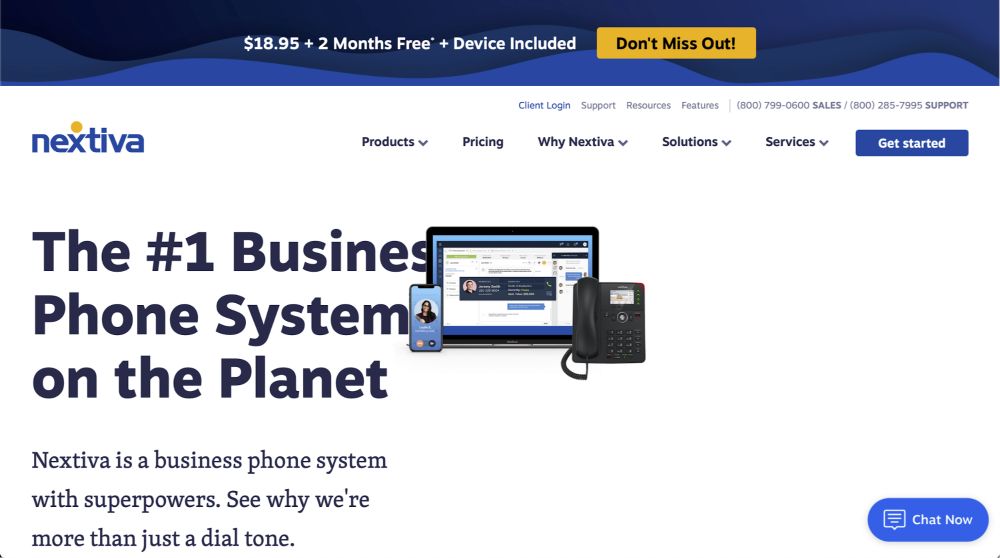 Nextiva is a business phone system that allows sales operations teams to manage all conversations in just one place. Instant data also empowers these teams to understand how sales is performing, while easy automation opportunities help sales ops teams unlock new efficiencies.
4. Gong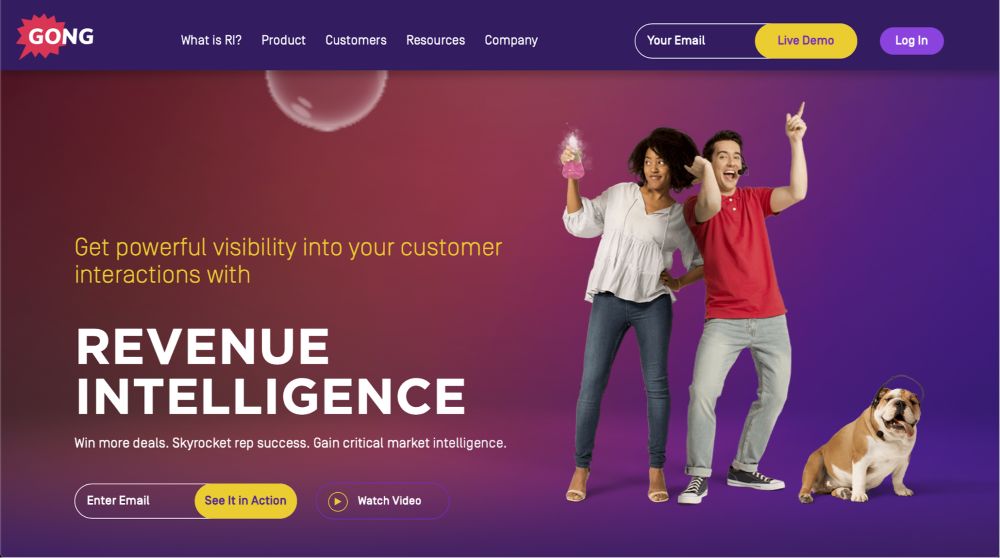 Gong is a revenue intelligent platform that gives sales operations teams the ability to pull back the curtain on critical data. Equipped with this tool, sales operations teams can analyze what works for their salespeople and use that insight to replicate it across the department.
5. Insightly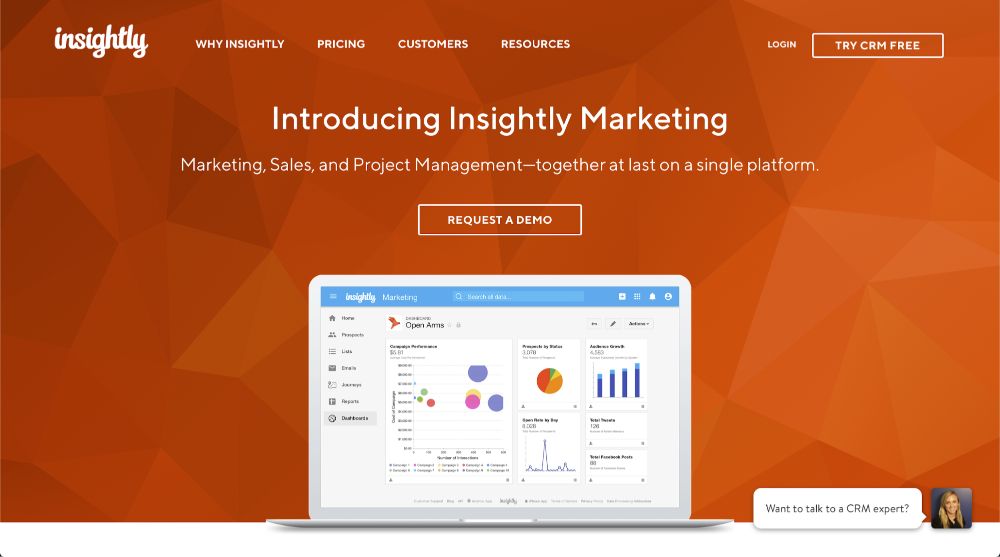 Insightly is a customer relationship platform that brings marketing, sales, and project management together. This tool unites those business functions, in order to help sales operations teams get a clear insight into the entire customer journey. Rich data helps sales operations teams build a clearer picture of customers and learn how to sell them more effectively.
6. Databox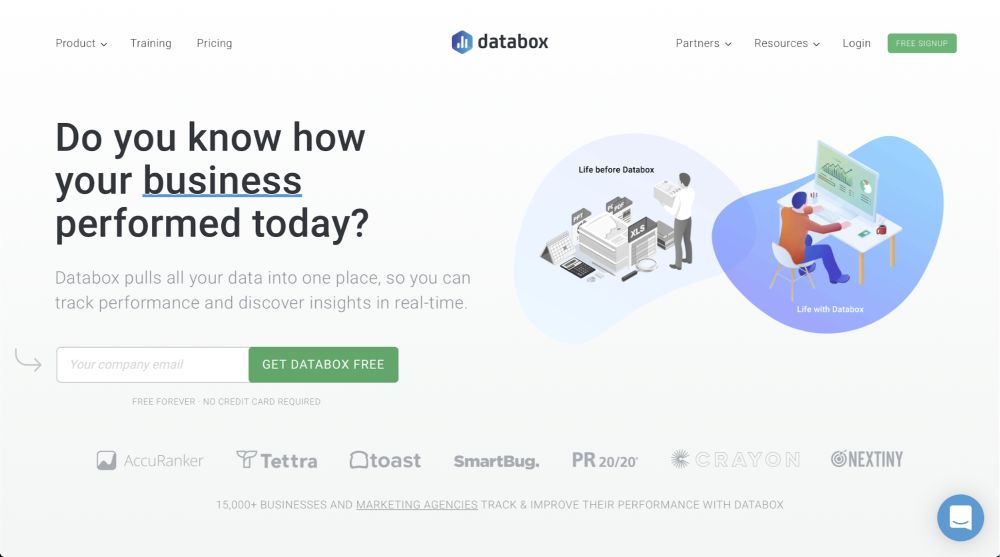 Databox is a data aggregation platform that pulls data together from various sources, in order to help sales operations teams discover new insights as quickly as possible. This tool can draw data from leading platforms, including Salesforce, HubSpot, Google Analytics, and many more.
FAQ: Sales Operations
Here are the most common questions about your sales sales process and operations:
What is the role of a sales operations manager?
The manager is in charge of development and implementation of effective sales processes to help a company grow. Sales operation managers provide sales reps everything they need to sell as quickly and effectively as possible.
What does sales operations do?
Sales operations are the roles, activities, and processes for a sales organization to improve their sales process. The person or persons in charge of sales ops help sales reps focus on selling more and reaching their sales quota, enabling them to reach better leads through better strategies.
Sales ops manage to do this through the right tools, training, and strategies to help their salespeople get the most out of their leads.
Is sales ops a good career?
Yes, sales ops is a great career, particularly for anyone who already has sales experience and multitasking skills. A degree in business is a great plus but can be compensated with experience in the area.
How can sales operations be improved?
Sales operations can be improved by:
Defining your baseline: to know where you're starting from. This will allow you to locate your needs, establishing reporting, and learning your capabilities for growth.

Defining KPIs: so you know what to measure. Define which KPIs you'll look to improve, how you measure improvement, and how success looks like.

Hiring the right people: to start with the best. Besides great salespeople, define if your budget and needs allow you to hire specialists, like Technical Operations Advisors, Sales Effectiveness Managers, and Managers.

Developing sales ops training: to level the plainfield making sure everyone knows what they need to know to sell. Use courses, playbooks, and podcasts to learn everything you need to know to develop a good training programme.

Using the right tools: to aid you in sales ops. The best tools will likely include a CRM, lead generation platforms, and reporting tools to keep track of your KPIs.
Conclusion
We hope this piece helps you prepare for sales operations success throughout 2022. If you want to bolster your chances of success with a new secret weapon, be sure to start your free UpLead trial today and impress your sales department.