In an increasingly competitive business environment, sales and marketing teams need to stay ahead of the game. Keeping track of key performance indicators (KPIs) related to lead generation can help your sales and marketing team better understand your current market. Developing and analyzing KPIs can also help you make informed decisions to maximize lead generation results.
This article covers nine proven KPIs that are worth tracking closely when it comes to measuring the success of lead generation initiatives. Let's dive in!
Quick Links:
9 Decisive KPIs For Lead Generation
Collecting quality leads is a crucial part of any robust marketing strategy. Understanding which KPIs will help accurately measure lead generation success is essential. Below are nine of the most effective KPIs for tracking your lead generation strategy components.
1. Number of Verified Leads
Among the most decisive lead generation metrics are the total number of verified leads generated, which determines the top of your sales funnel. This metric provides important insights into how efficiently campaigns and strategies are able to generate high-quality leads that end in conversions. It isn't enough to generate a high volume of leads. It's crucial to evaluate the accuracy and effectiveness of such leads by verifying their contact details and engagement levels. There are many ways to measure this KPI, such as reviewing email data quality and bounce rates or using surveys to get feedback on campaign performance.
UpLead helps you conduct effective campaigns with high-quality leads and verified contact data. The platform provides access to up-to-date databases with over 108 million contact data points, and dozens of filters, which makes finding and verifying qualified leads a walk in the park.
Start Your 7-Day Free UpLead Trial
Lead generation doesn't have to be all that painful. With UpLead, you can easily connect with high-quality prospects and leads to grow your company.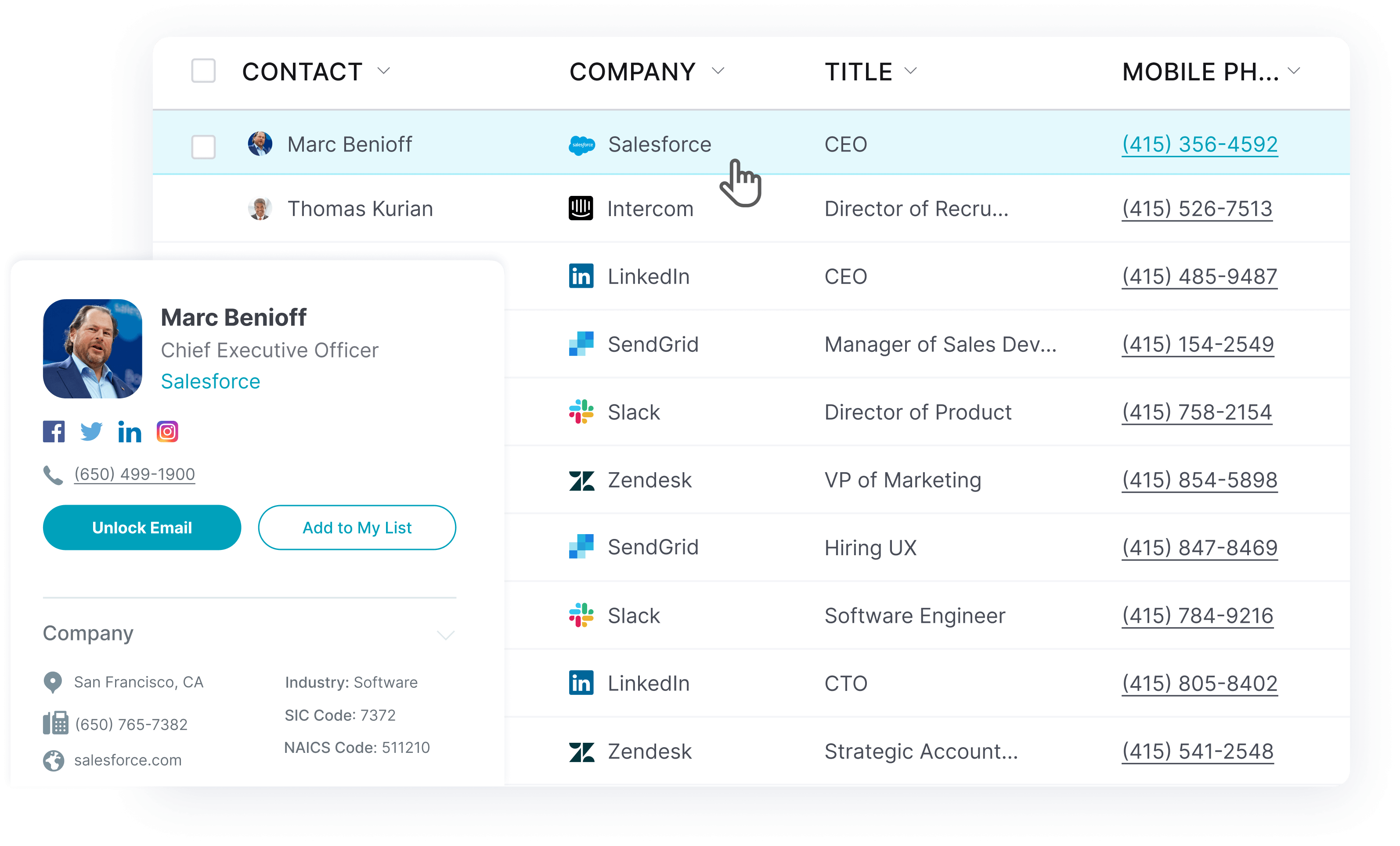 2. Cost Per Lead
Cost per lead (CPL) denotes the cost of acquiring and managing leads. This metric is typically calculated by measuring the total marketing costs associated with lead generation campaigns and initiatives over a given period, then dividing this value by the number of leads acquired. For example, if your business spent $500 on campaigns for early-stage leads in February and generated 25 qualified leads, then its CPL for February would be $20 ($500/25). It's essential to measure CPL regularly to understand how lead generation impacts your marketing budget accurately and to ensure that resources are used wisely when sourcing a high volume of quality leads.
3. Conversion Rate
Every business wants to generate leads. But without precise tracking and performance analysis, your sales team won't understand the results of their lead generation strategy. Conversion rates are one of the most decisive KPIs for lead generation; they determine the success of your engagement efforts. Excellent conversion rates come from understanding the customer journey and continually improving your sales process.
Measuring your conversion rate involves calculating the number of qualified leads that take a desired action, such as filling out a form or submitting payment data, compared to the total number of leads. This metric helps you understand how well your lead generation campaign performs—higher conversions mean more successful marketing campaigns. To calculate your conversion rate percentage, divide the number of successful actions by the total amount of leads and multiply by 100. For example, if you generate five leads and two make purchases, your conversion rate would be 40%. Tracking your conversion rates over time will help you understand which types of campaigns have the highest success rate and reveal any opportunities for improvement.
4. Time to Close
One of the most important lead generation KPIs involves measuring the time it takes for leads to turn into customers. The length of your sales cycle will directly impact how quickly your business can grow. To measure this KPI, measure how long it takes for your leads to go from showing an interest in your offering to making an actual purchase and consider any delays that may have occurred along the way. Tracking time-to-close gives you insight into what could impact conversions and helps you refine your processes.
5. Average Deal Size
Measuring your average deal size will help you understand the value of your B2B lead generation efforts. It's important to know how much revenue you'll be able to make on each lead and how many leads you need to reach your sales goals. Analyzing the average deal size will also provide insight into what works well with certain qualified leads and which lead-generation strategies need improvement. In addition, looking at the revenue generated with each closed sale can help businesses identify their biggest customers. This data can be used to modify lead generation activities in an effort to attract more customers, similar to those top performers.
Though the average deal size is often overlooked as a B2B lead generation KPI, it can provide important insights into customer value and relationships. Larger average deal sizes are often associated with increased customer loyalty, larger orders, and higher profitability.
6. Customer Lifetime Value (CLV)
Measuring customer lifetime value (CLV) is vital to any B2B lead generation initiative, as it provides insight into how much monthly recurring revenue a customer can generate over time. To measure CLV, calculate the total amount of money each customer has spent since their initial purchase or contract was signed. Then estimate how much additional revenue each customer will likely bring in over a specific period, such as one year or five years.
For more accurate results, consider any incremental price increases to account for potential improvements to your product or service. Your calculation should also consider all interactions with the customer over their entire relationship with your business, including operating costs, renewal fees, product or service upgrades, or discounts. With CLV data at hand, your marketing team can make informed decisions about which leads are worth investing in and optimize their lead acquisition strategies accordingly.
7. Website Traffic
Website traffic is an important lead generation KPI that tracks many visitors are coming to your website and how they interact with it. You can use this data to gain insights about SEO performance, the effectiveness of your ads or emails, and the overall reach of your lead generation channels. To get the most out of this KPI, be sure to track both the number of visitors to your page and how visitors interact with your page once they're there. Below are a few critical metrics to consider.
Number of Sessions
A website session is a single instance of a user visiting and interacting with your website. Each time someone visits your website, it counts as one session—whether they navigate to multiple pages or view one page. By looking at the total number of sessions over time, you can quickly get an idea of how busy your website is and if that volume is increasing or decreasing. Monitoring the number of sessions also helps you gauge the success of other lead-generation initiatives, such as online ads or social media campaigns. This will help you decide where to invest your resources for maximum ROI.
Time on Page
Keeping track of visitors' time on your website is a key indicator of your prospects' engagement and satisfaction. Monitoring the duration visitors spend on your web pages provides insight into how successful your content engages your target audience.
Click-Through Rate
Click-through rates (CTRs) give you insight into how many people click on a specific link relative to the number of people who have seen it. Higher rates indicate more successful lead generation efforts. You can use this data to understand which content generates the highest volume of clicks and, in turn, create more successful strategies to target potential customers.
Bounce Rate
Bounce rate is the percentage of visitors to a website who "bounce" off the page without exploring further. You want to keep this rate as low as possible—usually below 20%-50%. A low bounce rate indicates that your site keeps visitors engaged and encourages them to explore further. Bounce rates are kept in check by focusing on credibility when creating content and ad campaigns. Potential leads are far more likely to stay on a website when they feel it's trustworthy.
8. Engagement Rates
Engagement rates are an essential factor to monitor for lead generation. This metric helps your sales team measure their interactions with potential prospects across all channels, giving them insight into their performance. For example, you could track how many new LinkedIn followers are generated after launching a campaign or event. Understanding engagement rates can help improve lead generation efforts and ensure you get the most out of your marketing campaigns. You'll better understand what tactics boost your engagement and what detracts from positive interactions.
9. Attribution Channels and Lead Sources
Knowing which channels and lead sources contribute to your lead generation efforts can be tricky, but it is pivotal for understanding why some leads drop off while others convert. Tracking where sales leads originate from and following their journey will indicate what changes you should make to optimize your marketing methods. To this end, it's crucial to identify the channels and sources that generate the most marketing-qualified leads—as those tend to convert faster and at a higher rate. While tracking metrics related to attribution channels and lead sources may involve initial time investments, doing so will allow you to measure, analyze, and adjust your lead generation initiatives going forward.
Choosing the Best Lead Generation KPI to Track
The right lead generation KPIs can help you understand how well your marketing efforts are creating prospects that convert. By tracking critical metrics, such as cost per lead or customer lifetime value, you can identify which tactics are working and what improvements need to be made to drive more qualified leads. Below are some best practices for choosing the right KPIs for lead generation to meet your sales and marketing goals.
Target Audience
When developing lead generation KPIs, defining your customer persona and zeroing in on your target audience is important. This helps you decide where to focus your efforts and allows you to create content that engages them effectively. By clearly understanding your ideal customers, you'll be able to determine which KPIs should be tracked to find those most likely to convert.
Pricing Model
One of the primary metrics to consider in developing your lead generation KPIs is pricing, which will influence which strategies you use to attract prospects. As you devise your plan, don't neglect the impact of different pricing structures, as this can significantly affect how many qualified leads you acquire and their quality. An effective pricing model will ensure you target the right consumer segments and maximize your lead conversion rate. Take your time to research these factors thoroughly before deciding how to use your marketing budget. 
Customer Type (B2C vs. B2B)
When it comes to lead generation, one size does not fit all. Different businesses target different customers, so having well-crafted KPIs tailored to your target audience can be the difference between successful lead generation and little to no conversion. Business-to-consumer (B2C) companies usually pursue shorter sales cycles and higher conversions. Tracking lead generation KPIs geared towards short-term goals is their best bet. On the other hand, B2B lead generation campaigns tend to have more extended sales cycles, so monitoring lead generation metrics related to long-term objectives is more pertinent. The key is understanding your customer and knowing which KPIs to track.
UpLead is the Ultimate Lead Generation Tool
UpLead's robust lead generation and sales intelligence tool can skyrocket your lead generation efforts. You can confidently plan campaigns knowing UpLead has a 95% data accuracy guarantee. An effective lead generation tool allows your sales team to uncover more leads faster. By providing invaluable sales intelligence, these tools create more qualified prospects while better-managing sales team resources. 
By leveraging the platform's vast database of over 108 million contacts, you can quickly identify prospects with the highest likelihood of engaging on UpLead. With the power of machine learning, UpLead helps you make smarter decisions quickly to build your company's lead generation initiatives to exceed your established key performance indicators.
UpLead's most prominent features pave the way for enhanced lead generation success, including:
Guaranteed 95% data accuracy on all leads
Search over 16,000 technologies tracked to build an ideal tech stack
Advanced search and filter capabilities
Access to competitor intelligence
When you need reliable sales intelligence without compromising exceptional quality, reach for UpLead—the ultimate tool for lead generation success. Try the platform today and see why UpLead is best-in-class at delivering premier-quality leads.
Start Your 7-Day Free UpLead Trial
Lead generation doesn't have to be all that painful. With UpLead, you can easily connect with high-quality prospects and leads to grow your company.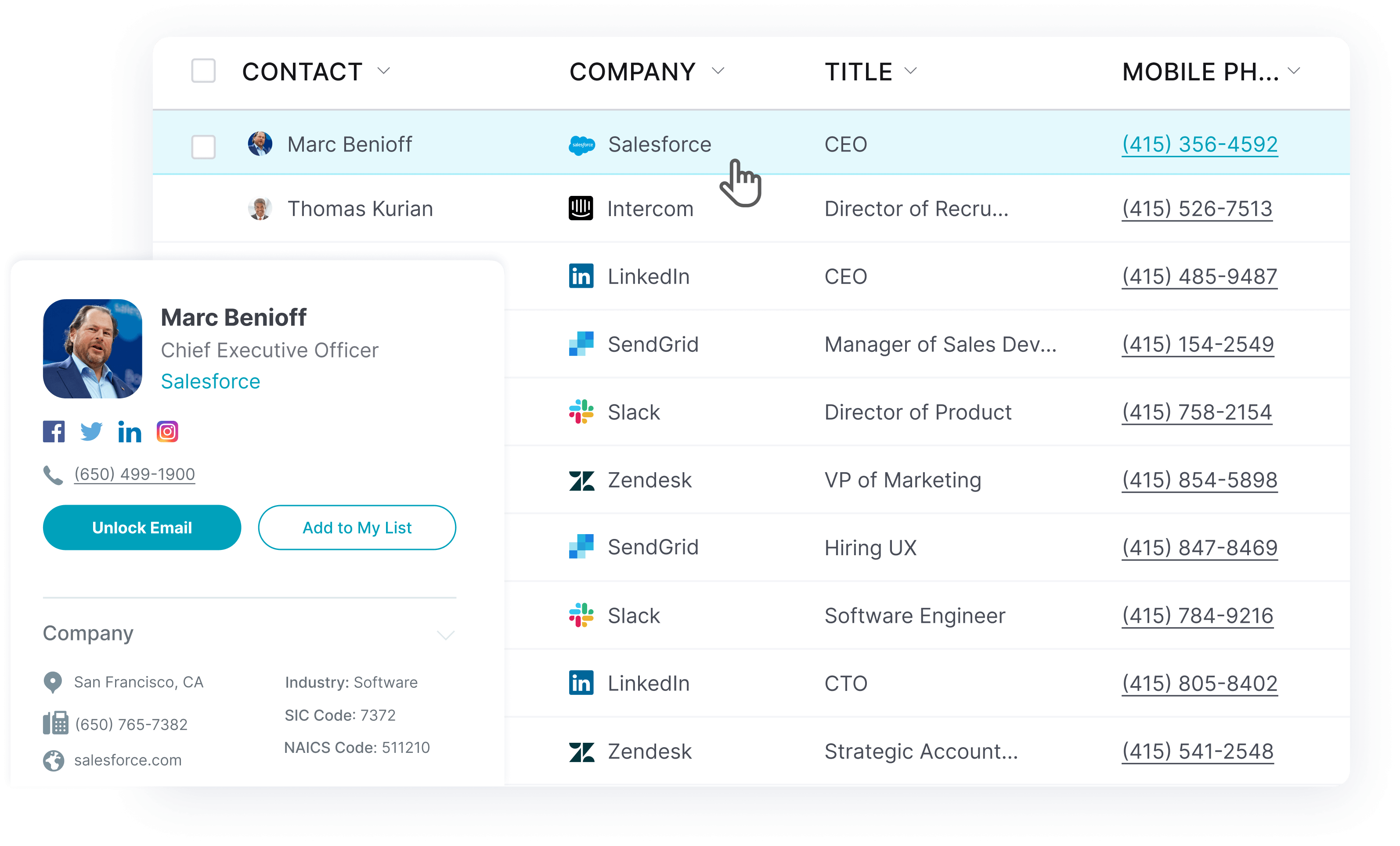 FAQs
Below are a few of the most frequently asked questions about lead generation KPIs.
What are the KPIs for lead generation?
KPIs measure performance against pre-defined objectives and provide essential insights into how well your sales process achieves its goals. Examples of lead generation metrics may include sales volume, lead conversion rate, customer acquisition cost, lead source, or quality of customers acquired.
What are KPI leading indicators?
Leading indicators are the KPIs that help measure progress towards those goals and can signal if corrective action is necessary for achieving those goals in the future. They encompass the precursors to outcomes and provide insights into how activities can be adjusted to increase performance or address deficiencies before negatively affecting overall results. By regularly reporting your leading indicators, you can get an early indication of any upcoming changes in monthly recurring revenue, performance levels, trends, customer loyalty, satisfaction, and potential roadblocks before they hit.
How do you measure lead generation?
When collecting lead generation data, key components to analyze include the total number of leads, cost per lead, qualification rate, conversion rate, and ROI.
What You Need to Remember About Lead Generation KPIs
Lead generation success is becoming increasingly vital for businesses of all sizes, and utilizing KPIs to measure effectiveness is a great way to track performance. As you look at lead generation, there are several indicators you'll want to remain mindful of. These include website traffic, customer acquisition cost, and closing time for outbound and inbound strategies. By understanding these lead generation metrics and ensuring they stay within the desired margins, you can be sure your marketing and sales efforts are running fluidly and producing the best possible results. A great help in this endeavor is UpLead, which provides high-quality leads that give your team an edge. UpLead helps your sales reps master their lead generation objectives while surpassing KPIs.