With so many sales and marketing software available, it can take time to know which tool is right for your team in 2023. D&B Hoovers has proven itself as an integral part of modern sales enablement. However, it's important to research products and compare prices before committing. This article explores D&B Hoovers' pricing and key features— emphasizing its database, sales, and marketing products— and how they stack up against other robust sales intelligence tools.
Quick Links:
What is D&B Hoovers Used For?
In sales and marketing, accurate and up-to-date information about sales prospects is crucial for growing your pipeline. D&B Hoovers supports your sales team with valuable insights and resources to help increase sales productivity and reach sales goals faster.
D&B Hoovers is a comprehensive sales intelligence platform that provides sales teams access to a vast database of information on companies and individuals worldwide. The lead generation tool sources information from Dun & Bradstreet, a leading commercial data and analytics provider. With D&B Hoovers, you can identify lead contact information, research competitors, and understand your target market to make informed decisions and execute effective sales and marketing strategies.
UpLead is another noteworthy sales acceleration solution offering similar capabilities to D&B Hoovers. The lead generation tool provides B2B contact and company data for your sales and marketing teams. When evaluating sales intelligence solutions, you should consider comparing the features, data quality, and pricing of platforms like D&B Hoovers and UpLead to determine the best fit for your sales strategy.
D&B Hoovers Key Features
With an extensive database and various features, D&B Hoovers enables users to identify potential leads, research competitors, and understand their target market. Below are key features of D&B Hoovers that make it stand out as a top sales intelligence platform.
Uses industry-leading source for data: D&B Hoovers employs Bombora's patented methodology to capture spikes in buying intent, helping identify prospects with a higher likelihood of making a purchase. This leading data source allows sales and marketing teams to focus on high-potential, targeted leads, increasing conversion rates.
Access millions of business records: The platform's vast database contains information on over 170 million companies worldwide, providing comprehensive insights on company size, industry niche, revenue, and key decision-makers.
Dynamic list-building capabilities: D&B Hoovers offers advanced search and filtering options, enabling you to create targeted lists of prospects based on various criteria such as industry, location, and company size.
Keep track of new developments with your target audience: D&B Hoovers allows you to monitor your target audience for new developments, such as mergers, acquisitions, and leadership changes. As a result, you can stay on top of the right messaging for your prospects at the right time.
MAP and CRM integrations: The platform integrates seamlessly with popular Marketing Automation Platforms (MAP) and Customer Relationship Management (CRM) systems, allowing you to access the platform's data and insights directly within your preferred sales intelligence tools for faster decision-making.
Start Your 7-Day Free UpLead Trial
Lead generation doesn't have to be all that painful. With UpLead, you can easily connect with high-quality prospects and leads to grow your company.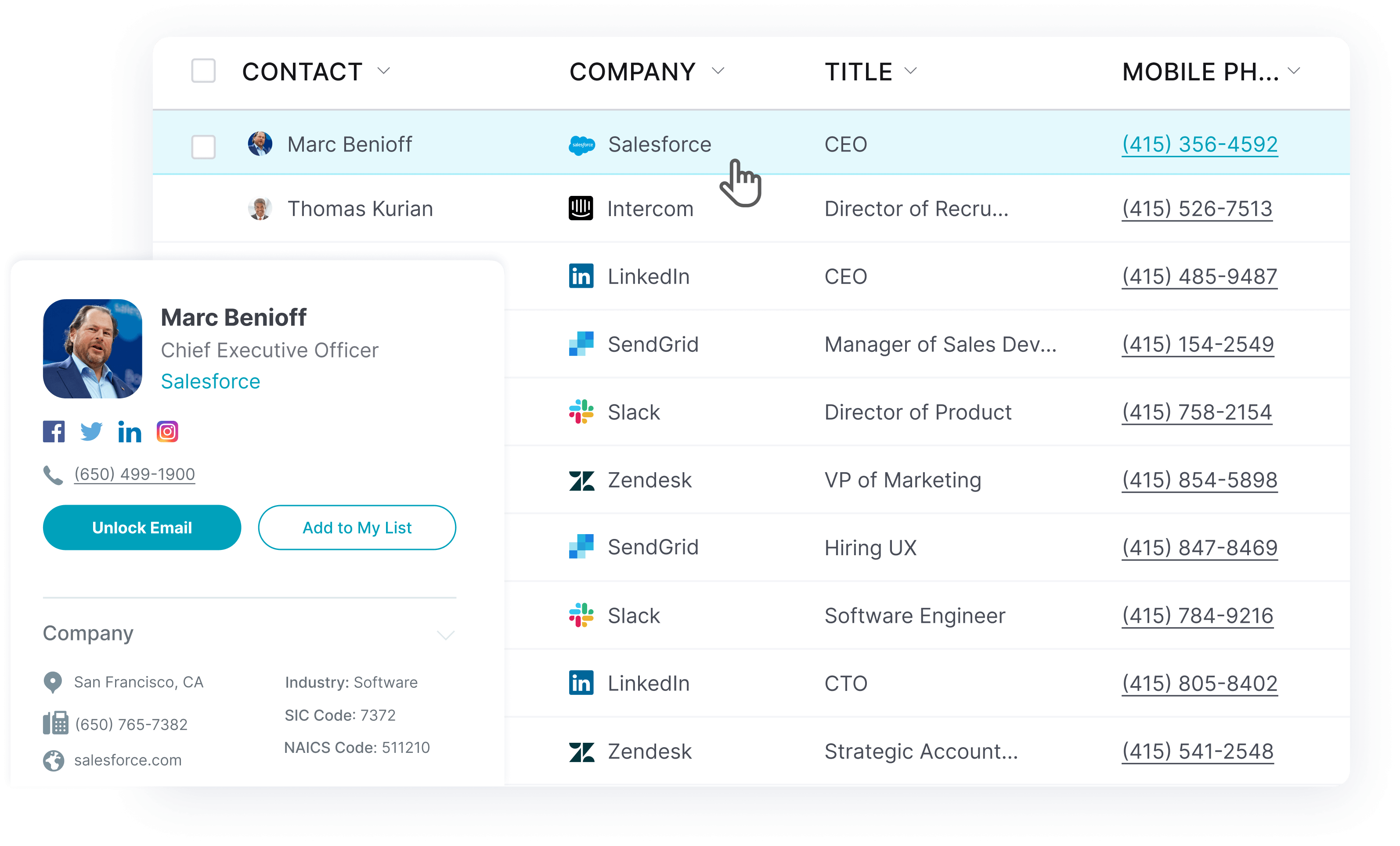 D&B Hoovers Pricing and Products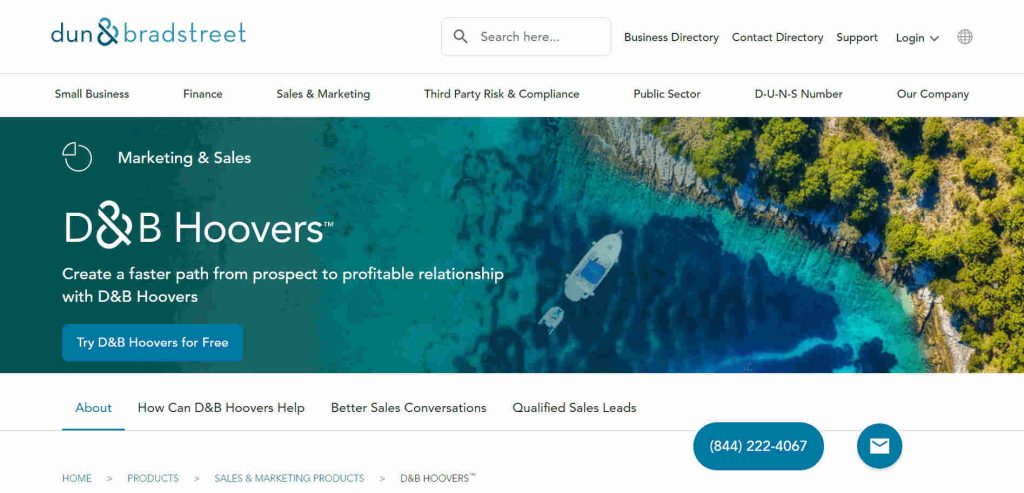 D&B Hoovers is a robust B2B sales intelligence tool to help companies develop leads with premier data. While the quality of B2B data provided by the sales intelligence platform is valuable, it can be challenging to find D&B Hoovers pricing information online. The platform offers custom product quotes based on each user's needs, allowing you to take advantage of the quality of the data and services provided by D&B Hoovers and get an affordable price tailored to your specific needs.
D&B Hoovers Database
The D&B Hoovers database is the platform's cornerstone, providing access to over 150 million business records from over 30,000 sources across 190 countries. Updated five million times daily, the database boasts 17 million direct dials, industry-leading contact intelligence, and an extensive technographic database. This Dun & Bradstreet Data Cloud information is pivotal to increasing sales productivity.
D&B Hoovers is best suited for sales and marketing professionals seeking reliable and comprehensive information to target leads, analyze competitors, and understand industry trends. The platform primarily serves sales and marketing teams in communications, tech, retail, manufacturing, and more.
D&B Hoovers pricing for its database access is based on a custom quote tailored to your specific business requirements. To determine the D&B Hoovers' price, contacting their sales team directly is recommended— as the price may vary. D&B Hoovers also offers a 7-day free trial, allowing you to explore the D&B Hoovers platform and its features before committing to a subscription.
More D&B Hoovers Sales & Marketing Products
In addition to the database, D&B Hoovers provides other valuable sales and marketing products worth considering:
D&B DataVision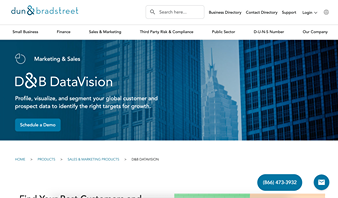 D&B DataVision centralizes data from CRM and other sources, creating a single source of truth for your business. This streamlined approach to data consolidation enables better decision-making and customer targeting.
Market Insight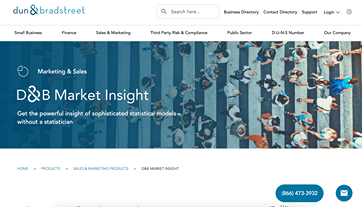 Market Insight grants access to detailed firmographic information, including geocodes and corporate hierarchies. With this information, you can conduct a penetration analysis to understand market trends and identify growth opportunities.
D&B Connect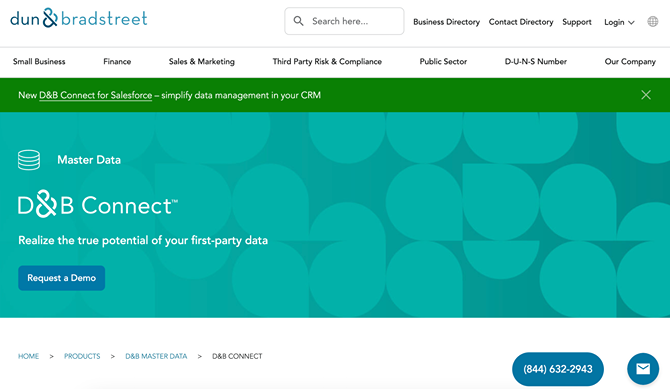 D&B Connect features interactive analytics dashboards to help you assess your progress. By enriching your first-party data with insights from the Dun & Bradstreet Data Cloud, D&B Connect ensures data integrity and offers valuable information for informed decision-making.
D&B Advanced Analytics for Marketing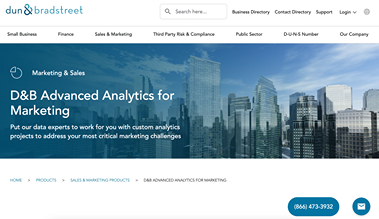 D&B Advanced Analytics for Marketing provides access to predictive indicators, allowing you to understand your prospects better. D&B Hoovers offers a team of data analysts for consulting opportunities and helps you build a lead-scoring model to prioritize your efforts effectively.
As with its primary database, pricing for these additional products is typically based on a custom quote, considering your specific requirements. To obtain D&B Hoovers' pricing information, it's best to contact their sales team or visit their respective product pages on the website.
D&B Hoovers Integrations for Sales & Marketing
D&B Hoovers provides integrations with leading customer relationship management (CRM) systems, marketing automation platforms, and other software applications that sales and marketing teams commonly use. These integrations give you access to D&B Hoovers' rich database and valuable insights directly within your preferred sales intelligence tools, enhancing the process of prospecting, lead nurturing, and account management.
Some of the key integrations available with D&B Hoovers include:
Salesforce: Enhance your CRM experience by incorporating D&B Hoovers' data for target segmentation, account insights, and customer targeting. As a mid-size business with growing complexity, untangling Salesforce with your prospect insights can heavily enhance sales productivity.
Microsoft Dynamics 365: Integrate D&B Hoovers' database with your Microsoft Azure and Dynamics 365 CRM to improve real-time data accuracy and streamline sales and marketing processes.
Oracle CX Suite: Access D&B Hoovers' data within Oracle Customer Data Management for efficient lead targeting with more than 70 predictive customer segments.
Top D&B Hoovers Alternatives
When it comes to sales and marketing intelligence platforms, finding the right fit for your business needs is essential— even if it means doing additional research. While D&B Hoovers is a popular choice, several alternatives are worth considering. Below are a few robust sales intelligence tools with a breakdown of their main features and how they compare to the D&B Hoovers pricing model.
UpLead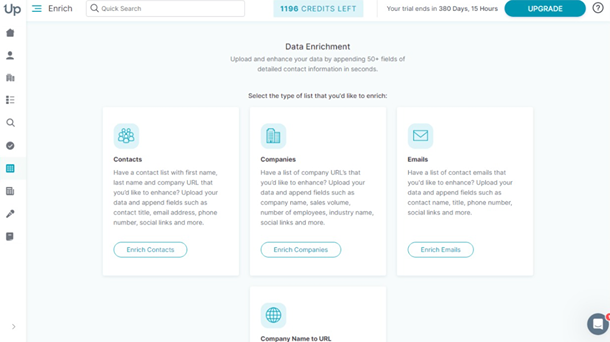 UpLead offers high-quality B2B contact and company data for sales and marketing teams. It's best for businesses seeking accurate and up-to-date information on leads. The platform also provides peace of mind knowing you're reaching the right target audience in your lead-generation efforts.
Key Features
UpLead's key features include the following:
Access to over 108 million verified contacts in just a few clicks
Advanced search and filtering options for segmenting high-quality prospects
Real-time email verification with a 95% data accuracy guarantee
CRM and productivity tool integrations
Best-in-class user experience on every page
Pricing
UpLead offers a variety of plans to suit different sales team needs, starting at $74 per month (billed annually) for the Essentials plan. Starting at $149 per month (billed annually), the Plus plan grants you access to company news alerts, advanced search filters, and technographic information. The Professional plan is designed for larger teams with more complex needs. It offers full API access, competitor insights, and up to five users for $299 per month (billed annually). A free trial allows you to explore the platform before committing to a subscription with up to five credits. This pricing structure especially appeals to the small business sector, which may have a more limited budget.
ZoomInfo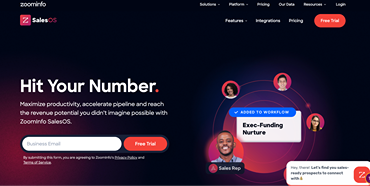 ZoomInfo is a comprehensive sales and marketing intelligence platform providing detailed information on businesses and professionals. It's best for organizations looking to improve their sales prospecting and lead generation efforts.
Key Features
ZoomInfo includes the following key features:
Access to an extensive database of contacts and companies
Advanced search and filtering capabilities
Integrations with popular CRM and marketing automation tools
Intent data and buying signals
Pricing
ZoomInfo pricing is based on custom quotes built around three price tiers: Professional+, Advanced+, and Elite+. ZoomInfo does not currently offer a free trial. Like D&B Hoover's pricing, ZoomInfo does not display its prices on its website. To obtain pricing information, it's best to contact their sales team directly through its pricing page. Here are other Zoominfo competitors worth considering.
Hunter.io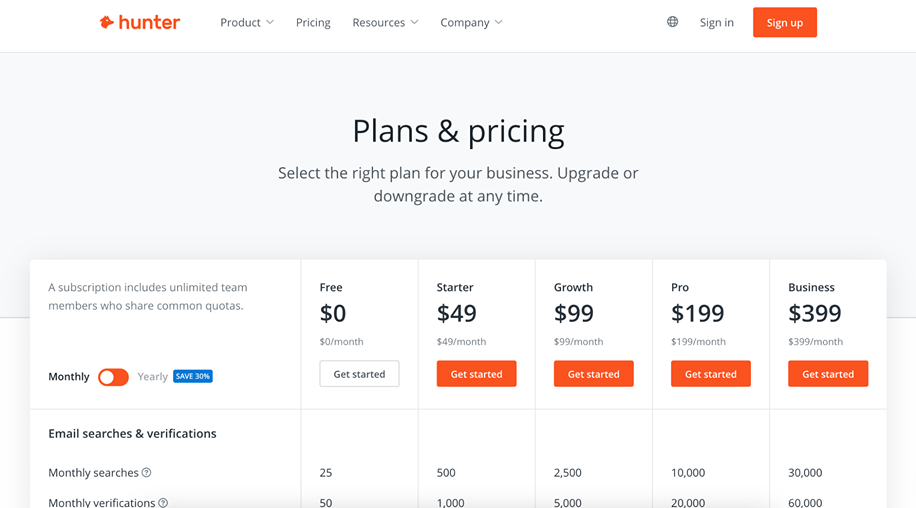 Hunter.io is an email-finding tool designed to help sales and marketing professionals discover and verify professional email addresses. It's best for businesses seeking an efficient way to find and verify email addresses for targeted outreach.
Key Features
Hunter.io offers the following capabilities for sales and marketing teams:
Email address finder
Domain search to uncover all email addresses associated with a website
Email verification to ensure deliverability
Bulk tasks and API access
Pricing
Hunter.io offers various monthly plans to cater to different business requirements, starting at $49. Based on the Hunter.io pricing page, a free plan with limited features and up to 25 monthly searches is also available, allowing you to test the platform before upgrading. Here's a list of other Hunter.io alternatives we've analyzed in the past.
FAQs About D&B Hoovers Pricing
Below are a few of the most frequently asked questions about D&B Hoovers' pricing.
How much is a D&B subscription?
D&B Hoovers' pricing model is custom-designed to suit your organization's particular needs. As such, it can be difficult to find accurate pricing information online without direct involvement from a sales team member who can consider all the details that go into creating a tailored pricing plan.
How long is D&B Hoovers' free trial?
D&B Hoovers offers a seven-day free trial. The D&B Hoovers website does little to show you which capabilities are included in the free trial.
What You Need to Remember About D&B Hoovers Pricing
D&B Hoovers is a rich data source with over 170 million business records, but its custom pricing plans are unavailable for the public to view on its site. Nonetheless, it's important to remember that the D&B Hoovers platform may be too expensive for some users. Luckily, other sales intelligence offerings on the market, like UpLead, offer different pricing levels to suit your budget and needs. With UpLead, you can access an intuitive interface and millions of business contacts in seconds – making it ideal for sales teams who demand detailed metrics and accurate results fast.