Strong lead generation techniques are the cornerstone of a successful SaaS company. The funnel from initial inquiry to paying customers is about building quality relationships with potential customers.
To better understand how to build quality relationships with potential clients, we'll explore some of the top SaaS lead generation strategies you can use to increase your leads significantly.
Quick Links:
What is SaaS lead generation?
Before discussing tried-and-true SaaS lead generation strategies, it's important to have a foundational understanding of them. Like any business, generating quality leads is vital for growth and success. SaaS (software as a service) companies rely heavily on sales funnels to generate traffic and pay customers to their platforms.
Consider that the SaaS model involves end users paying to access and use the company's software. That payment is typically in the form of a recurring subscription, whether monthly or annual.
SaaS lead generation is the process by which SaaS companies attempt to identify relevant end users, market the benefits of the software to said users and convert them to paying customers.
How do SaaS companies generate leads?
SaaS companies use two types of lead generation approaches, both of which can be effective tools to drive traffic to your growing business. Let's take a look at how both methods can be leveraged for maximum growth.
Types of Lead Generation
We'll focus on two primary types of SaaS lead generation: outbound and inbound. Both methods have unique strengths, and a strong sales team can lead to significant growth and impressive sales numbers.
Outbound and inbound lead generation techniques are commonplace across most companies, and we'll dive into how your SaaS business can use both methods to improve your sales funnel.
Outbound Lead Generation
When you think of lead generation, chances are you're thinking about an outbound lead generation tactic. Outbound lead generation occurs when a sales team actively contacts potential customers in an attempt to convert them into paying customers. Outbound refers to lead generation originating from the business and directed to the potential customer.
Examples of outbound lead generation include direct email campaigns, cold-calling prospects, and bulk email campaigns. This type of generation typically requires a dedicated outbound lead generation contact or team to consistently reach out to potential customers through some method of direct contact. It's important to note that an email campaign can be both an outbound or inbound lead generation source, depending on who initiates contact (the customer or your business).
Inbound Lead Generation
As opposed to reaching out to potential customers using an outbound lead generation strategy, inbound lead generation happens when a potential customer proactively engages with your business to express interest in your product.
Some common, proven examples of successful inbound lead generation include SEO strategies (posting quality content that ranks your business highest on Google searches), social media presence and interaction, and pay-per-click campaigns to drive targeted traffic to your business. Inbound leads are often easier to convert than outbound leads, making your inbound lead generation efforts a worthy investment.
Social media is a powerful tool to convert clients to customers, especially if you're targeting smaller businesses as part of your B2B lead generation campaign. Creating content that other businesses and potential clients interact with on social media is a proven method to generate interest in your business and improve the quality of your inbound leads.
Generate Qualified Leads with these 5 Proven SaaS Lead Generation Strategies
Now that we've highlighted both inbound and outbound lead generation techniques, let's dive into five proven SaaS lead generation strategies that your business can start using today to generate significant growth. 
1. Run Cold Email and Cold Calling Campaigns
Tried and true outbound lead generation strategies, cold emails, and cold calls are foundational campaigns for any lead generation team. Typically a high-volume contact strategy, cold email, and cold calls involve reaching out to potential customers via direct email or phone call without them having previously interacted with your business, at least not from the perspective of becoming a potential customer.
Cold emails and cold calls introduce your business to potential clients that may have otherwise never interacted with your business. How will they become a customer if they don't know about your business?
Both cold emails and calls should have a similar standard talk track to quickly identify how your business can solve potential customers' problems. First impressions often happen within seconds, so it's important to capitalize on any time you speak to a potential client and optimize your content if you launch a cold email campaign.
If you're planning a cold email campaign, we have a few tips to keep in mind:
The subject line is everything – Without a strong cold email subject line, prospects won't even open your email (click-through rate is king)
Think in terms of a newspaper – The term 'above the fold' can apply here. If your target audience has to scroll through an email to get to the important information, you're doing it wrong. Keep things short and sweet.
Include a strong call to action at the end of the email or in an email signature.
Make sure you have legitimate email addresses – Using a high-quality email verifier ensures your emails get to the right contacts.
If you're planning a cold call campaign but aren't sure if it's worth the effort, consider this: 82% of buyers say they've accepted a meeting after a series of contacts beginning with a cold call. Let UpLead partner with you on your next campaign. How can UpLead help you drive a successful cold email or cold call campaign? By combining our powerful prospecting technology with Mailshake or Aircall. (We'll dive into these incredible tools later in the article!)


2. Optimize Your Website
Optimizing your website is one of the top inbound lead generation strategies that are often overlooked and undervalued. Having an engaging, relevant website is vitally important for SaaS lead generation. By optimizing your website with the strategies below, your website will be higher in search engine results (most importantly, Google search results), meaning more potential customers will naturally find your business when they're searching for solutions online.
Search engine optimization (SEO) and effective landing pages are two areas to focus on when optimizing your website.
Search Engine Optimization
Search engine optimization (SEO) involves improving your website to increase visibility on search engine results. This is done by creating high-quality, engaging, relevant content and ensuring the back end of your website is categorized and can be read correctly by search engines. It's important to note that SEO focuses on organic, unpaid traffic rather than paid traffic like pay-per-click campaigns.
The better your SEO techniques, the higher your website will rank on search engines, which inevitably means more traffic. While it's often easier said than done, SEO strategies are fairly straightforward and can be highly successful if you dedicate the time and resources to improving your website.
SEO encompasses many elements, including on-page SEO, keyword research, page speed, meta tags, and more. On-page SEO and keyword research are two of the most important aspects of SEO. Without relevant, accurate, and original content, your page will have difficulty ranking high on search engines, no matter how well you've optimized the back end. Make sure to integrate proper CMS like WordPress and integrate good web hosting for WordPress so that your content appears in front of the search engines and your audience. The goal is to appear on the first page of a Google search for your keyword(s). (Traffic significantly decreases for sites on the second page and beyond.)
In fact, the page that ranks first in a Google search gets roughly one-third of all click-through traffic for the search query. For a popular keyword or query that can result in millions of page views for your SaaS business.
Create Landing Pages that Convert
 If you're looking to boost your quality leads, a strong landing page is just what your SaaS business needs. Landing pages are static, targeted pages that are specifically built to capture lead information or move potential customers through the sales funnel with a specific call to action. These standalone pages are often found at the other end of an ad link, be it an ad in a search engine, social media, or email marketing campaign.
Strong landing pages are simple, engaging, and have a clear call to action. Think back to our tips for a cold email campaign: If the potential customer can see the benefits of your software within the first few sentences of your text, chances are higher that they'll become a successful lead.
Landing pages serve a different purpose than your homepage. They are targeted, meaning they're specifically designed to convert. You should think strategically about the types of landing pages you create in conjunction with your overall digital marketing campaign. A few key items to focus on when building your landing page include the call to action, page layout, and user interface.
A call to action that converts is one that clearly identifies the next steps to take while also offering either an incentive to act or being clear about the benefits of your product. You've probably seen plenty of call to actions on landing pages. They're often structured with a special offer or discount, followed by clear instructions to order, purchase, or act now. A sense of urgency can drive potential customers to act.
Want an even more successful landing page? Video content can increase conversion rates by over 80%.
Looking for a great example of a landing page that converts? Slack's simple, streamlined landing page below simplifies the process with one input field, has a clear, engaging call to action, and clearly identifies what Slack can do in just a few short sentences.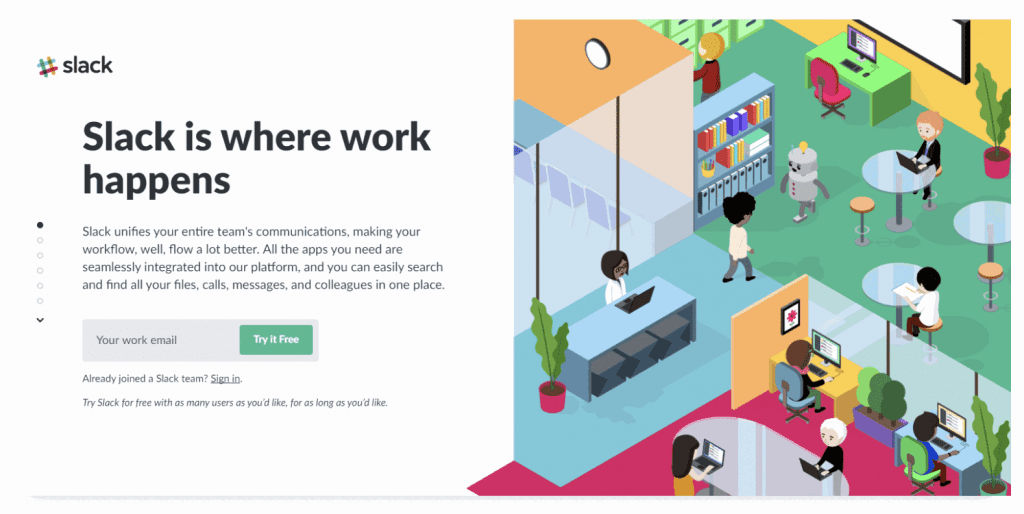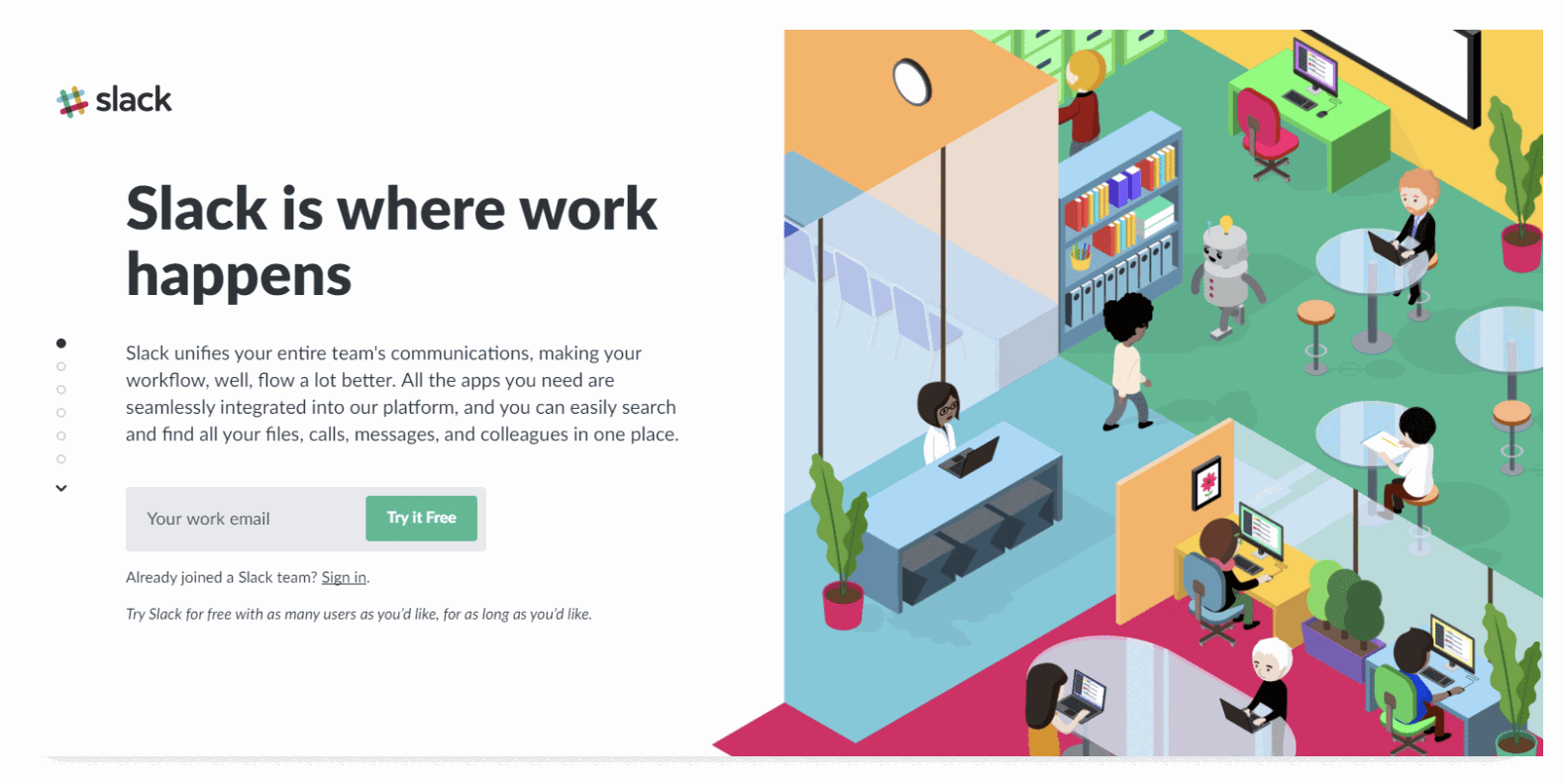 3. Create an Engaging Content Marketing Strategy
Creating engaging content is a tested, evergreen method to boost your SaaS lead generation. Generating leads with content marketing creates genuine engagement with your potential clients. The types of content marketing we discuss below can help further optimize your website.
Traditional content marketing strategies typically involve high-quality on-page content that draws in prospective clients. Blog posts and videos are two crucial content types that generate engagement with potential customers. They can be a source of high-value content that sets your SaaS business apart as an authority in your specific industry. Take your content marketing strategy a step further by engaging on social media with regular posts and updates or hosting informational webinars to market your product.
Content marketing is an extremely successful lead generation strategy. In fact, if your business doesn't focus on content marketing, it may be at a disadvantage. According to Ahrefs, 82% of marketers are actively investing in content marketing strategies, so it's highly likely that your competition will focus on strong content marketing strategies.
Looking for examples of content marketing at its finest? Look no further than HubSpot, which is ranked in the top 10 in Google traffic in the Online Marketing Tech category. HubSpot's network of websites and partner sites generate millions of HubSpot visitors per month through high-quality, linked traffic and partnerships.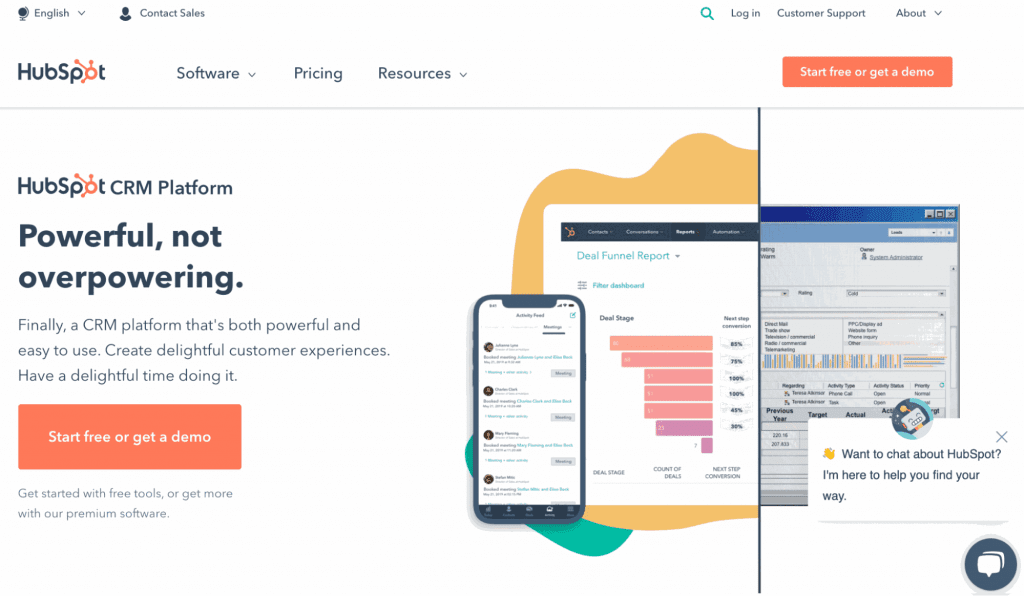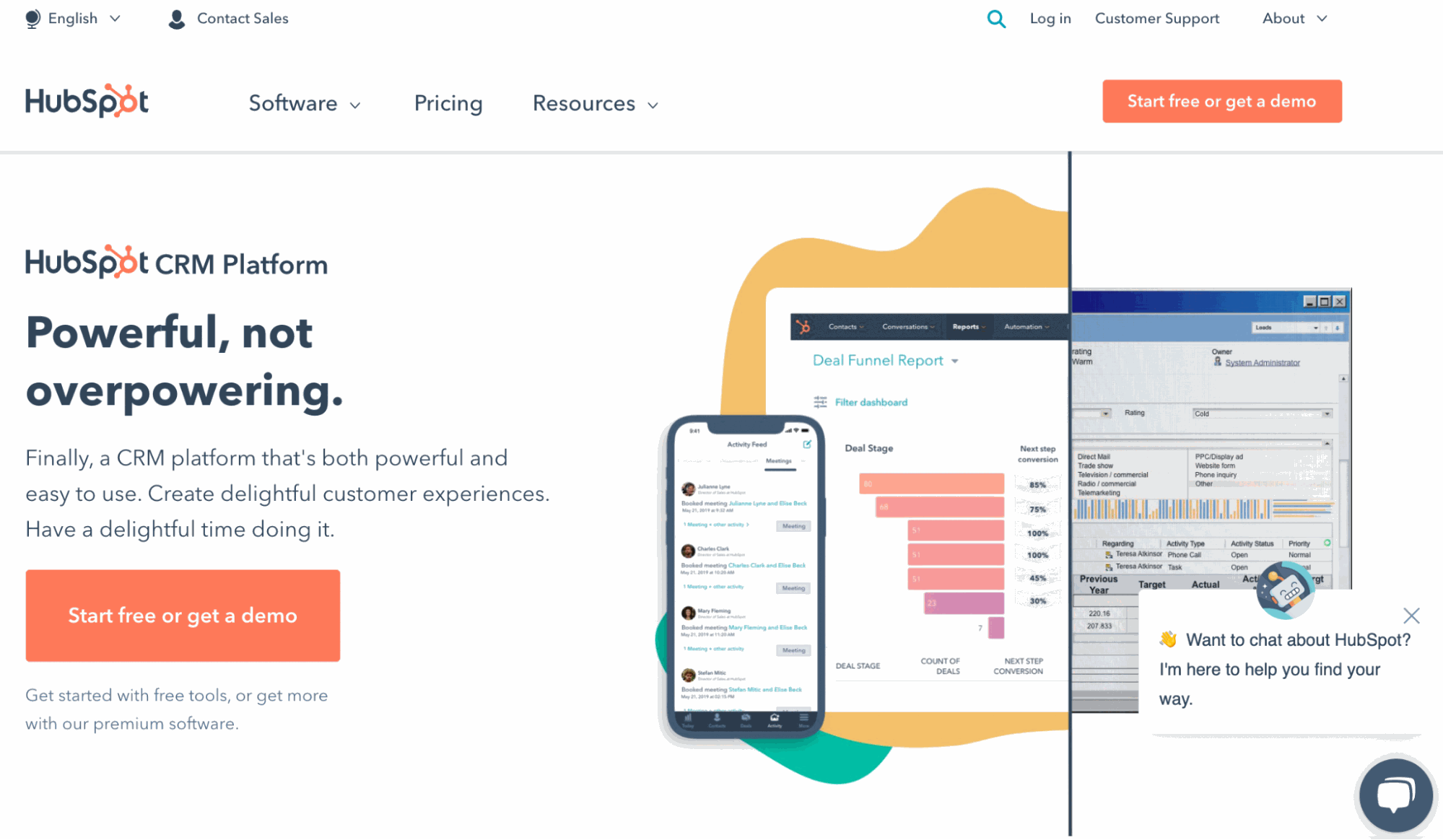 4. Harness the Power of Referral Marketing
Referral marketing, also known as word-of-mouth marketing, is one of the most successful lead generation methods available when leveraged correctly. In today's social media-focused world, 'influencers' are partnering with more and more brands to promote and market products to their fan base. SaaS companies are no different. In fact, Google launched a commercial featuring two prominent Tik Tok influencers.
There are a few ways to ramp up your referral marketing – connecting with relevant influencers and developing your own referral program.
Seek Out Relevant Influencers
Popular influencers can catapult brands to new heights, and if you can connect with a relevant influencer for your business, it's often a worthwhile investment. With the number of influencers on the rise, it's important to research individuals before reaching out to them. Do they fit your brand and product? Would their fan base connect with your product? What platform(s) do they use to promote their partnership products? You can use Hypeauditor or other alternative influencer tools to research & analyze influencer profiles & audiences.
Still not convinced? According to the Digital Marketing Institute, influencer campaigns earn nearly $6 for every $1 spent.
When it comes to influencer platforms, there are none better than TikTok. Reaching millions of potential customers worldwide, TikTok influencers have massive followings. More and more businesses are tapping into TikTok as a source for significant lead generation. Major brands have partnered with TikTok's largest influencers to drive growth and engagement with their customers. Dunkin' recently partnered with TikTok star Charli D'Amelio on a campaign that generated hundreds of millions of views and likes.
Develop a Strong Referral Program
In addition to partnering with popular influencers to market your SaaS business, developing a strong referral program for your existing customers to engage with is a great way to leverage word-of-mouth marketing further. By rewarding your customers with referral awards and incentives, you're providing value and benefits to your loyal customer base and letting their positive interactions market on your behalf.
Referral awards can mean discounts on existing software subscriptions, early access to upcoming features, and more. Forbes even identified referrals as the most valuable form of marketing. If you have a strong product and develop solid customer relationships, referrals are a simple, effective way to grow your SaaS business.
It's difficult to find a referral program as successful as Dropbox's in recent history. In fact, it's often used as one of the best examples of referral programs today. In just 15 months, Dropbox's customer base grew by nearly 4,000%. The program helped Dropbox to go from around 100,000 registered users to nearly 4,000,000. A large percentage of that growth is thanks to their referral program, which is why SaaS businesses should seriously consider implementing a referral program.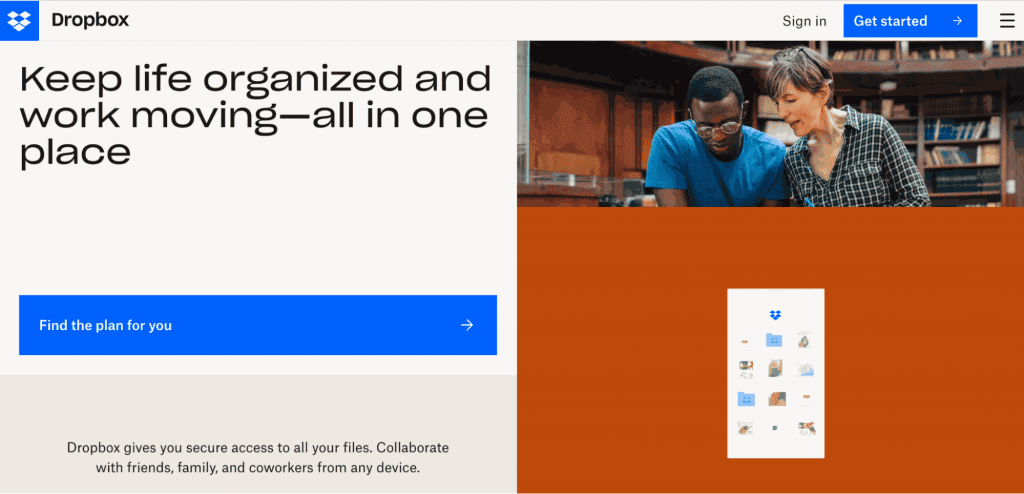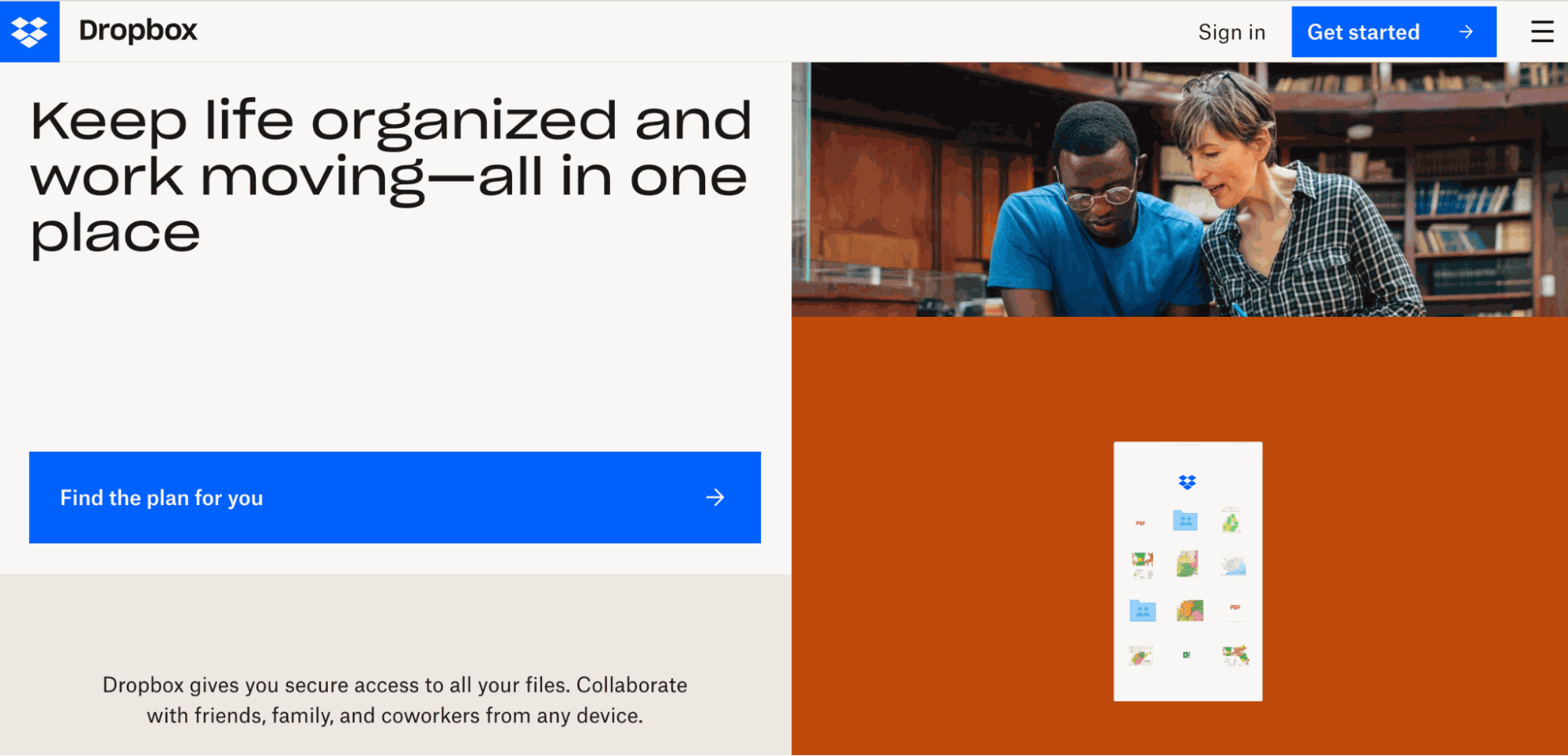 5. Offer Free Trials
Last but certainly not least on our list of 5 evergreen strategies you can use to grow your SaaS business is the ever-popular free trial. What better way to convert a potential customer than letting them try your product before they commit to buying it? Free trials are a practical way to qualify your lead. Discussing problems and solutions with potential customers is one thing—letting prospective customers discover for themselves how your product can solve their problems is another.
While conversion rates can vary depending on the type of free trial you offer, they can be upwards of 25% or higher. Check out the full study posted on LinkedIn.
After years of A/B testing landing pages, Crazy Egg seems to have perfected the landing page to free trial sign-up funnel. Testing both hyper-condensed pages and long-form sales pitches, Crazy Egg found that the sweet spot was just enough information to generate interest while gating the supporting information with a free trial sign-up. They "decided to balance under-and over-educating our website visitors by gating our supporting information, " which increased free trial sign-ups.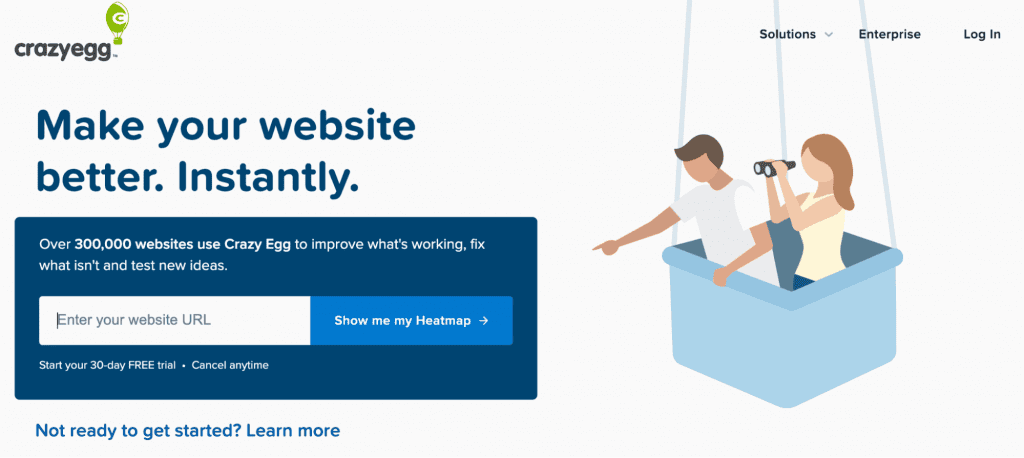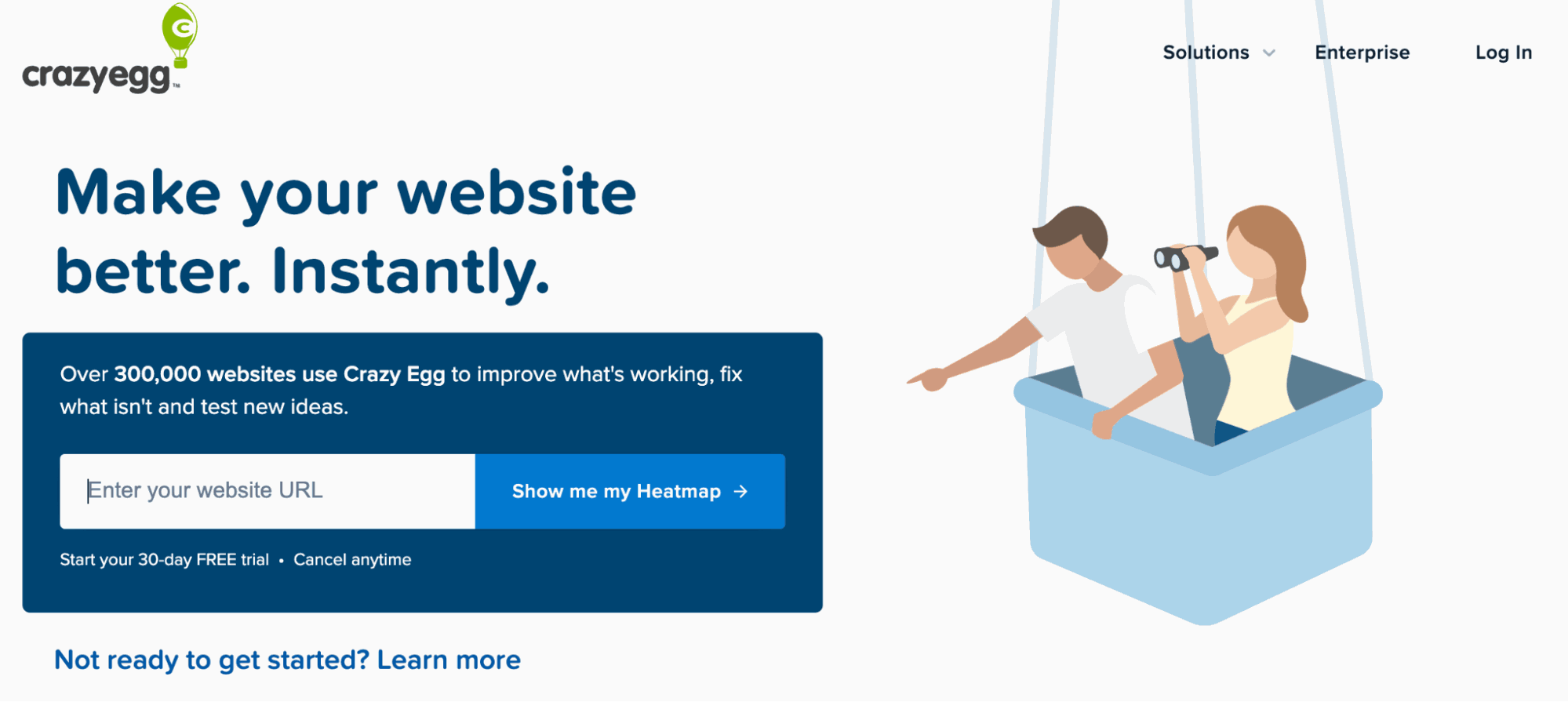 Tips for Mastering B2B SaaS Lead Generation
The above strategies may sound easy, but putting them into practice involves a great deal of effort. Understanding B2B SaaS lead generation, leveraging the right tools, and identifying a clear strategy are all important steps in the lead generation process. Here are some top tips for mastering B2B SaaS lead generation:
Understand Your Target Audience
Understanding your target audience is sales 101, but it's as relevant and important now as ever. There are just as many ways to understand your target audience as there are ways to connect with them. Get to know your potential customers through performance-driven digital marketing campaigns, your social media presence, or in-depth market research.
Understanding where to find your audience and how best to contact them is important. Does your software solution focus on email communications? Would direct mail or cold calling be a better way to generate leads? Meet your potential customers where they are.
Identifying your potential customers' specific pain points is the foundation of any successful conversion with any lead generation strategy. Quickly and concisely identifying those pain points and clearly displaying how your product can solve them shows your prospect that you truly understand their needs.
Set Clear Lead Generation Goals
It's important to set clear, attainable lead generation goals whether the team responsible for your lead generation is one person or 100 people. Set goals that the team can reasonably achieve with the selected generation method, which means understanding conversion rates, creating strong lead campaign materials, and having a team dedicated to a successful campaign.
Not only should the lead generation goals be clear and attainable, but they should also be quantifiable. Set specific target numbers of click-through rates, conversion rates, landing page visits, and more. Quantifiable goals give you and your team a clear measure of success and how you can improve on performance in the future.
Use Key Performance Metrics to Evaluate Your Efforts
Similar to our point above, be sure to set multiple key performance indicators to measure your lead generation efforts clearly. While you may be capturing multiple metrics across your lead generation campaign, choose a few key performance indicators to focus on as the primary drivers of success. This may be the number of meetings set in a cold call campaign or the open rate in an email campaign. Identifying the top two or three metrics that clearly show campaign success allows you to focus on those metrics with your SaaS lead generation team.
The Best B2B SaaS Lead Generation Tools to Help You Get Started
Now that you have the practical tips and best practices for generating leads for your SaaS business, it's time to dive into the best B2B Saas lead generation tools. We've broken these tools down into general functional categories, starting with our top cold email and cold calling tools.
Best Cold Email and Cold Calling Tools
As mentioned above, cold email and cold calling campaigns are two excellent strategies for boosting your quality leads. When setting up a campaign, you need the right tools at your side.
Finding Email Addresses – UpLead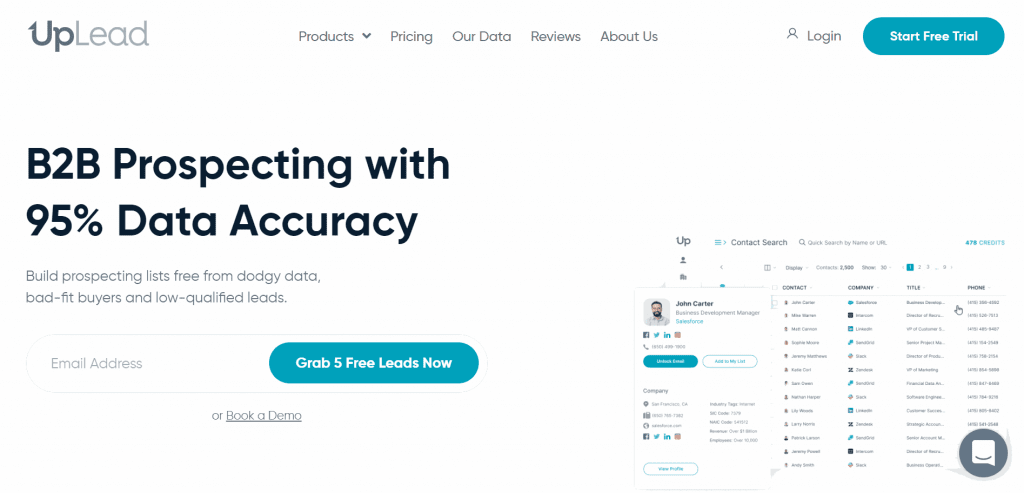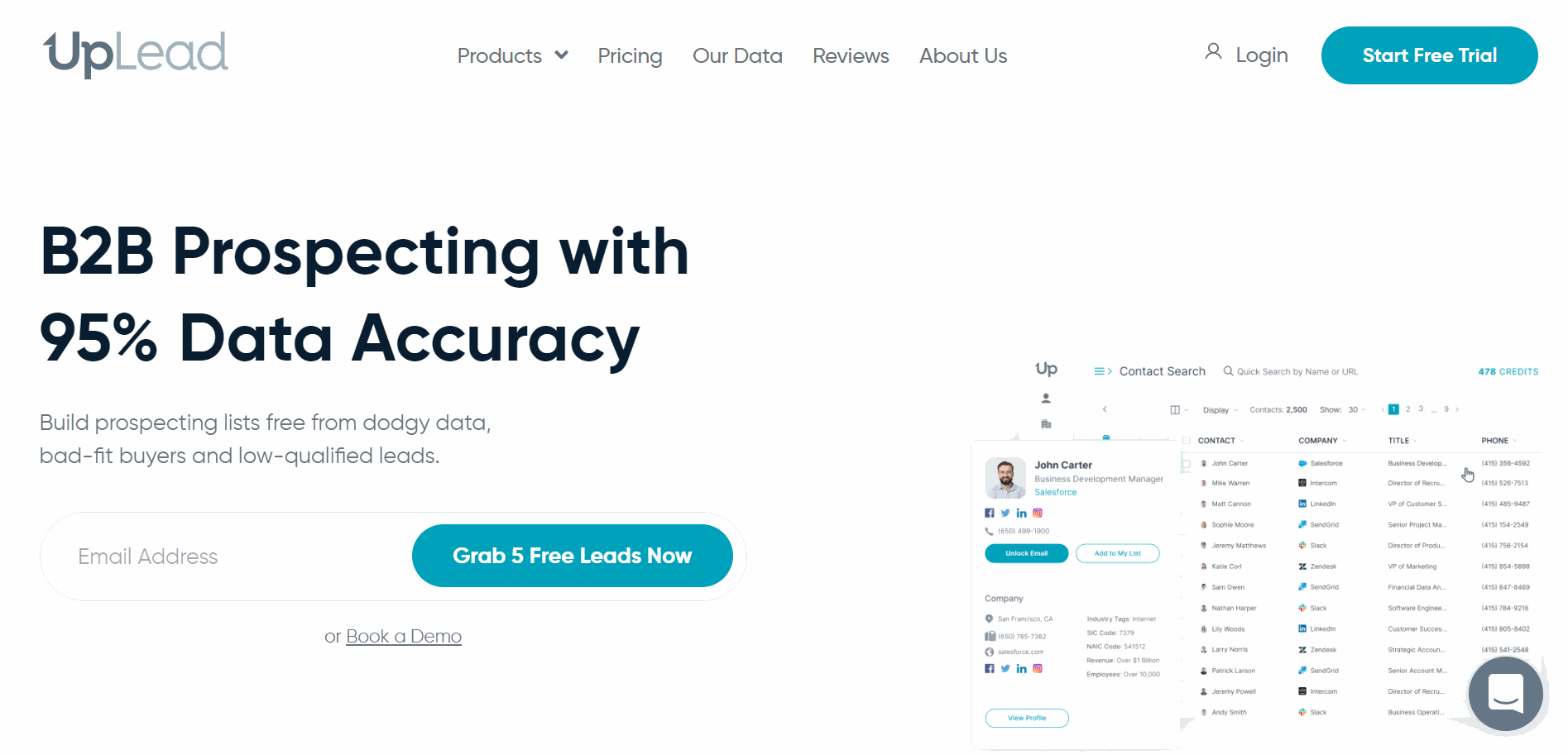 UpLead offers solid B2B prospecting with a 95% data accuracy guarantee. Compared to the industry standard of around 50%, our tested methods and technology significantly outperform other lead generation tools. We can help your SaaS business grow by finding accurate, valuable email contacts to drive your cold email campaign forward. 
Our email finder lets you quickly identify key decision-makers so you can target your emails to the right contacts. Paired with our incredibly accurate prospector, you'll have everything you need for a successful cold call and cold email campaign. We are also one of the top data-intent providers in the market.
Start Your 7-Day Free UpLead Trial
Lead generation doesn't have to be all that painful. With UpLead, you can easily connect with high-quality prospects and leads to grow your company.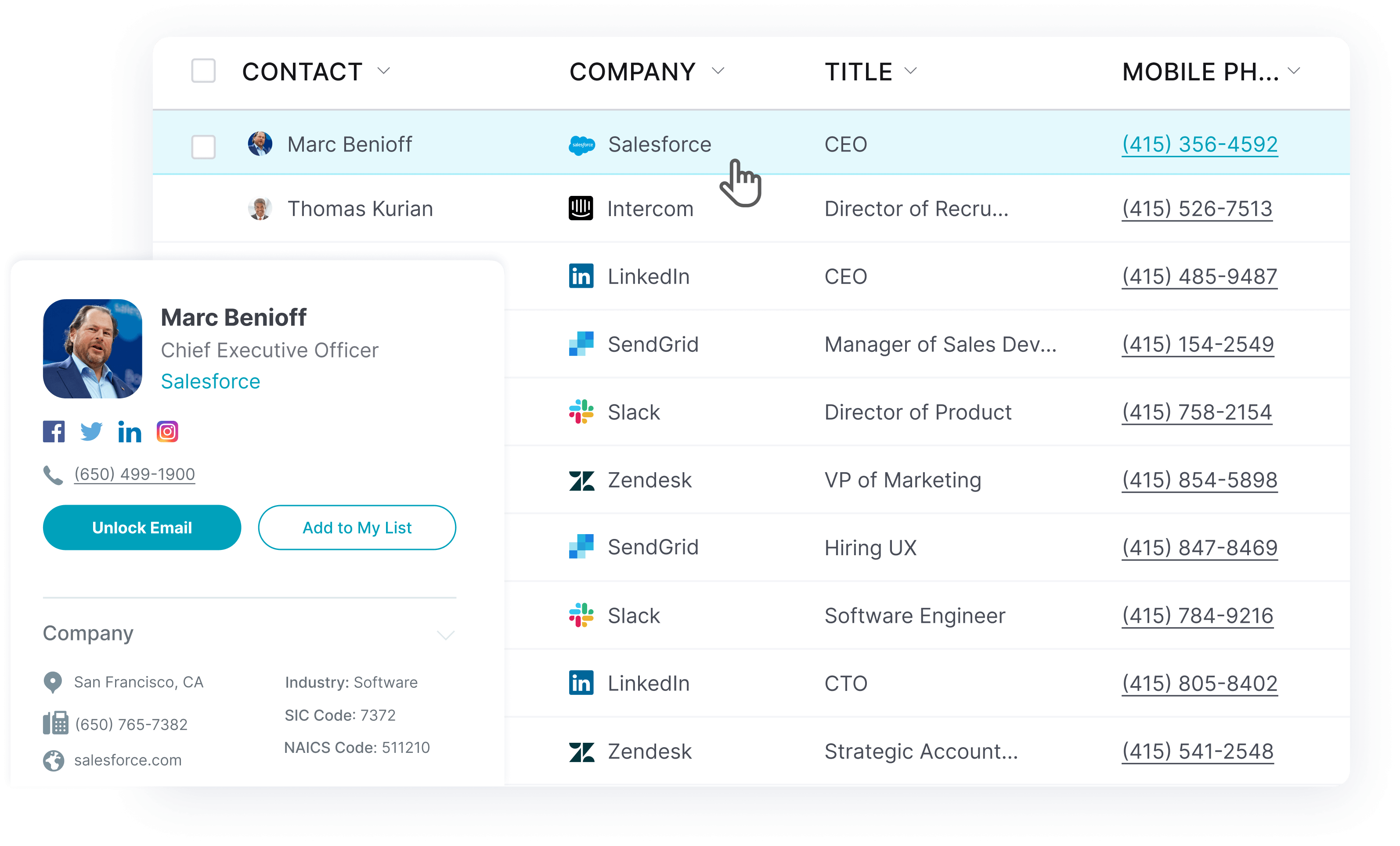 Sending Cold Emails – Mailshake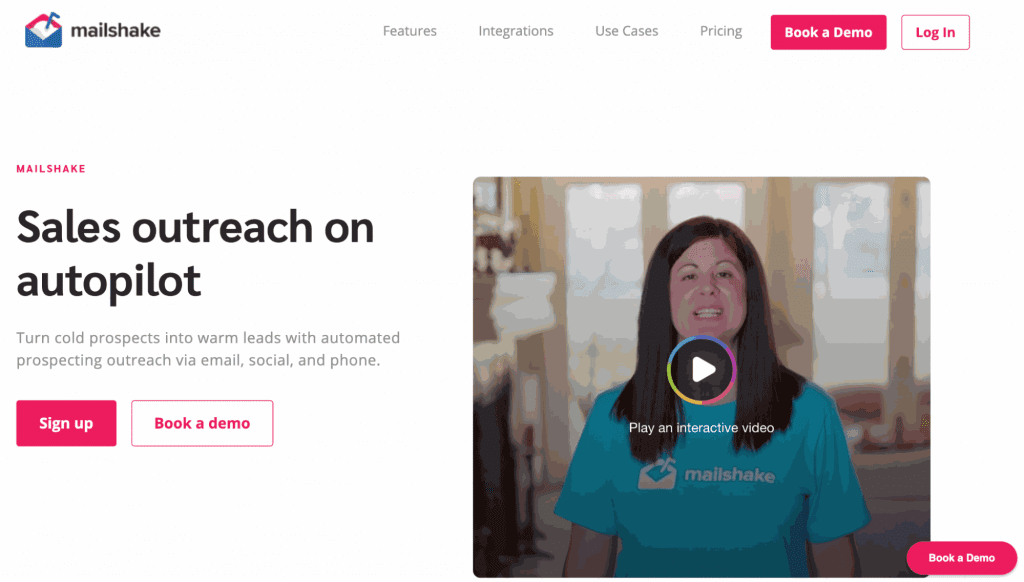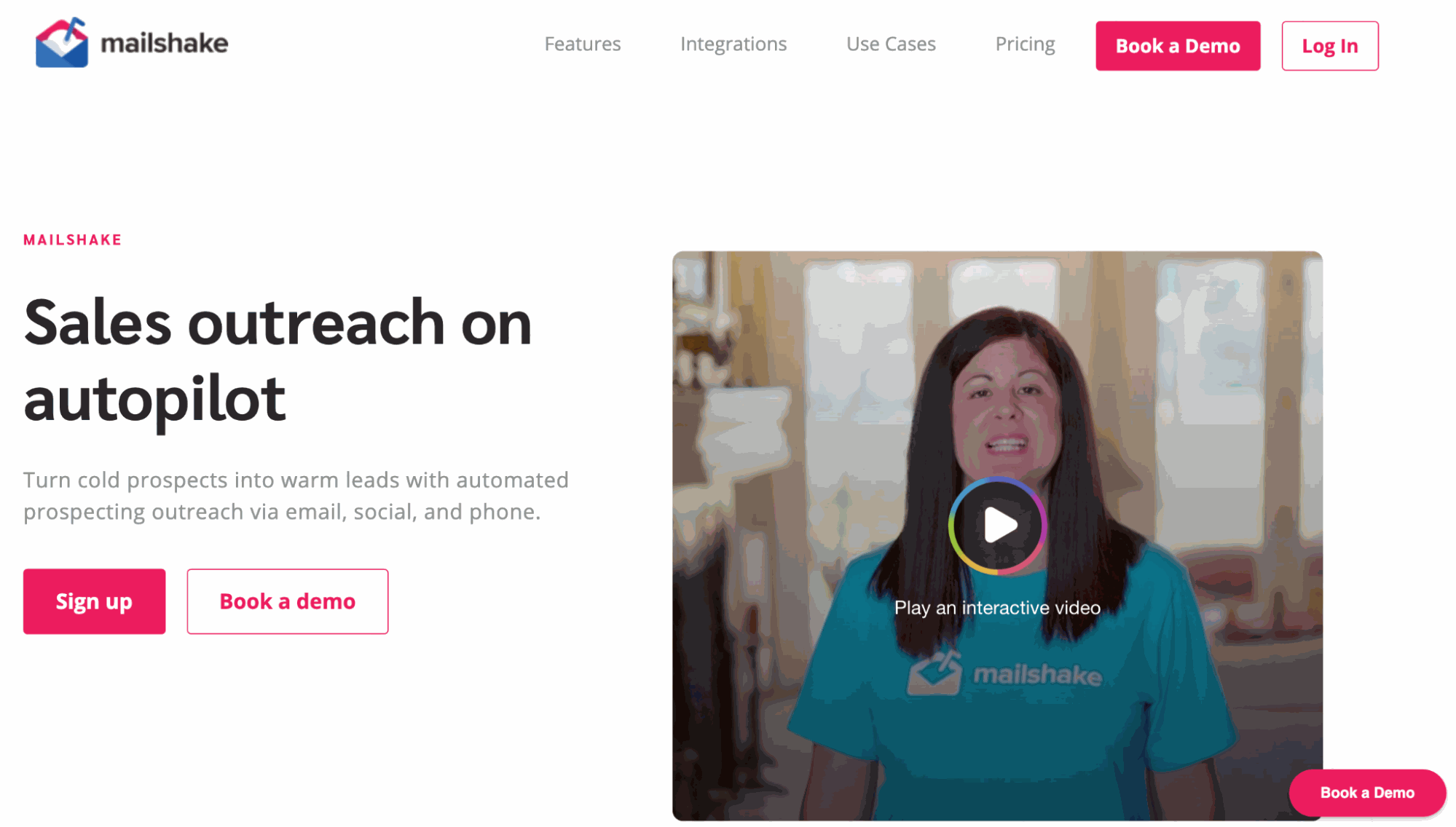 It's a waste of time and effort to manually send hundreds, if not thousands, of cold emails. That's where Mailshake comes in. Mailshake can completely automate your cold email outreach campaign, sending thousands of emails at once and saving you significant time and money on your cold email campaign.
The platform will allow you to send thousands of emails with the click of a button—you can also monitor your cold email campaign to get on-demand performance metrics. You can monitor clicks, opens, and interactions, manage follow-ups, and test variations of your emails through one single platform.
Doing Cold Calling – Aircall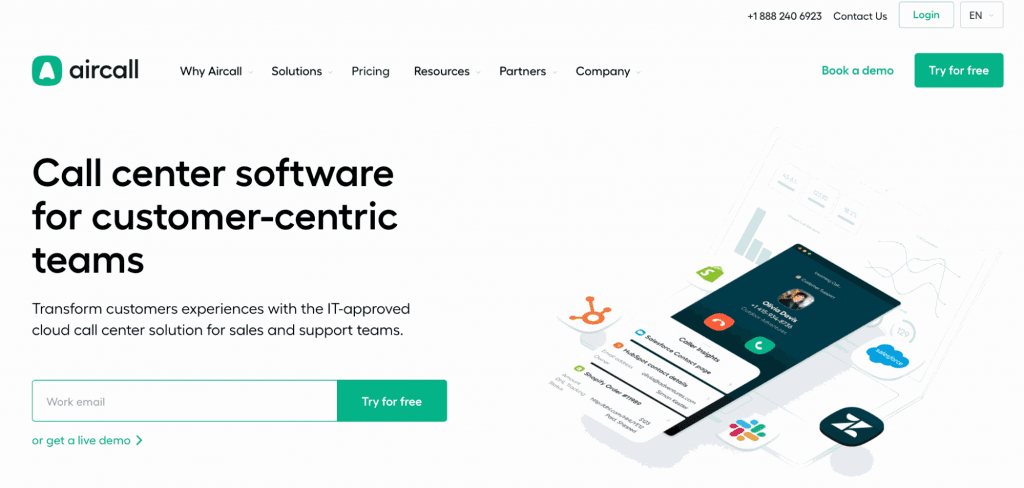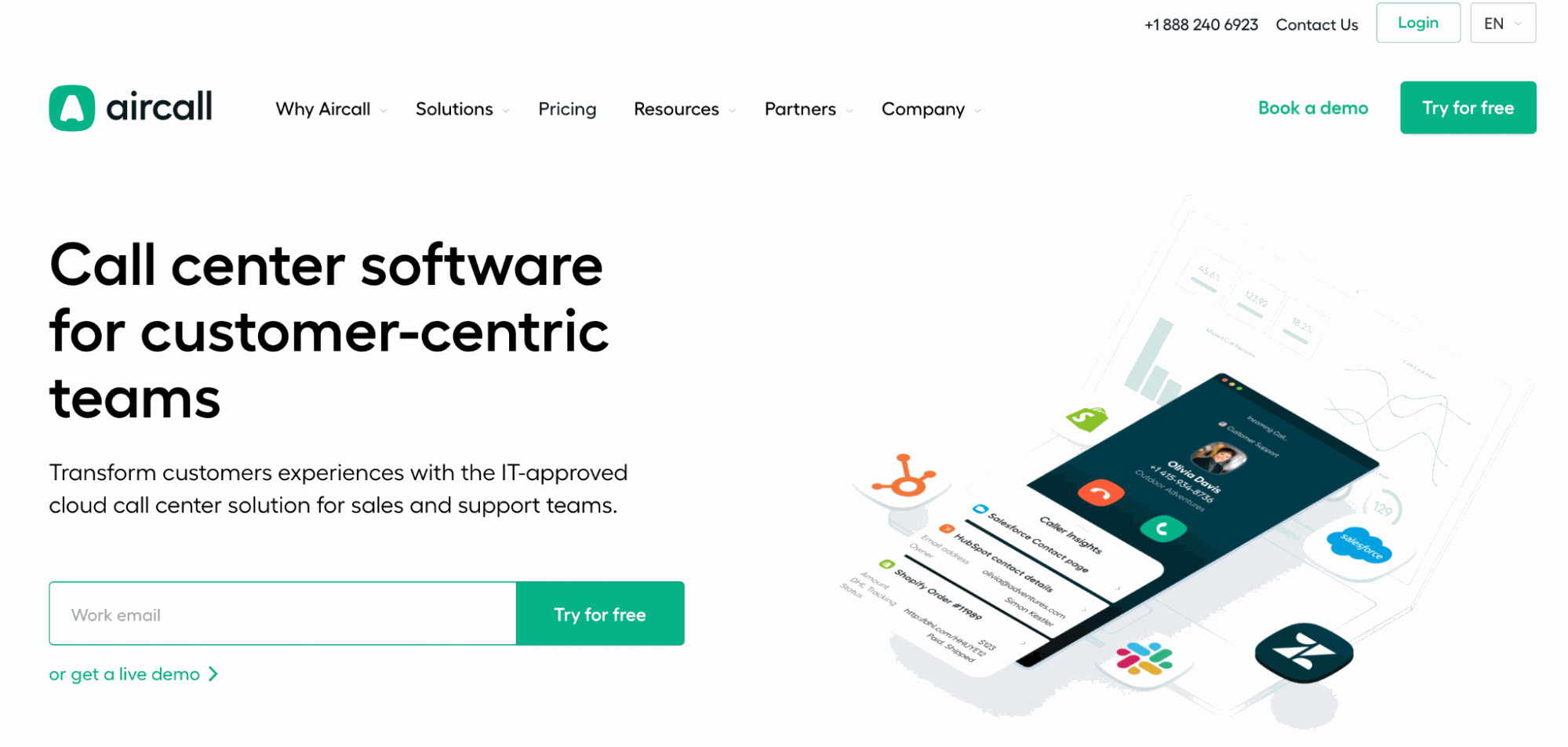 Managing a mass cold call campaign is no easy feat. With Aircall, you'll have the tools and software your team needs to make outbound calls all day long efficiently. With toll-free number creation, virtual call center capabilities, and interactive voice response, your team will be prepared for both inbound and outbound lead generation.
These are just a few of the many powerful features that Aircall offers. If you're focusing on voice campaigns for your SaaS lead generation strategy, you need the right tools to get the job done. Connecting with a prospect over the phone is a powerful way to convert them into paying customers.
Best Website Tools
Optimizing your website is one of the most important steps you can take to generate high-quality, organic leads and grow your SaaS business. You don't have to be a digital marketing expert to optimize your website—the following tools will take care of that.
SEO – Ahrefs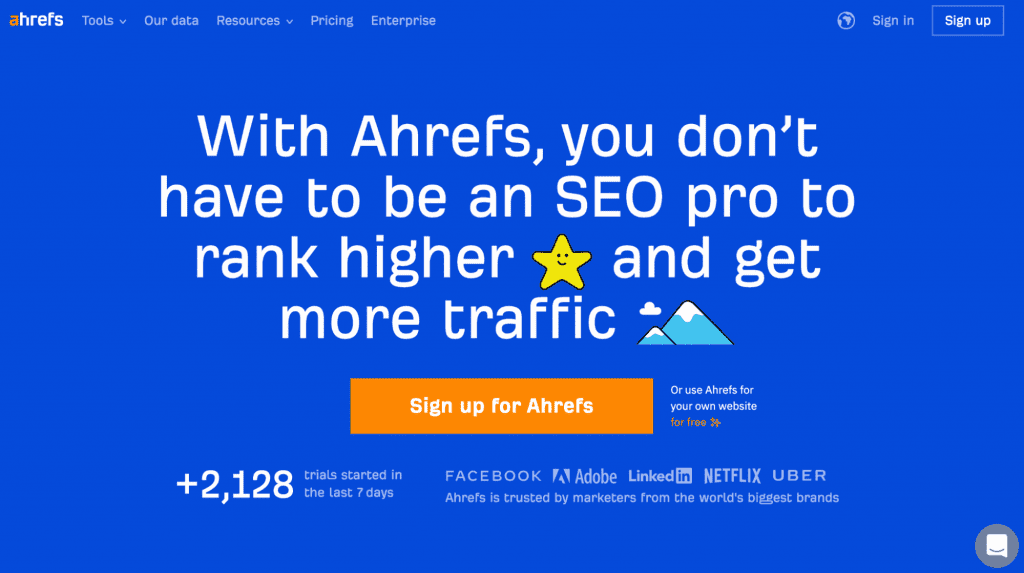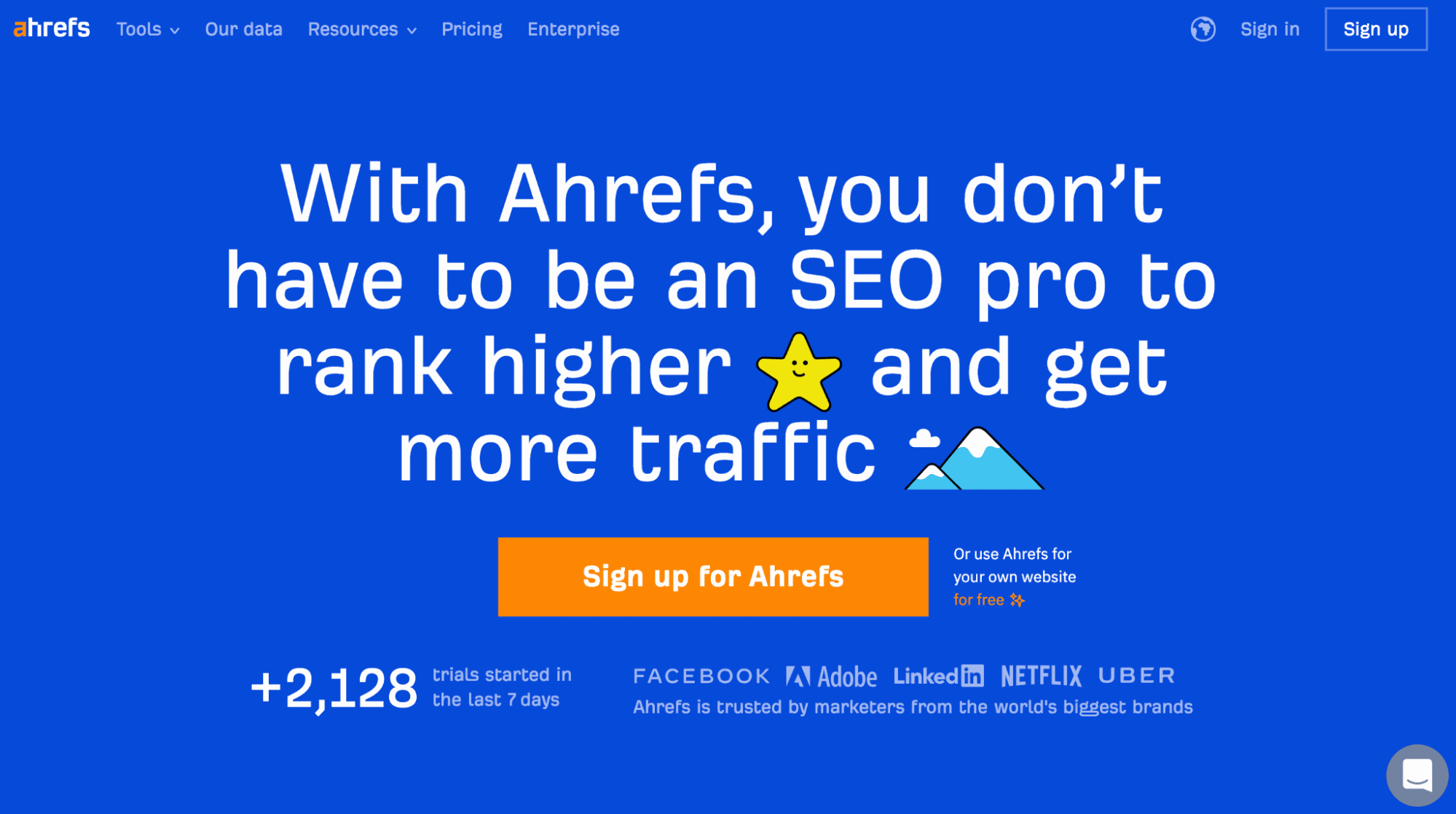 Ahrefs is one of the leading names in SEO and for a good reason. Their all-encompassing SEO toolkit gives SaaS businesses the power to own their own SEO and on-page marketing. Featuring a robust dashboard, intuitive keyword research, automated site audits, and so much more, Ahrefs is a must-have for countless businesses worldwide.
SEO can be complex for businesses that haven't invested the time and energy to leverage it. Ahrefs makes SEO navigation and management simple and streamlined. They can help your business grow across many platforms by focusing on website optimization and quality organic traffic.
Landing Page Creation – Unbounce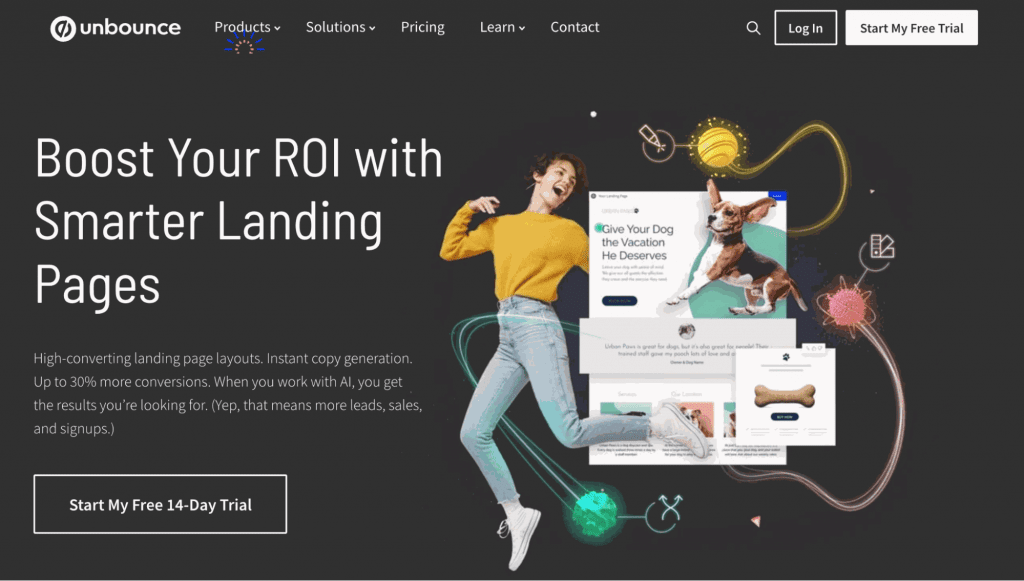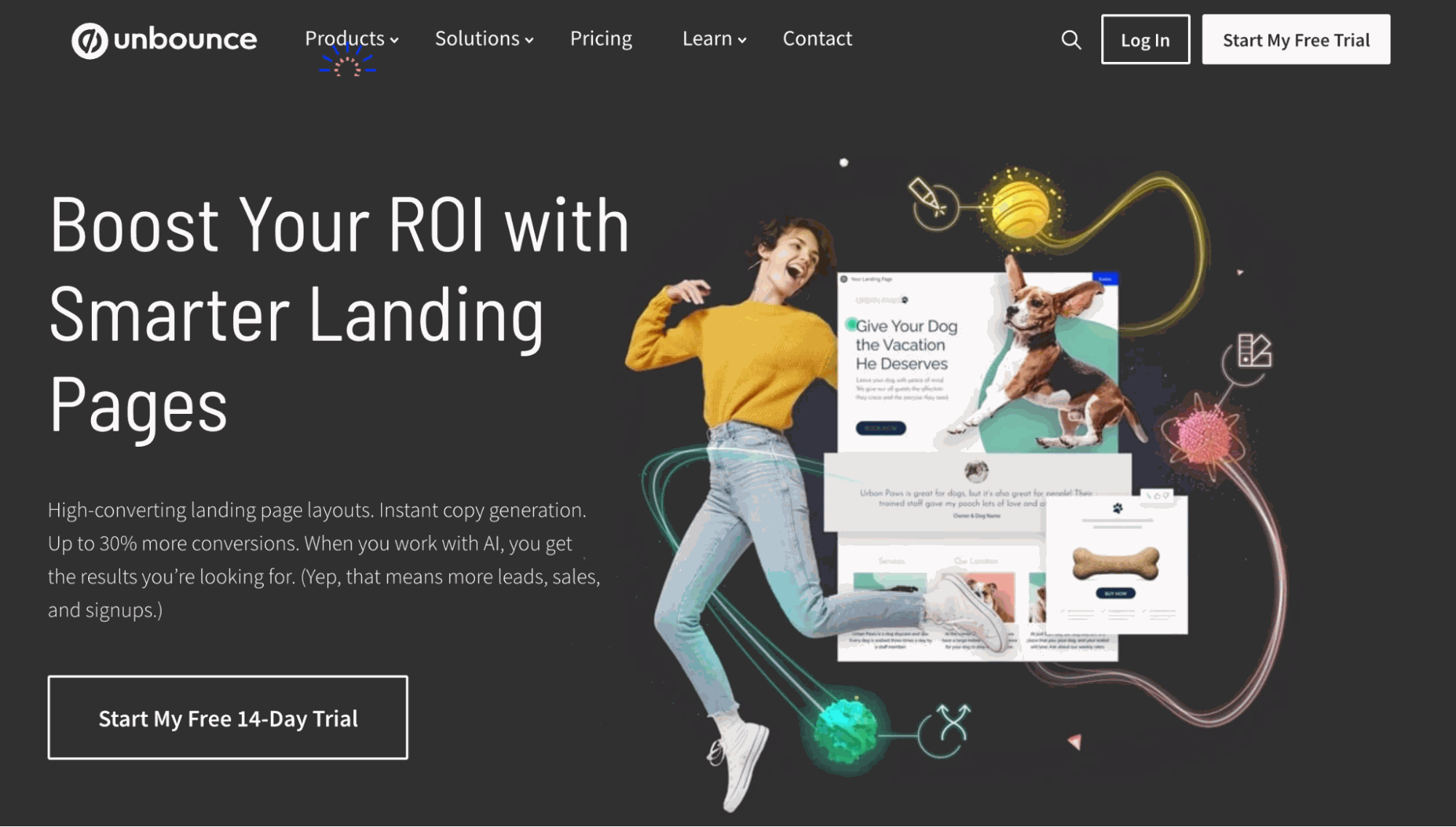 Just like you don't need to be an SEO expert to leverage SEO for your SaaS business, you also don't need to be a landing page expert. Building a landing page that converts is vital for online growth and traffic, and Unbounce can help you build and maintain high-quality landing pages that target your ideal audience.
Not only will you have intuitive tools to help you design and build an attractive landing page that converts—but you'll also get backend reports and tracking to help you modify your landing pages for maximum conversion. Unbounce has specific landing page solutions for SaaS businesses that are great for highlighting your product's benefits.
Best Content Marketing Tools
Content is king. The same goes for content marketing. A strong content marketing campaign can significantly grow your SaaS business. Developing a content marketing campaign from scratch can seem overwhelming, but the following tools can help you generate ideas for a successful campaign.
Generating Content Ideas – Google Trends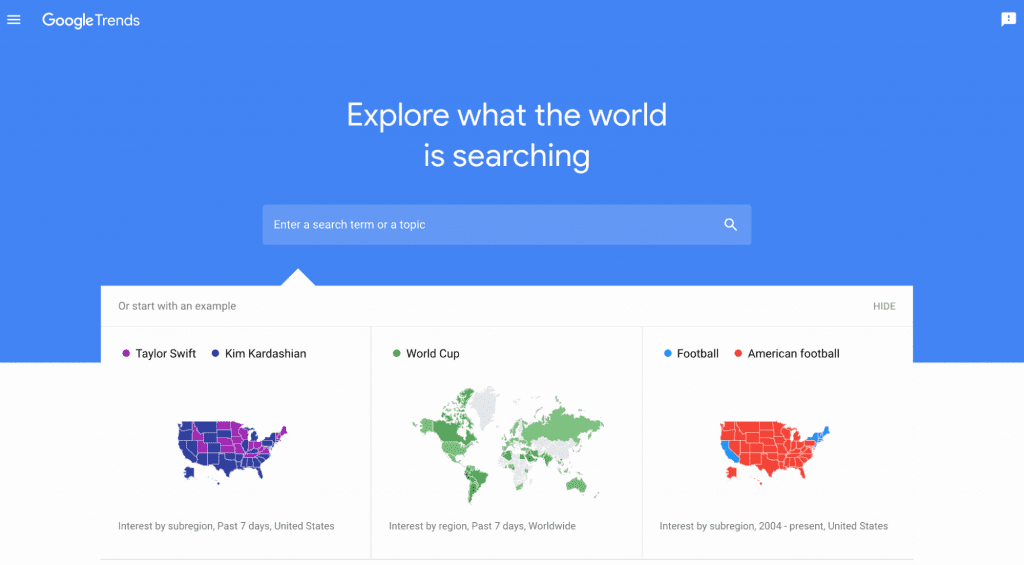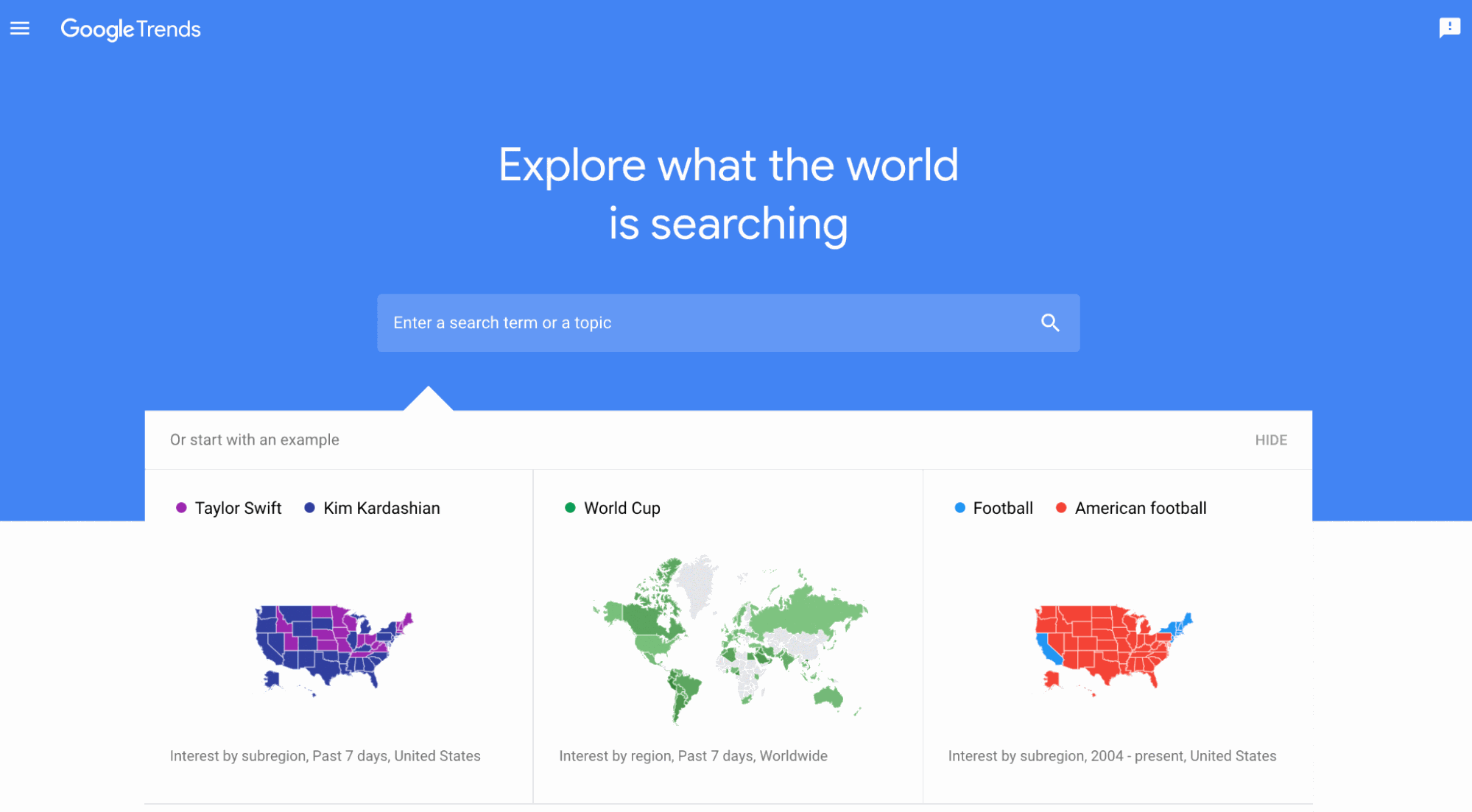 The goal of optimizing your website is to rank as high as possible in search engine results, and no search engine is more widely used than Google. Content marketing is another way to optimize your website, engage with your target customers, and rank higher in Google searches. Fortunately, Google has Google Trends, a free tool that you can use to generate content ideas.
Google Trends is an easy-to-use tool that gives you insights into how end users search for keywords and phrases. You'll get a breakdown of searches by location, interest over time, related topics, and related queries to help you hone in on keywords and phrases for your content.
Social Media Posts – Canva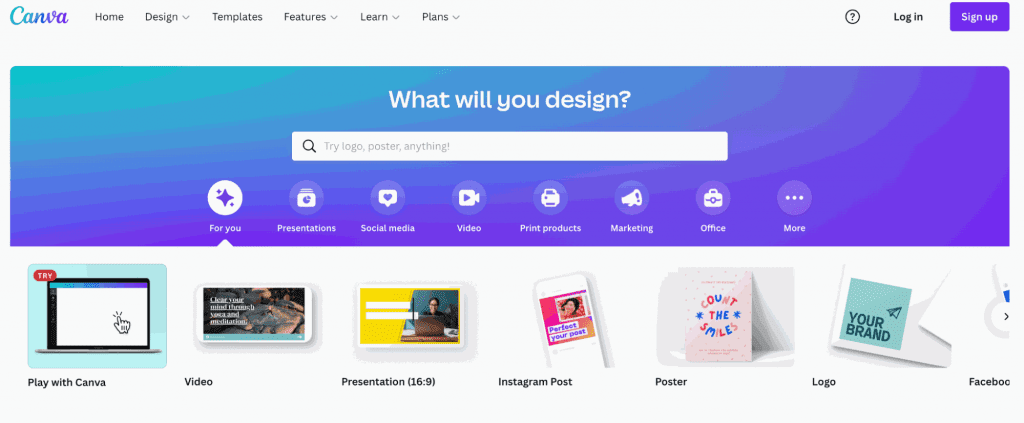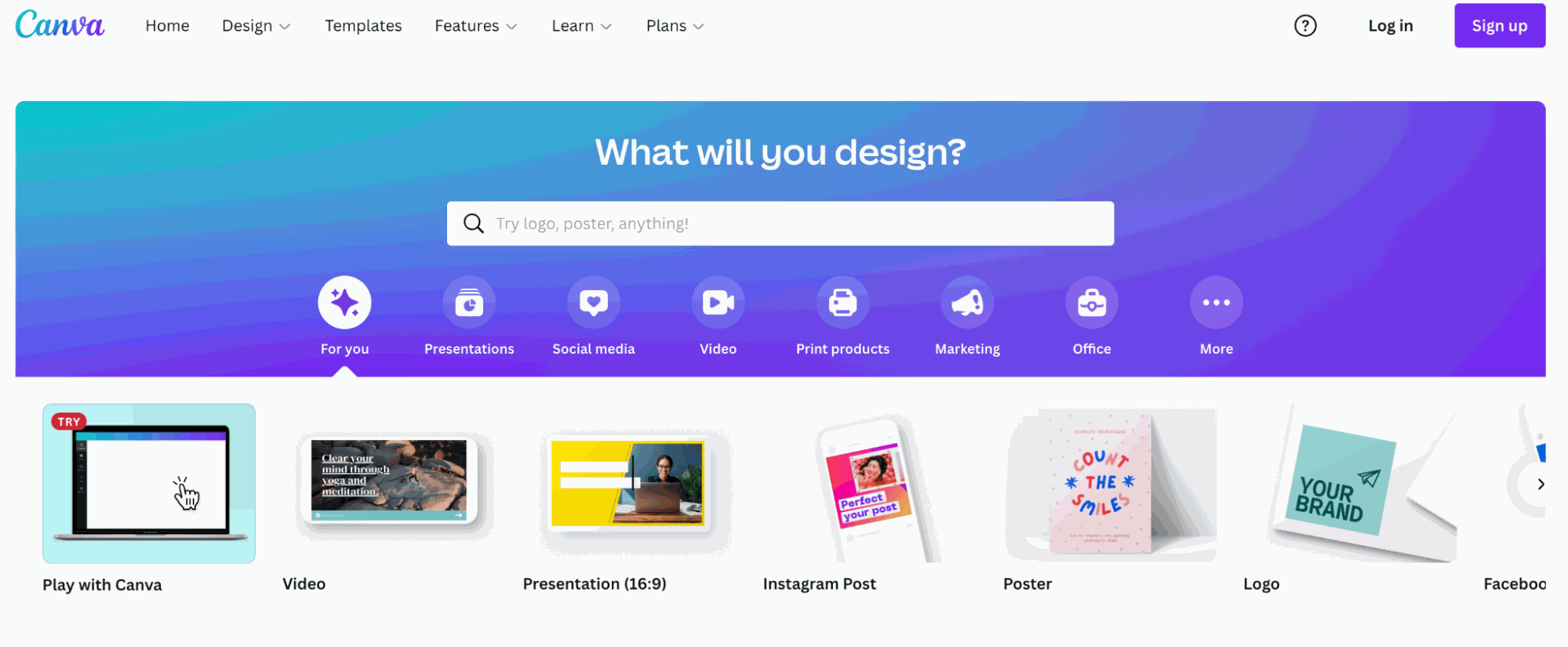 SaaS businesses that don't have a strong social media presence are missing out on a potentially substantial customer base. More and more businesses are creating social media accounts to interact with consumers and engage with other businesses from a B2B perspective. 
Canva is a robust yet simple-to-use tool that allows you to build high-quality, engaging social media posts across popular platforms such as Instagram, Facebook, and Twitter. The more engaging your social media posts, the more likely you are to generate high-quality leads.
Best Referral Marketing Tools
Your happiest customers often publish positive reviews and act as brand ambassadors. However, you can't rely on those customers as your only source of referrals. Let's take a look at our top pick for creating referral programs.
Creating Referral Programs – Ambassador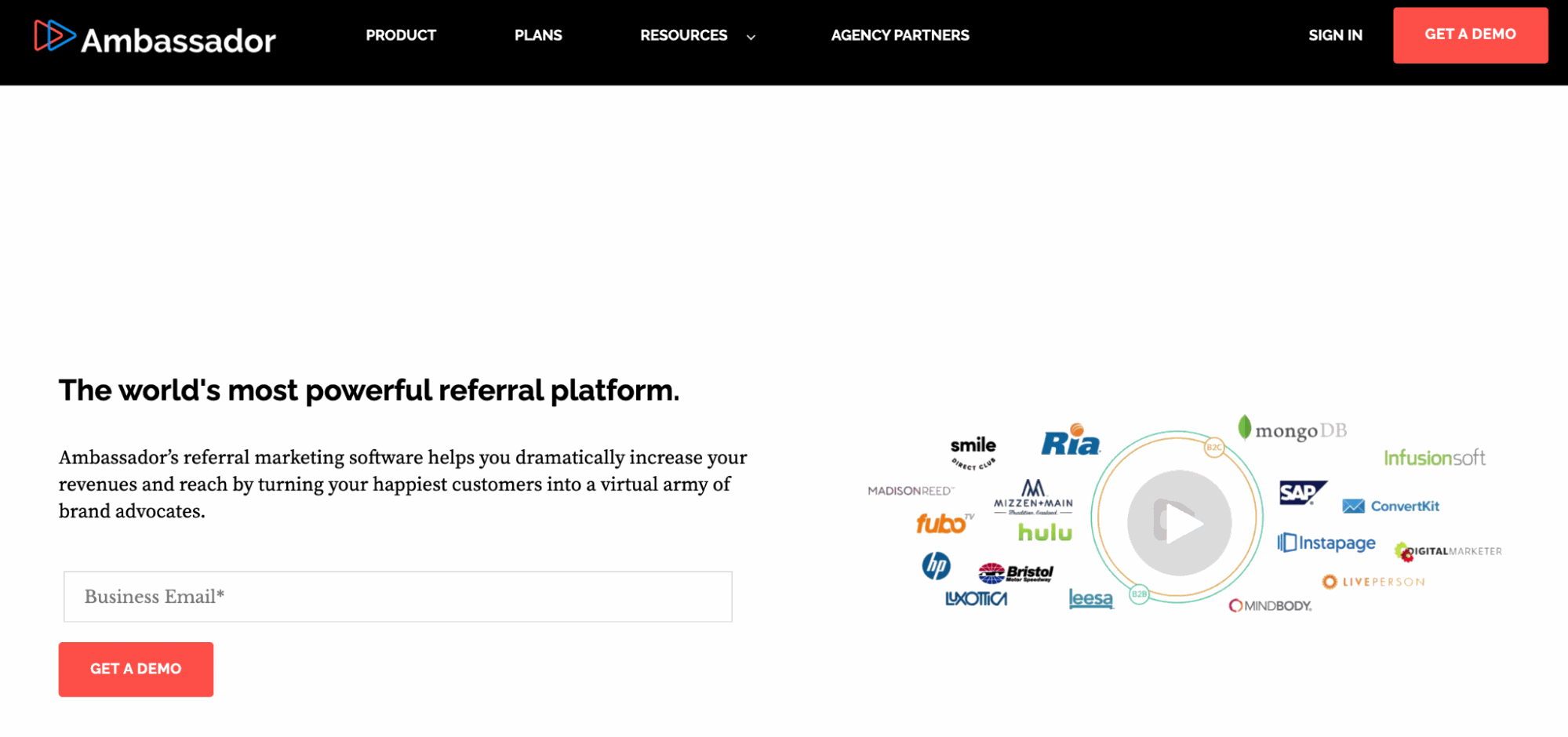 Ambassador is a powerful platform that lets you manage referral programs, influencer campaigns, and affiliate programs from one centralized dashboard. Create automated referral campaigns and leverage the power of your customer base with targeted, location-based campaigns. Track stats and overall performance through the intuitive dashboard and execute A/B testing to put your best campaign forward.
SaaS Lead Generation FAQs
We hope this guide to evergreen lead generation strategies for your SaaS business has been valuable. We pulled together some top FAQs to help you with takeaways for your business.
What is a SaaS lead?
A SaaS lead is a potential customer for your SaaS business. These leads can be inbound, meaning the potential customer-initiated interest in your business. They can also be outbound, meaning your sales team initiated contact to propose your SaaS solution to the potential customer.
How do you qualify a lead in SaaS?
Qualifying a lead means ensuring that the lead is a good fit for your product. You don't want to waste time and resources trying to convert a potential customer who isn't actually going to benefit from your products. That's not good for your business and not for the lead who isn't the right fit.

Understanding your potential customer is essential for qualifying them as quality leads. Inbound campaigns mean being explicitly clear on your product and the solutions you can offer. For outbound campaigns, that means asking targeted questions to fully understand what the lead is looking for. The earlier you understand your customers' needs and whether or not they are key decision-makers, the better.
What is a high-quality lead?
A high-quality lead is a lead that is qualified and that needs the solution that you're offering. They could be either the decision maker or someone in close contact with the decision maker. A high-quality lead is a lead that is likely to convert into a paying customer.
How do you generate quality leads?
Using the techniques we described above (cold call and email campaigns, website optimization, content marketing, referral marketing, and free trials) are some of the top ways that you can generate quality leads. Generating the best leads all comes down to qualifying your leads. So think about how you can quickly move past prospects that aren't a good fit for your product and focus on leads with the highest chance of a conversion.
Key Takeaways for Improving SaaS Lead Generation
As you can see, many proven methods exist to improve your SaaS lead generation. Remember, focusing on your business's online presence generates valuable organic growth, and when partnered with a targeted lead generation campaign, you'll see significant growth for your business.
From cold calls and emails to leveraging the power of your customer base and everything in between, UpLead is ready to partner with you on taking your business to the next level.
Start Your 7-Day Free UpLead Trial
Lead generation doesn't have to be all that painful. With UpLead, you can easily connect with high-quality prospects and leads to grow your company.