Are you tired of spending all your time searching for sales leads? Stop spending hours filtering through useless information when you could use accurate list building services instead. Make your sales team more efficient at generating the best leads without paying for expensive agencies.
Want to learn more about using list building services? Keep reading!
Quick Links:
What Is a List Building Service (and Why Should You Use it)?
List building creates a database of people who would benefit from your product or service.
You then use the list of contact info to nurture your potential clients, targeting people who actually care about what you're selling. Learn more about creating a robust B2B list here.
But you don't want to be reaching out to just anyone. Sales teams spend a good portion of their day finding quality leads and hours of internet research trying to find quality contact data.
List building services use automated tools to find valid emails and phone numbers. You can then create and export lists to Excel or your CRM, integrating them into your sales pipeline.
Custom list building services like UpLead use your desired filters to comb through millions of people and leave you with your ideal contacts. They use verified email addresses to keep your email lists safe and out of the spam box.
The best part is that you have more time to reach out to your potential customer base. And this time, you'll reach out to people likely interested in high-quality prospect lists. Learn more about finding sales leads here.
Of course, there are other options. You can build lists by hand, taking up time you could spend reaching out to ideal customers. You can hire an agency to filter through data, but that will cost you lots of money.
Or you could leave it to accurate list building services that do all the work for you — without the hefty price tag.
Best 9 List Building Services You Can Use
Now that you know the benefits of using a custom list building service, you must pick the best software. Here's a list that contains the most common custom list building services, info on how to use them, and their pros and cons.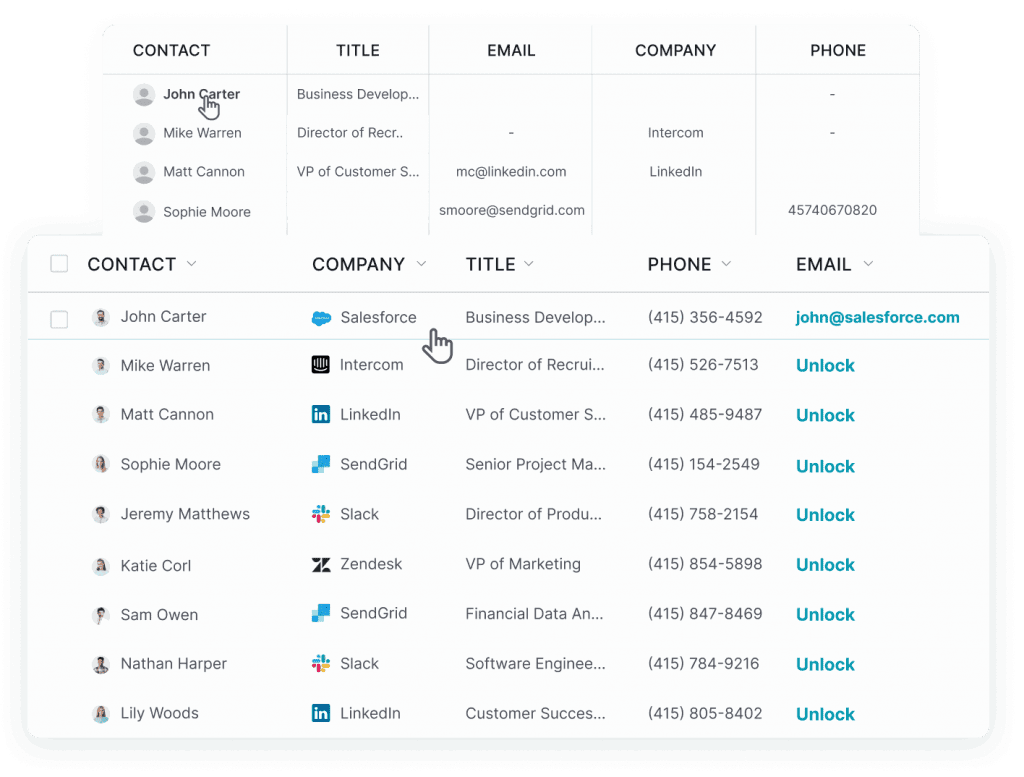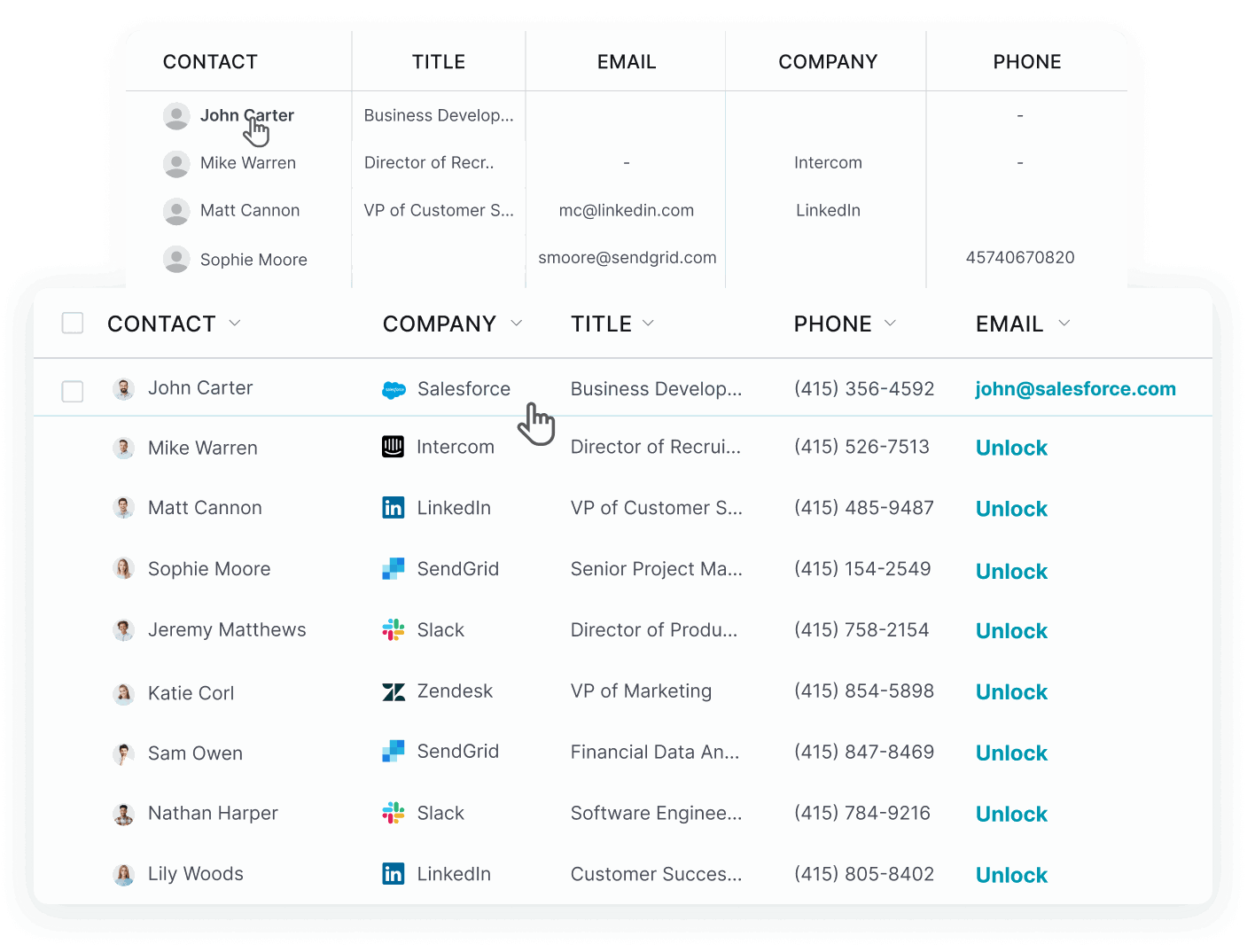 Building a lead list on UpLead is easy. First, you log into UpLead using the free trial. Then you input your search criteria in the left-hand panel. You can refine your search criteria based on job title, location, revenue, and more. You can organize data so the best leads show up first. You can check out which leads are best to contact. Phone numbers are free to access; it takes one credit to unlock emails. Then, when you're ready, export the leads to over 10+ CRMs, including Salesforce and Insightly.
Pros:
Easy-to-use, user-friendly design
Highest accuracy of contact info
Excellent customer support
Cons:
The credit system might not be the right fit for everyone
Start Your 7-Day Free UpLead Trial
Lead generation doesn't have to be all that painful. With UpLead, you can easily connect with high-quality prospects and leads to grow your company.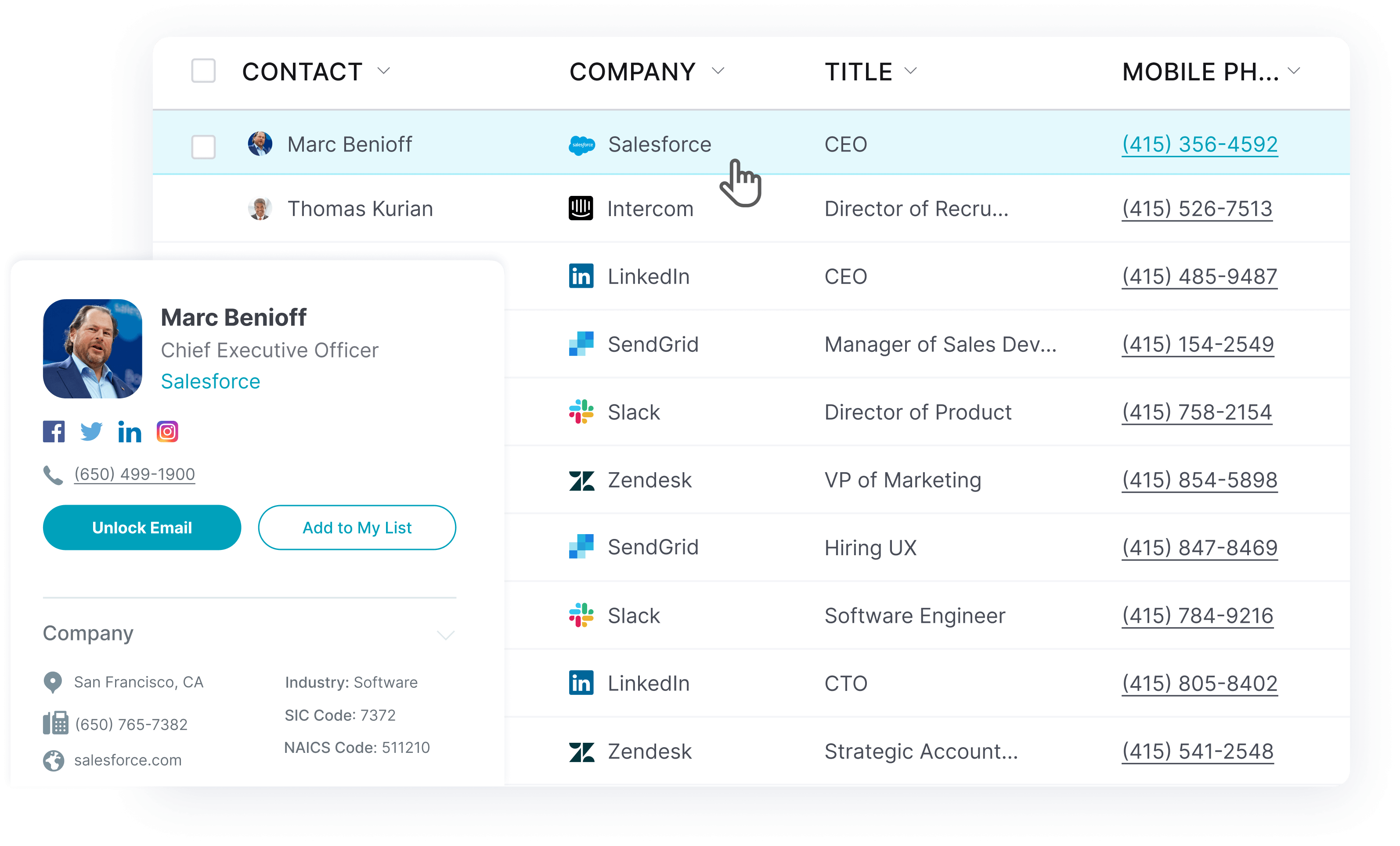 ZoomInfo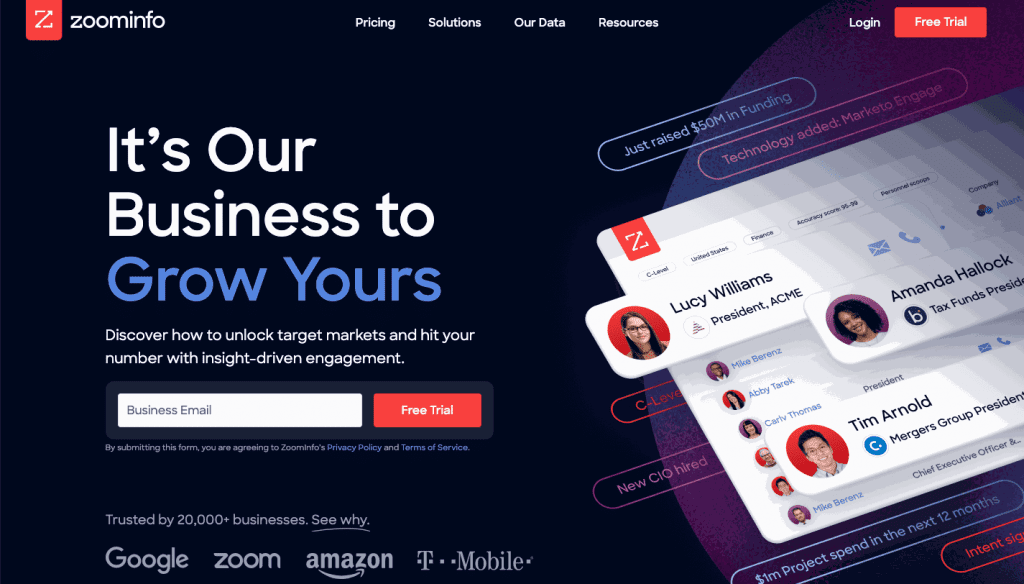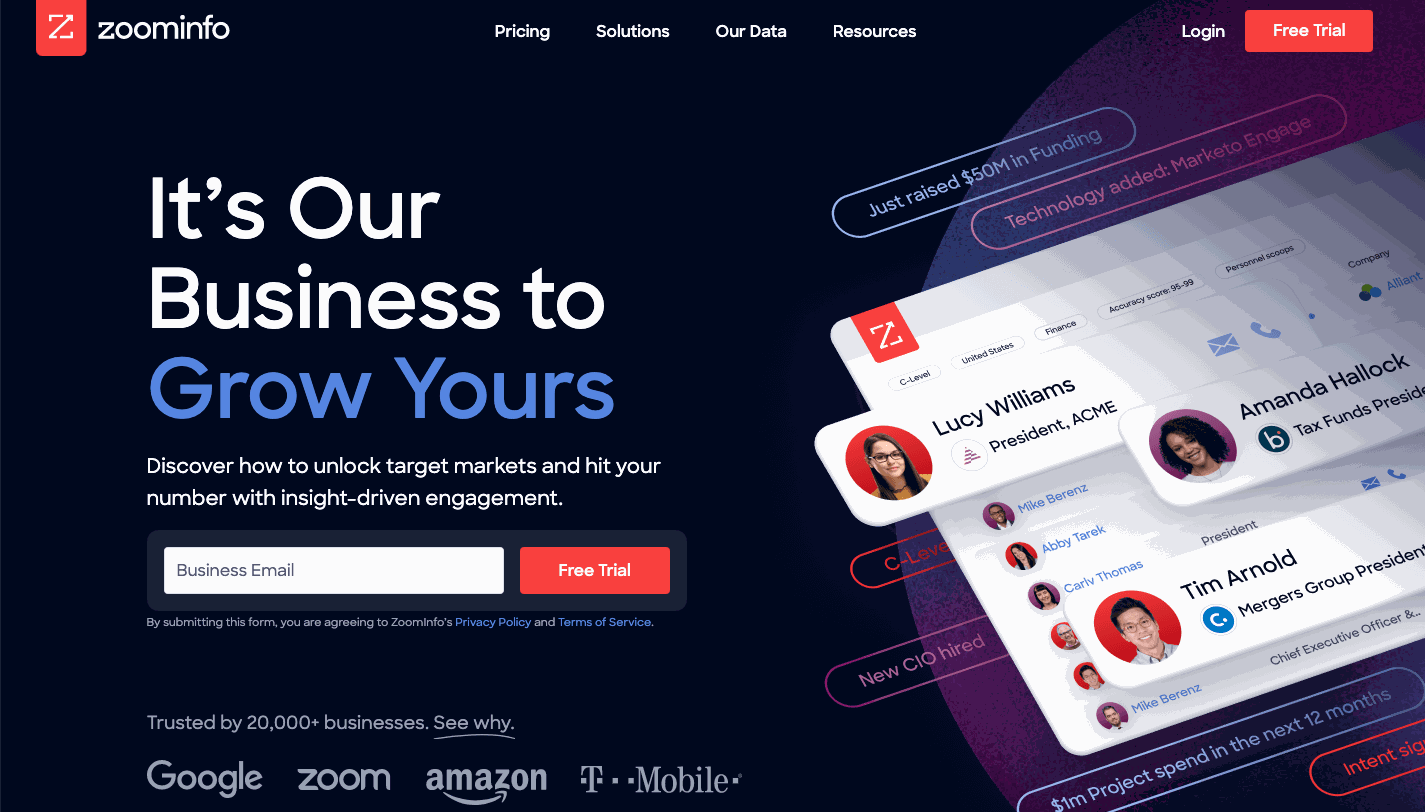 With ZoomInfo, you can search for prospects by name, industry, job title, company, or more. You can filter by location, degree, company size, and other similar details. You can export the leads directly to Salesforce, Hubspot, Outreach, SalesLoft, or Excel.
Pros:
Lots of products and features to choose from
70-80% accuracy
Ability to upload and complete lists of prospects
Cons:
One of the priciest list building services
Customer support is slow and not always helpful
Filters are slow to use
Bonus: Here are the top ZoomInfo competitors in the market.
Crunchbase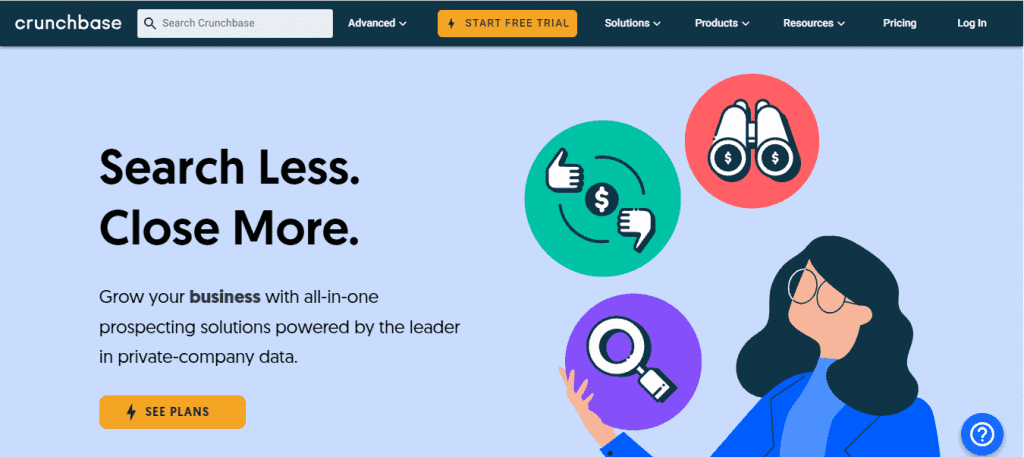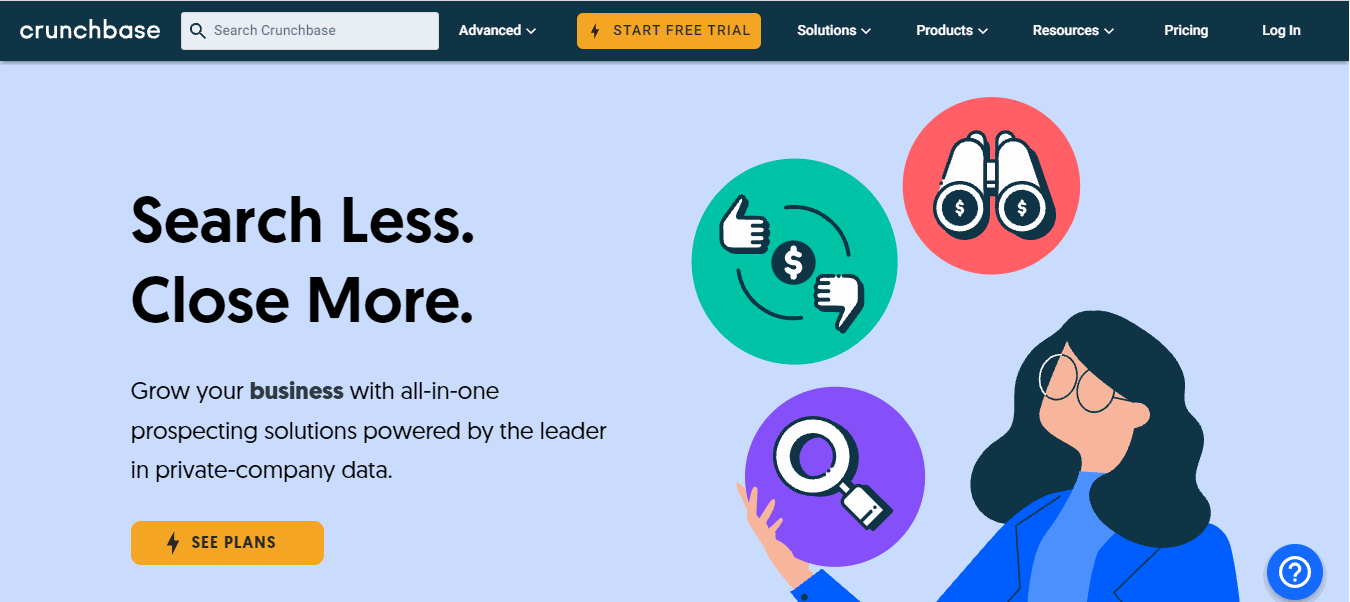 To build a prospect list with Crunchbase, you first need to outline your ideal customer profile. Then you'll run filters. You can find leads with similar backgrounds and filter them to find prospects with the most connections or trending, helping you reach out to the most active, newest companies. You can export the contact data to Excel.
Pros:
Comprehensive business information
Can contact leads within Crunchbase
Cons:
Inaccurate information often must be verified
UX is not designed for mobile
Cannot directly transfer to CRM
AeroLeads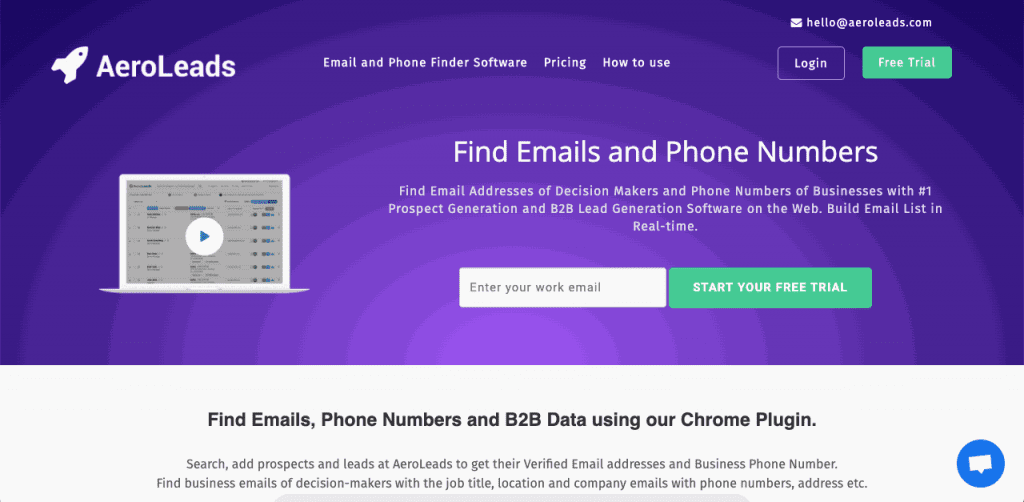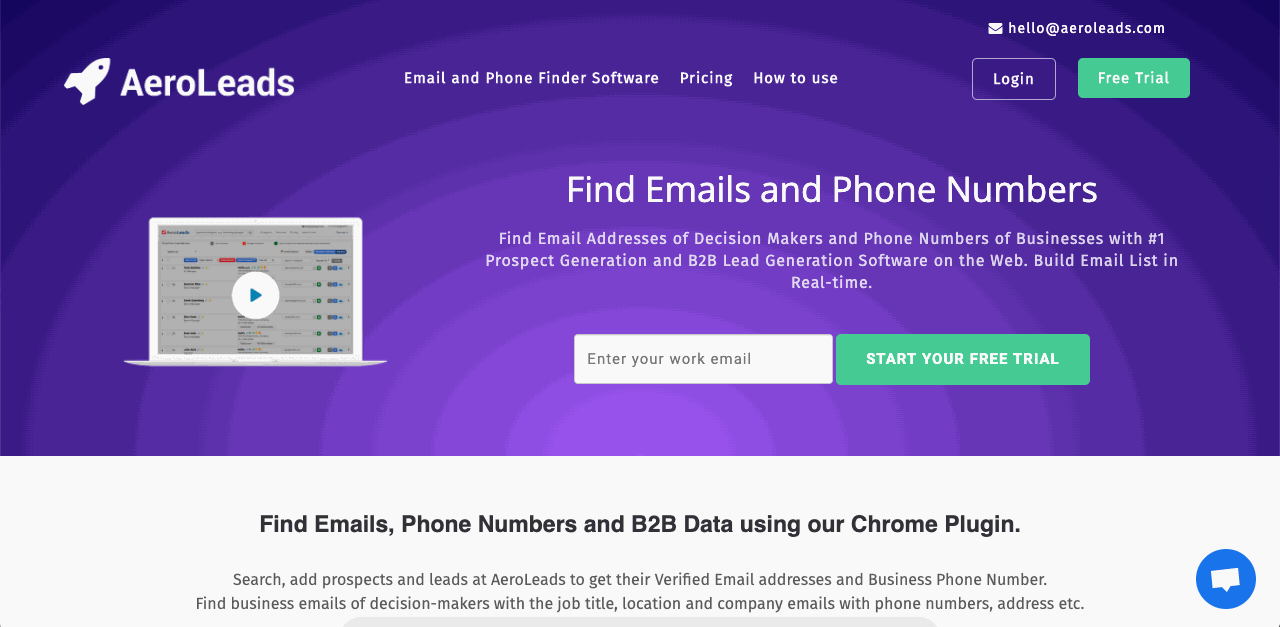 To use Aeroleads, you'll first want to get the free trial and download the Chrome extension. Then you'll go to LinkedIn and search for prospects. Click on the AeroLeads widget to see the prospects and add them to your list. Go to your prospects page on AeroLeads to see email addresses and phone numbers. You can import or export data to CSV or Excel or export to one of many CRMs.
Pros:
Cons:
Old UI and UX interface
Must double-check email accuracy.
Limited by your LinkedIn account type
MarketJoy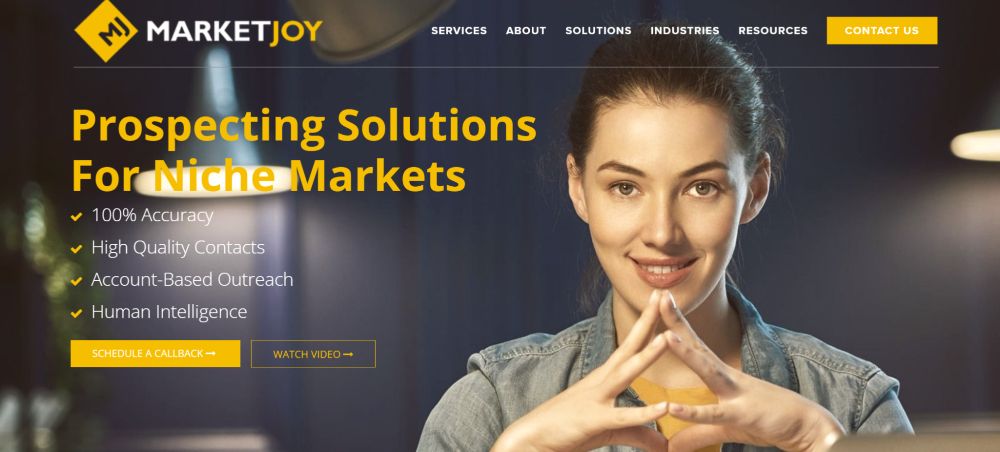 To build your list using MarketJoy, you'll first speak to a real person who will design an outboard program specifically for you. You'll then get a prospect list based on the criteria you give them. Build your list on MarketJoy by searching for prospects by industry, company size, job role, location, demographic, and verified email. You can export all leads to CSV.
Pros:
Excellent customer service
Personalized approach
Cons:
Inaccurate information
Does not use AI
SalesHive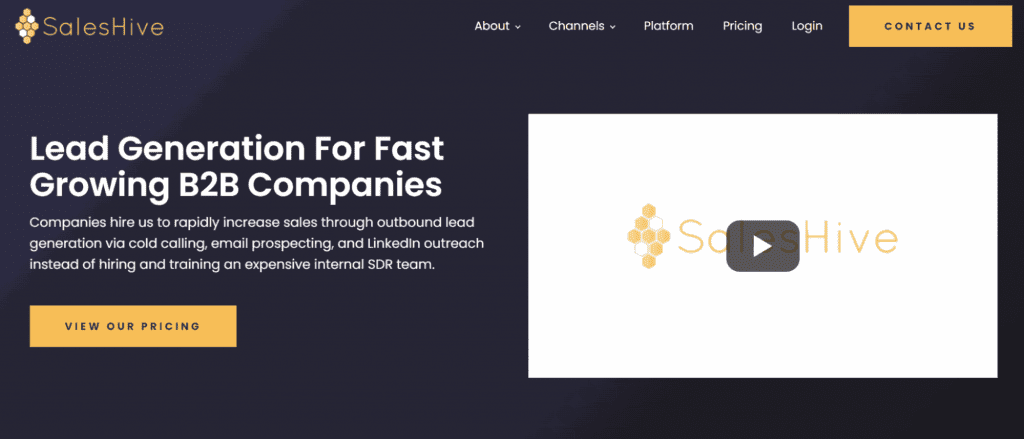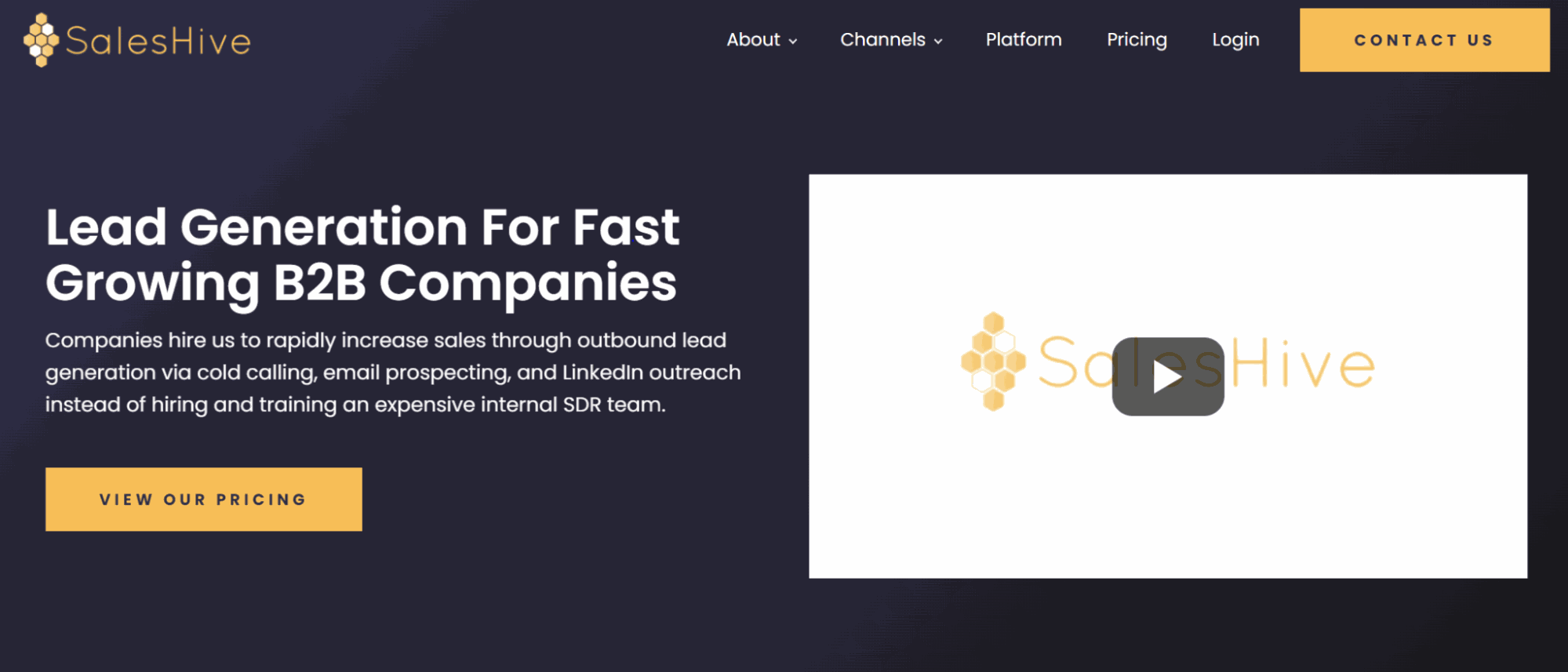 Start building your list with SalesHive by deciding if you want to use cold calling alone or email and LinkedIn. Next, you'll sign a month-to-month contract, complete a client questionnaire, and set up your email domain. SalesHive will search their database for the best leads for your polished emails. You'll be given a list of verified leads and have a weekly consultation with your sales strategist. You can also export lead lists to your CRM or CSV.
Pros:
Monthly contracts
Good customer service
Cons:
Onboarding can take a long time
eGrabber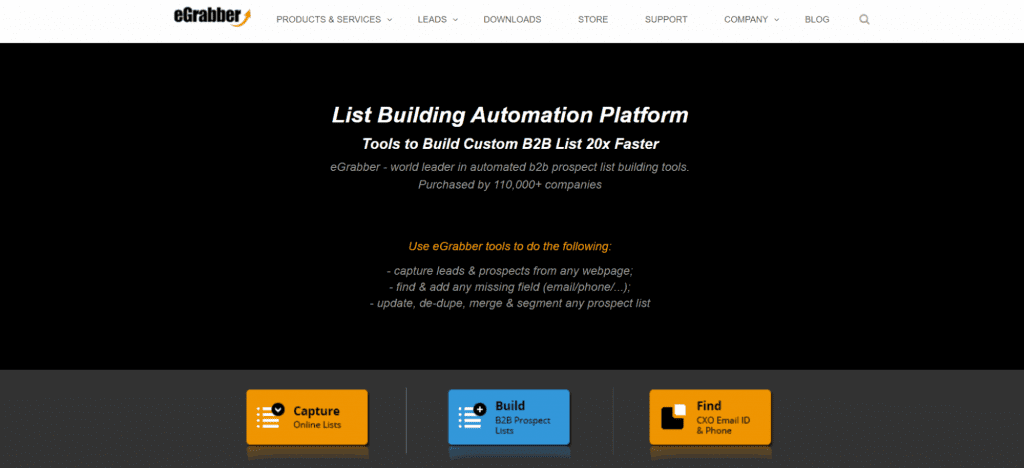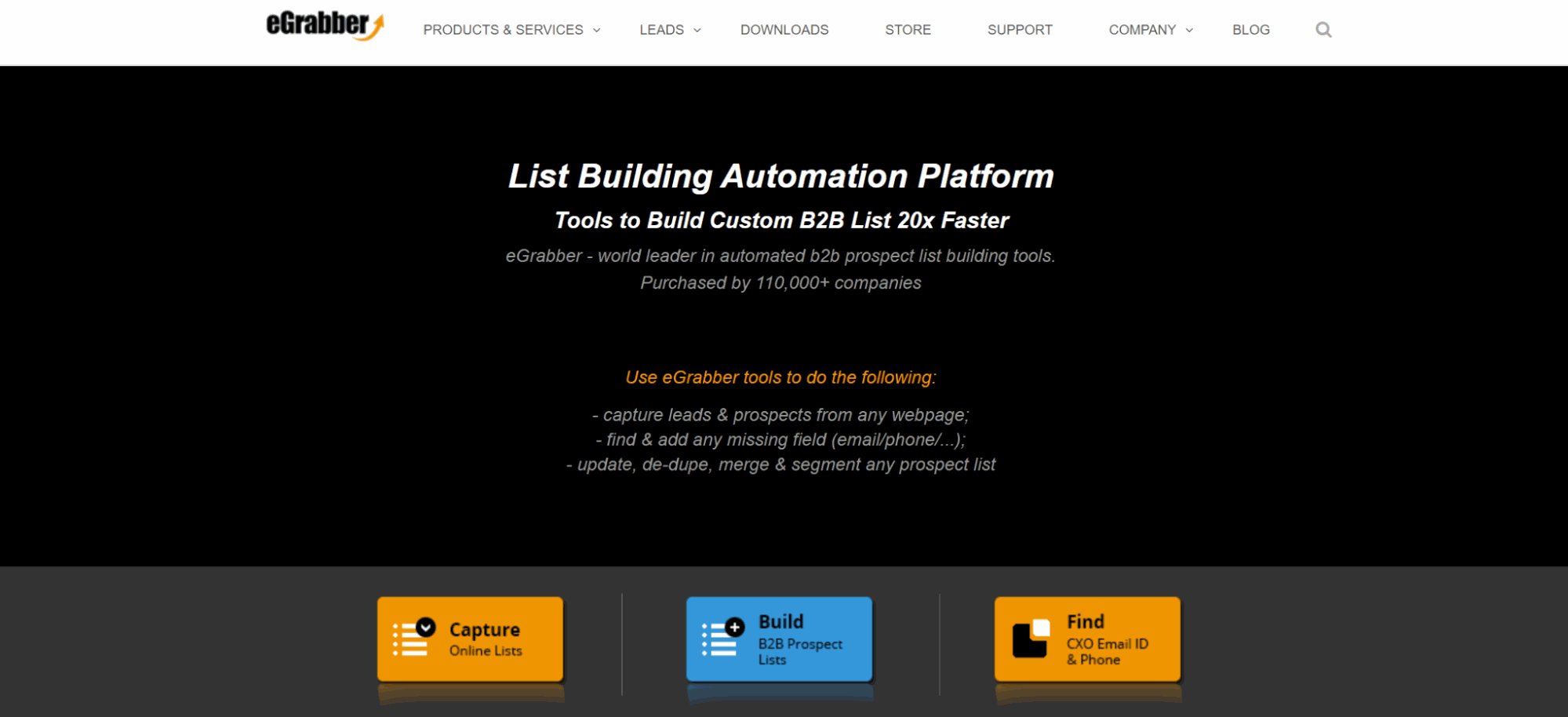 To use eGrabber Pro, you can open your LinkedIn prospect list. eGrabber will then search the web for their business contact data. eGrabber allows you to create a list from LinkedIn groups or directories you are not a member of. Using eGrabber, you can also update old lists with current phone numbers and email addresses. CSV or CRM data export is also available.
Pros:
Cons:
Not great for huge data sets
Outdated UI
InsideView


To build a list in InsideView, you'll first open InsideView Target and click on Build a List. You can search for a person based on their job title, function, or level. You can also filter by location or valid email address or domain. You can edit the filters once the list appears by clicking the plus button. When you're happy with your list, you can export the file to Marketo, Excel, or a CSV file.
Pros:
Good customer support
Integrates directly with CRM
Cons:
Difficult to link to Salesforce
Not great data coverage for Europe
D&B Hoovers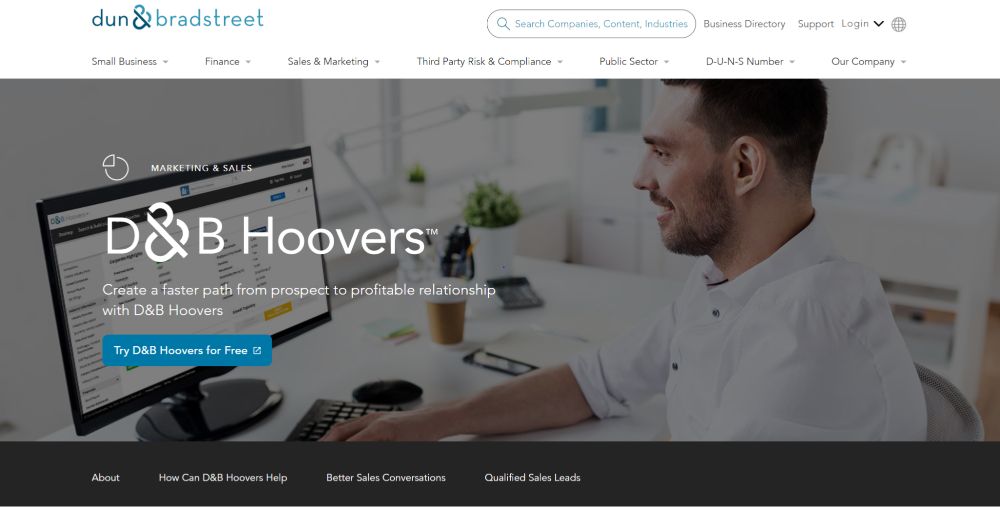 Sign into Dun & Bradstreet Data Cloud. Link your Salesforce account, and D&B will filter through duplicates, find contact information, and highlight bad data. You then have multiple export options to CRMs, CSV files, or PDFs.
Pros:
Links directly to Salesforce
You can search by NAICS codes and Company Family trees
Cons:
FAQ on List Building Services
We've given you a lot of choices, and you probably still have some questions. Luckily, we have answers.
What is a list building service?
A list building service is software that takes hours of research and inaccurate data out of lead generation. You'll be left with a list of leads with accurate contact information ready to be transferred to your CRM. Use it to build awesome email lists, reach out to ideal clients, and filter through outdated info.
What is the best list building service?
What's the point of paying for a list building service if the leads aren't accurate? UpLead verifies the accuracy of your leads in real time and has a 95% accuracy guarantee, unlike any other list-building service on the market. UpLead verifies emails in real time, not every month as other companies do. That means you get the most up-to-date contact information and don't need to filter through prospects without reliable data. This is why we recommend UpLead over its competitors.
Is it legal to use list building services?
List building services use publicly available business-related data and legally accessible databases. List-building services do not provide personal information or contact info. Business contact information is not protected under privacy acts, and as long as you use ethical outreach practices, you're simply making lead generation easier for your sales team.
List building Services: Conclusion
In this world of technology, it sometimes feels like there are too many options for list building. Remember that picking an inaccurate list-building tool will not save you time. You should streamline your lead generation. Pick a platform that works for companies like Google, Amazon, and Microsoft. Choose UpLead.
Start Your 7-Day Free UpLead Trial
Lead generation doesn't have to be all that painful. With UpLead, you can easily connect with high-quality prospects and leads to grow your company.