We know that leads are the basis of your business. That's why we've compiled a list of the best 20 list brokers to help add leads to your sales pipeline.
These list brokers make lead generation easy by helping you find leads that fit within your target audience and at affordable prices.
To make it easy for you, we've also listed their ratings as shown on their G2 profiles at the time of writing this article. Plus, we include the amount you'll have to pay to use each list broker so you'll know exactly which list brokers are the best ones for you.
Let's get started.
Quick Links:
1. UpLead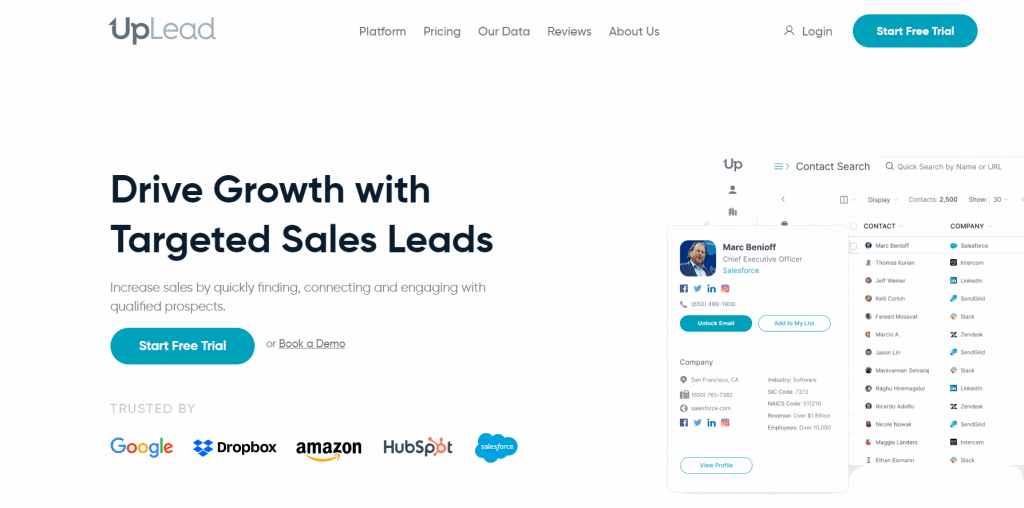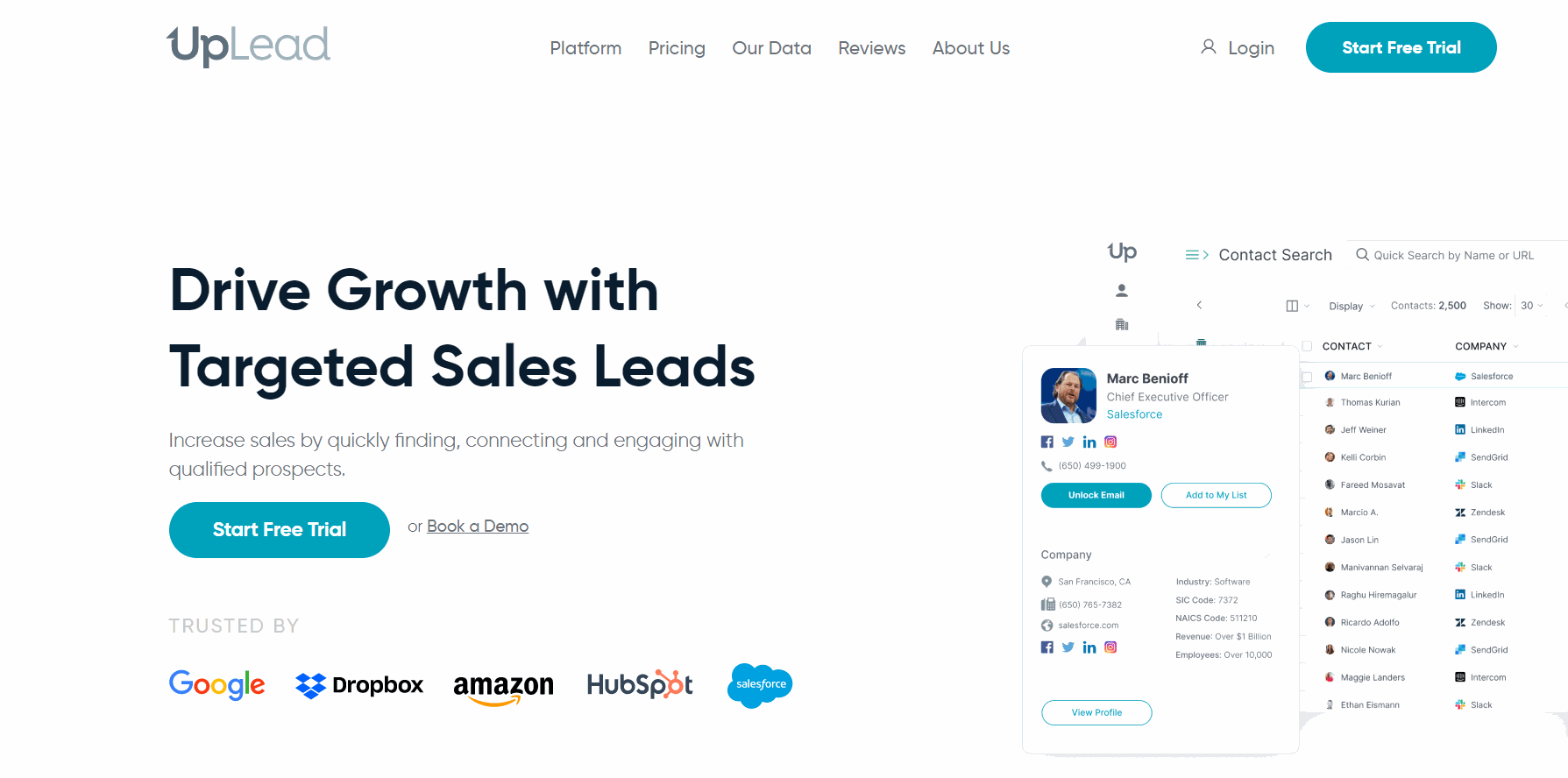 UpLead
is one of the best list brokers on the market. UpLead was created exclusively to help you connect with the right contacts. Unlike several other options listed here, UpLead offers a
95% data accuracy guarantee
. That way, you can know you aren't wasting your time by cold calling numbers and contacting leads that go nowhere.
Finding someone's phone number with UpLead is incredibly simple. You can search through over 108 million profiles of worldwide contacts, filtering through over 50 criteria (such as job title, industry, age, gender, and location) to narrow down your ideal leads among your target audience.
You can search for individual leads to get their contact information or connect your current list to the platform to enrich it with updated records.
You also receive access to UpLead's Chrome extension, which will help you find your lead's phone number and other contact information within your browser, and you can generate leads as you browse through LinkedIn.
UpLead doesn't just give you the right leads with updated information. It shows you the leads with vibrant profiles to flesh out your sales prospects. This makes it easy for your sales reps to get to know them before making contact.
Start your free UpLead trial today.
Pricing: Free trial available with 5 credits. Paid plans begin at $99/month.
G2 Rating: 5/5 stars. Labeled by G2 as one of the Top 50 Products For Marketers. Recipient of the Best Software Award 2021.
Start Your 7-Day Free UpLead Trial
Lead generation doesn't have to be all that painful. With UpLead, you can easily connect with high-quality prospects and leads to grow your company.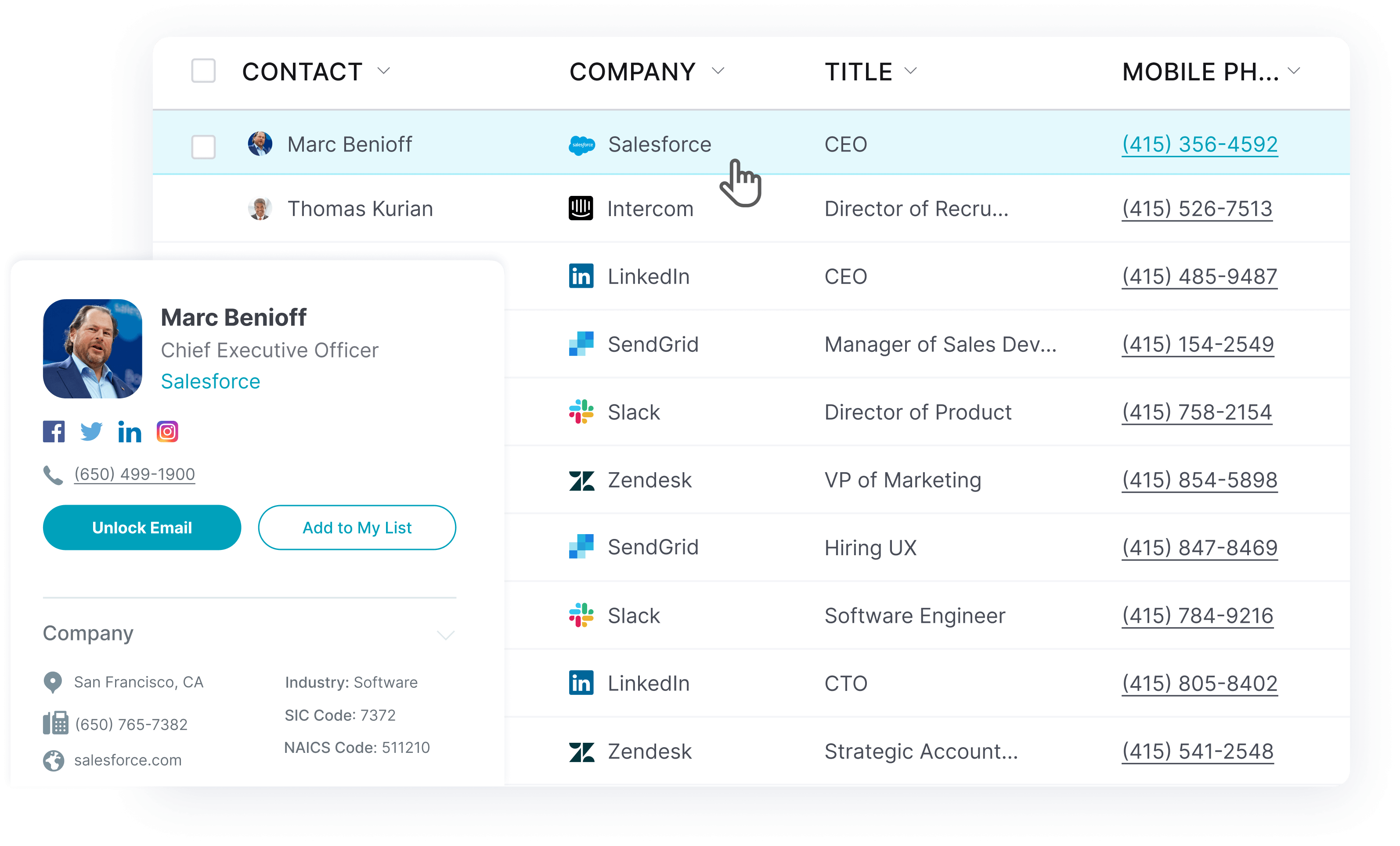 2. Lead411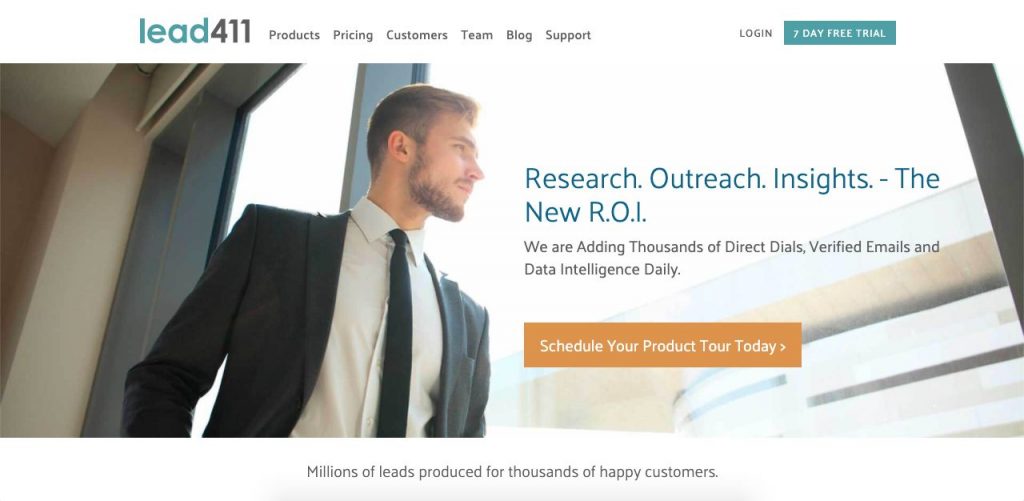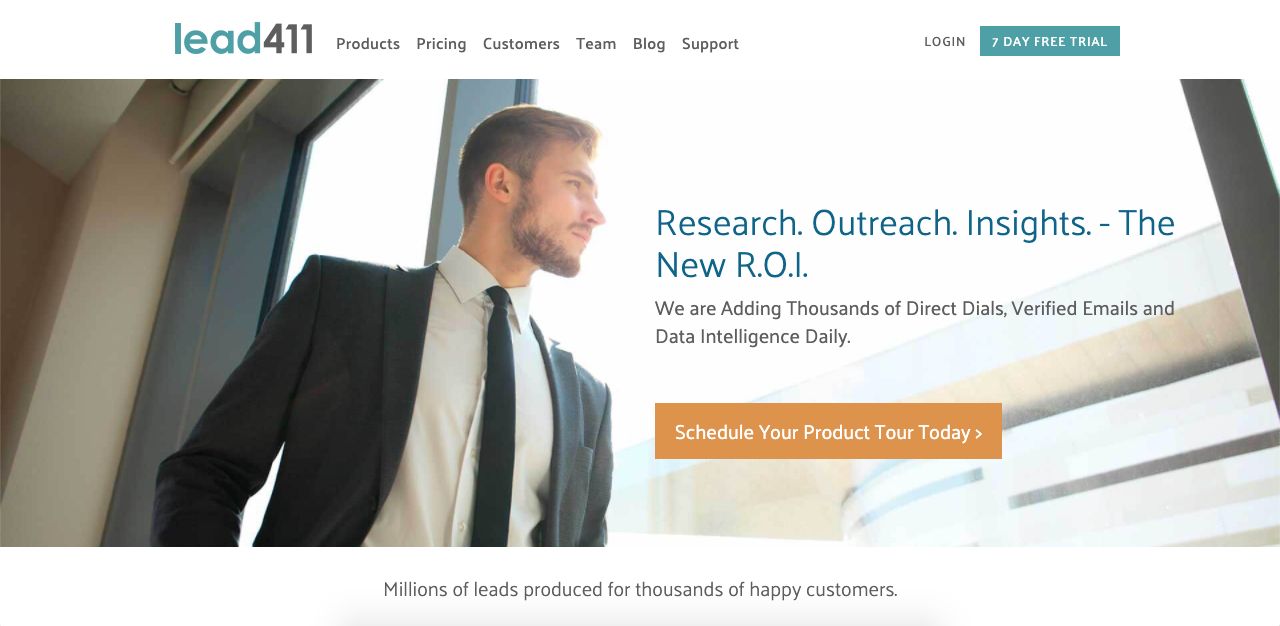 Lead411 is a list broker that focuses on helping B2B clients find the right leads. You can use it to search for lead profiles with your lead's professional background and many other criteria options.
You can also use it to search, find, and download bulk lead information for your marketing strategies.
Pricing: Freemium option with 30 contacts per month. Paid plans start at $37.50 per month.
G2 Rating: 4.5/5 stars.
3. LeadIQ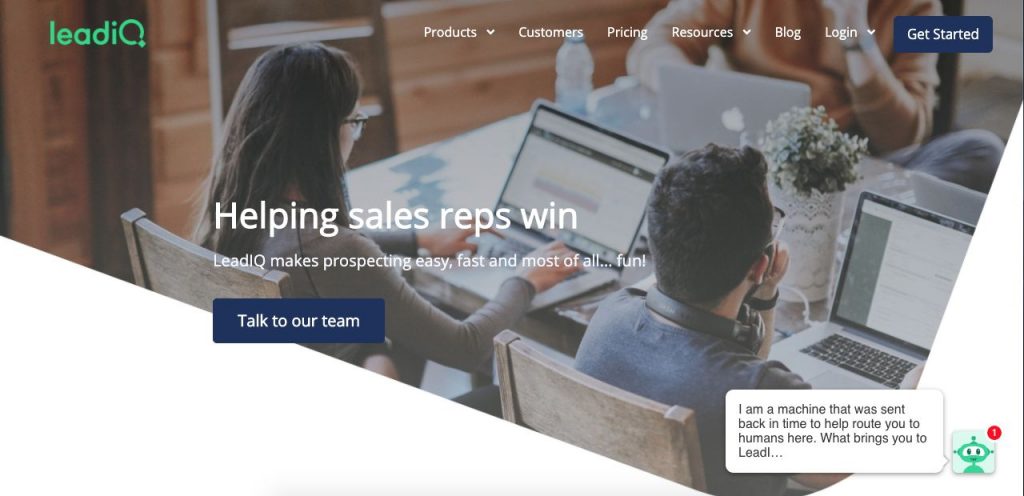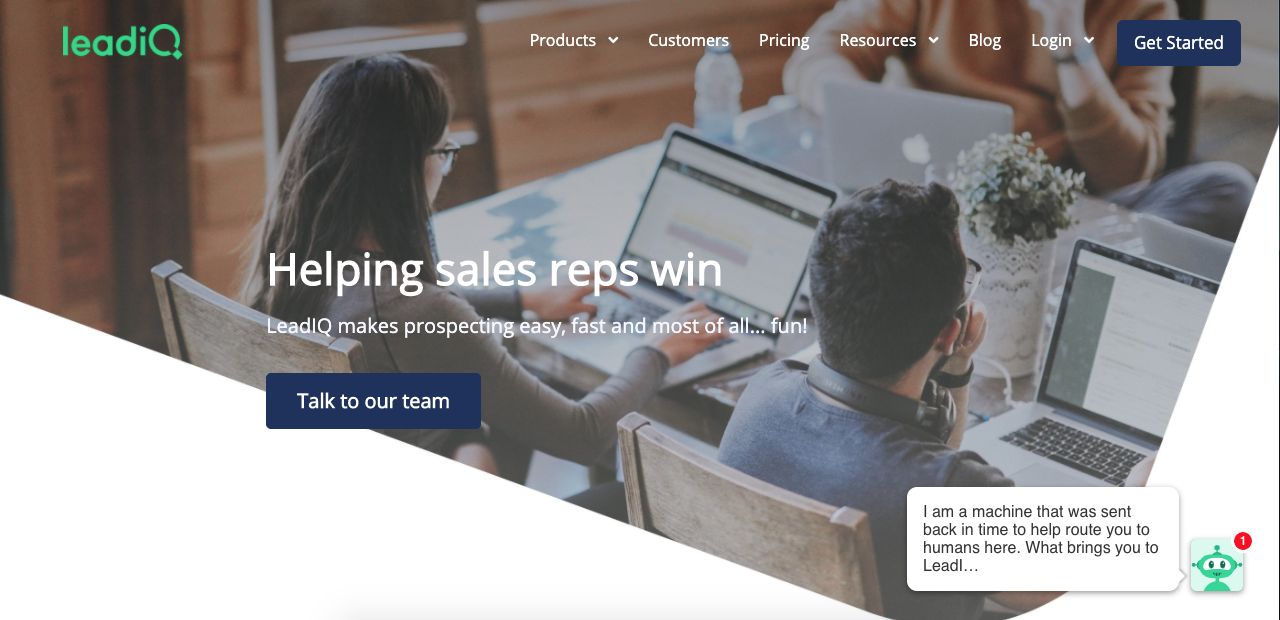 LeadIQ is another list broker option that helps users find leads with its Prospector extension. Users just need to install it and start searching for leads online. You can then use the extension to save your leads and their information directly within your campaigns.
LeadIQ also allows access to its platform with over 100 million contacts with verified emails.
Pricing: No free option. Paid plans start at $75 per user per month ‍with a maximum team size of 3 users.
G2 Rating: 4/5 stars.
4. Clearbit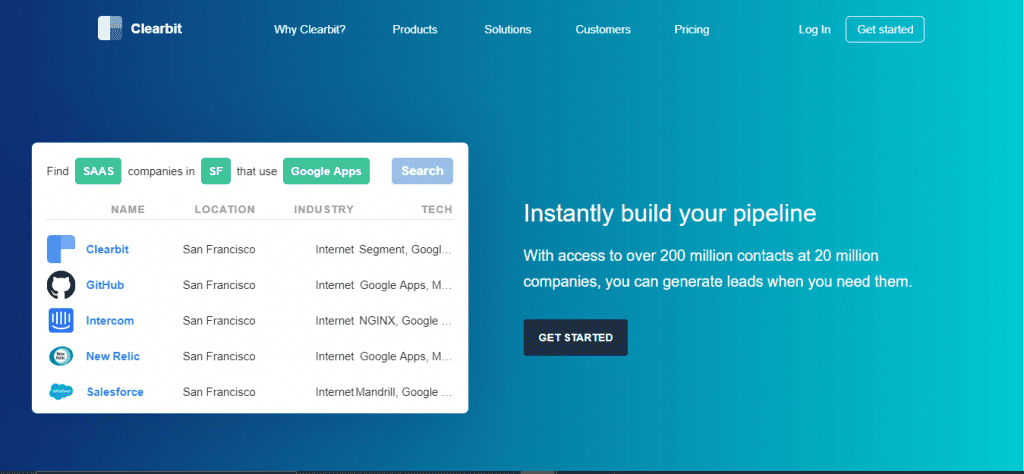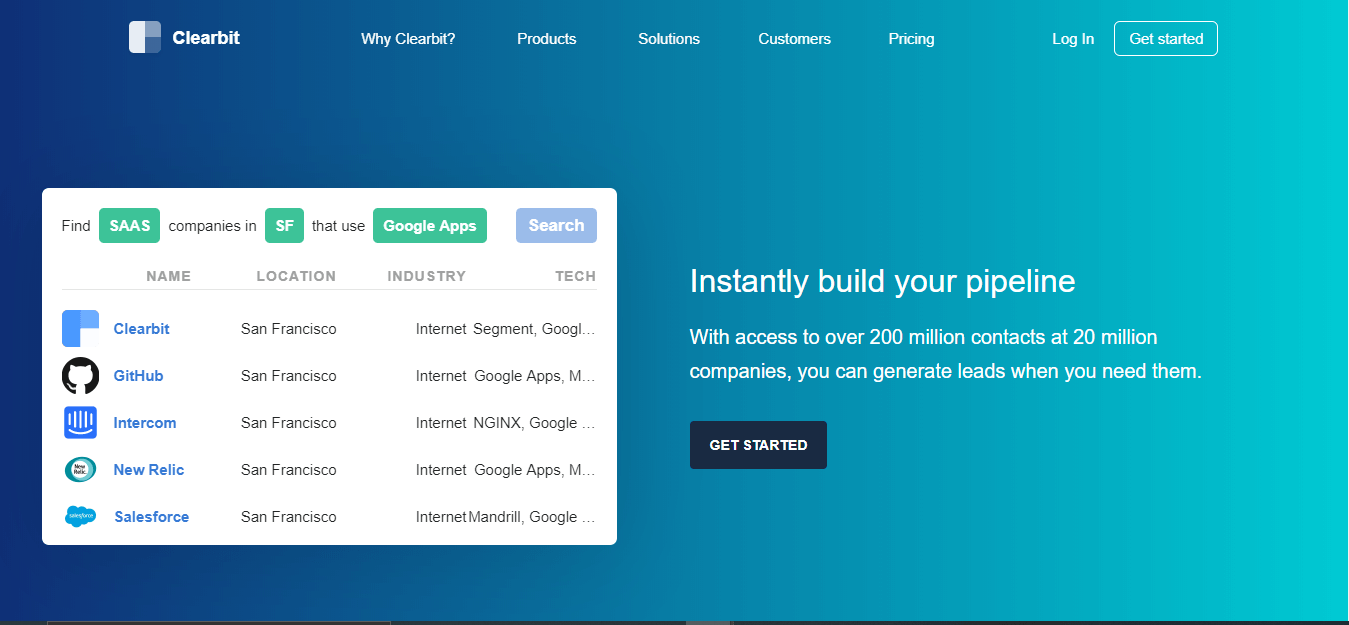 Clearbit's Prospector tool gives users access to over 200 million contacts from 20 million companies. Users can browse through them by filtering, using over 100 data points. The tool also integrates with Salesforce, Marketo, and Segment.
Although somewhat pricey, this tool will likely work best for large companies, especially if they're already using the rest of the Clearbit platform. UpLead is the best Clearbit alternative.
Pricing: Clearbit doesn't list any pricing online. You have to contact them to get a custom price plan for your company.
G2 Rating: 3.7/5 stars.
5. LinkedIn Sales Navigator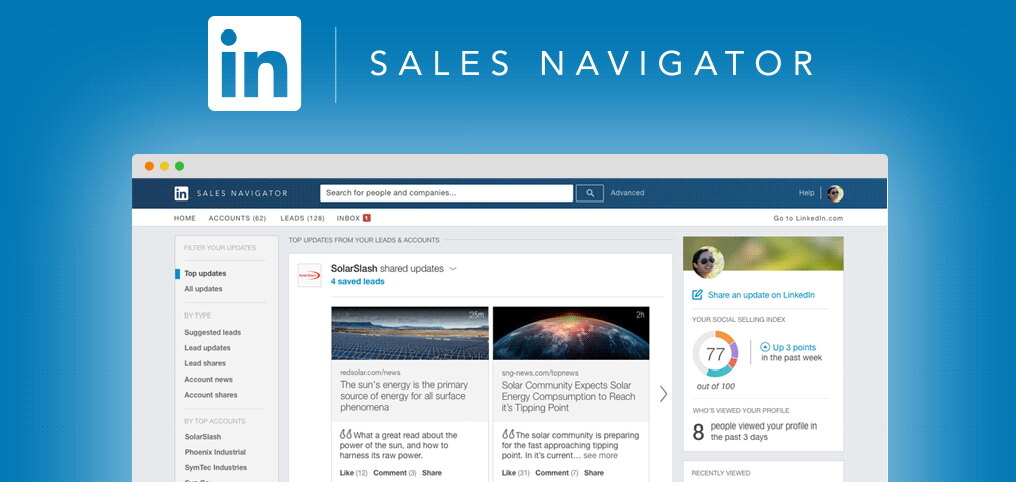 LinkedIn Sales Navigator allows you to find leads through LinkedIn's database. With it, you can identify qualified leads among your target audience, filtering by their registered company, job position, and the rest of their LinkedIn profile information. This tool is obviously limited by the users' LinkedIn presence and constant updates.
LinkedIn Sales Navigator is a good fit if you're already using LinkedIn and want to connect it to your CRM and generate leads.
Pricing: No free option, paid tiers starting at 64.99 per month.
G2 Rating: 4.2/5 stars.
6. Find That Email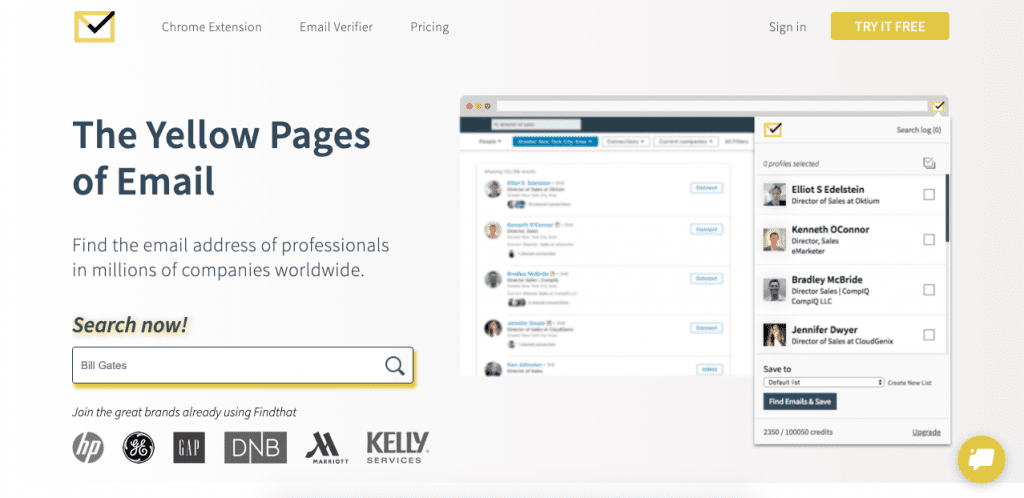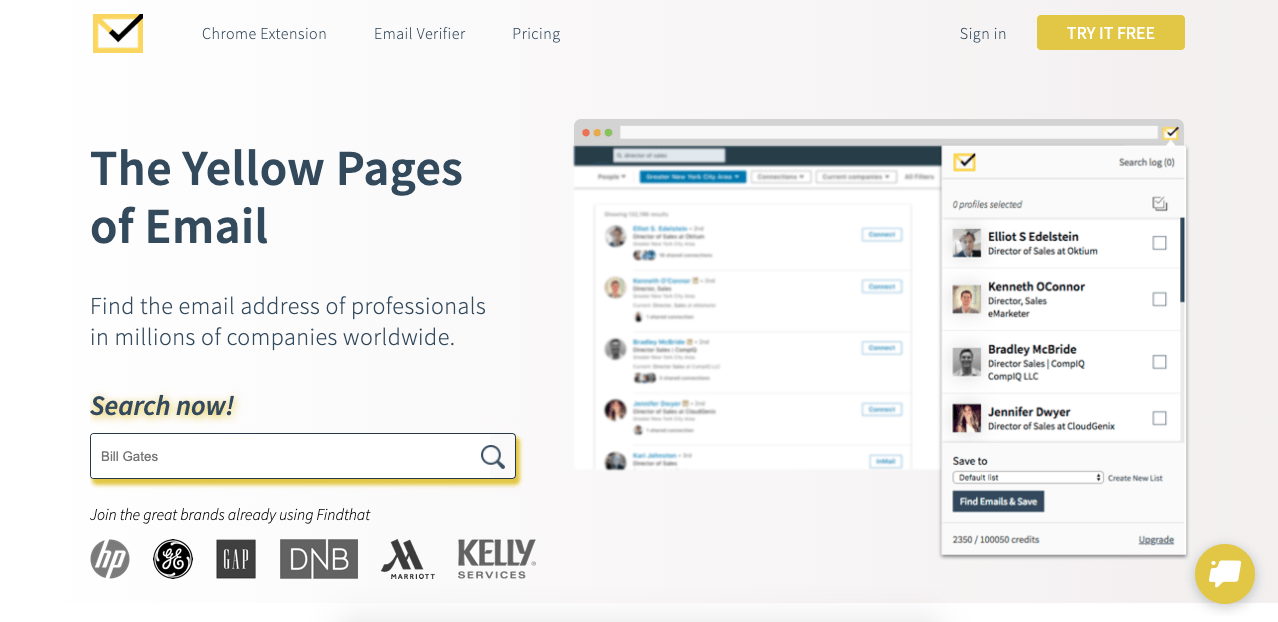 Self-labeled as "the yellow pages of the internet," Find That Email is a list broker focused on letting users look up email addresses. The tool then ranks its results by confidence, showing you the information that's most likely to be accurate. 
You can also use Find That Email as an email verification tool.
Pricing: Freemium option with 50 credits per month. Premium tiers start at $29.
G2 Rating: 4.5/5 stars.
7. Anymail finder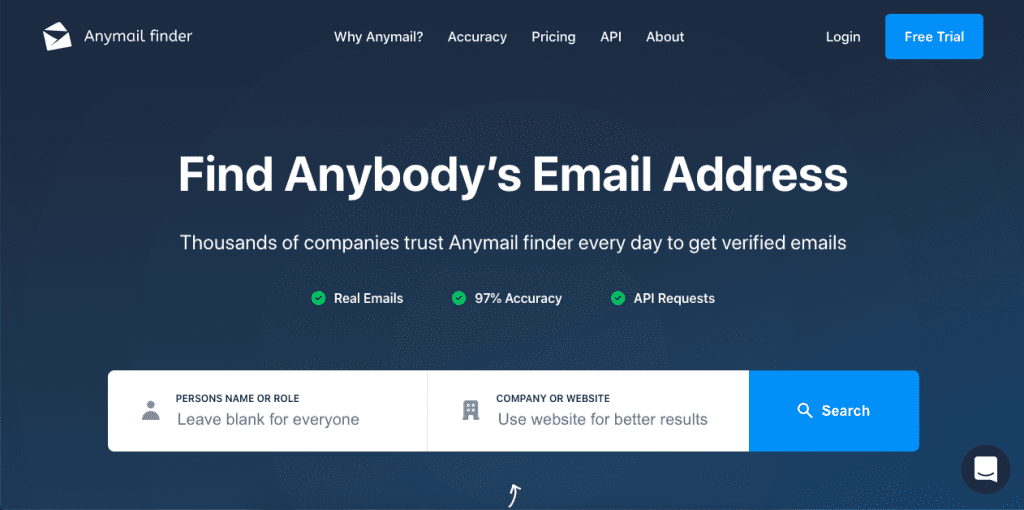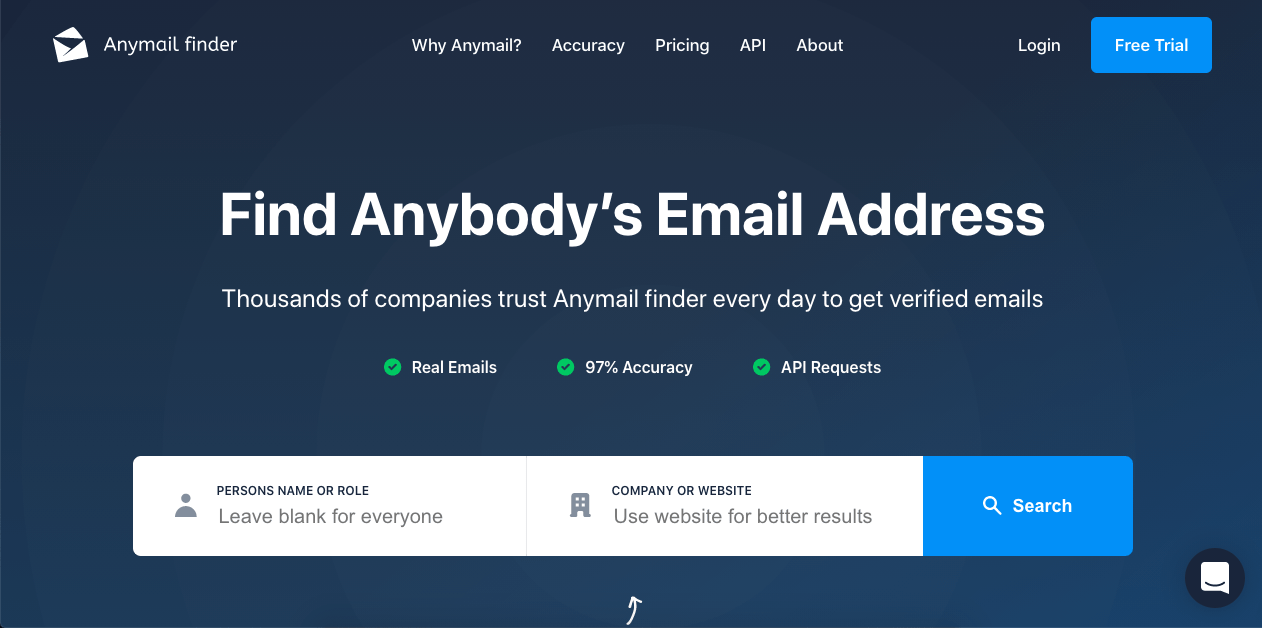 Another list broker made to find leads' emails is Anymail Finder. The tool has a simple interface and offers free lookups out of the box.
Users can also use the tool to search in bulk through billions of websites. Once they find what they're looking for, the user will only pay for email addresses that the tool can verify.
Pricing: Free trial with up to 90 verified email addresses. Paid tiers start at $49 for 1,000 emails.
G2 Rating: 2/5 stars.
8. LeadFuze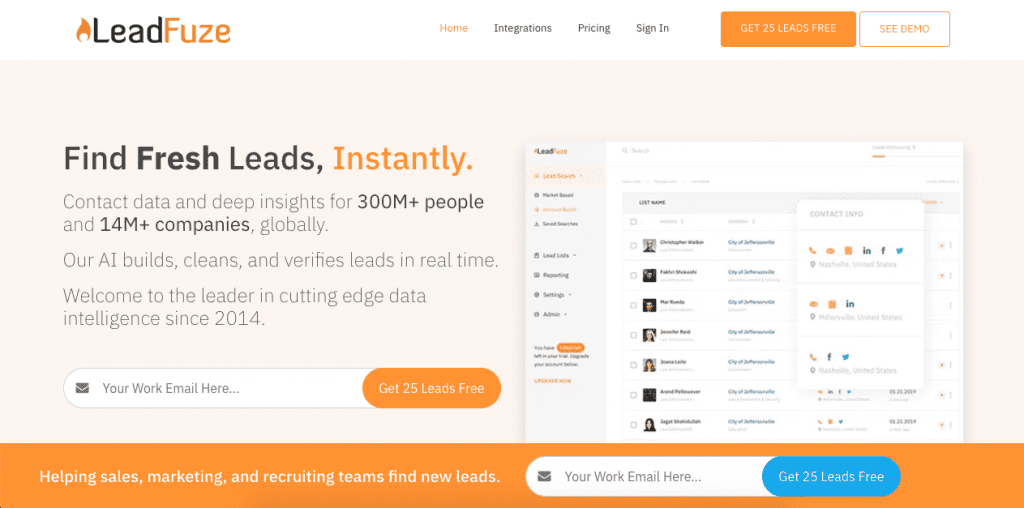 LeadFuze is a list broker in the form of a Chrome extension. With it, users can find profiles and contact information about their leads.
The platform can also be used for email creation, drip campaigns, and email tracking. Although somewhat expensive for a list broker, LeadFuze may be a good fit for users looking to find email addresses and send emails through one platform.
Pricing: First 25 lookups are free. Paid plans start at $397 per month for 1,000 searches.
G2 Rating: 4.7/5 stars.
9. Snovio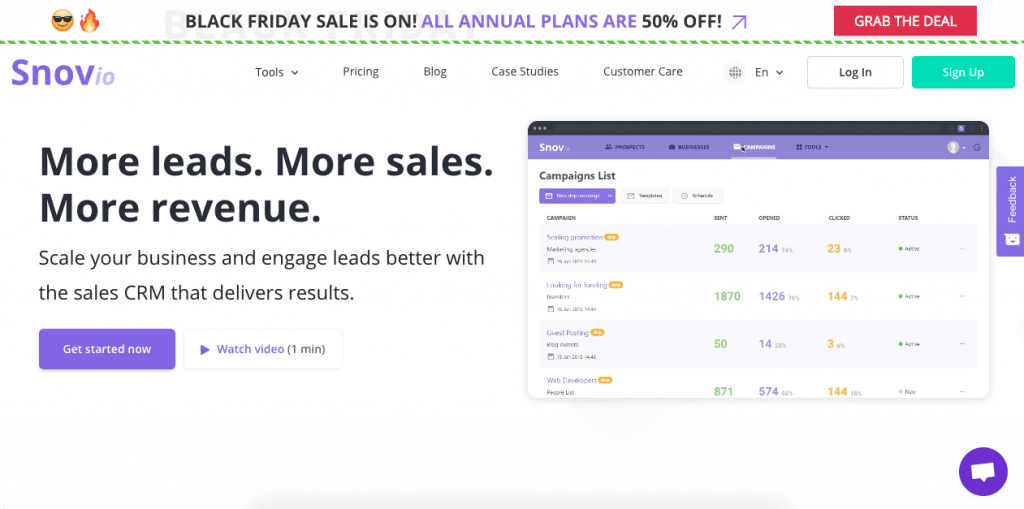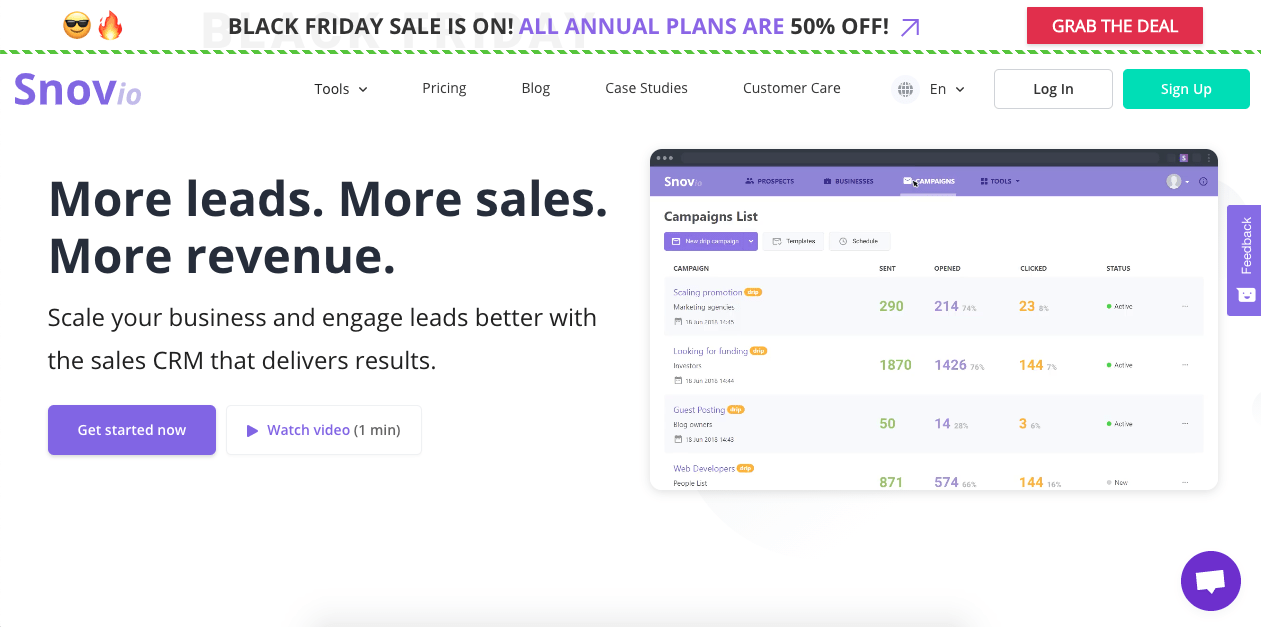 Snovio is a simple list broker focused on helping users find all email addresses associated with one person. Once the user has found them, the tool also verifies them automatically.
The UI is simple and easy to use, and the pricing is flexible, making it attractive for users who may want a few leads every month. However, the search credits come with expiration dates, so users must use them as soon as possible or risk losing them. Here's a solid snov.io alternative.
Pricing: Freemium version offers 100 free searches per month. Paid plans range from $19 to $139 per month.
G2 Rating: 4.5/5 stars.
10. Datanyze Insider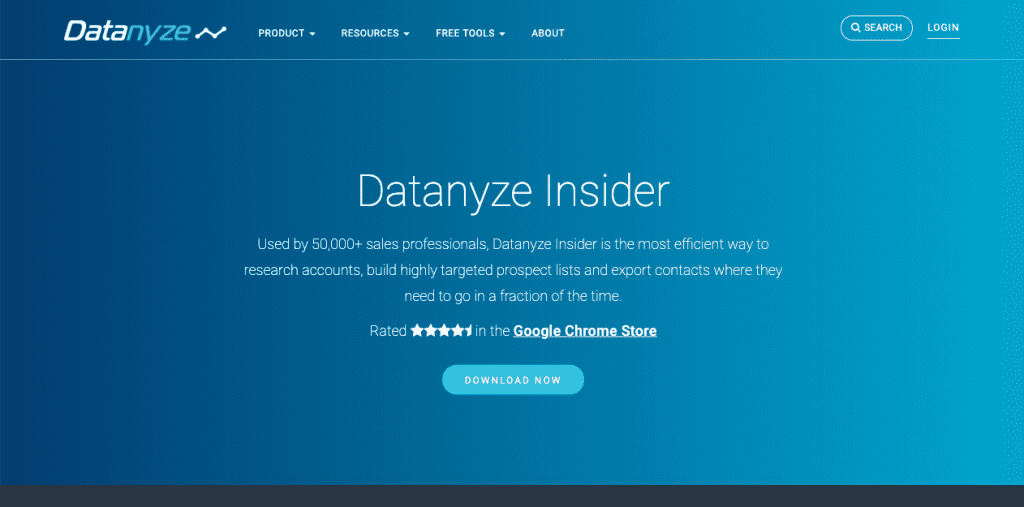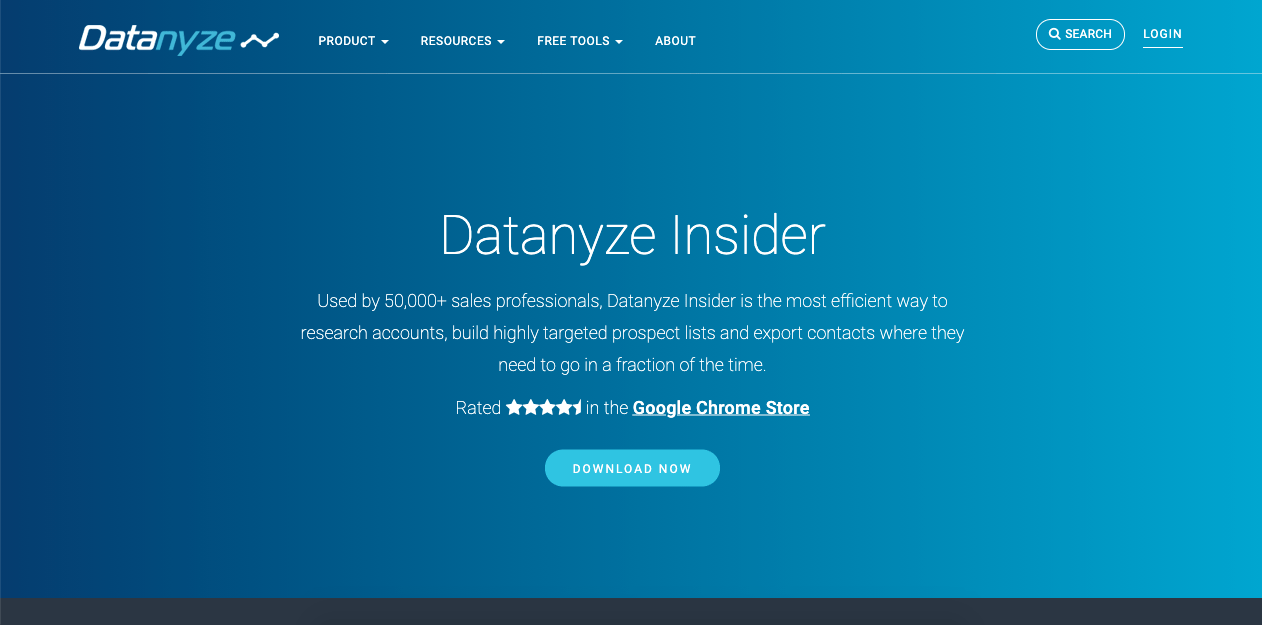 Datanyze offers a browser plugin to allow users to look up email addresses when they highlight someone's name wherever it appears online. It then searches the web and finds the email address that most likely belongs to the highlighted user.
The tool is very simple but somewhat limited. Although it may not be an efficient list broker, it can be a good fit for users looking to supplement their lead generation tools if they don't mind paying extra for it.
Pricing: 10 credits per month for free. Paid pricing starts at $55 for another 90 credits per month.
G2 Rating: 4/5 stars.
11. ContactOut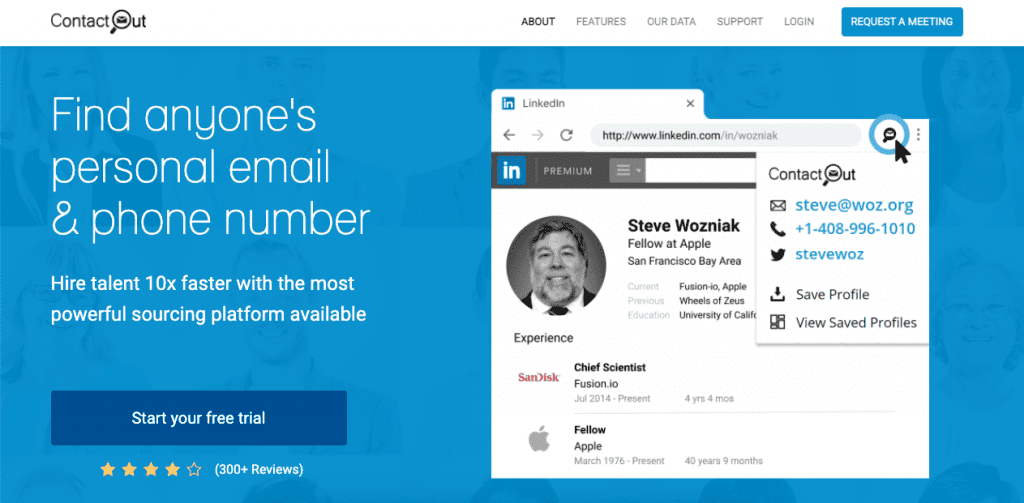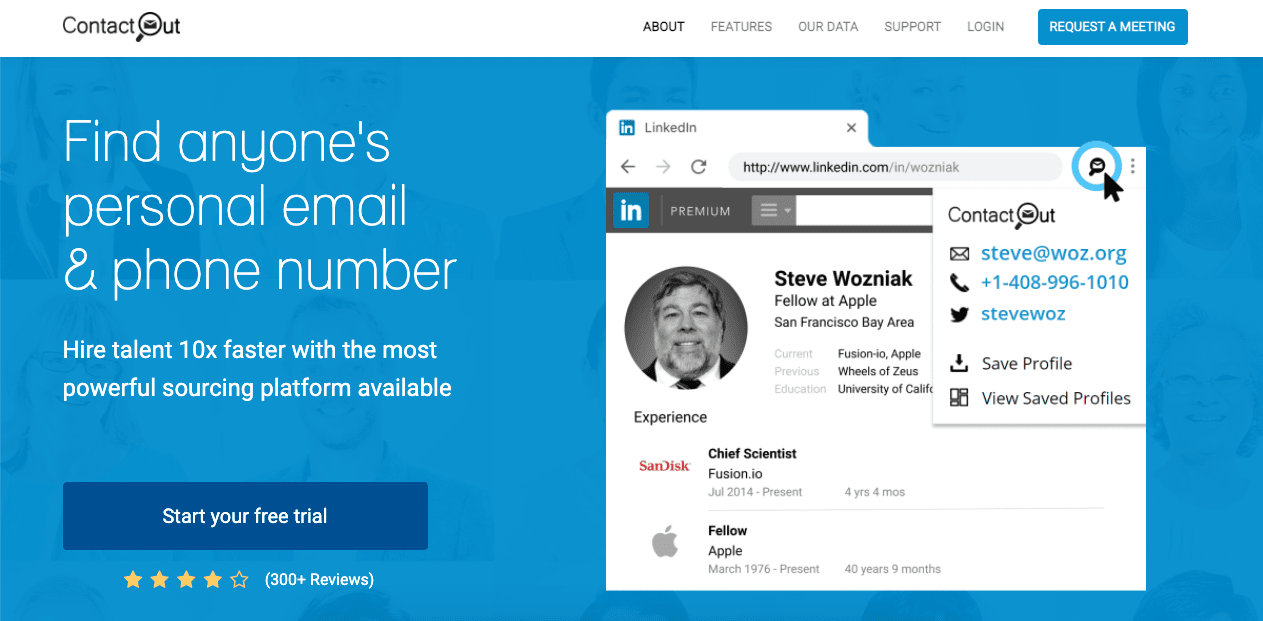 ContactOut is a list broker focused on helping recruitment teams find people's contact information to hire talent.
The tool offers a Chrome extension that works as users browse through LinkedIn profiles. The platform claims a 97% email address accuracy and gives users 100 search credits to try the platform for free.
Pricing: No free price, with pricing starting at $39 per month per user.
G2 Rating: 4.3/5 stars.
12. LeadGibbon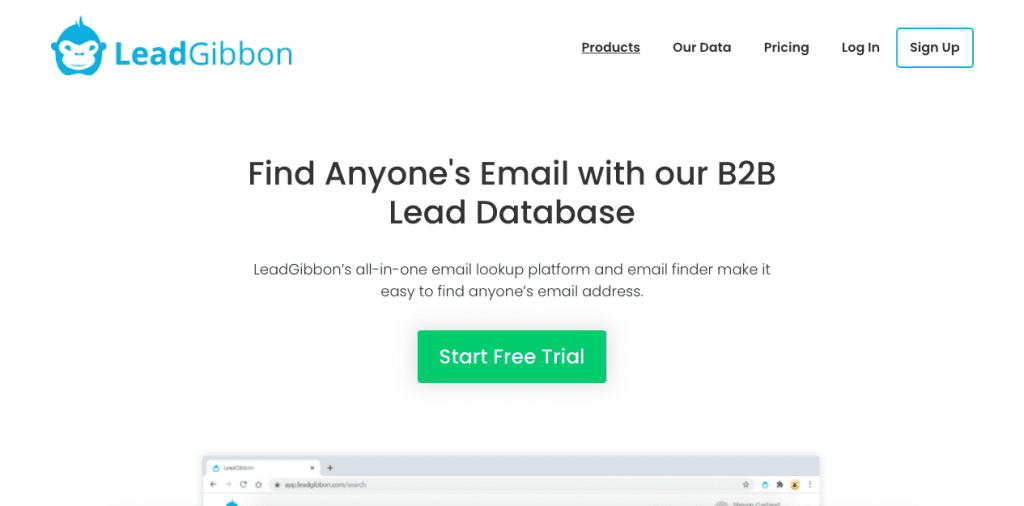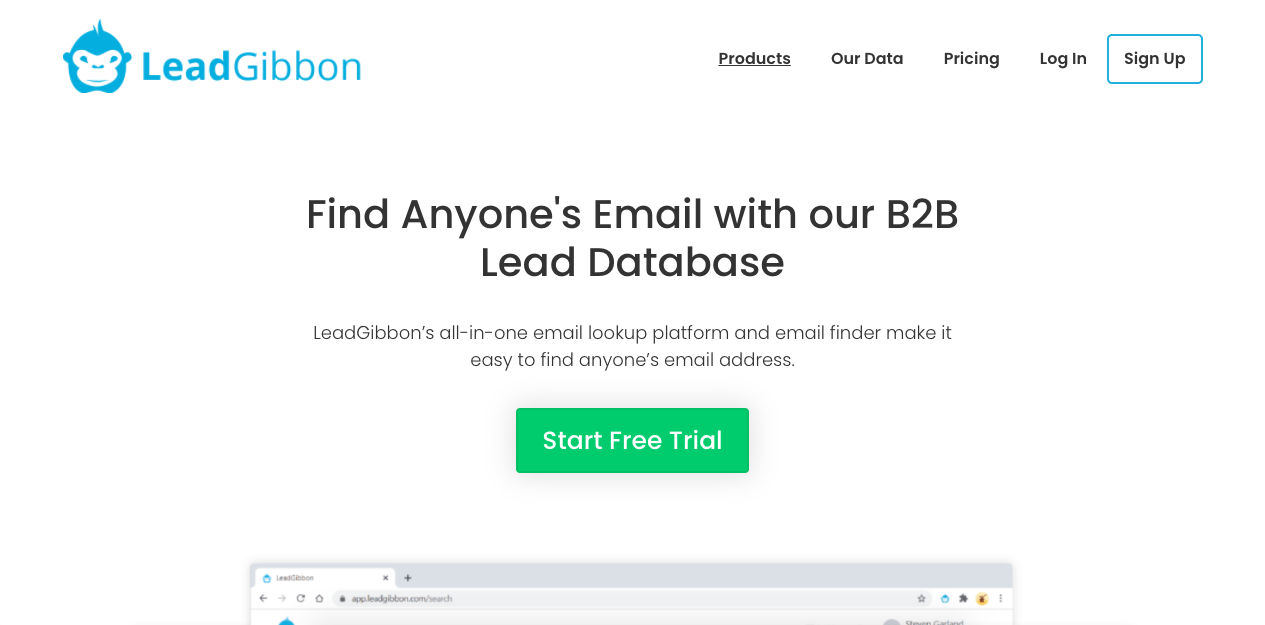 LeadGibbon is a list broker focused on helping B2B companies find their leads' email addresses and profile information. It also includes an extensive database for users to search through.
The platform stores and offers clients lead information such as names, titles, industry, location, and more along with contact information. This is especially useful regarding local needs, like when looking for Real Estate leads. It also claims to have up to a 99% match accuracy and offers multiple integrations with common lead management platforms and CRMs.
Pricing: Free trial for 5 leads for free. Paid plans start at $15 for 50 export credits.
G2 Rating: 4.7/5 stars.
13. LeadBoxer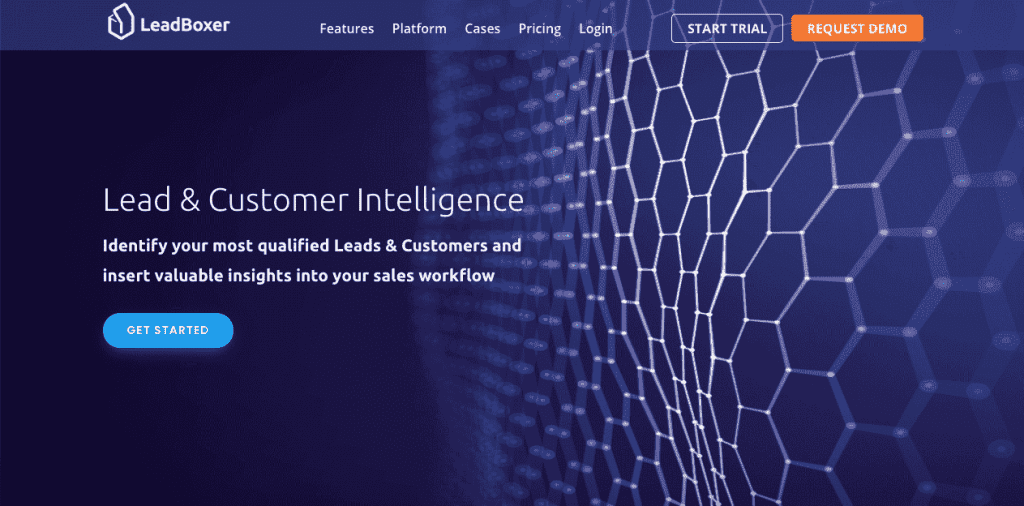 LeadBoxer is a list broker with surprisingly powerful capabilities to search, find, and convert leads. This platform is GDPR-compliant and allows users to filter their email lists, qualify emails, and easily identify potential customers.
A LeadBoxer mobile app also allows users to receive updates and notifications triggered by specific customer interactions.
Although the platform is more far-reaching than other platforms, it's also somewhat more difficult to get used to, with a higher learning curve than average when it comes to taking advantage of all features.
Pricing: No free plan. Paid plans start at $195 per month when billed annually.
G2 Rating: 4/5 stars.
14. Lusha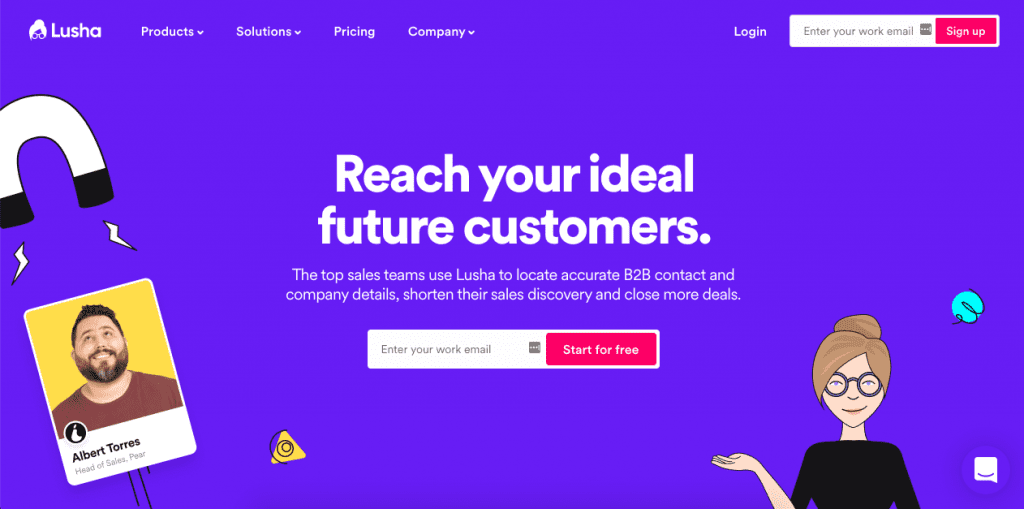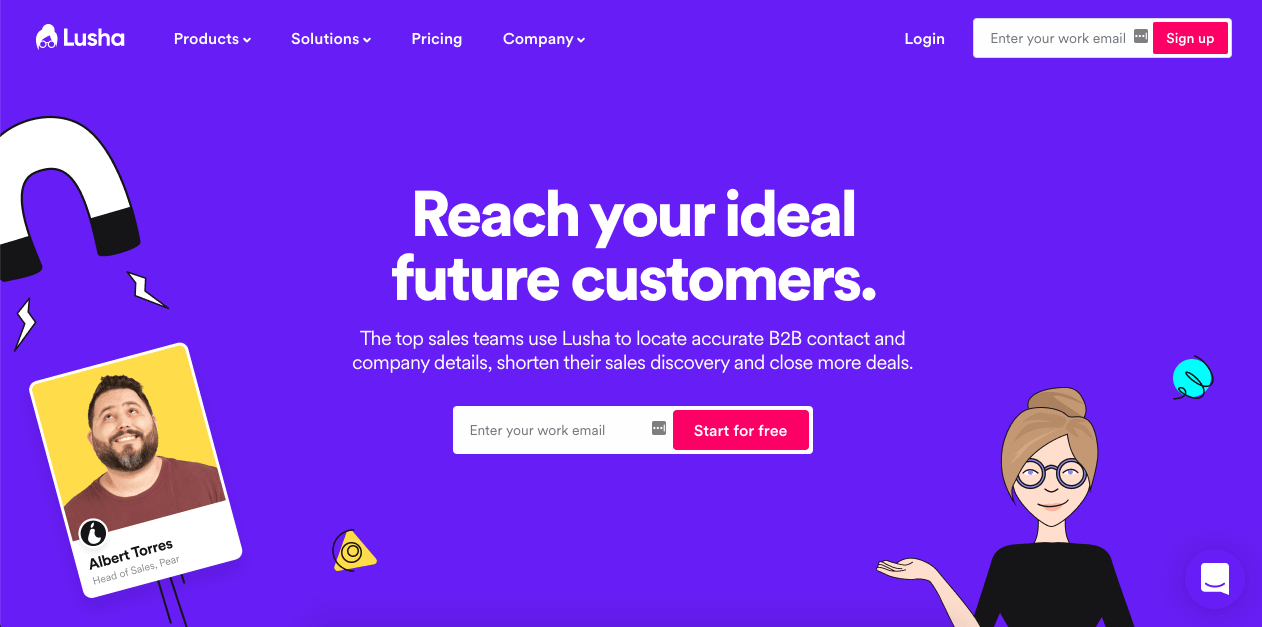 Lusha is a vibrant and popular list broker designed to help users find leads' email addresses and even phone numbers.
Its UI is attractive and easy to use, and the platform integrates with Salesforce, LinkedIn, and Twitter, with an API to integrate it with the tool you're already using. The platform also allows users to find personal emails, not just professional ones. Uplead is a solid Lusha alternative.
Pricing: Free account offers 5 searches per month. Professional pricing starts at $25.
G2 Rating: 4.3/5 stars.
15. SellHack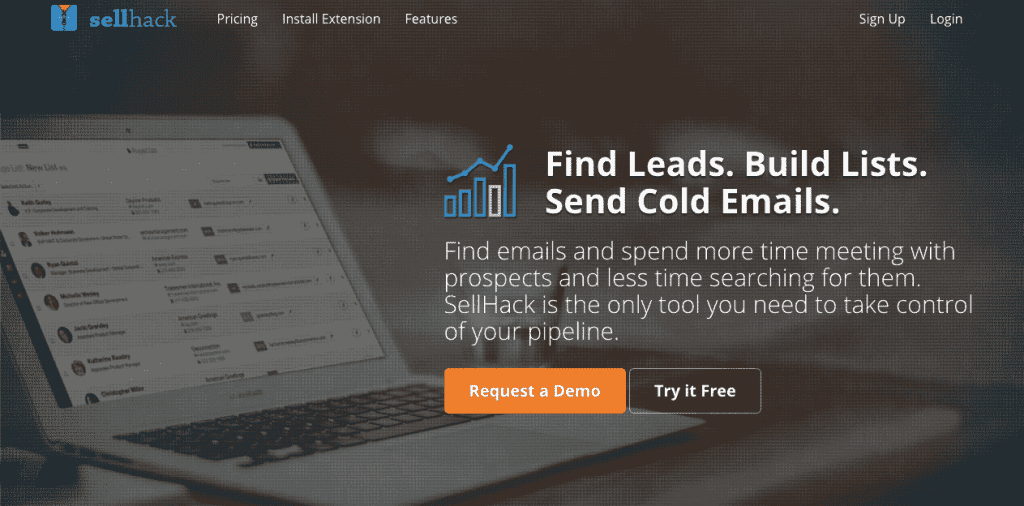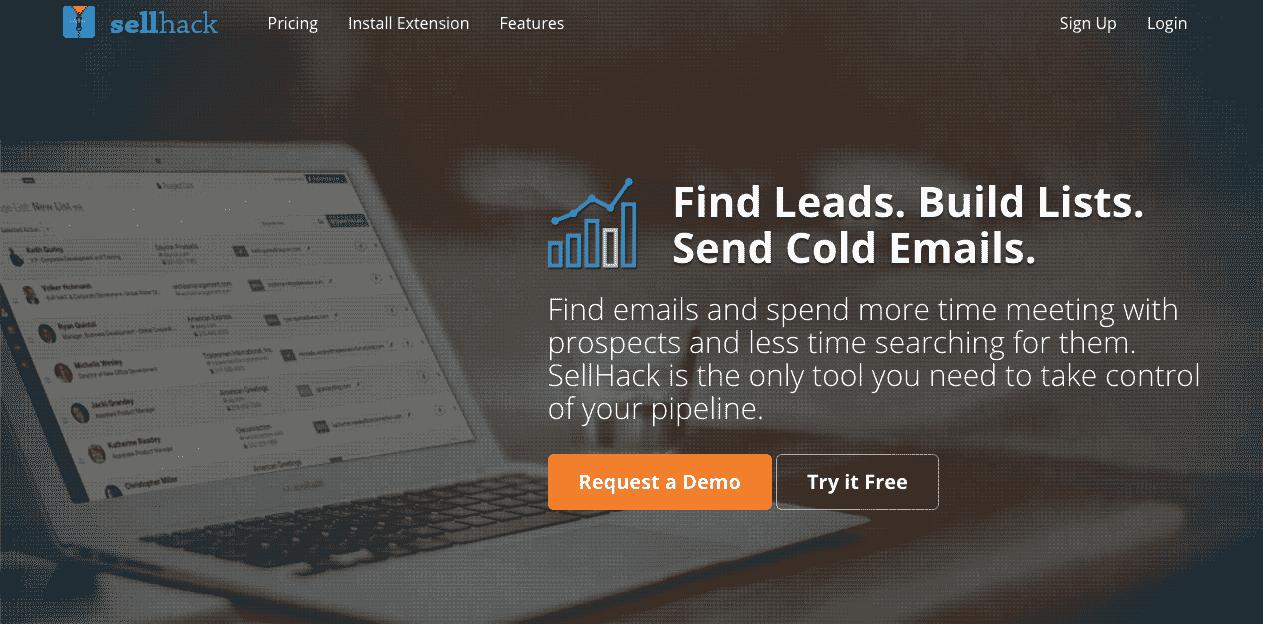 SellHack is a very simple list broker in the form of a Chrome extension designed for sales teams to find emails and build lead lists.
The platform uses a 12-step verification engine to find the right email addresses belonging to the users' leads. It can also do bulk searches and connects directly to LinkedIn.
Pricing: No free plan. Premium plans start at $3 per month for 100 email credits.
G2 Rating: 4.3/5 stars.
16. Interseller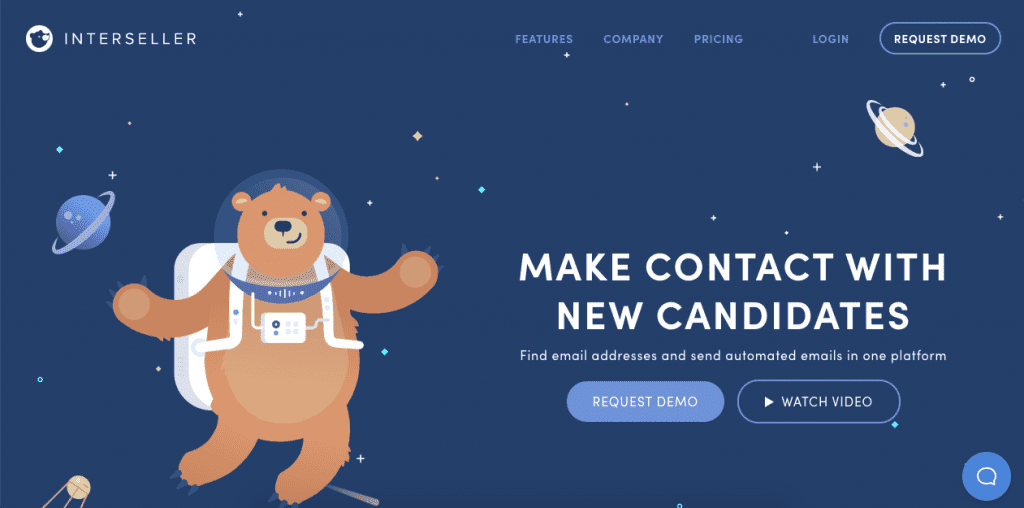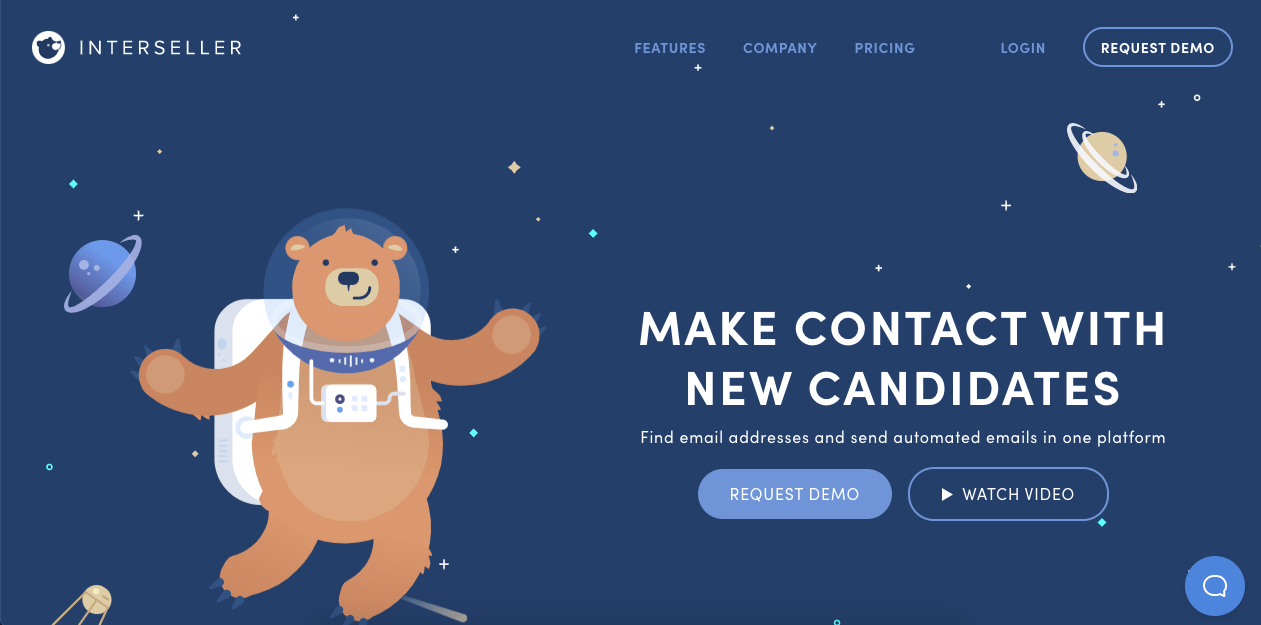 Interseller is a simple tool designed to find prospects' emails as quickly as possible. It also has a Chrome extension for users to find contacts and add them to email campaigns.
The platform has multiple native integrations, like Pipedrive, Hubspot, Salesforce, Zoho, and many more, as well as Zapier. Since its UI is very easy to use and since it's becoming somewhat popular, its pricing is also higher than average.
Pricing: No free plan. Paid plans start at $100 per month.
G2 Rating: 4.7/5 stars.
17. Slik
A popular option, Slik's prospector tool allows users to browse its 70 million user database to build mailing lists. It can also find real-time custom data, and it integrates with most tools, either through native integration or through its API.
Slik claims to have a high 95% accuracy and allows users to pay per lead, although, at $0.10 per lead, this is quite expensive compared to other available tools. This makes it more fitting for people looking for just a few high-paying leads, like in the case of insurance sales teams.
Pricing: Free trial with 20 email credits. Paid plans start at $49 per month.
G2 Rating: 5/5 stars.
18. ListGIANT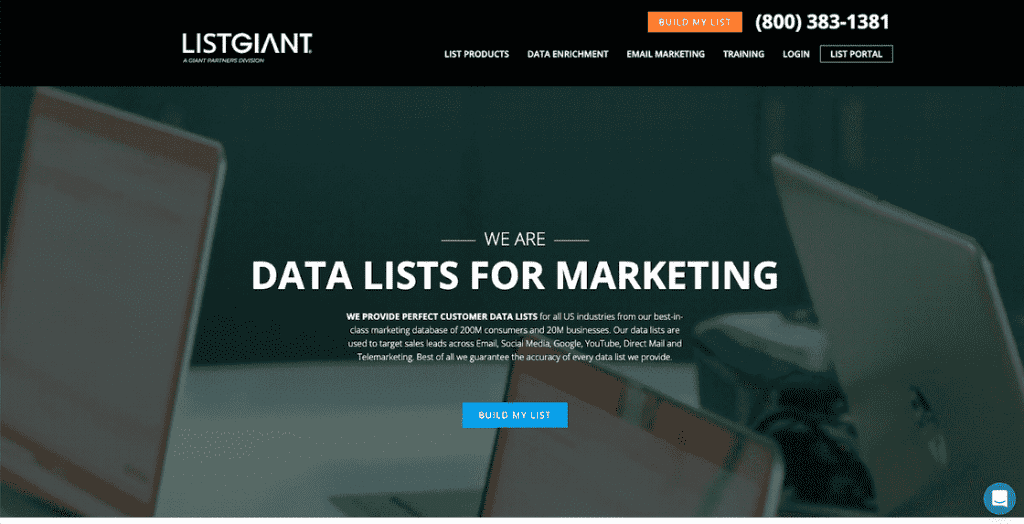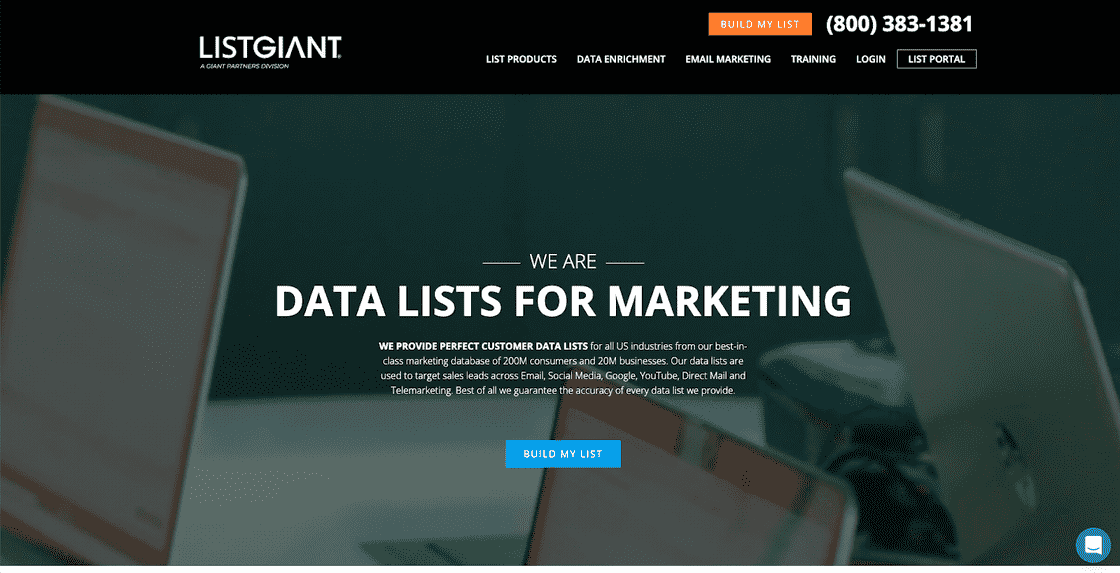 ListGIANT is a list broker that's affordable while still being reliable. The tool is regularly updated and is backed by a company with over three decades of experience.
This tool is also compliant with the current USA and Canadian laws. However, despite its affordability, it doesn't guarantee its information, not even when it comes to email records. If you choose this tool, you may want to pair it with an email verification tool.
Pricing: Depends on user needs and demographic, with a quoted $600 for 5,000 consumer leads, according to a couple of sources.
G2 Rating: N/A
19. Caldwell List Company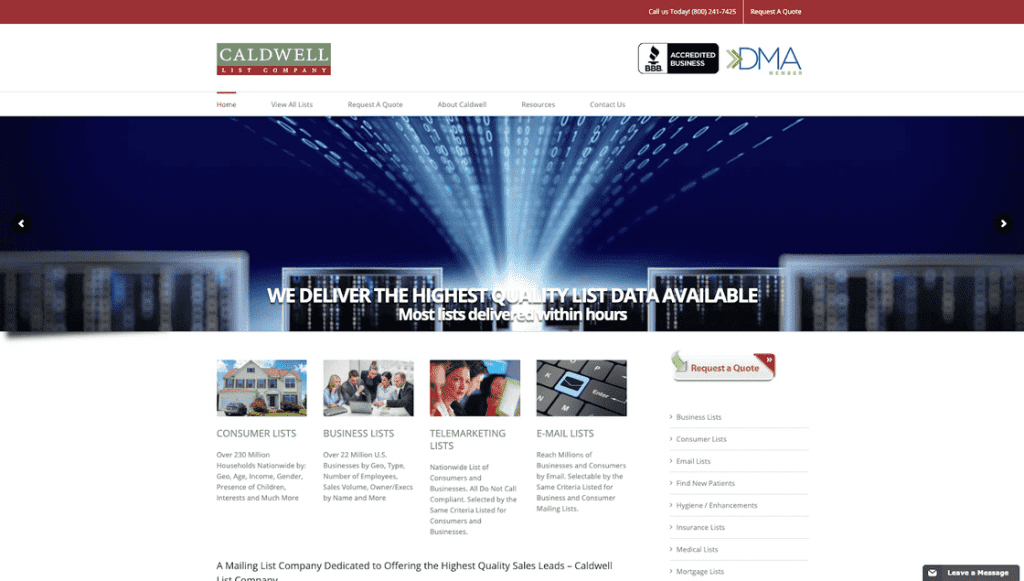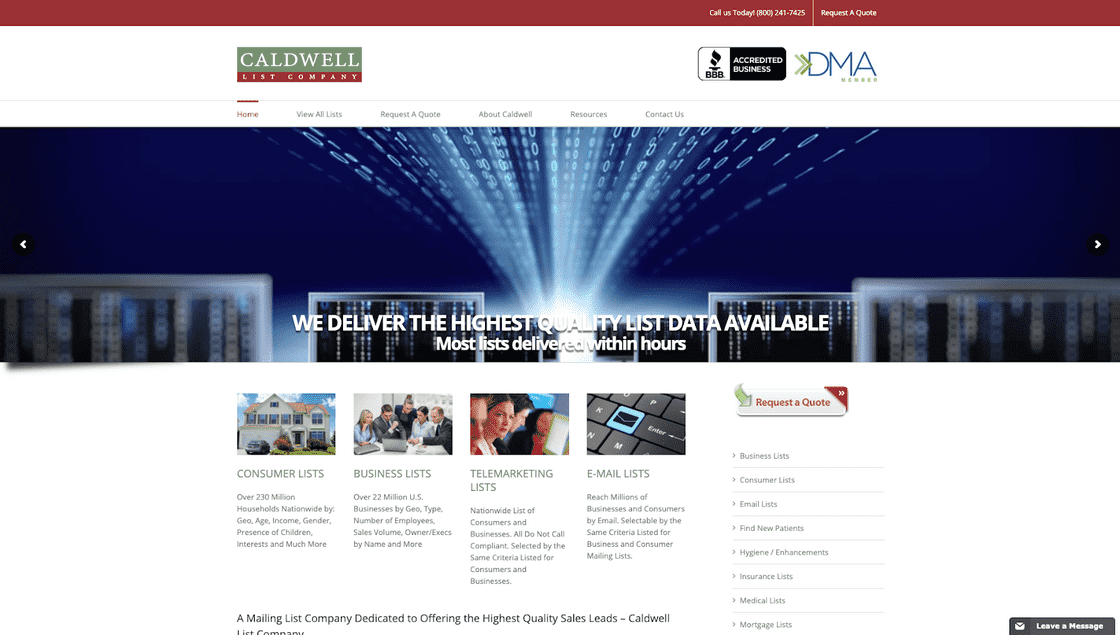 Caldwell List Company is another lesser-known list broker that's affordable and capable. Although reviews are hard to find, Caldwell offers a reputation of over 45 years of generating lists.
Instead of providing access to millions of leads for the user to browse through, the user is assigned a list specialist whose job is to find those leads for them. This makes it easier for users to find leads since they don't need to hire someone to handle lead generation through a platform.
Pricing: Caldwell does not offer pricing information on its website, forcing users to contact them if they want to find out more.
G2 Rating: N/A
20. FindThatLead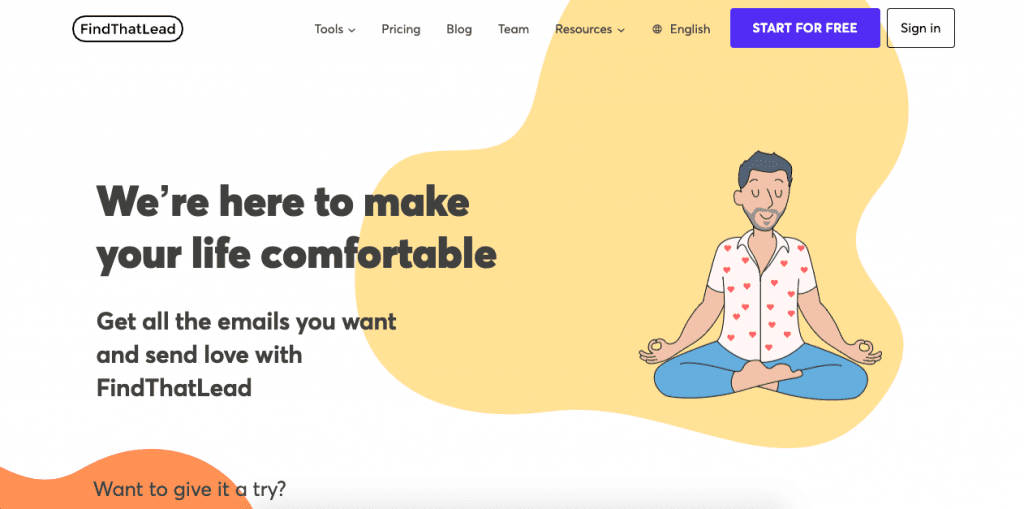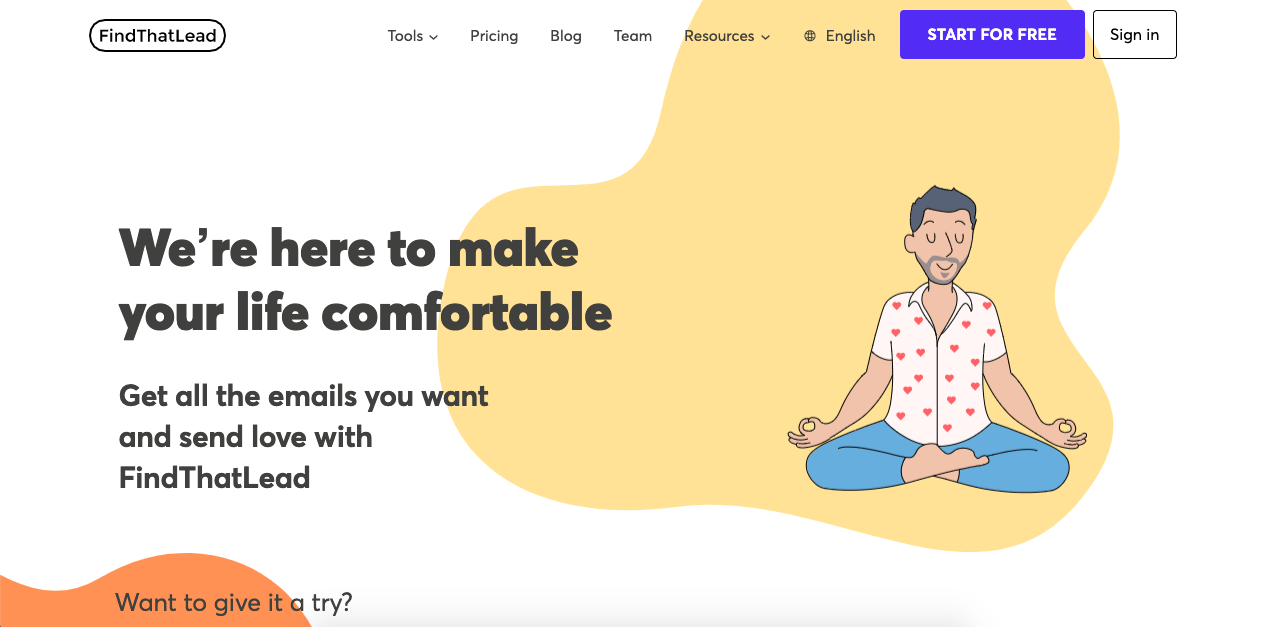 FindThatLead is a list broker focused on account-based leads. This tool allows users to find emails through a company's URL. Once they've found the leads, the user can import them to a spreadsheet through its Chrome extension.
Some notable companies, including BMW and Salesforce, use the platform.
Pricing: Free account with up to 300 credits per month. Paid options start at $29 per 1,500 credits.
G2 Rating: 3.3/5.
Popular List Brokers for Direct Mail
Here are the best list brokers for direct mail:
UpLead
If you want your direct mail actually to reach the people you're trying to reach, there's no better option than UpLead.
Whereas many list brokers will send you basic, outdated information about your leads, UpLead gives you access to information with a guaranteed 95% accuracy. That way, you're sure your direct mail isn't just reaching your leads but is designed with your leads in mind.
LeadFuze
LeadFuze is another useful tool for direct mail if you're looking for the fastest way to get someone's contact information online. Since it works through a Chrome extension, you can learn more from your leads by browsing through websites like LinkedIn and then using LeadFuze to get the final information you need for direct mail.
Datanyze Insider
Datanyze Insider is another very simple way of finding a person's contact information online as you browse the web. If you're looking for a simple way to complement your existing lead generation efforts, Datanyze Insider may be able to help you fulfill your needs.
Popular List Brokers for Email
These are the best list brokers for email finding:
UpLead
Whereas multiple other list brokers limit themselves to simply showing you someone's email, UpLead takes it a step further.
With UpLead, every email you download is verified right before you download it to make sure that the email is valid. If an email doesn't pass the validation, you can have the whole profile for free.
This ensures your emails' deliverability rate isn't affected by many bounced emails, all while keeping everything in one platform, so you don't have to pay for a third email verification service elsewhere.
Snov.io
Since Snovio is focused on helping you find all email addresses associated with your customers, this tool can help you ensure your lead is hearing from you, even through multiple email addresses. That way, you're far more likely to reach them, even if they have a few dormant email addresses.
LeadGibbon
LeadGibbon's 99% match accuracy is useful when preparing email marketing campaigns. You can use the rest of the lead information offered by the tool to make sure you're segmenting your users as much as possible and delivering relevant information to them.
Popular List Brokers for Telemarketing
Here are the best brokers for telemarketing needs:
UpLead
If you want your telemarketers to get to know your leads within seconds, there's no better option than UpLead.
While other platforms give your sales reps a long list of features on a spreadsheet, UpLead brings your leads to life through vibrant profiles. With these profiles, your sales reps can quickly find out who they are, and what they're interested in, and even figure out topics for small talk and areas of interest.
LeadIQ
If your telemarketing agents look for information about their leads independently, LeadIQ can help them expedite their findings.
Since it works through a simple extension, your users can work together, searching and finding leads to use in campaigns and generating information as they call.
Clearbit
Clearbit's Prospector tool has over 100 data points to search through an extensive 200 million profiles. This allows users to find more information about more leads, so your sales reps have as many leads as they can call.
Since it's pricey, this is better for larger companies that are already using the rest of the Clearbit platform for their telemarketing needs.
Frequently Asked Questions
What is a list broker?
A list broker can be described as an agent for a company that looks for leads and compiles them within lists. The company relegates the lead generation process to an agent, website, or service instead of relying on ads or organic traffic to generate leads.
Do I need a list broker for my business?
Not necessarily. It will mostly depend on what kind of business you operate, what you sell, and who you sell to.

List brokers usually work best for companies that need to engage in direct marketing techniques, like B2B companies, and those that can't rely on organic traffic alone to fill up their sales funnels.

List brokers also help companies generate leads they can contact immediately, making them perfect for companies that engage in regular cold calling or cold emailing to generate sales.
What are the benefits of using list brokers for leads?
When you use a list broker, you proactively find users who are likely to be interested in your company. This technique allows your company to take the initiative in selling products or services and frees up your budget to engage with potential customers directly instead of waiting for them to reach you.

When using reliable list brokers who guarantee the accuracy of their data, you'll always have reliable information about the customers you're engaging with.
Conclusion
Not all list brokers operate in the same manner. If you're going to trust one, you need to ensure that they're reliable and effective and offer you a repeatable lead generation process.
If you want to use a list broker that fulfills all those requirements, try UpLead, and take advantage of their data accuracy guarantee, vibrant profiles, and much more.
Sign up for free today.