This guide will look in-depth at ContactOut, a powerful tool that helps marketers and salespeople find contact information for professionals. We'll explore the platform's features, pricing plans, integrations, and alternatives, like UpLead, to help you decide on the best solution for your needs.
Quick Links:
What is ContactOut?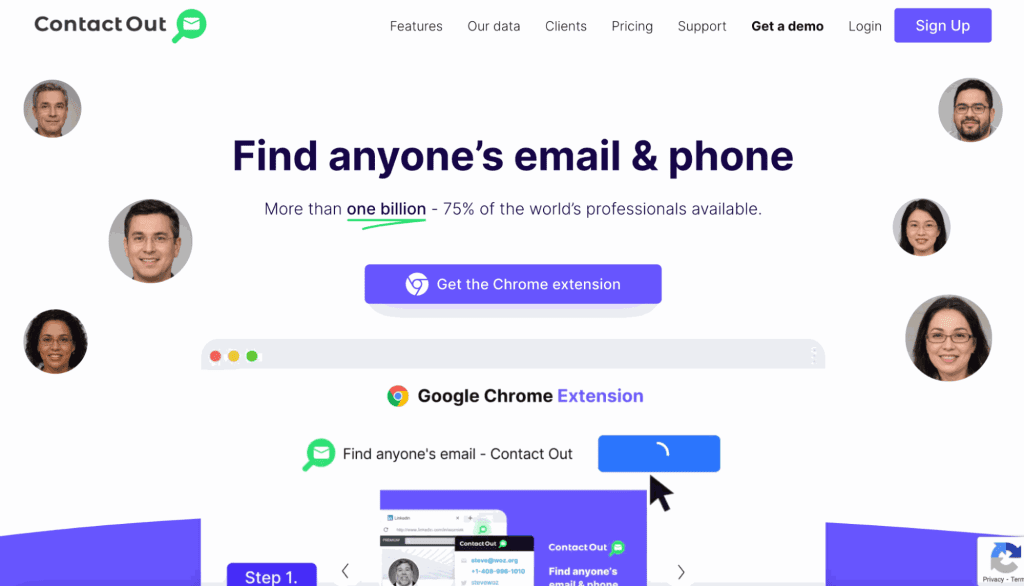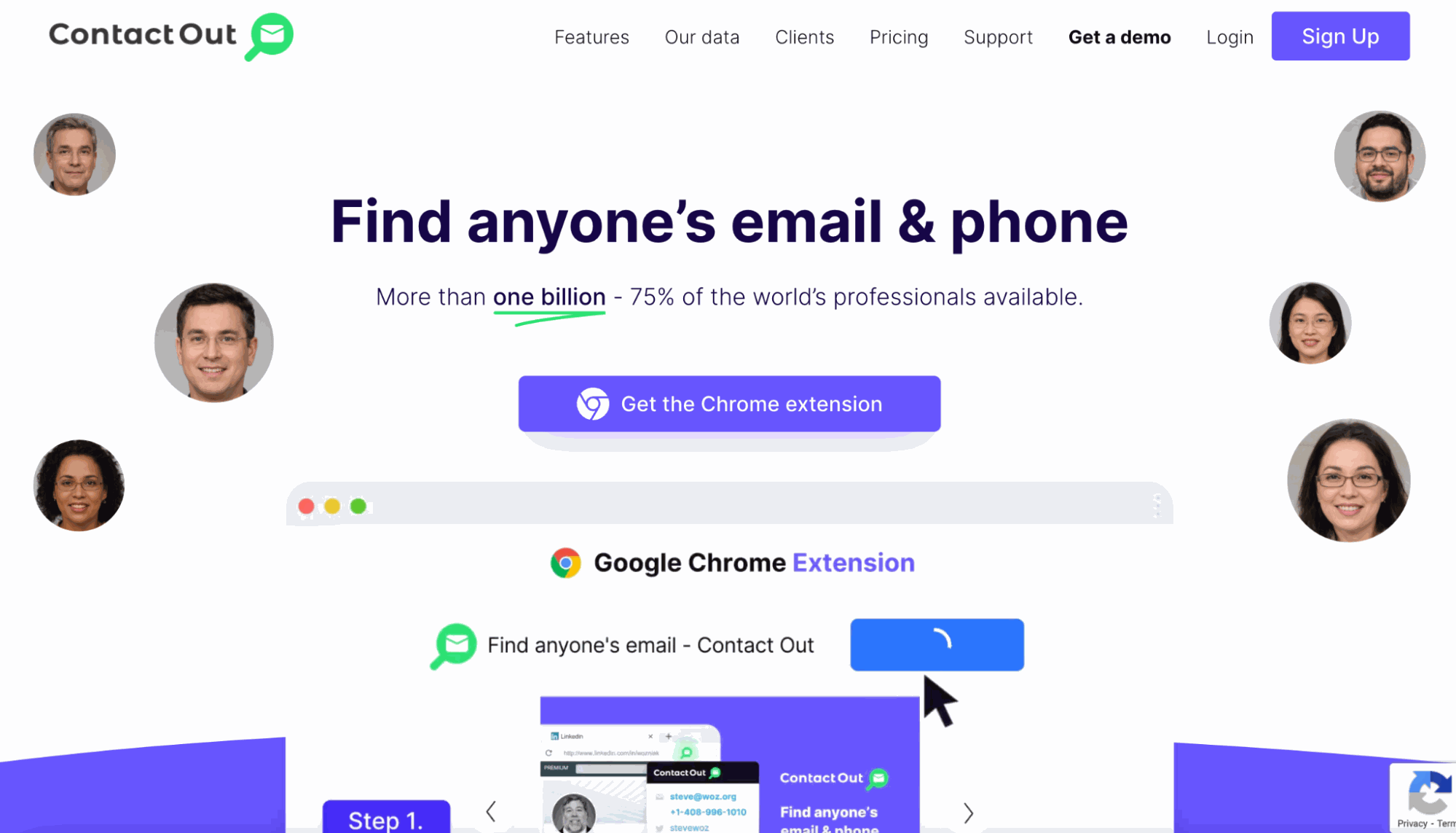 ContactOut's search portal and lead enrichment platform help users find email addresses and phone numbers for professionals from 30 million companies. Similar to email finders like UpLead, the ContactOut Chrome extension can be installed to find contact information easily from places like LinkedIn. This powerful tool is designed to help salespeople and recruiters find the right people and streamline their prospecting efforts.
ContactOut Key Features
ContactOut offers several key features that make it a valuable tool for marketers and salespeople seeking contact information for professionals. Here are some of the main features:
Extensive database of professional contacts
Chrome extension that works with LinkedIn and GitHub
Organize leads into folders and share them with your team
Export saved leads to a spreadsheet or ATS with one click
Search portal for leads without a LinkedIn profile
Start Your 7-Day Free UpLead Trial
Lead generation doesn't have to be all that painful. With UpLead, you can easily connect with high-quality prospects and leads to grow your company.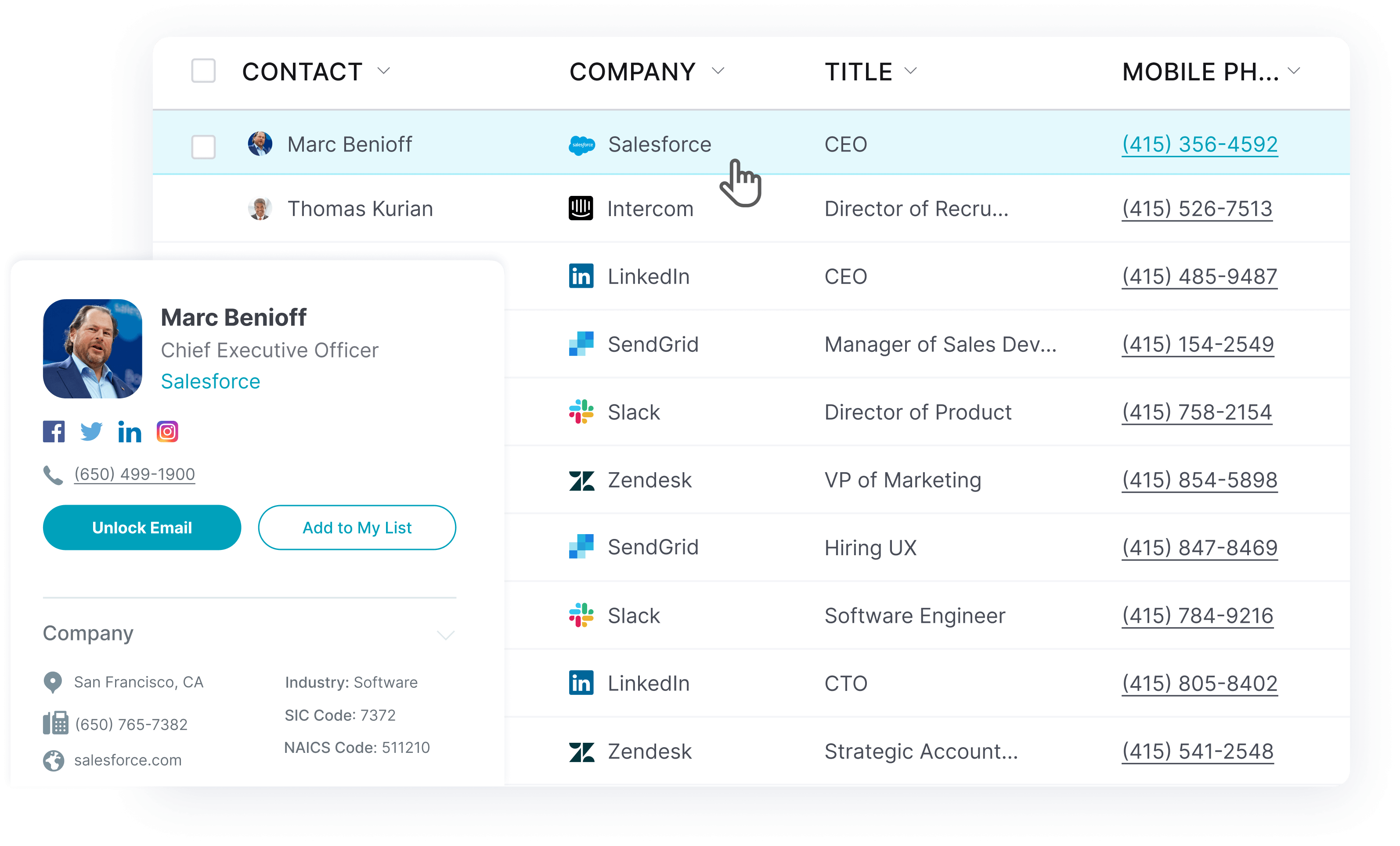 ContactOut Pricing & Plans
ContactOut offers four pricing plans to cater to different user needs. Let's take a look at what each plan includes and who it's best for:
Free
The free plan includes the following key features:
Find emails and phone numbers for 100 contacts per month
Chrome extension to find contact information on LinkedIn and GitHub
This plan is best for individuals who need to find contact information for a few contacts each month. It's also helpful for users that don't need extensive CRM functionality.
Sales
ContactOut's Sales tier starts at $79 per month for up to 6,000 emails per year. It includes the following key features:
CRM integrations with Salesforce and Hubspot
Connect to 5,000+ apps with Zapier
ATS integrations with Lever and Bullhorn
The Sales plan is ideal for sales professionals who need to find contact information for a more significant number of contacts and send email campaigns. This plan also introduces integrations that are available in higher-priced plans. 
Recruiter
The Recruiter plan starts at $199 per month and is billed annually. It includes finding phone numbers for up to 12,000 emails per year. 
Up to 600 phone numbers per year
Adds additional contact information to personal and work emails
Works on all versions of LinkedIn
This plan is best for recruiters and sales professionals who need a higher volume of contacts and require advanced search capabilities for more targeted lead generation.
Team
The Team plan is customized to fit the needs of your recruiting or sales team. It includes the following key features in addition to the Recruiter plan:
Dedicated account manager
Custom pricing
Team collaboration
The Team plan is best for teams who need a customized solution and dedicated support. This solution is scalable to the growing needs of the business and adaptable to a wide range of workflows.
ContactOut Integrations
Integrating ContactOut with different applications enhances its potential to boost productivity, allowing users to access data and perform various tasks directly from their preferred tools. For instance, integrations with CRM, social media, and email platforms make managing contacts easier, sending personalized messages, and tracking engagement easier.
Some key integrations for ContactOut include:
Zapier: Enables users to automate tasks by connecting ContactOut with over 5,000 other apps, such as project management tools and social media.
LinkedIn: Provides seamless integration with the professional social network, making finding and connecting with potential leads and clients easier.
Google Chrome ContactOut extension: ContactOut supports the ability to retrieve email addresses and phone numbers directly from the Chrome browser.
UpLead is the #1 ContactOut Alternative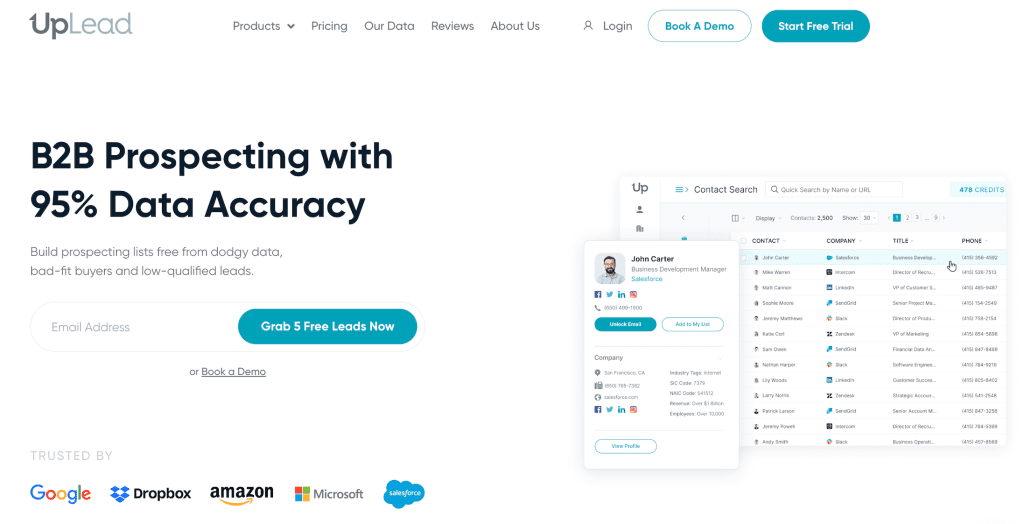 UpLead is a B2B prospecting platform that provides high-quality B2B contacts and company data. It offers real-time email verification and allows users to search for contacts by industry, location, company size, and other criteria.
ContactOut, on the other hand, is an email searching engine designed to find email addresses and phone numbers from public pages on the internet and matches them to the right people.
Key Features
UpLead offers several key features that make it a helpful tool for finding contact information for professionals, including:
High-quality data with 95% accuracy guarantee
Real-time verification
Native integrations with top productivity software
Email finder with multiple advanced search criteria
Easy-to-use platform
Pricing
UpLead boasts three pricing tiers to suit various requirements: Essentials, Plus, and Professional. 
With the Essentials plan, priced at $74 per month (billed annually), you receive 170 credits to access valuable lead generation tools. If you require more resources, the Plus plan, at $149 per month (billed annually), provides you with 400 credits. For those seeking the most comprehensive experience, the Professional plan, costing $299 monthly, includes 1,000 credits.
As a new user, you can enjoy a 7-day free trial to explore our platform's capabilities before committing to any pricing tiers. You can also choose to pay annually to benefit from a 25% discount.
Try UpLead's free trial with extensive capabilities at a compelling price point.
More Alternatives to ContactOut
In the lead generation and email-finding tools world, ContactOut has made a name for itself, but it's not the only option available. Below are more viable alternatives that cater to your needs and preferences. Each platform brings its own unique features and pricing structures to the table, offering you the flexibility to choose the best fit for your business.
Lusha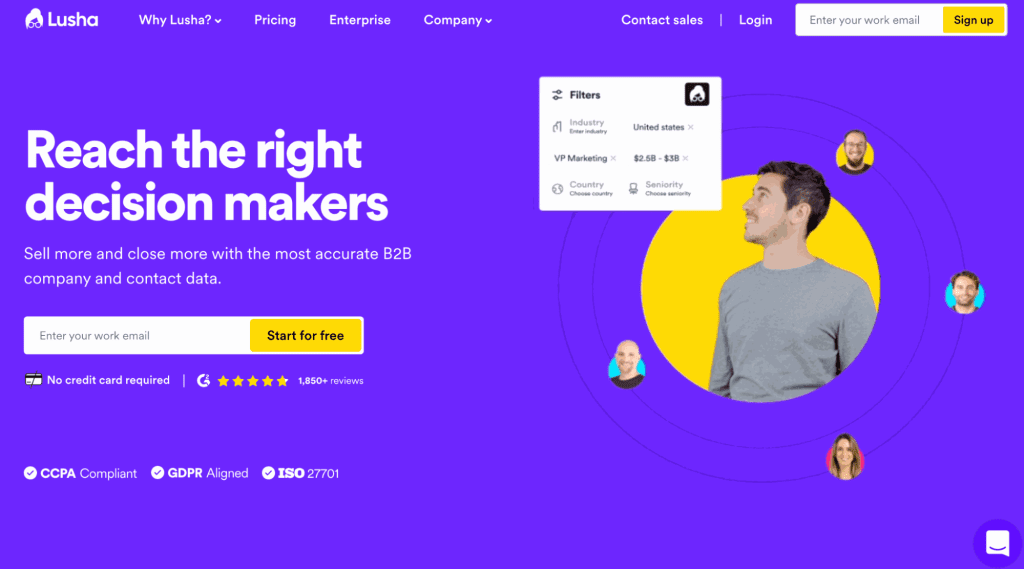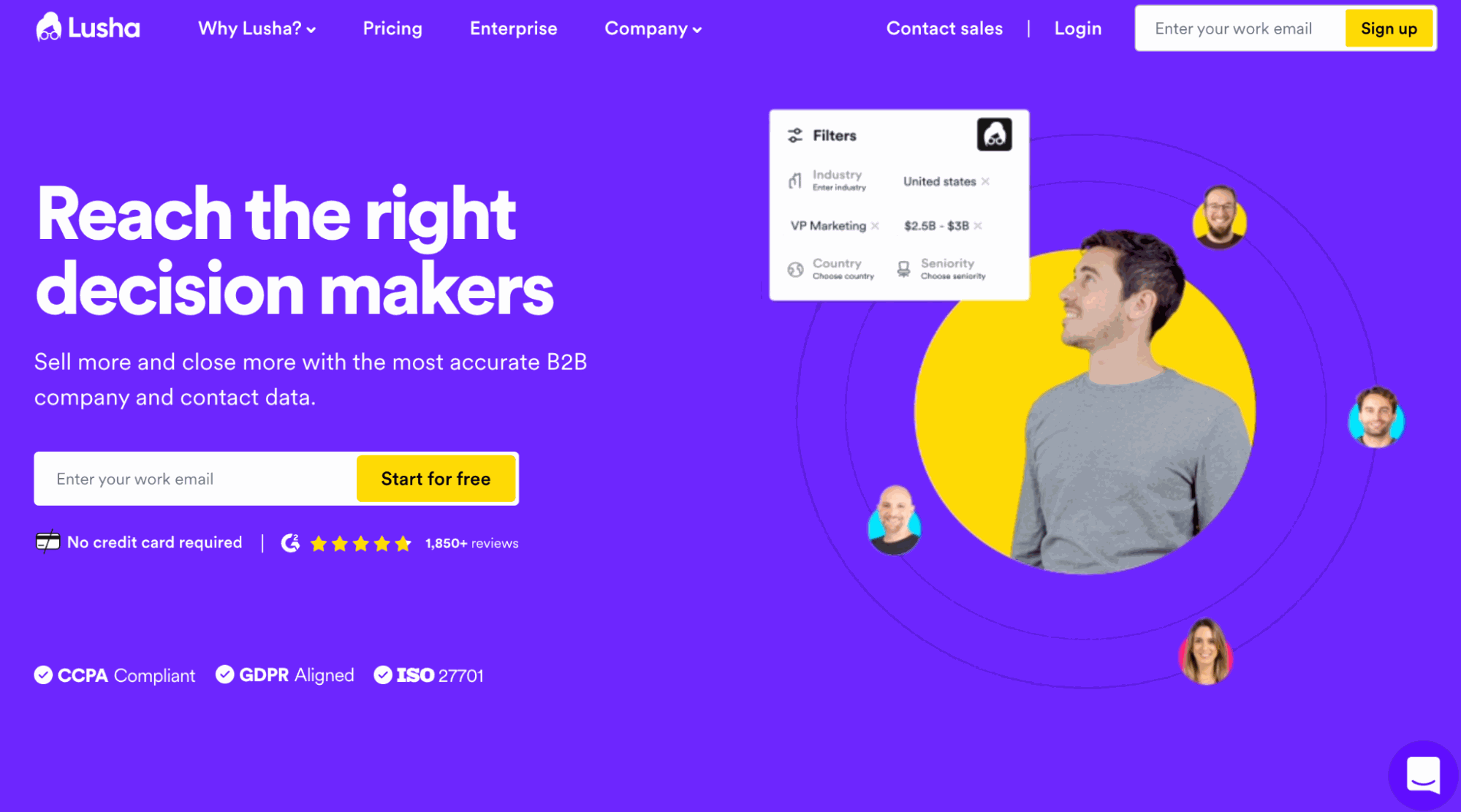 Lusha is a B2B contact database and sales prospecting software that provides users with accurate and up-to-date business contact information. It is designed for sales, marketing, and recruitment teams who must find, target, and connect with their ideal customers. 
Key features:
Over 100 million business profiles (contacts) in its database
Global, highly accurate, and growing database
Advanced search filters to build precise lists
Accurate emails, work phone numbers, and direct dials on the right prospects in seconds
Pricing:
Lusha offers a free trial that allows users to access a limited number of credits to test the platform. Plans start at $29 per month for 480 credits, and custom plans are available for larger teams and enterprises.
Apollo.io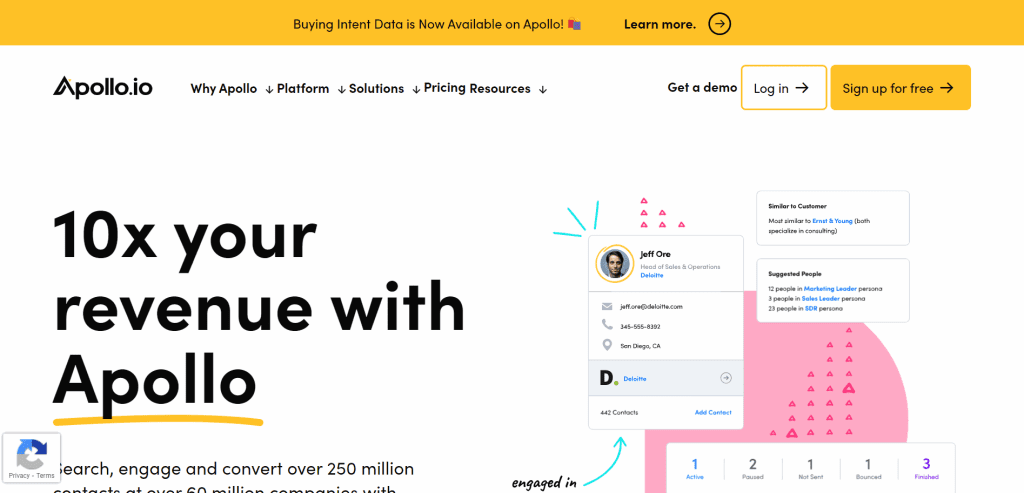 Apollo.io is a sales engagement platform that combines a database of contacts with the ability to run automated sales email campaigns. The platform is designed for sales and marketing teams who need to find prospects, communicate at scale, and win deals. 
Key features:
Database of contacts with over 200 million verified contacts and 10 million verified companies
Automated sales campaigns that allow users to send personalized emails, social media messages, and more
Sales analytics that provides insights into campaign performance and prospect engagement
AI-driven prospecting helps sales teams identify the best prospects for their products or services
Pricing:
Apollo.io offers four pricing plans: Free, Basic, Professional, and Organization. The Free plan is free of charge and includes limited features like CSV export and basic filters. The Basic plan costs $39 per user per month (billed annually) and includes features like contact, company data, and Zapier integrations. The Professional plan costs $79 per user per month and includes advanced features like a dialer and advanced integrations. The Organization plan is priced like the Professional plan but requires at least five users. It's designed for larger teams and enterprises and includes advanced API access and custom reports.
Here are other Apollo alternatives worth considering.
FAQs About ContactOut Pricing
Below are some of the most frequently asked questions about ContactOut's pricing structure:
How accurate is ContactOut?
ContactOut claims to have 99% accurate data due to their process of triple-verifying each contact via AI and social media. However, some ContactOut reviews mention issues with accuracy, while others praise the tool for its accuracy.
What is ContactOut used for?
ContactOut is a search portal for contact information that helps users find emails and phone numbers from public pages on the internet and match them to the right people. It is designed for recruiters, sales professionals, job seekers, and business owners who must find quality prospects quickly and engage with them more efficiently.
How do I delete data from ContactOut?
To delete data from ContactOut, users can opt out by contacting [email protected]. There is also a step-by-step guide available on mydataremoval.com that explains how to remove personal data from ContactOut. However, it may not always be possible to completely remove all emails and phone numbers from the platform, as ContactOut finds information from public pages on the internet.
What You Need to Remember About ContactOut Pricing
When considering ContactOut pricing, remember that different plans are available to fit your needs, ranging from a free plan for individuals to a customized Team plan for larger organizations. Each plan offers a variety of features tailored to the specific needs of sales professionals, recruiters, and others looking for accurate emails and phone numbers for your reach-out efforts. Consider the platform's accuracy claims, user reviews, and a ContactOut alternative like UpLead when deciding on the best sales tool for your team.