LinkedIn is one of the best platforms for professionals. However, networking every single day can be time-consuming. For this reason, LinkedIn automation tools can simplify your daily tasks.
The following LinkedIn tools can help you automate certain tasks on LinkedIn, like sending connection requests, inviting others to join your network, generating solid leads, or viewing new LinkedIn profiles.
In this article, we will discuss 17 of the best LinkedIn automation tools that will boost your account and help you reach the decision makers.
Quick Links:
What is LinkedIn Automation?
LinkedIn automation is using bots or software to manage LinkedIn activity on behalf of your company or personal LinkedIn profile. Automation can save you time and grow your LinkedIn network with less effort. It is an essential tool for helping busy professionals glean the most out of LinkedIn.
There are a few different variations of LinkedIn automation. Profile automation will automatically populate your LinkedIn profile with relevant information and updates. For instance, connection automation helps manage your connections by adding new ones, removing inactive ones, and sending connection requests. Similarly, campaign automation helps create and manage LinkedIn campaigns.
What are LinkedIn Automation Tools?
LinkedIn automation tools safely optimize your LinkedIn profile's messaging and reach. Some third-party apps and tools could damage your LinkedIn account health. Identifying the best ones could optimize your networking – knowing one from the other makes all the difference. By automating these tasks, you can devote more time to focusing on real-time networking.
There are many benefits to using Linkedin automation tools for social media. Here are some of the key benefits:
Saving time
Efficiency gains
Improved consistency
Greater reach
In this way, LinkedIn automation tools enable you to manage your LinkedIn free or premium account seamlessly.
The Top 17 LinkedIn Automation Tools for Businesses
There are a number of different LinkedIn automation tools on the market, and each tool has its own strengths. It is crucial to choose the tool that best suits your needs.
These hybrid automation and marketing tools work in tandem with other social media platforms. By using a LinkedIn automation tool, you can improve your LinkedIn marketing and your marketing efforts on other social media platforms.
UpLead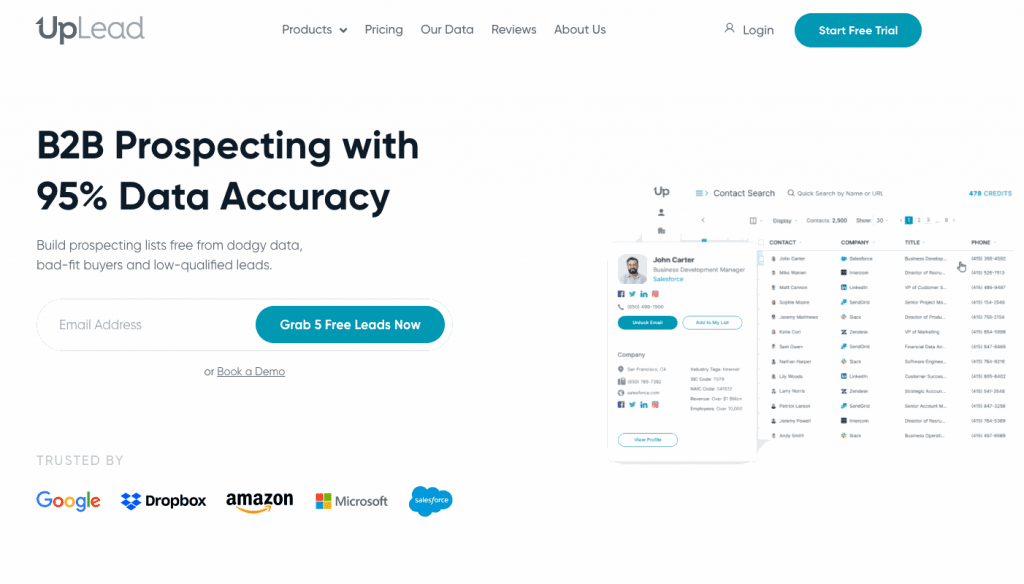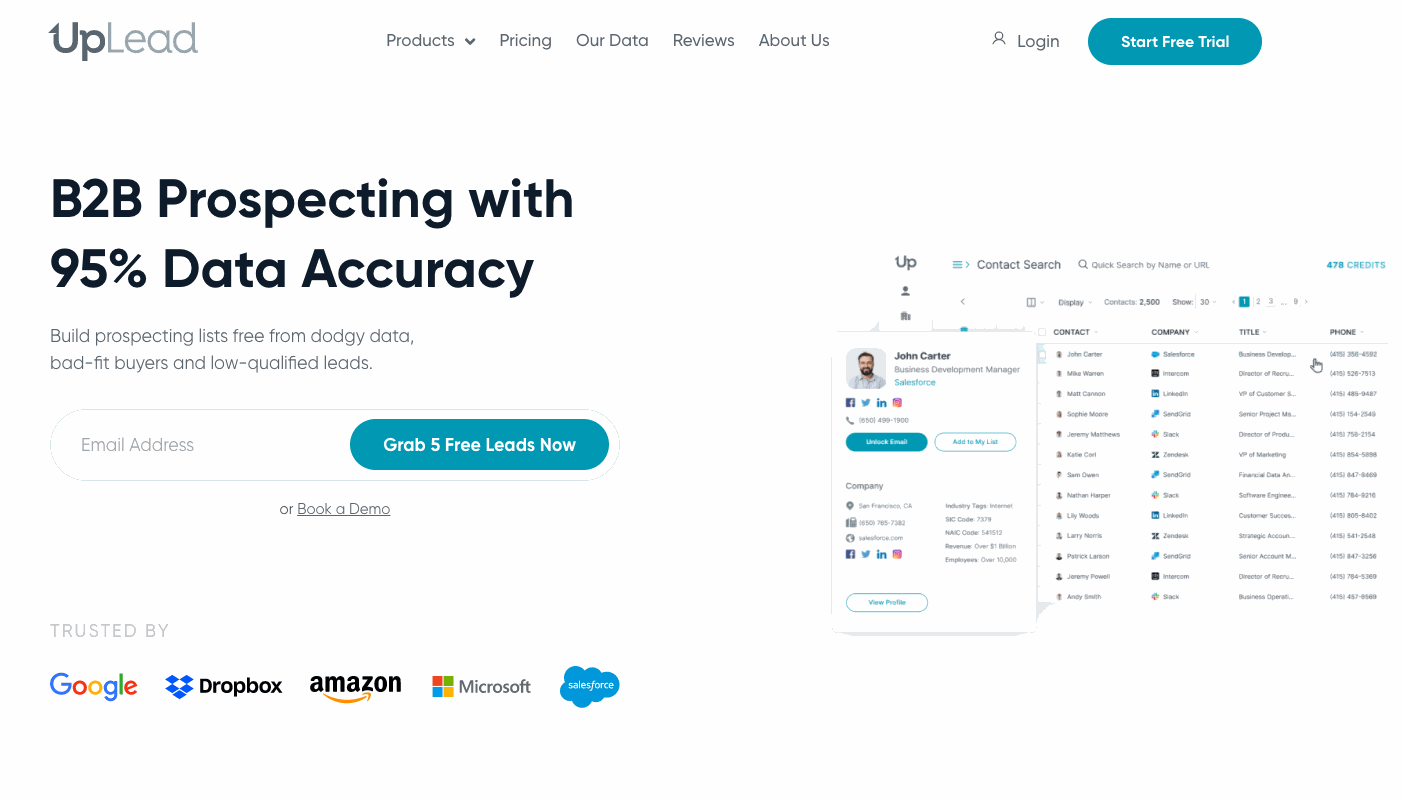 UpLead is both a social media platform and a LinkedIn automation tool that helps businesses share their latest products, services, or announcements with their followers. Aside from being a social media platform, Uplead generates LinkedIn leads without extra charge.
UpLead builds personalized connections between businesses and their followers. It also allows businesses to track which of their posts are most popular and what resonates with their followers. This process generates more useful leads.
Key Features:
Helps businesses build their B2B lead generation strategy
Uses sales intelligence for ideal customer targeting
Applies advanced filters on LinkedIn search for prospecting and lead generation.
Pricing:
Offers three different plans: Essentials at $74/month, Plus at $149/month, and Professional at $290/month
Gives a free trial for one month with five credits
Pros:
Simple and intuitive user interface
Comparatively affordable pricing
Cons:
Inconsistent app performance
For business clients only.
Start Your 7-Day Free UpLead Trial
Lead generation doesn't have to be all that painful. With UpLead, you can easily connect with high-quality prospects and leads to grow your company.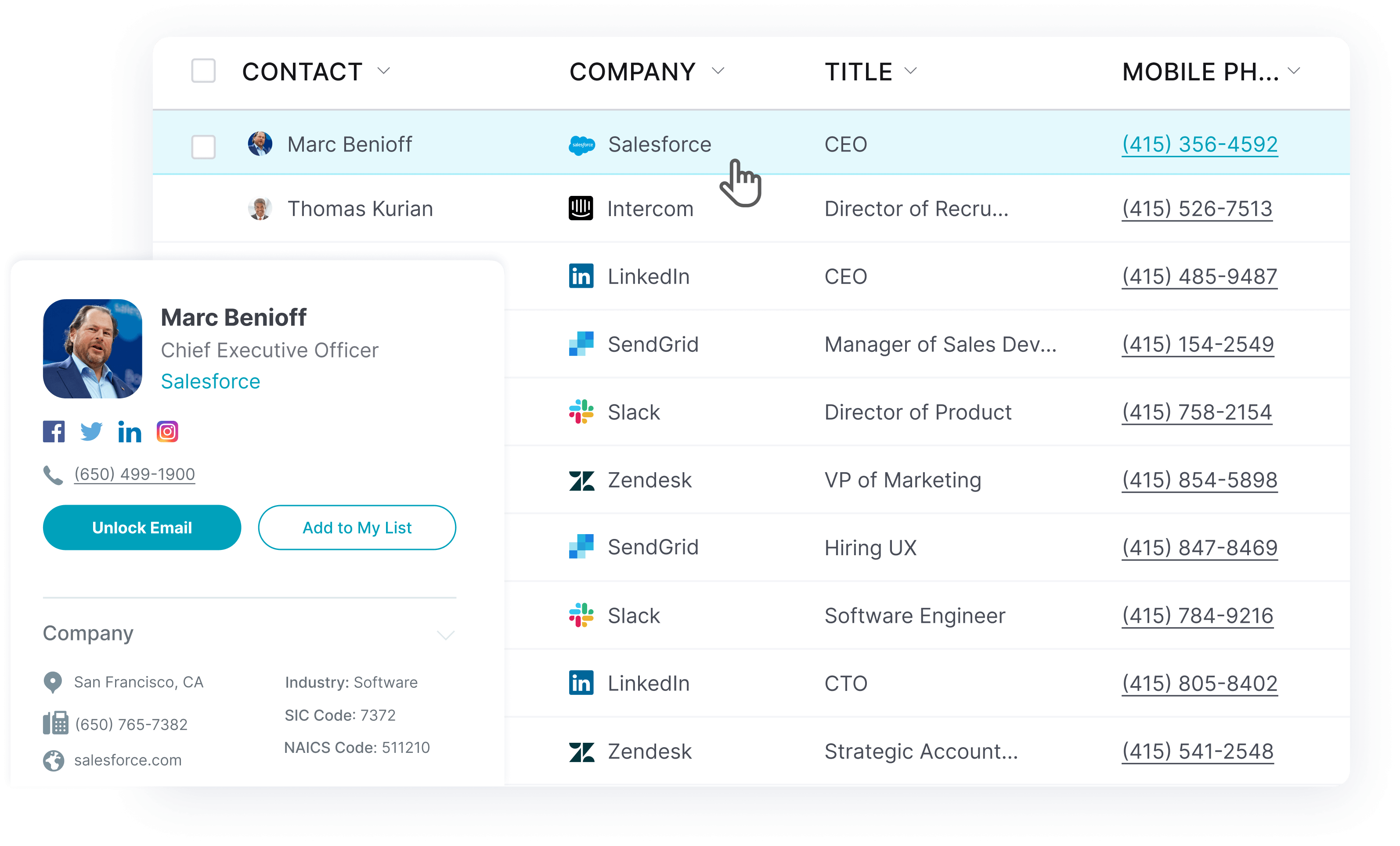 Expandi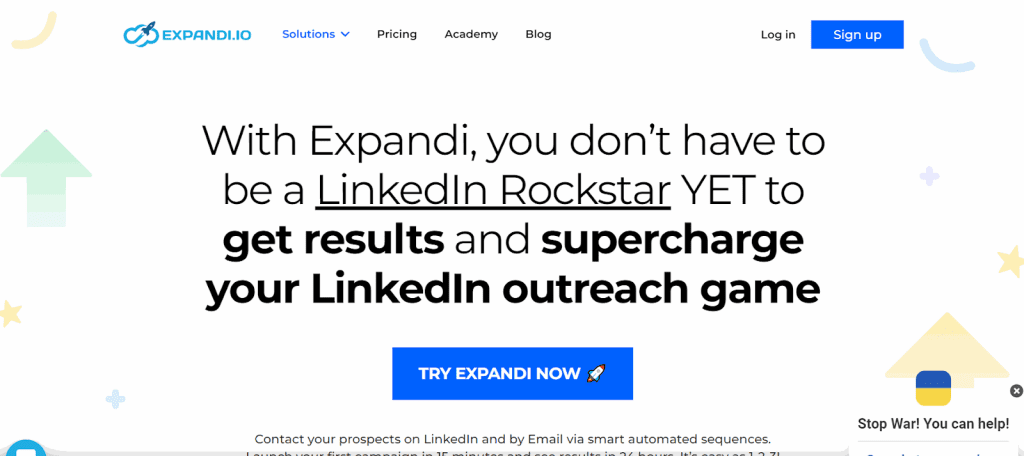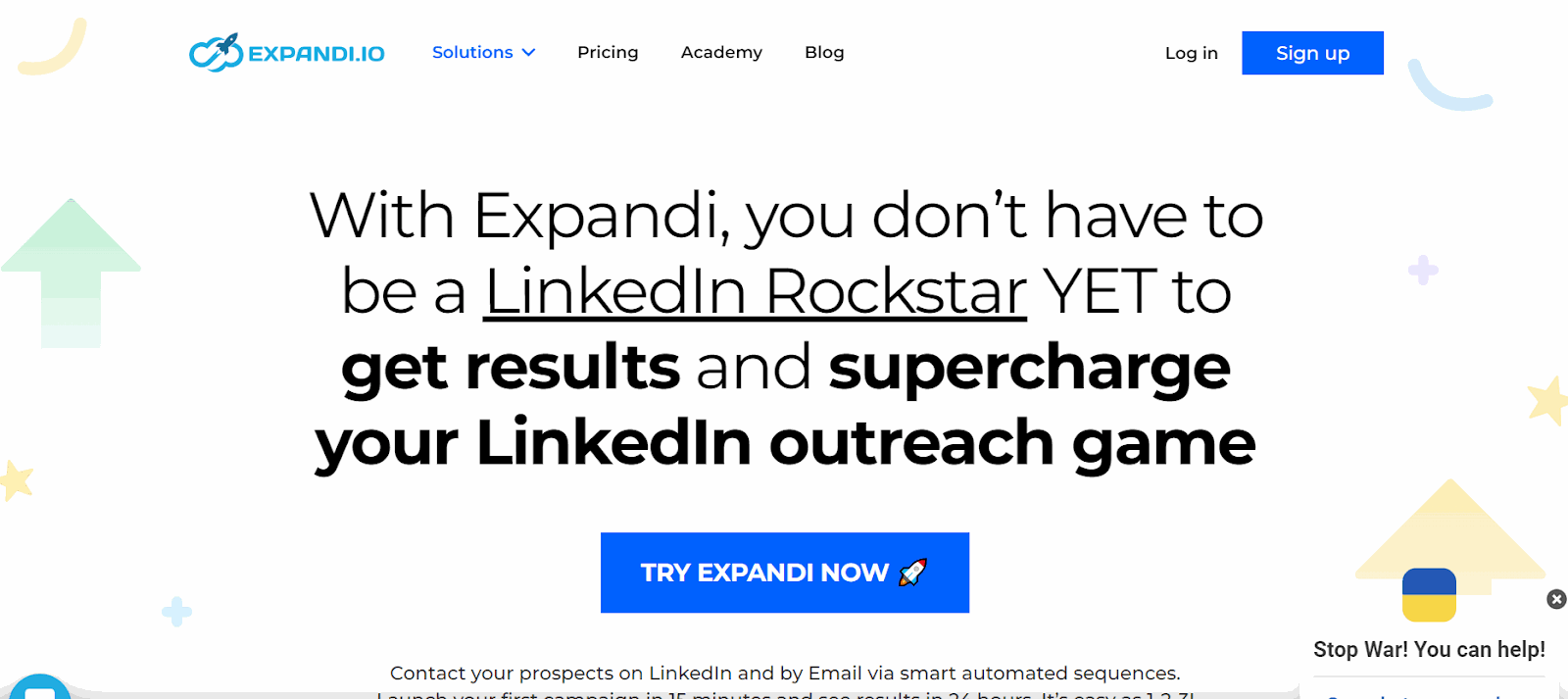 Expandi is an omni-channel LinkedIn automation tool with a suite of tools to help you automate and personalize your LinkedIn activity. It is one of the safest Linkedin automation tools. Its functions help businesses and professionals connect with new prospects, generate leads, and build networks.
Key Features:
Uses the auto-warm-up feature to mimic human behavior gradually
Controls daily LinkedIn message automation and connection requests to follow LinkedIn limits
Generates a dedicated IP address that enables you to use the tool wherever you are
Grants the capability of managing multiple accounts.
Offers advanced dynamic personalization.
Integrates with other marketing tools and CRMs.
Pricing:
Offers a seven-day free trial for LinkedIn Users and then a $99/month subscription
Pros:
Personalization offers human-like interactions
Highly customizable
Cons:
Shares servers with lower-ranked sites
Requires security improvements
LinkedIn Sales Navigator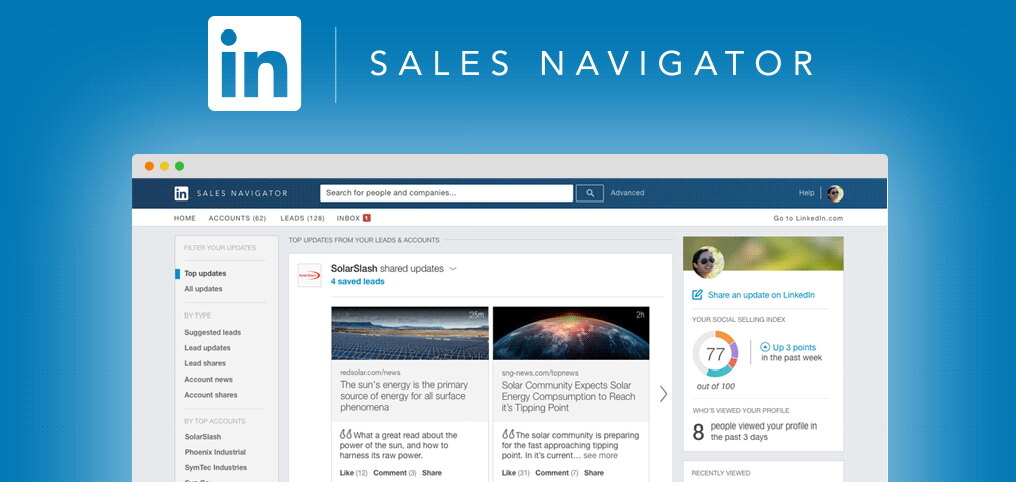 LinkedIn Sales Navigator is an effective automation tool for sales professionals. It allows you to identify and connect with potential customers while researching and tracking current prospects. It is also one of the safest LinkedIn automation tools.
Moreover, LinkedIn Sales Navigator provides detailed insights about your target companies, including recent job changes, company size, and contact information. This information can help you personalize your pitches and craft more effective sales strategies. This is a subscription-based tool that offers a variety of features.
Key Features:
Flags the profiles of all your second-degree connections
Tracks who has viewed your profile
Shows recently active connections on LinkedIn
Saves searches and tracks leads
Creates custom lists of leads, which you can export to Microsoft Excel or Outlook
Generates alerts on lead accounts
Uses advanced search capabilities on leads and companies
Integrates with other marketing tools and CRMs
Personalizes a LinkedIn algorithm
Improves profile visibility across social media networks
Pricing:
Offers three options: Core at $79.99/month per user, Advanced at $125/month per user, and Advanced Plus, priced based on your chosen advanced features. We've analyzed other Sales Navigator alternatives here.
Pros:
Profile navigation and segmentation features.
Group messaging
Optimized design for generating leads and promoting business growth
Cons:
Limited automation functionality
Dux-Soup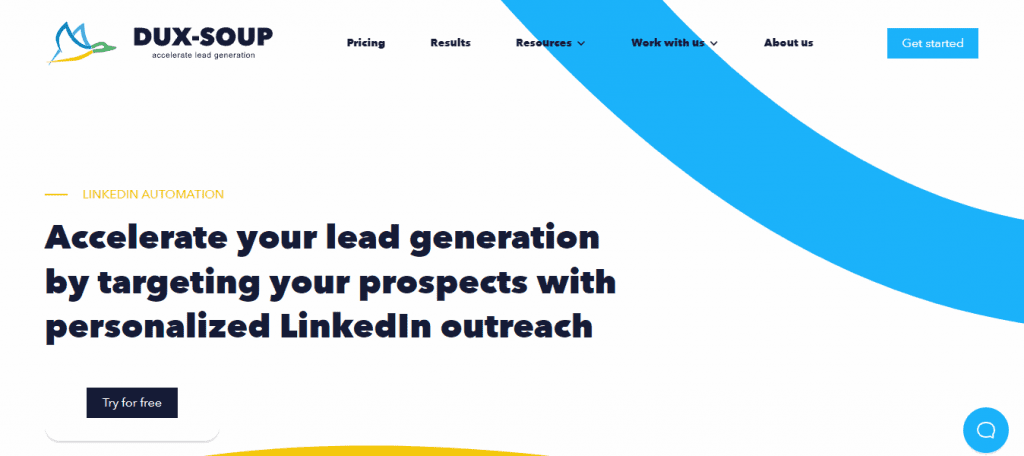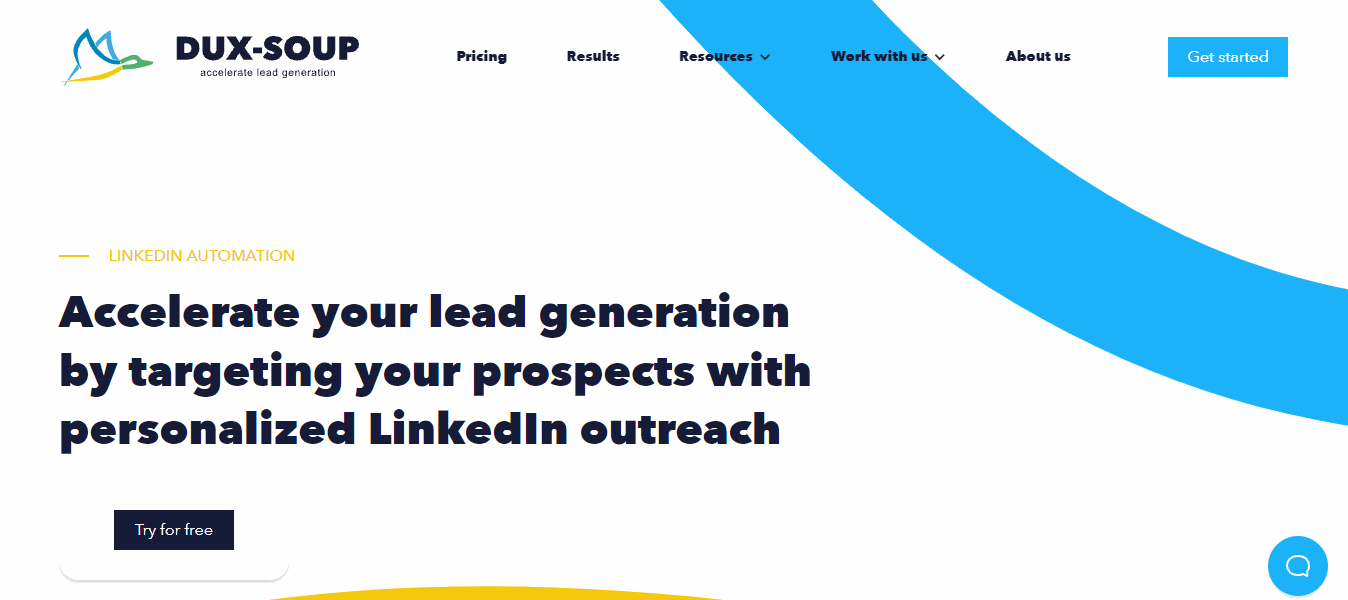 Dux-Soup automatically engages with your selected prospects on LinkedIn. The tool endorses the prospect's skills and sends them personalized connection requests and multiple timed and direct personalized messages.
This tool archives all of this on your behalf, from your browser, providing you with full control and visibility of your LinkedIn activity. Dux-Soup is easy to use and could help you create drip campaigns for your prospects.
Key Features:
Generates automated messages, even allows businesses to send these messages based on a schedule
Allows automated tagging capabilities and endorsements
Sends personalized connection requests
Provides maximum control and visibility
Pricing:
Three options: Starter Dux for free, Pro Dux for $11/month, and Turbo Dux costs $55/month.
Pros:
Excellent customer support
Easy and simple management
Offers a variety of integrations
Cons:
Zopto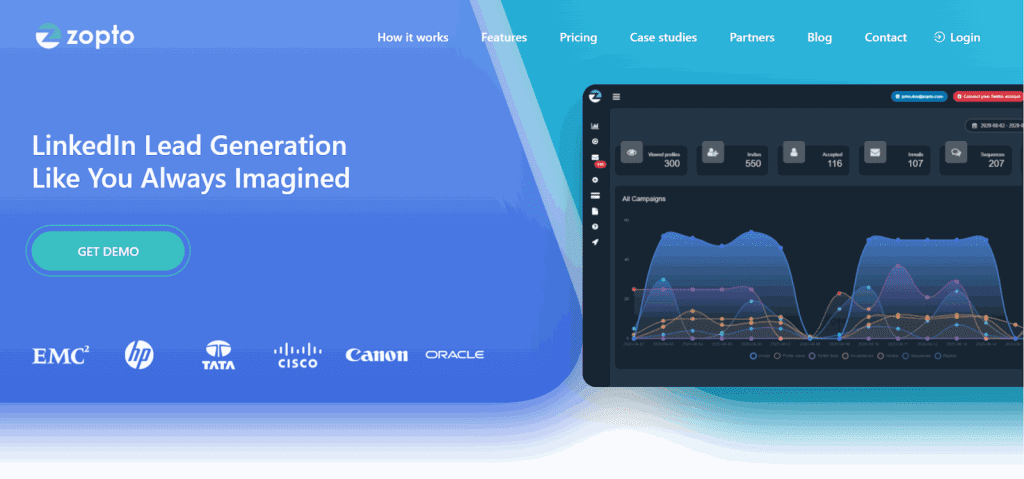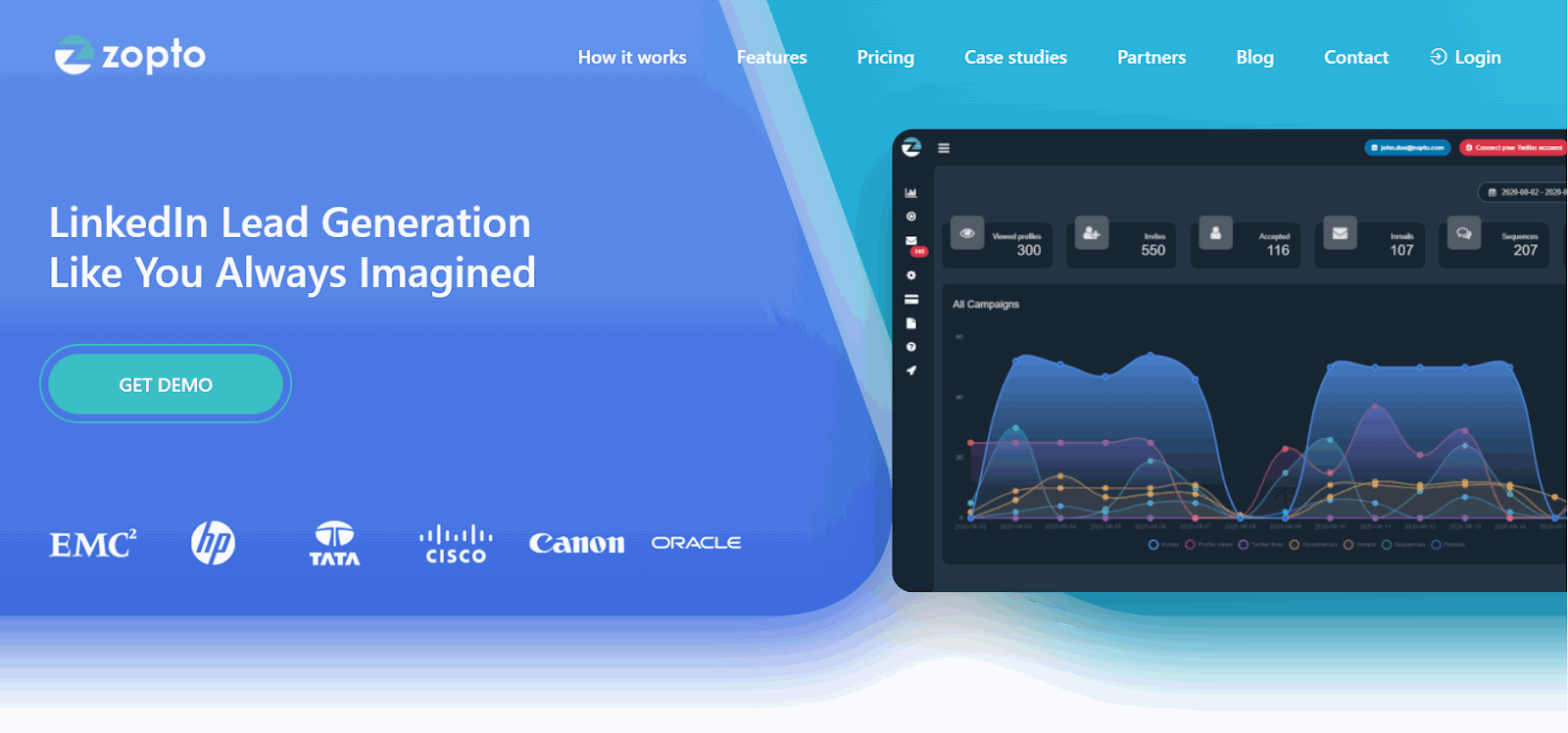 Zopto assists businesses with targeted lead generation. This tool filters through companies and contacts, allowing LinkedIn users to customize their engagement. Whether you represent a small business or a major marketing team, Zopto provides data-driven lead generation and management.
Key Features:
Automates connection requests, messages, and follow-ups to potential customers and partners
Sends InMail messages for free
Supplies templates that offer high conversion
Allows for social media engagement, specifically on Twitter
Provides unlimited campaigns
Detects replies automatically
Customizes tags and labels
Pricing:
Three options: Personal for $215/month, Grow at $220/month, and Enterprise and White label at $495/month
Pros:
Easy customization
Brand new features
A/B testing functionality
Cons:
Unintuitive initial setup
LinkedHelper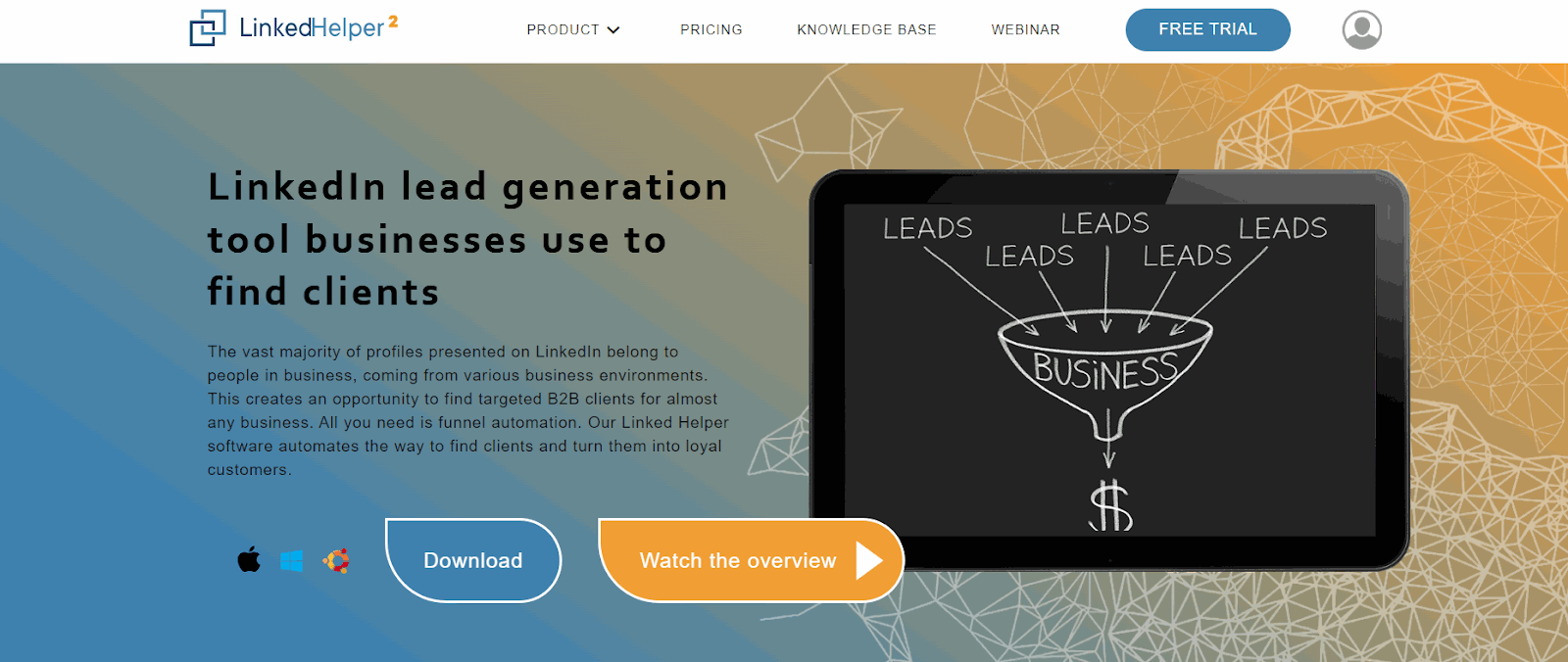 LinkedHelper is a Chrome extension for adding and using LinkedIn search for contacts. You only need to install the tool to access a list of contacts.
The tool also has an option for manually adding contacts by searching their company, job title, and name and automates all your activities on LinkedIn, including your LinkedIn inbox and network list.
Key Features:
Automates and creates multiple outreach campaigns for second and third-degree connections
Allows exports of CSV files into the tool
Pricing:
Two options: Standard at $15/month and Pro at $45/month
Offers a free trial version
Pros:
User-friendly
Excellent integration capabilities
Intuitive drip campaigns
Customizable campaign outreach templates
Built-in CRM for managing leads and lead generation
Cons:
No built-in email function for omni-channel outreach
Requires downloaded app, which limits use on laptops and PCs
Phantombuster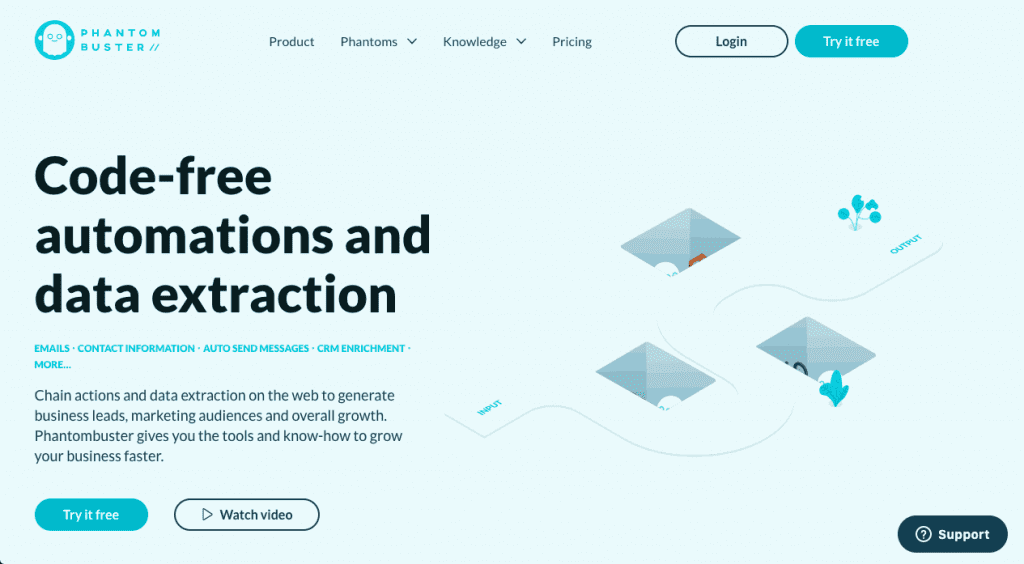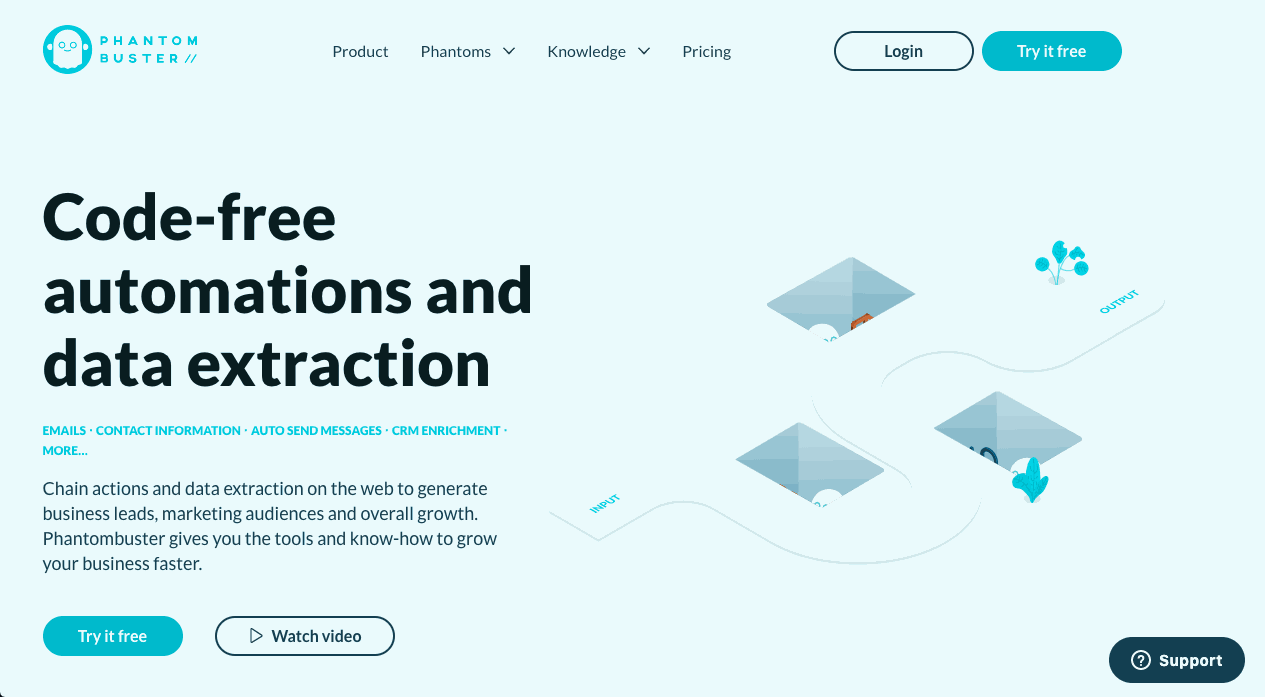 This tool automates sales and marketing processes to drive seamless growth. For LinkedIn, it offers code-free data extraction for campaigns.
One of Phantombusters' greatest advantages is its simplicity. You can generate tasks by simply dragging and dropping blocks into the work area. There is also a wide variety of pre-made tasks.
Key Features:
Scrapes websites for data
Provides cloud-based automation
Extracts data from social media platforms
Pricing:
Three options: Starter at $59/month, Pro at $139/month, and Team at $399/month
Offers a 14-day free trial plan
Pros:
Scrapes LinkedIn profiles and other social media profiles for data
Excellent integration with other Linkedin automation tools
Automated endorsements of connections' skills
Cons:
Challenging APIs
Poor technical support
MeetAlfred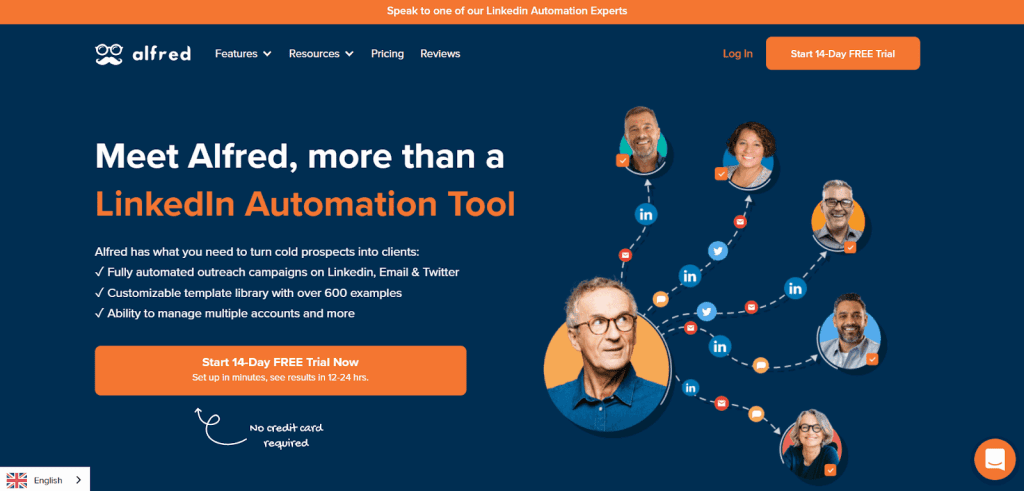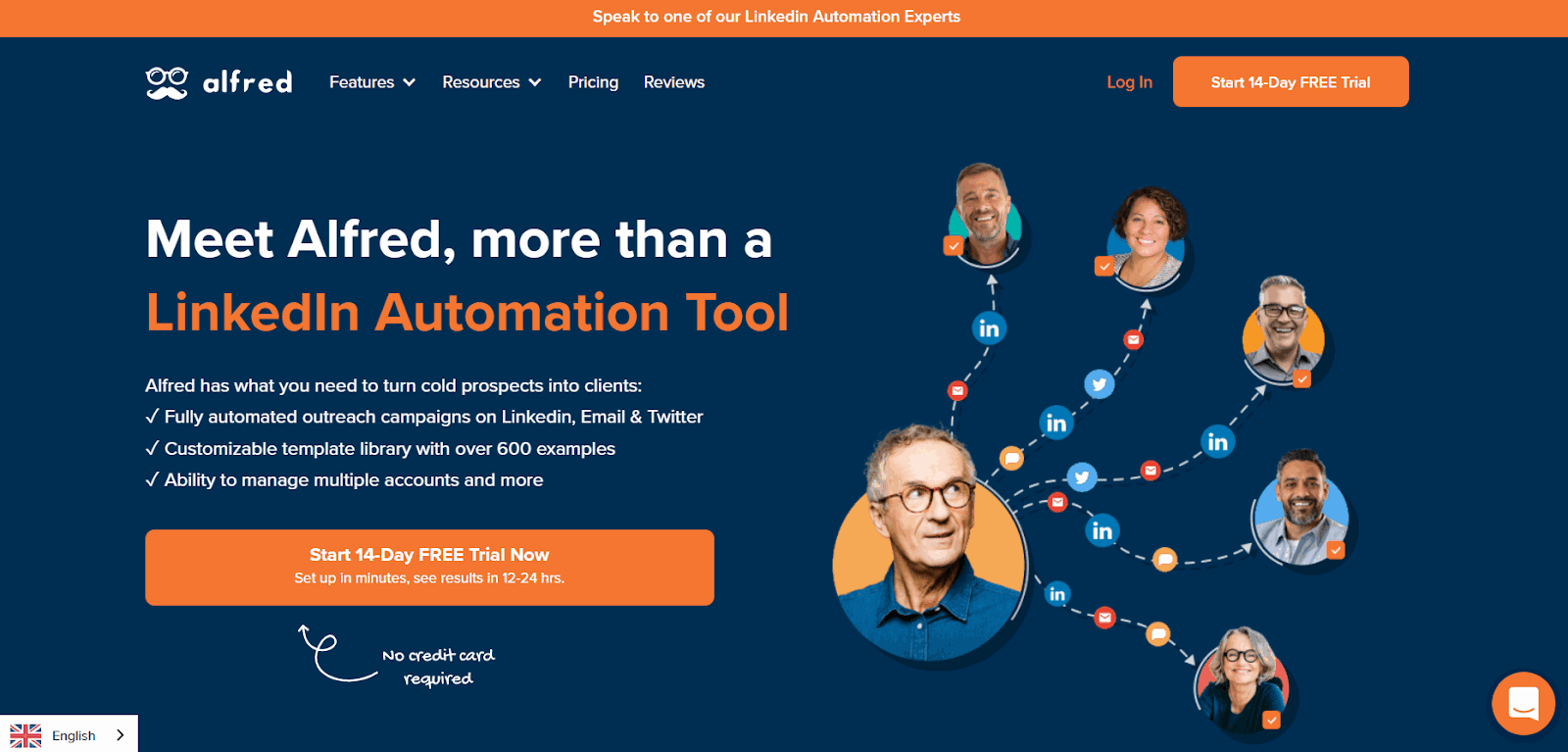 MeetAlfred is a social selling automation tool that offers sales-enablement capabilities for social media sites like LinkedIn. You could also manage your marketing teams and organize your business network so you could focus on which ones could help reach your goals. MeetAlfred offers a host of customizable templates that suit your specific needs and gives you the best shot at LinkedIn social selling.
There, you'll find a detailed list of the features this company offers:
Campaign manager
Advanced LinkedIn CRM
Team management
Integrations
In-depth analytics & dashboard
Email campaign sequences
Inbuilt safety usage limits
LinkedIn post scheduling
Key Features:
Provides built-in CRM that manages outreach teams and campaigns
Connects to your Gsuite account for accessibility
Allows customizations based on user's preferences
Pricing:
Three options: Personal at $29/month, Business at $59/month, and Sales Navigator at $39/month
Pros:
Allows multiple campaigns
Dashboard with powerful analytics
Built-in safety usage
Cons:
WeConnect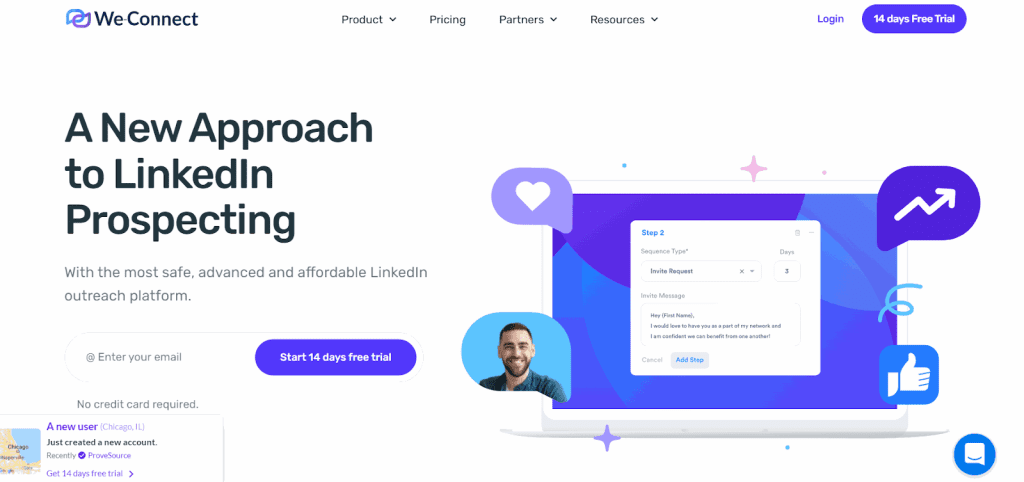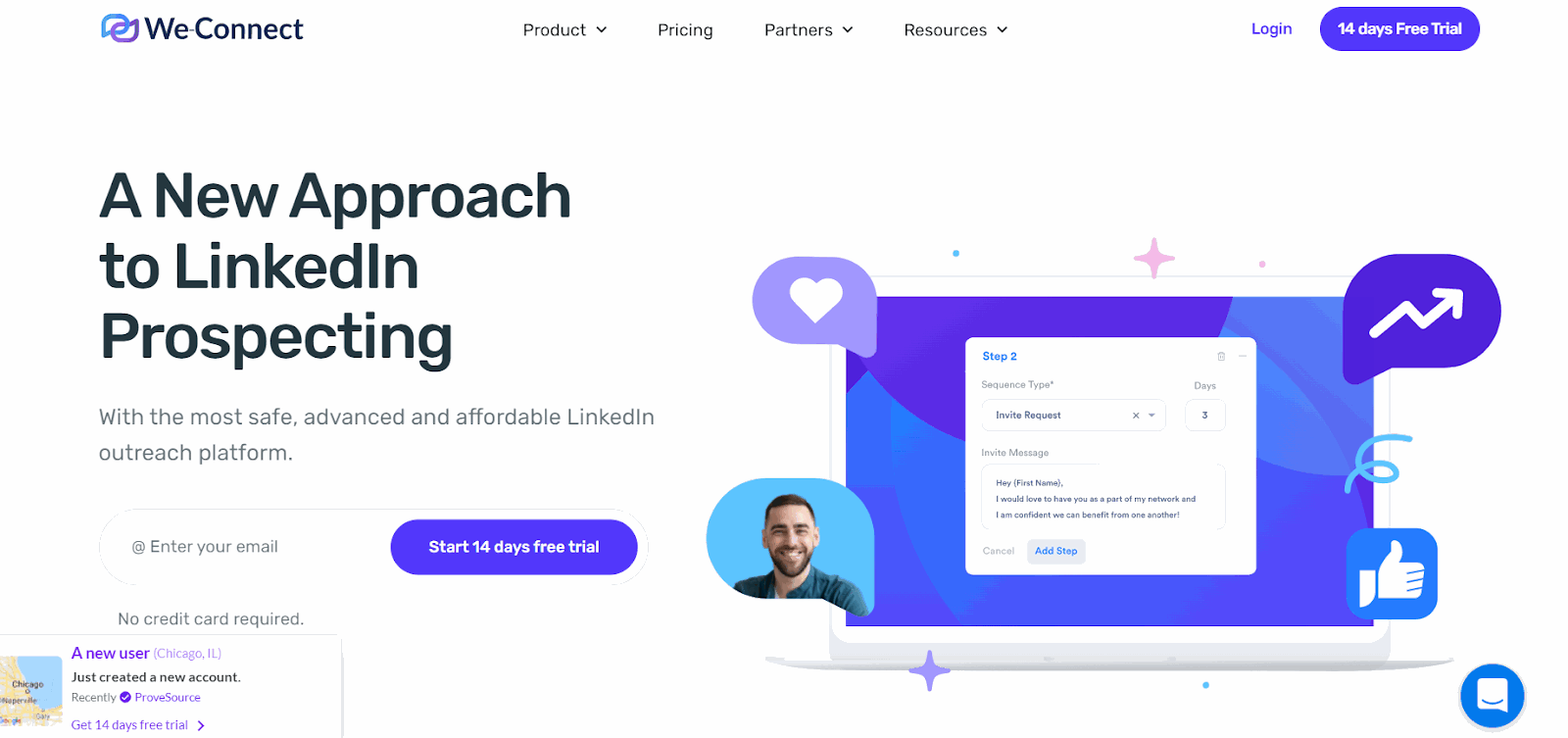 This automation tool facilitates LinkedIn network growth. This tool equips you to find prospects, generate leads, foster professional relationships, and close deals. WeConnect is a cloud-based LinkedIn automation tool, rendering it more secure and safe than browser-based automation tools.
Key Features:
Supplies a campaign manager
Manages smart replies
Facilitates easy use
Provides an advanced reporting tool
Pricing:
$49/month for accessing all features with two months of free usage
Pros:
Capability of removing pending invitations
Well-designed user interface
Segmentation capabilities
Easy search for target audience
Cons:
Poor customer support
Steep learning curve for first-time users
Octopus CRM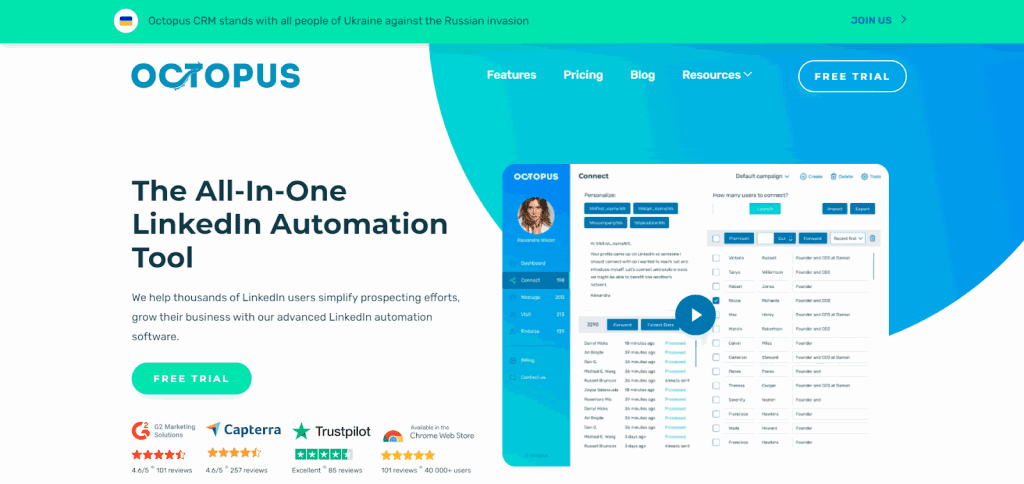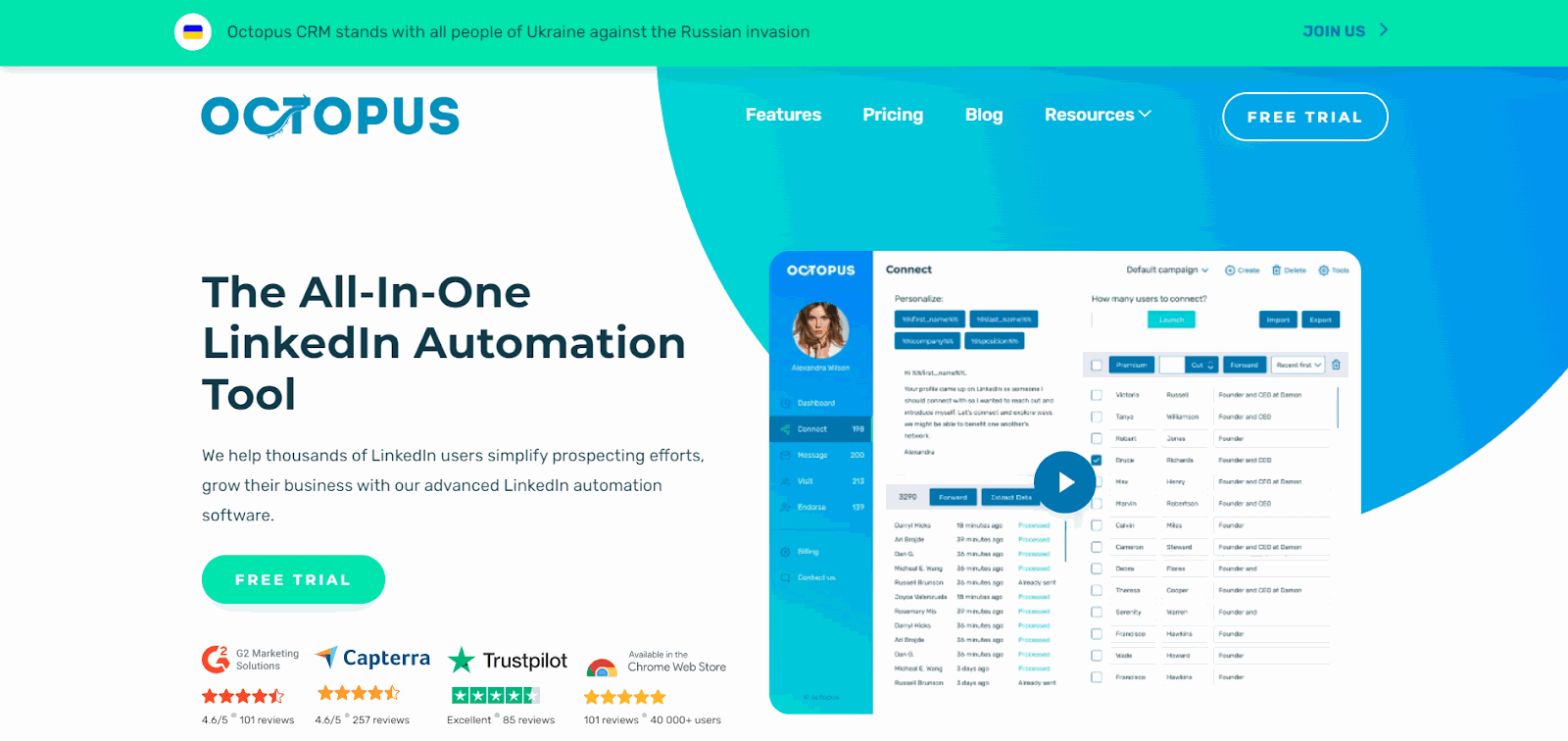 Octopus CRM is a relationship management tool that connects you to your target audience. Its features help create personal lead generation funnels. Using Octopus CRM, you can add, combine, and remove features. Private individuals can save their network contacts and companies can save their prospects' personal dashboards.
Key Features:
Sends bulk messages to LinkedIn contacts and personalized messages to second and third-degree connections
Builds excellent LinkedIn lead funnels
Pricing:
All services for $99/month.
Pros:
Intuitive user interface
Comprehensive resource library
Cons:
Filter function needs improvement
Downloadable CVS file that does not secure contact information
TexAu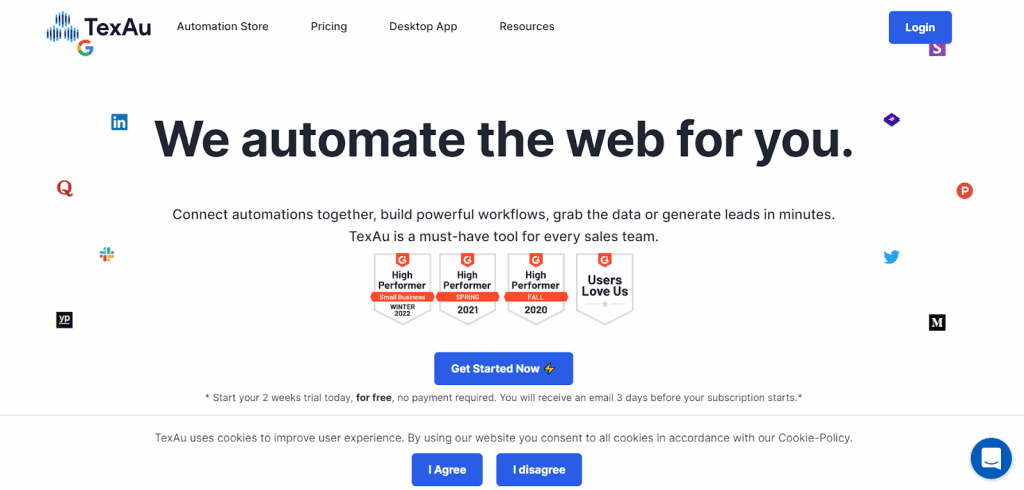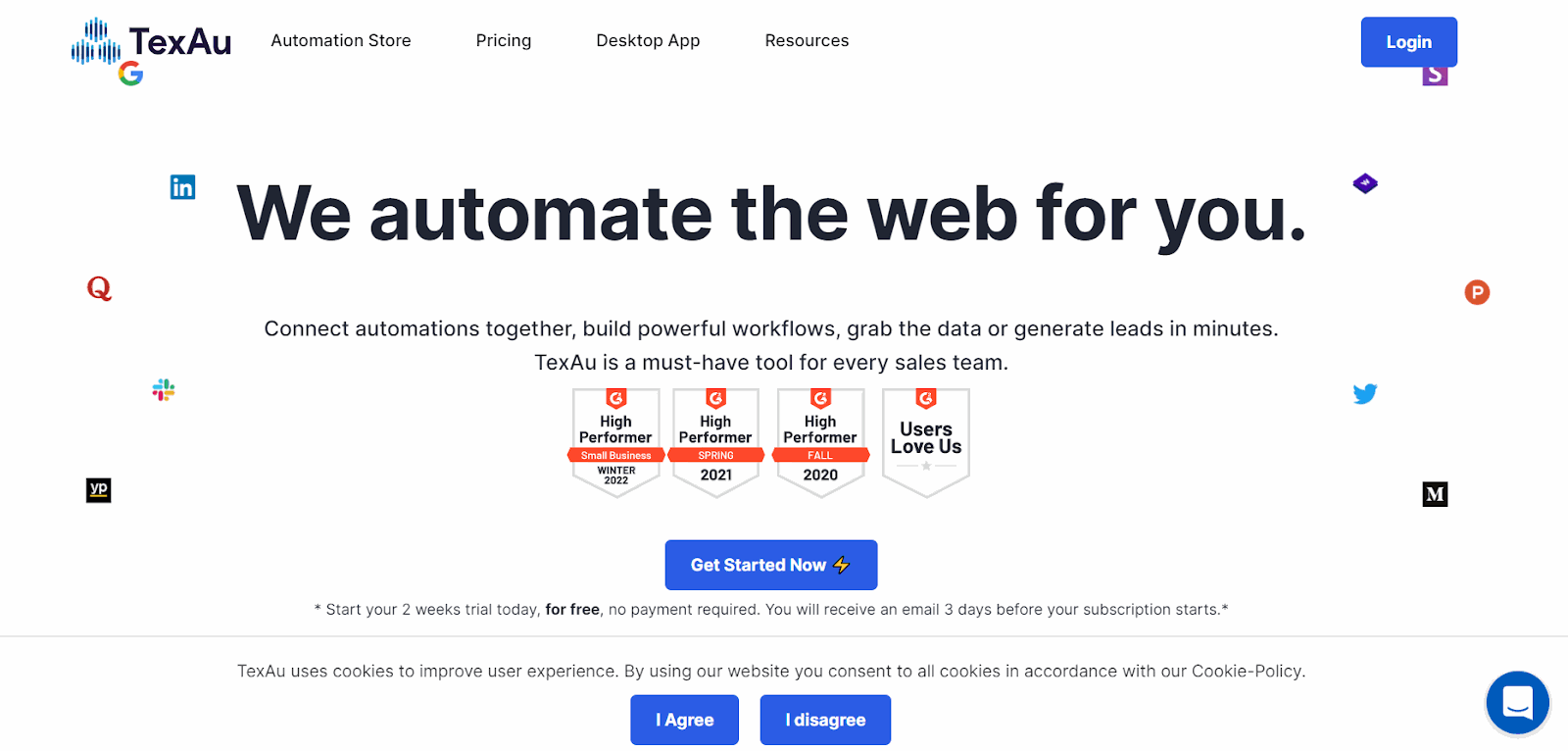 TexAuis a growth automation platform that improves your business's presence on social media sites, including LinkedIn. This tool does not use no code for extracting data, and you can automate all functions on LinkedIn. Furthermore, you can extract data and connect it to any other CRM or automation tools.
Key Features:
Automates messaging, connecting, and even posting
Scrapes the LinkedIn profiles of other group members
Includes personalization
Pricing:
Three options: Cloud Starter at $290/month, Cloud Growth at $790/month, and Cloud Agency at $1990/month.
Pros:
Built-in email finder and verifier
Connects multiple platforms for omni-channel campaigns
You could use the app on cloud, mobile gadgets and desktop
Cons:
Adding proxies is sometimes difficult
UseViral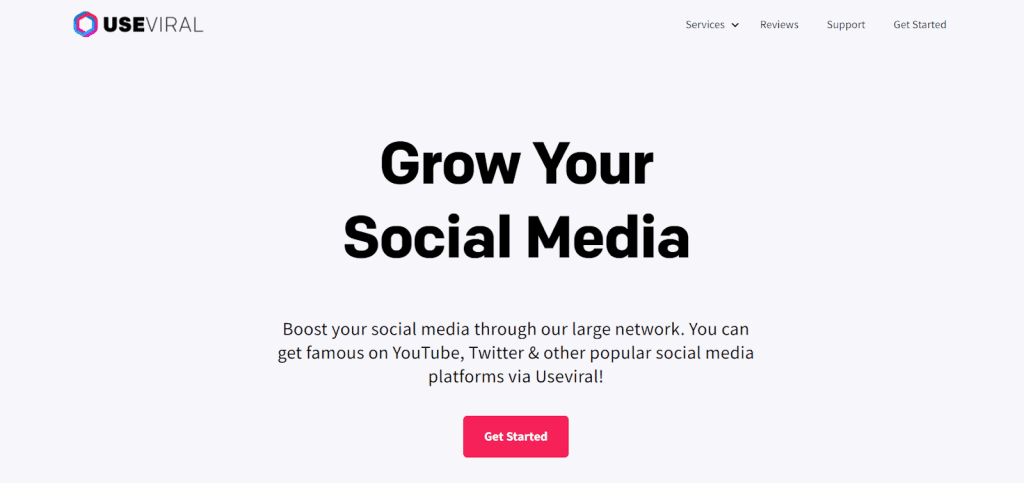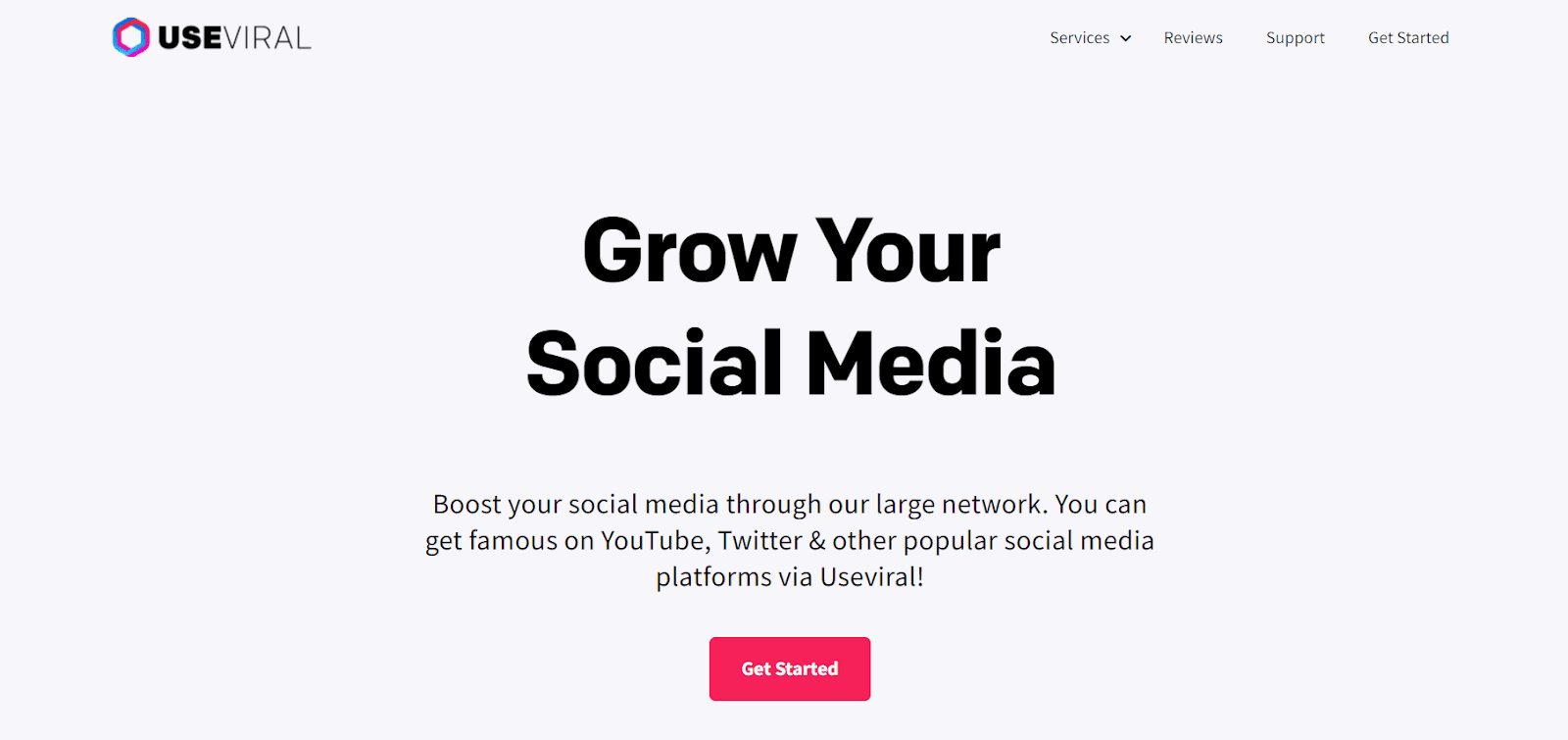 UseViral is a social media service that boosts a company's social media presence. In fact, this tool helps you build across several social media platforms. The tool offers several packages for helping businesses accrue followers, likes, shares, and views on any social media platform.
Key Features:
Offers several social media options such as Twitter, YouTube, TikTok, Pinterest, and Spotify
Organically expands the number of followers, subscribers, views, shares and clicks
Pricing:
Pricing varies based on the social media platform of choice; $5.99/month for LinkedIn.
Pros:
Offers a variety of customized packages based on a user's chosen social media platform
Cons:
Purchasing views and followers might prove to be a morally ambiguous choice
GrowthLead
Growth Lead is a B2B social selling tool for Linkedin that helps scale your LinkedIn outreach while allowing you to focus on other tasks.
GrowthLead was created to help businesses grow their email lists and social media following, especially for LinkedIn premium accounts. This tool automates the process of adding people to your email list and following them on social media once they visit your site.
GrowthLead is an effective tool for businesses wanting to grow their online presence. It is simple to use and automates adding people to your email list and following them on social media. These offerings help you t quickly and easily grow your email list and social media followers.
Key Features:
Offers several social media options like Twitter, YouTube, TikTok, Pinterest, and Spotify
Organizes multiple LinkedIn accounts on one dashboard.
Organically grows the number of followers, subscribers, views, shares, and clicks
Pricing:
Three options: Pro at $100/user, Advanced at $150/user, and Basic at $70 per user
Pros:
Compatible with other automation tools
Effective lead nurturing and lead sourcing
Cons:
Not as developed personalization
SidesMedia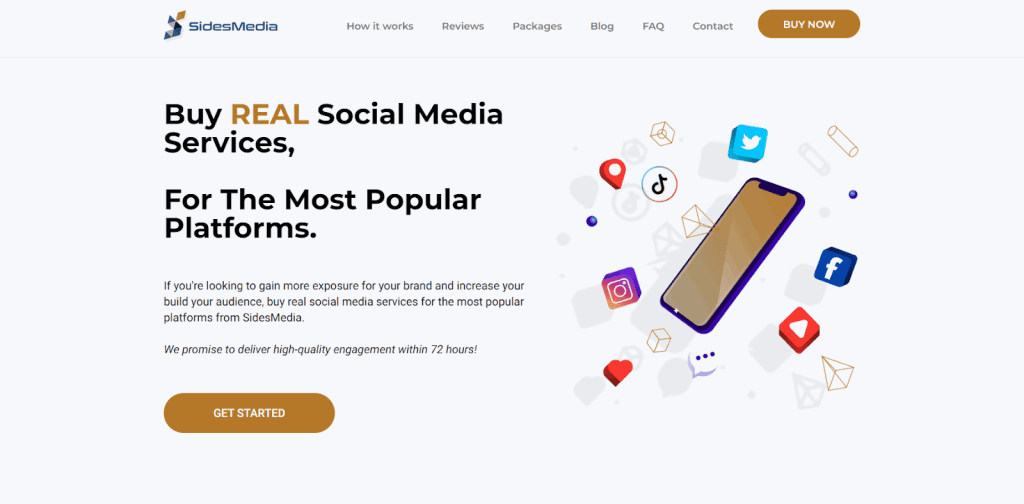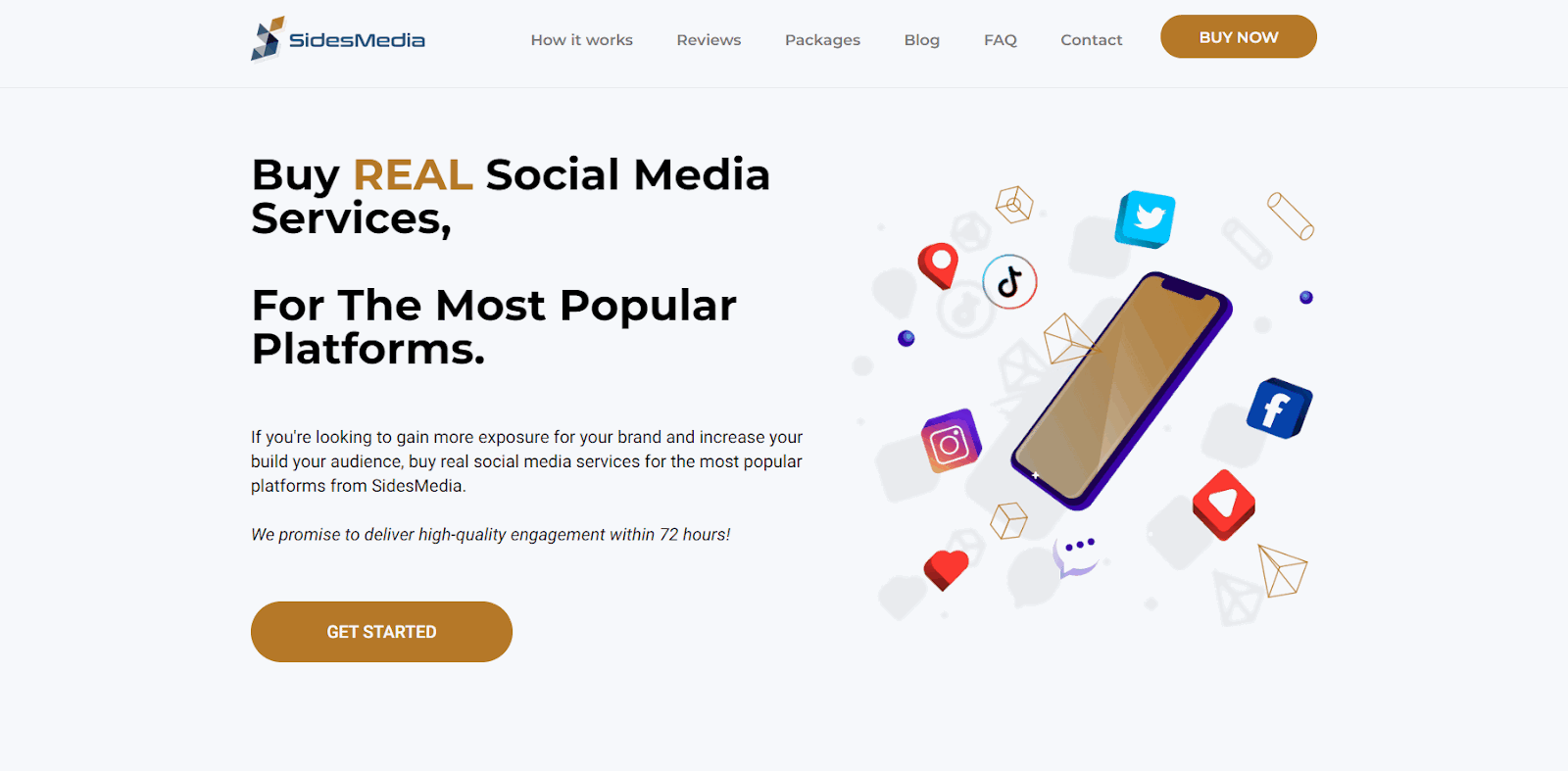 SidesMedia is a Linkedin automation tool that helps you find real social media followers. This tool pulls in high-quality accounts that organically grow your network. You can even add more likes on your Facebook page and on other social media pages.
Key Features:
Instantly provides followers and subscribers
Offers different packages for each social media platform
Offers social media engagement on other platforms like Spotify, Twitch, and Pinterest
Offers high-quality tiered engagement based on platform
Pricing:
Pricing varies based on the social media platform of choice; $6/month for LinkedIn
Pros:
Offers a variety of customized packages
Cons:
Buying views and followers might violate Terms of Service.
Reply.io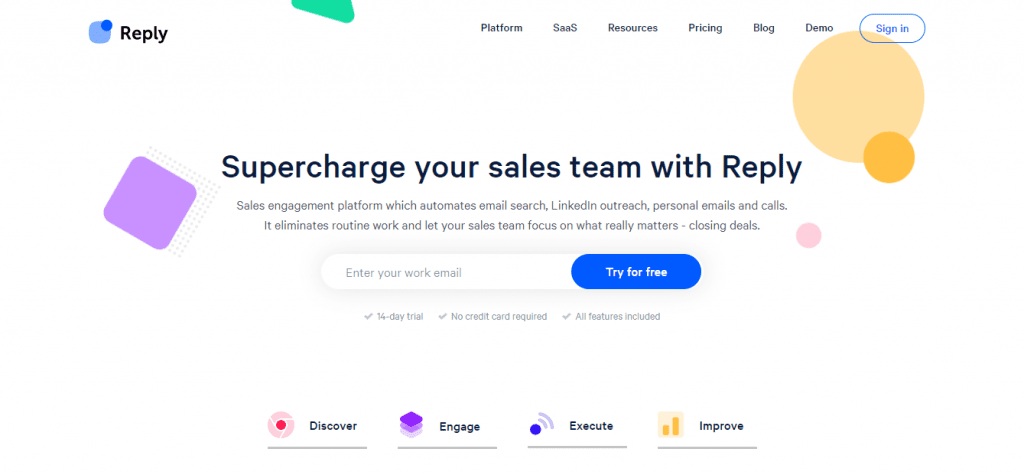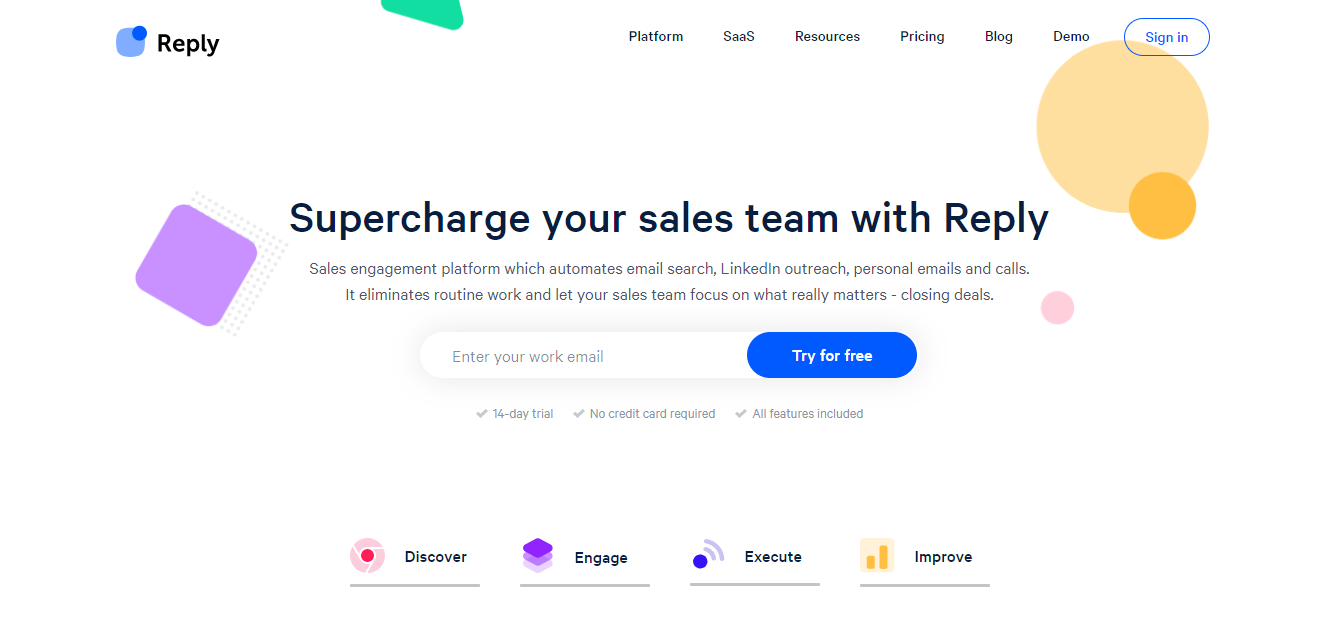 Like LinkedHelper, Reply.io is a Chrome extension. This tool is considered one of the best LinkedIn lead-generation tools. The design works best for sales teams, helping them find leads that fit their ideal customer profile.
Key Features:
Determines valuable leads that fit your customer profile
Automates outreach and follow-up messages for leads and prospects
Pricing:
Three options: Individual at $70/month, Business at $60/month, and Agency at $50/month
Pros:
Excellent customer support
Easily creates drip campaigns
Offers omni-channel experiences
Cons:
Must use Zapier to integrate Reply.io with other CRMs
Wiza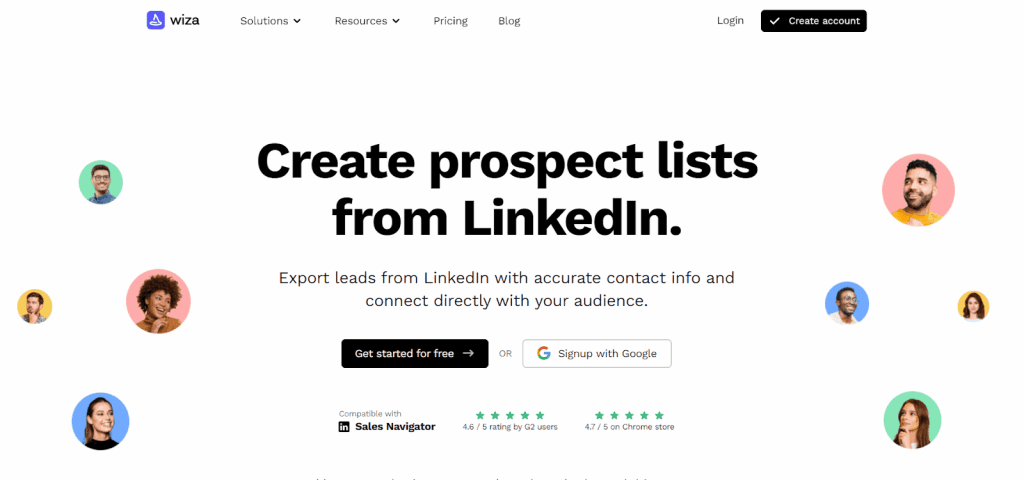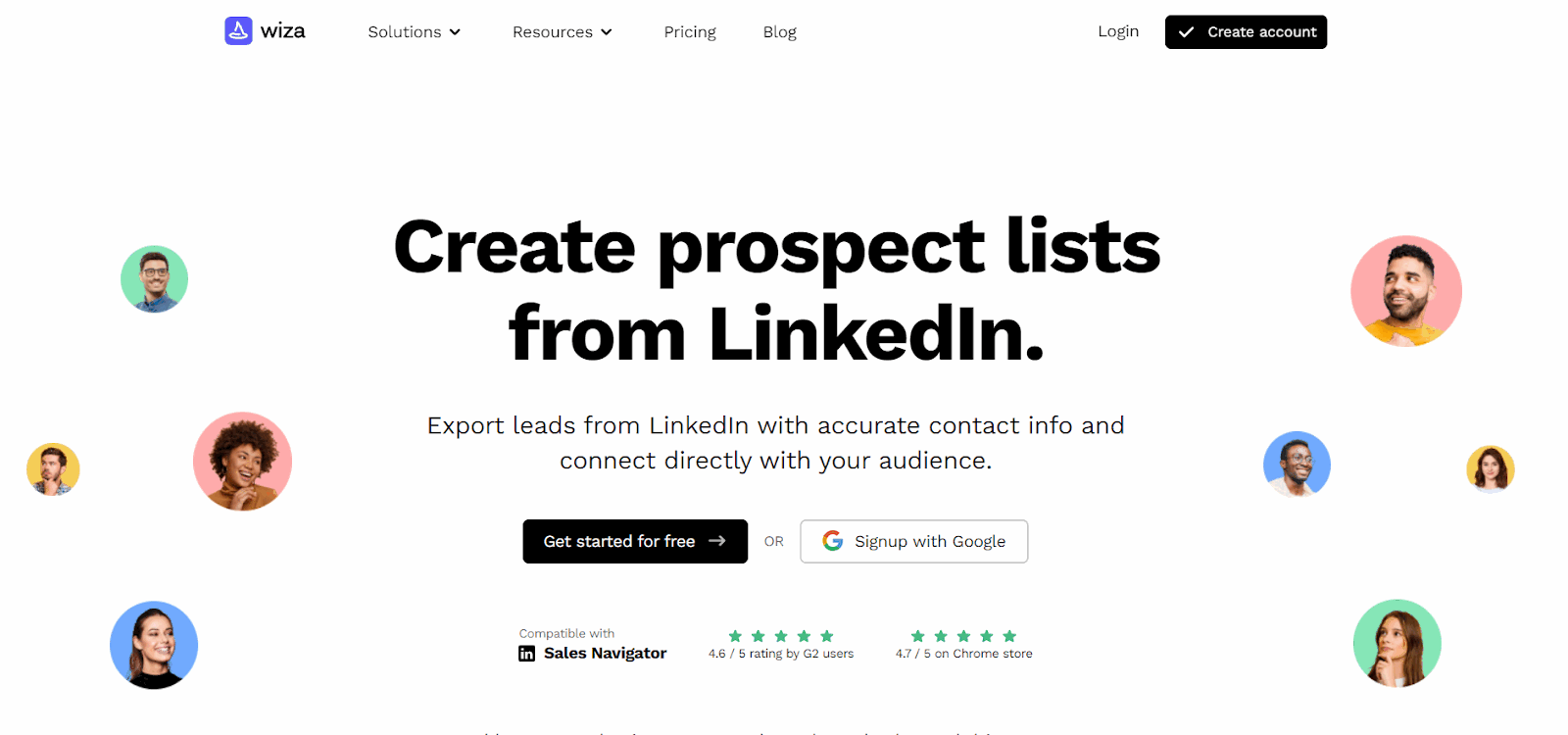 As another Chrome extension, Wiza connects to your Sales Navigator account. You can collate the prospects on your Sales Navigator account. You could also export the list to your CRM as a CSV file. 
Wiza is a sales enablement platform that helps businesses automate leads by extracting email lists. In this way, LinkedIn users can identify leads through their emails using artificial intelligence (AI). Here are other Wiza alternatives if you're interested in learning more.
Key Features:
Works through an easy Chrome extension set-up.
Integrates with Sales Navigator
Pricing:
Three options: Professional at $29/month, Premium at $44/month, and Enterprise at customized rates
Offers a free option with 10 free credits per month
Pros:
Automation exports verified leads
Individual email finder option
Flexible, customizable payment options
Cons:
Salesloop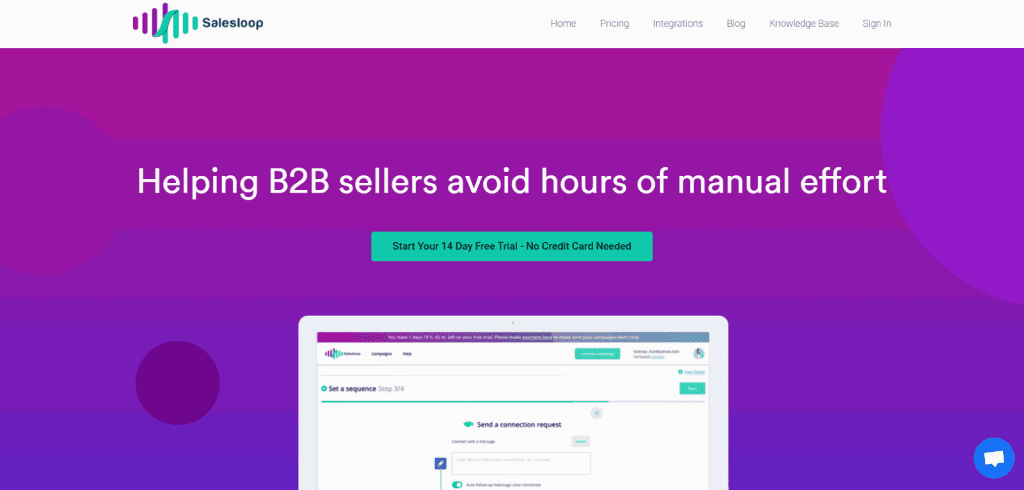 Salesloop offers advanced automation for LinkedIn activities. It is a cloud-based tool with built-in safety features. Gives businesses the ability to manage multiple accounts for sales teams and marketing teams.
Through this tool, companies can track of any businesses and companies visiting their website. Then, Salesloop sends connection requests to these companies using automated messaging in order to expand their networks.
Key Features:
Connects multiple data sources to find target companies
Conducts relevant searches using a LinkedIn URL
Identifies your ideal customer and audience
Schedules outreach campaigns and sequences
Pricing:
Three options: Solo at $49/month, Team at $199/month, and Managed Services at $799/month
Pros:
Excellent security features
User-friendly interface
Accessible campaign metrics
Cons:
What to Consider When Choosing a LinkedIn Automation Tool
LinkedIn creates and strengthens relationships with customers, partners, and other businesses. However, managing a LinkedIn profile can be time-consuming. The creation of social media campaigns, in particular, can require significant effort from you and your team. LinkedIn automation tools like Uplead can streamline these processes.
You must consider other factors aside from a tool's popularity. Here are some points to consider while choosing your LinkedIn automation tool:
Make sure the tool contains all of the necessary features, including bulk contact uploads of contacts, automated messaging, and CRM integration. Check the advanced features too, and review whether or not they work for you.
The tool should be easy to use with a simple, intuitive interface.
Strive for affordability without sacrificing quality.
Check for high-quality customer support and responsive, helpful staff.
Cloud-Based vs. Browser-Based LinkedIn Automation Tools
Currently, LinkedIn automation tools are very popular. But some are cloud-based while others are browser-based. Is one kind better than the other? Cloud-based LinkedIn automation tools offer a number of advantages that their browser-based counterparts lack.
First, cloud-based tools are always up-to-date. For browser-based LinkedIn automation tools, you must periodically update your software in order to keep using them. Second, cloud-based tools are accessible from anywhere. As long as you have a stable internet connection, you will be able to use a cloud-based LinkedIn automation tool. Third, these tools are typically very user-friendly and are the more versatile option for most businesses.
In summary, companies with remote teams and mobile platforms would most benefit more from cloud-based LinkedIn automation. Office-based businesses would most benefit from browser-based automation tools.
Chrome Extension vs. Stand-Alone Tools
Chrome extension and stand-alone tools have pros and cons for social media management. Chrome extensions are easy to use and always accessible. However, they tend to be limited in terms of features, especially when used for Linkedin automation.
Stand-alone social media management tools offer more comprehensive features but can be more difficult to learn. And yet, they offer much more advanced features than Chrome extensions. Moreover, most stand-alone LinkedIn automation tools can integrate with other platforms so that you can view of all your social media accounts in one place. An automation tool like Uplead can assist many businesses given their intuitive interface and integration.
Businesses with remote teams and less tech-savvy clients should choose automation tools with Chrome extension. In contrast, companies relying on more than one digital tool or automation software should use stand-alone Linkedin automation tools.
Personalization Capabilities and Additional Benefits
In the digital age, personalization is one of the most important aspects of marketing. It is the key to creating a genuine connection with customers and differentiating your brand from the competition. Personalized LinkedIn messages are more likely to be opened, read, and acted on than generic ones.
Depending on the business's needs and the customer's preferences, there are many different ways to personalize content. Some common personalization methods include using targeted ads and messages based on customers' data, tailoring content to specific customers or LinkedIn group members, or offering options that allow customers to customize their consumer experience.
FAQs
What is the best LinkedIn automation tool?
The best LinkedIn automation tool for you depends on your specific needs and preferences. Some tools better manage LinkedIn connections, while others can expedite scheduling posts or tracking analytics. Do your research in order to find the tool that best fits your needs.
What are the most effective tools for a LinkedIn campaign?
LinkedIn is a powerful B2B marketing tool for companies to connect with potential customers and partners. However, many businesses struggle to maximize the potential of their LinkedIn page. They lack knowledge about all of the different sales and marketing tools available to them.
Many different tools can help businesses create successful LinkedIn campaigns. A few of the most effective tools include LinkedIn Ads, LinkedIn Sponsored Content, and LinkedIn InMail. Other automation tools, such as Uplead, can serve similar purposes.
However, you must still choose your automation tool based on your specific needs.
Does LinkedIn allow automation?
LinkedIn allows automation. You can program these automation tools to post content, follow people, and send messages. LinkedIn also allows users to create and manage LinkedIn groups. However, some LinkedIn automation tools violate LinkedIn's Terms of Service and should not be used.
Does LinkedIn block automation?
LinkedIn has blocked automation tools and services in the past. LinkedIn will likely block any service or tool trying to automate this organic process as a site that relies on human interaction. This threat can challenge marketers and business owners who want to grow their LinkedIn presence.
A few workarounds can help you navigate LinkedIn's block on automation. One method is to use a service like Hootsuite, which provides post-automation while still leaving space for you to engage with other users.
Is LinkedIn good for lead generation?
LinkedIn excels as a platform for generating leads. The social media network equips you to connect with potential customers and clients more personally than other social media sites.
Unlike other sites, LinkedIn also allows you to target your leads. You can specify your audience by focusing on job titles, company size, or other factors. LinkedIn also permits tracking your LinkedIn connections' activities and the number of Linkedin connections who have read your message so that you can pinpoint potential leads.
What to Remember About LinkedIn Automation Tools
LinkedIn is a powerful business networking site with over 800 million users. LinkedIn automation tools like Uplead help businesses connect with their target audience and build productive relationships with potential customers.
Understanding how each one works is important before selecting the LinkedIn automation tool for your business. You must focus on the best LinkedIn automation tool for you.