Running a successful B2B business is a complex undertaking. You work hard to attract and retain customers, ensure quality service, optimize operations, and cultivate relationships with clients — all while trying to increase profits. How can you tell if your efforts are truly paying off? The answer lies in collecting the right data to measure performance: key B2B marketing metrics that can provide insights into customer behavior, reveal trends in your industry, and spur creative solutions for improving efficiency and boosting sales success.
11 Key B2B Marketing Metrics to Track Performance
Below are 11 financial KPIs you should be monitoring on an ongoing basis to help track progress toward achieving your sales and marketing goals.
1. Cost Per Lead (CPL)
Evaluating CPL enables you to more accurately identify and allocate your marketing spend and better understand how effective your lead generation strategies are and which approach works best for your sales process.
Calculating Cost Per Lead (CPL) involves the following formula:
Total cost of your marketing efforts (including the amount spent on ads, additional tools used, and time spent by sales and marketing teams) / number of new leads generated.
2. Marketing Qualified Leads (MQLs)
MQLs play an integral role in the performance of B2B marketing strategies, as they have the potential to become long-term customers. Your marketing team must engage with MQLs and ensure they derive enough value from their content and services. By effectively tracking this metric, you can determine where to enhance their marketing approach and how many MQLs match their desired customer profile. With this information, it will be easier to understand which tactics genuinely work to acquire more qualified leads for a lower cost.
To evaluate the cost associated with each MQL, you can use a simple calculation:
Cost per MQL equals Cost Per Lead / total marketing costs for new leads.
3. MQLs to Sales Qualified Leads (SQLs)
Determining the percentage of MQLs to Sales Qualified Leads (SQLs) provides insight into the quality of leads your team has generated and determines how well they are performing in setting up prospects for the sales funnel. By calculating the cost per SQL, you can benchmark the quality and potential return on investment of leads set up by your marketing team before they are sent to sales. Keeping track of this performance metric will ensure that your marketing activities will be an asset instead of a cost center over time.
The following formula can calculate the MQL to SQL pipeline conversion:
The total amount of MQLs/number of SQLs generated. 
4. Customer Acquisition Cost (CAC)
Tracking your Customer Acquisition Cost (CAC) is an invaluable practice for monitoring and improving the success of your B2B marketing initiatives. CAC can help provide insight into how effective your various sales and marketing campaigns are and benchmark the meaning of success in terms of sales goals. It can be further used to evaluate what a good CAC is by comparing it to Lifetime Value (LTV); this helps to identify viable revenue streams, potentially cutting away those costing too much for what they're bringing in.
Knowing your CAC is crucial, as it enables you to make better business decisions through monitoring changes, aiding success in the long term with sharper data-driven practices.
The metric is determined by:
Total sales and marketing costs/number of new customers acquired.
5. Lead to Close Conversion Rate (CVR)
Lead to Close Conversion Rate (CVR) helps measure the effectiveness of your sales team in guiding prospects through the sales pipeline. It's important to remember that what constitutes a "good" conversion rate differs across different industries and businesses, so it's essential to be familiar with your industry's metrics to benchmark appropriately. Evaluating CVR can help you understand if your sales operations are running efficiently and if adjustments need to be made to how your sales reps close deals.
The following formula determines the CVR:
Total number of leads/number of closes
Start Your 7-Day Free UpLead Trial
Lead generation doesn't have to be all that painful. With UpLead, you can easily connect with high-quality prospects and leads to grow your company.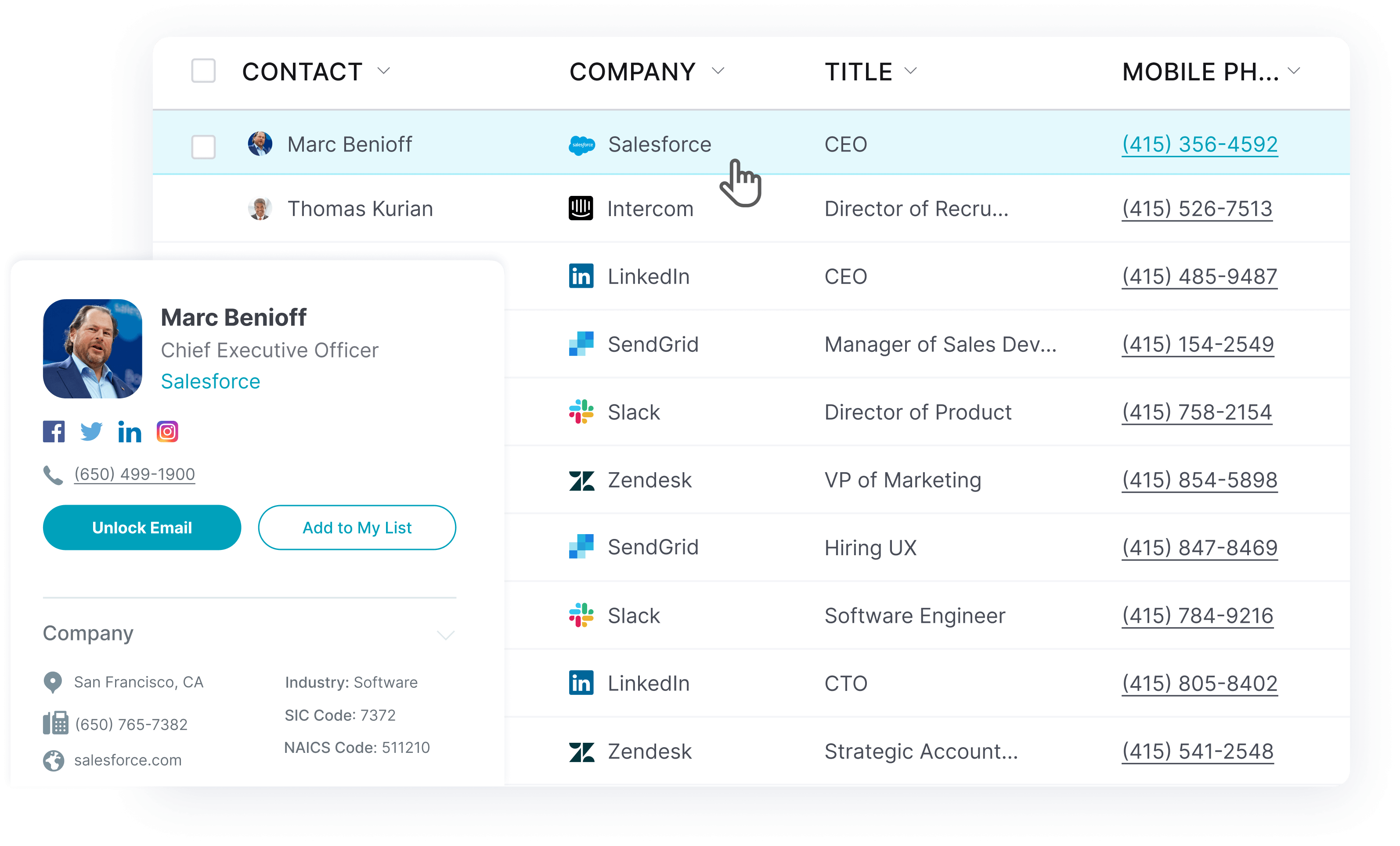 6. Customer Lifetime Value (CLV)
CLV is a crucial B2B marketing metric because it helps you measure your customers' worth to your business over their entire lifetime as a customer. By comparing CLV to CAC, you can identify high-value customers to prioritize lead conversion efforts, which will help you develop better customer retention strategies and scale your lead conversion efforts appropriately.
The formula used to determine CLV is:
Average contract value x average customer lifespan x by purchase frequency
7. Average Sales Cycle Length
Understanding your sales cycle length is critical for accurate revenue forecasts in the B2B sector. Knowing when your leads are expected to close can help you plan accordingly, ensuring you hit deadlines and sales goals. Of course, many factors can affect the average time taken to convert a lead into a sale. These considerations include industry factors, pricing models, and your company's sales processes. By tracking your sales cycle length over time, you will be better equipped to adjust your forecasting strategies and ultimately support the growth of your business.
The formula for determining sales cycle length is:
Total number of days it took to close SQLs / total number of deals closed
8. Website Traffic
Website traffic reveals valuable insights about customer behavior and preferences. When tracked over time, website traffic can uncover underlying trends, such as whether and which marketing channels are most effective at bringing in inbound leads and customers. By gaining this insight, businesses can optimize their marketing efforts, target potential buyers more precisely, increase site visits, and ultimately boost their B2B conversions to maximize ROI.
There are a few key marketing metrics to dig deeper into with website traffic, including:
Number of visitors: how many people are visiting your website
Traffic sources: where your visitors are coming from (i.e., what channels are most effective for drawing leads)
Bounce rate: total single-page sessions divided by the total number of sessions to gauge how many people are leaving your website without taking engaging
Average session duration: how long your website visitors are staying on your website
Click-through rate (CTR): how often your visitors are taking action on your website
9. Social Media Stats
Several marketing metrics are vital to tracking your social media marketing campaign health. By monitoring these key data points, you can improve your marketing campaigns and better identify which platforms work best for your brand. 
Some of the most important social media metrics to track include:
Impressions: how many views your content is getting
Follower growth: change in followers over a set period
Reach: how many people are viewing your content
Engagement rate: number of likes and comments
Mentions: how many people are talking about your brand, and in what sentiment
10. Email List Data
When measuring the success of your B2B marketing efforts, it's crucial to emphasize tracking your email list data. Knowing the return on your subscriber investments will allow you to make better decisions about where and how those outbound marketing funds should be allocated. Generating insight about behavioral trends within target buyers via activities such as segmenting lists by roles or job titles can also result in higher conversions per campaign. 
Key email list data entails:
Number of subscribers acquired: how many new people are subscribed to your email list
Open rates: how many people opened your emails
Clickthrough rates: how many people clicked on relevant links in your emails
11. Monthly Recurring Revenue (MRR)
Monitoring key metrics is an essential task for successful B2B marketing. One such metric is monthly recurring revenue (MRR), often used to measure business performance and growth. This measure calculates the expected revenue that a company generates every month from its ongoing customer subscriptions and services. Accurately assessing MRR provides valuable insight into a business's progress and can help optimize future campaigns and plans. By keeping track of this key metric, companies can use the information to identify trends over time and adjust their operations accordingly.
MRR is calculated by:
Annual recurring revenue (ARR) / 12 months
UpLead is the Best Tool to Improve B2B Metrics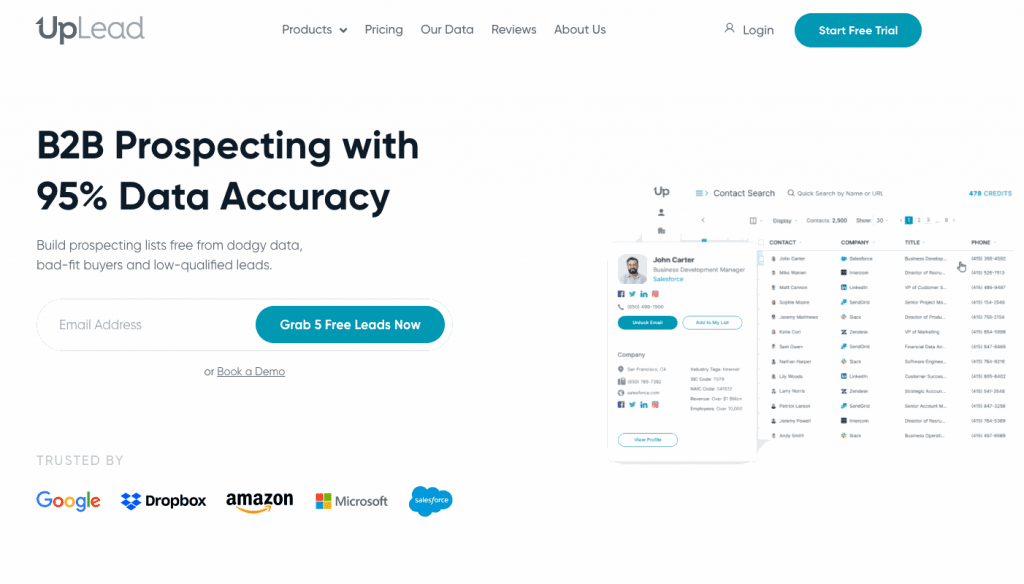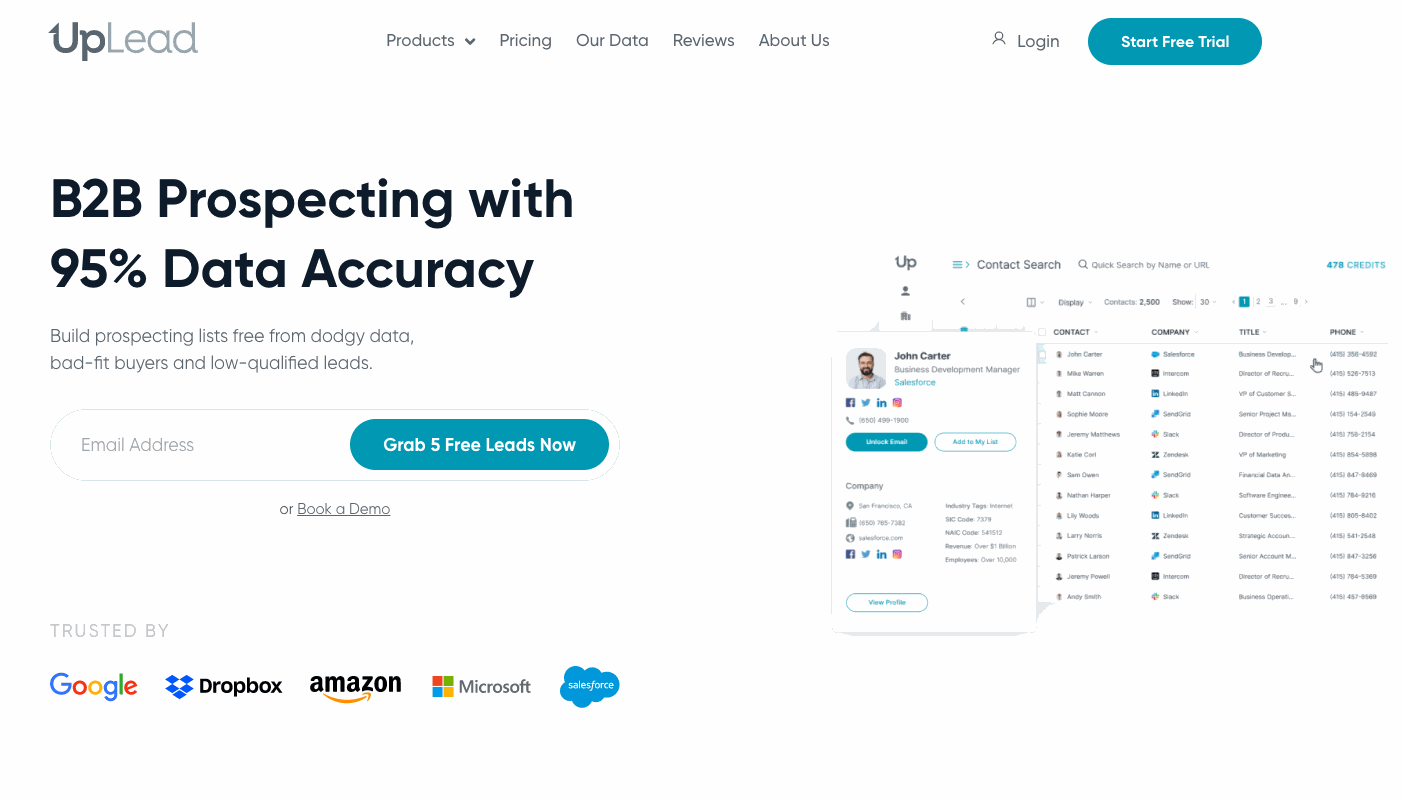 UpLead is the best tool to improve B2B metrics while keeping your lead generation processes efficient. The sales intelligence platform takes data accuracy to a new level, with up to 95% accuracy on all your contact and lead data— guaranteed. This optimization will help you build targeted campaigns, improving your customer acquisition cost (CAC) and cost per lead (CPL).
As a premier B2B sales platform, UpLead is a valuable asset that can help you grow your business and master your marketing goals.
Some of the most prominent benefits of UpLead include the following:
Company news information to give you more relevant data on your contacts
Verified emails and phones for faster outreach
Chrome extension and CRM integration for ease of use with your existing tools
Purchase intent data for precise targeting
To unlock its full potential, try UpLead today and see how much it can improve your B2B metrics.
FAQs About B2B Marketing Metrics
Below are a few of the most frequently asked questions about B2B marketing metrics.
What are the most critical metrics in a B2B marketing plan?
When deciding how to market to buyers, you should consider several metrics, including Return on Investment (ROI), Customer Acquisition Cost (CAC), and Lead Close Conversion Rate. Each metric provides essential feedback, and you should tailor each to help your outbound sales team reach its goals. By monitoring these metrics closely, you'll have insight into your plan's effectiveness and can make any necessary adjustments for maximum results.
How do you measure marketing performance in B2B?
Regarding metrics such as qualified leads generated, number of deals closed, and customer lifetime value to understand how well campaigns are doing and which areas need to be improved. It's also important to compare these metrics against the marketing spend to assess ROI – this will give a greater understanding of the efficiency of different marketing activities. 
What You Need to Remember About B2B Marketing Metrics
When it comes to B2B marketing metrics, it's essential to ensure you are tracking the relevant data that will help show progress toward achieving your goals. This includes metrics like Customer Acquisition Cost, Cost Per Lead, and ROI, among many others. Developing a robust strategy to track these metrics in your marketing and sales team will help provide feedback on your efforts and discover opportunities for improvement. With UpLead by your side, you can employ marketing automation tools to turbocharge your metrics and improve ROI – all while acquiring high-quality leads in record time.