One of the biggest challenges that B2B marketers face is generating quality leads, while B2B salespeople face longer buying cyсles and undefined sales processes. Yet, one of the trends is proclaiming inbound to be the new black.

It may seem like these trends are not connected, but they are. The problems that current B2B professionals face come precisely from the understatement of outbound marketing. In fact, if you do a little research, you'll find dozens of articles with the heading "inbound vs. outbound marketing," prompting you to pick one side over the other one.

When in case, having both might be the key to success.
This guide will cover the basics of outbound marketing and hopefully neutralize any prejudice you may have had toward it.
Quick Links: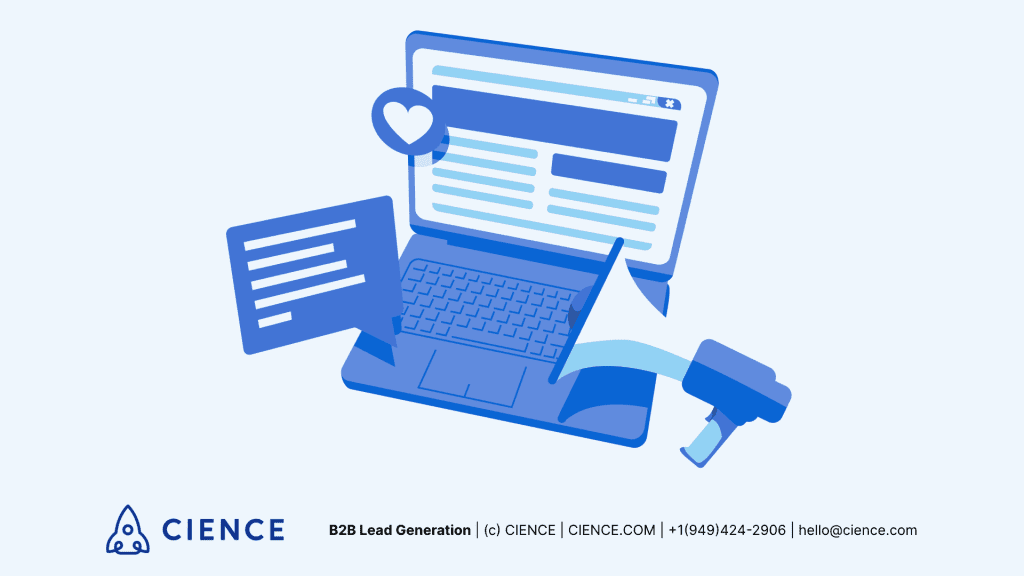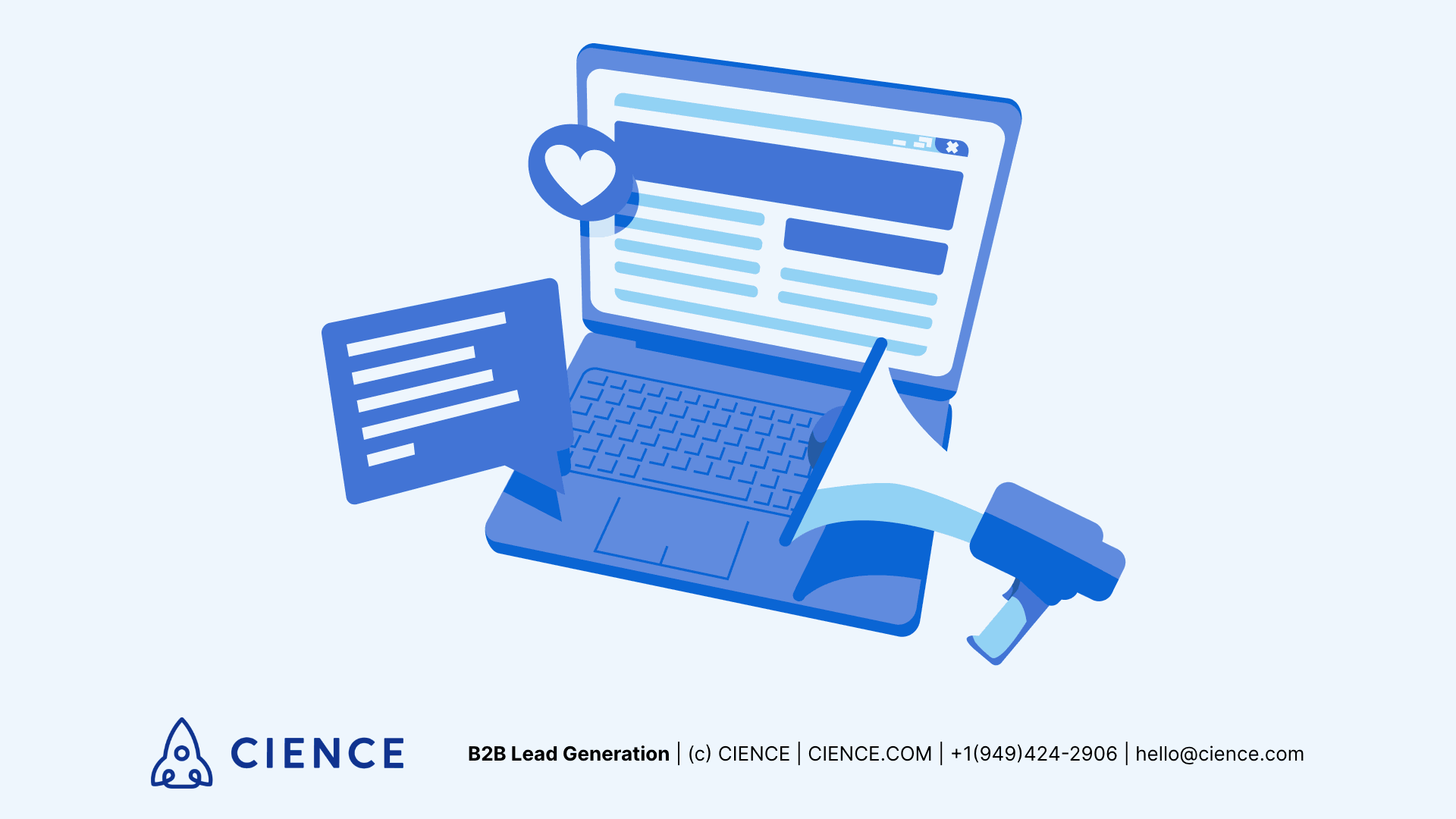 What Is Outbound Marketing?

Outbound marketing is a traditional marketing method that focuses on actively looking for and reaching out to your prospective customers with the ultimate goal of landing them as sales.

It's easier to explain the concept of outbound in comparison to its relative, inbound marketing. With inbound, you create various types of content (landing pages, ads, blog posts, etc.) and wait for the brand awareness to spread and interest some buyers.

Outbound, on the other hand, doesn't sit and wait—it creates opportunities for itself. It focuses on reaching out to groups of people that can be a great fit and starting conversations that may lead to sales. Outbound marketers are responsible for everything leading up to a deal, and then the torch is passed to sales executives.

Outbound marketing is done through a variety of channels: phone, email, direct mail, event lead generation, social media, and more.

Despite being highly effective, outbound marketing still has to fight for its reputation. It is thought to be mass-produced, impersonal, noisy, and even pushy. And it was like this—in the past. Outbound was oriented on the number of sales and had no real consideration for the person on the other end of the line.

Nowadays, if outbound marketing possesses the qualities mentioned above, it means it is done wrong. When carefully crafted, outbound shows excellent results and brings a stream of new opportunities to the sales funnel.

How to Build an Outbound Marketing Campaign Step by Step
One of the main advantages of outbound marketing, compared to inbound, is its predictability. With inbound, you don't know how many new leads you're going to get or when. Outbound, in contrast, relies on carefully planned steps that compose the construction of an outbound marketing campaign. Follow these steps to create your campaign strategy:
1. Define your audience.
The first step that must be taken for your outbound campaign to be successful is to define and understand your audience. What leads fit you best, what qualities define your ideal customer-to-be, where can you find them, and what makes them unique?

These are among the questions you have to answer before kicking off your work. To gather this information efficiently, you must create two vital documents—an ideal customer profile (ICP) and a buyer persona (BP).

To construct an ICP, analyze all your previous clients and highlight features they share (demographic, firmographic, and technographic characteristics). The ICP will showcase what companies and titles you want to target and where to find them.

On the other hand, a buyer persona will dive deeper into the psychological traits, professional experience, key challenges, and buying journey; these serve as a guide on targeting those leads you've found thanks to the ICP.
2. Set your goals.
Before stepping into planning and arranging the start of your outbound marketing campaign, you must think about the outcomes you want to see. Is it boosting some marketing KPIs, spreading brand awareness about the new products, or supplying a steady flow of qualified appointments? Either way, the campaign's goal will determine the channels, methods, and contents you'll use to achieve it.

It will also help define your team's capacity: You'll need at least one researcher, SDR, and a copywriter. The number of team members will set the bar for quotas: weekly, monthly, or quarterly. Note that quotas are meant to be realistic and serve as motivation as well as control.
3. Analyze and plan.
There are lots of details that you need to decide on before the start of your campaign. Start with outlining the budget. To do that, you should browse the wages on the market and come up with an average salary for your employees. The budget should also include hiring, training, ramp up, tech stack, research, etc.

The most important part of this step is deciding on the outreach channels. Outbound has plenty to choose from: email, phone, ads, social media, and even direct mail. The key here is to find a combination of channels that work best for your outbound marketing activities. However, we'll discuss channels a bit later.

Next comes the decision on the timing of the campaign. Outline the daily routines of each of your team members so that it will be easier to determine the start date and the duration of the campaign.
4. Create content.
When the start day is set, and the research of the leads for your outbound campaign starts, your attention has to be on crafting relevant, high-quality content for every outreach channel you choose. The copy must be concise, natural, GDPR compliant, and coordinated with the buyer persona.

When crafting emails, every part of the letter matters, from the subject line to the signature. Besides, they have to feel personally crafted. To achieve that, our copywriters at CIENCE always leave some spots where an SDR can get creative and insert a sentence or two of personalization on every prospect.

In addition to email copy, you have to create content for cold calling scripts, landing pages, and ads.
5. Analyze the results and start over.
Once you are done with your first outbound campaign, you should be proud of what you've achieved while also looking for areas of improvement.

Analyze the number of qualified leads, emails, responses, and appointments that transformed into sales. You should also track such marketing KPIs as open rate, bounce rate, conversion rate, click rate, customer acquisition cost (CAC), customer lifetime value (CLV), connect rate, and return on investment (ROI).

Once you go through each of the metrics, you can make corrections to your outbound campaign planning and start again, this time better.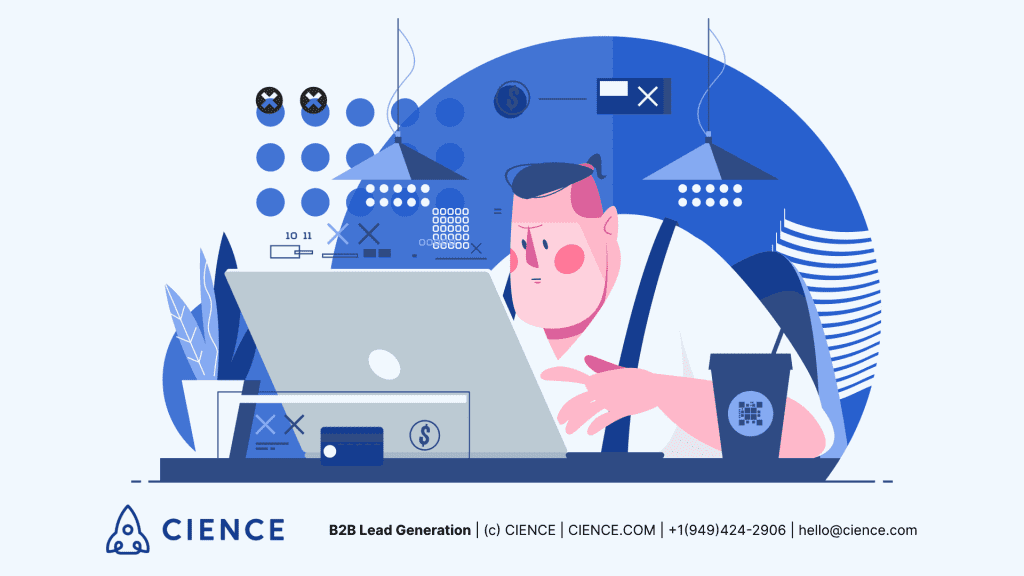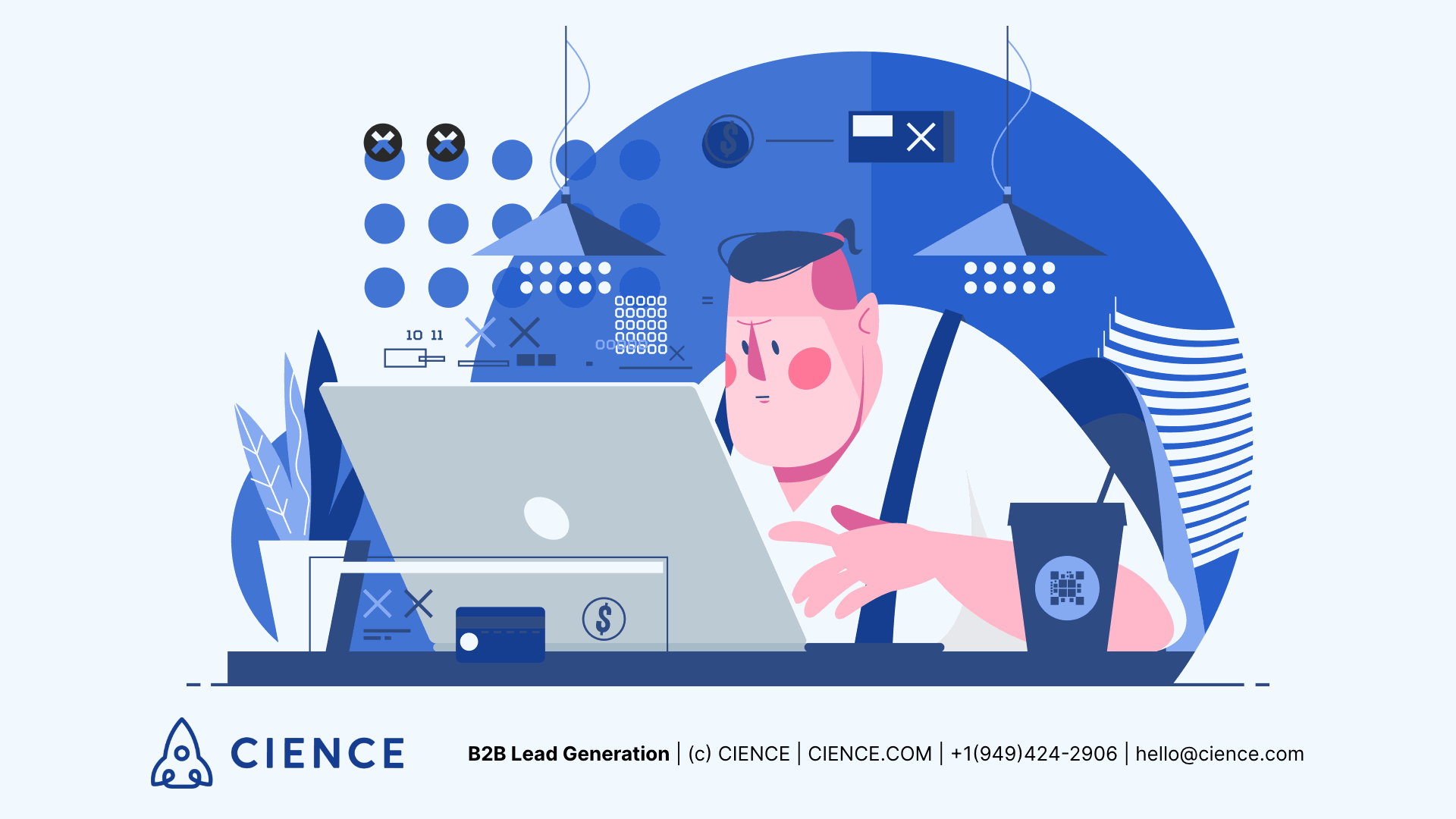 Outbound Outreach Channels to Consider
Most marketing professionals acknowledge that using multiple channels is essential for their outbound marketing strategy, yet not all of them have a multichannel approach in place. Let's dig into the most popular outreach channels that you can use for your business:
Email
Outbound trends may come and go, but email outreach always stays on top of the charts. It's practical to reach wide audiences, yet with the proper segmentation, it can deliver a personal message and make a lead feel special.
Cold emailing is a great way to initiate the conversation with a lead and warm it up before moving on to the next outreach channel. With a good understanding of your target audience, their needs, and challenges, you can get as creative as you want without fear of being pushy or uninvited.

To achieve the best results with cold emailing, you should segment your contacts and A/B test everything (subject line, CTA, design, etc.).
Phone
Cold calling may not have the greatest reputation (because of a stigma from the last century), but it is still incredibly effective, especially when combined with cold emailing. Email warms up a lead before the call, and then it's not so cold after all.

Cold calling allows you to collect sales intel, qualify leads, raise brand awareness, and set appointments. To get these results, you have to prepare your sales reps. To do that, start with a cold calling script and a list of objections they may face. Such training will ensure that your employees know how to deliver your value proposition and avoid long pauses.

Social media
Social media is a less formal way of getting in touch with your leads; however, it doesn't always mean sliding in someone's DMs. Your presence across various social media platforms (LinkedIn, Instagram, Facebook, and Twitter) can raise your visibility all across the industry.
To choose the leading social media platform for your efforts, determine where your target audience is present. Most millennials are on Instagram, but LinkedIn has proven to host more decision-makers.
Ads
There are at least three types of advertising you can use: display ads, search ads, and pre-targeting ads. All of them are useful to reach broad audiences.

Display ads are like banners; they are usually present at a particular place on a web page and do not necessarily target the audience in front of them. Search ads are the ones that pop up on the search engine when your potential customers look for a service provider like you. These ads are oriented toward certain keywords, so pay attention to your search engine optimization (SEO).

Pre-targeting ads usually target specific groups of your leads and have a link that goes to a landing page. The "click" is not the goal though; the view of the ad is.

Small businesses can also consider traditional advertising channels like TV, magazine, or radio ads.
Direct mail
Although digital marketing is all the rage nowadays, and all you get are mostly emails, direct mail can be an innovative boost for your outbound marketing efforts. For instance, while your email has only a 20 to 30% chance to be opened, a physical letter has a 90% chance to reach the reader due to lower competition.

However, don't get your hopes up because direct mail isn't for everyone. If you are a small local business, it will be helpful in reaching your target audience.

If you are a huge B2B company, you'll have to create a separate outbound direct mail campaign that will target a particular group of leads. Otherwise, you may spend lots of money on materials that'll end up in the trash.
Inspiring Outbound Marketing Examples
While you are still in the process of composing your perfect outbound marketing campaign, we have a couple of inspirational examples of how marketing can hit just the right spot and resonate with an audience.
Uber email campaign
Uber ran an email engagement campaign that captured the attention of a reader by its simplicity. It's brief, addressed to the readers' needs, and has a clear CTA.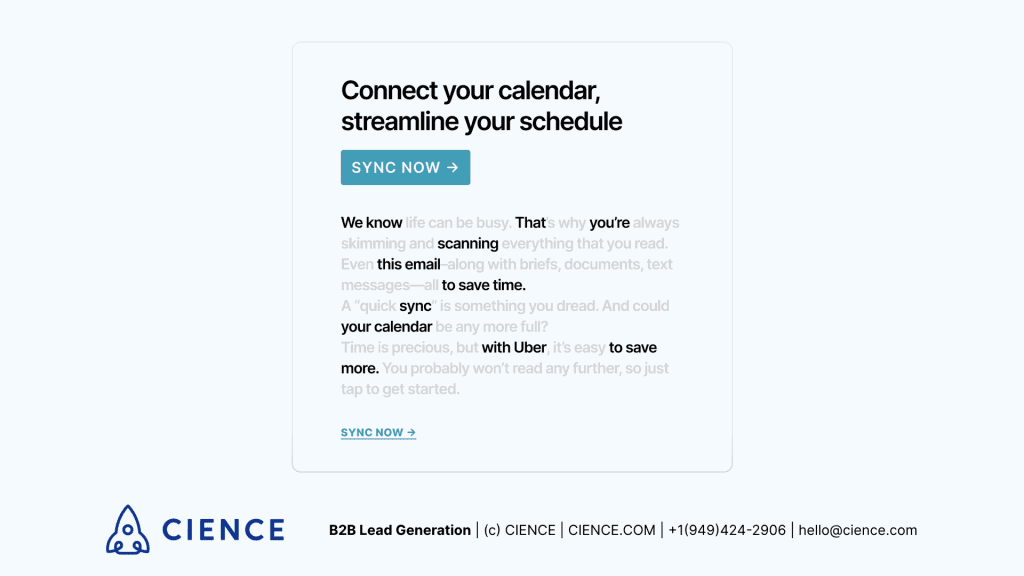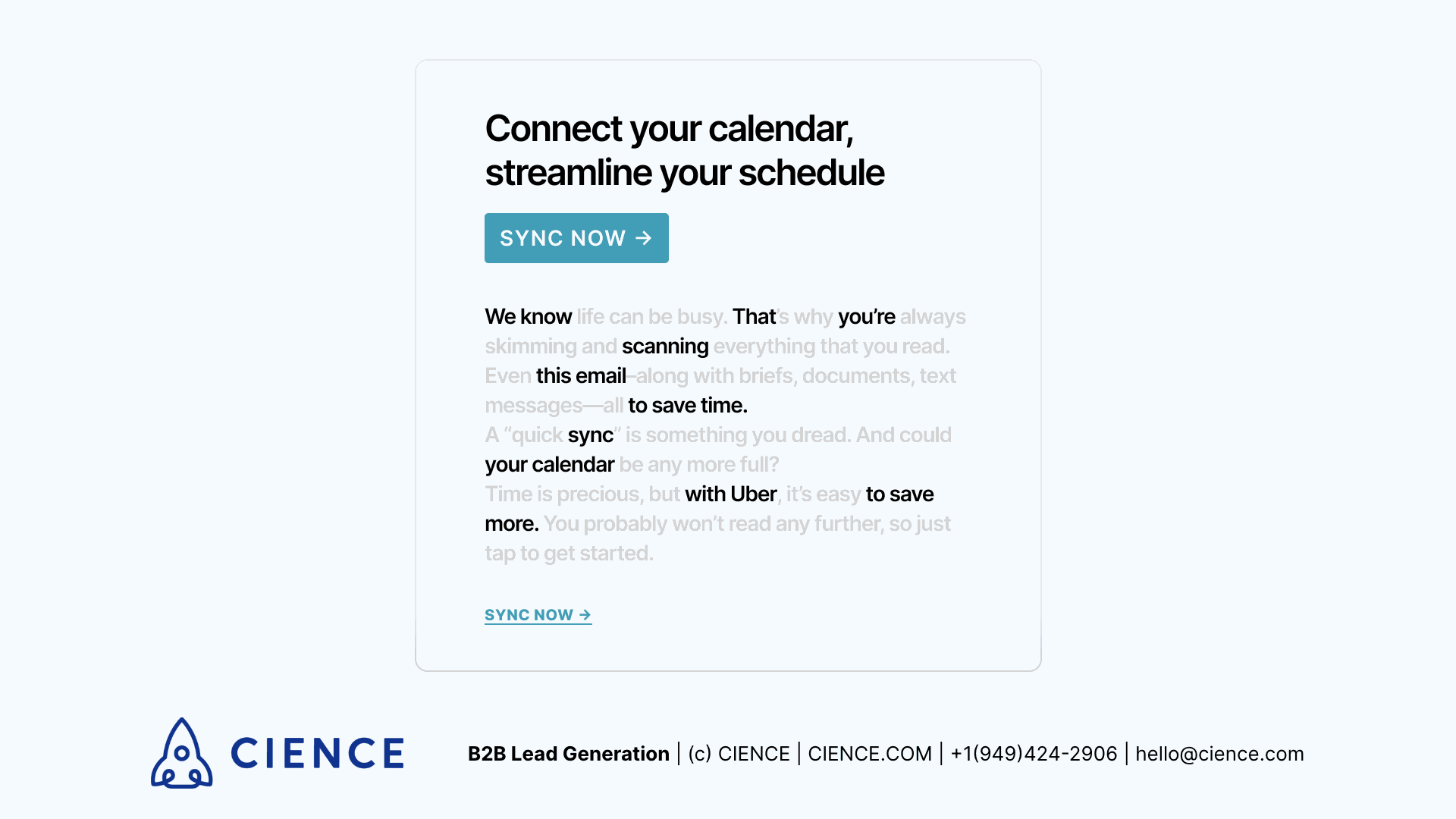 KitKat direct mail campaign
Kitkat used this "mail notification" brochure to promote their new product—a KitKat Chunky candy bar. It worked beautifully because it's bright, seems personalized to the addressee, and has an intended pun implemented at the end.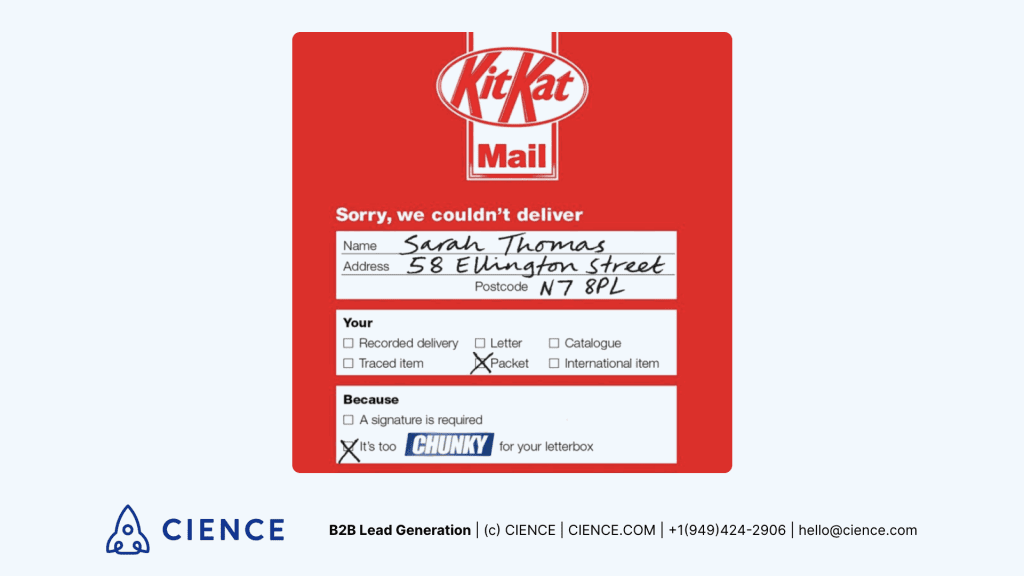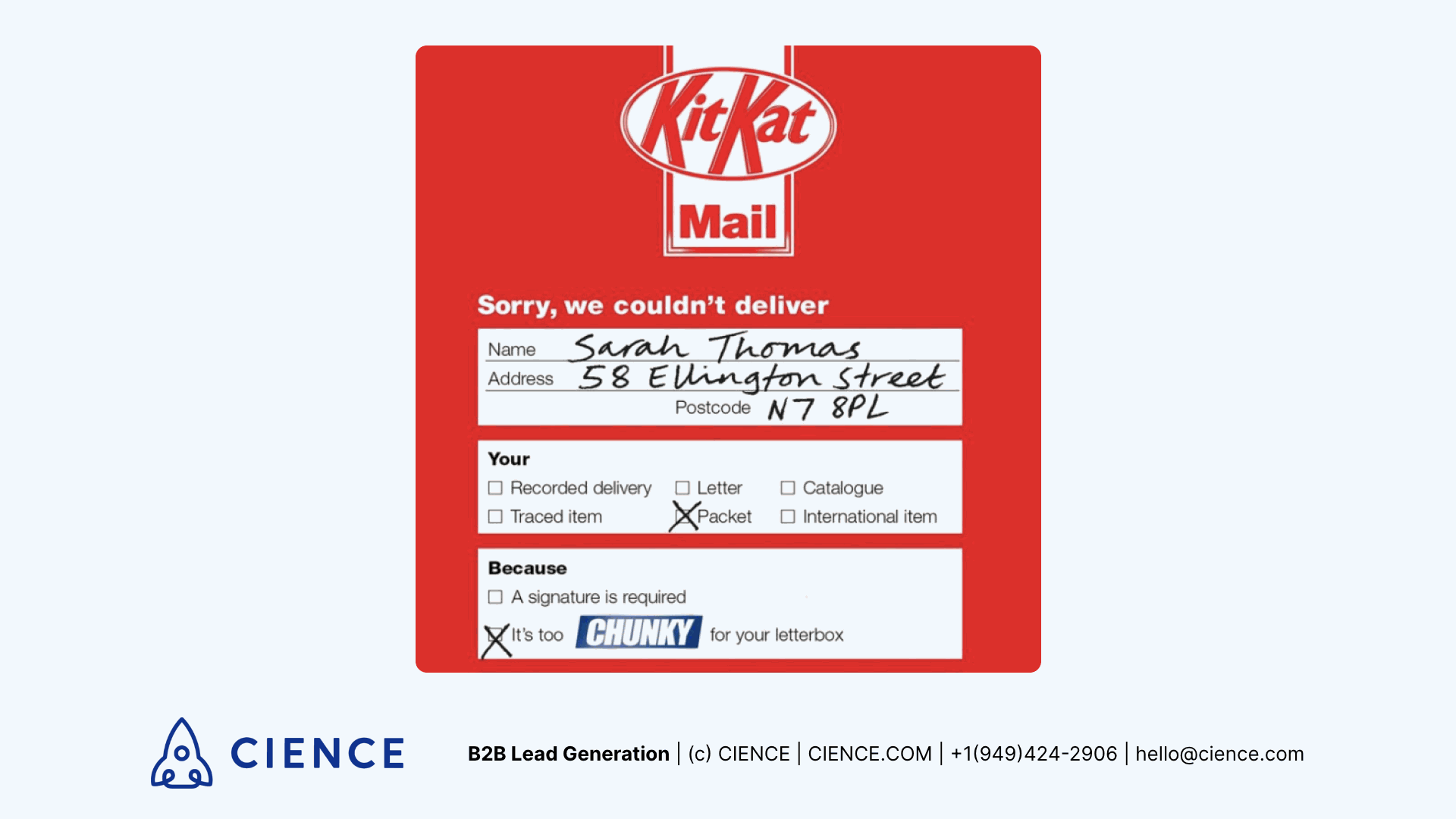 Use Outbound Marketing for Your Success
In order to succeed in the tumultuous time we live in, a business has to open every door to opportunities out there. So, if you are still doubtful about whether you should adopt both inbound and outbound marketing, don't be. The key here is finding what strategy will work for your company, constantly improving it, and watching a consistent flow of sales filling up your pipeline!
Guest Author's Bio:
Anastasiia Holovnenko is a content marketing specialist at CIENCE. She creates articles and guides to help businesses uncover growth hacks from an outbound perspective. She is passionate about psychology, literature, and cinematography, too!