As a marketer or salesperson, finding the right tools to optimize your lead generation and outreach is crucial. Adapt.io is one such tool, a unified sales acceleration platform to help you target your ideal customers. Similar to email finders like UpLead, Adapt.io offers a wide range of features to improve your sales process. Today, we're going to analyze Adapt.io's pricing, along with its key features, integrations, and alternatives.
Quick Links:
What is Adapt.io?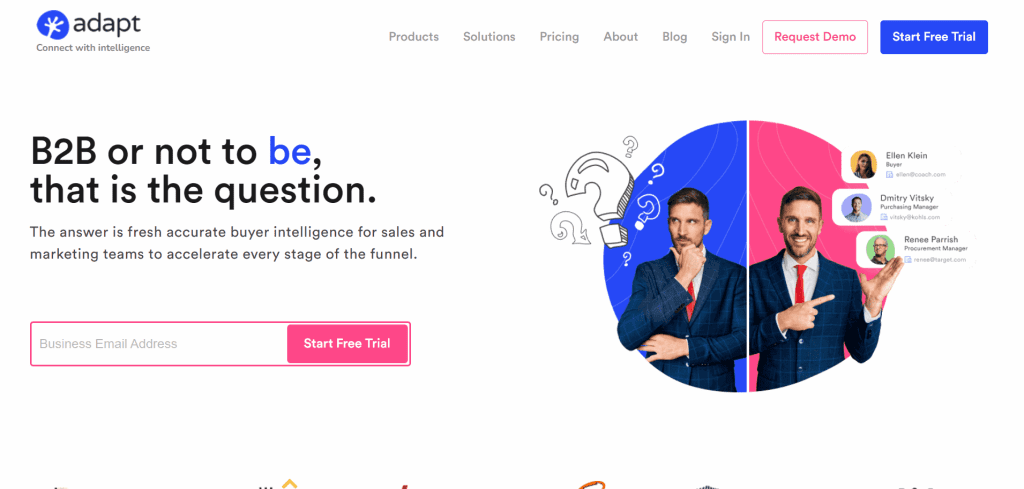 Adapt.io is a B2B lead intelligence platform that provides contact data for marketing and sales teams. It's a unified sales acceleration platform that helps companies take control of their marketing and sales efforts. With products like Lead Builder and Prospector, Adapt.io offers robust CRM integration and a handy Chrome extension. As a global B2B account intelligence provider, it boasts over 500,000 users and 61 million high-quality business contacts. Similar to email finders like UpLead, it contains an extensive database of B2B contact and company data. Adapt.io helps sales users target their ideal customers or prospects.
What Does Adapt.io Do?
Adapt.io is a comprehensive B2B company database provider designed to enhance the sales acceleration process for businesses. Adapt.io supports companies in discovering and enriching crucial sales and marketing data accurately. Boasting a powerful B2B lead intelligence platform, Adapt.io empowers users to reach their target audience quickly by using industry-leading filters. As a versatile contact and company database provider across multiple industries, Adapt.io has garnered over 250,000 users and offers access to over 100 million business contacts, making it an invaluable resource for sales and marketing professionals.
Adapt.io Key Features
As a robust lead generation company, Adapt.io offers various features to help enhance your sales and marketing strategies. The platform's key features include lead generation, contact discovery, and robust API, which are crucial for businesses aiming to expand their customer base and improve their sales and marketing efforts.
Some of the key features of Adapt.io include the following:
B2B industry-specific company database that adapts to organizational changes and new market scenarios, keeping data fresh and accurate with timely updates
Simple-to-use interface with a wide range of tools that make creating e-learning content a breeze
Finding prospects saving lead lists, and optimizing sales and marketing efforts through a unified sales acceleration platform
Chrome extension and API for seamless integration into your workflow
Start Your 7-Day Free UpLead Trial
Lead generation doesn't have to be all that painful. With UpLead, you can easily connect with high-quality prospects and leads to grow your company.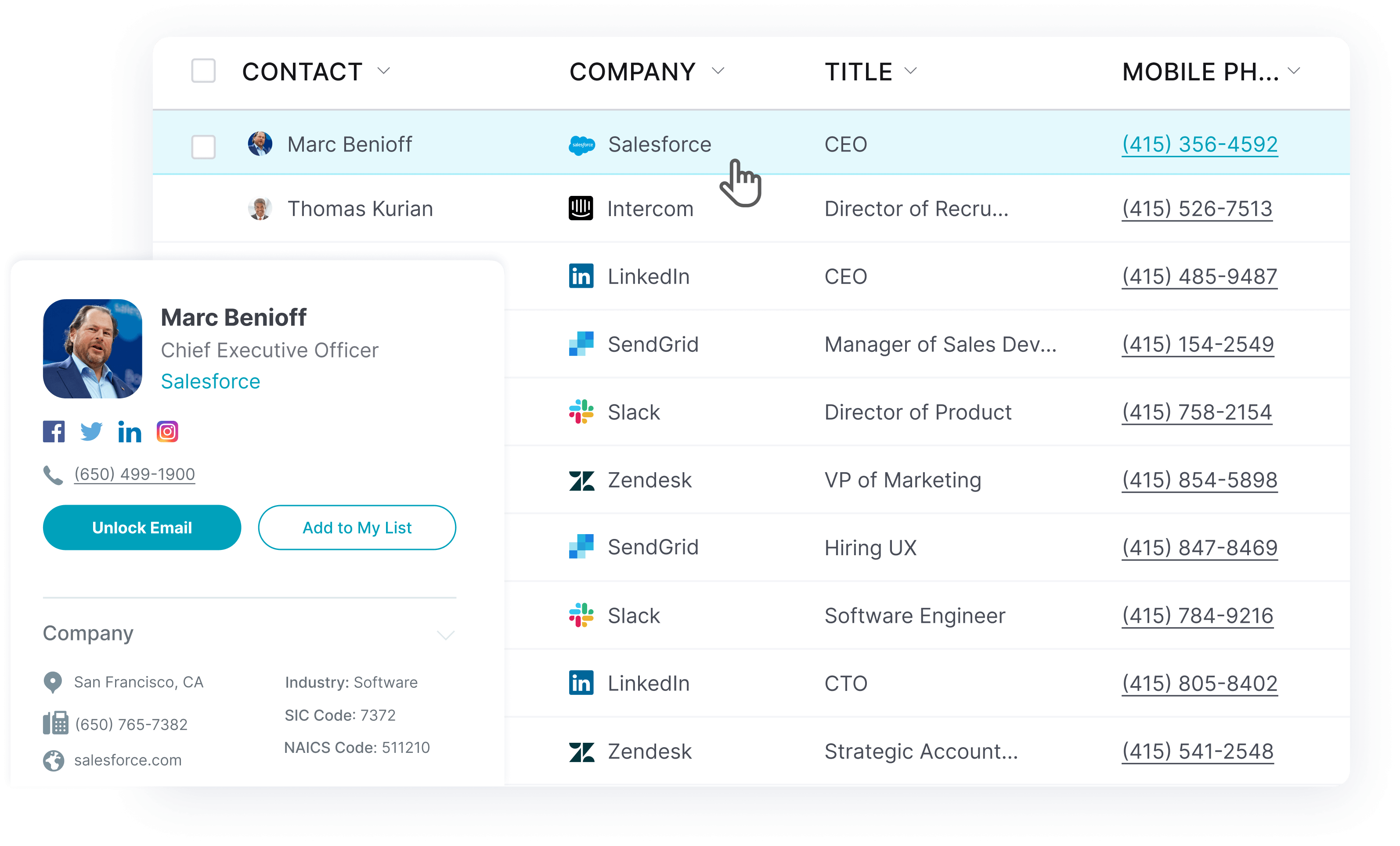 Adapt.io Pricing & Products
Adapt.io offers various products to cater to different business needs. The platform's primary products include Lead Builder and Prospector. Both tools have unique features to assist businesses to find and engage effectively with their target audience.
Adapt.io Lead Builder
Lead Builder is a tool designed to help teams build targeted lists of prospects quickly and easily. It offers intuitive filters that allow users to find their ideal prospects based on various criteria. Additionally, the platform provides reliable data enrichment to help users connect with their audience and turn leads into customers.
Key Features
Key features of Adapt's Lead Builder include:
Email updates with new leads that fit search criteria
Export leads as CSV
Over 25 search filters, including revenue, geographic, and more
Narrow down a targeted list of prospects
Adapt.io Lead Builder Pricing
Adapt.io does not display pricing for Lead Builder on its website. To get a quote, you'll need to contact their sales team.
Adapt.io Prospector
Prospector is another powerful prospecting tool in the Adapt.io suite. Like Lead Builder, it allows users to find and engage with their target audience. Its Chrome extension is easy to use and is designed to help businesses find prospects within platforms like LinkedIn.
Key features include:
Visibility into the industry, email address, and more on your browser
Real-time contact data enrichment
Access to CRM with API
Adapt.io Prospector Pricing
Like Lead Builder, Adapt.io does not display pricing for Prospector on its website. You'll have to contact their sales team to get a custom quote for this product.
Adapt.io Integrations
Integrations play a crucial role in maximizing the efficiency of any tool. Adapt integrates with various platforms to enhance its functionality and improve users' experience.
Some of the available integrations include:
Adapt.io API: Organized around REST and uses SSL for secure data transmission
Chrome extension: This lets you get leads from your browser and build complete profiles
Robust CRM integration: Reduces time spent on manual data entry and enhances your sales pipeline 
UpLead is the Top Adapt.io Alternative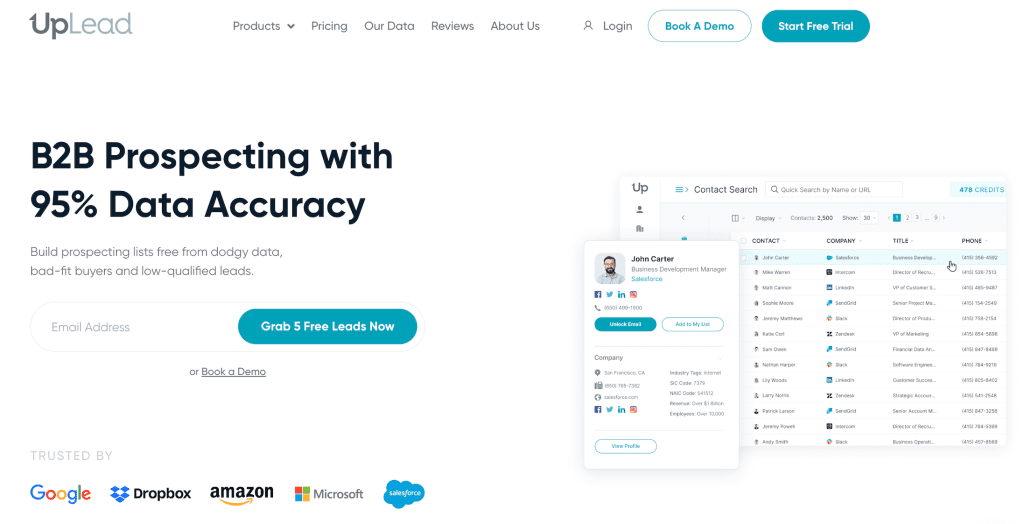 When considering alternatives to Adapt.io, UpLead stands out as the best option. UpLead is an industry-leading platform designed to help businesses find, connect, and engage with their ideal customers effectively. The platform leverages high-quality data verified through both human and machine-learning algorithms.
UpLead provides instant access to millions of verified B2B contacts with direct email addresses. Users can search by industry, location, sales volume, number of employees, public vs. private, contact title, job function, management level, and more. With an industry-specific company database, you can generate leads at a much faster rate– making UpLead the go-to tool when it comes to building qualified leads.
Key features of UpLead include:
Built with ease of use in mind
High-quality data with over 95% data accuracy
Real-time verification, with components of human and machine learning
Seamless contact import and export
Integrations with top productivity tools like Dropbox and Drive
Pricing:
UpLead offers three different pricing plans: Basic, Plus, and Professional. The Basic plan starts at $74 monthly, while the Plus plan costs $149 per month (when billed annually). The Professional plan is priced at $299 per month. UpLead also offers a free trial for seven days.
Try UpLead today to access best-in-class prospect data and fuel your sales KPIs.
Additional Alternatives to Adapt.io
In addition to UpLead, other alternatives to Adapt.io cater to different needs and budgets. Two popular options include ZoomInfo and Lead411.
ZoomInfo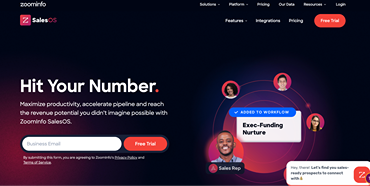 ZoomInfo is a powerful and comprehensive platform engineered to support businesses in discovering, connecting, and engaging with their ideal customers in an efficient manner. By providing access to an extensive B2B contact database and advanced search filters, ZoomInfo enables businesses to narrow down prospects based on specific criteria. This targeted approach, combined with AI-powered data enrichment and intent data, lets companies focus on potential customers more likely to convert.
Key Features of ZoomInfo include:
Real-time data streams that allow sales teams to keep their data up-to-date
Advanced search filters to build precise lists
Accurate emails, work numbers, and direct dials on the right prospects in seconds
Sales analytics that provides insights into campaign performance and prospect engagement
Pricing:
Pricing for ZoomInfo varies depending on your needs, and the platform offers a customized quote upon request.
Lead411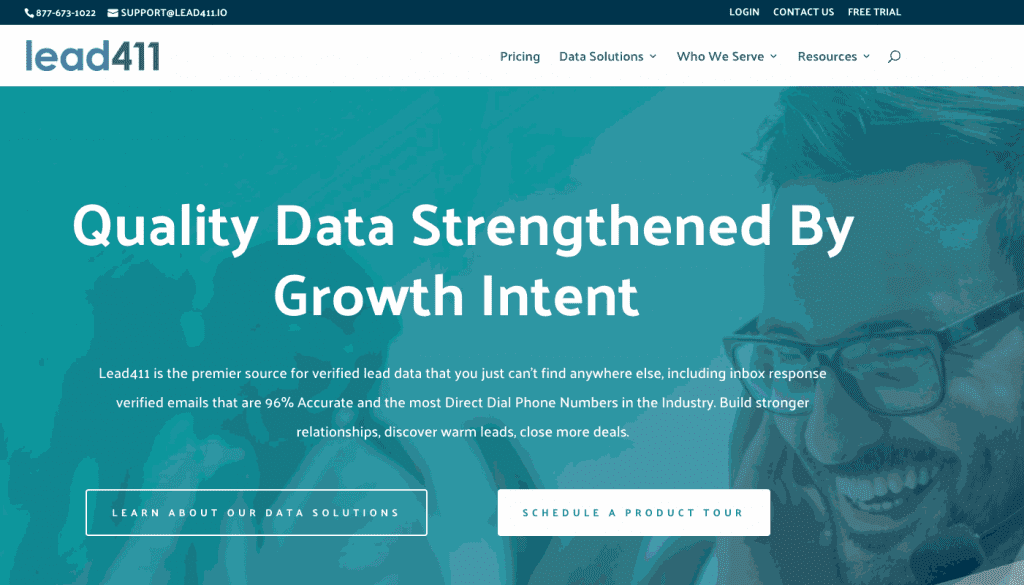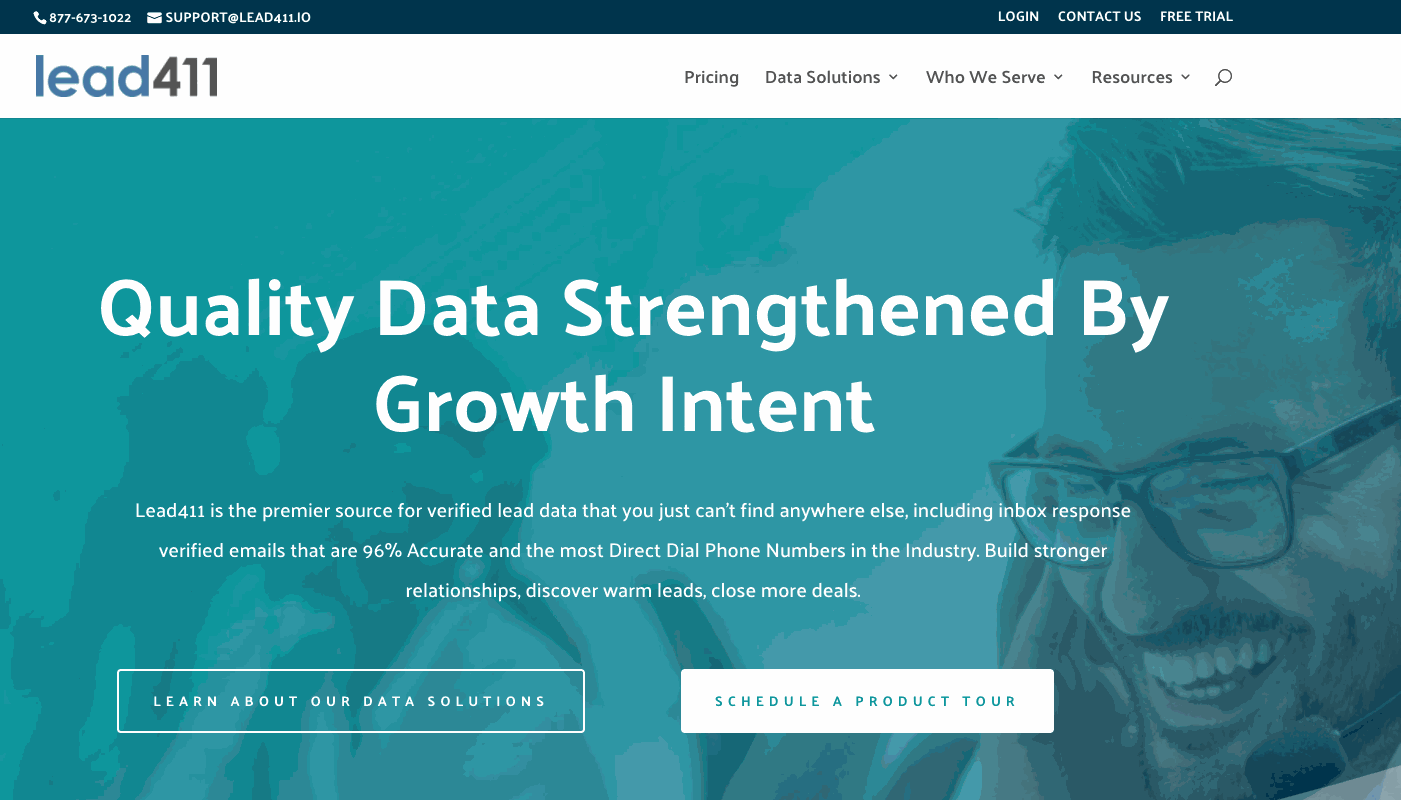 Lead411 is a B2B data platform designed to help businesses identify and connect with their target audience efficiently. It lets users identify essential company intelligence news to create a compelling sales conversation.
Key Features
Lead411 brings an extensive set of capabilities, including: 
Extensive contact database
Sales triggers and intent data
Seamless CRM integration
Verified email addresses
Pricing
Lead411 offers different pricing plans depending on the features and number of contacts needed. According to various sources, Lead411 has two plans starting at $99 per month (when paid monthly). The Enterprise plan has custom pricing and includes lead scoring and growth intent triggers.
FAQs About Adapt.io Pricing
Below are a few of the most frequently asked questions about Adapt pricing.
How much does Adapt.io cost?
Adapt.io does not display its pricing on the website. To get a quote, you'll need to contact their sales team.
Is Adapt.io free?
Adapt.io does not offer a free version of its platform. To use the platform, you'll need to purchase a subscription.
How do I opt out of Adapt.io?
To opt out of Adapt.io, contact their support team, who will assist you with the process.
What You Need to Remember About Adapt.io's Pricing
When considering Adapt.io for your sales and marketing needs, keep in mind that the platform does not disclose pricing on its website. It's essential to contact their sales team to get a customized quote for their products. While Adapt.io offers valuable lead generation and sales acceleration features, don't forget to explore alternatives like UpLead to find the best solution that aligns with your business needs and budget.
With a clear understanding of Adapt.io's offerings and pricing, you can decide whether this unified sales acceleration platform fits your marketing and sales strategies. Remember to weigh the pros and cons of each option before committing to a long-term solution.