Lead lists are a great way to get leads immediately. With the right lead list, you can quickly obtain emails and phone numbers to engage in cold campaigns. You can manually search for the leads you need or generate them in bulk. All that's left to do is to make the sale.
Here's how to buy lead data, and how to ensure you're getting accurate lead lists.
🔥 Hot tip: In a hurry to build your pipeline? Use UpLead to build profitable lead lists, free from dodgy data, bad-fit buyers, and low-qualified leads. Grab 5 free leads today.
Quick Links:
What Are Lead Lists?
Lead lists are digital lists containing the data of potential customers, such as their names, demographic information, and contact details.
Some websites make and sell pre-made B2B lead lists, which can be bought at very low prices. However, the best kinds of lead lists are those you generate through a lead generation service.
Using a lead generation service, you can create lists of targeted leads based on your specific target market. Then, you can select the leads you want to download and generate lists of verified and qualified leads.
B2B lead generation platforms collect and curate data from public sources, crawling the web to find new leads and updating the ones they already have. Pay attention to data accuracy percentages and guarantees to ensure you're getting data that hasn't gone stale.
Why Should You Buy Lead Lists?
Sometimes, organic lead generation just doesn't cut it. Although organic leads may be of higher quality, they are also limited and can be years in the making.
In contrast, lead lists allow you to generate leads on command. Buying leads allows you to populate your cold marketing campaigns with fresh leads to ensure you're targeting the right audience. You can use cold marketing strategies to actively reach out to them while better informing your passive marketing strategies. 
Buying lead lists allows you skip the time-consuming process of developing strategies to capture and segment leads.
Why not jump right into selling instead?
Pros & Cons of Buying Lead Lists
Here are the pros and cons of buying lead lists:
Pros:
Time-saving
Lead lists allow your company to generate leads immediately. All you need to do is to input the information you have on your leads and choose how many profiles you want to download. That way, your company can focus on cold selling to proactively generate clients instead of waiting passively for clients to find you.
If you have the right sales team and good data, you can generate sales quickly through cold selling.
Cost-effective
Organic lead generation is expensive. Each organic lead you create includes the hefty price of setting up and testing your lead generation strategies. After all that work, there's still a risk that you won't generate the leads you need to grow your business.
In comparison, buying leads assures you get the exact number of leads you're looking for at a price you can afford. Since you're not spending money on expensive, long-term marketing campaigns to get your leads, you can invest your money in cold marketing campaigns.
Simple integration
Most lead list sellers will feature simple ways to integrate the data you're purchasing into the tools you're already using. This is a huge time-saver since you can funnel leads into the right campaigns almost as soon as you purchase them.
Integration helps you gather leads quickly for the right segments and integrate them into the right cold selling campaigns automatically. Integration also connects your lead generation service to your CRM, so your sales reps can seamlessly follow up with leads and new customers.
Cons
Unreliable quality
While many lead providers offer trustworthy data, others offer old and tired information. These lists can include outdated information at best. At worst, they'll affect your deliverability and IP reputation, all while wasting your valuable time and money on bad leads.
Avoid pre-made lead lists and always look into the quality of the data you're buying, not just the cost.
Used leads
If someone is selling a lead list composed of your target audience, you can be sure that someone else already bought and used it. If you use it too, you'll likely find that your leads either aren't interested or have already fulfilled their pain points.
Avoid this mistake by using a lead provider that allows you to create your personalized targeted lead list instead of purchasing one that's ready-made.
How to Buy Sales Lead Lists
Here's how to buy a sales lead list you'll actually want to use:
Know your audience
The better you know who your user persona is, the more accurate your leads will be. Before buying any lead list, create a detailed user persona to define who you need to target.
Use data-driven decisions to accurately define your target audience, along with their gender, demographic information, and more. Make sure to factor in acquisition cost, profitability, and the time spent placing them into the sales pipeline. Establish enough customer personas to account for most of your audience, and properly target and segment new leads to integrate them into the right marketing strategy.
Once you've gathered the right information, you'll know exactly which leads are best generated organically and which leads you to need to buy. 
It's worth paying more for a better list
A cheap lead list can quickly end up being more expensive than you thought. With unreliable data, you can waste a lot of resources with leads that will never bear fruit. Unreliable data could even affect the deliverability of the rest of your email marketing campaigns.
It's much better to invest in a lead list you can trust. Look for a lead generation service that backs up the quality of its leads to ensure your targeted list ends up being successful.
Investing your money in high-quality, custom lead lists can ensure higher deliverability and conversion rates while spending less on marketing and hosting solutions.
Test your lists
Once you have a lead list, you'll want to test its data to ensure you can use it. Use phone and email verification services. You can also manually search leads to ensure they're up to date and use data enrichment software to freshen up an old list.
You can also use a lead generation platform that verifies leads as they're generated. This will save money and time spent navigating from one app to another.
Where to Purchase Sales Lead Lists — These B2B List Building Tools Can Help You
Here are the best places to purchase leads and lists:
UpLead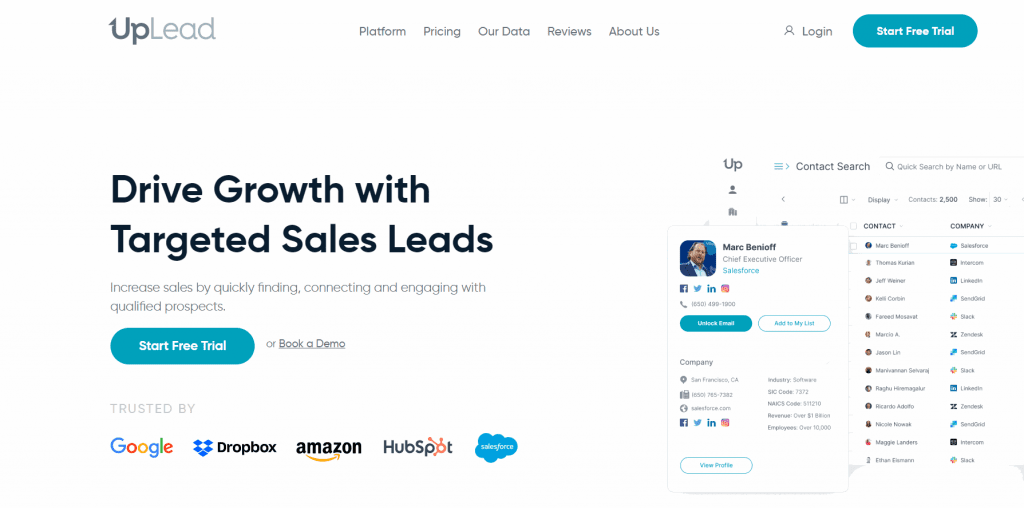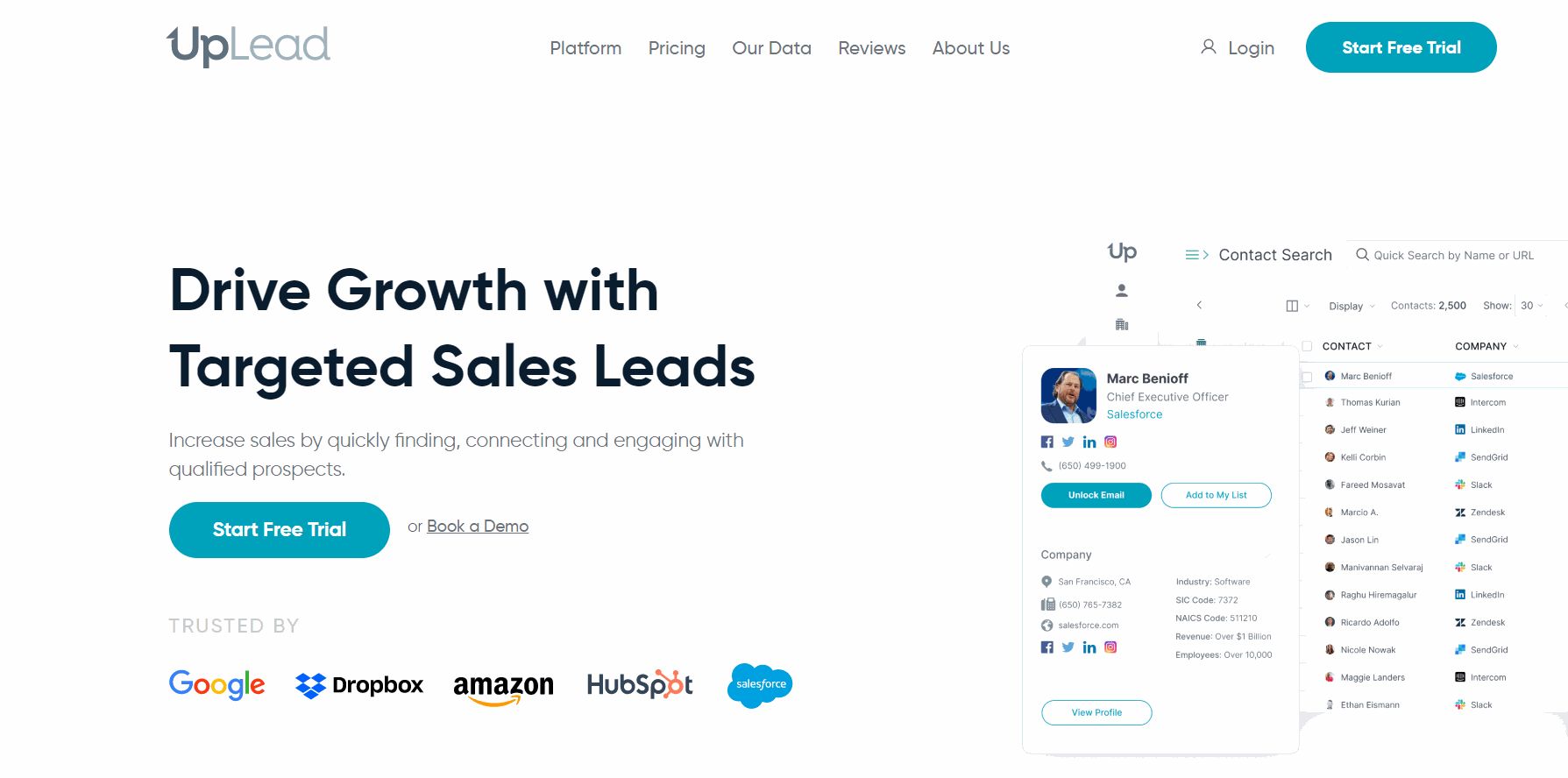 Powered by a huge and accurate database, UpLead is a powerful lead generation tool that can create any lead list your company needs.
Generating business lead lists is easy. Filter through over 50 criteria (like job title, industry, age, gender, and location) to get the quality leads you need. Once you're ready to download your lead list, UpLead validates all email addresses in real-time, ensuring you only pay for high-quality leads.
After downloading your leads' profiles, you can learn more from your lead list through UpLead's vibrant user profiles. These profiles make it easy for you and your sales team to be informed about each lead before contacting them.
Try UpLead for free today.
Start Your 7-Day Free UpLead Trial
Lead generation doesn't have to be all that painful. With UpLead, you can easily connect with high-quality prospects and leads to grow your company.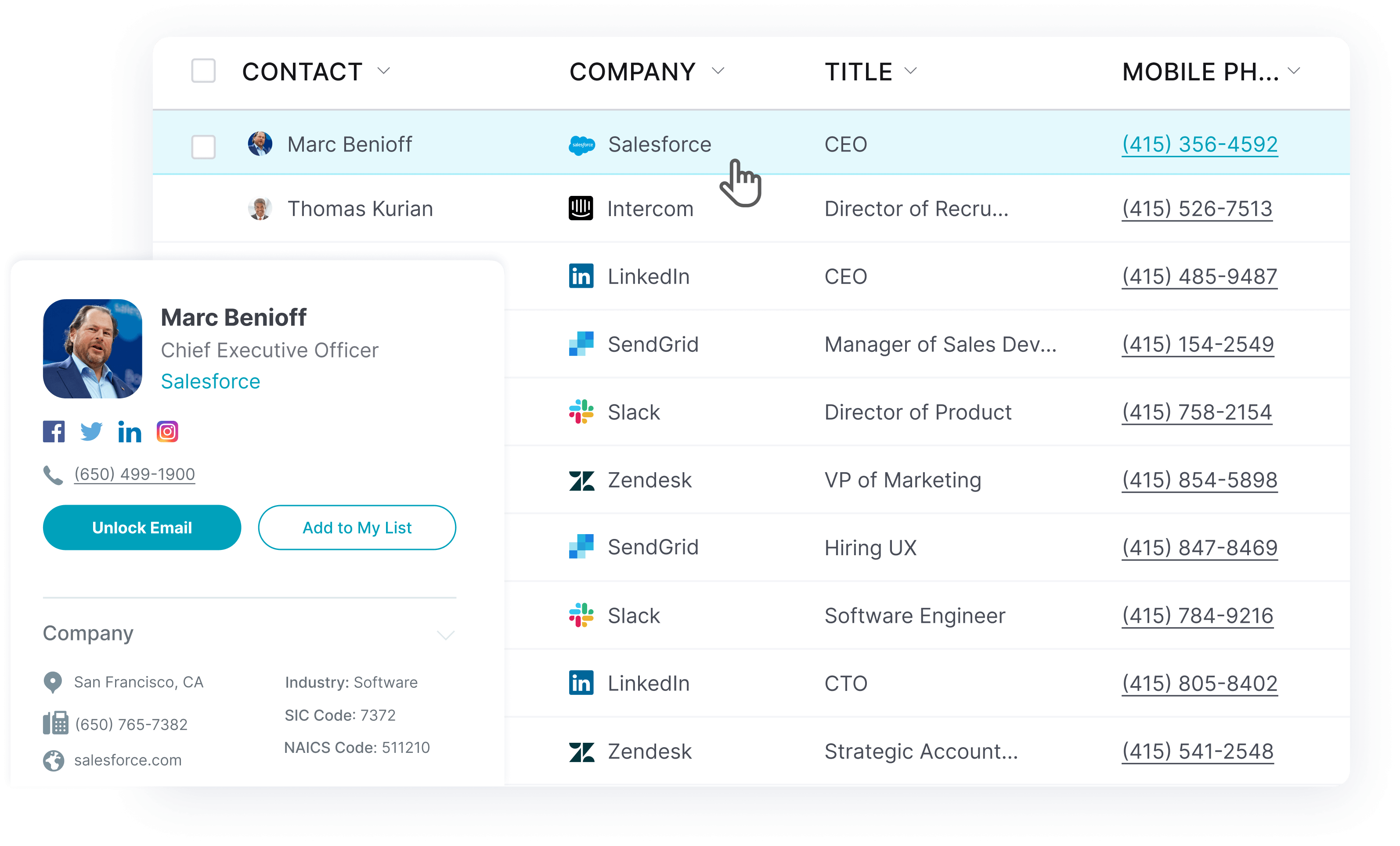 Megaleads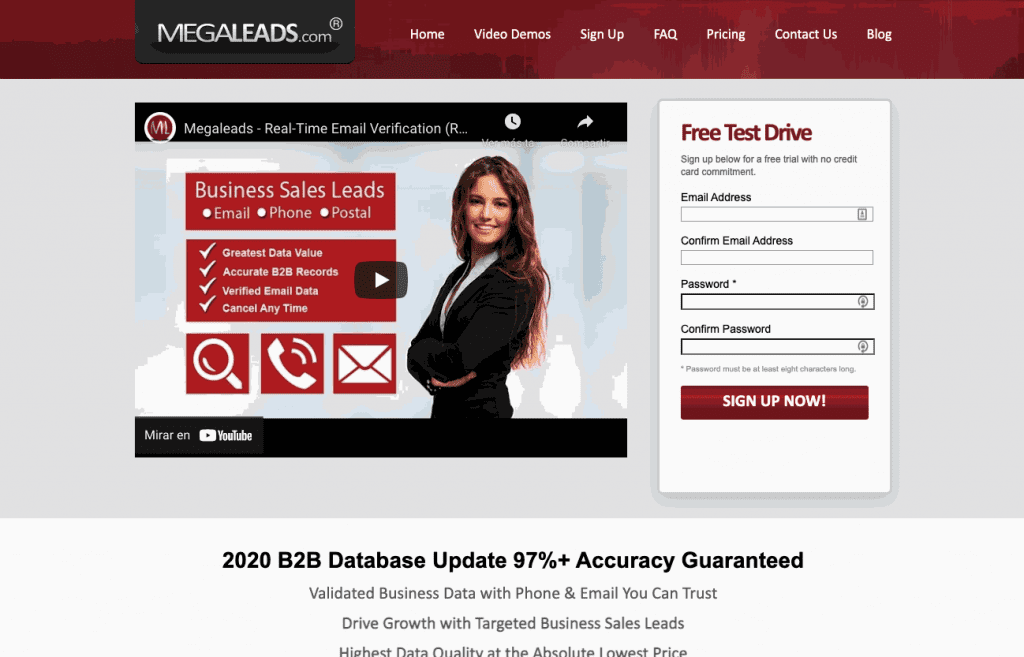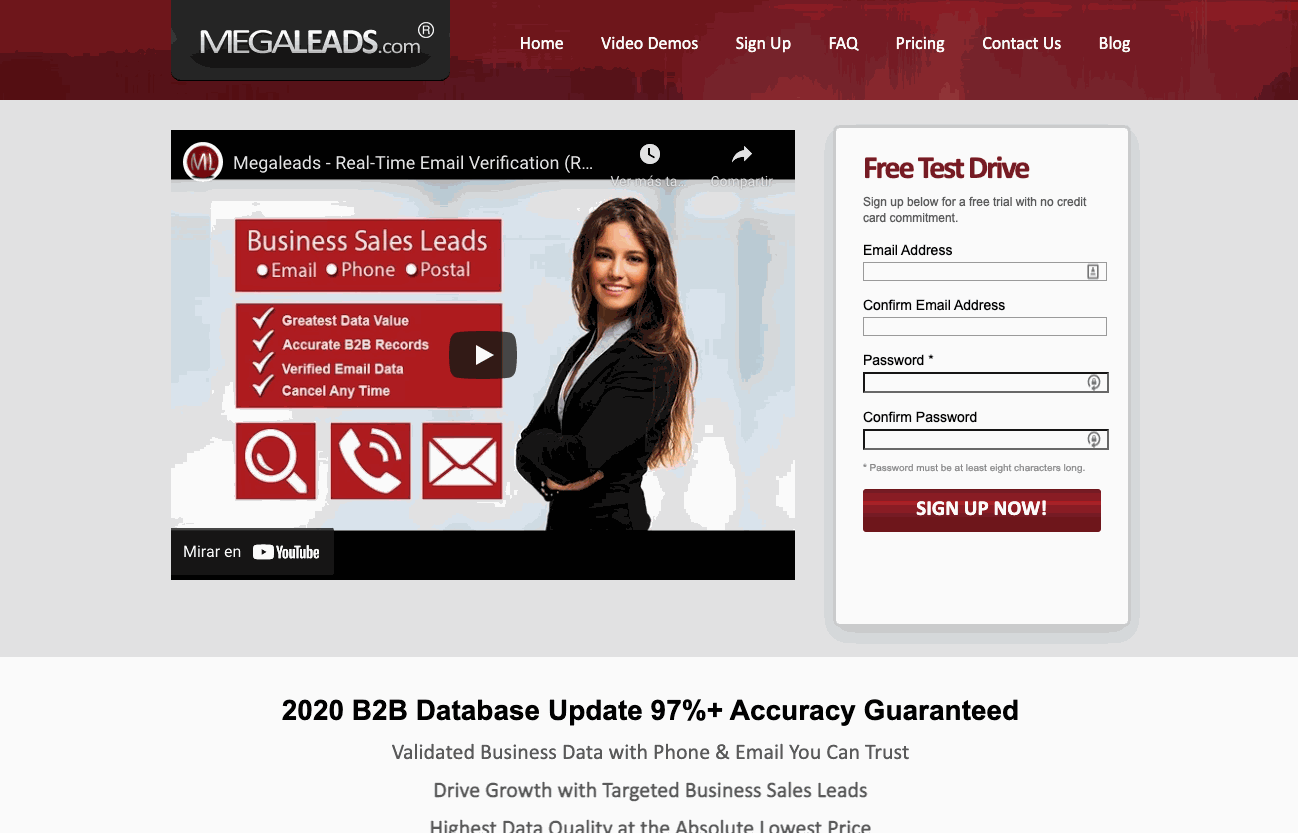 Megaleads is a lead generation tool that sells users' business profiles with phone numbers and verified email addresses.
This platform offers mostly accurate lead lists, along with good customer service and reasonable prices. Megaleads is well-established, with over 25 years of experience generating leads and a headquarters located in the United States.
AeroLeads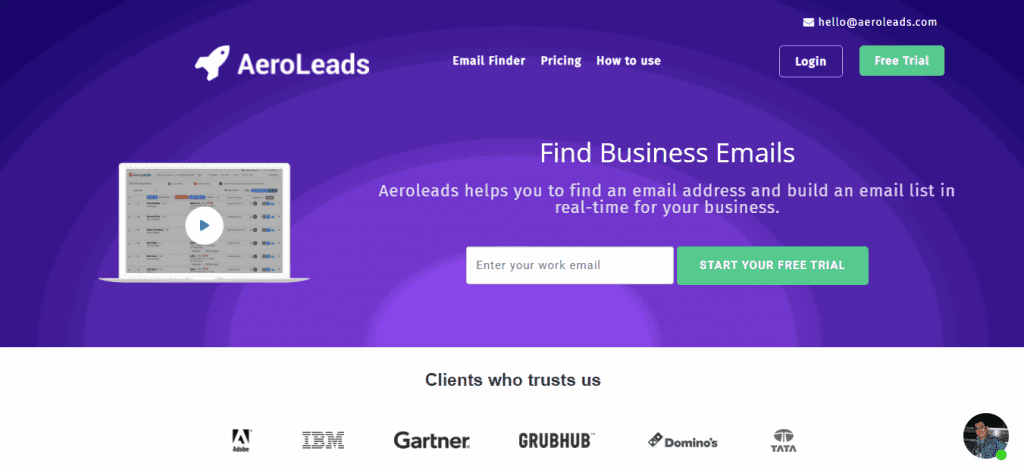 AeroLeads is another lead generation tool used to perform lead research and capture email addresses.
This tool allows users to find email addresses through multiple sources, including Google and LinkedIn profiles. It then verifies emails and phone numbers before the user downloads the lead list.
Although the tool is sometimes slow to locate information, it's very easy and convenient to use.
Salesfully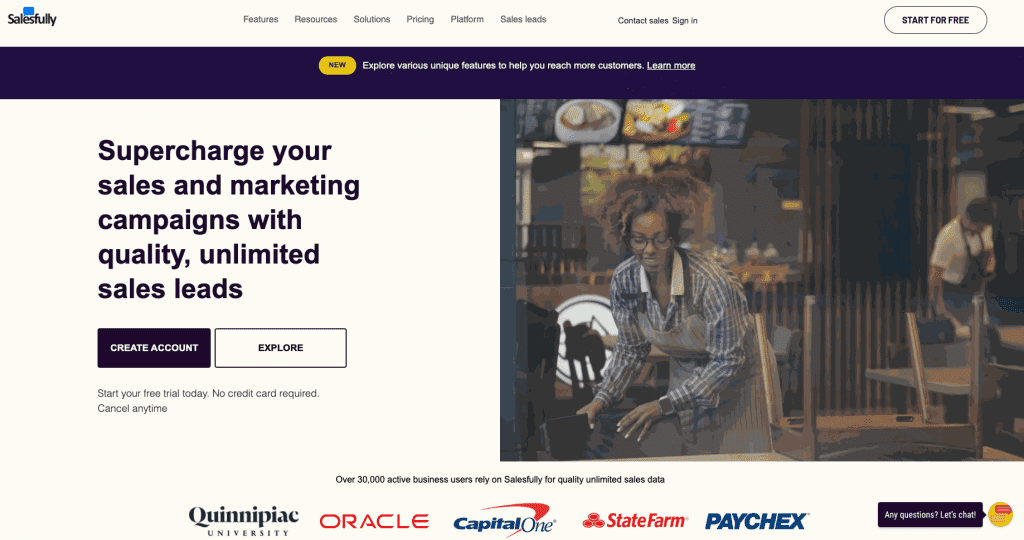 Salesfully is a subscription lead generation platform that creates leads for each part of the sales process.
Users can generate leads by searching its large profile database, which uses multiple filters to narrow down results to the right profiles. The database includes B2C and B2B contacts, profile information, sales volume, mailing addresses, and more.
Lusha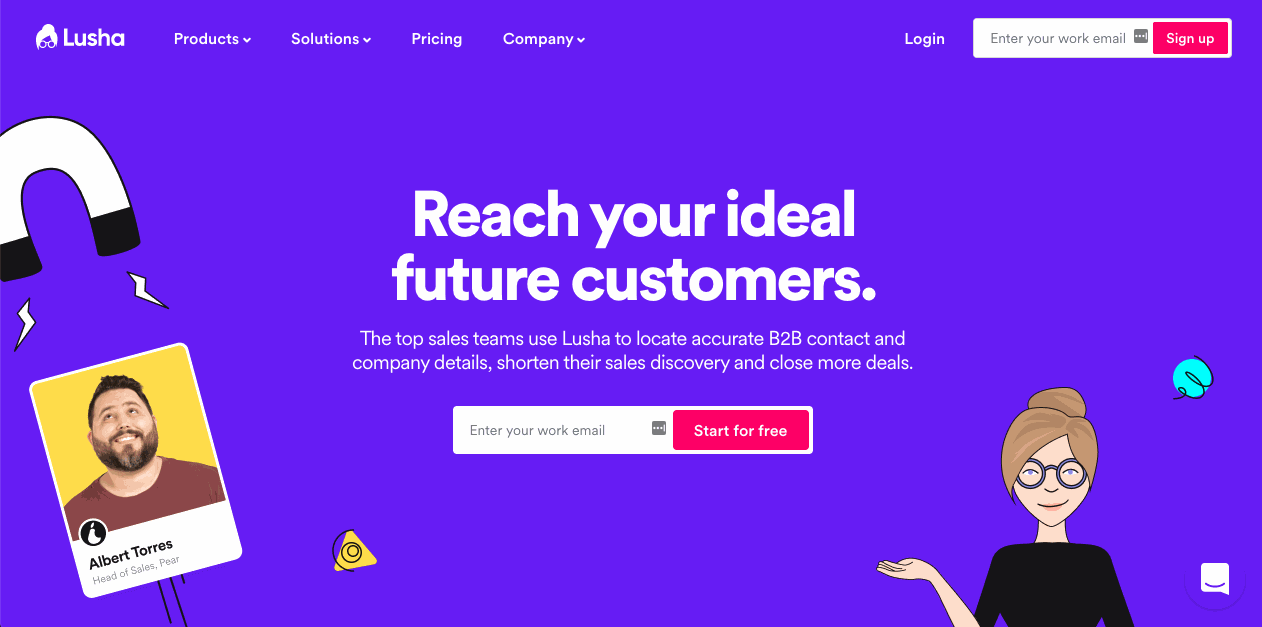 Lusha is a comprehensive and colorful lead generation tool with a large business database for users to browse.
With a simple UI and a useful API, Lusha helps users get all the leads they need through its database, which features professional and personal profiles and phone numbers. It also features multiple integrations and a limited free account for generating free leads. However, after the free trial, the costs of using Lusha can add up quickly.
FindEmails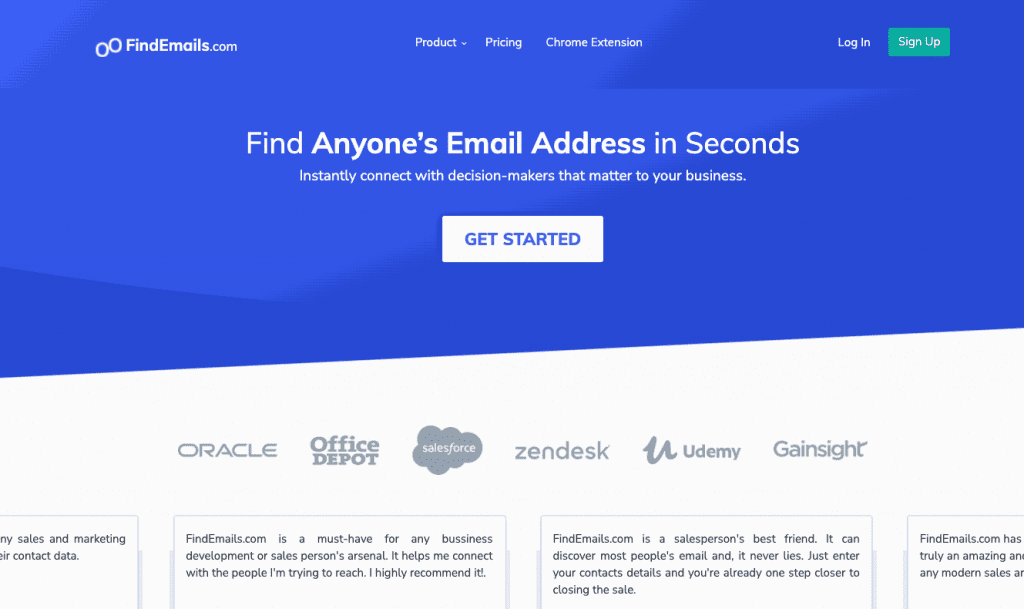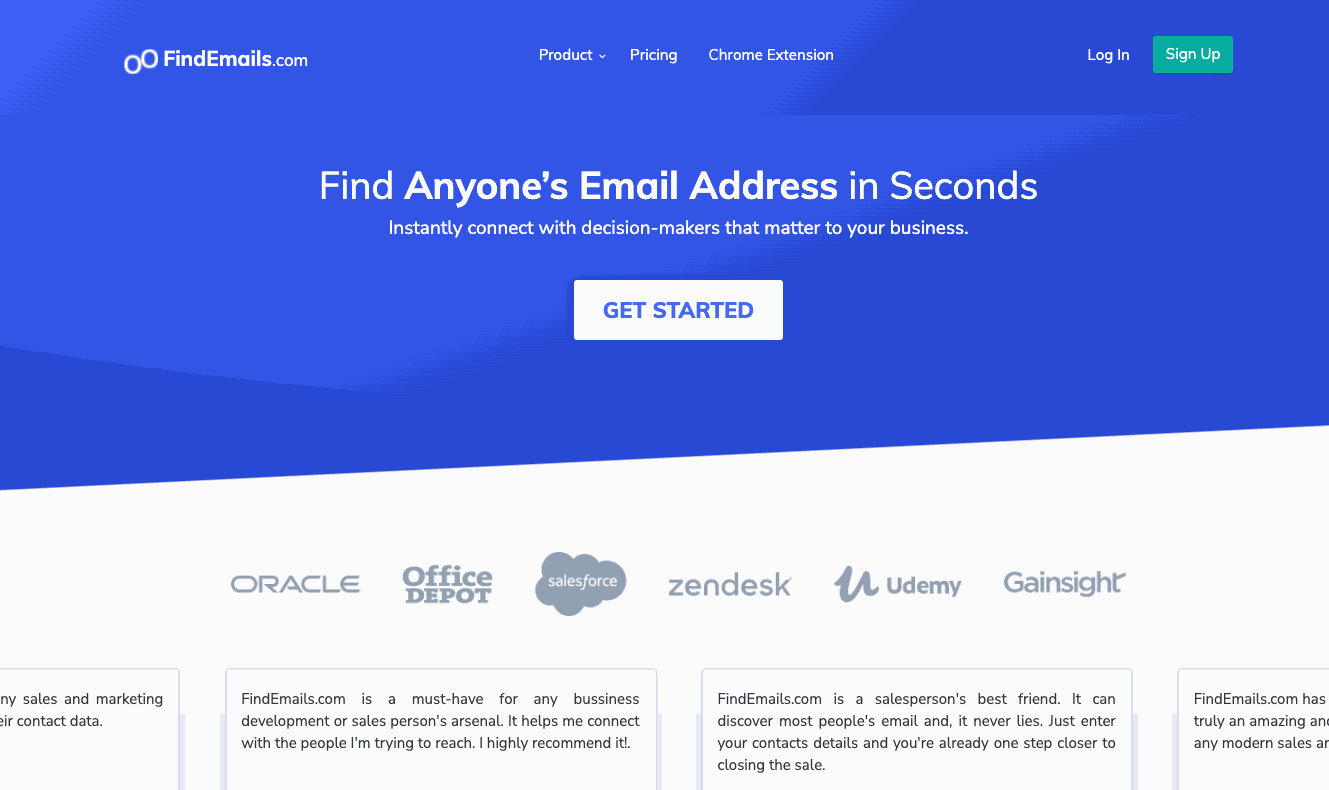 FindEmails is another online lead generation tool that can find lists of leads with verified email addresses.
Users can search for the right leads through company information, role descriptions, and other criteria. The platform features email verification and an extensive marketplace for users to browse through and expand their capabilities.
EasyLeadz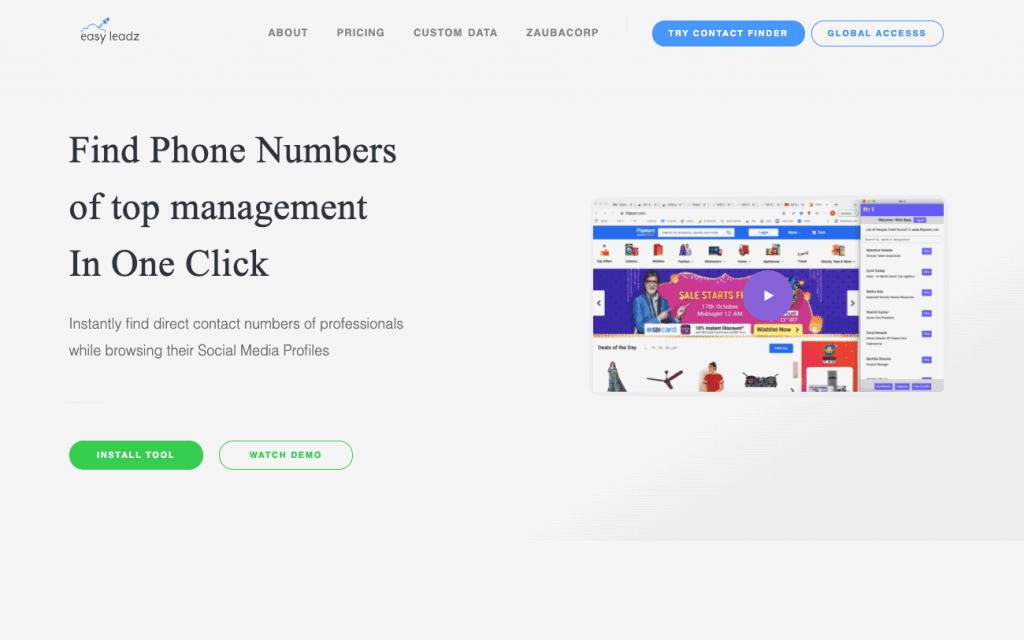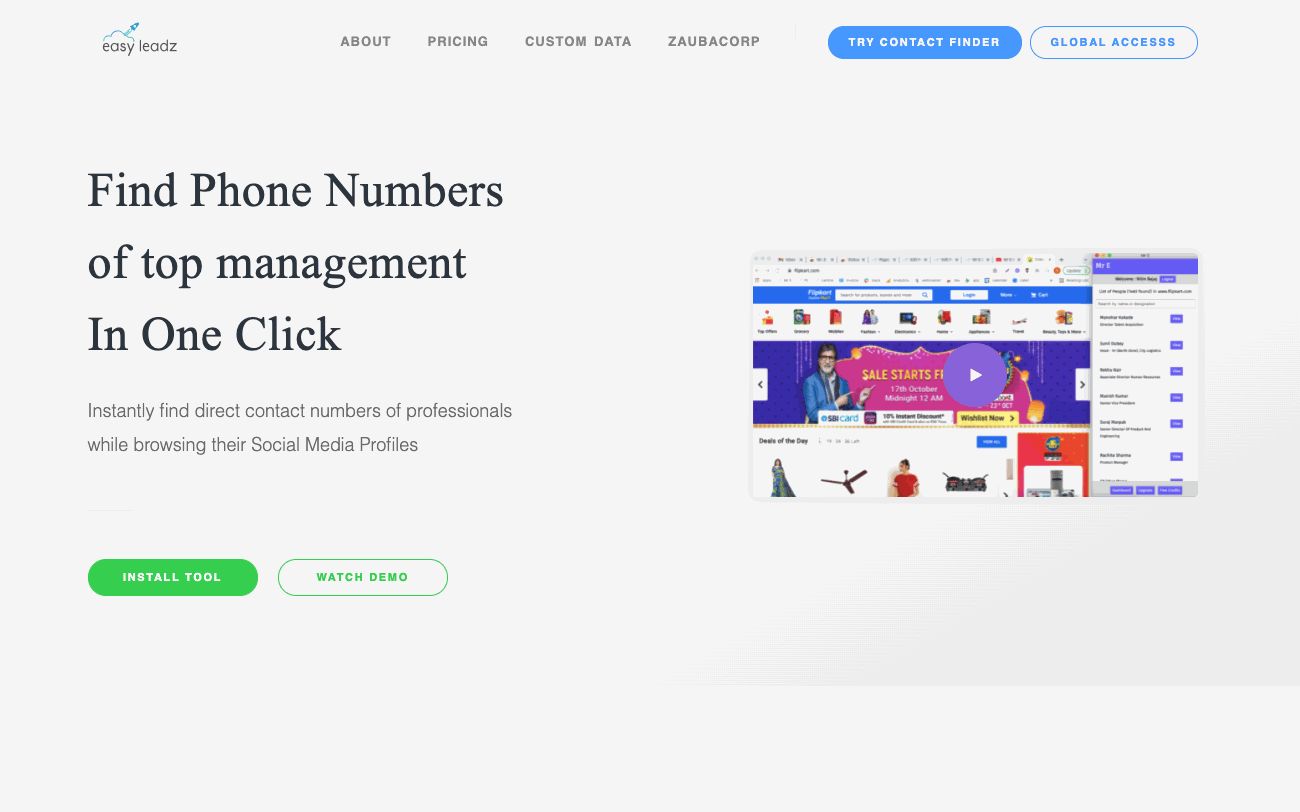 EasyLeadz is a lead generation platform offering users B2B lead, contact, and marketing data.
This tool works as a simple add-on that allows users to find relevant lead data as they browse social media profiles. Users can get direct contact numbers while researching leads.
Although the platform isn't great for bulk lead generation, it may be attractive for users to generate most of their leads through social media.
D&B Lead Builder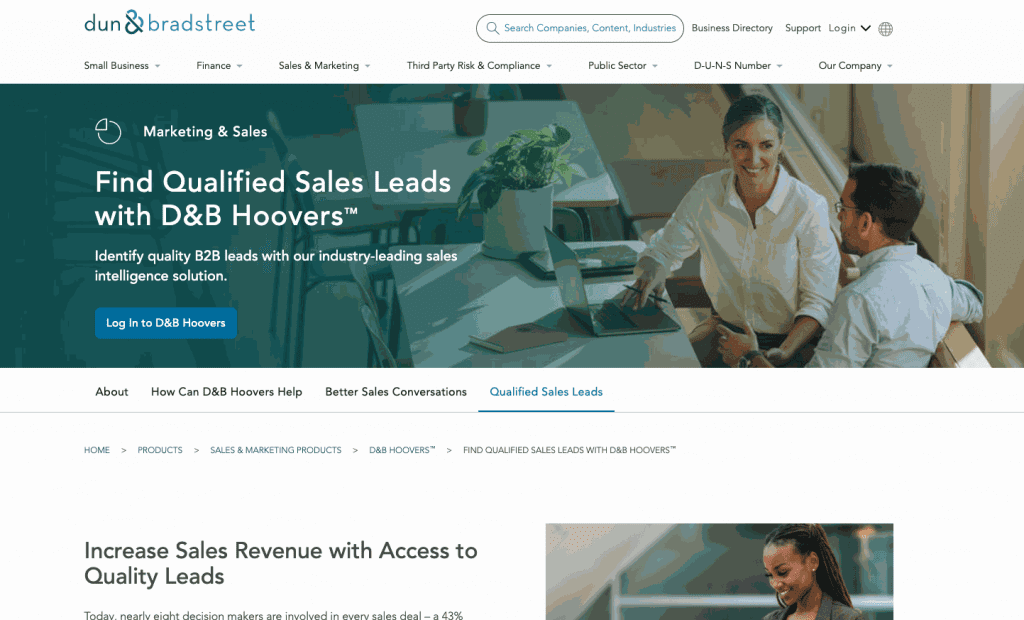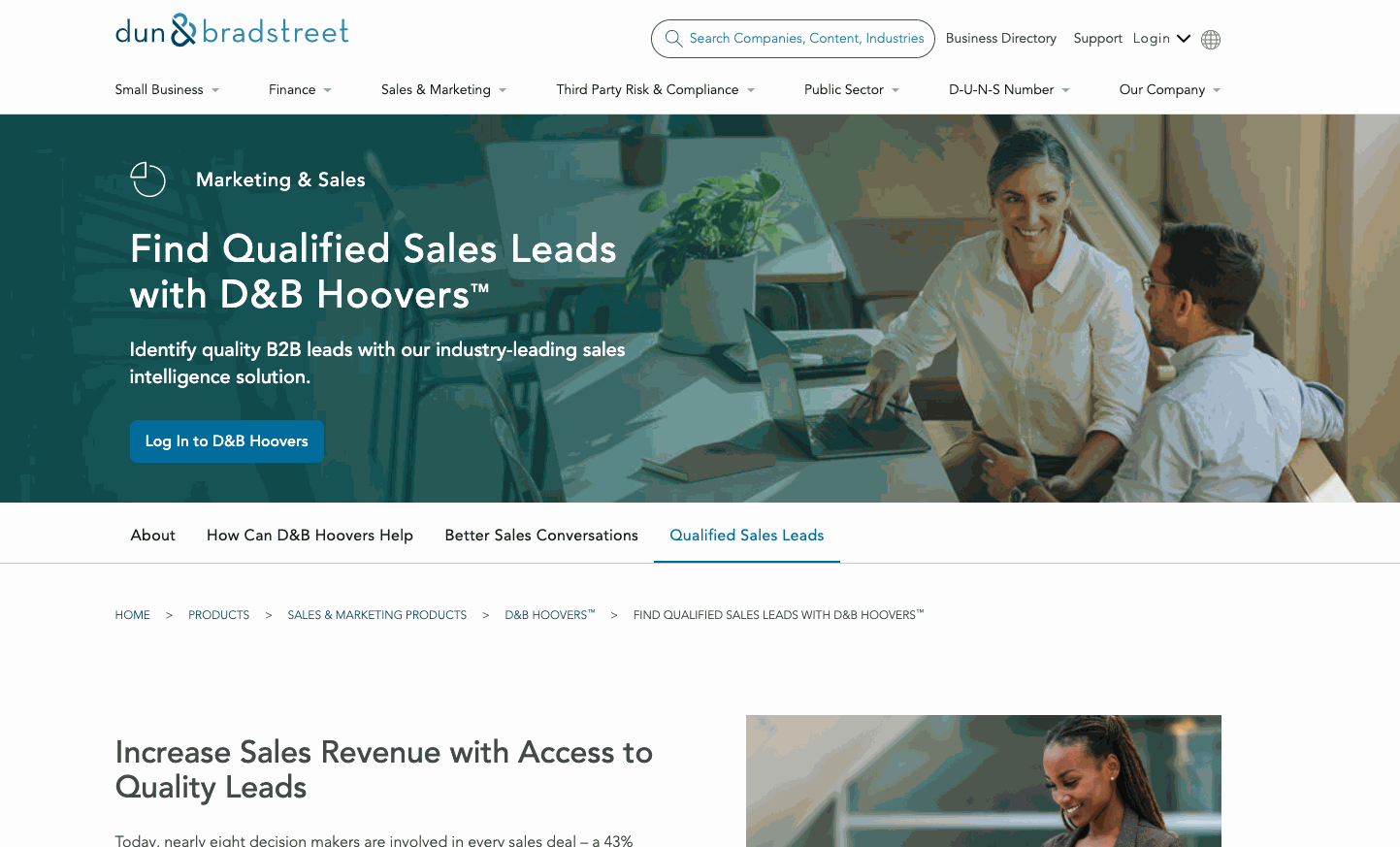 D&B offers users a large database of 120 million business records and analytics, allowing sales teams to generate lead lists as needed.
The platform is built for both sales and prospecting and includes simple navigation and accurate data. While it lacks CRM integrations and a UI update, the platform's large database can help with prospecting and can help sales teams generate and purchase lead lists.
Lead Lists FAQs
Here are answers to common questions regarding lead lists:
Is It Legal to Buy Leads?
Most lead data providers compile their data from public and historical data, which is legal to use. These platforms crawl multiple websites, find potential lead information from multiple users, and consolidate it into a large database. Since the database only has information that is or once was public, it is legal. However, you should abide by SPAM laws and regulations when using your lead list. This includes providing leads a way to unsubscribe from your list. Also, be sure to follow all local and international regulations.
How Much Do Lead Lists Cost?
Lead lists are among the most cost-effective lead-generation techniques. The exact price of the lead list will depend mainly on data quality, with low-quality data being among the cheapest (at a fraction of a cent per lead). That's why paying more for high-quality data can end up being more cost-effective. With validated contact information and updated profile data, it's easy to effectively segment and market to the right user at the right time. This can improve your cold approach effectiveness, making customer acquisition more cost-effective.
How to Create Lead Lists on Your Own
Start by defining the buyer persona you want to target. Then, define how you will capture those leads. You can capture them passively through lead magnets, influencer marketing, and other marketing campaigns, or perform lead research to curate lead lists for cold calling and cold emailing. Increase your odds of success by using lead generation tools like UpLead to create lead lists according to your customer persona.
Building profitable lead lists
Buying and using lead lists can be a great way to target large and small businesses alike and get sales faster than ever. However, your success can only be as reliable as your data. Ensure you're getting reliable, high-quality data by using data curated by UpLead. They guarantee 95% accuracy for every lead list they produce.
Start your UpLead free trial today to quickly find, connect, and engage with qualified—and even ready-to-buy prospects.
Start Your 7-Day Free UpLead Trial
Lead generation doesn't have to be all that painful. With UpLead, you can easily connect with high-quality prospects and leads to grow your company.