In this article, we'll go through all the best sales funnel software tools you need in your repertoire.
We'll talk about tools for:
Finding leads
Sending cold emails
Developing video marketing campaigns
Chatting live with customers
Signing documents online
Developing email strategies
And much more!
By the end of the article, you'll know exactly what you're missing to close more deals and improve your sales funnels.
Let's get started.
Quick Links:
What Is Sales Funnel Software?
Sales funnel software are platforms and online tools that help you automate or create tasks and assets such as cold emails, business proposals, and landing pages.
They can also help you manage leads, develop email marketing campaigns, handle social media sales, and provide better customer service.
In short: sales funnel software helps you create and develop marketing campaigns to find and convert customers.
What Are the Sales Funnel Stages?
A sales funnel is the journey the customer takes to find and purchase a product or service.
Here are the four steps of the sales funnel:
Awareness
The lead becomes aware of your product or service through various means, like marketing campaigns or word of mouth.
Interest
The lead starts evaluating your product, comparing it against others, and finding out how well your solution would solve their needs.
Decision
Once they've looked into your company and are comfortable with it, the lead will start looking into your pricing options to find out which is best for them.
Action
Finally, once the lead knows exactly which of your solutions is the right choice for them, they'll decide whether or not they wish to become a paying customer.
Best Sales Funnel Software (for Each Stage of the Funnel)
Here are the best sales funnel tools for each stage of your sales funnel:
All-in-One Sales Funnel Software
All-in-one sales funnel tools help to keep everything working together so you won't have to use multiple tools or increase your budget.
Here are the best options:
Kajabi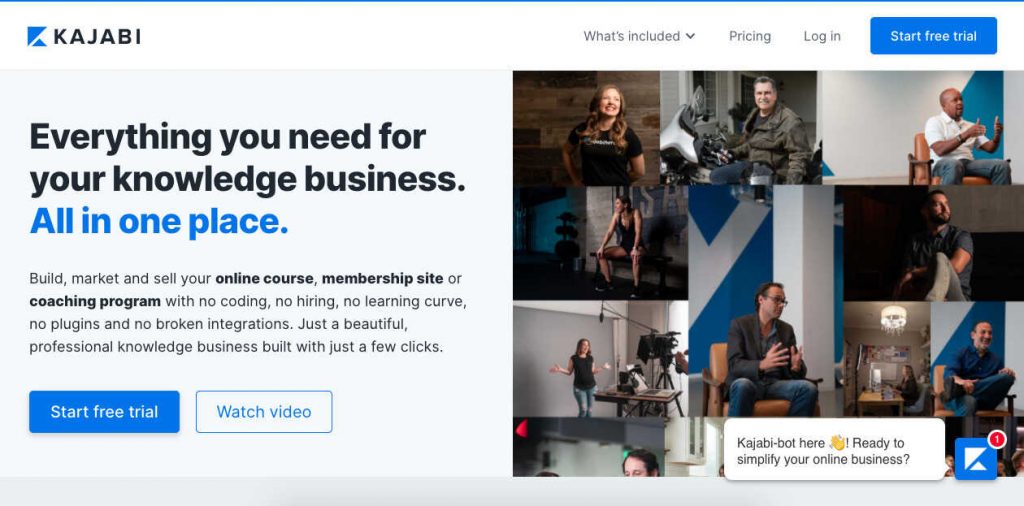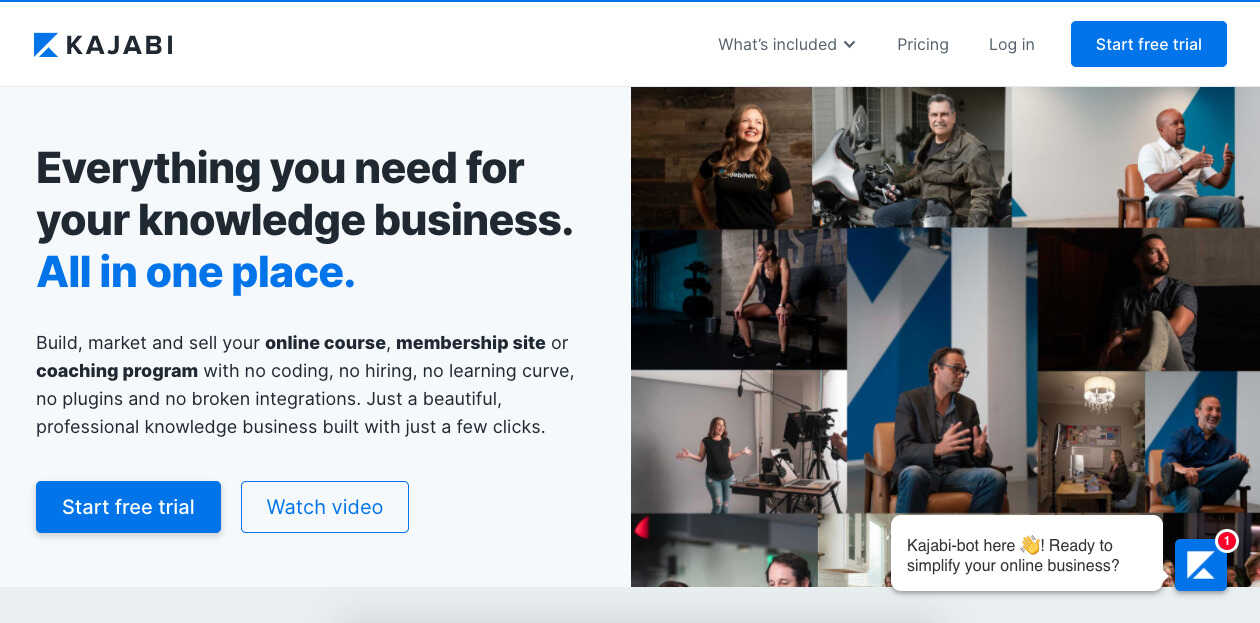 Kajabi's all-in-one platform offers intuitive and easy-to-use multiple marketing and funnel solutions. Catering to eCommerce, Kajabi has multiple features to help new leads find your products and services and guide them to conversion.
Although it may be costly for small businesses, its code-free approach to develop marketing efforts makes it a very effective sales funnel tool.
Kartra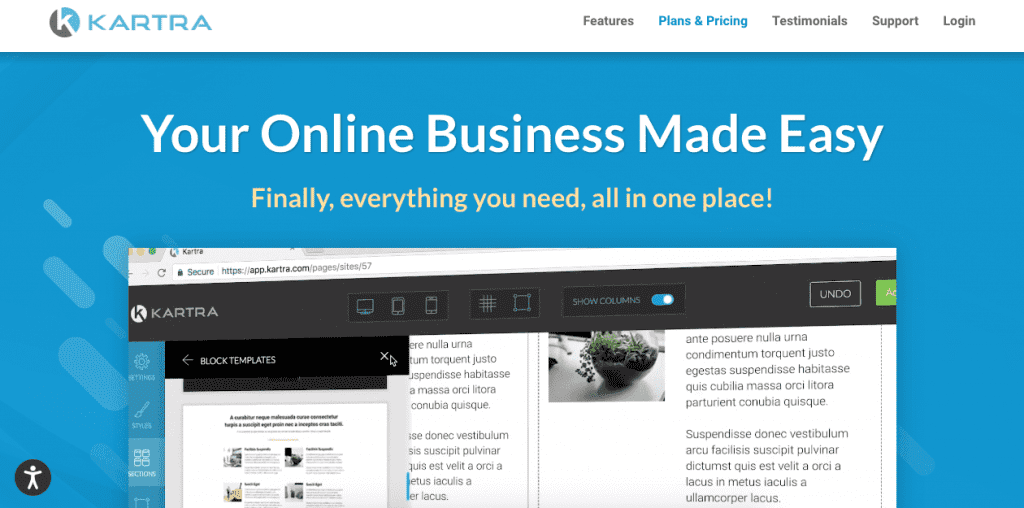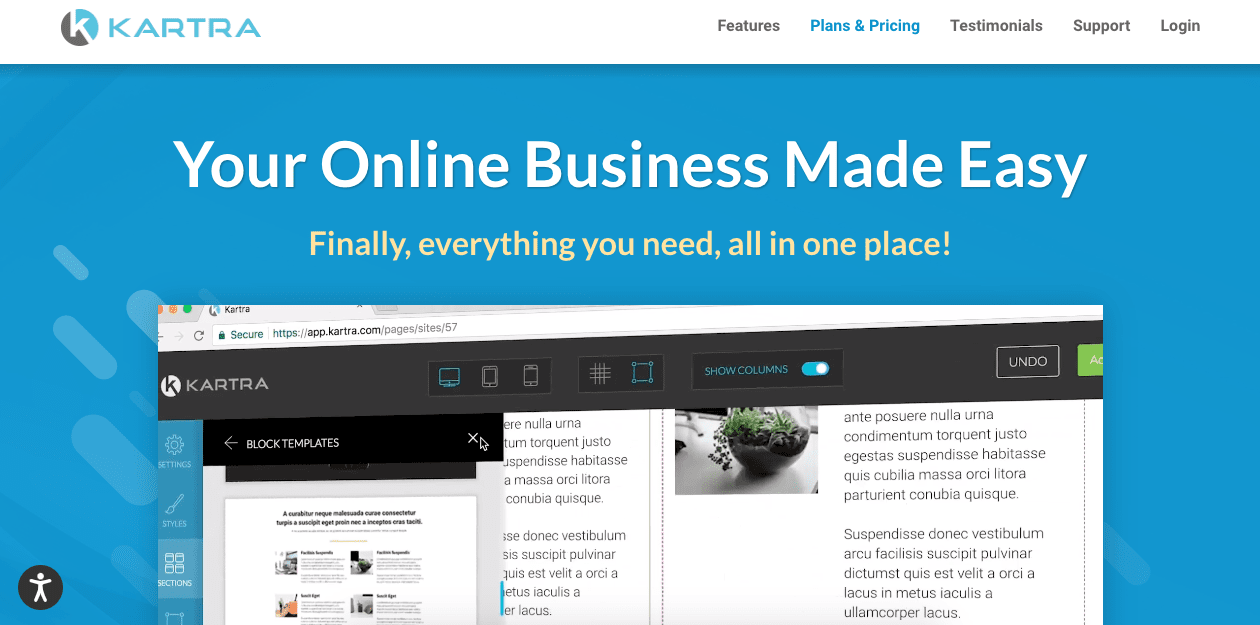 Kartra is another all-in-one platform that makes it easy to develop a website and landing pages from scratch without any coding involved. You can use this platform as a CRM as well as to provide customer service and automate multiple marketing tasks.
Navigation is made simple by Kartra's step-by-step process that guides you throughout the process of setting up your sales funnel, making it easy even for newcomers to develop effective marketing efforts.
ClickFunnels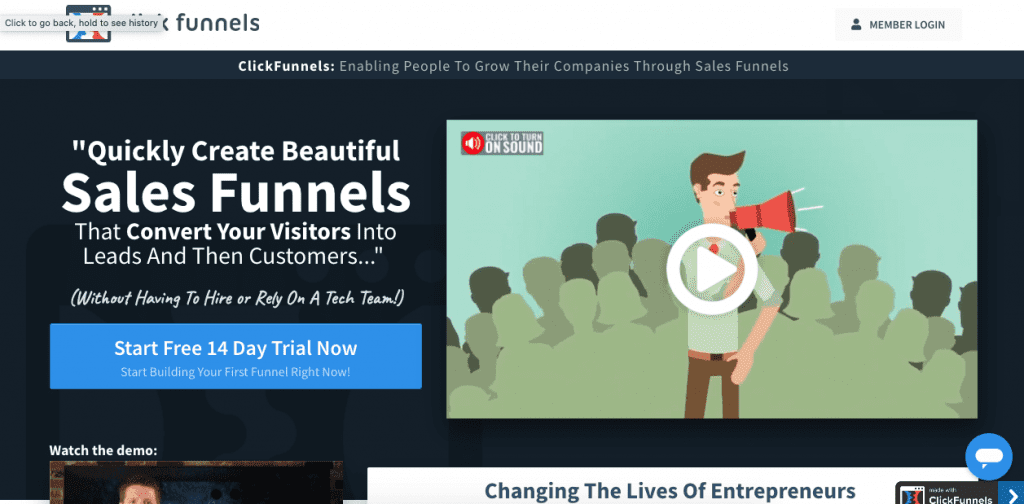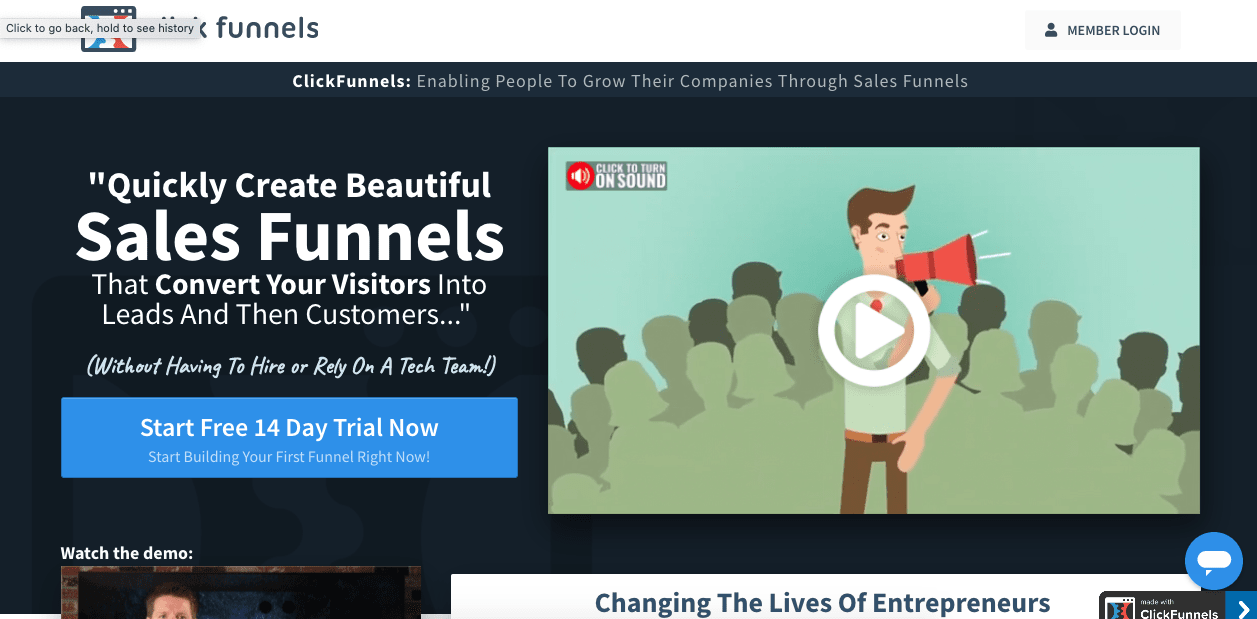 One of the most popular all-in-one sales funnel tools, ClickFunnels is extremely easy to use and gives you a comprehensive list of features.
With it, you can easily set up and automate email and Facebook marketing campaigns, upsell to your users as they shop around, and develop all the tools you need to catch and convert potential leads in your sales pipeline.
Its pricing and simplicity make it a great option for small businesses, startups, and even entrepreneurs to set up their sales funnel.
Best Sales Funnel Software To Grab Customers' Attention (Awareness Stage)
The first step is crucial to the integrity of your sales funnel since reaching as many qualified users as possible will increase your sales dramatically.
Here are the best tools for your Awareness stage:
Email Finder Software
Email finders will help you find the contact information of qualified leads that are likely to purchase your solutions.
Here are the best ones:
Uplead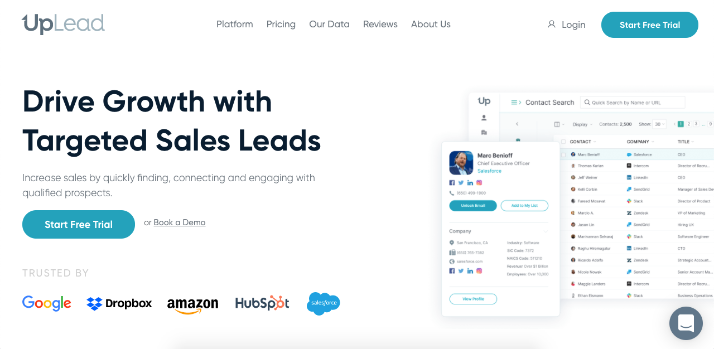 Trusted by clients like HubSpot, Google, Amazon, and Dropbox, UpLead is an online B2B sales intelligence platform that gives you a 95% accuracy rate guarantee on your data. You will never have to pay for leads you won't be able to contact.
Using UpLead is simple: just look through the database of over 108 million leads by filtering and finding the right leads for you. Once you're ready to download their information, their emails will be validated right before you download them, so you always know you're paying only for the addresses that are valid .
Finally, UpLead doesn't just show you someone's email address; you also receive their whole profile.
With this information, you can quickly learn more about your lead before contacting them, so you can personalize your message and tailor it to them.
Also, check out our article on UpLead alternatives to learn more about the competition.
Start Your 7-Day Free UpLead Trial
Lead generation doesn't have to be all that painful. With UpLead, you can easily connect with high-quality prospects and leads to grow your company.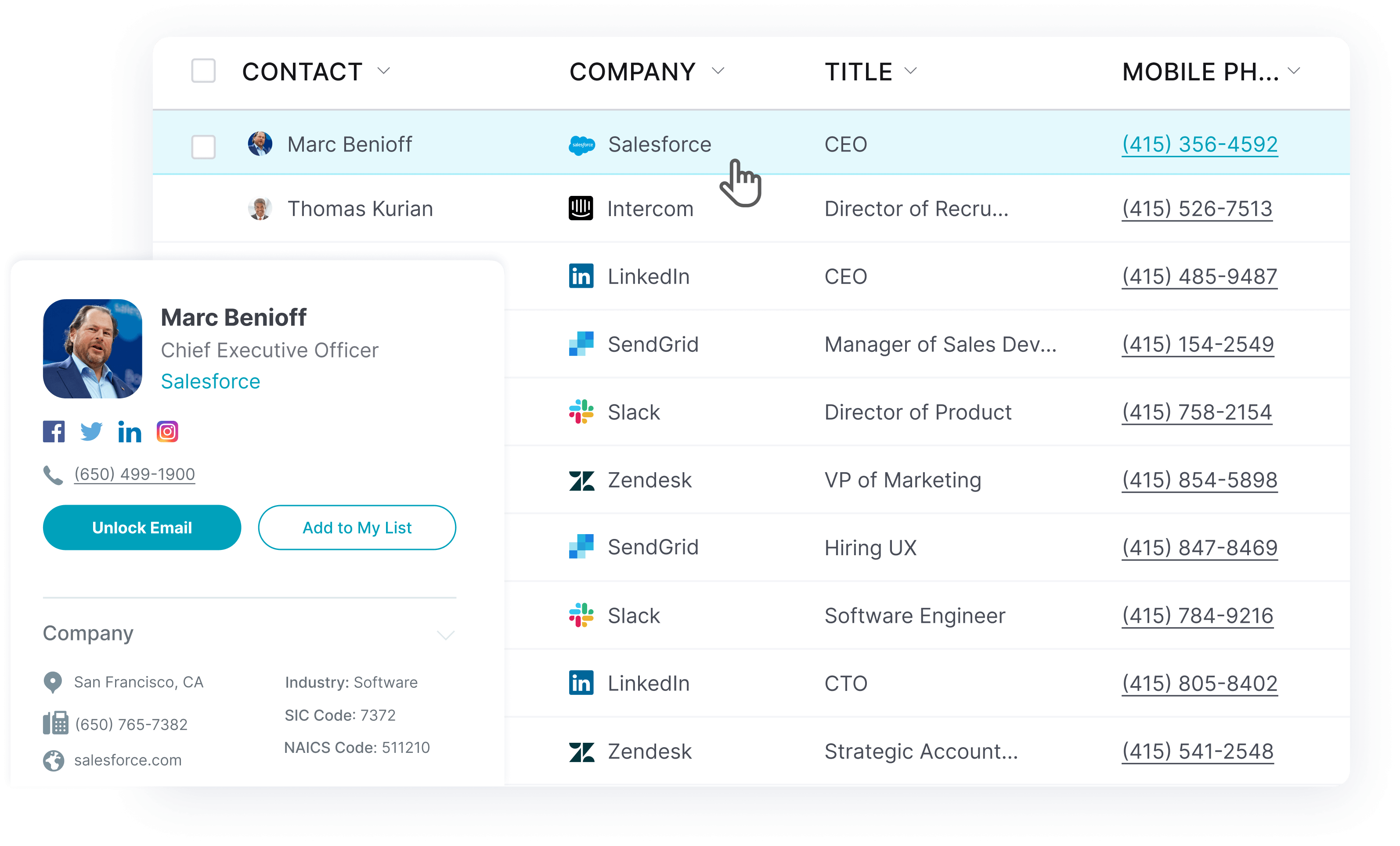 Voila Norbert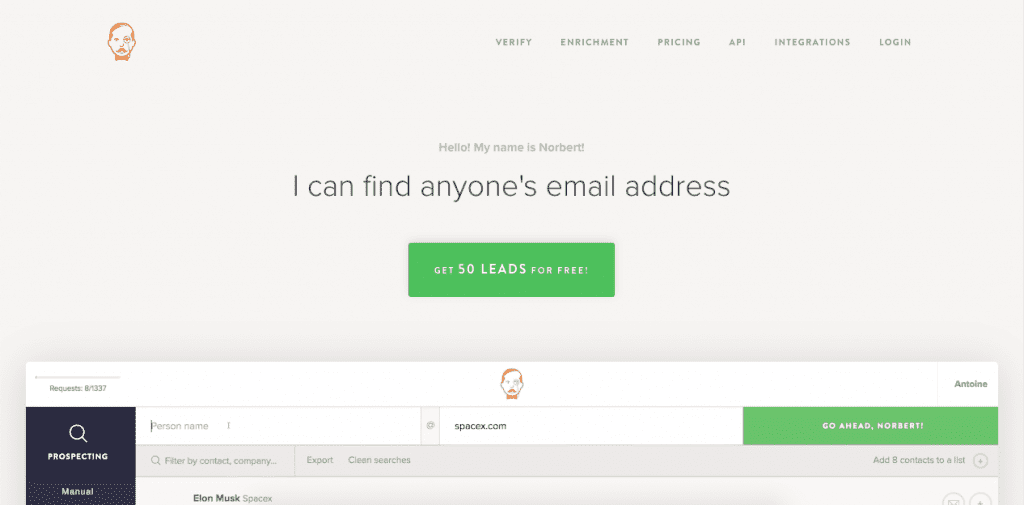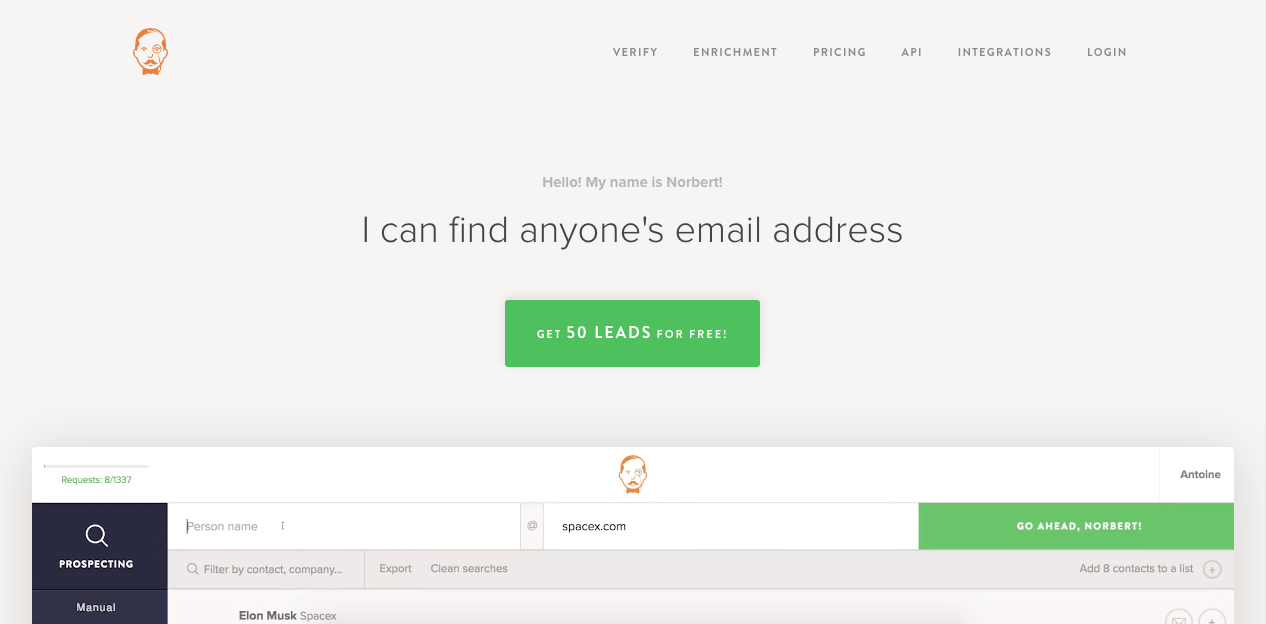 Voila Norbert is an email lookup tool if you already know who you're searching for. Enter the person's email and company domain and the platform will find their email address. It's that simple.
The platform is also very affordable with 50 free searches per account and failed searches not counting toward search credits.
Although the platform is very limited, it's still a valid, affordable option for finding the email addresses of people you already know.
SellHack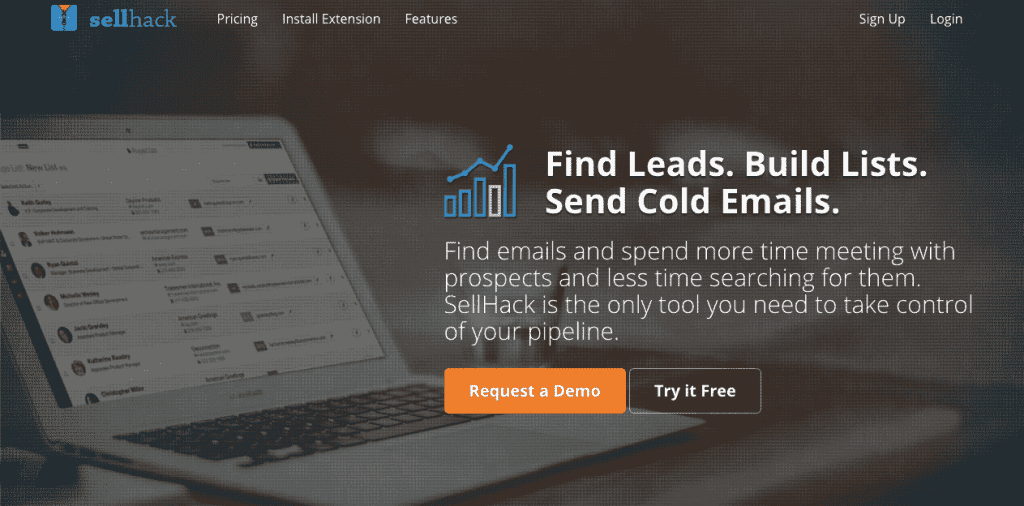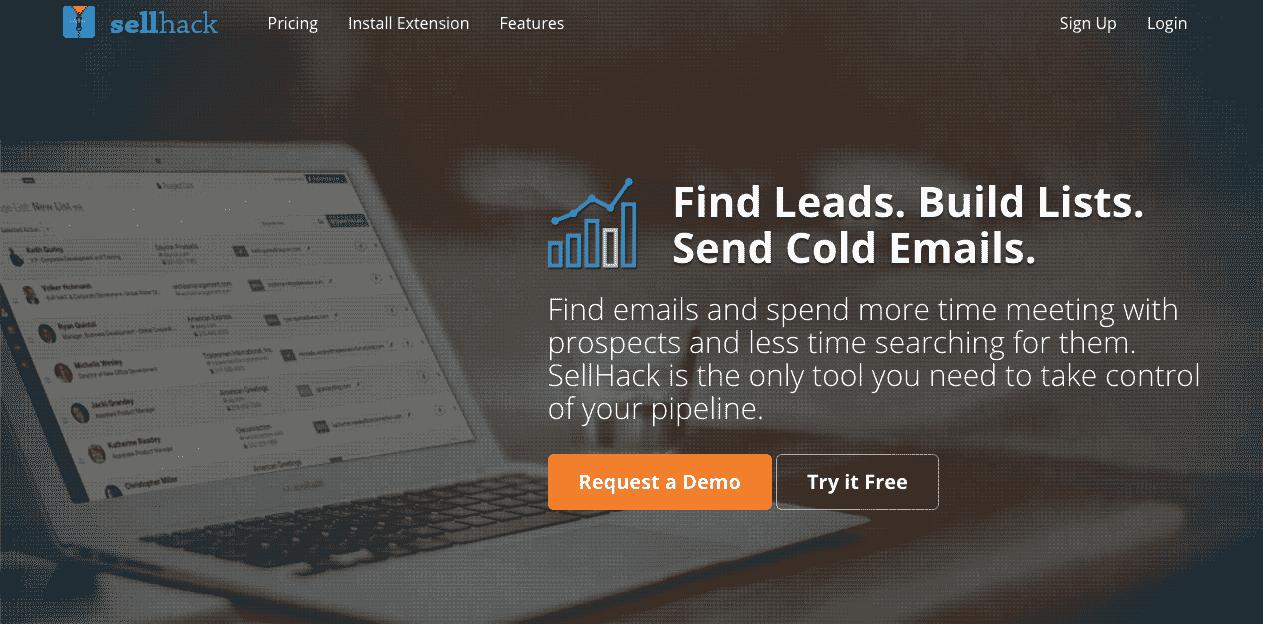 If you're looking for an even simpler option, you'll like SellHack. This tool is a Chrome extension that's simple and fast.
Focused on sales teams, this extension allows you to find email addresses and build lead lists.
Its follow-up data is confirmed with a 12-step verification engine, and, although there's no free option, it's very affordable.
Cold Email Software
Cold email software allows you to send cold emails to a huge number of people, automate multiple tasks, and even design and structure your messages.
Here are the best cold email tools for the Awareness step of your funnel:
Mailshake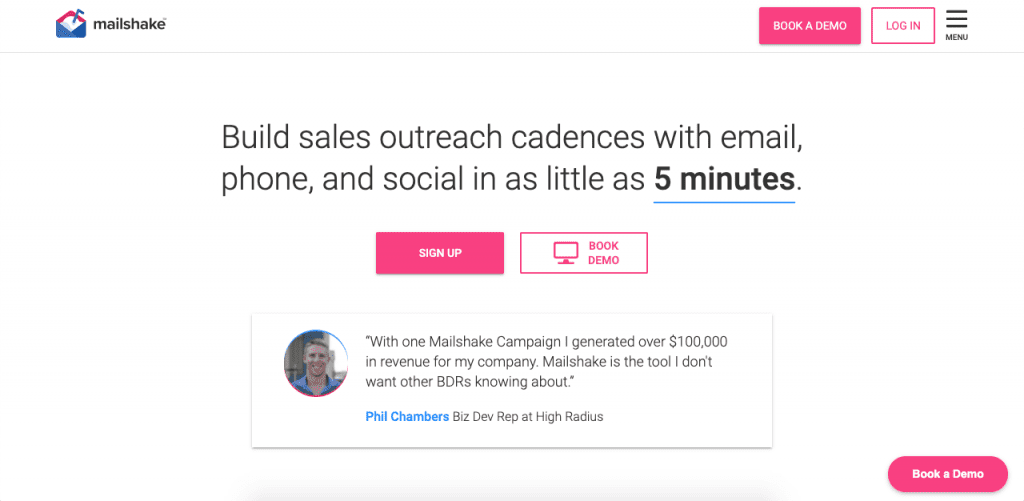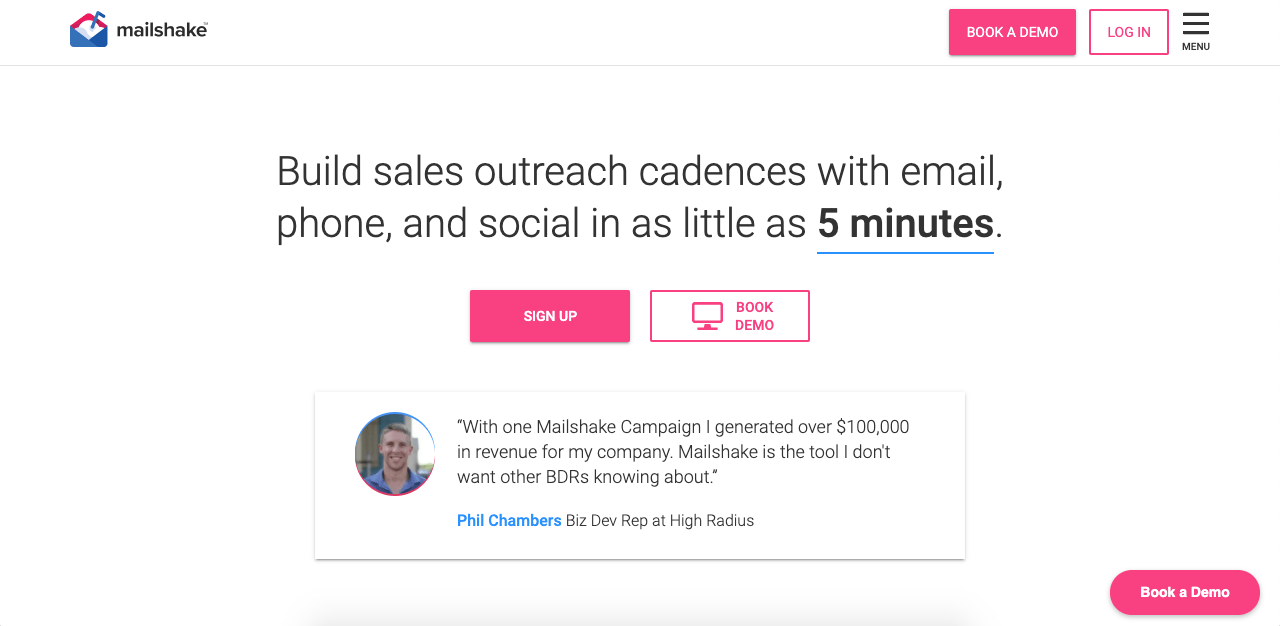 Mailshake is an email platform that's perfect for cold emails. Designed with sales in mind, Mailshake allows you to upload and follow leads directly through your Gmail account as well as your social media.
You can also integrate it with multiple tools, like Zapier, Google Sheets, HubSpot, and Pipedrive so you can easily follow your leads throughout the sales funnel and help them convert.
Yesware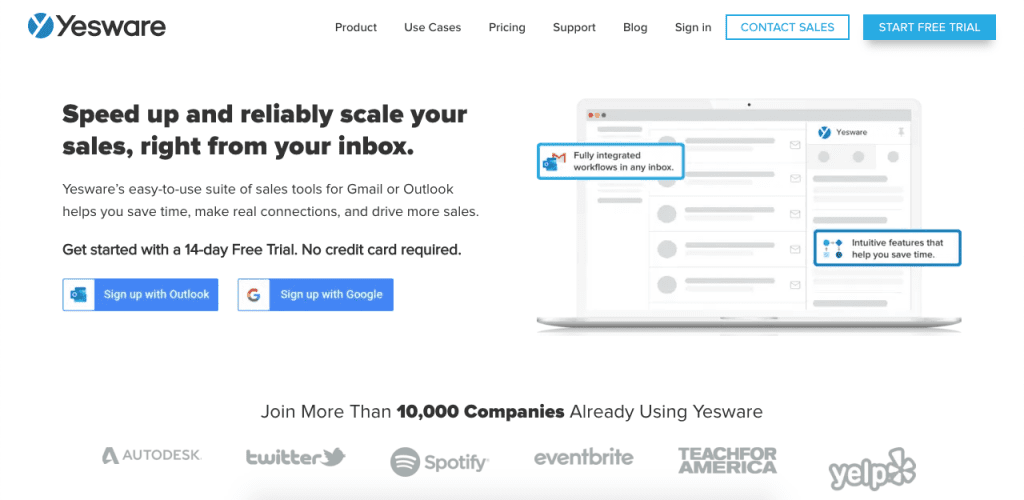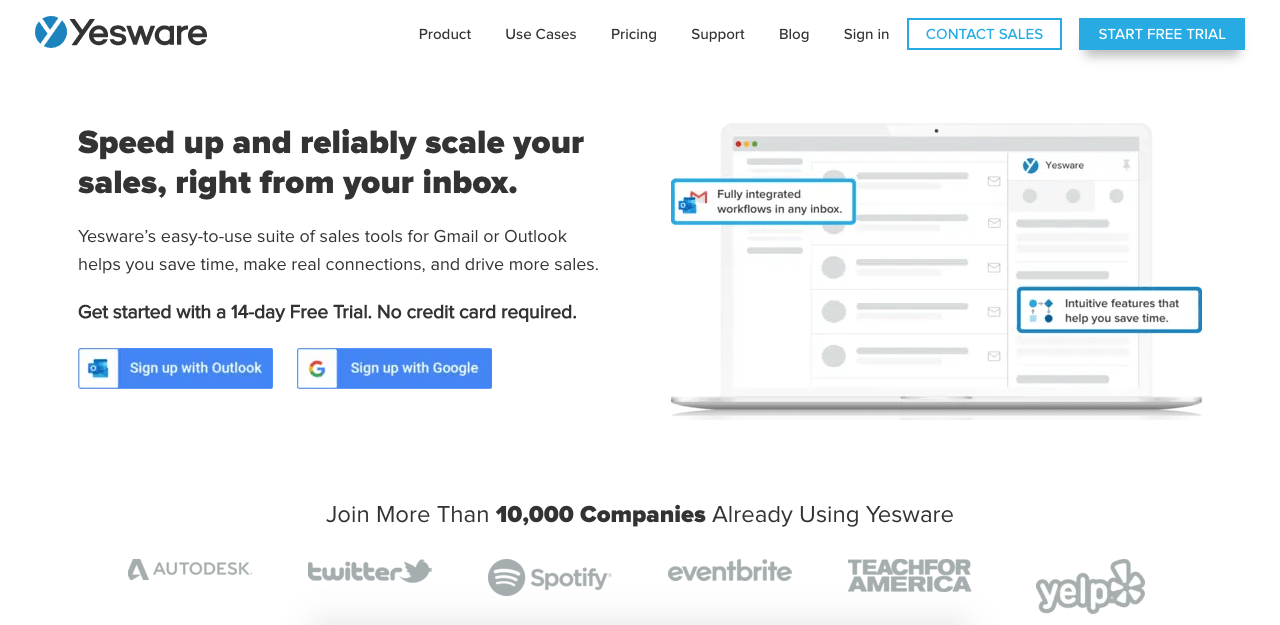 Yesware is a great tool not just for cold emailing, but for sales in general. You can use it with as many leads as you have and easily keep track of multiple leads at the same time. You can integrate with LinkedIn to build connections within the framework you already use.
Once your leads have completed the Awareness stage, you can use Yesware to schedule and track meetings and demos, leading them through the sales funnel.
Yesware is a great tool for medium to large companies that need a way to keep track of many leads without missing a beat.
SalesHandy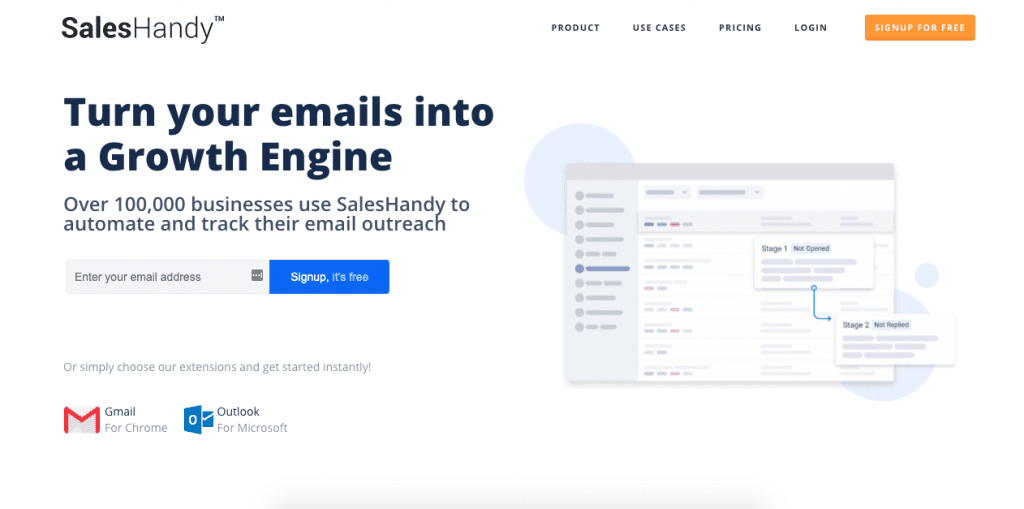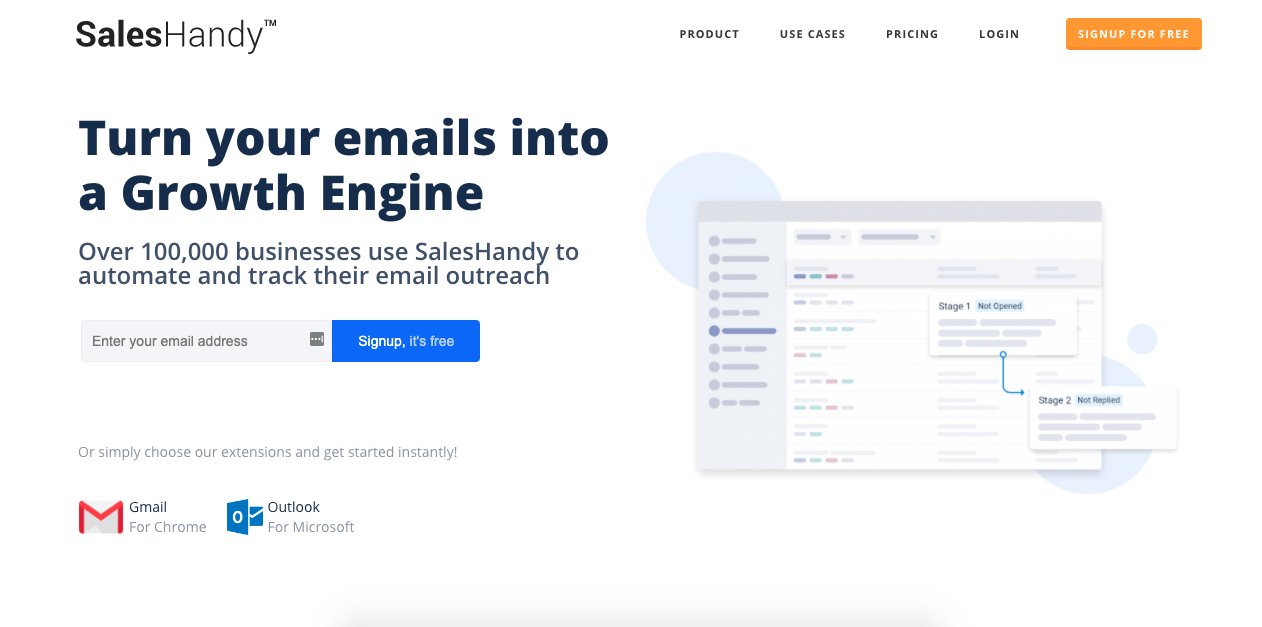 SalesHandy is a powerful tool that's also very easy to use and set up. With it, you can automate multiple parts of your outbound strategy. You can also use it to write and send effective cold emails to up to 5000 contacts every day.
With this platform you can also automate your cold email's personalization and follow-ups, making it easy to contact a large number of people without losing track.
SalesHandy also offers quality reports and analytics so you can easily find more ways to improve your outbound strategy.
Video Marketing Software for Personalized Videos
With these tools, you don't need to be a professional video editor to get flashy-looking videos that will engage your leads and guide them through your products' features.
Here are the best video marketing software options:
Pirsonal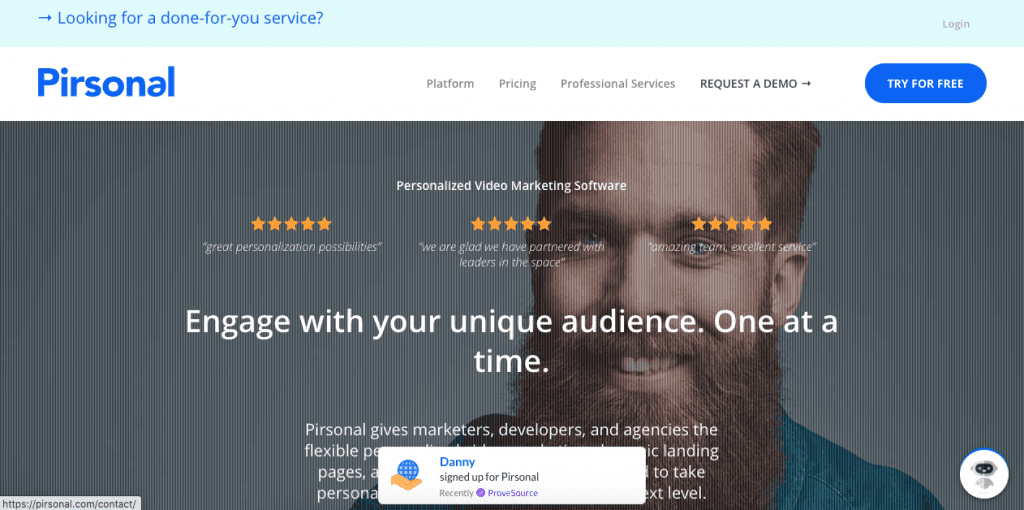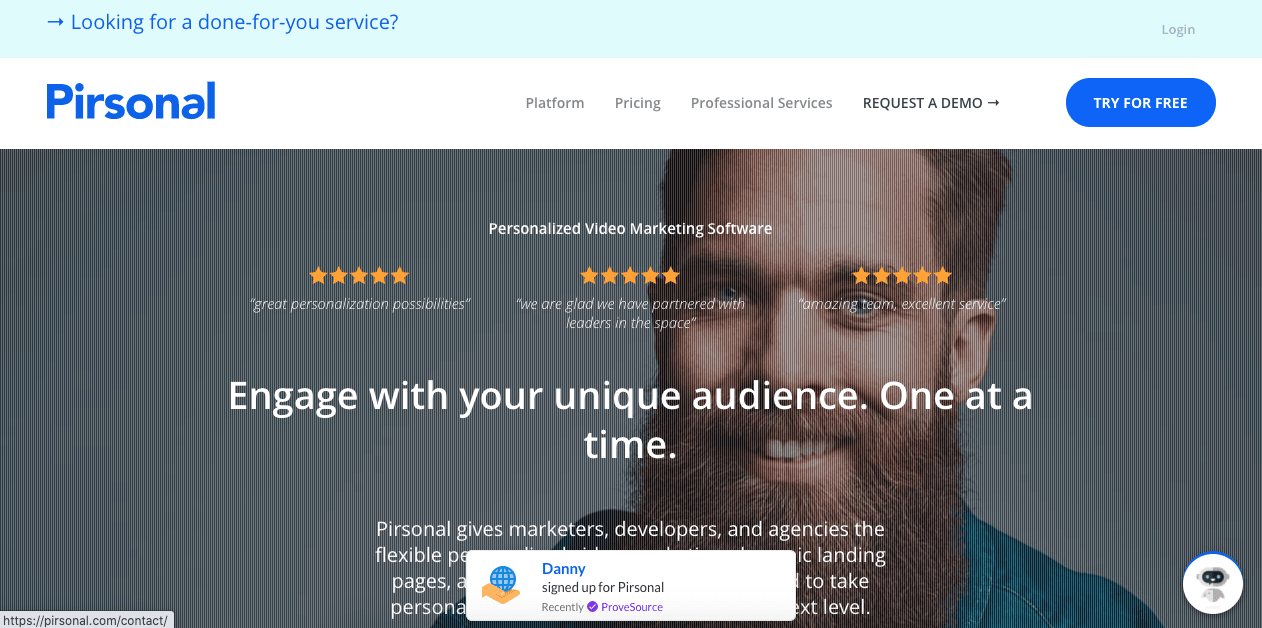 Pirsonal is a great tool for any company seeking to develop marketing videos quickly and easily.
With Pirsonal, you don't need to worry about creating anything yourself. Instead, all videos are made for you by professionals according to your specifications. This allows you to provide as many videos as you require consistently and professionally.
Pirsonal will also develop great landing pages and interactive video tools so you can provide a great visual experience to your leads and guide them to conversion.
Storyteq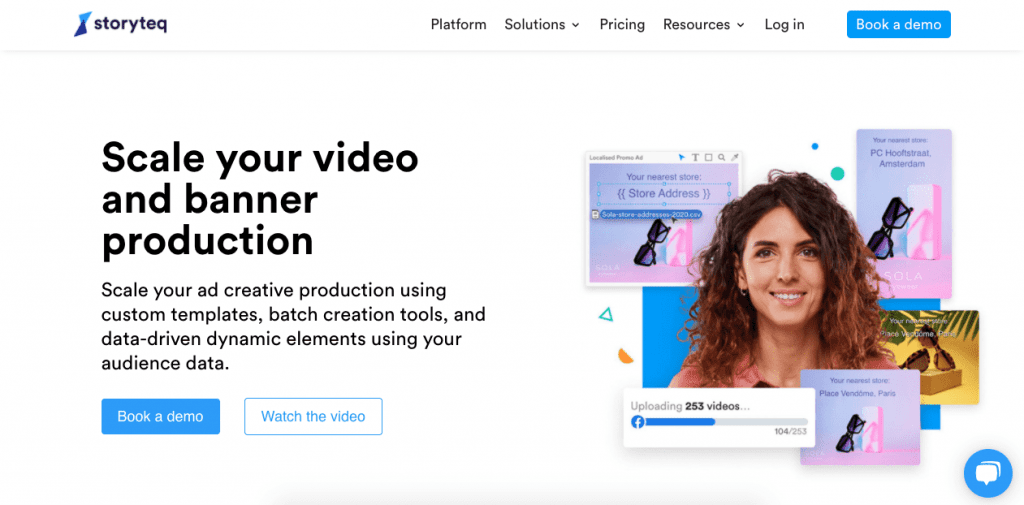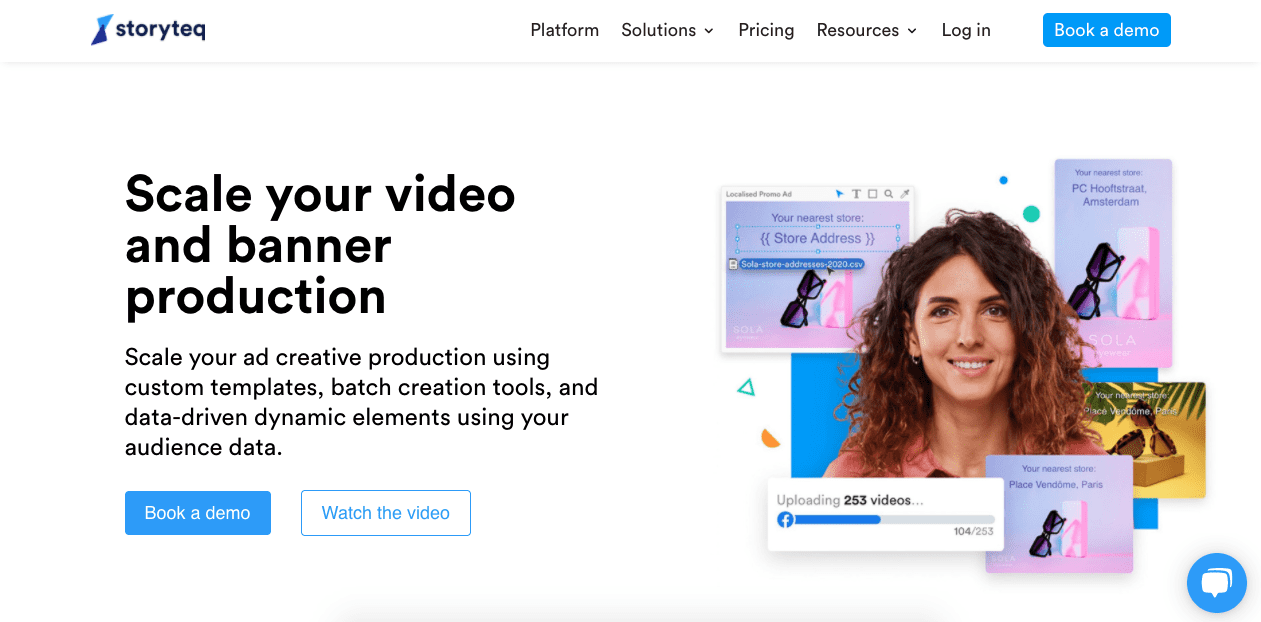 Storyteq is a video personalization platform that makes videos to increase the likelihood of conversion based on your customer and business data.
With clients like Heineken and Samsung, Storyteq has a record for developing not only videos but all kinds of audiovisual marketing content to reach your audience and give them a visually consistent experience.
Personalizard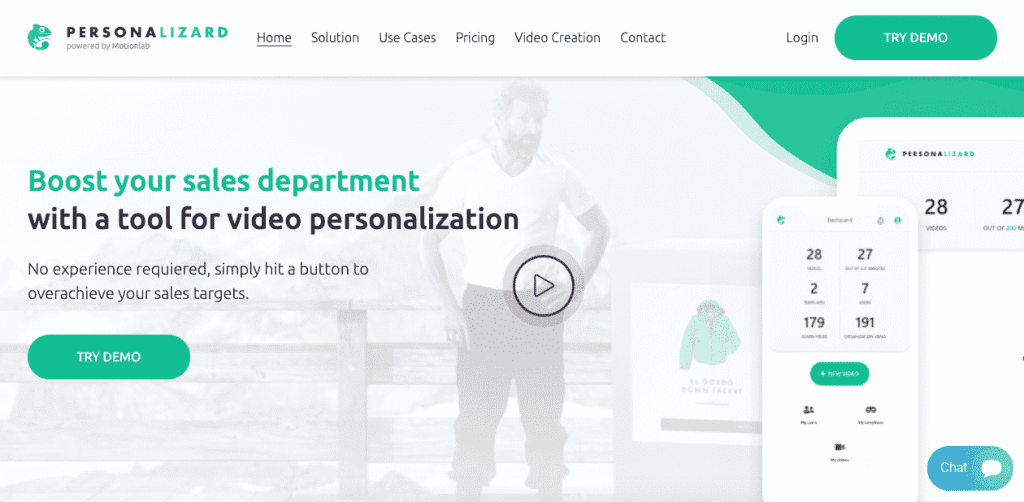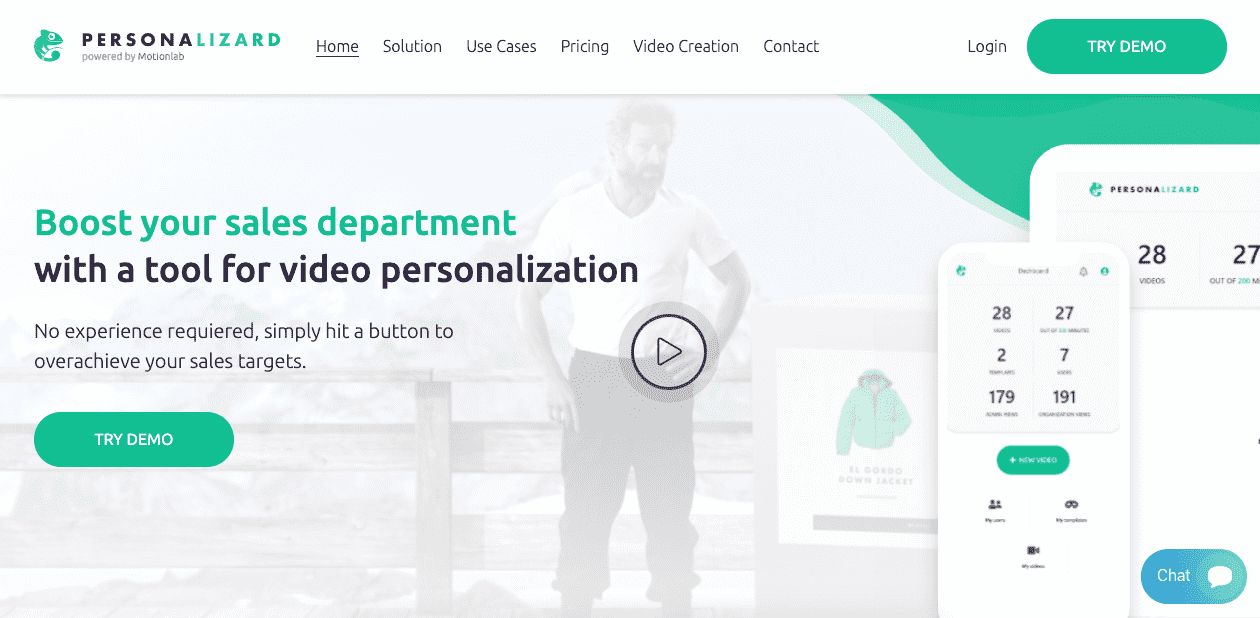 Personalizard is a data-driven option for marketing and sales teams that require a hands-on approach to video development.
With this tool, you can easily render and share sales-focused videos with your customers without the need for video editing or post-production experience.
Biteable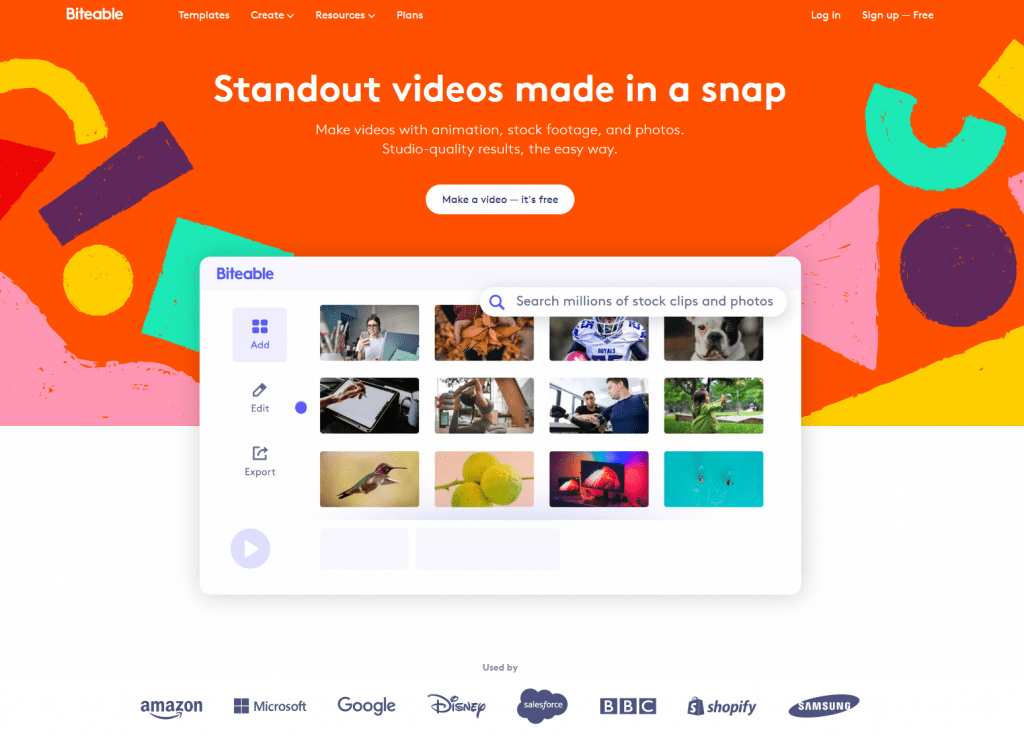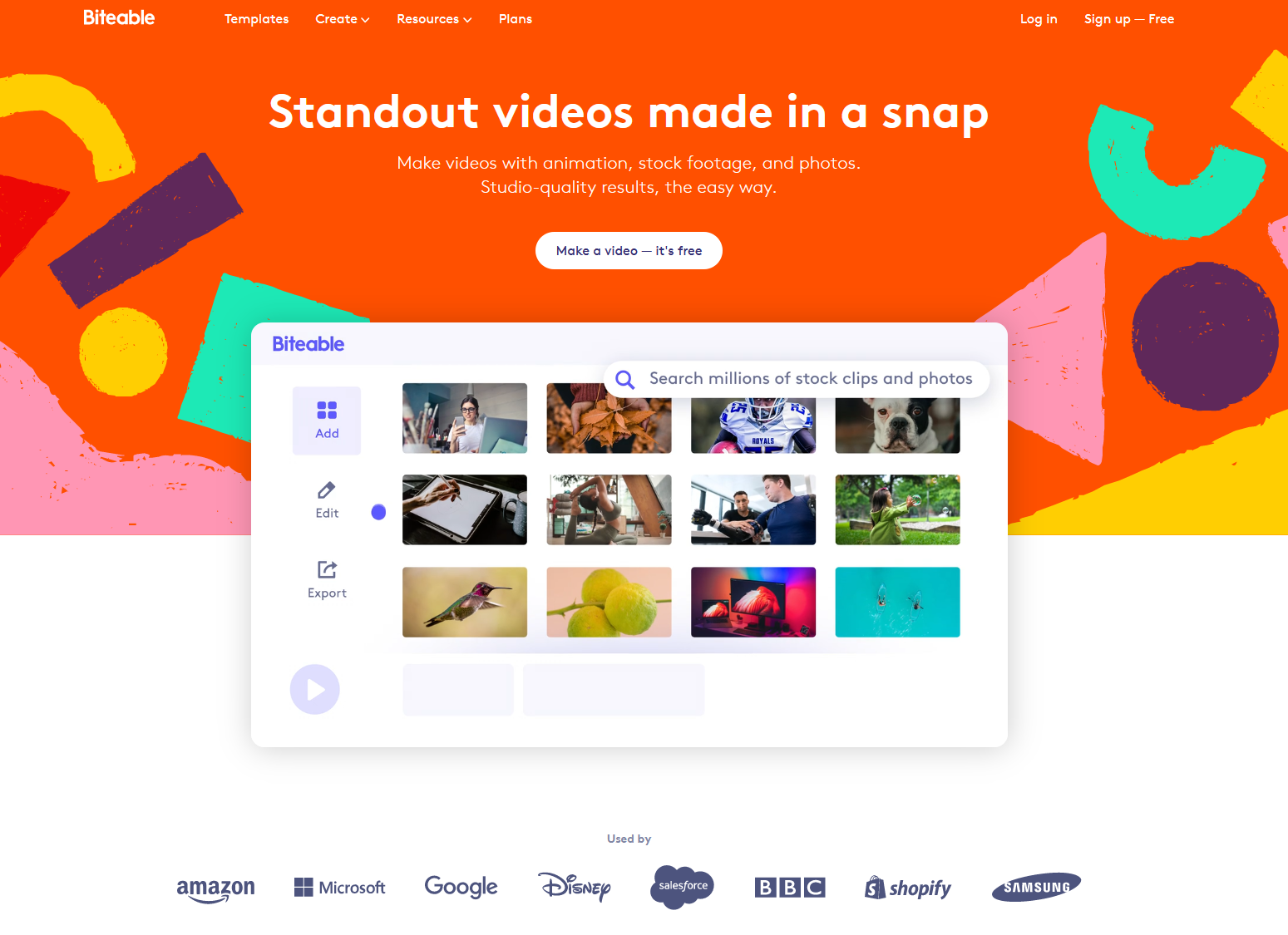 All you need to do is choose which agency you want to use, and they'll onboard your video production to Motionlab for its development. They'll then create a video for you to personalize. You can easily work on your videos directly on the platform, and add the important parts without worrying about developing the complex video effects and visuals.
Biteable is the easiest and fastest way to create video ads for all of your sales and marketing needs. Browse a large library of studio-quality templates that you can edit online in minutes, with full customizability of colours, fonts and music. With a huge library of stock-footage and images, you will have everything you need to produce professional sales videos in no-time.
Movavi Video Editor Plus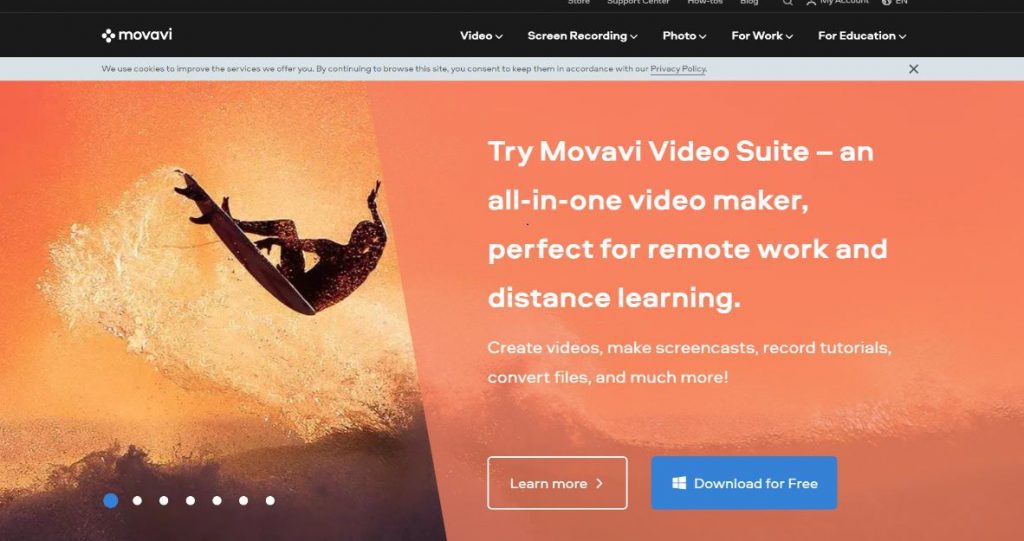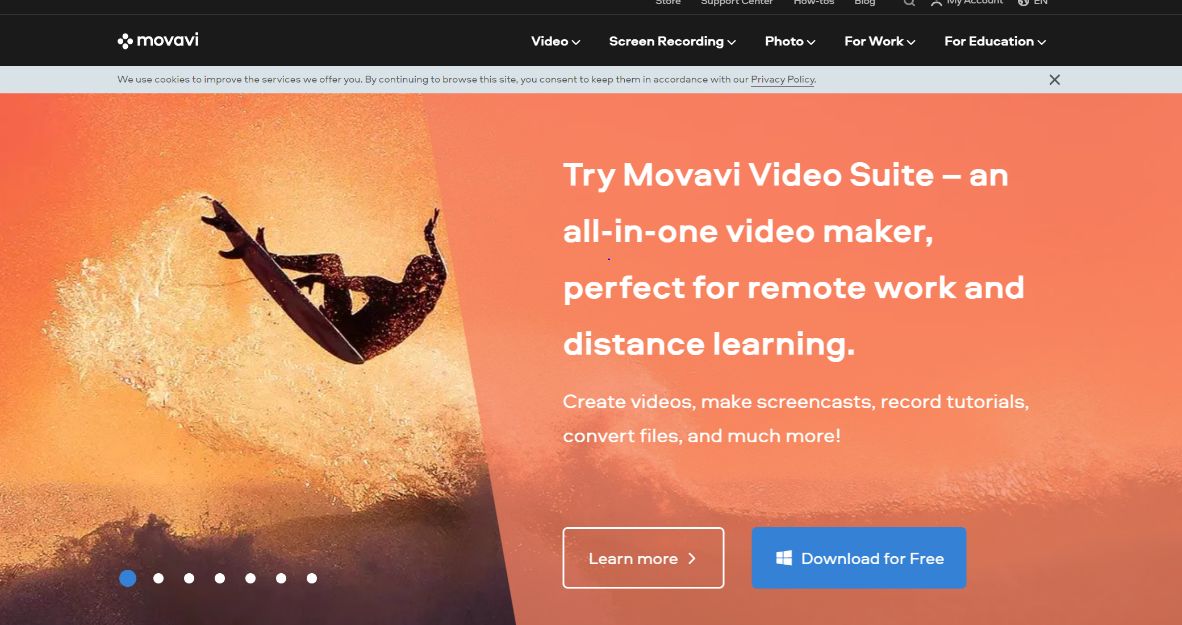 Movavi Video Editor Plus is easy-to-use desktop software for making videos where you can create movies automatically and manually. You can save the results in any available format, including MP4, MOV, AVI, MP3, GIF, and more.
You can crop and rotate, add color filters, adjustments, overlay, pan and zoom, stabilize, make beautiful animations, highlight and conceal. As well as you can optimize the output for your device or upload the video to YouTube, Google Drive, or Vimeo directly from within the program.
Landing Page Software
Landing pages are vital for all those click-throughs to actually generate sales, but not everyone knows enough coding to develop them properly.
Here are the best coding-free tools for creating quality landing pages:
Leadpages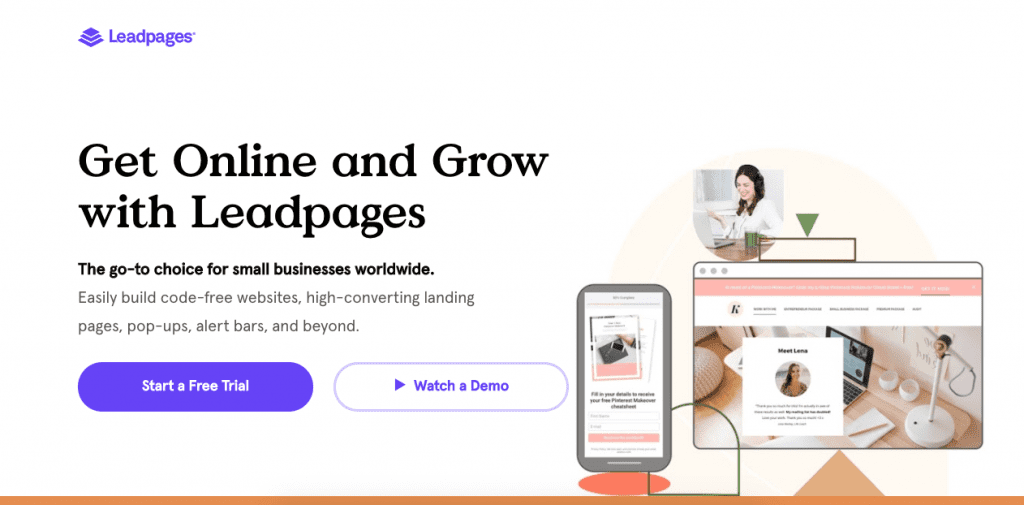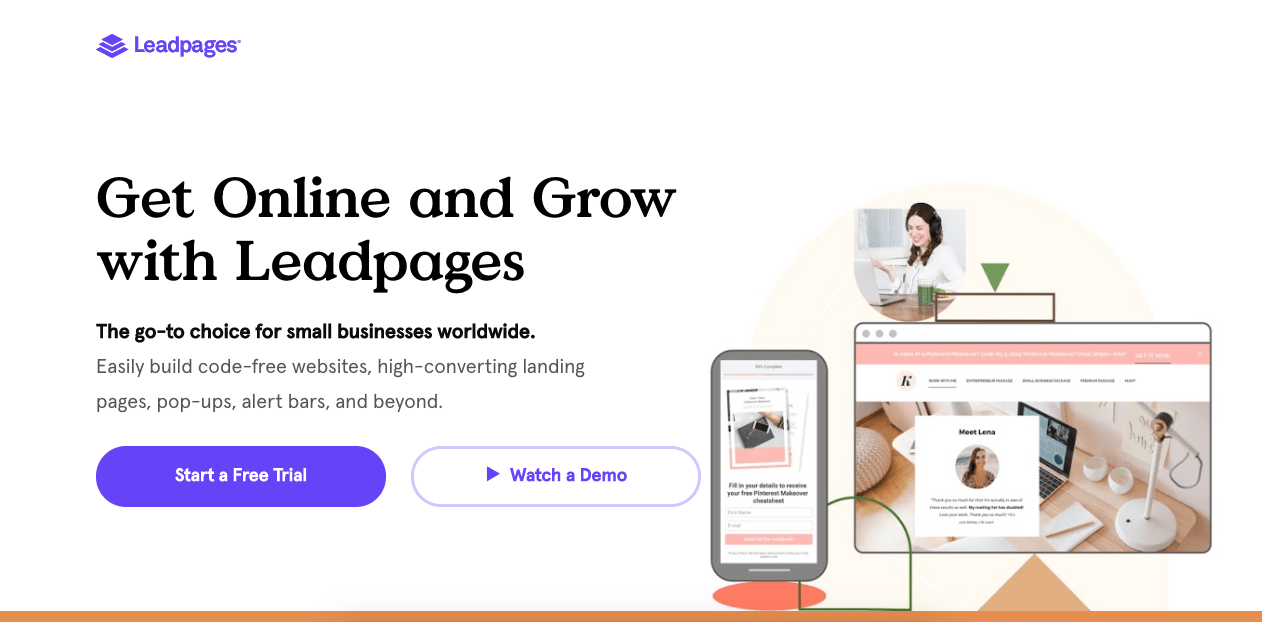 Leadpages is a tool that empowers small businesses to create effective landing pages with a high conversion rate.
With its templates, you can create websites, landing pages, alert bars, and many more visual tools to guide your leads towards conversion.
Leadpages has very cost-effective pricing, making it ideal for new businesses, startups, and even entrepreneurs to start designing landing pages with little experience in design. If you're unsure about Leadpages, you should check out these 9 alternatives to Leadpages.
Unbounce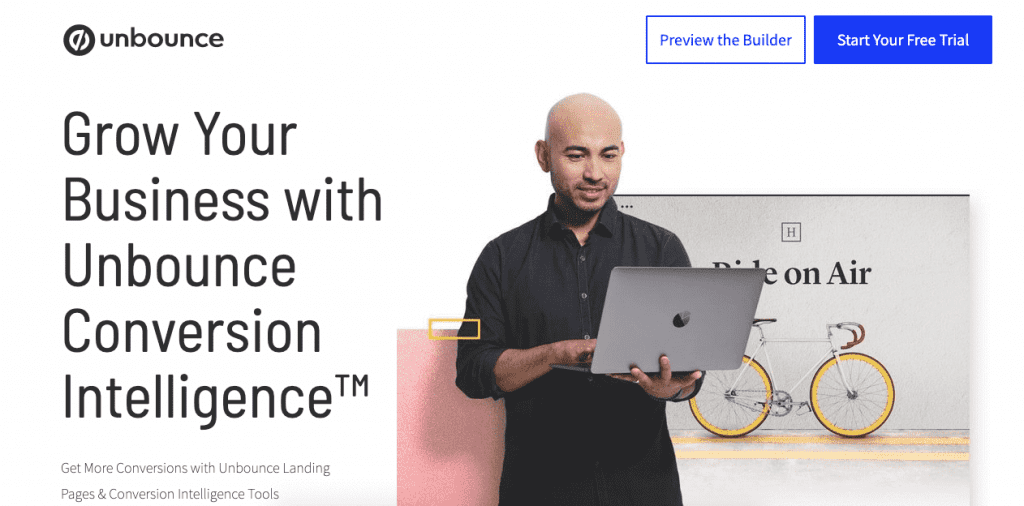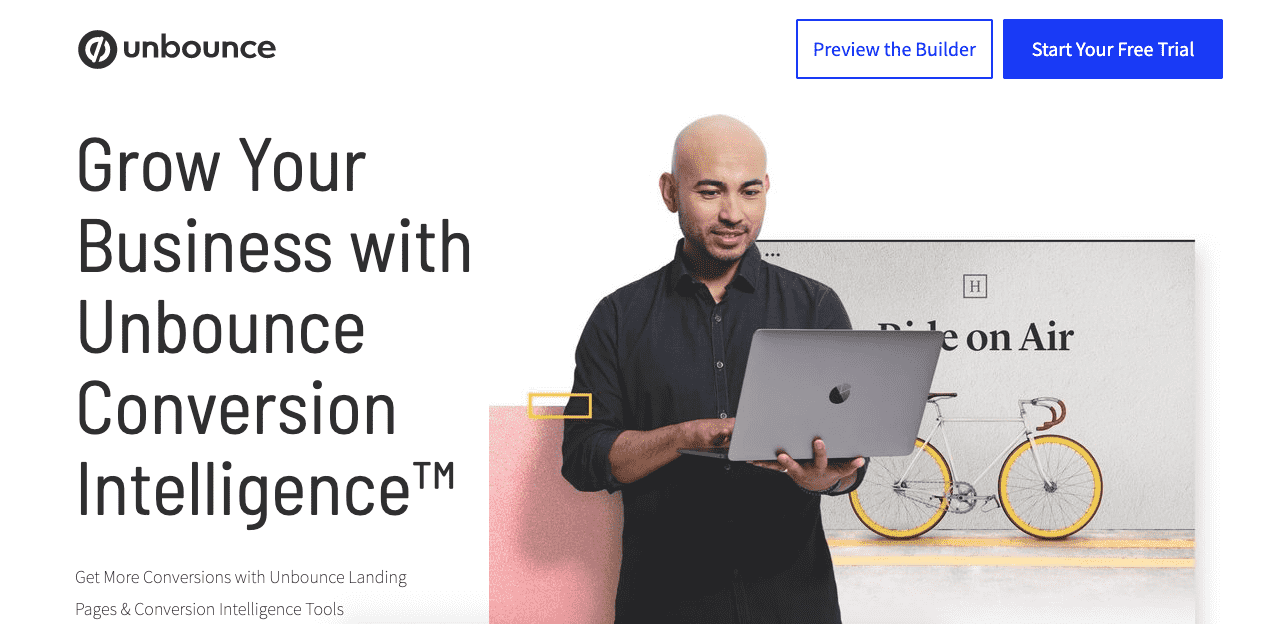 A veteran of land page design, Unbounce is a well-known solution that has been the favorite for marketers when it comes to page building, even if it does come with a steeper learning curve.
Unbounce has amazing-looking templates and a great marketplace for finding and purchasing more unique, personalized designs from third parties.
With a focus on conversion, you can A/B test your designs and gather the data you need to make sure your pages not only look great but actually convert.
Landingi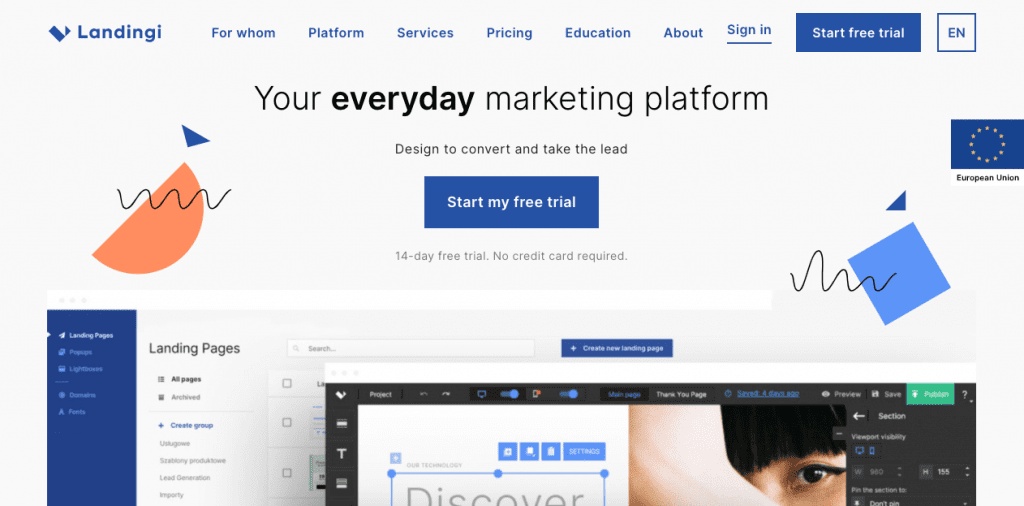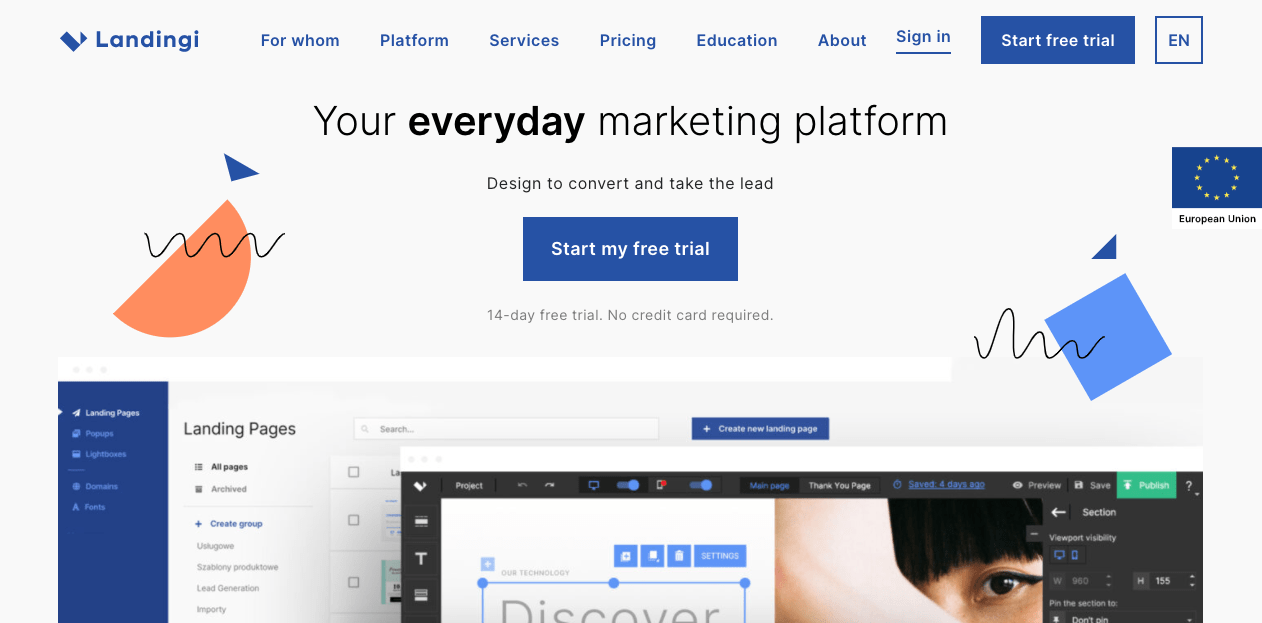 If what you want is a page builder that's easy to use, Landingi is a great option for landing page design.
With a drag-and-drop editor, designing and editing templates into beautiful and effective landing pages is extremely fast and easy. It's also very affordable, making it perfect for anyone who wants good landing pages without breaking the bank.
Although Landingi also has a funnel tool, the tool is better when used only as a page builder, leaving the actual funnel building for more powerful options.
Best Sales Funnel Software To Keep Your Customers' Attention (Interest Stage)
Once your leads are aware of your company, it's vital to get them to engage with you if you wish for them to convert.
Here are the best tools for the Interest stage:
Live Chat Software
Live chat software allows you to engage with your customers in real time, right on your website. Here are the best live chat tools:
Messagely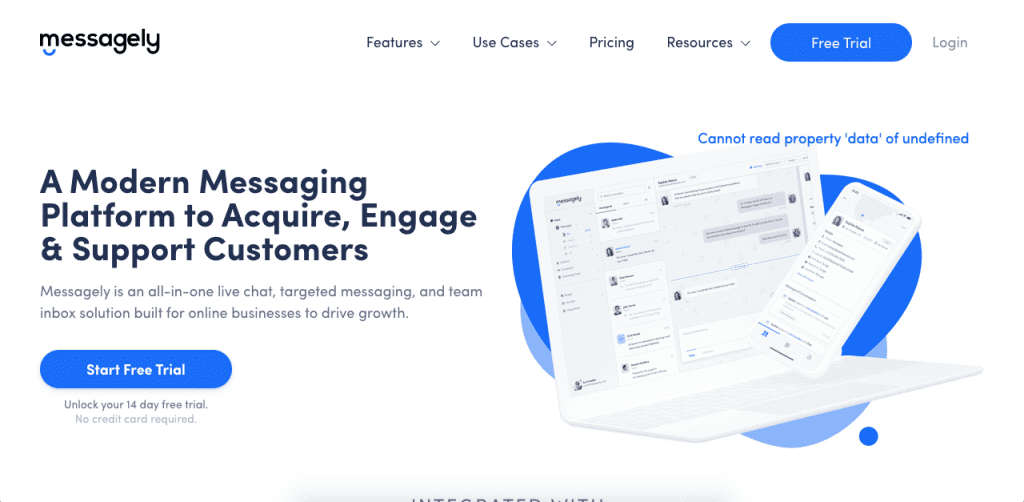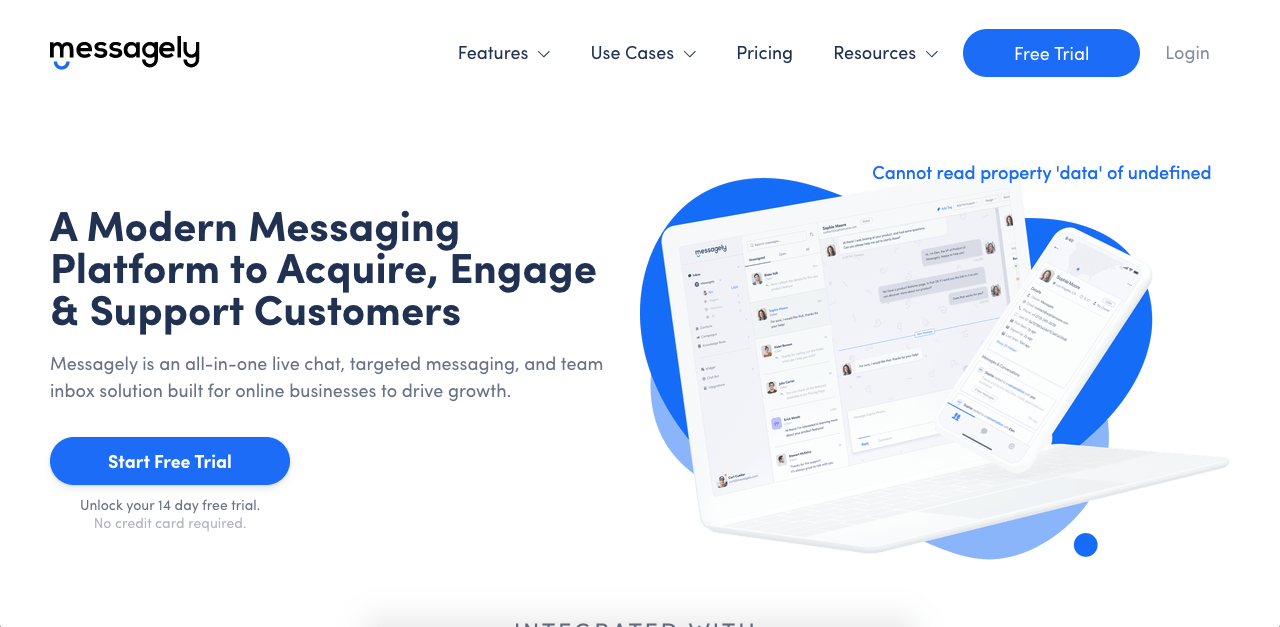 Messagely is a powerful tool that can handle all of your customer communication, including live chats.
Its live chats are easy to install on your website, with shared inboxes to allow you and your team to collaborate while attending to users' queries. Messagely also allows you to use powerful chatbots to give your clients the attention they need 24/7, while still staying within budget.
You can integrate Messagely with multiple tools and use it to develop knowledge bases, handle your social media communications, and send targeted messages to your clients so you can increase your chances of conversion.
Start a free trial with Messagely today.
LiveChat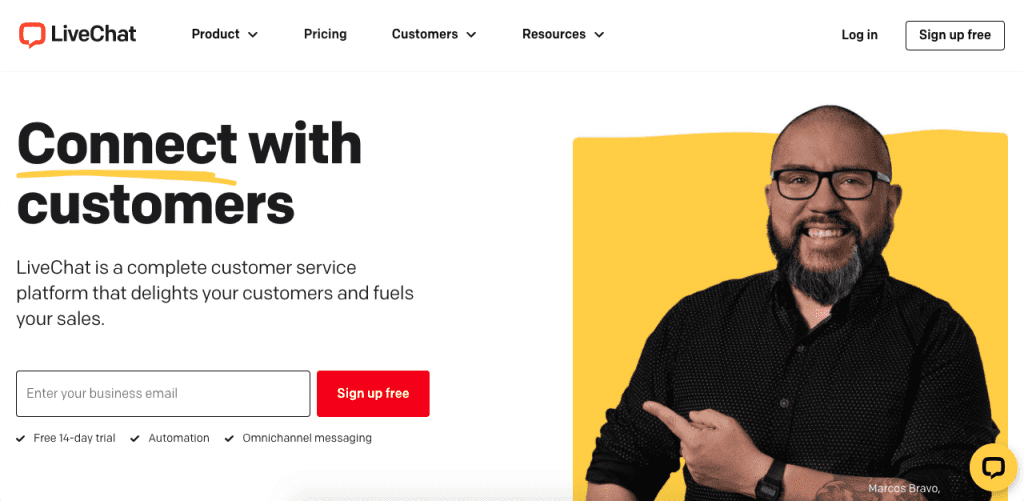 With an enviable customer list that includes such clients as Ikea, Adobe, Mercedes, and PayPal, LiveChat is a great tool with multiple features to provide great customer service with live chat.
The platform has a powerful AI that handles all communication routing, ensuring the right client reaches the right customer service rep. It also integrates with multiple platforms, so you can use it with the rest of your sales funnel tools.
Intercom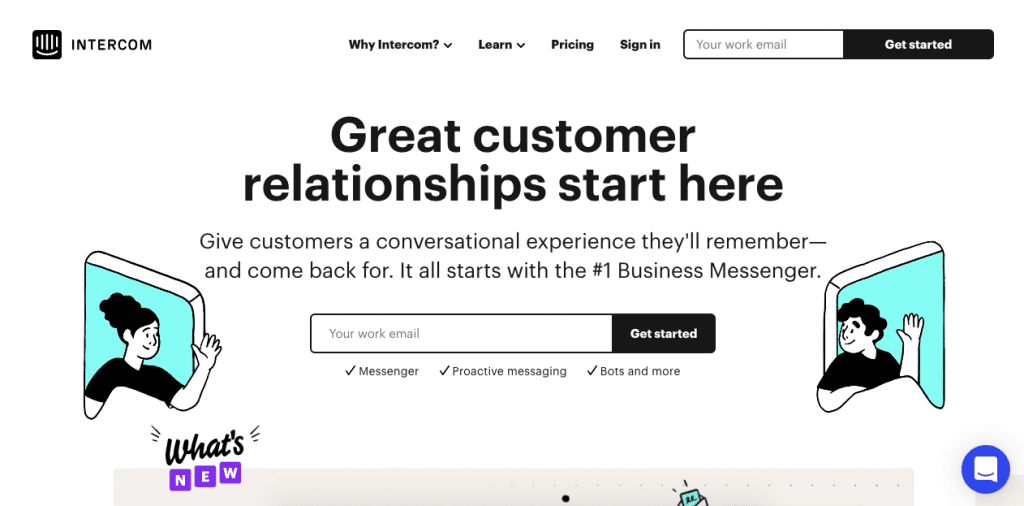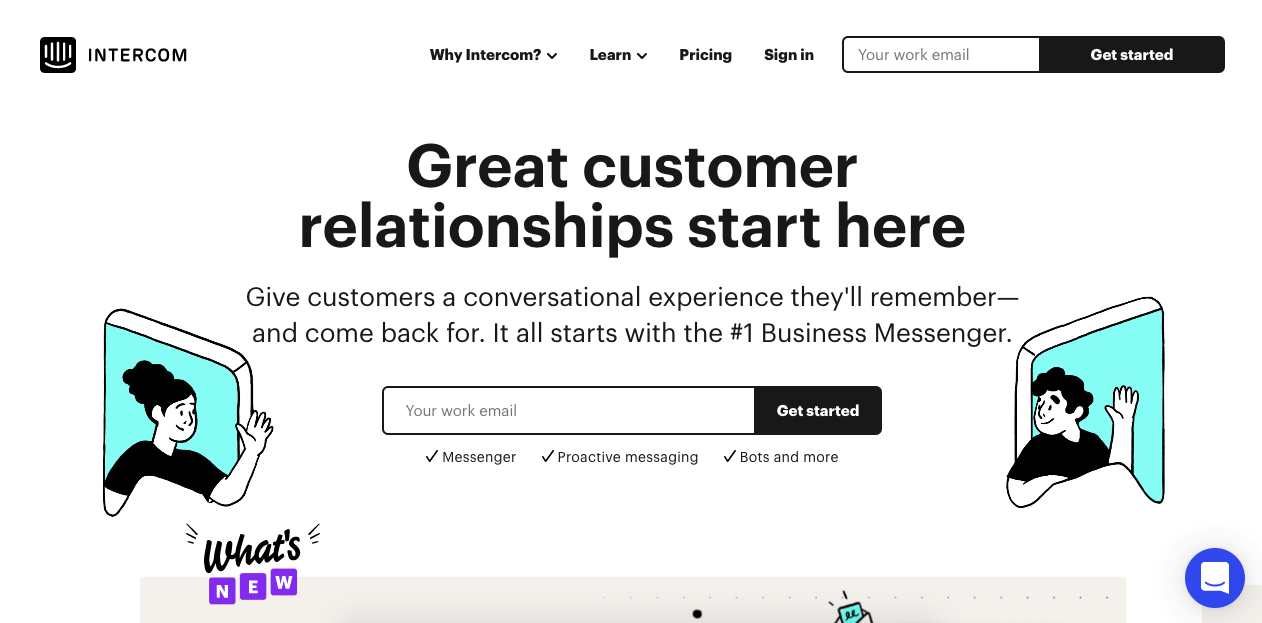 With a focus on conversation-based customer communication, Intercom's live chat is a great tool for communicating with your clients.
Intercom allows you to use predictive responses, behavior-driven messages, and multiple other tools to allow your customers who are navigating your website to contact your team.
Intercom is available for any website and web-based product, and it has a long track record of customer satisfaction.
Acquire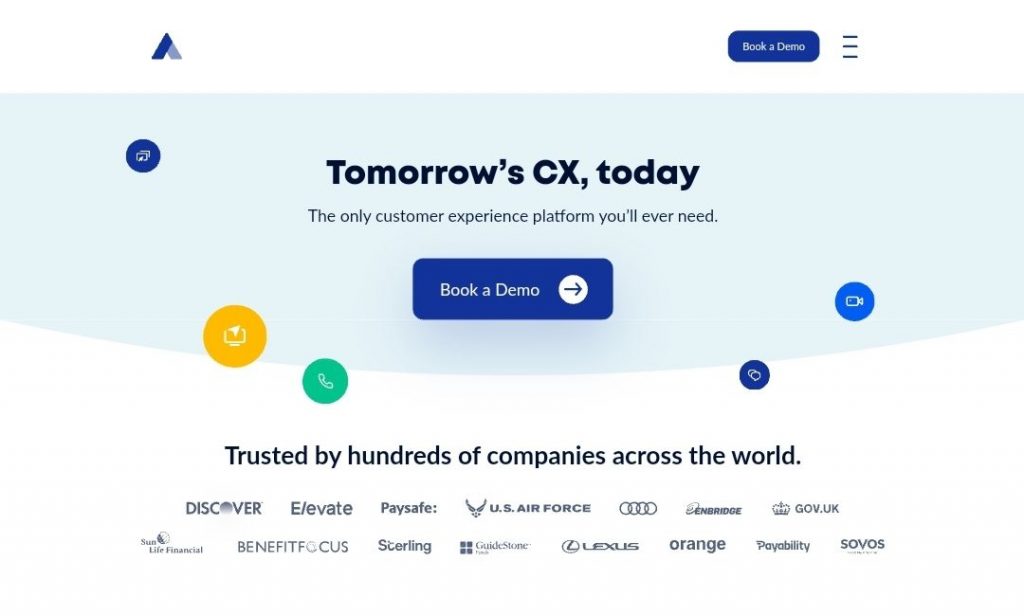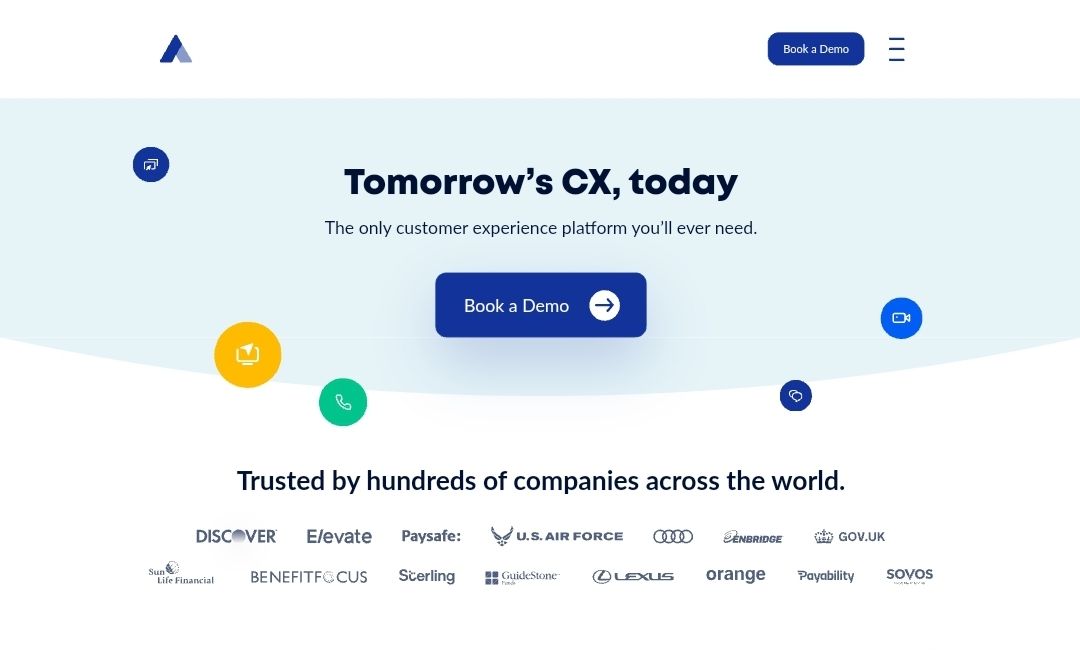 Acquire is an all-in-one customer experience and customer service software. Out of its bundle of tools, the most important tool for lead generation is its live chat software. The live chat software is easy to install and use.
It offers instant service to your visitors and customers through an easy-to-use web chat interface, which helps you collect valuable customer data 24/7 through forms.
Additionally, it automates work with chatbots and knowledge-base software to increase efficiency and reduce your workload.
With Acquire's chatbot, it's easy to connect with your prospects and customers through HD video and voice. Your agents can offer a superlative customer experience through its break-through Cobrowse technology.
Furthermore, you can also customize chat flows to target specific customer segments, making it a smart and easy-to-use software for lead generation and sales.
Email Marketing Software
Email marketing software lets you reach all the leads you need with newsletters and announcements, giving you a platform to design them and send them to your audience's emails.
Here are the best email marketing tools you can use:
ConvertKit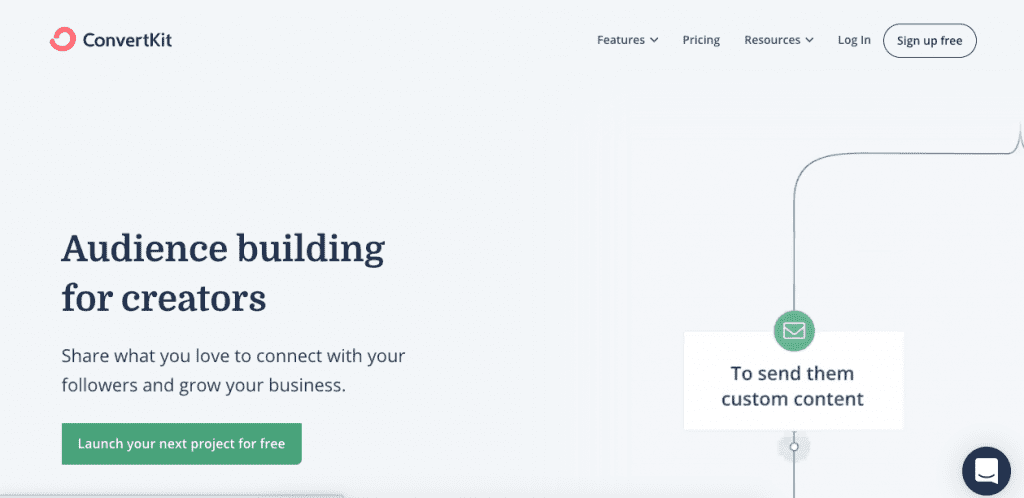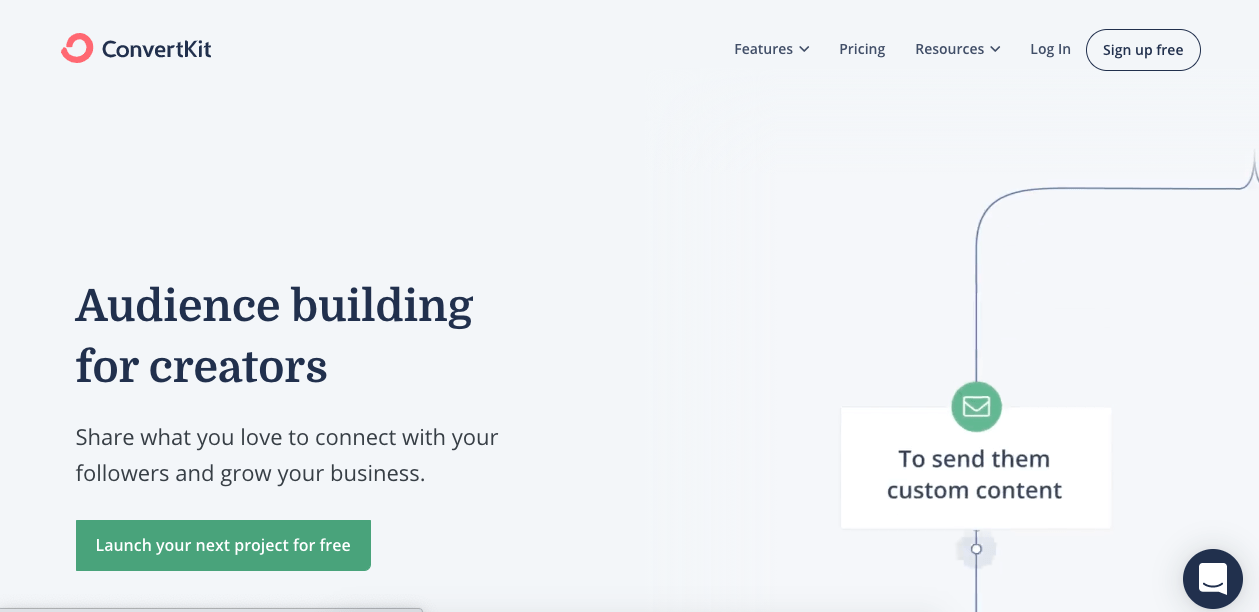 ConvertKit is a powerful, feature-filled email marketing platform to develop and deploy all your email marketing strategies.
With ConvertKit, you can segment your audience to cater to specific needs and offer upgrades and incentives using email signup forms. You can also use its auto-responders to send drip emails directly from the platform.
Although the platform is used mostly by professional bloggers, its features make it a great tool for any marketer looking to develop a strong email campaign.
ActiveCampaign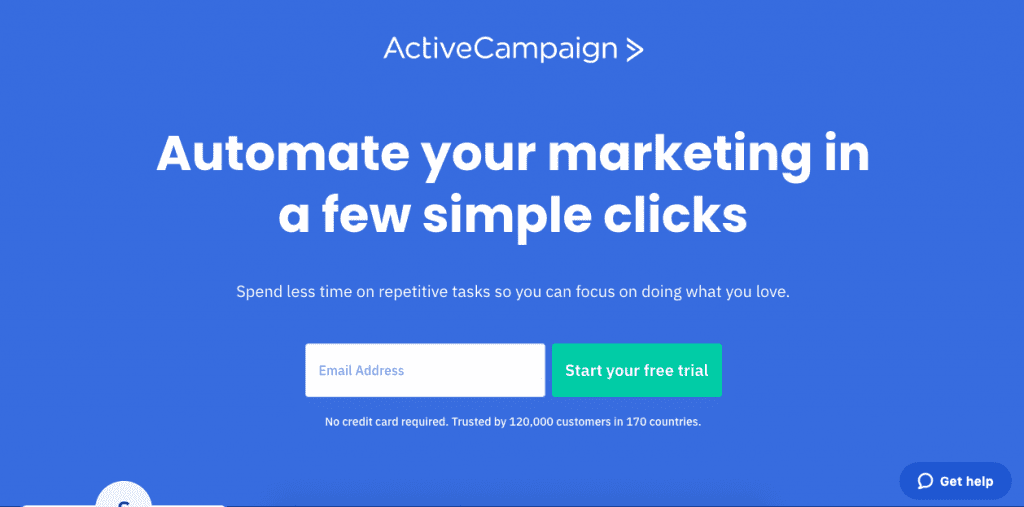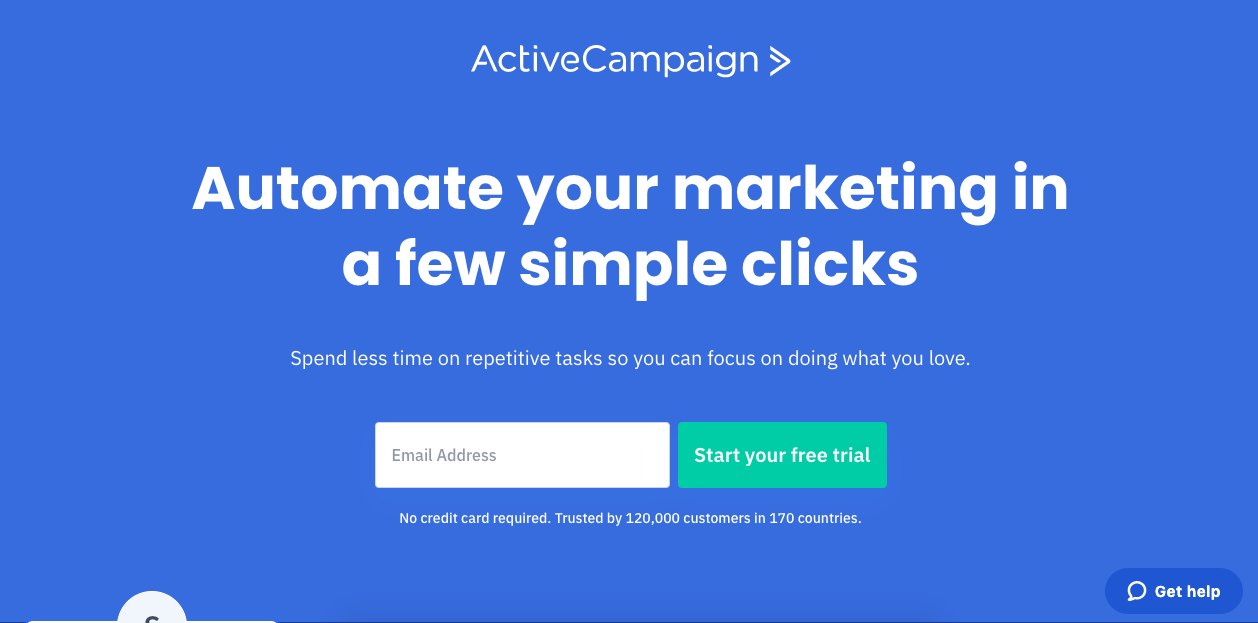 ActiveCampaign is a popular email marketing tool that's both affordable and easy to use.
With ActiveCampaign, you can easily develop newsletters with great automation sequences, without any previous experience. You can also use it to send predictive content and automate multiple features to reach as many customers as you can.
Although ActiveCampaign does have a CRM, the platform shines in its email marketing tool, leaving more advanced features to more advanced tools.
HubSpot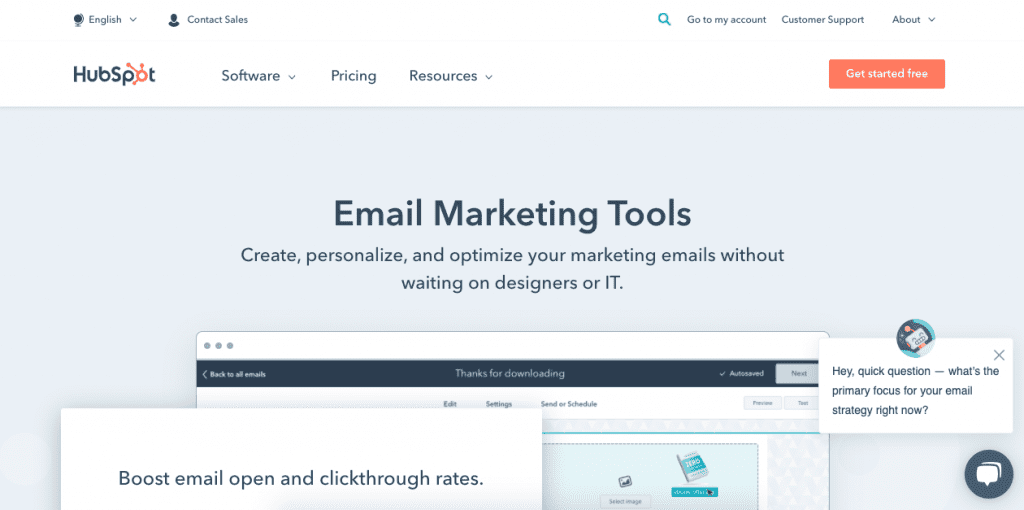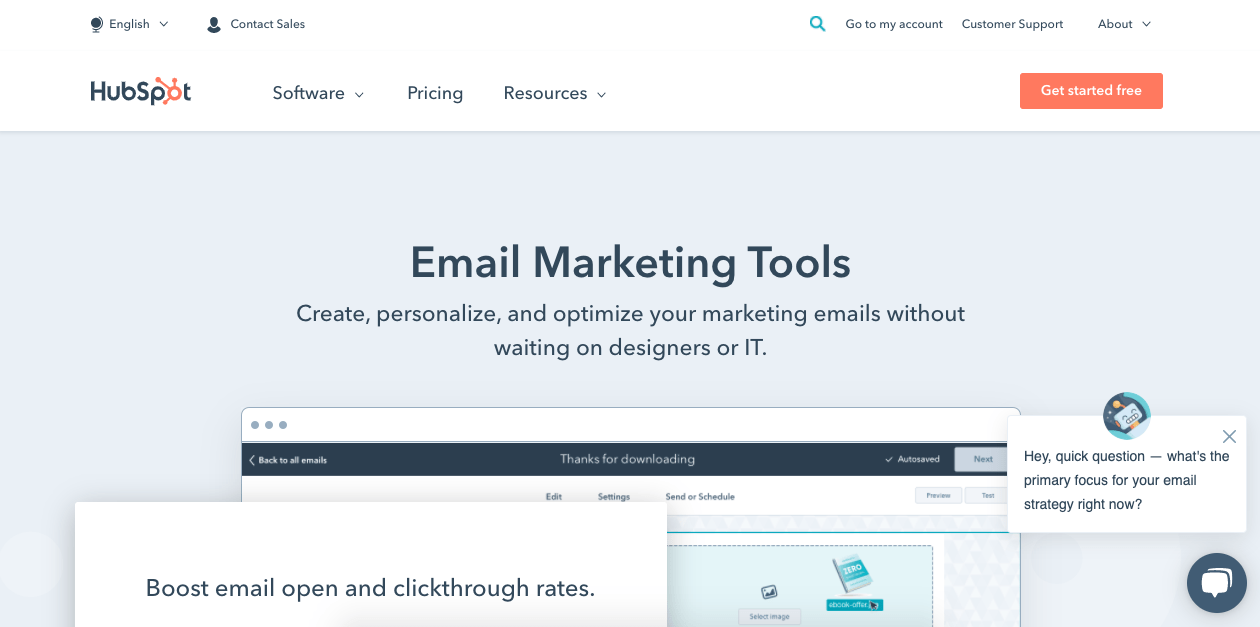 A tool that almost needs no introduction, HubSpot has recently launched a free email marketing tool that's just as good as the rest of their suite.
With it, you can easily create visually-appealing emails with its drag-and-drop visual editor and ready-made templates.
If you already use HubSpot, or if you want to start using its free-forever CRM, this is an obvious choice for your email marketing efforts.
Social Selling Software
Social media has largely become a vital marketing channel for anyone who knows how to use it.
And, if you want to take your approach to the next level, you can start with these tools:
Hootsuite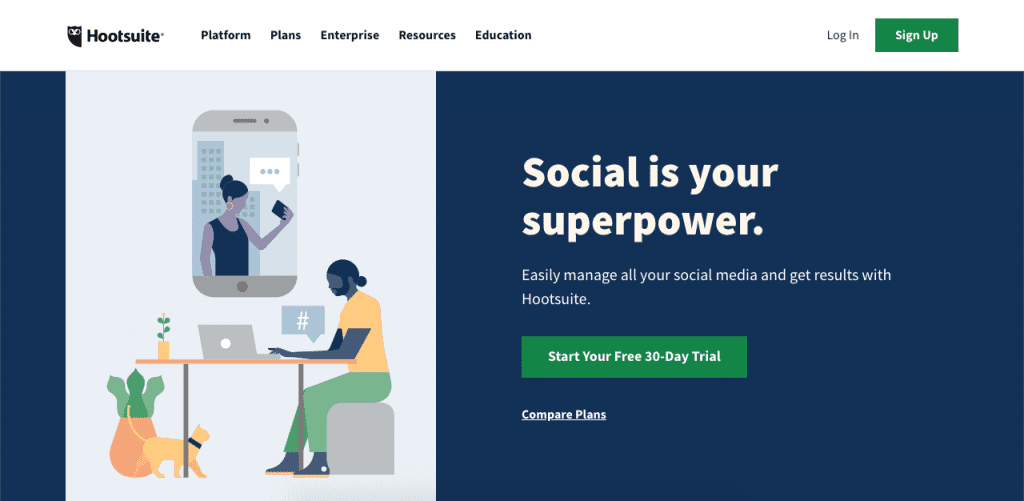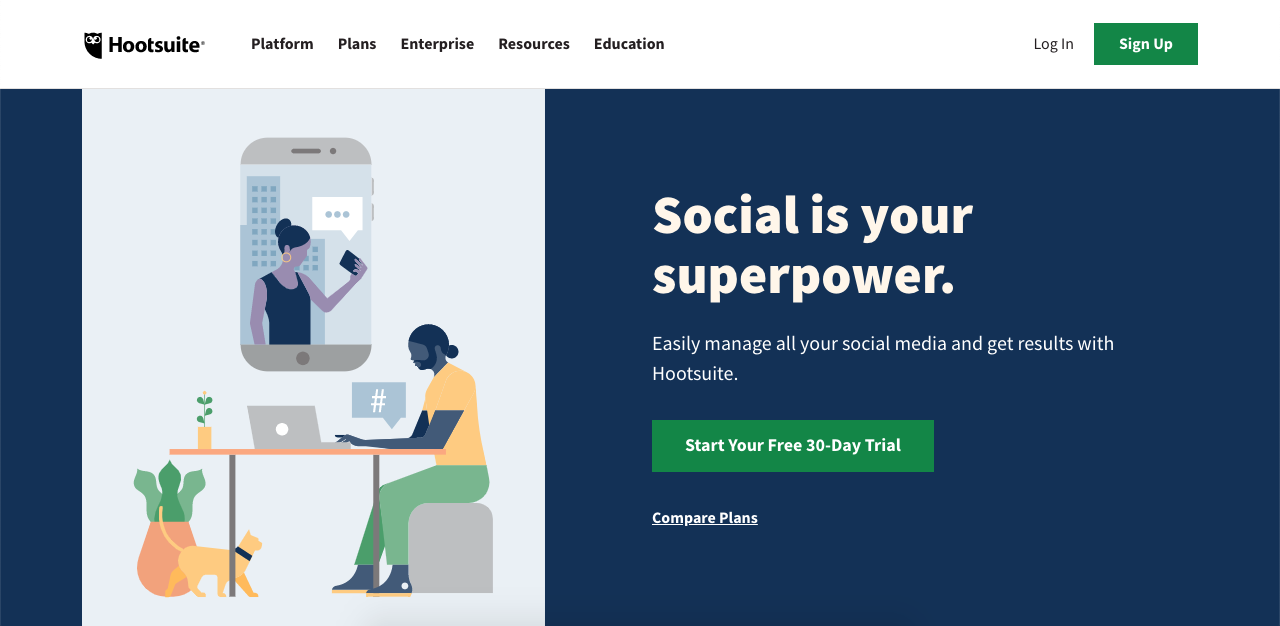 Hootsuite is a robust management tool with powerful social media capabilities. Its dashboard will keep you and your team informed of all social media interactions at a glance.
This tool makes it easy for anyone in your team to respond to anyone engaging with your social media profiles, and keep track of your brand's awareness across over 25 social media platforms.
If you want to improve customer relations, Hootsuite or alternatives are a great place to start.
EveryoneSocial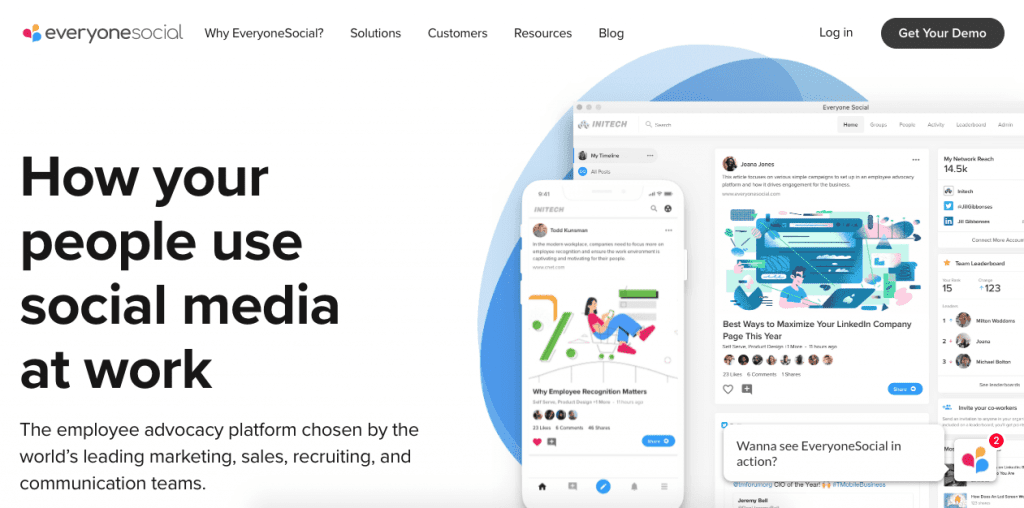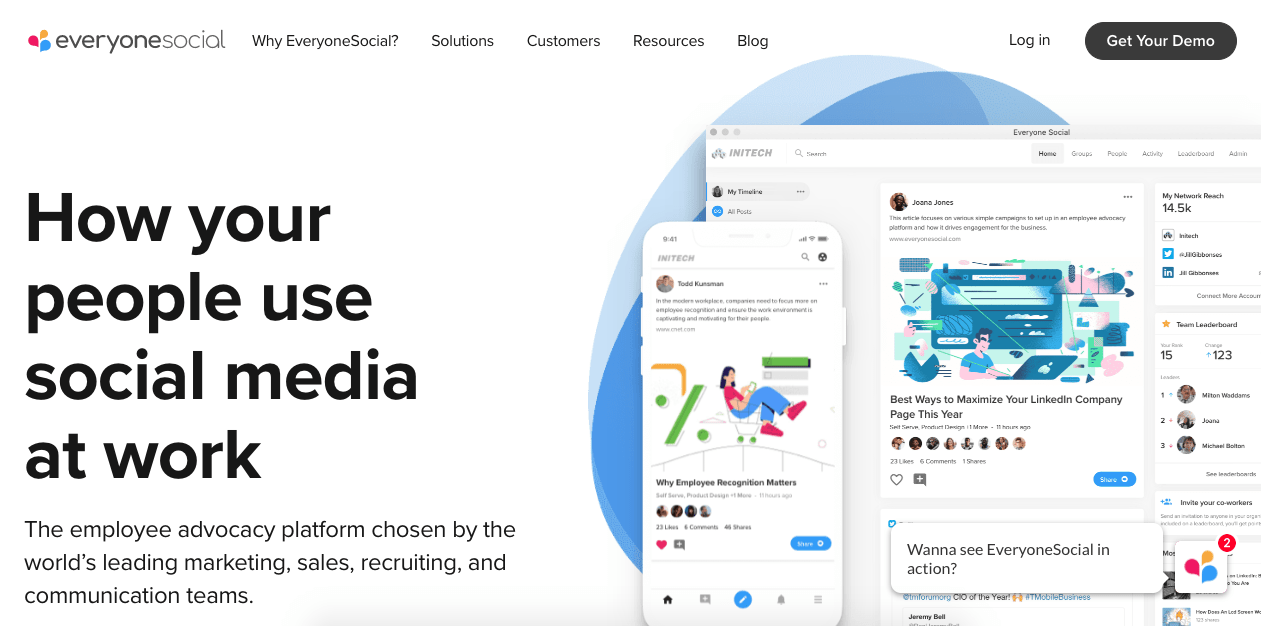 EveryoneSocial is a platform that provides a surprising number of features at your disposal. With it, you can improve sales, manage communication internally and externally, and even use your employees to find new ones.
The platform integrates with tools like Salesforce, Marketo, LinkedIn Sales Navigator, and Adobe Analytics, and it has a great sharing feature to handle multiple platforms from Facebook and Instagram to LinkedIn and WeChat.
With powerful social media management for your audience and great gamification features for your employees, EveryoneSocial is a tool that will convert your internal and external users into brand advocators.
DSMN8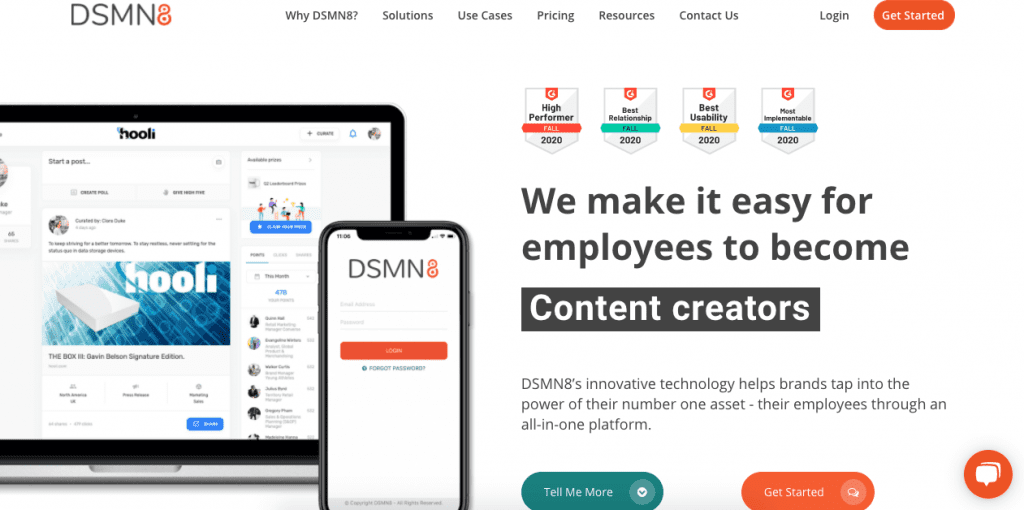 A fairly new player in the social media marketing arena, DSMN8 is a powerful, all-in-one employee influencer platform fully focused on engagement.
Instead of just handling your social media messages, this platform helps you create brand advocates by showcasing your company's best features, not just its products. With it, you can show people your culture and philosophy, and truly become more than just a brand.
By helping you resonate with your audience, DSMN8 allows you to find more engaged and loyal customers.
Best Sales Funnel Software To Acquire Interested Customers (Decision Stage)
If you want your customers to convert, you need to give them a good reason to do so.
These are the best tools to help customers take the last step to conversion:
Webinar Platforms
Webinar platforms help you develop, market, and host your online courses. Here are the best options:
WebinarJam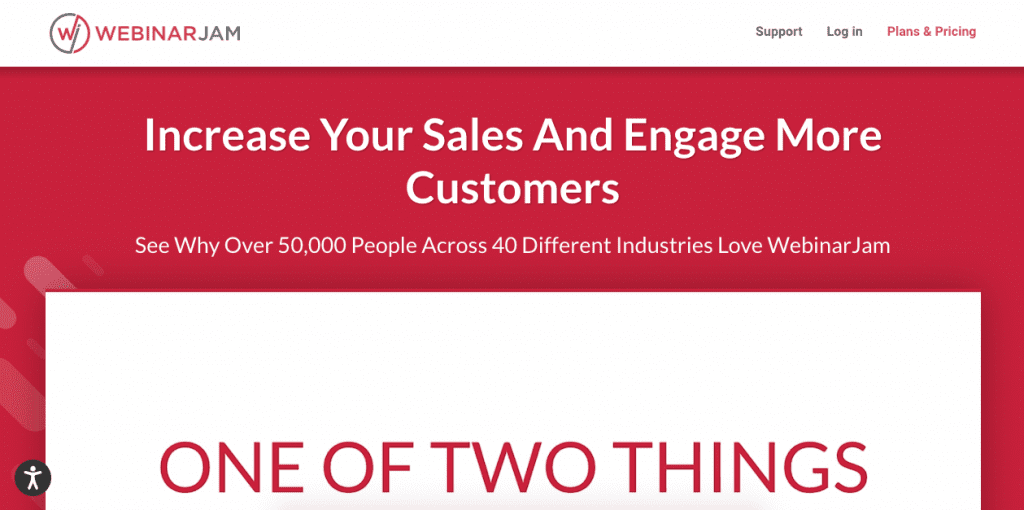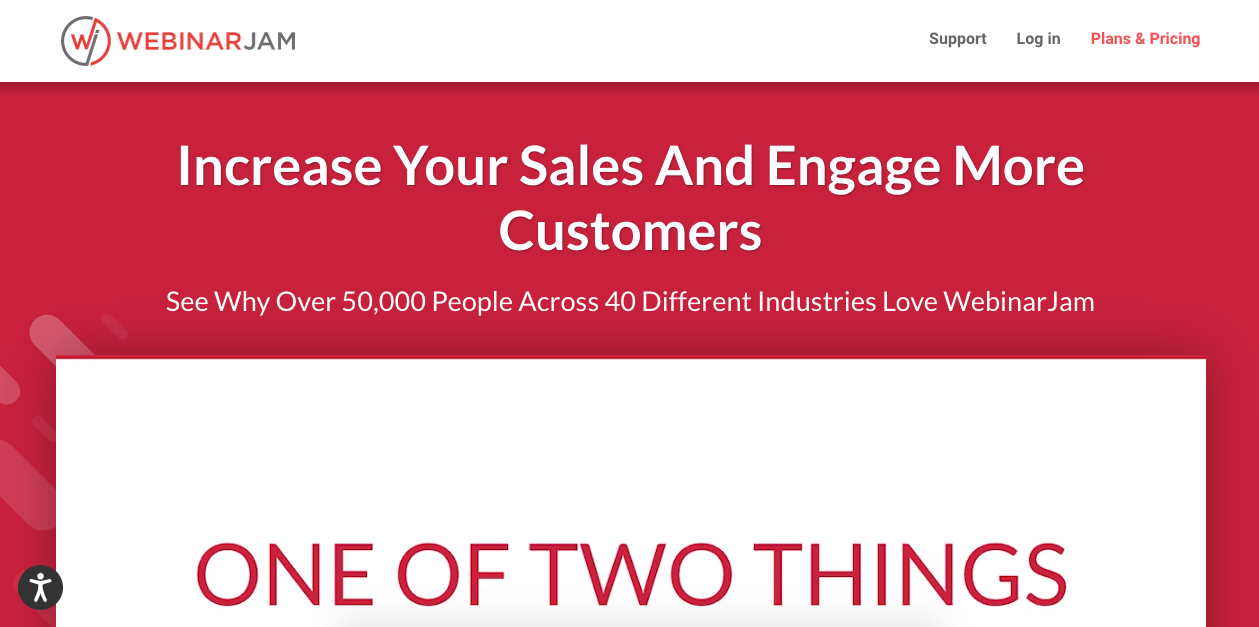 WebinarJam is perfect for anyone who wants to set up a webinar but has no technical knowledge about how to do it.
With it, you can stream directly using YouTube in a password-protected meeting for your audience alone. It also records automatically, so you'll always have a copy of your webinar handy.
With WebinarJam, you can stream in HD, check everything on your user-friendly dashboards, and communicate with your audience through live chat.
The best part? Setup only takes 60 seconds.
Demio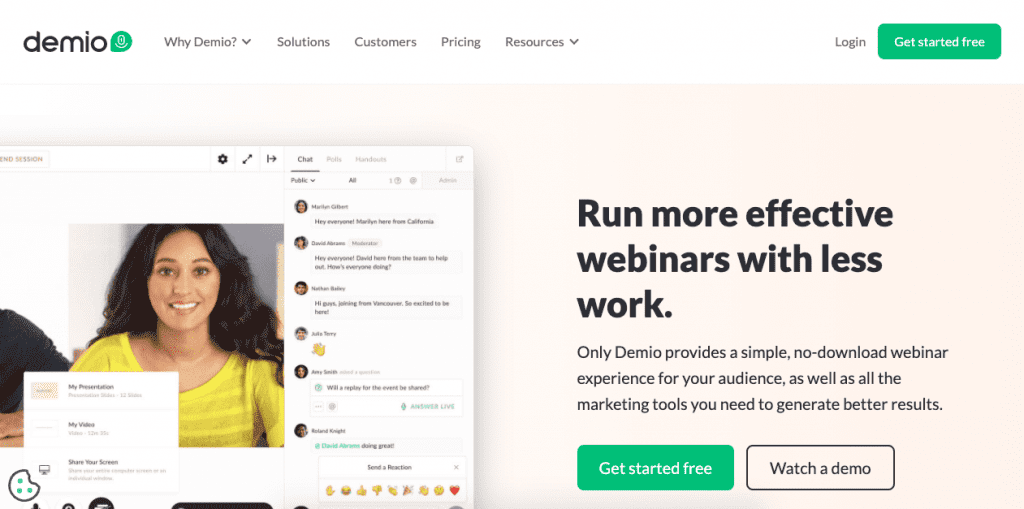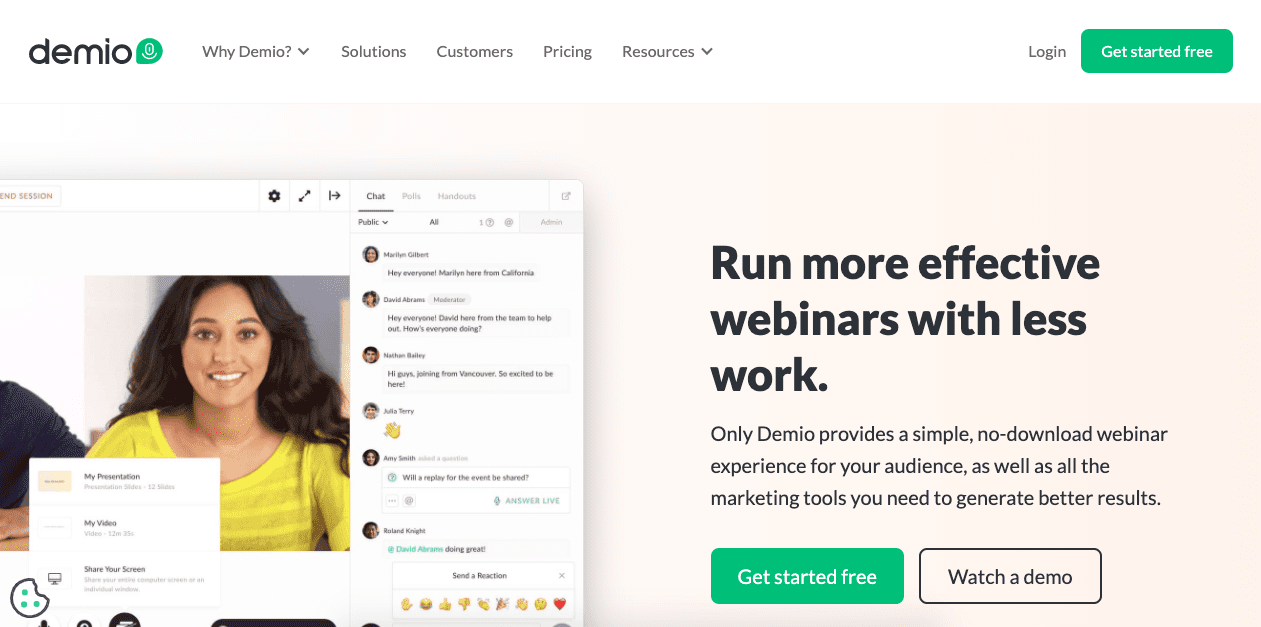 Demio is another webinar platform that is packed with features. Unlike many other platforms, Demio has made a real effort to keep the platform updated with new trends and features so you always get the latest on webinars for your class.
With this platform, you can offer both live and automated webinars, plus a hybrid between both. Once you're conducting a webinar, you can interact with your audience through Q&As, interactive polls, and even by "handing" the right digital documentation at the right time.
Equipped with great analytics, you'll always be able to see what worked in your webinar, and what didn't.
ClickMeeting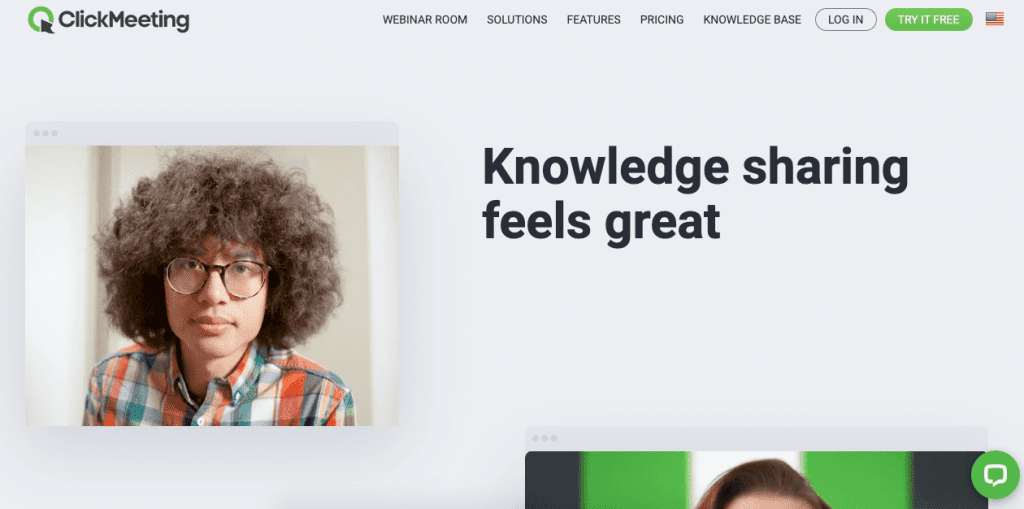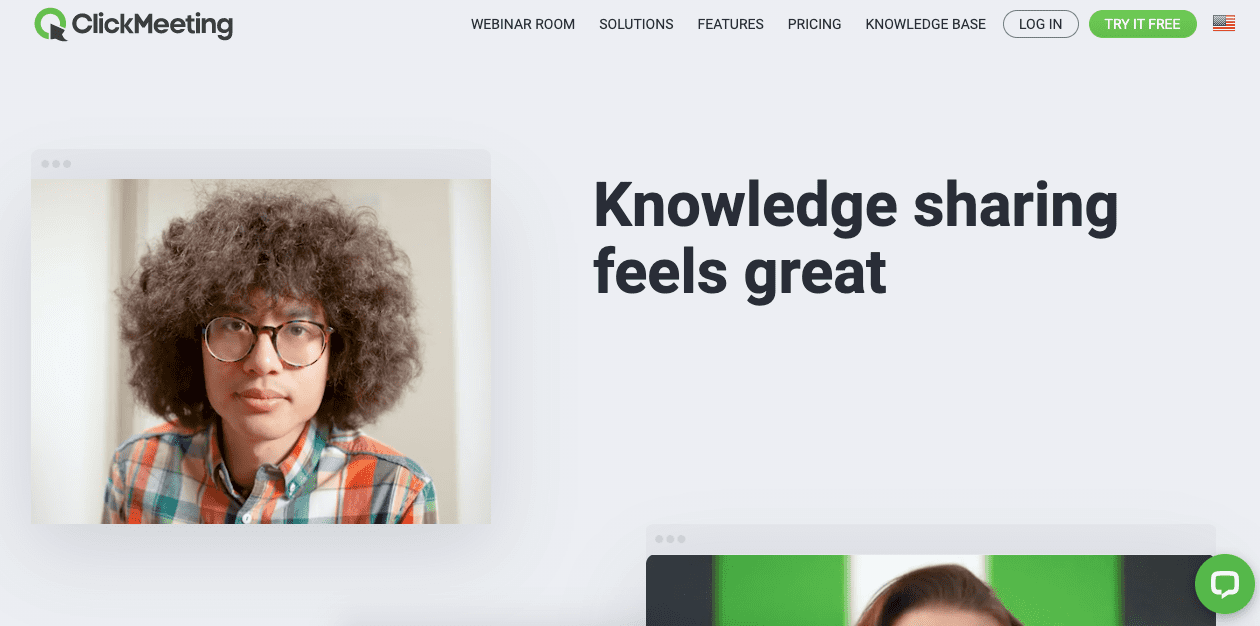 Finally, ClickMeeting is a webinar tool that gives you a lot of value for your dollar. You can record webinars, check analytics, customize invitations and waiting rooms, and create sub-accounts for other team members.
ClickMeeting gives you a simple platform with a few unique features at a competitive price.
Best Sales Funnel Software To Finalize A Sale (Action stage)
When your leads are prime for conversion, you cannot waste any time with delays or second guesses.
These tools help you finalize transactions as quickly and smoothly as possible:
Electronic Signature Software
With electronic signatures, you can sign off and get legally-binding signatures from anyone anywhere.
Here are the best online signing platforms:
Signaturely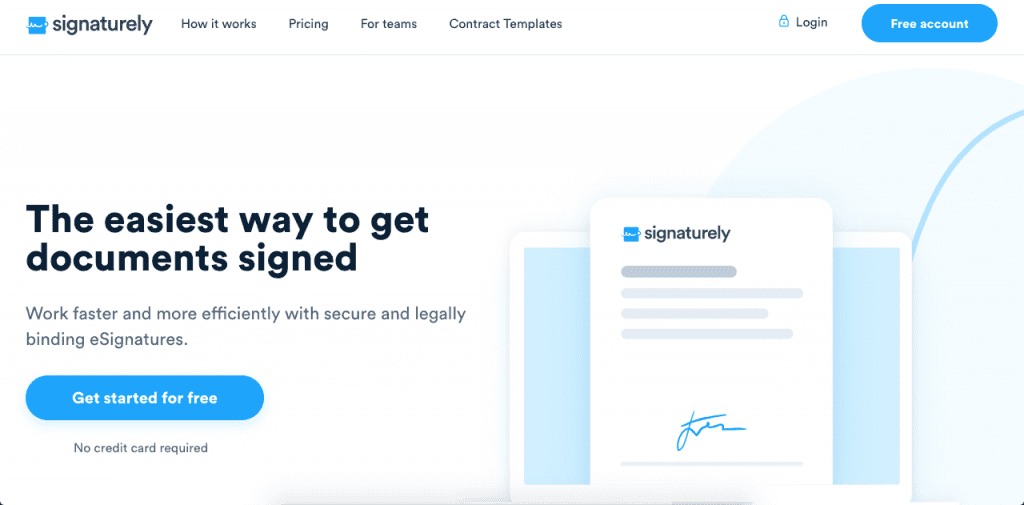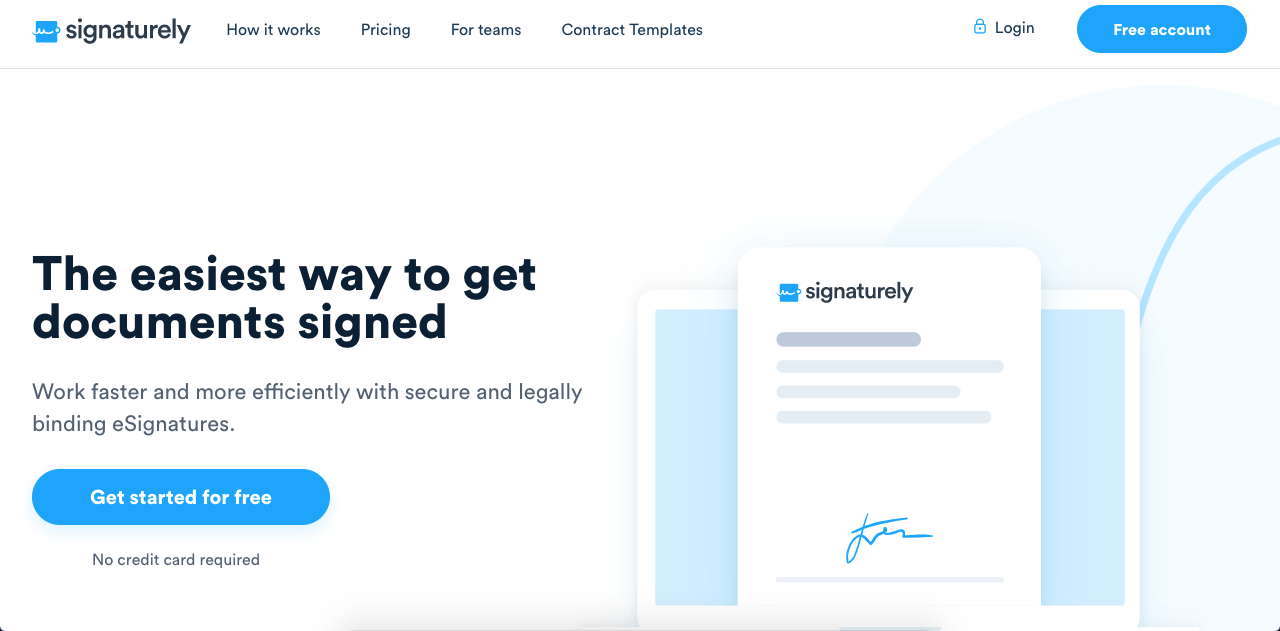 Signaturely is built to be cheaper, faster, and better than all other platforms. With its forever-free account, you can start using legally-binding signatures immediately and upload your documents directly from platforms like Google Drive, Dropbox, and OneDrive.
For just $10 per month, you can use the platform to send an unlimited number of signature requests. And for just $15 per month, you'll also receive an unlimited number of templates, so you never have to decide what to delete and what to save.
Signaturely guides you through the process of setting up your documents to be signed online, then guides your signees through each step of the signing process.
This makes it possible for you to get signatures without skipping a beat.
Sign up for free to start using Signaturely today.
Docsketch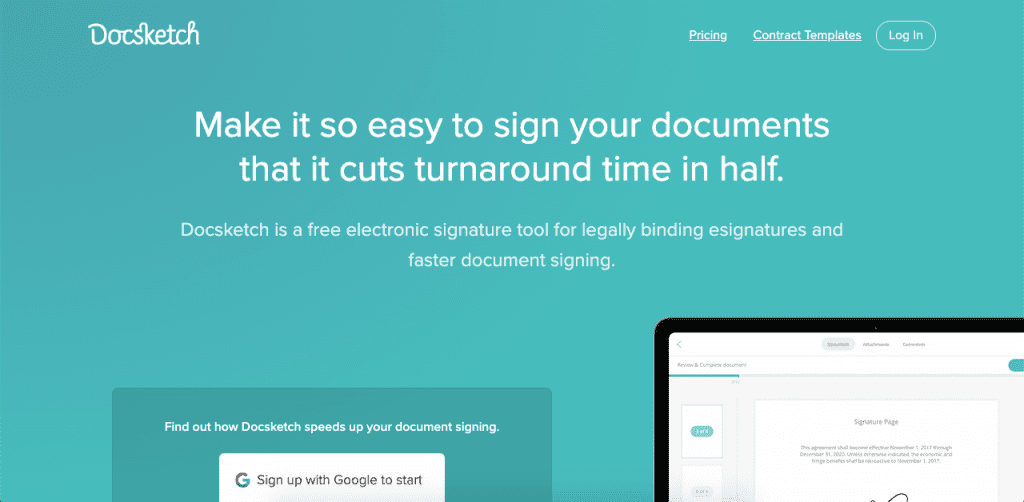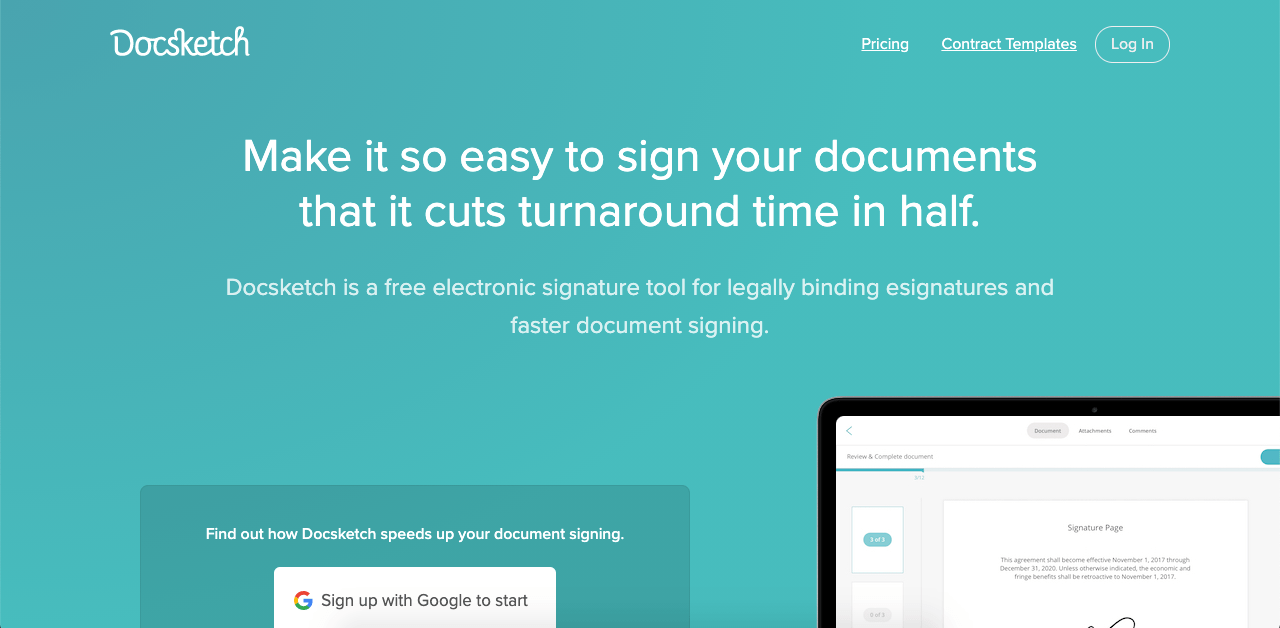 With a generous and feature-filled free plan, Docsketch is another eSignature platform that offers a generous free-forever plan.
With Docksketch, you get features like flexible workflows, document tracking, and a personalized signee experience for your documents. Although it lacks integrations and a built-in editor, it's a great way for anyone to get documents signed online.
SignRequest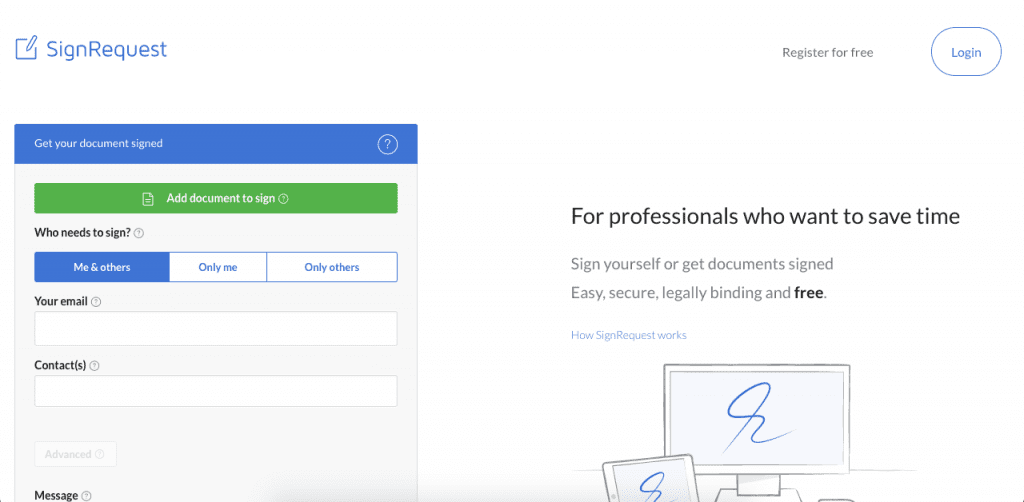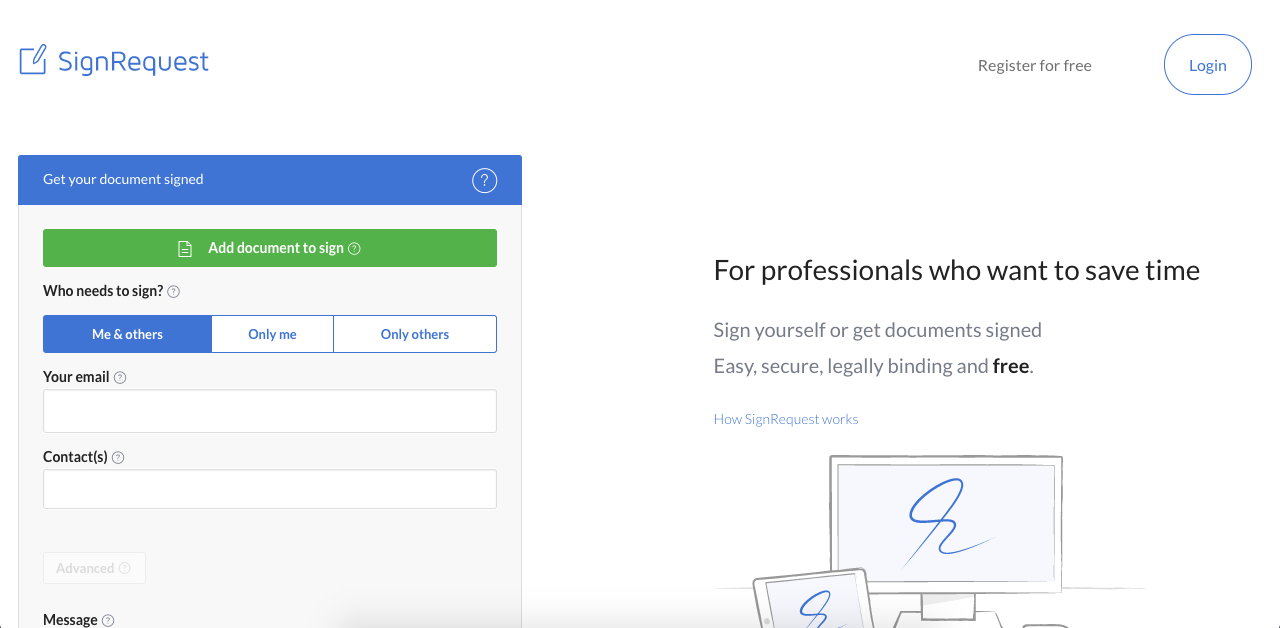 SignRequest also offers a generous free-forever plan to sign documents online. With this platform, you can streamline your process, sign documents directly on Salesforce, and easily send, manage, and track multiple documents at the same time.
The paid tiers are also very affordable and the platform itself claims to plant one tree per license, giving it an extra green edge.
Proposal Software
Proposal tools let you create visually stunning proposals that flesh out your ideas and goals and let your lead visualize how they can meet their needs.
Here are the best proposal tools:
PandaDoc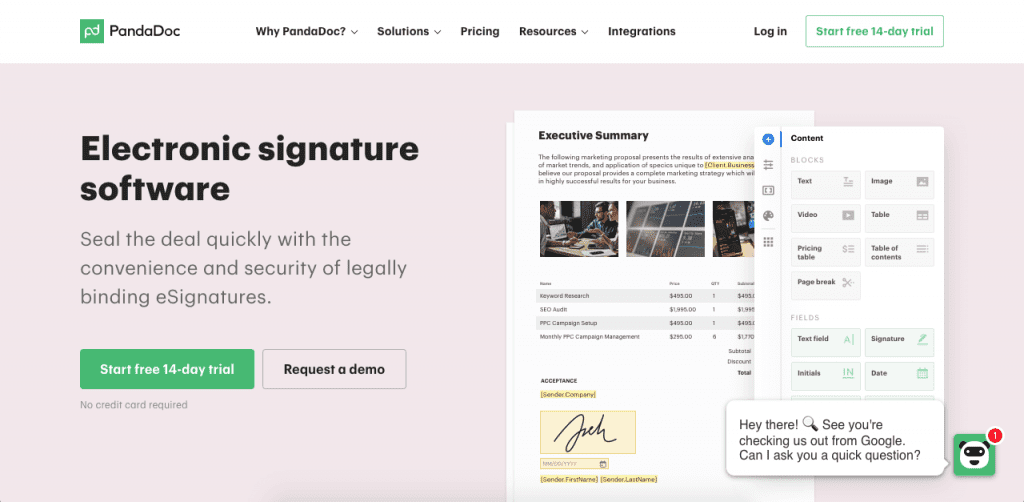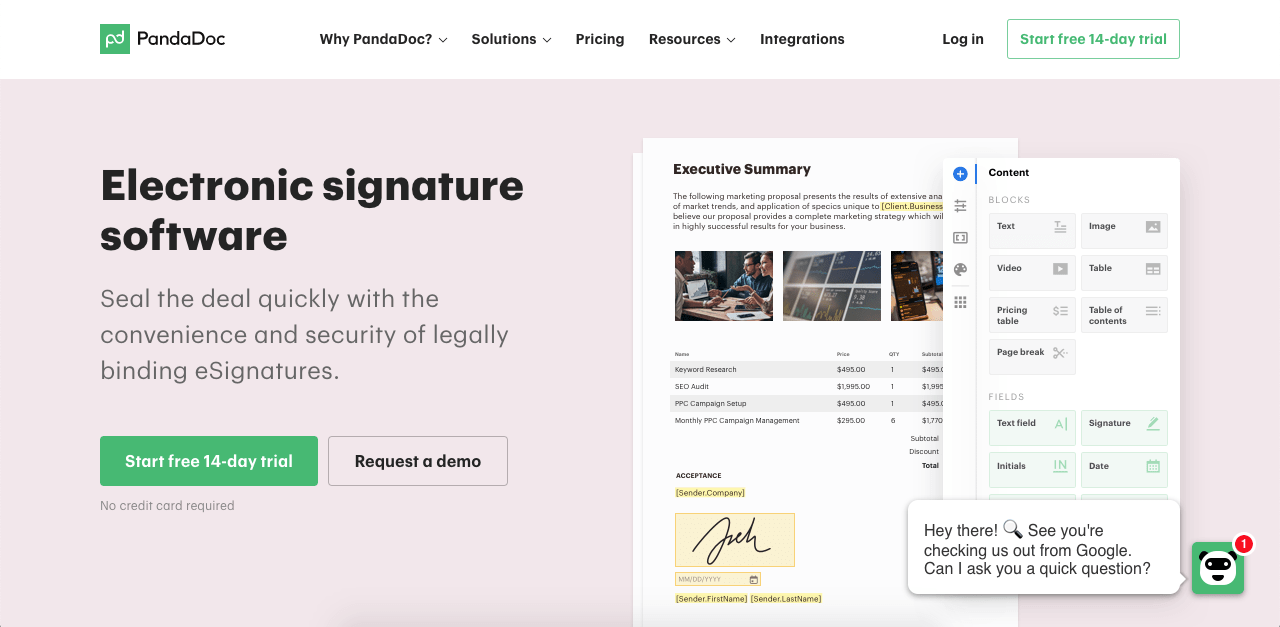 PandaDoc is an award-winning online document management platform with great proposal features.
You can start by choosing a template from hundreds of options and fill it up with your project proposal. Finally, you can even sign and collect legally-binding signatures directly on the proposal so your leads can approve it as soon as possible.
PandaDoc also gives you a ton of data, which acts as an insight into opportunity areas where you can improve your process and convert more leads, faster.
Proposify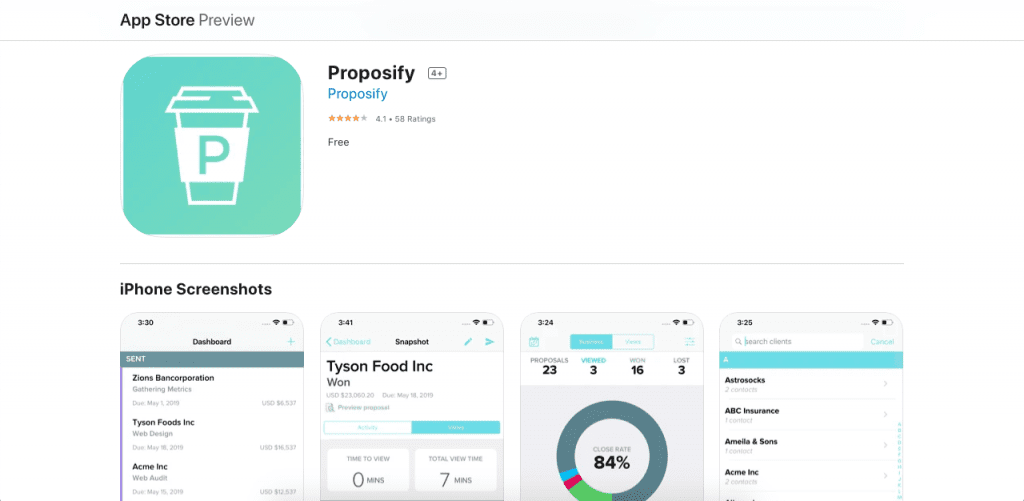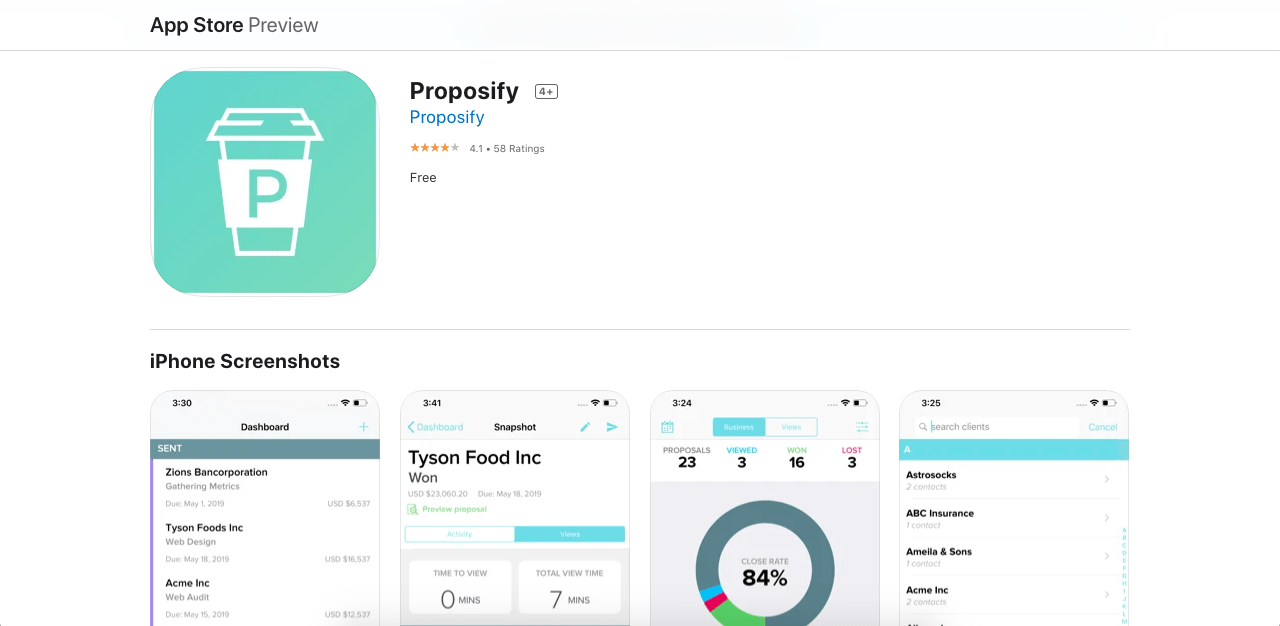 Proposify, as its name implies, is fully focused on proposal development. With it, you can create your own branded templates so you and your sales team can use and reuse templates as needed, instead of starting from scratch every time.
You can also create beautiful and interactive proposals with online signatures and use the platform both on the computer and on your mobile phone.
RFPIO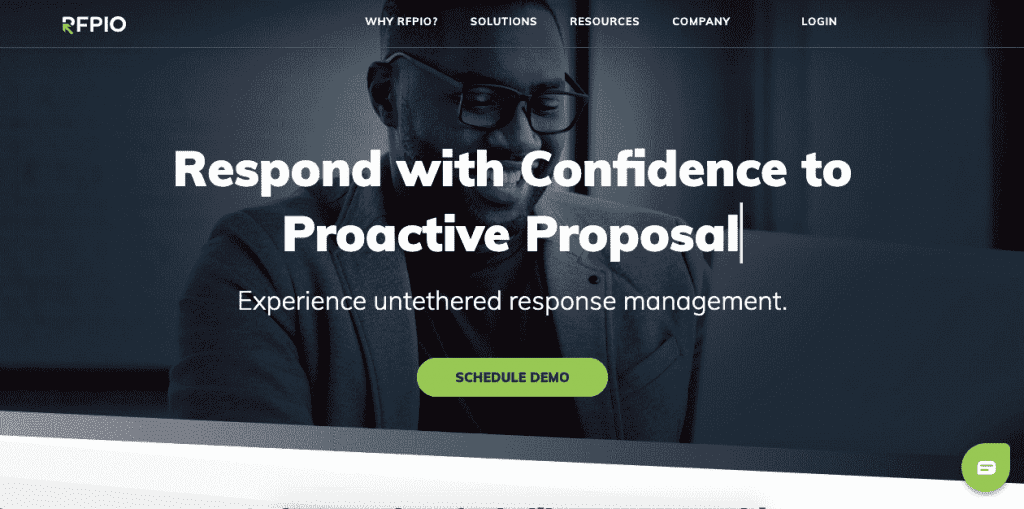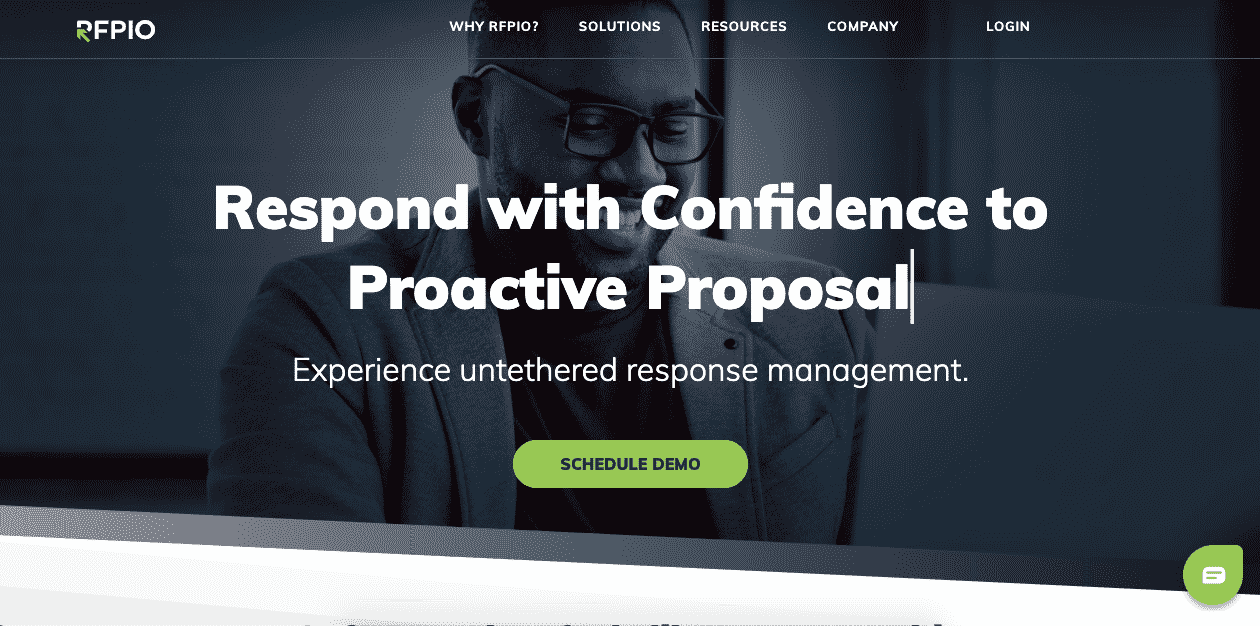 RFPIO is a cloud-based platform made to help companies automate their proposal response process so they can keep track of multiple proposals at the same time.
With it, you can upload any kind of document, track its progress in real-time, and collect data to get insight into how you can improve your process.
All of your content is saved online, and you can integrate the platform with multiple digital tools so you get more out of what you're already using.
Frequently Asked Questions
Here are the answers to the most common questions about sales funnel tools:
What are the best sales funnel software to have?
It depends on your needs for each part of the stage.
For example:
Awareness
You'll need a tool that allows you to reach the best, most valuable leads, collect their information, and personalize their message.
Our pick: UpLead – With a data accuracy guarantee, multiple and detailed filters, and well over 108 million leads, UpLead definitely has the leads you need for contacting them.
Interest
You'll need a tool that allows you to connect and engage with your leads as they find you and keep track of your communication so anyone can see exactly what they need at the right time.
Our pick: Messagely – With shared inboxes, powerful integrations, live chats, and chatbots that are intelligent and easy to set up, Messagely takes care of all your customer communication needs and adapts to all budgets.
Decision
Now that you have your audience's attention, you'll need to finish the job by educating your customer so they learn exactly how you'll solve their problems.
Our pick: Demio – An affordable, streamlined, and modern webinar platform, Demio will help you educate your customers in a breeze.
Action
Once your customer is ready to make the final decision, you need to ensure they convert.
Our pick: Signaturely – With a generous free plan, and very affordable paid tiers, you can collect online signatures from anyone anywhere and check up on your documents in real-time.
What are the benefits of automated sales funnel software?
With automation, you can reduce the amount of time you spend doing repetitive chores, reach more people, and focus your time where you really need to: selling.
Are there any free sales funnel software available?
Many tools, like Signaturely and HubSpot, have forever-free accounts for you to use, and nearly all sales funnel tools have a free trial period.
Conclusion
The right sales funnel software will surely allow you to reach more people faster and more effectively.
Start with highly-valuable tools like UpLead to find the leads you need and add them to your sales funnel.
Start Your 7-Day Free UpLead Trial
Lead generation doesn't have to be all that painful. With UpLead, you can easily connect with high-quality prospects and leads to grow your company.