Without a steady stream of new customers and clients, your business simply wouldn't function. Since sales are so competitive, you need to be able to call on a range of automation tools to get the best results for your team and your business.
The best sales automation tools will simplify your sales rep's jobs. With them, allow your sales team to focus on selling, leaving the rest of the sales process to their sales automation tool.
So here's a look at the best sales automation tools out there:
What Are Sales Automation Tools?
Sales automation tools are essentially software-based solutions that give your sales team a helping hand. It frees up their time and attention for more pressing tasks, such as maintaining post-sale customer relationships. These automation tools can significantly increase productivity and boost your business's bottom line.
The 17 Best Sales Automation Tools
Ready to boost your productivity? If so, you can automate many of the essential sales tasks you perform each day. So here's a look at the best sales automation tools out there:
Automating Lead Generation
Lead generation is critical to the success of any business, but it's a process fraught with the potential for complications and lost time.
UpLead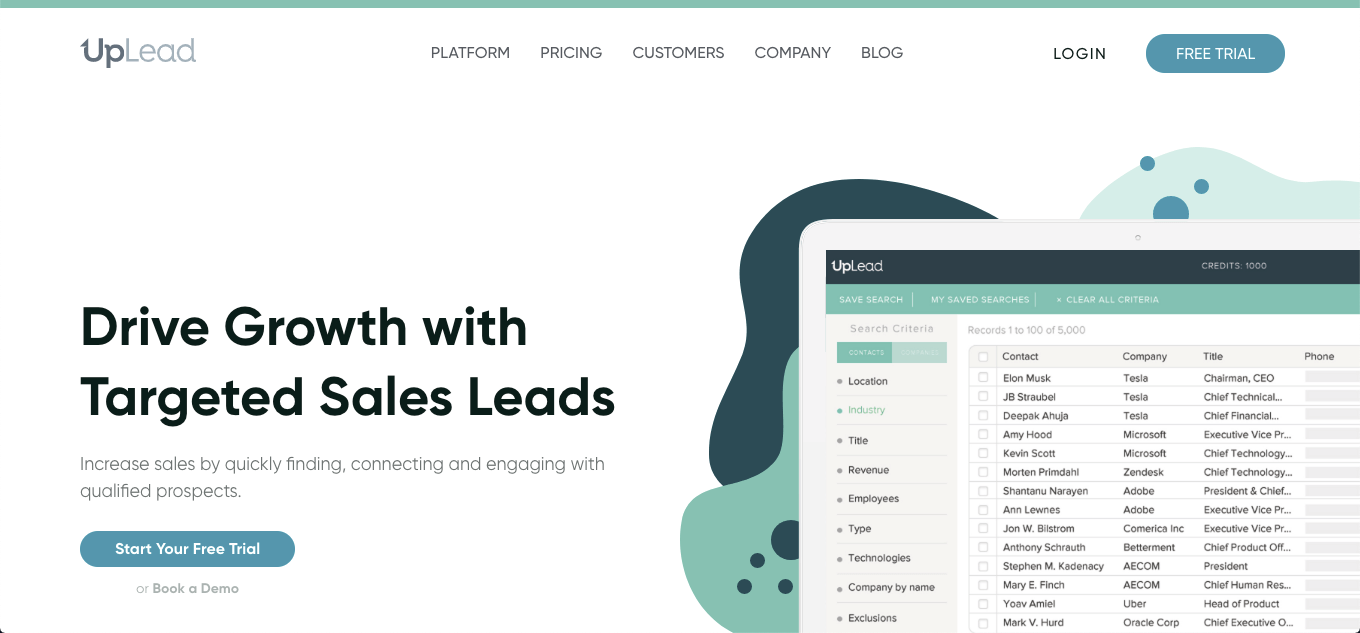 UpLead offers sales professionals an accurate and real-time verified B2B database to help drive growth in your organization. If you're looking to grow the number of leads that are being fed into your sales funnel, be sure to try out a free trial on UpLead.
Start Your 7-Day Free UpLead Trial
Lead generation doesn't have to be all that painful. With UpLead, you can easily connect with high-quality prospects and leads to grow your company.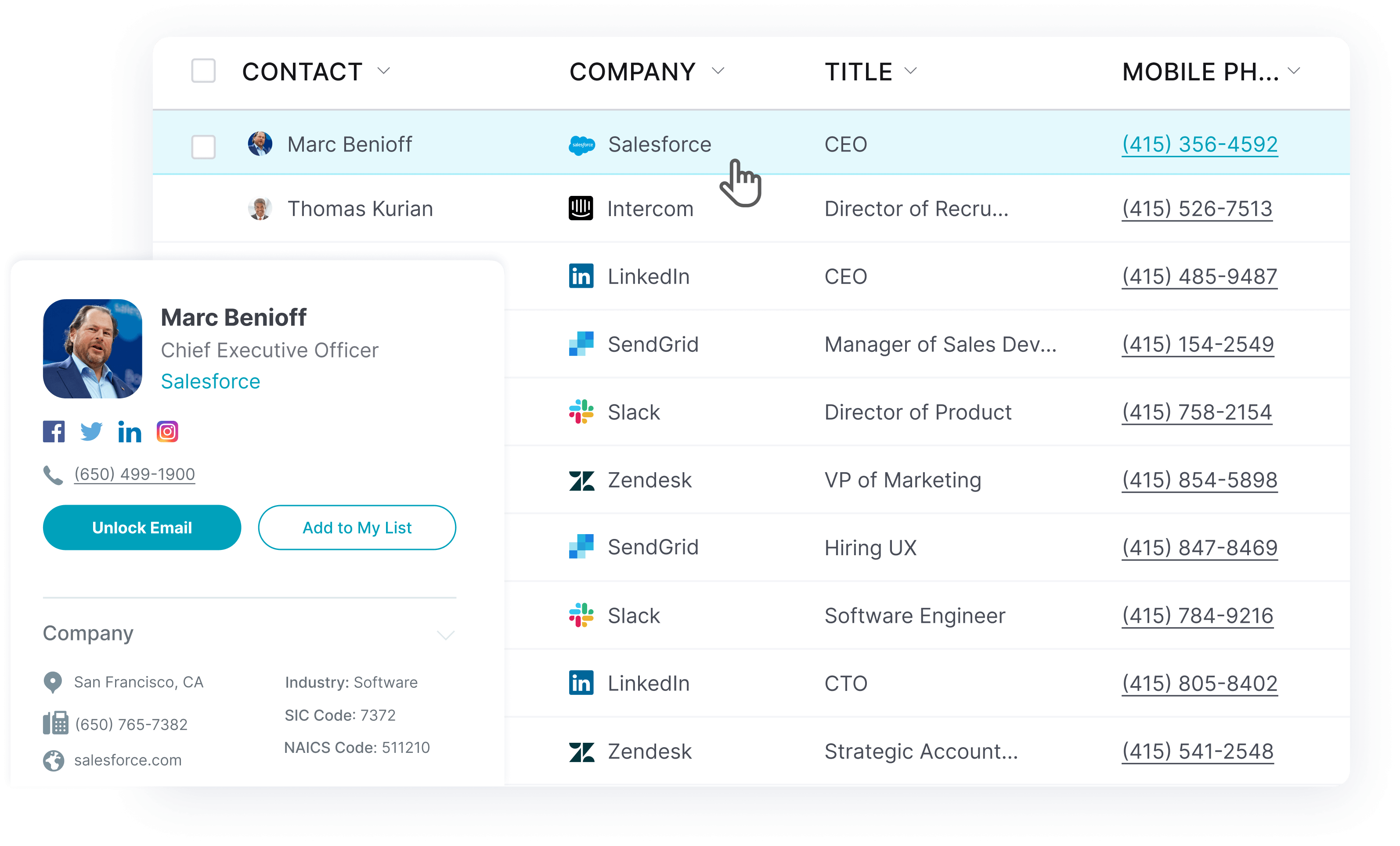 This intuitive tool helps you increase your sales by empowering you to find, connect, and engage with qualified prospects quickly. You can enrich your existing data by searching through specific contacts and companies. Targeted lists help you manage your prospects, and high-quality verified data verify key information in real time.
Automating Prospecting
Prospecting is making contact with leads at various stages in the sales funnel. A delicate touch is critical here, so sales reps must be organized.
Growbots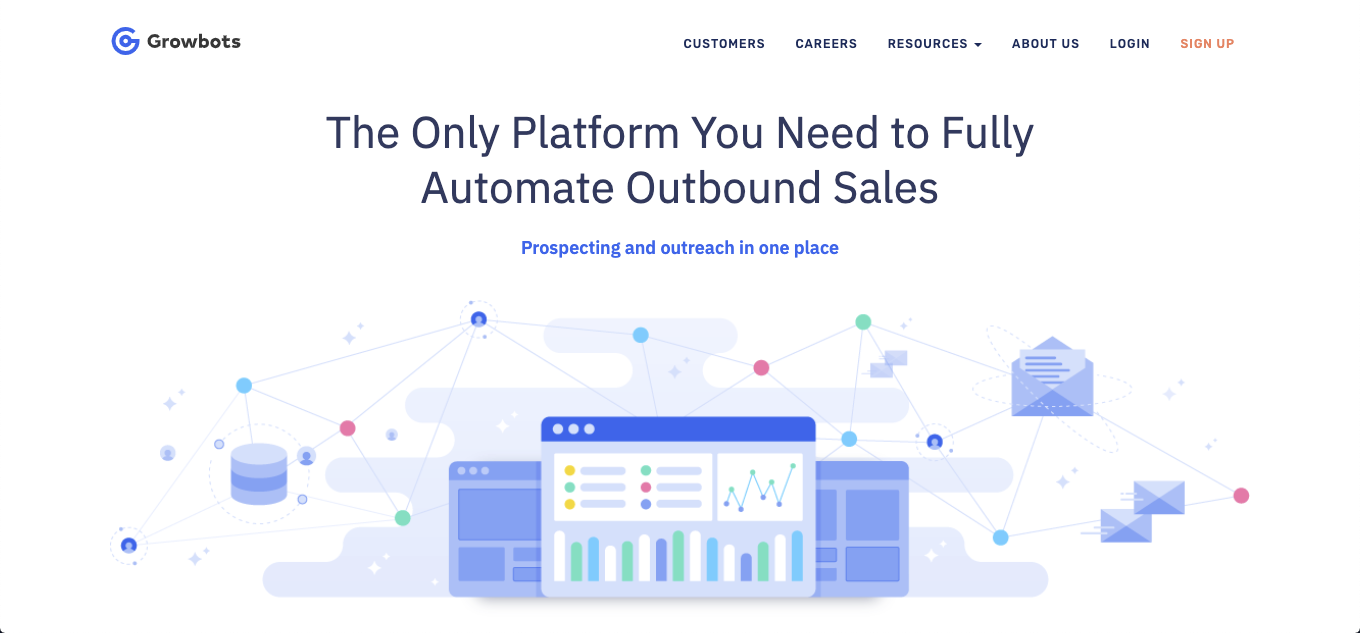 Growbots empowers sales reps to fully automate their outbound sales process with their simple sales automation software. It brings prospecting and outreach together in one place while offering integrations with leading tools like Salesforce and HubSpot.
Over 500 brands use the tool to automate prospecting in three steps:
The tool generates a tailored list of potential customers.
It creates a personalized campaign.
Sales reps can work on optimizing their results.
Prospect.io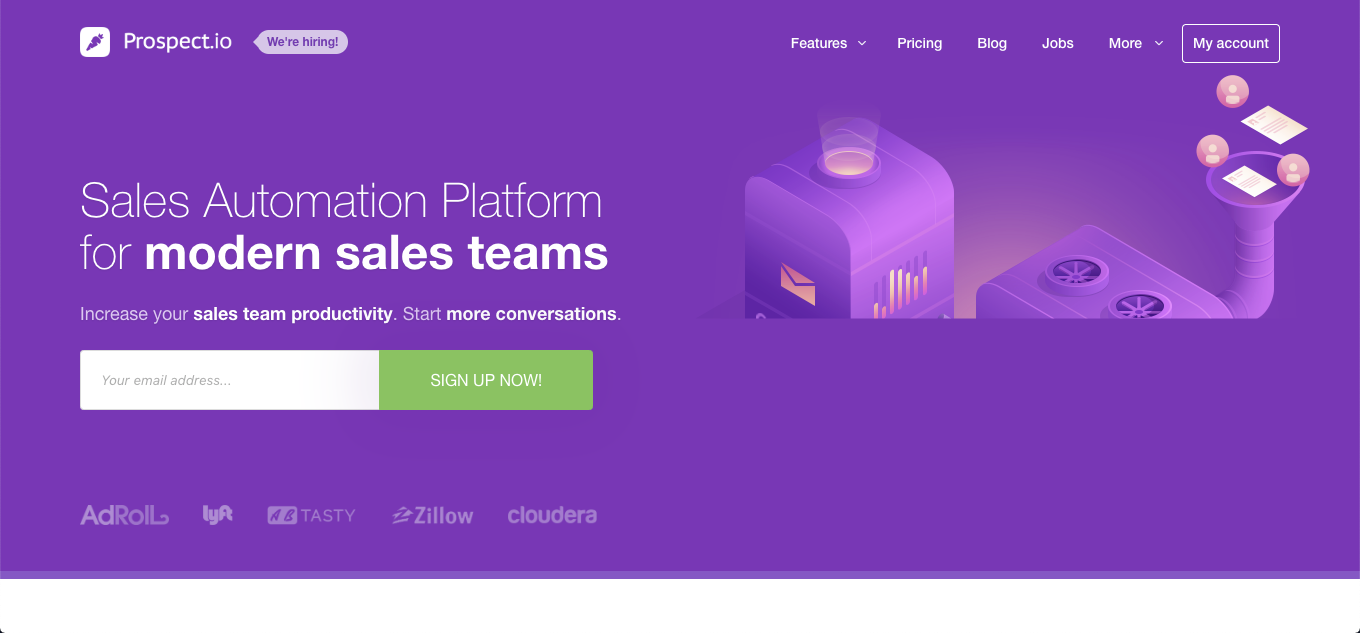 Prospect.io is an automation platform that aims to be a simple, elegant prospecting tool for modern sales reps. Automating data entry aims to help your sales team reduce the time they spend on data entry tasks.
The tool offers a range of statistics and information, which helps sales professionals measure how their campaigns have performed and how the platform has led to conversions.
Optimizing Email Management
Email is still the #1 form of online communication, and sales teams use it regularly. To get the most from this communication, they must use various email sales automation tools.
Reply.io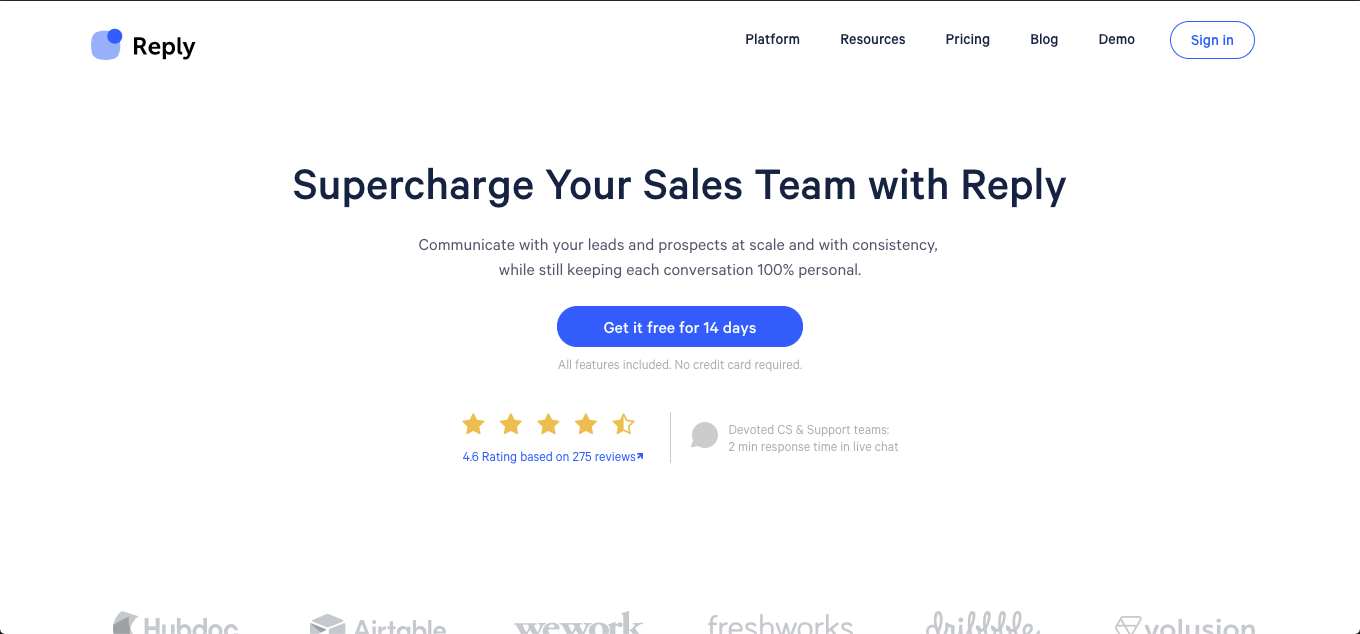 Reply is a sales engagement platform that helps a sales team put their inbound and outbound outreach on autopilot while maintaining a level of personability.
It helps a sales team communicate with both leads and prospects across multiple channels, including email, calls, LinkedIn, SMS, WhatsApp, etc., at scale and automate manual tasks. It also ensures that conversations are personal and engaging and reflect the sales strategy that's been developed.
Yesware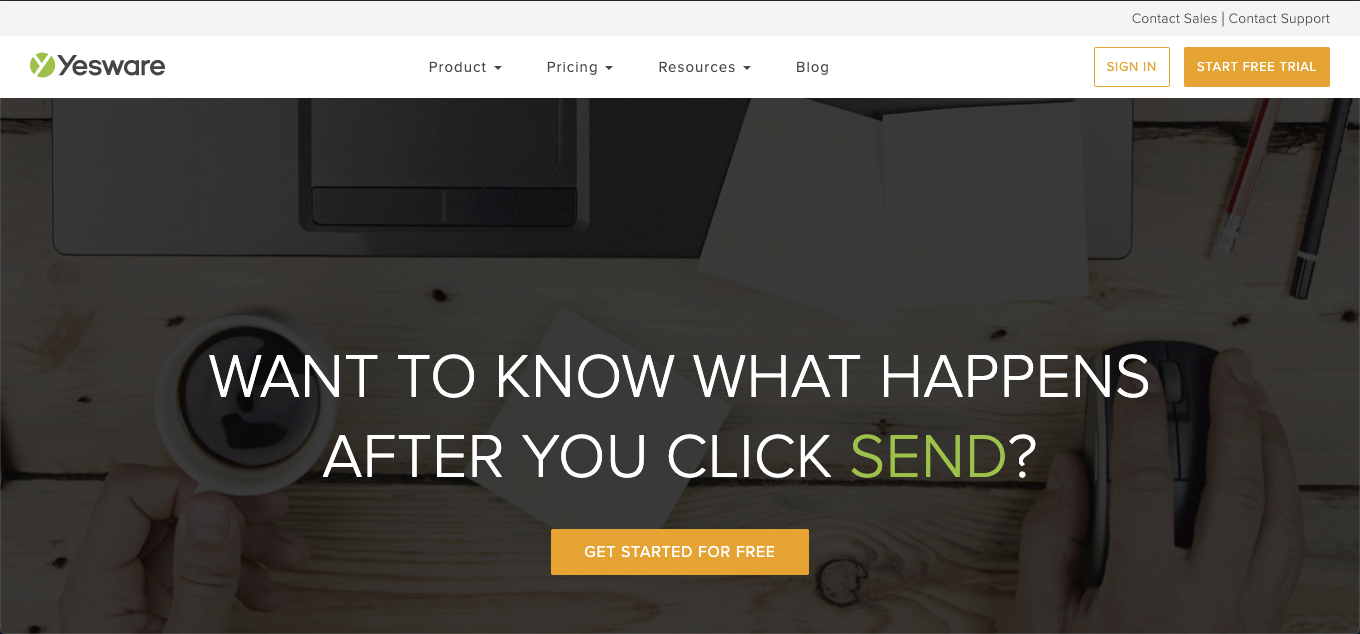 Yesware helps a sales team optimize email management by providing a range of sales automation tools in the inbox. These tools include email tracking, phone dialer, and sales automation.
Using this post-contact data (including open and reply rates), sales staff can make better decisions and take action based on those recommendations.
CRM for Sales Automation
A CRM can be a powerful sales automation tool to enhance productivity while increasing sales and improving revenue. If you have too many sales automation tools, making the right choice can be more difficult.
Pipedrive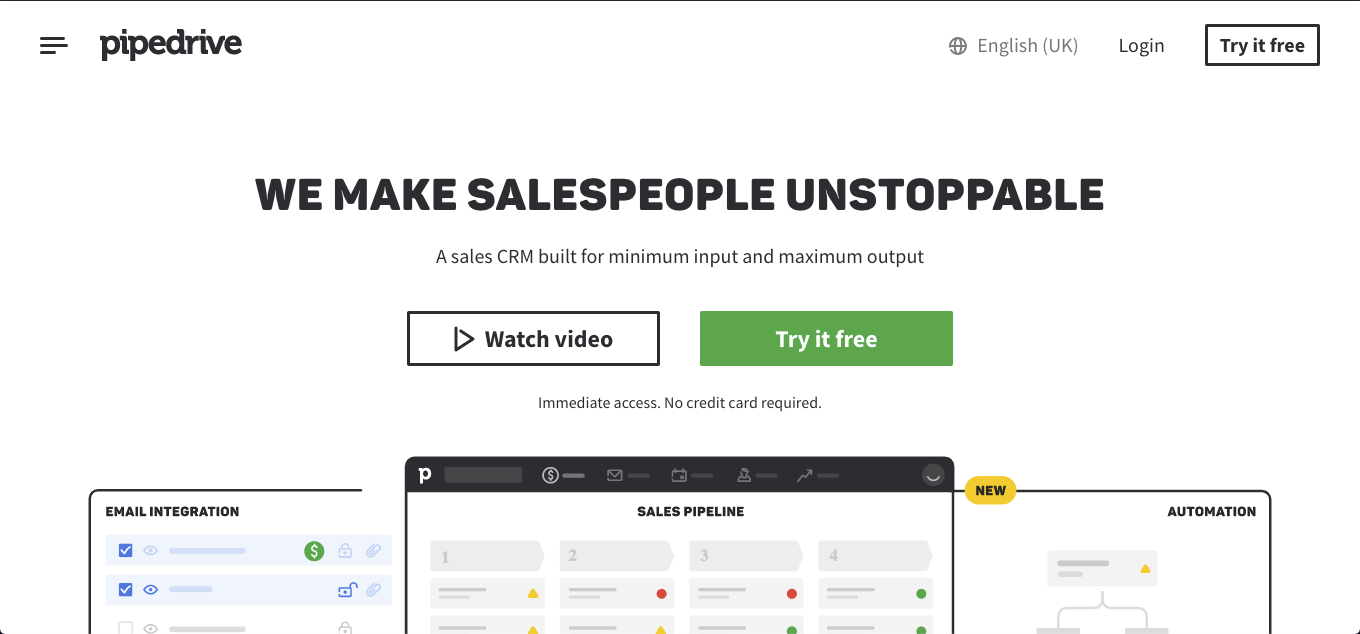 Pipedrive is a cloud-based CRM platform aimed at sales professionals in scaling companies. This platform is based on the idea that power comes from simplicity, so it focuses everything on usability and transparency.
Since the tool aims to provide a streamlined view of sales processes, it helps sales staff save time on administrative tasks. A progress tracker also helps sales teams track their goals and find out how they've been performing.
Close.io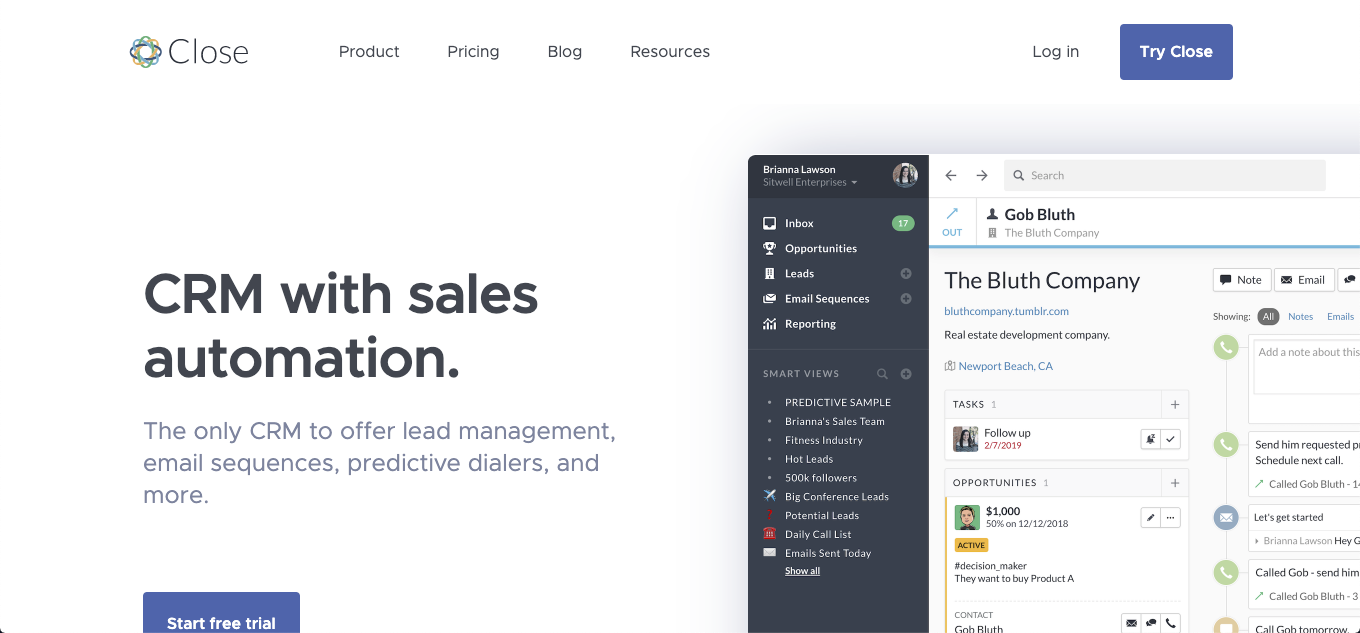 Close aims to be the CRM of choice for both startups and SMBs. By calling on a range of automation features, this tool aims to help a sales rep close deals and be more productive.
By cutting down on the amount of time spent performing data entry tasks, sales staff are free to spend more time calling, emailing, and contacting prospects. Reporting tools also help team members closely monitor the most relevant metrics.
Freshsales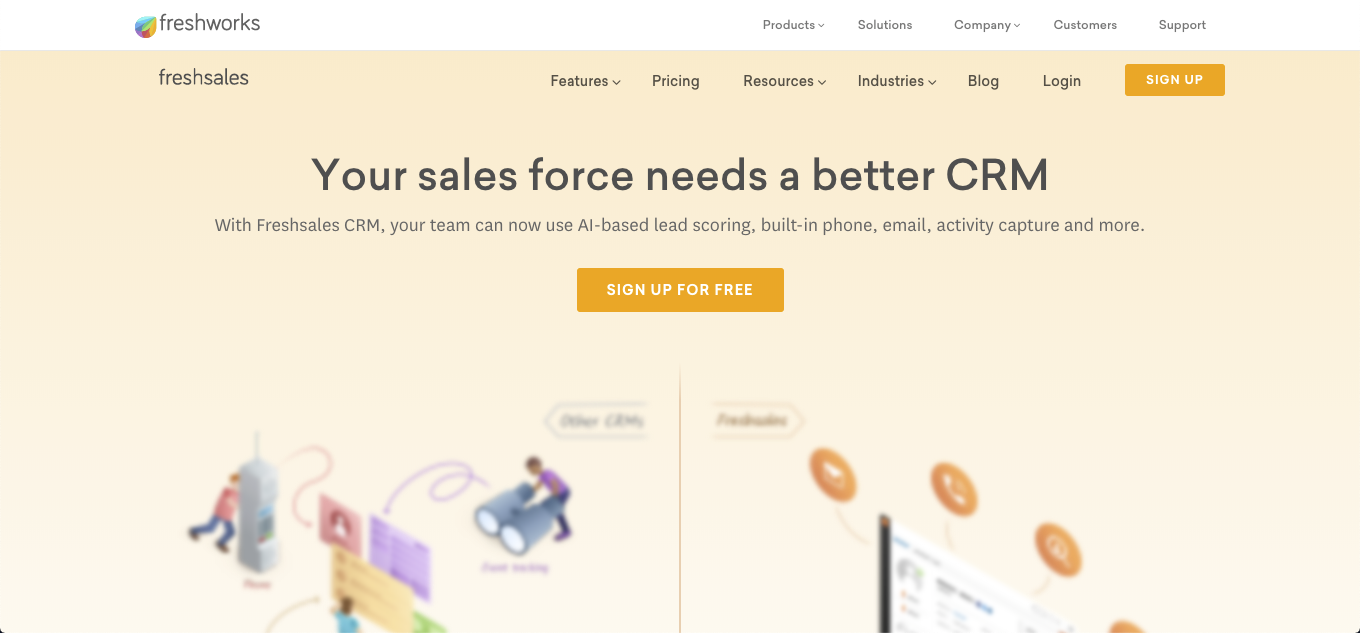 Freshsales aims to be your CRM of choice by offering a range of automation features, such as built-in email and funnel management.
The platform claims that its software is "ready to go, easy to set up and use, and requires minimal customization." But while this tool is attractive to some sales teams, it's not necessarily the most customizable tool on the market.
Marketing Automation
Marketing automation can help make marketing campaigns more accurate and feed the sales funnel with qualified leads, creating a better ROI.
Hubspot
Hubspot offers an ambitious platform that aims to cover marketing, sales, customer service, and CRM. The sales portion of the platform aims to empower sales teams by using the best sales automation tools and powerful automation features in one place.
Essentially, the tool is an all-in-one sales automation software that helps sales professionals connect with more leads, close deals faster, and manage their sales funnels. Again, the emphasis is on helping sales staff make deals, rather than performing data entry.
Pardot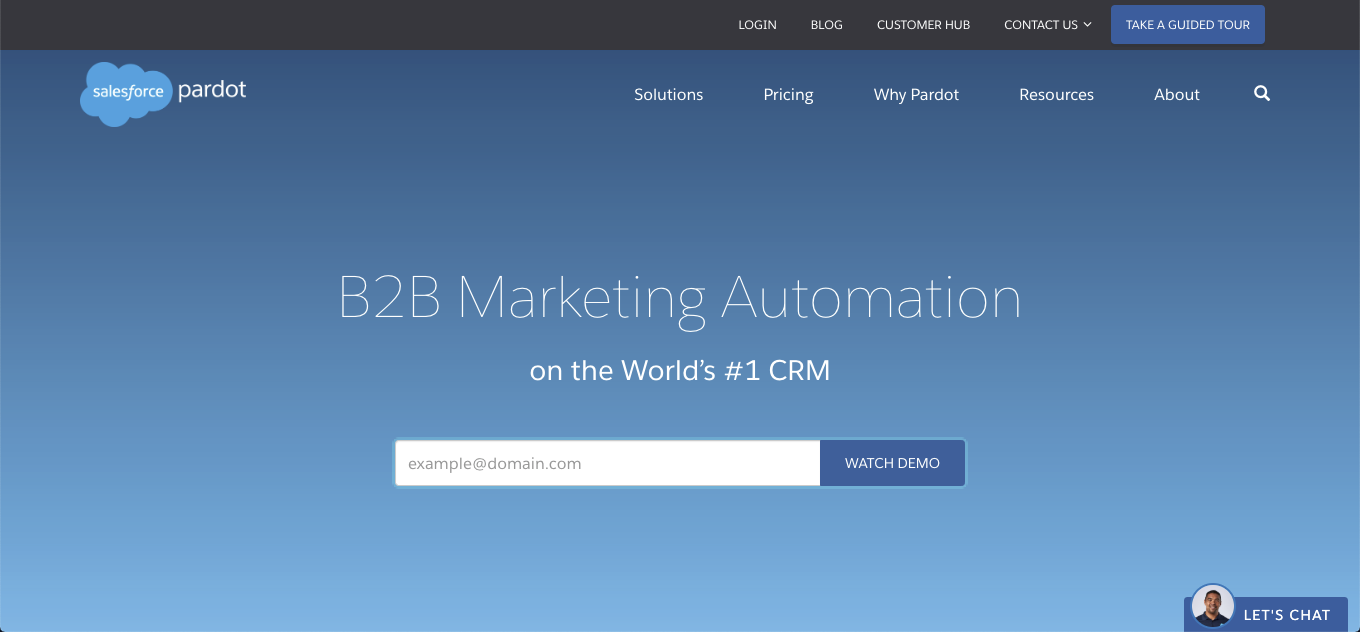 Pardot is aimed at marketing rather than sales. This B2B product from Salesforce is aimed at helping marketers acquire more leads and populate the funnel, and it helps salespeople close more deals.
Pardot aims to help marketers nurture leads, close a higher volume of deals, and maximize the ROI from marketing activities.
Autopilot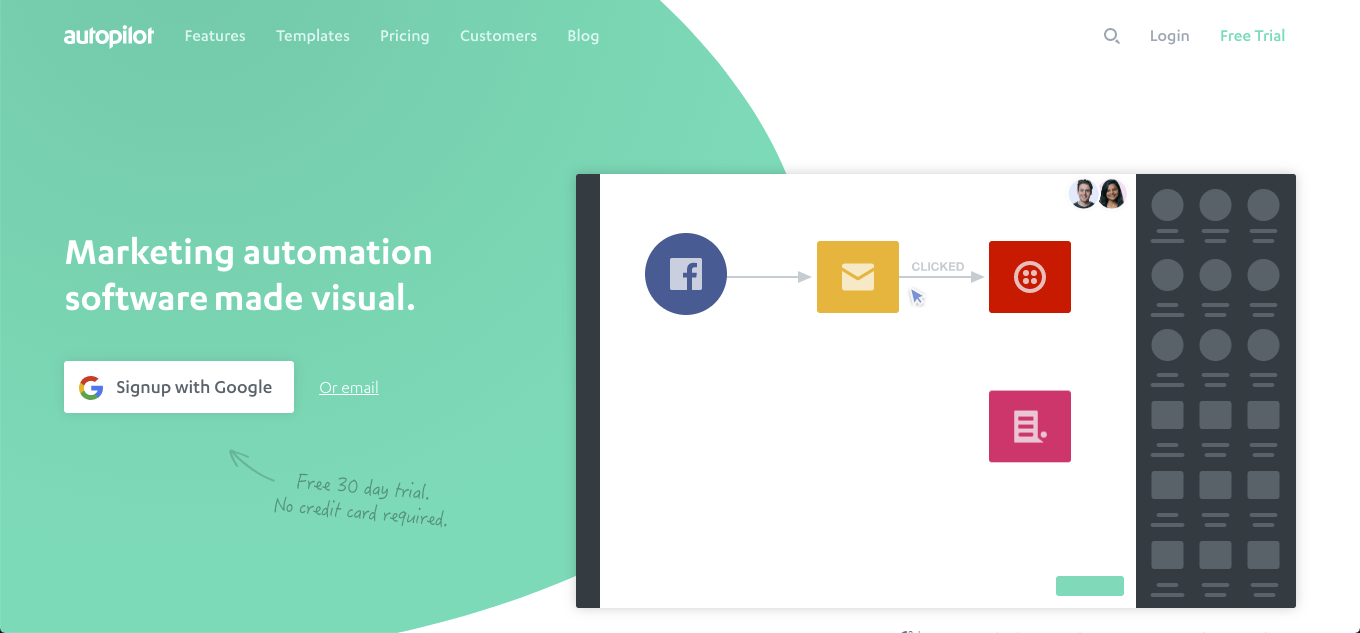 Autopilot is simple, visual software geared toward customer journeys. Since it aims at making marketing automation visual, it's an intriguing option for visual learners who want to capture and convert new leads.
The tool aims at automating repetitive tasks and saving time across the board. After capturing leads via your marketing initiatives, the sales automation platform simplifies educating, assigning leads, and booking appointments.
EngageBay
EngageBay offers comprehensive tools to help your marketing and sales team take things to the next level. With email marketing, lead generation tools, marketing automation, and more, EngageBay provides everything you need to streamline your sales process. All in all, EngageBay's sales automation tools make it easy to manage your sales tasks.
Automating Daily Routines and Tasks
A range of manual tasks can occupy the valuable time of sales professionals, reduce their productivity, and stop them from doing what they do best.
IFTTT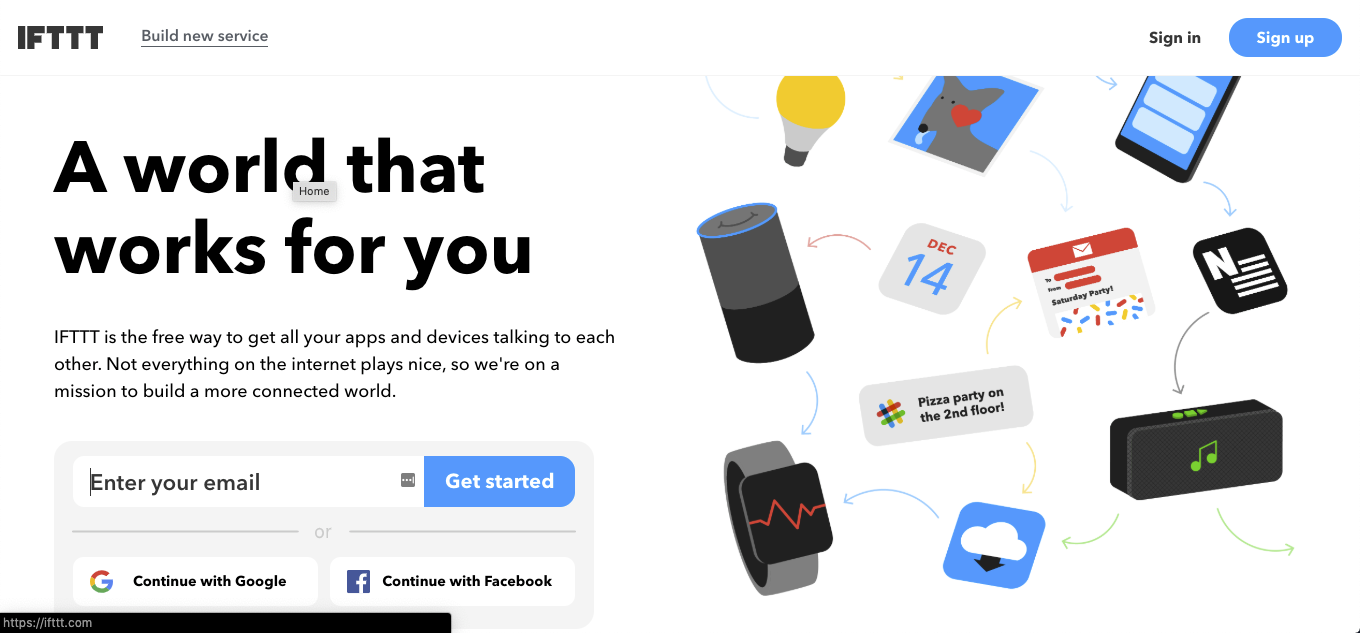 If This Then That is a free web-based service that makes it easy to create applets (i.e., chains of simple conditional statements). While it can be a little overwhelming at first, it can save you a lot of time.
The platform aims to help connect the world by getting apps and devices to work together in new ways. You can pair a range of sales automation tools to help automate tasks and stay on top of your various sales and marketing activities.
Zapier
Zapier is another web-based service that helps users integrate the various web applications they may use. This tool helps reduce the number of hours spent on manual tasks.
By offering easy automation to busy people, Zapier moves information between web apps and helps sales staff focus on their most important tasks.
Automating Nurturing
Nurturing is moving leads throughout the sales funnel, and ensuring they're appropriately informed and engaged at each stage.
Customer.io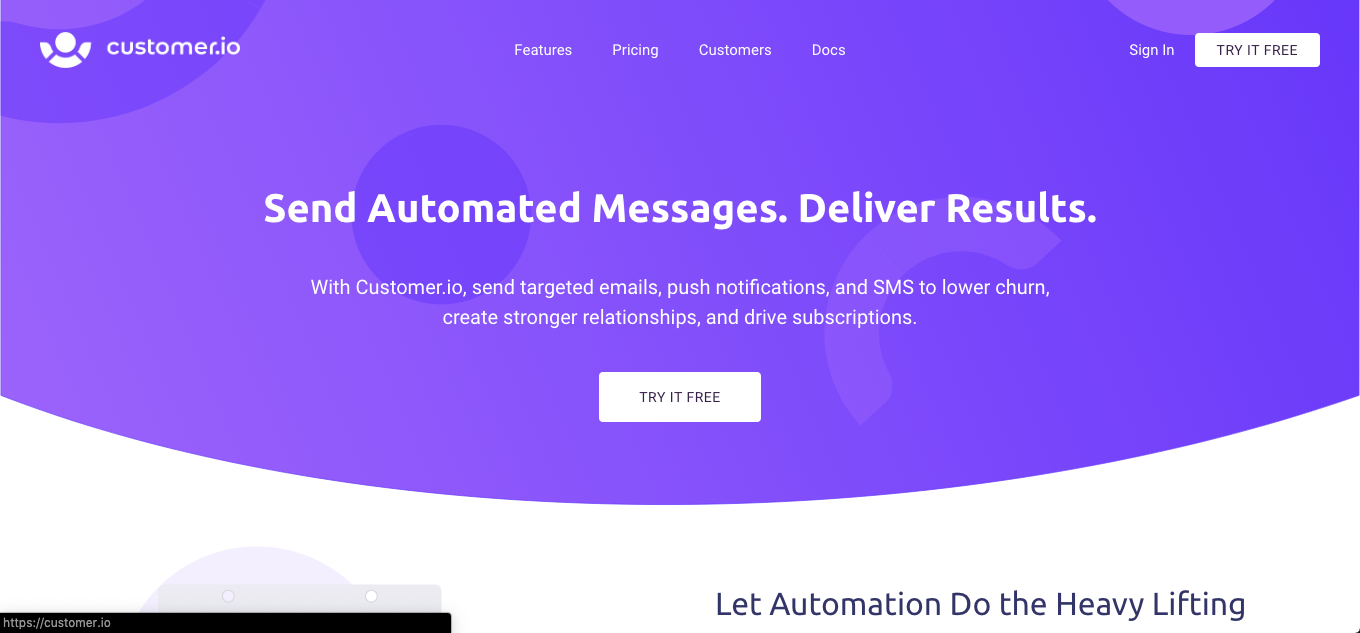 Customer makes it possible for sales teams to trigger emails, push notifications, and handle lead scoring, SMS, and webhooks, which helps personalize customer communication.
The app suggests that its platform can help sales teams lower churn, craft stronger relationships, and drive additional subscriptions.
Mailchimp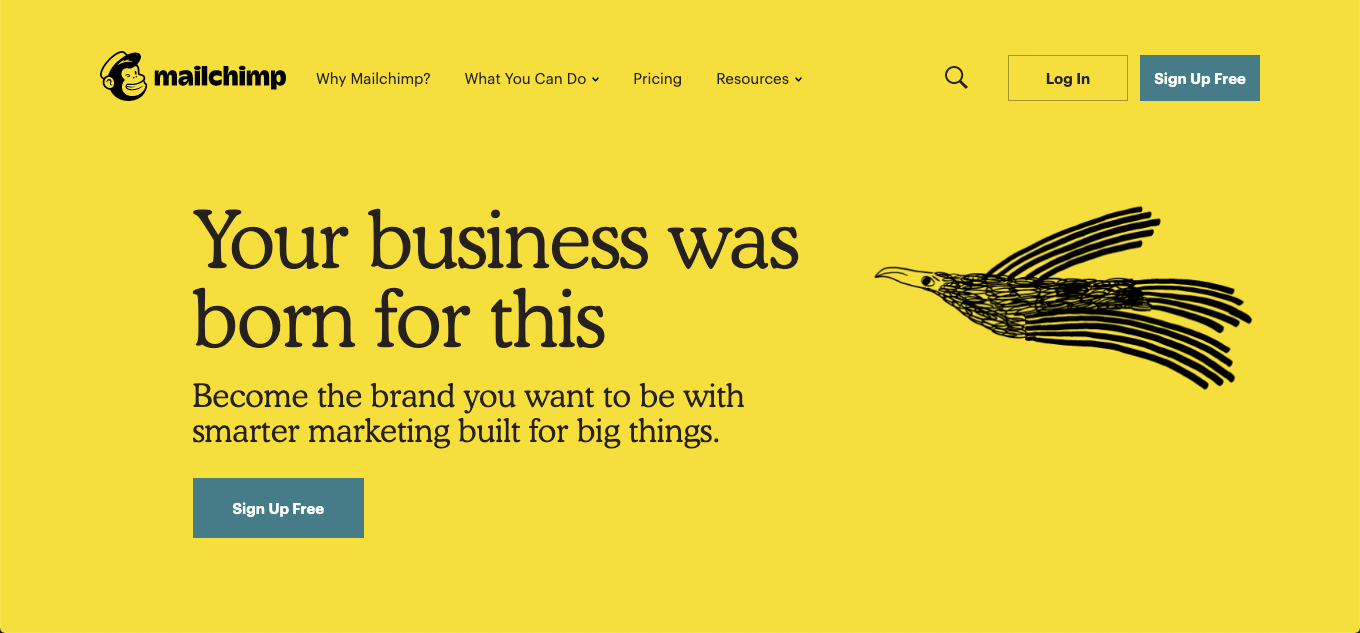 Mailchimp might be the best-known automation platform on the web. This email marketing service helps sales and marketing teams grow their business by getting their word out on a range of channels.
To make sure each campaign runs smoothly, sales teams can create unique campaigns, integrate their favorite tools, automate their manual tasks, and optimize their efforts.
Automating Presenting
Sales teams spend a lot of time pitching products and services, so they need to have the very best presentation software on the market.
Appear.in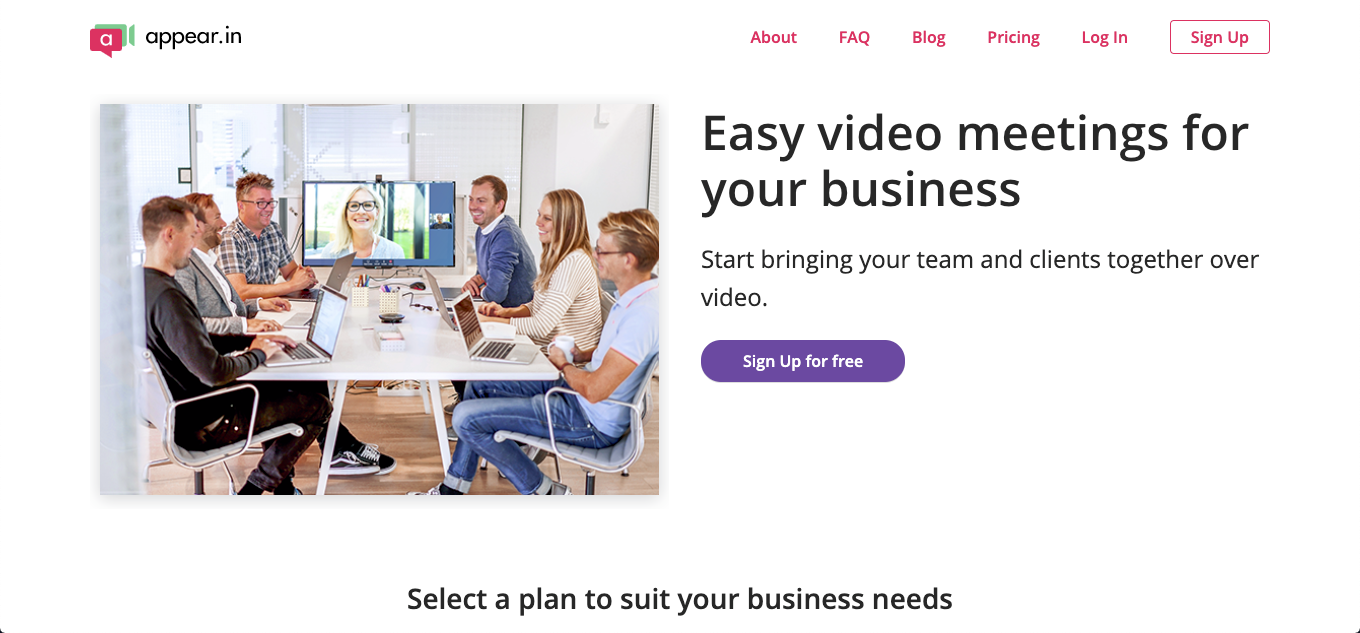 Appear aims to be the go-to tool for sales teams who are looking to introduce video meetings into their daily workflow. This tool focuses on simplicity by helping sales teams create a room link and invite their members to join.
Since sales is so competitive, Appear aims to put itself above the competition by eliminating registration and enabling group video conversations.
Prezi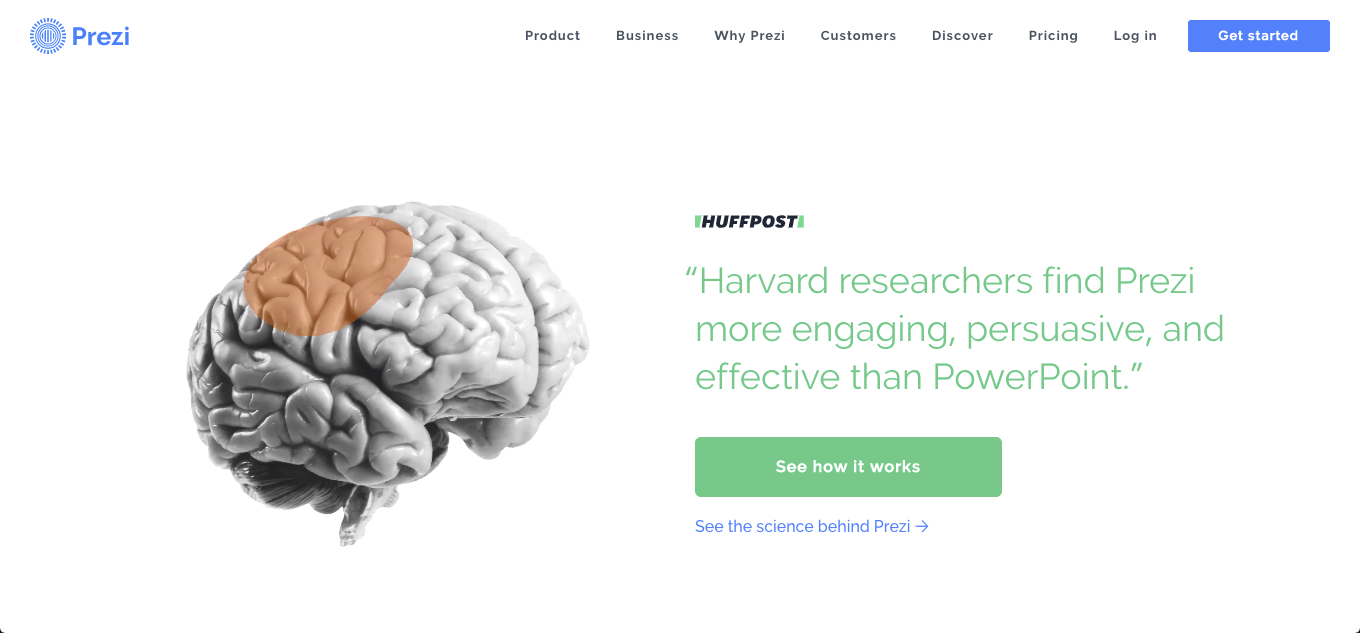 Prezi is presentation software that aims to use motion, zoom, and spatial relationships to bring ideas to life and give presentations a touch of magic. More than 100 million users have created presentations on the platform.
The platform aims to make it simple for non-designers to unleash their creativity and use templates to create engaging presentations for prospects and leads.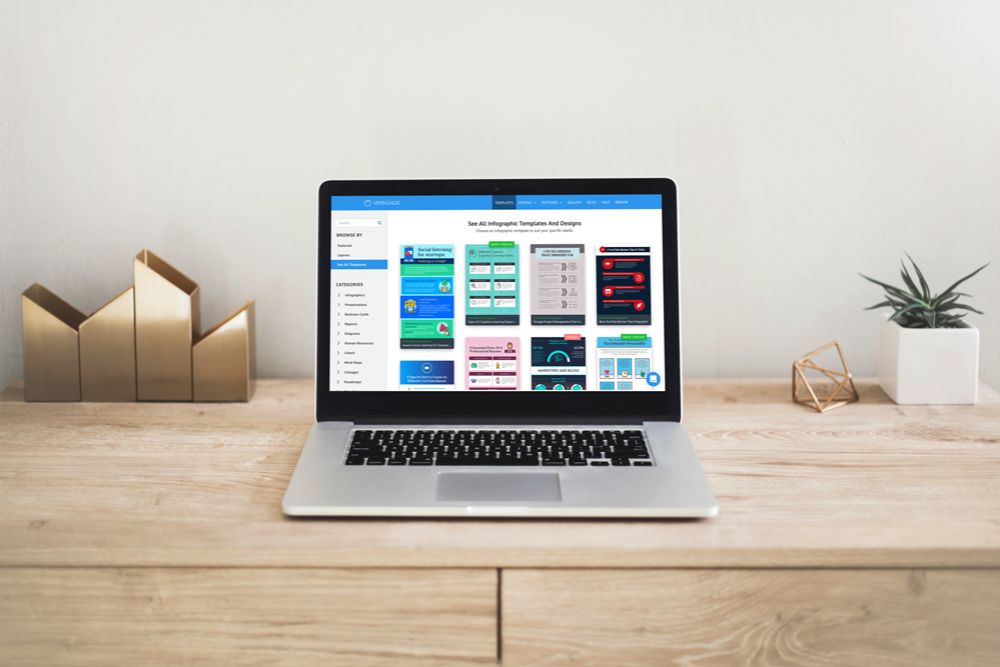 Venngage is another great alternative to the typical Powerpoint. Their presentation software is a beginner-friendly drag & drop affair with 100+ presentation templates to choose from (many of which cost nothing to use), an extensive library of stock photos (synced with Unsplash), and over 40,000+ icons & illustrations in their catalog. You can make presentations that look professional in minutes. No designer is required.
If you're looking for more in-depth reviews of suitable sales and marketing tools, you should check out OnlinebizBooster.
Sales Automation Tools: Conclusion
We hope you've enjoyed this comprehensive analysis of the best sales automation tools for enterprise project management. The landscape is diverse and competitive, so it's worth investing enough time to find the right tool for your organization's needs.