A strong customer-profiling strategy can spell the difference between success and failure for your business. An accurate customer profile can tell you who your ideal customer is and their pain points.
But since there's so much information out there, it can be difficult to make sense of everything. That's why you need the very best customer-profiling software solutions.
Here's a look at the best customer profiling tools to get you started…
What Is Customer-Profiling Software?
Customer profiling software helps sales and marketing professionals gather information about their target customers and organize those potential customers into categories.
For the sales process to begin, the sales team must have accurate and up-to-date contact information, which should be accompanied by rich demographic information about each individual and his or her business.
Equipped with these tools, sales, and marketing professionals can work in a targeted and accurate way. Then they'll contact the right people at the right time with the right messaging.
This targeted approach can help reduce the number of touches needed to make a sale, which slashes overheads and boosts a business's bottom line. Sales and marketing teams also get the desired results, boosting morale.
Without customer profiling tools, sales and marketing initiatives have the tendency to be random and ineffective. Sales professionals spend far too long prospecting for the wrong leads, and marketing budgets are squandered by creating collaterals with the wrong messaging for the wrong audience.
Since sales and marketing have become more nuanced than ever before, a vast suite of customer profile software has emerged. The landscape is complex and competitive, so here's a closer look at the best customer profiling tools out there…
CRM Software
A Customer Relationship Management system (CRM) helps you keep a detailed log of your team's relationships and interactions with customers and potential customers. With the right customer management system, you can keep track of all customer profiles and quickly find the right customer profile when a user contracts your team with an issue.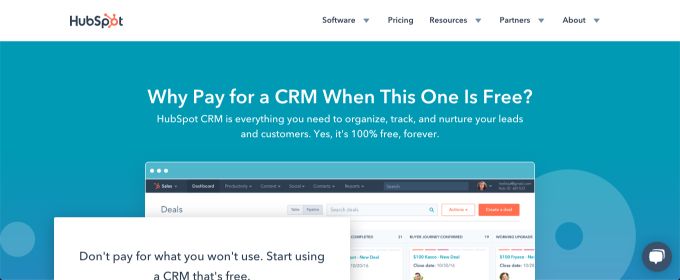 HubSpot
HubSpot CRM is one of the leading CRM software on the market. This tool is free and it aims at helping sales and marketing teams manage their pipeline, automate mundane tasks, and speed up the overall sales process.
The tool helps sales teams facilitate customer profiling by allowing for up to 1,000,000 contacts and providing a detailed log of a prospect's history with a specific business. This clear timeline includes a list of every interaction, including calls, emails, meetings, and notes. According to this information, prospects can be profiled and filtered. Besides, HubSpot has lots of integration opportunities with other tools. So you can export prospect records from HubSpot to Excel or databases as a backup option or for detailed filtering.
Freshsales
Freshsales is a CRM tool from freshworks, which exists to help sales and marketing professionals secure more leads via an all-in-one solution.
A top-notch scoring tool helps sales professionals identify high potential leads based on sales-ready buying signals and behaviors. A visual sales pipeline also helps sales professionals track ways the sales process is developing and where their prospects currently lie within the sales funnel.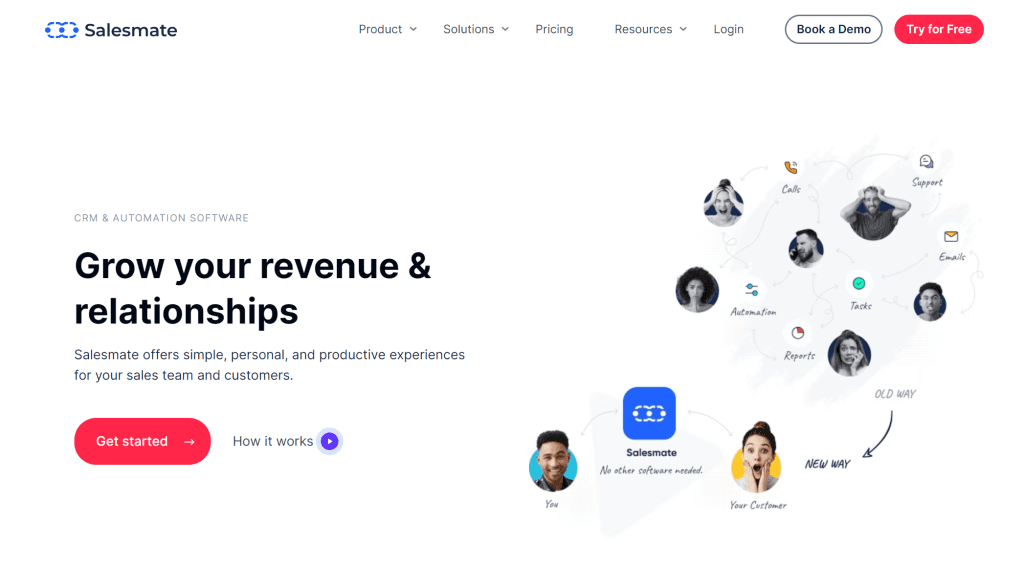 Salesmate
Salesmate is a CRM with sales automation and a customer journey platform that enables you to automate your sales, marketing, and customer support processes.
It's an advanced Saas CRM powered with intuitive features that improve customer engagement, help create optimized marketing strategies, streamline your sales process, and manage all your customer data in one place.
One of its features, email automation, can create highly targeted emails that help you engage better with your prospects and customers. You can also automate your outreach and connect with customers based on their behavior and actions.
Salesmate's marketing automation feature is highly advanced and allows you to automate various processes such as lead scoring, sending email blasts, conducting NPS surveys, A/B testing, and much more!
Overall, Salesmate provides end-to-end solutions for all your sales and marketing needs.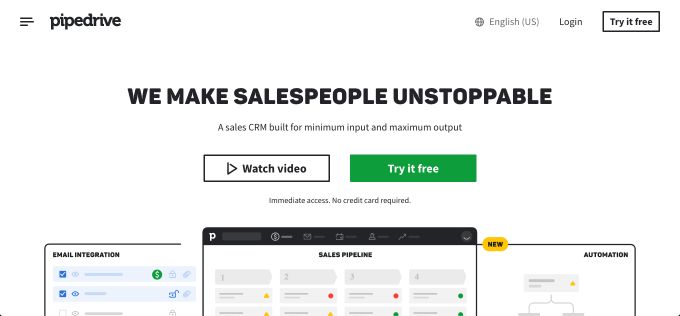 PipeDrive
pipedrive is a sales CRM tool built for minimum input and maximum output. The tool places its top focus on simplicity, which helps sales and marketing professionals work more efficiently and with fewer distractions.
A visual interface facilitates pipeline management, which gives your team the power to stay on top of the action. Sales forecasting can also surface high-potential leads that are based on a range of demographics and behavioral information. This feature helps sales teams make their activities become more targeted and efficient.
Data Enrichment Software
In the world of marketing and sales, data is absolutely critical to success. Data enrichment is performed when sales teams merge third-party data with proprietary data. This process gives a team a fuller picture and helps it make data-based decisions.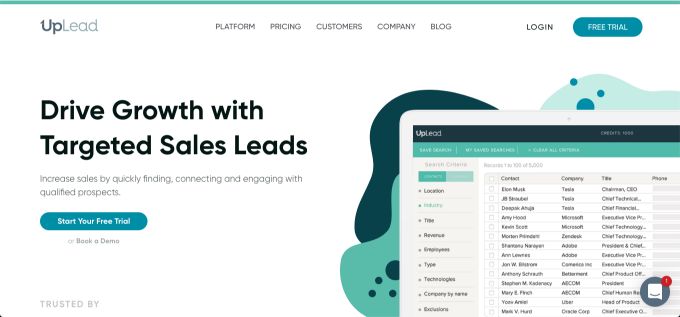 UpLead
UpLead is a lead-generation platform that helps sales professionals drive growth via targeted sales leads. This platform also makes it possible to quickly find, connect, and engage with qualified prospects.
This tool makes it easy for sales professionals to build targeted lists from a database of over 30 million business contacts worldwide. Since all of the information is verified in real-time, the tool only provides rich, accurate data.
Start Your 7-Day Free UpLead Trial
Lead generation doesn't have to be all that painful. With UpLead, you can easily connect with high-quality prospects and leads to grow your company.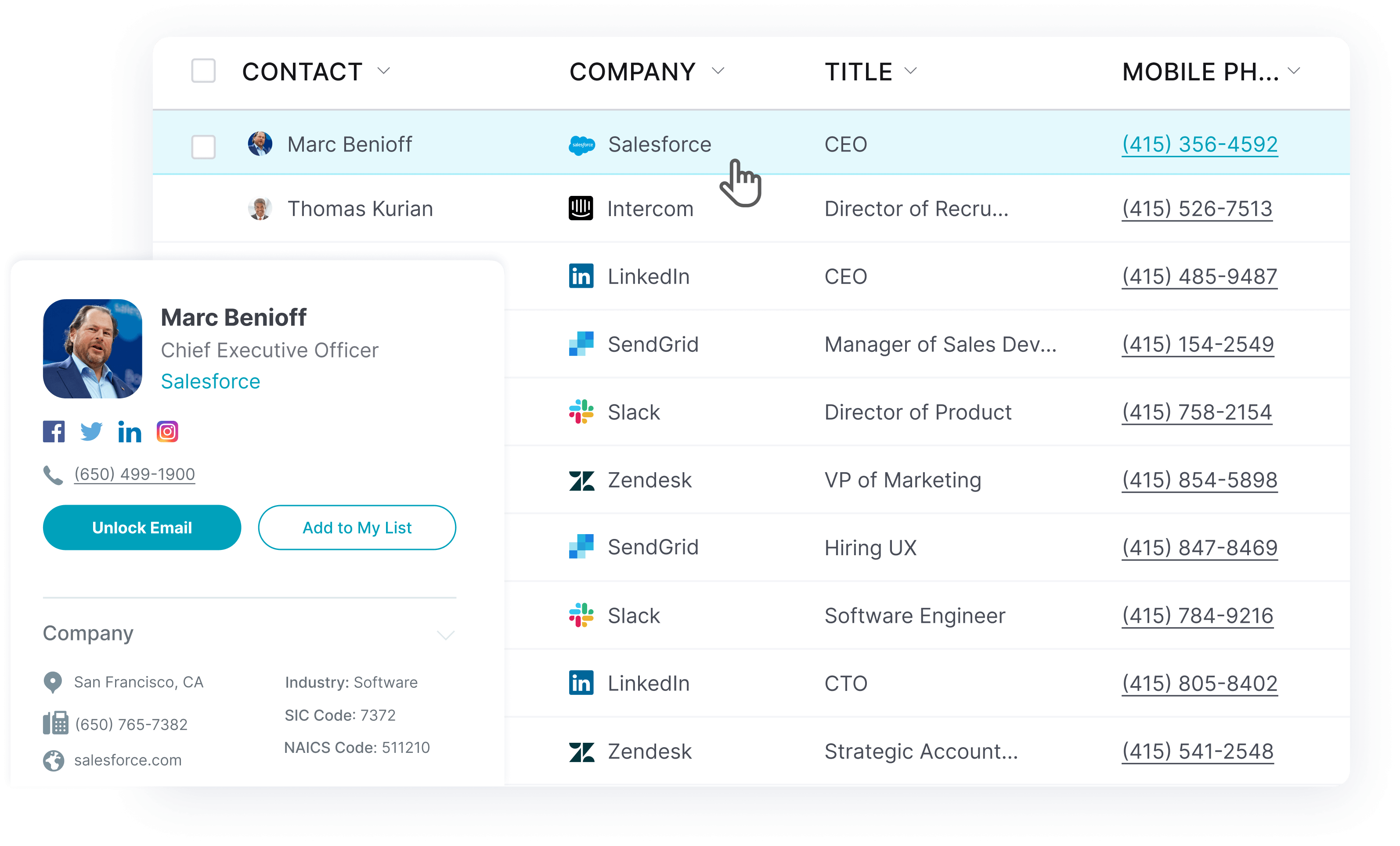 The quality of the results is a strong, unique selling point of the tool. Sales professionals can rest assured that they're making contact with the right people, which means they'll waste less time and effort. In other words, sales professionals become happier, more productive, and more effective! Find out how UpLead compares against its competitors and our UpLead alternatives article.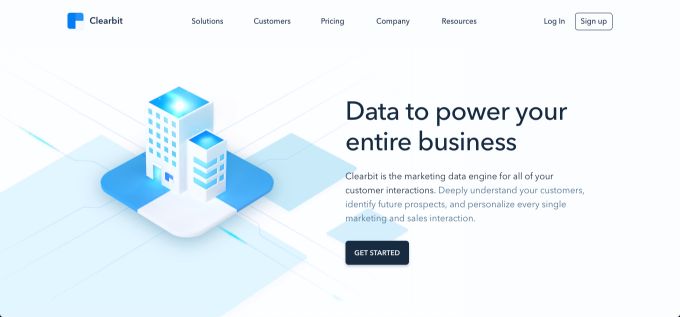 Clearbit
Clearbit is a marketing data engine that helps a business understand current customers, identify prospects, and personalize every interaction.
The tool aims at refreshing data in order to keep records as accurate as possible and stop them from going stale. Since there's a lot of turnover in modern companies,  sales professionals can never be sure they have the most recent data.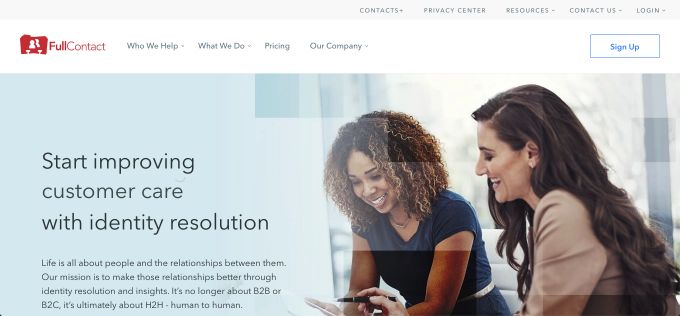 FullContact
FullContact is a platform that offers a range of services to help businesses take their relationships with their customers to the next level. The services are centered around identity resolutions and insights.
The platform posits that sales have moved beyond B2B or B2C but that it's now all about human-to-human interactions. To help its customers foster these connections, the platform makes it possible to enrich profiles and develop audience insights.
Survey Software
Survey software helps businesses collect feedback and information from a given target audience. Since these tools have dramatically improved over recent years, they offer recipients richer and more organic experiences.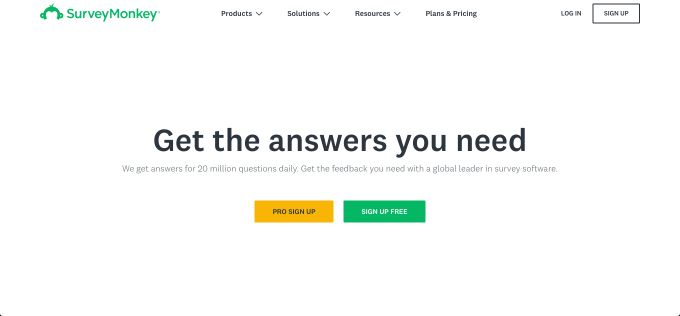 SurveyMonkey
SurveyMonkey helps businesses get the answers they need to craft their customer profiles. The platform has cemented itself as a global leader in survey software—with 98% of the Fortune 500 calling on this tool to power their data.
A range of specific features are on offer here, and a range of pricing plans are available to users (depending on their needs). SurveyMonkey is a solid option if you'd like to generate rich data (both qualitative and quantitative) to fuel your campaigns.
Typeform
Typeform is a startup based in Barcelona that places interactivity and a conversational tone at the core of its offering. The tool gives sales and marketing professionals a range of sophisticated tools that will help them get to know their audience—one person at a time.
The tool offers a simple what-you-see-is-what-you-get editor, making it easy for sales and marketing professionals to reflect their personalities and offer their recipients a beautiful, seamless experience.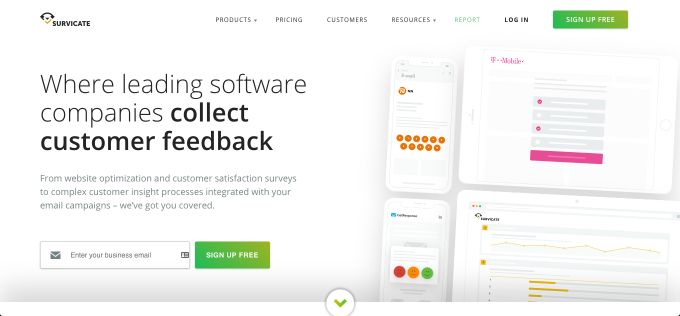 Survicate
Survicate bills itself as a complete toolkit for customer feedback. This toolkit empowers sales and marketing professionals to collect a wide range of feedback and helps them measure and boost the satisfaction of both current and potential customers.
A wide range of businesses uses this tool, and it can integrate with a wide range of popular tools. A free option is available that helps customers find out if it's really right for them before they take the plunge and pay for it.
Woorise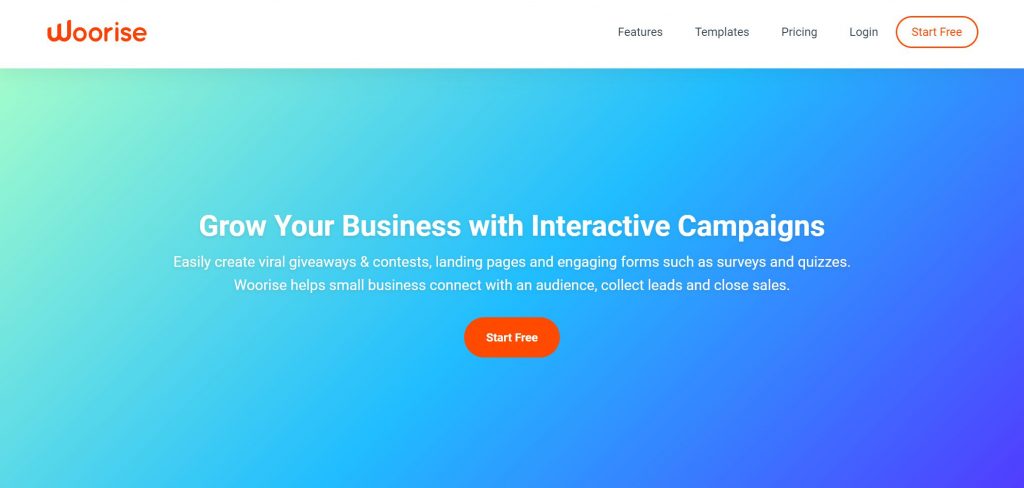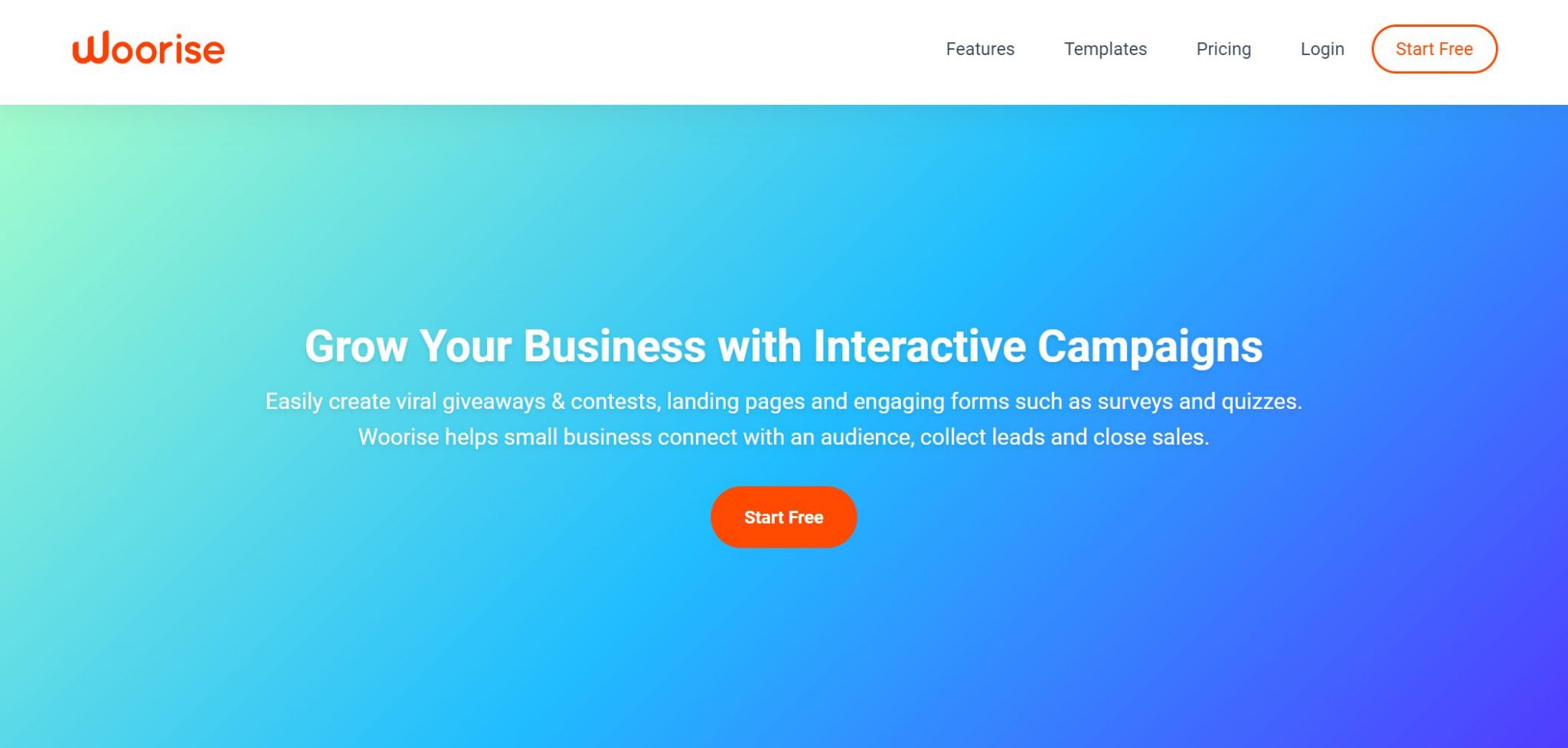 Woorise is the easiest way to create viral giveaways & contests, landing pages, and engaging forms such as surveys and quizzes from a drag & drop builder. Woorise helps small businesses connect with an audience, collect leads, and close sales.
With Woorise you can create a wide range of interactive campaigns for your business, including promotional campaigns, lead magnet campaigns, NPS campaigns, marketing and feedback surveys, event registration and signup forms, collect payments and subscriptions, and much more.
Customer Profile Software
Buyer personas are essential components of successful marketing and sales initiatives. These customer profiles are based on market research and real data, and they help businesses execute accurate and effective sales initiatives.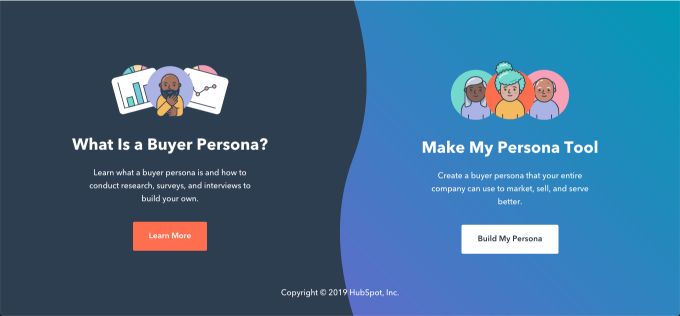 Make My Persona HubSpot
Make My Persona is a free tool offered by HubSpot. It makes it easy to create customer profiles that an entire company can use to market, sell, and serve more effectively. With it, you can create a customer profile for your ideal customer, so your sales teams know who they should be selling to.
This intuitive tool walks marketing and sales professionals through seven simple steps to create customer profiles. The user can choose an avatar and select various demographic information in order to build a rich buyer persona that will make sales and marketing initiatives as effective as possible.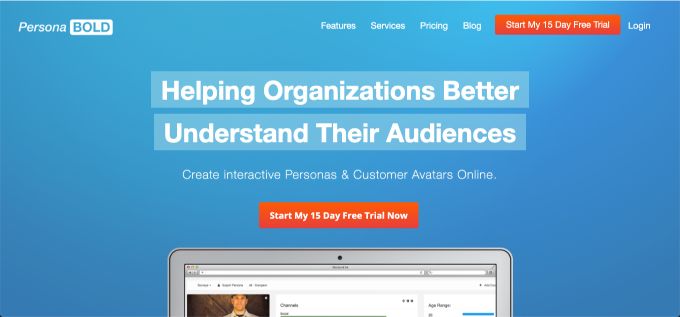 PersonaBold
PersonaBold is a customer profile software that makes it easy to create interactive online avatars. By helping organizations build a richer understanding of their audience, the tool aims at having a demonstrable positive effect on sales and marketing initiatives.
This customer profiling tool offers users a 15-day free trial, allowing them to be introduced to the software. PersonaBold creates rich buyer personas that include various data, such as motivations, pains, drivers, and channels.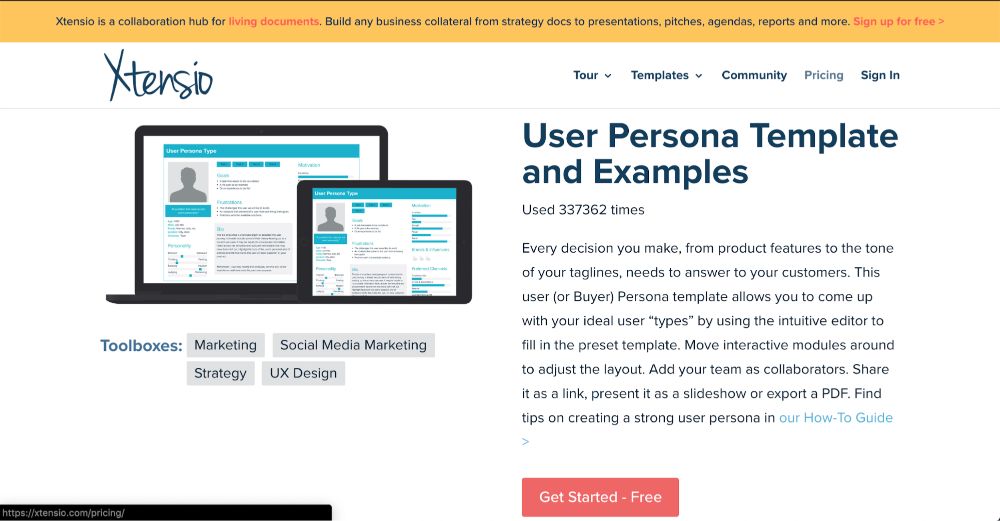 Xtensio
Xtensio is a workspace that allows its users to collaborate on ever-evolving documents. The tool offers a wide range of persona templates and examples for users. By using these templates, sales, and marketing professionals are able to create rich and detailed buyer personas and an ideal customer profile to guide their initiatives.
These editable customer profile templates look great, inspire, and make an excellent impression on the rest of the team.
Conclusion
You can take your sales and marketing initiatives to the next level by choosing the right customer-profiling software. The right customer profile tool will make it easy to craft and explain customer profiles to the sales teams, allowing them to have a better shot at selling your product or service.
If you choose the right customer profiling tool, you'll delight your sales team with powerful tools that make it easy to perform accurate and effective sales work.