In this article, we'll review everything you need about outbound prospecting.
We'll talk about the following:
The importance of outbound prospecting
Tips and guidance on how to build an effective outbound strategy
How to write great scripts and emails for your prospecting efforts
By the end of the article, you'll know exactly how to develop an outbound prospecting strategy that works for you, your team, and your business.
Let's get started.
Quick Links:
What Is Outbound Prospecting?
Outbound prospecting is a marketing channel you can use to reach out to your leads directly to introduce them to your brand and your solutions.
For most B2B companies, outbound prospecting usually starts with customer knowledge and developing a perfect customer persona. Then, the customer persona is used to generate high-quality leads. Finally, a sales team contacts the leads through cold emails and calls to find out if they'll be a good fit.
Although a more involved channel, outbound prospecting allows for faster sales results.
Differences Between Inbound and Outbound Prospecting
The principal difference between inbound and outbound prospecting is the person who starts the sale.
With inbound marketing, the lead is the one that starts the sale. They read an article, participate in a webinar, download an ebook, and initiate contact with the company. The company, in return, follows up with them to see if a sale can be made.
In outbound prospecting, it's the company that starts the sale. Through salespeople, the company contacts the leads using a cold call, cold emailing, or any other form of communication to let them know more about themselves and their products.
While inbound strategies typically take months or even years to fully build, maintain, and pay results, their results are also equally long-lasting. On the other hand, outbound strategies take much less time to build but are only effective while salespeople actively contact leads.
Best Practices for Outbound Prospecting: 5 Tips and Tricks (Backed by Studies)
Here's how you can start and keep up your outbound prospecting strategies, including science-based tips:
1. Use data to define your ideal customer
Your outbound prospecting efforts will fully rely on the accuracy of your ideal customer. You need to have a perfectly-defined customer persona if you want to generate accurate, effective leads.
By using buyer personas, you can increase your email's clickthrough rate by 500%, and users will be 48% more likely to consider solution providers that personalize their services to them, like through a user persona.
Take, for example, the following customer audience description by Hubspot: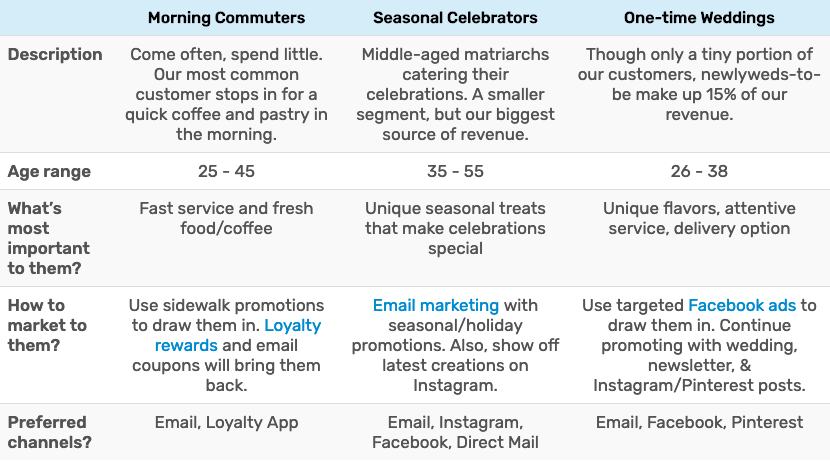 We've talked before about this customer audience description because of its layout. With it, you can easily see and organize multiple customer profiles, making them easy to understand and intuitively letting you know how to use them.
The best way to create your user personas is through data.
Data-based refining will allow you to discover trends and common ground with your customers, and it'll allow you to avoid any potential bias from altering the results.
Your ideal customer persona should be as detailed as possible and include data points like their industry, demographic, budget, and pain points.
Once you've defined your ideal customer persona, you should periodically reassess it through data from new converting customers to refine it as you go.
How to get started:
Use your existing customer base to identify your ideal customer profile and to break down your current audience into customer personas.
One way to do this is through surveys and analytics. By creating engaging surveys that people want to fill up, you can better understand your audience. You can also use your analytics to get behavioral information, like the pages they visit in their customer journey, the pages that convert, and those that don't.
All of these data points and more can be used to get to know your audience better, identify trends among them, and polish your funnel.
2. Use referrals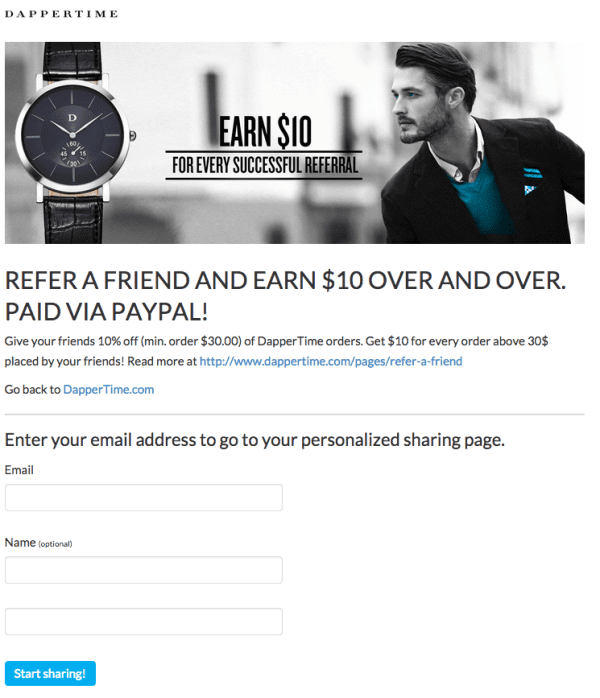 Source: ReferralCandy
Referrals are a powerful tool for your outbound prospecting efforts. No one likes feeling like they're being sold to, even if they are. Referrals remove this component by letting someone else do the hardest part of the process: opening the door for your company to be introduced.
Companies that use referrals report that, on average, they close the deal 69% faster, and their clients are 18% more loyal than those that have no referral.
Referrals are undoubtedly one of the most powerful sales tools in your outbound prospecting toolkit. The hard part is to get people to refer you in the first place.
How to get started:
The first thing to do when looking for referrals is to see people less as "referrals" and more as "introductions." While "referrals" sounds too much like a marketing ploy, "introductions" sound harmless and less pushy, and they lead more toward what you want: a conversation.
Start by simply asking for introductions to your customers. After a positive interaction, phrase your request like you're asking for help. For example, you can say, "I was wondering if you could help me with something. We're trying to grow our business right now. Do you know of anyone like yourself that would be interested in these types of solutions?".
Finally, make sure you treat your referrals like VIPs, giving them excellent customer service and treating them like "friends of friends", so they, in turn, have no hesitation when it comes to providing you with another referral.
3. Segment your lead list
Getting a lead list and contacting them with the same script or template is not enough. If you really want good results, you need to segment your list before any marketing efforts can happen.
There are multiple examples of how powerful lead segmentation is, with some people finding results like an 89% sales uplift and a substantial increase of value orders just from segmentation alone.
If you segment your list properly, you can improve at catering to the users' main pain points.
How to get started:
Once you have your list of leads, start breaking it apart. Use information like user demographics, departments, job titles, and any other relevant variables to group similar leads together.
Then, develop content that would be both relevant to them and cost-effective to you. For example, you can spend the most time with highly-valuable leads that are more likely to convert while automating your outbound strategy with colder leads.
By properly segmenting your list, you'll not only sell the right solutions to the right people, but you can maximize your investment doing so.
4. Use social proof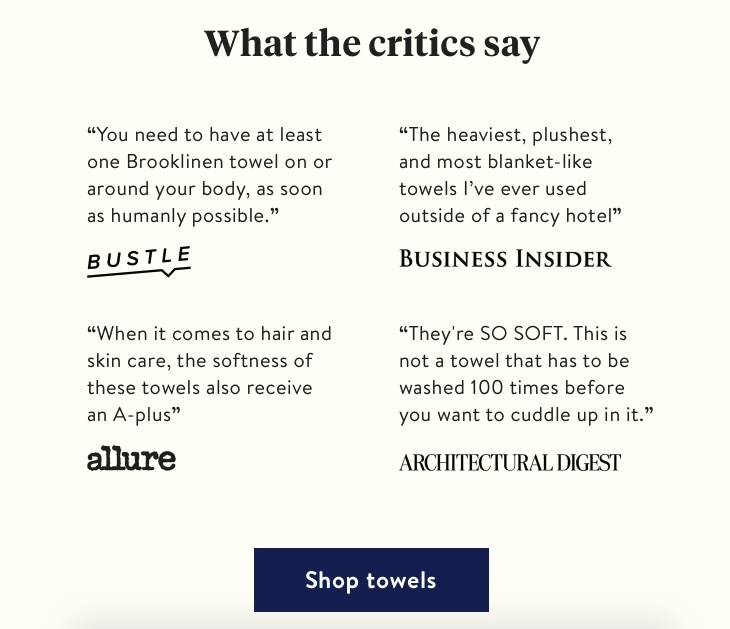 Source: Sleeknote
Establishing your credibility is extremely important, especially when targeting users that may not be familiar with your solution. When outbound prospecting, you need to tell your leads who you are and why your solution works as quickly and effectively as possible.
How important is it? The average consumer reads 10 reviews before purchasing something and trusts reviews as much as personal recommendations.
If this is the first time your prospect hears about your brand, or if they aren't too familiar with it, they may be quick to dismiss your contact completely. After all, if you're not providing social proof of your company, why should they go out of their way to look for it?
If you want to stand out from the rest, you need to give your prospects a reason to trust you and your brand.
Otherwise, you'll be another person trying to sell them something.
How to get started:
Including social proof is crucial, but where you include it will depend on you, your company, and your prospects.
If your prospects aren't likely to have heard of your company, you may want to provide them with solid social proof in your first message. Instead of dropping names of brands who work with you, tailor the social proof to them. Choose a company they may have heard of or one similar to theirs, and tell them exactly how you helped them.
For example, you can say something like:
"During 2019, we helped X company to improve their customer happiness levels by 31% through behavioral analytics and proper training. We can do the same for you."
If your prospect is likely to click through or follow up, you may want to leave the social proof on your landing page so that you can focus on other things in your message.
Finally, it's always a good idea to provide social proof on your home page, maybe even dedicating a page for case studies so anyone looking for more information can find it.
5. Follow up with your leads
Following up isn't always easy. Salespeople sometimes fear that they may be bothering their prospects out of a sale or think their time is better spent with new prospects.
Many salespeople are happy to follow up once or twice before moving on. However, that may not be enough.
The average sale doesn't take one or two follow-ups. It takes five consecutive follow-ups before closure.
We've talked before about this wonderful follow-up email from Twilio: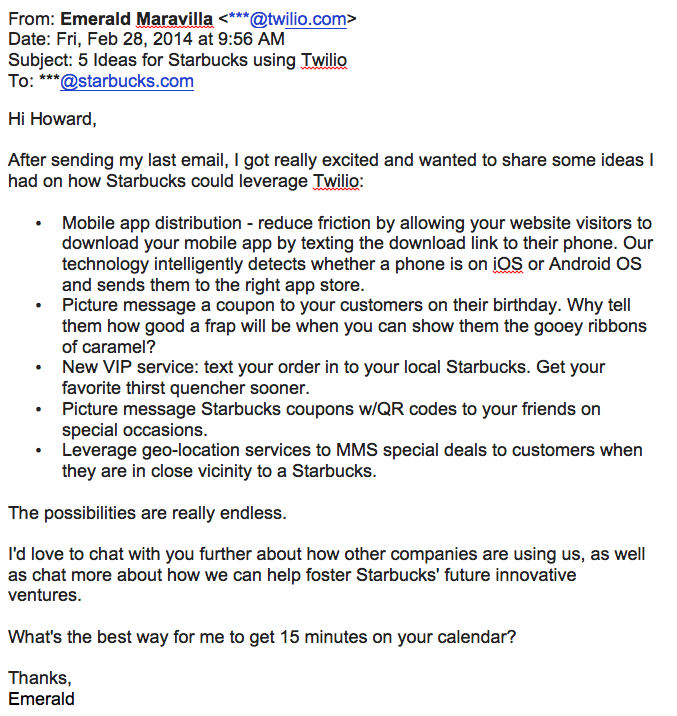 With a simple, friendly, and organic follow-up, Emerald makes sure to engage the customer by putting herself to work and fleshing out what her solution can do.
Remember: If you're cold calling or cold emailing, you may not catch your prospect at the best time, and your prospect may want to do their homework before taking out the cash.
However, if you don't follow up enough, you can't expect your prospects to do it for you.
How to get started:
The trick to following up without feeling pushy or annoyed is to focus on keeping the communication channel open.
The more you follow up with someone, the more personalized your reach should be. This will show your prospect that you actually care about them and that you're not trying to follow up to make a sale and leave.
Check up on prospects through short emails. You can even ask for referrals. Don't assume they're not interested unless they tell you they're not interested. Develop follow-up strategies and automate your process as much as possible to manage as many follow-ups as possible.
And never forget that your email is like a reflection of you and your business. Ensure there are no factual errors or grammatical mistakes. Knowing how and when to use the em dash seems like a minor thing, but it can make the difference between a good and bad impression.
How to Build a Solid Outbound Prospecting Strategy
Here's how to build a good outbound prospecting strategy, step by step:
Step 1: Set your goals
Before planning for success, you need to define what success looks like. To do this, you'll need to use the right metrics.
Some of these metrics may include:
Click-through rate: How many clicks you get per email compared to the total sent emails
Lead conversion rate: How many leads that go through the sales cycle end up converting
Cost per conversion: How much it costs to convert a lead.
Time to close: How long, on average, it takes to go from generating a lead to converting a lead?
Call-to-close ratio: How many calls you generally have to make to get a sale.
By defining what your metrics will like, which ones should improve, and how you'll measure that improvement, you can be sure to start off on the right foot.
2. Define your audience
You'll need to define what your campaign will be focused on. Start by defining your customer personas perfectly, then define which personas you'll target.
Identify your audience's most important characteristics, like:
Gender
Demographics
Job position
Age
Gender
Industry
Level of education
Once you have your most important characteristics laid down, you can use them to group your users together.
When defining your customer personas, you'll want to be as detailed as possible while being as general as possible. Find the balance that works for you to get a broad enough persona that you can target while remaining defined enough to know how you'll target them.
3. Decide your outbound channels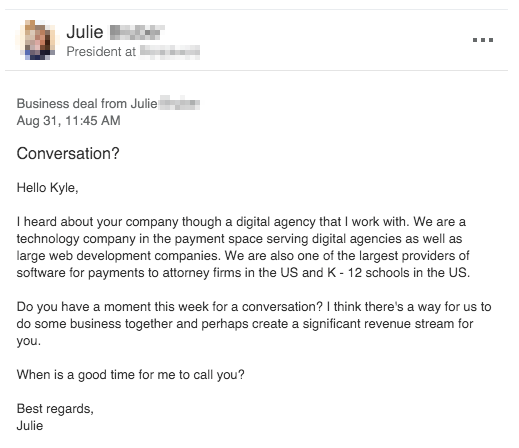 Source: Proposify
Once you've defined your audience, you can better choose which outbound channels will be best to target them.
There are many outbound channels:
Telemarketing or cold calls
Cold emails
Direct mail
Press releases
Industry conventions
The trick to selecting the right ones is by using data-based decisions. These will help you define which channels are better to reach your leads and why. You should have a clear idea of which channels will be better to use and the kind of content you can use in those channels to cater to your audience perfectly.
4. Create content
Now it's time to create the content you'll be using to sell to your audience.
If you're selling via phone, you may debate whether or not to use a cold call sales script. Scripts can be challenging to use, and you don't want your sales reps to sound like robots reading lines. However, scripts also give you far more control over what your sales reps say, giving them a general idea of how to handle a conversation without needing to do a lot of memorizing.
If you're going to use a script, make sure it gives your sales reps enough room for them to be themselves.
When it comes to emails, the content is quite different. You should ideally have both a marketing team and a design team working on each email.
Have your marketing team create the strategy and the idea for each email one by one. Once you know what each email will be about, get your design team to work with you to better represent each email.
Test every email and make sure it works on multiple devices.
Whatever your channel may be, you should also pay close attention to your social media and inbound strategy so that all channels will provide the same cohesive message.
5. Start prospecting
When you're done developing and testing, it's time to implement your strategy. When you start, you need to keep your marketing and sales teams on the same page by establishing a clear line of communication. This will make it easy for both teams to align themselves with a clear goal and path to achieve it.
Monitor your strategy closely, and check where and how things can be improved. Check your KPIs daily to see how close you reach your goals.
Finally, keep your testing alive, allowing the feedback and learnings from the sales and marketing teams to permeate your strategy, changing and improving it as you go.
Best Outbound Prospecting Software
Here are some of the best prospecting tools you can use:
UpLead for Generating Leads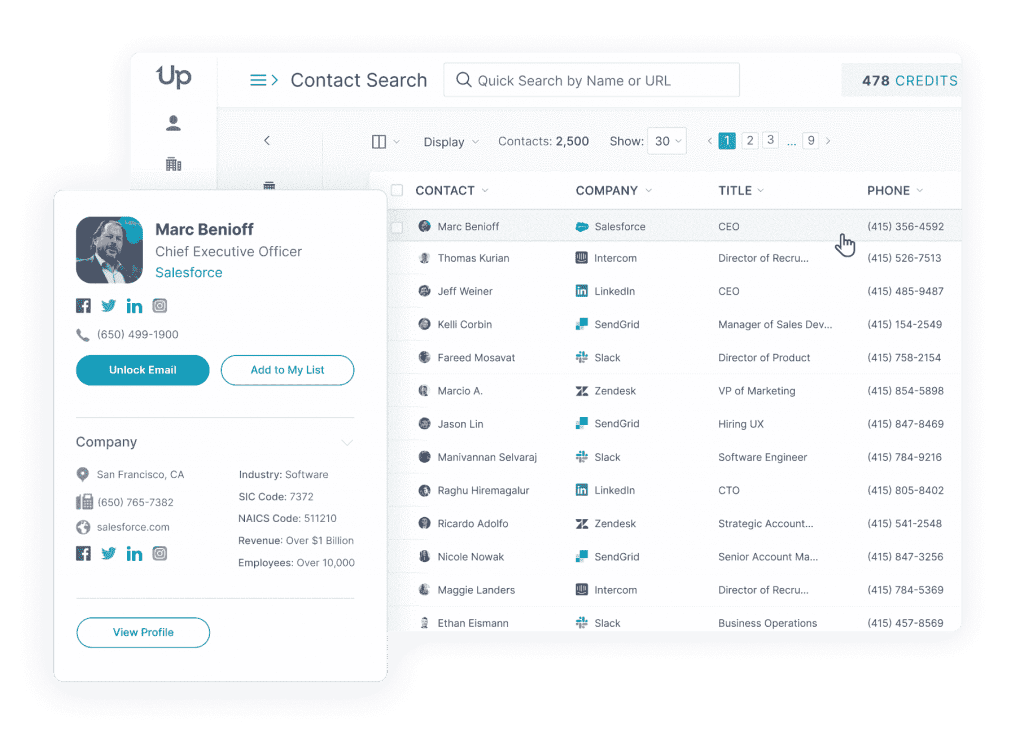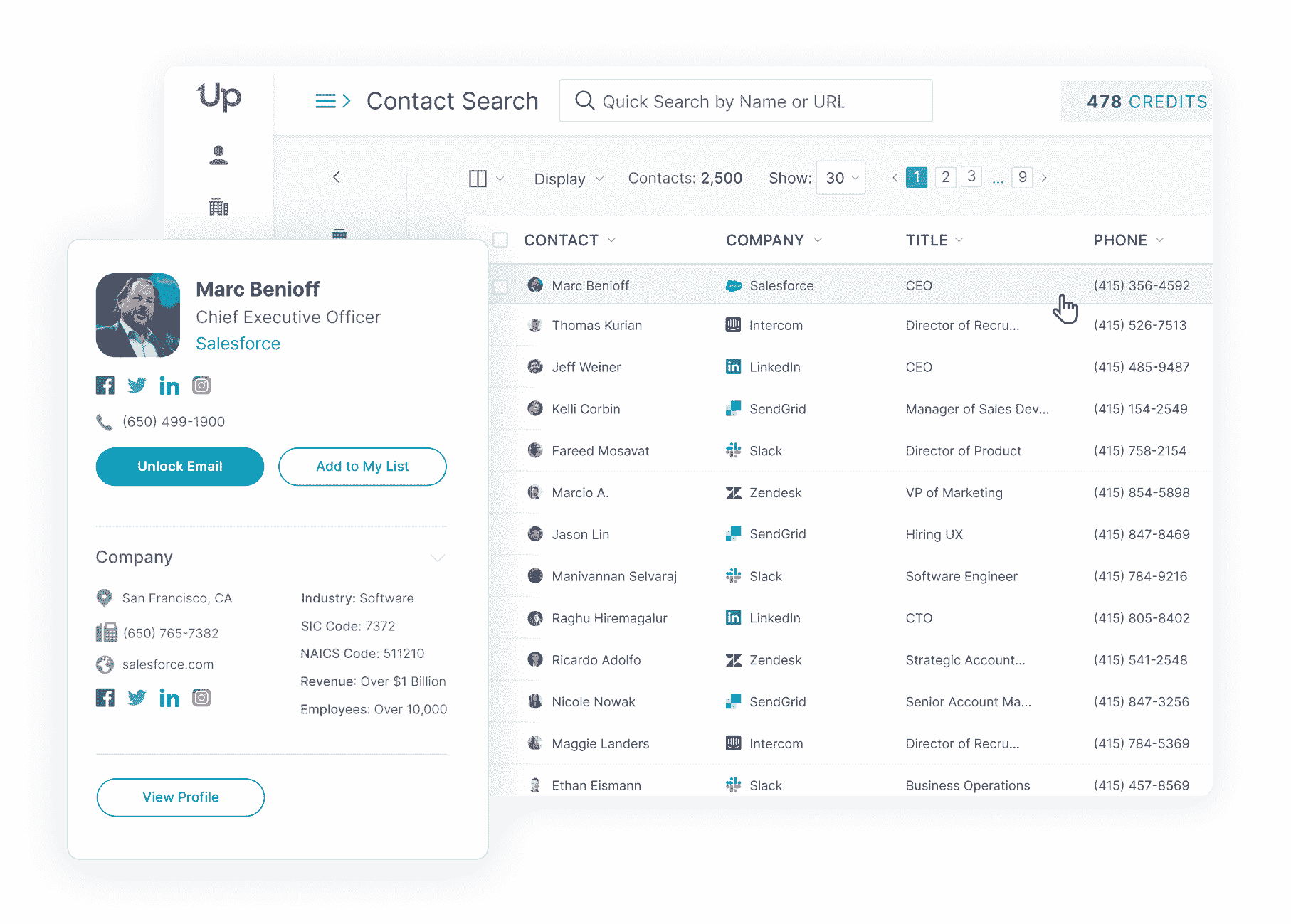 UpLead
is a Lead Generation Platform that was created to generate the right leads for your outbound strategy.
Unlike many other options, UpLead offers a 95% data accuracy guarantee . That way, you know you won't waste time cold-calling broken numbers and sending emails to invalid addresses.
Generating leads with UpLead is very easy. To narrow your ideal leads, you can browse UpLead's 140 million worldwide business contacts using over 50 criteria (such as job title, industry, and location). All you need to do is to enter your customer profile, download the matching leads, and start contacting them.
You can also look leads up through their information, such as name, company, or phone number, to enrich your data.
Rich Profiles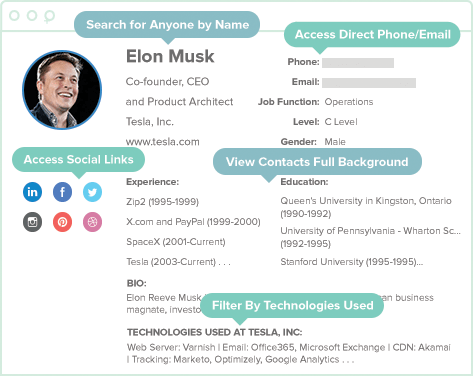 UpLead doesn't just give accurate information; it shows it through vibrant profiles. These profiles flesh out your sales prospects so your salespeople can see who they're contacting and personalize their approach to them.
Start your free UpLead trial today.
Start Your 7-Day Free UpLead Trial
Lead generation doesn't have to be all that painful. With UpLead, you can easily connect with high-quality prospects and leads to grow your company.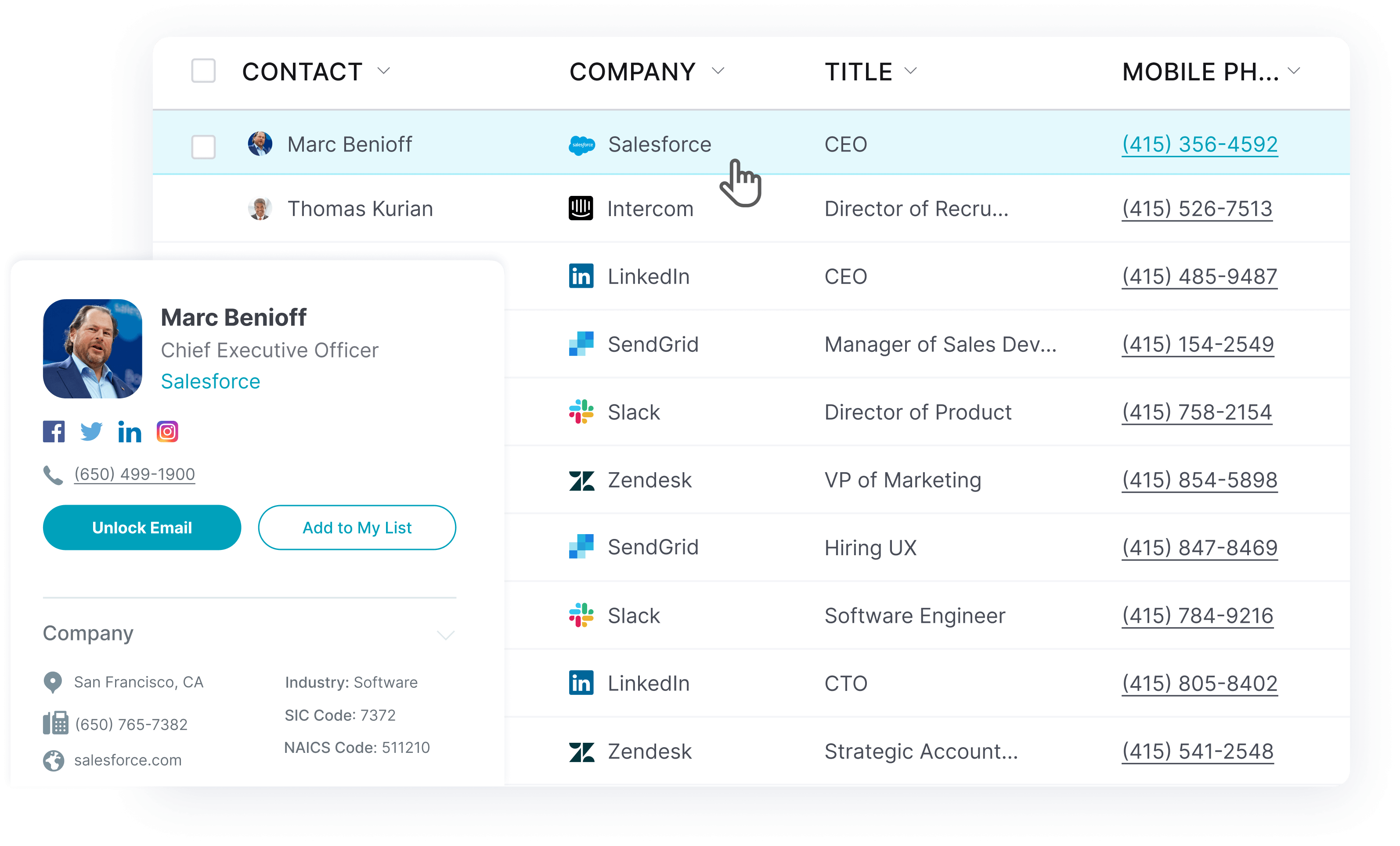 Mailshake for Cold Email Outreach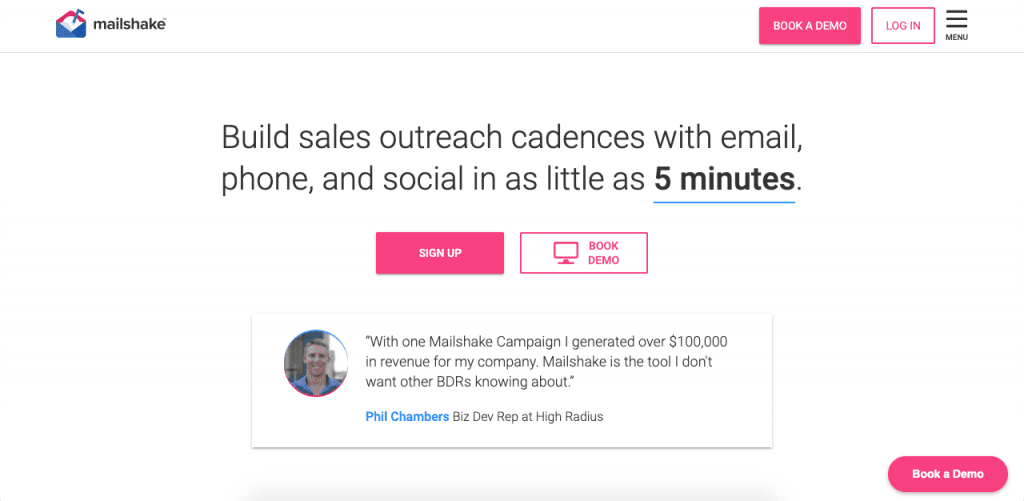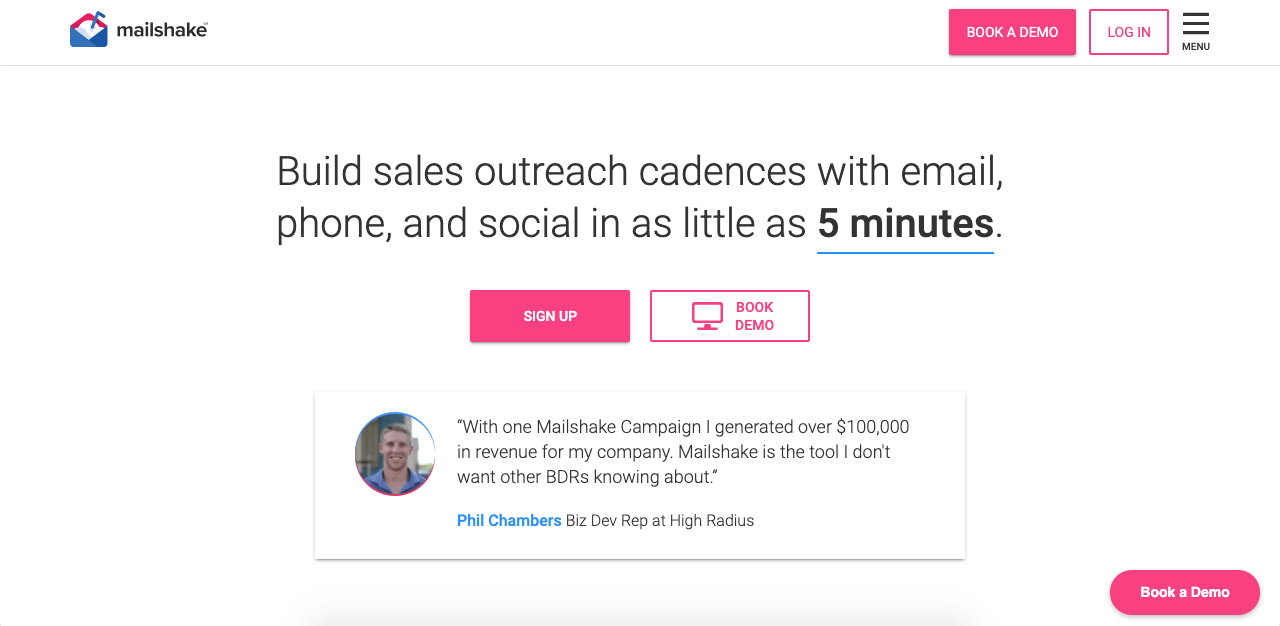 Mailshake is a great email platform specifically designed for sales and cold emails. You can upload and manage your leads through your Gmail account and social media to easily upload new leads as you find them.
Mailshake also integrates with multiple tools, like several CRMs, Zapier, and Google Sheets, so you can keep up with your leads using the tools you already love.
LinkedIn Sales Navigator for LinkedIn Outreach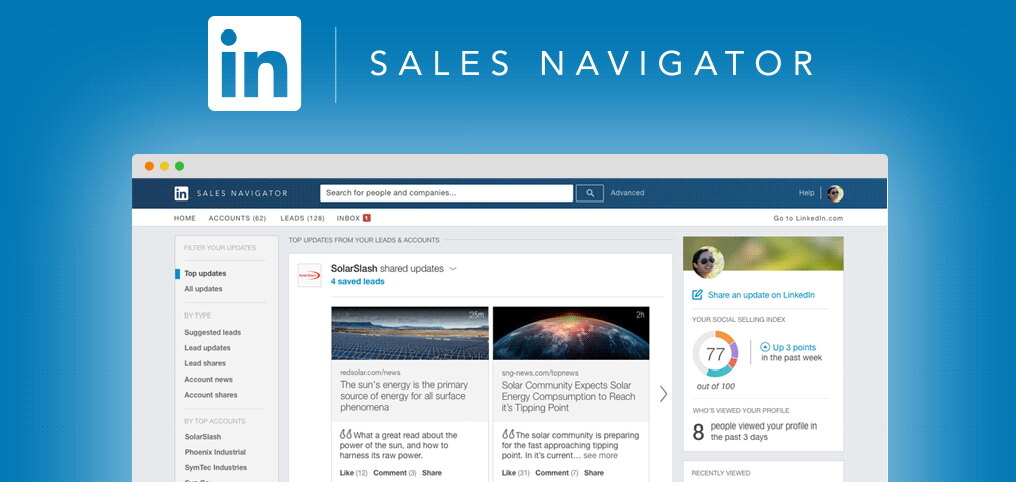 The LinkedIn Sales Navigator is a browser to find leads through LinkedIn's database. With it, you can easily identify highly qualified leads, filtering them by their registered company, job position, and the rest of their LinkedIn profile information.
While the obvious limitation of the Sales Navigator is the users' LinkedIn presence, it's a great tool for anyone already using LinkedIn.
Aircall for Cold Calling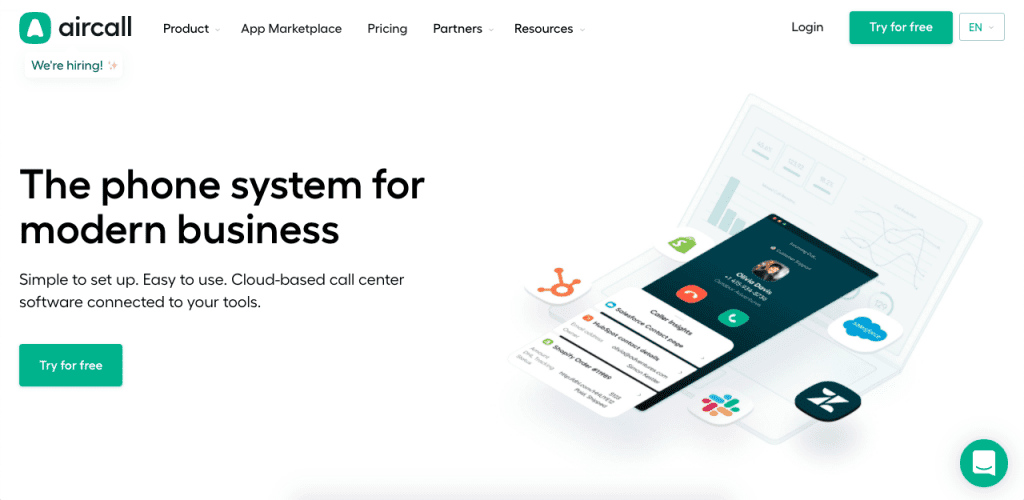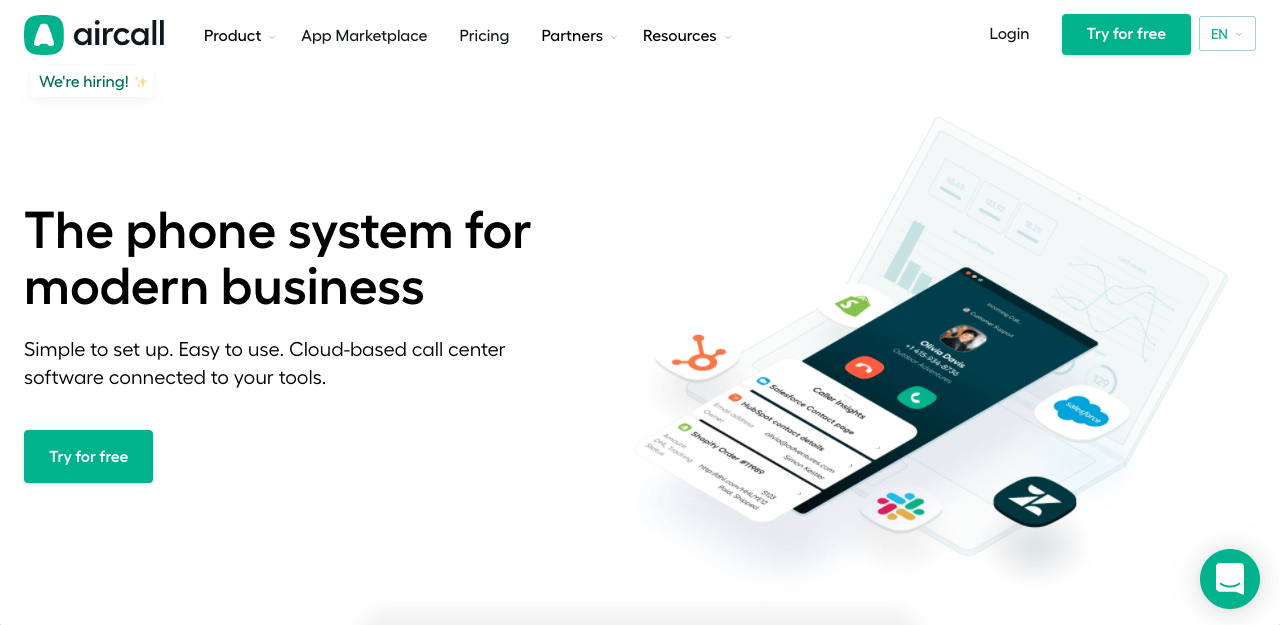 Aircall is a powerful and scalable cloud-based phone system. You can easily integrate it into your CRM to start adding and calling numbers from over 100 countries.
Scaling it up or down is very simple, allowing you to scale your teams according to seasonality and letting your remote workers use the tool anywhere in the world.
With Aircall, you also get great analytics that will allow you to keep track of your KPIs in real time.
Great Outbound Prospecting Examples
Here are a few great outbound prospecting examples to get you inspired:
Inspiring Cold Emails
Get inspired with these amazing emails:
1. Using a clear CTA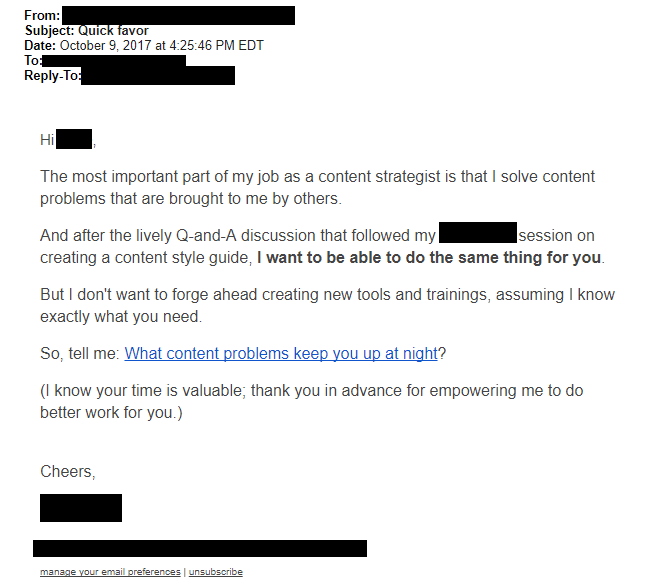 Source: Nutshell
The company received this email after one of its employees attended a session at a large marketing conference.
As you would imagine, this email is worthy of praise for many reasons, mainly the CTA.
By breaking up the text, the CTA naturally gets a clear spot in one line, and the hyperlink makes it pop out of the email.
This is so effective that the company that received it uses it as an example of how to write clear CTAs.
2. Personalizing your approach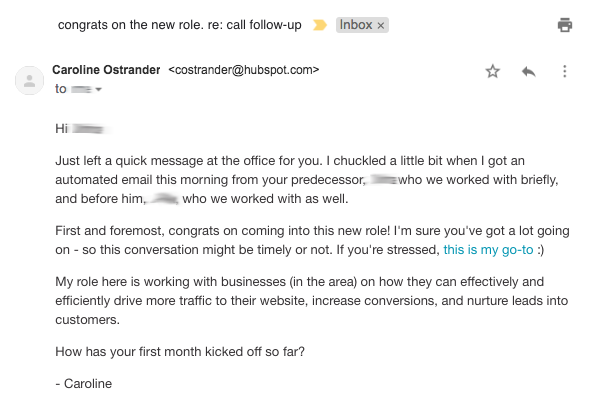 Source: SalesHacker
We all know people don't want to be sold to. A great way to avoid this while selling is by using events as a bridge between a salesperson and a lead to get a pitch in organically.
This email, for example, is so good at generating rapport through events that culminated in the lead asking for a meeting with the salesperson.
Although it's hard to scale up, personalizing your approach definitely pays off conversions.
3. Keeping it simple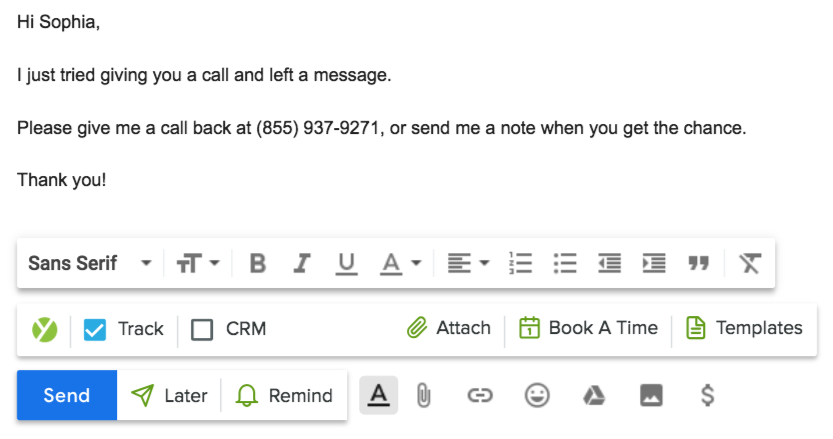 Source: Yesware
No one wants to sit down and read a wall of text sent by some stranger. That's why you should always simplify your approach wherever you can.
Remember: your priority is to get your lead interested. There will be time to talk in-depth about features and expertise.
When in doubt, shorter is always better than longer.
Powerful LinkedIn Outreach
Here's how to reach out to LinkedIn leads:
1. Finding people in common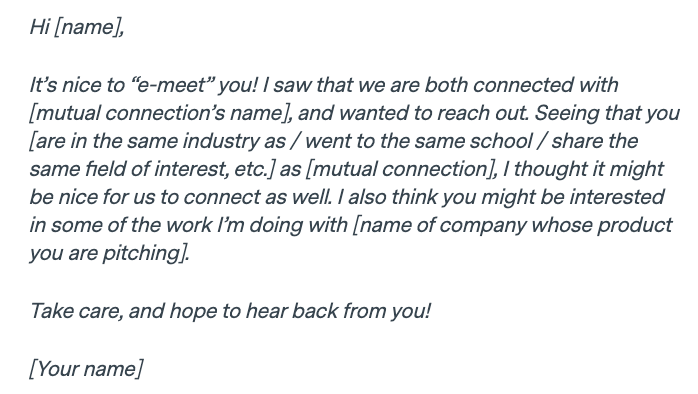 Source: Hatchbuck
If you happen to have people in common, use that knowledge. Letting them know you have someone in common creates easy ground and helps break the ice.
Moreover, having someone in common will place you above any other stranger because someone they know already knows you, making you look one step away from a recommendation.
2. Being direct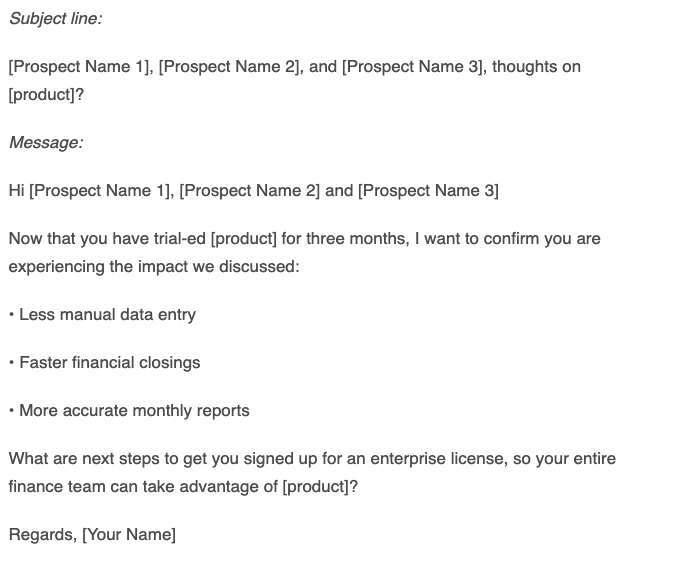 Source: LinkedIn
We've mentioned several times that people don't want to read boring information.
In this template by LinkedIn itself, you can clearly see how less can sometimes be more. Try to keep your email no longer than 150 words. Use shorter sentences and break apart your text so your audience can read it within seconds.
3. Targeting their pain points
Source: Tom Mallens
Knowing your audience's pain points is half the battle. If your solution perfectly aligns with their pain points, all you need is to let them know.
In this example, you can clearly see how the sender uses social proof to show how he has fixed pain points before, which makes the message clear: "I've done it before, and I can do it again for you."
Let your audience's pain points take center stage and lead the conversation to the solution: your product.
Convincing Cold Calling Scripts
Here are some powerful cold call scripts that show you how to better sell solutions over the phone:
1. Asking the right questions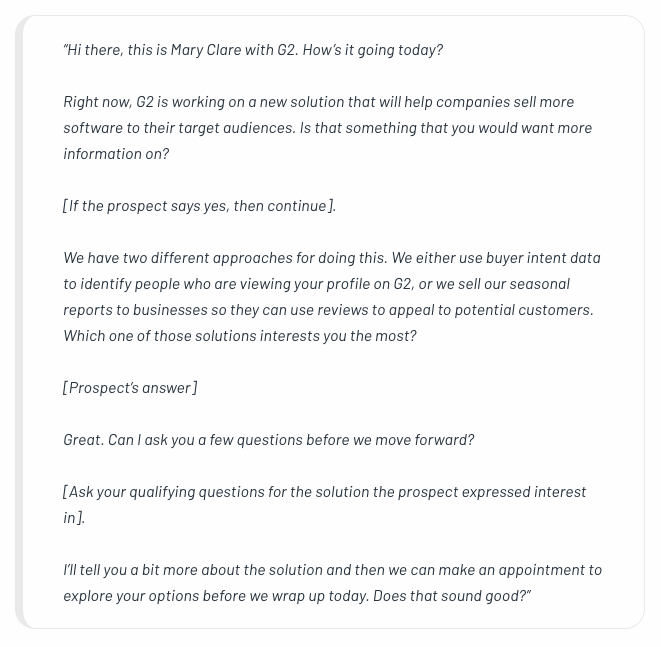 Source: G2
Don't just call people. Instead, fill them up with information and ask them to buy something. You need to tailor the information, letting them choose where they want you to expand.
This great template lets you do just that. With it, you can take the guessing out of the equation, asking your lead to choose between two options.
By slowly building up to your solution, you can make sure the solution is right for your lead, and your lead can organically learn the right information through the phone call.
2. Navigating around gatekeepers
Source: Pipedrive
Navigating around gatekeepers can be very tricky when contacting someone by phone. You want to do it as quickly as possible, giving the gatekeeper the right amount of information to get through to the lead.
Sometimes, the simpler you can keep things, the better. This template shows you how you can quickly give enough information to the gatekeeper, establish rapport, and ask to go through as quickly as possible.
3. Avoiding objections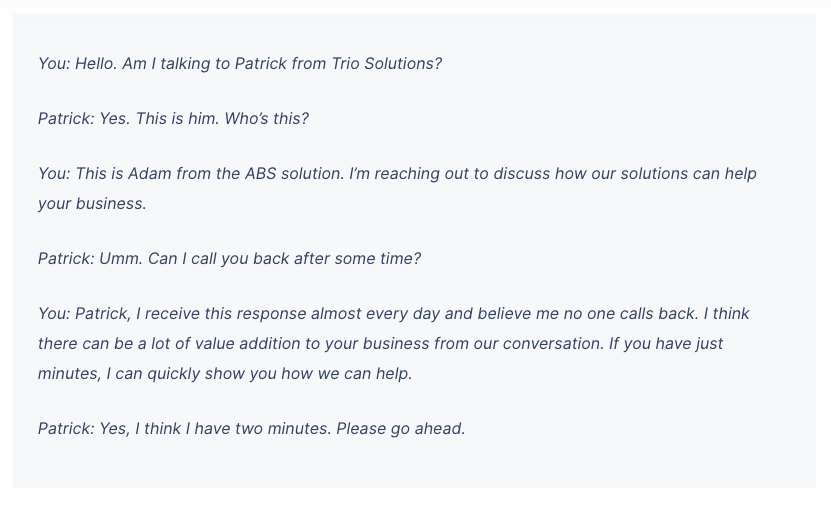 Source: Salesmate
The most common objection you'll get while on the phone is someone saying, "Can I call you back?". That's why writing scripts for this and the rest of your most common objections makes sense.
This script, while direct, lets your salespeople move around objections while being direct and honest with the person. It reassures the lead, letting them know that this won't take long, and adds a bit of mystery to engage the user.
Conclusion
Outbound prospecting is incredibly important and valuable if you want quick results in your sales strategy.
Do you already know your user persona? Plug their description on UpLead and start generating leads now.
Start Your 7-Day Free UpLead Trial
Lead generation doesn't have to be all that painful. With UpLead, you can easily connect with high-quality prospects and leads to grow your company.