If you're a sales and marketing professional, understanding the role of a lead generation specialist is essential to building successful campaigns. To optimize customer outreach efforts and increase B2B lead generation results, many teams are turning to dedicated specialists who can provide strategic insights into the best practices for customer acquisition.
From executing prospecting initiatives, facilitating lead segmentation and qualification processes, and coordinating effective content creation strategies – these professionals have an array of vital tasks to manage. This article provides an overview of the job and the value specialists can provide to marketing and sales teams to help you succeed in this field.
What Is a Lead Generation Specialist?
Lead generation specialists help the sales team bring in new leads, allowing companies to scale without worrying about additional resources. These specialists act as a "force multiplier," ensuring leads come in consistently and don't slip through the cracks. A lead generation specialist can be an important resource for growing companies that need an extra hand in bringing in new sales leads.
With a lead generation specialist on board, sales teams can focus on the customers already in their pipeline while the lead generation specialist searches for more potential opportunities. Hiring a lead generation specialist is advantageous because incoming leads can sometimes overcrowd the existing capacity of your current team and make it challenging to capture them all. Skilled specialists understand the importance of capturing solid leads and ensure you don't accidentally miss out on promising prospects.
What Does a Lead Generation Specialist Do?
As a sales or marketing professional, you know that some of your most critical successes come from being able to generate leads for your business effectively. But do you understand what a lead generation specialist does and how it could benefit your team? To gain more insight into the role, let's dive into the role of this specialized position and explore the many benefits it can bring to any sales and marketing strategy.
Seeks Out Potential Leads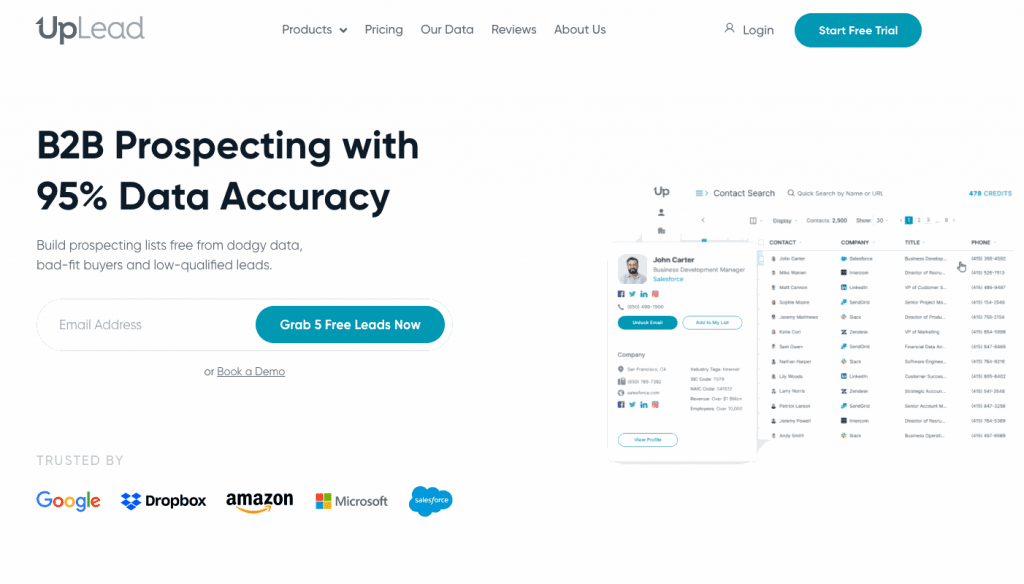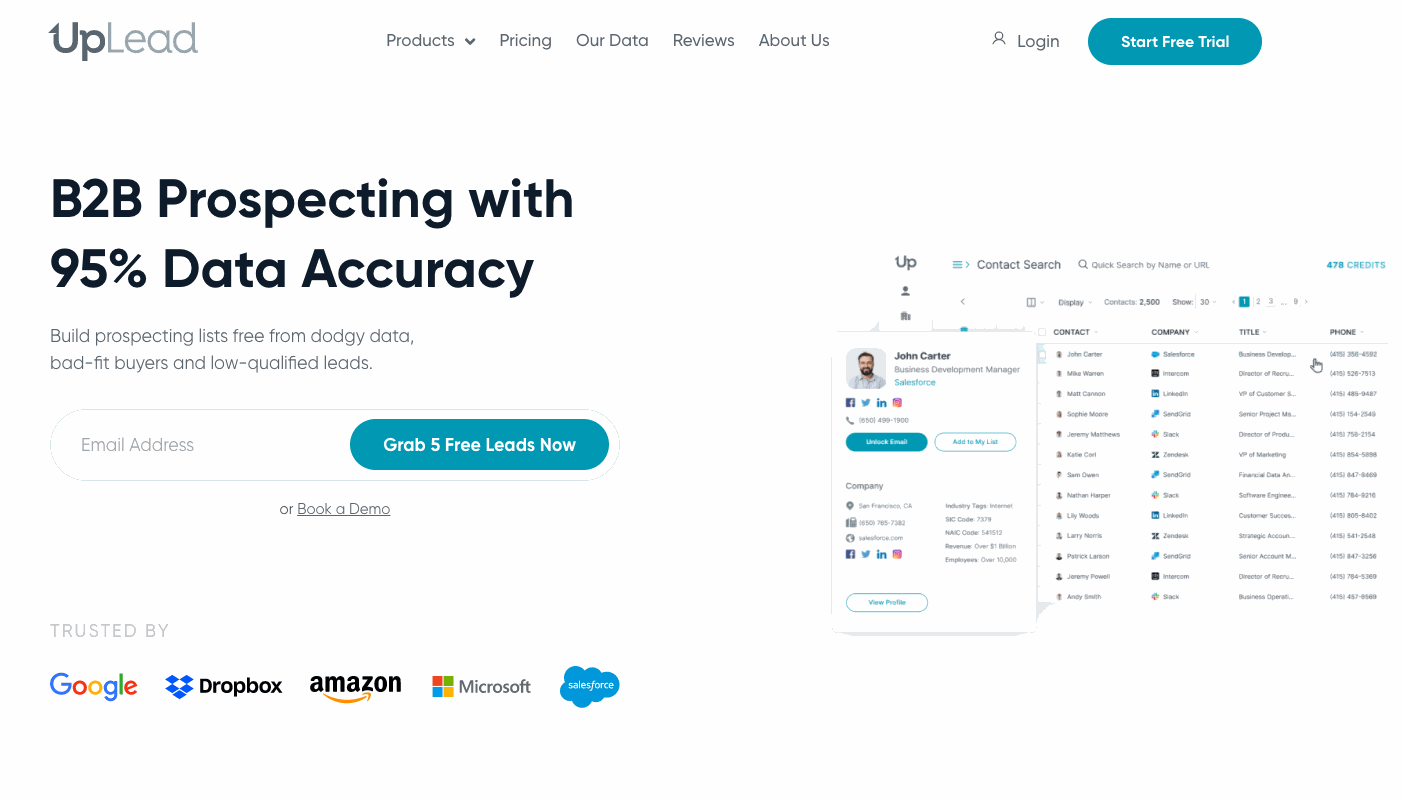 A lead generation specialist plays a vital role in generating new business opportunities. They aim to seek out potential leads and initiate contact with them through multiple channels, including cold calling, emailing, or other low-touch campaigns. These specialists use sales intelligence platforms, LinkedIn, warm referrals, and more to build a top-of-the-funnel sales pipeline. They will also follow up with prospects to keep them engaged. Once a sales opportunity has been identified, the specialist will conduct research and outreach to determine the best action— from scheduling demos to offering special deals.
Maintain Contact Database
Lead generation specialists play a pivotal role in sales by ensuring that contact and lead data is accurate, up-to-date, and relevant. They are responsible for maintaining and updating customer relationship management (CRM) databases, adding notes to client data as needed, evaluating lead data and keeping it current, and adding new leads to the system. Additionally, they analyze lead data to identify any trends or correlations that may be useful in improving the sales process. This role can significantly impact an organization's sales through their dedication and attention to detail in managing the lead contact database.
Sales Direction
A lead generation specialist provides valuable insight to sales teams through the data-driven direction. Analyzing B2B lead generation and conversion information, they can make informed recommendations on which lead generation strategies the sales team should pursue when following up on leads. In other words, the best lead generation specialists guide the sales team by producing relevant metrics and proactively suggesting appropriate courses of action based on their findings. With data-driven decisions, they help the sales team drive more conversions and optimize lead-generation campaigns.
Inbound Marketing Support
Lead generation specialists assist the marketing team in qualifying incoming leads and ensure that only high-quality leads belong to their list. This is especially important when a business has too many leads, as it is otherwise difficult to keep up with the influx and triage them accordingly. A lead generation specialist needs to match marketing criteria against likely prospects, answer consumer inquiries, assess web conversions, and more. As such, these specialists help reduce the workload on marketing teams while delivering valuable insight into prospect behavior.
Process Optimization
As lead generation specialists conduct their lead gathering, they're responsible for recommending ways to improve the lead generation process. Through their cumulative understanding of their target audience and what outreach works, specialists can develop better techniques for lead generation. This ranges from top-of-the-funnel activities, such as researching potential leads, to qualifying the best sales intelligence software that can be used in the sales process. Ultimately, a vital component of a lead generation specialist's job is to find creative solutions to help their organization maximize high-quality leads.
Start Your 7-Day Free UpLead Trial
Lead generation doesn't have to be all that painful. With UpLead, you can easily connect with high-quality prospects and leads to grow your company.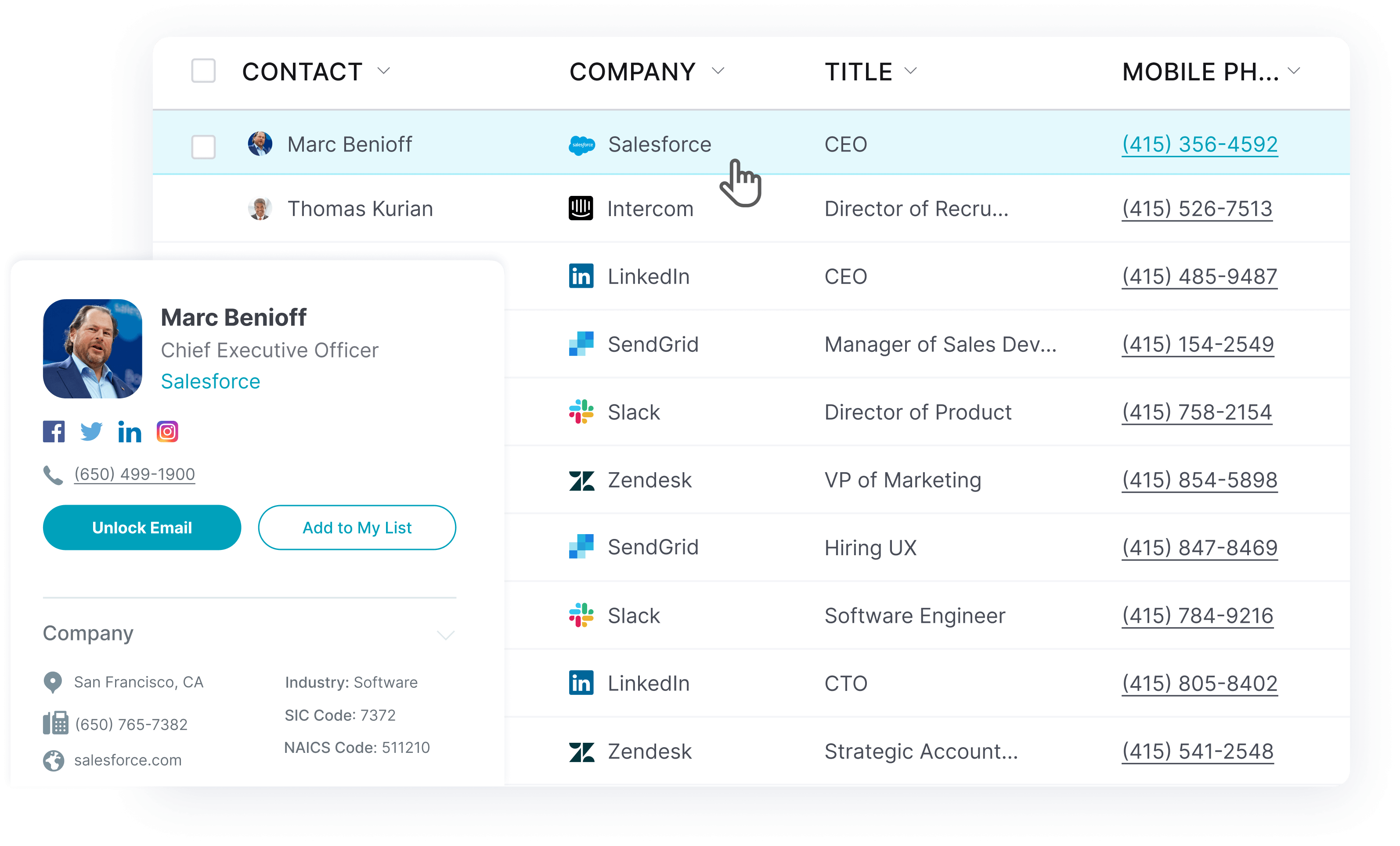 Key Lead Generation Specialist Skills
Generating leads is an essential function of any successful sales and marketing team. Lead generation requires specialized skills to identify, develop and attract the right customers for your business. Below are some critical qualities needed to become a top lead generation specialist and how to look out for these skills as you onboard a new specialist.
In-Depth Research
For any lead generation specialist, in-depth research is a fundamental skill. Lead gen specialists can identify and create high-quality leads by gathering the correct data, identifying prospects' pain points, and looking at competitors and search intent. These skills enable them to develop solutions rooted in a deep knowledge of the customer's needs, presenting and advertising your company's services in attractive ways to new customers. This requires honed research skills and an ability to navigate shifting business trends to acquire quality leads for the team. In-depth research runs parallel to lead generation, delivering information from which industries, companies, professionals, and future products can be targeted.
Data Analysis
Effective lead generation depends on the specialist's ability to analyze their data and understand critical sales metrics, including the time to convert, how many follow-ups are necessary to engage prospects, conversion, and drop-off rates. Comprehending these metrics is essential for these specialists since it allows them to adapt and optimize the overall process. With proficiency in this area, lead gen specialists can ensure their campaigns are effective and achieve the desired results.
Sales Knowledge
A successful lead generation specialist requires an intimate understanding of the sales process and platforms. These skills equip specialists to understand customer needs and how to nurture their leads through automation and personalization. By knowing Sales Platforms, a lead generation expert becomes more proficient in understanding customer interests and prioritizing customer data analytics. A key attribute for this position is raising leads effectively, given customer specifications, budgets, initiatives, and available resources.
Communication
Communicating effectively with leads is pivotal for making an excellent first impression. This interaction is the leads' first entry point into your company, and successful lead generation specialists need to be able to communicate with potential customers in a professional tone of voice that accurately reflects your company's brand. Clear, unambiguous scripted conversations are necessary when conversing with leads so they better understand what you're offering them regarding products and services. Communication enables leaders to make more informed decisions on whether or not they are ready to take the desired action step with your organization.
Problem-Solving
Successful lead generation specialists understand how to use problem-solving skills to their advantage. They need to think quickly and offer practical solutions to engage prospects who may be wary of cold calls or emails. Understanding a customer's needs and knowing the best approach requires creativity, lateral thinking, and appreciation for the customer's feelings throughout the lead-generation process. The ability to solve problems makes conversations productive, streamlines sales cycles, and maximizes ROI. Therefore, it is an essential skill for any lead generation specialist.
When to Consider Hiring a Lead Generation Specialist
Knowing when to hire a lead generation specialist is essential for any marketing team. It's crucial to take a step back and assess your overall goals, whether raising awareness or building a more qualified pipeline of prospects. Doing this will ensure you customize the role of the lead generation specialist to optimize their strategies toward success.
Not every sales team necessarily needs a lead generation specialist. Many sales and marketing teams have an established sales process that can be continuously improved internally. If you lack sales resources and need to scale your leads quickly, a lead generation specialist can provide targeted expertise without over-bloating your sales team. Another moment to consider recruiting a lead generation specialist is when you could benefit from expert insights to help optimize your sales cycle.
When hiring a lead generation specialist, you should carefully consider their track record in generating high-quality leads and their adaptability to your business needs. These skill sets are integral to ensuring a specialist who can customize their approach to your business. In addition, industry specialization is critical; having someone knowledgeable about the lead generation process and nuances of any given market will make a huge difference since different markets and consumer segments use other sales techniques.
Hiring a specialist versed in the nuances of your industry can go a long way in scaling lead-generation efforts. It's also essential for the specialist to have strong interpersonal skills and build a rapport with potential clients as their first point of contact with your brand. 
UpLead is the Best Tool for Lead Generation Specialists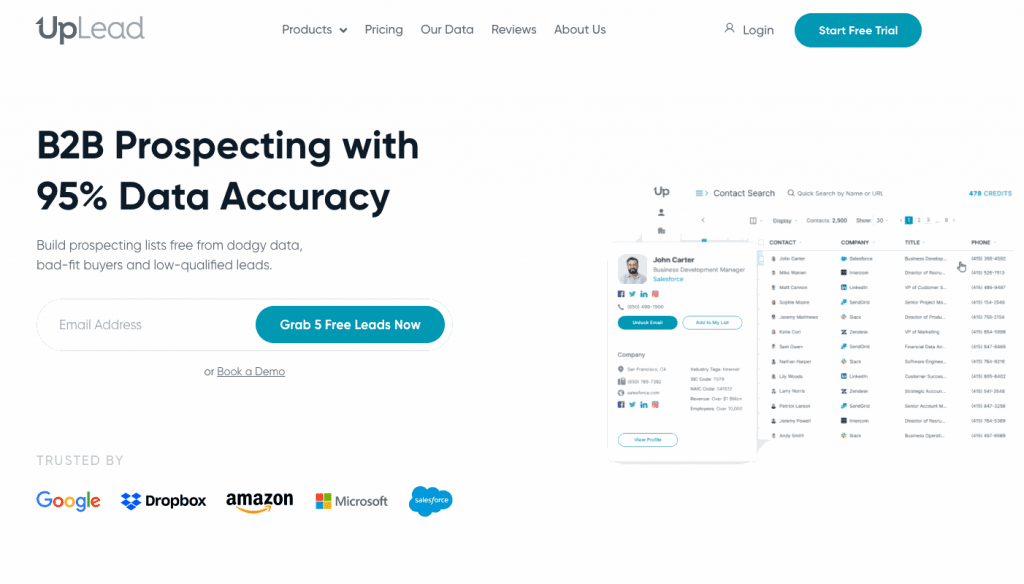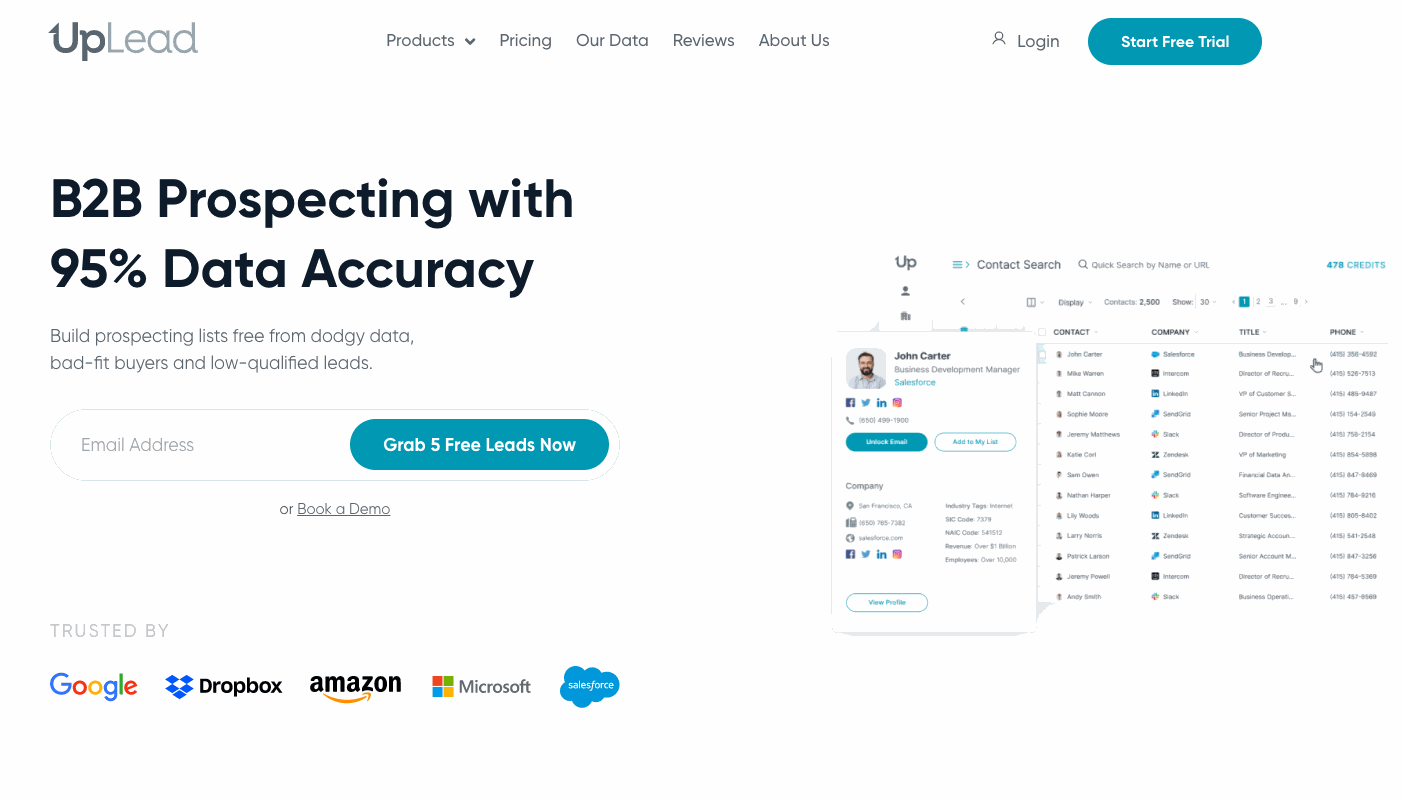 UpLead is a powerful platform to propel your lead generation efforts forward. The lead generation tool provides access to over 140 million contacts and 16 thousand technologies tracked for sourcing leads. Not only does the platform deliver high-quality data with 95% accuracy, but it also gives you visibility into multiple facets of your lead contact data. As a result, this drastically reduces your sales teams' efforts in managing your lead contact data. Identifying and nurturing potential leads is automatically done with UpLead, meaning the time you would have spent to do this manually or hire a specialist is minimized. UpLead gives you access to high-caliber leads and lead-nurturing workflows in an easy-to-use platform.
If you're looking for an efficient way to scale your high-quality lead count, UpLead can help automate your lead generation. Try it now and see compelling sales results quickly!
FAQs
Below are a few of the most frequently asked questions about lead generation specialists.
What is a lead generation specialist JD?
Lead generation specialists identify and engage potential customers through various marketing channels, typically using email, social media, advertising campaigns, and webinars to qualify leads and create relationships with target audiences. Additionally, these specialists track the success of their efforts by analyzing response data such as user engagement levels, open rates, and click-throughs. Lead generation specialists must be creative in developing new ways to capture customer interest while having a solid understanding of measuring your success rate. 
Is lead generation a hard job?
Lead generation can be challenging, requiring strong communication and organizational abilities. A successful lead generation specialist must identify prospects and qualify them as potential buyers of products or services. They must also actively pursue leads through cold-calling, networking, or digital marketing efforts and build relationships with prospective customers.
What You Need to Remember About Lead Generation Specialists
Lead generation specialists do much more than find leads. They are an essential link to proactively engaging prospects, making them an invaluable addition to the scalability of your sales team and procedures. UpLead acts as a specialized lead generation specialist with a 95% accurate lead database and segmented leads, allowing you to determine which targeted, verified leads best fit your solutions without the additional manual lead generation work.