Inside sales refers to sales made "inside" the office. The majority of sales work could now be considered to be inside sales (aka remote sales). But are you and your team set up for success? Do you have the right tools? Here's a closer look at the software for inside sales that can skyrocket your sales.
What Is Inside Sales Software?
Inside sales software refers to the tools that help you and your team close deals from inside your office. These tools cover a wide range of functionality and help you perform key tasks (e.g., generating leads, managing leads, and organizing meetings).
Since there are now more inside sales tools than ever, you have to develop a strategy to assess the quality of the tools out there to pick the most suitable options. In this guide, we're going to look at the leading tools in each category. To give you a detailed and informative overview, we'll explore each tool's key features and pros and cons.
Inside Sales Software
We've divided the best inside sales software into a range of categories. So let's take a closer look…
Lead Generation
Lead generation is the process of stoking customer interest in your products or services, then inspiring those leads to initiate contact.
UpLead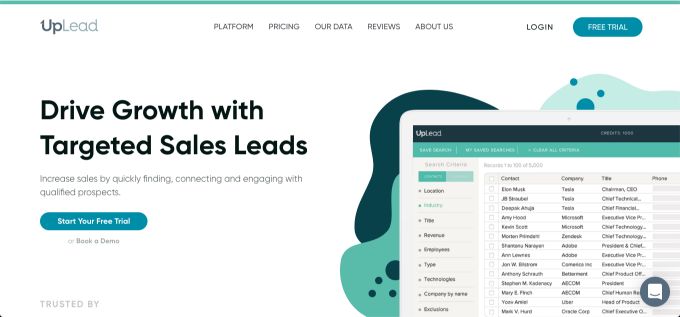 UpLead is an online B2B data provider and sales intelligence platform which provides users with access to a rich, accurate database of over 135 million verified business contacts and companies. This tool helps businesses drive growth by targeting the right sales leads.
Main features
Build targeted lists.

Filter them according to a range of criteria.

Clean and verify all data.

Append data to further enrich it.
UpLead is one of the best data providers and sales intelligence platforms, thanks to its built-in real-time email verification and targeted lists. You can rest assured that you'll get quality data every single time.
Start Your 7-Day Free UpLead Trial
Lead generation doesn't have to be all that painful. With UpLead, you can easily connect with high-quality prospects and leads to grow your company.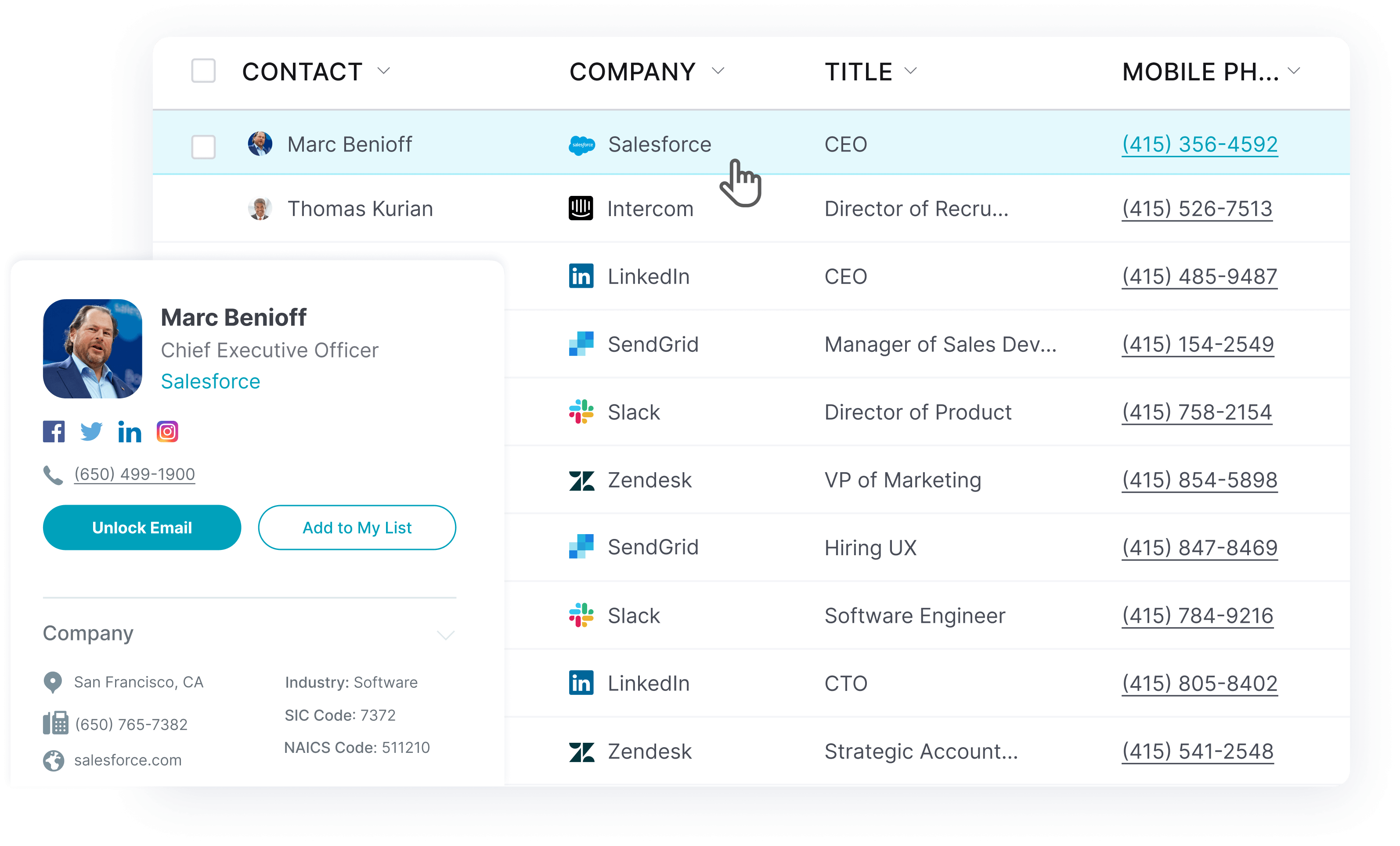 Zoominfo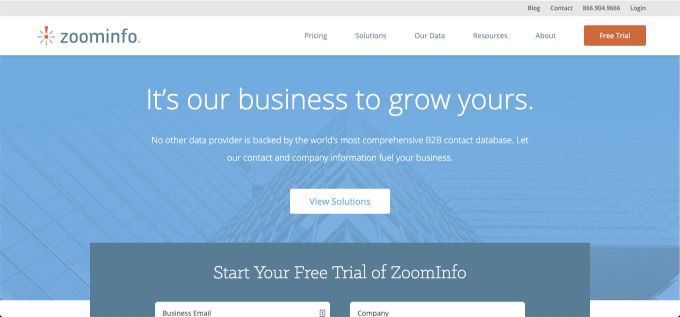 Zoominfo marries data and technology in order to offer businesses around the world a comprehensive lead database. To get better results, these businesses can explore data and user behaviors.
Main features
Contact discovery

Content import and export

Lead database integration

Lead scoring
Pros
It's simple to use.

There are lots of data fields.
Cons
You can export a lot of data at one time.

Its LinkedIn data is often inaccurate.

The number of leads users can export is limited.

Its data is sometimes outdated.

Pricing is out of budget for many companies.
If you're looking for an affordable ZoomInfo competitor, give us a try.
Lead411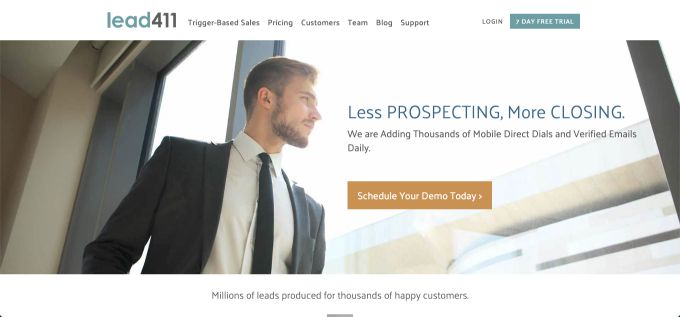 Lead411 is a lead intelligence platform that empowers salespeople to verify prospect data and send key messages at the right time – hoping to boost conversion rates.
Main features
Activity tracking

Lead segmentation

Pipeline management
Pros
It's easy to build lists.

There's lots of verified information.
Cons
The information is often inaccurate.

It requires the use of a secondary verification tool.

While leads are frequently added, they aren't checked for quality.
Cloud Phone System
Nextiva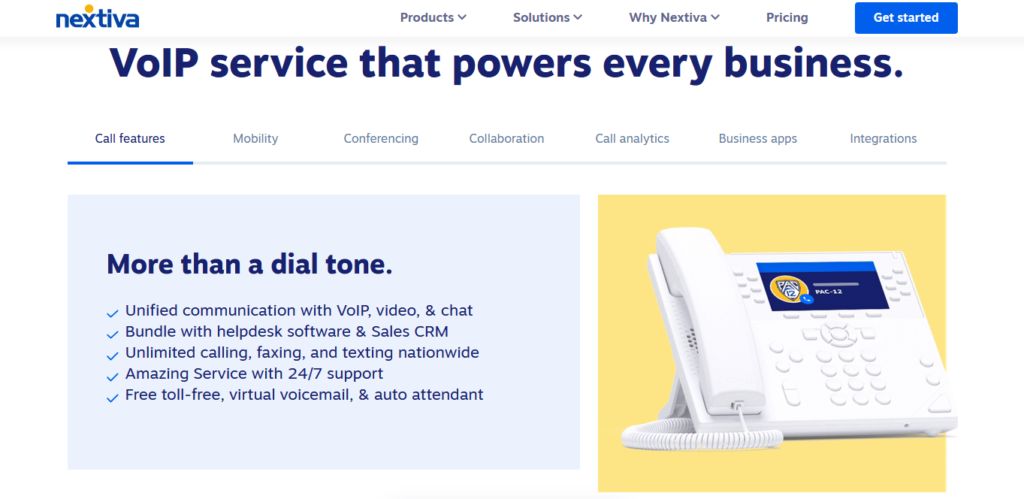 Nextiva combines a cloud phone system, cloud contact center, SIP trunking provider, mobile app, video meetings, and collaboration tools with unified communication into one platform.
Nextiva is great for businesses of all sizes that are specifically operating in or moving their phone systems to the cloud.
Nextiva customers have no trouble quickly getting through to professional and attentive support staff to resolve any questions they have 24/7 any way you like: phone, email, or chat.
Nextiva offers several pricing tiers, ranging from $11.95 to $26.95 per user per month with an annual payment.
Main features:
Phone System


Contact Center


Video Meetings


Collaboration


Mobile App

Automation

Analytics

Call Popping and forwarding

Customer Service & Sales Tools
Pros:
Customer Service – by far one of the best in the industry,

can always get a hold of a rep and they take care of any issues very quickly.
Easy to use: the product for both desktop and mobile devices is intuitive and easy to use.
Easy to customize: they offer different products on what you need. Not everyone needs a call center or full-out conferencing solution.
Reliability: never goes down. In the

last 8 years has not experienced any outages.
Cons:
Can be a bit overwhelming to choose exactly what you need since there are so many different options available

Integrations can be tricky, make sure you know exactly which other software you'd like to integrate with
Lead Enrichment
Lead enrichment is the process of enhancing the quantity and quality of the information you have about your leads. This tactic can increase your chance of success. Luckily, there are a wide variety of lead enrichment techniques out there.
UpLead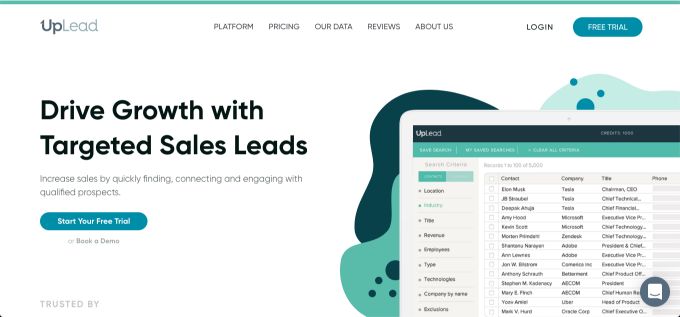 UpLead can boost your sales enrichment activities by enriching and enhancing your data. It offers many fields, including contact names, email addresses, titles, company names, physical addresses, websites, and more.
Main features
Enhance your existing information from over 50 different data points.

Upload owned data, and receive matching information.
UpLead's information is impeccably accurate and rich. So if you're hoping to close more sales and enrich your lead data, there's no better alternative. The supplementary features also make UpLead an unbeatable proposition.
Clearbit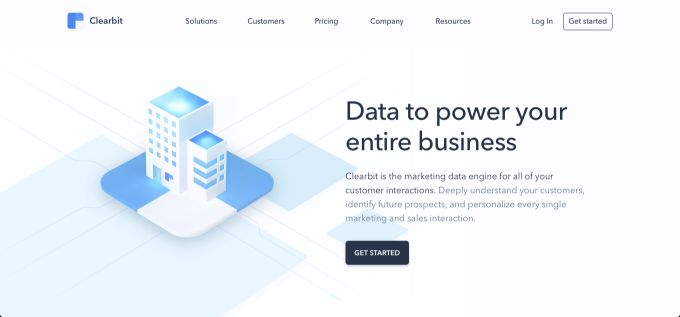 Clearbit helps companies of all sizes understand their customers, identify future prospects and personalize each stage of the marketing and sales process. It achieves these goals by providing accurate data, sales alerts, and job-change notifications.
Main features
Turn anonymous traffic into company profiles.

Capture leads via forms.

Discover ideal accounts with a prospecting tool.
Pros
It saves you time, which you can devote to research.

It provides fast, reliable information.
Cons
The loading times can be quite long.

It provides limited membership options.

It has issues with accuracy.
Here's a list of popular Clearbit competitors.
Email Productivity
When it comes to inside sales, email is still king. Are you getting the most from this powerful communication method? Here's a look at some of the top email productivity software.
Yesware
Yesware is an inbox-productivity platform that helps salespeople achieve authentic email communication at scale. In other words, salespeople can simultaneously achieve enhanced results and communicate with more prospects. This tool is also easy to start using, as it boosts adoption throughout your team and further enhances results.
Main features
Audience segmentation

Campaign management

Location-tracking

Team management
Pros
It's user-friendly

It provides a powerful set of features.

It improves the productivity of salespeople.
Cons
It lacks a mobile application.

Its email editing is a little flawed.

It lacks customizability.
Rebump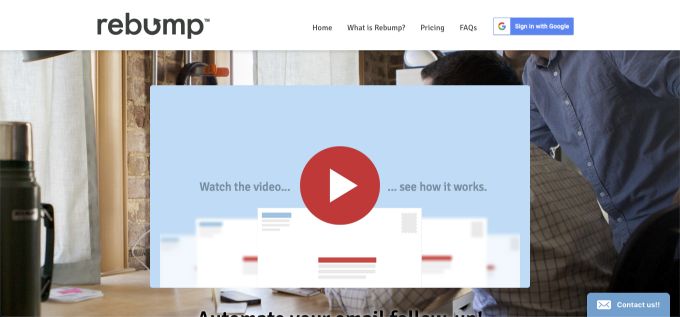 Rebump automates follow-up messages to make salespeople more efficient and effective. This tool sends these emails as if they'd been sent manually, which can help you foster closer relationships. Sophisticated tracking and analytics can also help you assess your success.
Main features
Email monitoring

Queue management

Response management

Shared inboxes
Pros
It's easy to create customized emails.

It saves a lot of time.

It helps users find effective templates.
Cons
It only supports Google addresses.

It has a quirky UI.
SalesHandy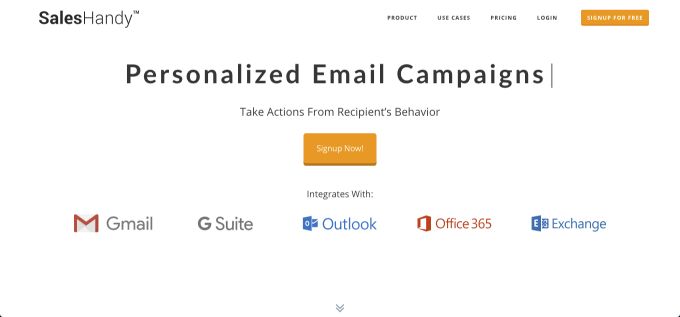 SalesHandy provides salespeople with data about email recipients and engagement and a suite of email-productivity features. These features include email scheduling, automated follow-up emails, behavioral insights, smart templates, and more. This tool is compatible with a range of email service providers.
Main features
Mailing-list management

Reporting and analytics

Email automation
Pros
It's simple to set up and implement.

The segmentation tools are powerful.

The reporting tool can create exportable reports.
Cons
It's somewhat expensive compared to other options.

There's no native mobile app.
PersistIQ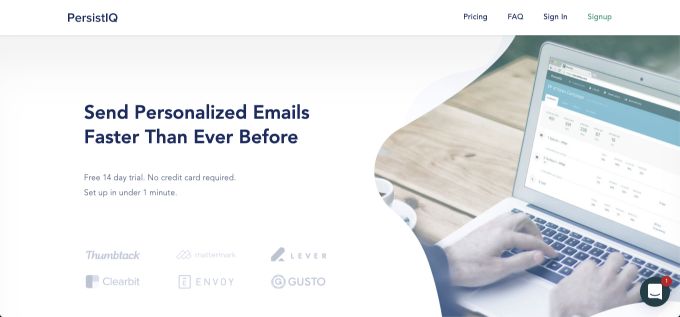 PersistIQ gives salespeople the ability to eliminate tedious parts of the sales process from their workflow. It achieves this goal by offering a robust system for communication and workflow that brings together a range of features that increase productivity. Strategic safety features also eliminate the possibility of embarrassing mistakes.
Main features
Activity tracking

Campaign management

Lead capture

Lead segmentation
Pros
It saves lots of time and automates essential processes.

It integrates with Salesforce and other tools.

It offers good value for the cost.
Cons
It's difficult to generate reports.

The tool can sometimes lag.

Some decisions aren't user-friendly.
Auto Dialers
The humble telephone is still an essential part of any salesperson's toolkit. These auto dialers boost phones and pull them into 2019 by offering a range of exciting, powerful features.
PhoneBurner
PhoneBurner is a power dialer that gives salespeople the ability to quadruple the number of calls they make in an hour. Its customer relationship management (CRM) can be used to manage and sort through these prospects, while its integration with Salesforce can keep everyone updated about its progress.
Main features
Appointment reminders

Calendar sync

Integrations with other platforms
Pros
It has the power to boost efficiency.

It helps raise revenues.

It's cost-effective compared to other options.
Cons
Some integrations aren't as simple as others.

It occasionally has bugs that cause errors.
CrazyCall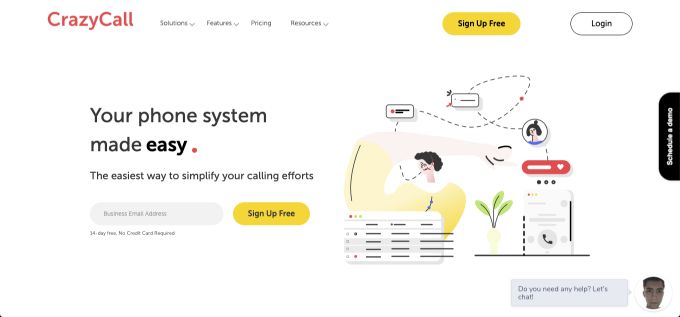 CrazyCall is a calling app that can be used by customer service teams, call centers, and sales teams – right from their browser. Since it's as simple as picking out a number and calling the prospect, there's no need for complex billing and installations. Specifically, This tool can increase the ROI of calls and website conversions.
Main features
Auto dialer

Call center management

Contact management

Outbound reporting
Pros
It takes the pressure off of salespeople.

Its recording feature has a playback option.

It makes salespeople more organized and efficient.
Cons
It doesn't have the capacity to create custom reports.

It has slow download speeds.

The setup can be a little complex.
RingDNA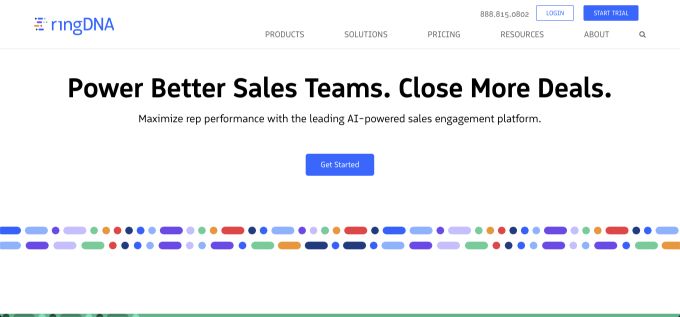 RingDNA is a sales acceleration platform offering salespeople various features that empower their calls. These features include call-performance analytics, automatic call-logging and reporting, and optimized sales workflows – all of which help increase performance and boost results.
Main features
Call-logging

Reporting

Workflow optimization
Pros
It's easy to set up new users.

The platform is relatively straightforward to use.

It's a lightweight solution.
Cons
Some hurdles can create confusion and reduce productivity.

There's confusion about how data is stored in Salesforce
Ring.io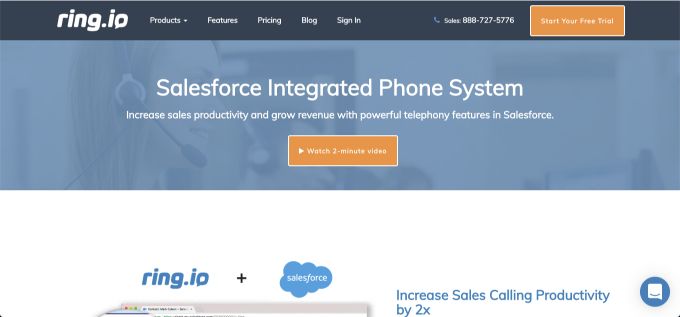 Ring.io is a telephony platform that can be integrated with the CRM of Salesforce and Zoho. This platform's tools help sales and customer support teams increase productivity and create better interactions with their targets. When it comes to inside sales, this tool can be an important way to engage with prospects effectively.
Main features
Call-recording

Lead capture

Lead management
Pros
Its "local ringing" feature automatically gives callers a local area code.

It fully integrates with CRM.
Cons
It lacks a mobile application.

The UI is somewhat outdated.

Call drops can happen.
Aircall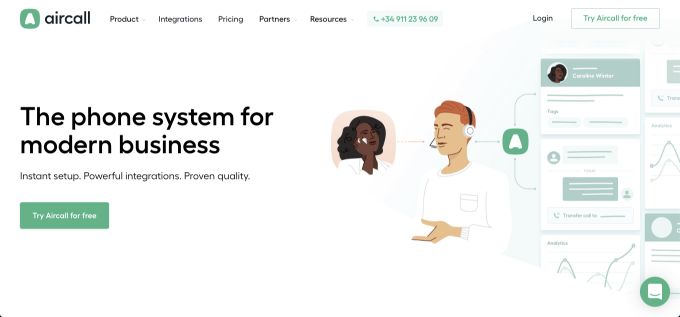 Aircall is a cloud-based phone system that integrates with a wide range of CRM and helpdesk tools. In other words, both sales and support teams can boost their productivity by using a suite of features, such as real-time analytics and the ability to add numbers from over 100 countries.
Main features
Blended call center (inbound and outbound)

Call logging

Call recording
Pros
It's easy to get started within minutes.

The mobile app means you'll never miss calls. n

The customer service team is responsive.
Cons
You'll need a strong internet connection.

It frequently releases updates, which require users to restart the tool.
CallHippo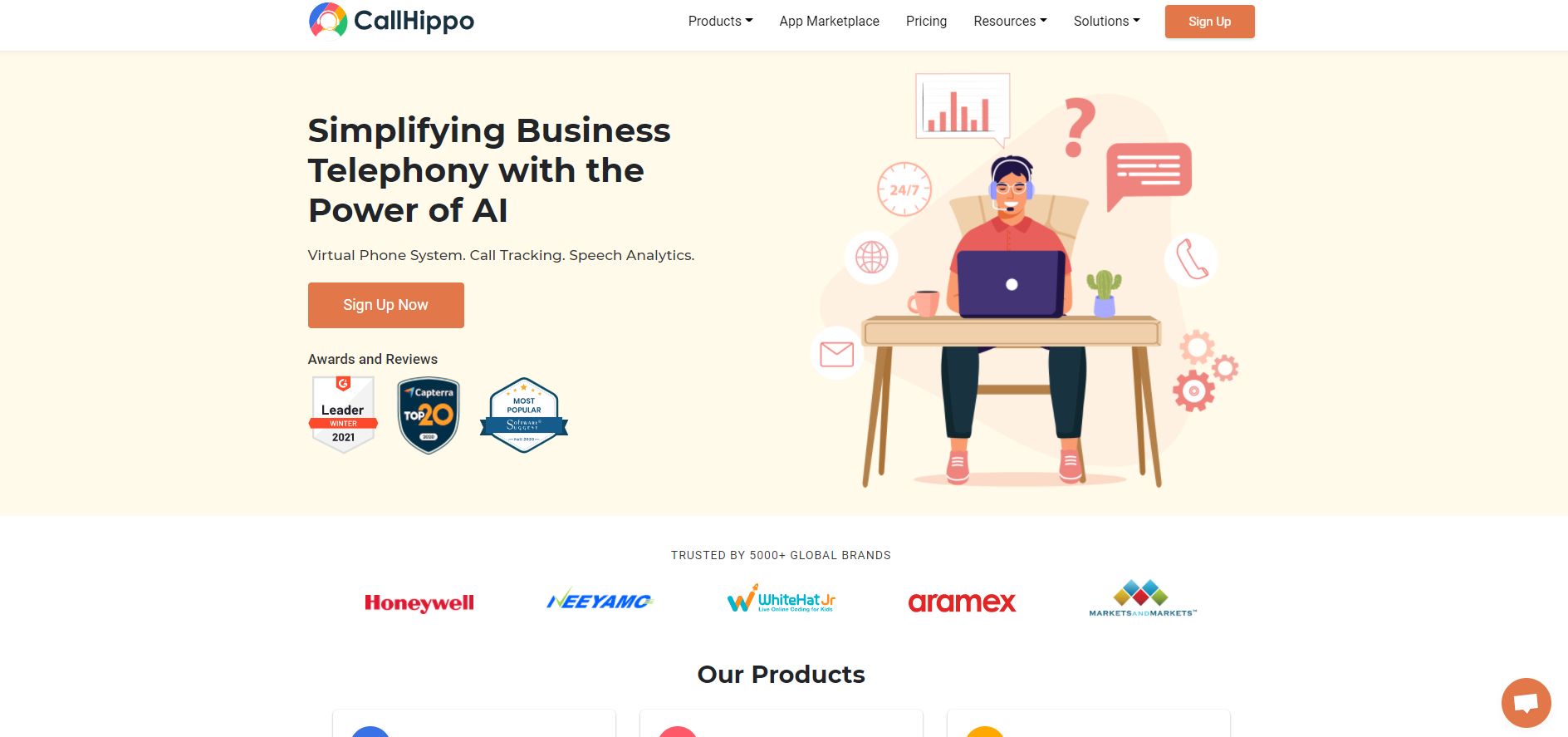 CallHippo is a modern-age business phone system that helps companies connect swiftly with customers around the globe. It offers advanced features like automatic call distribution, power dialer, call tracking, and call reporting. CallHippo offers world-class support via desktop and mobile applications and is trusted by over 5000 organizations worldwide.
Main features:
Advanced Call Analytics
User-friendly Interface
VoIP
Live Call Monitoring
Autodialer
Pros:
Quick implementation
Easy deployment
Flexible pricing
Robust training & support
Faster problem resolution
Cons:
Mac-deployment missing
Missing team-chat option
CRM
CRM is critical to any modern business. Since it can lend structure to inside sales, it helps sales and marketing teams qualify and distribute their leads.
Pipedrive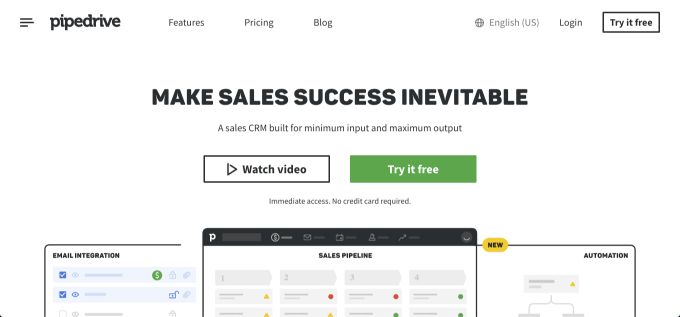 Pipedrive is a sales-focused CRM that teams of all sizes can use. This tool focuses on being as simple and usable as possible, and it offers powerful design and functionality that boosts the productivity and results of sales teams.
Main features
Document storage

Email marketing

Lead scoring

Internal chat integration
Pros
Its workflow automation is useful.

It's intuitive and well-organized.

It's reasonably priced.
Cons
There's no internal platform for emails. You have to use an outside platform.

Some features are slightly buggy.

The search engine is somewhat weak.
Salesforce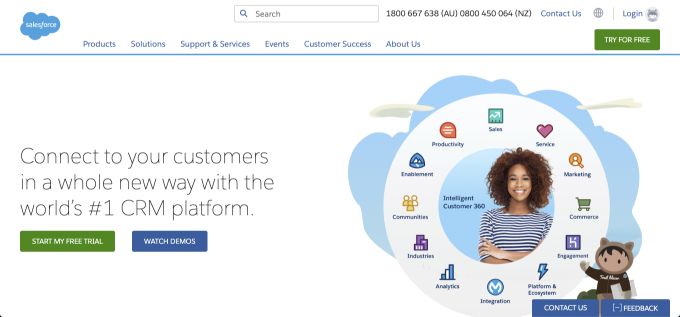 Salesforce is possibly the most popular CRM in the world. This platform has developed due to its ability to offer real-time customer information and activity in a single place. This information is augmented by a range of insightful dashboards and reports and countless integrations with a wide range of tools.
Main features
Document storage

Email marketing

Lead scoring

Segmentation
Pros
It's very easy to navigate.

It offers ample amounts of training and associated resources.
Cons
This tool is somewhat expensive for most businesses.

It's primarily sold as a sales tool.

Customer support can be hit-or-miss.

Salesforce's native CRM report builder is not as advanced as external Salesforce reporting tools (for advanced visualization, types of reports, and complex data reporting)
Zoho CRM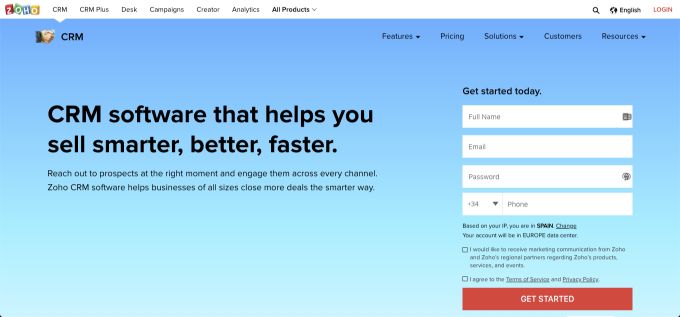 Zoho CRM is aimed at organizations of all sizes. It offers a complete CRM lifecycle solution that helps the entire organization harmoniously work together and use a single business system. In terms of inside sales, it offers features that help salespeople sell in smarter, better, faster ways.
Main features
Calendar/reminder system

Document storage

Email marketing

Lead scoring
Pros
Its pricing is competitive.

It has the ability to add web forms that capture leads.

It's very easy to customize.
Cons
It has a less premium feel than more mature options.

It lacks tutorials and guidance.
Hubspot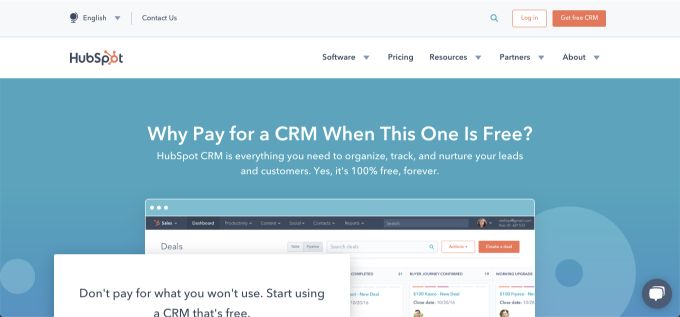 Hubspot offers free CRM that's simple to use, and it features tools that marketing, sales, and customer support can use. Its broad range of features is augmented by integrations with other platforms and Hubspot products, which helps increase productivity and improves the user experience in general.
Main features
Document storage

Email marketing

Lead scoring

Segmentation
Pros
It's easy to get started.

It's less expensive than its competitors.

It has a clean layout.

It has good mobile functionality.
Cons
Its workflows can be wonky.

Its support can be hit-or-miss.

Adding multiple email addresses and getting a single contact record is impossible

.
Insightly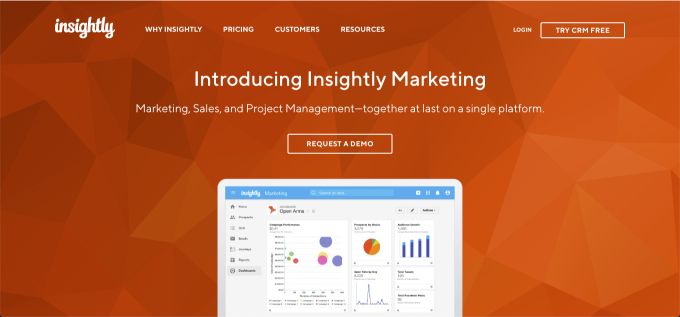 Insightly is powerful CRM software that offers native integrations with a range of popular applications. Businesses use it in a wide range of industries, so it adds value to every stage of the sales process. This tool can help with key tasks, such as linking customer relationships, delivering projects, building quotes, and more.
Main features
Document storage

Mobile access

Segmentation

Integration of marketing automation
Pros
It has a simple to-do list.

It's very easy to use.

Its training is comprehensive.
Cons
It lacks options and packages.

It's somewhat expensive compared to other options.

It's not the best visual tool.
Affiliate Software
OSI Affiliate Software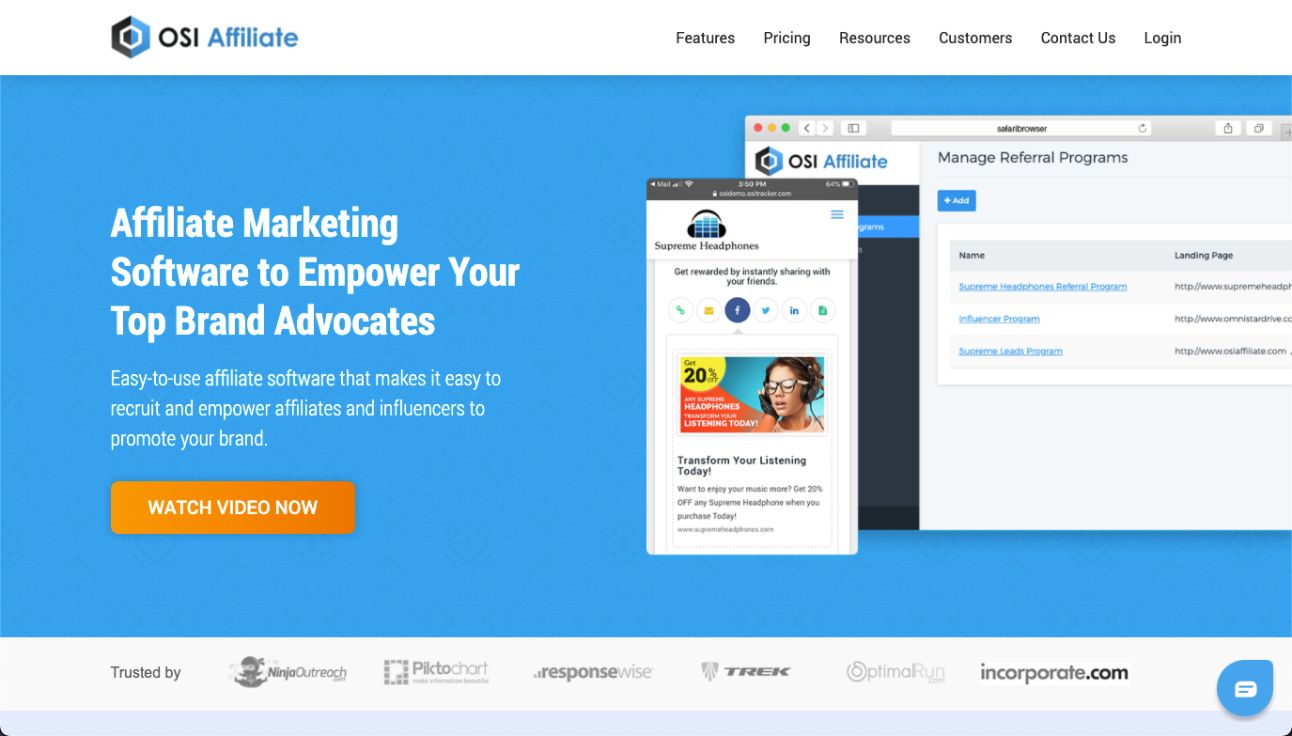 OSI Affiliate Software allows businesses to set up and manage affiliate and referral programs. This can all be done from a user-friendly dashboard where you can customize and enable the affiliate sign-up form, provide promotional assets to your affiliates, and manage commission payouts. Once fully set up and running, you can leverage your customers and outside affiliates for exposure to their networks to bring your brand more sales and leads.
Main Features
Social Media Sharing

Promo Code Tracking

Customizable Domain

Free Inclusion into Influencer Directory
Pros
Built-In Promotional Resources

Multi-Tier Support

Getting Started Wizard
Cons
It is mobile-friendly

but has

no native mobile app

Could use a few more reports
Inside Sales Software:
Conclusion
We hope that this closer look at the best inside sales software helps you work more effectively than ever before and close more deals. As you can see, there are lots of potential options out there that offer a significant amount of functionality. If you want to connect and engage with more prospects, be sure to check out UpLead today.