The telephone is a salesperson's best friend. Over 92% of all customer interactions happen over the phone. Sales staff have to make an average of eight attempts at cold calling before they finally reach a prospect. To work efficiently and get results, your team must use the best sales dialer tools.
What Are Sales Dialers?
Sales dialers help assist sales professionals with boosting results by helping them make more efficient and effective telephone calls. Many tools differ, in terms of the functionality they offer. Here's a closer look at the key features of sales dialers:
Predictive Dialing
Predictive dialers accelerate the speed and efficiency of sales professionals, which helps them make more calls and close more sales. Specifically, this tool automatically calls phone numbers to simultaneously boost efficiency.
Power Dialing
Pressing buttons on phones takes a lot of time, and it increases the potential for error. Power dialers allow you to automatically make calls, one after another. This feature can help sales teams focus on the task at hand, rather than getting distracted by manual tasks.
VoIP Dialing
Voice over Internet Protocol (VoIP) software makes it possible for sales professionals to perform calls over the internet. There are lots of providers out there, and their services are often cost-effective and don't require a phone line or carrier.
Strategic & Tactical Sales Advice: Straight to Your Inbox.
Join 20,000 sales leaders receiving practical & in-depth content. No fluff, just the best sales how-to guides.
I agree to receive emails from UpLead, and can unsubscribe at any time.
If you want to learn more about cold calling and sales cales, check out this guide on how to sell by phone.
The 13 Best Sales Dialers
Ready to power up your sales calls? Here's a look at the top tools out there.
HubSpot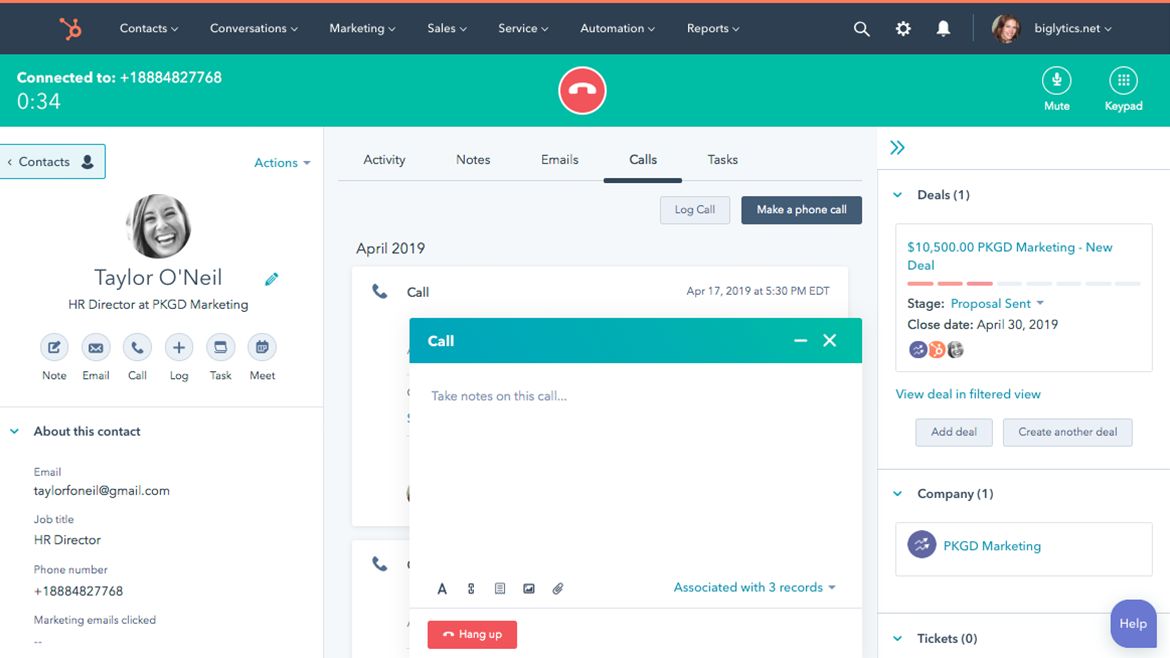 HubSpot is a powerhouse in the tech space with an array of tools ranging from their Sales Hub to CRM Hub. This includes their "Voice over Internet Protocol" (VoIP) software to help sales representatives record and auto-log any of their interactions with customers.
The VoIP software allows businesses to call customers directly through HubSpot's platform. Sales managers can view a customer's entire history including their activity and past interactions with your company. All of this data is captured automatically into HubSpot's CRM for future reference.
Along with customer activity, the VoIP software provides insightful call metrics so businesses can prioritize warm leads and convert new customers.
PhoneBurner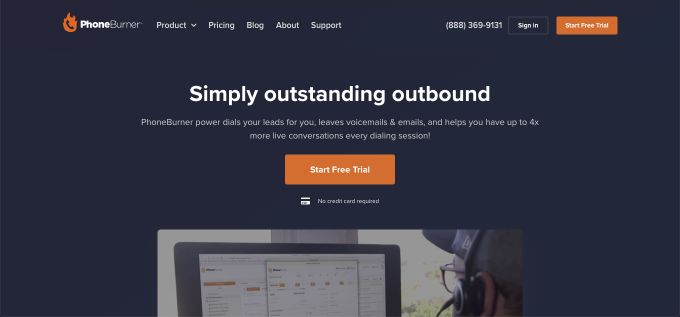 PhoneBurner is a solution for power dialers. The tool focuses on ease-of-use and claims that it can help sales professionals dial leads 4x faster.
Local phone numbers help increase response rates. The tool also helps sales managers intelligently and automatically distribute leads among their teams. A series of rules can be adjusted to make sure that the right leads are delivered to the right agents.
This tool has reporting options, and its workflow automation is a nice touch. PhoneBurner gives sales professionals a helping hand with tedious tasks (e.g., leaving voicemails and sending and tracking emails).
InsideSales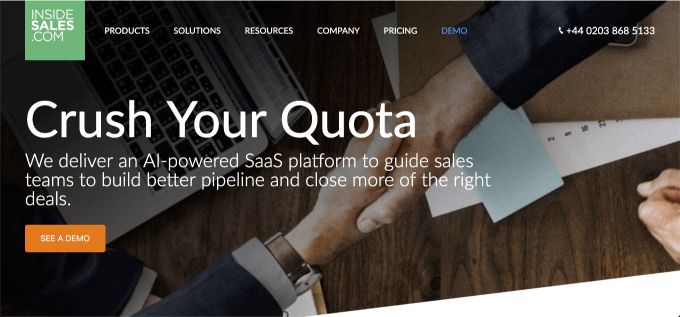 InsideSales is one of the big names in sales dialing. Its software aims at helping sales professionals improve their sales-lead management and ultimately close more deals.
This cloud-based platform is powered by AI that helps sales managers build a stronger pipeline and close more of the right deals. Its PowerDailer tool is part of a wider suite of sales tools.
The PowerDialer analyzes and prioritizes leads so that sales representatives can make contact with the prospects who are most likely to buy. Additional insights are provided that give advice about when to call and which contact method to use.
SalesDialers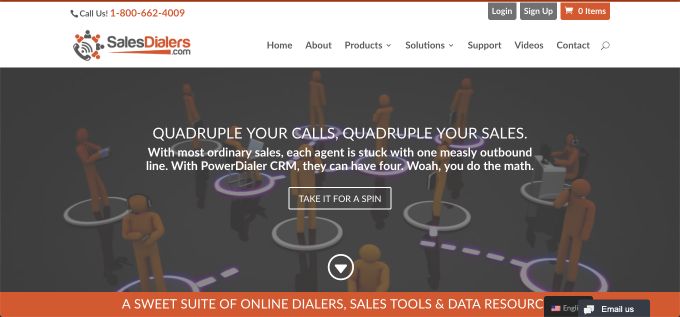 SalesDialers lays a suite of online dialers, sales tools, and data resources in front of sales managers who want to get the best results.
The cloud-based tool boasts easy integration with a range of popular CRMs. This feature is important when it comes to finding an effective and reliable sales dialer. This tool helps sales representatives simultaneously use four lines to boost their productivity.
This tool offers a range of next-gen features that help representatives both make calls and convert leads into sales. These features include the verification of telephone data, enhanced reporting, and flexible choices that will stay within your department's budget.
CrazyCall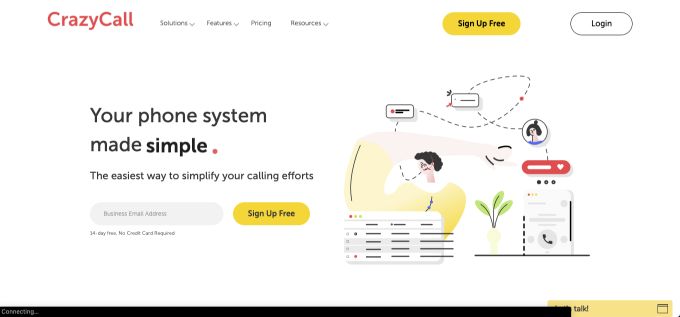 CrazyCall is a business phone system that increases your chances of converting prospects. This phone system also facilitates inbound calls, which helps you look after your prospects and treat them well.
A simple click-to-call widget is a nice feature here. It empowers sales representatives to call numbers —exactly as they appear on a website—with just a single click.
It's also possible to work on smart call scripts and record calls. This option is great for teams who want to analyze their performance and assess the ways their calls can be improved. Monitoring is also incorporated here, which fosters collaboration and team efforts.
RingDNA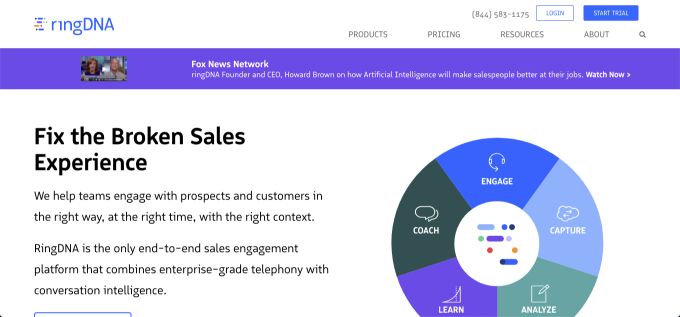 RingDNA is a platform for inside sales software and enterprise voice communications that offers tight integration with Salesforce.
This tool launched in 2012. Since then, it's healthily grown, thanks to its efforts to fix the broken sales experience. This tool aims at giving sales teams a helping hand and making it easier for them to communicate with prospects and customers alike—at the right time and in the right context.
As such, the tool is an end-to-end sales engagement platform that helps businesses build closer links with their customers.
Ring.io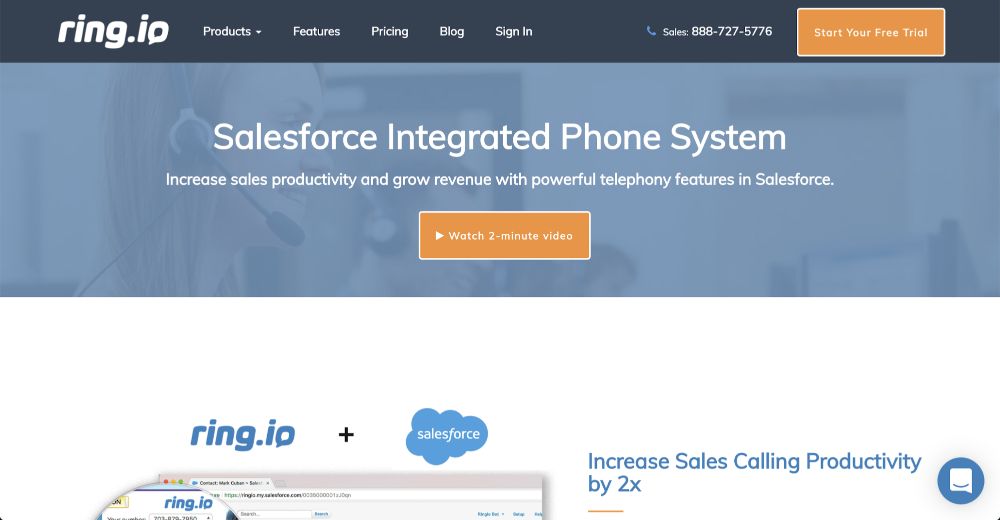 Ring.io is a dialer tool that aims at helping businesses improve caller productivity while they gain insights into the activity of sales teams.
This tool is a Salesforce-integrated phone system. A range of premium features help sales teams increase their productivity while they grow revenue. The features include a native click-to-call button and the ability to leave prerecorded voicemails from local area code.
The tool also caters to reporting, which makes it easy for teams to track key sales metrics and log call data. The calls are also automatically recorded, which provides a complete history of conversations.
Aircall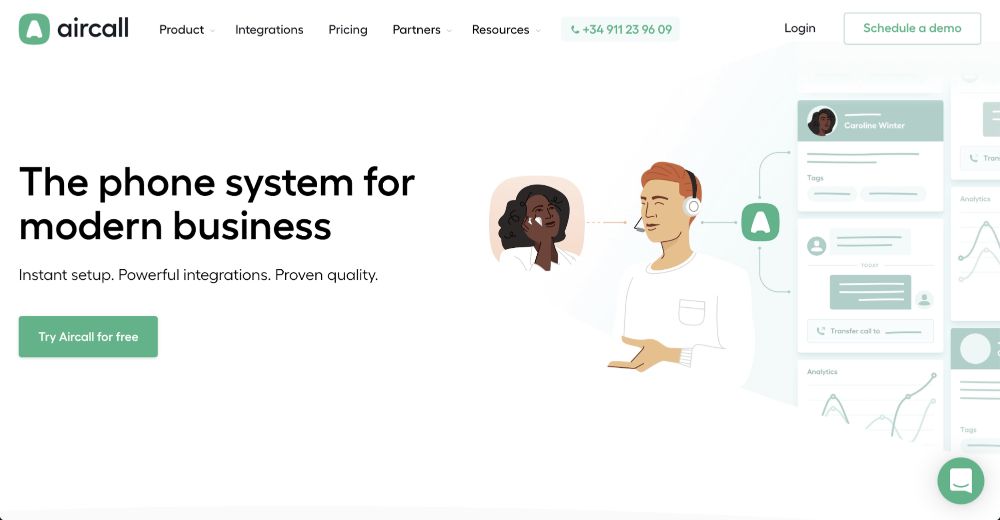 Aircall is cloud-based software for call centers and corporate phone systems. Aimed at modern businesses, the tool boasts instant setup times and powerful integrations.
The tool offers its users a simple four-step process. This process begins by setting up the cloud-based tool in a matter of seconds before it's connected to a range of other tools. At this point, it's simple to track progress, get rid of the guesswork, and focus on data-driven sales. Finally, the tool makes it simple to painlessly grow and scale it among teams.
This end-to-end tool helps sales teams secure new prospects and customer-success teams reduce churn.
Voicent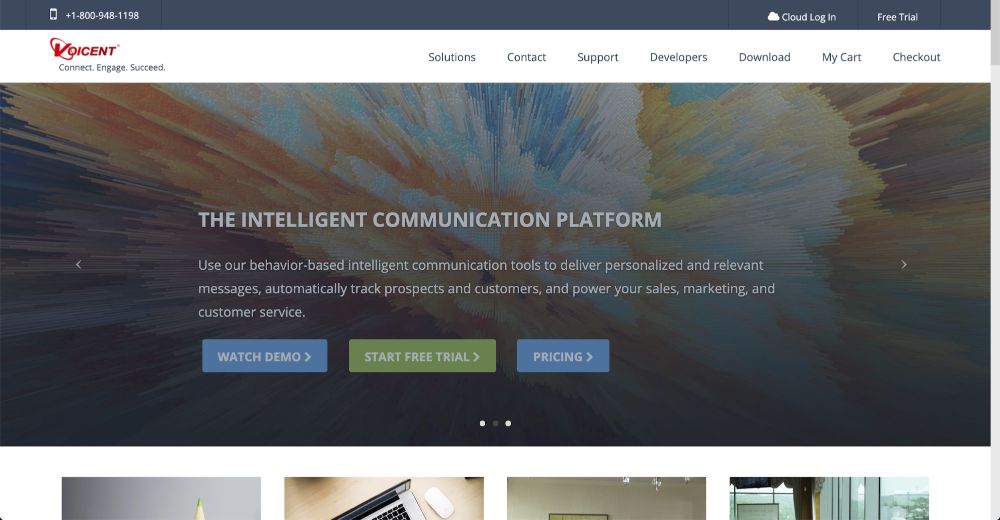 Voicent is a suite of solutions that include software for inbound call centers, auto-dialer software, and other communication solutions.
This platform has been in the game for over ten years, and it serves a diverse range of customers from around the world. As an all-in-one communication software, it's immensely popular, and it helps enterprises running complex operations stay on track.
The wide range of tools on offer includes a predictive dialer, a power dialer, and a range of marketing automation tools. Its whisper coaching also enhances management and monitors dropped calls.
CallHub
CallHub is award-winning software for voice broadcasting, phone banking, and SMS broadcasts that's used in over 200 countries.
The tool can be smoothly integrated with a wide range of CRMs, which helps businesses seamlessly power up their sales activities without causing disruptive confusion. This tool is used in a lot of different initiatives, including fundraising and political campaigns.
This product is always improving and bringing new features together, which helps enterprise-level businesses benefit from new technology and sales techniques. It's free to sign up for the tool and get a taste of it.
Five9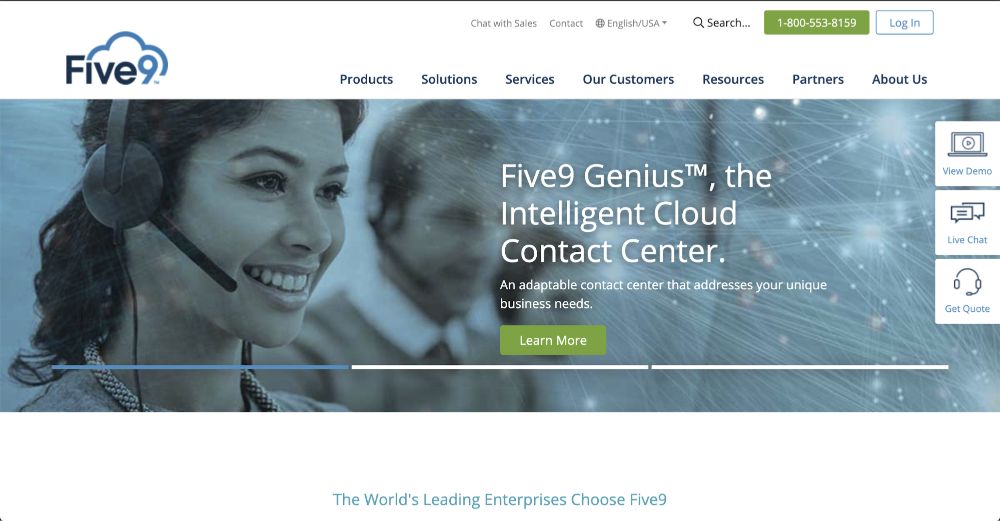 Five9 is leading software for cloud call centers that are used by over 2000 clients. It accelerates their sales and empowers their customer service.
This tool is used by the world's leading enterprises. They now rely on it because it can help create a personalized customer experience. Five9 also offers an environment that's agile, scalable, and innovative.
It's also easy to integrate the tool with many other popular options, which gives businesses the power to use the tool without disrupting their day-to-day activities.
ChaseData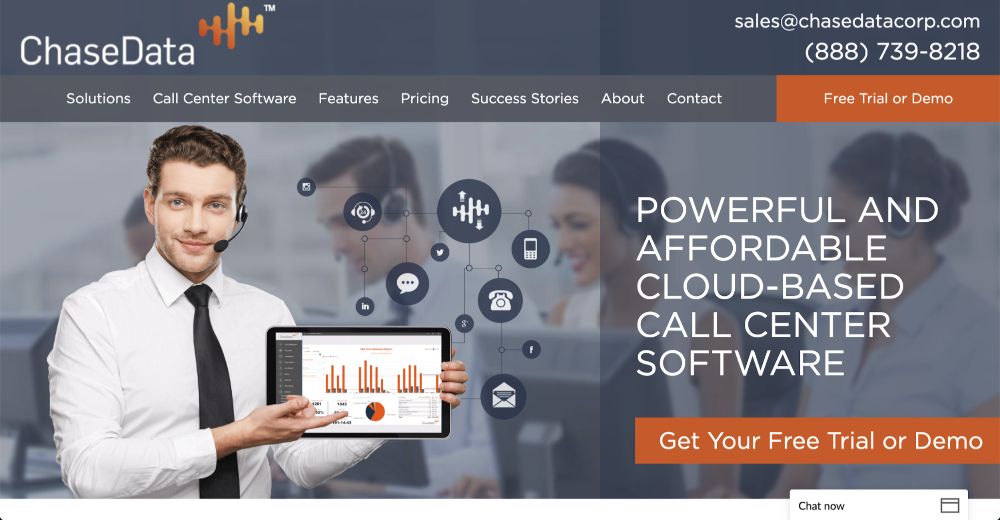 ChaseData is affordable, powerful, and easy-to-use software for inbound and outbound call centers. It's used by sales and telemarketing teams around the world, which helps them improve business outcomes.
ChaseData understands that a company's call center is a vital touchstone for the client experience. As such, this software helps make those experiences fast, efficient, and personalized.
Sophisticated reporting also helps sales and marketing departments make data-backed decisions that boost business outcomes. This same focus on reporting can also help boost the productivity of agents and maximize sales.
Sales Sling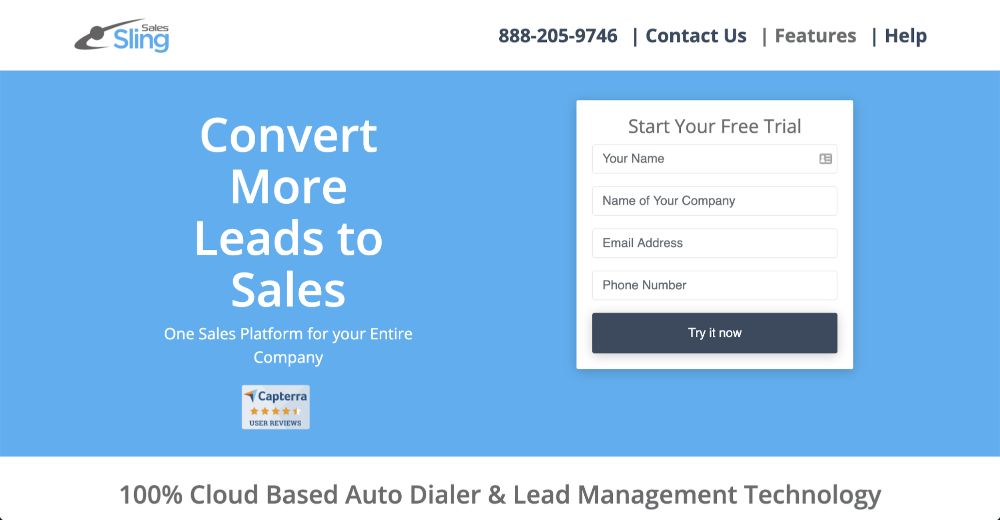 Sales Sling provides cloud-based auto dialers and lead management software that help sales teams convert more leads to sales. This tool aims at becoming the primary sales platform for entire companies.
This tool is appreciated by sales managers for a variety of reasons. First, the tool offers daily stats to make sure that sales activities are based on quantifiable data. A web phone makes it simple for reps to perform outbound calls and receive inbound ones.
This tool also ranks agents while determining the inbound capability of each one. This feature drives transparency and accountability, which inspires the team to reach new heights of productivity and attainment.
CallFire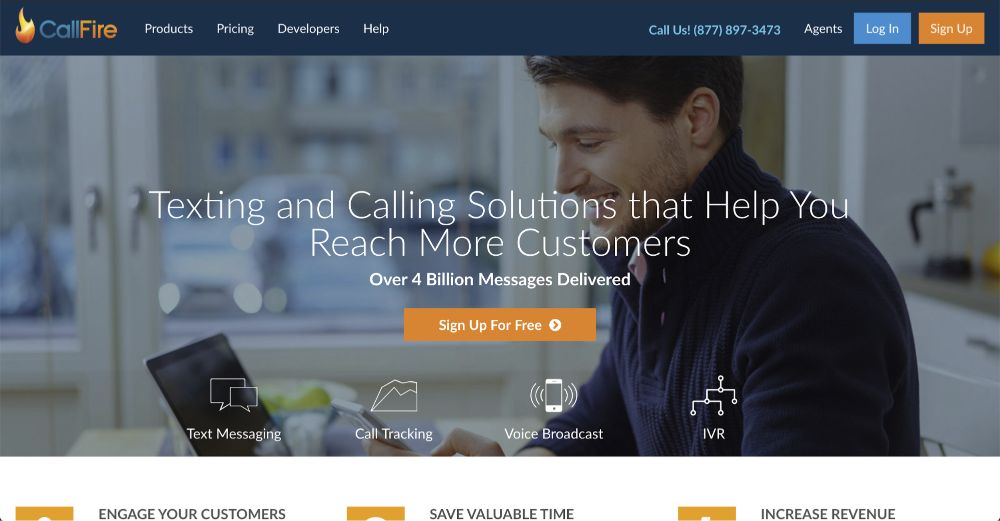 CallFire offers texting and calling solutions to businesses that help them reach more customers. To date, the platform has delivered over 4 billion messages, and that number continues to grow each day.
The tool has a few benefits for customers. First, it helps drive deeper engagement, and it helps sales professionals develop customer relationships that last. It also helps sales professionals save valuable time by driving efficiency, which helps them contact more prospects and ultimately, revenues.
A range of dialer tools are included within the product, so sales managers should be sure to thoroughly investigate the tool and determine whether it's right for them.
Conclusion
A quality dialer can help take your sales initiatives to the next level. Therefore, it's important to take your time when assessing the various tools out there, so you can make a prudent choice. We're sure that the right tool will help you achieve the sales results you dream of.