When reaching out to prospects through a cold email campaign, making a good first impression with a company's CEO is essential; it's one of the best ways you can turn a prospective client into a paying customer. Before you start emailing CEOs about your product or service, it's important to understand how to structure the email. This will make the message more professional and increase the chances that it will be read.
A CEO's time is extremely valuable, which means if he/she is going to invest the time to read it, it must provide a clear benefit. CEOs also receive countless external emails, which means your content must stand out among the crowd.
Let's take a look at how to write an email to a CEO that gets read.
Quick Links:
How to Write an Email to a CEO That Gets Read
Writing an email to a CEO isn't as simple as copying and pasting a tested sales template. Contacting a CEO directly requires a custom, targeted email that provides valuable, relevant content, and custom solutions to their problems.
Here's what you need to know about writing an email that a CEO will read.
1. Use a quick, informative subject line
Anyone in marketing or sales knows how important a subject line is for open rates. A quick, informative subject line is vital when sending an email to a CEO. If your subject line is long, vague, or obviously copied and pasted across all of your campaign emails, chances are the CEO isn't going to open your message.
The subject should contain the most important information about the email; get straight to the point about your intent and reason for contacting them. Minimize the amount of time it takes for them to understand what you're saying and why it would be advantageous to connect with you. Avoid using marketing buzzwords and other phrases that seem 'spammy' or sales-y'.
2. Make a good first impression
No matter how or where you're meeting someone for the first time, whether it's at a networking event or through a cold email, making a good first impression is essential. If you don't, your chances of converting a prospect into a paying customer are slim to none. Therefore, it's important to properly introduce yourself in an email to a CEO.
After your subject line, the first few sentences of your email are vital in terms of hooking the target reader. The theme for crafting an email to a CEO should be to keep things short, succinct, and valuable. Here are a few points to keep in mind when starting the email:
Use a professional greeting
Identify the purpose of the email as early as you can
Introduce yourself with a short, impactful bio
Focus on any problems the company is having and how you can solve those problems
The introduction may only be a few short sentences, but it's critical when it comes to making the right first impression with a CEO.
3. Write persuasive sales copy – hook your audience
A lead is the hook used to convince a CEO to contact you or work with your business on solutions. The lead should make it clear why the CEO should care about your email and what solutions your business can provide.
Your lead should work like any other lead generation strategy. Introduce yourself and your business, identify problems the prospect is having, and present a strong case as to why your business is the answer. CEOs are leaders; they want their company's problems to be solved. Tailor your specific solutions to the CEO that you're contacting to better your chances of conversion.
4. Keep it short, but meaningful
As mentioned above, keep your emails to CEOs short and impactful. CEOs don't have time to read lengthy cold emails, so the more concise you can keep your email, the better. An email doesn't have to be long to be effective.
In addition to identifying problems and offering your business as the solution, proactively offer concrete solutions to the problem or recommendations for fixing the challenges at hand. Remember, the more value you can provide, the better. Providing clear action items makes it more likely that the CEO will respond and want to move forward.
5. Connect on a personal level
Connecting on a personal level is an important part of any lead generation campaign, not just campaigns that are targeting CEOs. Regardless of your contact's position, connecting on a personal level not only makes the interaction more enjoyable, but it also increases the likelihood of conversion.
Just a little research on the CEO can provide you with the personal information you need to make the connection.
6. Double check grammar and spelling
If you've ever received an internal email from a CEO, chances are you've noticed that they don't always focus on grammar and spelling for their own communications. Being at the top of the company, they're often more inclined to focus on the speed and efficiency of their work rather than the formalities of communication.
However, that does not mean that you should follow suit. Grammar and spelling are extremely important when reaching out to a CEO to discuss your product or service. With countless tools available to check your writing, such as the spelling and grammar check within Microsoft Word and premium services such as Grammarly, you should check your email multiple times prior to sending it.
7. Include a signature
Ending an email effectively is just as important as an introduction. After all, without a proper ending, the CEO may not understand what steps they can take to move forward or how to get in touch with you specifically.
Your closing will depend on how your email is structured. When it comes to lead generation emails, ending an email with a call to action is a good way to prompt someone to take the next step. For example, if you've proposed a time to call to go over your product or service, sign off on the email with a phrase such as, "let me know if (day) and (time) works for your schedule" and include your contact information in the email signature. 
To boost your chance of success, you should send a follow-up email within a few days of reaching out.
How to Find a CEO's Email Address
Now that you have a foundational understanding of structuring an email to a CEO, you'll need to get the CEO's email address. Fortunately, finding a CEO's email address is as easy as signing up for UpLead.
UpLead's email finder tool makes it simple to find the right email addresses for your contacts. You no longer have to guess email addresses or spend countless hours piecing together contact information. UpLead's centralized database houses active email addresses for your top contacts—all with a 95% data accuracy guarantee.
Once you sign up for your UpLead account, simply access the email finder tool to start building your CEO email contact list.
Start Your 7-Day Free UpLead Trial
Lead generation doesn't have to be all that painful. With UpLead, you can easily connect with high-quality prospects and leads to grow your company.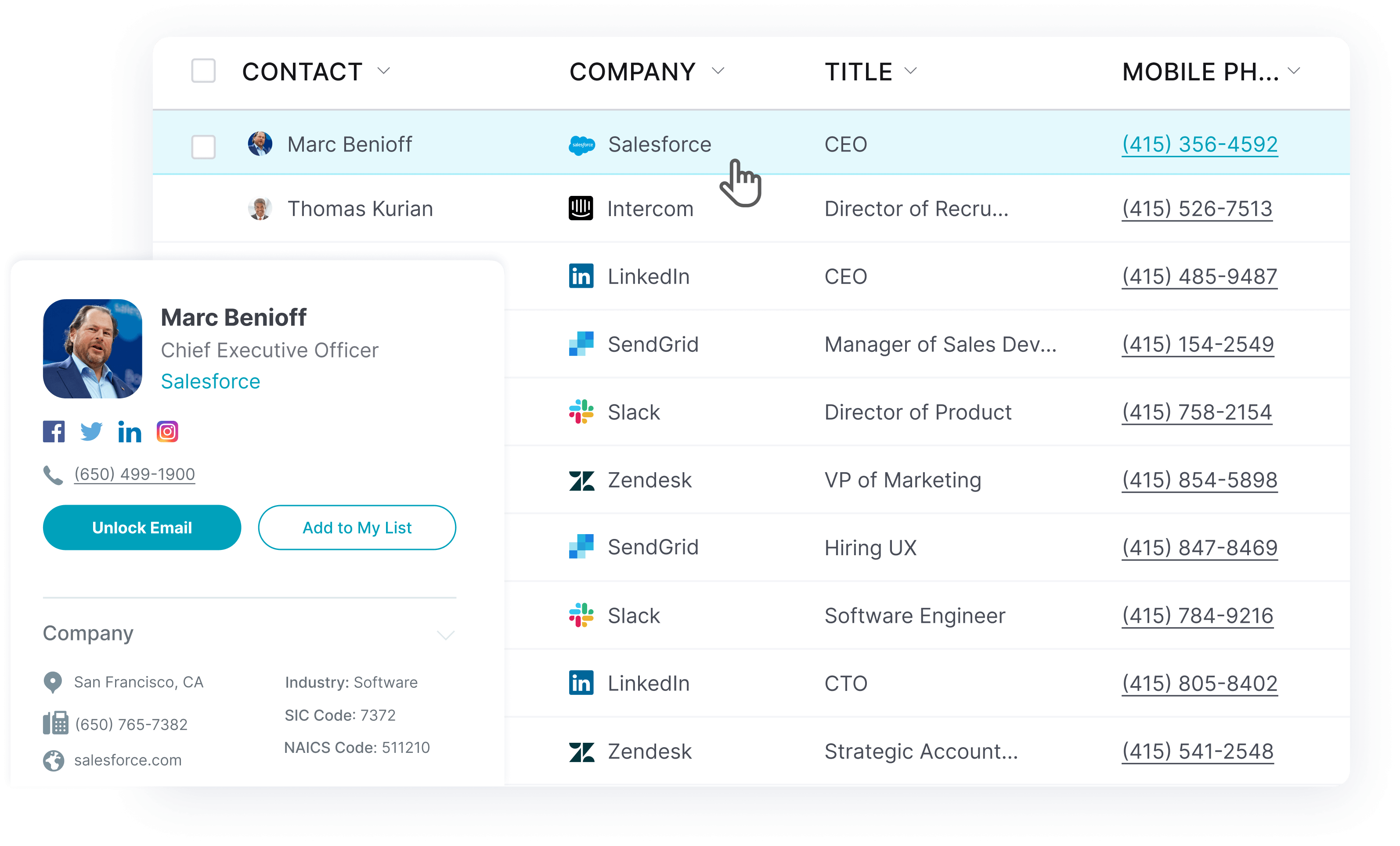 FAQs About Emailing a CEO
Here are some top questions and answers about emailing a CEO.
How do you write a formal email to a CEO?
Keep the following points in mind when emailing a CEO: Identify the purpose of your email in your subject line, clearly outline how your product or service can solve their problems, and keep your email brief and to the point.
Writing a formal email to a CEO requires a slightly different approach compared to a general cold email campaign. You should tailor your email to each CEO you're contacting, build personal connections, and give them compelling reasons to respond and work with you on your solutions.
How do you address a CEO in an email?
An email to a CEO should be formal, so it's generally best to address them with Mr./Mrs./Ms., and then their last name. You should not take a casual approach when cold emailing a CEO; you want your brand and business to be portrayed as professional.
How do you contact a CEO?
Gone are the days of guessing email addresses or searching for CEO contact information online. With UpLead's Prospector Tool, CEO contacts are right at your fingertips. You'll get the information you need within seconds, and you can rely on UpLead's 95% data accuracy guarantee to ensure that you're using the right email addresses.
What You Need to Remember About How to Write an Email to a CEO
Writing an email to a CEO requires careful attention to detail, research about the company and CEO, and the discipline to keep your email as short and impactful as possible. First impressions are vital, and if you're able to clearly convey how your business can solve the company's problems, you'll have a much better chance of making the sale.