In this article, we'll let you know exactly how to end an email, regardless of the occasion. Since closing is usually the most memorable part of any message, we'll tell you how to make sure you're sending the right message.
We'll tell you exactly how to end an email in all kinds of scenarios, like:
When you're asking for something
When you're in a professional setting
When you're applying for a job
When you're in a casual relationship
and much more!
By the end of the article, you'll know both the best and worst ways to close your emails.
Let's get started.
Quick Links:
Here Are 10 Great Ways to End an Email (+ 3 Bonus Email Sign-Offs)
Here's how to end all kinds of emails for any occasion:
1. How to end a formal/professional email
How you end your email matters when you're in a professional setting. You can use it to show respect and to establish further the kind of relationship you're after.
You may want to stick with a formal sign-off in multiple settings, like formal work environments, formal complaints, when writing to a CEO, or when trying to sell something to more conservative clients.
This is also a great way to sign emails when you don't know the person since it's always better to be too formal than to be too casual.
However, you want to avoid making the ending of an email feel too impersonal, which can turn your recipient off. After all, we all like to treat and be treated like people, not like machines.
You can achieve this by signing your formal email with phrases like:
Kindest regards
With appreciation
Warm wishes
Yours truly
Some formal email endings that are less personal are:
Cordially
Regards
Respectfully
2. How to end a semi-formal email
Sometimes you write an email to someone you feel comfortable with already, but you're still working through establishing a relationship.
Semi-formal styles are also used with people you don't know that well but are hoping to get to know better. You can use semi-formal writing styles when writing to a peer in a business setting, people who work for you or under your supervision, and even in casual environments when you just don't feel comfortable enough to be as casual as they are.
Since this tone is so versatile, it's also the best way to sign a cold sales email because it's not so formal that it's impersonal, but it's not too casual to be inappropriate.
You can use semi-formal sign-offs like:
Cheers
Good luck
Sincerely
Take care
Warmly
You can also add more personality with longer semi-formal sign-offs such as:
Have a great day
See you soon
Talk to you soon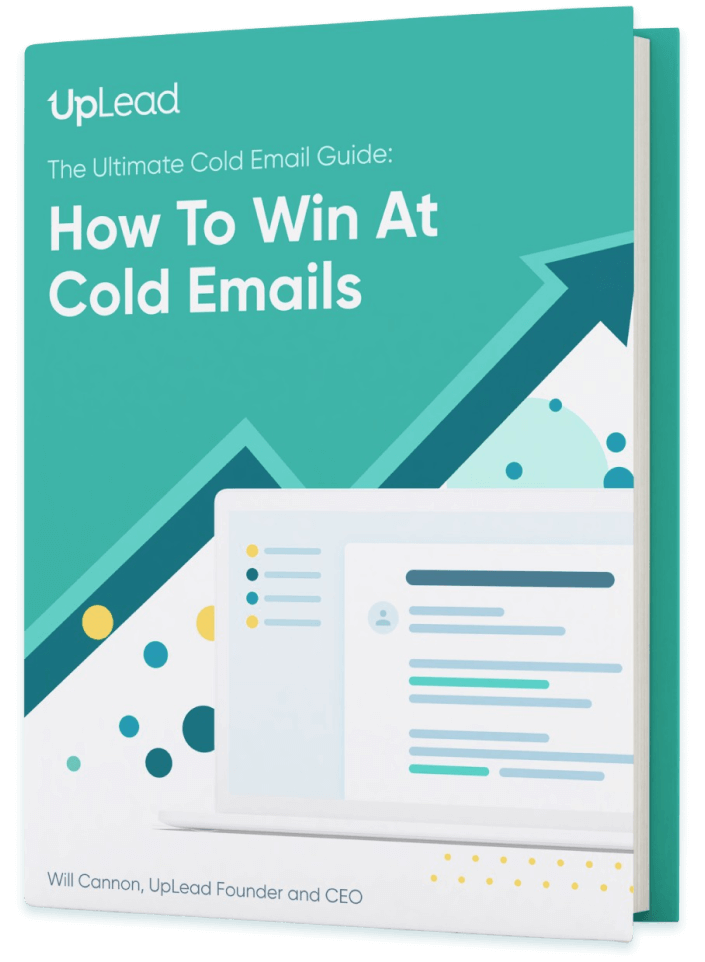 Download our free eBook full of valuable insights and take your cold emailing strategy to the next level.
I agree to receive emails from UpLead, and can unsubscribe at any time.
3. How to end a casual email
Informal emails are great for casual environments or when writing to people you know well. They're also used more frequently now in professional settings, with many startups and tech businesses favoring a casual environment and, therefore, informal email styles.
When ending an informal email, ensure the end fits within the context of your relationship with the recipient. You don't want to be too informal, especially when you're still nurturing your relationship.
You can use phrases like:
See ya
Catch you later
Hugs
If you know the person well and want to go the extra step, you can try even more casual phrases like:
Stay awesome
Sending you good vibes
Your friendly [job title]
4. How to end an email when requesting a meeting
When you're asking to meet someone, you can use the way you end your email to express your desire to meet them and even motivate the recipient to agree to the meeting.
If sending a meeting request is a usual practice, you can simply use closing lines like:
Looking forward to meeting with you
See you on Thursday
Let me know if this works
Catch up with you soon
However, if you intend to get a meeting on your first cold email, you must make sure your closing line is memorable and easy to read.
Why?
Because your email may be scanned rather than read, you need to make every word count.
Remind them what's in it for them and let them know you're more than willing to accommodate their schedule with phrases like:
Hoping there's a hole in your calendar
Looking forward to helping you soon
Eager to hear from you
You can also add a P.S. line to remind them why they should contact you and how long the meeting will take.
5. How to end a response to a rejection
We all get rejected sooner or later. That's why you need to know how to handle rejection and how to reply to it while leaving the door open for a change of mind or circumstance.
The ending of your email will likely be the last your recipient hears from you for a long time, so make it memorable and use it to close things gracefully and elegantly.
Use phrases like:
Thank you for your time
Keep me in mind if things change
Wishing you luck in all your future endeavors
6. How to end a relationship-nurturing email
When you're nurturing a relationship, you want to show that you care for your recipient and want to hear more from them.
In closing, you can show some personality and be more creative. This will let them know you're friendly and will motivate them to respond in the same way.
You can end your emails with phrases like:
You're the best!
Stay awesome
Later gator
Looking forward to Friday!
You can also use a P.S. to personalize the email further and make it unique with a piece of content you want to share from them or a quick congratulatory note or funny recall to a previous interaction.
7. How to end an email when applying for a job
When applying for a job, the contents of your email are extremely important, and the closing words are no different. This is especially true when sending your first email since recruiters read many emails. You'll want yours to be as memorable as possible.
You'll want to show your professionalism by nailing the ending, and you can use it to express your hopes of getting the job or your desire to hear back from them soon.
Use phrases like:
Looking forward to your reply about this opening
Thank you for the opportunity
Many thanks
Finally, before pressing send, triple-check your spelling and make sure you've attached the right files.
There's nothing more embarrassing when applying for a job than sending a perfectly-written email just to send another one right after with your CV!
8. How to end an email when you need someone to take action
If you want your recipient to take action, you'll want to use your closing to remind them.
Your sign-off can be a great place to add a call to action and let people know what you expect from them. They're perfectly placed and memorable enough to invite action without sounding pushy.
You can use phrases like:
I appreciate your help
Looking forward to your reply at your earliest convenience
Please let me know if you're able to [take action] before [date]
9. How to end an email when you're sending an update or answering a request
If you're replying to someone who has been waiting to hear from you, you can use your sign-off to let them know the state of their request. You can update them on whether you've done all you're supposed to or if you're still working on it.
It rounds up the tone of the interaction and can be used efficiently to manage a user's expectations.
If you've solved the issue or fulfilled the request to the fullest extent of your capabilities, use sign-offs such as:
Glad to help
Let me know if you have any further questions
Happy to help with anything else
If you're in the process of completing their request, you can end your email with something like:
Stay tuned for more emails
That's all for now
More to come
10. How to end an email when thanking someone
Finally, knowing how to thank someone is vital and can be very versatile. Even online, a bad "thank you" can do more harm than good.
Remember, your recipient cannot see your face or hear your voice, so you must be as clear and cautious as possible to ensure you're transmitting the right message.
If you write a simple "Thanks," you can come off as short and maybe even a bit passive-aggressive. If you exaggerate your thank you, your recipient may even believe you're being sarcastic.
If your email is very formal, you can end your thank you message with phrases like:
Gratefully yours
With sincere gratitude
With appreciation
Humbly thankful
If your thank-you email is more casual, you can say something like:
Many thanks
Thank you for everything
Thank you so much for [action]
With thanks and appreciation
Finally, if you're in a relaxed environment, you can add more personality to your closure with phrases like:
I owe you a beer
You're a lifesaver
Thanks a million
IOU
7 Email Closings You Should Avoid
Now that you know the best email closings, you need to know which ones you should avoid at all costs.
These are:
1. Sent from my iPhone
This extremely unimaginative, unoriginal, and boring sign-off indicates to your receiver that you don't really care about details or that you're not very computer savvy.
Never use this closing; instead, set up a unique automatic closing. Better yet, remove automatic closings entirely and personalize your closing every time.
2. Thx
Like the previous example, these three letters tell your recipient you don't really care about them. If you actually want to say you're thankful, don't hold back on three letters to save a fraction of a second.
3. XOXO
This outdated sign-off is better left for the turn of the century.
4. Thanks in advance
This sign-off presumes that the recipient will take the action you requested, so it may appear pretentious.
Instead, use something like "thanks for the help" to lessen the implication while conveying the same message.
5. Inspiring quotes
Inspirational or not, quotes are rarely a good way to sign off an email. They often sound pretentious or out of place and may even confuse your recipient.
6. An emoji or smiley face
At best, an emoji will look lazy, and at worst, it could confuse the recipient. Just write the message you wish to convey instead.
7. Best
Short and unimaginative, it may make your recipient feel like you didn't really care enough to add a better sign-off. Try to add at least an extra word or personalize it further instead.
How to Finish an Email: 5 Best Practices Salespeople Should Follow
Here are a few best practices when finishing off an email:
1. Don't skip the closing
As you advance the relationship, it can become tempting not to close your email, especially when your recipient isn't doing it.
However, you should always keep in mind that signing off an email shows your professionalism and attention to detail. Regardless of who you're writing to, they will be more inclined to buy from someone who can take the extra moment to finish off their emails properly.
2. Add your contact information
Not everyone wants to connect by email alone. Ensure you properly introduce yourself in your first email and add other ways to contact you when finishing up, such as your phone number, website, or LinkedIn profile.
3. Make sure your sign-off reflects the kind of relationship you have
The more comfortable we get when selling something, the more casual we may be tempted to behave. However, coming off as too casual may convey to your recipient that you're careless, unprofessional, and maybe even rude.
Always keep in mind not only the relationship you have with your lead but the relationship you're pursuing when signing off your email.
4. Check your spelling
Very few things will be smaller yet as impactful as bad spelling. Bad spelling tells your recipients that you're careless and may even suggest that you're not particularly smart or educated. There's nothing wrong with either of those traits, but that's not the kind of person you want your lead to think you are.
Run the spell check and use tools like Grammarly or PrepostSEO to automatically check your spelling and grammar for you, even before signing off.
Don't forget to check your cold email subject line to ensure it's optimized and effective.
5. Don't use the same sign-off all the time
Using the same sign-off is like using none at all. It conveys a lack of interest and may even be detrimental to the relationship you're trying to foster.
If you received an email from your boss that closed with "You're the best!". You'd probably feel proud of yourself. But how would you feel if every email you received from your boss was signed in the exact same way and emails sent to your coworkers were also signed the same way?
Using the same sign-off cheapens the compliment, regardless of how well-written it is.
Conclusion
By now, you know exactly how to sign off your emails, regardless of the occasion. Remember always to make sure your closing is included, appropriate, and well-written.
If you nail the end of your email, we're sure you'll get more frequent and better responses in no time.