Cold-calling may not be the easiest job, and not everyone gets it! We set out to find the funniest 25 cold-calling memes to send to your sales reps and share a good laugh.
Get ready to download some memes to drop on your Slack sales channel and get a few laughing emojis.
Here are the memes capturing  the sales humor you often need to have to be a good cold-caller:
1. Decisions, decisions, decisions…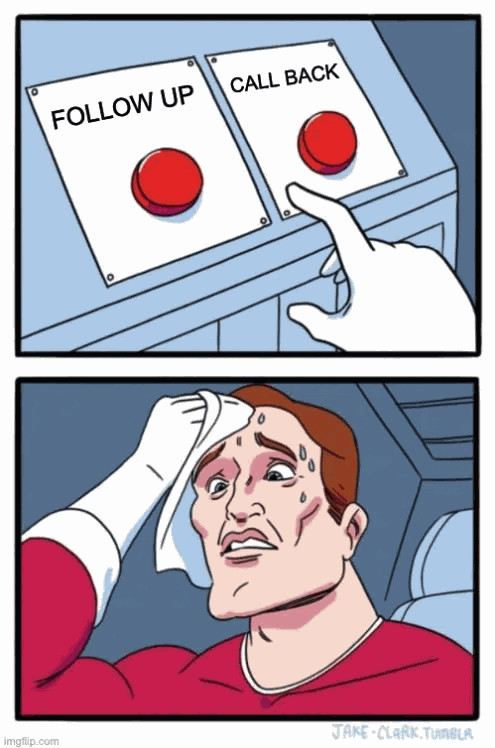 Can't decide what to do? Cold calling reluctance is real, so sales reps often forget to get to their follow-up emails and calls. However, following up at the right time and with the right content, although tricky, is crucial to closing a  sale.
Share this with your sales team when they forget to follow up!
2. "I hung up already!"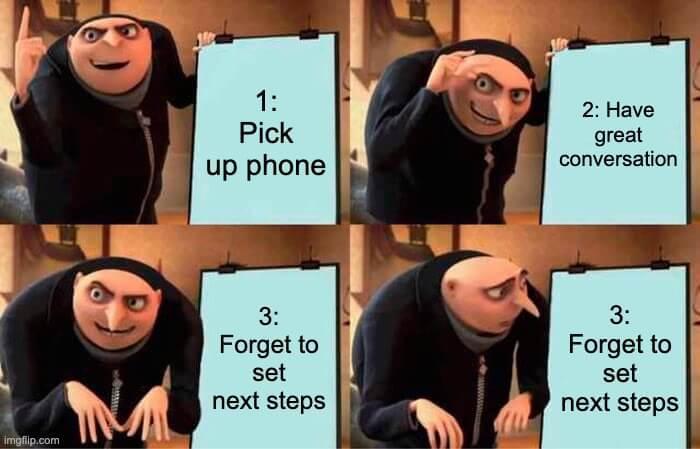 Even the best sales rep will have a great conversation with their leads and nail the sales pitch, only to forget to set up the next steps. What are you supposed to do? Call back and try to do it all over again?
If you forget to set up the next steps, send them as soon as you remember to finish that connection and try to close that sale. The faster you remember, the better! If you keep forgetting, maybe set this meme as your screen background.
3. That TGIF feeling…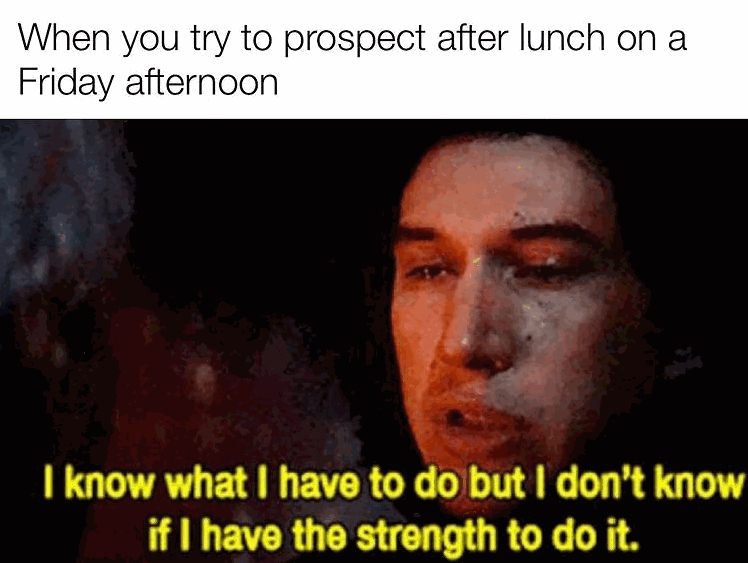 It's Friday afternoon after a nice and heavy business lunch where you can almost taste the weekend, but you need to prospect.
Luckily, your prospects probably feel the same as you! Perhaps try a few cold-calling tips, like moving your prospecting time to earlier in the week, and maybe go easy on the cold calls when the person at the end of the line is also counting down the minutes until the weekend.
4. An ancient lost art…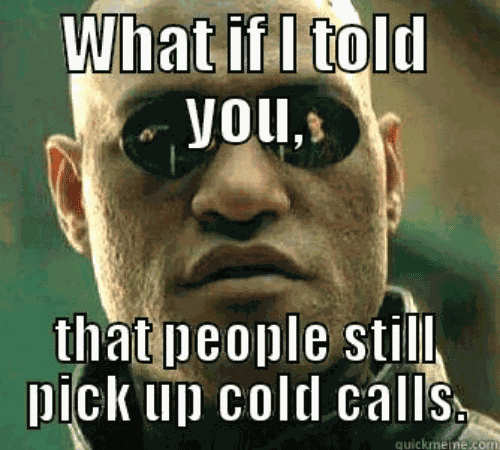 This sales meme perfectly illustrates a surprising truth: cold-calling is alive and well! Although door-to-door encyclopedia salespeople and Netflix by mail are a thing of the past, cold calls can be just as effective now as they were 50 years ago!
Just pick up the phone, and get onto a cold call. Or move on to the next meme.
5. "Is this how I normally breathe?"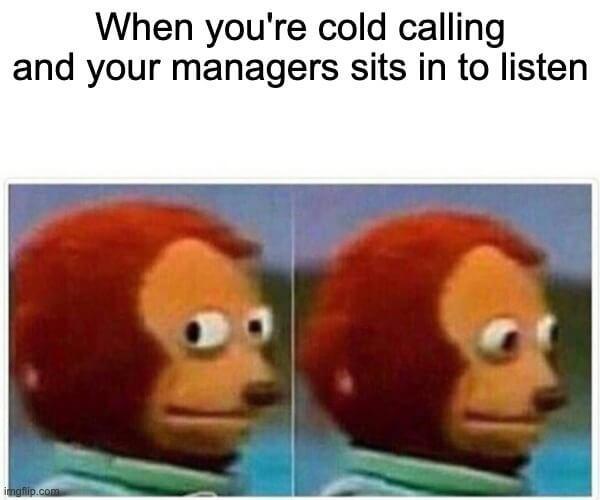 Nothing makes sales reps more self-conscious than having your sales manager sitting on a phone call with you. It's as if you forget everything about cold calling and are back on your first call!
Being nervous is normal when someone's listening in on your call. But, once you've perfected your sales pitch, you'll be ready to convert prospects with or without your sales manager looking over your shoulder.
How come those great calls somehow happen when nobody is around?
6. Easy there, soldier!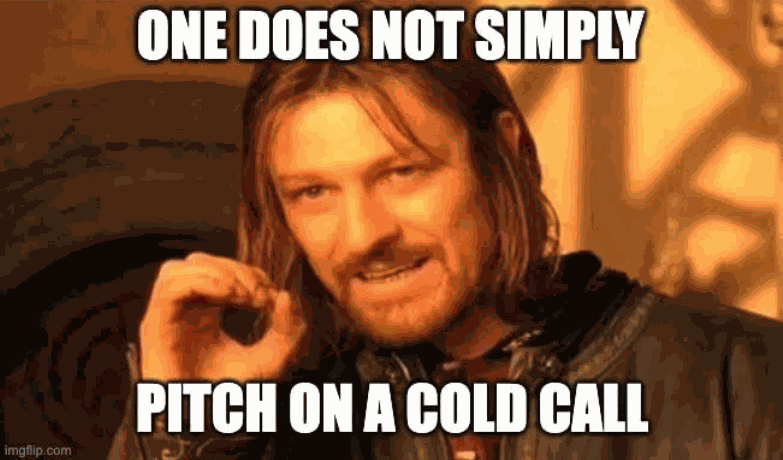 If only it took one phone call to make a sale. But, in the Zoom era of video calling prospects, showcasing demos, and setting up appointments, clients like to take their time when making a purchase.
Slow and steady wins the race.
7. "Remember me?"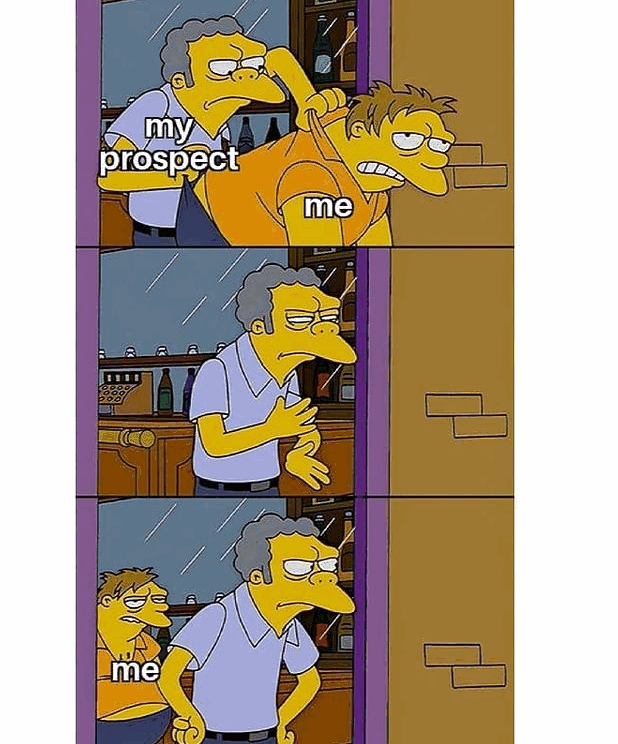 If you want to be good at cold-calling, you must be persistent. Most people will never answer the first few times you cold call, so perseverance is key.
However, a good sales rep knows when to be persistent and when to take a hint. If the prospect feels like they can't get rid of you, they may buy, but they might also quit their jobs to try to escape your calls.
8. "It's been 84 years."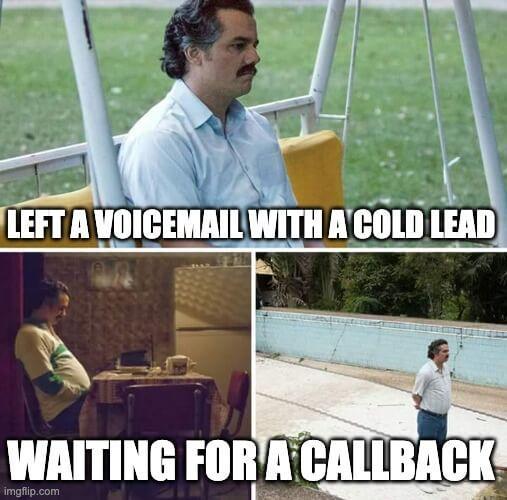 Waiting to hear back from companies takes forever! If the lack of callbacks makes you feel lonely, perhaps it's time to freshen up your pitch!
Let your prospects know what's in it for them if they call back, and don't forget to keep following up if you don't get a response the first few times.
9. They could've at least said "bye" …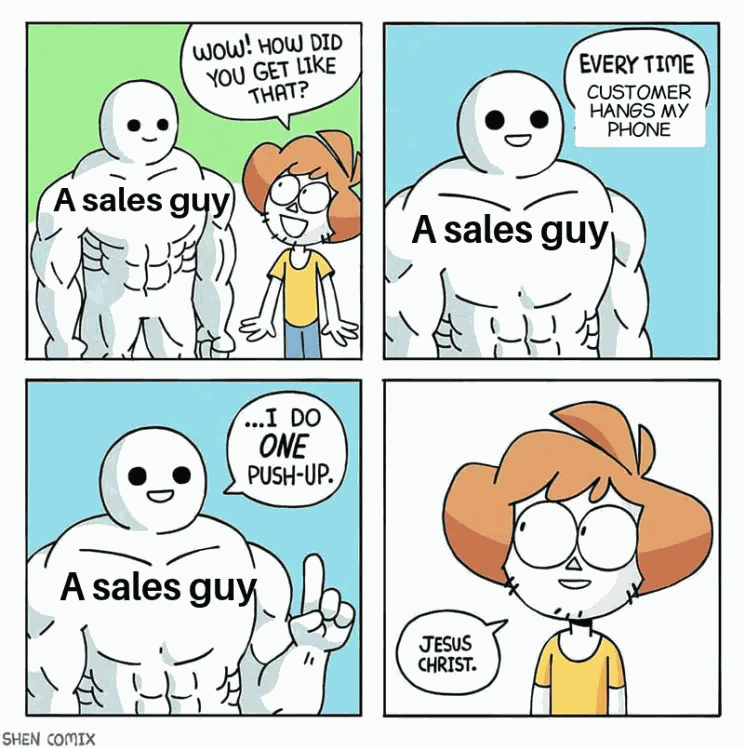 Does anyone get hung up on more than a sales rep? This hilariously accurate meme gives a sales-life fact and a little fitness tip!
No one likes being hung up on, but we shrug it off, then pick up the phone and hope the next prospect is willing to talk.
10. That moment when…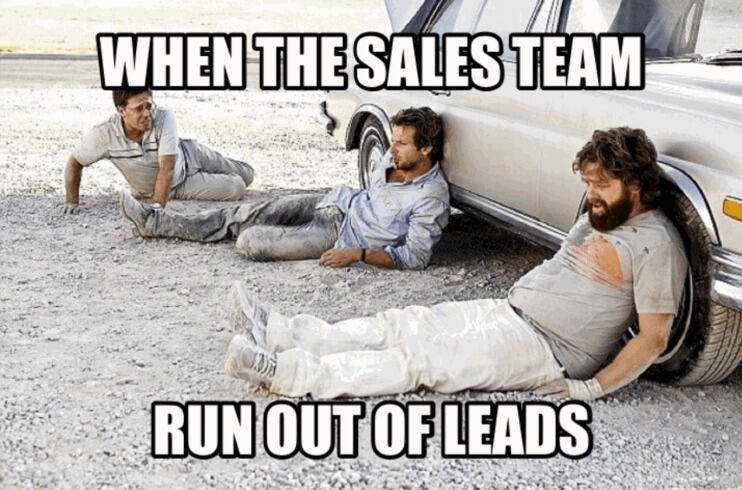 @truesalesmemes
If you identify with this hilarious sales meme, you probably haven't heard of UpLead.
With UpLead, you'll never run out of leads. Instead, you can instantly generate another list of personalized prospects in a few minutes, for better or worse.
Start Your 7-Day Free UpLead Trial
Lead generation doesn't have to be all that painful. With UpLead, you can easily connect with high-quality prospects and leads to grow your company.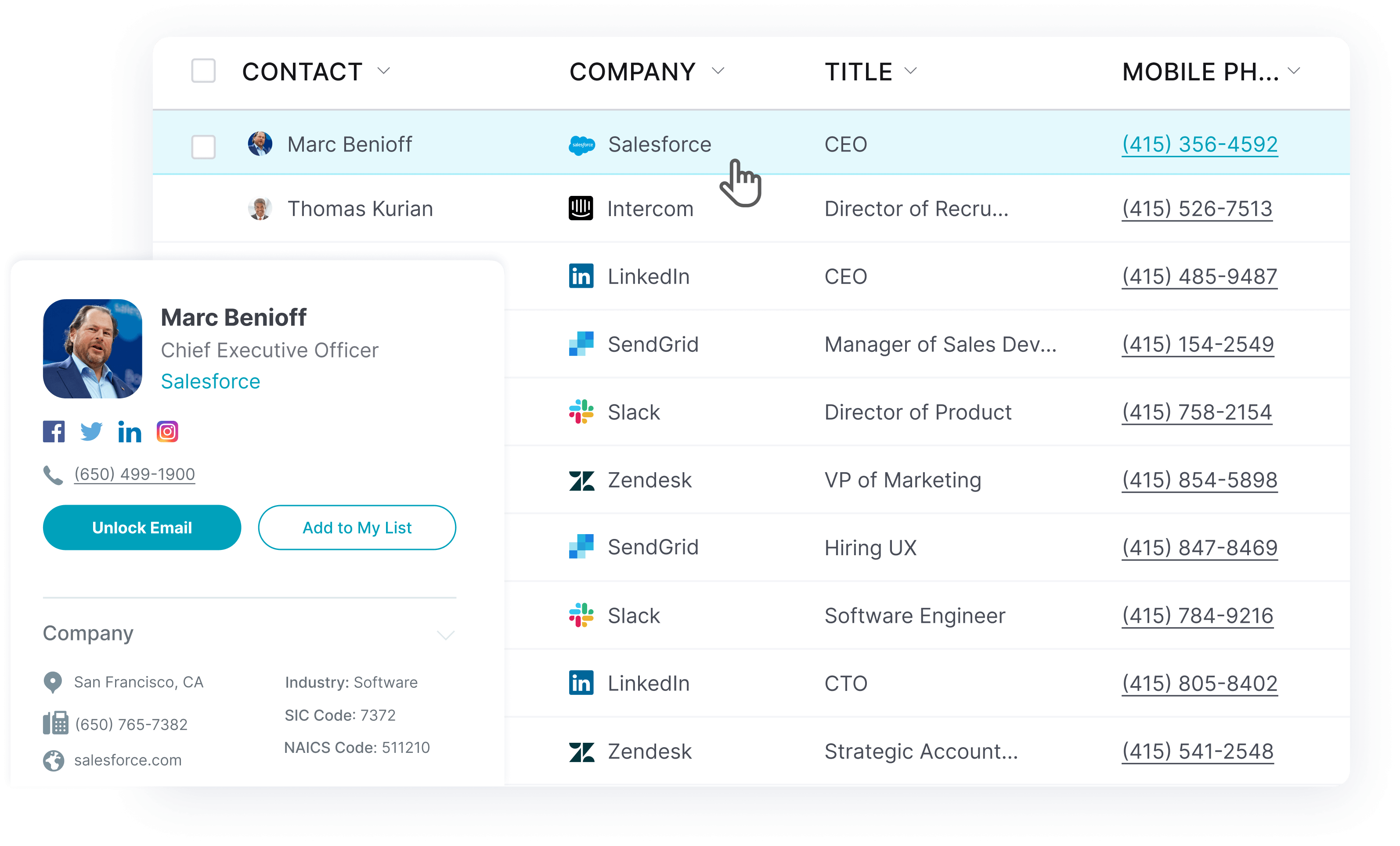 11. Never give up!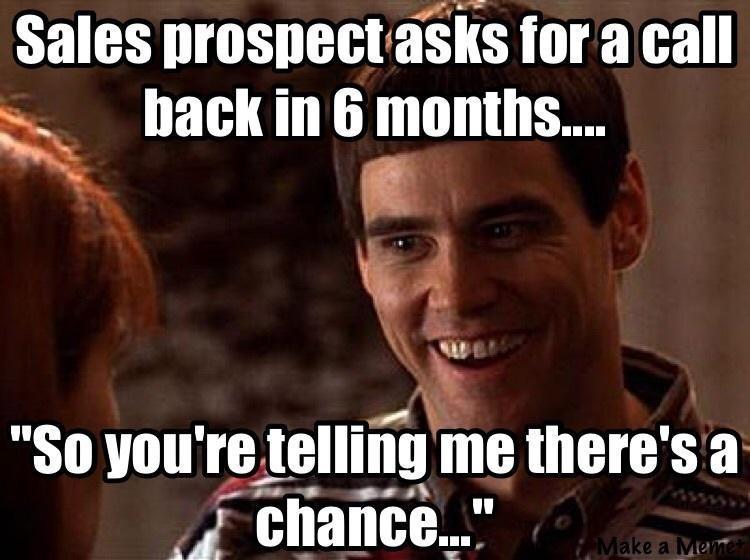 Cold-calling is hard. When there's a chance of a sale, we never let go! A good sales rep always calls back when asked, and we patiently wait for the agreed-upon date to follow up.
Even if, when we call, the prospect tells us to call them back in another six months.
12. So many possibilities!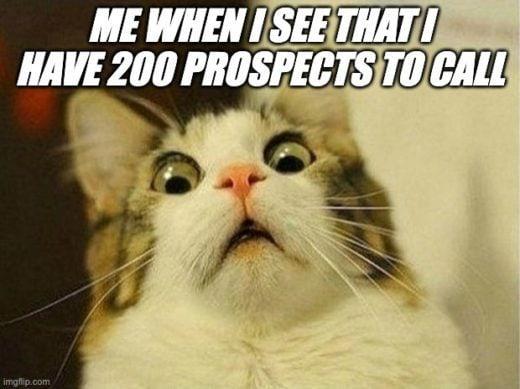 Long prospect lists are better than no prospect lists at all! Although making so many phone calls seem daunting, it's great to see a full list of potentially interested leads.
13. They're both right AND wrong!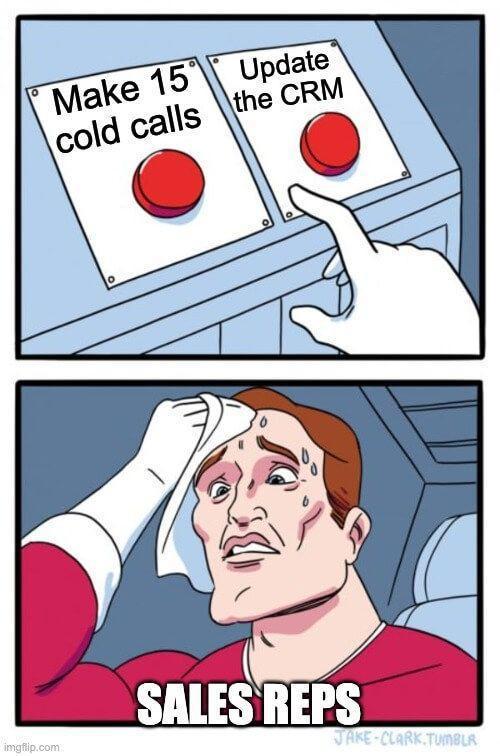 It can be tough to strike a good balance between making phone calls and updating all your sales tools to keep track of everything.
If you have trouble, look at better cold-calling (sales dialer) tools to automate the heavy lifting so you can focus more on making phone calls!
14. That face is very accurate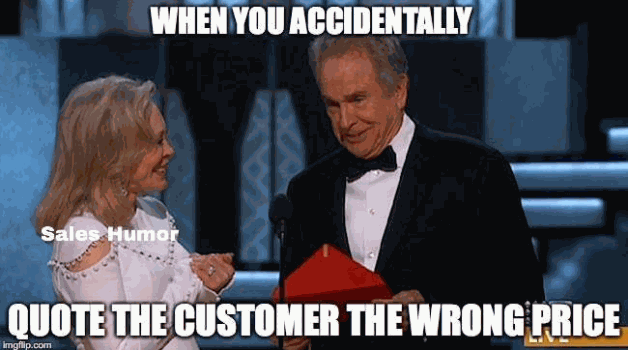 Imagine getting customers excited and ready to make a purchase, only to realize that we've quoted the wrong price.
Since there's no easy way of breaking the news, perhaps sharing this cold-calling meme will do.
15. We knew deep down it was always meant to be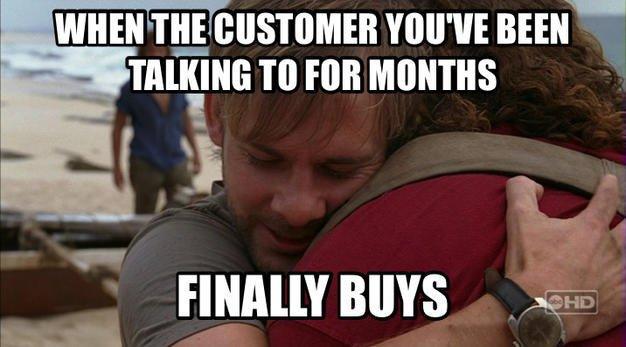 There's nothing like putting your faith and effort in that one prospect, only for it to finally pay off when they make their first purchase.
If that happens to you often, you know you're prospecting for the right clients!
16. "Best I can do is $5."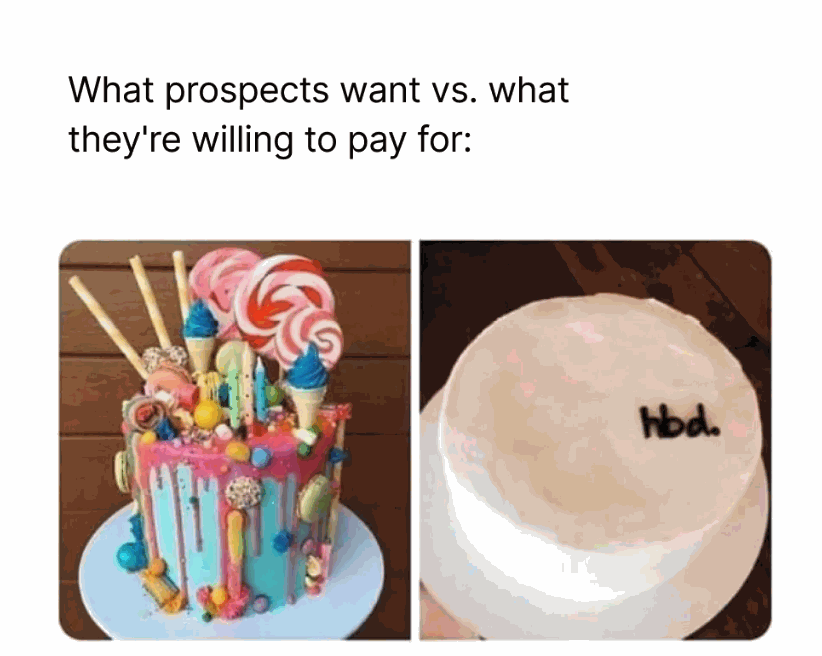 Some leads have expensive tastes but modest budgets. Regardless, we're eager to sell if a client is willing to buy!
If budget is the issue, highlight how your solution can save them money to try and save the sale.
17. "I didn't know I'd get this far!"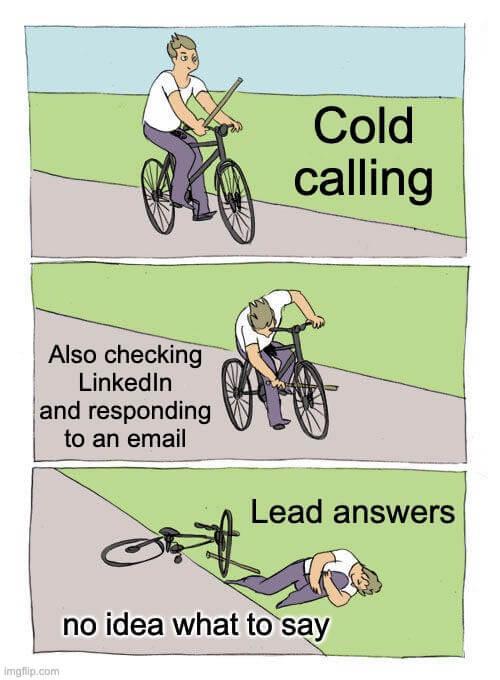 Sometimes we get so caught up in multitasking that we blank when a prospect actually responds. That's why you should always try to leave the multitasking out of cold-calling.
Except if you're looking at cold-calling memes, of course.
18. "Yes. Oh really? Oh wow. How nice."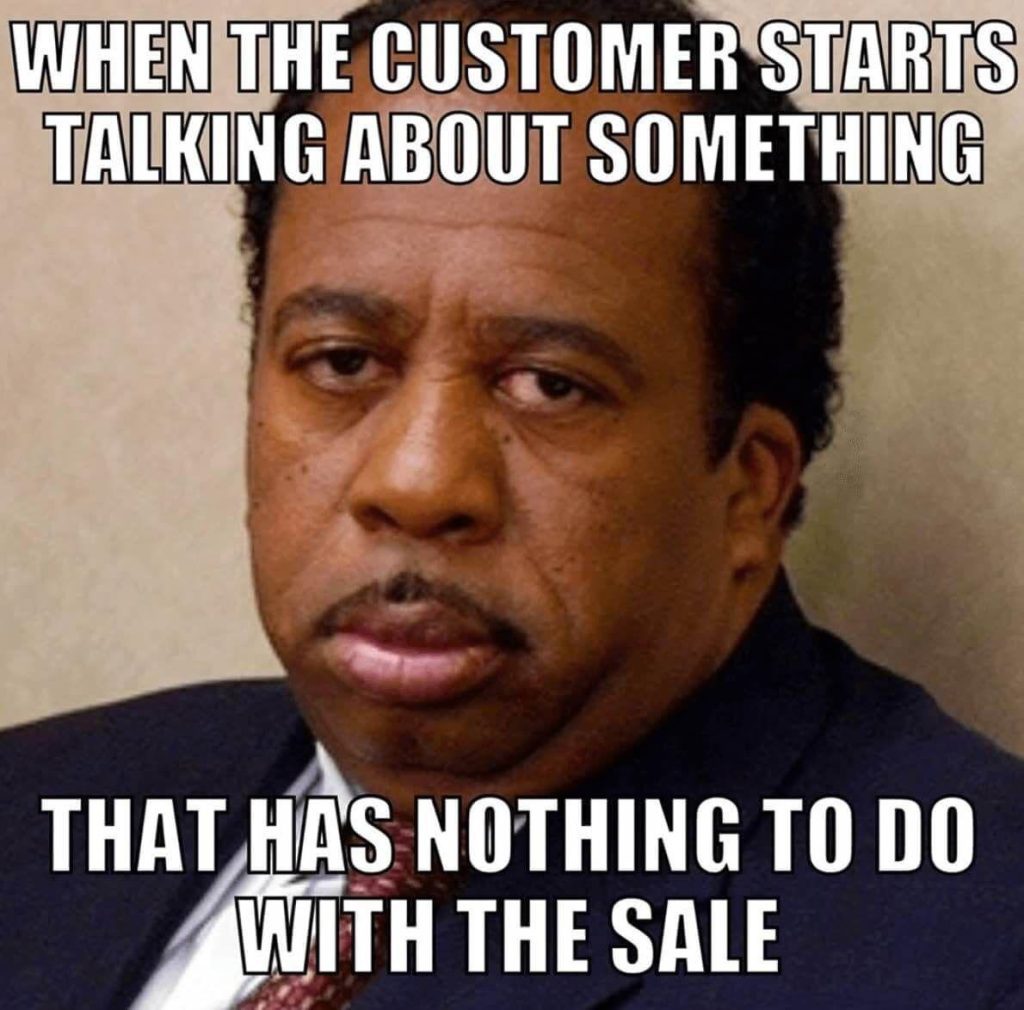 Wish  we could sometimes skip the small talk and ask the prospect whether they want to buy or not?
Since it's unavoidable, all we can do is listen, give polite, short responses, and hope we can get back to the sale ASAP.
19. I can't find a flaw in this logic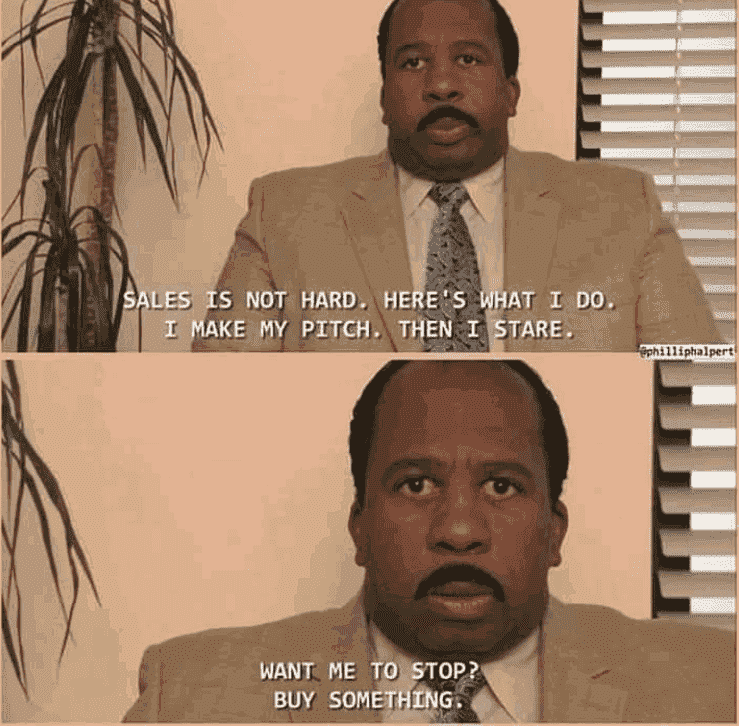 @sales_humor
One of the benefits of cold-calling is that there are no awkward stares or sweaty handshakes. Although this meme shows that, maybe there should be!
20. Not that fast!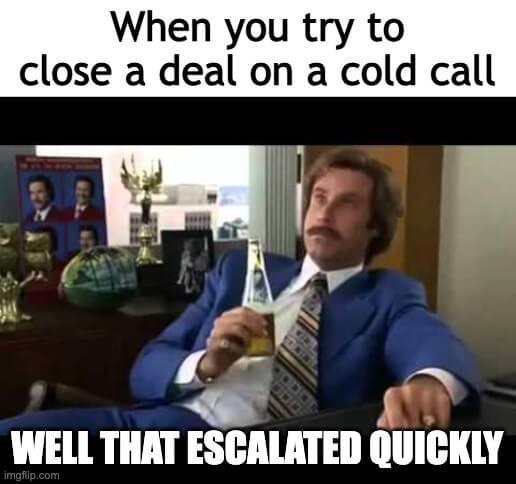 Long gone are the days when people made purchases over the phone. Now you often have to engage prospects with nurturing campaigns hoping the deal succeeds.
If you try to sell on the first cold call, you will probably not get far.
21. The results are what matter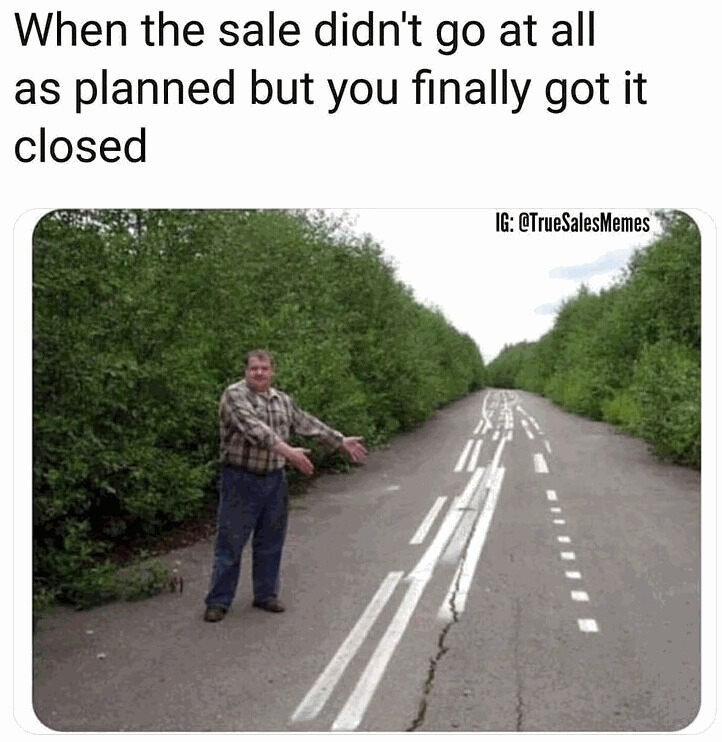 Some prospects take a particular route to make a purchase; you can't even make heads or tails at the end of the negotiations.
But hey, a sale is a sale!
22. That perfect feeling…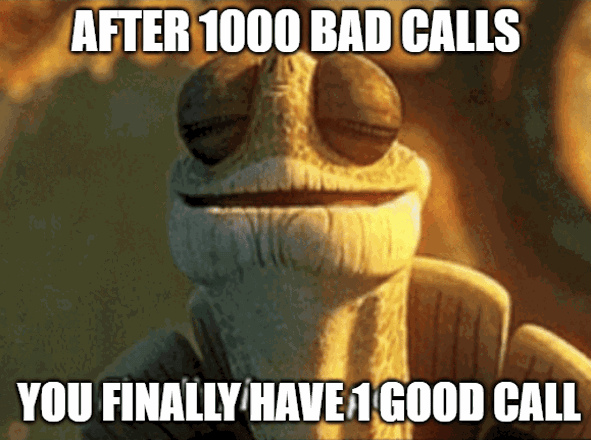 There's nothing like a successful cold call, especially after a slew of duds. When that happens, we're all energized to keep calling up the phone!
23. "Hug me, brother!"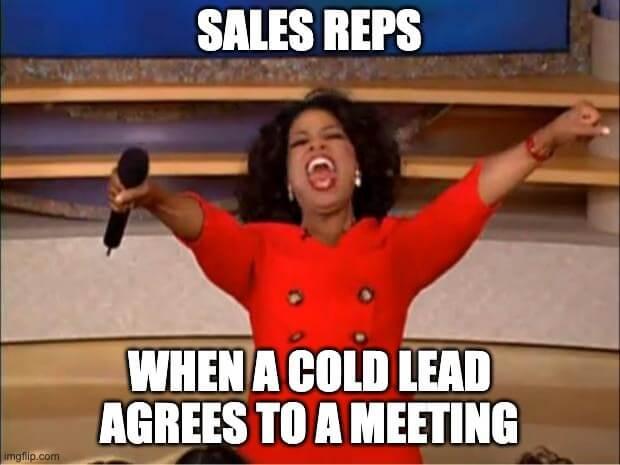 When prospects finally agree to set up a meeting, we can't stop celebrating in our heads, almost as if Oprah had given us a miniature car.
Maybe when the sale closes, we'll get the actual car!
24. "Oh, and also…"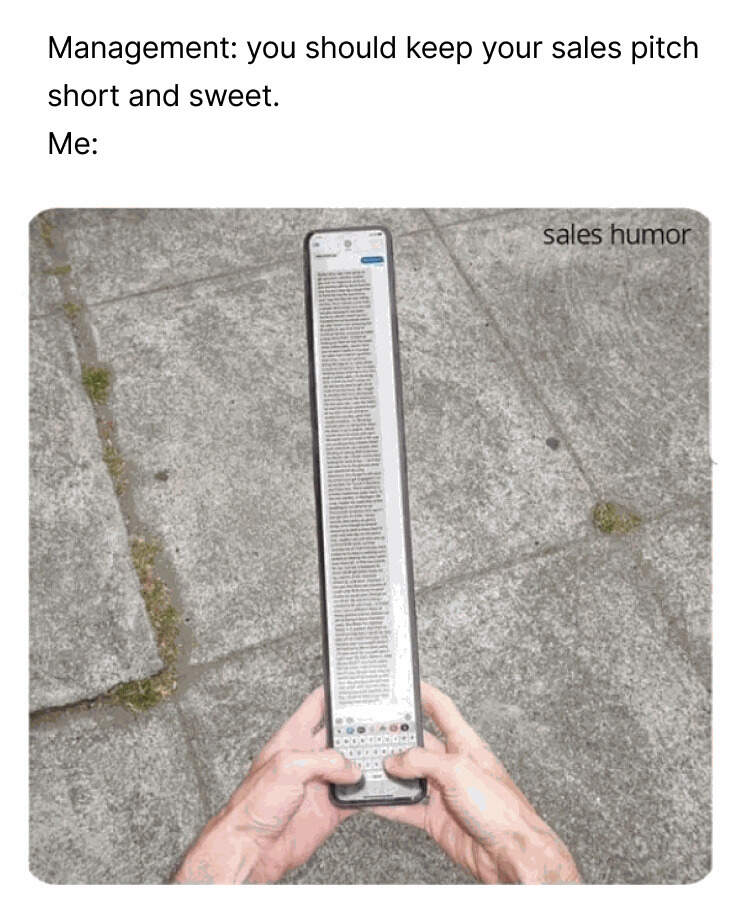 It can be hard to keep the sales pitch short, especially when you don't know what the prospect will be interested in! Ask questions and let the prospect guide the conversation instead of trying to navigate with a rigid cold calling script.
25. It just works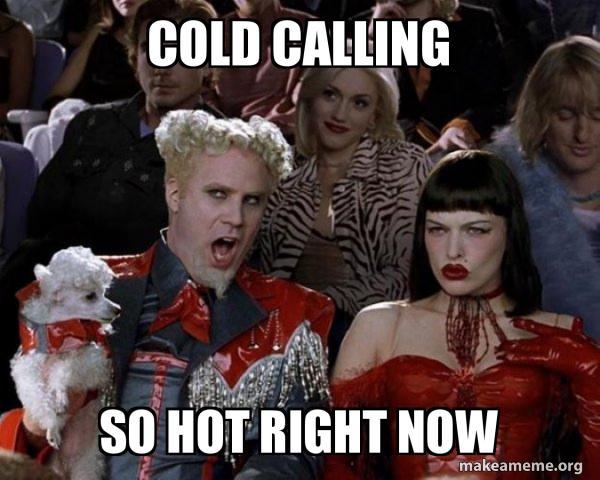 If there's anything we've learned from cold-calling (and certainly from these memes), cold-calling still works. Sometimes, you need a good sense of humor and know when to pick up the phone and call your next prospect.
What You Need to Remember About the Best Cold Calling Memes
We hope these cold-calling memes have made you laugh (or at least exhale a little from the nose) enough for you to share one or two with your team. After all, a good sense of humor always goes a long way when converting a prospect!
Although we could laugh at cold-calling memes all day, we should probably move on to our next prospect. If you're missing prospects or leads, try cutting down your lead generation time and costs by generating validated leads through UpLead.
Learn more about UpLead here.
Start Your 7-Day Free UpLead Trial
Lead generation doesn't have to be all that painful. With UpLead, you can easily connect with high-quality prospects and leads to grow your company.