To survive (and thrive), every business needs a steady stream of new leads, which will keep your sales team busy and help them to push your revenues higher and higher. Finding new leads isn't always an easy task, though. To uncover them, businesses must adopt a range of lead generation techniques, and they'll have to know when to buy leads and how. It's often essential to the very survival of their business.
But fear not! This piece is here to help.
Here, we're going to go through:
The times when you should buy leads
The key types of leads you can buy
What you need to know before buying leads
15+ websites where you can purchase leads
Quick tip: In a hurry to build your pipeline? Use UpLead to build prospecting lists free from dodgy data, bad-fit buyers, and low-qualified leads. 🔥 Grab 5 free leads today.
When Should You Buy Leads?
Are you thinking about buying leads, but you're unsure if it's the right time?
Here's a look at the main situations in which you'll likely want to consider purchasing leads:
Your pipeline is empty
It's critical that leads flow steadily through your sales pipeline – and so you should carefully monitor your pipeline at all of its stages to make sure that it isn't empty. Leads are like oil for your sales team: guarantee a consistent flow, and your sales team will be able to get the results that you need.
You need to generate new business quickly
If your revenue levels are starting to wane, then you must intervene and make the necessary adjustments. Depending on your particular circumstances, you might find that it makes sense to quickly purchase new leads and try to secure new business to resolve your issues. This is especially true with small businesses. Small businesses don't have the budget for complex sales and marketing campaigns and may instead purchase the contact information of potential leads.
You are launching a marketing campaign
If you are launching a fresh marketing campaign to reveal a new product or target a new audience, you will need to deliver it to the appropriate leads. At the outset of a new campaign, buying the leads you need often makes sense.
Start Your 7-Day Free UpLead Trial
Lead generation doesn't have to be all that painful. With UpLead, you can easily connect with high-quality prospects and leads to grow your company.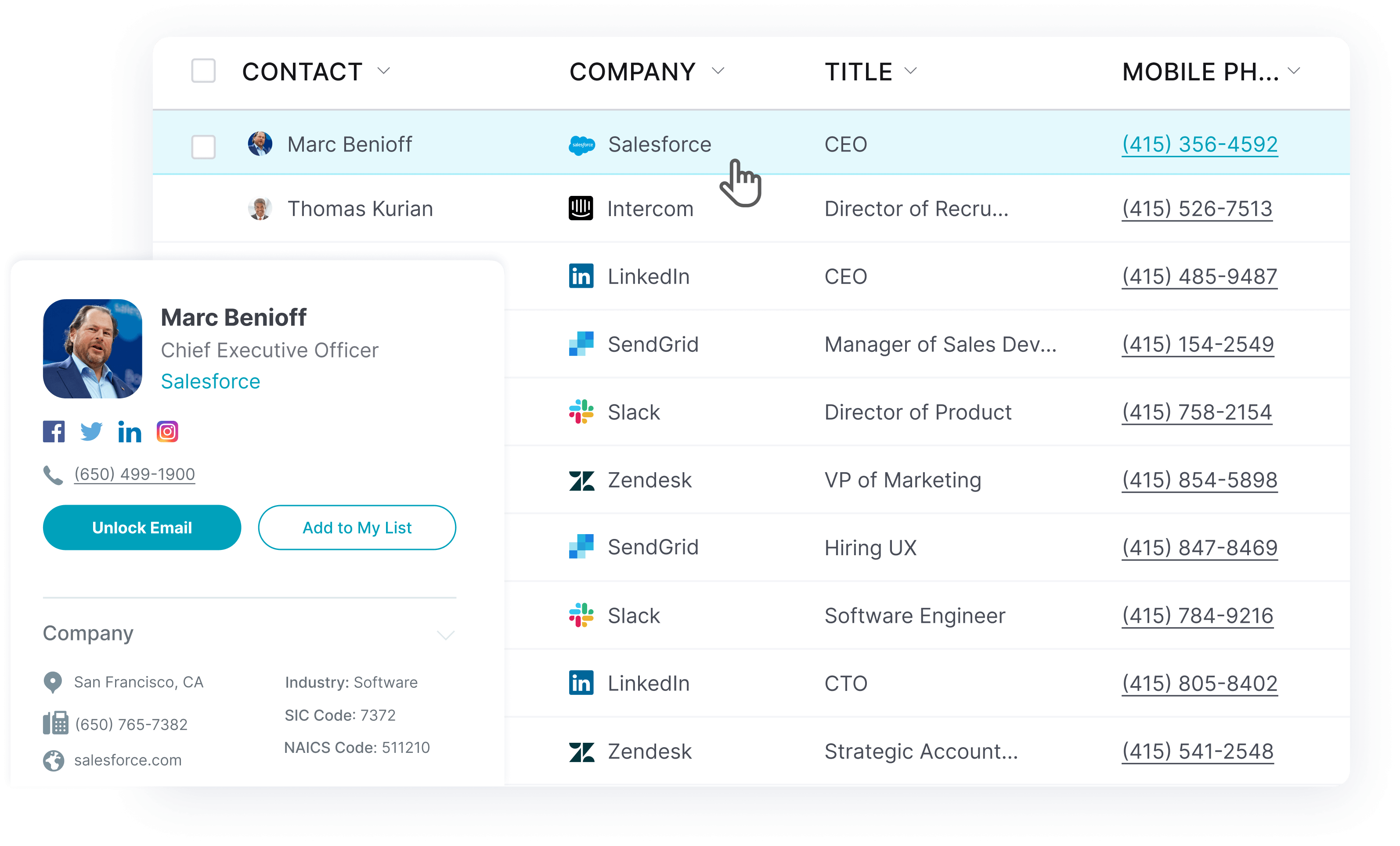 What Types of Leads Can You Buy?
Have you decided that it's time to buy some leads? Here's a look at the main types of leads you can purchase.
Sales Leads
Businesses often purchase relevant and high-quality sales leads to sell directly to them. Those leads will be carefully chosen according to diverse, firmographic information.
MLM Leads
Multi-level marketers rely upon fresh leads to sell products and services to new groups of people. Those marketers will use a host of techniques to acquire leads, and they'll undoubtedly buy leads regularly.
Real Estate Leads
Real estate is a highly competitive field that requires realtors to maintain high-quality databases of both buyers and sellers. This is why realtors regularly purchase real estate leads to get the best results possible. Here's how to get realtor email lists using different strategies.
SEO Leads
SEO agencies deliver amazing results for businesses worldwide, but a high level of competition makes lead generation difficult. This is why many SEO agencies will buy SEO leads to fuel their pipelines.
Web Design Leads
Web design agencies and boutiques have a lot of competition. The nature of their work means they'll need to work on a one-off basis with a host of customers, so naturally, they'll purchase leads to fuel their business with fresh customers. Here's how to acquire web design leads.
Business Loan Leads
Business loan lenders have to constantly play the field and monitor a range of industries if they're going to finance businesses. Lots of lenders purchase leads to identify potential borrowers quickly.
Franchise Leads
Franchisors and brokers also need to obtain quality leads if they're going to achieve their objectives. The ability to purchase leads is a powerful opportunity for those parties, and they'll leverage it regularly.
What Do You Need to Know Before Buying Leads?
Now that you know when to buy leads and which ones to purchase, let's dive deeper into what you need to know before buying leads:
The quality of lead data can vary between providers
The quality and accuracy of your data are everything. If you purchase from an untrustworthy source, you might find that the integrity of your data is compromised and that you will have paid for low-quality data, which you now can't use.
It's extremely critical that you understand that lead data quality can vary greatly from one provider to the next. This is why it's so important to read about the different providers out there carefully and about whether or not they can meet your needs.
You should be sure to do your research and check out platforms like:
G2 Crowd
Capterra
Google Reviews
Social media Reviews
Real estate groups and blogs
Sales and marketing blogs and articles
You should invest the time to find competitive pricing
Lead providers also vary greatly in terms of their prices and pricing structures. Before you decide on a provider, you'll want to assess their offering carefully and whether or not it truly meets your needs.
Some lead providers will offer credits and tokens, for instance – which is great if you're looking for flexibility and control over your purchases. Other providers will offer package deals, though, which could leave you stuck with useless leads at the end of the day.
As always, do your research, and be sure to reach out to your providers if you have any questions – if they're a legitimate provider who cares about your results, you'll certainly get a fast and accurate response.
You must develop a strong cold outreach strategy
If you make the decision to purchase leads, you'll also need to have a strong outreach strategy in place. A well-defined outreach strategy will help you make the most of your new leads and connect with them successfully.
If you're looking to get your cold email strategy off the ground, check out our cold email templates and 56 examples that get responses.
15+ Websites That Allow You to Buy Leads
Now that we've covered when it makes sense to buy leads and what you need to pay attention to, let's take a closer look at the best lead providers out there.
For your convenience, we'll introduce the platform, outline the lead purchasing process, explore the pros and cons, and then examine the pricing.
1. UpLead
Need Better Leads? Check Out UpLead
UpLead offers a straightforward way to get quality leads. Simple, effective, and reliable.
1. Contact info
2. Calendar
Book a demo
Up to 170
170-399
400-999
1000+
UpLead is a lead generation platform that makes it simple for businesses to find the right contacts. The platform gives you access to 140+ Million B2B contacts across a range of industries including real estate, SEO, web design, software, construction, and more.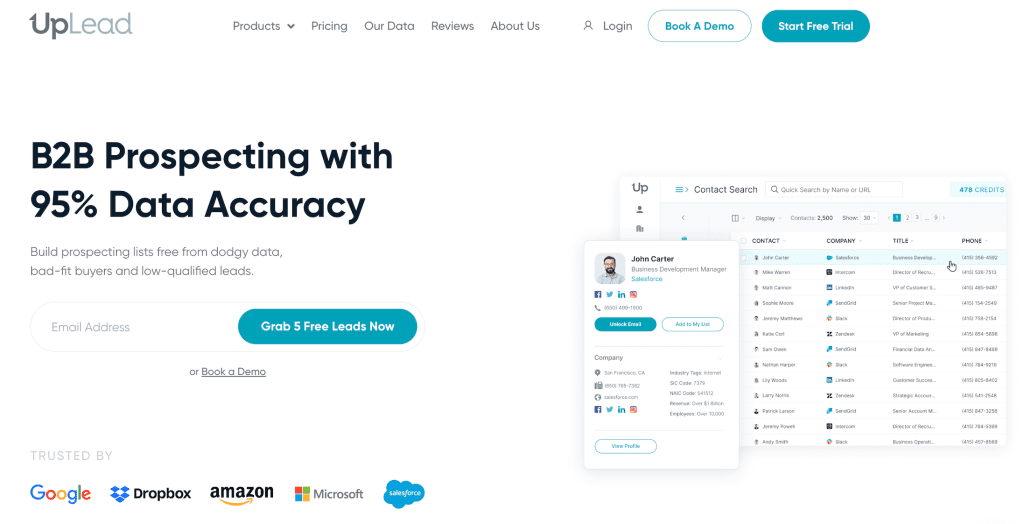 Pros
Over 140 million high-quality business contacts
Build targeted lists using high-quality verified data
Search through specific contacts and companies
Enrich and enhance your own data
Find market-ready leads via Intent Data
Cons
A small number of contact details are outdated
Pricing
Free trial: $0 with 5 credits
Basic: $99/month with 200 credits
Plus: $199/month with 500 credits
Professional: $399/month with 1,500 credits
2. Megaleads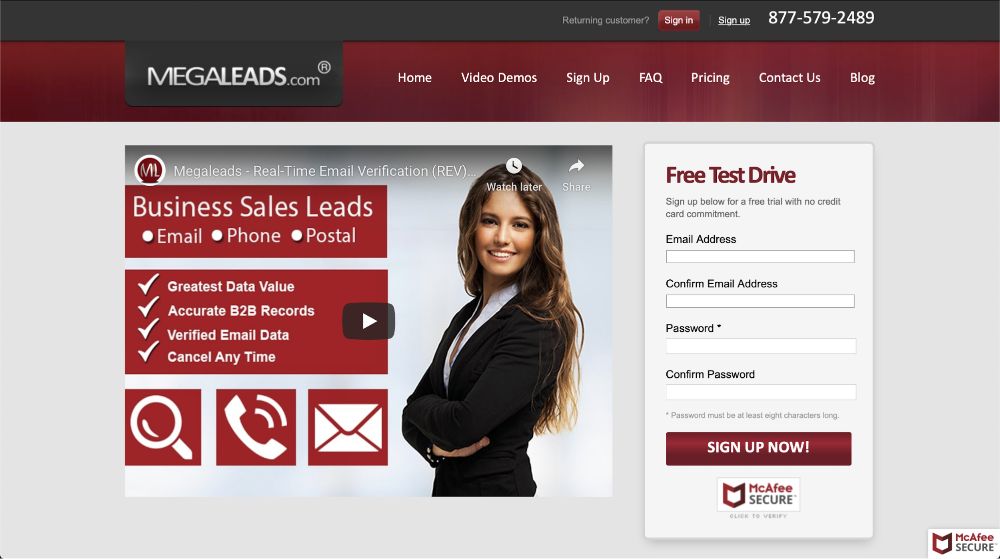 Megaleads is a lead purchasing platform that helps businesses of all sizes to purchase quality leads. Users pay in batches for lead lists, which can be downloaded into CVS files for local use.
Pros
Competitive rates
Straightforward to use
Free trial available
Cons
No complementary features or functionality
Complaints about customer service
Lead data is often inaccurate
Pricing
Silver: $59/month per 1,000 downloads
Gold: $159/month for 10,000 downloads
Platinum: $279/month for 50,000 downloads
3. Lead Roster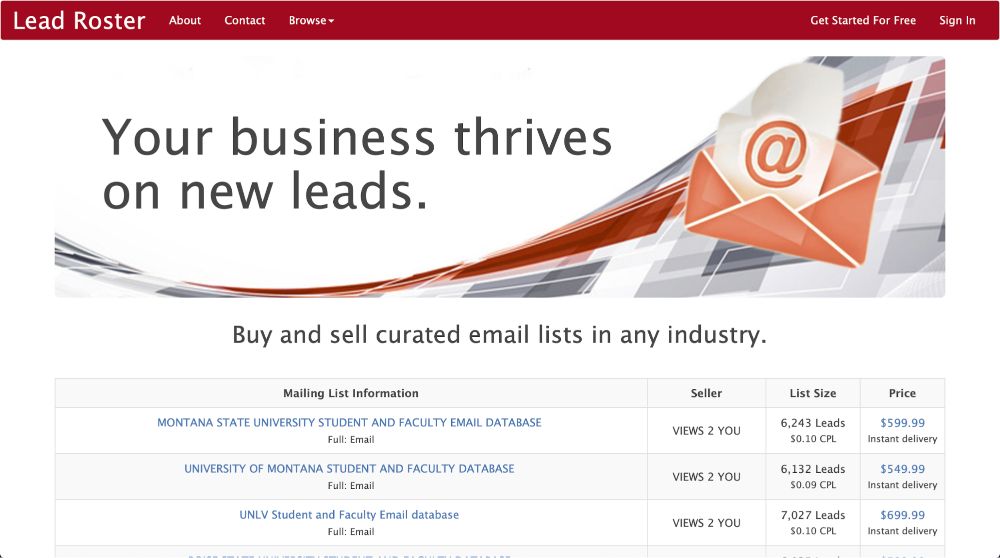 Lead Roster allows marketers to buy and sell curated email lists in any industry. Marketers can use this platform to purchase specific and targeted mailing lists on a one-off basis.
Pros
Browse lead lists according to industry
Regularly updated with new lists
Cons
Lack of quality control
No additional features or functionality
Some complaints about lead accuracy
Pricing
Prices vary from one mailing list to another
4. Salesfully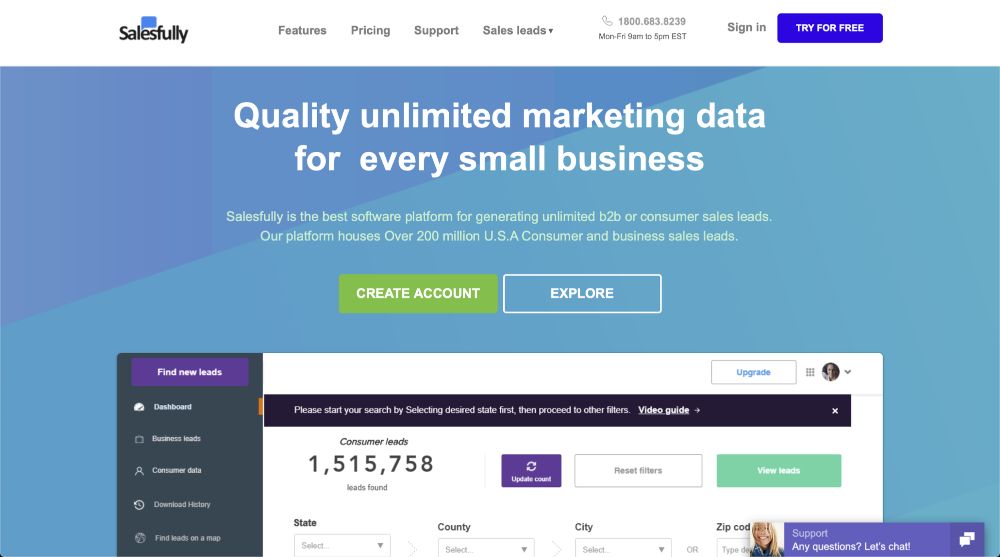 Salesfully is a B2B and consumer-lead purchasing platform which focuses primarily on the USA. It offers a versatile platform that can be used to purchase both B2C and B2B sales leads.
Pros
Easy to use
Download history to find previous purchases
Unlimited searches
Cons
A lack of search features
Complaints about lead accuracy
Pricing
5. BuiltWith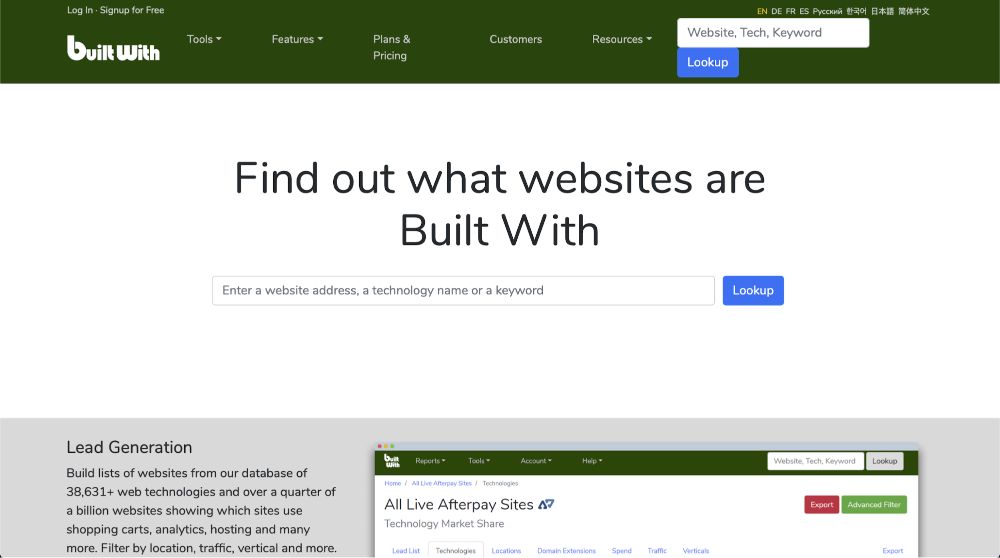 BuiltWith gives marketers the ability to find out which technologies are used on certain power websites, thus granting companies that offer technical products and services the ability to narrow down their search and target the right leads.
Pros
A wealth of technical information
Features such as lead generation and CRM integrations
A legitimate platform trusted by big businesses
Cons
Somewhat complex to use
Expensive and not always the best fit
Pricing
Free for individual site lookups
Basic: $295 per month
Pro: $495 per month
Team: $995 per month
6. Leadrop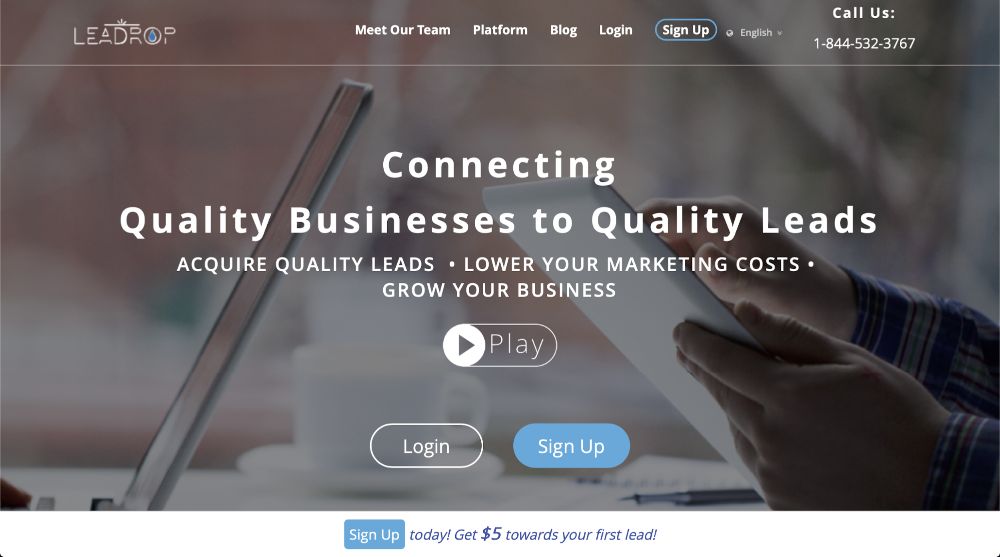 Leadrop empowers business owners to collect quality leads to lower marketing costs and grow their businesses. The platform caters to both the purchase and sale of leads through its lead platform.
Pros
Covers a number of industries
Cons
Not forthcoming with pricing
Some complaints about data accuracy
Pricing
Prices vary depending on specific purchases
7. Dun&Bradstreet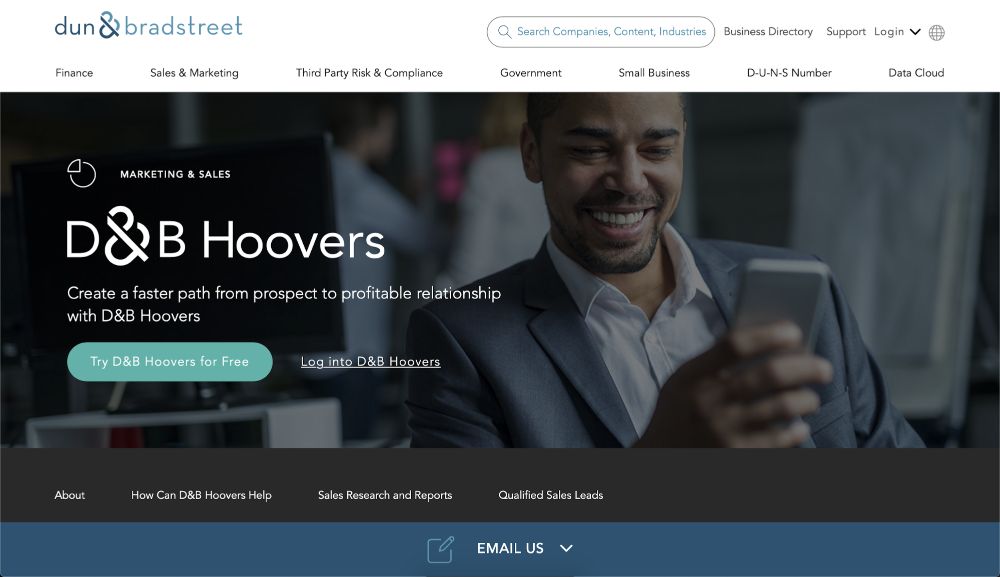 D&B is a sales acceleration solution that allows marketing and sales professionals to leverage data and analytics to grow their businesses. The platform offers lead information alongside a host of additional features and operates on a subscription basis.
Pros
Records are updated on a regular basis
The data is renowned for its quality
Lots of search filters
Cons
The ease of use isn't the best
Not all fields are explained properly
Lack of filters to extract data
Pricing
Pricing is available upon request
Note: UpLead is considered one of the best Dun and Bradstreet competitors today.
8. Easyleadz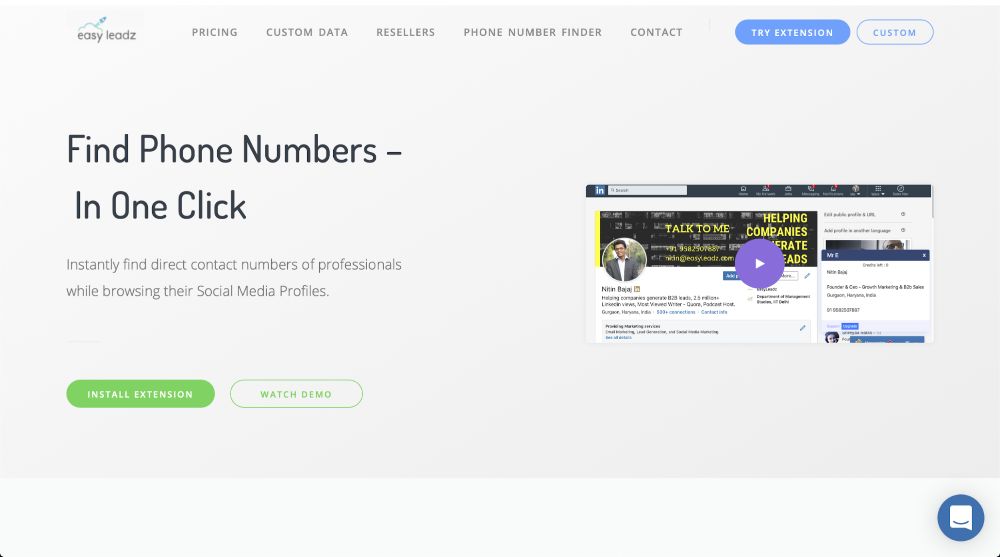 Easyleadz provides the direct contact numbers of professionals. Marketing and sales professionals can use this extension to automatically find contact information when browsing social media profiles like LinkedIn.
Pros
Offers a single-click install
Provides accurate contact numbers
Great for direct contact
Cons
Limited functionality
Not always accurate
Pricing
Free trial: 5 free credits
Single: $29 for 40 numbers a month
Studio: $69 for 130 numbers a month
Business: $139 for 300 numbers a month
9. Aeroleads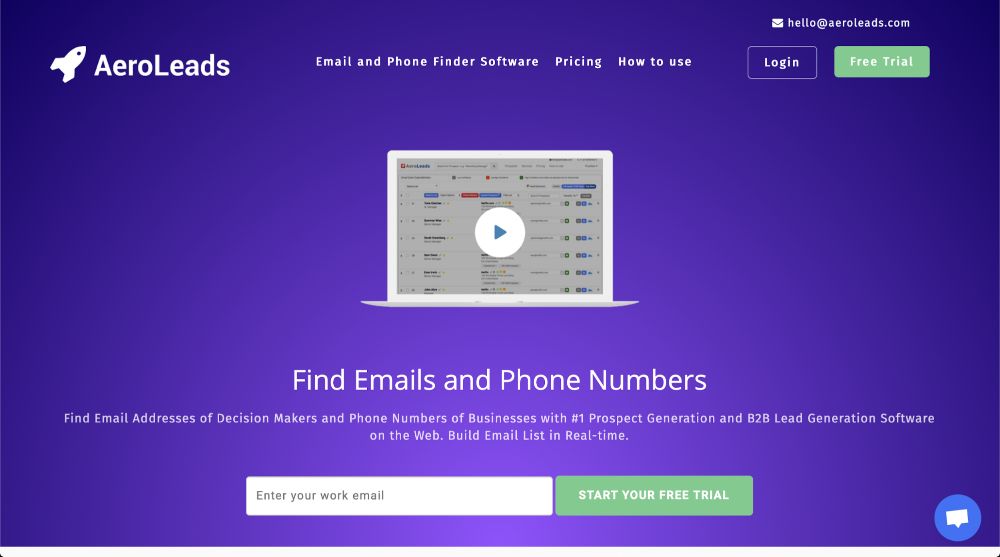 Aeroleads is a lead platform that empowers marketers and sales professionals to find the emails and phone numbers of decision-makers. The intuitive extension makes adding prospects directly from their social profiles easy.
Pros
Offers a simple Chrome extension
Search using a range of data points
Generally reliable information
Cons
Might have difficulties finding leads in some industries
Not always accurate data
Pricing
Take Off: $49 for 700 credits
Climb: $149 for 2,500 credits
Cruise: $499 for 10,000 credits
Enterprise: According to requirements
10. Cloudlead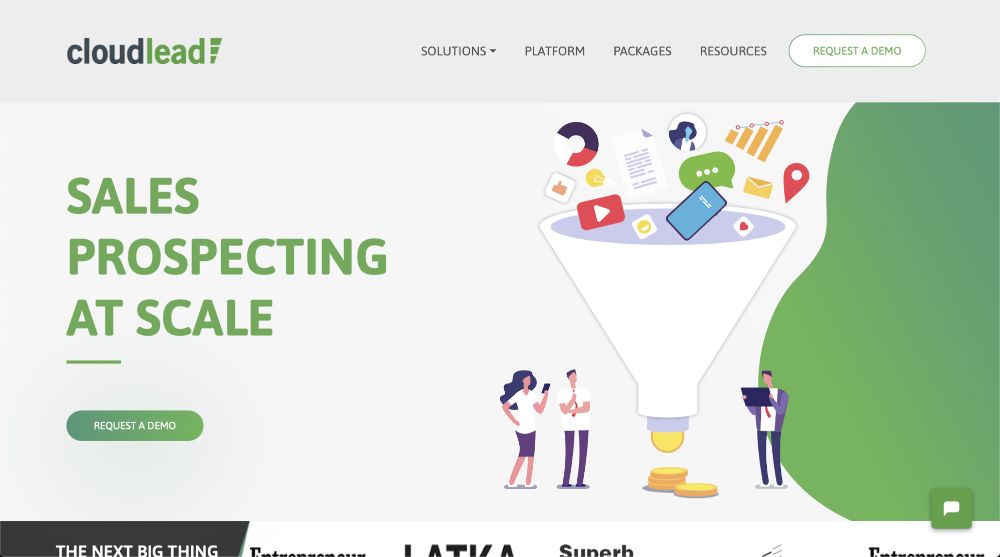 Cloudlead is a lead provider that helps marketers and salespeople unlock prospecting at scale. They offer a cloud-based platform that can be used to create custom list requests and purchase leads.
Pros
Quality leads
Helpful customer support
Responsive vendor
Cons
A lack of case studies
Lead delivery can take time
The bounce rate is sometimes quite high
Pricing
Starter: 500-1000 leads per month
Growth: 2000-5000 leads per month
Professional: 5000-10,000 leads per month
11. Leadiro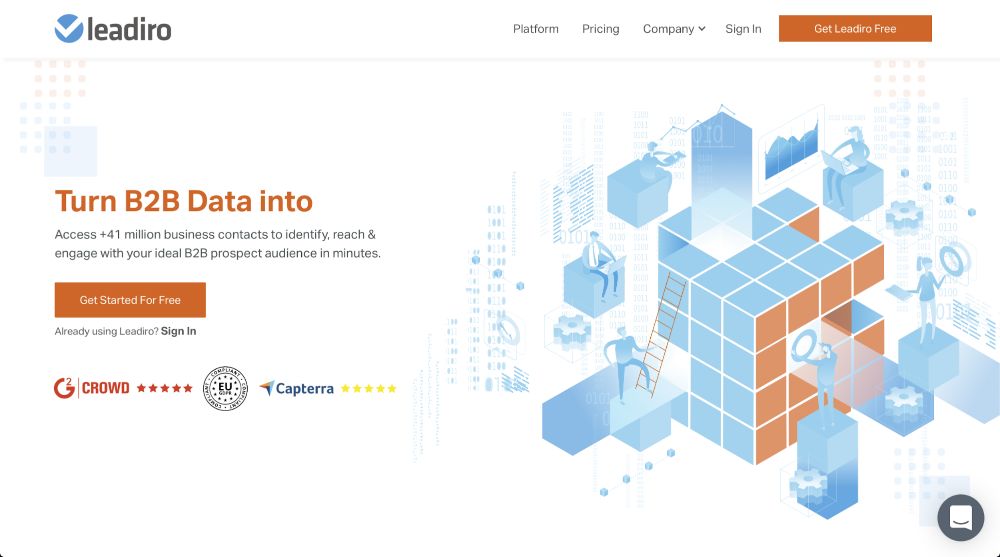 Leadiro gives businesses access to a huge number of contacts. You can then use the platform to quickly identify, reach, and engage those prospects. It's possible to access leads through the Leadiro platform.
Pros
Efficient and easy to use
Diverse functionality
Possible to tweak searches
Cons
UI is somewhat dated
Lack of communication
Some complaints about data accuracy
Pricing
Free: Database access, but no downloads
Professional: $99 for 500 contact downloads per month
Business: $249 for 2,500 contact downloads per month
Premium: $300 for 5,000 contact downloads per month
Enterprise: According to your needs
12. DiscoverOrg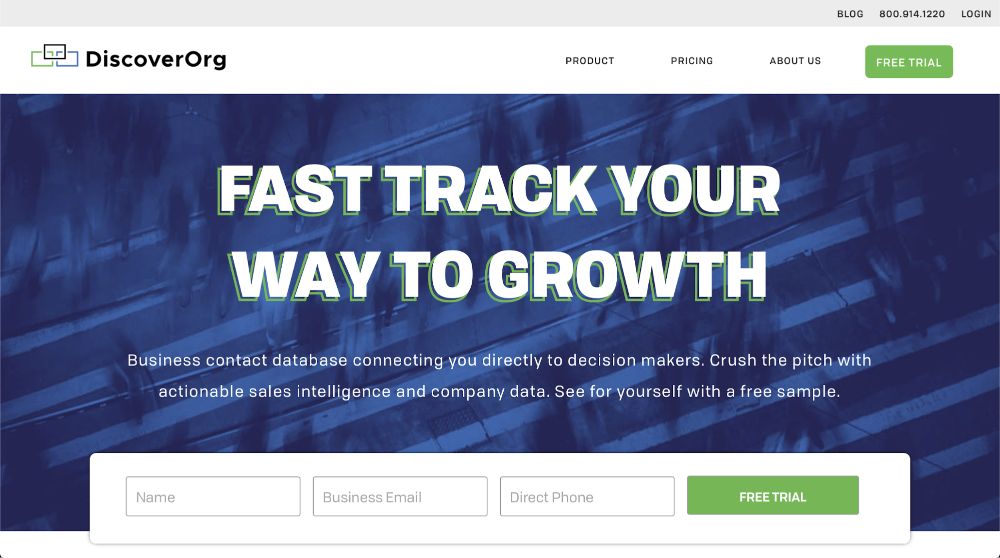 DiscoverOrg is a business contact database that helps businesses to build targeted sales lead lists and connect directly with decision-makers. The platform operates on a subscription model.
Pros
Good for finding high-level information
Offers a wealth of information
A diverse range of functionality
Cons
Concerns about pushy sales tactics
Concerns about data accuracy
Pricing
Pricing is only available upon request
UpLead is one of the top Discoverorg alternatives in the market today.
13. LeadMine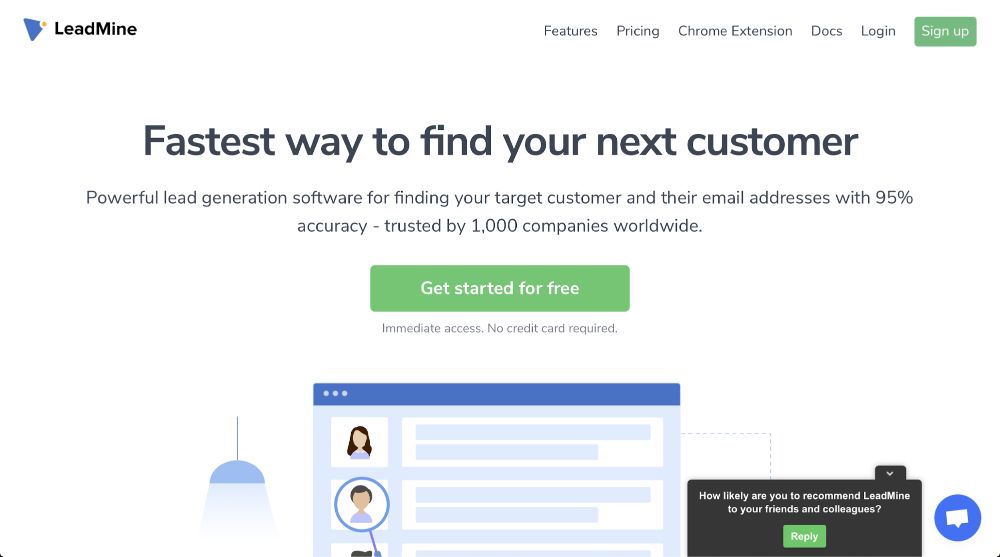 LeadMine gives businesses a quick way to find new customers. The lead generation software offers up accurate information and operates on a subscription model to give users enhanced flexibility.
Pros
A diverse range of features
Lead scoring and prospecting
Quality information
Cons
Limited search functionality
Some Chrome plugin issues
Pricing
Free: 10 credits per month
Basic: $29 for 100 credits per month
Essential: $49 for 300 credits per month
Professional: $149 for 1,000 credits per month
Premium: $299 for 2,500 credits per month
Enterprise: Starts at $2,000 per month
14. Lead411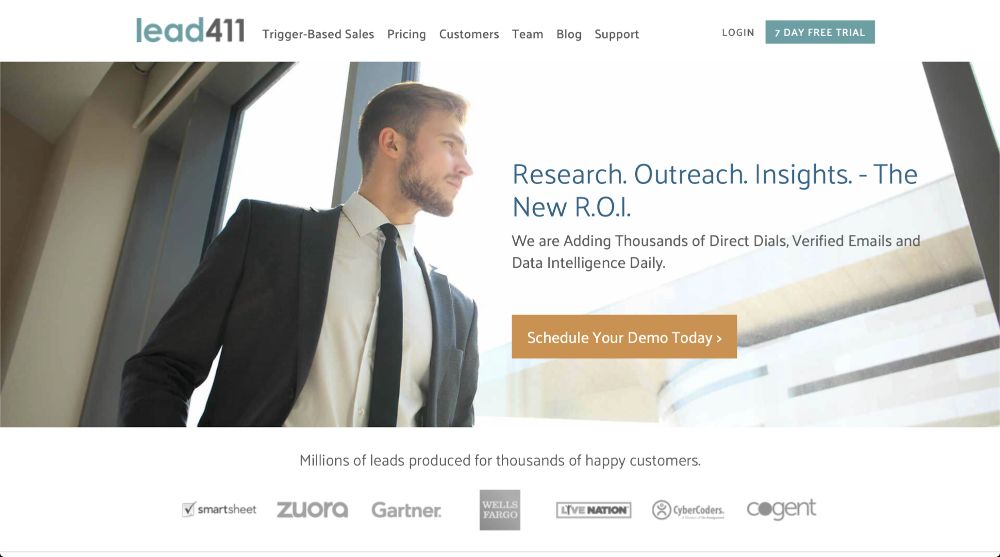 Lead411 is a sales intelligence platform that allows businesses to access direct dials, verified emails, and other additional data. It also operates on a subscription basis, offering a range of plans.
Pros
Specific filters and search features
Largely accurate data
A focus on customer satisfaction
Cons
Some bounceback
Lacks the ability to update contacts
Problems with Salesforce integration
Pricing
Starter: $37.50 for 150 exports per month
Basic: $75 for 150 exports per month
Pro: $150 for 450 exports per month
Enterprise: Open to negotiation
15. InsideView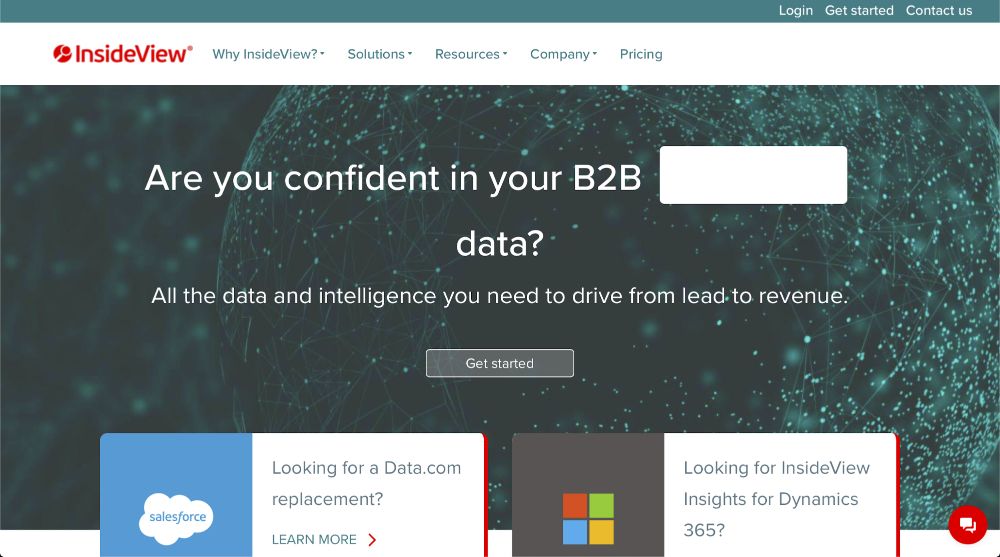 InsideView gives marketers and sales professionals access to the data and intelligence needed to help drive higher revenues. It also operates on a subscription basis and offers a range of subscription models.
Pros
Robust search features
Integration with leading platforms
A useful watchlist feature to receive timely updates
Cons
LinkedIn integration is difficult to use
Some markets are less accurate than others
No mobile version
Pricing
Professional: $99 for 100 company or contact experts per month
Enterprise: Custom pricing
UpLead is a solid Insideview alternative if you prefer other options.
16. Lusha
Lusha offers B2B contact information for marketing and sales professionals. The platform prides itself on offering a range of data points and integration with platforms such as Salesforce.
Pros
It also includes personal emails
Smooth integration with LinkedIn
Possible to update existing contact records
Cons
Occasional glitches require a reload
Data accuracy is sometimes an issue
Pricing
Basic: Free with 5 credits each month
Professional: $39 for 50 credits each month
Premium: $49 for 80 credits each month
Enterprise: $69 for 120 credits each month
Try UpLead if you're looking for an awesome Lusha alternative.
Buy high-quality leads without overpaying
We hope this piece helps you make the most informed choices regarding purchasing leads. As you can see, a vast wealth of options are available to you when it comes to discovering and buying high-quality leads!
To get the most accurate leads, consider UpLead. We are trusted by some of the world's biggest businesses, and we get great results.
Start your free trial today to quickly find, connect, and engage with qualified—and even ready-to-buy prospects.