Meeting sales goals can be a challenge for any company. However, with the right sales targeting strategies, you can dramatically improve your conversion rates and successfully grow your business.
Sales targeting strategies are frameworks that you and your sales team use to understand your buyers and improve your marketing and sales tactics.
But what exactly does sales targeting look like for your business? And what can it do to improve your sales efforts?
Let's start with the basics.
Quick Links:
What Is Sales Targeting?
Sales targeting is the process of identifying who your user persona is and the strategies needed to attract and convert them.
While all companies do this to some degree, sales targeting zeroes in on identifying sales prospects, breaking down their customer journey, and developing strategies to attract them each step of the way.
Starbucks, for example, has a very defined target audience of 25-40-year-olds—typically working professionals with a good understanding of current technology. As a result, their sales targeting efforts include having a strong presence on Facebook and Instagram, which are a vital part of their multi-channel strategy when promoting their products.
Types of Sales targeting
Sales targeting efforts will usually fall into two main strategies: Inbound and outbound sales.
Inbound marketing focuses on creating strategies that passively attract customers through valuable content. These include blog articles, social media campaigns, webinars, ebooks, and SEO efforts, to mention a few. Using inbound marketing, companies can generate high-quality leads at low prices. However, this method tends to produce leads slower than outbound marketing efforts.
Outbound marketing proactively reaches out to customers directly instead of waiting for customers to take the first step. Outbound strategies include PPC ads, cold calling, cold emailing, event sponsorships, and direct mail, to mention a few. Although outbound marketing can find leads faster, it can also be more expensive to implement.
Why You Should Care About Sales Targeting
If you're investing time and money in marketing efforts, it only makes sense to ensure they're developed with the right customer persona in mind.
Sales targeting strategies can stop you from wasting money on ineffective promotions. Instead, they narrow down your target audience, giving you the insight you need to develop relevant inbound and outbound marketing strategies.
Benefits of Sales Targeting for Sales Teams
Sales targeting can prevent you from wasting time on leads that won't convert. It helps you find and prioritize higher-value leads ready to purchase and ensures that your marketing efforts are always focused on the right potential customers.
Simply put, sales targeting allows you to generate and focus on more high-quality leads, saving you time and money.
Benefits of Sales Targeting for Customers
Your potential customers can also benefit from your sales targeting efforts. When you better understand who they are, they will be more likely to receive hyper-relevant offers to their needs.
Accurate knowledge of your sales targets will also help you develop better, more effective ways to educate them about your product or service. This will make it easier for them to get the most out of their purchase.
How To Create A Successful Sales Targeting Strategy
Once you understand what a general sales strategy is, it's important to focus on how to create a successful sales targeting strategy.
Here's how to get started:
Have specific OKR indicators, and track them
Start by creating specific OKR (Objectives and Key Results) indicators for your sales team to understand, strive for, and attain. 
Keep your goals specific, measurable, actionable, relevant, and timely (with a deadline attached). For example, if you have a sales quota of 50 leads with a conversion rate of 5%, then your sales team should work with 5,000 leads within a specific timeframe.
Find relevant channels
Use the data for your user persona to determine your team's channels to reach them. Make sure you're making data-driven decisions from accurate user personas. Use this information not only to choose the channels but also your budget and marketing approach.
Channels will typically be categorized into inbound and outbound methods. A good sales cycle ensures a constant flow of leads from both channels.
Use inbound marketing to craft engaging and attractive content your users can connect with. The content should be high in perceived value and as relevant to your audience as possible. The higher the value, the more you can ask for in exchange.
Use SEO efforts to find customers at any point in their customer journey and position your brand as the solution to their needs. Blog articles and guest posts can showcase your brand as an authority in your industry. Although costly, lead magnets can generate leads over the long term with minimal upkeep costs.
Use outbound strategies to generate the leads you need right now. Generate lists of cold leads to call or email and proactively offer the solution to their pain points. Purchase ads to redirect traffic to landing pages and ensure you get healthy leads for your sales and marketing efforts.
Build accurate buyer personas
The more you know about your sales target, the better you'll be able to sell to them. Build accurate buyer persona profiles using data from your existing customers.
Choose the right tools
We live in a world where you can automate practically anything. Use the latest technology available to leverage the right sales solutions, manage your data, study your target audience, and find leads that perfectly match your sales targets.
Manage your sales team correctly
Make sure that your sales team understands how to use sales targeting strategies. Help them become fluent in the technology that's included in your processes. This will ensure your team feels supported and help them become more successful salespeople.
Sales Targeting Tools to Help You Reach Your Target Market
As mentioned above, sales targeting tools can help guide you and your team through each step of your sales targeting process.
Here are some of the best tools available for finding your sales targets and the most effective methods you can use to reach them:
Finding Your Sales Targets
These tools help you find the targeted leads you're looking for:
List Building Tools
List-building tools are a great way to generate leads that perfectly fit your sales target, almost on command. These tools are primarily used for B2B lead generation, allowing users to find accurate business leads and their details and contact information.
With list-building tools, you can skip more arduous lead-generation processes, giving you more time to focus on developing a winning sales strategy. This will shorten your sales cycle, and help you convert more leads.
Data Enrichment Tools
Data enrichment tools allow you to expand upon and update lead information you already have. This can ensure you have recent and thorough information about your potential customers and help you accurately segment your database. These tools will also provide updated email addresses and phone numbers related to your leads.
Survey Tools
Survey tools allow you to obtain more data from current customers. They make it easy to create an attractive survey that your customers will want to complete.
Surveys can be valuable tools in your marketing arsenal, allowing you to test content, measure important KPIs, and gain the insight you need to repeat your successes and convert additional customers.
Use survey tools to gather information about the current lead generation process. Target your best customers with surveys to figure out why they converted, how they converted, and the obstacles they had to go through in their journey. Then, you can use that data to find more clients just like them and improve your sales and buying processes in the future.
Customer Relationship Management Software (CRM)
Customer relationship management software, or CRMs, help you stay in contact with your leads and customers and efficiently manage their information.
Using CRMs, your customer contact process can become more streamlined and organized. They enable your salespeople to set up automatic follow-ups, expedite their lead scoring, and keep track of all leads and customers across sales and customer care departments.
CRMs are a helpful tool for consolidating and storing the leads you're generating. They are also a great place for your salespeople to access more detailed information about your leads that will help convert them into customers.
Reaching Your Sales Targets
Here are several ways to reach your sales targets:
Cold Calling Tools
Cold calling tools do more than just make calls. They are complete systems that allow you to take notes during sales calls, record all calls to audit and test their quality and condense your leads into simple lists.
Use cold calling tools to streamline your cold call approach, monitor in-house and remote salespeople, and integrate your campaigns into the rest of your marketing efforts.
Cold Email Tools
Just like cold calling tools don't make phone calls, cold email tools don't just send emails. They have several features that can help you improve your reach and conversion rate.
Cold email tools can segment audiences and help you develop the right emails for each group. Cold email tools also allow you to design emails from the ground up, and you can connect them with your other tools to update lead information and keep track of customers.
Use them to develop vibrant and irresistible cold email campaigns and keep track of your KPIs using their analytics tools.
Social Selling Tools
Social selling tools are useful for building a list of leads to communicate with through social media platforms. They can be a great way to convert your followers into leads for your business through affordable nurturing campaigns and engaging content.
Some social selling tools allow you to do in-app research to understand the social sentiment better than your competition. These tools also allow you to keep track of your performance across social channels and make it easier for you to engage with your audience.
Use them to consolidate all your social media profiles into one tool. This will make it easy to follow up on messages and keep track of leads across all platforms.
How To Evaluate Your Sales Targeting Strategy
Crafting the perfect sales targeting strategy can be challenging. But you can use tests and data analysis to ensure you're developing the most effective strategy possible for your business.
Start by choosing the right key performance indicators (KPIs) to follow, and ensure you're regularly getting a report of them. Be sure to set clear goals and sales quotas for your team.
You also need to evaluate how successful your current sales targeting strategies are. A healthy lead generation strategy can generate leads for every sales funnel step. Look into the kind of leads you're receiving. You should receive a variety of cold, warm, and hot leads to engage with. This will ensure you have enough leads for marketing efforts, nurturing campaigns, and immediate conversion.
Improve Your Sales Targeting Strategy With UpLead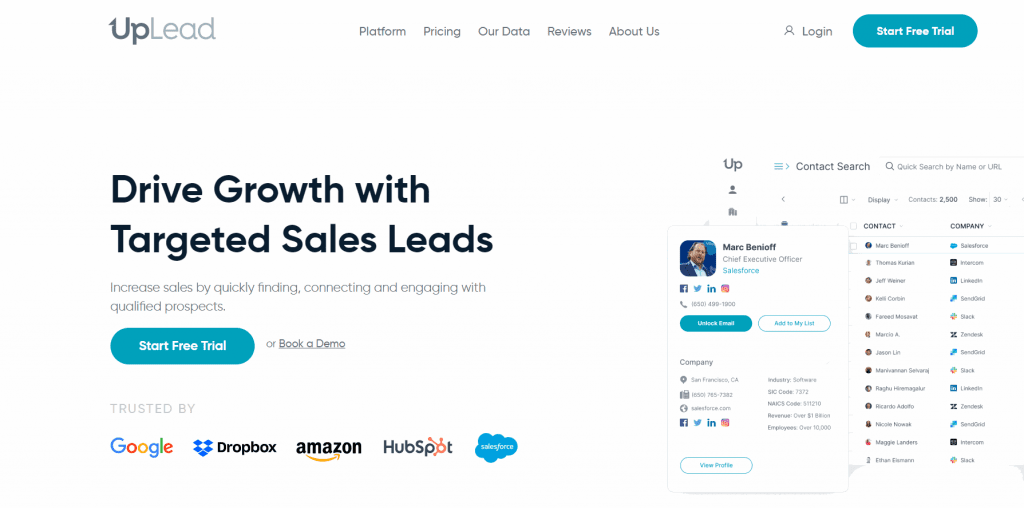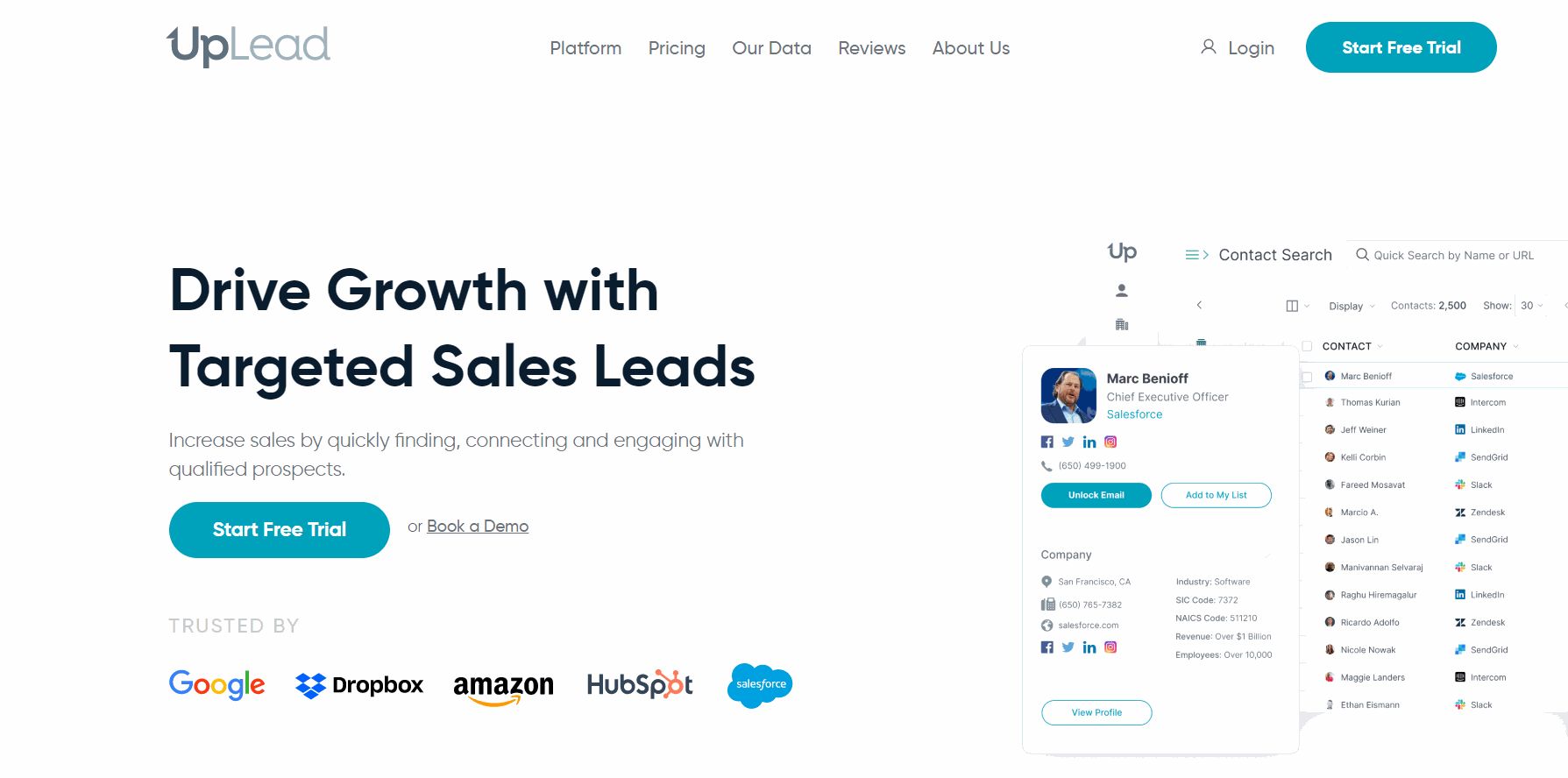 UpLead is the easiest way to build accurate lead lists for your sales strategy.
Developed to accommodate any type of business, UpLead is a powerful and intuitive lead generation tool. They'll help you simply use your sales persona to find all the leads you need.
Access a vast database with millions of business contacts and instantly download accurate lead information for your cold strategies.
How to Use UpLead for Sales Targeting
Here are a few ways you can use Uplead for your sales targeting needs:
Lead generation
UpLead makes finding valuable leads for any cold sales strategy easier than ever. Simply customize the 50+ data points to describe your ideal leads accurately. Then, you can pick the individual leads you want or download a large list of leads in bulk.
UpLead will verify every email address in real time before downloading your lead list. Even if leads don't pass this validation step, you can still download them for free and access their profile.
Lead interaction
UpLead doesn't just display lead data in boring spreadsheets. Instead, you and your sales reps will see leads represented in vibrant lead profiles. These profiles make it easy to get to know your leads quickly, right before an interaction if necessary.
This can help your sales reps qualify leads faster, allowing them to choose the most appropriate sales strategy before making contact.
Data Enrichment
With UpLead's data enrichment capabilities, you can freshen up old lead data and gain valuable insights into incomplete or sparse lead lists.
Simply upload your list to UpLead, and let the platform fill in missing data and update contact information. Use this updated customer data to segment your list better and ensure you use the right marketing strategies.
Benefits of Using UpLead in Your Sales Targeting Strategy
Whether you're using inbound or outbound channels, spending a lot of time and money developing the right strategy is easy. From designing visuals to writing content, and creating ads, keeping up with your strategy can be an enormous task.
UpLead simplifies the lead generation process, allowing your team to start reaching potential customers and making sales faster. Use the time you saved to develop effective cold-calling campaigns instead.
You can also integrate UpLead with other lead generation strategies, adding detailed profiles and updated contact information to your existing lead data.
Try UpLead for free today and see if it's the right fit for your company.
Start Your 7-Day Free UpLead Trial
Lead generation doesn't have to be all that painful. With UpLead, you can easily connect with high-quality prospects and leads to grow your company.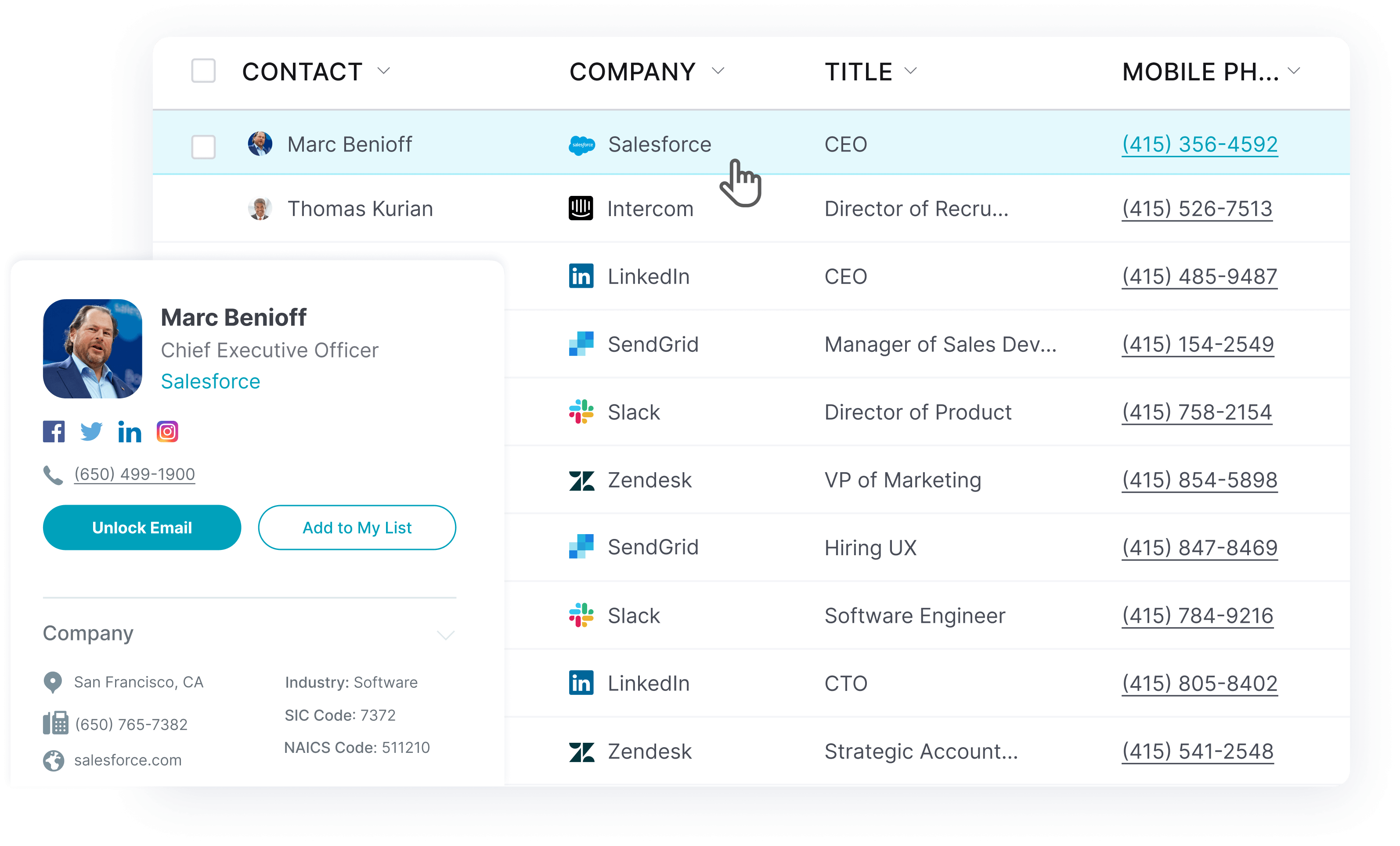 Frequently Asked Questions About Sales Targeting
Here are answers to commonly asked questions regarding sales targeting:
What types of businesses benefit from a sales targeting strategy?
Most businesses benefit from using a sales targeting strategy. Since all businesses need leads, it makes sense for them to develop a strategy to find and engage with the right potential customers. Small businesses may use sales targeting to decide which social platforms to engage with and find cost-effective ways of generating leads. Large businesses can use targeting efforts to attract large amounts of leads and to develop and keep track of large, multi-channel lead generation efforts.
How do you find sales targets?
Start by developing accurate customer personas using data-driven insights. Then, analyze your customer persona's demographics to develop strategies that appeal to your potential customers. You can develop inbound and outbound marketing campaigns designed to find leads or develop strategies for your leads to find you. You can also use list-building tools like UpLead to input your customer persona and quickly find the leads you need for your sales strategy.
Key Points To Remember About Sales Targeting
Sales targeting helps you gain a better understanding of your leads and allows you to find potential customers in an efficient, cost-effective way.
The sales targeting process starts with building an accurate buyer persona, then uses that data to develop ways to find and attract potential customers.
If you're ready to develop a faster and more effective sales targeting system, start with UpLead. Using only your buyer persona, they'll help you generate accurate lead data in minutes. Use UpLead in coordination with other lead generation strategies to improve your sales success and help your business grow.
Try UpLead for free today, and see if it's the right fit for your company.
Start Your 7-Day Free UpLead Trial
Lead generation doesn't have to be all that painful. With UpLead, you can easily connect with high-quality prospects and leads to grow your company.