If you're looking for an updated strategy to generate high-quality leads and convert high-value accounts, it may be time to consider account-based marketing. Account-based marketing tactics involve targeting specific accounts at the onset of your marketing campaign, rather than focusing on the 'traditional' broad-to-narrow approach of a sales funnel.
To help you get started, here are the 12 best account-based marketing tactics for B2B companies that you can start using today.
Quick Links:
What Is Account-Based Marketing (ABM)?
Account-based marketing is a unique marketing tactic that focuses on key target accounts from the onset of the campaign rather than starting with a broad audience that's narrowed down as it progresses through the sales funnel.
The account-based marketing approach allows your campaign to be much more personalized from the onset. This technique helps you get a head start on building strong relationships with potential customers in a much more customized way while still generating leads with more than one account at a time. All you need is a list of contacts and a strong understanding of which accounts have the most high-value potential.
Bucketing your contacts into customized categories is a way to prioritize and organize your list of leads. This will help you create more targeted campaign materials and outreach, increasing the chance of converting leads into paying customers.
Let's take a look at how account-based marketing compares to general outbound sales campaigns and some real-world examples of account-based marketing in action.
Why Account-Based Marketing (ABM) Isn't Just Outbound Sales
Before you implement account-based marketing tactics, it's important to understand how it's different from general outbound sales strategies. Outbound sales typically involve high-volume outreach to a large list of potential leads.
Often driven through cold call and cold email campaigns, outbound sales is based on the traditional sales funnel model—contacting a broad audience with the intent of advancing potential leads through the sales funnel.
Account-based marketing cuts out the high-volume contact work and targets key accounts from the onset. While this tactic may not always be possible due to resourcing constraints or marketing teams having limited experience with account-based marketing, it's a great way to streamline marketing efforts from the outset. If you have dedicated ABM specialists or resources you can allocate to an ABM campaign, it's well worth it.
3 Inspiring Examples of ABM Tactics
Let's take a look at three fantastic real-world examples of account-based marketing in action.
Payscale
Payscale used account-based marketing tactics to generate significant growth in well under a year. By focusing on relevant advertisements and delivering them to key target accounts, interactions with advertisements grew by 500%.
By aligning sales and marketing tactics, clearly identifying target accounts, and adjusting advertisement campaigns accordingly, Payscale was able to significantly increase traffic and decrease the time it took to close sales by nearly 50%.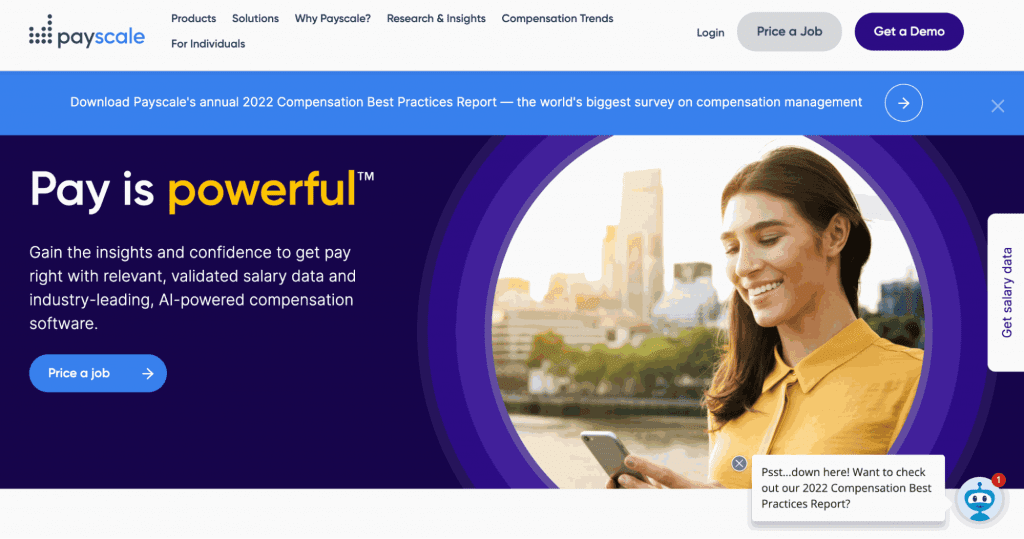 DocuSign
DocuSign's account-based marketing strategies saw significant increases in traffic, page views, and quality leads in the sales pipeline by targeting over 400 enterprise accounts with personalized advertisements segmented by industry. While the effort was large scale, the messaging was personalized and specific to where each company was in the buying stage.
The result was almost 60% increased engagement and an increase of over 300% in page views.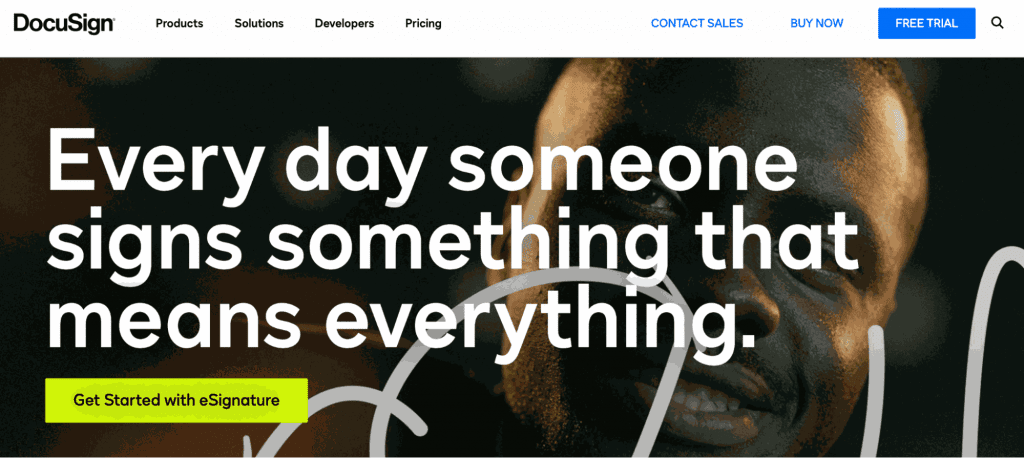 BillingTree
If you've launched an outbound lead generation campaign, you know that a 15% close rate is a fantastic result, and that's what account-based marketing techniques did for our final example, BillingTree. BillingTree targeted 100 accounts and sent them something unique: lockboxes, each with a $100 gift card inside. The box's' interior was branded and when opened, played a sales video that was embedded in the case.
This unique account-based marketing approach had the right balance of volume and personalization, leading to over $150,000 in revenue from this single campaign.
Check out even more great examples here.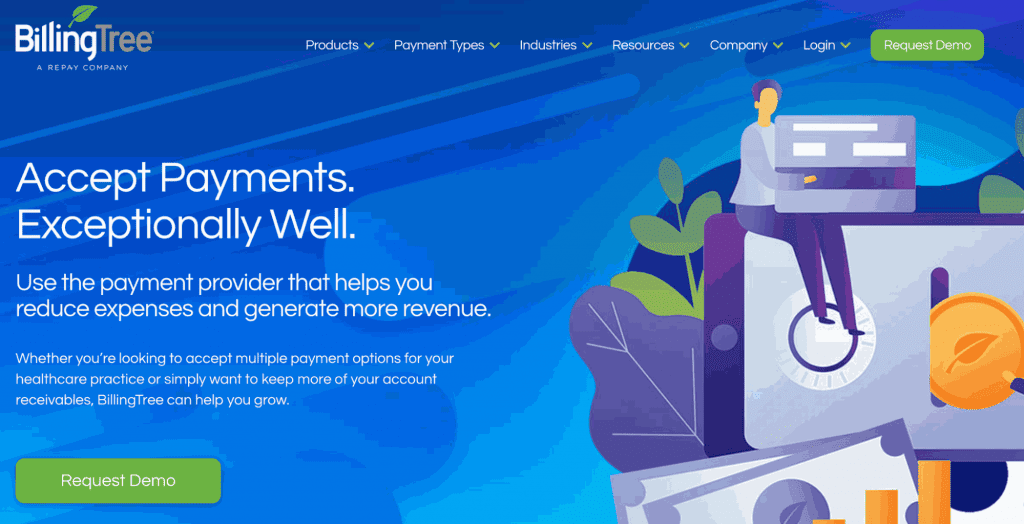 12 Best Account-Based Marketing Tactics
Now that we've seen some highly successful real-world examples, let's take a look at the 12 best account-based marketing tactics to get you started on your ABM journey today.
Build reliable contact lists
Whether you're launching a broad outbound lead generation campaign or a focused account-based marketing campaign, you need to build a reliable contact list. Having the right contact information for key decision-makers is essential, especially when launching an ABM campaign.
With UpLead's Prospector tool, you'll have key contacts right at your fingertips. Using their streamlined, intuitive platform, you can efficiently build accurate B2B lists for your campaign. And with a 95% data accuracy guarantee, you know you're reaching the right contacts every time.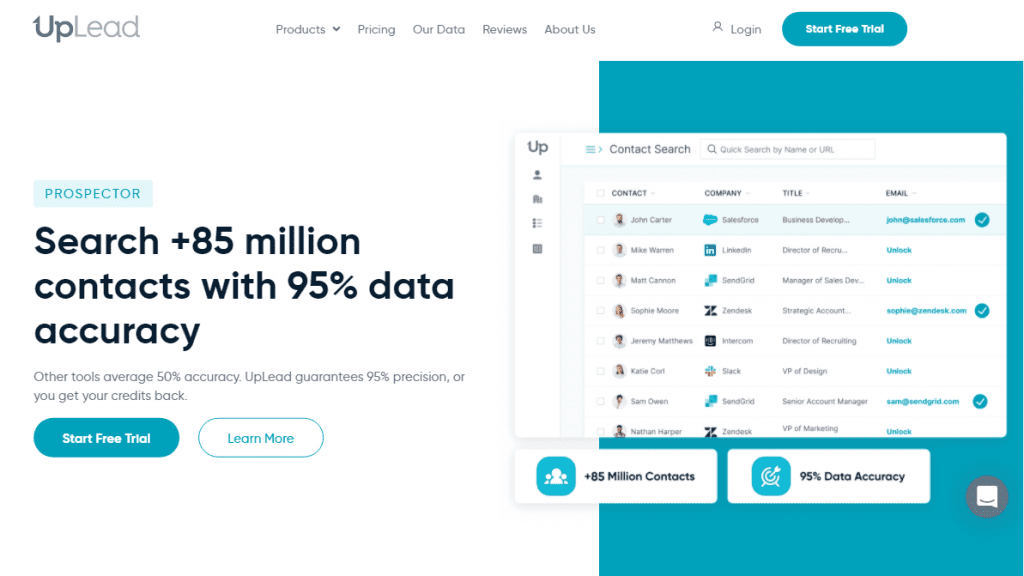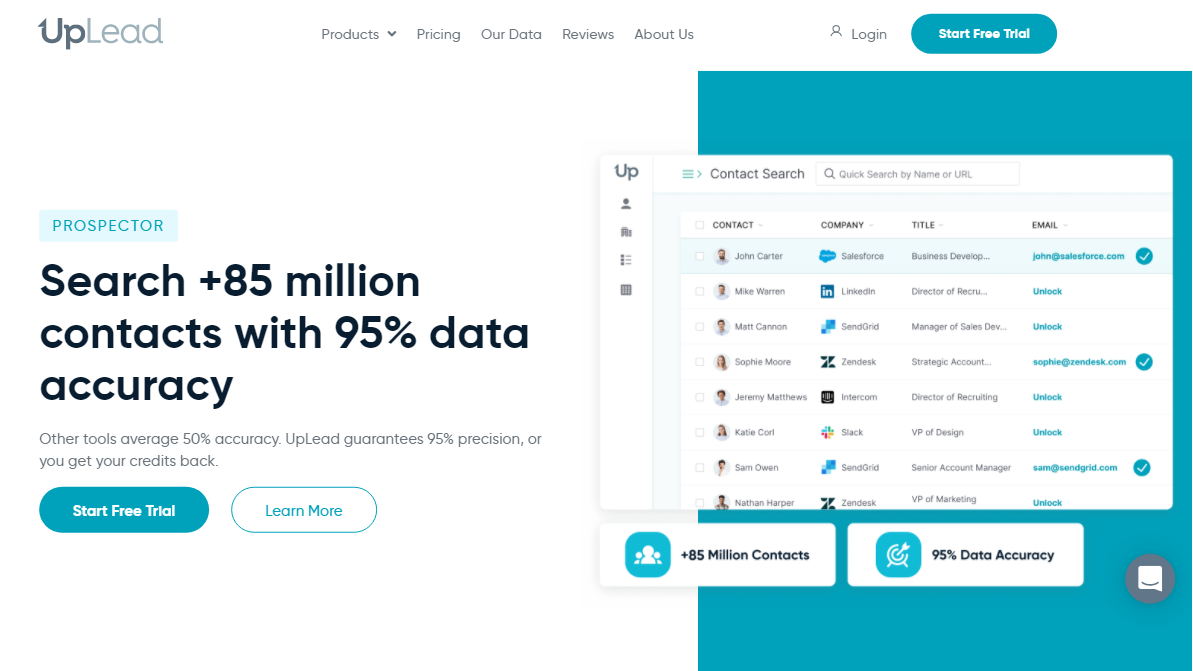 Start Your 7-Day Free UpLead Trial
Lead generation doesn't have to be all that painful. With UpLead, you can easily connect with high-quality prospects and leads to grow your company.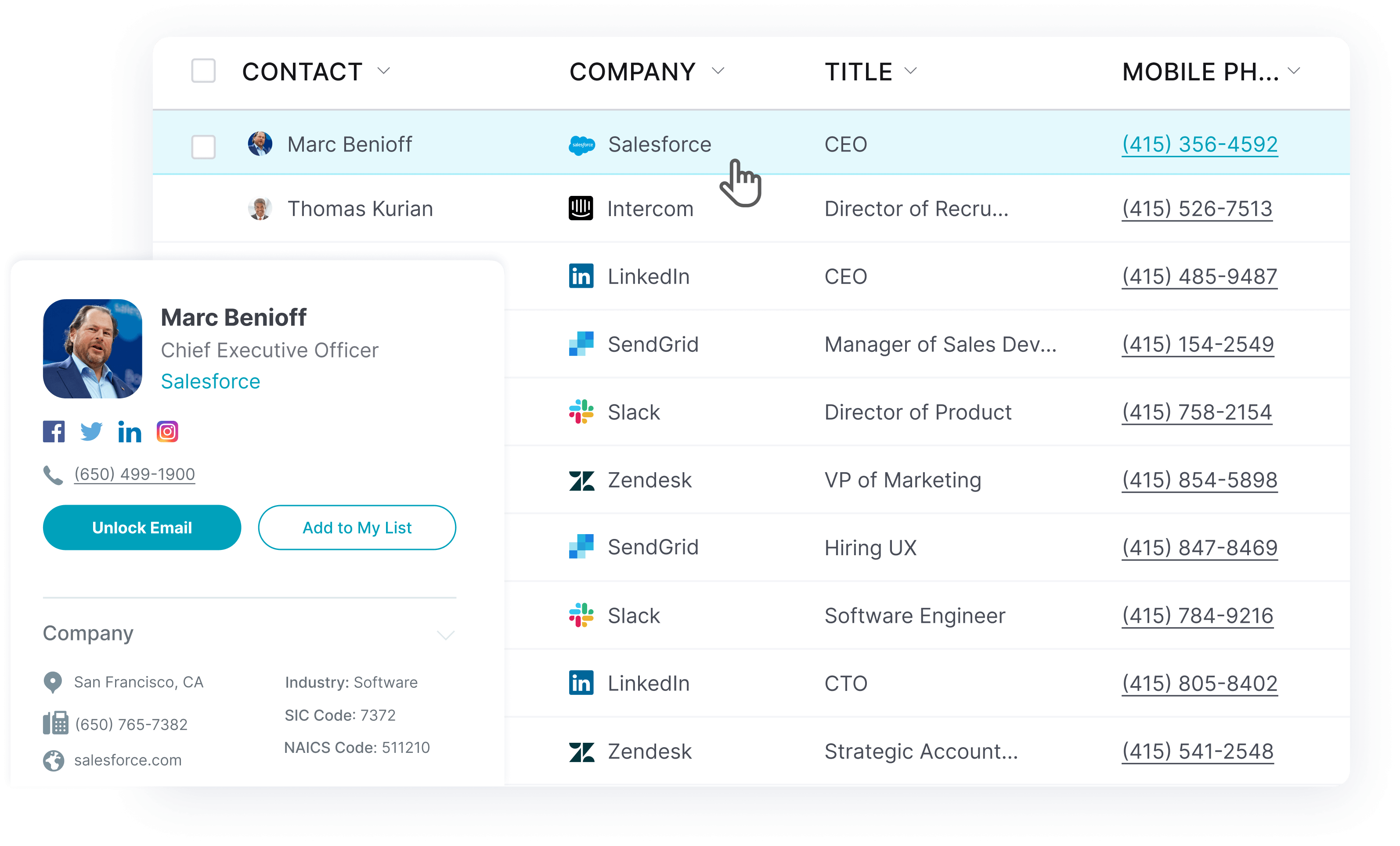 Build Your ABM Team
Your account-based marketing strategy won't be successful without an ABM team. If you don't have a dedicated ABM specialist, it may be worth looking into hiring one. Whether a consultant on a per-campaign basis or a permanent member of the sales team, you'll need to strategically think through building your ABM team. A dedicated ABM specialist should understand the ins and outs of an ABM strategy and should be able to drive the campaign from start to finish. If you have the resources, consider a small dedicated ABM team within your sales department.
Here are some additional tips on how to build your ABM team with real examples from New Breed sales manager Beth Abbott.
Create Strategic Account-Based Marketing Templates
There are many resources available to help you build successful marketing templates for your next ABM campaign.
Creating templates and adjusting them based on marketing performance is another simple way to streamline your marketing efforts. Rather than starting from scratch, a template gives you a strong foundation to launch a campaign.
Check out UpLead's templates and customer profile tips here!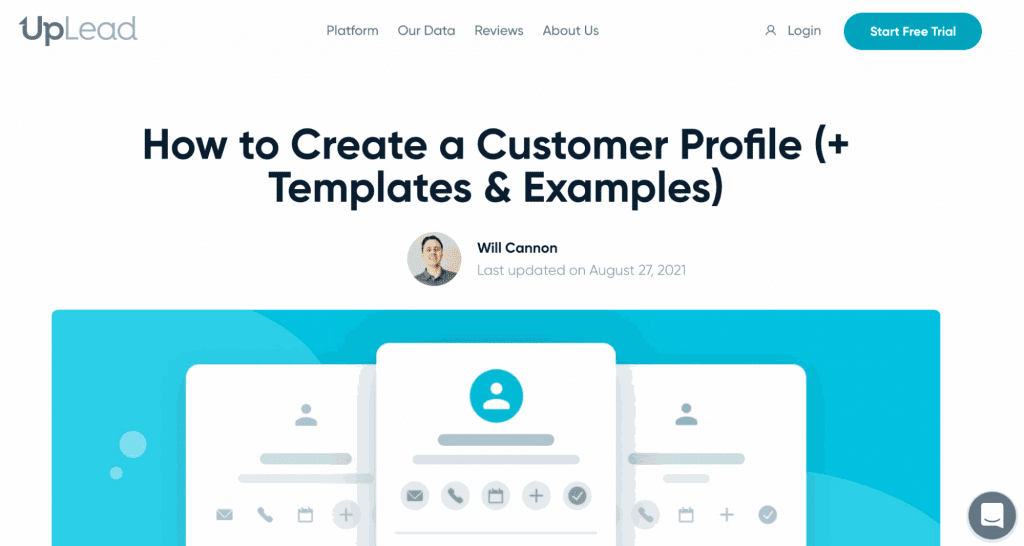 Define Your Ideal Client Profile
The process of account-based marketing involves contacting targeted accounts at the onset of the campaign. Before you can market to those accounts, you first have to identify who those accounts are. Your ideal client profile will lead you to those target accounts.
When building a B2B list of contacts, consider the problem your potential customers have that you would be able to solve. When developing your marketing content, think about where your leads interact the most. Here are some additional tips on how to define your ideal client profile.
Engage with target accounts on Social Media
B2B leads, much like consumer leads, interact with other businesses on social media. This type of interaction can be a valuable part of your account-based marketing campaign. Engaging with your target accounts on social media allows you to meet your leads in a place where they already connect with other businesses.
Social media also allows for further personalization. For example, LinkedIn InMail allows you to reach out to target accounts in a broad, yet personalized way. The platform also allows you to connect directly with key decision-makers, making it easier than ever to promote your company to high-quality leads.
Personalized One-to-One Video
Take your account-based marketing personalization to the next level with a personalized one-to-one video. By creating a customized video for each of your target accounts, you're creating personalized engagement from the initial contact. Mass auto-fill emails are easy to identify, so if your goal is meaningful engagement with a list of key accounts, an automated email may not be enough.
Thinking back to our BillingTree example above, a personalized video would have gone one step further and could have led to additional sales. Depending on your company's size and resources, creating a personalized video for 100 target accounts may not be feasible, but it's worth trying on a scale that's manageable for your business.
Direct Mail
Direct mail is a timeless lead generation strategy that's effective when launching a 'broad-to-narrow' lead generation strategy as well as an account-based marketing strategy. Much like cold calling and cold emails, direct mail simply involves reaching out to target accounts with printed marketing materials.
As with cold email and cold calling campaigns, you need to ensure that you have the right mailing address for a direct mail campaign. With UpLead, you can build lists of contacts quickly and efficiently with the assurance that you're getting the right contact information for your campaign.
Unexpectedly, Google provides a classic example of a B2B direct mailing campaign. Google Ads has seen great success with direct mailing offers and discounts to potential new customers. The online giant has taken to traditional marketing tools to grow its online ad user base, and it's worked quite well.
Target Key Accounts with Paid Advertising
Paid advertisements are great tools regardless of what approach you take in your next marketing campaign. You can use paid advertisements to target your key accounts directly.
Pay-per-click (PPC) campaigns target a broad audience, so they may not be the right approach here; when targeting key accounts, you want to be intentional about your advertisements.
It's important to assess and understand how your target accounts may interact with your brand. The advertisement channel should mirror how those interactions would occur.
Consider paid advertisements with groups or companies that your key accounts already work with. Advertising with their existing partners is a great ABM technique and an excellent way to promote your business to your most valuable leads.
Proper Content Marketing
When it comes to lead generation strategies, few match the effectiveness of proper content marketing. Creating high-value, relevant content on your website and social media channels is a long-term inbound lead generation strategy that creates genuine engagement with your target accounts.

Take content marketing a bit further by reaching out to target accounts using high-value content with which they can engage. Check out some famous content marketing examples to inspire your next content creation strategy.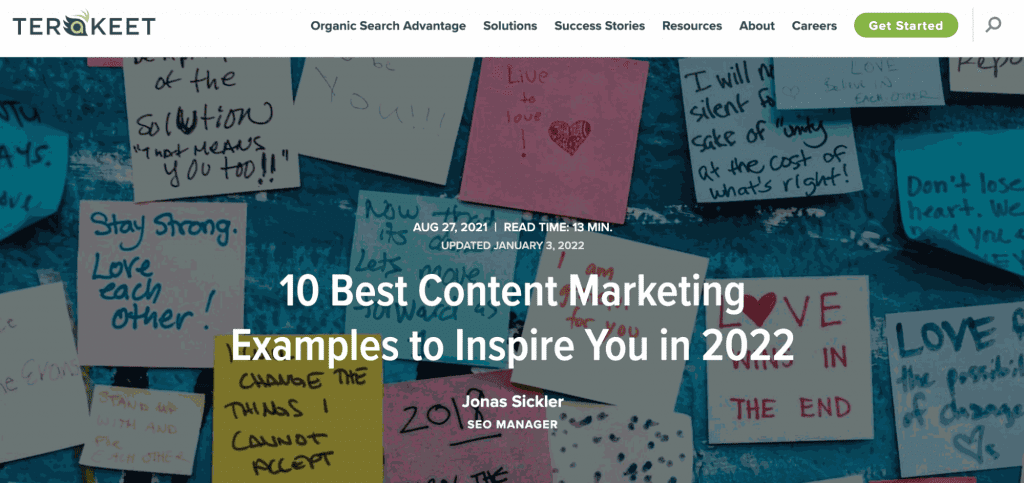 Customer Testimonials and Case Studies
When targeting high-value accounts, you want to give key decision-makers peace of mind when choosing to do business with you. You'll be hard-pressed to find a business that will make a purchase without thoroughly vetting not only the product or service itself, but also how current customers feel about your company.
Use customer testimonials to your advantage. Promote success stories from your existing customers, especially those who are in the same industry as your target account(s). 
Creating valuable case studies of existing customers is a great way to quantify how your product or service solves business problems. Here's some great information on case studies and how you can leverage them to increase your quality leads.
Explore Your Target Accounts via Non-sales Employees
Your non-sales employees can make a significant impact when focusing on target accounts. While non-account-based marketing typically involves high volumes of contact, account-based marketing is limited to key accounts, meaning you may be able to tap into non-sales employees to boost engagement and build stronger relationships.
For example, your non-sales executives may be able to help close deals by making contact and building relationships with target accounts. Employees who maintain existing accounts can also get involved when establishing a relationship with potential customers.
Send Creative Gifts
Our BillingTree example is a fantastic case illustrating the impact of a creative gift to boost sales and improve leads. Another fun idea with a high success rate? Piñata review packages. Influitive launched a unique marketing campaign that involved sending piñatas filled with candy, as well as positive customer reviews.
The result? An impressive 36% response rate, which proves how creative gifts can significantly boost B2B lead generation efforts.
Final Tip: Choose Your ABM Tools
Our surprise bonus tactic is one of the most important factors to consider for your account-based marketing campaign: your ABM tools. With industry-leading features and a host of lead generation tools at your fingertips, UpLead has everything you need to make your account-based marketing campaign a success.
FAQs About Account-Based Marketing Tactics
As you can see, account-based marketing can be an extremely effective marketing tactic for your business. Here are some top FAQs to keep in mind as you launch your next campaign.
What are the benefits of account-based marketing?
Account-based marketing involves personalized marketing tactics at the outset of the campaign. By grouping your target accounts into various segments, you can personalize interactions and marketing tactics while also creating an efficient campaign.
Grouping similar contacts and accounts eliminates the need for high-volume outbound lead generation strategies and helps you target accounts with a high potential for conversion much earlier on in the process.
How effective are account-based marketing tactics?
Account-based marketing tactics can lead to significant returns on your investment. While this approach may not be the right call for every campaign, it's worth exploring for your next B2B marketing project.
Understand your ideal customer profile and build your list of contacts using UpLead's Prospector tool. From there, create personalized marketing content that truly resonates with your target audience.
Is ABM only for B2B?
While ABM is primarily intended for B2B marketing campaigns, the tactic can also be used in the consumer space. Creating ultra-tailored marketing materials for high-value consumer clients can work just like segmented ABM campaigns for B2B companies.
Final Words: Maximize Your Sales With Proper ABM Tactics
As you can see, account-based marketing is a unique approach that can have highly successful results. The key is personalization; rather than sending blanket emails or reading a sales script, each piece of marketing material should be personalized to the account you're contacting.
While the process may differ from general marketing campaigns that start with a broad audience, the tools required are often the same. With UpLead's streamlined platform and world-class lineup of tools, you have access to accurate contact information and data that comes with a 95% accuracy guarantee.