Your business needs sales tactics that work. Your company will fail to grow and develop without the right sales strategies.
But knowing where to start in a world of "sales gurus" that give contradictory advice can be hard. So which sales tactics actually work? Who's using them? And why do you need them?
We've compiled the Top 5 basic sales tactics you need to master before considering any other strategy. We'll show you what they are, why you need them, and how you can apply them.
Let's get started!
Quick Links
Top 5 Sales Tactics You Should Use
Top 5 Sales Tactics You Should Use
Here are the 5 best sales tactics and the ways to start using them today…
1. Get the right leads from the start.
Getting the right leads is one of the hardest parts of getting sales. In fact, more than 40% of salespeople cite it as the most challenging part of the whole sales process. In fact, it's even harder than qualifying leads and closing deals. If you don't have a good way to generate leads, you'll waste time selling to the wrong people and compromise your sales cycle.
You need to cast a wide net through inbound marketing, social media, and online presence to get the right leads. But even then, getting qualified traffic and reliable leads can be a long, frustrating process.
So you must ensure you're generating high-quality leads from the start.
How to get started:
While inbound marketing and SEO are effective ways to generate leads, they also take a long time to work. If you want to generate leads immediately, you need a platform like UpLead.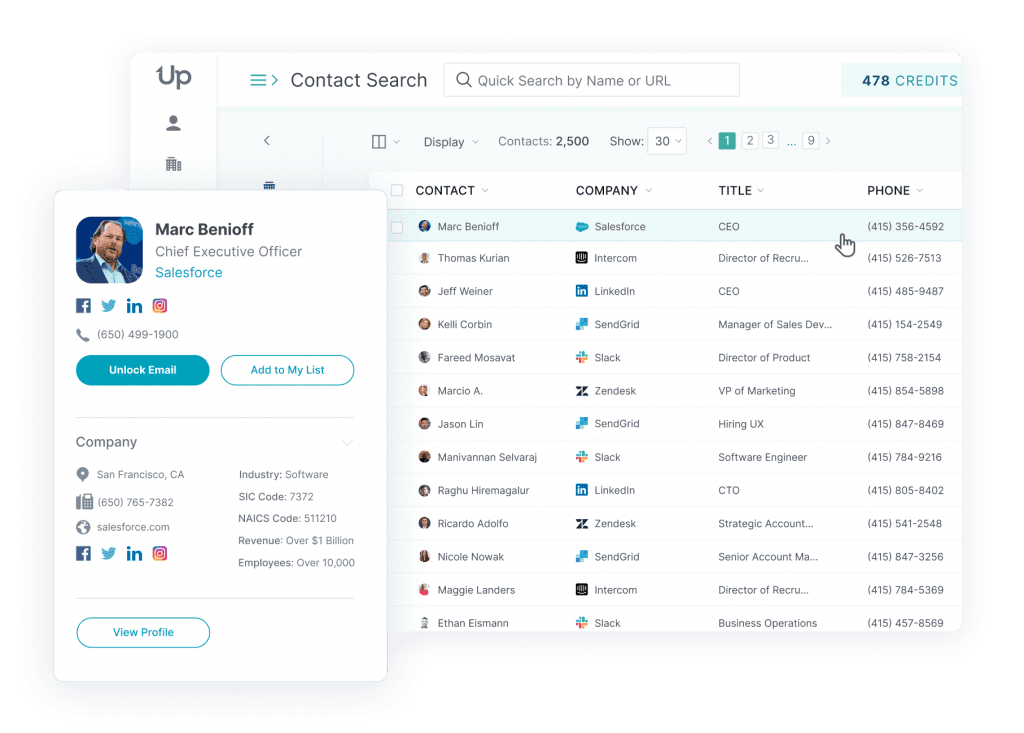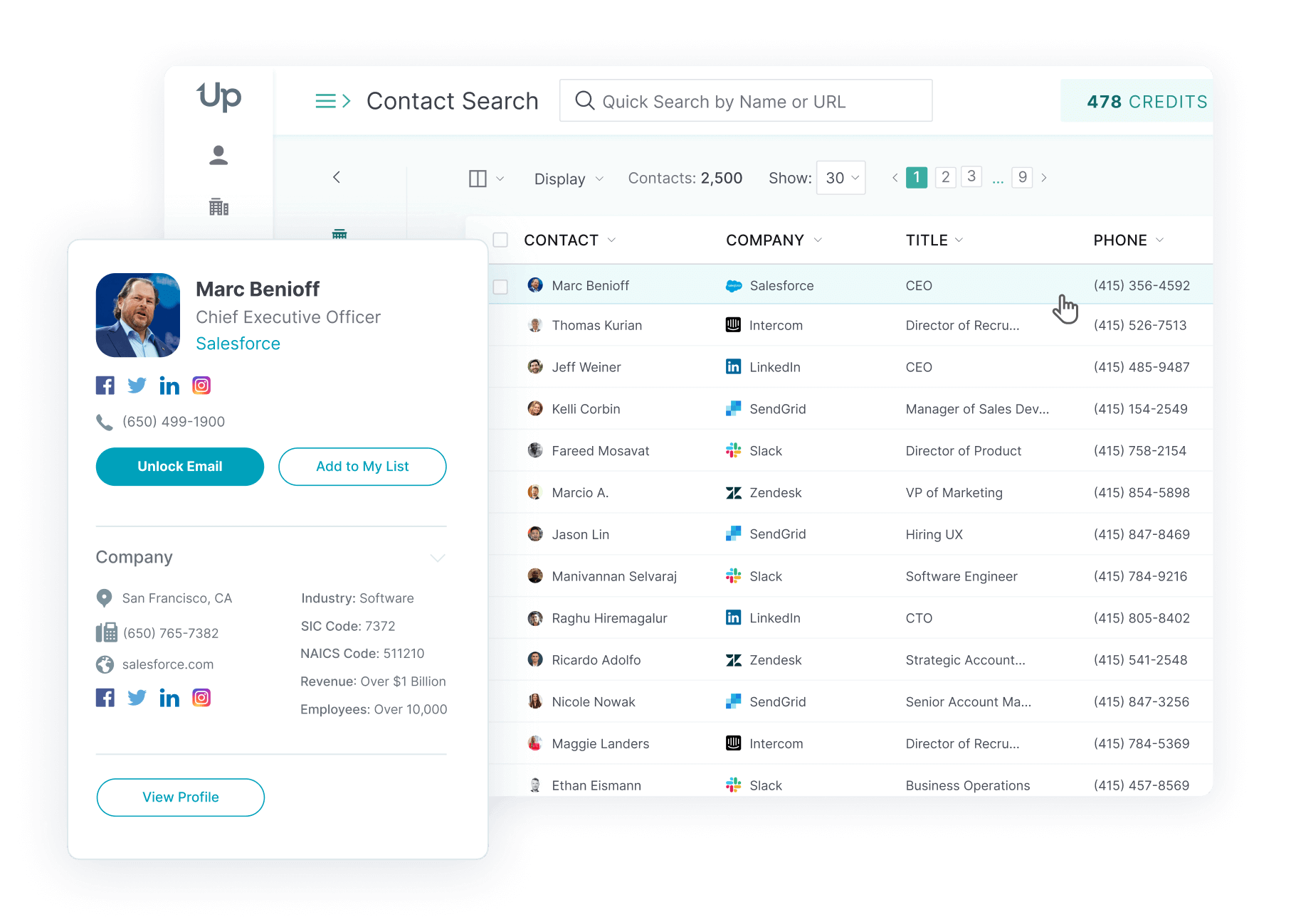 UpLead
is a lead generation platform that connects you to the right leads. With UpLead, you have access to
108 million business contacts
around the world. To find your ideal leads, you can easily filter them via their job title, location, industry, and other 50 criteria.
You can also use UpLead to find the right contacts in a company and enrich the data you already have.
Once you've found the leads you need, UpLead verifies their email information in real time— right before you download it. So all you need to do is contact them!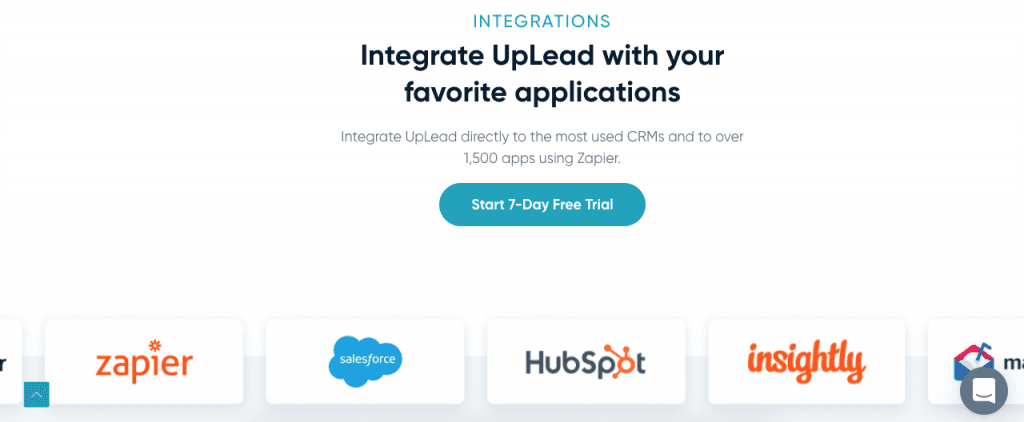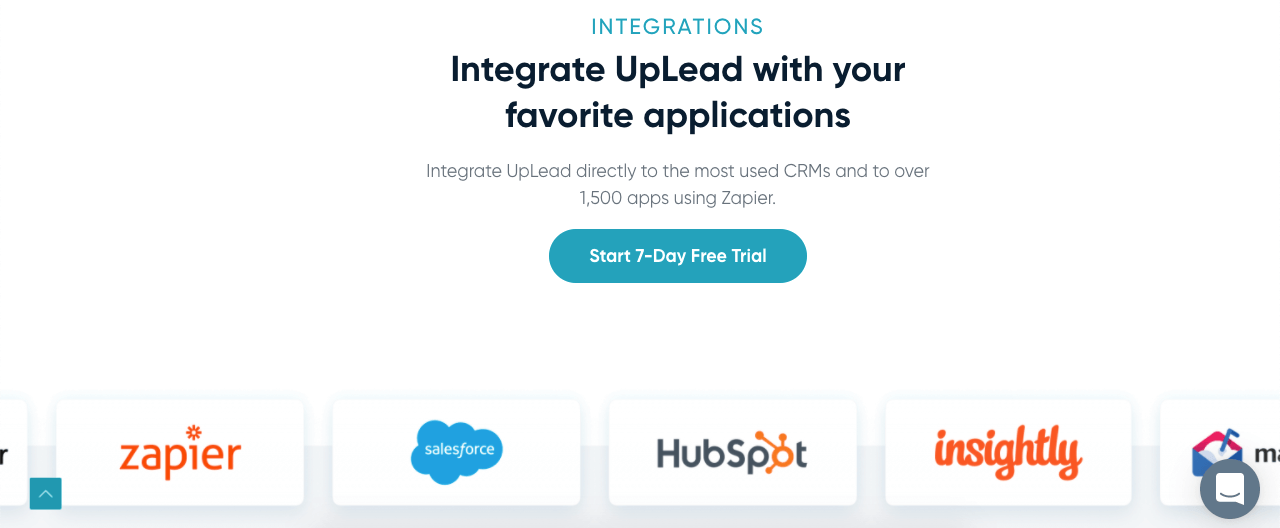 You can integrate UpLead with the most popular CRMs. Then you can immediately start using it with your sales team.
If you want to find new, qualified leads to sell to, there's no faster way to do it than via UpLead.
Start Your 7-Day Free UpLead Trial
Lead generation doesn't have to be all that painful. With UpLead, you can easily connect with high-quality prospects and leads to grow your company.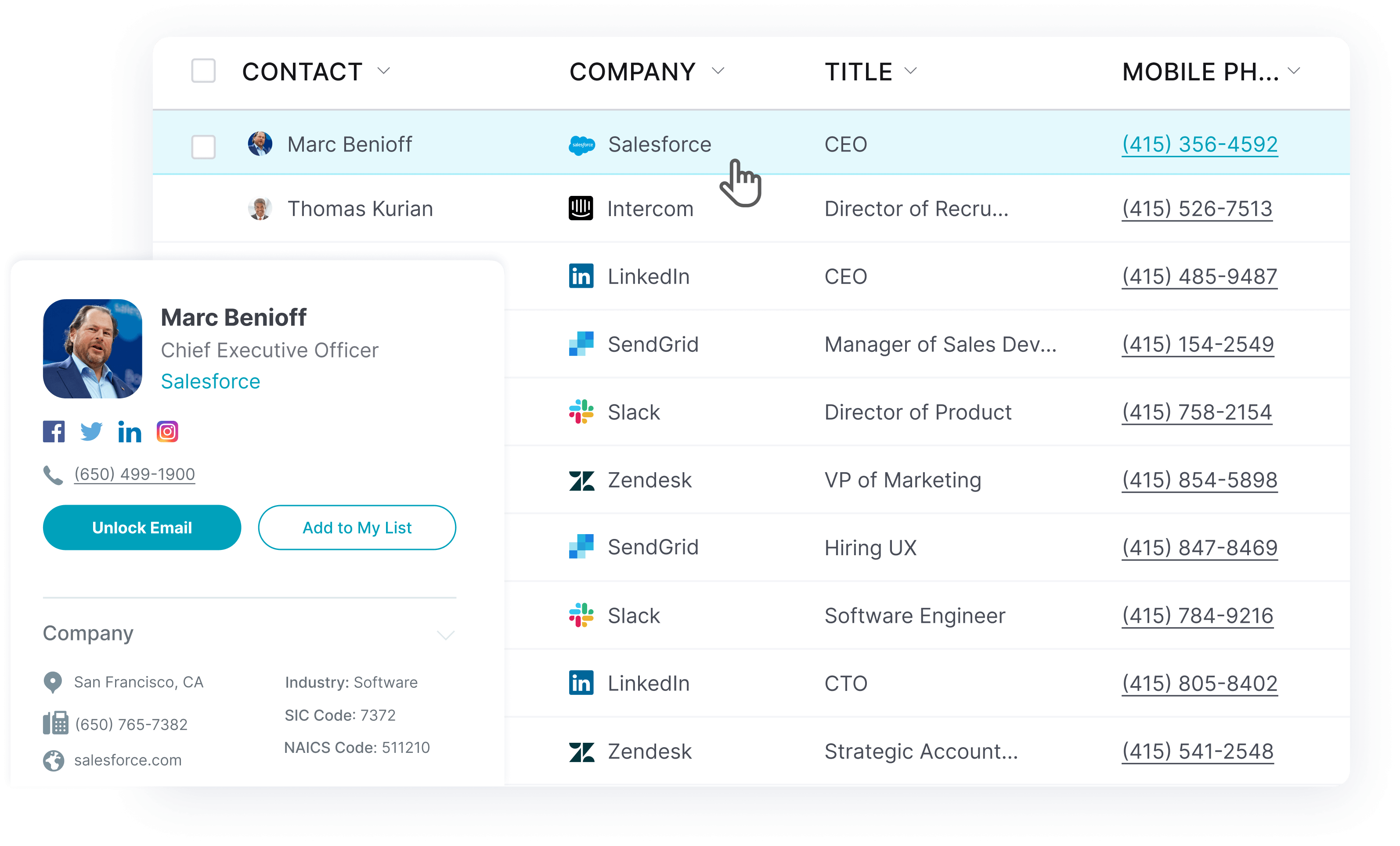 2. Pay attention to your referrals
This tactic is the best, most effective way to close.
Why?
Referrals are the easiest prospects to convert!
9 out of 10 buying decisions are made via the recommendations of their peers. So it's no surprise that salespeople who actively find and sell to referrals earn 4 to 5 times more than those who don't.
Paying attention to referrals is the best sales tactic for B2B and B2C—because they already know what you're selling and have learned that it works. So if you want your business to grow as quickly as possible while spending as little as possible, you need to ask for referrals and exploit the ones you have.
Selling to referrals should be a top priority for you and your salespeople.
How to get started:
Here's the way to get referrals by reaching out to them:
Getting referrals
Build a strategy for asking your current customers for referrals. If you want to get referrals, you should always prioritize asking in person instead of via email or phone.
The last thing you want to do is annoy your current customers or make them feel you're only after what they can give you. Take time to talk to them face-to-face, and ask for referrals in a tactful way. That'll help you get more information on them, such as their current needs and the potential pain points you can solve.
Remember: Don't just ask them if they know anyone that could benefit from your services. Be specific and clear about the kind of person you want to meet. And don't be pushy. Instead, position yourself as an extra pair of hands that can help out their peers.
Here are a few examples of the way you can ask for referrals without seeming pushy or desperate:
"Is there anyone else you think we can help?"
"Do you know anyone who's having the same issues?"
"Do you have any friends who need this solution but don't know it yet?"
You can also use your email signature to ask for referrals. Simply sign off with something like " I "forward my contact information to referrals.
If you can't ask for referrals and need to send an email instead, personalize them as much as possible. Here are a few email referral templates to get you started.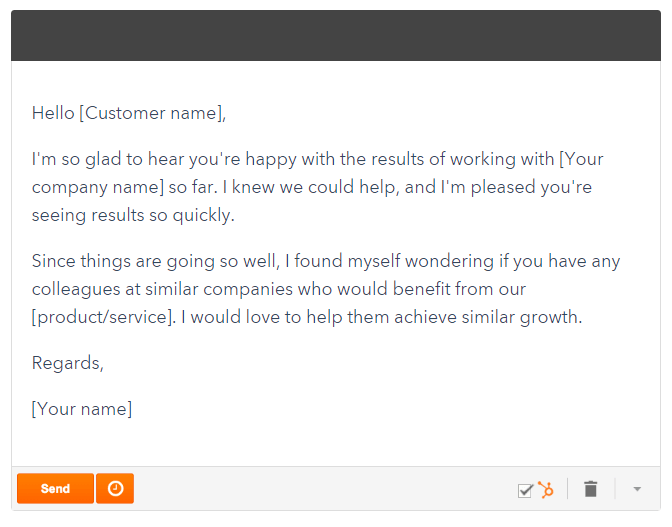 Reaching referrals
Once you have a referral, carefully craft your outreach plan. Don't treat them like any other cold call.
Remember that these are highly-qualified leads. So the time you spend figuring out how and when to reach them is more than justified.
When contacting referrals, be persistent until you're sure they won't buy from you, and keep the person who referred them to you in the loop. That way, they may contact your referral themselves to let them know you'll be contacting them. They may even get them to contact you.
If you give your referrals great service and preferential treatment, you'll likely succeed in converting them.
3. Refine your sales calls
With a growing shift towards technology and inbound marketing, a lot of people go as far as saying that cold calling is dead. However, if you do it correctly, cold calling is still a great way to reach potential customers.
According to research by GlobalCallForwarding, 57% of customers feel that call support is their first and most comfortable preference for communication. That's why it's so important to have a good team for sales calls and telephonic customer care.
In 2007, it only took 3.68 cold call attempts to reach a prospect. But today, it may take up to 8 attempts. However, sales managers usually only make up to 2 attempts to contact a lead via cold calls.
And cold calling isn't very popular among salespeople. 42% of sales reps feel they don't have the necessary information before making a call. If your sales reps feel unprepared to sell something, they'll most likely end up failing, which can impact the morale and effectiveness of your team.
How to get started:
Cold calling is hard and unpleasant. You need to prepare your team if you want them to succeed.
1. Train your salespeople
Teach your salespeople to embrace rejection. It will inevitably happen. Let them know it's never personal; it's just part of the job.
Although a lot of people may tell you to shy away from a script, the truth is that this tactic can be a highly effective way to perfect your sales pitch. It gives your salespeople proper guidance and great sales negotiation tactics to common objections—without pressuring them to memorize it all at once.
Here's how Eventual Millionare does it: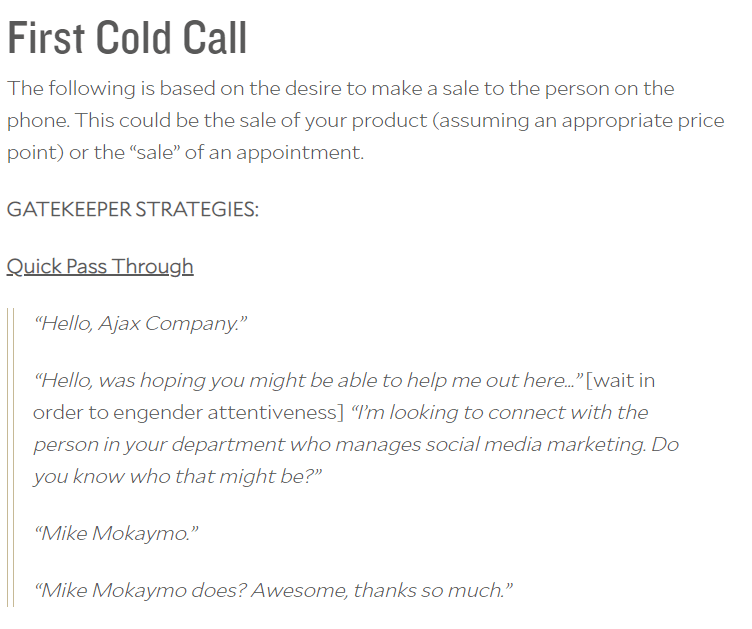 Train your salespeople to follow the script like actors. They may end up reciting it a hundred times. But each lead will only hear it once, so they need to make each count.
2. Help your sales team see your leads as real people
A great way to keep your salespeople engaged in their call is by helping them picture who they're calling via rich customer profiles.
This tactic can help your salespeople get to know your leads and discover who they are behind their names and job title. So it'll be easier to remember they're talking to people like them, and it can even help them tailor the script to each individual: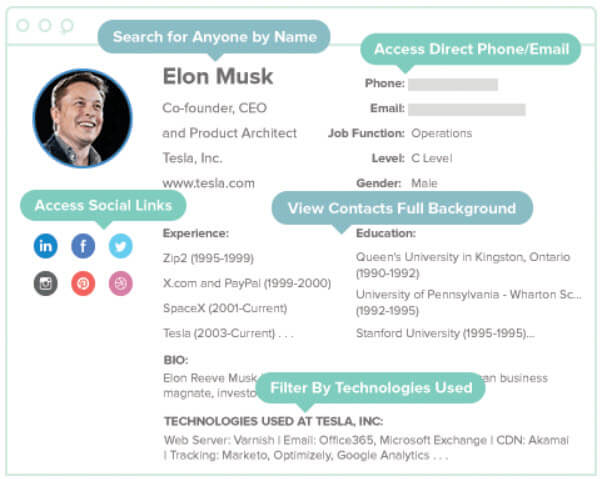 3. Leave effective voicemails
Cold calls will result in a voicemail over 90% of the time. So it's essential to know how to leave effective voicemails.
Try to keep voicemails under 30 seconds and make them engaging and friendly. Use your lead's name and information when appropriate, and give them a great reason to return the call.
Here's a simple and versatile voicemail template by Salesforce: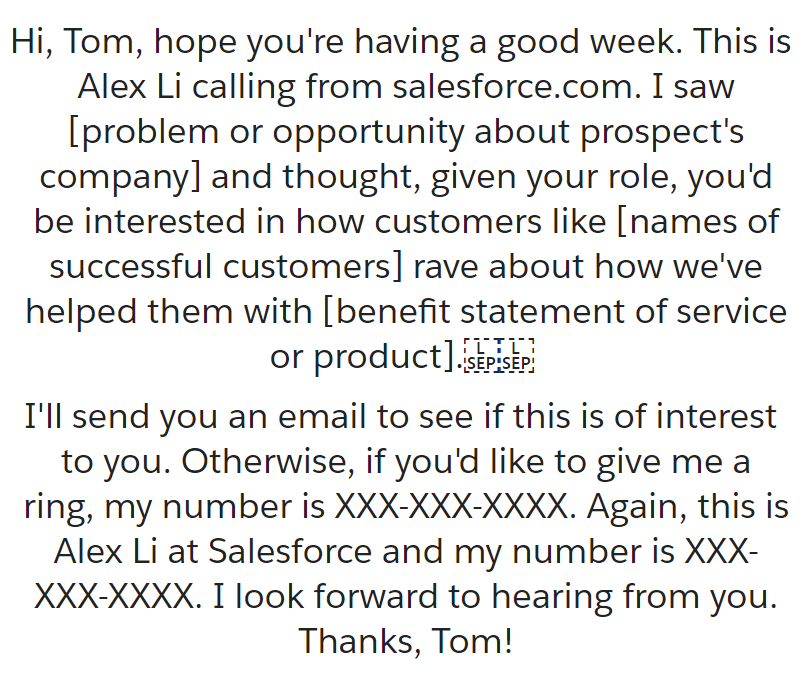 Don't forget to keep track of your cold calls through your CRM. By crafting a clear and unique tool to keep track of your whole team's performance, you'll be able to find better ways to reach your customers and improve your strategies.
4. Write perfect emails
You probably already send a lot of cold emails every day. But you're wasting your time if you don't do it correctly.
The average user immediately deletes 48% of the emails they receive without even opening them. It's just easier to delete something than to open and read it. And when you get a lot of emails from dubious "pharmacies" and "Nigerian princes," you probably get used to deleting emails.
However, most buyers (especially younger ones) would still rather be contacted via email. Email gives them a chance to read someone's request at a time convenient for them and think about how they will reply.
So you need to be able to break through the rest of the email senders. Make sure your email is as perfect as it can be and that it arrives at the ideal time to be read.
You don't need to think too much about how to write valuable content for your emails.
For example, take this classic shipping confirmation email by CD Baby:
This silly, quirky email quickly went viral. Since it was written when no one paid much attention to confirmation emails, it was truly unique.
The result?
If you Google "private CD Baby jet," you'll get over twenty thousand results. Most of them are from people who got the email and loved it so much that they ended up posting it online.
With a little creativity and a lot of knowledge of your customer, you can also create emails that people remember and love to open.
How to get started:
If you want to send effective emails, you need to tailor them to whoever is going to read them. Personalize emails by crafting a perfect customer profile and catering to their needs—not by automatically adding their names with MailChimp.
Make sure all of your emails are perfectly crafted via constant testing. Use intriguing subject lines, and pay special attention to your opening line.
Here are a few examples of ways to increase engagement with your subject lines:
Change from "Our sale expires on the 22nd" to "Last hours to get up to 70% off!"
Change from "Please fill out this satisfaction survey" to "We'd love your feedback [RECIPIENT'S NAME]."
Change from "New product lineup" to "Get a first look at our new product!"
Change from "Tips to increase mobile's battery life" to "Top 10 tips to dramatically boost your phone's battery life."
Make sure every email ends with a perfect CTA that directly ties back to your subject line.
Once you're ready to send your email, make sure you send them at the right time. Most prospects want to read emails at 5 or 6 a.m. So schedule your emails to get as many opens as possible from your audience. And if you want a response, make sure to pay close attention to follow-up emails.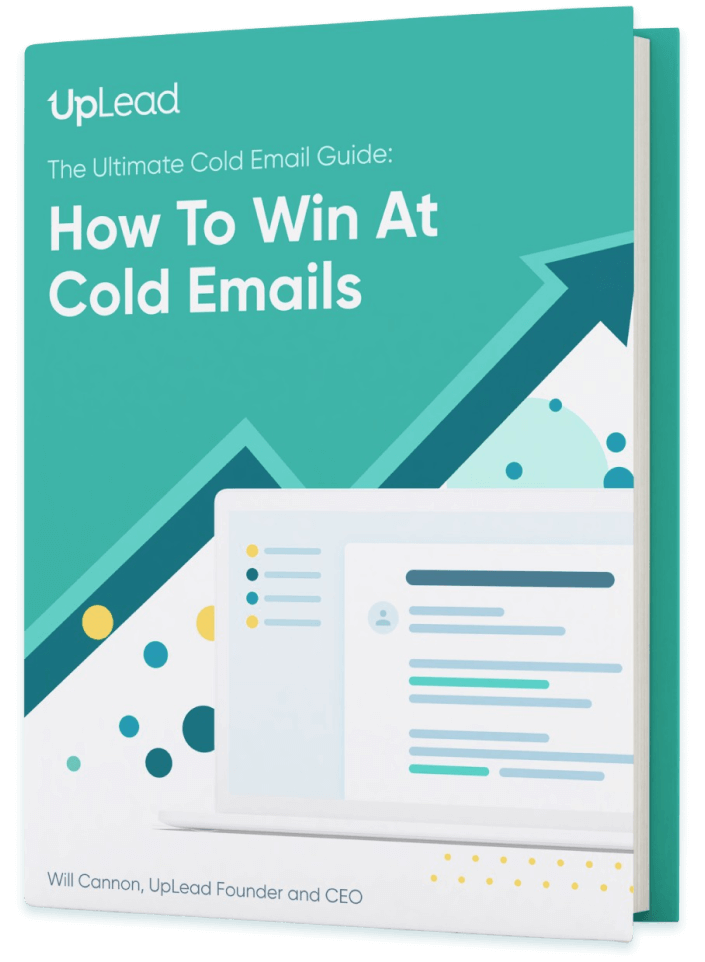 Download our free eBook full of valuable insights and take your cold emailing strategy to the next level.
I agree to receive emails from UpLead, and can unsubscribe at any time.
5. Get Social
Sure, most businesses are on social media now. But very few actually know how to do it correctly. While Wendy's Twitter account is legendary and extremely successful, hundreds of sad, useless, and ineffective corporate social accounts exist.
In addition, great integration with your marketing campaign will be very slow. And having a bad online presence is even worse than having no online presence. The wrong social media strategy reflects directly on people's perception of your brand. It can make your brand seem old, unfriendly, or plainly unprofessional.
However, when social media is used appropriately, you can get amazing results. 4 out of every 10 sales reps have directly closed between 2 and 5 deals, thanks to their social media presence.
For example, take Airbnb: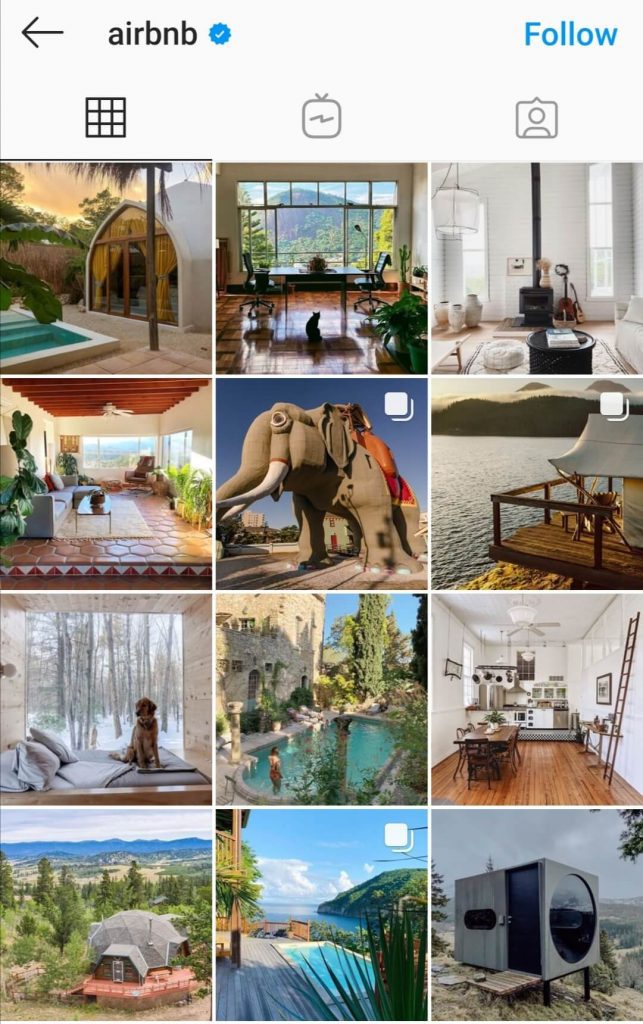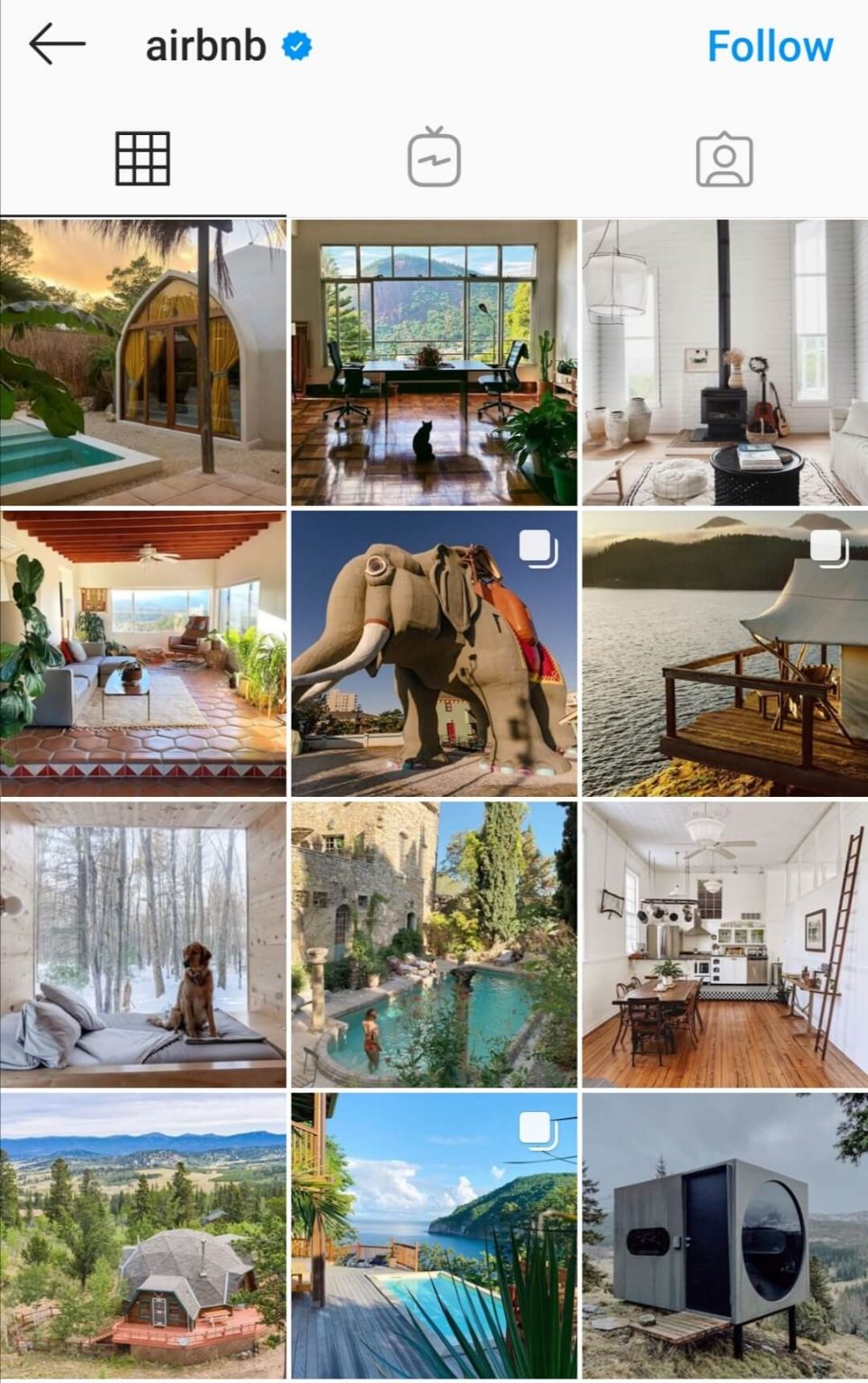 With well over 4.5 million followers, Airbnb's Instagram profile perfectly focuses on what most users want from the platform: beautiful and inspirational photographs.
Airbnb has perfected its Instagram profile presence by finding the best way to promote its brand—while perfectly understanding what a social platform is for.
The result?
After every post, Airbnb has gotten tens of thousands of likes and high engagement from its audience. In fact, they have practically become travel influencer who advertises the best the brand offers.
How to get started:
Here's the way to start and succeed at social media:
1. Choose your platform
First, you need to remember one important thing: It's better to be great at a couple of social media platforms than average at all of them.
Have a goal in mind, and start from there. Ask yourself these kinds of questions:
Who's my target audience?
What am I looking to get out of social media?
What's my message?
Where can I find my audience?
At what stage of the sales funnel will they find my profile?
If you're new to social media, it's key to finding the right platform for your brand. As we just saw, Airbnb's strongest social media presence is where everyone loves to show off their traveling destinations. Whereas Facebook has mass appeal, LinkedIn can more effectively generate leads in niche places. Find a balance between your audience's location and your brand's message.
2. Do your research
Research your competition once you know what you want to say and where you want to say it. Track what they're doing right, and find ways to improve it. 
If you already use social media, audit your presence to find places to improve. Find and report impostor accounts that may confuse your potential users.
3. Set up a schedule
Put together a content calendar. Your content should be as unique and valuable as possible and cater to everything your audience wants to see. Find inspiration from similar companies in the same industry as yours, and schedule the times when each post will go up.
Here's a great content calendar template by HubSpot to get you started.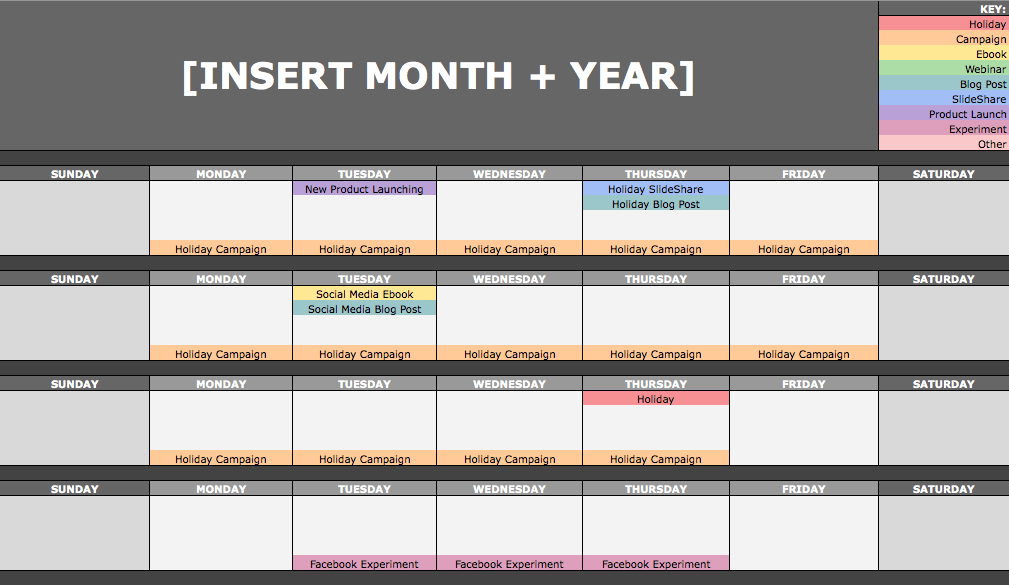 4. Measure results in order to find improvement opportunities
Arguably, the most important metric in social media is engagement. You may have the most gorgeous photos on Instagram or the best-written jokes on Twitter. But they'll all be useless if you don't have an audience that can see them.
Grow your audience by interacting with your users and creating content they can't resist sharing. Use relevant hashtags and conduct contests to boost interaction and engagement. Carefully go through your most successful posts, and see what made them work. You may even share them again after a few months!
When possible, make sure to integrate your social media with your website. For example, you can better measure the efficiency of your ads with Facebook Pixel and drive more sales to your website.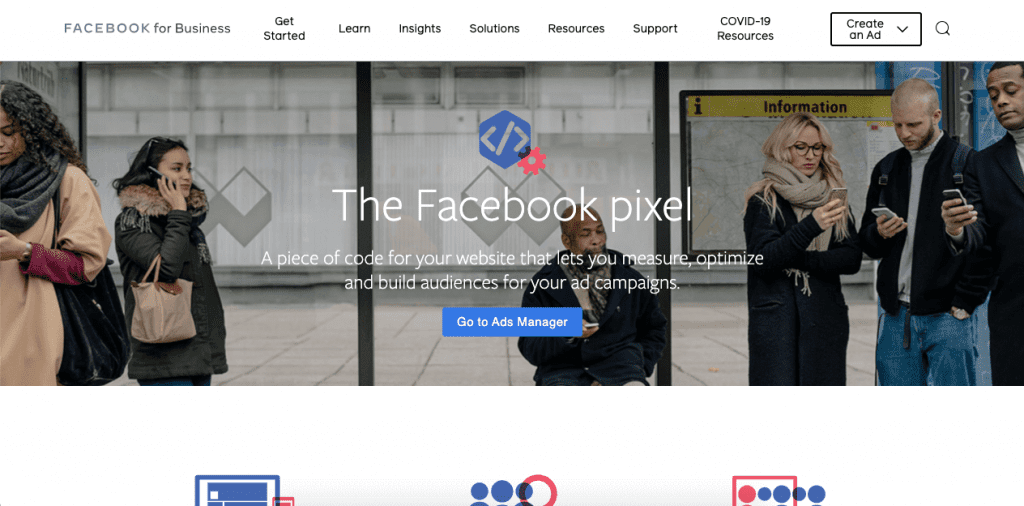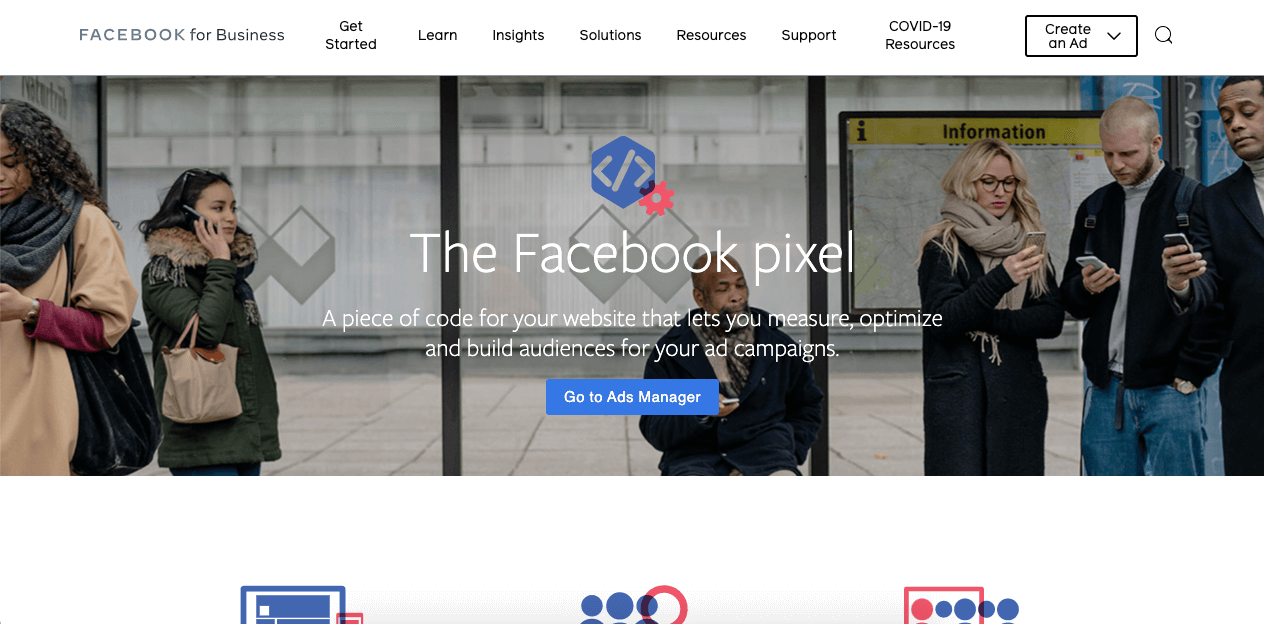 With a great social media strategy, you can drastically improve your brand's awareness and get more qualified leads.
Sales Tactics: Conclusion
This article has covered the Top 5 sales tactics that create the most solid framework for building more sales strategies and tactics on top of it. All of these sales tactics are proven basic ways to grow your company and acquire leads in the best possible ways. 
Before trying any new, creative sales tactic, remember these five and ensure you're applying them as best as possible.
With enough practice, one of them may become your next best sales tactic!