Discover everything you need to know about Wiza, an innovative sales enablement tool that can transform how you find and connect with potential customers. Similar to email finders like UpLead, Wiza integrates seamlessly with LinkedIn Sales Navigator and automates your sales email campaign. In this article we'll analyze Wiza pricing plans, key features, integrations and alternatives to see if it's the best tool for your sales team.
Quick Links:
What is Wiza?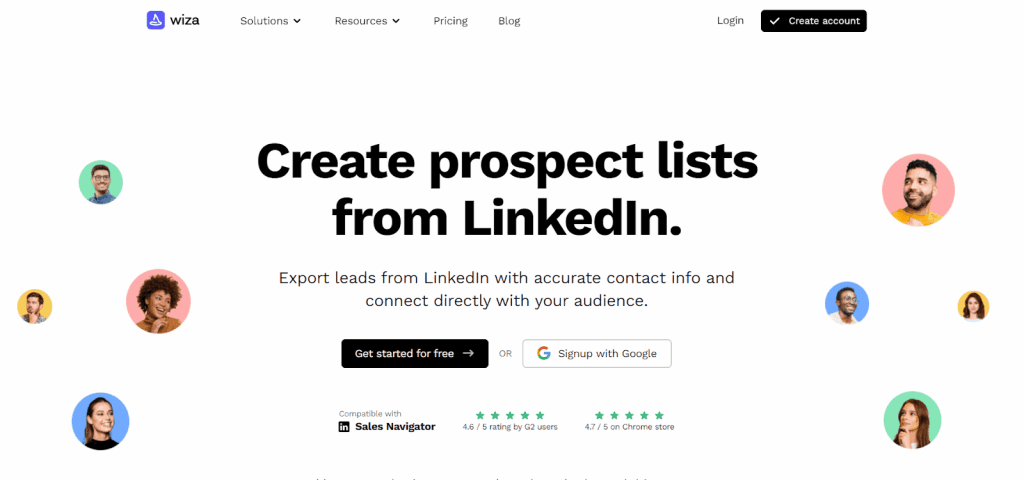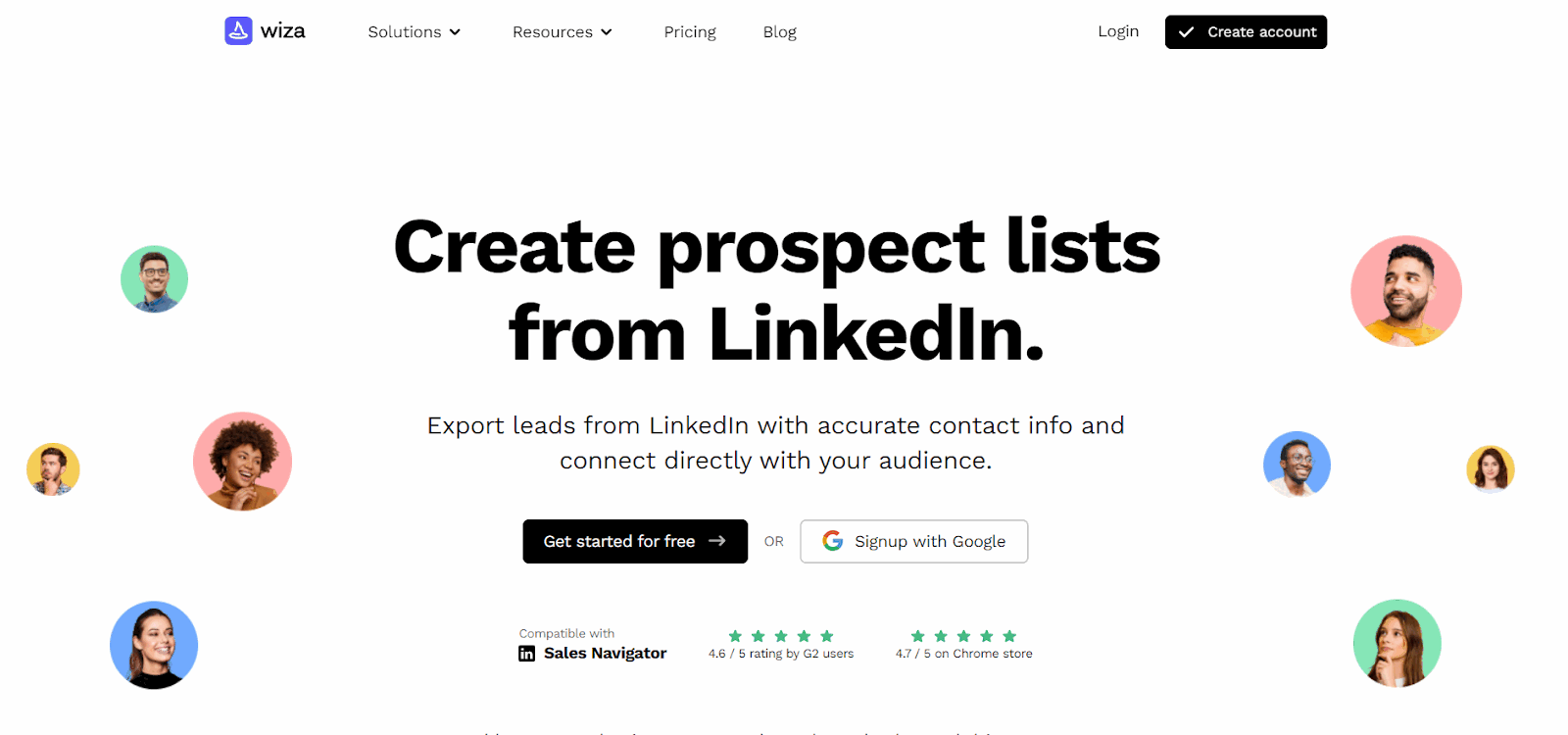 Wiza automates lead gen by extracting email lists from LinkedIn Sales Navigator. Like UpLead, Wiza supports users to identify lead emails via AI technology and export custom searches and lead data in CSV format. Wiza is also an email finder for LinkedIn and a B2B database. It represents a new breed of sales tools that make lead generation a seamless experience. The platform also uses natural language processing software and AI to clean unstructured data.
Wiza has integration into LinkedIn Sales Navigator, making it easy to scrape lists or individual records for email and phone information. As one of the top sales and marketing engines, it's designed to offer verified emails to boost your lead generation efforts. The platform has a pay-as-you-go model, meaning you can have more flexibility as you navigate.
How Does Wiza Work?
Wiza makes LinkedIn lead generation easier by tapping into the power of automation and LinkedIn Sales Navigator. The platform helps you:
Automate lead generation by extracting B2B email lists from LinkedIn Sales Navigator
Scrape leads in bulk from any LinkedIn Sales Navigator search or saved list and output a clean spreadsheet with accurate contact info
Clean data using AI and natural language processing software
Export custom searches and lead intent data in CSV format
Offer built-in prospect and company enrichment for leads, allowing users to feed their enriched prospects to any CRM or marketing platform
Wiza Key Features
Wiza comes packed with features that make it an invaluable tool for sales and marketing professionals. Key features include:
Ability to convert any LinkedIn search or saved list into a valid email list
Scrape leads in bulk from any LinkedIn Sales Navigator search or saved list
Output a clean spreadsheet with accurate contact info
Built-in prospect and company enrichment for leads
Feed enriched prospects to any CRM or marketing platform
Wiza Pricing & Plans
Wiza offers a variety of pricing plans designed to accommodate the needs of different users, from individuals to businesses of all sizes. Each plan provides a monthly allotment of credits and charges a fee of $0.35 per phone credit. Wiza's pricing of a pay-as-you-go model offers you flexibility, and you only pay for valid emails.
Additionally, Wiza has a 25-credit per month free version, allowing users to test the platform before committing to a subscription plan.
Below is a breakdown of Wiza's pricing structure.
Micro
The Micro plan starts at $30/user per month (billed monthly) and best suits individuals and small teams looking to kickstart their prospecting efforts. Key features of this plan include:
CRM integration
Rollover credits
75 valid email credits per month (with the ability to purchase more at $0.15 per credit)
The Micro plan is ideal for those just beginning to explore LinkedIn lead generation and prospecting tools, as it provides an affordable entry point with essential features.
Pro
The Pro plan is priced at $50 per user per month (billed monthly) and is designed for growing businesses with more extensive lead generation needs. Key features of this plan include:
Unlimited scraping
Team analytics
250 valid email credits per month
Compared to the Micro plan, the Pro plan offers a higher credit allotment and advanced features such as unlimited scraping and team analytics, making it a more robust solution for expanding sales and marketing teams.
Growth
The Growth plan is a customizable solution tailored to meet the unique requirements of each user. This plan is ideal for larger organizations with specific LinkedIn lead generation needs. Key features of this plan include:
Unlimited jobs
Up to 750 email credits per month
Custom features and services based on user requirements
The Growth plan offers the most flexibility and scalability, with features that can be tailored to meet the needs of larger businesses or those with specific prospecting demands.
Start Your 7-Day Free UpLead Trial
Lead generation doesn't have to be all that painful. With UpLead, you can easily connect with high-quality prospects and leads to grow your company.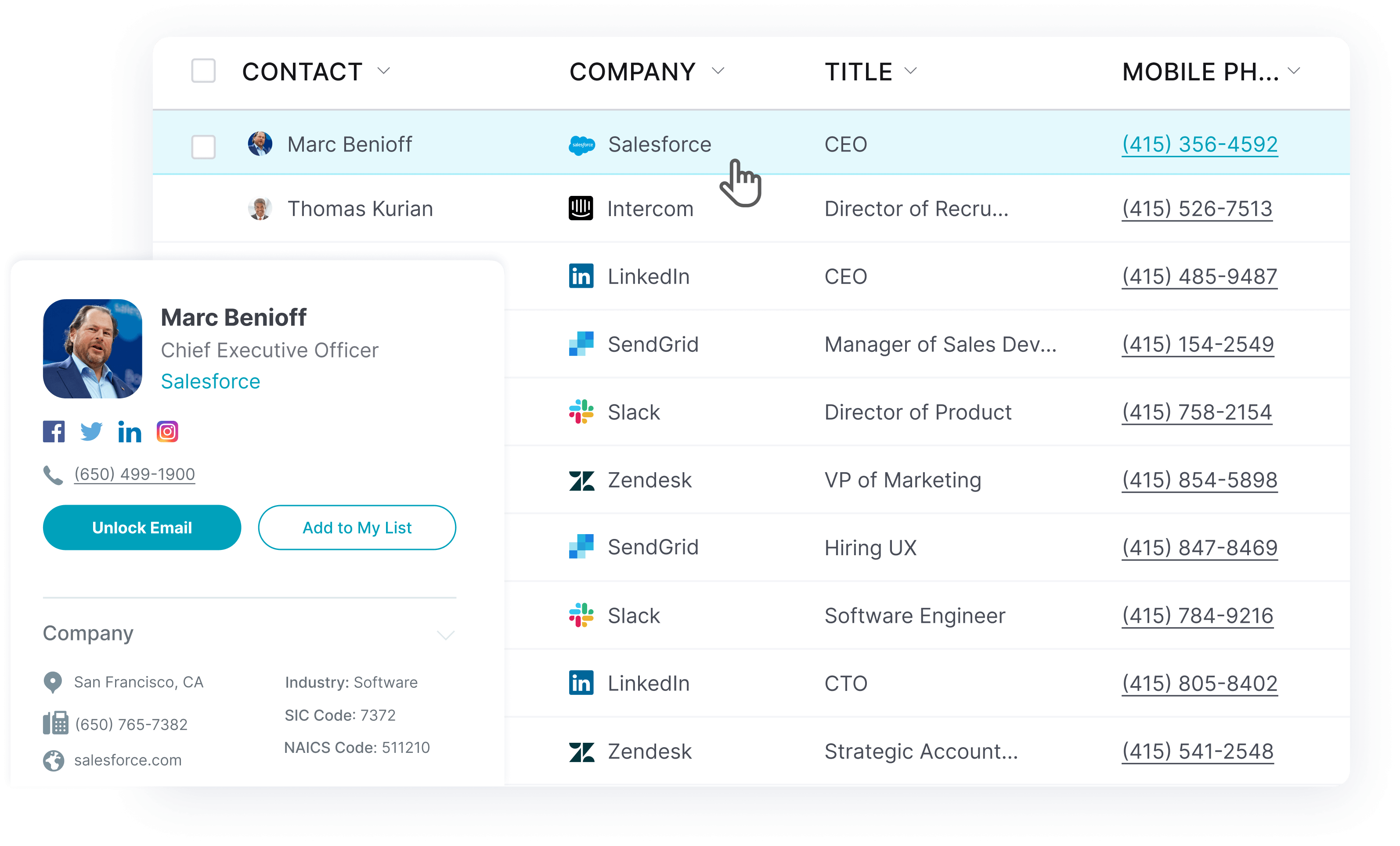 Wiza Integrations
Wiza offers integrations with various CRM and outbound marketing platforms, allowing users to send prospects to a CRM or any outbound marketing platform with a single push of a button. Wiza's integrations include:
Outreach integration: Add prospects to campaigns instantly and receive only verified emails
Pipedrive integration: Quickly generate leads from LinkedIn via the Chrome extension and find accurate information
40+ out-of-box data integrations, including Copper, Salesforce, and more
UpLead is the Top Wiza Alternative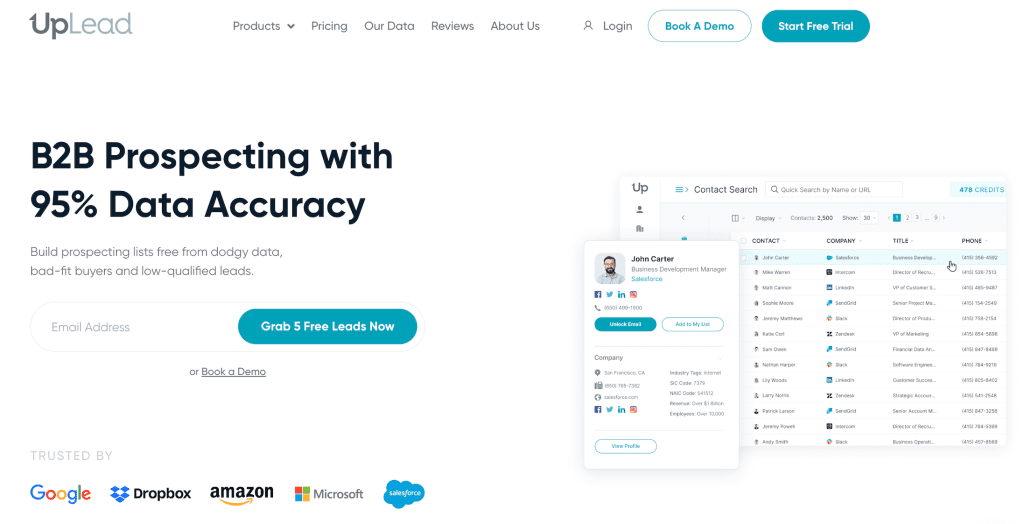 UpLead excels as the top Wiza alternative due to its expansive B2B database and comprehensive features designed to streamline the lead generation process. While both UpLead and Wiza provide tools for generating leads, UpLead offers additional advantages that make it an ideal choice for businesses seeking more efficient and effective lead-generation solutions with 95% data accuracy.
Key Features
UpLead's key features include the following:
Real-time email verification
Advanced search filters
Integrations with popular CRMs and productivity tools
Contact and company enrichment
Pricing
UpLead offers different pricing plans depending on the data and features needed. The pricing ranges from $74/month to over $399/month (when paid monthly).
The plans include a free trial, Essentials, Plus, and Professional, with varying amounts of credits and features such as verified emails and phone numbers, mobile direct dials, and company news. Additional credits can also be purchased for up to $0.60 each.
Experience the power of UpLead firsthand with a free trial.
More Common Alternatives to Wiza
Consider other alternatives to Wiza that cater to different needs and budgets. Each tool offers unique features and pricing structures, so comparing them is vital before deciding on the best solution for your sales and marketing efforts.
Cognism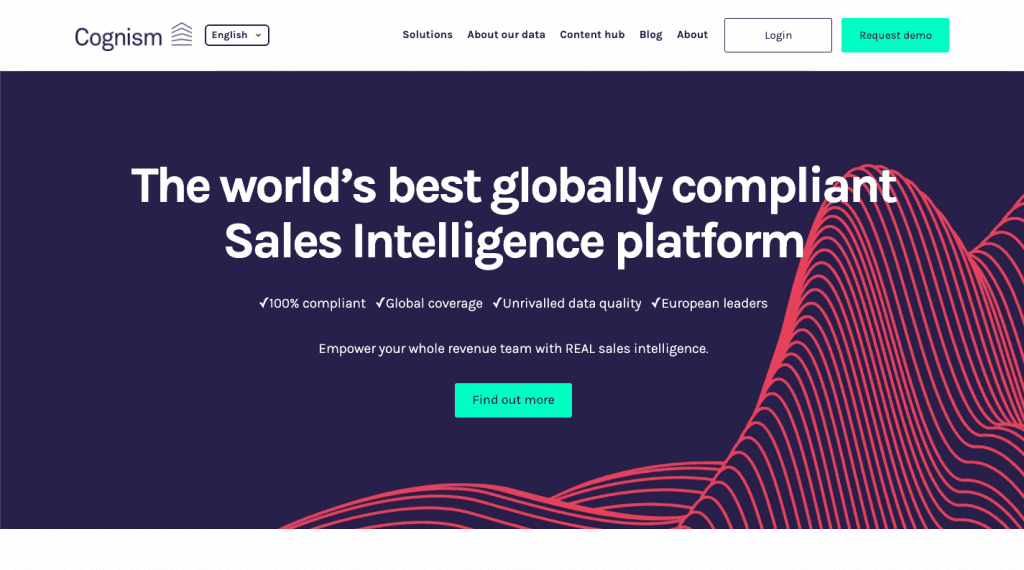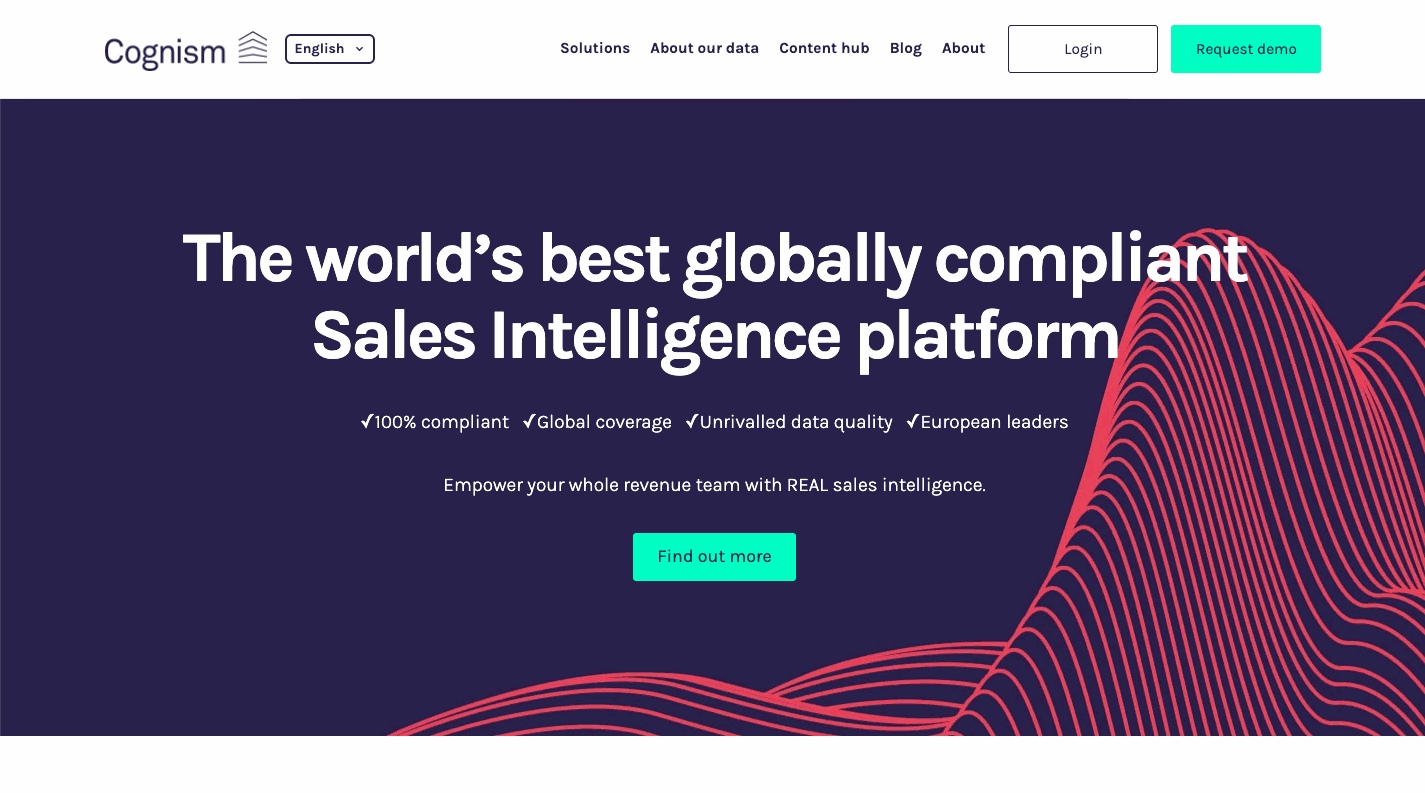 Cognism is a comprehensive B2B marketing tool that specializes in delivering sales intelligence and high-quality data to more than 1,800 customers across the globe. The platform utilizes advanced technologies such as artificial intelligence and machine learning to accurately identify and curate valuable prospect intent data, making it easier for businesses to connect with their target audience. We have also analyzed other Cognism competitors before.
Key features
Key features of Cognism include:
Ability to find verified emails, direct dials, and safe-to-call mobile numbers for decision-makers in accounts that match your criteria. 
Track rich data through sales triggers such as job join, job exits, and company funding
An exclusive mobile dataset that increases the dial-to-connect rate by 7x
Pricing
Pricing for Cognism can't be found on its website, as it's customized by use case. You'll have to reach out to a member of the Cognism team to learn more about pricing.
Lusha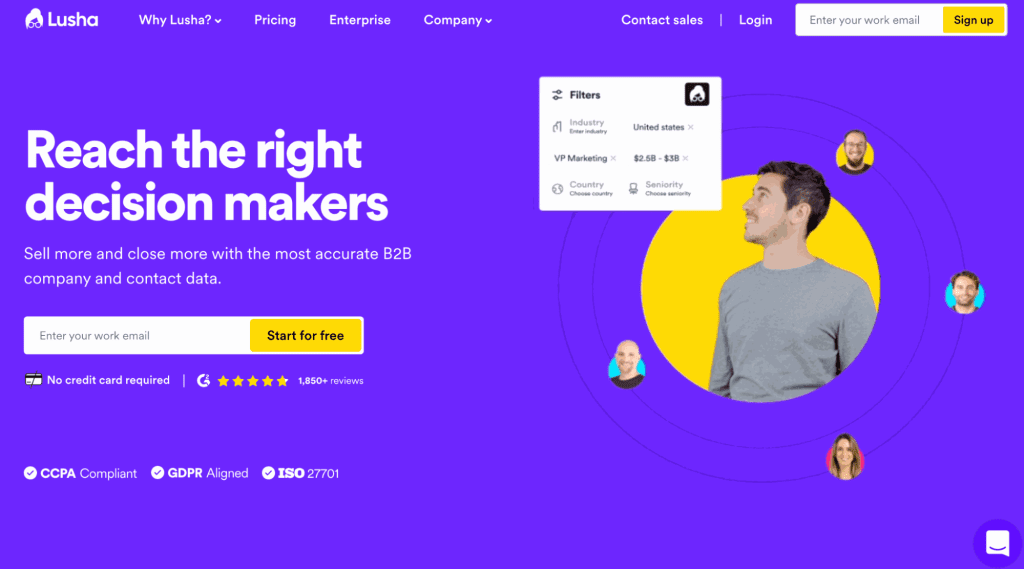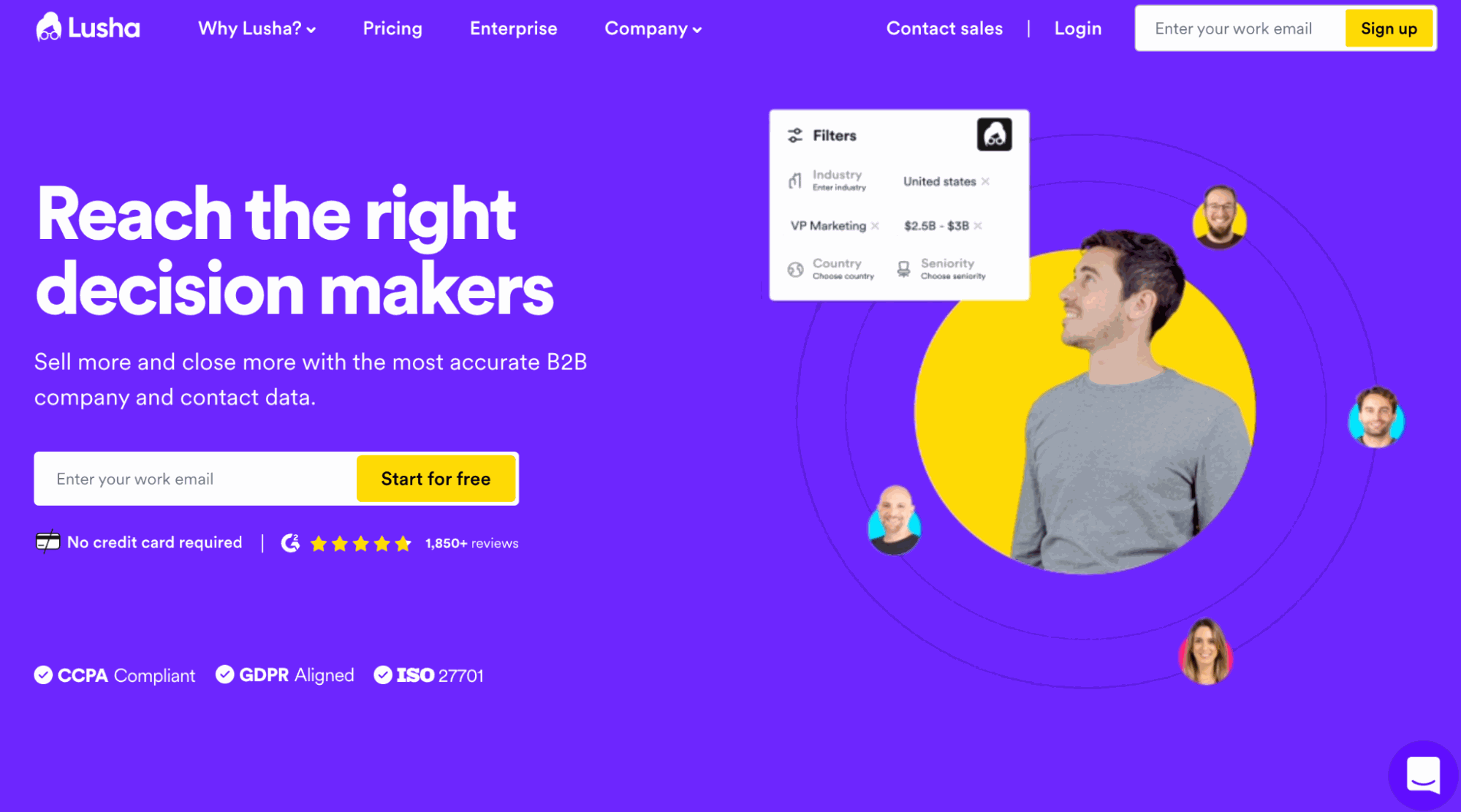 Lusha is a sales intelligence tool offering up-to-date contact and company information. The platform provides a global and highly accurate contact database with over 100 million business profiles and 50 million direct dials for B2B decision-makers. Lusha's platform lets users quickly build detailed lists using advanced search filters and pull up valid emails, work numbers, and direct dials on the right prospects in seconds. 
Key Features
Key features of Lusha include:
Easy-to-use data import in bulk 
Email and phone number finder
Usage analytics
Team management
Pricing:
Lusha offers a variety of pricing plans to cater to different requirements and budgets. The Free version allows users to try the platform without any cost. The Pro plan, at $29 per user per month, includes list management and export leads capabilities. For a more advanced experience, the Premium plan offers usage analytics at $51 per user per month. The Scale plan provides custom pricing, CRM integration, and Single Sign-On (SSO) functionality for larger enterprises or unique requirements.
FAQs About Wiza Prizing
Here are some of the most frequently asked questions about Wiza and its pricing structure.
Does Wiza cost money?
You can get up to 25 credits per month for free with Wiza. Otherwise, plans start at $30 per user per month (billed monthly).
Where is Wiza located?
Wiza's main offices are in Toronto, Ontario.
What You Need to Remember About Wiza Pricing
Wiza offers flexible pricing plans and an array of features that cater to businesses of different sizes and industries. When comparing Wiza to alternatives, consider factors such as ease of use, available integrations, and scalability. Keep in mind that Wiza also offers a 25-credit per month free trial, which can help you evaluate the platform before committing to a paid plan.