No matter what industry your business is in, lead generation strategies are always a hot topic of conversation. After all, how can a business grow without consistent, high-quality leads? With so many lead generation ideas, we've compiled a comprehensive list of 26 proven strategies and one exciting bonus method with immense potential!
Quick Links:
How Can We Increase Lead Generation?
Effective lead generation starts with understanding where to meet your target audience. Does your target customer base primarily interact online? Are B2B events and conferences the right platform to reach your potential customers? Identifying your target audience and understanding how to meet them where they are is the first step in increasing lead generation.
To help you determine the right lead generation strategy, let's take a look at our 26 must-try B2B lead generation ideas. Read our article about B2B Lead generation here.
26 Must-Try B2B Lead Generation Ideas
To boost your lead generation efforts and significantly grow your business, check out our top B2B lead generation strategies to try today.
Build a cold calling list with UpLead (and reach out to your new contacts)
Building a cold call list is a quick, effective way to kickstart a highly-successful lead generation campaign. What better way to build your list than with an industry-leading B2B lead generation partner? With UpLead, you'll have all the tools you need to drive an impactful cold call campaign.
UpLead has tons of incredible tools and features to leverage, allowing you to launch a campaign in virtually no time. With 95% data accuracy, a verified email database, and a streamlined, intuitive prospecting tool, UpLead is fully equipped to help your business grow.
Run a personalized email campaign
Personalized email campaigns are another simple yet effective way to drive leads. Every business uses email, but finding accurate, verified email addresses is challenging. Without a verified email database, you're left guessing your key contacts' email addresses, meaning there's no guarantee your emails will reach their target.
SaaS or other service-based companies commonly use B2B email campaigns. Emails offering project management tools and training, software packages, and training seminars are common examples of direct email campaigns that business contacts see virtually every day.
If businesses receive similar emails almost daily, how can you make your email campaign stand out? It all goes back to personalization. Crafting a completely personalized email with relevant insights about the business you're reaching out to is a great way to make an impression and help your email stand out among the crowd.
Send out direct mail
When people hear about direct mail lead generation campaigns, B2C may be the first thing that comes to mind. However, B2B direct mail campaigns can be just as successful. Direct mail is an effective way to get your information in front of decision-makers.
With business addresses being public information (or at least much easier to find than contact information for individuals), all you need are names and street addresses to start your direct mail campaign. 
Implement account-based marketing
Rather than reaching out to an overly wide audience and attempting to move them all through the sales funnel, account-based marketing (ABM) focuses on a smaller number of key target accounts. It allows for effective personalization from the beginning of the campaign. The campaign is streamlined and more efficient, all while targeting accounts with a higher conversion potential than general outbound lead generation efforts.
Get active on LinkedIn
LinkedIn is an extremely powerful networking platform and can be as effective as a lead generation tool. Connecting and interacting with key contacts is a free, easy way to get started. Engage with others' content, post relevant articles and updates, and introduce your business to potential customers in an organic way.
LinkedIn lets you take your lead generation a step further by creating specific lead generation forms to tie to your engaging content. These forms can be completely customized and seamlessly tied into your LinkedIn content. Just as your website lead capture form will help you capture names, emails, and phone numbers, you can build a lead generation form to capture lead information right on LinkedIn.


Provide free trials and consultations
It's a good idea to let your product or service do the talking regarding lead generation. Free trials and consultations are an extremely effective way to introduce your business to potential customers. They let potential customers understand first-hand how your product or service can solve their problems, meaning a higher chance of conversion.
Salesforce, for example, offers a 30-day free trial, allowing businesses to fully test out their CRM platform with their own data. The trial doesn't require a credit card either, making it a free way to try their product without hassles.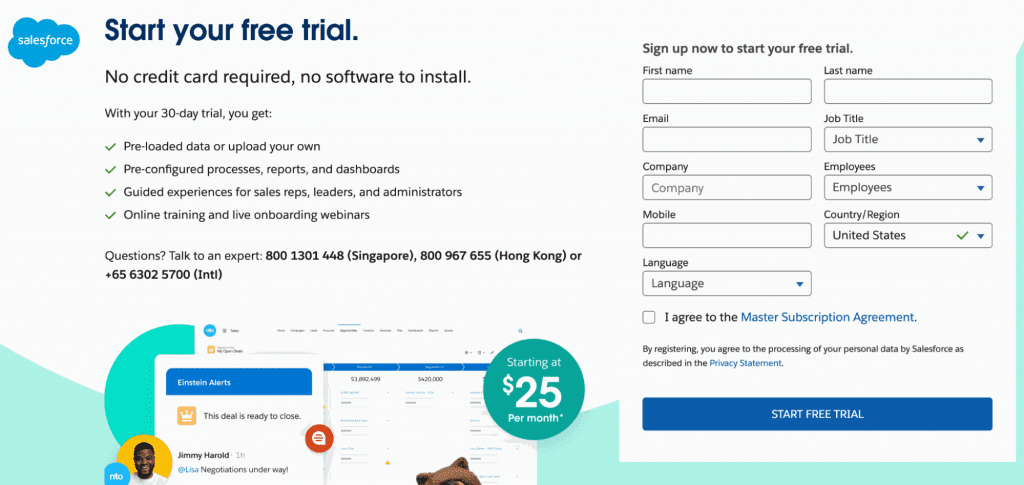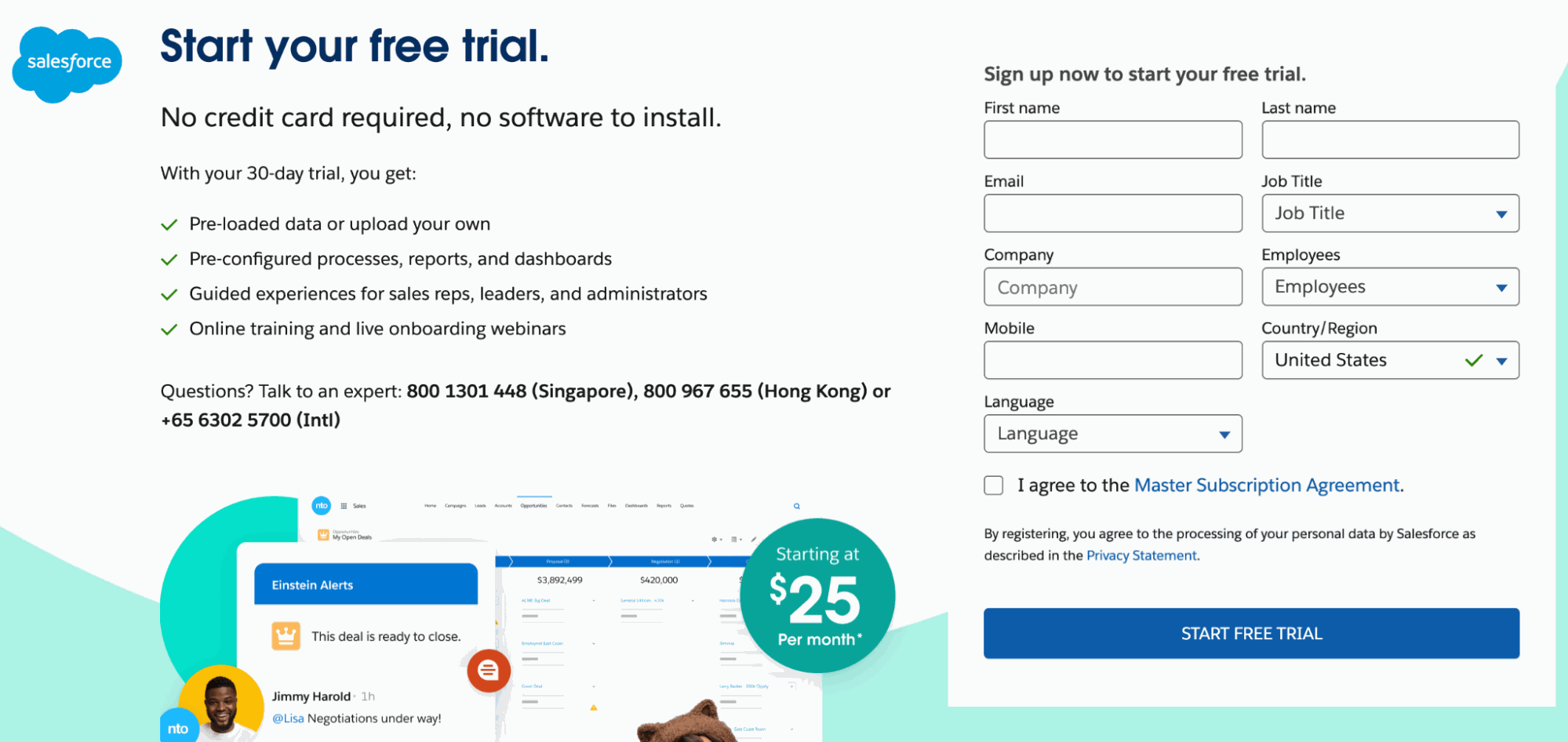 Attend events (both online and off)
Virtual and in-person events are excellent ways to connect with potential local leads/customers. Targeted events are ideal for connecting with a high volume of potential customers that have a greater chance of converting to paying customers. After all, the attendees wouldn't be at the event if they weren't at least interested in the topic.
While attending these events can be fruitful, being an active participant is even better. Bonus points if you can take part as a guest speaker!
Organize and offer a free course
Like a free trial, a free course provides value to potential customers before making a purchase. Your course can highlight your product or service, create engagement with potential customers, and show how your business can be a solution for other businesses.
While promoting and sending a course digitally is easier, organizing an in-person class may be worthwhile. Generating an event of your own and hosting a course creates face-to-face contact with potential customers while providing high-value information.
Create gated content
Want to streamline contact data collection without having to do manual research? Creating gated content allows you to collect data while providing value to potential customers. Whereas free trials may not always require contact information (we highly recommend that they do), gated content is only provided in exchange for information that will help you reach out to the potential customer.
Requiring a simple email address or a phone number to unlock additional content helps you build your contact list in exchange for valuable content, additional free features, or a free trial.
Conduct an industry-specific study
Business customers love statistics; the more data you can provide on your business, product, or service, the better. Unique data-driven stories are valuable for potential B2B customers. Running a study may be a larger undertaking than some other lead generation strategies, but they're often worth it.
Building the study and distributing it to your prospect list goes one step further than a typical cold call or cold email campaign. Combine your efforts with UpLead's email verification and prospector tools, and you'll be set up for success!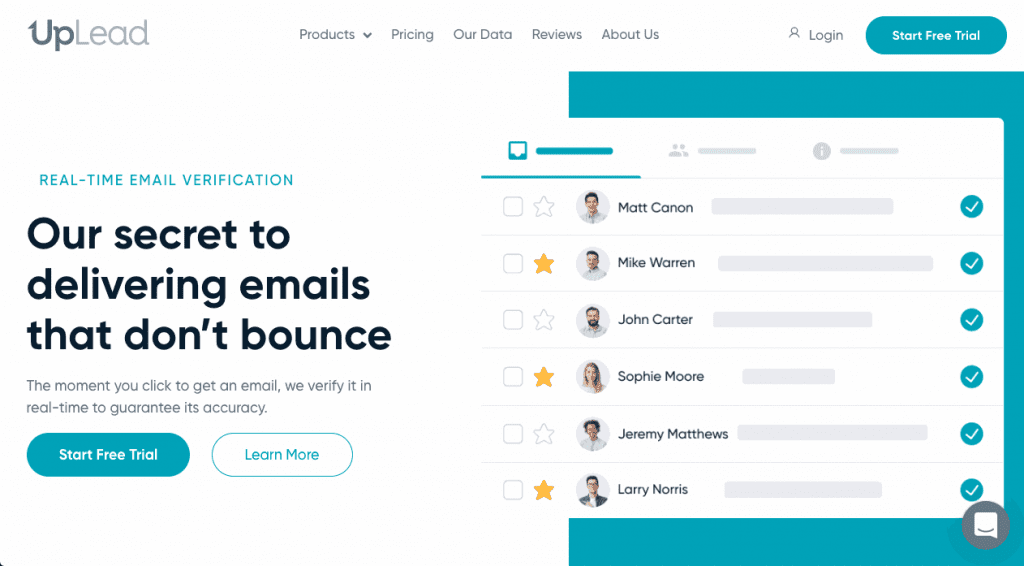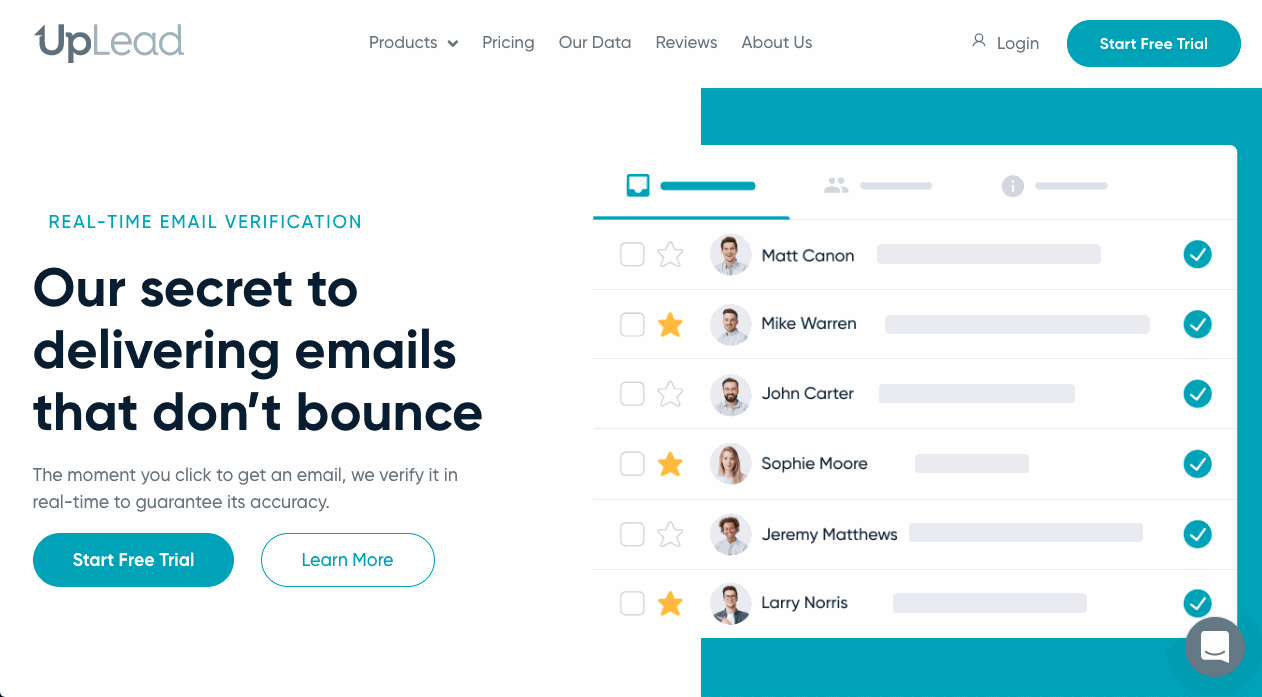 Host a Meetup
Hosting a meetup of potential business customers brings your leads directly to you. Whether you're hosting a course, networking event, or product demonstration, a face-to-face meetup is always a good addition to your lead generation strategy. Face-to-face interactions allow your business to build trust and develop strong relationships much faster than interactions that take place exclusively online.
Create and share online industry-related quizzes
Online quizzes aren't just popular for discovering personality traits and which fictional character you are; they can also be practical lead generation tools. An "outcome quiz" typically used in a B2B context helps move prospective customers through the sales funnel. 
These quizzes help prospects understand which of your products or services can solve their problems. By entering their specific business information, what they may be looking for, and where they are in the sales process, they'll receive an 'outcome' that leads them to one of your solutions.
Write a guest post on a blog (and shamelessly plug your business, if possible)
Guest posts build direct links to your business' website, and if you can guest post on a website with many visitors, it can lead to significant traffic on your site. Creating a high-quality post doesn't require a major investment of time or money. 
Connecting with businesses that may have similar target audiences is the first step in writing a guest post. Sites that allow guest posts typically have strict rules and guidelines around what you can and cannot post, so be sure to play by the rules. Plug your business if allowed, and make sure the site allows backlinks to your business website so you can drive traffic there.
Regularly engage on social media
Everyone knows the importance of social media, and if your business hasn't joined the social media bandwagon, you're missing out on countless high-quality leads. B2B customers regularly engage on social media, making it a popular platform for lead generation and genuine engagement.
Interact with other businesses or potential customers in comments, answer questions on your pages, and engage with other content on social media platforms. Social media can be seen as both an outbound lead generation strategy if you're contacting prospective customers directly and an inbound lead generation strategy by fostering genuine engagement and organic traffic to your page.
Create an optimized Google My Business profile
A Google My Business profile allows your business to be seen in search results, making it a must-have for all companies. Fortunately, it doesn't take long to set up a business profile. As we'll talk about in our next point, testimonials and reviews are important for word-of-mouth marketing, and a Google My Business profile hosts customer reviews.
Highlight testimonials on your website and social platforms
Prospective customers trust current customers over everyone else, so it's crucial to highlight testimonials on your website and social media. Satisfied customers can be some of your biggest advocates, and word-of-mouth marketing is some of the most effective free advertising your business can leverage. Regarding lead generation strategies, highlighting testimonials can have a significant return and requires zero financial investment.
Host a contest or giveaway
Generate excitement around your brand with a contest or a giveaway. Everyone loves free things, and B2B customers are no different. Contests and giveaways can be a simple way to generate a high volume of quality leads. An easy, effective way to pull in prospects is to center the contest or giveaway around engagement.
A common giveaway example is often seen on social media; participants are entered by sharing, liking, commenting, or engaging with specific content. This makes the content more popular on the platform, meaning more potential customers see it. There's no risk for the participants and minimal investment from the business.
Start a podcast (or guest host on someone else's)
Podcasts have significantly grown in popularity over the last few years, and it's easy to see why. This unique audio medium creates engagement with dedicated listeners, allowing for long-term growth and customer loyalty. 
Like providing free courses or free trials, podcasts generate a lot of value for potential and existing customers. They allow you to highlight your products, services, issues relevant to your industry, and so much more.
Focus on optimizing your website for relevant keywords (and create a killer SEO strategy)
Now is the time if you haven't been focusing on search engine optimization (SEO). SEO is the practice of improving your website and its content to appear as high as possible in search engine results (most importantly, Google search results).
This is done by creating higher-quality content, using targeted keywords, and making it easier for Google to analyze and understand your website through various web development techniques.
The first page of Google search results can get as high as 90% of the clickthrough traffic rate, meaning if your website doesn't rank on the first two pages of Google for your target keywords and phrases, chances are you're not getting a lot of traffic from Google searches.
Use retargeting
Retargeting customizes advertisements online based on a potential customer's browsing history. Cookies are used to identify search history and visited web pages, and retargeting strategies allow you to target relevant advertisements based on where your potential customers have been online.
Let's say your company has established a Google Ads campaign, and a potential customer visits your website. Cookies track where they have been, and since they visited your website, they may see an advertisement for your business later on Google. This simple explanation of retargeting at work is a powerful lead generation strategy your business can implement today.
Build an app
While it's much easier said than done, building an app is a massively impactful lead generation strategy. Virtually everyone has a smartphone; you can be sure your B2B prospects use their phones daily. Building a clean, streamlined, free application can funnel high-quality leads to your business while providing value and utility. 
It may be a good idea to offer a free version of your product through the app or potentially use the app as a "price" for gated content. For example, leads can download the app to unlock a free trial or additional valuable content.
Send influencers your products or services to try
Social media platforms play a huge role in our lives, and consumers and businesses now have an active presence on social media. In fact, business accounts can be just as popular and engaging as some of the social media's biggest names.
TikTok is the home of today's influencers, and it isn't uncommon for major brands to send free products to influencers. Some influencers may be happy to promote your products if they receive them for free. While TikTok is primarily a consumer-based platform, it isn't uncommon to see businesses interacting with other businesses.
Hire an influencer
Many businesses hire influencers to sponsor or promote their products and services as an alternative to providing free products. This is because providing free products doesn't always guarantee a positive review. Hiring an influencer directly is a sure way to get your product or service in front of a wider audience and helps ensure it's portrayed in the positive light it deserves. 
Create a monthly newsletter
Another impactful inbound lead generation strategy, a newsletter, is a practical way to generate high-quality leads and provide continual value to your existing customers. However, it takes time to build content for newsletters and even longer for your newsletter to gain popularity.
That being said, having a simple email capture field on your website to sign up for a newsletter is a great way to streamline the process. Neil Patel, a leading SEO specialist, has a massive newsletter following and uses the newsletter to create value for existing customers and generate leads through new signups.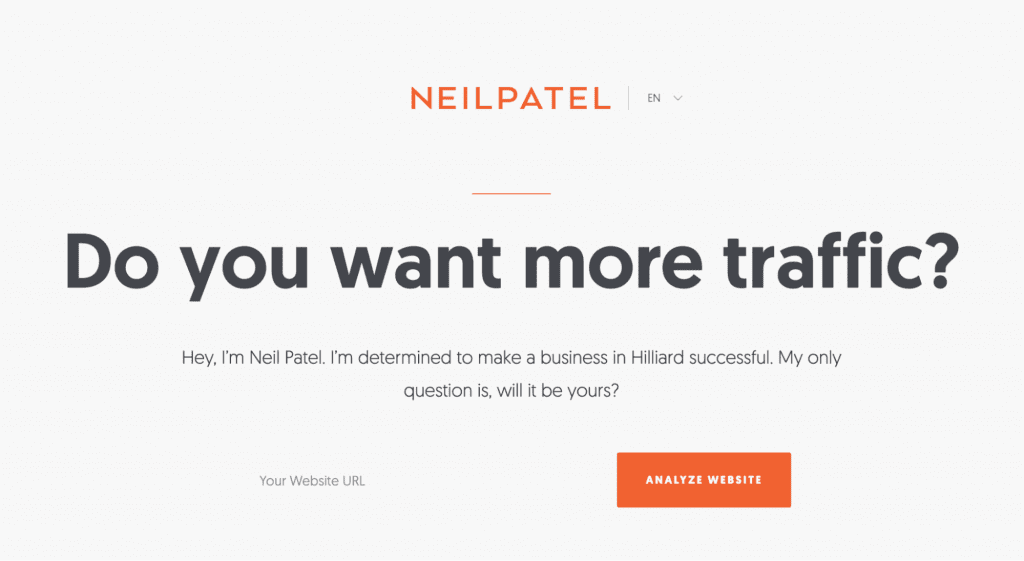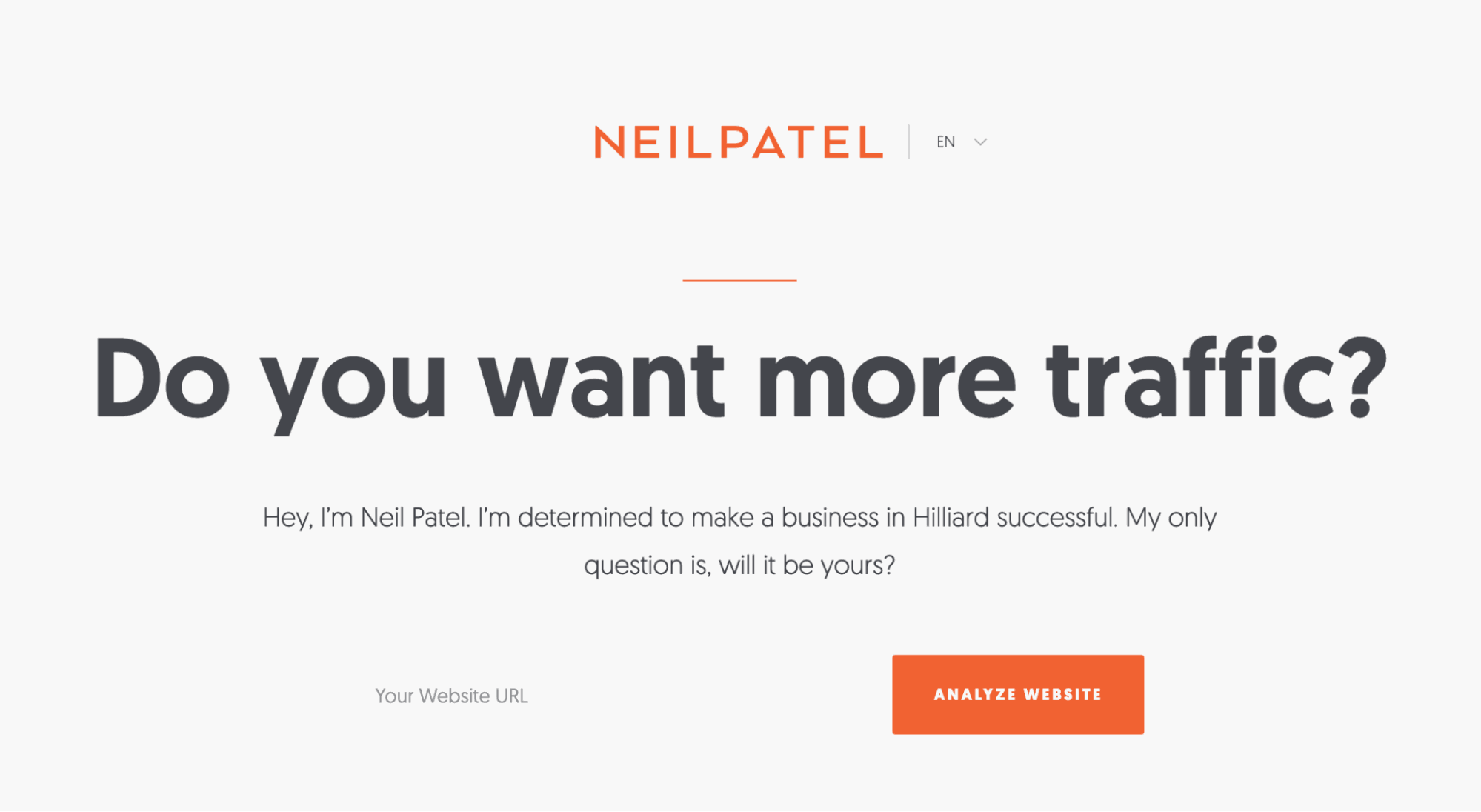 Create eye-catching infographics
In today's online world, visuals are key. Short, effective infographics are powerful tools for lead generation. The ultimate goal is for others to share and distribute your infographic online, so be sure to post your infographic to social media platforms and on your own website.
Infographics should be visually striking and efficiently present key information about your business or product to potential customers. Check out some top examples of infographics here.
Publish case studies
Case studies aren't just effective for internal benchmarking and improvements but also as a lead generation strategy. In-depth case studies show how you've positively impacted your customers' businesses. You're building trust with potential customers by providing real-world numbers and statistics.
Much like review sites, case studies are a great way to bring existing customers into the lead generation strategy. Case studies vary in depth, detail, and length. Check out this short but impactful case study about The Line, a small boutique that leveraged content marketing for sales and growth.
BONUS: Check out the Metaverse
With the meteoric rise of the metaverse, it is possible to use it to your business's advantage. While the program is still in its infancy, the metaverse concept is to blend our real and virtual lives. The lead generation strategies that can come from the metaverse are entirely unknown, but that's what makes it so exciting. Virtual meetings with key contacts around the world, entirely new ways to connect, and fully virtual work environments are just a few of the many possibilities that come with the metaverse.
Enhance Your Lead Generation Ideas With UpLead
With so many lead generation strategies, the sky's the limit for your business. As you can see, both inbound and outbound strategies can significantly impact the growth of your business.
UpLead's tools and features can help your business quickly launch high-impact lead generation campaigns. From an industry-leading prospector tool to on-demand email address verification, everything you need to start identifying quality leads is at your fingertips.
Common Questions About Lead Generation Ideas
Here are some of the most common questions about lead generation and how you can leverage the above strategies to grow your business.
What are lead generation activities?
To summarize, lead generation activities involve contacting potential customers to qualify them and convert them into paying customers. No matter the size of your business or sales team, there are plenty of tools and strategies that you can use to generate high-quality leads.
What are the best B2B lead generation ideas?
The best B2B lead generation ideas are the ones that truly meet your target customers where they are. While it's easy to generalize and say that an email campaign is one of the best outbound lead generation campaigns, your target audience may not make emails a priority and might prefer to hear about new products and services in a different way. It's possible that a cold call campaign or an in-person event may be the right strategy for your target audience.
With the above strategies in mind, selecting the right lead generation method for your unique company is crucial for a successful campaign. Every business is different, so take the time to understand your target customers before deciding which method to use.
Lead Generation Ideas: Key Takeaways
In summary, there are countless B2B lead generation strategies, but it's important to understand your target customer base before committing time and energy to a particular method. Fortunately, UpLead is here to help with your business's tools and resources to launch a successful campaign.