Without a shadow of a doubt, nowadays, it's harder than ever when doing local lead generation. Larger, better-equipped, and multinational companies, along with the rise of e-commerce, pose an enormous threat to local businesses, and they will need to use every tool they have to fight back and succeed.
Thankfully, those local businesses can now leverage a greater range of local lead generation techniques than ever before, connecting with their local customers, building authentic relationships, and generating even more leads.
In this handbook, we'll get up close and personal with local lead generation to help you narrow down and find the most viable tactics for your business.
What Exactly is Local Lead Generation (and How Does It Compare to Normal Lead Generation)?
As the name suggests, local lead generation simply refers to the process by which businesses can generate leads that are geographically close to them.
Local lead generation strategies, like local SEO and physical marketing items, can help businesses generate local leads. Whereas normal lead generation generates leads worldwide, local lead generation focuses on lead generation in a single area.
Proven Local Lead Generation Tactics
Now that we understand what makes local lead generation unique, let's dive in and take a closer look at the proven local lead generation tactics you can use to get amazing results.
We will dissect seven local lead generation case studies to provide you with the best practice and practical inspiration.
Local PPC: Facebook & Google Ads
The rapid rise of digital platforms and social media means that the consumer journey is now more complex and fragmented than ever. Consumers will see ads and marketing materials across a blend of online and offline mediums.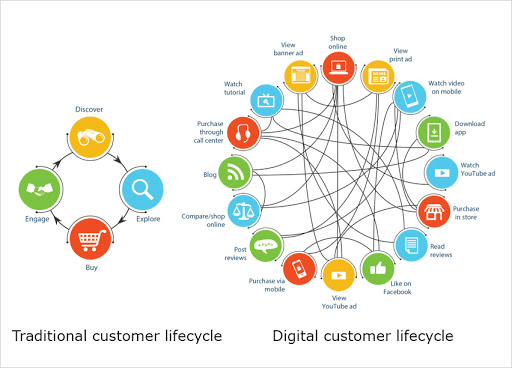 Suppose you're going to cement your business as a viable alternative for your customers. In that case, you're going to need to allocate some of your advertising budgets to digital ads in search engines and social media. These digital ads can help you to:
Regarding purchasing those digital ads, there are two key options: Google and Facebook.
These two digital behemoths are often called the "duopoly" in the ad world. Between the two, they effectively command the vast majority of the online ad share and dominate the industry.
This graphic from eMarketers illustrates the monumental ad revenues of the two companies: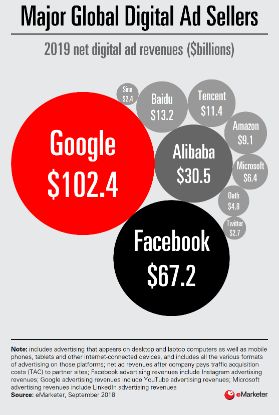 Therefore, if you're going to reach out to your local customers effectively, you'll simply have to allocate some of your advertising budgets to one – or both – of these platforms and to an effective landing page.
Let's look at how a small local delivery business in the USA could use these advertising platforms to generate leads at a reasonable cost.
How Kerry's Fresh Used PPC Ads
Kerry's Fresh is a local business that offers fruit and vegetable delivery to its customers. In this case study from WordStream, we are told that, in order to grow its business, Kerry's Fresh decided to increase its online presence.
The company decided to invest in ads with both Google and Facebook in an effort to gain web transactions. Here's the strategy that it adopted for both platforms:
Google Ads

: The business focused on keywords with high intent.

Facebook

: The business set careful audience targeting based on customer personas and regularly-updated, engaging ads to keep things fresh.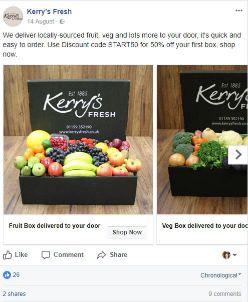 The ads they ran on both platforms all led to the same landing page, which featured minimal steps to complete a conversion.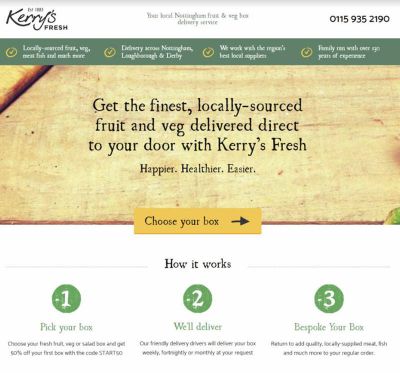 In terms of results, the author of the case study provided the following breakdown: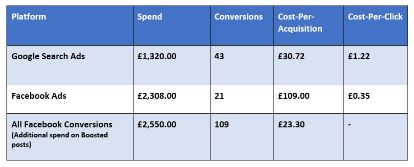 In summary: the author found that the search ad campaigns offered by Google were more cost-effective, but the author also found that Facebook ads could have a high impact on the overall performance of a Facebook page.
In fact, the active Facebook campaigns brought about a 77% increase in Facebook fans and reached people who weren't actively searching for those relevant terms.
How You Can Apply PPC to Your Local Lead Gen Strategy
This case study shows that even small businesses with a limited budget can benefit from distributing their advertising budget between these two key platforms.
If you're looking to emulate this tactic and apply it to your own business, here are the key steps you'll need to follow:
1. Test and trial both options
Testing and trialing your marketing mix is key to local lead generation success. You need to test your landing page, social media ads, local SEO, and A/B test different local lead generation approaches.
This exercise will help you find what works best for your particular business. Michael from Social Media Examiner offers a great guide on how to test your Facebook Ads for optimal results.
2. Adjust your ads over time
It's important for your lead generation that you update your Google and social media ads regularly. This can serve to keep things fresh – and even improve your results.
You can use many social media advertising tools to test your ads, track their performance, and create new, attractive options. Qwaya is a powerful Facebook Ad Manager, for instance. And always remember to take a look at the landing page to make sure it's updated too
3. Find a digital marketing consultant
PPC ads for a search engine and social media are a very powerful tactic to grow your business… but it's also one of the most frustrating and potentially expensive. When done wrong, you can spend a lot of money on lead generation that doesn't go past your landing page If you work with a trustworthy digital marketing consultant, they'll be able to help you avoid making simple-but-costly mistakes.
The right consultant will also be able to help you achieve your desired results. This helpful guide from Search Engine Watch can help you to find a PPC management solution for your business.
Direct Mailing
Direct mailing might seem quaint and low-tech compared to some of the cutting-edge local lead generation tactics, but the simple fact is it's still around because it still works. In fact, direct mailing is a particularly effective strategy for local businesses, too.
According to the B2B Marketing Mix Report from HubSpot, direct mail is still among the most popular marketing tactics, with print advertisements making up 35% of it.
This isn't the cheapest form of local lead generation, however. Direct mail costs can vary significantly according to how much you spend on mailing lists, printing, design, copy, and distribution.
If you're going to get a reasonable ROI for your direct mailing initiative, then you will need to develop a keen strategy. Let's get some inspiration from Zogics!
How Zogics Used Direct Mailing
In this case study from Postalytics, we are introduced to Zogics, an eCommerce company that provides its customers with a one-stop shop for all their gym supply needs. The company partners with over 30,000 facilities to offer great products quickly and at the best possible price.
In the case study, we're told that Zogics installed a new CRM solution and subsequently discovered that a significant portion of its audience had stopped purchasing. The decision-makers at Zogics then decided they needed to find a unique way to capture the attention of those customers who had gone dark and had stopped responding to their digital efforts.
Zogics decided to partner with Postalytics, to automate its new direct mail initiative. The company decided to adopt a large format postcard to take things offline, and they developed a bold creative with a clear CTA to capture the attention of recipients: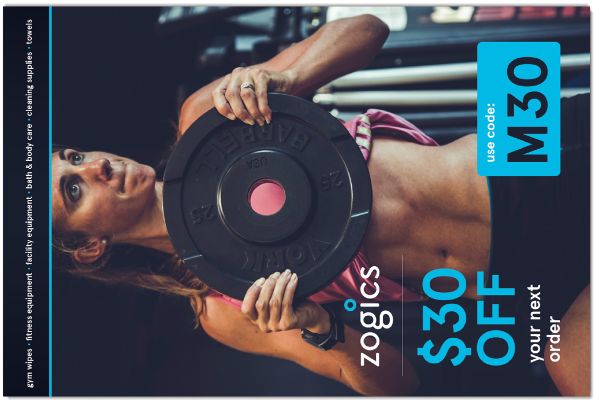 Within just two months, the Zogics team had successfully re-engaged many at-risk customers and witnessed some very impressive results:
500% increase in ROI

Order volume increase of 140%

Savings in time, costs, and manual effort
How You Can Apply Direct Mailing to Your Local Lead Gen Strategy
Zogics achieved some excellent results and re-engaged a number of local leads thanks to its direct mailing initiative.
USP Delivers has looked at the nine essential steps for executing an effective direct mail campaign. Here's a brief look at those key steps:
1. Establish goals and objectives
As with any other initiative, it's important that you start by outlining what you hope to accomplish. In this case, it would be to generate local leads. You can also get more specific, though, and accurately define what your success is going to look like.
2. Set a budget
Next up, you'll want to create a budget. This budget will vary according to your goals and objectives and will determine the size of the mailing list you're able to target.
3. Understand your audience
It's important that you identify the audience you're going to target. Given that you're hoping to acquire new leads, you'll need to identify the ideal persons or businesses to contact.
4. Create a mailing list
Once you've determined your audience, it's time to create your mailing list. This comprehensive list should include all of the necessary contact information. You'll want to use a high-quality lead generation platform like UpLead.
5. Craft your message
With those specifics taken care of, you'll need to work with your marketing department to develop your message. The best messages will resonate with your potential leads and provide some kind of value for them.
6. Design your collateral
Now that your message is in place, it's time to develop the collateral design. Think about how the design can enhance your key message and entice your recipients.
7. Print your pieces
After proofreading and approving your collateral, it's time to find a reputable printer! You'll want to find a high-quality printer that can offer you excellent quality at the best price possible.
8. Coordinate postage
With your collaterals ready, it's time to handle the logistics in terms of postage. The rules and regulations around commercial mail will vary from country to country, so be sure to research the rules that will apply to you.
9. Track your results
Direct mail is a little tricky to measure in terms of efficacy, so you'll need to use things like unique URLs, QR codes with logos, and referrals to measure the ROI of your campaign.
Cold Calling
Cold calling can be intimidating for even the most seasoned sales professionals, but it's a great way to connect quickly on a personal level. Despite the belief that this is a frustrating contact method, 49% of buyers prefer a cold call first.
It's also an effective tactic for businesses looking to generate local leads: you'll have plenty to talk about, and buyers are often more enthusiastic about supporting a fellow local business.
How x27 Marketing Used Cold Calling
In this case study, x27 Marketing explains how it made the most of cold calling to book meetings with several high-level Fortune 500 companies in under a week. While this is an exclusive audience, you can still apply this tactic to your local lead generation drive.
The author tells us that the key to the success of this initiative was thorough planning and identifying appropriate leads. After developing and applying this strategy, x27 Marketing could book six meetings in under a week.
How You Can Apply Cold Calling to Your Local Lead Generation Strategy
In its cold calling case study, x27 Marketing carefully outlines the exact strategy that it used. Here's a brief look at those steps so that you can follow them:
1. Pick the company you're going for
The first step to success is taking the time to identify the right leads. The author of the case study explains that you should look through your existing and past customers to identify the ideal lead.
This exercise will help you to evidence your claims during your cold call and impress your leads with your proven approach.
2. Research the company and develop your idea
Once you have identified the leads you'd like to connect with, it's time to understand them better. You'll need to (for example) identify the appropriate firmographic information to make sure that they're a viable fit.
In the case study from x27 Marketing, the author explains that they also began to develop an idea of exactly how they would approach the potential lead. They would develop key ideas around their pitch to ensure that they had a plan going into the cold call.
3. Find your point of contact
With the pitch in place, it's now just a matter of finding the appropriate point of contact. In this instance, the author aimed for executives within Fortune 500 companies, which would be a significant challenge.
You might find that, on a local level, you'll have an easier time connecting with decision-makers in your cold calls. If you use a leading platform like UpLead, you'll be able to leverage databases to expedite this section of your cold-calling strategy.
4. Cold call until you get through
Now that you've got the contact and their information, it's time to try and call. Any salesperson knows that cold calling is a matter of persistence – you must keep yourself motivated and call back until you reach your target. Here are some cold calling tips to help you get started.
The number of cold calls you'll need to make will vary according to many factors. You might very well get lucky and reach the target on your first try, or you might need to develop a rapport with other business people before you're successful.
Cold Emailing
Email is still an excellent tool for digital marketers. There are a staggering 3.9 billion active email users around the world, so your targets are almost definitely going to be reachable through the use of email. The average worker is also highly receptive to emails that pass through their inbox, so you could pique their interest!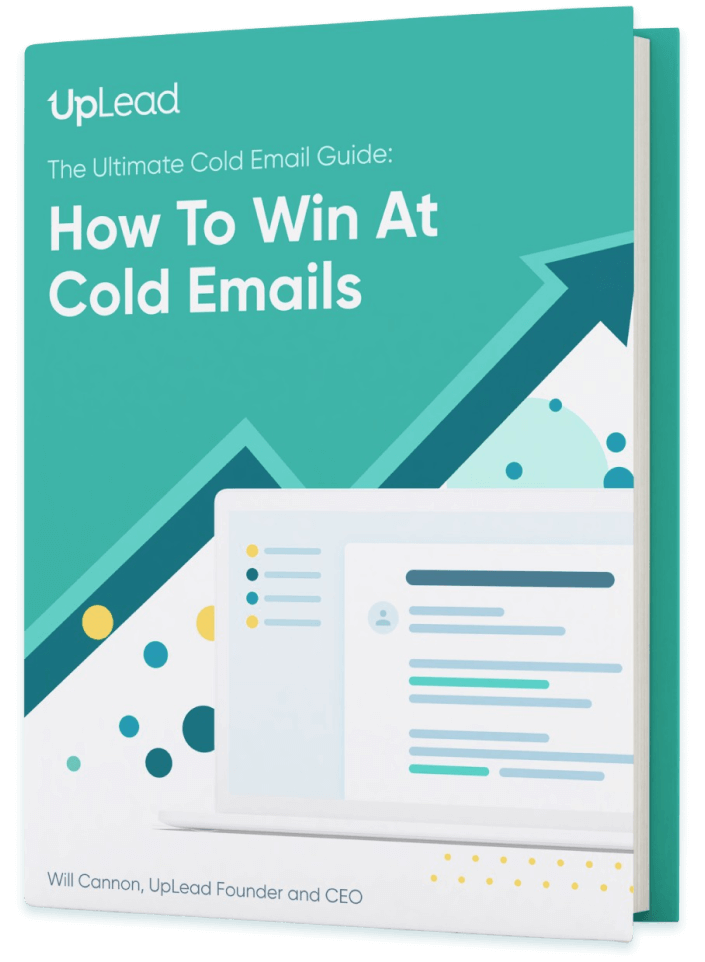 Download our free eBook full of valuable insights and take your cold emailing strategy to the next level.
I agree to receive emails from UpLead, and can unsubscribe at any time.
Let's take a look at a cold emailing case study to provide you with some inspiration.
How Jake Jorgovan Used Cold Emailing
Jake Jorgovan is an entrepreneur who runs two companies. In this cold emailing case study, he explains how he decided to take a new approach to old sales tactics by developing his cold emailing strategy.
He used an eight-step cold emailing strategy to contact some leads and generate a whopping $12,030 of business from just a few batches of cold emails, which were sent out over seven months.
In his case study, Jake also explains that he managed to win business with several clients, including deals with Fortune 500 companies.
How You Can Apply Cold Emailing to Your Local Lead Generation Strategy
In his case study, Jake very kindly outlines his process and the steps he used to obtain cold emailing success. Here's a closer look at the eight steps that Jake used:
1. Choose between quality or quantity
Jake recommends that your cold emailing strategy begin with an important decision: quality or quantity?
You'll focus more intensely on a smaller number of potential leads when it comes to quality. This approach makes sense if you have a smaller group of dream clients that you'd like to work with.
On the other hand, the quantity approach is all about playing the numbers game. Using this approach, you'll email a vast number of potential leads, and you might just find that you inevitably land a sale.
This is an important decision, and it will have an impact on the rest of your strategy.
2. Develop a great case study
Jake argues that a case study is critical to cold emailing success. He says that this is the one item you absolutely must have before you can begin sending out your cold emails.
This case study should include the results you've managed to achieve, the work you've produced, as well as a great customer testimonial.
A high-quality case study can dramatically improve your chances of securing a response – and even closing a deal.
3. Identify your target audience
Now that you've made some key decisions and developed your case study, it's time to identify your potential prospects. Naturally, you'll want to target those prospects who are going to be interested in your case study.
There are a number of techniques you can use to identify your target audience. For instance, you could look at your existing customers or search local business directories to find local options.
4. Put together a list of prospects
Now that you have a distinct target audience in mind, you need to find the people you want to contact. Again, there are a number of techniques that you can use to accomplish this.
Some business owners might visit websites and manually collect emails from there. This approach often makes sense if, for instance, you've decided to focus on quality over quantity.
If you want to get high-quality information as quickly as possible and build targeted lists, you'll want to use a tool like UpLead.
5. Write a great email
Once everything is set, in terms of your audience, you've got to focus on creating a beautiful cold email that will inspire your leads to respond.
There's a lot of guidance out there that can help you to write the perfect cold email, but an often-overlooked piece of advice is to keep your personality and let it shine within the email itself. If you're connecting with local leads, this is particularly important!
In his case study, Jake includes an example cold email script that he used to land a large client:
[Prospect names],
Recently I came across [Company name] in the [Directory where I found their information] and I wanted to reach out. My name is Jake Jorgovan and recently, I finished up a website design project for [case study client] and wanted to reach out to similar companies.
When I came across the [Client's website], I noticed [review of 2-3 things that I found wrong with the clients website]. With the [case study client], we were able to build a professional site and get it up and running in under three weeks. Their site is mobile friendly and extremely easy for anyone at the company to update.
If you are interested in rebuilding your website, please let me know and we would be more than happy to help you out. Also, I have attached a case study for [Case study client] with a raving testimonial from the owner of the company.
Thank you [Prospect name] and I look forward to hearing from you.
Sincerely,
Jake Jorgovan
6. Follow up after no response
Once you've sent your email, you might find the results underwhelming: the average cold email response rate sits at around 1%. So you'll need to develop a good follow-up strategy.
You'll want to develop your own unique strategy, which reflects the attitudes and preferences of your local leads. In his case study, Jake explains that he would send a follow-up email after around 7-10 days had passed without a response.
Here's the email that he would send:
[Prospect name],
I wanted to send a quick follow-up to see if you received my e-mail from last week in regard to your new website design. Please let me know if you are interested, and I look forward to hearing from you.
Sincerely,
Jake Jorgovan
To expedite the follow-up process and keep on top of your contacts, you could use several email management tools to automate your follow-up emails (we'll look at some great tools later in this piece).
7. Choose how many leads to contact
You'll quickly find it difficult to keep on top of so many cold emails. You might get some responses, bounced emails, and leads who don't follow up with you.
This is why you should deliberate how many leads you will connect with at any one time. You should choose a realistic figure which stops you from burning out and becoming overwhelmed.
In his case study, Jake explains that he aimed to send out 25 emails each week. This was a realistic figure for him, and he managed to get great results from it. Thus, you might find that a higher or lower number works best for you and your business.
8. Keep your cold emails organized
Jake also explains that keeping on top of your cold emails becomes a challenge after a couple of weeks.
This is why he relied on a couple of tools to help him out. He used Yesware to track his open rates and notify him when a prospect had not replied, and he used Streak as a free CRM that integrates directly into Gmail.
Local SEO
Around 46% of searches on Google are now local searches. This trend has evolved as both the collective appetite for local search results has grown and Google's ability to offer relevant results has improved.
And 76% of those local mobile searches will lead to an in-store or online purchase. This is an excellent opportunity for local businesses like yours!
Ready to capitalize on that opportunity? Let's take a closer look at a local SEO case study.
How a Local Taxi Company Used Local SEO
In this case study from SEMrush, we are introduced to a local taxi company that found itself operating in a competitive market. The local area had a population of 200,000, but 60 million tourists regularly passed through the greater area because two international airports were located just within the surrounding 30 miles.
The author of the case study explains that the taxi company, even though it mostly operated in the city, was not appearing in local search results for the city itself. After a careful audit of organic and local search positions, the SEO consultant was able to make some key interventions to achieve the following results: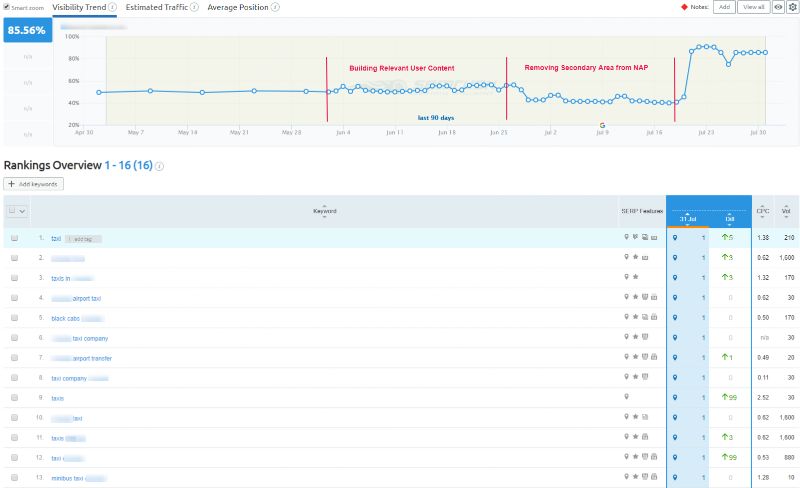 Pretty impressive, right? The SEO consultant achieved this by dividing their work into four key sections:
1. On-site work
Technical SEO

Installing contact information

Restructuring menus

Addition of structured data for service area
2. City location content/guides
The creation of content and guides

Downloadable Google Maps with taxi ranks

Video content from dashcams of taxis
3. Airport location content/guides
Guides around the airport

Maps of terminal areas

Guides for trains

Link Building with other local businesses
4. Changing the name, address, and phone number
Waited for the previous steps to take hold before adjusting NAP

Slightly adjusted the address to put the business closer to the city
That four-pronged approach is a great illustration of how methodical you should be when it comes to performing local SEO work.
How You Can Apply Local SEO to Your Local Lead Generation Strategy
Ronkot has a great checklist of the most relevant local SEO ranking factors and how to strengthen your local SEO strategy. Let's take a closer look at the key steps included in this piece:
1. Optimize your "Google My Business" page
As a local business, you must appear on Google Maps to generate local leads. This is why your first port of call will be to create and optimize your "Google My Business" page.
There are a few key steps you'll want to take care of here:
Verify that all of your information is accurate and up-to-date

Add important information, such as your logo design, images, location, payment methods, service, and products, as well as operating hours

Try to collect feedback and ratings

Respond to your customer reviews quickly
2. Review your local business listings
High-quality local directories are a great source for backlinks and new local leads. You must carefully monitor those directories and ensure that all of your information is as relevant and accurate as possible.
3. Optimize your web content
You'll need to optimize your website content with relevant keywords to attract local leads and rank for local search terms. This is a huge topic that you'll want to dedicate a lot of time to, but it's certainly going to be worth the investment.
4. Collect positive online reviews
Did you know that 91% of Millennials trust online reviews just as much as personal recommendations? Therefore, it's extremely important to try collecting as many positive online reviews as possible.
You could adopt a number of techniques to do this, such as contacting your happy customers after a successful purchase and asking them to leave a review in return for entry into a prize draw.
5. Build a strong mobile website
On-site SEO is important (obviously), but you'll get nowhere without having the appropriate technical foundations in place. Mobile traffic has overtaken traditional desktop traffic, which means you've also got to give your mobile visitors a strong experience.
Google offers a fantastic mobile site speed checker, which you can easily use to assess your performance. You'll also find a checklist of actionable steps that are catered to your website!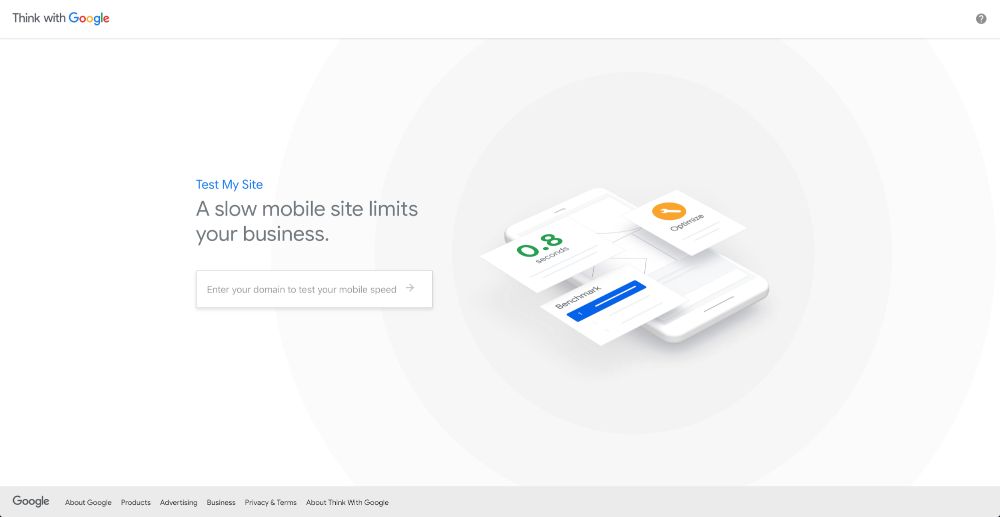 6. Revise your social media offering
People often also expect local businesses to have a strong social media presence. Those profiles can help you to come across as credible and trustworthy, so it's important that you continue to nourish them over time.
Again, this is a large part of local lead generation, and you'll want to invest the appropriate amount of time into your social media strategy.
Conference Lead Generation
Event marketing is quickly growing to become a preferred local lead generation tactic for marketers around the world. In fact, 68% of B2B marketers say that live events generate the most leads.
Conferences represent a fantastic opportunity for businesses to branch out and connect with new local business owners. Those are often expensive to attend, so you'll need a well-developed strategy to obtain the best results from them.
Let's take a closer look at a conference lead generation study and the techniques you can use to succeed.
How Xeikon Used Conference Lead Generation
Xeikon is a digital printing company that operates as an original equipment manufacturer for a number of other businesses.
In this case study from Marketing Sherpa, we're told that a major industry event each year is the business's key local lead generation opportunity. In order to maximize the ROI from this conference, Xeikon decided to combine all of its direct mail, email, and teleprospecting activities before and after the trade show.
Aditya Dwivdei is the Senior Marketing Manager for Xeikon, and he explained:
"There were two main purposes of the campaign. One was to create brand awareness regarding our products among label converters in the U.S., and the second one was to generate opportunities (with) label printers [companies] that were looking to buy something from someone within the next six to nine months."
Aditya and his team developed a six-step process to capitalize on this key event. Here's a summary of those six steps:
1. Find appropriate prospects
The first step was to identify the appropriate targets. Aditya and his team needed to find companies that were big enough, both in terms of employee size and in production runs.
To achieve this, the Xeikon team leveraged two years of marketing data and used look-alike modeling to find other similar companies.
2. Develop an incentive for four marketing waves
Xeikon has four values within its proposition:
Productivity

Quality

Flexibility

Sustainability
To champion those values and engage its target prospects, the marketing team decided to develop an incentive related to each value. Those incentives were executed in four distinct "waves", to encourage responses and engagement.
3. Connect with direct mail first
In terms of contact order, the marketing team decided to use direct mail first. This piece helped showcase Xeikon products (given that it was printed) and create physical contact.
Each direct mail piece also included a personalized URL like the CTA, making it easier to track potential leads.
4. Send an email to prospects
That piece of direct mail was then followed up by an email. The marketing team explains that the response rate was much higher through the use of combining those two communication channels into one.
5. Make things personal with telemarketing
Each lead who interacted with the direct mail or email was also given a call. This created a deeper sense of connection and helped the sales team to qualify leads better and prepare for the in-person meeting at the conference.
6. Follow-up after the event
The Xeikon marketing team sent a follow-up to its entire prospect list after the event wrapped up. This served to cap the event off nicely and acted as a natural opportunity to continue building a relationship.
This highly-targeted outreach made it easier for the team to track engagement, and the number of communication channels also effectively drove engagement. Here's a look at the fantastic results which were brought about by this well-developed strategy:
The team achieved its goal of identifying 1,000 prospects

14% campaign response rate from direct mail and email

140 qualified leads

300% return on investment
How You Can Apply Conference Lead Generation to Your Local Lead Generation Strategy
If the conditions are right, you may decide to follow this strategy that helped Xeikon achieve such great results.
Here are a few steps from Mighty to keep in mind, to help make sure you achieve conference lead generation success:
1. Pick the right conference
This might sound like a very obvious step, but choosing the right conference is extremely important! To do this, you'll need to assess things like:
The attendees

The price

The event schedule
Conferences are often expensive to attend, so when considering one, you want to be absolutely certain that you're making the right decision.
2. Set specific objectives
As with any other local lead generation initiative, you'll need to set clear objectives that you can later use to assess your performance and the quality of the event.
These simple, numerical targets can be used to keep your salespeople operating as effectively as possible and incentivize standout performance.
3. Develop your outreach strategy
If you get the maximum ROI from your conference, you will need to drum up interest and brand recognition in advance of the event itself. You should work with your marketing department to develop a comprehensive outreach strategy that utilizes a number of channels.
4. Organize as many meetings as possible
The event organizer will often be happy to share an attendee list with you. You should take this list and augment the information in it by using a lead gen provider like UpLead.
You can then reach out to those attendees in advance of the event to organize as many meetings as possible and boost your ROI.
5. Follow-up effectively
Before the event, you also need to create a follow-up strategy that's ready to go. This strategy is going to help you immensely in building upon the connections that you've made during the event.
Meetup Lead Generation
Networking at local events and conferences are great local lead generation strategy, but, depending on your location, those events could be few and far between. Thankfully, Meetup makes it simple for you to coordinate your own event catered to your exact audience.
Meetup is an excellent tool which you can use to quickly spin up new groups and events to attract new leads. There are over 35 million Meetup users around the world, so you'll be sure to find viable leads on there!
Let's take a quick look at how Rapid Boost Marketing used Meetup to connect with new leads and drive new business.
How Rapid Boost Marketing Used Meetup Lead Generation
In his Meetup case study, author Ali Salman introduces Meetup, takes us through the six Meetup groups he created, and tells us a bit about them:
Calgary Internet Marketing

: 423 Members

Edmonton Internet Marketing

: 419 Members

Red Deer Online Marketing Meetup

: 172 Members

Business Growth Systems

: 632 Members

Edmonton Inbound Marketing

: 90 Members

Vancouver Internet Marketing

: 11 Members
As you can see, that's quite an impressive spread of groups and subjects! Ali also explains that he's planning to launch even more additional groups in the future.
Ali explains that, in terms of execution, he made sure to identify something that his local market desperately needed. He then leveraged that need, and created a Meetup that focused around networking, learning, knowledge, and opportunities in that area.
In terms of four key tips, Ali shares the following advice:
Stay consistent and organize events regularly

Work alongside local charities to create a community feel

Post pictures and other content after the meetup

Try to leverage the power of meetups to gather product feedback, deepen brand loyalty, and set your brand apart from the competition as a credible leader
Aside from excellent organizational skills and a desire to drive value, the big driving force behind the growth of Ali's groups is that Meetup automatically recommends groups to its users based on their location and interests. Ali explains that this means he spent nothing in advertising but still achieved some impressive figures:
80 hours invested over the course of a year

$165,000 in revenue generated

1,350 new email list members
These are very impressive figures – and Ali has kindly shared the steps he followed in order to achieve them.
How You Can Apply Meetup Lead Generation to Your Local Lead Generation Strategy
In his piece for Become A Blogger, Leslie Samuel outlines a clear strategy that new Meetup hosts can use to throw effective events.
Here's a summary of those steps:
1. Assess the landscape
To begin with, it's important that you get a good lay of the land. Sign up to Meetup and take a look at the standout events in your niche or industry.
Be sure to take note of any standout events and any glaring gaps that you might be able to fill with your Meetup.
2. Join groups and attend events
Now that you've got a better idea of what's out there be sure and join some groups and attend events. This will give you a better impression of what's currently out there, and of how it all works.
Draw inspiration from these experiences to understand the conventions around things like event names, descriptions, and updates. Assess what does and doesn't work – with this knowledge, you'll be able to improve on things with your own event.
3. Develop your Meetup idea
After you've attended a few Meetup events, you'll now have a good idea of what does and doesn't work. If there's still the opportunity for you to create an interesting local group that will drive value for users: go ahead!
5. Take care of the logistics
Before you create your Meetup, you should be sure to have all of your logistics ready. This means things like:
A great group name

An engaging headline

A detailed description

Profile pictures, group pictures, customized banners

A custom URL

An event that you can schedule right away

A member profile questionnaire
Local Lead Generation Software
Feeling inspired to use some of these local lead-generation strategies for your business? Here's some of the best local lead generation software that you can use to work efficiently and boost your results.
UpLead for List Building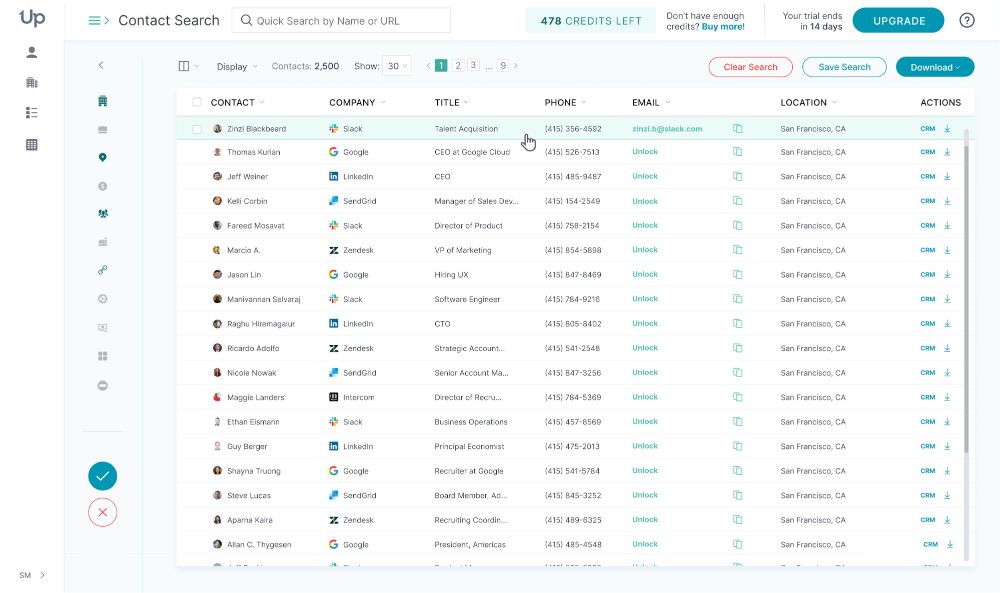 UpLead is an ideal list-building tool for local businesses. Our powerful platform makes building targeted prospect lists simple, using the most accurate data out there. Our platform also makes it a breeze to target specific contacts and organize your leads in one place.
Mailshake for Sending Emails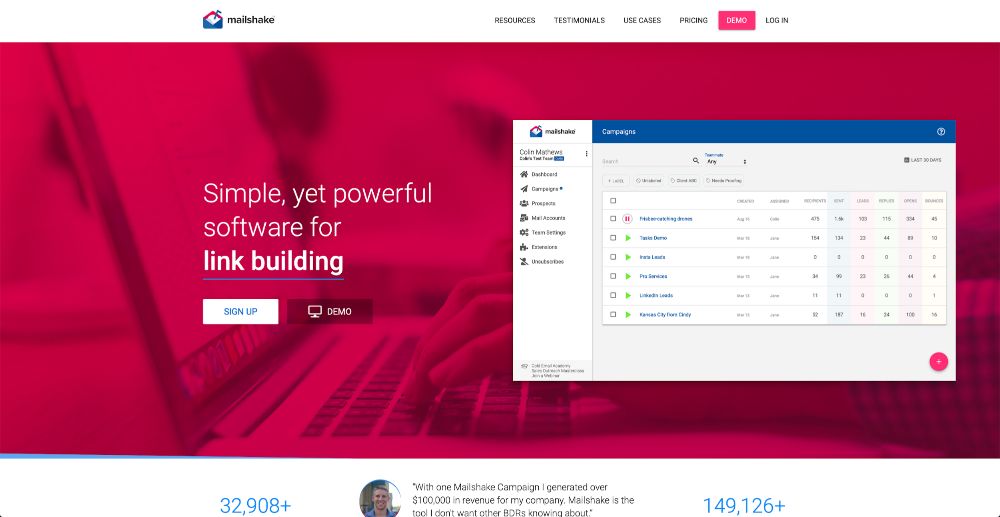 Mailshake is a simple email management platform that can help local businesses to send personalized cold emails at scale. This makes it easier for businesses to connect with more prospects and book more meetings. Mailshake also enables engaging with prospects via phone and social media.
Aircall for Cold Calling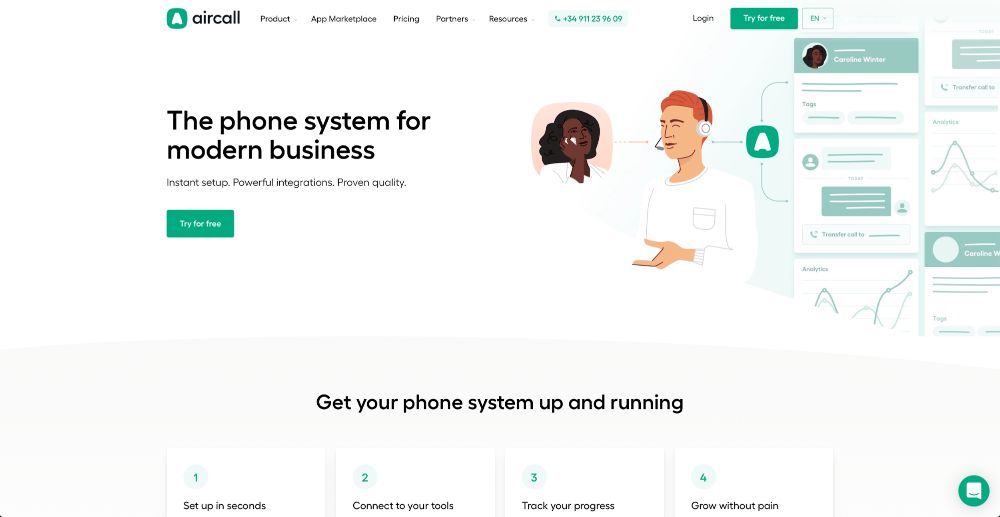 Aircall is an elegant phone system aimed at modern businesses. This tool is super simple to set up, and offers a host of powerful integrations with the tools that you already use. Aircall also allows local businesses to monitor key metrics in real time, and the audio quality is superb.
Facebook Ads Manager for Running Facebook Ads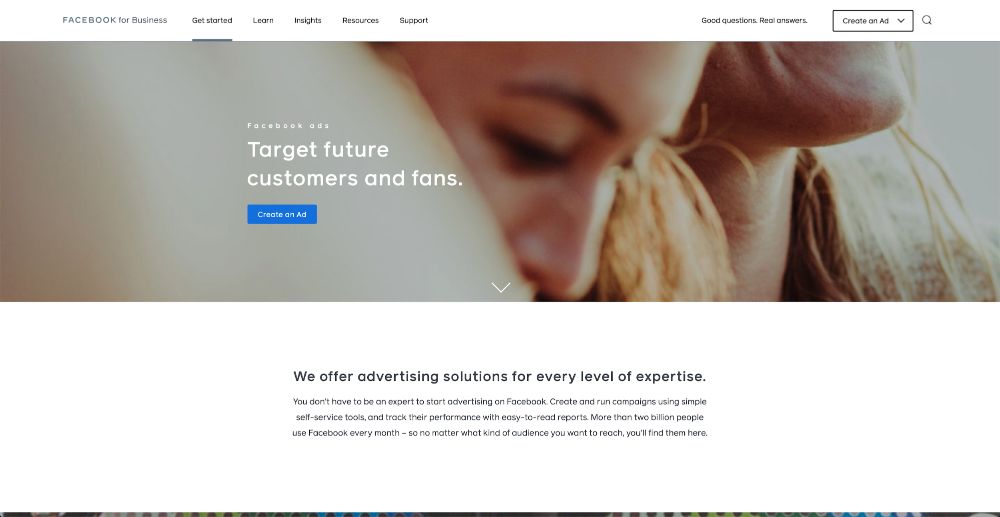 Facebook Ads is the platform that local businesses can use to coordinate their online advertising on Facebook. The social media platform offers a suite of self-serve tools for local lead generation, which can help local business owners create and run campaigns in practically no time. The tool is extremely intuitive to use, and you'll find great guidance for it.
Google Ads Manager for Running Google Ads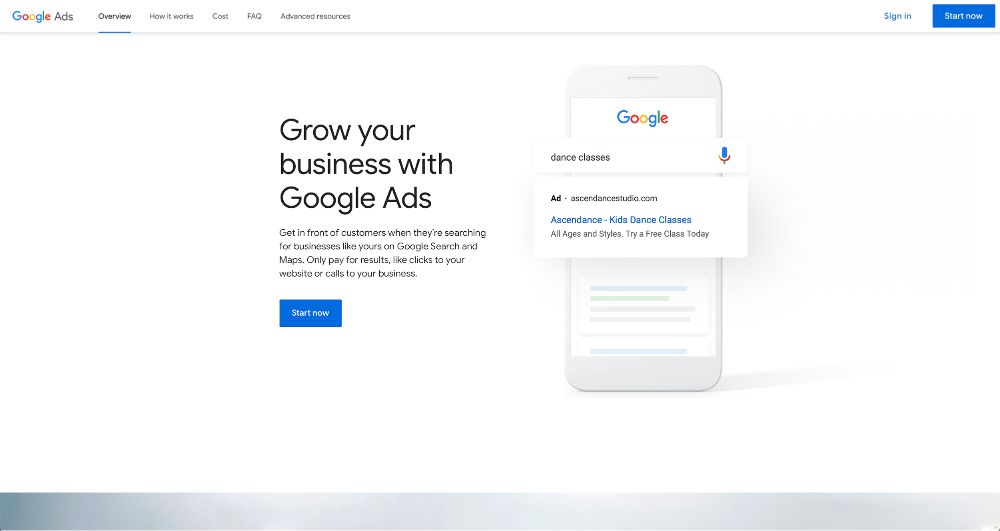 Google Ads gives local businesses a simple platform that they can use to get their ads in front of their target customers. The platform is relatively simple to use for beginners – but there's also a lot to master here in terms of best practices when putting together your Google ads campaigns. But once again, you'll find a wealth of guidance on offer here.
Meetup for Running Meetups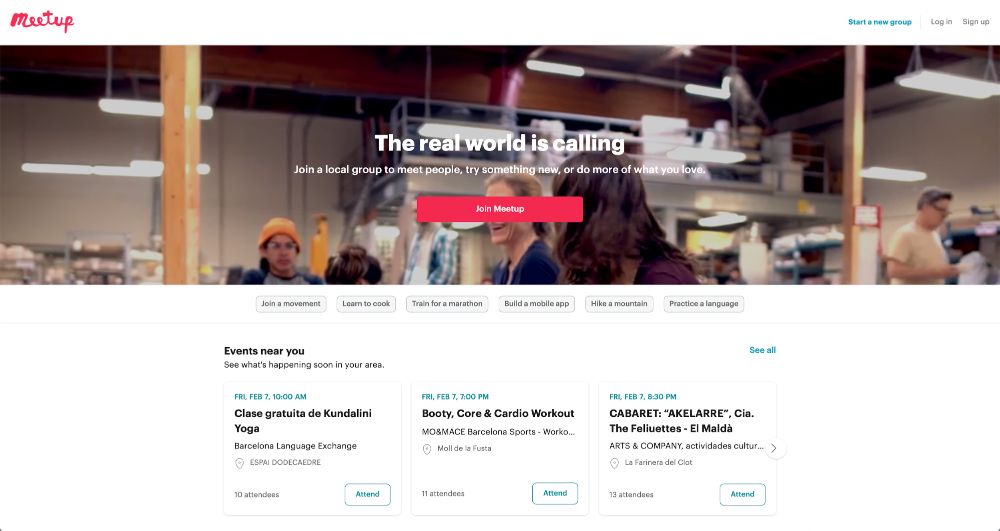 Meetup.com has quickly emerged as the world's foremost service for organizing in-person events. The platform was launched way back in 2002 and has since gone from strength to strength. It's simple to create an account and start hosting your events right away!
FAQ: Local Lead Generation
Here are the answers to the most common questions about local lead generation:
How do you generate local business leads?
The most common ways of local lead generation are through online targeted ads, localized SEO, referrals, and local marketing events.
How much does it cost to start a local lead generation business?
The startup cost for a local lead generation business will likely depend on how large the business is planning to be and which strategies it will pursue. Some local lead generation strategies can easily be done online, letting remote workers handle multiple companies using a computer and a reliable internet provider at once.
How do you create a local lead generation strategy?
Start your local lead generation strategies by learning what the local customer looks like, how they behave, and how they purchase. Then, decide which channels you'll use to get in touch with your customers. These can be physical or digital. Finally, keep testing your approach to finetune it and get the most out of your local lead generation.
What are the types of local lead generation?
There are multiple types of local lead generation, including but not limited to: Referrals,
Direct mail, PR, Advertising and Branding, Online, Physical and Virtual Events
Conclusion
These are some tough times for local businesses, but we're confident that you'll be able to generate more leads than ever by leveraging these amazing tactics.
When it comes to getting started, you'll need targeted business lists – so be sure to use UpLead to fuel your growth.