Cold calls have been a cornerstone of sales and marketing teams for decades, but the question remains: does cold calling still work in 2023? With many potential customers already having access to multiple online outlets for their purchasing decisions, are sales reps better off investing their efforts elsewhere? It's important to note that cold calling is far from an outdated sales technique; if done correctly, it can lead to even more powerful connections and stronger relationships.
Quick Links:
Does Cold Calling Still Work?
Cold calling's effectiveness has been debated for years, with some arguing that it's an outdated and ineffective method. In contrast, others still swear it is a powerful method for generating new business.
Cold calling success depends on several factors, including the industry, target audience, and approach to relationship-building. For some industries, such as B2B sales or real estate, cold calling can still be an effective way to connect with potential customers and generate leads. That being said, cold calling also has some significant drawbacks. Many people find cold phone calls intrusive and annoying and may be less likely to engage with a salesperson.
So, is cold calling dead? The answer is no, but it's not the magic bullet it once was. Instead, your sales team needs to take a more nuanced approach by using various sales techniques, including email (cold calls vs. cold emails), social media, referrals, and cold calls. 42.1% of respondents in a study said that their phone is the most effective sales tool at their disposal, demonstrating the prominence phone calls still have in how we connect.
How Effective is Cold Calling?
Cold calling often gets a bad rap in the sales world, and many sales teams believe that cold calling wastes time due to its low conversion rate. Cold-calling success rates have deterred countless sales professionals from fully embracing this tactic. The average cold-calling success rate is around 2%, but this figure should not be the sole indicator of effectiveness.
Instead, analyzing various aspects of the potential for conversion within a call can help you elevate your cold call success. For example, 57% of C-level executives– often the decision-makers for your product– prefer to be contacted by phone. Additionally, 69% of buyers accepted a call from new salespeople. This data suggests that a well-planned cold call can be valuable for reaching potential customers and building relationships.
Applying the right strategy is crucial to improve the effectiveness of cold calls. It takes an average of 8 call attempts to reach a prospect, demonstrating the importance of persistence and a well-planned approach. Being well-prepared involves understanding your product and target audience and effectively communicating your value proposition concisely and engagingly. Moreover, continuously revisiting your cold call strategy is essential to adapt to the shifting trends in sales outreach.
Start Your 7-Day Free UpLead Trial
Lead generation doesn't have to be all that painful. With UpLead, you can easily connect with high-quality prospects and leads to grow your company.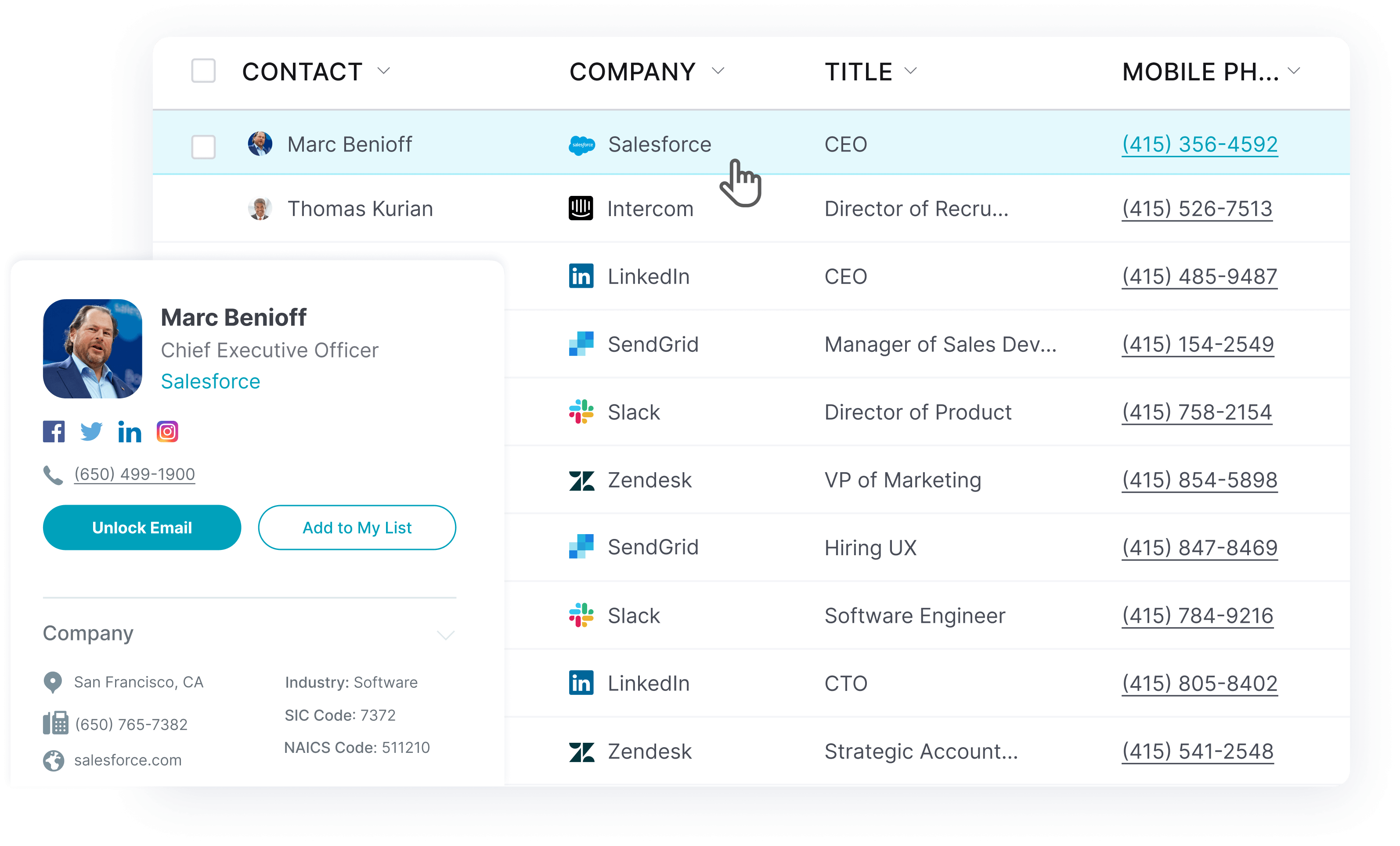 10 Techniques to Make Cold Calling Work in 2023
Although its use has been questioned in recent years, organizations still have immense potential to initiate a successful cold call strategy. With customer expectations reaching new heights, it's essential to understand how to cultivate successful cold calls effectively in 2023 and beyond. Below are ten techniques to develop a practical cold-calling approach to help your sales and marketing teams drive results.
1. Invest in High-Quality Leads
Investing in high-quality leads is vital to successful cold calling. Having accurate, up-to-date leads allows you to target the right people who are likely experiencing a pain point you can solve. The more high-quality leads you produce, the more likely you will connect with the right prospects and have meaningful conversations.
UpLead's data accuracy guarantee is the perfect way to ensure that you're speaking to the right person who can help you make progress and move your product or service along. By choosing accurate leads, you save hours sifting through LinkedIn and other sources to find contact information and decision-makers. UpLead allows you to easily target relevant prospects and ensure that you can develop effective cold calls– freeing up more time for building customer relationships.
2. Know the Right Times to Call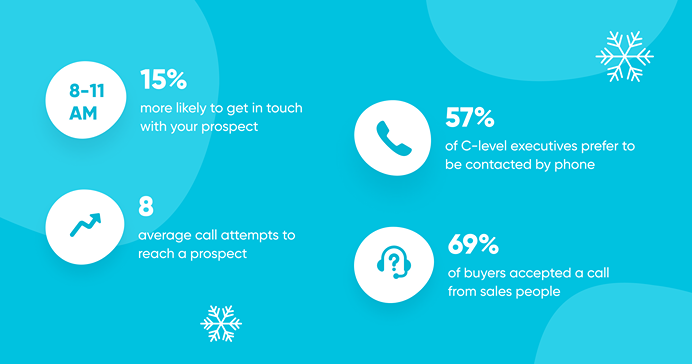 Cold calling still has its place in 2023, but understanding when prospects should be contacted is critical to making it successful. Knowing the right time to call is essential– research suggests that you are 15% more likely to contact your prospect between 8-11 am their time. This requires careful planning as you must ensure you are not calling too late or too early for them. Doing your research to determine when the decision makers are available and scheduling calls around those times readily translates into higher success rates. Timezones are also important; make sure you factor that in when making calls for maximum effectiveness.
3. Do Your Research
Cold calls can be one of the most effective ways to gain customers, but conducting your is vital before making the call. Knowing everyone's name you're trying to reach, having full knowledge of their company and product, and just how familiar they are with what you offer can make all the difference in successful cold calls. 82% of B2B decision makers believe that sales reps are unprepared, which underlines the importance of being thorough in your research. When armed with pertinent data and knowledge, there's no need to be pushy or aggressive on a call. Be professional and friendly and help them understand why your product could benefit theirs. Doing your research is critical for any successful cold-calling campaign.
4. Learn Your Script Inside and Out
Sales reps must be well-versed in their script when making cold calls to convey their message effectively. Remembering a few key points can make or break an entire cold call. Studies show that salespeople who give their reason for calling during the conversation are 2.1 times more successful in booking meetings. The average sales rep attains a 2% success rate associated with cold calls. With a strong script and an appropriate tone of voice, your success rate can jump up to 10% – further highlighting the importance of developing an impressive cold-calling script.
5. Take a Solution-Based Approach
A solution-based approach to cold calling is critical if you want to see results. By focusing on problem-solving and understanding the customer's needs, you can often pinpoint unique solutions that will delight them and keep them loyal to your product or service. Consequently, carefully studying the customer's history and anticipating concerns can go a long way to make your cold call more meaningful and prepare for any contingencies that may arise in the conversation. Ultimately, taking this proactive stance provides insight into what works and doesn't work when offering clients value-added and beneficial services.
6. Become a Master at Objection Handling
Sales pros understand that handling objections is a key part of the cold-calling game. However, they also recognize that keeping your voice in a professional and controlled tone is vital to making it work. That's why having a mastery level understanding of how to handle objections is essential for those in sales. Research suggests that successful sales professionals maintain a professional tone when dealing with objections, speaking 176 words per minute versus the average reps' 188 words per minute. This slight decrease prevents them from reacting too quickly, allowing them to take the time to listen and provide an answer tailored specifically to their customer's needs. Avoid speeding up when tackling objections; instead, focus on keeping control of the conversation. You can turn objections into sales opportunities with enough practice and a robust script.
7. Personalization is Key
While using a baseline script is practical, adding a few personal touches can make all the difference. Asking "How have you been?" goes a long way in increasing the success rates of cold calls: research shows that doing so increases the cold calling effectiveness rate by more than six times. By taking the time to research potential customers and craft an individualized approach, reps can create trust and empathy among prospects. Without personalization, it can be difficult for reps to earn customers' respect and demonstrate their value as business partners. Going the extra mile to know prospective customers and their needs will help reps stand out from competitors who offer something similar. Personalization is vital for successful cold call interactions and should not be neglected by sales professionals looking to maximize their success with this form of outreach.
Furthermore, being professional and courteous while on the call ensures that the customer speaks favorably of your business even after they hang up. Addressing each customer during cold calls can help turn your leads into appointments.
8. Always Remember to Follow Up
Cold calling can be incredibly effective for building relationships with potential customers and closing sales. However, success in cold-calling takes dedication and determination. A key element is always to remember to follow up. Research suggests that 92% of salespeople give up after four "no's," while 80% of prospects need to hear "no" four times before they say "yes." Studies show that 80% of sales professionals require five follow-up calls before reaching their intended audience.
Contacting leads after their initial response or lack of response can be an invaluable step in closing more sales. In particular, following up after cold call outreach helps you stay top-of-mind with the target customer, allows you to assess customer interest, and shows that your company is attentive and professional. Additionally, when combined with other strategies like A/B testing or personalized messages for each lead, follow-up allows for maximum success in generating meaningful conversations and advancing potential deals through the sales cycle.
9. Use Tools to Automate Cold Calling
Cold calling is vital to many business strategies, yet it can take up much time and resources. Cold callers should invest in tools to automate their cold-calling process to reduce that strain and open up more opportunities for success. Sales dialer tools can help your sales team scale your cold calling efforts by reducing time spent dialing between calls. By tracking the calls you make and scheduling them ahead of time, you can free up more time for other activities. Additionally, these tools helped to automate note-taking and follow-ups— so you don't miss out on any leads. Investing in cold calling tools and automation is essential to ensuring that your cold calling routine is efficient and beneficial for your organization.
10. Track and Revise Your Strategy
Tracking and revisiting your strategy is necessary to make cold calling work for you. Constantly assessing your approach will help determine whether or not your calls are producing the desired results and, from there, identify what adjustments can be made to increase their effectiveness further. Proper tracking of cold calling statistics and data and regularly revising cold calling strategies based on what works will ensure your business see optimal returns on its cold calling efforts.
Use UpLead to Skyrocket Your Cold Calling Approach
Cold calling can be a powerful and successful means of lead generation, but it requires the correct contact data to ensure success. With UpLead, you can access over 140 million contact data points to refine your lead generation efforts to get more targeted leads for your cold sales calls. UpLead allows you to filter for more than 16 thousand technologies tracked, creating an even more precise selection of contacts that could lead to greater ROI from your cold-calling investment. 
Leveraging UpLead to power your cold-calling approach can give you a leg up on the competition. UpLead's databases are accurate and reliable, letting you build meaningful connections with the people you're trying to reach. In addition, you can access data on contacts, such as recent company news and LinkedIn profiles, allowing you to make pertinent conversation points related to them. The platform is built for B2B sales and marketing teams at large enterprise tech companies that need highly accurate lead data for their sales cycle operations.
Take your cold call game up a notch with robust lead data– try UpLead today!
Salesforce Uses Cold Calls as a Foundation of its Go-To-Market Strategy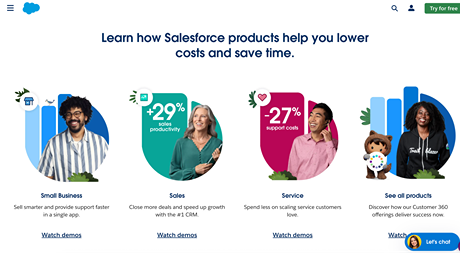 Salesforce's stand-out growth strategy used cold calls, which saw the company earn $100 million in revenues. This unique strategy involved leveraging C-level referrals down to the end user. Once the lead was generated, Account Executives were tasked with closing the deal and were crucial to this model's success. Out of this go-to-market structure emerged a transformational new way for fast-growing organizations like Salesforce to scale their customer base rapidly and reach peak profitability.
FAQs
Below are a few of the most frequently asked questions about the effectiveness of cold calling.
What is the success rate of cold calling?
The success rate of cold calling is about 2%, on average. While this number may not seem encouraging, cold calling can still be an effective way to reach potential customers and land new sales– it all boils down to knowing your industry, making sure the list you use is high quality, and providing proper training for your staff. When these pieces are in place and executed properly, there's always a chance for a successful cold call experience.
Does cold calling still work in 2023?
Cold calling may not be the most popular sales tactic right now, given that digital tools and platforms have become integral to modern marketing systems. However, as we look forward to 2023, cold calling can still be useful when employed strategically and with finesse. Studies have shown that it can effectively capture leads in the sales funnel at a relatively low cost compared to alternatives. Cold callers should strive to customize their outreach efforts to maximize ROI while being mindful of customer preferences; utilizing tactics such as remaining courteous, customized lead generation lists, and relevant data-driven insights are highly beneficial. These are some of the most prominent cold calling tips that can make a difference in your next cold call.
Is cold calling a good idea?
Cold calls can be effective if you have a robust sales practice with cold calling scripts, targeted leads with high-quality data, and best practices in approaching prospects. In addition, continuously revising and updating your cold calling process can help you achieve optimal efficiency.
Is cold calling a waste of time?
If you don't have a robust cold-calling strategy in place, cold-calling might not be as fruitful for your sales goals. As a sales rep, cold calling is not always the most effective route. It can prevent you from understanding and offering your potential customers what they truly need or want. Cold calling has limited interactions, so it can be challenging to build a personal connection with prospects that goes beyond simply trying to sell a product. You may even find yourself pushing solutions onto customers who don't need them in the first place. Understanding customer needs through comprehensive research upfront can help you create and maintain customer relationships more effectively. Investing in the right cold-calling approach is one to ensure your cold phone calls are a good use of your time.
Do Cold Calls Work? The Definitive Answer
Cold calling can still be an effective method for businesses to generate leads quickly, despite having an average success rate of 2-10%. For those who understand how to make the most of their cold call efforts, great rewards remain. However, one of the critical considerations is ensuring you have the correct data; although a good pitch might get you a few leads, your teams will unlock the potential of successful cold calls if they know their target callers and their specific needs. To help, UpLead offers 95% accurate lead data so your sales can effectively get the right message to the right people.