Keeping a clean email list is vital for the success of your email marketing efforts.
Scrubbing your email list periodically and removing email addresses you don't need can help you improve your deliverability and facilitate proper segmentation.
Here are five tips to get a clean email list and the best services for email list scrubbing.
Quick Links:
1. Remove duplicate email addresses
Sooner or later, we all get duplicates in our email lists. Users may enter their information more than once or through more than one source.
Duplicate data can be costly to host and can waste time and resources. It can also lead to sending duplicate emails to users, negatively affecting your brand's reputation and success rate.
Make sure to scrub your duplicate emails off your email list periodically, and add filters to avoid adding duplicate data.
2. Remove spammy or fake email addresses
Bad data in your email list can spoil your efforts, sometimes long after you've gotten rid of it. Spam traps and fake email addresses can affect your sender reputation, directly impacting your email deliverability.
These addresses can be an issue, especially if you're buying email leads from services without a data-quality guarantee, some of which may sell inaccurate data in their email lists.
Make sure to remove spam email addresses from your list with an email verification service to keep your newsletters from falling into people's spam folders.
3. Verify emails before using them in email marketing campaigns
Invalid email addresses can also affect your sender reputation. That's why it's best to run them through email verification services to remove all invalid addresses while you're building your email list.
If only a few users join your platform daily, you can manually validate each one before adding them to your email list. If you lack the time or resources for this, you can use an email validation service's API to automatically validate emails as they're entered.
If you want to make sure you're buying high-quality data, get it from providers that offer a data guarantee. If not, always use an email verification service to ensure all emails are valid and belong to real people.
4. Request inactive or low engagement subscribers to opt-in again
Not everyone opens your email marketing messages. And that's to be expected. However, keeping inactive subscribers on your email list can also negatively affect your efforts and your budget.
Removing inactive subscribers can prevent spam complaints from users who are no longer interested in your products or services.
Access your email marketing statistics to find users who haven't engaged with your marketing efforts in a long time. Segment that audience so you can place your long-term, unengaged subscribers into separate campaigns to either reactivate them or remove them from your email list.
5. Use an email list cleaning service
If you're looking to validate an email list you just bought or don't have the time or resources to do email scrubbing yourself, you can use email scrubbing services.
Email scrubbing services quickly and automatically validate your whole list. Some can also check your email list's syntax errors and can even correct obvious typos to save invalid email addresses from being removed.
These services validate all emails and remove all spam traps and fake email addresses, ensuring your list contains nothing but valid addresses.
This is all done within a matter of minutes.
Some services do more than just email validation, offering to correct some emails and remove duplicates from your lists. You can also use more advanced tools to generate user data as you validate your email list, enriching it with valuable information to better cater to their needs.
Best Email List Cleaning Services
Here are some of the best email list cleaning services:
Email Verifier by UpLead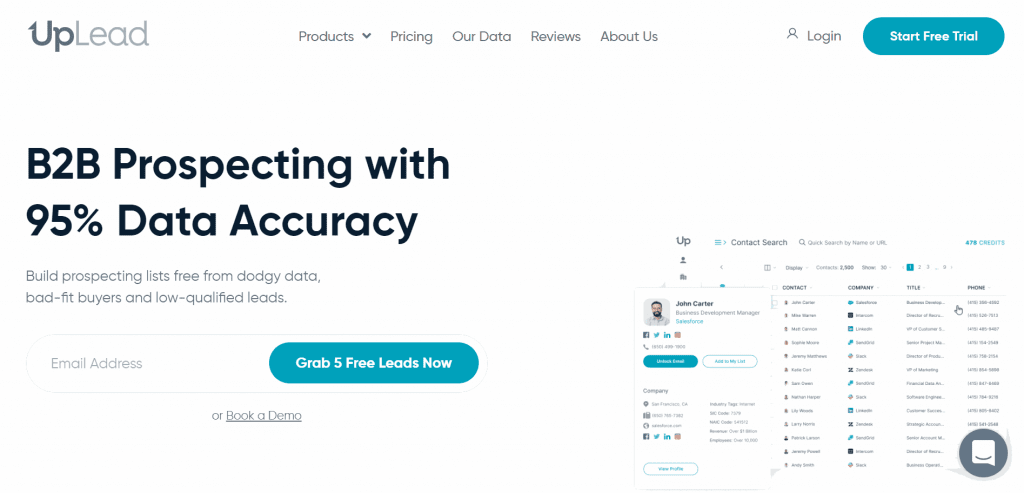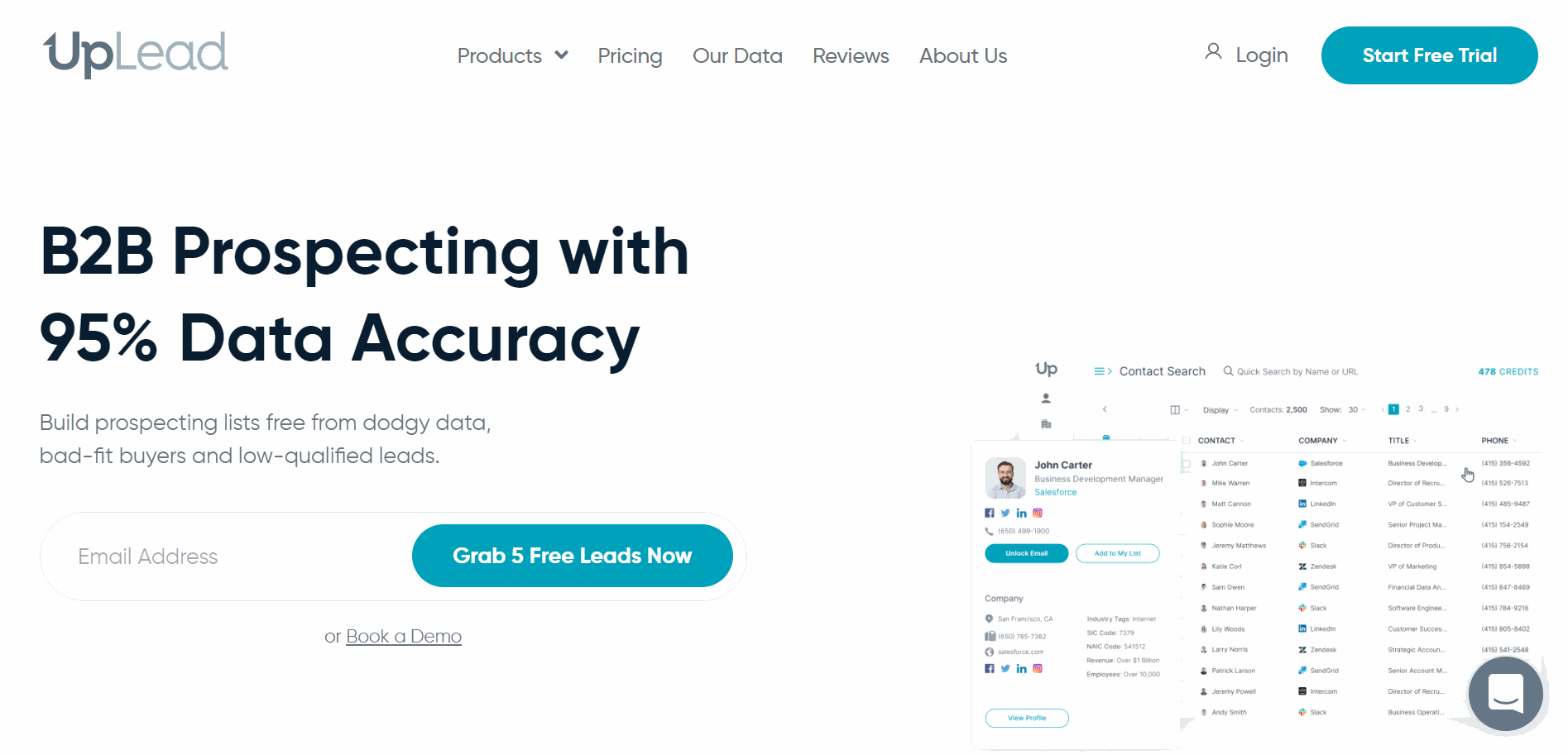 UpLead
allows you to
find the leads
you're looking for and easily verify all your email addresses in no time. With UpLead, you can verify individual email addresses or upload your email list to have it all verified at once.
UpLead also offers you data enrichment services. Just upload your list and let UpLead complete it with phone numbers, job titles, technographic information, and much more.
Need to generate a new list?
Browse through UpLead's extensive database to generate personalized email lists that fit within your client persona. All emails are validated in real-time to ensure your email database is clean and ready to work.
Prices start as low as just $0.003 per email verification without any annual contracts.
Start Your 7-Day Free UpLead Trial
Lead generation doesn't have to be all that painful. With UpLead, you can easily connect with high-quality prospects and leads to grow your company.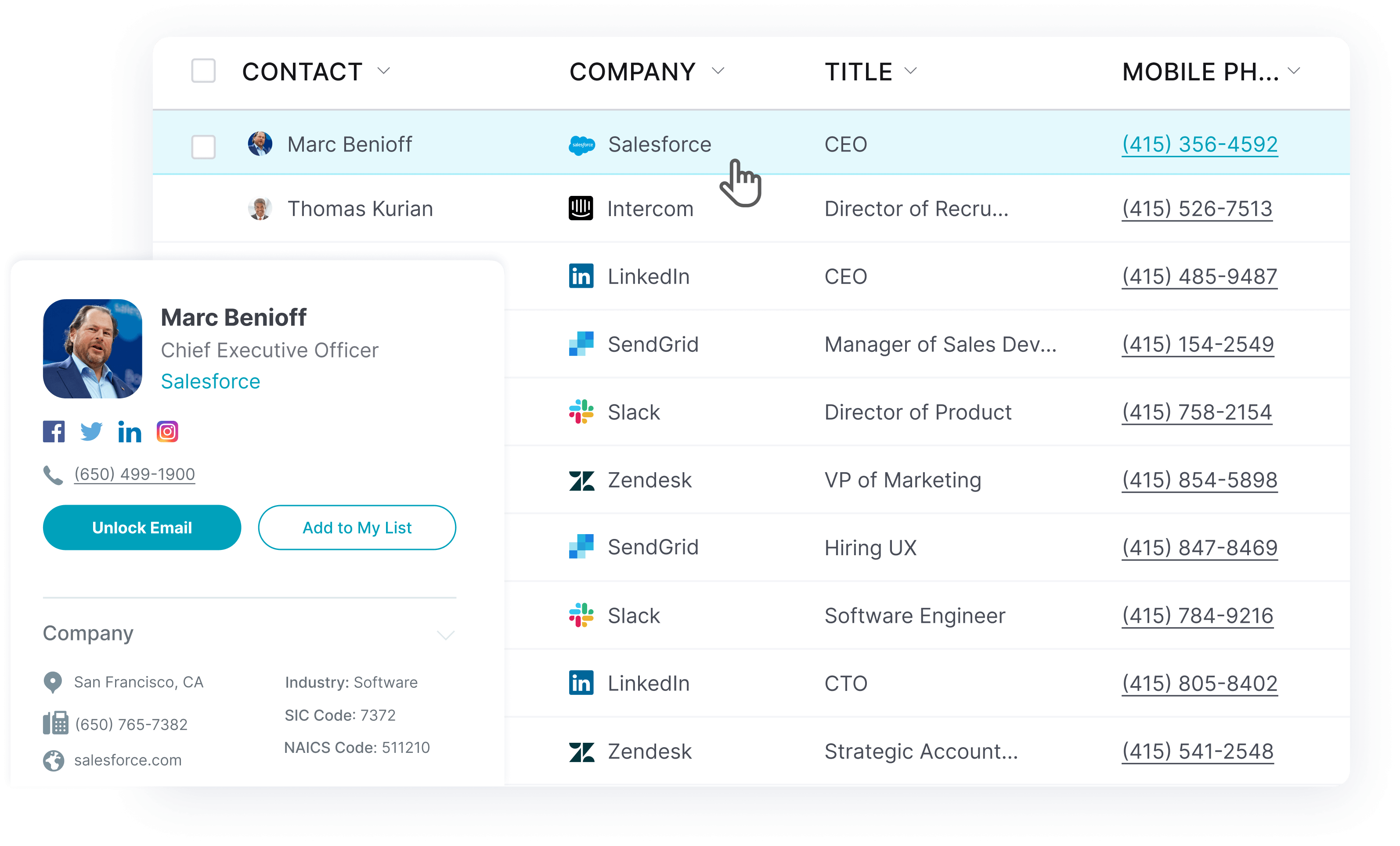 Unique features
Here are UpLead's verification tool's main features:
Powerful email validation service: UpLead's email scrubbing tool verifies all emails in real time as you download them and validates your existing email lists in minutes.
Data enrichment capabilities: Whereas other email scrubbers may only clean up your list, UpLead can update it and enrich it with powerful data to easily and effectively segment your audience.
Can find email addresses: UpLead allows you to find anyone's email address with its robust database and will quickly add it to your email list.
Can create more email lists: Use UpLead's lead generation features to generate lists of valid email addresses quickly and easily.
BriteVerify by Validity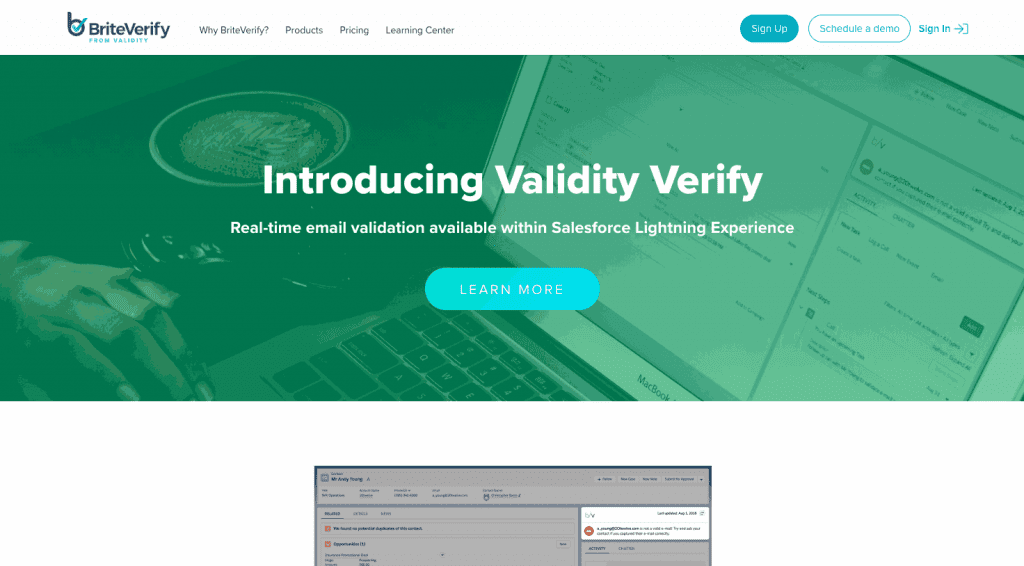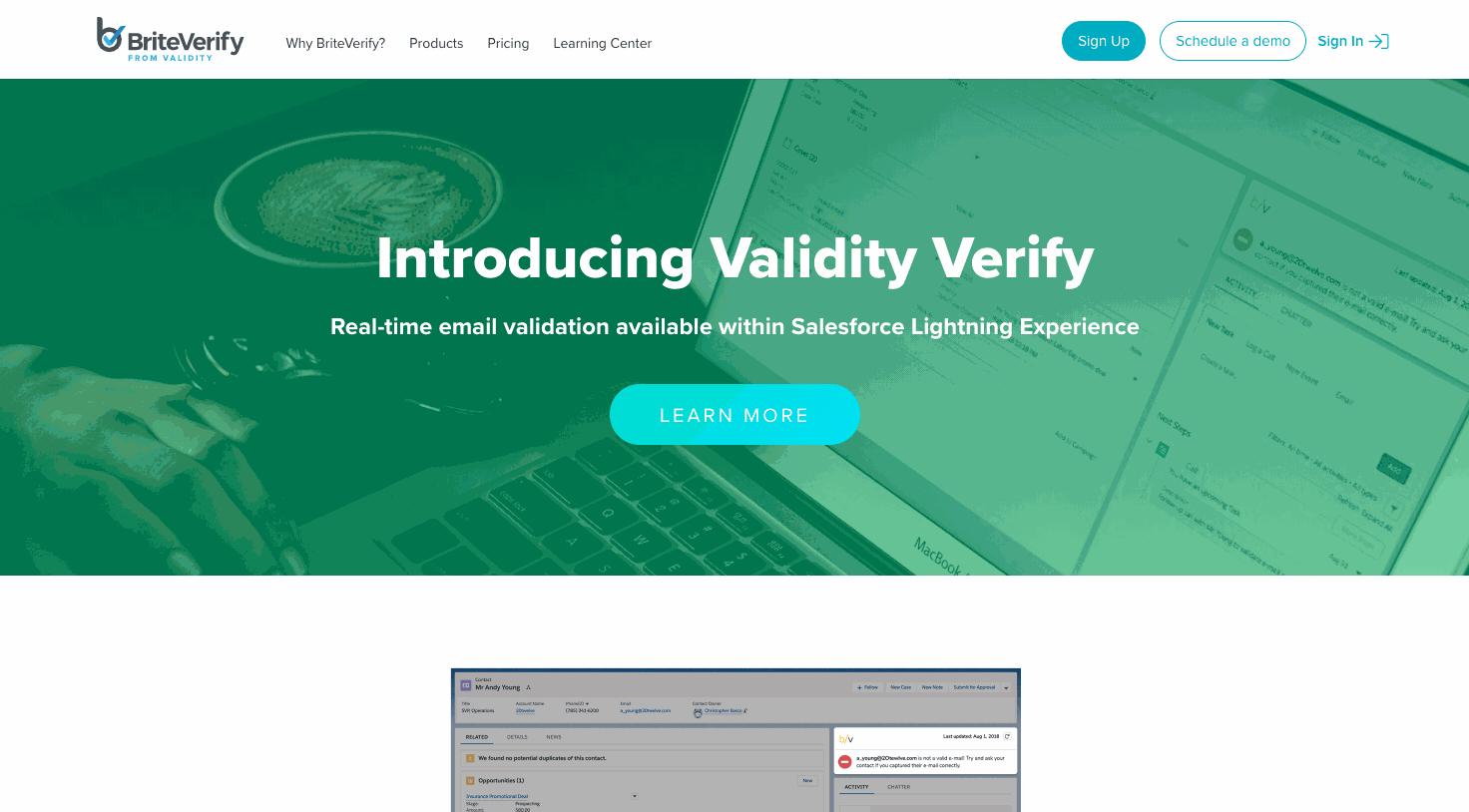 This email finder and verification tool is a popular option with multiple integrations. The tool claims to reduce email bounce rates by 98%, scrubbing email lists and warning of spam traps.
Although the platform doesn't remove duplicate emails, it's still an effective tool for email scrubbing.
Unique features
Here are some of BriteVerify's unique features:
Multiple integrations
Multi-user accounts
One cent per verification
DeBounce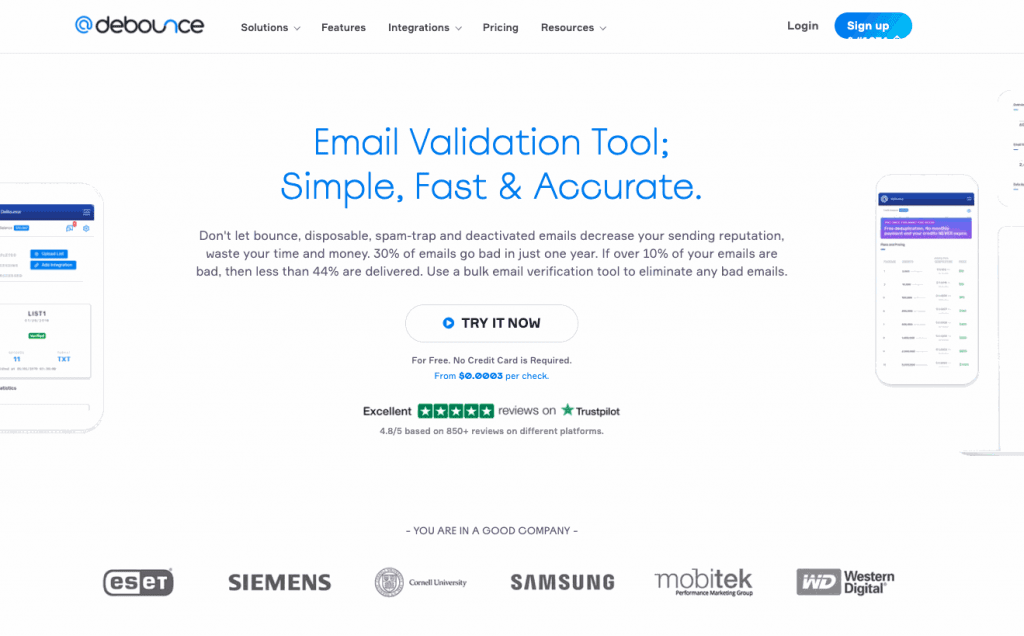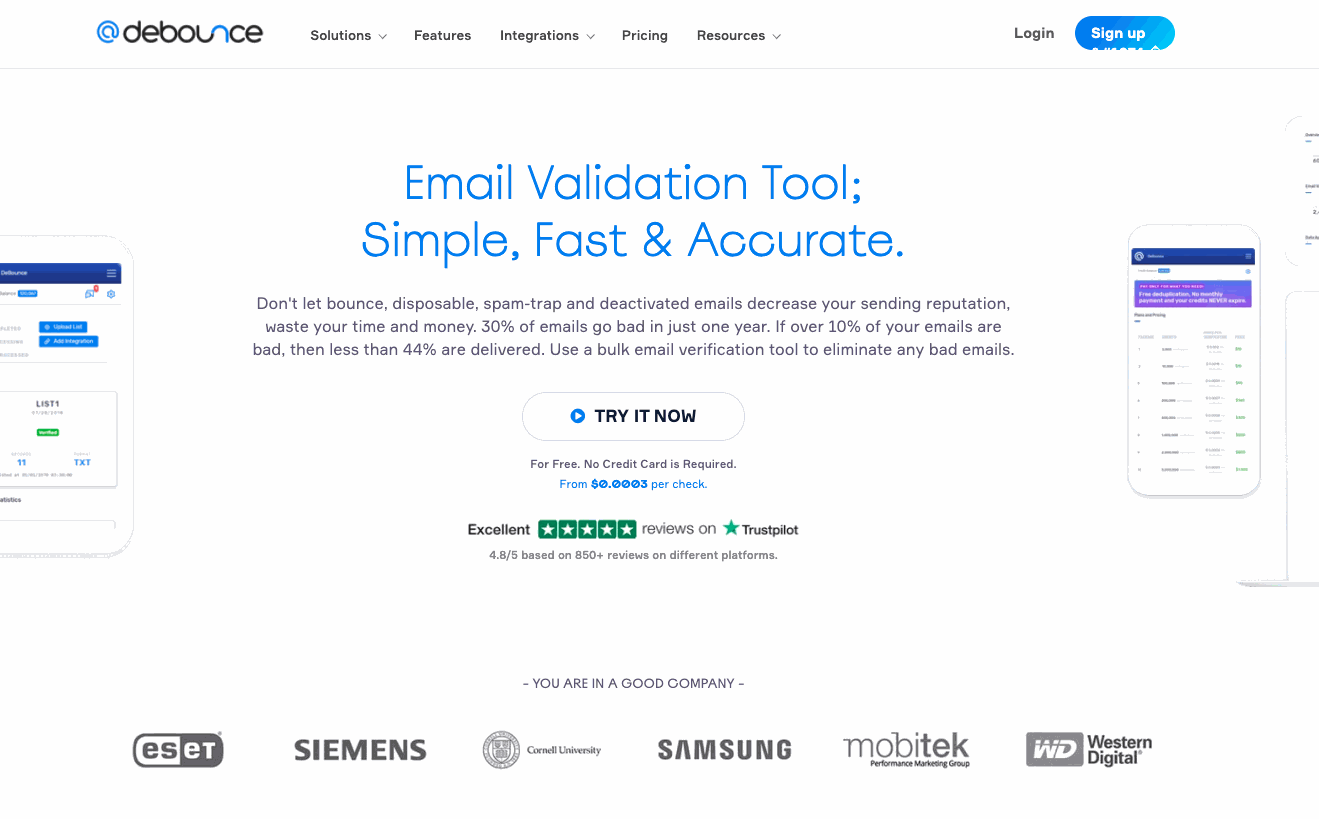 DeBounce is another email scrubber equipped with all the tools needed to validate an email list. It also comes with a syntax eliminator and email deduplication features to fully scrub an email list.
The platform also offers anti-greylisting technology, to reduce the number of unknowns, and a simple pricing model.
Unique features
Here are some unique features of DeBounce:
Access to advanced features
Simple UI
Email verification API
Mailgun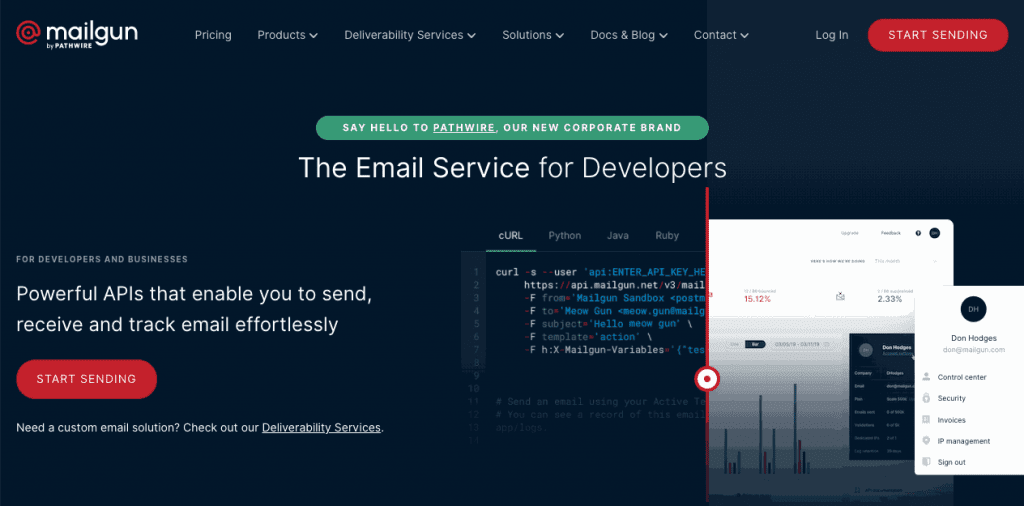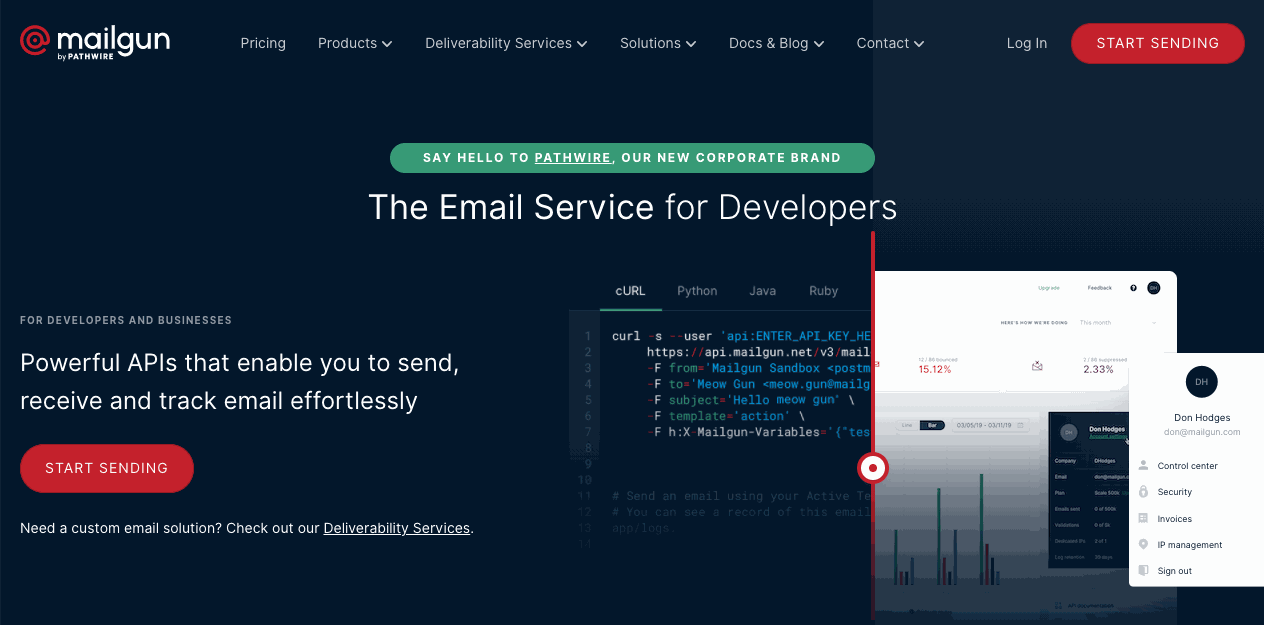 Made for developers, Mailgun offers plenty of advanced features for anyone who knows how to code.
The platform gives users access to its verification tool so they can add it to their websites and apps. Then the platform lets users learn from their email addresses through email analytics and other insights.
Unique features
Here are some of Mailgun's unique features
Email scrubber tool designed for developers
Email analytics
Custom solutions available upon request
NeverBounce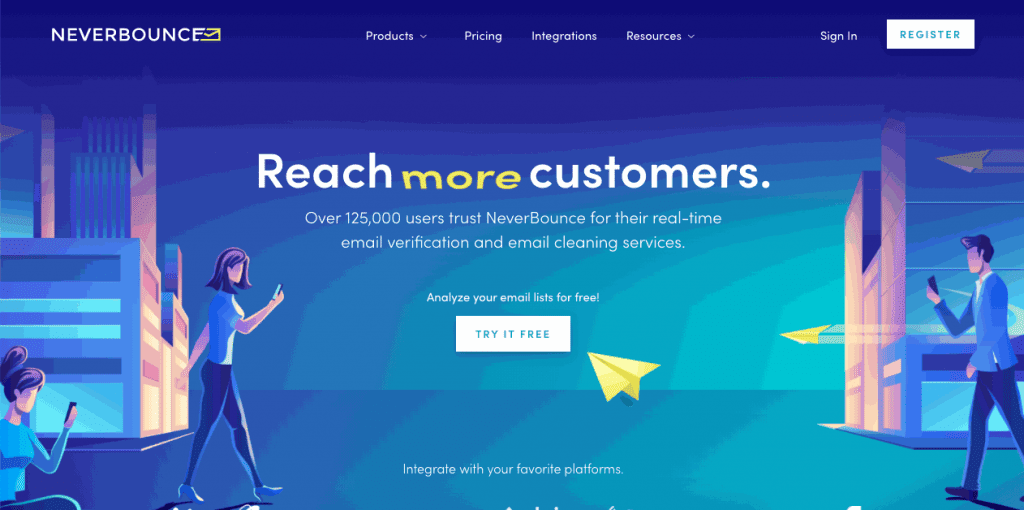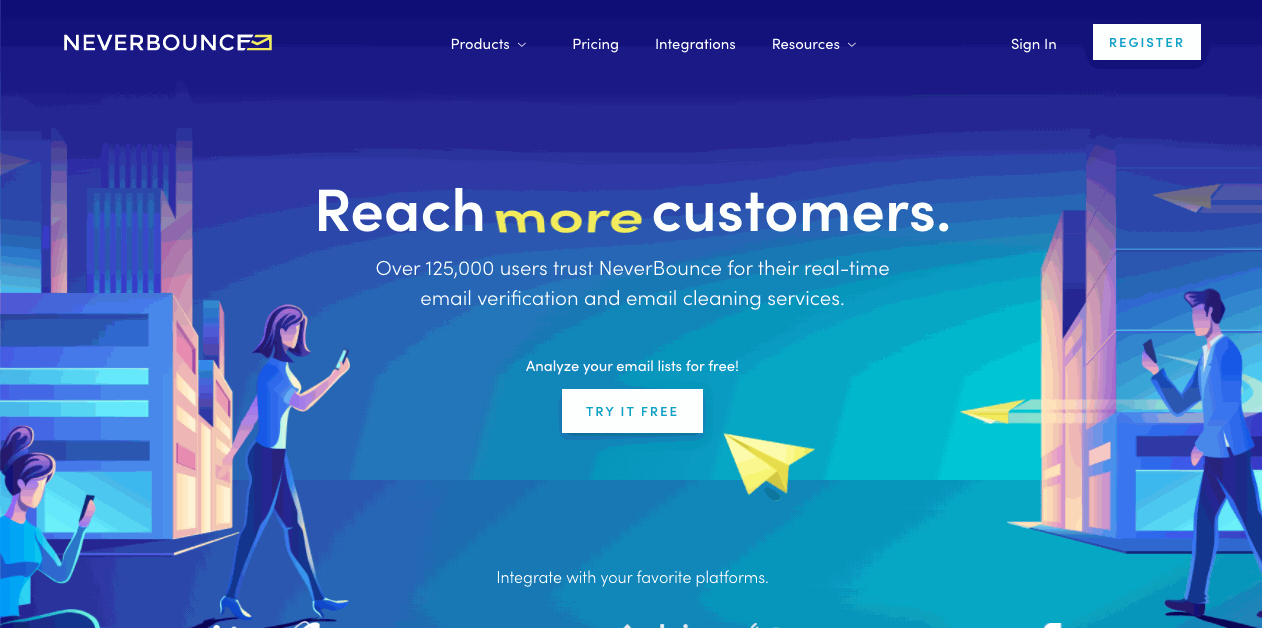 NeverBounce is a popular email verification service that allows users to verify emails individually or in bulk. This well-positioned platform offers users multiple integrations and free monthly email verification services.
It has over 80 native integrations with apps like MailChimp, HubSpot, Marketo, and many more, allowing clients to use the email validation services with the tools they're already using.
Unique features
Here are some of NeverBounce's features:
1,000 free monthly email verifications
Automatic email cleaning services
API for developers
Xverify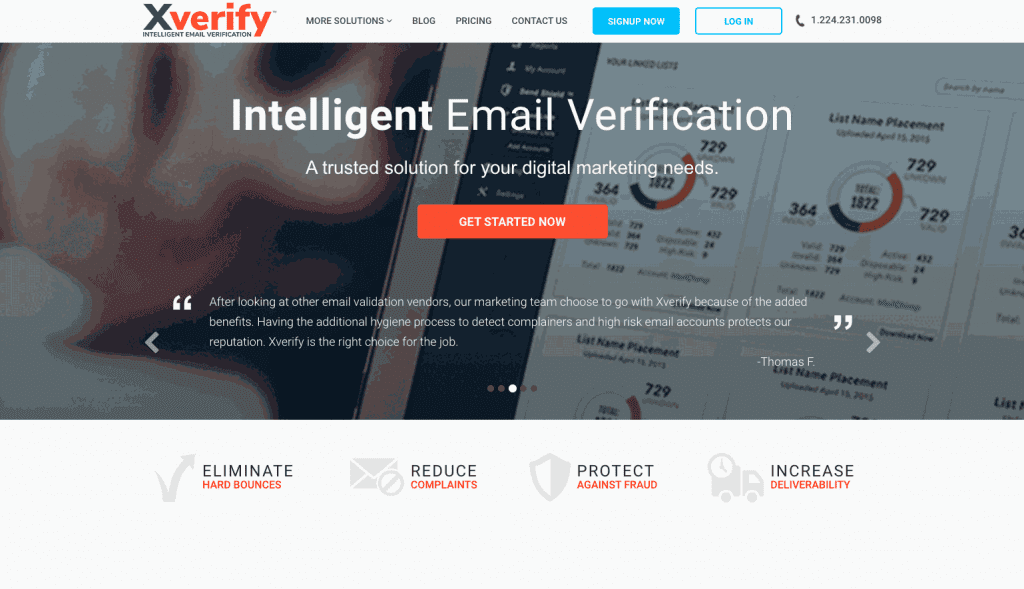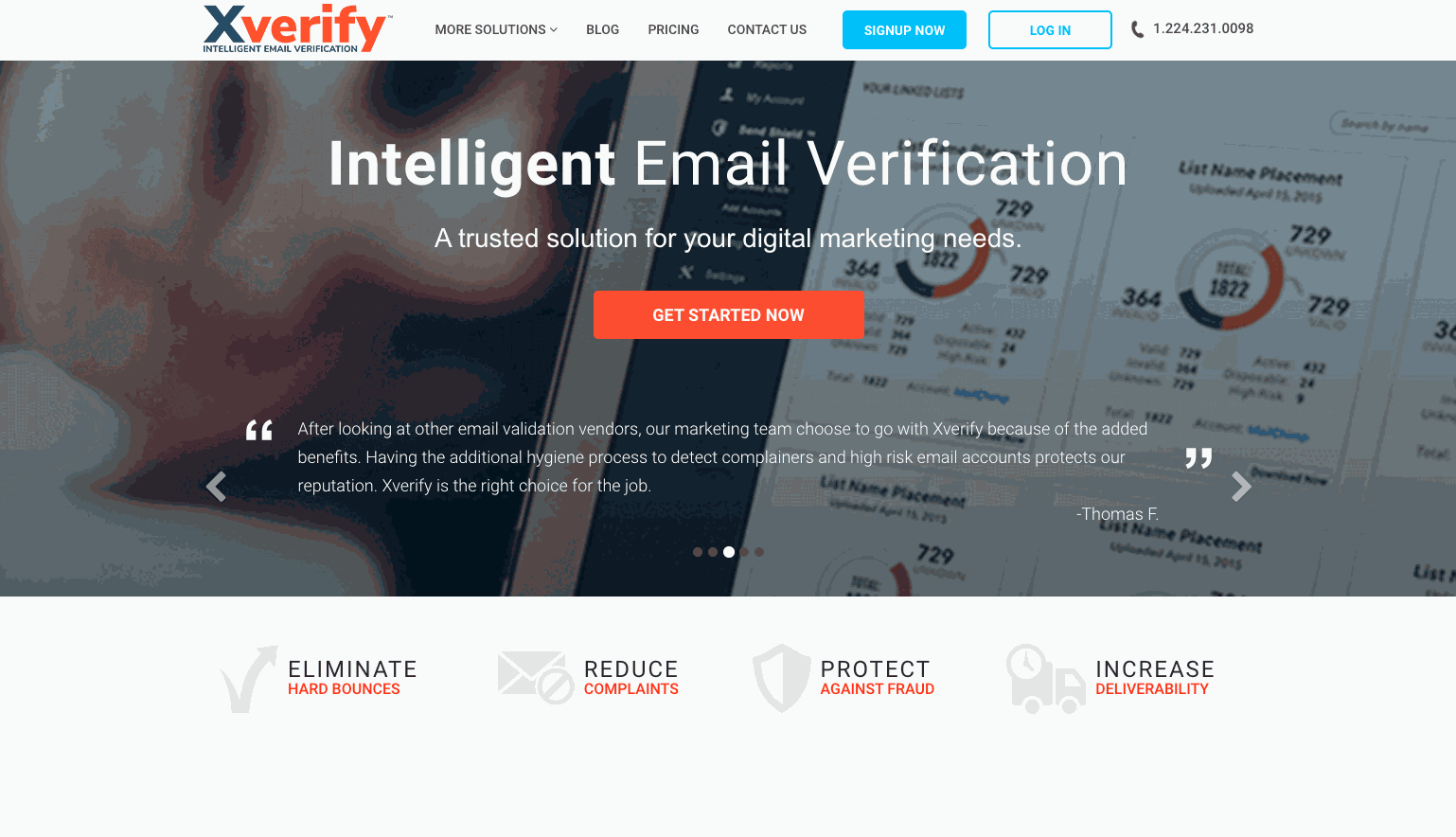 Xverify is a real-time email cleaning service that can also validate phone numbers and addresses. The platform offers fast verification services, syntax checks and corrections, and a simple pricing system.
Through data intelligence, Xverify helps users know which email addresses should not be used in their emailing efforts. Its responsive API helps users verify new email addresses as they're being submitted to their website or app.
Unique features
Here are some of Xverify's main features:
Phone and address validation
API for developers
Pay-as-you-go pricing
ZeroBounce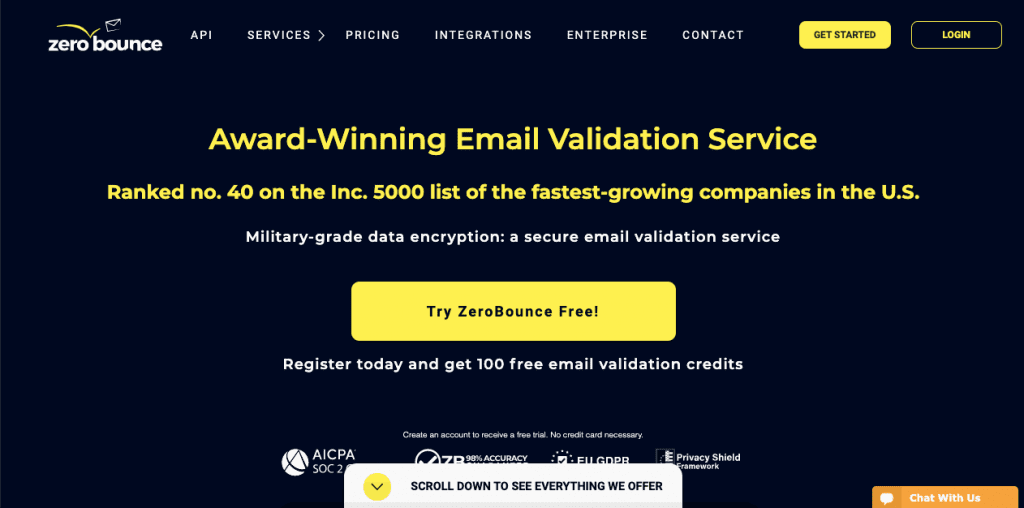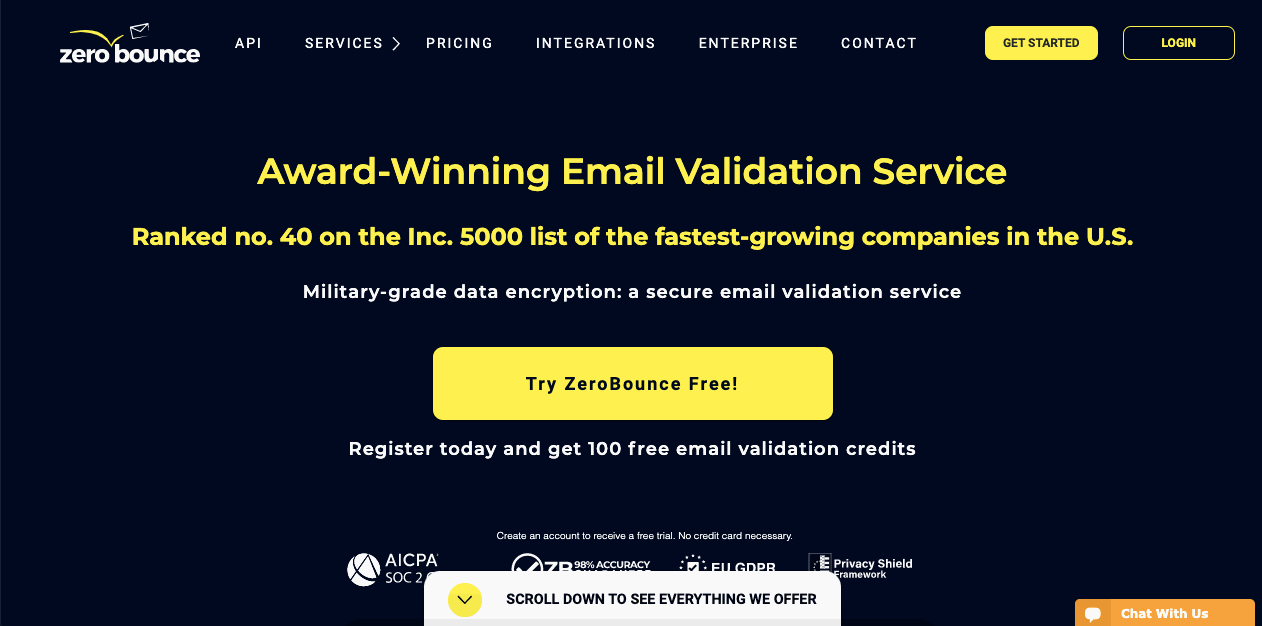 ZeroBounce is another popular email cleaning service. The award-winning platform offers users its API to use with other tools.
The platform also features an AI that validates email addresses against multiple filters and can delete and correct them at faster speeds. All this power and all these features certainly come with a higher price tag, making it better for companies with higher than average email verification needs.
Unique features
Here are some of ZeroBounce's features:
Multiple native integrations
Fast and powerful AI email verification
API for developers
FAQ
Here are answers to questions about email list cleaning tools:
What does it mean to clean an email list?
Cleaning an email list typically refers to removing all invalid data from it. The aim of cleaning email lists is to remove invalid email addresses and ensure all addresses are valid before using them in email campaigns.
Email list cleaning can also mean ensuring all subscribers still want to receive your emails. This ensures your audience is made up of engaged users who open your emails, rather than passive subscribers who will no longer interact with your brand.
Once fully cleaned, the email list should be full of valid email addresses, preventing you from getting hard bounces and ensuring you send all emails to the right people.
What does a clean email list look like?
A clean email list is an email list that only includes valid email addresses from invested users. Clean email lists have a low number of email bounces and can be used in any email marketing strategy, avoiding spam folders.
Clean email lists also lack duplicate information to prevent sending double messages to users.
Why is cleaning an email list important?
Cleaning an email list and keeping it clean achieves a few key things. A clean email list ensures a better sender reputation, translating to higher deliverability and a lower bounce rate.
A clean email list also increases your email marketing efforts' likelihood of success, while keeping costs down by ensuring you're not storing any useless data.
What are the risks of not cleaning an email list?
Not cleaning your email list periodically can quickly lead to bad deliverability rates. Not validating email addresses in advance opens the door to spam traps and other bad addresses, made to keep spam from reaching users.
Finally, having an old email list with uninterested users can open the risk of spam complaints, affecting your deliverability even more.
How often should email lists be cleaned?
The frequency will likely depend on your email list — its size and fluctuation. However, an email list should be cleaned approximately every six months.
That being said, with fast-changing email lists, email scrubbing should be done more often to prevent any invalid email addresses from staying in them. The use of an email list cleaning service can simplify this process or even perform it automatically.
Is it possible to properly clean an email list for free?
Yes, you can use the free tier of an email list cleaning service to start cleaning an email list for free. Some tools even offer a free account or limited free bulk email verification tools, which allow users to verify emails quickly and effectively.
These tools are perfect for individuals and small businesses with small email lists looking to verify email addresses individually and ensure no spam addresses are added to the main email list.
However, free cleaning services are generally limited. You can get around this by using multiple free accounts, although the larger your email list is, the more convenient it will be to have a paid list cleaning service.
Conclusion
Keeping your email list cleaned is vital to your email deliverability. The right email list cleaning service can make the whole verification process quick and easy. If you use tools like UpLead, you can do far more than just clean your email lists.
Use UpLead to verify all your email addresses, enriching your lists with updated data and generating more lists of valid emails.
Sign up for free today.
Start Your 7-Day Free UpLead Trial
Lead generation doesn't have to be all that painful. With UpLead, you can easily connect with high-quality prospects and leads to grow your company.