An amazing sales department can transform the fortunes of any business. If you find the correct blend of talented profiles in your sales department, you'll find it easier to grow your business and retain your customers. Unsure what a business development representative will bring to the table? Here's a closer look at this profile.
What Is a Business Development Representative (BDR)?
A business development representative (BDR) is a sales professional dedicated to finding new business and tapping into new markets. These professionals achieve these goals by finding leads, qualifying them, and setting appointments for your sales reps.
A business development representative must have impeccable research skills. Frequently, these professionals are pointed toward a particular industry or region. Then they're given the freedom to perform their own research and identify the most appropriate leads. That's one of the key ways they differ from a Sales Development Representative. (More on those differences later.)
Because business development representatives have a lot of autonomy, it's very important for you to develop a high level of product knowledge. Therefore, business development reps should be included in product meetings and provided with updates about your product or service. A business development rep can use this valuable information to assess whether a lead is actually a viable target.
In addition to great research skills, a clear product roadmap and a high level of product knowledge, BDRs must have excellent written and verbal communication skills. These abilities can really help them connect with new leads and articulate the benefits of your product or service.
When it's time to assess the performance of BDRs, it's important to provide them with accurate, quantifiable goals. For instance, you might decide you need your BDRs to organize a certain number of calls per month, or you might look at how many of these conversations result in sales.
BDRs are very important parts of sales teams. In fact, their value has recently increased because many businesses have potential customers all over the world. So they need to hire BDRs that can drill down and discover viable targets.
Strategic & Tactical Sales Advice: Straight to Your Inbox.
Join 20,000 sales leaders receiving practical & in-depth content. No fluff, just the best sales how-to guides.
I agree to receive emails from UpLead, and can unsubscribe at any time.
What Does a Business Development Representative Do?
On a daily basis, a business development representative will perform a variety of diverse tasks that will help them achieve their goals.
Here's a closer look at the tasks a typical business development representative will perform over the course of a day…
Cold call
Business development representatives have been able to use cold calling and prospect high-level potential customers.
The most effective business development representatives are able to make initial contact and effectively engage with prospects, in order to acquire information in a series of key areas. Of course, these areas vary according to your specific business and the product or service you provide. 
For example, a business development representative might try to learn whether a prospect already works with a competitor. He or she might also ask about pricing, and find out when that contract cycle is going to come to an end.
BDRs use cold-calling to paint a vivid picture of a prospect. This imagery can be used to assess his or her suitability.
Email
Did you know that 21% of people check their personal email more than five times a day? And professionals tend to check their work email even more frequently. So BDRs have to capitalize on the popularity of email, in order to effectively connect with prospects.
So BDRs use their impeccable communication skills to craft clear, persuasive emails. These emails are often used to gather more information from prospects, which can be used to ascertain whether they're suitable targets.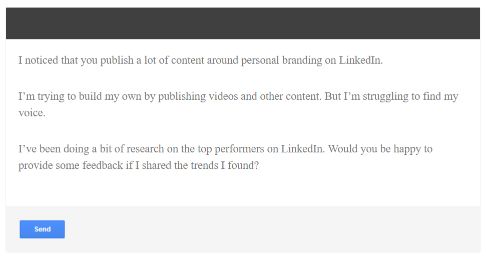 The most effective BDRs use a range of tools to effectively manage their email accounts and extract the maximum amount of value from them.
Nail down meetings.
The main function of a business development representative is to organize meetings for sales representatives. These meetings could involve initial calls or product demos with appropriate stakeholders. In general, they'll vary according to your product and sales strategy.
Business development representatives are adept at closing a huge number of meetings. While they are masters of both cold-calling and emailing, they also use social media and other channels to nail down the meetings they'll need to reach their goals.
Learn about the product.
It's very important for the business development representatives in your organization to also be product experts, since they're frequently the first people making contact with your prospects.
To be able to assess whether a prospect is a viable fit, business development representatives need to understand the product inside and out. It's also very important for them to be able to field technical questions and other complex inquiries.
Finally, it's very important for your BDRs to organically become product advocates. So they should understand your product, see its value, and articulate its merit as often as possible.
Which Skills Does Every Business Development Representative Need to Master?
As we can see, being a business development representative is tough! So While great BDRs are worth their weight in gold., but they're hard to come across. Here's a look at the skills BDRs need to exhibit and master.
Time management
BDRs will often find themselves going from one task to another. For instance, they might spend their mornings sending out batches of fresh emails before they focus on researching a particular industry in the afternoon. Due to the variety and volume of tasks, BDRs must be able to effectively manage their time. For example, they use time management techniques like Pomodoro to structure their daily work.
Organizational abilities
BDRs must perform a lot of research, and they often have contact with a huge number of prospects. If BDRs are going to effectively communicate, it's important for them to be able to keep tabs on each client and the relationships they're developing.
The most effective BDRs are also able to make the most of a high-quality CRM system such as Pipedrive or HubSpot. They use this tool to flawlessly track their relationships and communications. For instance, they keep track of their emails and calendar commitments. So they'll call on a suite of other tools.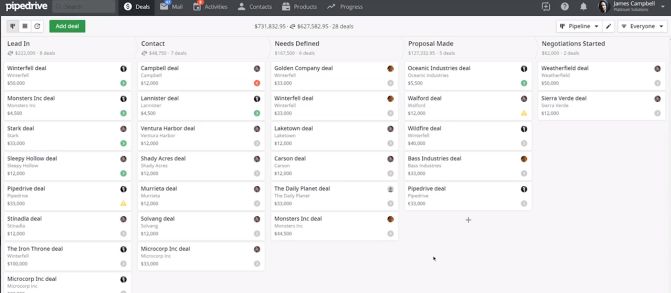 If BDRs are going to get the results they need, they must be able to effectively stay organized. 
Target-oriented thinking
The world's most effective sales departments set and track a set of clear goals. Managers should give their BDRs SMART goals that will help them guide their activities. And they need to have the types of personalities that will drive those goals.
BDRs should be able to understand their targets and find out what they need to do to (hopefully) exceed them. This process requires a certain level of analytical thought. Without this mindset, BDRs often struggle to hit their targets.
This target-oriented thinking can also drive value further into the sales process. If a BDR is focused on helping the sales department hit its goals, he or she will provide qualified leads that have a high likelihood of being converted.
Strong communication skills
BDRs must be natural communicators. They should be able to blend their impeccable communication and people skills with a target-oriented, analytical mindset.have fantastic verbal and written communication. They need to be able to inform and entice prospects as much as possible.
The BDRs that hit their targets can articulately communicate the features and benefits of products. They are often naturally passionate people who can identify needs or pains and enthusiastically address them.
Experience with diverse tools
Every sales professional uses a variety of high-quality tools that will help them achieve their goals. These tools could include CRM, productivity tools, call-handling software, lead generation tools, and much more.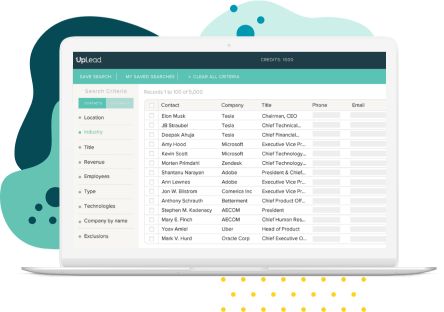 BDRs should use lead databases such as UpLead
You should look for BDRs who have the experience or mindset that will help them get a grip on the tools you use. If BDRs are able to quickly handle a new tool and get the highest level of performance possible from it, they'll be more likely to hit their targets.
A positive attitude
While a positive attitude might be considered a personality trait more than a skill, it can be honed. You should look for BDRs who have positive attitudes, as this quality will make them more effectively engage prospects and provide them with the stamina they need.
Being a BDR is a tough but rewarding job. Every BDR must learn to handle rejection. A positive attitude will give each one the best chance to persevere and seize success.
How to Build an Excellent BDR Team
Do you need a BDR team to pre-qualify leads and schedule meetings for your sales reps? Here's a glimpse at the steps you should take to build an efficient, performant BDR team.
Set clear goals.
First things first: You're going to explore your perceived needs for BDRs. You accomplish this goal by asking yourself the following questions:
Do you know what the right profile will be able to offer your sales team?

Do you really need a BDR team?

Do you have the necessary budget?

What are the

goals of your BDR team

going to look like?

How many BDRs will you need to hire?

Who will manage your BDRs?

How many BDRs will you have for each sales team? 
You should take the time to answer these questions and understand the strategy behind effective business development representative teams. This endeavor will give you a clear picture of what you need from your business development representative team, what they need to achieve for you, and how they'll fit into your department.
Educate your recruiters.
Once you've identified your need for the way BDRs are going to operate in your organization, it's time to work with your recruiters.
Whether you're working with in-house or external recruiters, you'll want to explore the business development representative role in more depth and get a clearer picture of the profile you're looking for. This goal will help you put together an amazing ad that attracts the best, most relevant candidates out there.
Hiring new staff members is an expensive process. So if you make sure you get this step right, you'll be able to lay the foundations for recruitment. And you can provide relevant support and input throughout the entire recruitment process.
Inspire and inform new recruits.
Once you've identified the best candidate and offered him or her the job, it's time to inspire and inform your new hire. So you should work hard to make sure your BDRs are properly trained from Day 1. 
A well-organized onboarding process should provide new recruits with everything they need to succeed. This process should include: 
Sophisticated product knowledge

An introduction to the sales process

All of the tools and equipment they'll need

A clear overview of their goals

Introductions to the sales team and the company overall
Focus on retention.
Far too many companies set their new hires up for failure by presenting an onboarding process that's too short. If you want to get the most from your BDRs, you should focus on retention and development.
For example, you should invite your BDRs to attend product meetings. Then they'll have a good handle on all the new features of your product. They should also be rewarded for exceeding their goals.
BDR vs SDR: What's the Difference? 
Some people are confused about the difference between a Business Development Representative and a Sales Development Representative. Here's a look at the key ways these two roles differ…
BDRs are freer to engage on lead generation from a range of sources, from cold calling to social selling and networking. These professionals are often directed toward an industry or sector, then trusted to use their research abilities to find new, qualified leads. On the other hand, SDRs are often fed a series of qualified prospects from the sales pipeline, and don't usually engage with lead generation.
They engage with prospects differently. Sales reps are fed a steady stream of leads they'll nurture with the help of automated programs. But BDRs have to be more aggressive in their pursuits, and use a blend of phone and email contacts to find new business opportunities, organize meetings, and pitch to a new business before anyone else.
They qualify leads differently. SDRs might rely on lead scoring technologies to pinpoint the time when a lead is ready to speak with a sales rep. On the other hand, BDRs rely on their own intuition and metrics to decide whether to pass a lead along to one of your sales reps.
Conclusion
Are you ready to see your sales performance skyrocket by adding Business Development Representatives to your sales team? We hope this piece helps you accomplish this goal. You can learn more about the ways UpLead can help you provide business development representatives with high-quality, targeted sales leads.