In this article, we'll evaluate various vital sales rep software options that should not be missing from your digital toolbox.
We'll talk about tools to help you:
Generate leads
Contact new potential customers
Create proposals and online signatures
Manage your sales process and clients
By the end of the article, you'll know which software to use, when, and why you need it.
Let's get started.
Quick Links:
What Is Sales Rep Software?
Sales rep software refers to digital tools that help you throughout each sales process step.
Good sales rep software should help your sales reps do a better job, meet their sales quotas, increase their sales, and decrease the time spent anywhere other than with your leads.
Depending on the kind of software you choose, it will help in either one or more steps in your sales process.
Here's how:
Lead Generation and Prospecting Software
These apps help you translate your customer persona into actual leads and their contact information to include them in your cold calling or cold emailing process.
They're crucial to your B2B list building and prospecting efforts since they keep your sales reps busy with actual prospects.
They usually charge per lead and help you find anyone willing to buy your solution.
Cold Calling and Emailing Software
Cold calling and emailing software allow you to contact your leads in bulk and manage their information.
With cold calling software, your sales reps can call one lead after another while having their user information available on-screen to integrate into the call. They can also help your reps with the script and the sales process. Cold emailing software allows you to segment your audience, expedite your design process through templates, and reach multiple users by sending emails in bulk.
Both of these tools usually integrate with the rest of your sales rep software to streamline the sales process, leading users into conversion as quickly as possible.
Proposal Software
Proposal apps help you develop product tours, contracts, and interactive documents, requiring little design skill.
You can start with one of their templates and additional information, features, and interactions until you have a beautiful proposal your leads cannot resist signing.
E-Signature Software
With e-signature software, your leads and signers can sign from any device anywhere and anytime. They help you and your signers create and insert legally-binding online signatures, so you don't have to depend on them physically signing a document to get started.
Most e-signature platforms also integrate with other sales rep apps to kickstart the process as soon as the documents are signed.
Sales Enablement Software, Report, and Tracking Software
Sales Enablement Software is used to help your sales rep while they're trying to sell something to their leads. With it, you can help motivate them, create sales strategies for them, and even create sales content to help them sell as much as possible.
Sales Report and Tracking software help you view the numbers and analytics of your sales efforts—even in real-time—to keep up with your sales team and their performance.
CRM
Customer relationship management (CRM) software is meant to handle and manage all information you have on your leads and customers. With it, your employees can log their interactions and update their information.
This way, anyone with access to your CRM can immediately identify a user, their interactions with your company, and their potential needs.
Best 15+ Sales Rep Software Tools Your Team Should Start Using
Here are the best sales rep tools for your team:
Lead Generation and Prospecting Software
This tool is the best option for you and your sales team to improve your prospecting process and start generating leads:
UpLead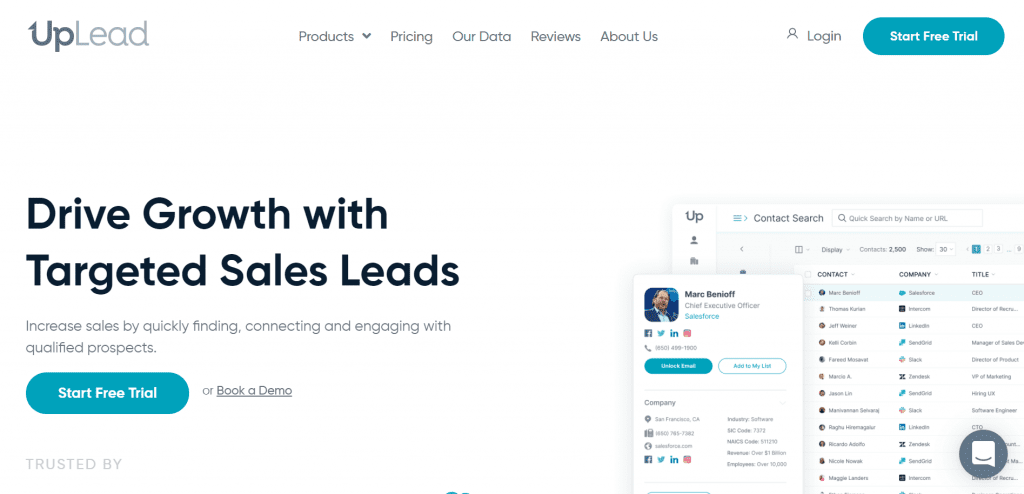 UpLead is a powerful lead generation software that allows you to quickly and easily find the right users to sell to.
With UpLead, you get access to over 140 million profiles of potential leads. You can easily browse among them, using over 50 filters, to find perfectly tailored leads for your company. You can also use their information to enrich your current database, updating it with new phone numbers and validated emails.
UpLead also seamlessly integrates with your tools, like Salesforce, HubSpot, Zoho, Pipedrive, and many more.
Start Your 7-Day Free UpLead Trial
Lead generation doesn't have to be all that painful. With UpLead, you can easily connect with high-quality prospects and leads to grow your company.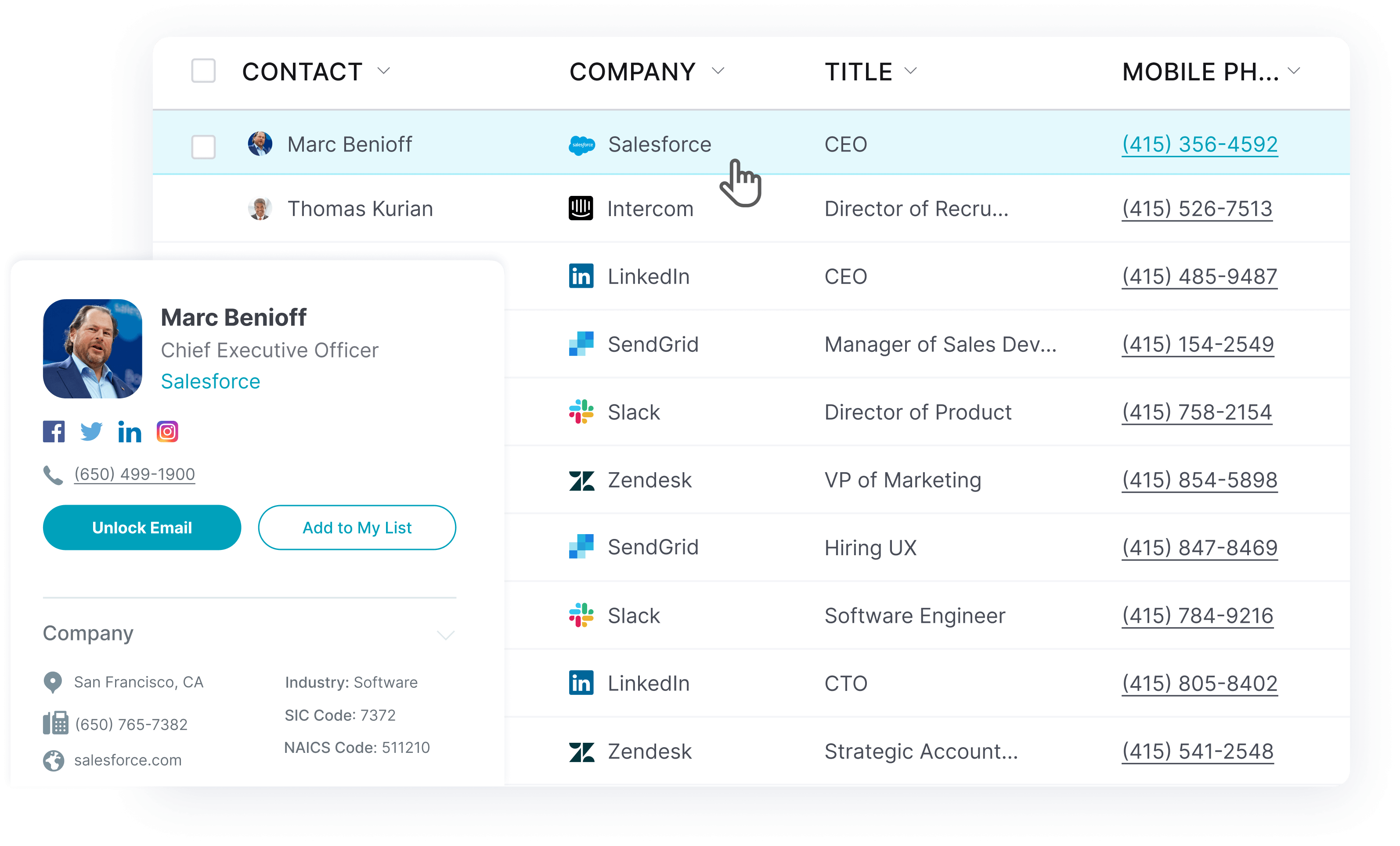 Cold Calling Software
Here's the best software to manage your cold-calling efforts:
Aircall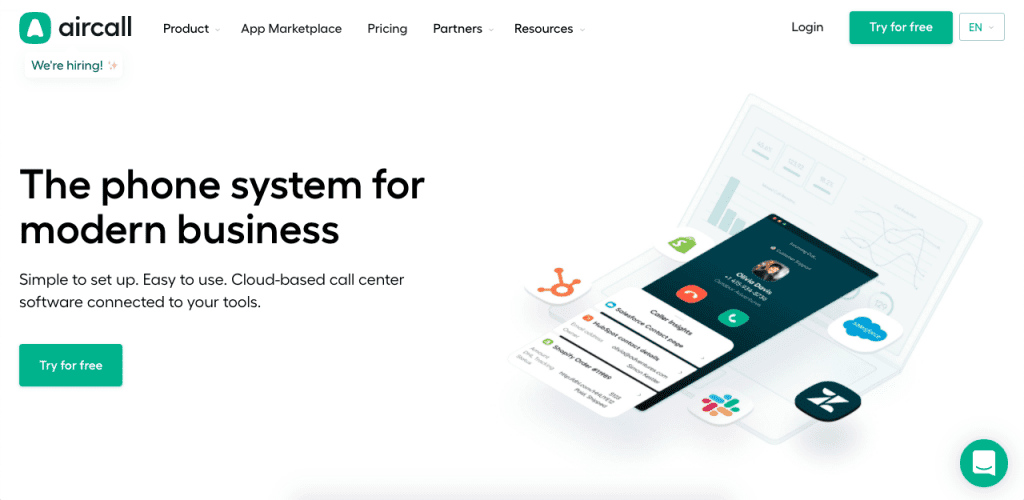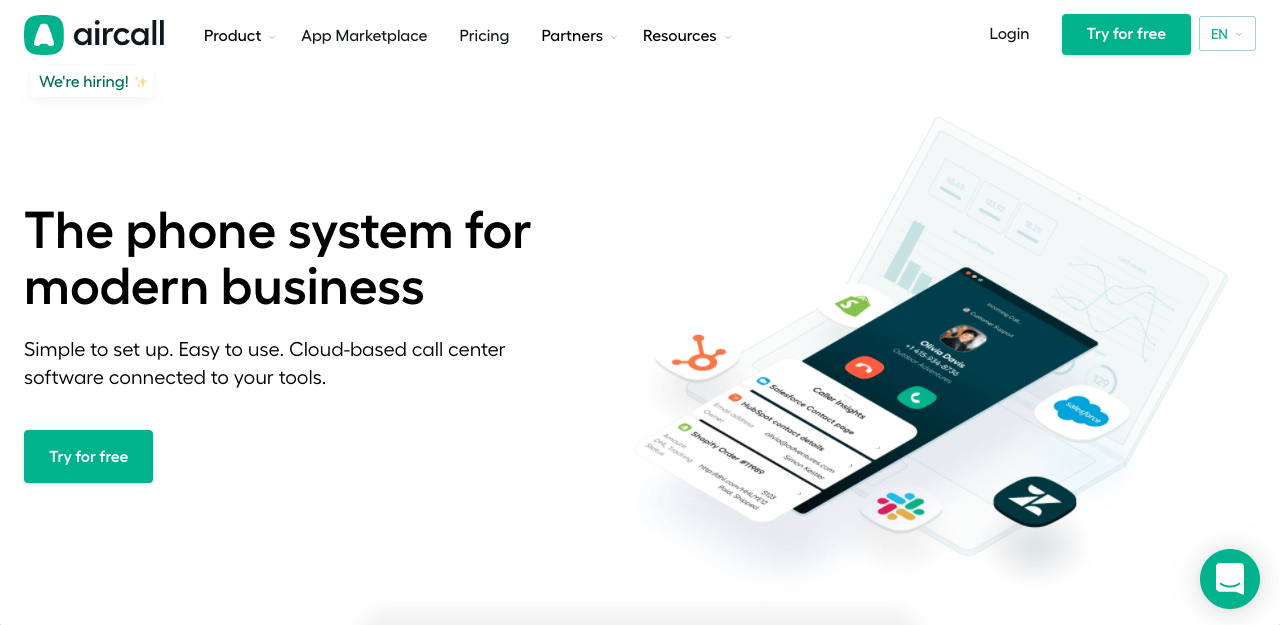 Aircall is a powerful and scalable cloud-based phone system. It easily integrates into your CRM to get you started with your data and start calling numbers from over 100 countries.
With Aircall, you don't have to pay for what you're not using. Instead, simply scale your plan up or down according to seasonality. Aircall is also great for remote workers and gives you powerful real-time analytics to track them and your other KPIs.
RingCentral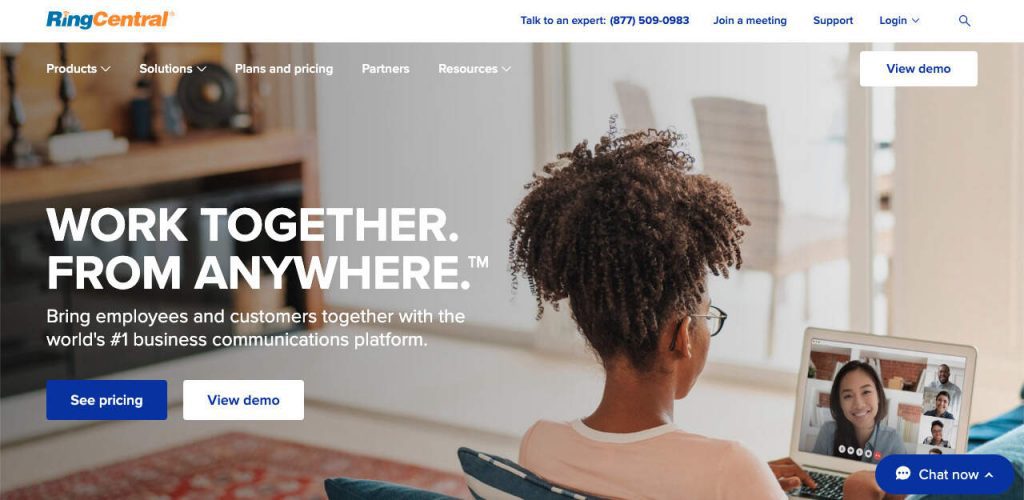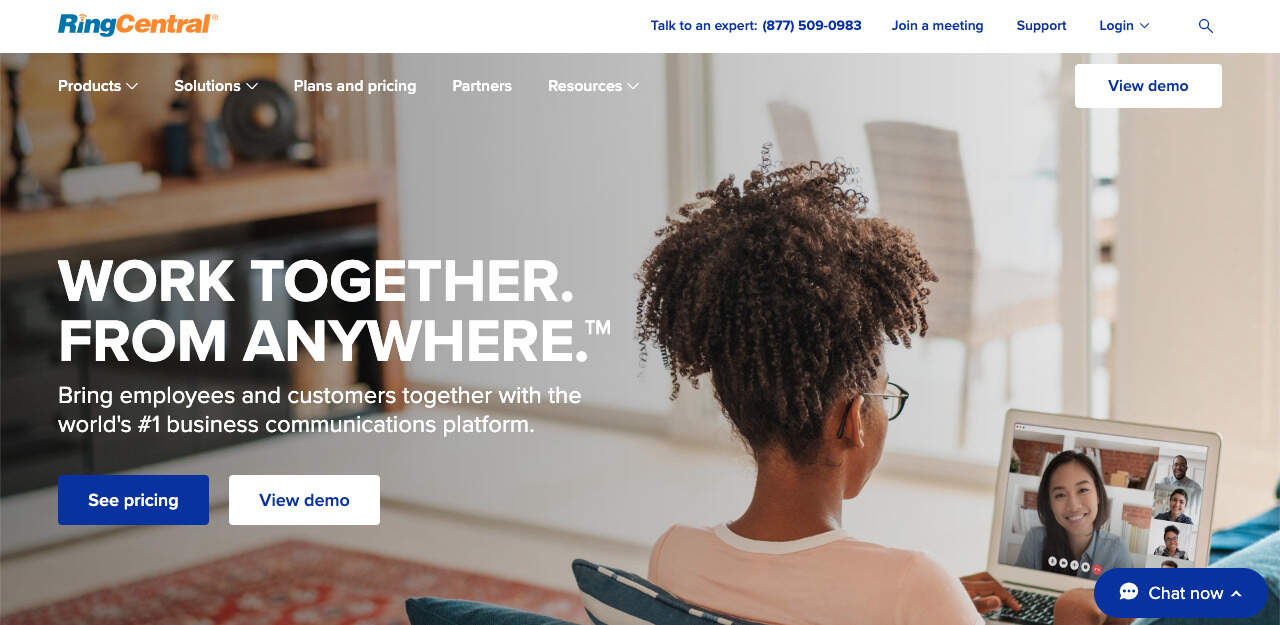 A cloud-based phone solution, RingCentral is popular with multiple companies and works with many devices, making it perfect for remote workers.
Besides phone calls, RingCentral also has a chat and video call capabilities, allowing you to connect with your customers however they want. You can also call any phone or computer with just one tap using its "RingOut" feature or route and automatically assign calls to the right agent.
Cold Email Software
Here's the best cold email software you can use for your marketing campaigns:
Mailshake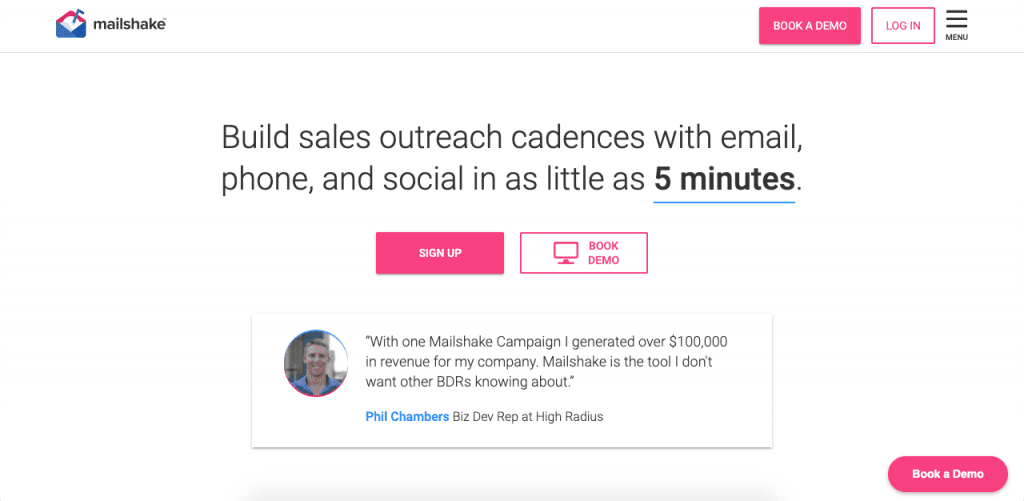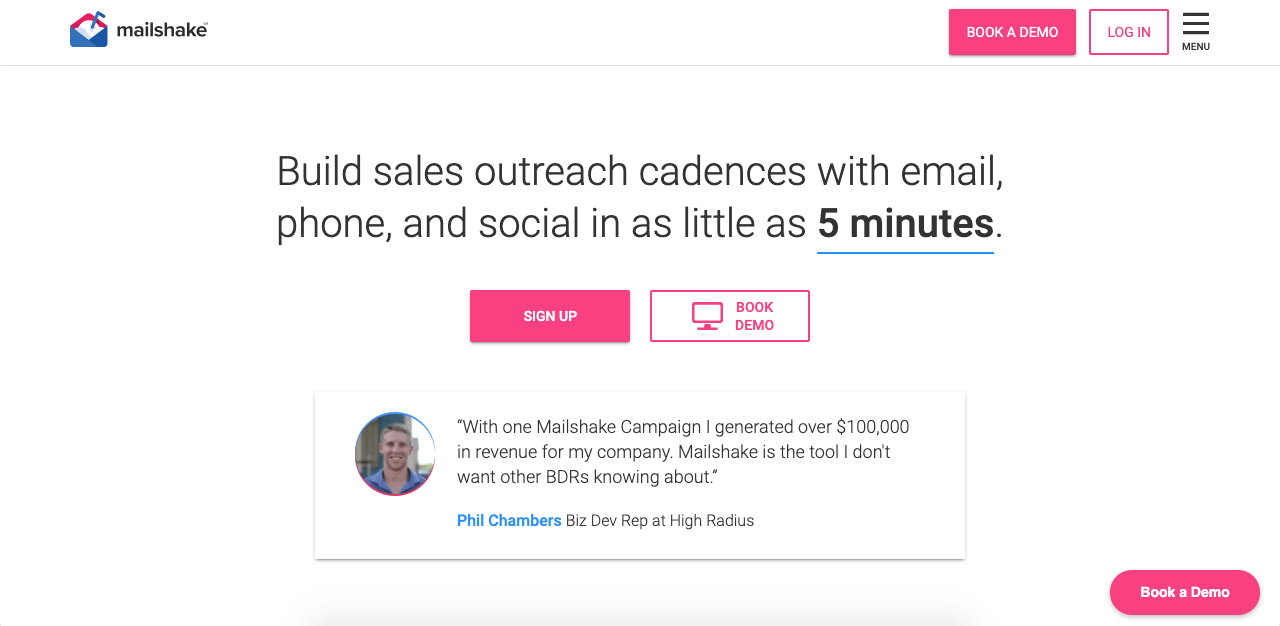 Mailshake is a popular email platform designed for sales and cold emails, making it the obvious choice for your first contacts.
With it, you can integrate the tools you're already using and connect your Gmail and social media accounts to upload your leads as you find them directly. Once you've begun designing the emails, you can automatically personalize them to increase your open rates easily.
Yesware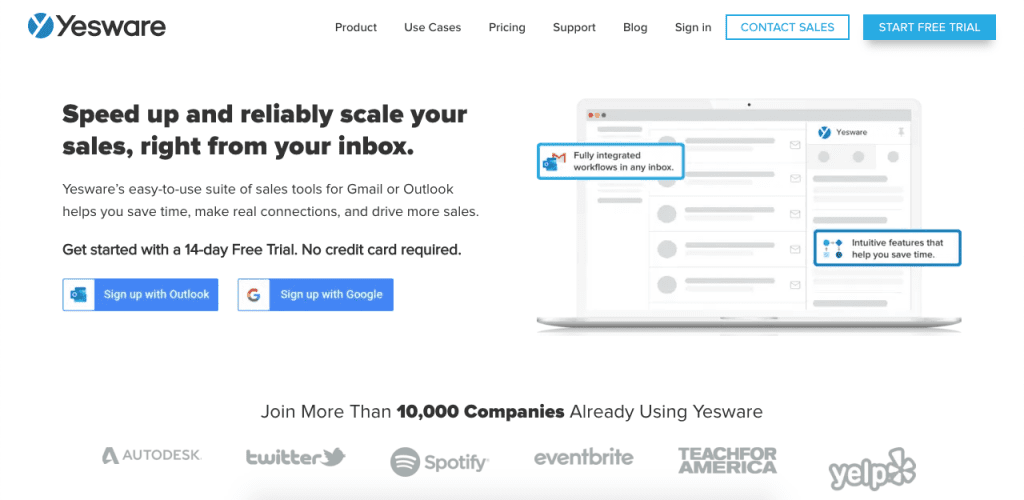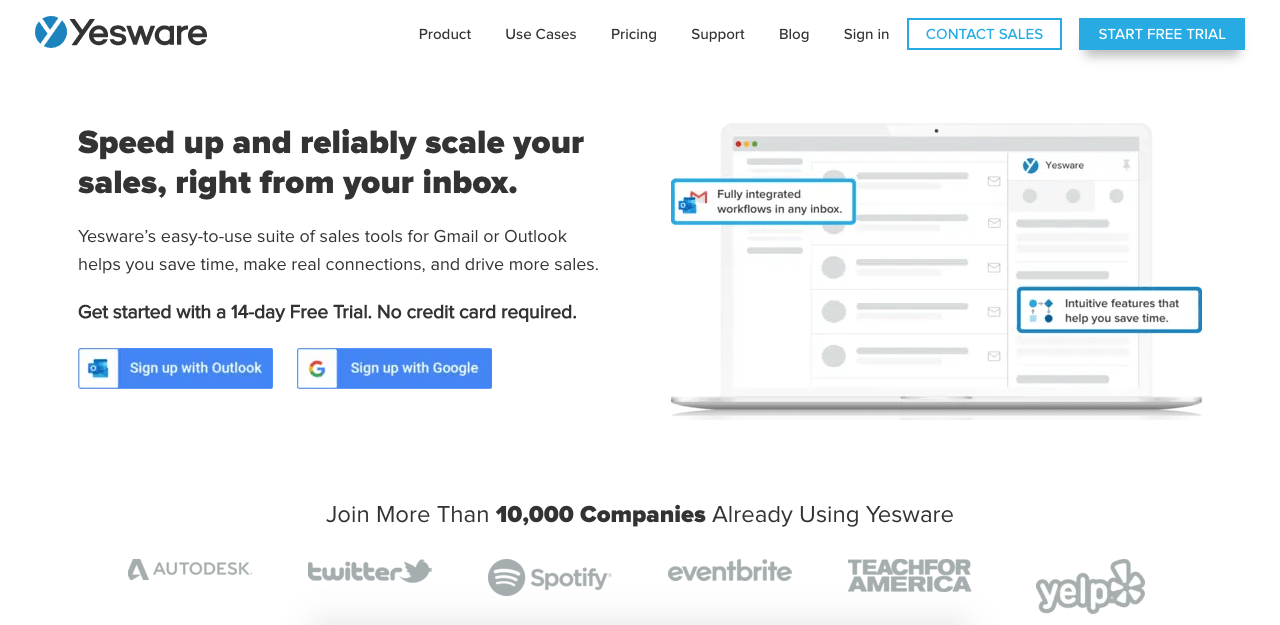 Yesware is a full sales suite with great cold emailing capabilities. With Yesware, you can send cold emails, keep up with multiple leads, and track your sales process.
You can also schedule meetings and demos, gather important data, and integrate it with almost every sales process step.
Proposal Software
Here are the best options for building and designing effective proposals.
Better Proposals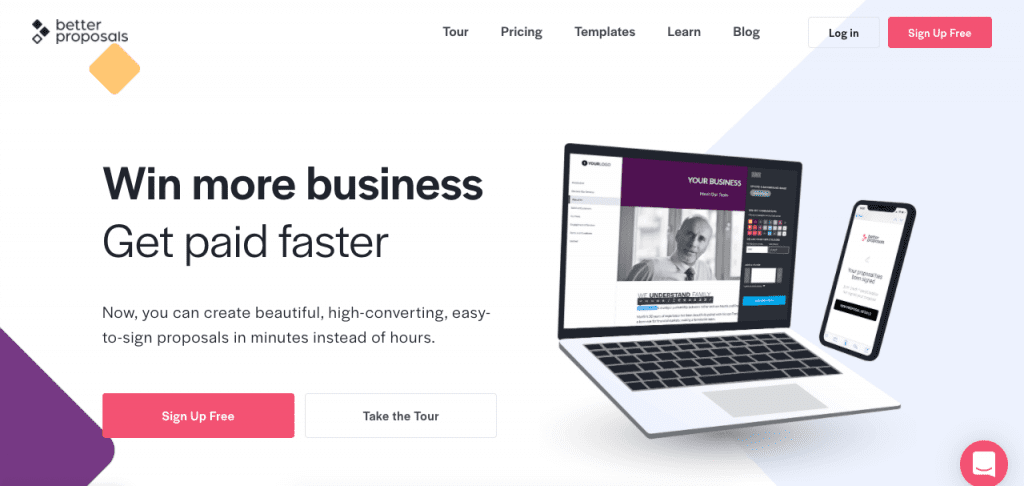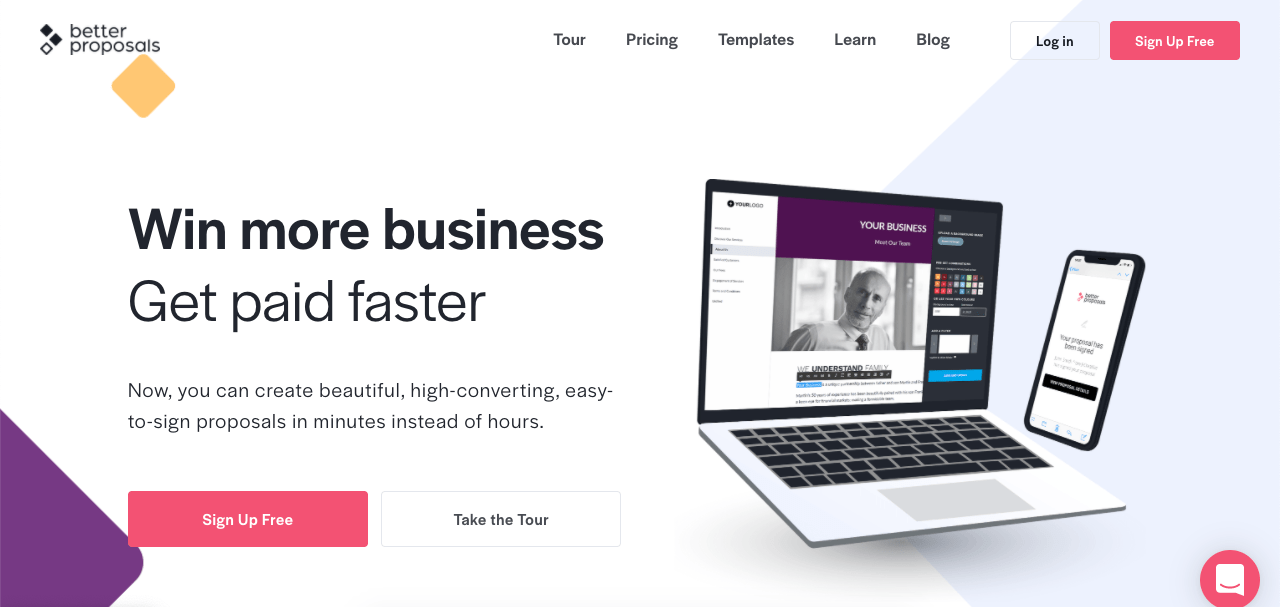 With Better Proposals, you can create beautiful and effective proposals even if you have no design skills. Simply choose from over 160 templates and enter your information. Then send it to your clients so they can immediately approve, sign, and pay, all in-app.
You can also use its automatic designer to speed up your creative process and make multiple proposals in minutes.
Proposify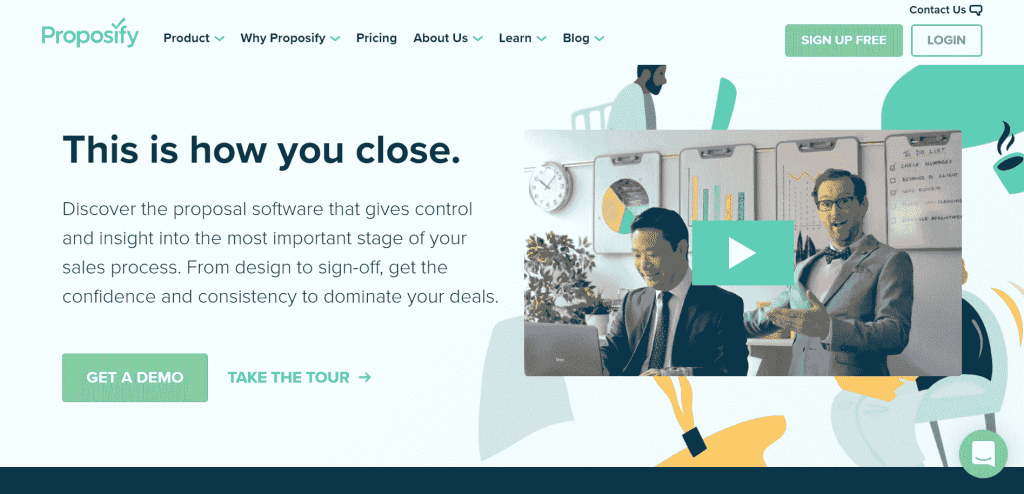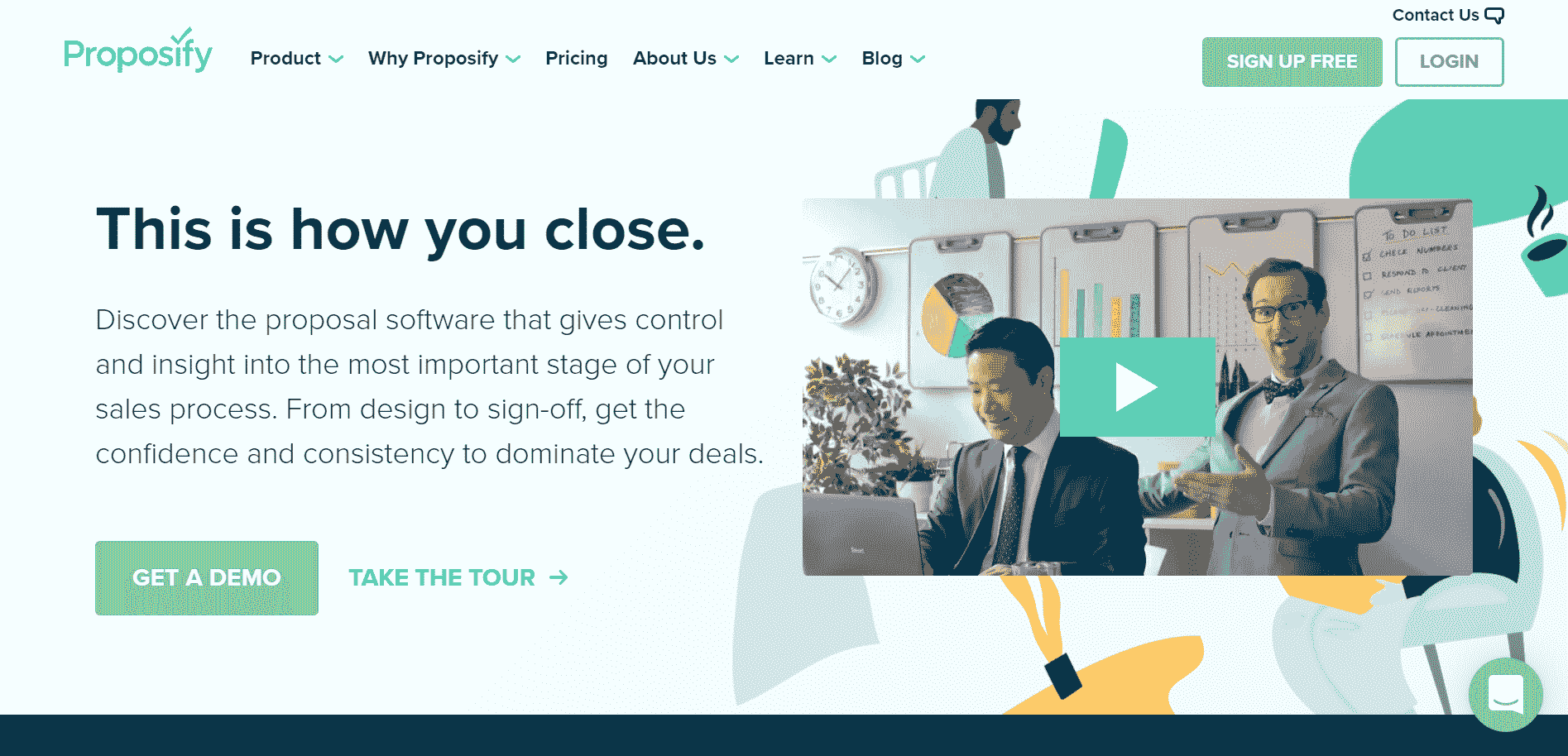 Proposify is a smarter proposal designer that allows you to create proposals with data from multiple sources to speed up the process.
With it, you can create branded templates for your sales team to reuse, quickly customizing and sending them. You and your clients can also sign proposals digitally to speed up the process further, giving you powerful analytics to help you keep track of your team and customers.
E-Signature Software
Here are the best e-signature platforms that let you and your customers sign any document anywhere:
Signaturely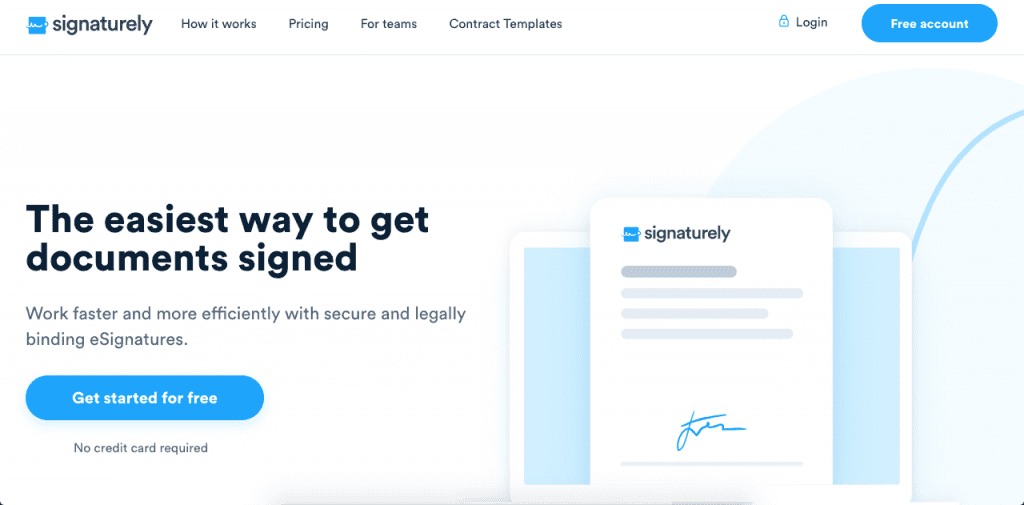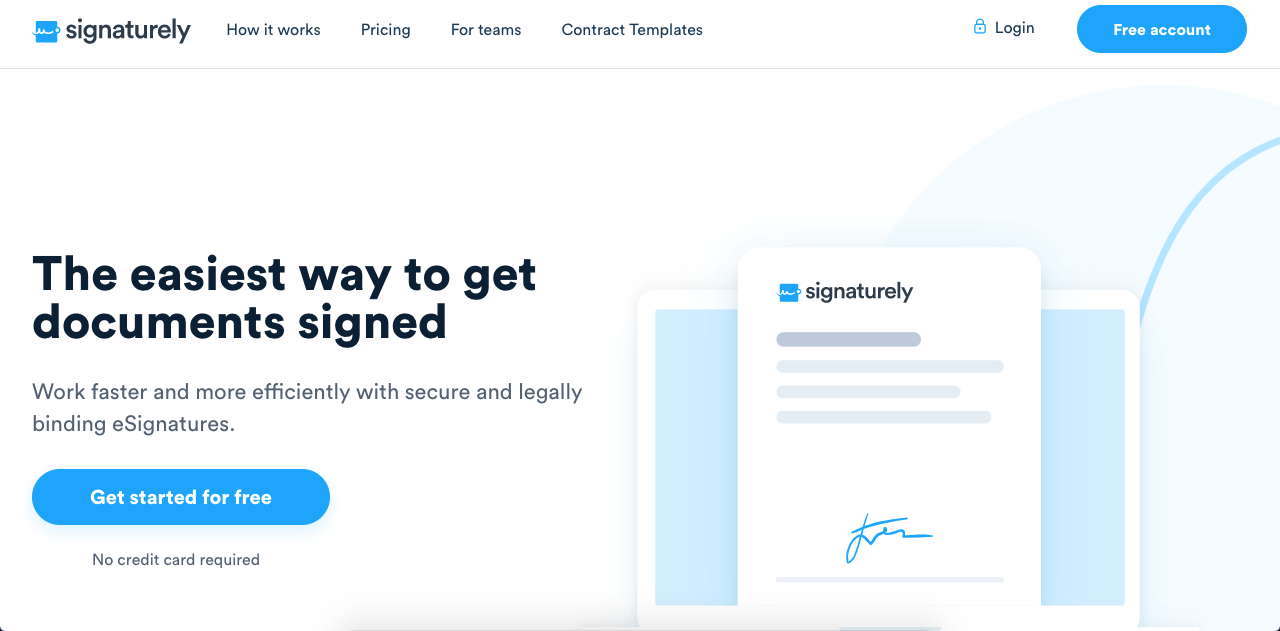 Signaturely is a simple and effective digital signature software that allows you to create and modify documents to add legally-binding signatures.
With Signaturely, you and your customers can create e-signatures for free without registration. Once you create your document and send it, Signaurely guides your signees through the process of expediting and getting signatures as quickly as possible.
You can sign up free to start using Signaturely or select one of its paid plans for expanded capabilities.
DocuSign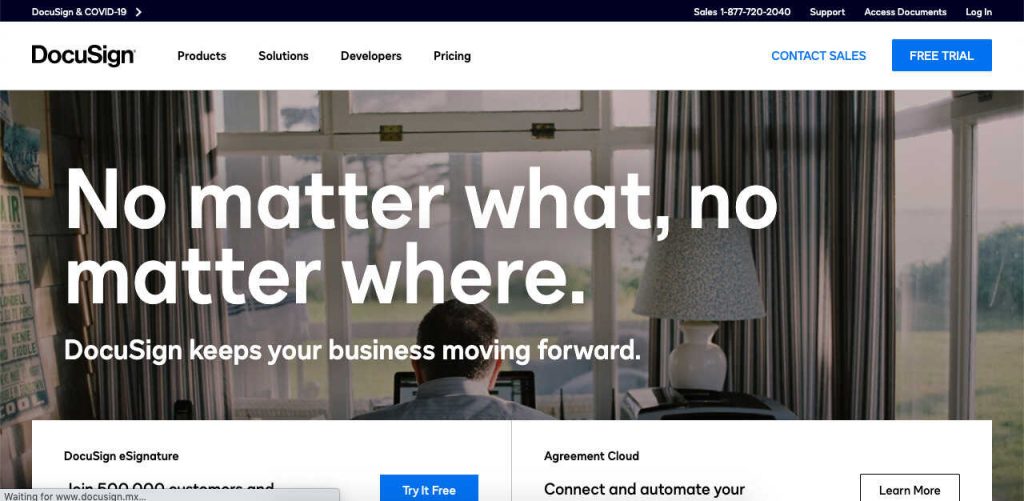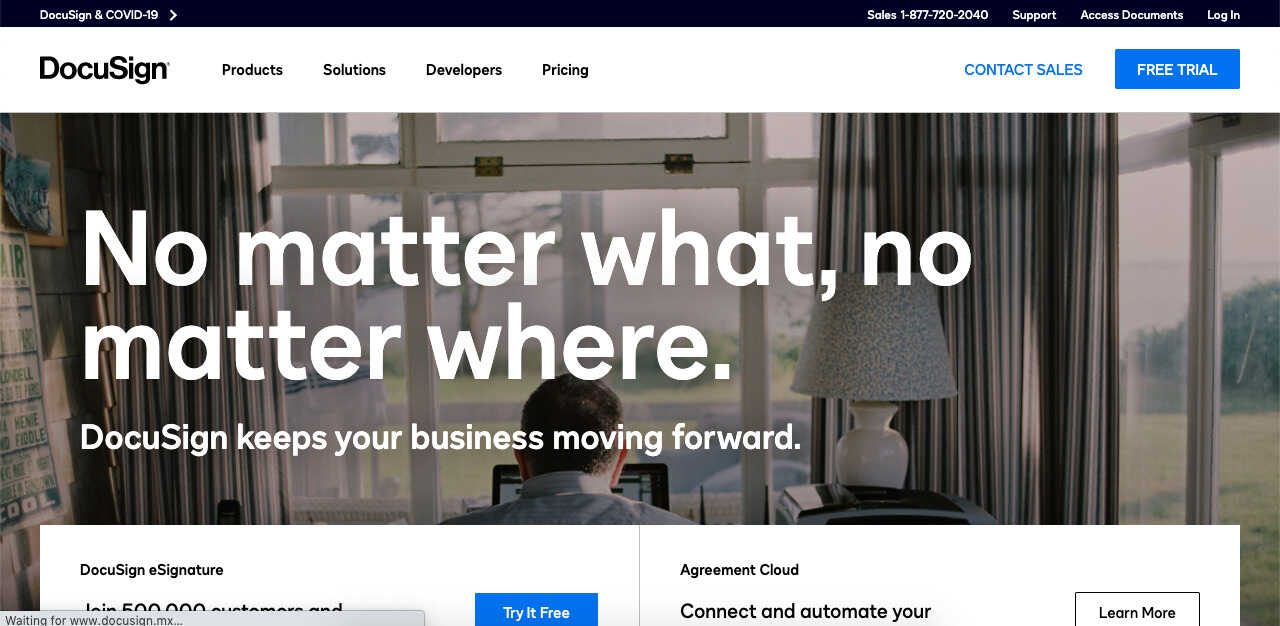 DocuSign is an experienced and popular online signature platform that is a good option for anyone looking for advanced features.
Although the platform isn't as intuitive as other options, it's perfect for anyone familiar with online signatures and willing to pay for advanced capabilities, such as advanced signature fields, API, and powerful integrations.
Sales Enablement Software
Here are the best sales enablement apps for you and your team:
Seismic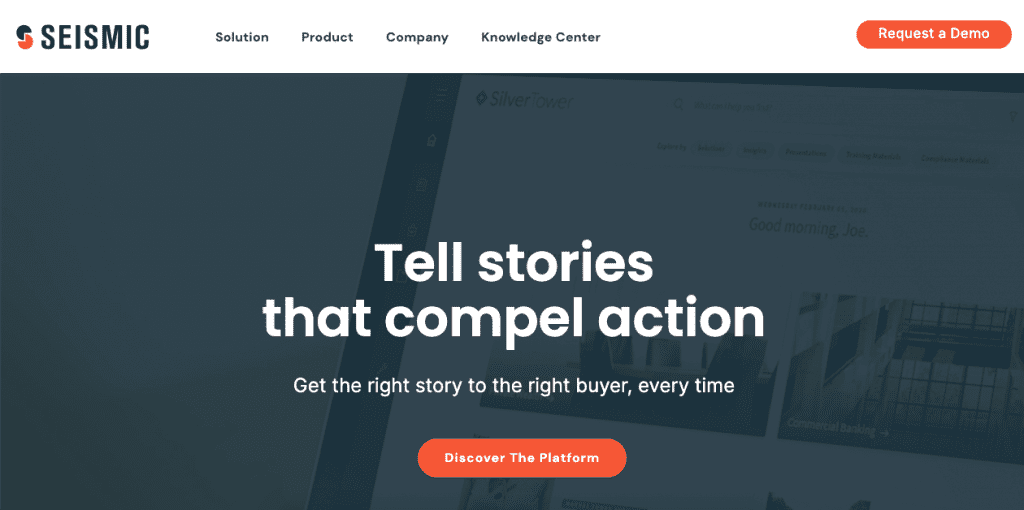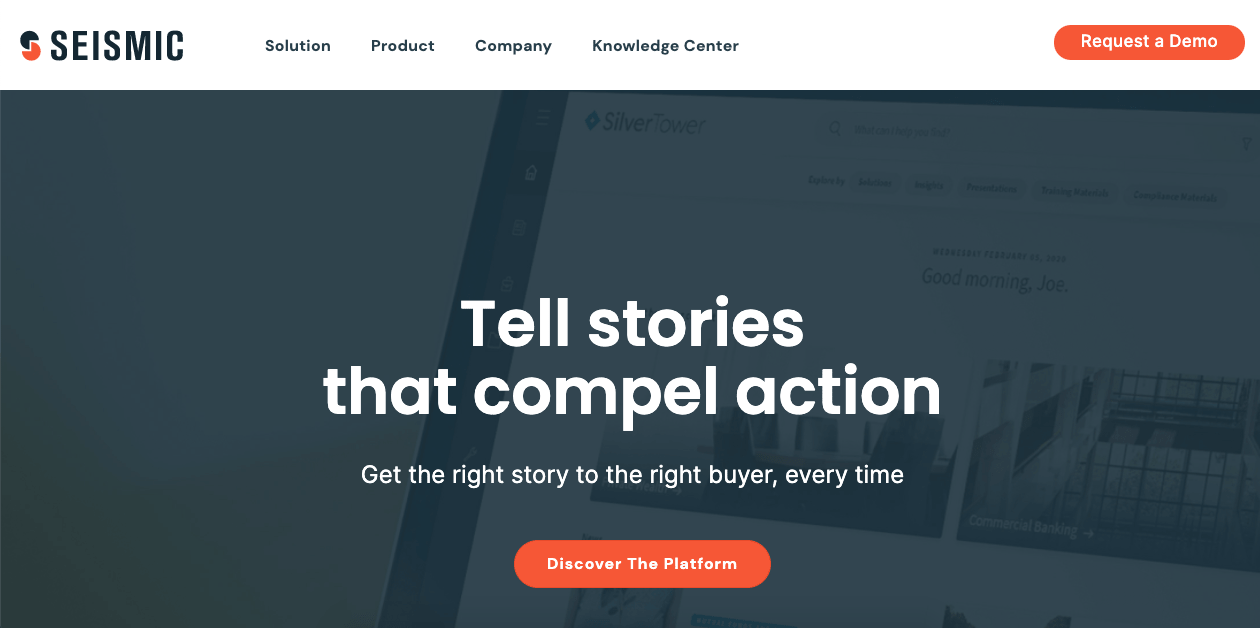 Seismic is among the most popular and recognized leaders in sales and marketing enablement. Its platform gives you the data, messaging power, and automatically generated personalized content to improve each customer interaction.
You can use its powerful analytics to keep track of your sales and marketing teams. Both teams can seamlessly collaborate, converting campaigns into buying customers as quickly as possible with the help of AI.
Highspot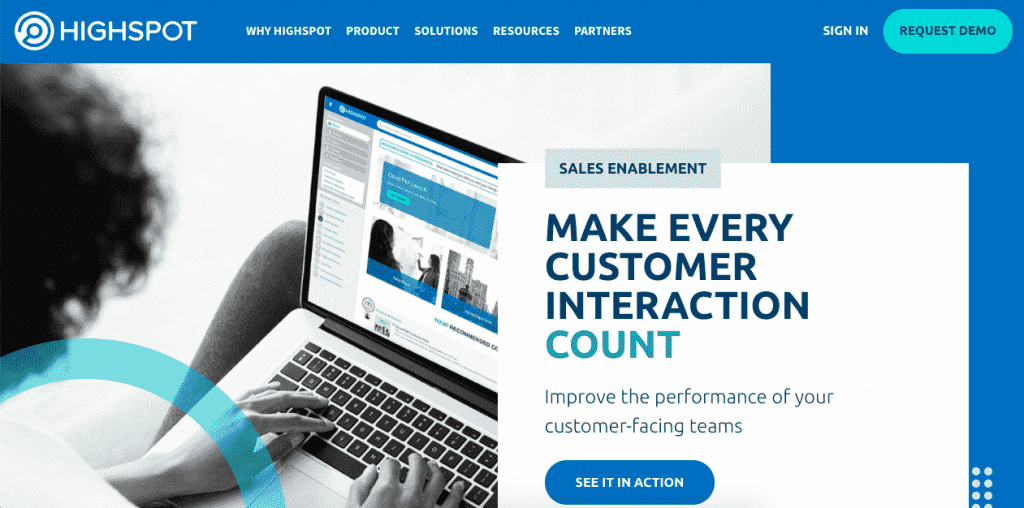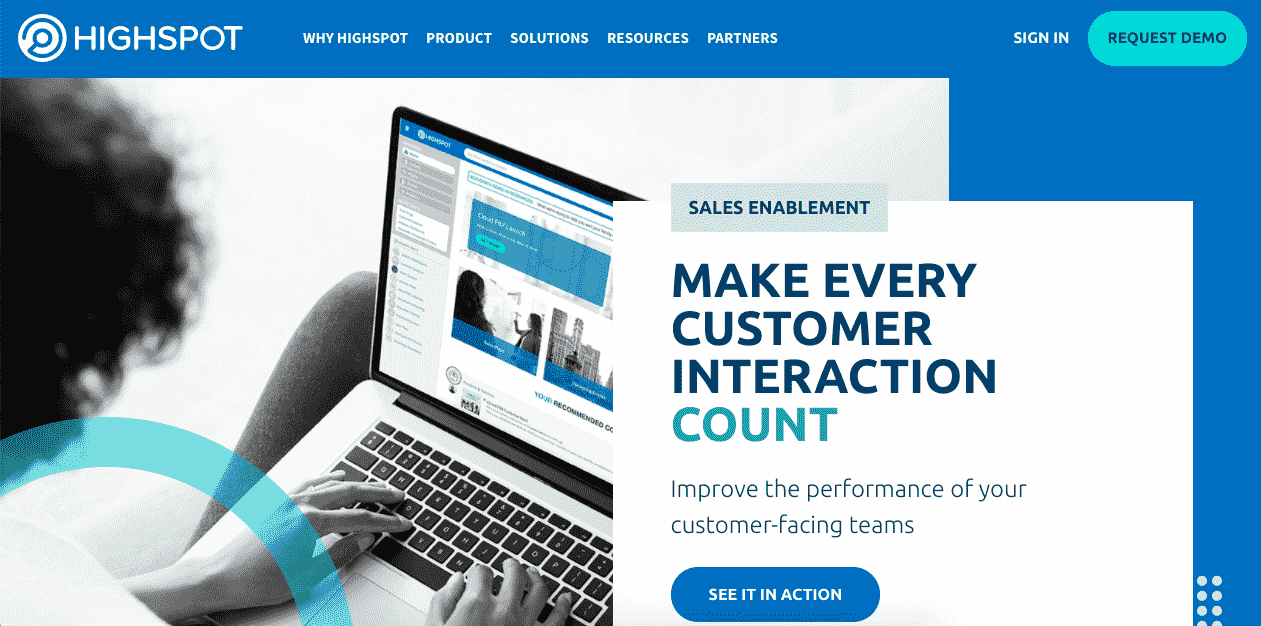 Highspot is a sales enablement platform packed with useful features for your sales and marketing teams. With Highspot, your reps can easily individualize customer experience and conversations so they can handle more users and improve their sales.
You also get powerful content management, insightful analytics, training, guides, and great integrations with the tools you already use.
Sales Report and Tracking Software
Here are the most powerful sales report and tracking tools:
Datapine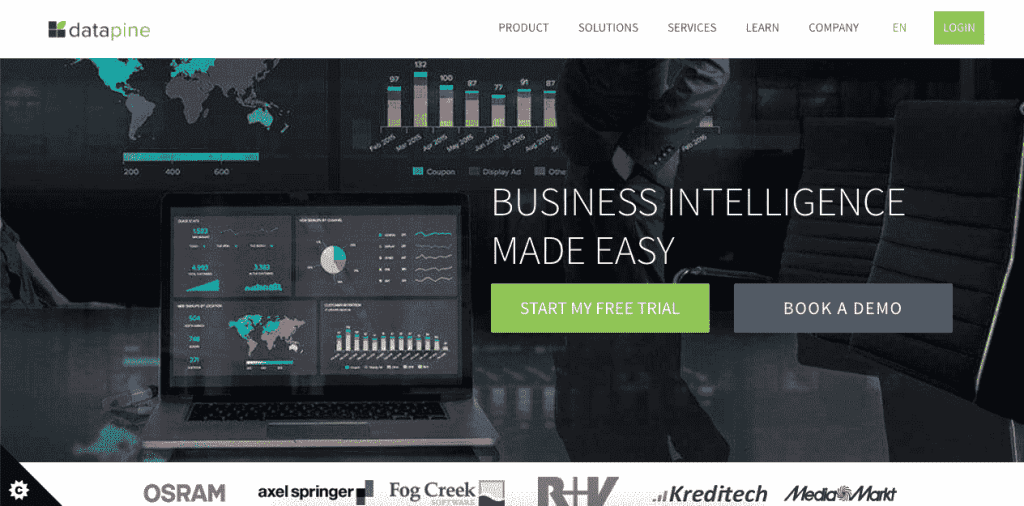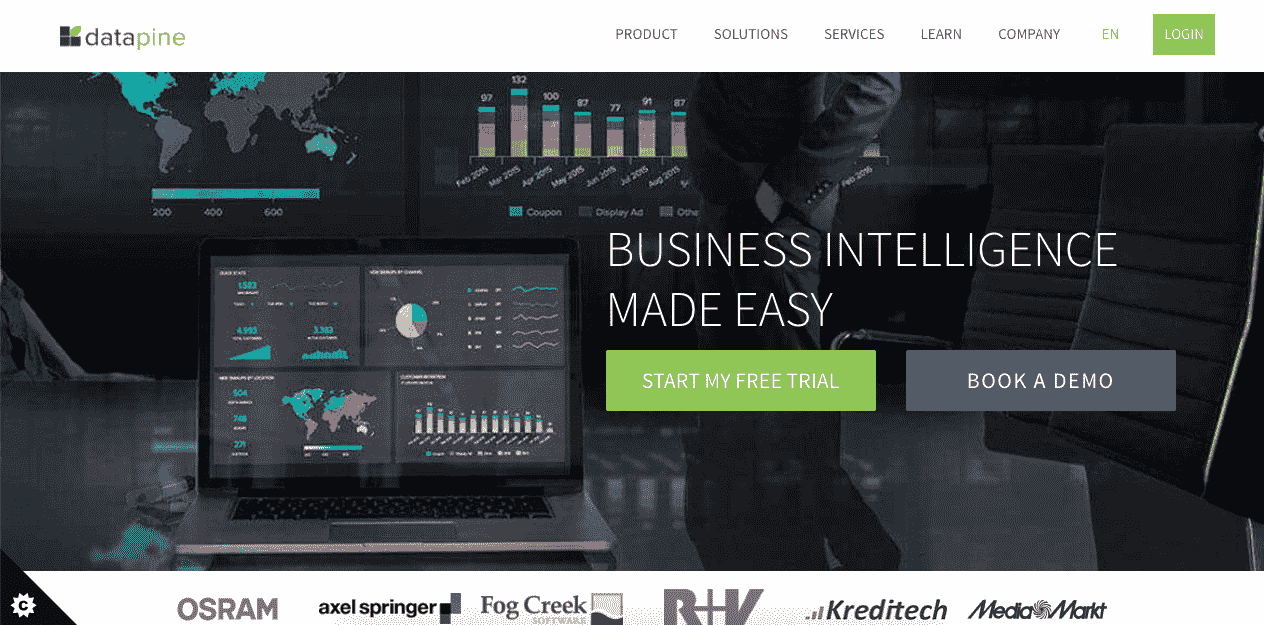 Datapine is a powerful, multinational data analytics tool that makes it easy to keep track of all of your data and transform it into action.
The platform has an excellent specialized dashboard interface that gives you all the information you need in one look. You also get very robust filters, drag-and-drop UI, and full tablet support to keep you in control of your data on the go.
Datapine also integrates with various tools, such as Google Analytics, social media, CRMs, Dropbox, Google Sheets, and many more.
Klipfolio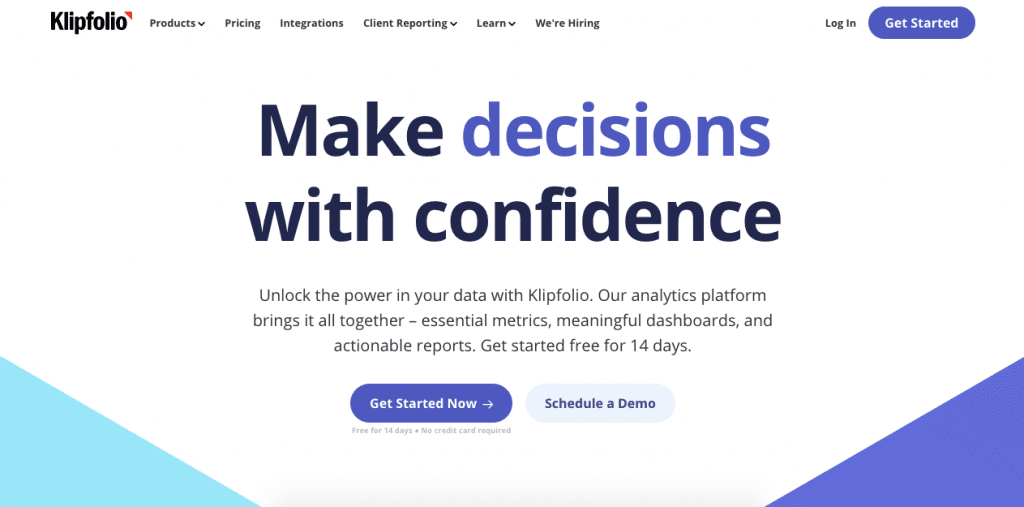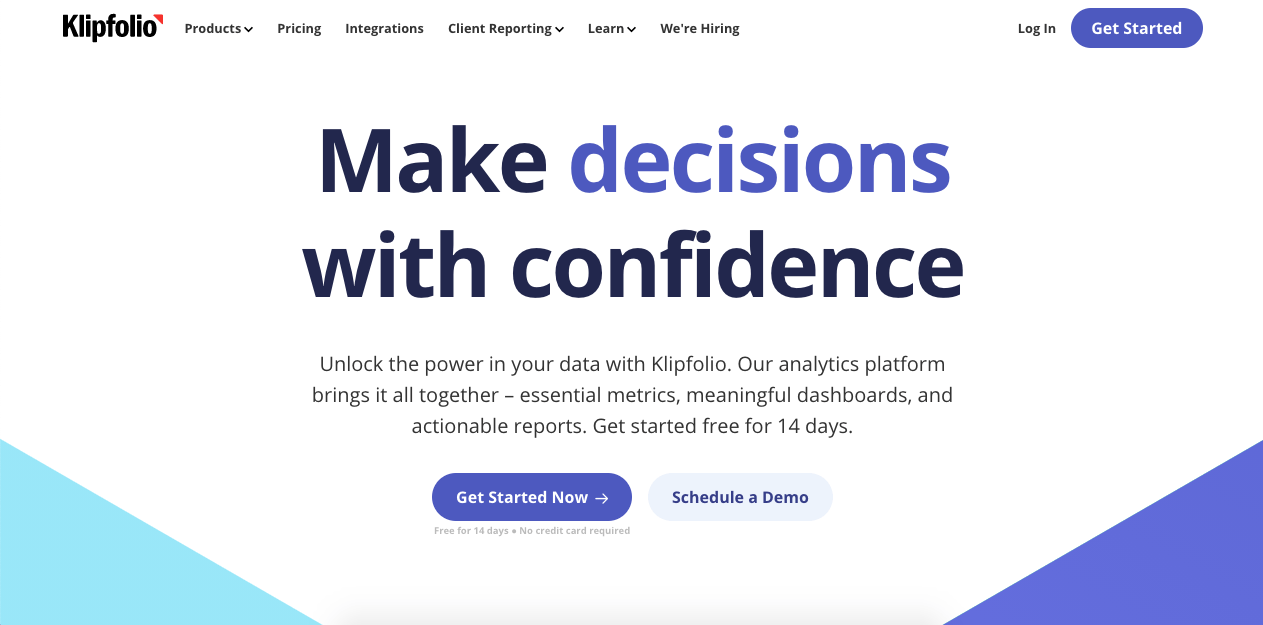 Klipfolio makes it easy to keep up with your data by consolidating all your sources into a single place.
With Klipfolio, you can easily interact with your data, personalize how you visualize it, and present it in multiple ways that make it intuitively easy to understand. Once you decide how you wish to display your data, Klipfolio can connect to Slack to send it to your team, and it can even be displayed directly on your conference room's TV.
Conferencing Software
Here's the best conferencing software to keep you connected remotely:
Zoom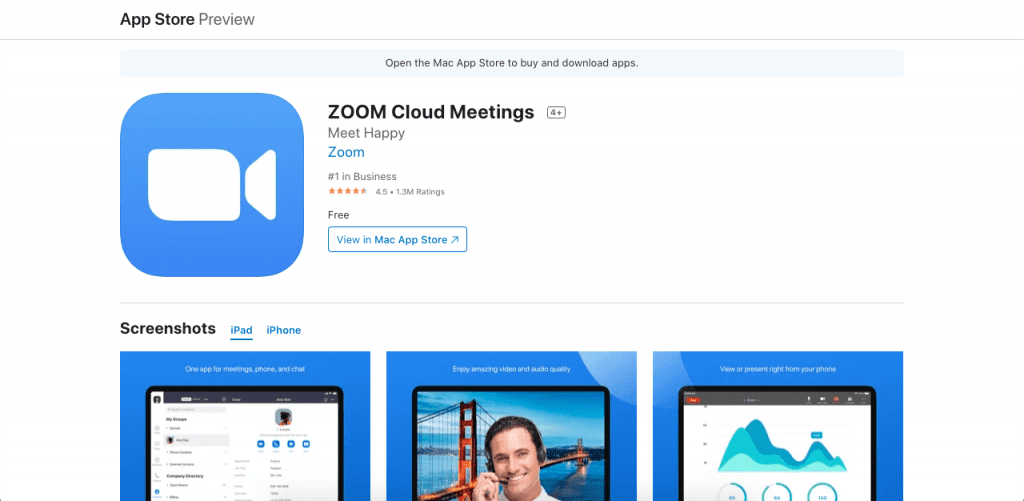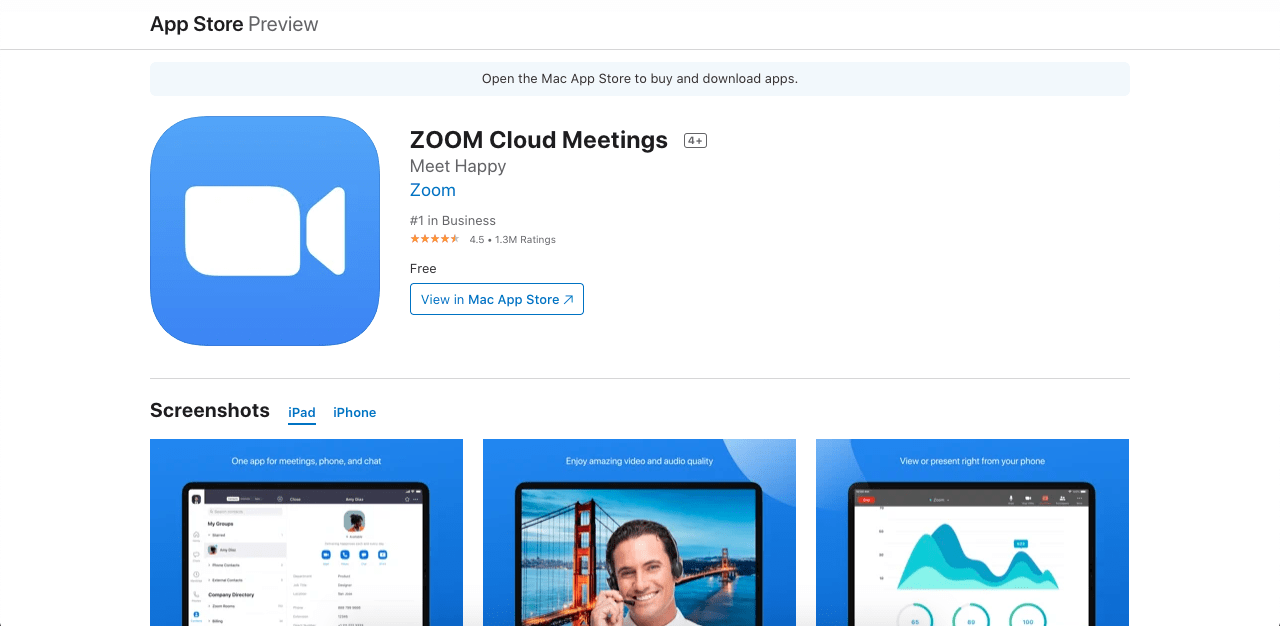 Zoom has already become one of the world's most used video meeting apps. Offering clear video and audio, making it easy to manage and access meetings, and with a generous free version, Zoom is a high-quality alternative for anyone looking for an effective, streamlined video conferencing app.
With Zoom, you can use features like whiteboarding, screen sharing, meeting recording, and breakout rooms. You do all of this from your computer, tablet, or smartphone while still maintaining all of its functionality.
Google Meet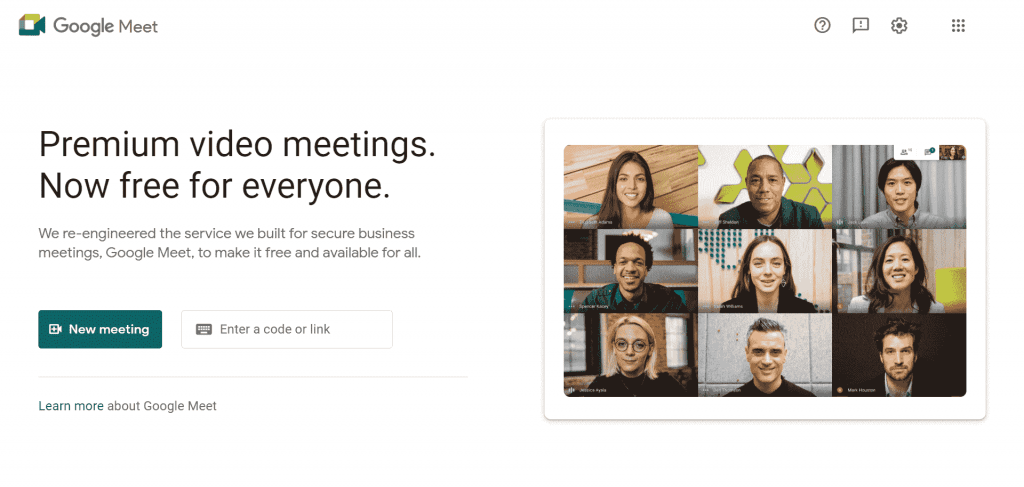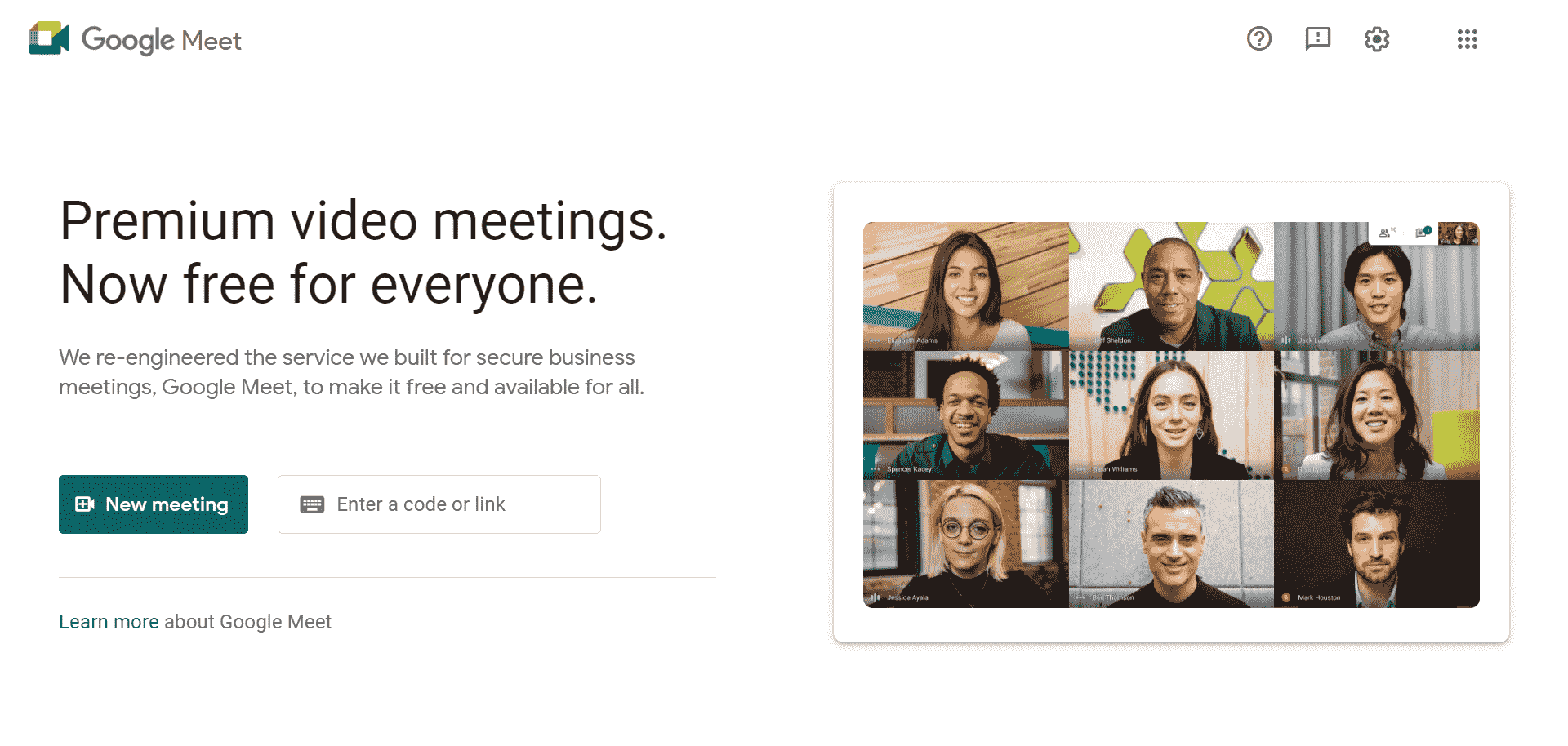 Formerly Hangouts Meet, Google Meet is part of the G Suite office productivity platform. Like the rest of the Google Suite, Google Meet works flawlessly on all devices. It seamlessly integrates with the rest of the Suite, giving it a lot of functionality for those who primarily use Google solutions already.
Accessing a conference is as easy as inputting the dial-in number. You can use it on practically any device without installing any app beforehand.
CRM
Here are the best customer relationship management tools for your business:
HubSpot CRM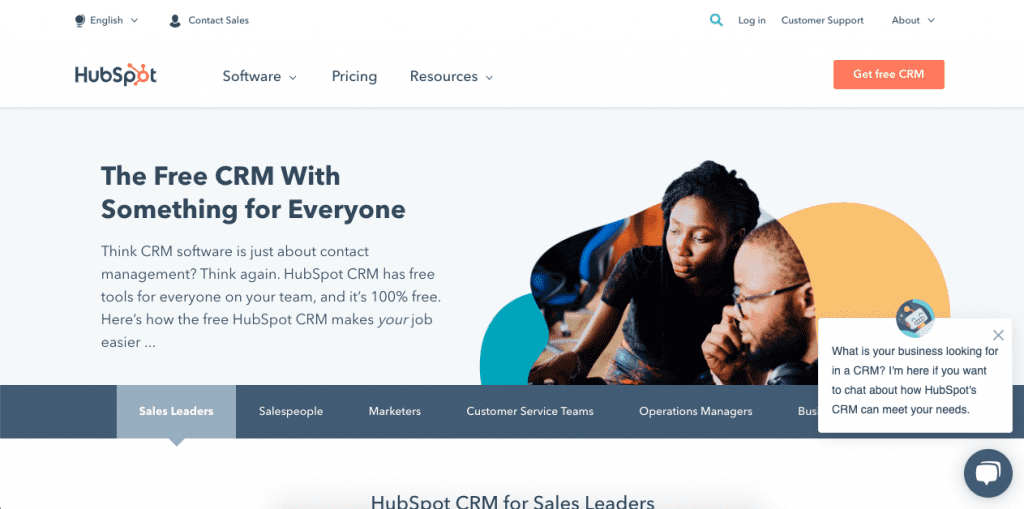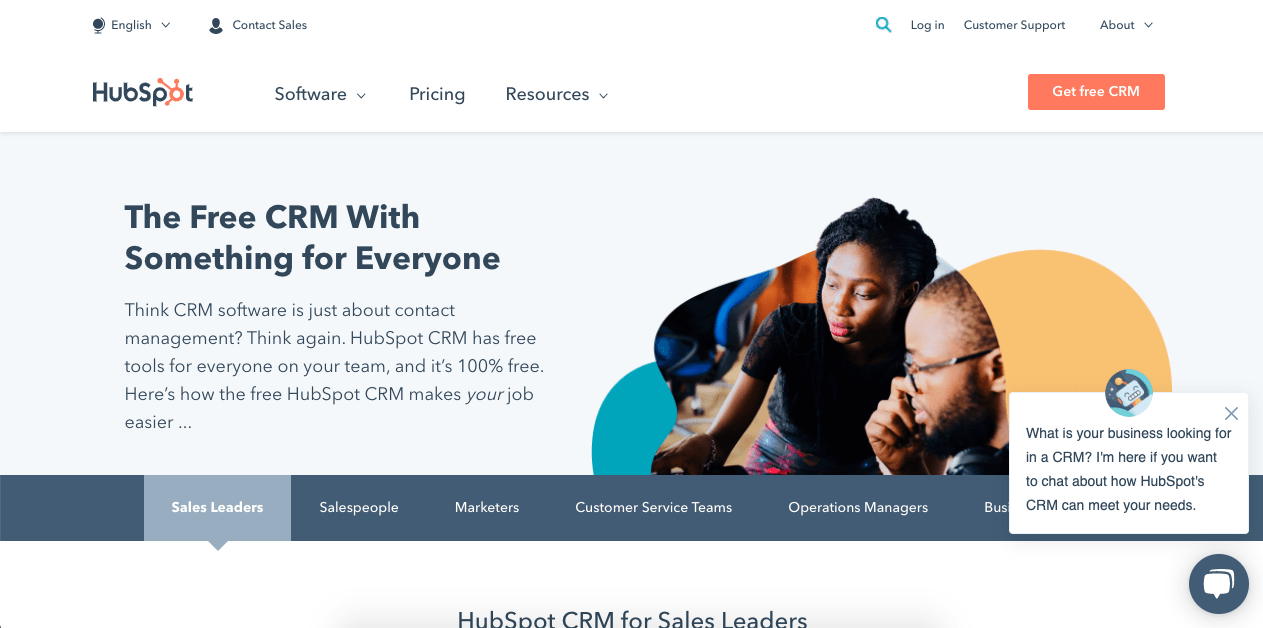 HubSpot CRM is a popular, award-winning CRM that uses powerful features to help you improve your sales and team.
With it, you can fully supervise and control your pipeline, store all customer information, automatically enrich your leads' data, handle scheduling, and much more. It also has mobile support to keep track of everything on the go.
Its famous forever-free tier is highly functional, and its premium tiers have remained affordable for multiple companies, regardless of size.
Pipedrive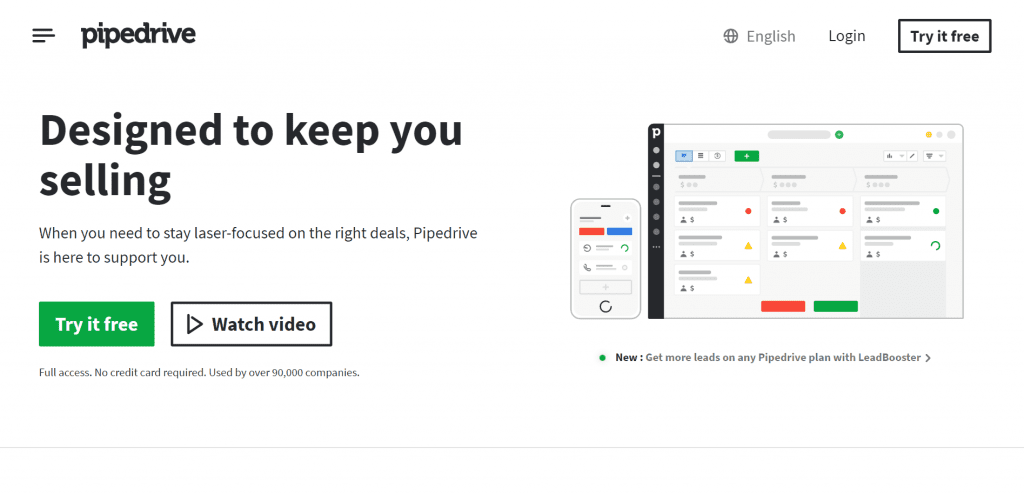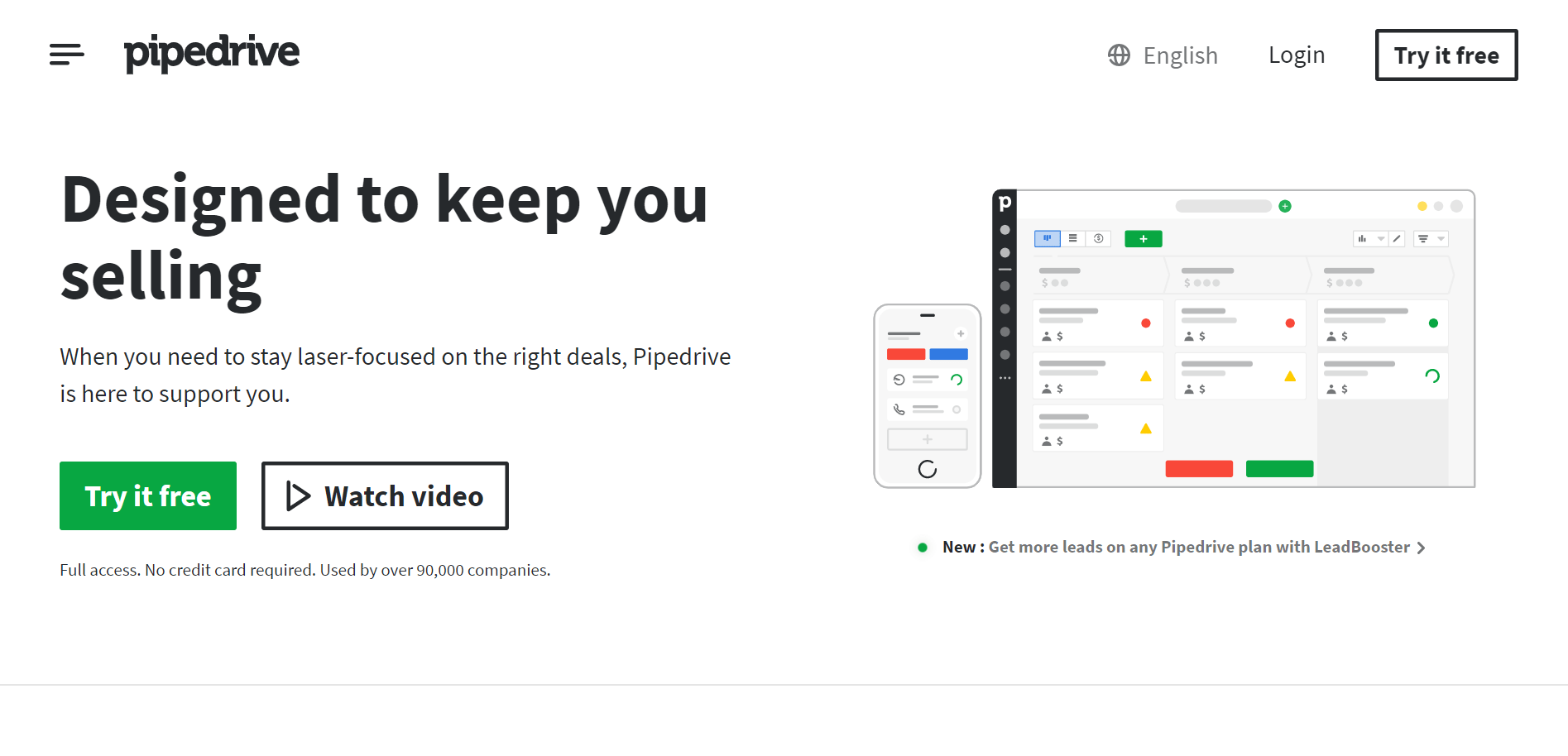 Pipedrive is a simple, easy-to-use CRM. Its highly visual platform makes navigation easy and intuitive, with barely any training required.
You can set up your account in minutes and start using it immediately to improve your sales process and contact tracking. As its name implies, Pipedrive excels in its capacity to build excellent sales pipelines, customizing each stage for each niche to improve your bottom line.
Although Pipedrive has no forever-free tier, its multiple tiers and affordable pricing makes it attractive for even smaller companies and startups.
Sales Rep Software: Conclusion
Even your best sales rep software solutions will not work if you aren't generating leads to populate them. If you want to generate leads that convert, try UpLead for free, and convert customer personas into actual customers.
Start Your 7-Day Free UpLead Trial
Lead generation doesn't have to be all that painful. With UpLead, you can easily connect with high-quality prospects and leads to grow your company.