Today's sales professionals use an average of six tools to close deals and move prospects through their sales pipeline. Since these tools are critical to helping modern sales professionals sell more effectively, it's important for your team to be properly equipped. Here's a closer look at the Top 17 sales enablement tools.
What Are Sales Enablement Tools?
Sales enablement tools are pieces of software that can help sales professionals optimize various activities. A huge range of tools on the market fulfill a wide range of tasks, which could include everything from lead generation to prospecting and email creation tools.
By investing in the right tools at the right time, you're more likely to achieve great sales results. So you'll want to make sure these sales enablement tools tick a few boxes, including:
An intuitive user experience

Efficient pricing

Great features

The ability to scale
When possible, you should make the most of free trials to assess your options and check their viability.
17 Sales Enablement Tools
We know that you want nothing but the best. So here's a closer look at the best standout sales enablement tools out there.
17. Highspot – Advanced Sales Enablement Tools and Software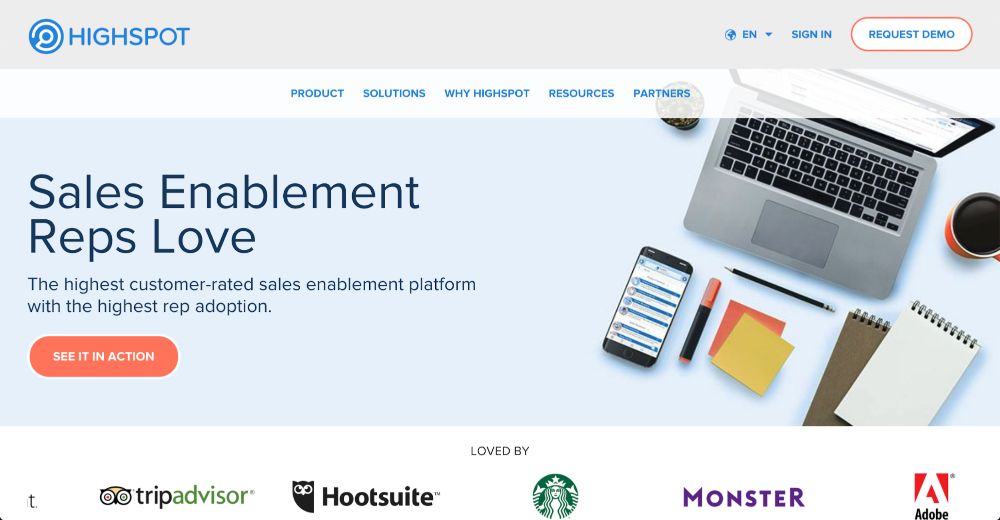 Highspot offers a suite of advanced sales enablement tools and software that help improve marketing effectiveness while they increase sales. This tool has very positive reviews on a range of platforms, and it boasts one of the highest adoption rates for sales reps.
Key Sales Enablement Features:
Collaboration

Contact management

Content management

Lead management

Presentation management
Pros:
Easy to organize

Has great search functionality

Is intuitive and simple to use

Can integrate with Salesforce
Cons:
A lack of analytical capabilities

The ability to easily contribute files and ideas that create too much noise

A mobile platform that's not user-friendly

Outdated troubleshooting content
16. Seismic – Find the Right Sales Content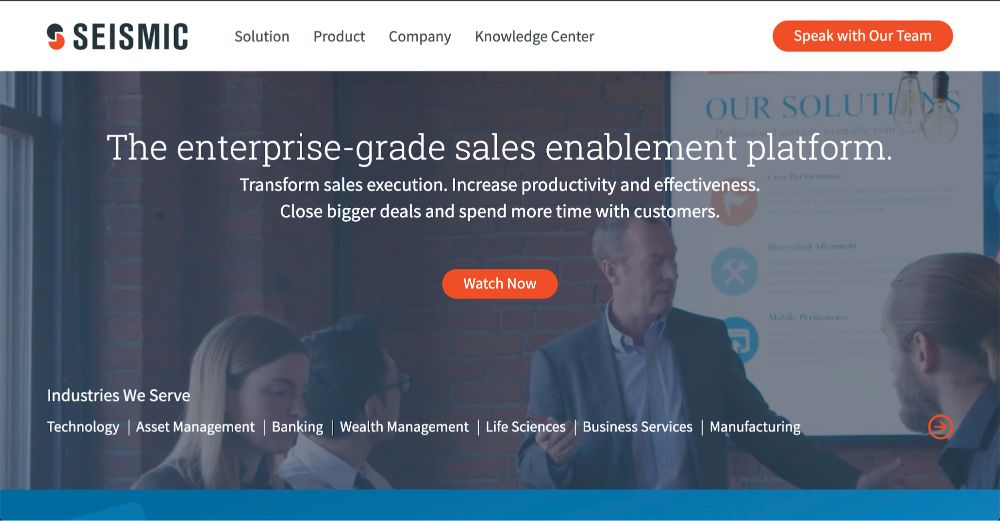 Seismic is sales enablement software that helps leading enterprise-grade teams find the right sales content and properly optimize the sales process. Specifically, it helps sales professionals focus on spending more time with customers and closing bigger deals.
Key Sales Enablement Features:
Content management

Document management

Meeting management

Proposal management

Presentation management
Pros
A strong community feature

Sophisticated analytics

A high-quality and intuitive design

A gentle learning curve
Cons
Some technical glitches

Challenging scaling process

Limited integration

Sometimes formatting errors when emailing
15. Guru: The Brains of the Operation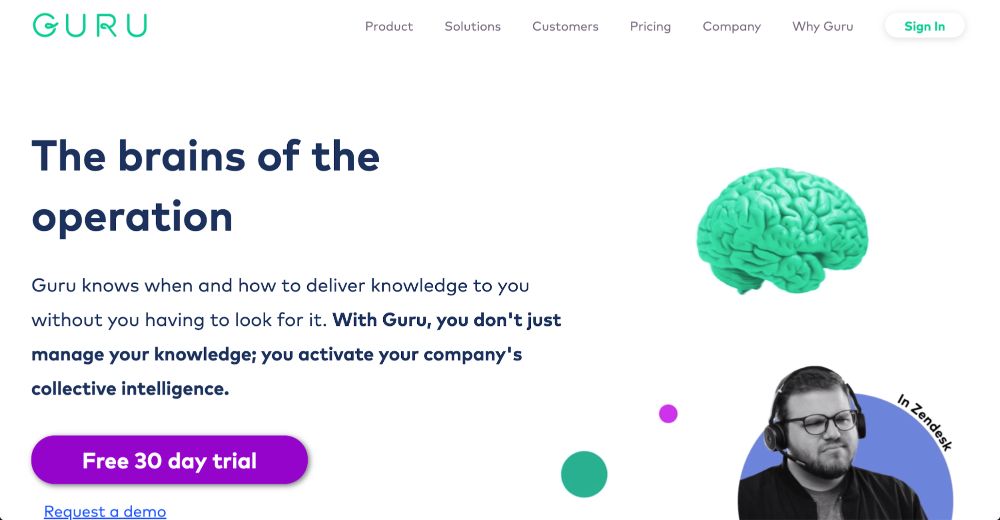 Guru is a sales enablement tool that helps activate your company's collective intelligence by delivering knowledge before you have to search for it. Therefore, it helps sales professionals save time, close deals faster, and make smarter decisions.
Key Sales Enablement Features:
Content management

Collaboration

Cataloguing and categorization

Discussion boards

A self-service portal
Pros
Cards are an intuitive knowledge-management technique

Gives the team access to additional information

Seamlessly integrates within organizations

Adopts company-wide with maximum efficacy
Cons
Sometimes too many competing voices

The cards can contain incorrect information if improperly managed.

It can be time-intensive to verify cards.

The web version of the platform has UI issues.
14. Membrain – Content In the Right Context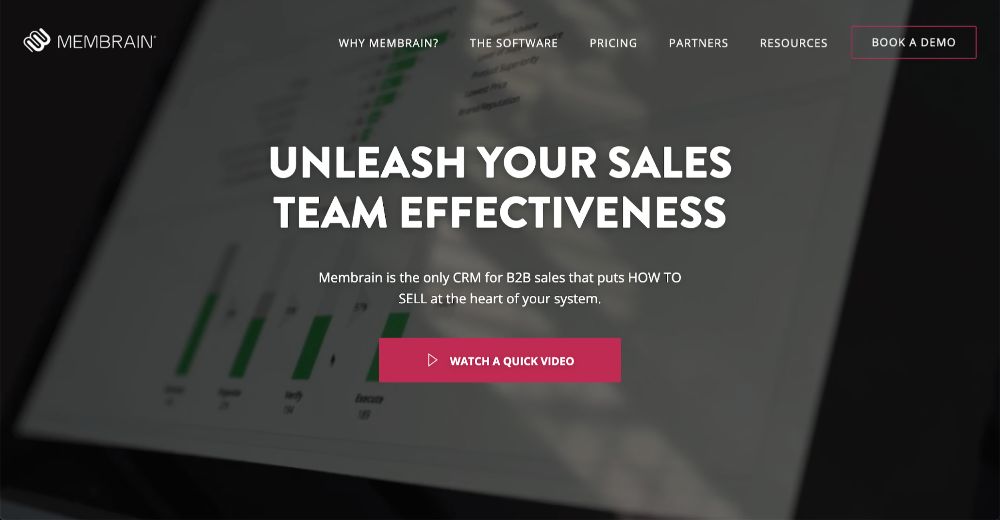 Membrain is a sales enablement platform that integrates information, collateral, and guides within the sales process to help salespeople achieve constant growth. This helps to make sales professionals more effective while also cutting the costs of sales training.
Key sales enablement features
Collaboration

Content management

Goals/quote management

Territory management
Pros
A robust support system for sales

Brings together details and critical information

Consistent and useful updates

A simple user interface
Cons
Reporting metrics can be difficult to establish

Cleaning data can be problematic and time-consuming

A lack of email customization options

The price is steep for most organizations
13. Mediafly Evolved Selling – Bridging The Gap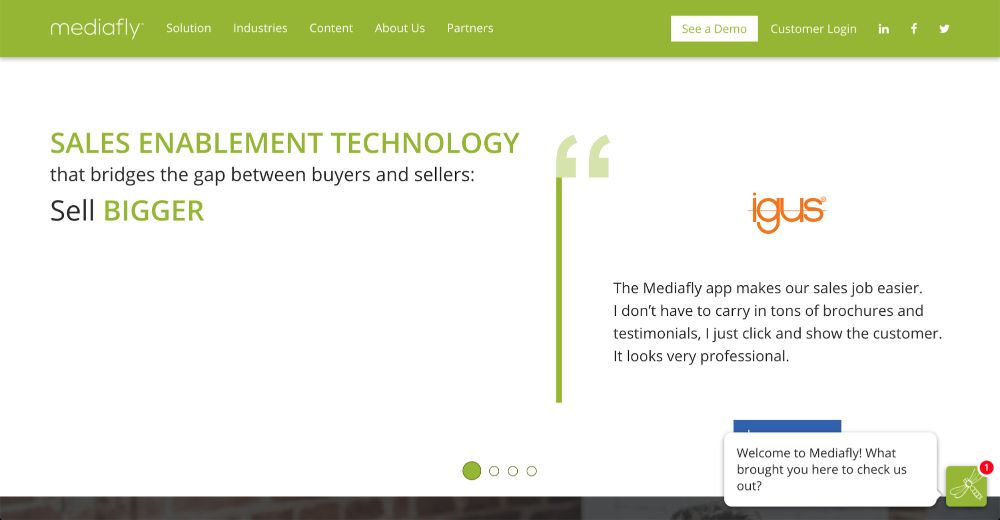 Mediafly aims to help sales teams bridge the gap between themselves and sellers. It achieves this by incorporating sales management methodologies with sophisticated sales enablement technology.
Key sales enablement features
Content management

Performance management

Training management

Presentation management

Meeting management
Pros
A platform that is simple to use

The ability to upload videos

Power to grant custom access rights

Key content is accessible and moves conversations forward
Cons
The cost can be inhibitive

There's a somewhat steep learning curve

Price varies according to the number of users

Interruptions can occur on slow connections
12. Showpad Content – Scale Sales Excellence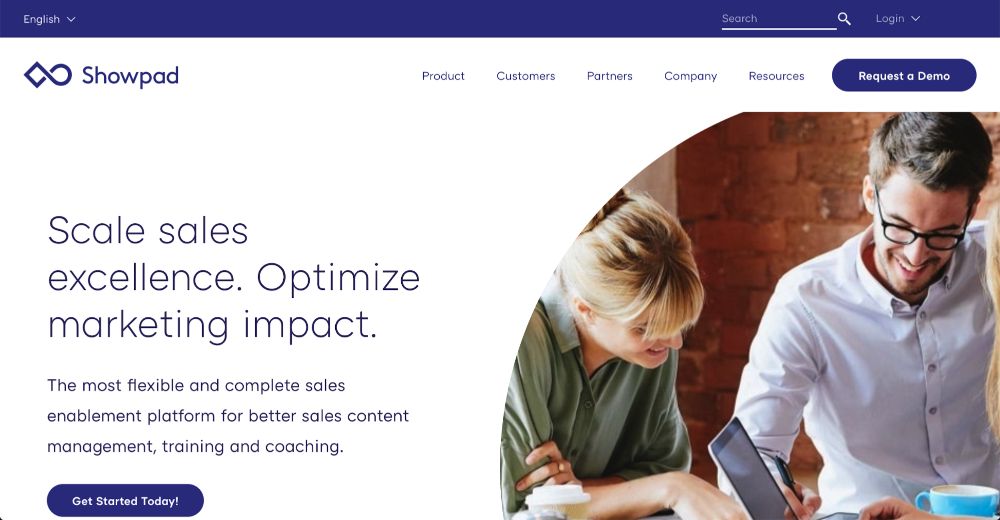 Showpad integrates industry-leading training and coaching software with innovative content solutions in a bid to drive increased sales. This means that sales content management, training, and coaching can improve across organizations.
Key sales enablement features
Collaboration

Content management

Presentation management

Training management
Pros
An intuitive platform that makes it simple to access data

Sophisticated internal and external analytics

An evolving functionality

The digital experience can be customized for each user
Cons
There are limitations when it comes to the mobile app

The platform can sometimes take a long time to load

FIrewalls and client settings can sometimes create issues

Salesforce integration is somewhat limited
11. Veelo – A Faster Way to Grow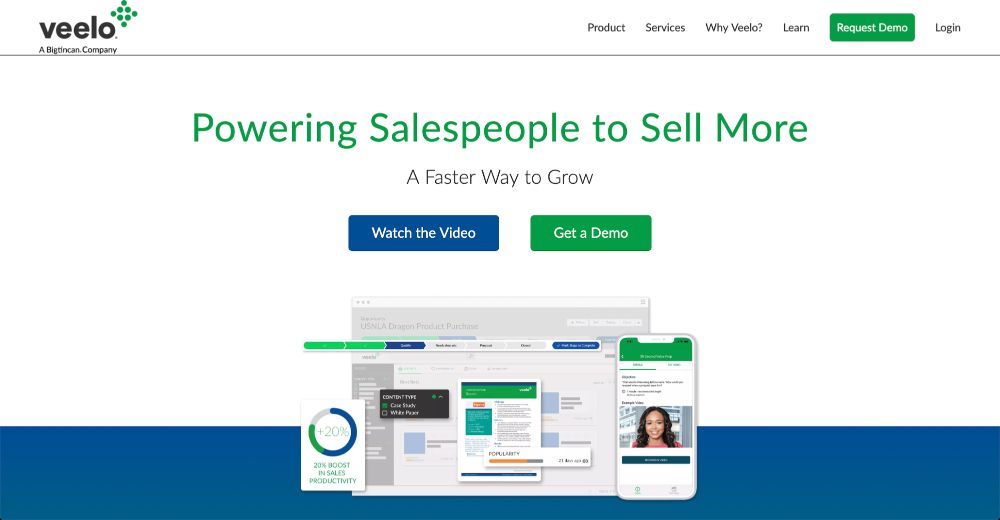 Veelo is a sales enablement platform that increases sales performance by predicatively guiding sellers on what to know, say and do. This platform puts the right pieces of knowledge in front of your sales team to empower them to sell more.
Key sales enablement features
Collaboration

Content management

Presentation management

Training management
Pros
Intuitive and simple to use

Great integration with Salesforce

Makes it easy for sales teams to access key information

Share documents both internally and externally
Cons
A few erroneous steps in terms of uploading documents

Sometimes difficult to locate important content

The search functionality has some bugs

The tool can be somewhat expensive for some teams
10. ClearSlide – Amazing Customer Experiences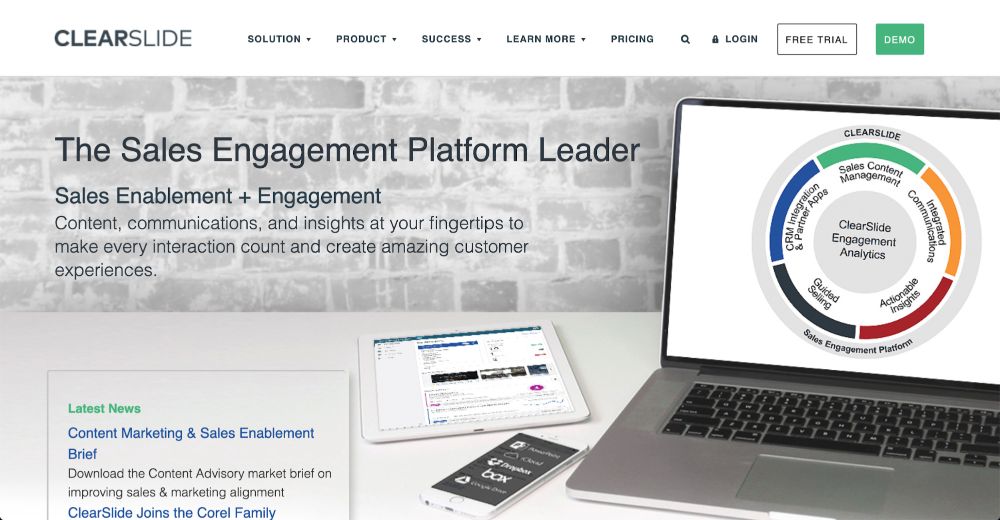 ClearSlide is a complete platform for sales enablement and engagement that helps to integrate content, communications, and actionable insights. This helps sales professionals to make every interaction count and create amazing customer experiences.
Key sales enablement features
Collaboration

Content management

Document management

Meeting management
Pros
Read receipts and analytics

The ability to create more targeted emails

Uploading presentations is simple

Access to presentations is easy
Cons
The process of creating invitation links is tiresome

Some difficulties when it comes to repurposing original materials

A three month notice period is required to end a contract

Time outs happen occasionally
9. Dealhub.io – Empower Your Sales Teams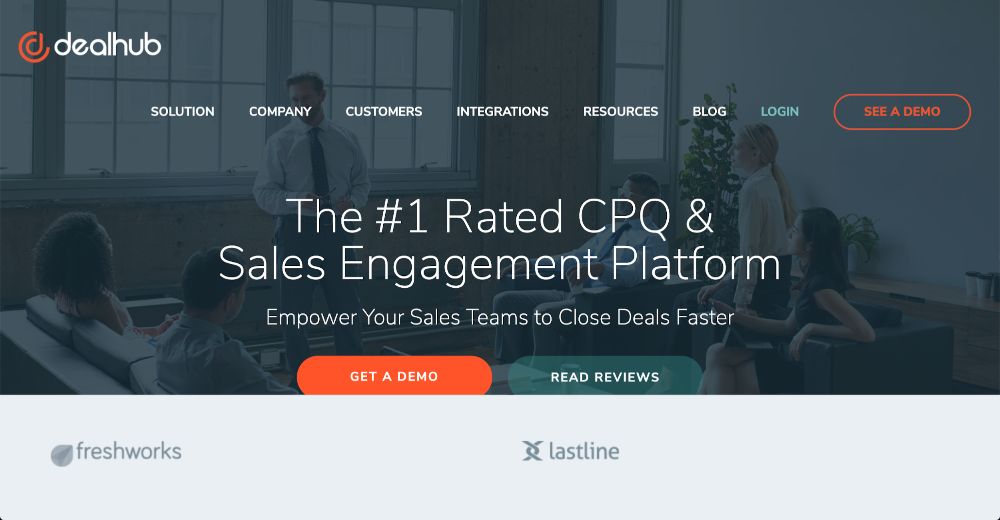 Dealhub.io offers sales professionals a unified platform that helps them to deliver consistent sales engagements at every stage of the sales funnel. This helps sales professionals to boost sales KPIs and ultimately close more deals.
Key sales enablement features
Automatic formatting

Collaboration

Content management

Content repository

Knowledge library
Pros
Empowers sales staff to create, deliver, track, and execute each deal

Offers integrations to automatically sync data

The tool is easy to configure

Consolidates a wide range of tools
Cons
Limited sales performance data

The tool lacks reporting and dashboards

Lack of a simple way to edit documents and templates

A lack of guidance in terms of some functionality
8. Outreach – Drive Efficient Growth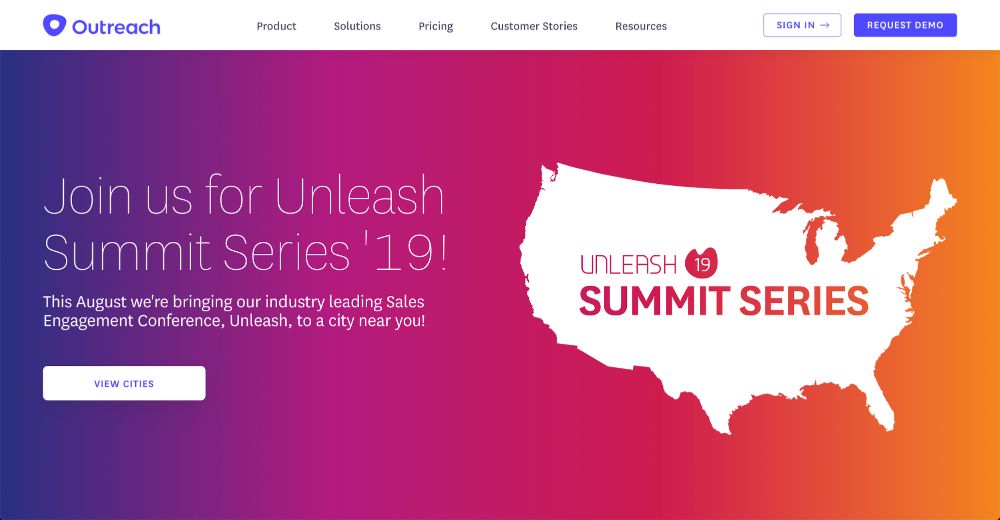 Outreach.io is a sales enablement tool that helps sales professionals to drive efficient growth with every single interaction. It empowers professionals to collaborate at scale, optimize the customer lifecycle, and make sales reps more productive.
Key sales enablement features
Collaboration

Content management

Document management

Lead management

Meeting management
Pros
Boosts productivity throughout the team

Makes it simple to schedule emails

The ability to order prospects into sequences

Sophisticated analytics
Cons
Some features lack full functionality

The price is inhibitive for some companies

There are some UI and UX issues

New users will see a somewhat intimidating learning curve
7. GetAccept – An All-in-One Platform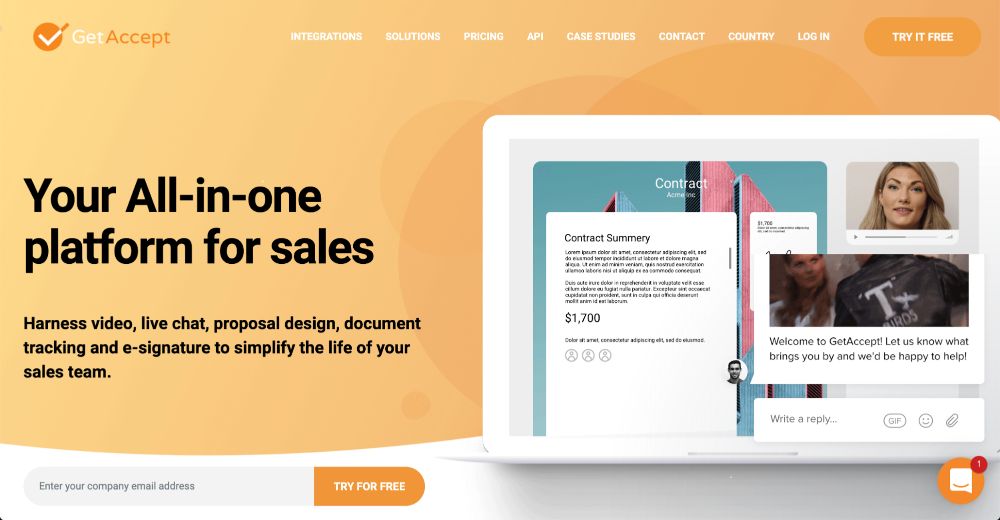 GetAccept is a sales enablement platform that gives sales professionals complete control over their documents to reach the client at the right time. It puts a range of features at their disposal like video, live chat, proposal design, document tracking, and more.
Key sales enablement features
Auto reminders

Customizable templates

Document analytics

Task progress tracking
Pros
Fast and performant

Easy to use with a gentle learning curve

Demonstrable impact on increased revenues

Helps to close more deals
Cons
Limited lack of milestone updates

Clients sometimes misunderstand the platform

Some confusion when it comes to integrations

The platform has the potential to send too many notifications
6. LevelJump – Seamless Onboarding and Training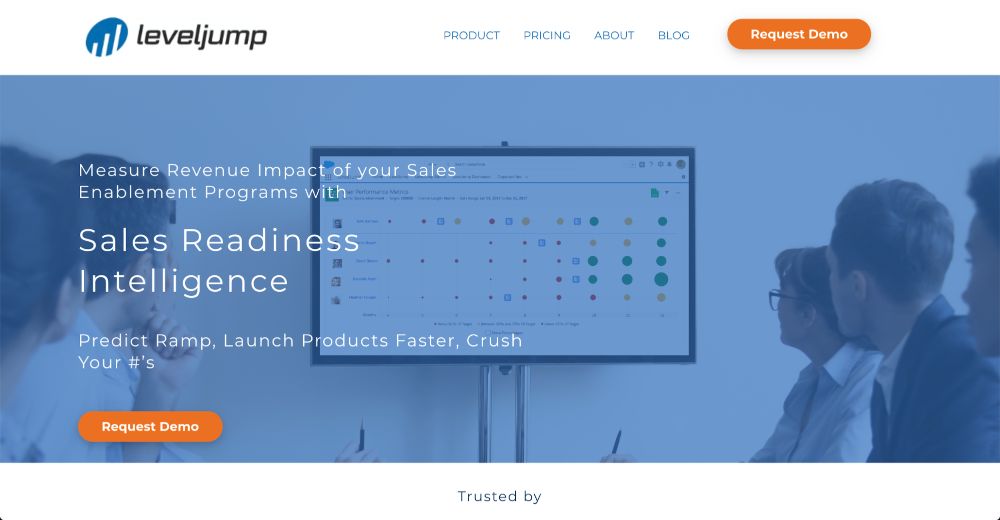 LevelJump is a sales enablement and readiness solution that helps sales teams to reduce the amount of time that new hires need to begin impacting on revenue. The tool is built on Salesforce to offer enhanced functionality and insight.
Key sales enablement features
Sophisticated analytics

Great user performance

Program engagement and completion reporting

A robust program builder
Pros
Adaptable to fit changing sales needs

Boosts onboarding results

Great customer service

Support throughout the education process
Cons
Not possible to add new content or modules to programs

The Salesforce dashboard is somewhat outdated

A lack of reporting options

It can take a lot of time to import training material
5. Paperflite – A Smart Way to Share Content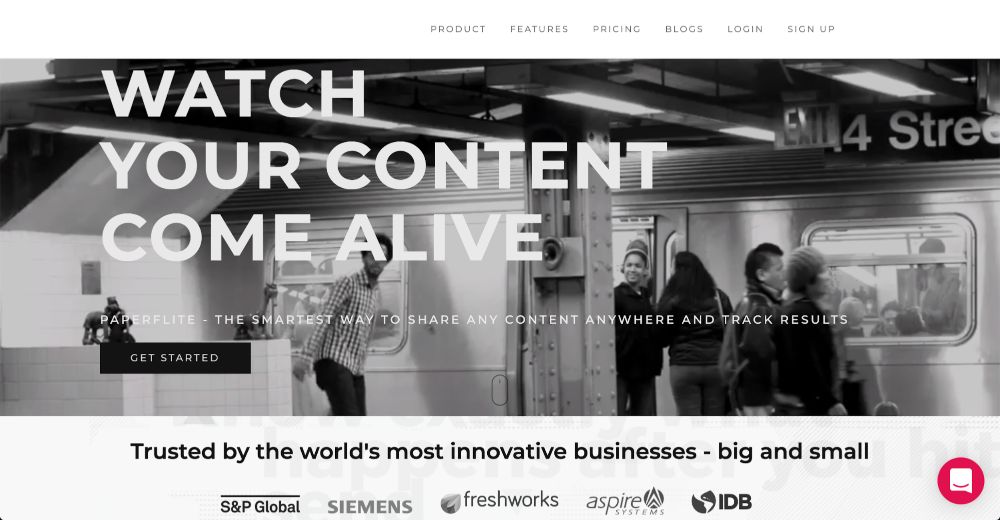 Paperflite helps sales professionals to curate, organize, and distribute their marketing collaterals while tracking their performance and engagement. This helps to drive deeper insight and help sales professionals to engage and close more deals.
Key sales enablement features
Customizable templates

Document indexing

Full-text search

SEO management
Pros
A wide range of integrations

Insight into the performance of sales assets

A demonstrable impact on sales success

The ability to close deals faster
Cons
A lack of onboarding materials and guidance

No option to bulk upload contacts

Stakeholder activity is capped at six months

A lack of automated daily reporting
4. Mindmatrix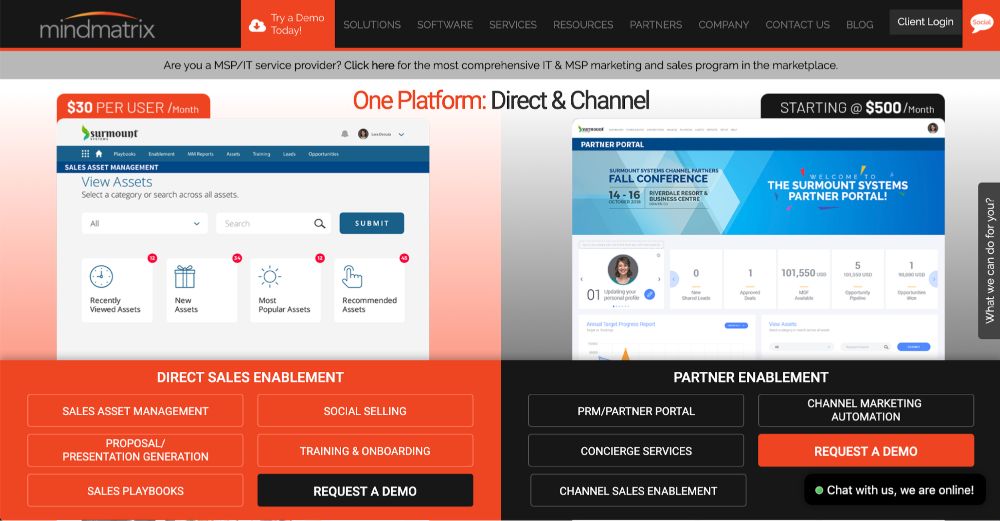 Mindmatrix offers a suite of enablement software from within a single platform. Its sales enablement software offers a wide range of functionality to help sales team members manage their assets and forge deep connections with their prospects.
Key sales enablement features
Sales asset management

Social selling

Proposal/presentation creation

Training and onboarding

Sales playbooks
Pros
Increases productivity and improves results

Easy to use with great customization

Makes it easy to find assets

Responsive customer support
Cons
There is some difficulty importing uncleaned data

A steep learning curve for admins

Some reports of difficulty emailing certain providers

A lack of customization options
3. vPlaybook
vPlaybook offers video playbook functionality to help salespeople improve their performance while forging lasting relationships with their customers. This is achieved by transforming static sales enablement and training content into engaging material.
Key sales enablement features
Built-in course authoring

A learner portal

Mobile learning potential

Training courses
Pros
The software is flexible and potent

The UI and UX are great

It's simple to share resources with customers

Real-time updates
Cons
Reports are no as user-friendly as they could be

The platform is sometimes slow to load

Welcome emails are sometimes delayed

Sometimes difficult to drive adoption
2. BuyerDeck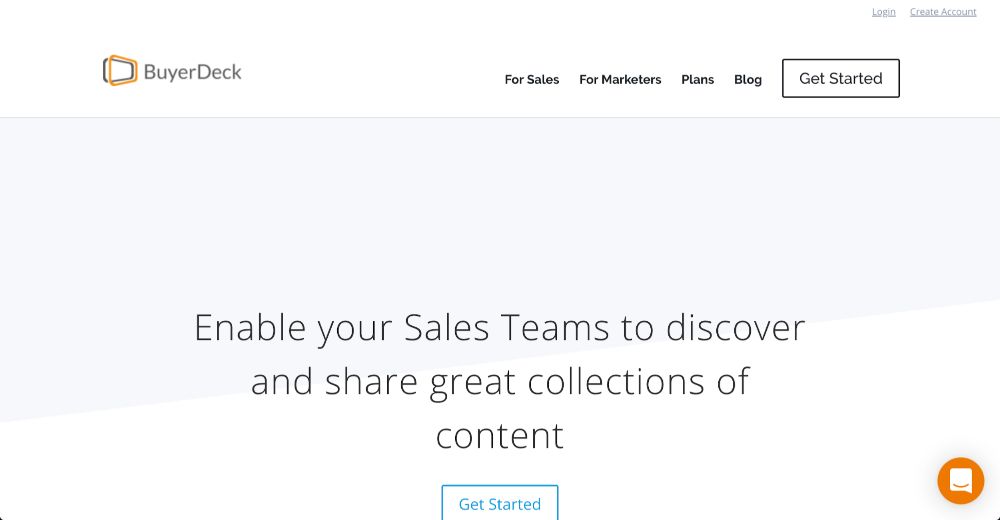 BuyerDeck offers a single shared space for stakeholders and content to come together. This means that the platform can offer a faster, easier, and more pleasing experience for buyers. Ultimately, this leads to boosts for the bottom line of businesses.
Key sales enablement features
Collaboration

Content management

Document management

Presentation management
Pros
Cuts down on admin time

Drives more efficient collaboration

Facilitates for accurate forecasting

A dynamic and engaging tool for buyers
Cons
The timeline feature lacks functionality

A lack of integration

Finding content can be difficult

Prospects and customers may respond negatively to the name
1. SoloFire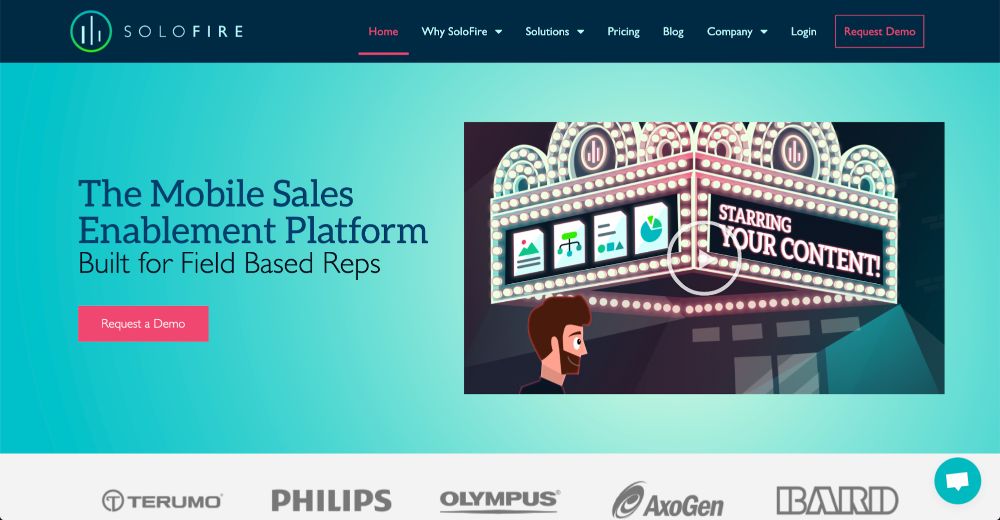 SoloFire is a sales enablement software that gives salespeople the ability to maximize content and unlock their potential. The tool is aimed specifically at field-based reps and helps them to send the right content at the right time.
Key sales enablement features
Instant lead creation and content sharing

Content discovery functionality

Sophisticated agenda creation

The ability to customize and adjust the tool
Pros
Access marketing tools anywhere on any device

Track the activity of prospects

Sophisticated and comprehensible analytics

Content can be updated in the platform
Cons
Lots of notifications

A lack of integrations

Not the clearest experience for customers

Some key metrics are missing
FAQ: Sales Enablement Software
Here are the most commonly asked questions about sales enablement software:
What is sales enablement technology?
Sales enablement technology refers to digital tools that help you and your sales team to find content and guidance to sell to your leads. It can also help in your training process, marketing campaigns, and overall bottom line.
Why should you use sales enablement software?
Sales enablement software should be used by the sales team. The person in charge of the team can use the sales enablement software to keep track of their metrics, track their teams, and come up with new strategies and content.
Salespeople can also use the sales enablement software to improve their sales, tailor their sales approach, and aid with product topics.
Sales enablement software may also be useful to the marketing team.
What is the best sales enablement software?
The best sales enablement software is the one that adapts to your needs, tools, and budget. It should also be accessible and easy to use for all intended parties.
To choose the best sales enablement software, select what you need out of the tool, and set aside a budget. Keep in mind not only the cost but the potential revenue you may generate thanks to the sales enablement software.
Finally, make sure everyone that will be using it gets a chance to test it to make sure they agree on the best option.
How much does sales enablement software cost?
It will likely depend on your needs, your tools, and the number of people that will access the software.
Sales enablement software cost may range between a few dollars to hundreds or even thousands of dollars, and the pricing may be a fixed amount per month, or a flexible amount depending on your usage.
Content Ready But No Leads?
Do you have amazing content ready that's just waiting to delight your prospects? Have you also chosen the best sales enablement tool to share that content? Now, you need leads.
UpLead is the premier B2B database and business contact data provider. Our technology offers accurate and real-time verified data to drive growth within your organization. Our platform also makes it a breeze for you to create effective targeted lists.
Start Your 7-Day Free UpLead Trial
Lead generation doesn't have to be all that painful. With UpLead, you can easily connect with high-quality prospects and leads to grow your company.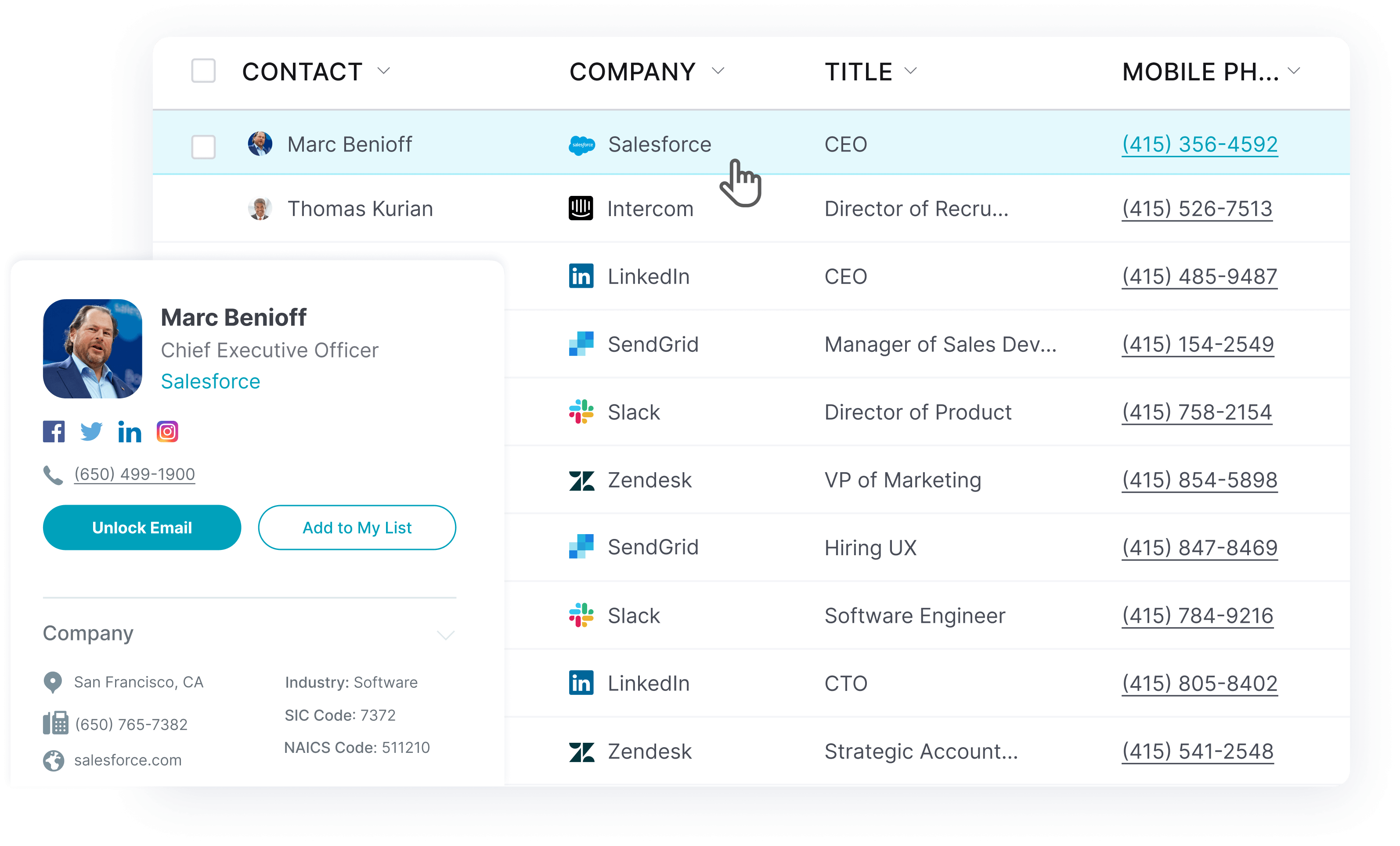 Ready to fuel your sales activities with high-quality leads? Learn more about UpLead and how we can fuel your growth today.