Is your sales team having trouble converting prospects into sales? If the answer is yes, your team could benefit from sales pipeline tools.
A sales pipeline is a visual representation of your sales process. It's a map that outlines your leads' exact points in the sales process. Having this in place can improve your team's performance, simplify its workflows, and make forecasts that are more accurate.
A sales pipeline is not the same as a sales funnel, which only has a limited number of leads passing through it. A sales pipeline is the core of your selling process — how you continue generating revenue between funnels.
Trying to put together and run a sales pipeline manually can be complicated. It can take a long time and be costly.
Luckily, there are sales pipeline tools available that do everything for you. We'll cover 20 of the best ones below.
Quick Links:
What is a Sales Pipeline Software?
Best 20+ Sales Pipeline Tools for Your Sales Team
What is a Sales Pipeline Tool?
Sales pipeline software helps sales managers and their teams keep track of all potential deals within the sales pipeline. Specifically, it will oversee the following:
Lead generation
Lead qualification
Scheduling of meetings
Demonstrations
Negotiations
Closing
Sales pipeline software allows you to create pipeline stages and assign deal confidence levels. It will also manage various new and existing opportunities, giving you the power to drag and drop them into the pipeline. All of this will be viewed on an active dashboard timeline.
Teams that use sales pipeline software find positive business outcomes, including:
Simplified workflows
Well-defined sales processes
Deal prioritization
Improved team performance
Accurate sales forecasts
Best 20+ Sales Pipeline Tools for Your Sales Team
Below, you'll find the best 20+ sales pipeline tools to take your sales team to the next level. We've categorized these by the function they play in the sales pipeline.
Lead Generation Software
Lead generation software is a platform that helps you generate leads from various unique sources. These prospects might come from email, social media, or one's own website.
Below you'll find 6 of the best lead-generation apps.
UpLead for Finding Leads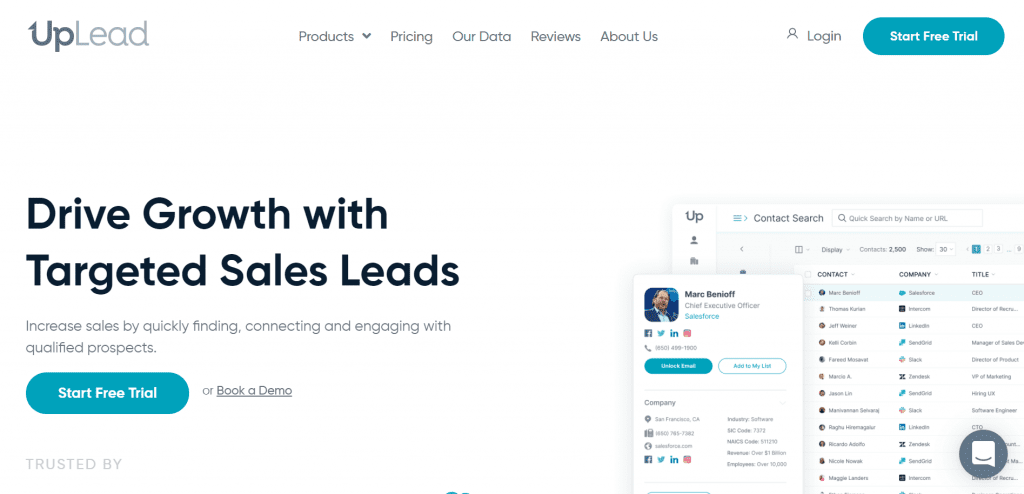 UpLead is a B2B sales intelligence SaaS that helps businesses find new customers. It uses a prospecting tool to uncover millions of contacts from an extensive database. Companies like Google, Salesforce, Amazon, Dropbox, and HubSpot use it. 
UpLead's robust API helps you find leads by performing real-time email verification, account-based marketing, and email pattern intelligence. It also uses technology tracking, which targets prospects based on their technology stacks.
As an extremely popular SaaS, it integrates with over 13 software apps such as Salesforce, HubSpot, and Pipedrive.
Start Your 7-Day Free UpLead Trial
Lead generation doesn't have to be all that painful. With UpLead, you can easily connect with high-quality prospects and leads to grow your company.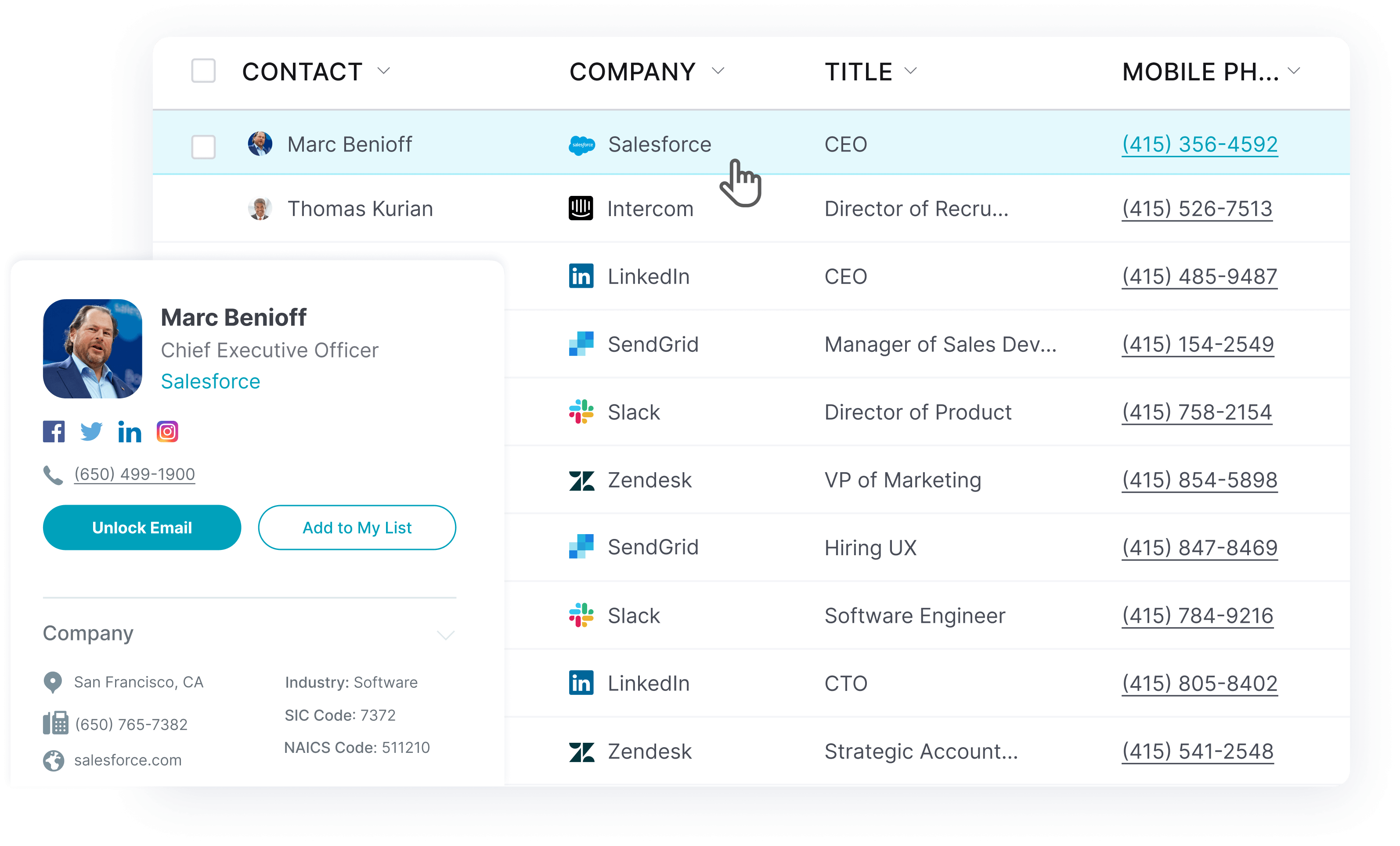 Mailshake for Outreach and Prospecting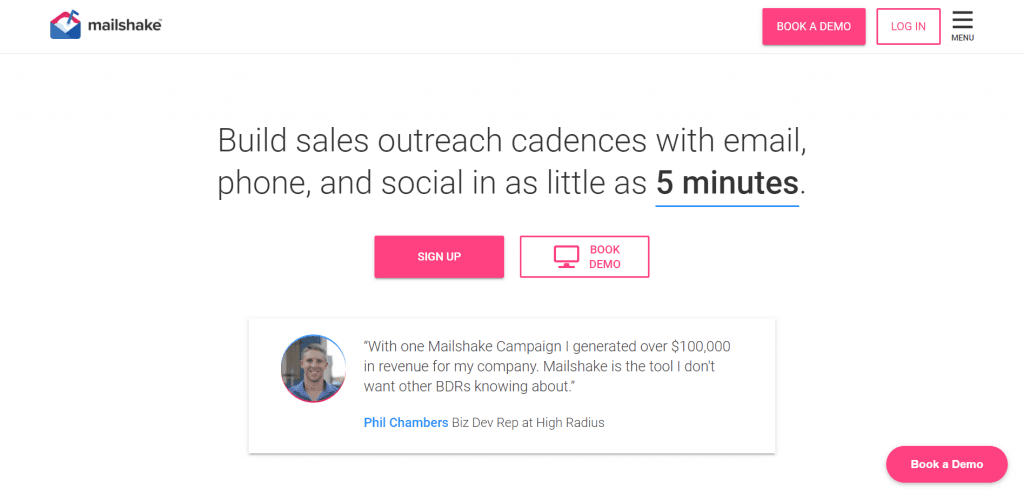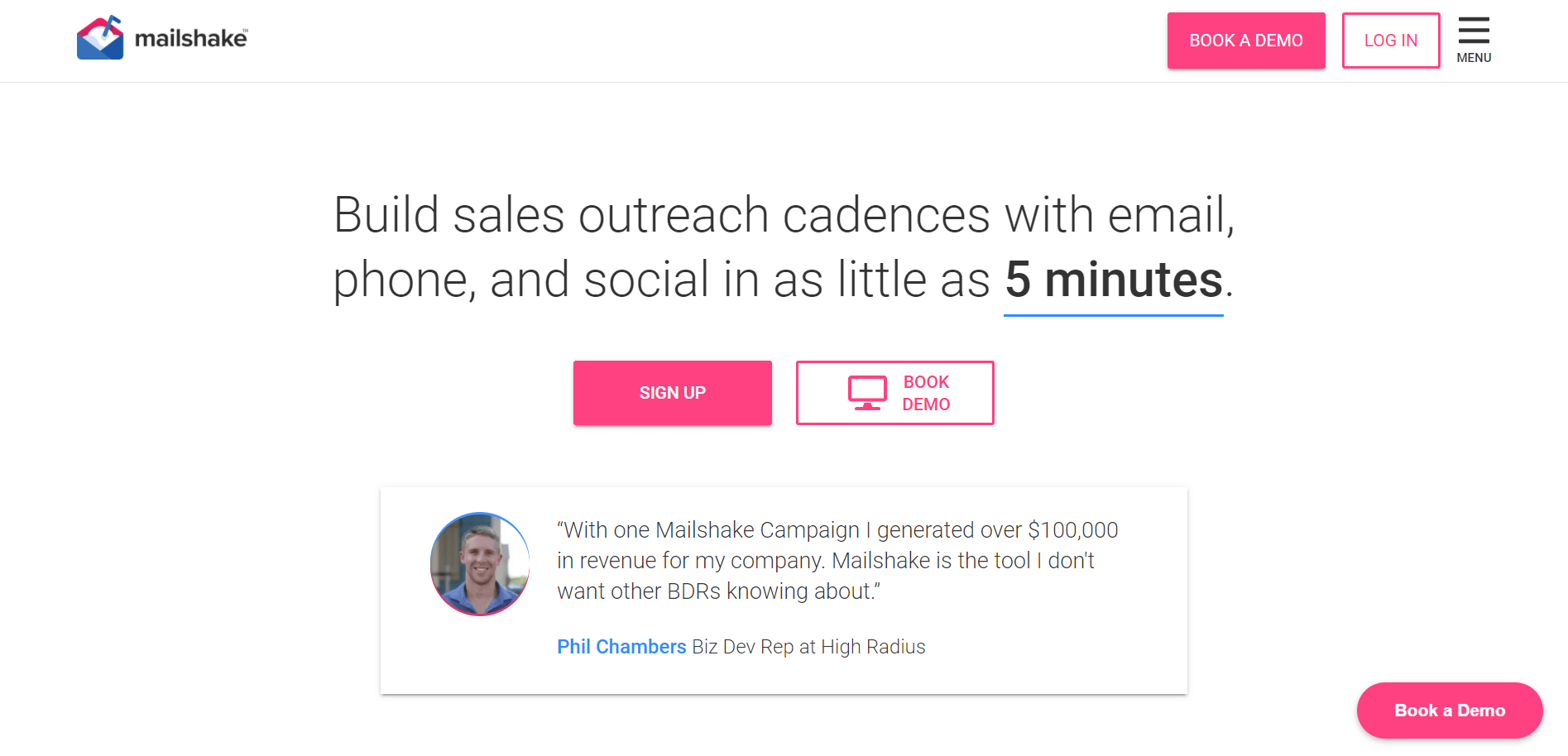 Mailshake is a sales engagement app that uses personalized email outreach to find prospects. It works with Gmail, Outlook, and SMTP. It improves your emails with a real-time analysis, which improves the open rate, readability, and deliverability.
The platform helps generate leads by sending cold and follow-up emails on a large scale. It also helps you set up engagement with prospects on social media and the phone. All of this is done from an "all-in-one" dashboard.
If you're using HubSpot, Salesforce, or Pipedrive, Mailshake will integrate and make a fine addition to your technology stack.
Instapage for Creating Landing Pages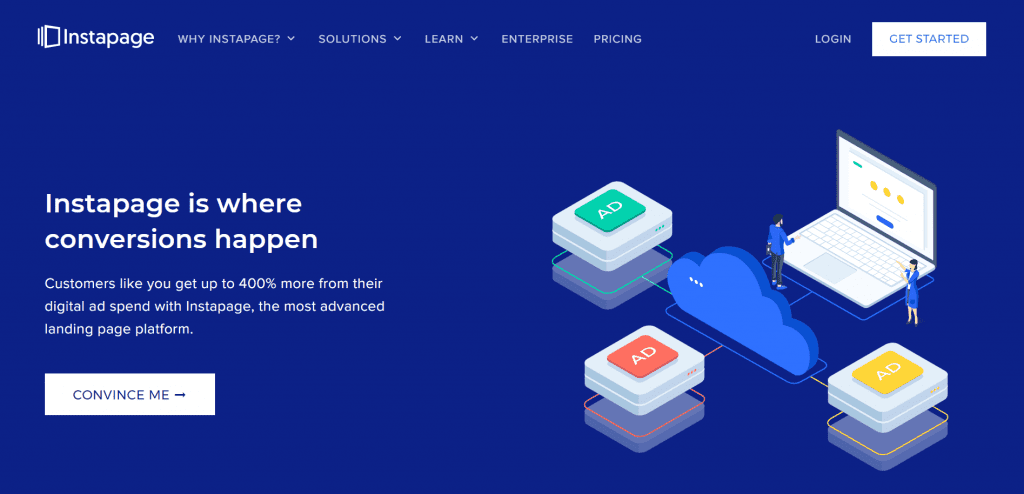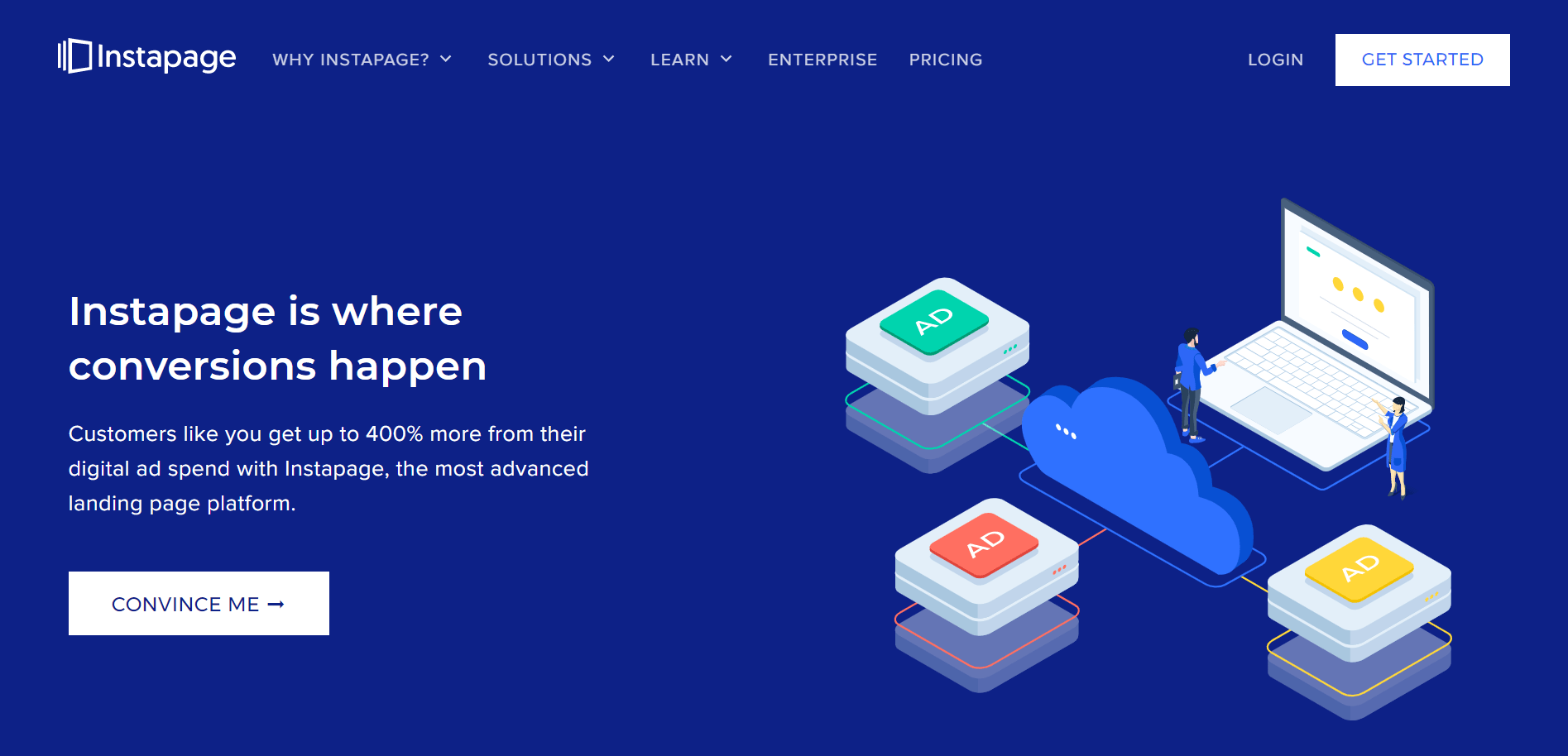 Instapage is a post-click landing page-building tool that helps you create landing pages that convert well. The tool is used to increase conversions with your paid ad campaigns. Top brands like eBay, Verizon, Soundcloud, SAP, and Yamaha use it. 
One of Instapage's primary benefits is increased lead generation. Using this tool, you send people who click on your paid Google and Facebook ads to landing pages. These landing pages are optimized thanks to various analysis and reporting features.
The tool integrates seamlessly with other marketing, eCommerce, email marketing, advertising, analytics, and CRM software.
Mailchimp for Email Marketing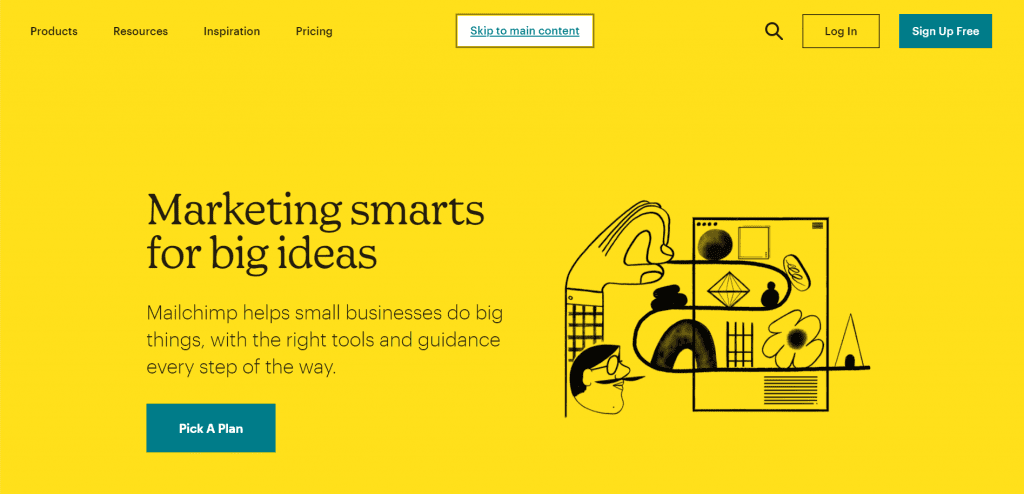 Mailchimp is an email marketing platform that allows businesses of all sizes to build, grow, and engage an email list. The tool offers a complete email marketing suite, including features like:
Bulk email sending
Automated "trigger" email sequences
Email customization
Email list management
A/B testing
Analytics
Mailchimp helps you generate leads by creating conversion-optimized autoresponder sequences such as drip and nurture campaigns. It is designed to maximize open rate and deliverability, ensuring your emails are seen and read.
With over 250+ different app integrations, Mailchimp will fit effortlessly into your existing technology stack.
AdEspresso for Creating Social Ads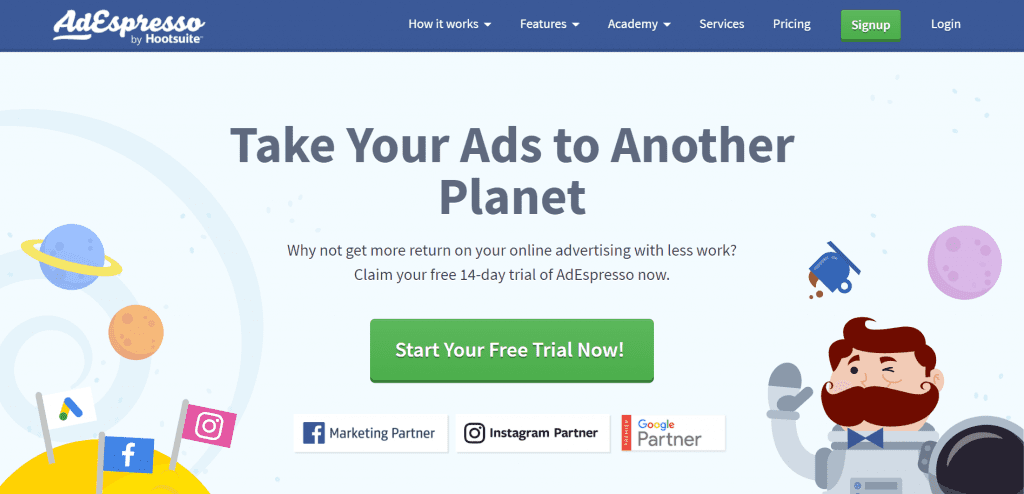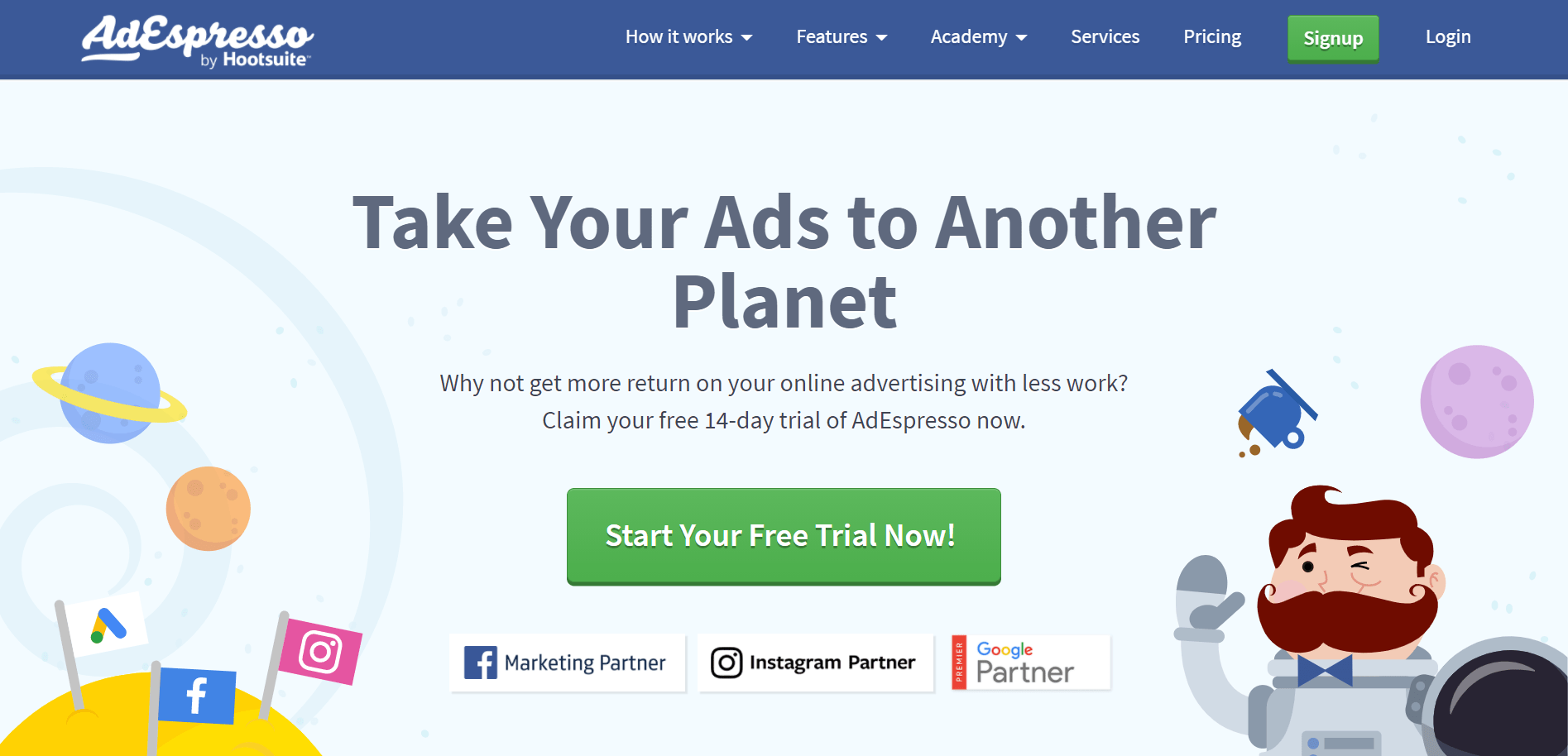 AdEspresso is a Facebook, Instagram, and Google paid ad analytics and optimization tool. The platform allows you to create, manage, and analyze your various ad campaigns. Some of the features include:
Bulk editing
Campaign optimization
Creative optimization
Budget pacing
Custom reports
The tool helps you generate more leads by improving the conversion rates of your paid ad campaigns. When your paid ads across Facebook, Instagram, and Google are optimized, you will receive better-quality clicks.
AdEspresso was bought by Hootsuite, making the duo the perfect social media tech combo.
Messagely for Live Chat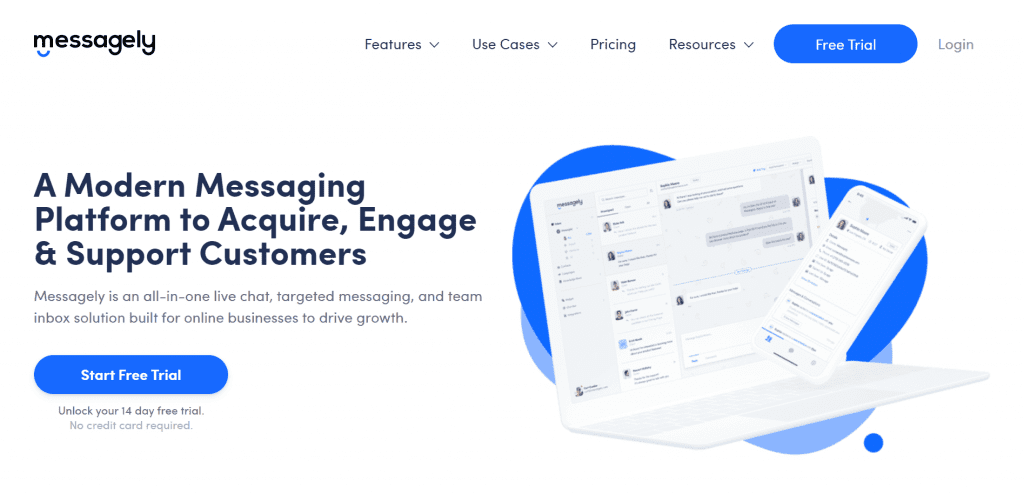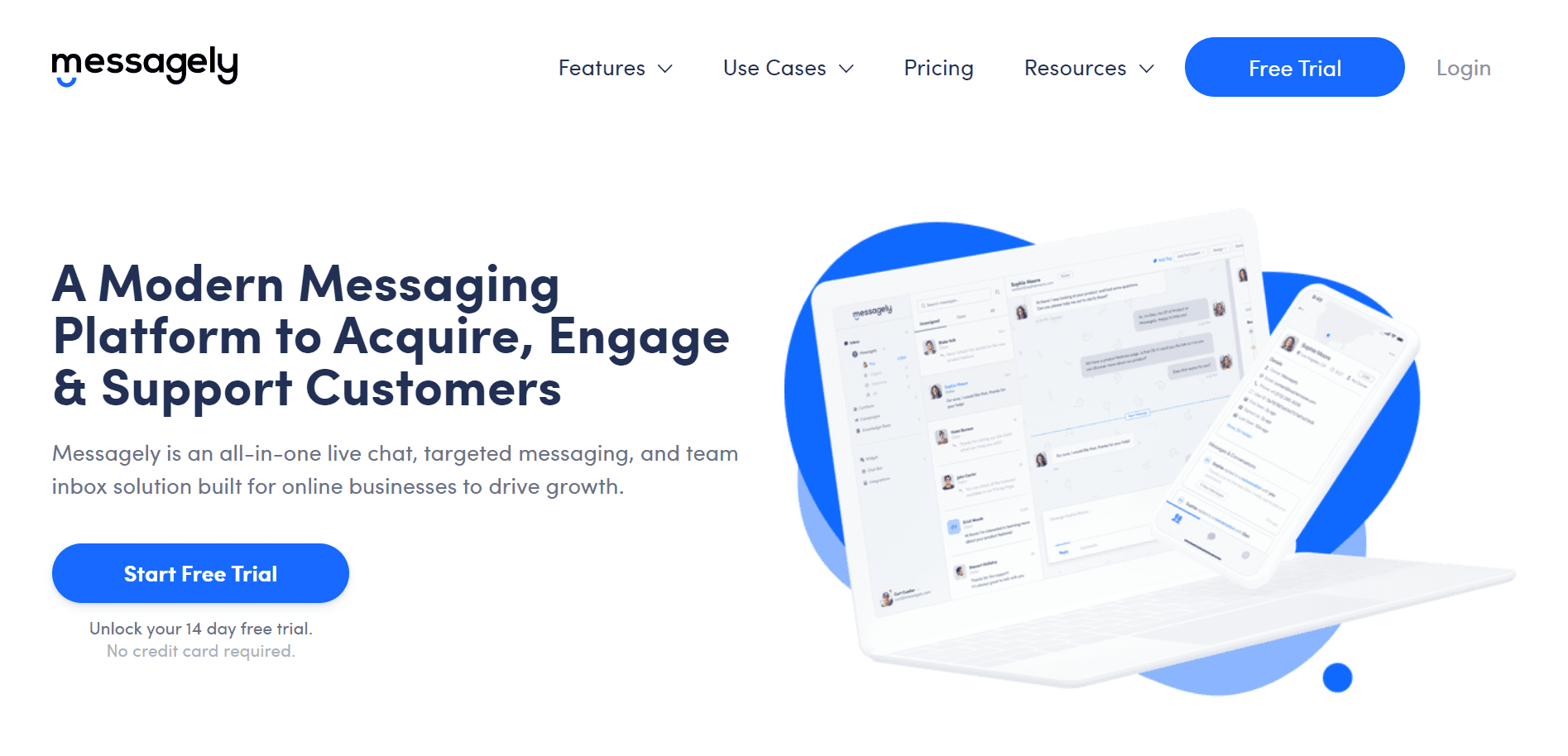 Messagely is a live chat tool that allows you to acquire, engage, and support customers. It operates on your website as a chatbot, converting visitors into leads.
The platform uses targeted messages within its live chat feature to generate more leads. It also has a knowledge base function, answering your website visitors' questions.
It integrates with major SaaS apps such as Salesforce, Slack, Stripe, Shopify, and Pipedrive. That's just the tip of the iceberg — there are 50+ integrations.
Lead Enrichment and Qualification Software
Lead enrichment and qualification software deals with the nurturing and management of an existing lead. These types of platforms engage the prospect, moving them to become a more qualified lead — someone who will become a customer.
We've listed 3 great examples below.
UpLead for Enriching Leads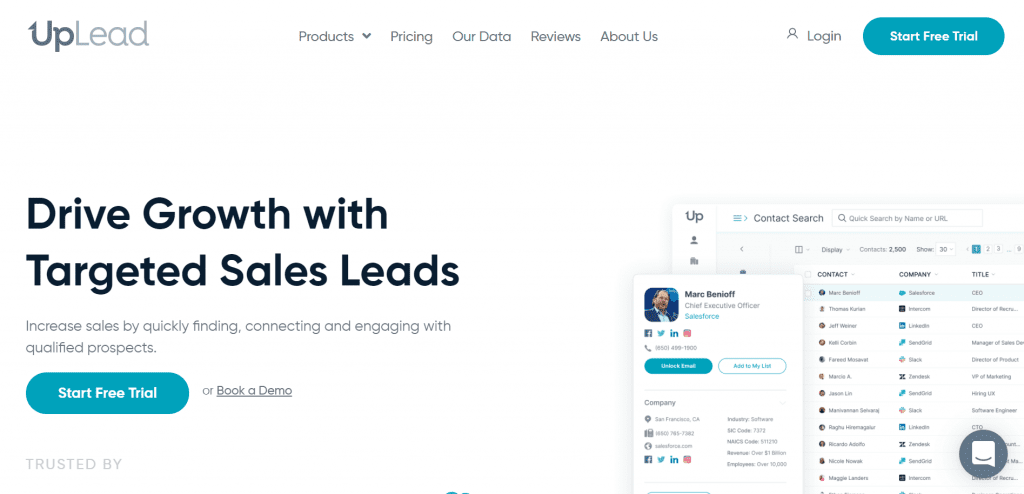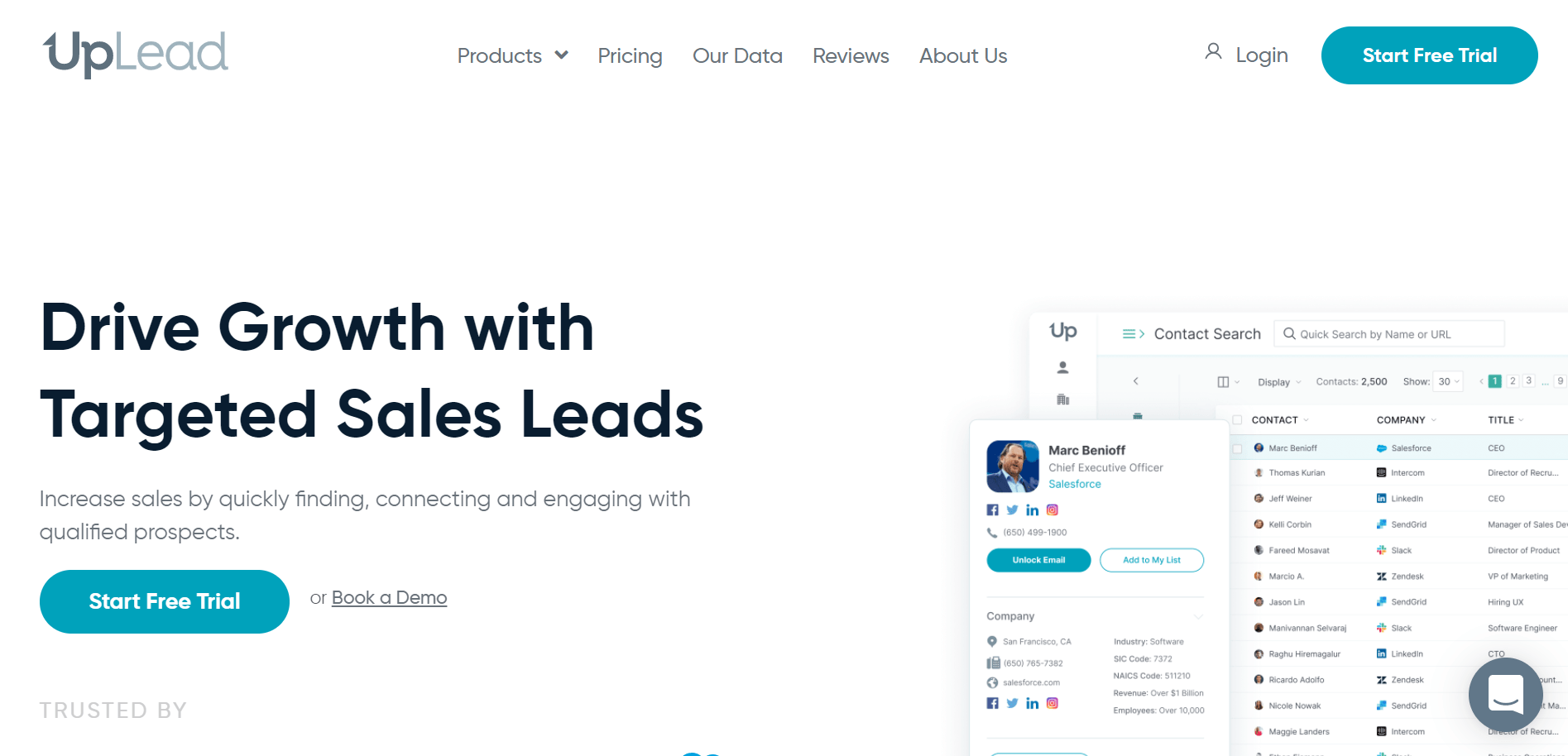 UpLead is a B2B prospecting tool that uncovers high-quality contact and company data. Powered by a database with millions of contacts, it's used by big brands like Salesforce, Google, Amazon, HubSpot, and Dropbox.
The platform has many features that make the SaaS ideal for lead enrichment. For example, it has a technology tracking feature that identifies ideal contacts based on its technology software.
You can also track prospect buying activity, social media, and content behavior.
These features make it easy to identify quality leads and enrich them with an effective marketing strategy.
Start Your 7-Day Free UpLead Trial
Lead generation doesn't have to be all that painful. With UpLead, you can easily connect with high-quality prospects and leads to grow your company.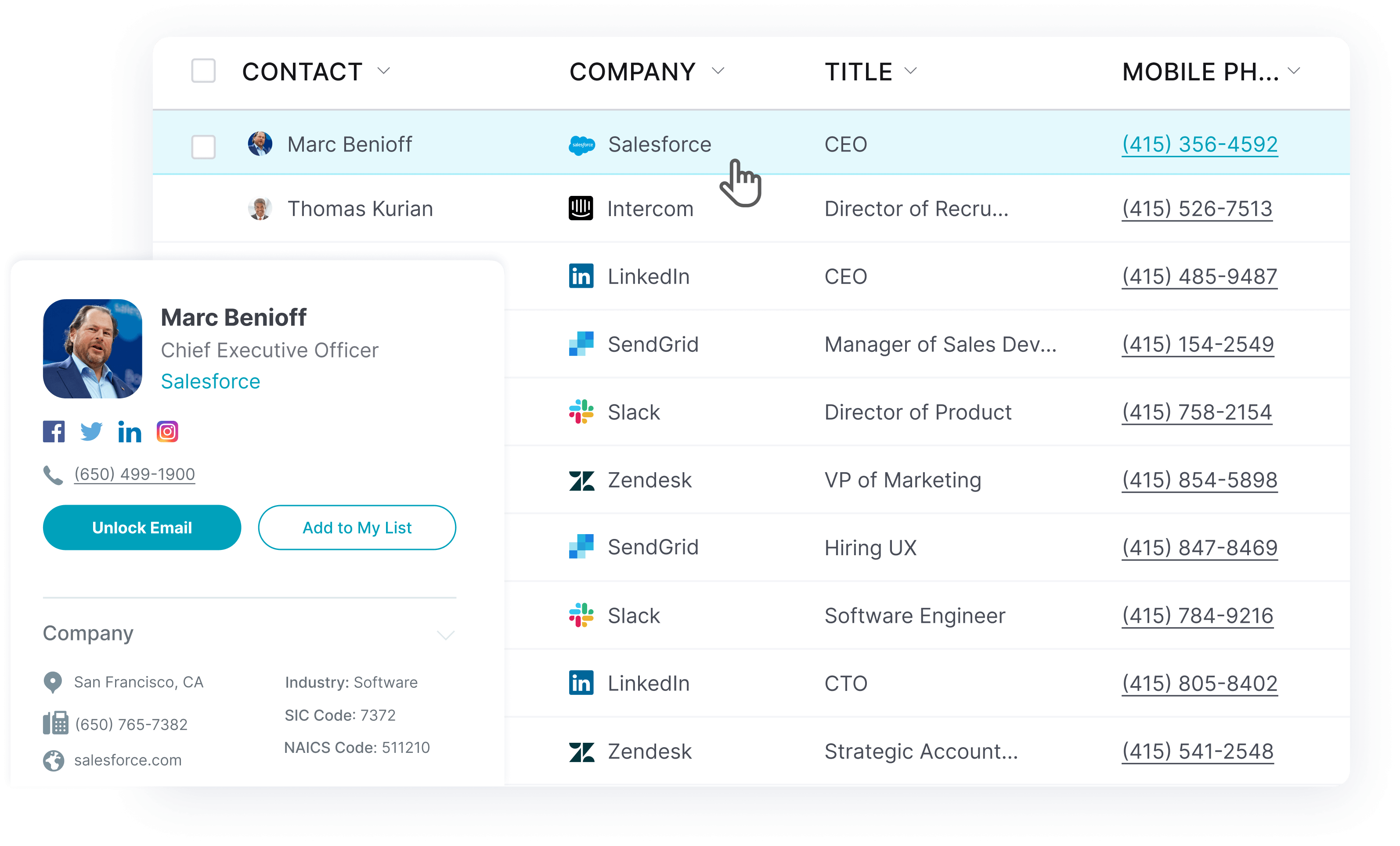 Zapier for Setting Up Lead Qualification Filters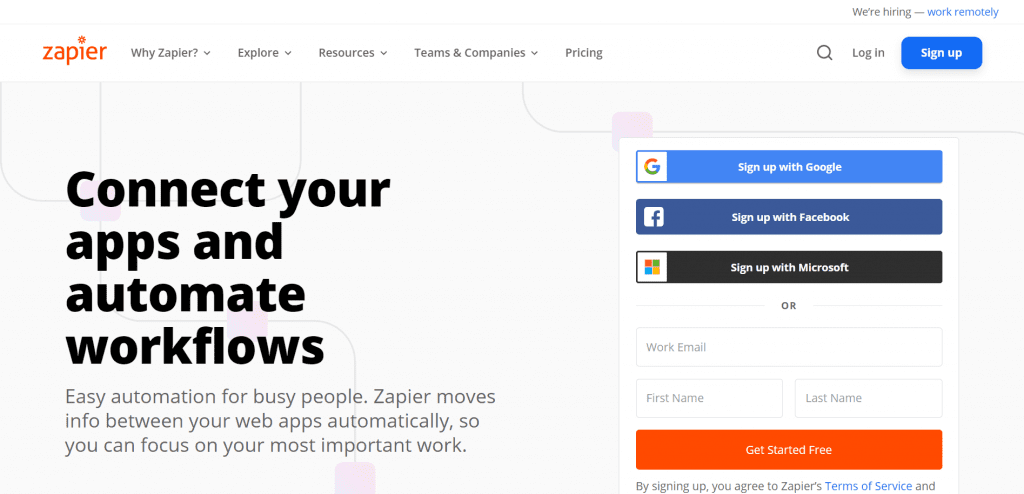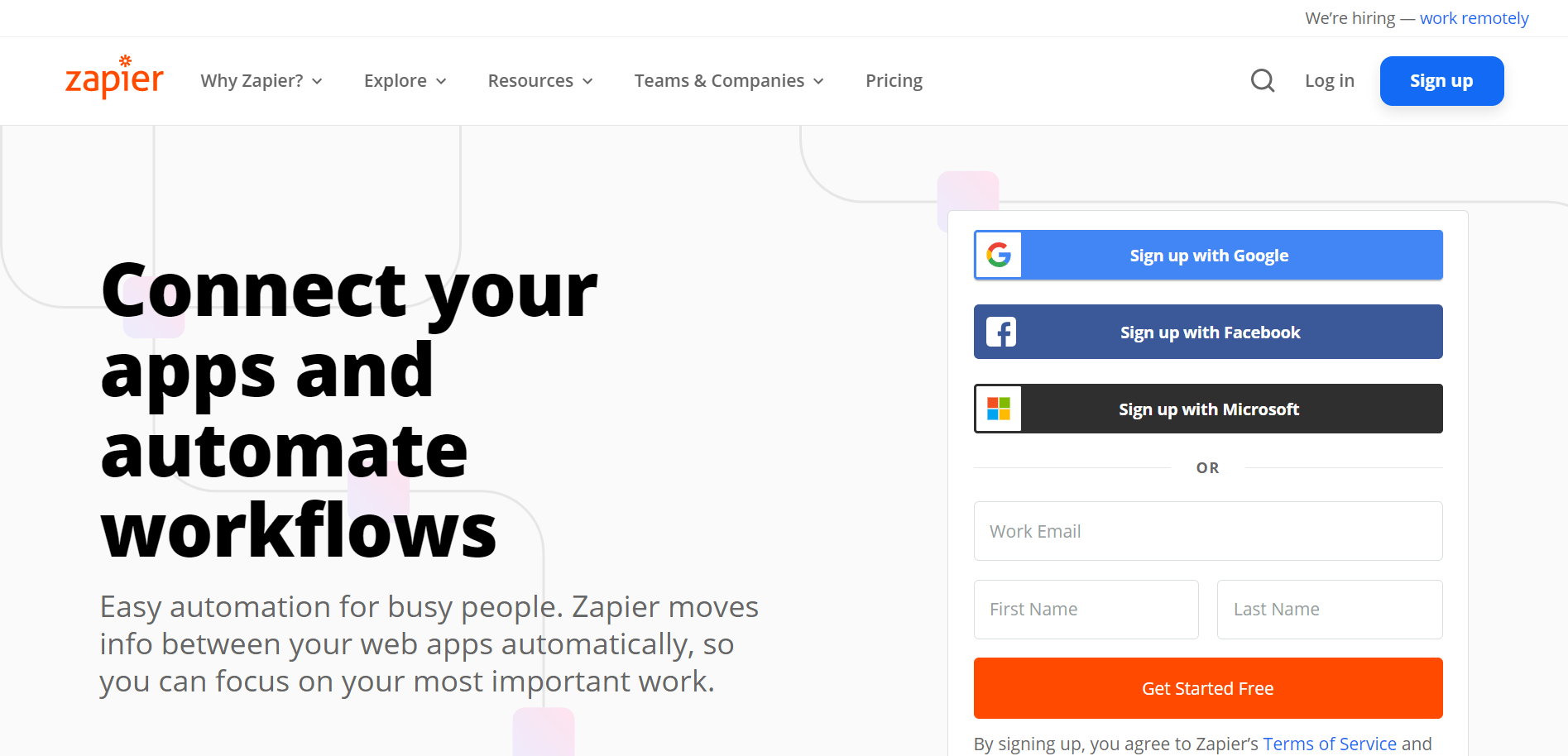 Zapier is an automation tool that seamlessly integrates all your apps, running them on autopilot. When used correctly, the tool can save hours each week for businesses with large workflows. 
More specifically, it works by creating "zaps," which are workflow automation sequences. Each sequence has a specific trigger — this causes an action to occur.
Zapier is particularly effective for setting up lead qualification filters. Based on different prospect behavior triggers, you can create zaps for products, marketing, and sales-qualified leads.  
Pardot for Qualifying Leads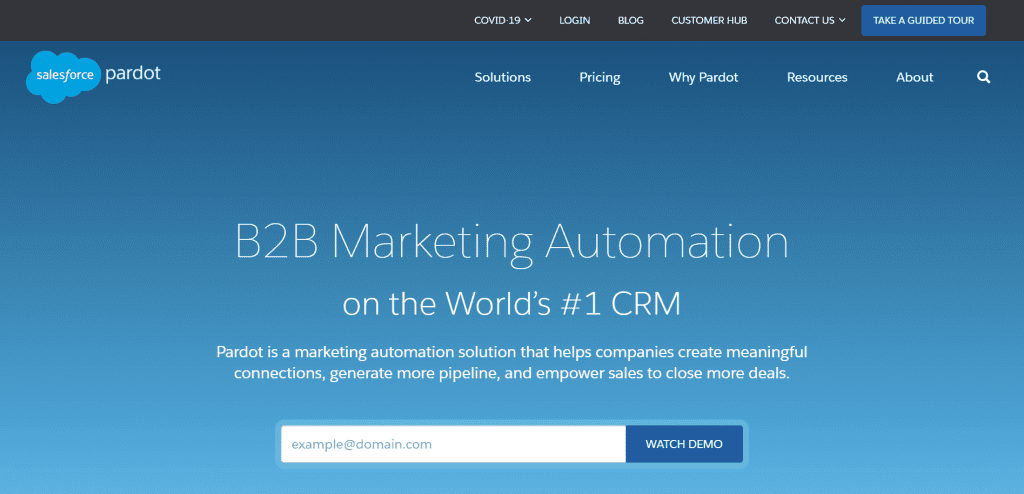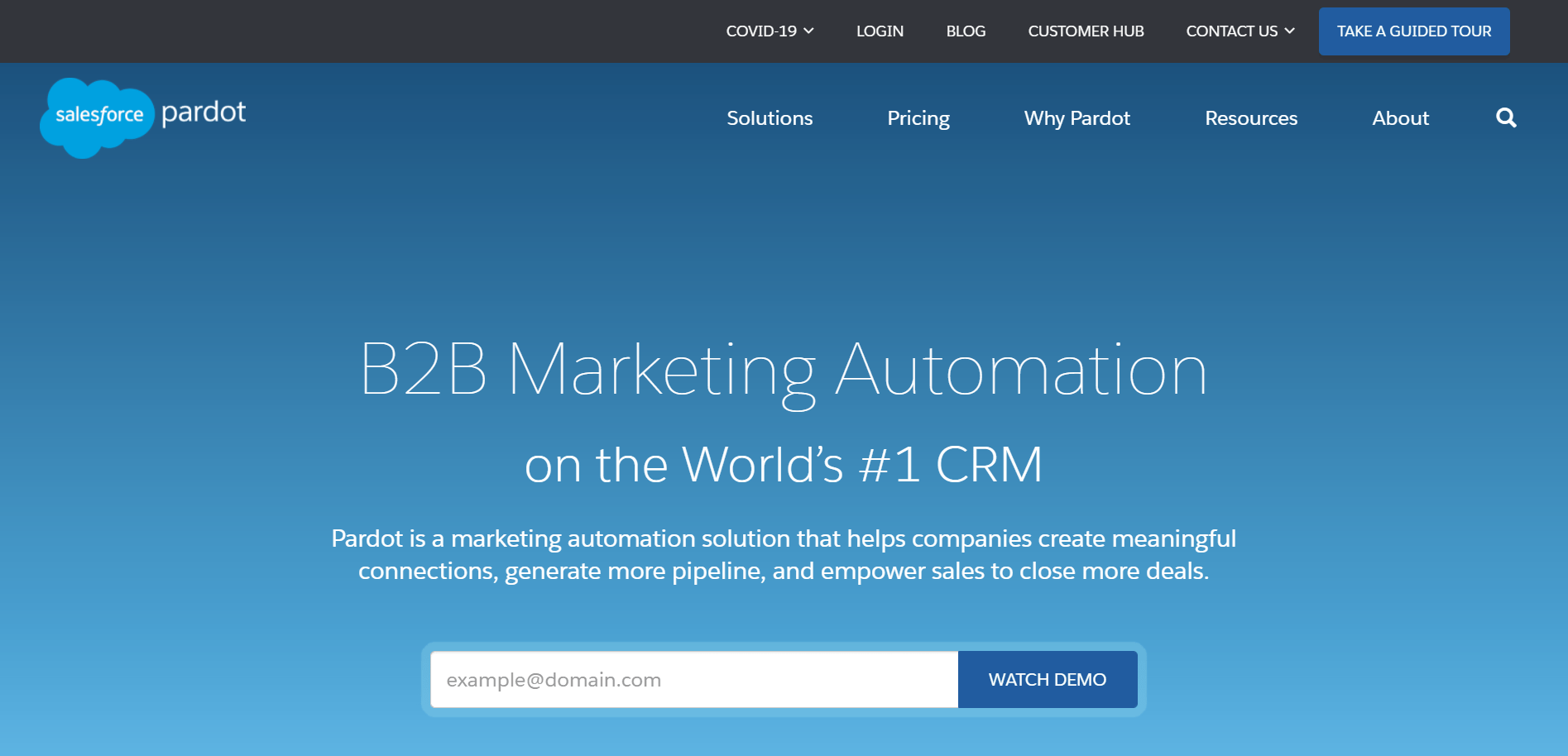 Pardot is a B2B marketing automation platform that helps marketing and sales teams with lead generation and nurturing. The tool has various features relating to email marketing, online marketing, and lead management. Some of these include:
Email building and personalization
Email automation
Landing pages and forms
Marketing lead database
Lead nurturing
Segmentation
Pardot will help you qualify leads thanks to its lead scoring and lead grading features. These two metrics will analyze your lead's behavior and activities and rank them. You'll effectively be able to tell which leads are product, marketing, and sales qualified.
Sales Pipeline Management Software
Sales pipeline management software involves apps that provide real-time visualization of the sales process. They help sales reps and teams manage and track their leads. They show each prospect's position in the sales process and how qualified they are.
There are 5 great examples below.
Pipedrive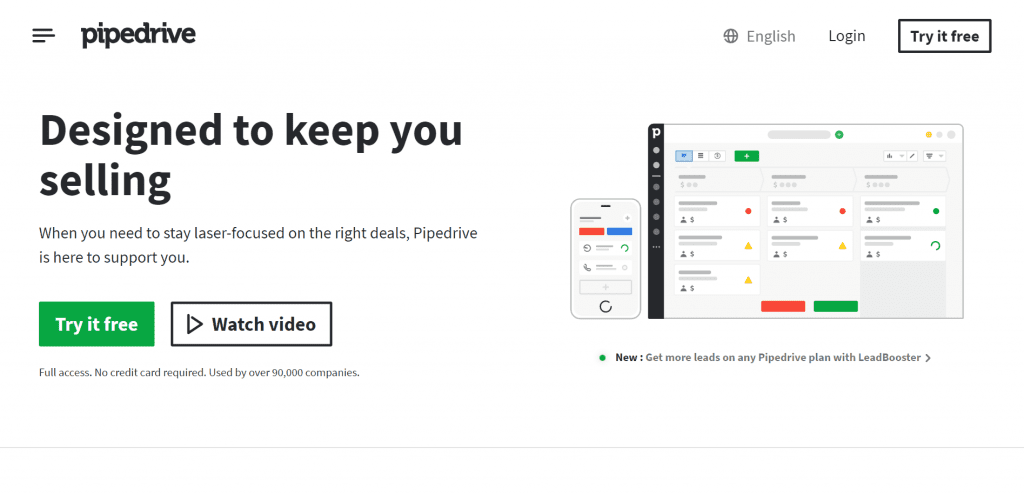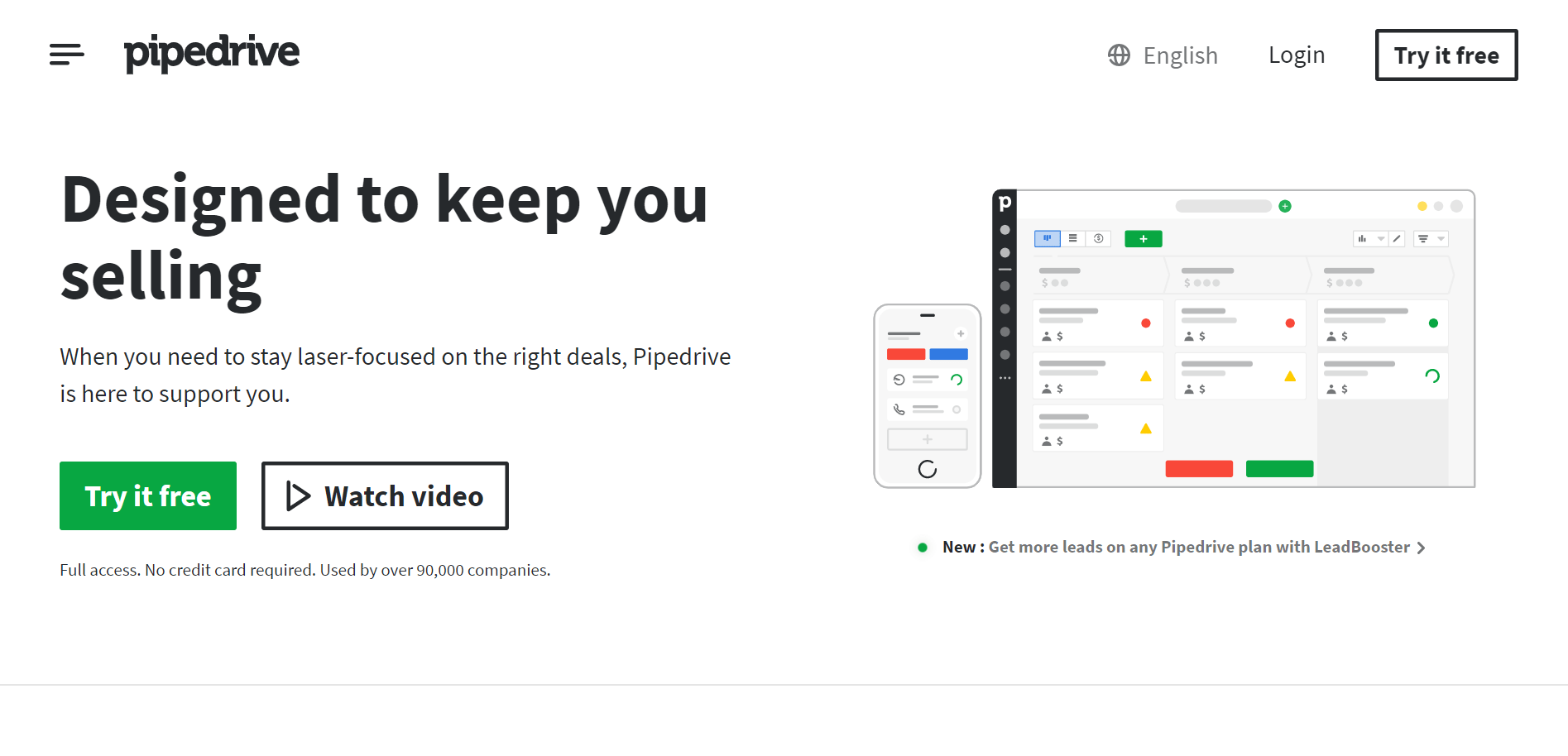 Pipedrive is a sales management tool that allows you to plan, track, and manage all your business deals. More specifically, it combines sales and marketing automation, making it easy to manage your qualified leads. Well-known companies like Amazon, Skyscanner, TNW, Vimeo, REMAX, and Festo use it.
Sales pipeline management is made easy thanks to Pipedrive's drag-and-drop dashboard interface. Your sales pipeline is visualized, allowing you to input, edit, and update new data. Pipedrive is one of the popular and easy-to-use sales management platforms. You can also consider other Pipedrive alternatives if you need more advanced features.
The SaaS integrates with apps like Zapier, ActiveCampaign, Zoom, Quickbooks, and many others.
Close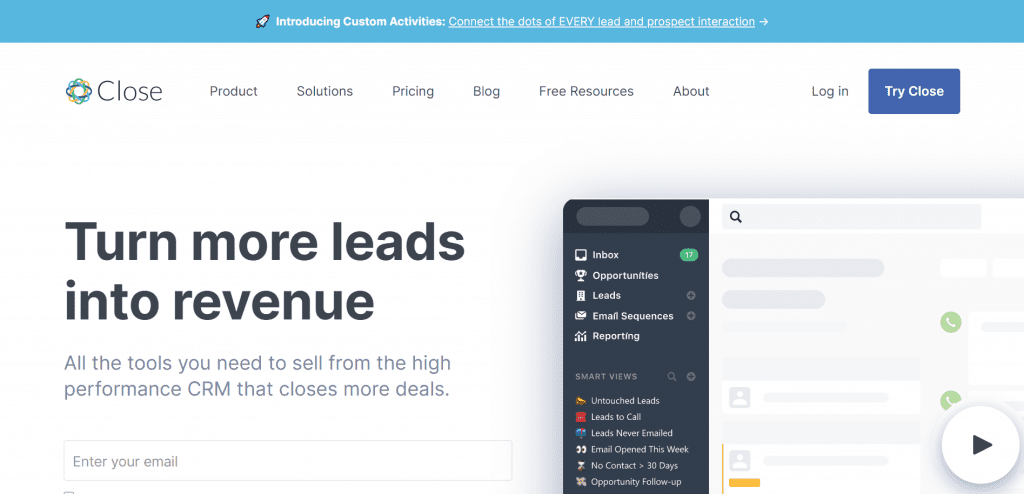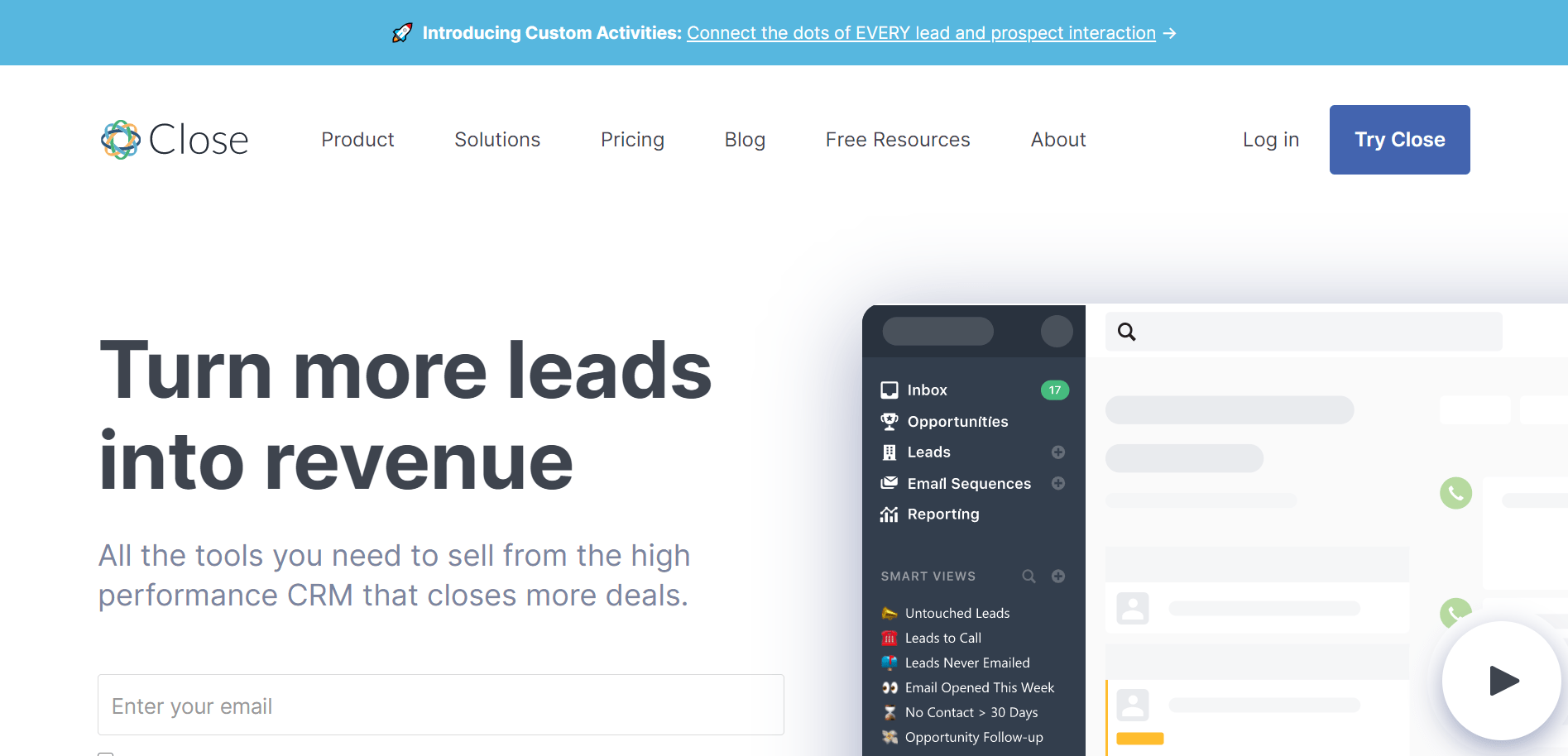 Close is a sales customer relationship marketing tool that generates leads to sales for small and medium-sized businesses. Like other CRM platforms, Close combines sales and marketing automation elements and includes an analytics suite to boot.
This tool maximizes the power and efficiency of your sales pipeline by increasing the number of leads you close. It optimizes and scales email, phone, video calls, and SMS sales strategies.
Close has over 45 unique integrations with other SaaS products, like HubSpot, Stripe, Zoom, Slack, Gmail, and Mailchimp.
HubSpot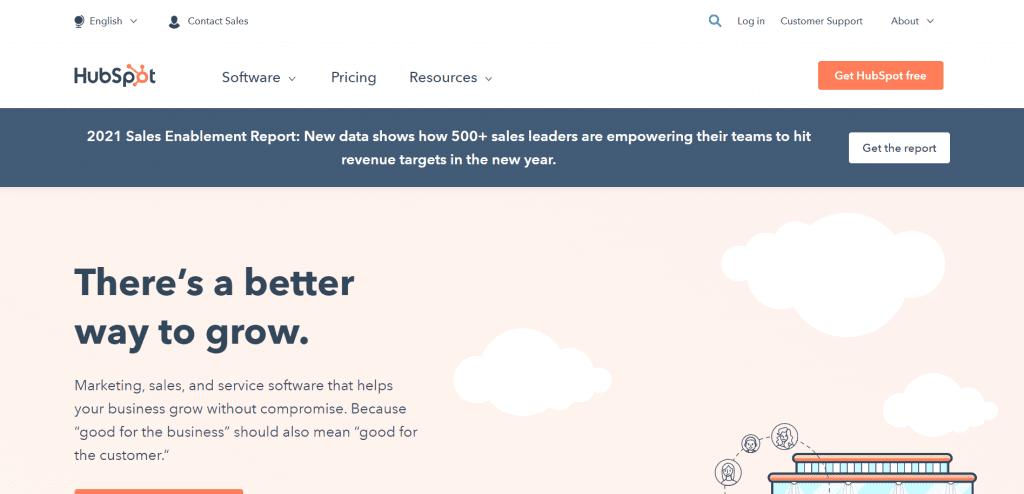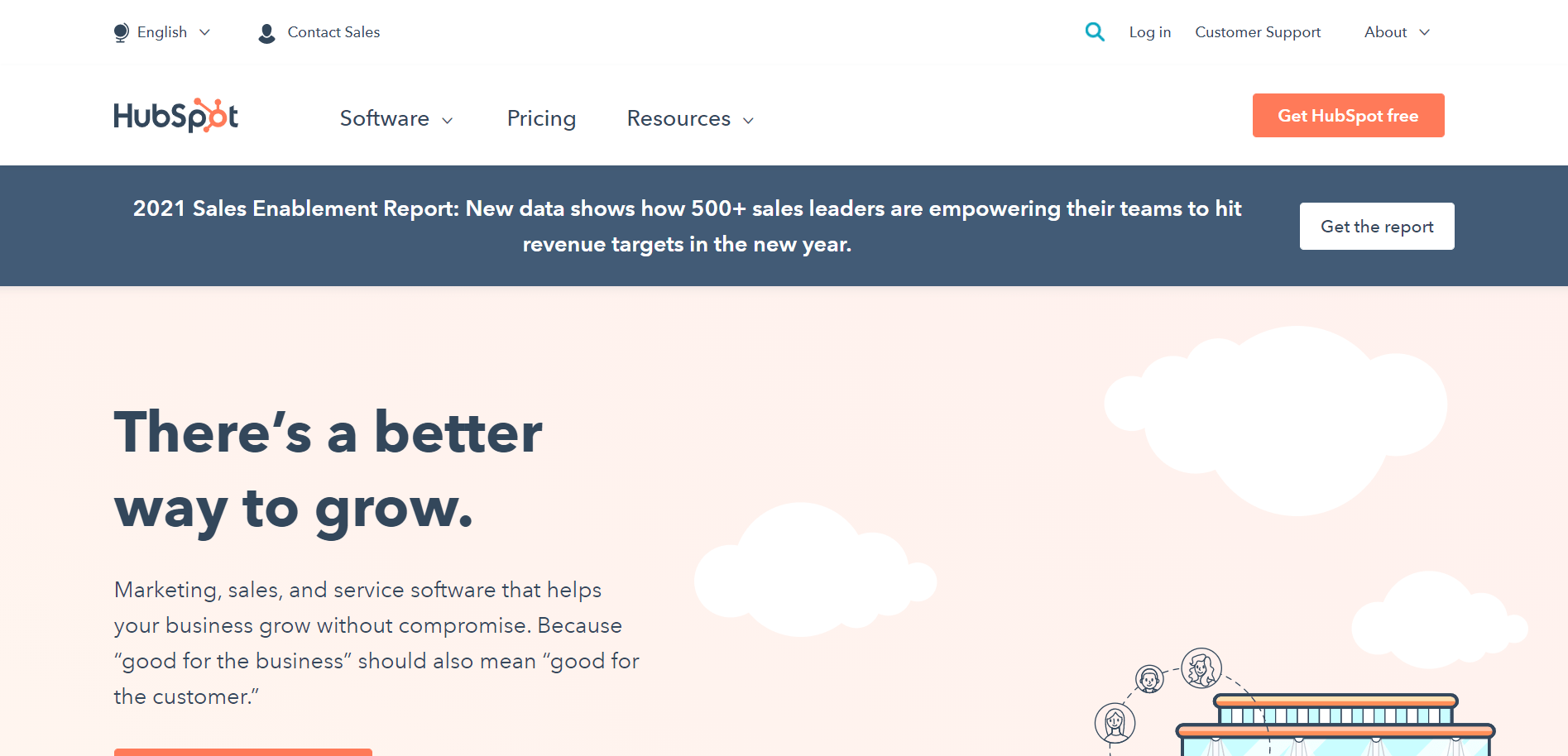 HubSpot is a complete CRM marketing platform that can help you increase leads, close sales, and improve customer service. The SaaS combines online marketing, email marketing, and lead management to grow your business ultimately.
HubSpot's interactive drag-and-drop dashboard allows you to create, manage, and alter a sales pipeline. You can set up and customize multiple deal stages, ranging from closed lost (0%) to closed won, which is 100%.
As HubSpot is extremely popular, it integrates with almost every other SaaS tool currently on the market.
Salesforce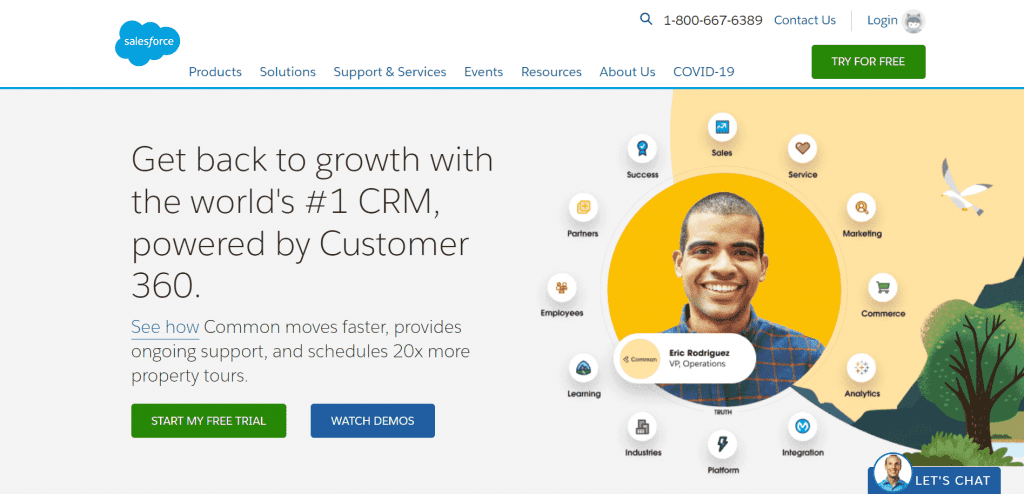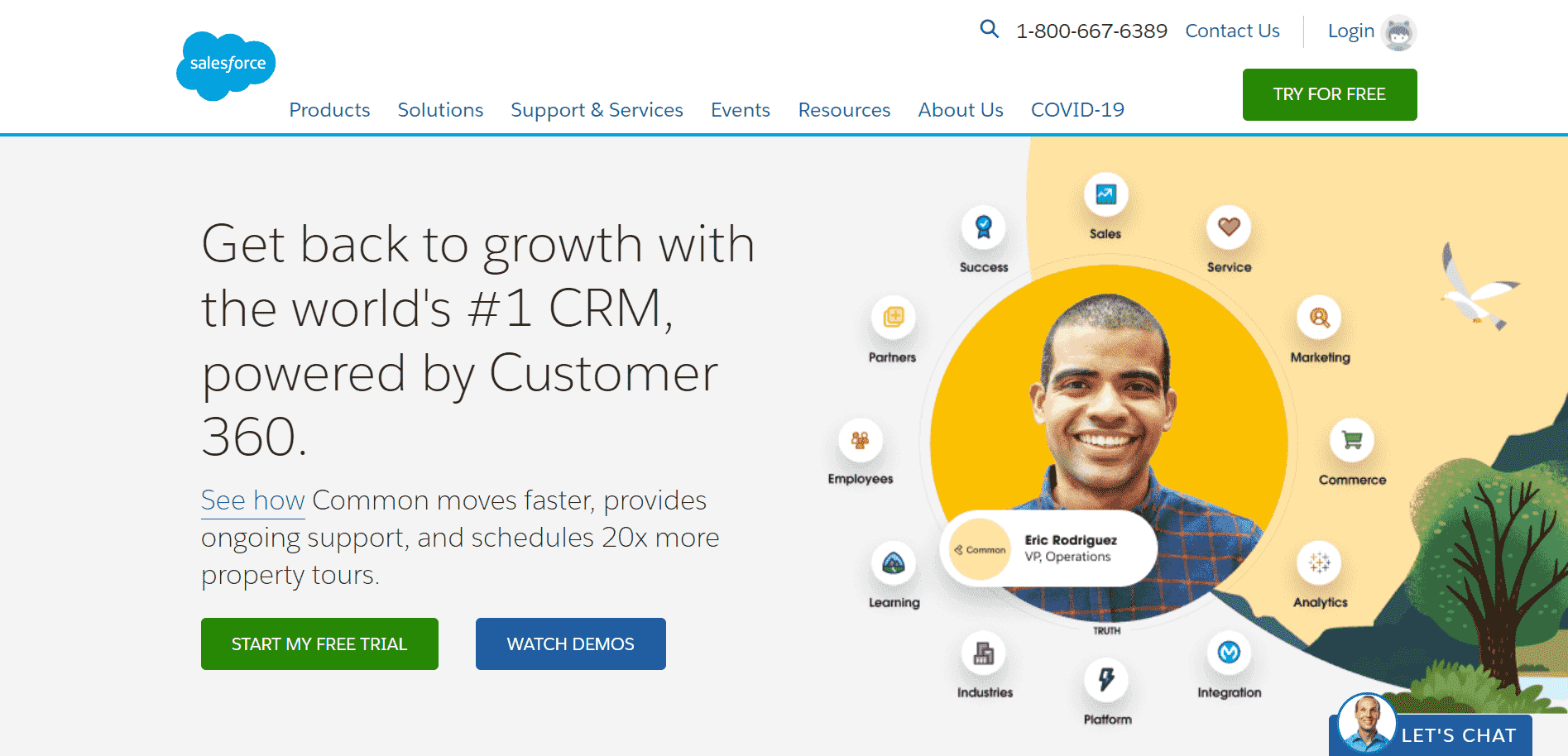 Salesforce is a CRM SaaS platform that helps 150,000+ businesses worldwide effectively streamline marketing and sales. It blends marketing, sales, eCommerce, and customer service elements to grow your business.
The Salesforce platform allows you to effectively create, manage, and tweak a sales pipeline strategy. You can assign various opportunity stages which measure the likelihood of a lead becoming a sale. You can also nurture and engage your leads, increasing the chance they'll be more likely to buy.
Given Salesforce is the biggest SaaS in the world, it's not a surprise it integrates with just about everything.
LeadSquared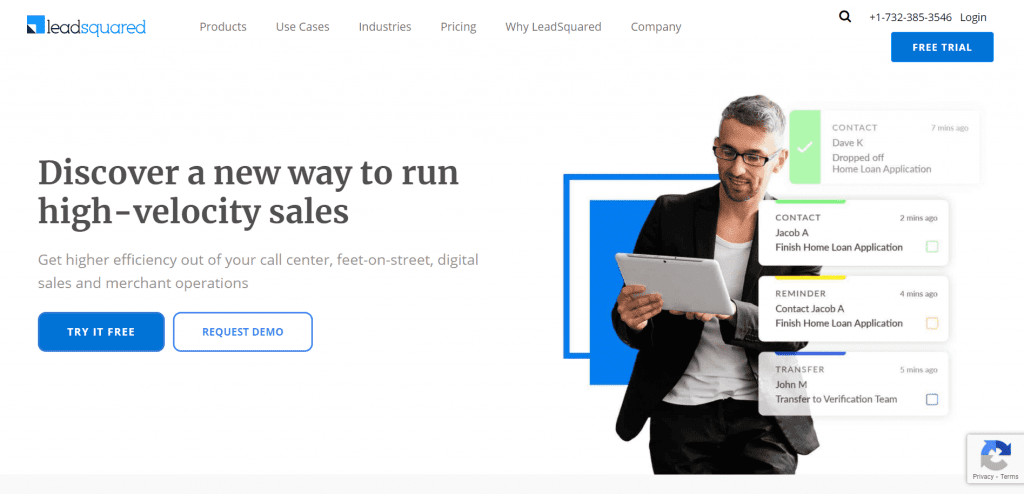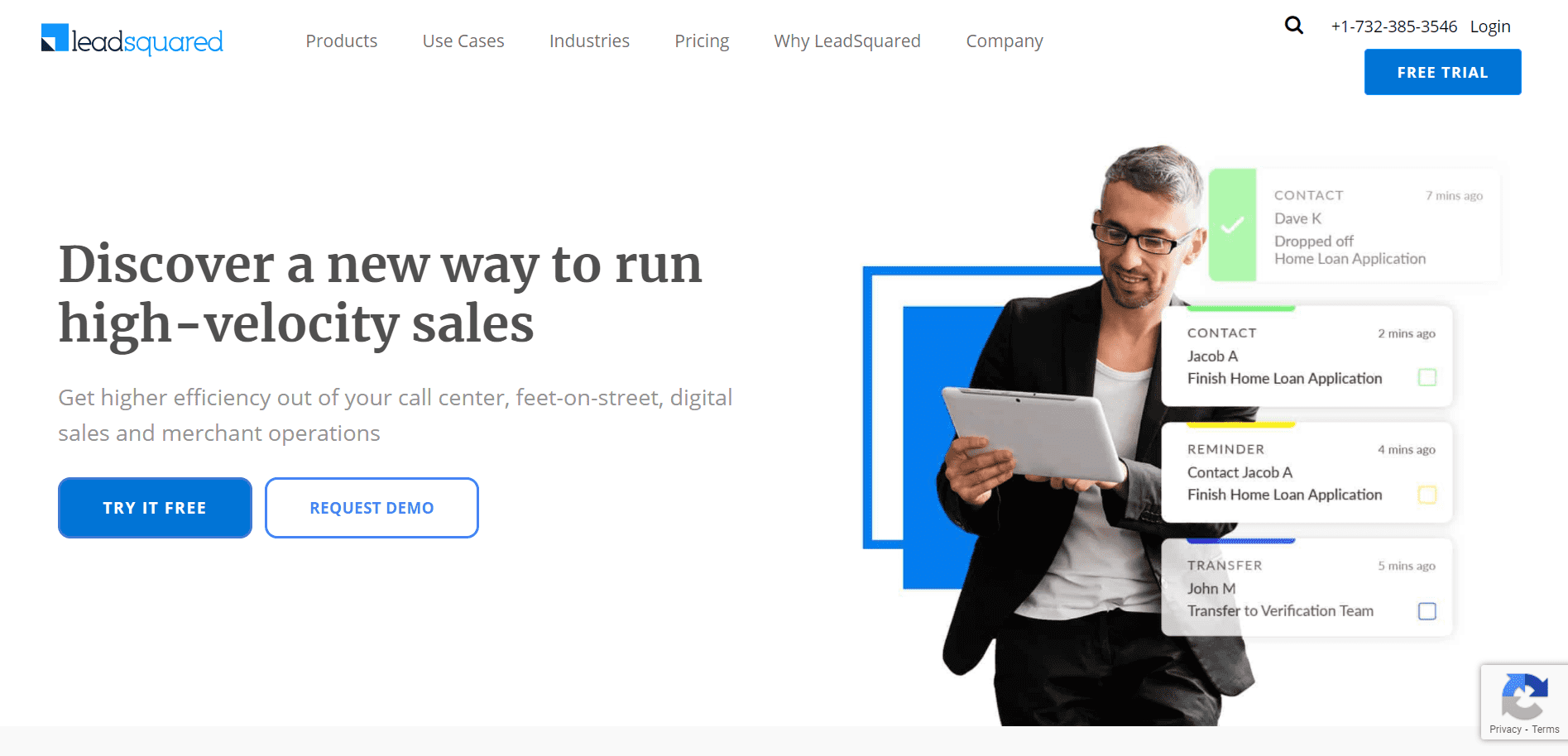 LeadSquared is a marketing automation CRM platform that helps thousands of businesses convert leads into sales. It combines marketing, sales, email, and lead management features to increase and streamline workflow.
LeadSquared offers a complete suite of lead management tools like lead tracking, qualification, and scoring to optimize your sales pipeline. This is bolstered by sales management and communication features like emails, phone tracking, and conversion tracking. You'll have no problem nurturing and qualifying your leads until they can be closed.
As a fairly established and popular tool, it'll have no issues integrating with your existing technology stack.
Video Conferencing and Call Center Software
Video conferencing and call center software provide businesses with cloud-based communication solutions. This includes video group chats, conference calls, and automated phone systems.
We've listed the best 5 platforms for you.
Zoom for Stable Video Calls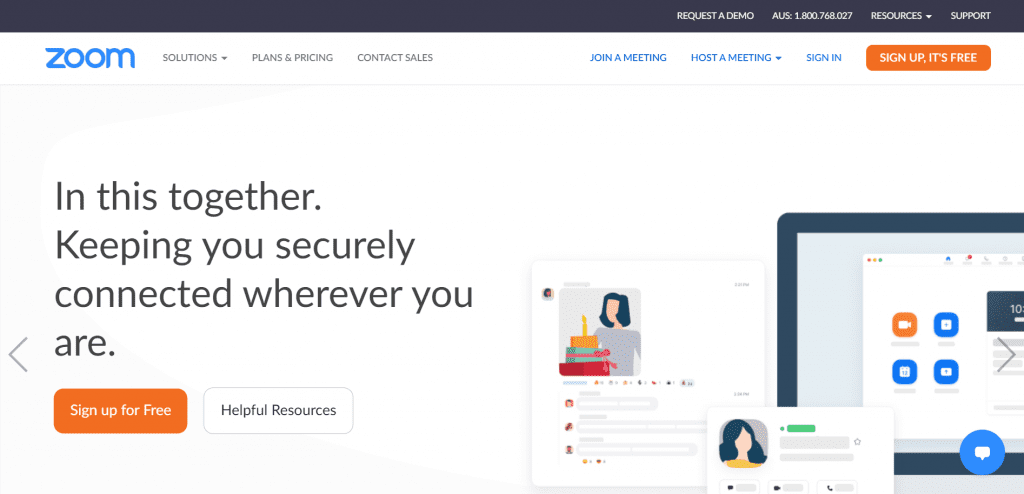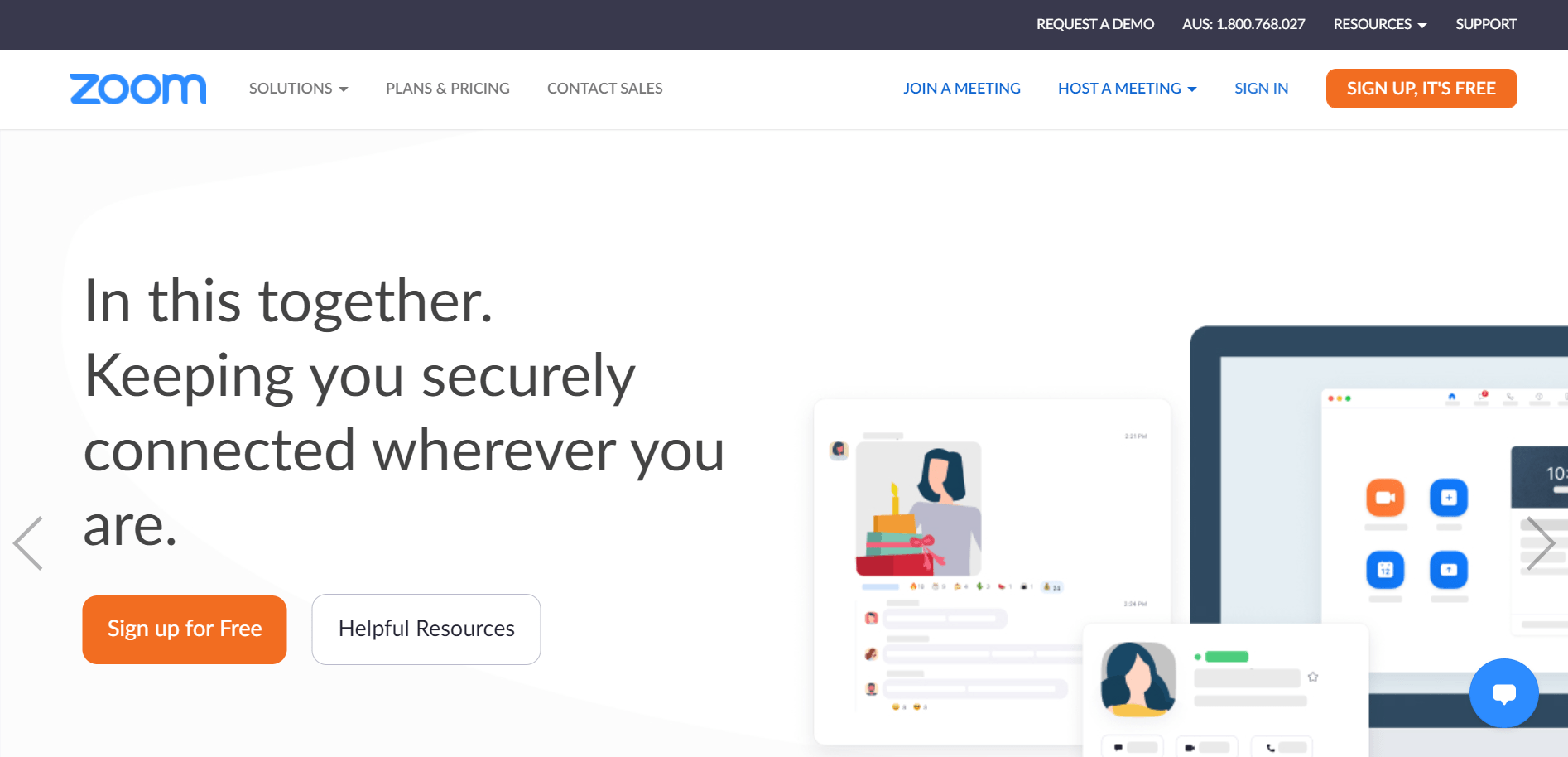 Zoom is a cloud-based communications SaaS that provides businesses a way to communicate with video. More specifically, the features include:
Group live chat
Audio conferencing
Video conferencing
Live previews
Screen sharing
Meeting scheduling and recording
Communication is an essential component of sales and marketing. Zoom is the premier video conference tool on the market today. What separates it from the rest is competitive pricing and top-notch video quality.
Google Meet for Simple Video Conferencing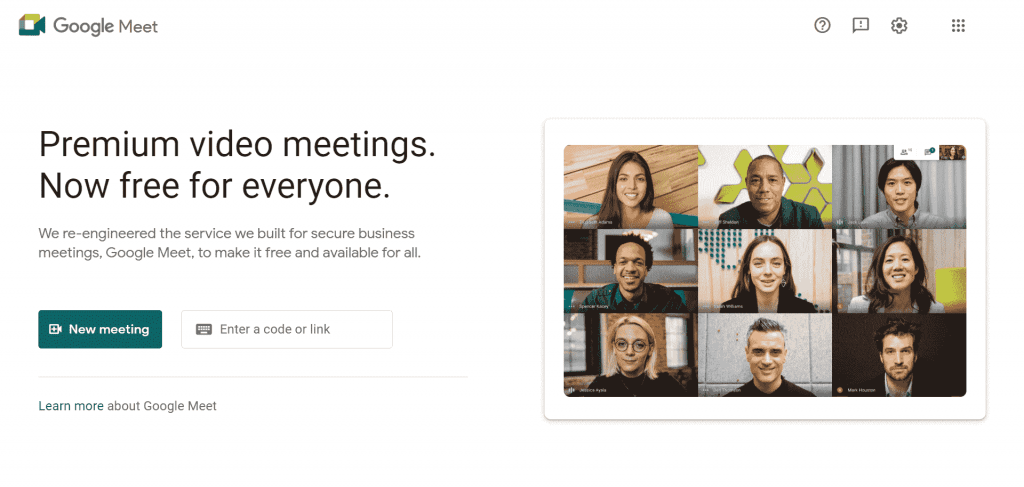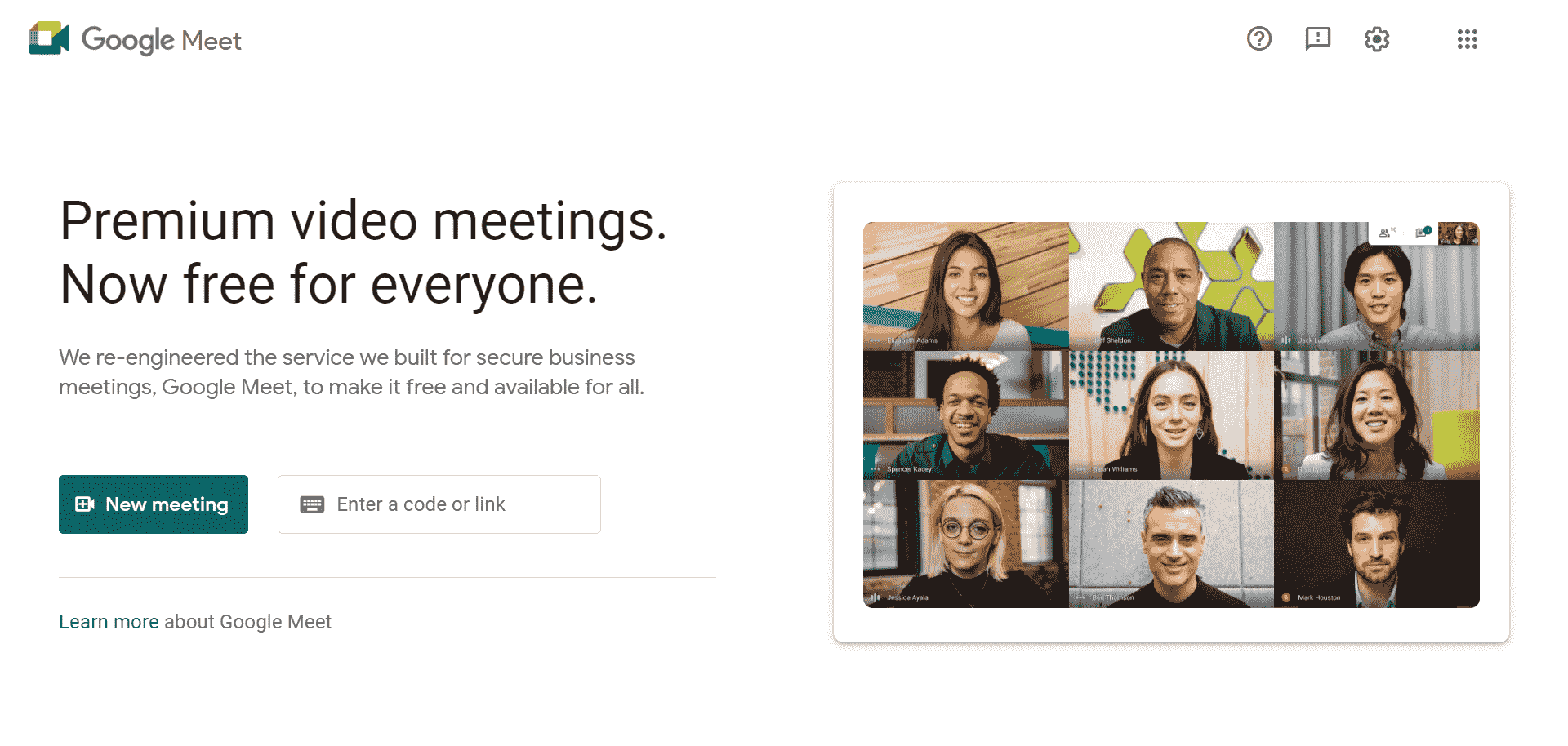 Google Meet is a video communication app that allows businesses to host video meetings and conference calls. Users are allowed to create HD video calls with up to 100 other people and pre-schedule meetings. You can also phone into meetings if your invitation to the call includes a phone number.
Google Meet is free for video conference calls that last up to 60 minutes. For meetings that are longer than an hour, you will be required to upgrade to the advanced package.
Aircall for Cloud-Based Calling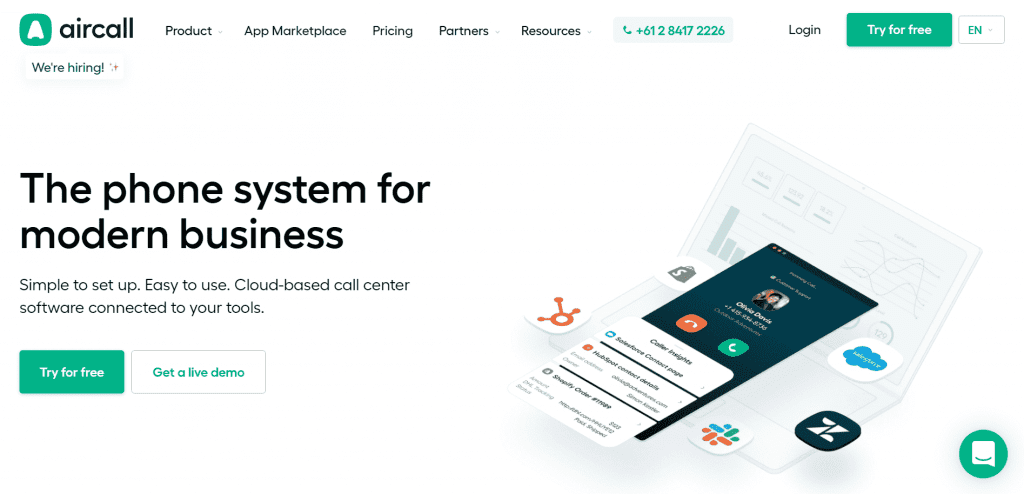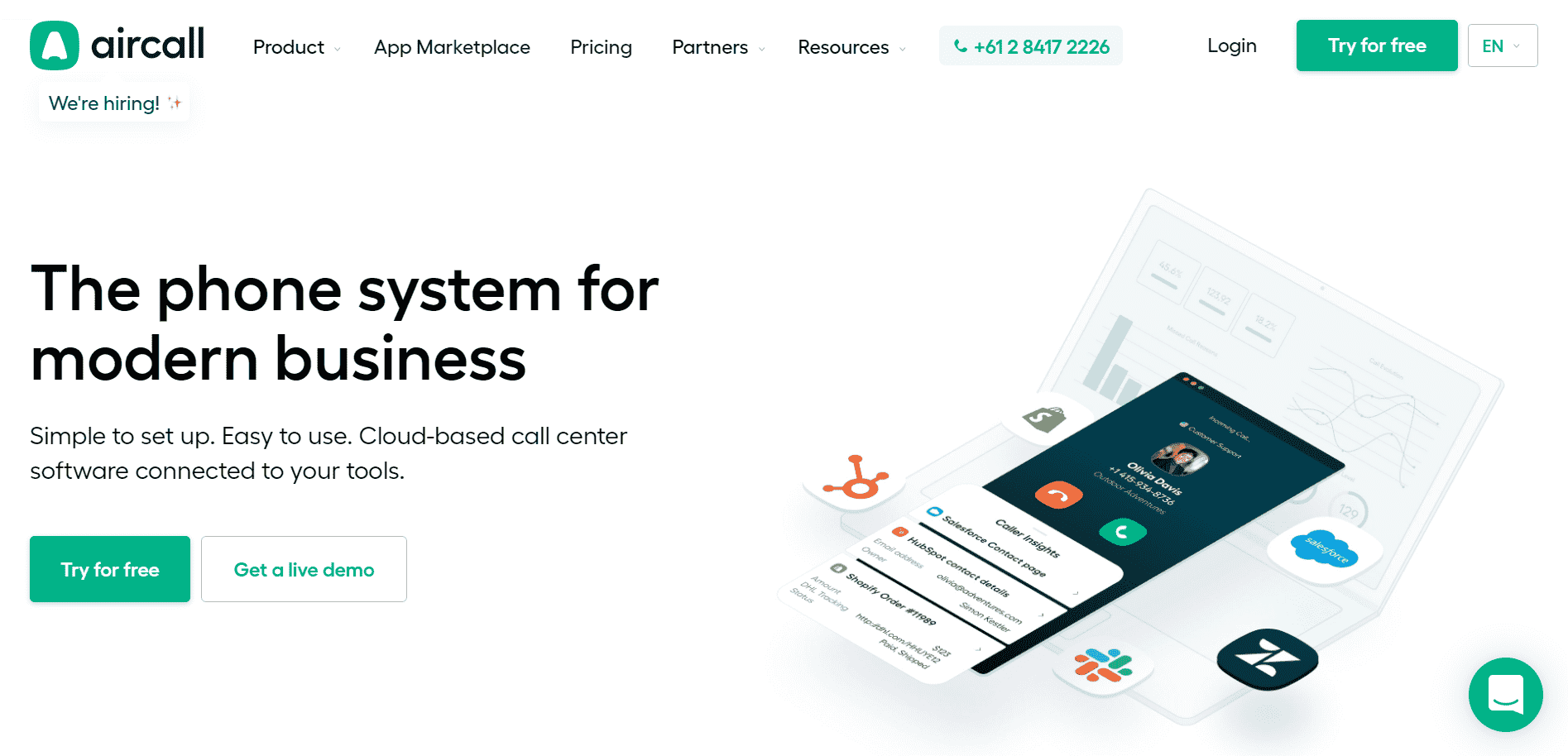 Aircall is a cloud-based call center software that allows businesses to set up call centers. The phone system offered provides a range of features, including:
International numbers from over 100+ countries
Conference calls for up to 5 people
Customized voicemail
Call routing
Interactive voice response
Virtual call center
There are also call center, collaborative, and analytics features. Over 5000+ companies use Aircall and integrates easily into most technology stacks. 
CallHippo for Cloud-Based Calling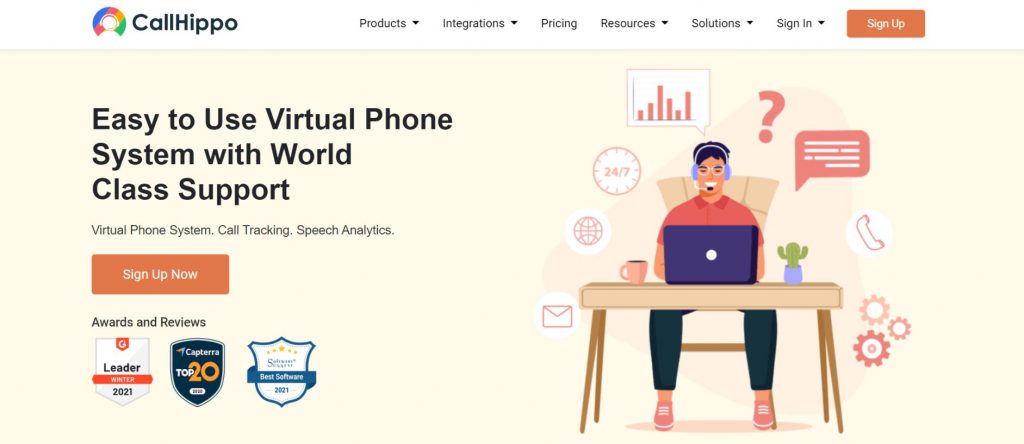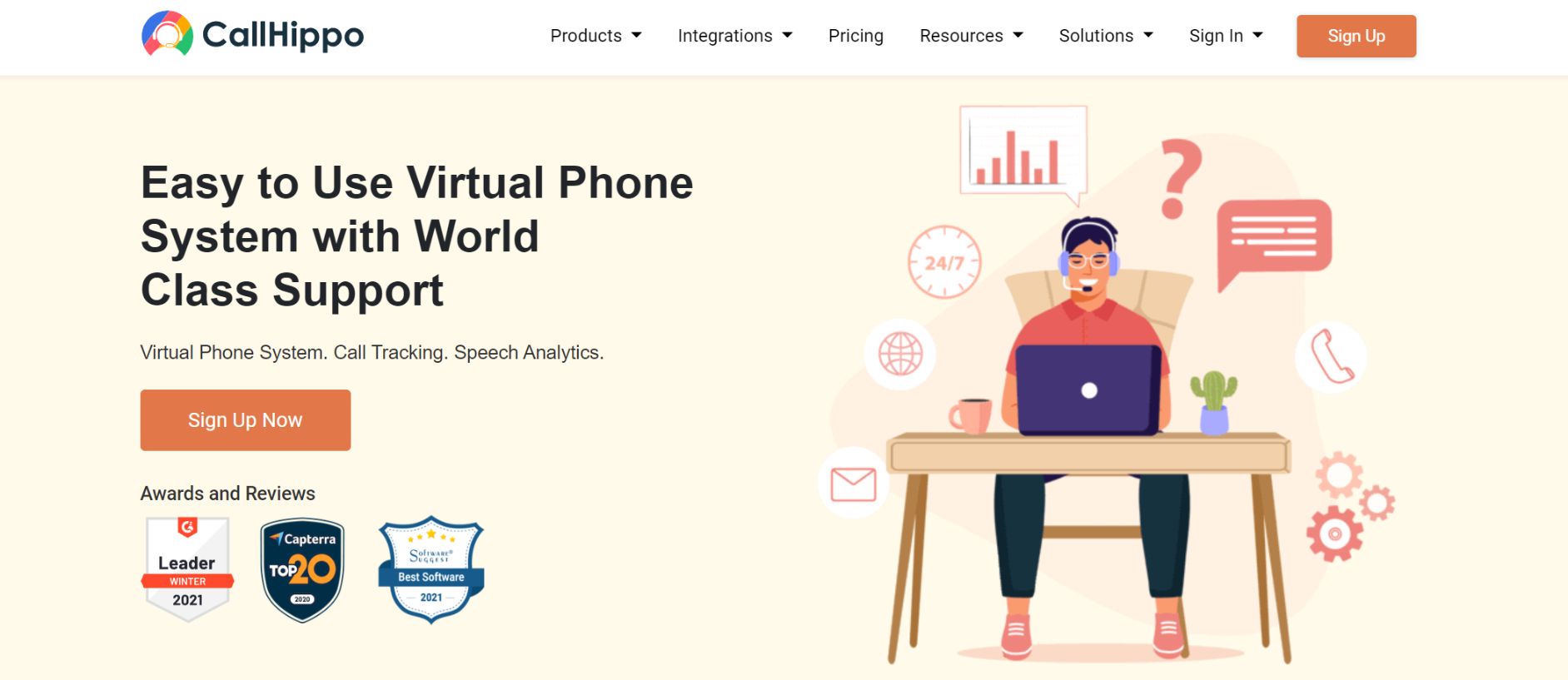 CallHippo is a cloud-based call center software suitable for small and big enterprises. This software makes it easy to set up an outbound call center, inbound, or even a blended call center according to your business needs. Some features of the product include:
Autodialer
Automatic call distribution
IVR
Call analytics
Call queuing
Toll-free number
Call routing
It supports 85+ integrations, including Salesforce, Zapier, Freshdesk, Zendesk, Slack, and more. CallHippo also lets you set up a business phone system for your organization.
Talkdesk for Cloud-Based Calling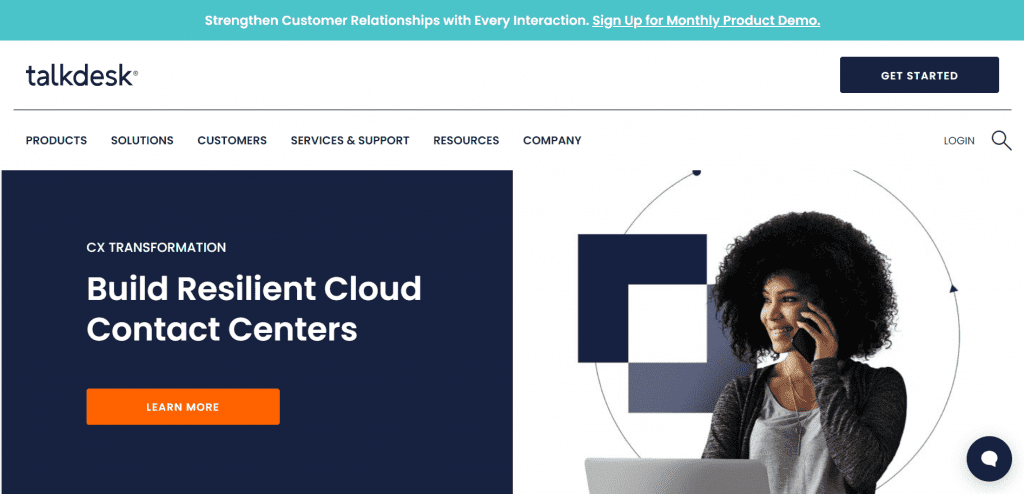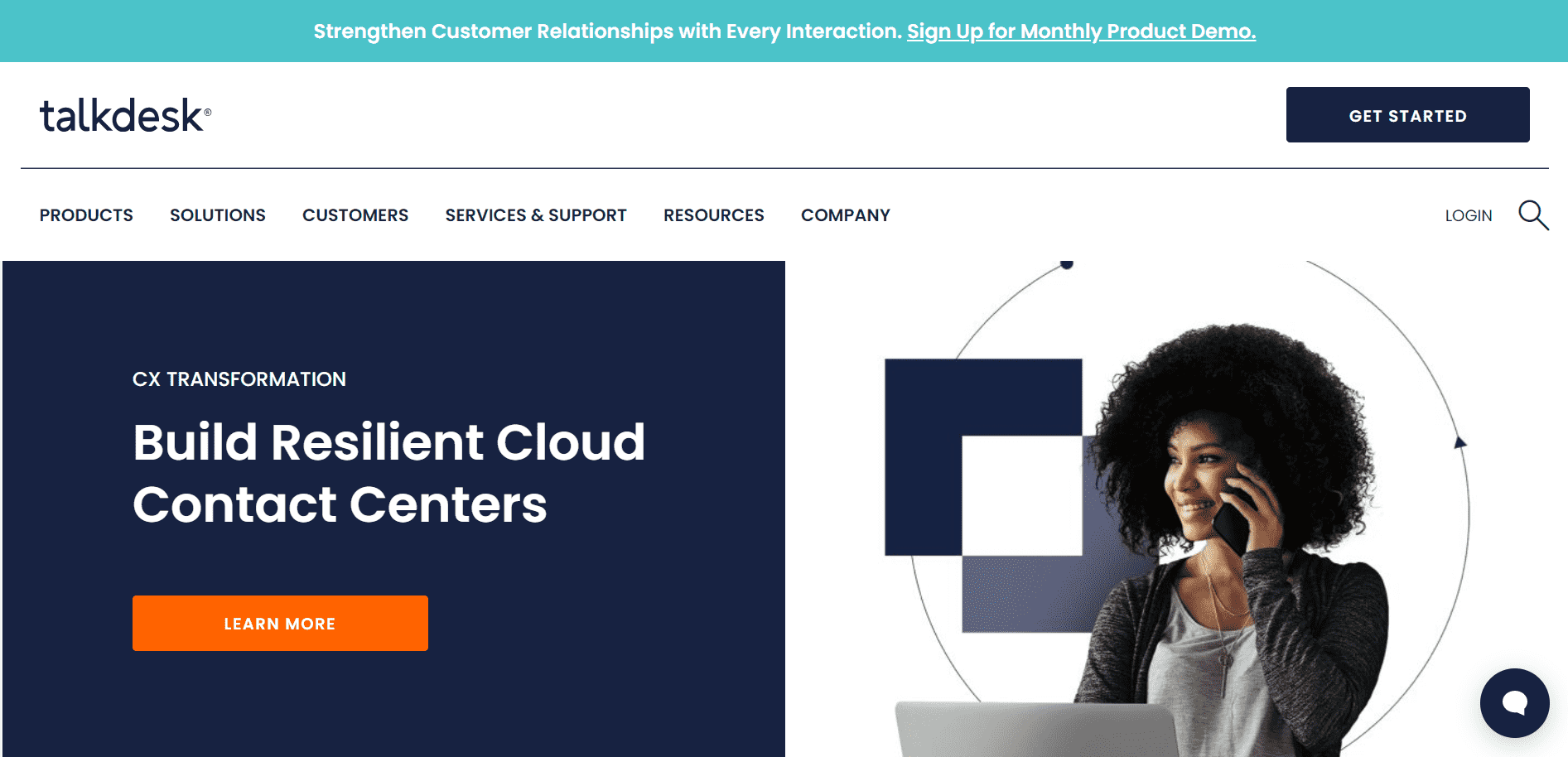 Talkdesk is a cloud-based call center app that helps improve customer satisfaction while keeping expenses low. Some features of the product include:
A predictive dialer
An auto dialer
Session routing
Session queuing
Concurrent calling
Interactive voice response
Session recording
Administrative reporting and dashboards
Some of the SaaS apps it integrates include Slack, Salesforce, Zendesk, and Microsoft Teams.
Proposal & Electronic Signature Software
Proposal and electronic signature software allow you to create and send documents, agreements, and contracts online. They are digitally signed, which is a 100% legally binding signature. There are also some optimization and customization features.
Check out the 3 examples below.
Signaturely for Signing Contracts Online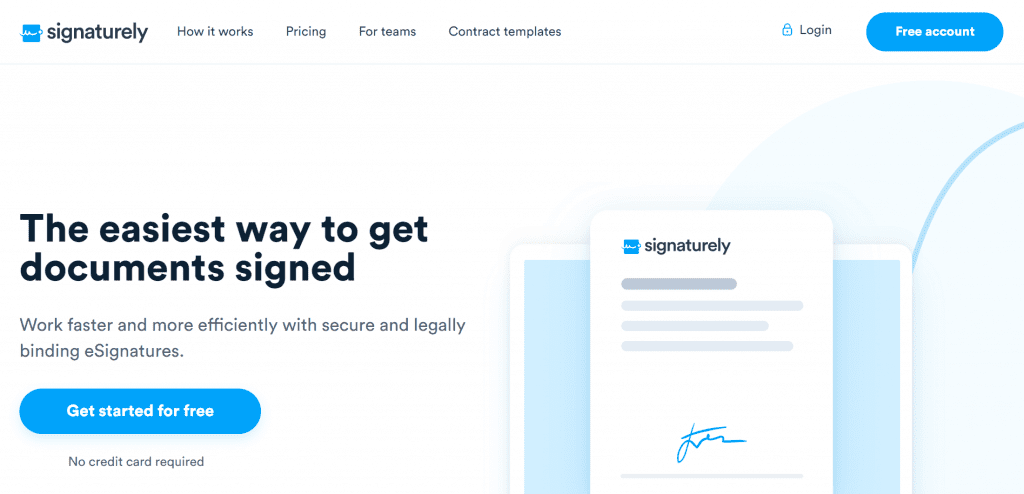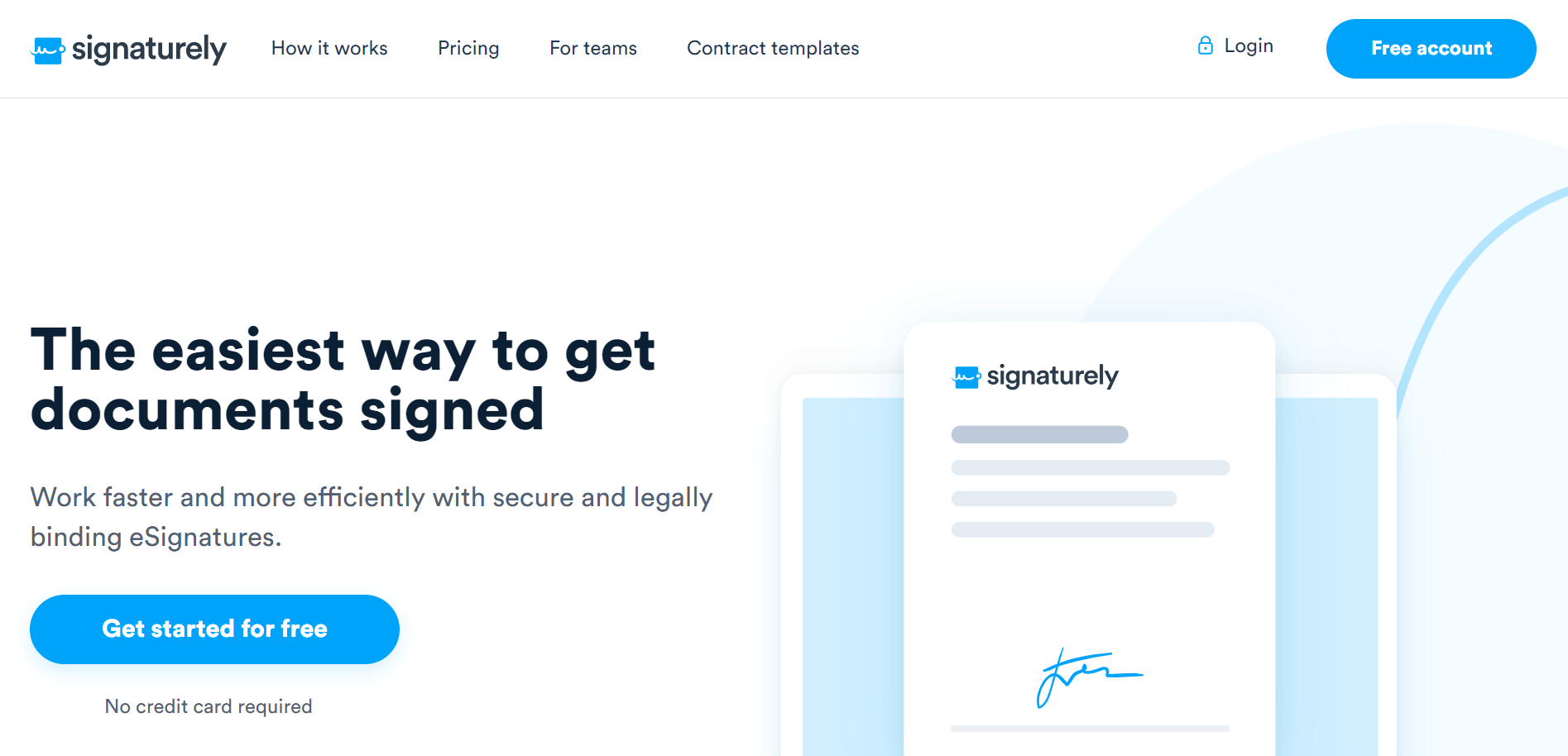 Signaturely is an e-signature SaaS that makes signing legally binding contracts online fast and easy. Some features include:
A document editor
Choice of the signer for documents with multiple signatures
Bulk send
Team management
Import contacts
Download/print a personal copy
Automated follow-up/tracking
A legal audit log
The tool integrates with storage apps like Dropbox, Google Drive, OneDrive, and Box. 
Better Proposals for Creating Proposals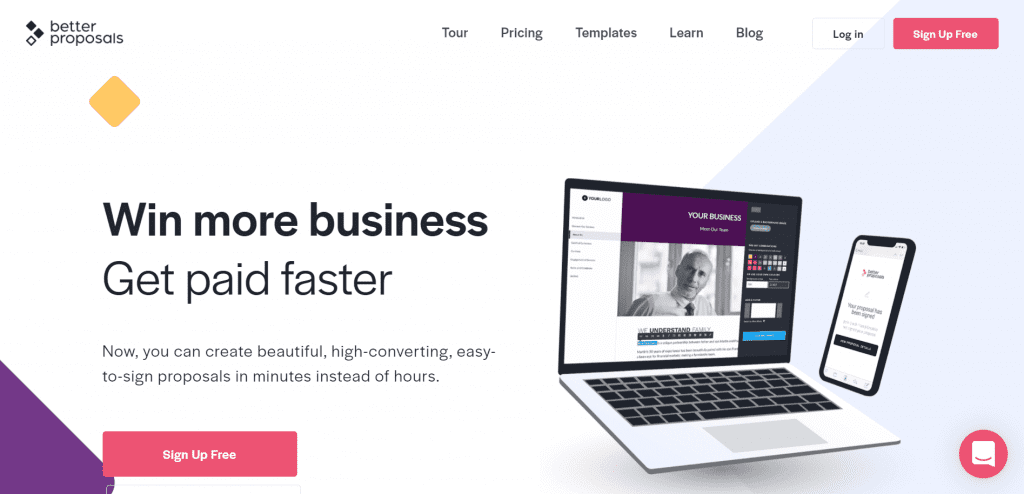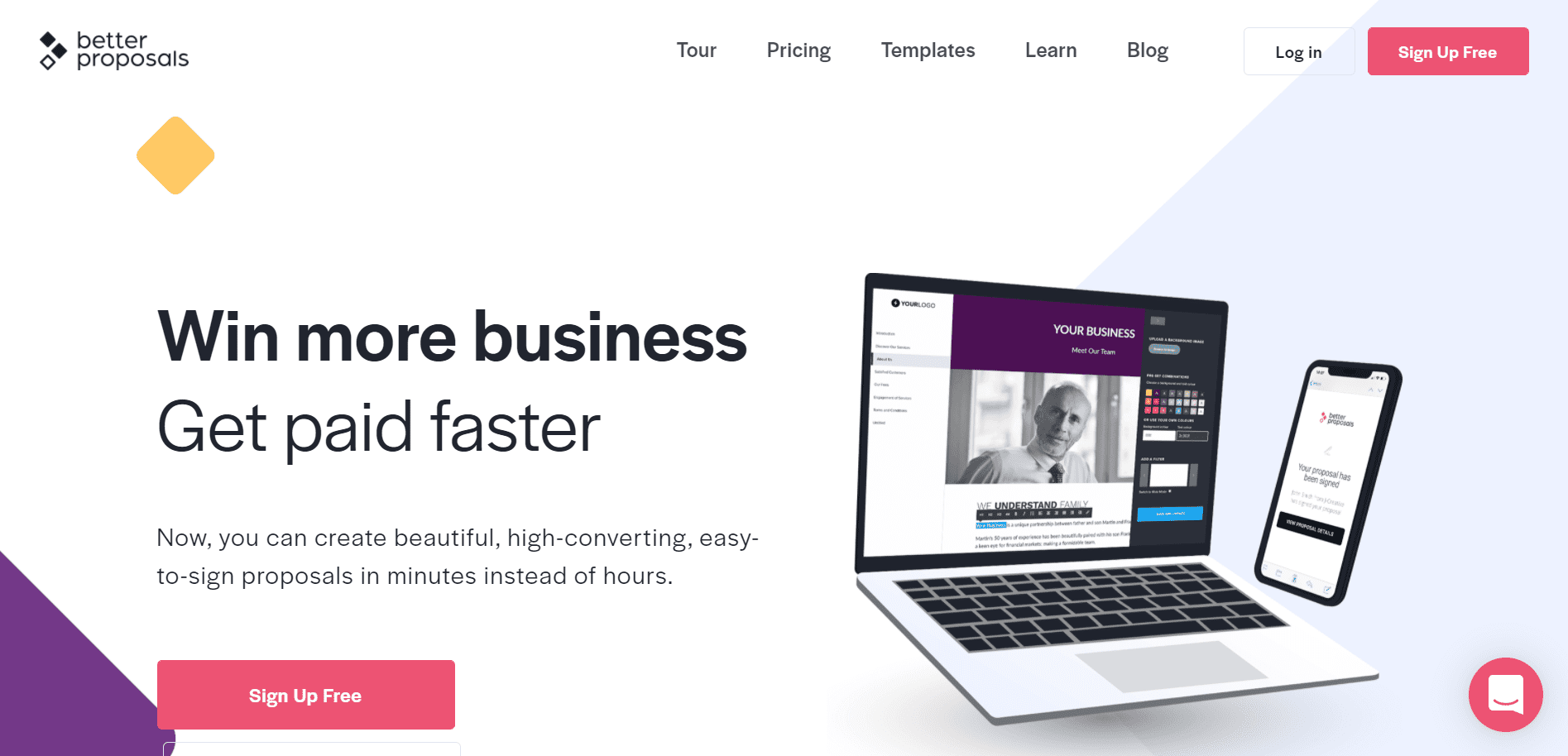 Better Proposals is an online proposal software that allows you to send high-quality proposals. Features of the app include:
A proposal editor
Proposal templates
A saved proposal content library
Proposal branding tool
Instant notifications
Pricing tables
100% legally-binding digital signatures
Payment integrations
Analytics report
The tool integrates with all sorts of software, from CRMs to payment processors and live chat apps.
Proposify for Designing and Sharing Proposals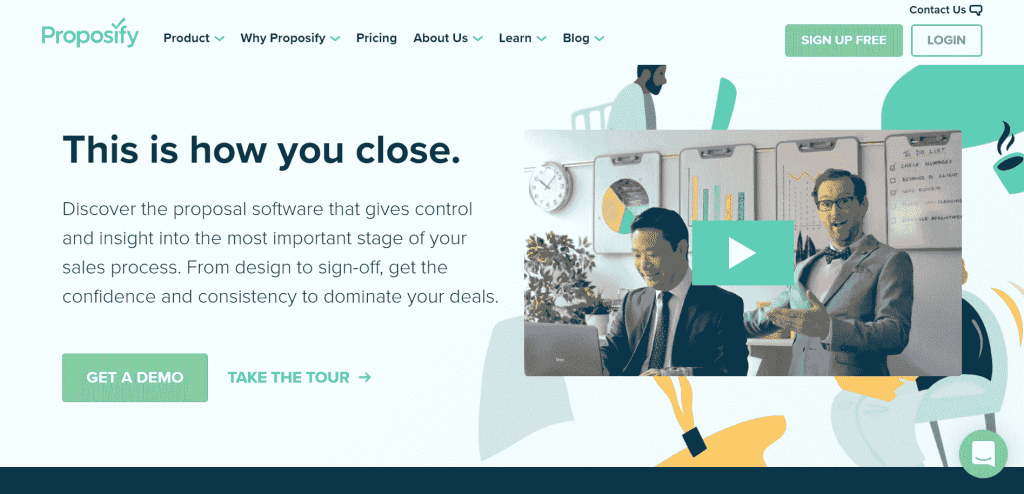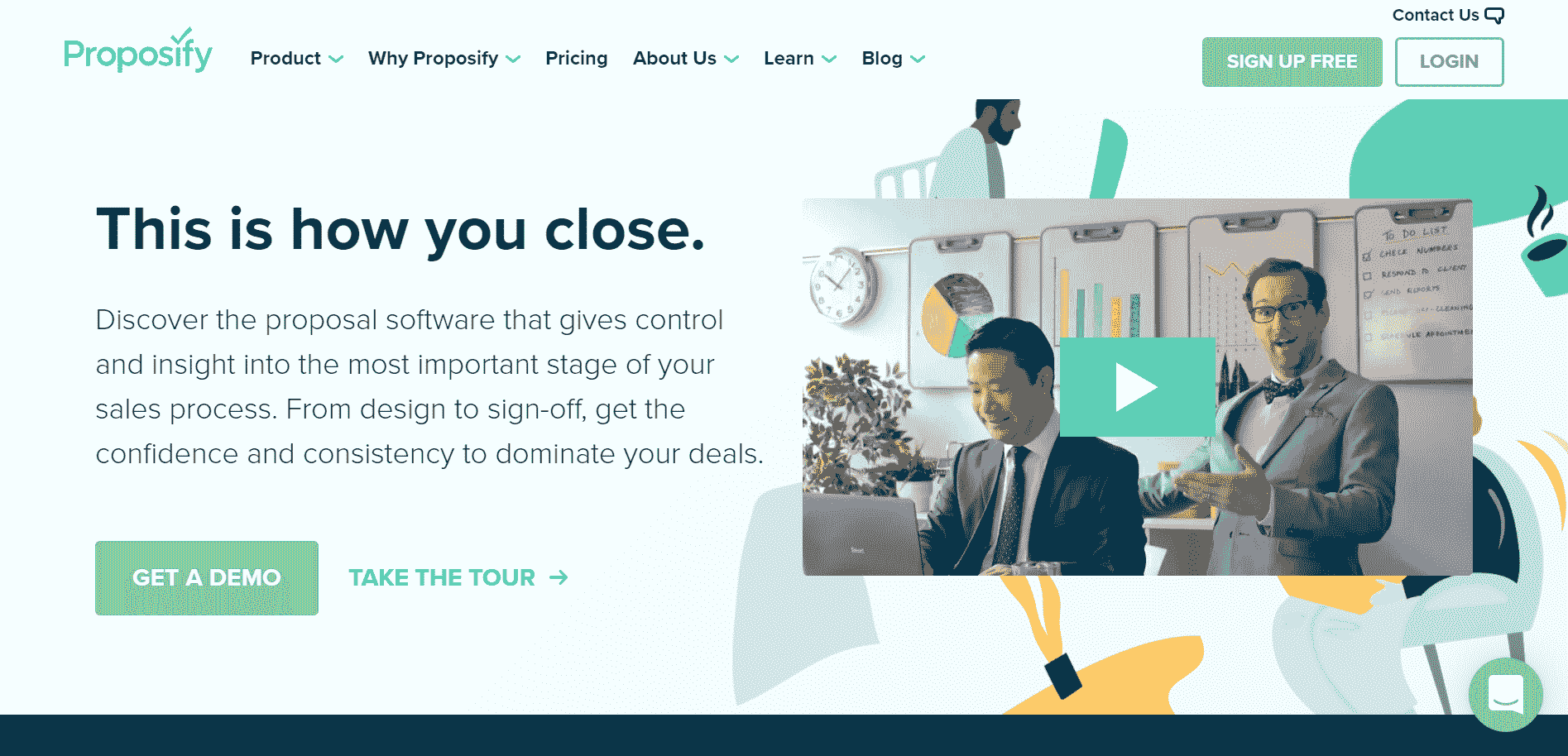 Proposify is an online proposal software that creates and sends converting contracts, agreements, and proposals. Businesses can take advantage of the extensive features, which include:
A design editor
A content library
Role and permission team management
100% legally binding electronic signatures
Interactive pricing
Analytic metrics
15 different languages
There are also CRM integrations with apps like Salesforce and HubSpot.
Sales Pipeline Tools: Conclusion
In this article, we covered 20 of the best sales pipeline tools.
All businesses are different. They each have their own unique needs. Not every tool will work for you. Try the ones that do, and see if they improve your sales team.
Questions or comments? Leave a comment below. We love to hear from our readers.