As a salesperson, you need the right mobile sales tools to achieve your sales quotas and monthly goals. That's why we've compiled a list of over 20 mobile sales applications that make your job easier when you're on the go.
We'll talk about tools for:
Lead generation
Video meetings
Calendar scheduling
Digital signing
Proposal creation
By the end of the article, we're sure you'll have at least a couple of new apps on your phone.
Let's get started.
Quick Links:
What Are Mobile Sales Tools?
20+ Mobile Sales Tools (if You're on the Go)
What Are Mobile Sales Tools?
Mobile sales tools are any apps and portals you can use to aid your sales process directly from your phone.
These tools aren't typically as functional and capable as regular software tools. Mobile sales apps are scaled-down versions of regular programs, which provide you with as much functionality as you may need on the go.
Like sales productivity tools, a good mobile sales tool will amplify your sales process, allowing you to increase your reach and effectiveness. They give you access to your sales information in a streamlined interface that focuses on simplifying the process while remaining as functional as possible.
20+ Mobile Sales Tools (if You're on the Go)
Here are the best mobile sales tools you need on your phone:
1. Lead Generation Tools
Lead generation tools allow you to find the right leads to pursue by searching through extensive databases to find the perfect clients. With sales dialing tools, lead generation tools can quickly expand your sales reach.
UpLead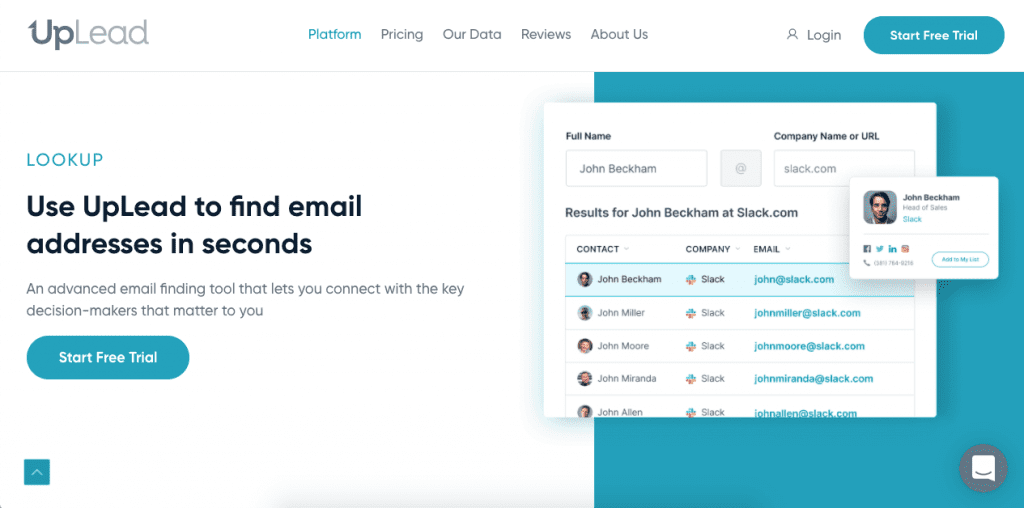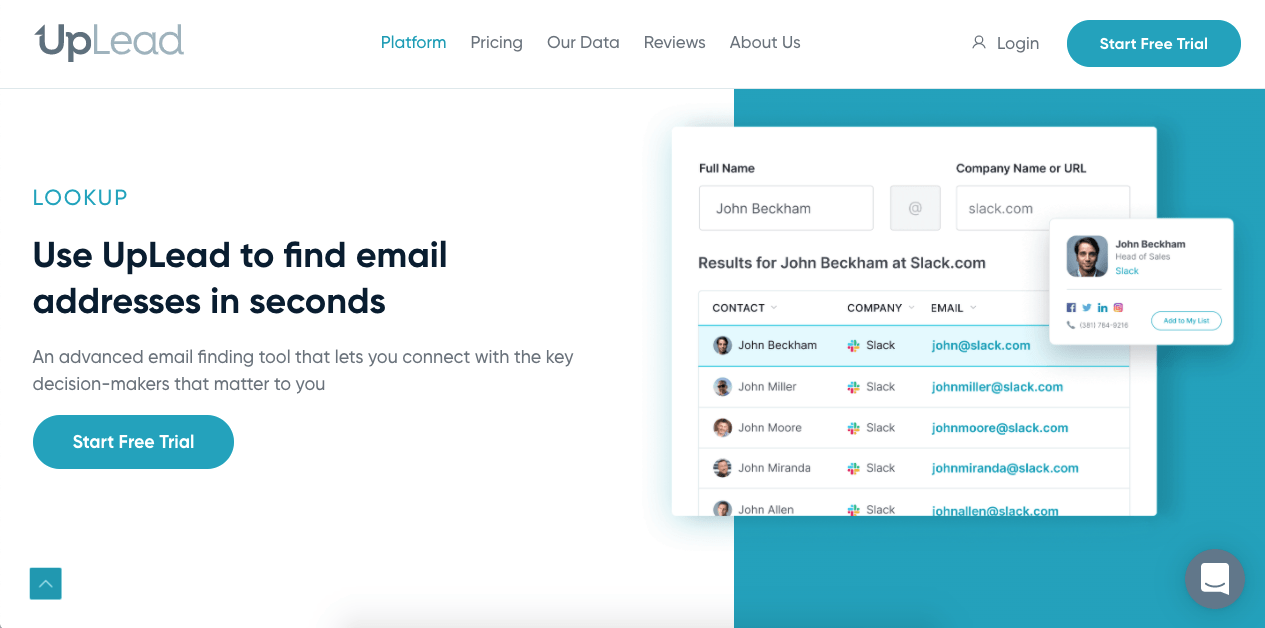 UpLead
allows you to use your phone to find as many leads as you need in a few seconds.
With UpLead, all you need to do is to input the information of your client persona as your searching criteria and search through over 108 million profiles to find the leads you need.
Once you've found your leads, you can save them to download and access anywhere, anytime. UpLead will verify all emails in real-time right before you download the profiles to ensure you're getting reliable contact information every time.
You can also use UpLead to enrich existing lists with updated, highly reliable information to freshen up your lead catalog.
UpLead's data is so reliable that it has a 95% accuracy guarantee, so you know you're not wasting your time calling the wrong numbers.
Mobile Access and Apps
UpLead's platform is fully mobile-friendly, so you can access it directly on your phone and get all the platform's functionality.
Start Your 7-Day Free UpLead Trial
Lead generation doesn't have to be all that painful. With UpLead, you can easily connect with high-quality prospects and leads to grow your company.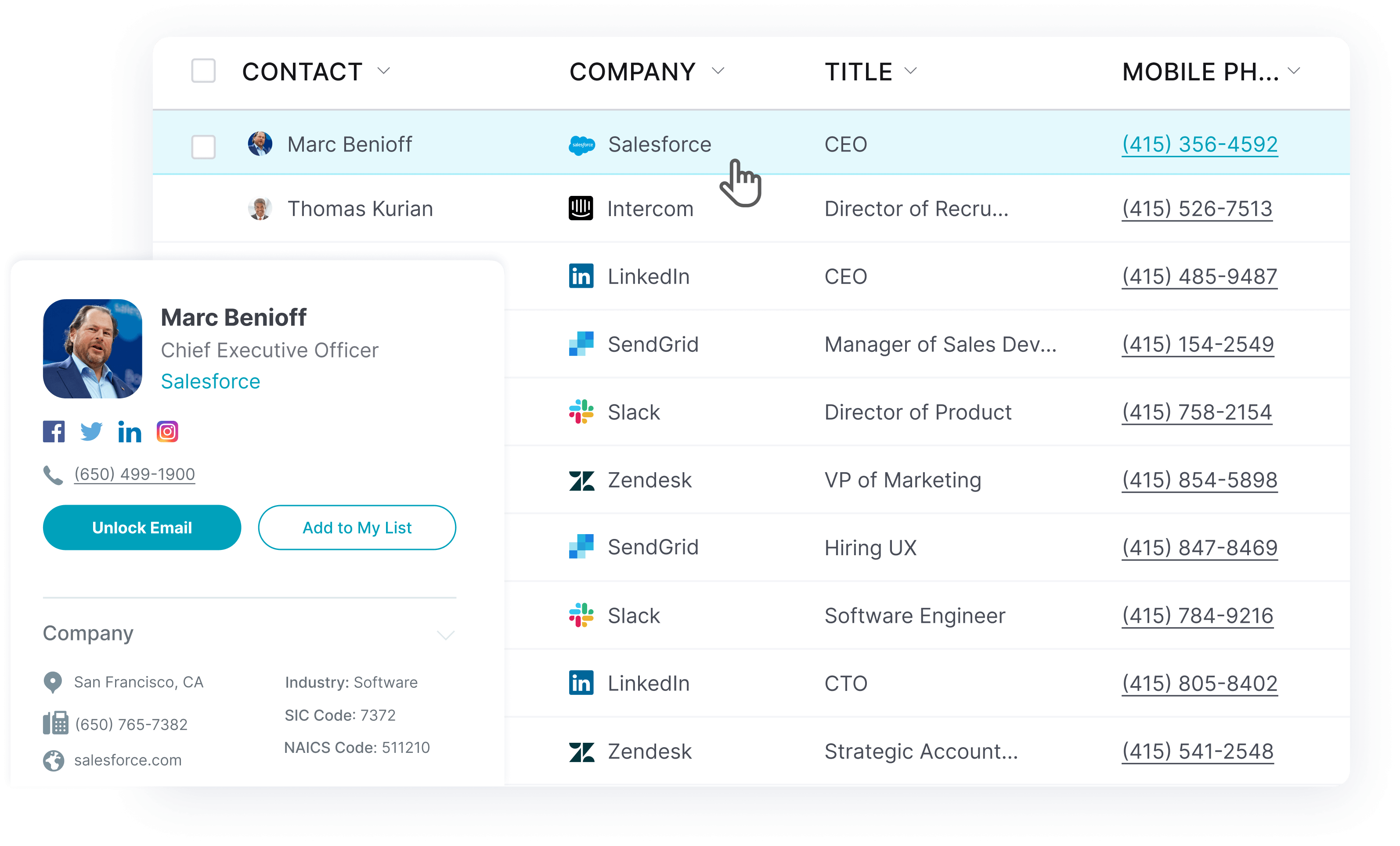 Voila Norbert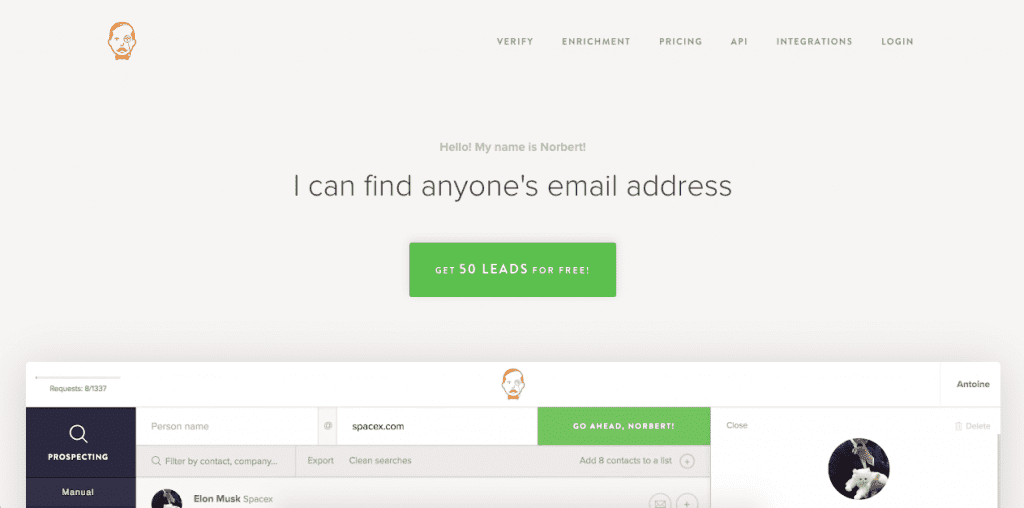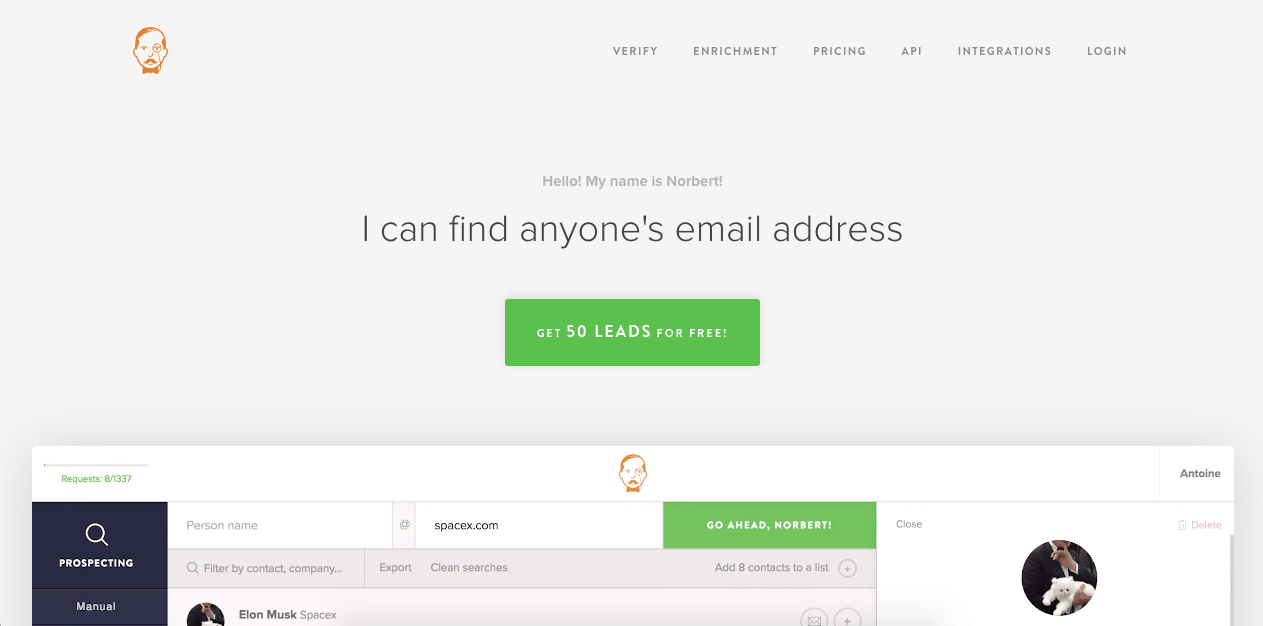 With Voila Norbert, you can find and verify multiple emails directly on your phone.
The platform gives you your first 50 searches for free, so you can test it out by finding new leads or enriching your existing ones.
Mobile Access and Apps
Although Voila Norbert doesn't guarantee the data, its platform is mobile-friendly, so you can easily access it with your phone or tablet.
FindThatEmail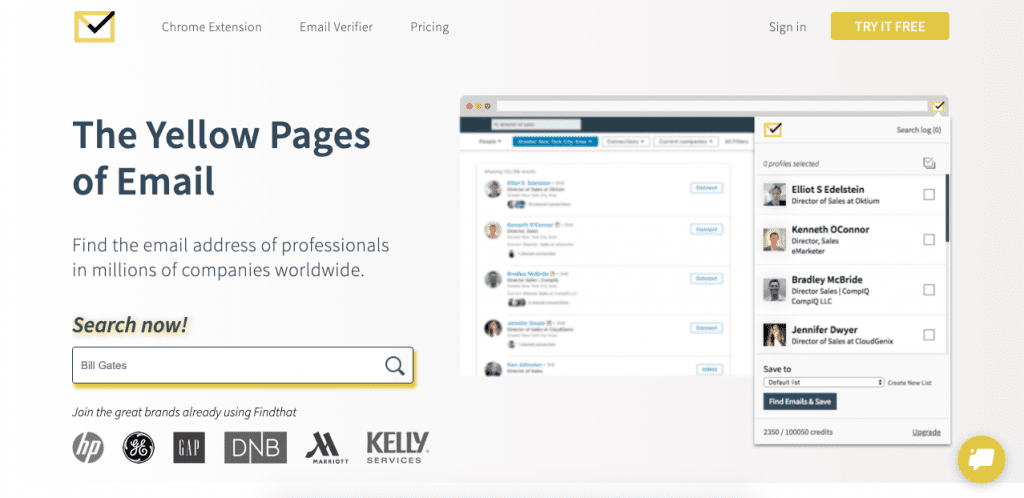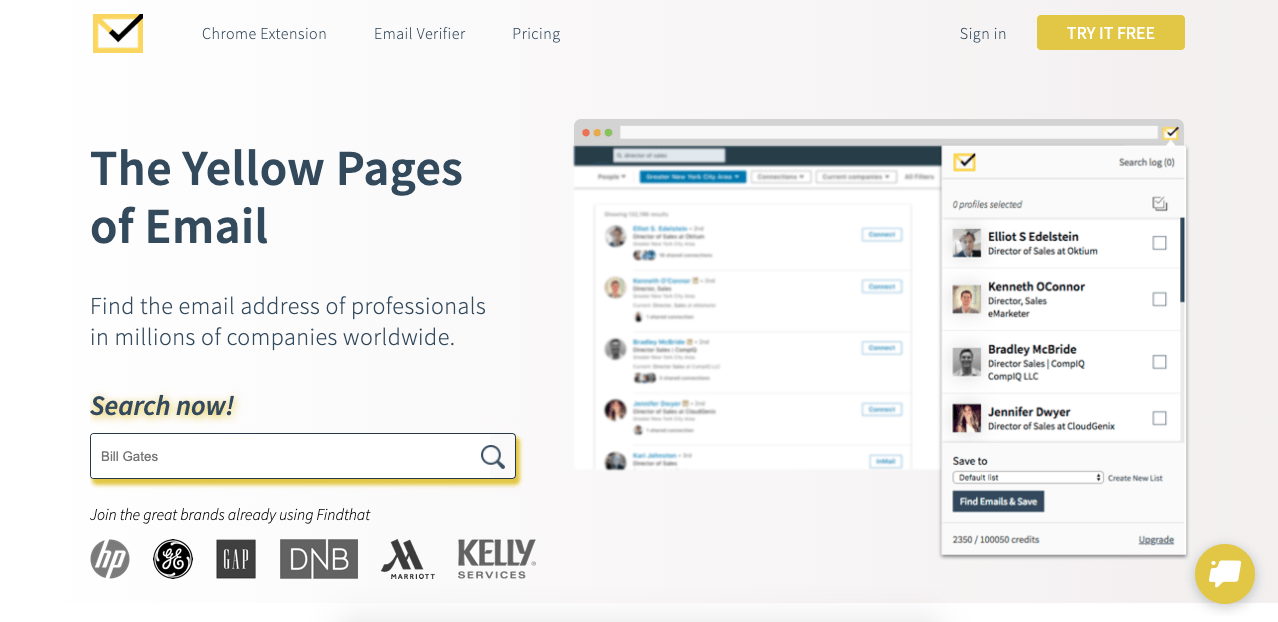 If you're only looking for emails, FindThat.Email is a solid option to use on the go.
As the self-proclaimed yellow pages of email, Find That Email uses data analytics to relate email addresses to names and companies, and vice versa, throughout a bunch of verified emails. 
You can also use the platform to verify a list of emails. Although Find That Email doesn't guarantee its data, they offer a 90% delivery rate guarantee.
Find That Email is good for anyone looking exclusively for email addresses or their owners.
Mobile Access and Apps
Although it doesn't have an app, Find That Email is fully mobile-friendly, you can use it on all mobile devices.
2 CRM Tools
Mobile CRMs allow you to access client information quickly, view the details of a sales process, and access analytics right from your phone. There are also plenty of good social CRM tools you can combine with a social selling approach.
Keap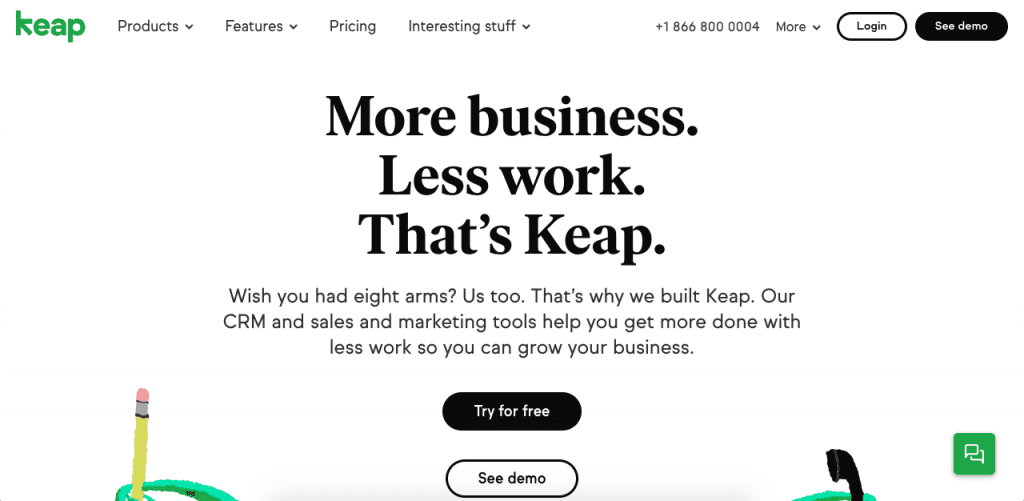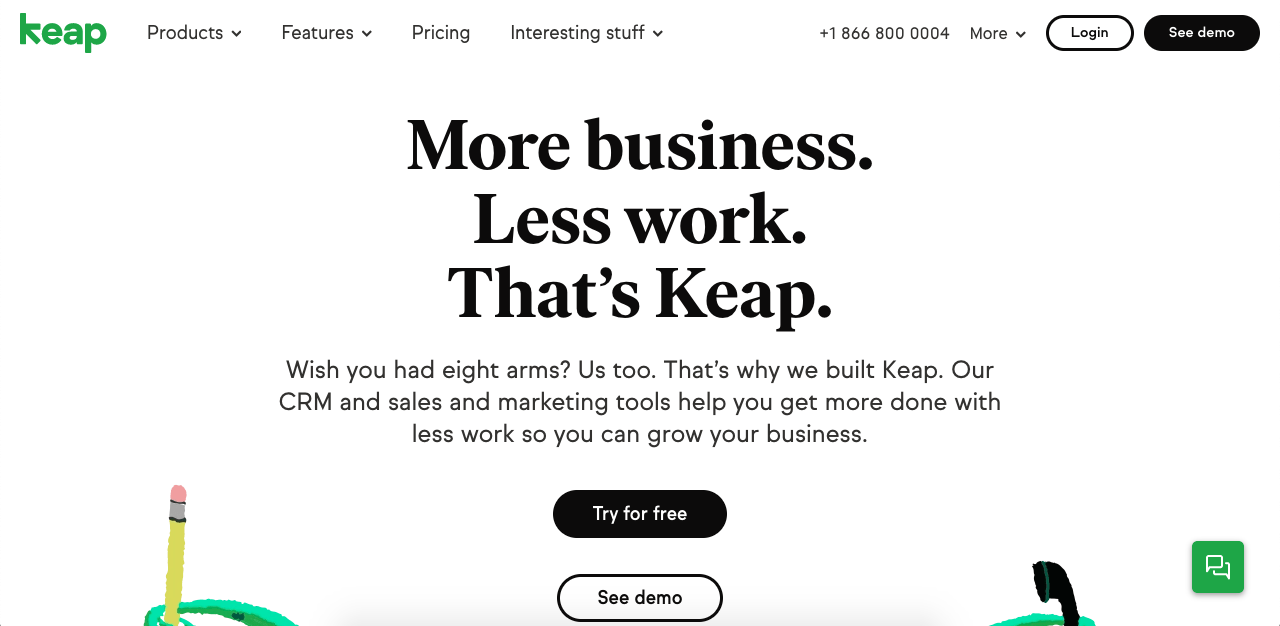 Keap has one of the best mobile CRM apps for anyone working in e-commerce and marketing.
As a platform, Keap focuses on keeping your marketing process as seamless and streamlined as you need it. With this app, you can manage your client and contact database, create web forms, launch campaigns, keep up with your ROIs, and even focus on shopping cart functionality.
Keap also includes a powerful native PayPal integration, allowing you to receive payments directly from it.
Mobile Access and Apps
Keap has an app that gives the user all the functionality of the PC version. While other apps make the mobile process complicated, Keap allows you to create and launch marketing campaigns on the go easily.
Although Keap is not a CRM you often hear about, its highly-functioning app makes it deserving of a spot on this list.
Zoho CRM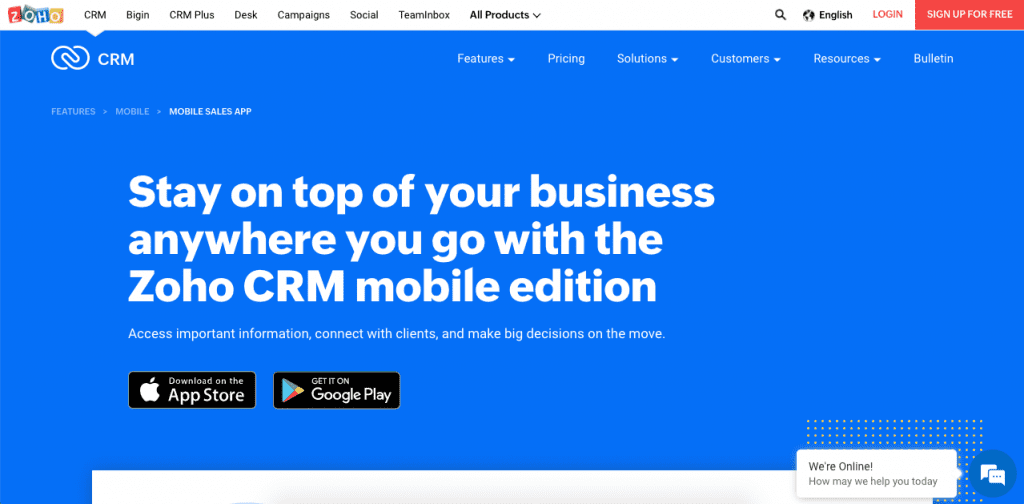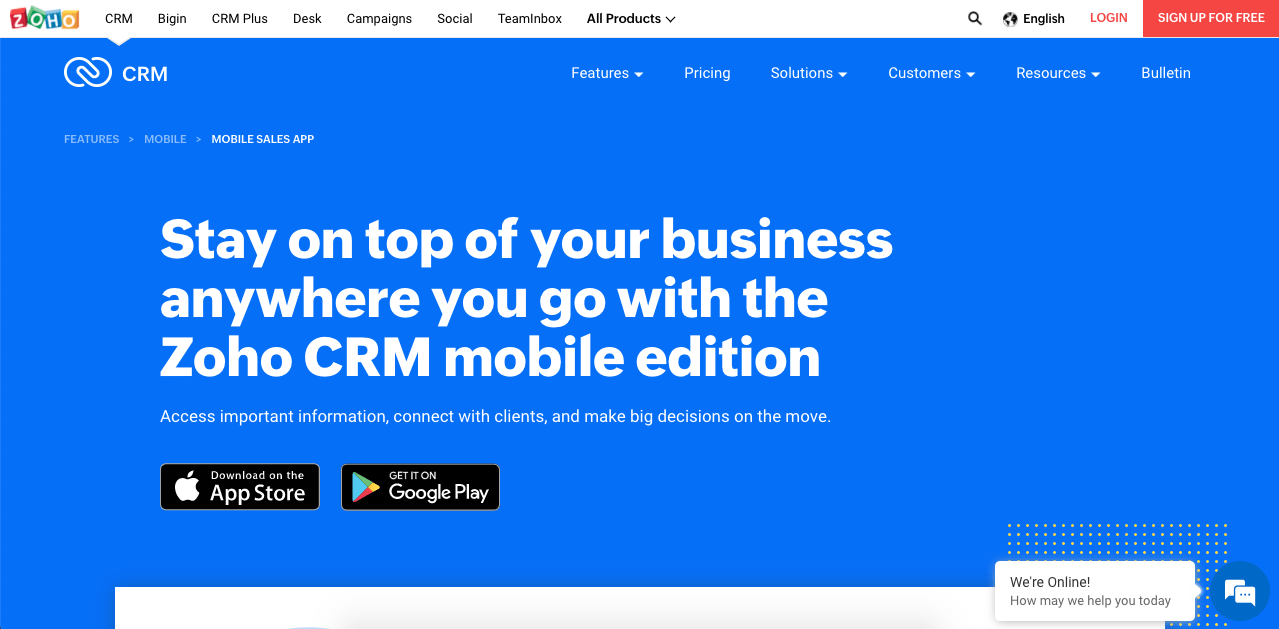 Zoho has an incredibly popular CRM with automations, powerful integrations, and great lead management capabilities to increase sales. Luckily, its app has practically all the functionality of its desktop counterpart while making the interface and customer experience even smoother than on a computer.
Mobile Access and Apps
Whereas the desktop platform is built around your computer-based needs, the app is built around your on-the-go needs. If, for example, you're visiting a client, you can use the app to record a voice note, pull up their location, and find other clients nearby to continue your sales trip.
The Zoho CRM app is perfect for anyone focused on sales—from the sales manager in need of accessing their analytics to the traveling salesperson following up on leads.
Hubspot CRM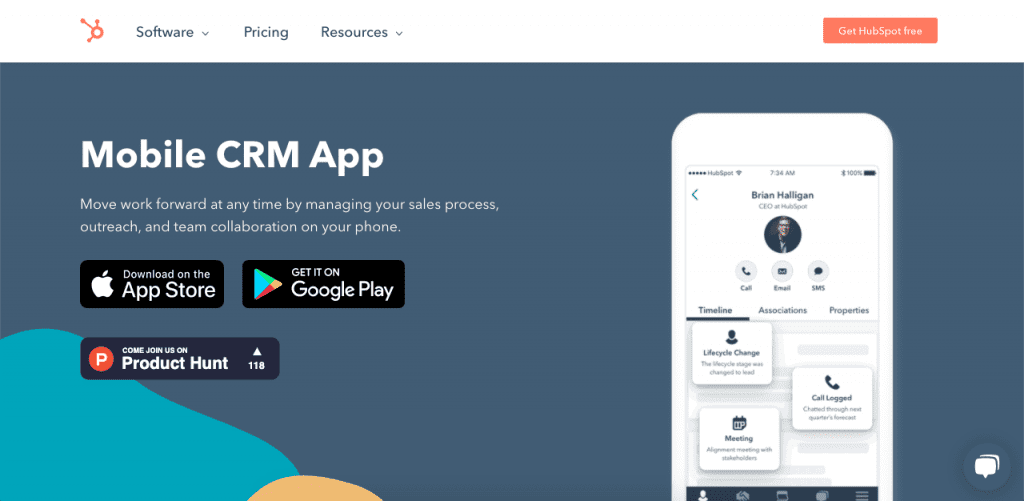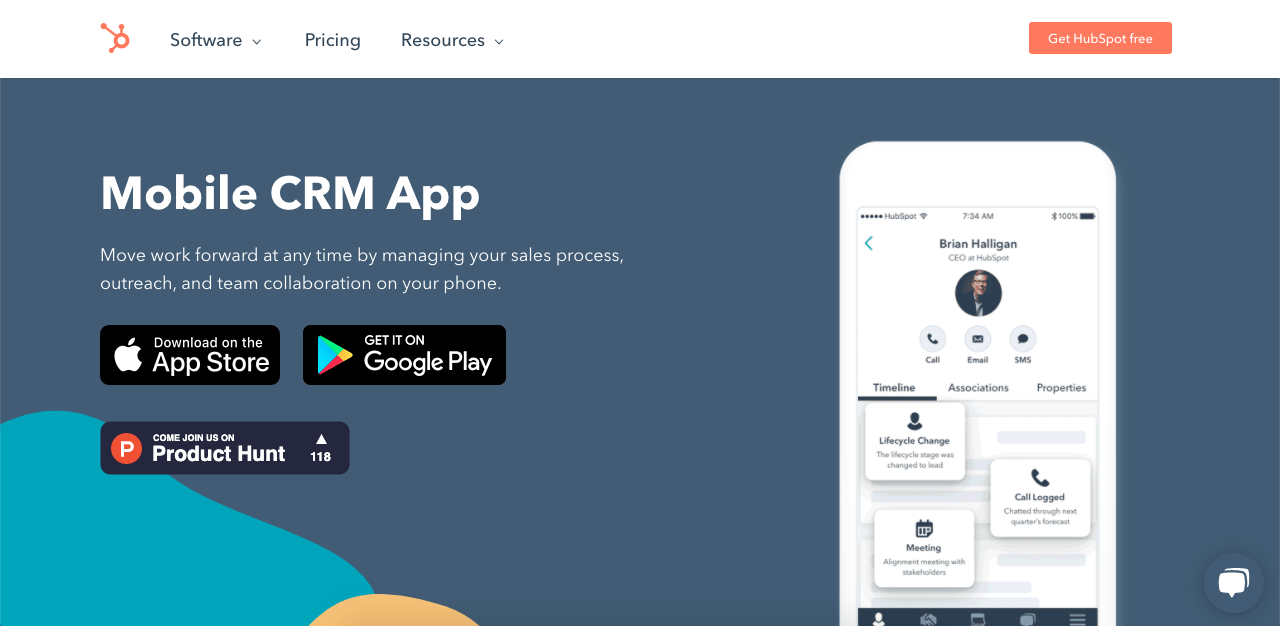 One of the most popular and acclaimed options out there, the HubSpot CRM lets you scale up your sales and your team with powerful capabilities, allowing you to do everything from its app.
Mobile Access and Apps
With this app, you can create mobile reminders to keep you in check, tweak and create tasks, and even create deals from your phone.
You can also use the app to interact with the live chat function, send emails, or work with your team, viewing their tasks and projects.
As an extension of the HubSpot CRM, this app can be used with free CRM plans.
3. Social Selling and Social Media Tools
These tools allow you to focus on individuals by connecting you to the right people and letting them connect to you too.
Apple Clips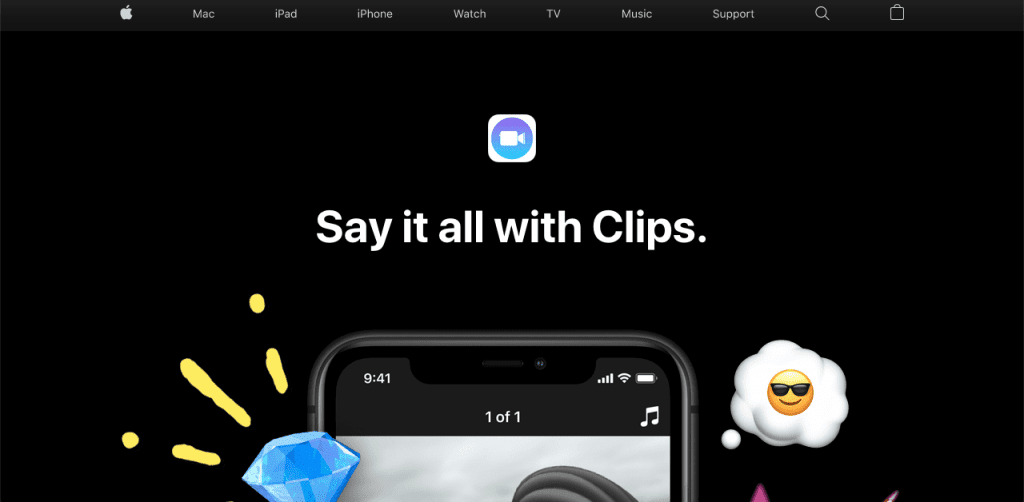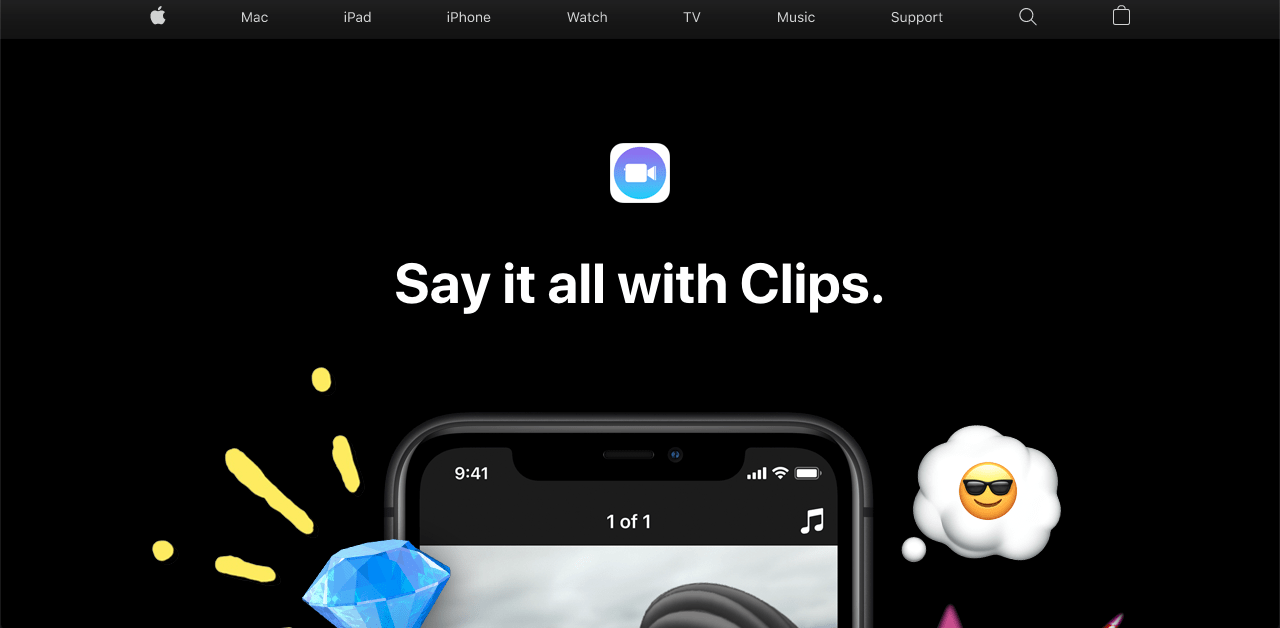 Apple Clips is an Apple-focused app that allows you to create, edit, and share short videos with graphics, text, and even special effects.
You can also use the Live Titles feature to engage with your audience, which lets you create animated captions as you record simply by talking.
Mobile Access and Apps
Although only available for iPhone, Apple Clips is a great way to create video content for your brand.
LinkedIn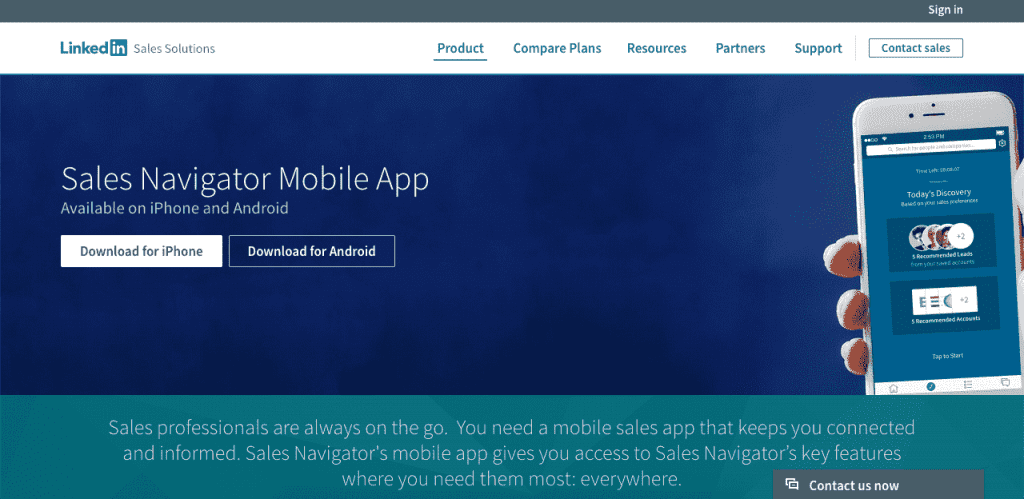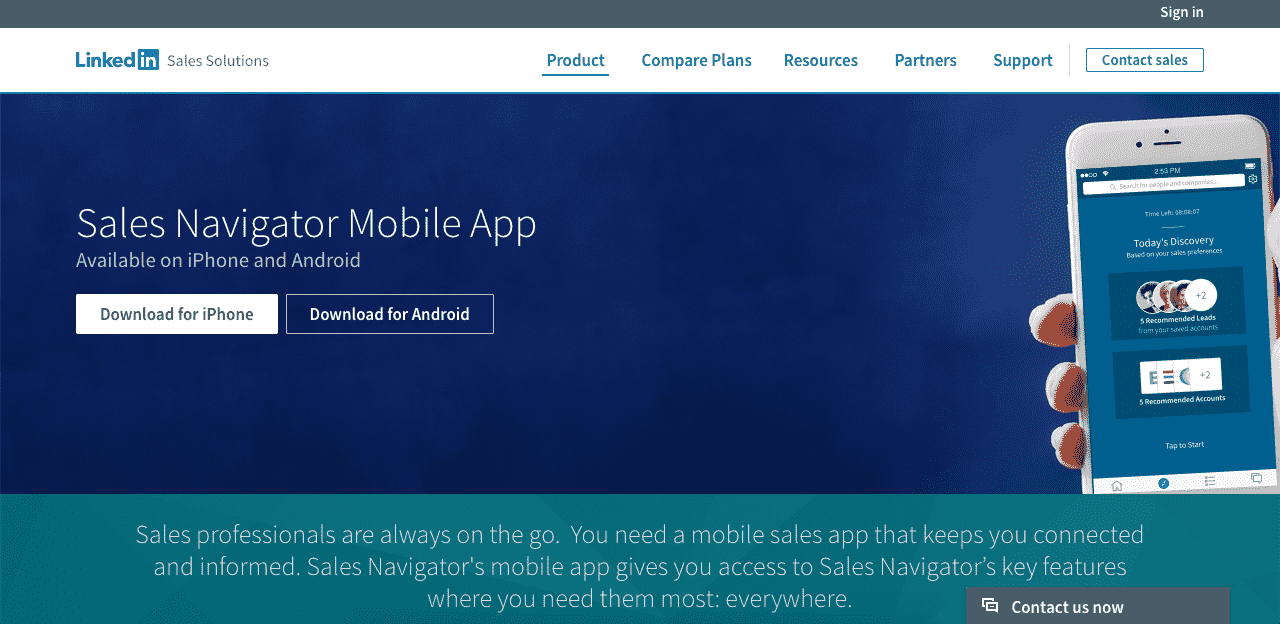 The LinkedIn Sales Navigator app can help you connect with potential clients through its advanced, sales-focused algorithm. 
Mobile Access and Apps
With the LinkedIn Sales Navigator app, you can connect and interact with your leads directly on your phone as soon as the platform recommends them.
This mobile tool provides users with an excellent method of getting all the LinkedIn Sales Navigator functionality on the go, letting you connect and sell to prospects wherever you are.
Twitter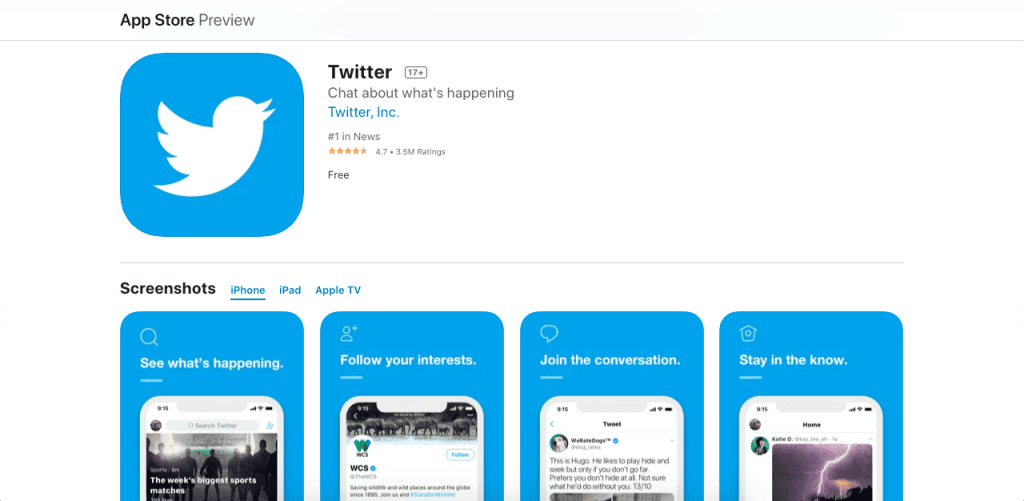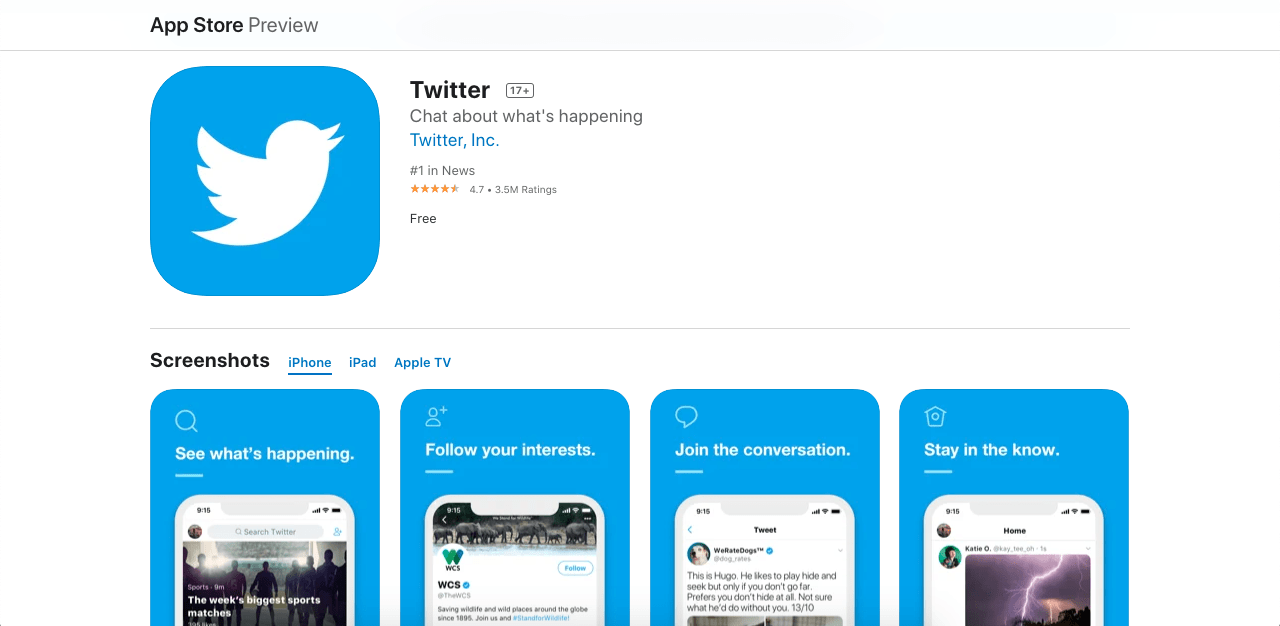 Twitter is one of the most important social platforms for your business. It allows you to communicate to your users through short messages, known as "tweets", keeping them updated with your strategies and business efforts.
Mobile Access and Apps
Used by over 336 million users, the Twitter mobile app provides you with all the platform functionality right on your phone, allowing you to set up multiple accounts and easily switch between them to market to different businesses.
The app will give you the power to find and reply to your audience immediately and wherever you are.
4. Video Meeting Software
Video meeting software allows you to have a video conference call with others, using your phone's camera and microphone to interact with users.
Zoom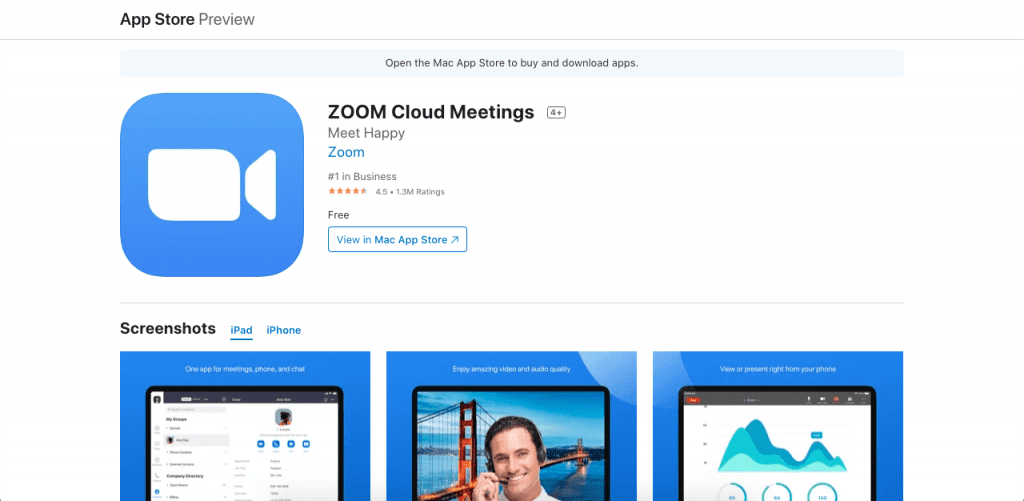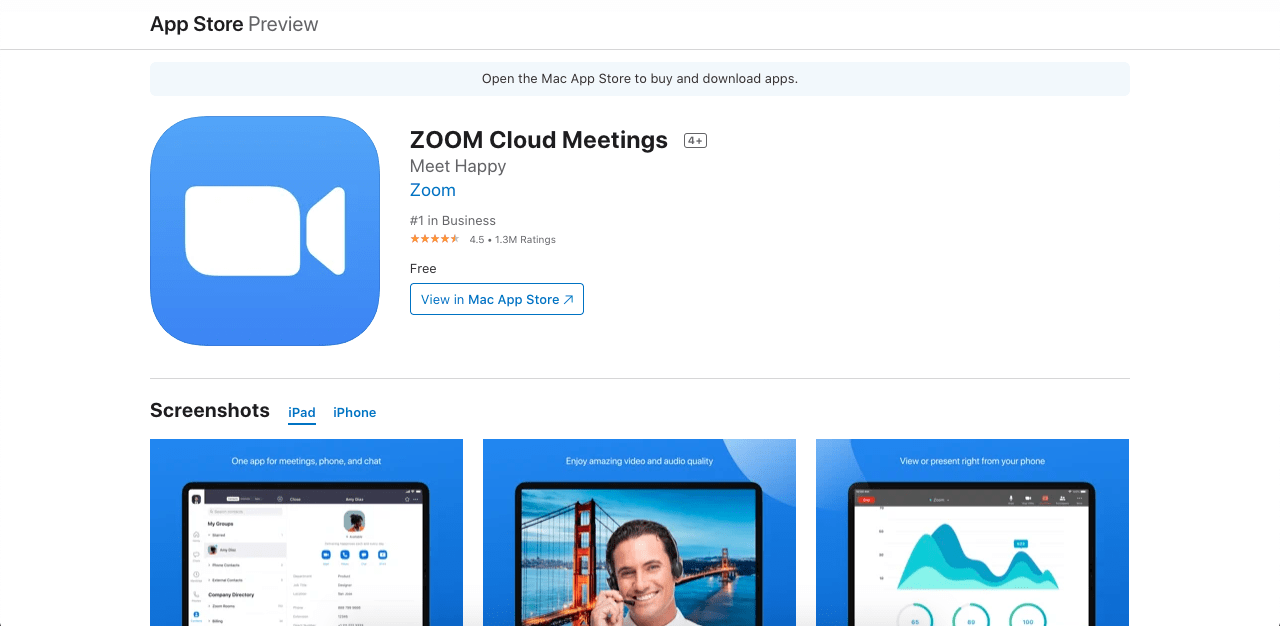 Zoom has quickly become one of the most commonly used video meeting apps in the world. With crisp video and audio, and easy access to meetings, Zoom is a high-quality alternative for anyone looking for an effective, streamlined video conferencing app.
All Zoom plans include features like whiteboarding, screen sharing, meeting recording, and breakout rooms, and they can all be used with your phone.
The free version has limited call time restrictions, but you can check out paid versions for unlimited call times if you require more than 45 minutes for your calls.
Mobile Access and Apps
Zoom offers apps for iOs and Android with almost all the functionality of the desktop version. The only difference comes with meeting controls since the mobile apps have yet to include advanced options for things like live streams, polls and break-out rooms.
However, if you're using the app for simple meeting versions, you'll get the same level of functionality.
Google Meet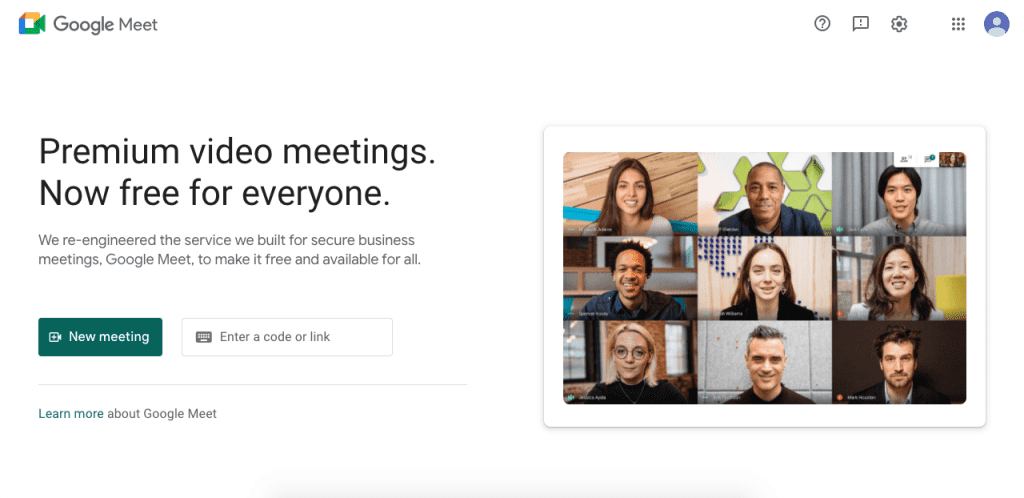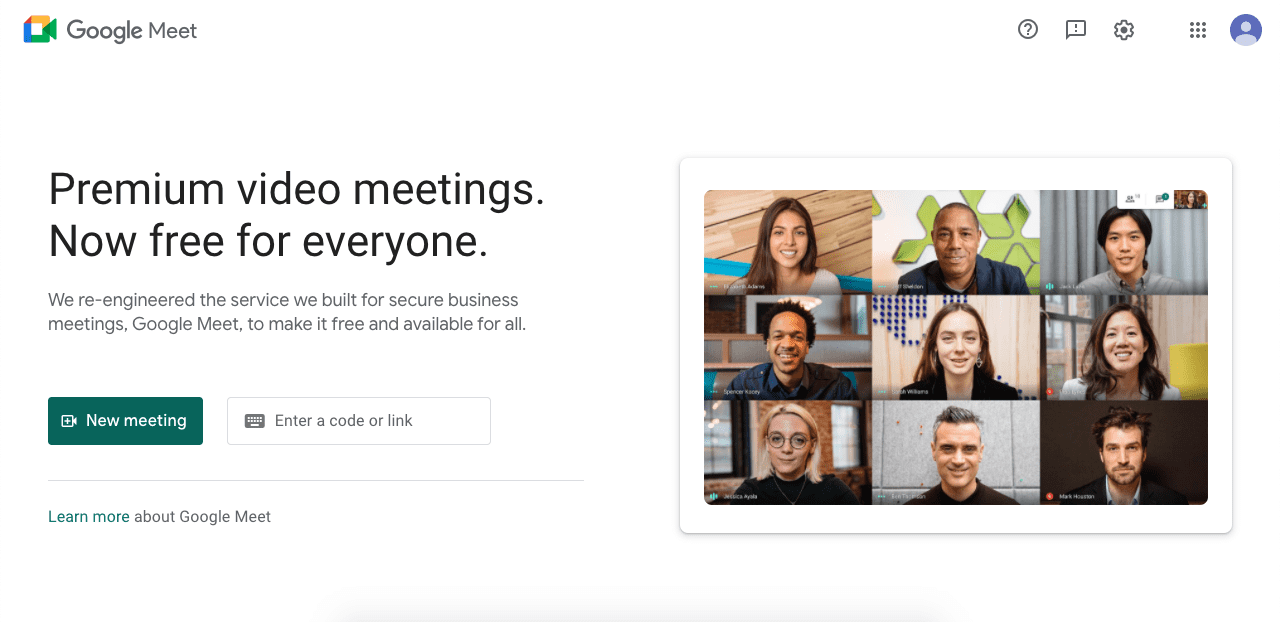 Formerly known as "Hangouts Meet", Google Meet is part of the G Suite office productivity platform.
Like the rest of the Google Suite, Google Meet works flawlessly on all devices, improving the experience of the standard Google Hangouts by fully focusing on business needs.
Anyone can access your conference through its dial-in number without needing to install any app beforehand.
Mobile Access and Apps
Google Meet works with all your existing conferencing hardware and can be used in both Android and iOS.
GoToMeeting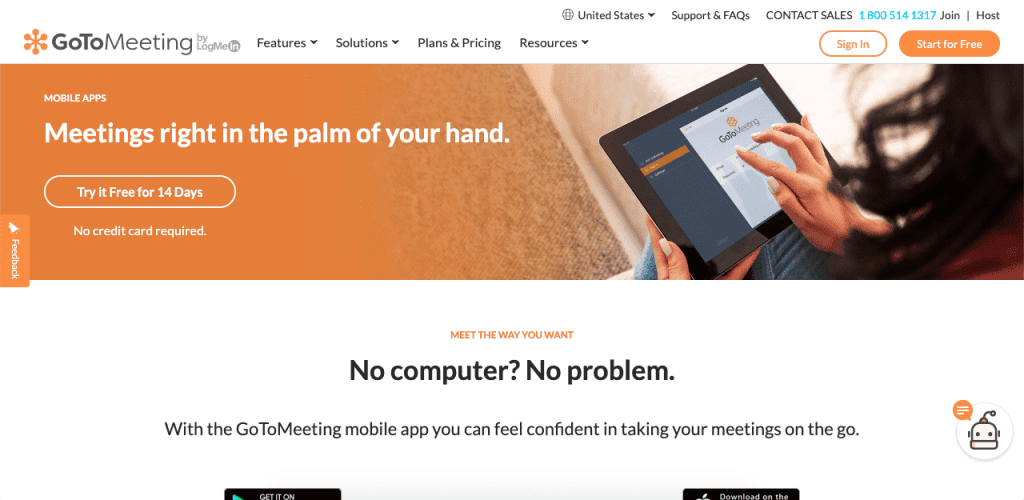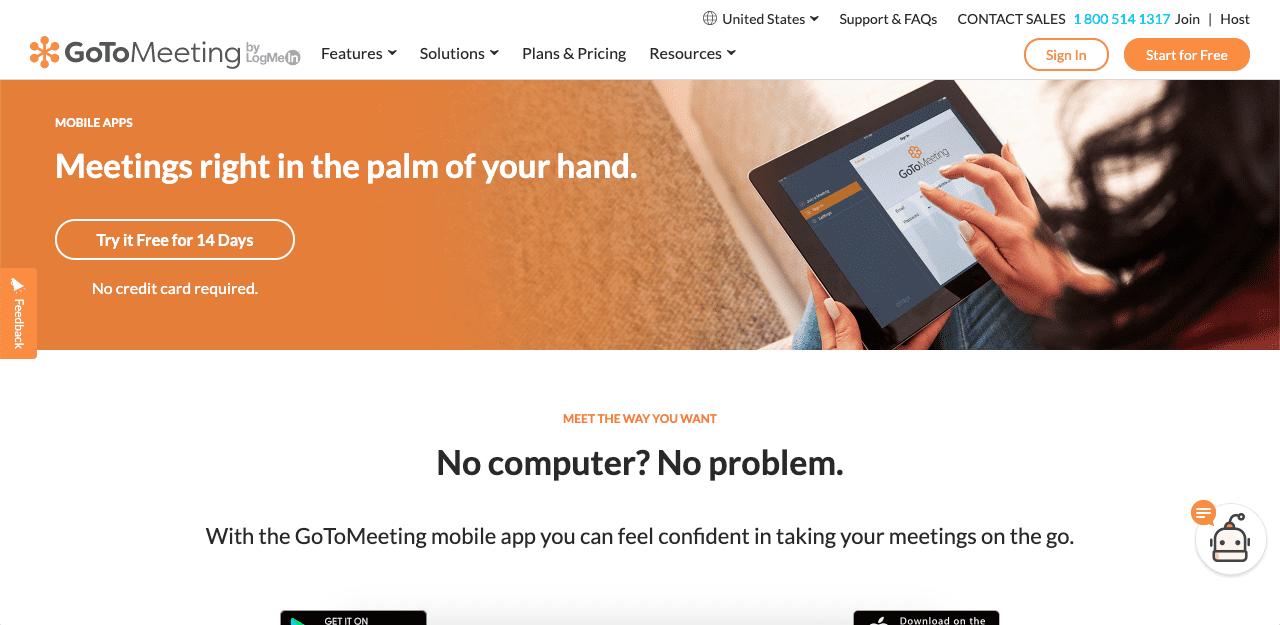 Although not as popular as it once was, GoToMeeting is still a useful mobile video conferencing tool.
With a streamlined and user-friendly platform, GoToMeeting gives you features like polling and "raise a hand" to manage a large group of people easily.
The platform includes HD video, screen sharing for all devices, unlimited meetings, and high security.
Mobile Access and Apps
GoToMeeting offers Android and iOs mobile apps that give users the same desktop experience on the go. 
5. Calendar Scheduling Software
Appointment scheduling software handles all your scheduling needs, letting users schedule their calls and appointments with you and automatically book them in your calendar without direct interaction.
Calendly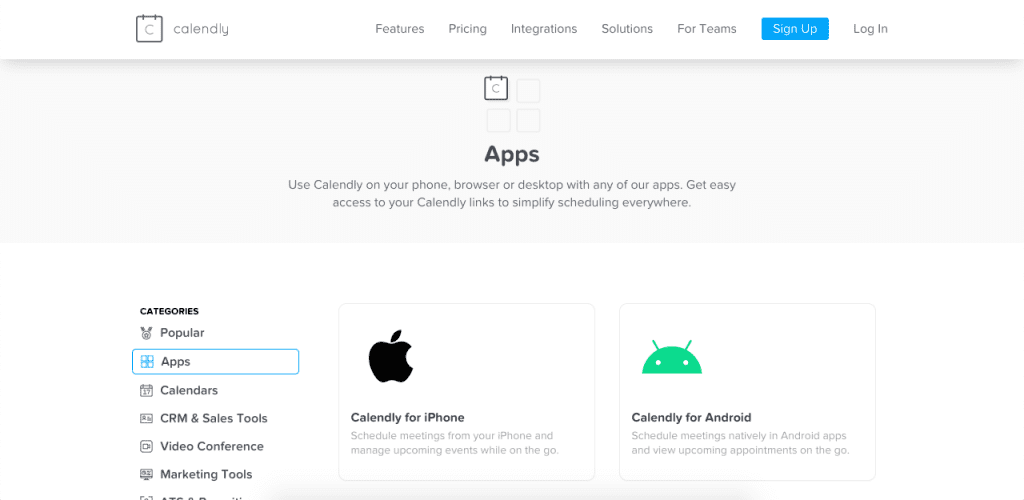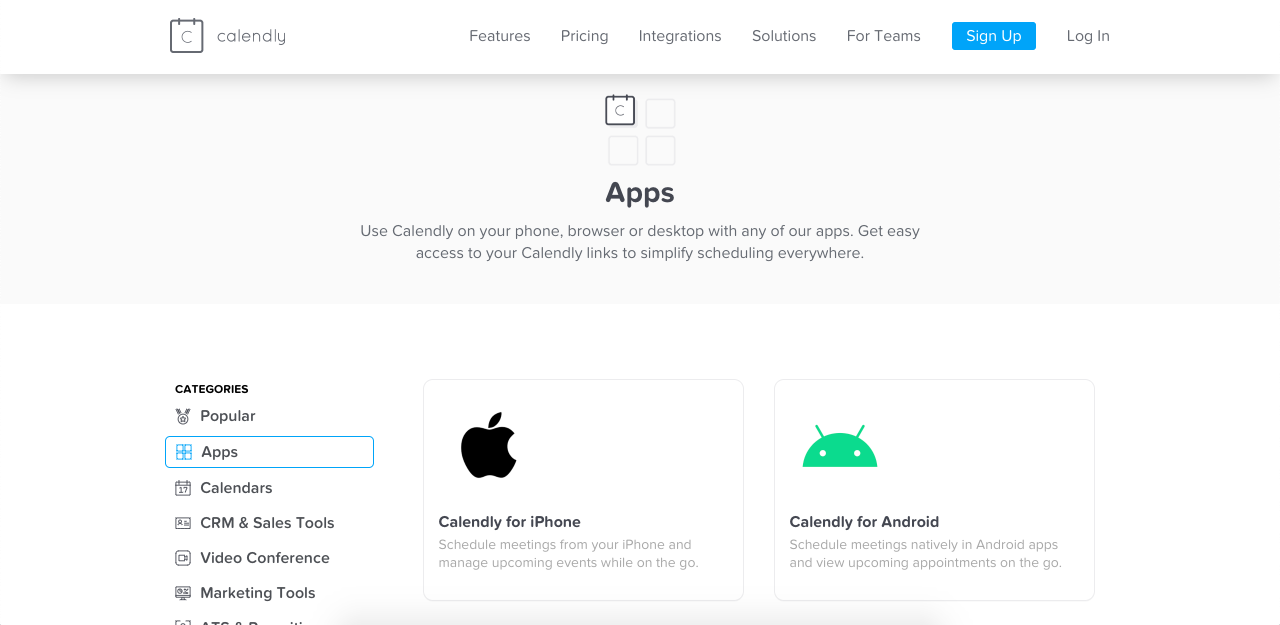 Calendly is a popular platform for anyone looking to automate their scheduling. Its simplified and streamlined design has made it an excellent option for anyone looking to organize and automate their booking system, from casual users to professionals. 
Calendly also integrates with most online calendars, including Google Calendar, iCloud, Outlook, and Office 365, allowing it to automatically schedule an appointment in whichever digital calendar you use.
Mobile Access and Apps
With apps for both iOS and Android, Calendly allows you to set up your availability and get people to schedule appointments with you at the time that works best for both of you.
Acuity Scheduling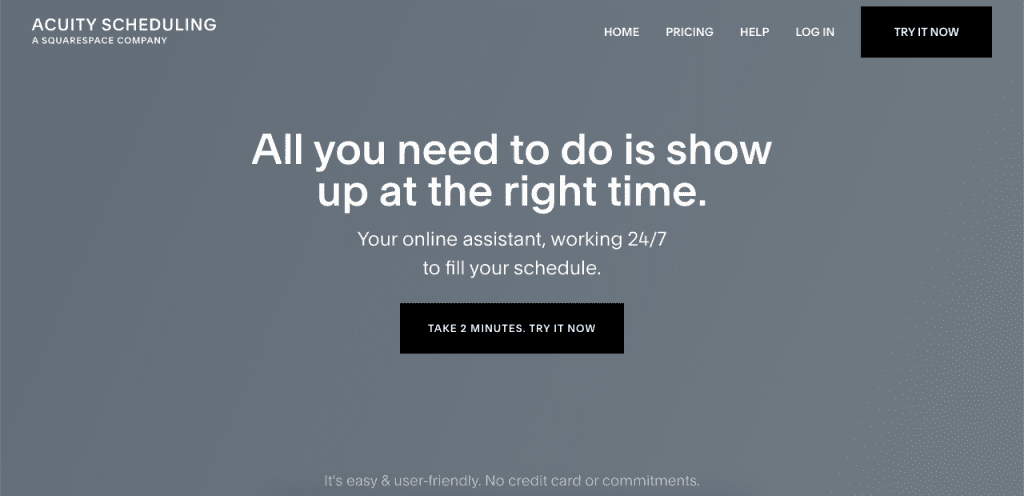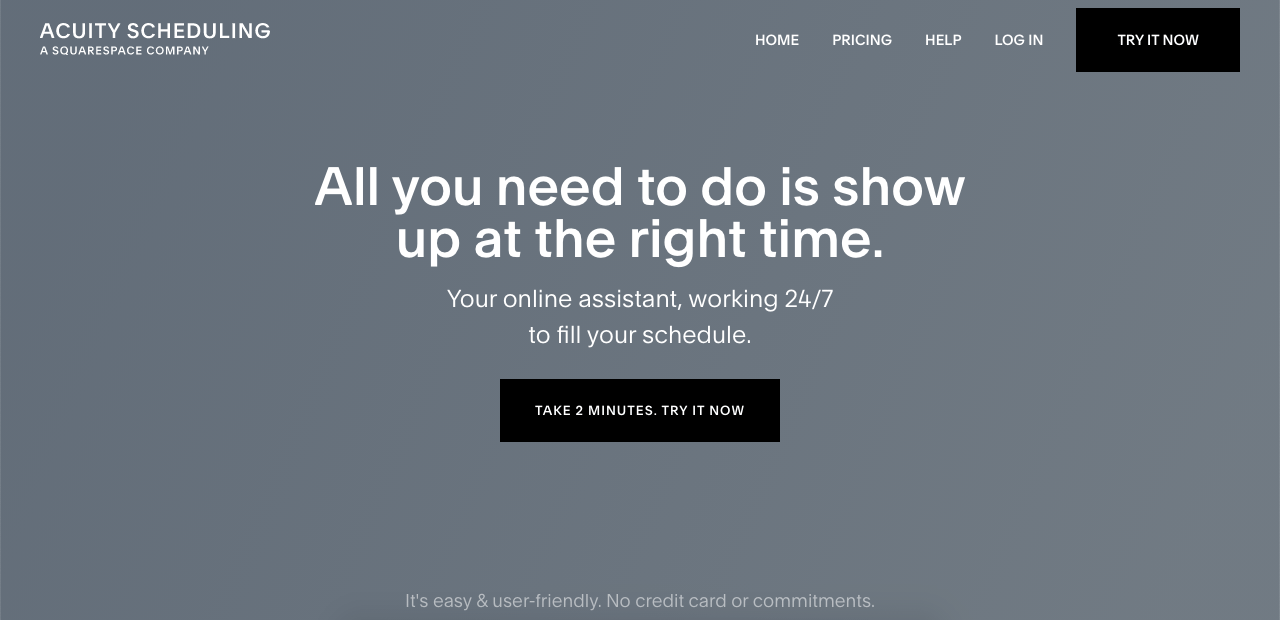 Acuity Scheduling is a great scheduling tool that works well on both desktop and mobile devices. With this app, your clients can select one of your chosen availability slots to book an appointment with you automatically.
The platform also allows you to accept payments and tips through PayPal, Square, or Stripe and offer coupons for your clients. This makes it perfect for anyone looking to collect immediate payment for their inside sales or to monetize their time.
Mobile Access and Apps
Acuity Scheduling has apps in both the App Store and Google Play. Although this app is perfect for viewing and managing your appointments, you'll have to access the platform from a browser (mobile or desktop) to change your account settings.
10to8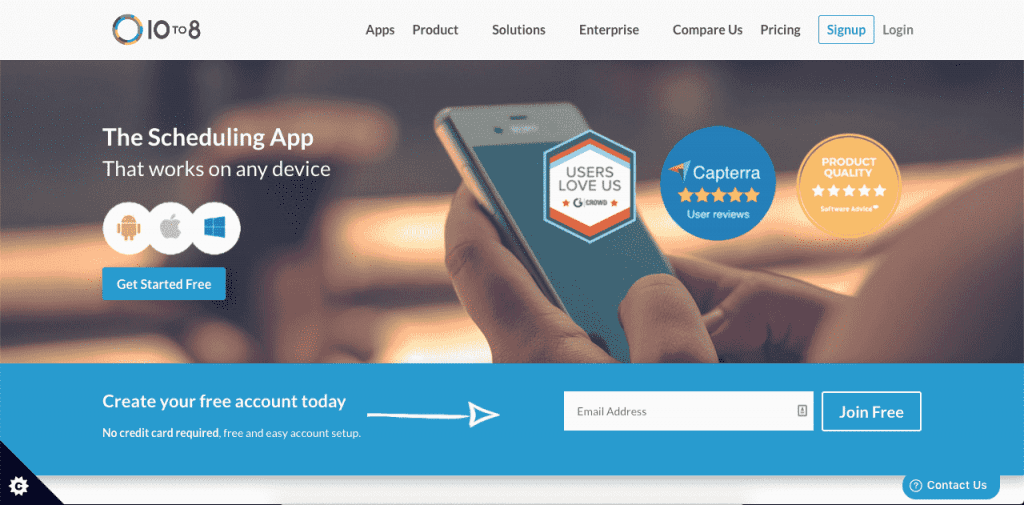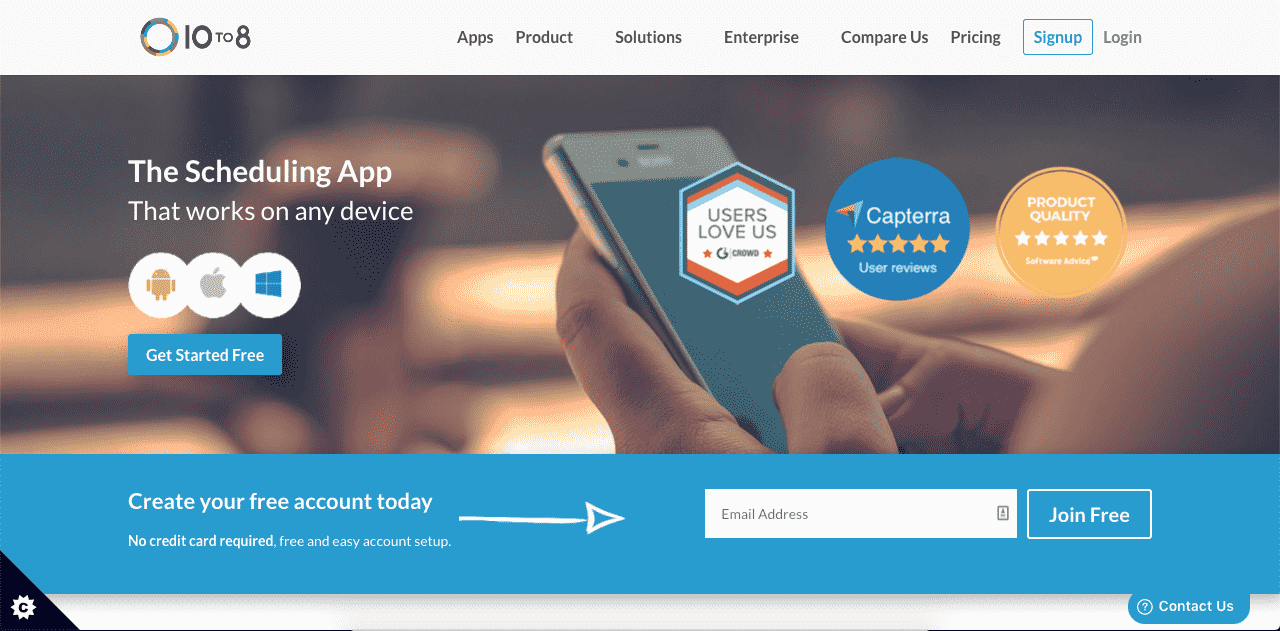 10to8 is another appointment scheduling software that allows your clients to book appointments with you.
The platform also syncs to your calendar, sends automated reminders to your phone, allows for custom branding, and can be set up to collect payments before or after your appointments.
10to8 has over 500 integrations, including Zapier, Google Docs, Mailchimp, and Paypal. It also offers multiple sales management tools, making it perfect for the business-focused user. You can also check out this detailed review on 10to8,
Mobile Access and Apps
10to8 has apps for iPhone, Android, and even Microsoft phones, which give you full control across virtually all devices.
Strategic & Tactical Sales Advice: Straight to Your Inbox.
Join 20,000 sales leaders receiving practical & in-depth content. No fluff, just the best sales how-to guides.
I agree to receive emails from UpLead, and can unsubscribe at any time.
6. Digital Signature Software
Digital signature software allows you and your users to sign and collect legally-binding signatures online, from anyone, anywhere.
Docusign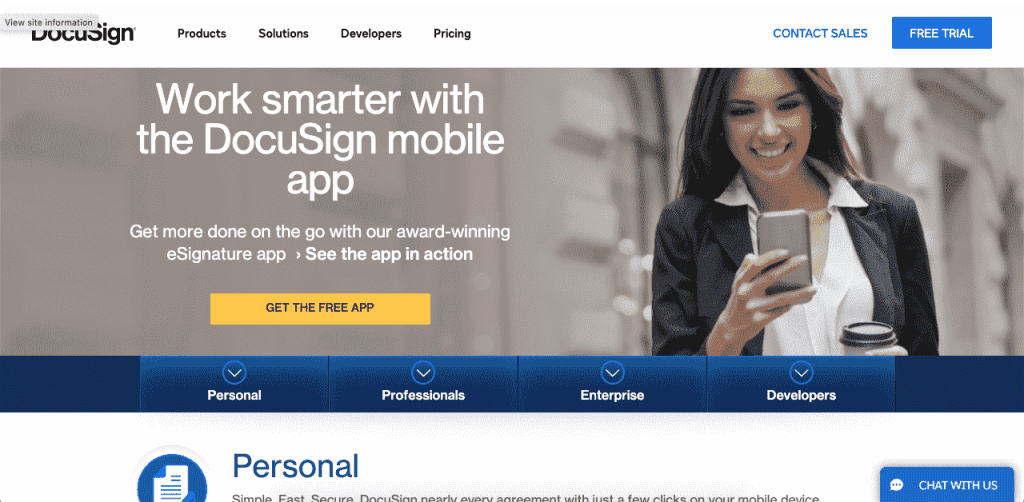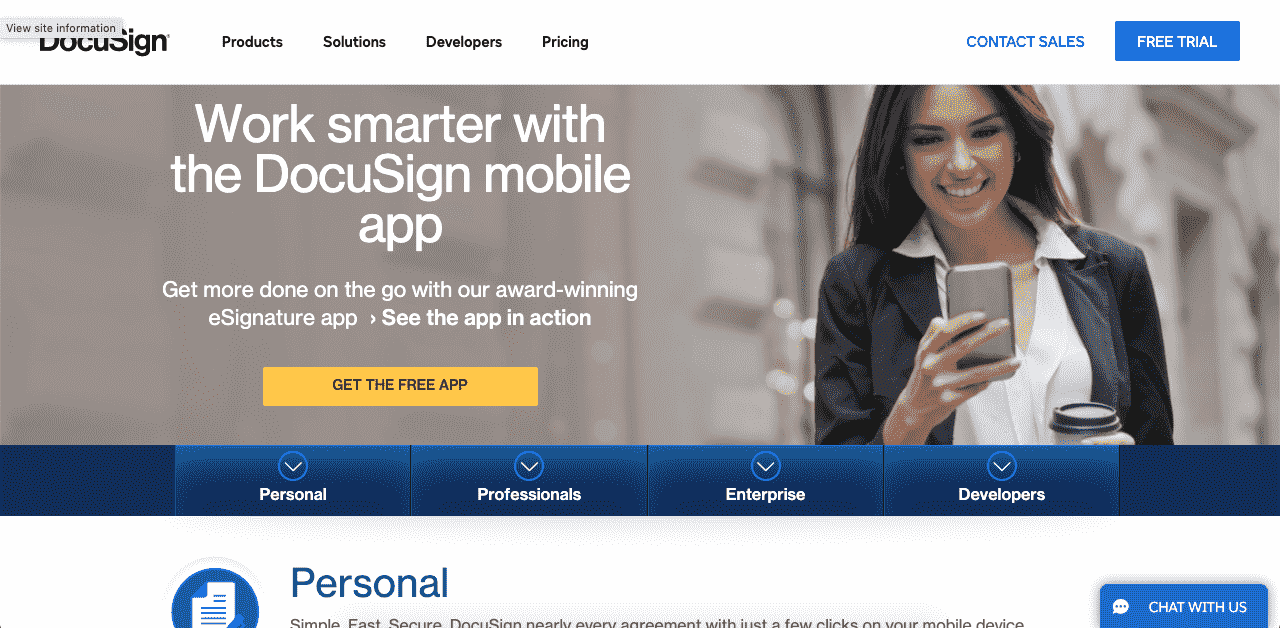 DocuSign is a popular online signature platform with powerful mobile features. The DocuSign platform lets you sign and return documents directly on your phone, desktop, or tablet, set up documents with advanced signature fields, and keep track of the signature process.
Mobile Access and Apps
With apps for both Android and iOS, both you and your signees can get a lot out of DocuSign mobile, as it gives you nearly all of the platform's desktop functionality directly on your phone.
Although DocuSign doesn't offer free plans, the app is free to download.
HelloSign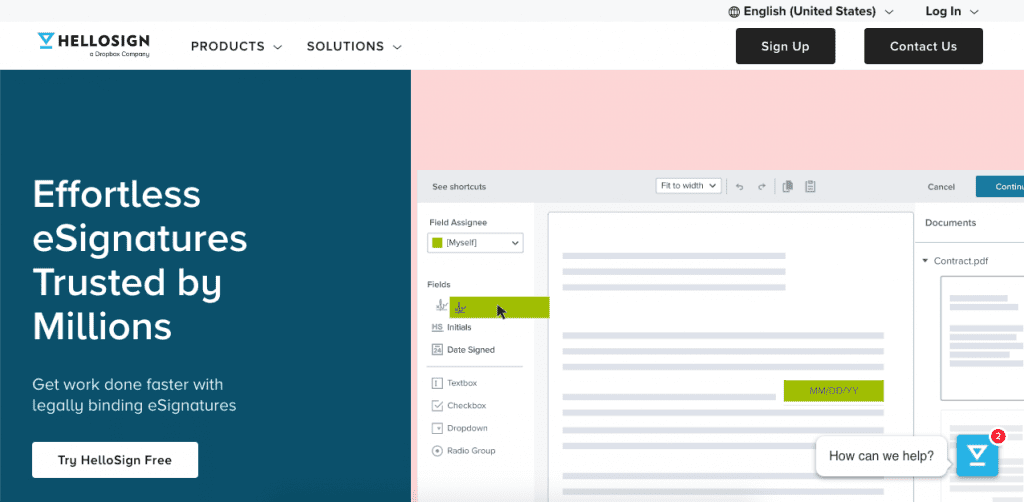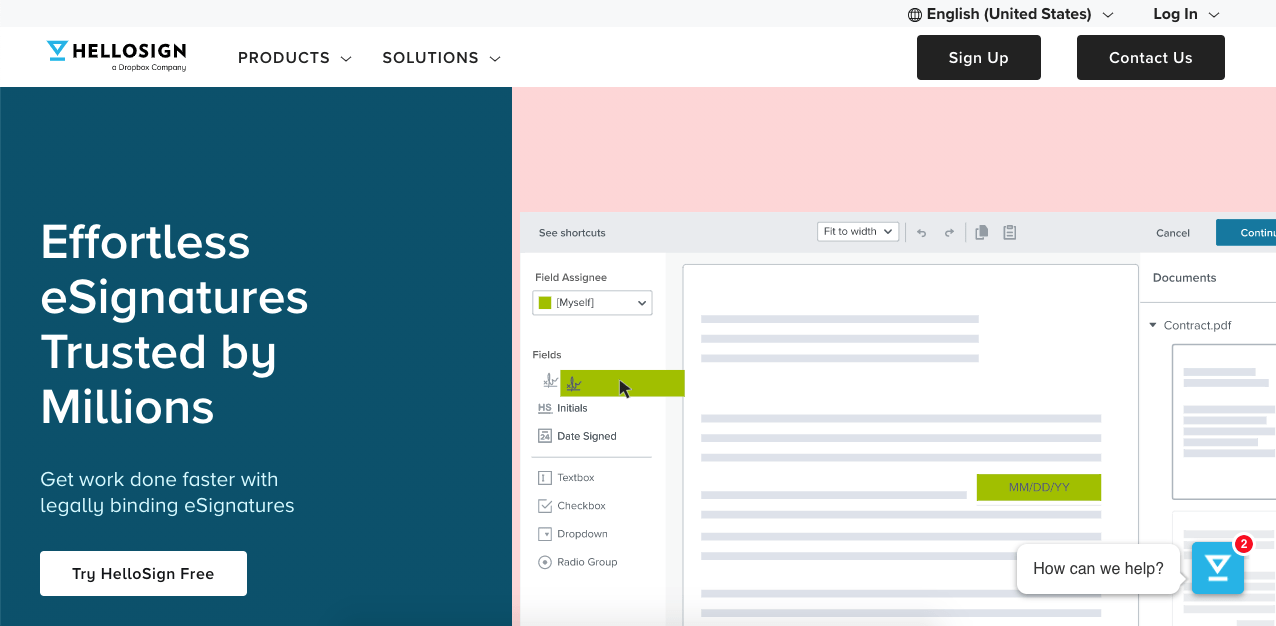 HelloSign is another eSignature platform. Unlike many options out there, HelloSign focuses on giving users a seamless online signature experience, although at the expense of dropping advanced options.
Mobile Access and Apps
The HelloSign app not only lets you sign and set up documents to send online, it also transforms your phone into a scanner to quickly digitize your paper documents.
You need to scan your printed documents, edit them, sign them, and send them to your signees to get a legally binding online signature.
Signaturely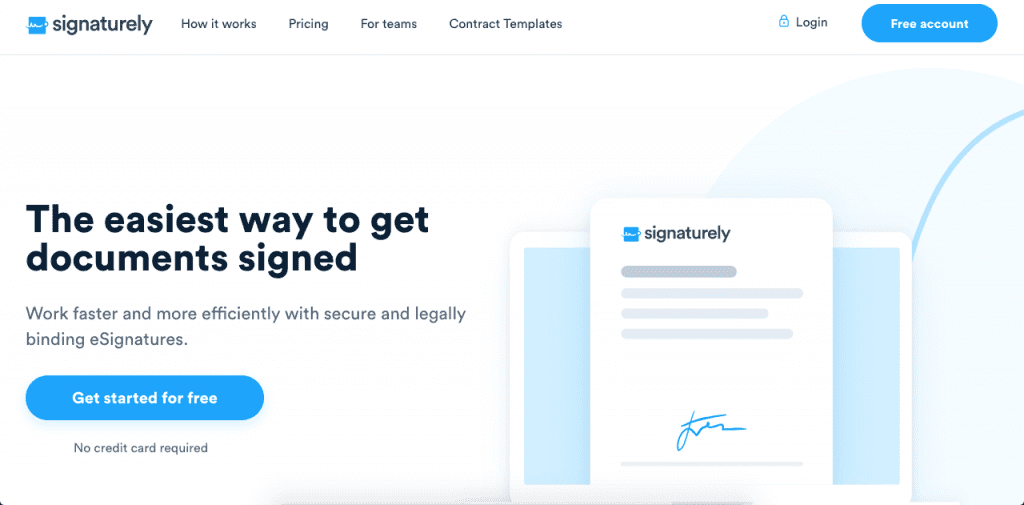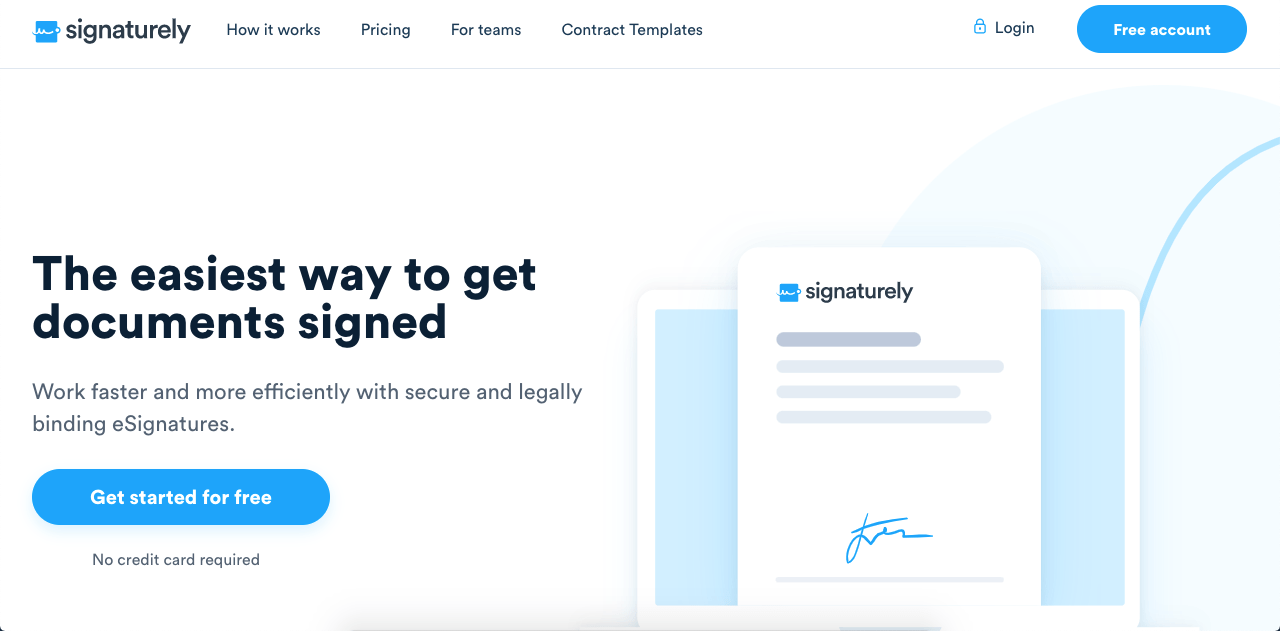 Signaturely is a simple and effective way to get legally binding online signatures from anywhere using any device.
With Signaturely, you can start using online signatures for free through its free plan, which provides you with up to three signature requests per month for free, as well as access to the audit log and history and automated notifications and reminders.
If you need more monthly signatures, Signaturely's $10 per month plan allows you to send unlimited signature requests. And for just $15 per month, you can receive both unlimited signature requests and unlimited templates, along with team management tools and custom branding.
With Signaturely, you don't have to worry about deleting documents or editing old documents to free up more space.
7. Proposal Software
Mobile sales presentation tools allow you to create, send, and display business proposals on your mobile devices.
Proposify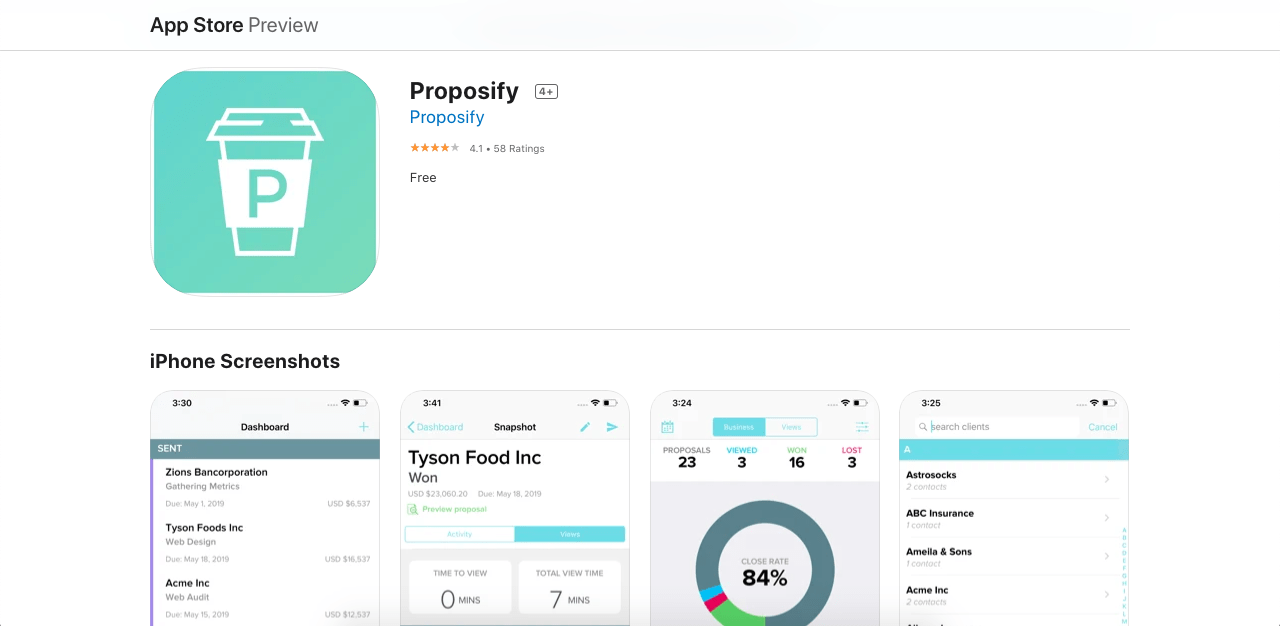 Proposify helps you create proposals quickly by integrating data from multiple sources to populate your data fields.
This platform also lets you create branded templates so you and your sales team can use and reuse templates as needed instead of starting from scratch.
With Proposify, you can create interactive proposals that can collect online signatures to speed up your closing process and get the project going immediately.
Mobile Access and Apps
You can use Proposify to track your analytics and as a free sales tracking app on iOS and Android devices and on your desktop.
PandaDoc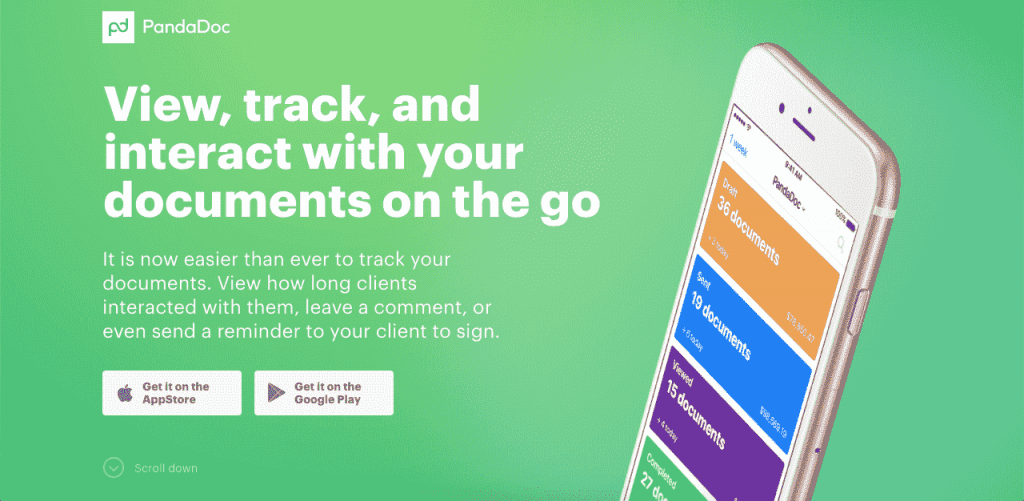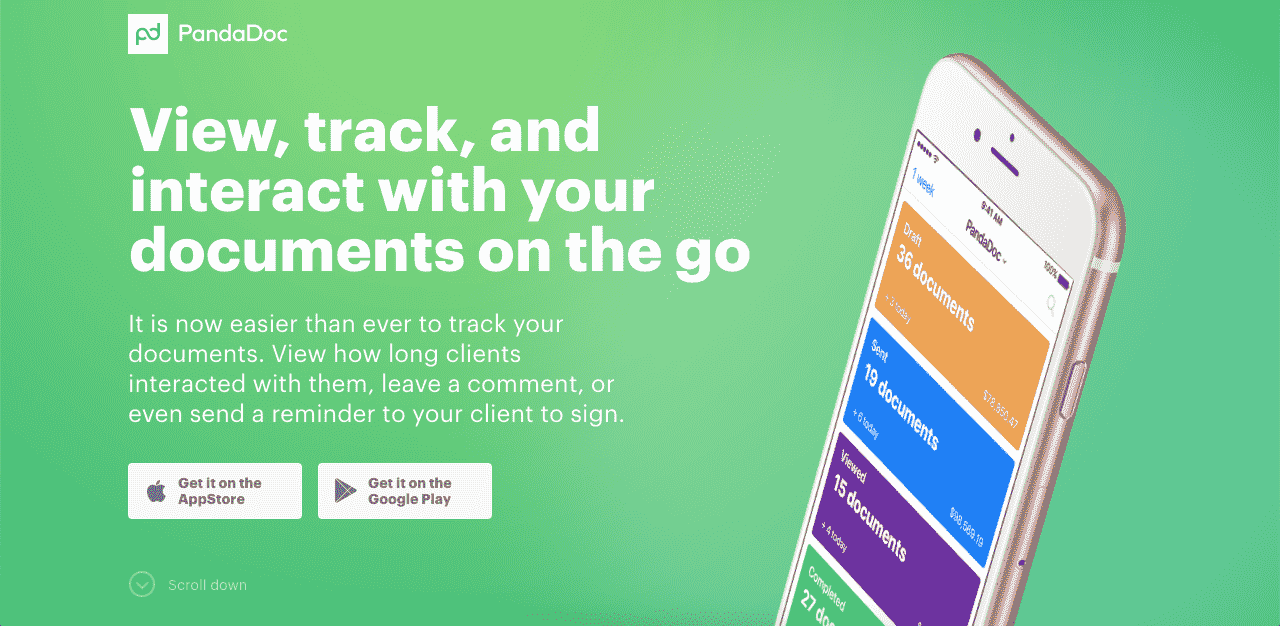 PandaDoc is another platform that allows you to create interactive proposals both on mobile and desktop, with online signature capabilities.
With the PandaDoc app, you can keep up with your proposals, check to see who has viewed them and for how long and receive automatic notifications of important actions performed by your recipients.
You can also use the app to approve or deny proposals, create online signatures to sign them, and communicate with your clients in-app through the commenting feature.
Mobile Access and Apps
The PandaDoc app is available for both Android and Apple devices.
Better Proposals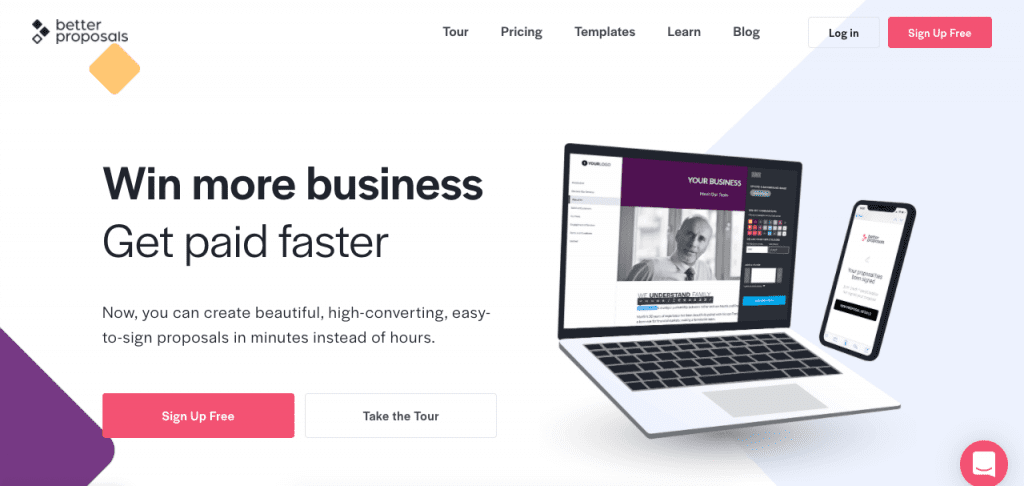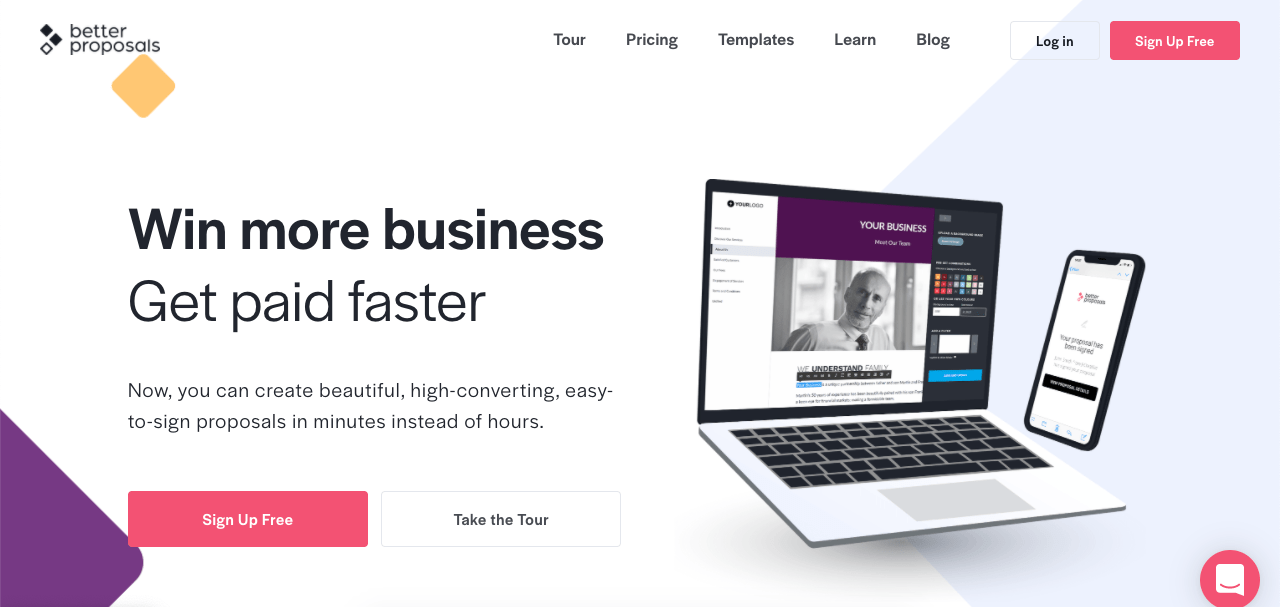 Better Proposals makes it easy to develop attractive proposals from any device quickly. With its Automated Designer and more than 160 templates, Better Proposals makes it easy to develop proposals from the ground up within minutes from any device.
The proposals also come with online signature capabilities, allowing all parties to sign up as soon as they get the proposal. With its integrations with PayPal, stripe, and GoCardless, your proposals also act as invoices that can quickly be paid online.
Mobile Access and Apps
Although the platform doesn't have a mobile app, you can still review, read, and sign proposals with any mobile device.
8. File Sharing Software
Cincopa Share
Capturing and transmitting offsite media can be a major hassle; sending dozens or hundreds of images and videos via WhatsApp or DropBox is time-consuming and insecure. And that's before we mentioned the painstaking issue of tagging meda…
That's precisely why sales reps turn to the Cincopa Share mobile app. Developed by Cincopa, a digital asset management and video hosting platform, Cincopa Share makes it easy to capture, organize, and communicate visual media in a secure and responsive fashion.
Users can take hundreds of images and videos and add them to their existing dynamic Cincopa galleries. 
On the receiving end, prospects and customers won't have to waste time downloading media or worry about running out of storage. Since there is no file to download, merely a link to the mobile share page, where the file is displayed. The share page consists of the file presentation and the sharing options you may use. 
Mobile Access and Apps
Cincopa Share is available for both Android and Apple devices.
Conclusion
Having the right mobile sales tools will help you close more sales, streamline your sales process, and stay in touch with both clients and teammates.
However, if you want to start selling anything, you first need to generate leads to contact. Try UpLead free for 7 days and start generating the leads your business needs.