As a marketer, you know that generating leads is essential to the success of your business. However, with so many management prospecting tools on the market, it can be challenging to know which is right for you. This guide will compare Lead411 vs. Lusha, two of the most popular lead generation software platforms, to help you decide which is right for your business.
Quick Links:
Lead411 vs. Lusha Comparison Guide
The Lusha and Lead411 platforms offer several features that can help generate leads, but they also have some key differences. To help you decide which tool is suitable for your needs, let's take a closer look at the features, data structures, and pricing models.
Lead411 Overview
Lead411 is a sales intelligence tool that helps your marketing teams build trust with your leads. The platform provides detailed information about your prospect lists, including B2B contact information, social media profiles, and company data. Lead411 has tools for users to nurture their leads and turn them into customers, such as lead scoring and email drip campaigns.
The platform is also easy-to-use, especially in the search feature. The learning curve to adopt this platform is relatively low, as the tool's functionalities speak for themselves. While Lead411 is straightforward, users tend to find Lusha easier to use.
Lusha Overview
Lusha offers buyer intent data from over 100 million business contacts and 15 million companies. The platform provides users with detailed contact information, including email addresses, phone numbers, and social media profiles.
Lusha also offers several features designed to help you nurture your customer relationships, such as data enrichment and real-time alerts. It also complies with GDPR norms, making it a safe bet regarding security protocols. Lusha serves mid-market companies with its robust feature set and emphasis on quality data generation. While the software performs well on ease of use, Lead411 is easier to set up initially.
Start Your 7-Day Free UpLead Trial
Lead generation doesn't have to be all that painful. With UpLead, you can easily connect with high-quality prospects and leads to grow your company.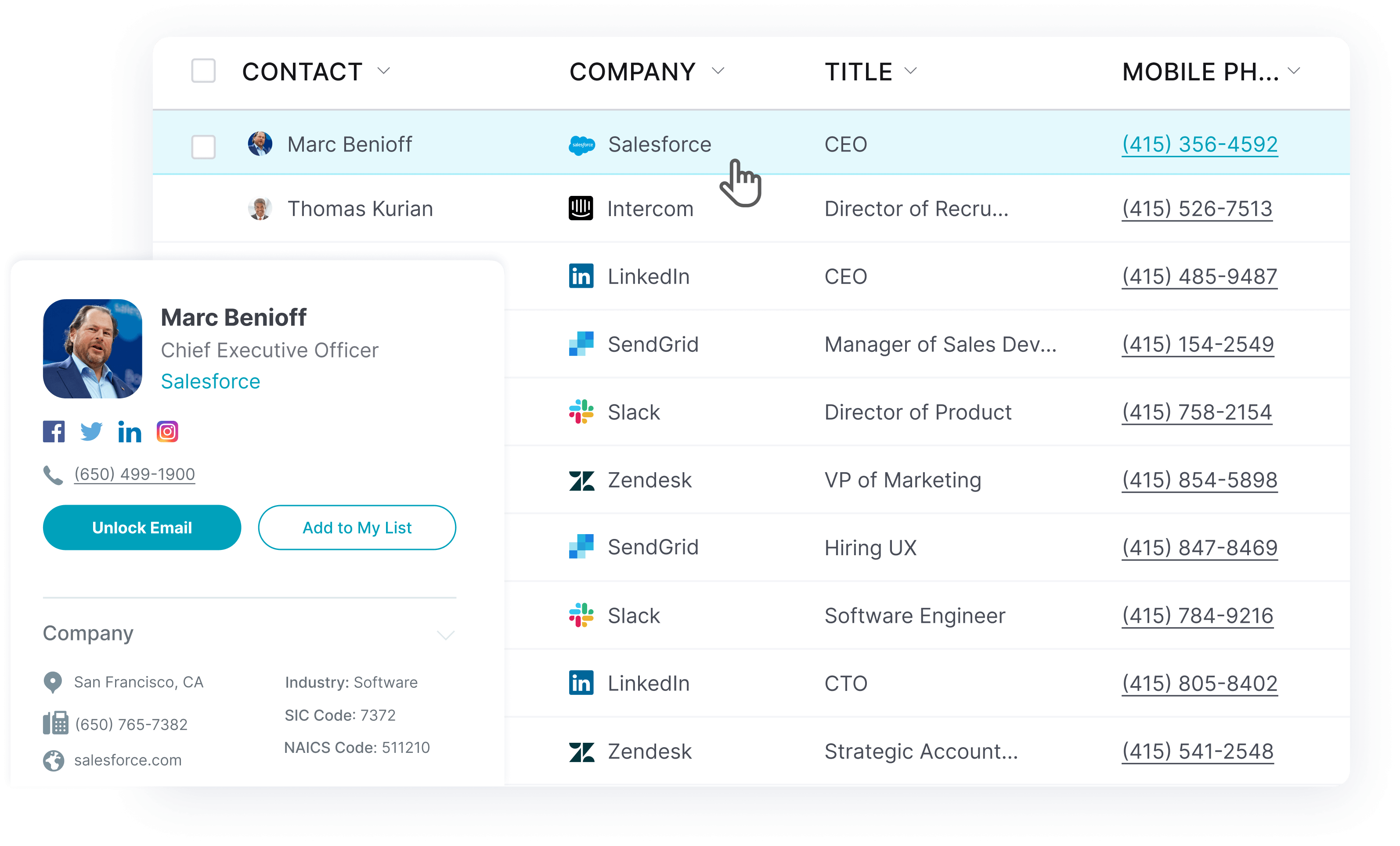 Lead411 vs. Lusha: Key Features
Lead generation options like Lusha and Lead411 offer a valuable service to your sales teams by providing data and contacts to help you find and connect with potential customers. However, it's important to evaluate the key features of each before deciding which one is right for you. Ultimately, the best sales intelligence tool is the one that can help you close more deals and propel your sales efforts forward.
The key features of the Lusha and Lead411 management prospecting tools include high-accuracy contact data for lead management. Both offer SaaS cloud deployment for a range of customers in small, medium, and enterprise-sized companies. While Lusha offers a free Starter tier, Lead411's basic plan starts at a lower price than Lusha's Professional plan. This makes Lead411 more accessible for startup users looking to scale their sales operations quickly.
While they are similar in their feature set, they also differ in terms of what they offer. Lead411 provides a lead builder tool, data segmentation, and news alerts to enhance your sales outreach process. On the flip side, Lusha offers more customization, including creating a personalized lead capture for email newsletters and pre-configured templates for faster business development.
Lead411 Features
The most noteworthy features of Lead411 include the following:
Provides quality intent data, including business and lead information
Tracks key company events that may trigger spending
Advanced search
Centralized dashboard for users
Customized email lists
RSS news feed
API and CRM integration
Lusha Features
The most noteworthy features of Lusha include the following:
Search prospects for phone numbers, direct dials, emails, company, and more
Export email lists with CRM integration
Receive customer insights based on usage
First ISO 27701 certified sales lead platform
API Access
Bulk data enrichment
Dedicated success managers at enterprise plans
Lead411 vs. Lusha: Data
Integrations are often an important topic when discussing the benefits and features of lead qualification tools. After all, most B2B contact platforms aim to provide a comprehensive view of your potential happy customers. When evaluating your options, it's essential to consider each option's key integrations, and doing so will help you choose a tool that meets your specific needs.
Lead411 Data
One of the most important aspects of sales and marketing is knowing when a lead is ready to buy. With Lead411's growth intent data, you can see when a lead is researching a new product or service, indicating that they may be ready to purchase. This allows you to reach out at the perfect time with a tailored message that speaks to their needs. When trying to sell to a lead, it's important to have as much marketing information as possible. 
With Lead411, you can quickly search data points like lead information, business size, location, and more across millions of companies — along with 30 thousand searchable technologies. You can then build a comprehensive profile of each lead to target your sales pitch effectively. With Lead411, you can be confident that your data is accurate and up-to-date, thanks to the platform's vast email verification process that results in 96% accuracy. This way, you can avoid wasting time trying to reach out to leads that have moved on or no longer fit your target market.
Lusha Data
Lusha relies on a proprietary algorithm to cross-check data from multiple sources and create one complete data point. Lusha's partners use AI and machine learning to capture information from public records and business directories, which is then licensed to Lusha. This approach to data collection is compliant with applicable laws. As a result, Lusha has a database of over 60 million business profiles and 15 million companies.
This might sound like a lot of data, but it's important to remember that not all data is created equal. That's where Lusha's proprietary algorithm comes in. By cross-referencing data from multiple sources, Lusha can make one comprehensive data point so your sales team can find the right person.
Lead411 vs. Lusha: Integrations
When discussing the benefits and features of email verification and lookup software, integrations are often an important topic of conversation. After all, most of these platforms aim to provide users with a comprehensive view of their potential customers. When evaluating contact data enrichment software, it is essential to consider its key connections, like CRM integration.
Lusha has several CRM integrations and email platforms like Gmail and Outlook, allowing you to quickly and easily look up customer information without leaving your inbox. Lead411 also has similar integrations into CRM tools but doesn't include integrations into email platforms. Your sales and marketing team must switch between Lead411 and your inbox to look up customer information. On the other hand, Lead411 boasts a well-designed API integration and Chrome extension, which are also vital to usability.
Lead411 Integrations
Lead411's primary integrations include:
Hubspot
Pipedrive
Salesforce
Zoho
Outreach
Capsule
Lusha Integrations
Lushas's main integrations include:
Salesforce
Hubspot
Outreach
Microsoft Dynamics
Gmail
Zapier
Outlook
Plans & Pricing
Lusha and Lead411 are pricing models that charge per user per month. They both offer options for billing annually and monthly, and both have a free trial. However, only Lusha has a free tier. Lead411 is more expensive overall, but they offer a discount if you pay annually. Lusha's free trial and tier offer limited features; however, it's still a great option for sales teams who need basic lead information.
Lead411 Pricing
7-day free trial
Basic: $900 per user per year billed annually ($75 per month); $99 per user per month billed monthly
Pro: $1,800 per user per year billed annually ($150 per month); $199 per user per month billed monthly
Enterprise: custom pricing
Lusha Pricing
Free
Pro: $29 per user per month billed annually; $39 per user per month billed monthly
Premium: $51 per user per month billed annually; $69 per user per month billed monthly
Scale: custom pricing
Lead411 vs. Lusha: The Bottom Line
While Lead411 and Lusha offer similar feature sets, some distinctions can inform your purchasing decision. They both have pros and cons, so it depends on your marketing team's goals and which sets of features you value more.
If you're a small sales team, you might prefer Lead411 because of its functionality. On the other hand, a mid-sized business might find that Lusha is a better option because it offers more features. Both perform well in lead validation, ease of use, and contact availability. So ultimately, it's up to you to evaluate the pros and cons of each tool and how they can benefit or detract from your sales operations.
UpLead is An All-in-One Alternative
Accuracy is one of the most critical factors when choosing a sales intelligence platform. After all, what's the use of a platform that can't provide accurate contact data? Uplead offers some of the market's most precise growth intent data, with an industry-leading 95% accuracy rate. Therefore, you can be confident that your data from Uplead is accurate and up-to-date.
Both Lead411 and Lusha offer accurate intent data and include robust CRM integrations. However, Uplead has a few key advantages over the tools that make it a leading suggested software. For one, Uplead offers real-time data verification, so you can be sure that the data you're seeing is always up-to-date. It also comes with CRM integration so that you can start with management prospecting tools immediately. Uplead's starter plan is also more affordable than Lusha and Lead411's plans, making it a better option for businesses on a tight budget. Here are other Lusha competitors as well.
What You Need to Remember About Lead411 vs. Lusha
Lead411 and Lusha are both effective options for sales teams of all sizes regarding lead management and generation. However, based on the size of the company and the desired customization level, one may be a better fit than the other. Small businesses will likely succeed more with Lead411's lead builder tool, while mid-size businesses can try Lusha for a larger range of customization options. Ultimately, other sales intelligence tools like Uplead offer compelling feature sets and pricing models. No matter your choice, it's important to be equipped with the latest information to help you find software that works.