Are you investing too much time in creating the perfect follow-up email? You don't have to reinvent the wheel every time—there are many tried-and-true templates just waiting to be used! This article covers the 21 best follow-up email templates that can be easily adapted to any situation. From reminder messages to thank you notes, these versatile templates make following up easy and efficient.
Why You Should Always Send a Follow-Up Email
When it comes to sales, sending a follow-up email can mean the difference between success and failure. Research shows that consistently following up more than once can double your response rate. It lets people know you value their time and helps keep you top-of-mind when they're ready to take action. A good follow-up email should be concise and clear while being polite. Persistence is also important; it will increase the likelihood of getting a response. By showing initiative through follow-up emails, you demonstrate your commitment and dedication to whatever project or task you represent. Remember, just because someone doesn't respond immediately doesn't mean they aren't interested. Sending a follow-up email may be the key to getting a response.
The Best Follow-Up Email Templates for Any Scenario
Follow-up emails can be incredibly effective in helping to move customer conversations forward, but only if they're tailored to fit the situation. Here are a few of the best follow-up email templates you can use across various scenarios.
1. After the Initial Meeting
Writing an effective follow-up email after the first meeting with your contact requires thought and care. The email should express appreciation while clarifying the next steps.
Template:
It was a pleasure meeting with you on [date/time] and discussing [the meeting topic]. As we discussed, I believe that [solution to pain points] can positively impact your business/organization. I'm confident that our team has the skills and experience necessary to help you reach your goals.
Please let me know if I can answer any questions, provide additional information, or follow up on any ideas we discussed.
Subject: Following Up on Our Initial Meeting – [Name]
2. Providing a Company or Personal Introduction
Sometimes it makes sense to send a follow-up email after introducing yourself or your company. A winning formula for following up on your initial introduction is to be professional, state the objective of the email, and explain how you would like to help. Reiterating these points in your follow-up email can emphasize the value you'll provide to the recipient.
Template:
Dear [Name], I'm not sure if you had a chance to see my previous email. My name is [your name], and I work for [your company]. We specialize in [services offered]. My hope in reaching out is to introduce myself and seeing if there's an opportunity for us to collaborate.
Subject: [Your name] + [company], providing services.
3. When They Need More Information
Crafting the perfect follow-up email can be tricky, especially when you don't know how the recipient might respond. If you suspect more information might be needed after an initial contact attempt, it's important to strike the right balance between being friendly and direct. A basic yet effective approach is to begin with a simple reminder about the previous conversation or message before delving into the specific subject at hand. 
Template:
I'm following up on our previous conversation about [topic], and I wanted to check if you have any additional questions or concerns.
Here are a few points I'd like to clarify: [List details here]. I look forward to hearing back from you.
Subject: A Quick Follow-Up Regarding [Topic].
4. When You've Just Had a Sales Call
Following up after a sales call is essential. It helps build a relationship and demonstrates how much you believe in the value of your product or service. Certain sales tactics, such as reviewing pain points, should be considered when designing an effective follow-up strategy.
Template:
Hi [name], Thank you for your insight while speaking with me about the [topics discussed]. Based on what we discussed, I believe [solution] is the best option for your [pain point]. Attached is further information detailing how it will help meet your objectives.
Subject: [Prospect's Company Name] Follow Up – Let's Move Forward?
5. When You're Looking for The Right Person
If you suspect that the wrong person received your first contact attempt, you can use a follow-up email to find the appropriate person to talk to—whether it's a sales manager or a CEO. Otherwise, you risk wasting your follow-up email on the wrong person. When drafting an email after not receiving an initial response, include a clear explanation, why it's important, and a polite request for action.
Template:
I'm searching for someone to help me with [a specific task]. According to my research, you may be able to provide some insight. Would it be possible for me to ask you a few questions via email or connect me to the right person?
Email Subject Line: Requesting Your Advice on [Task.]
Start Your 7-Day Free UpLead Trial
Lead generation doesn't have to be all that painful. With UpLead, you can easily connect with high-quality prospects and leads to grow your company.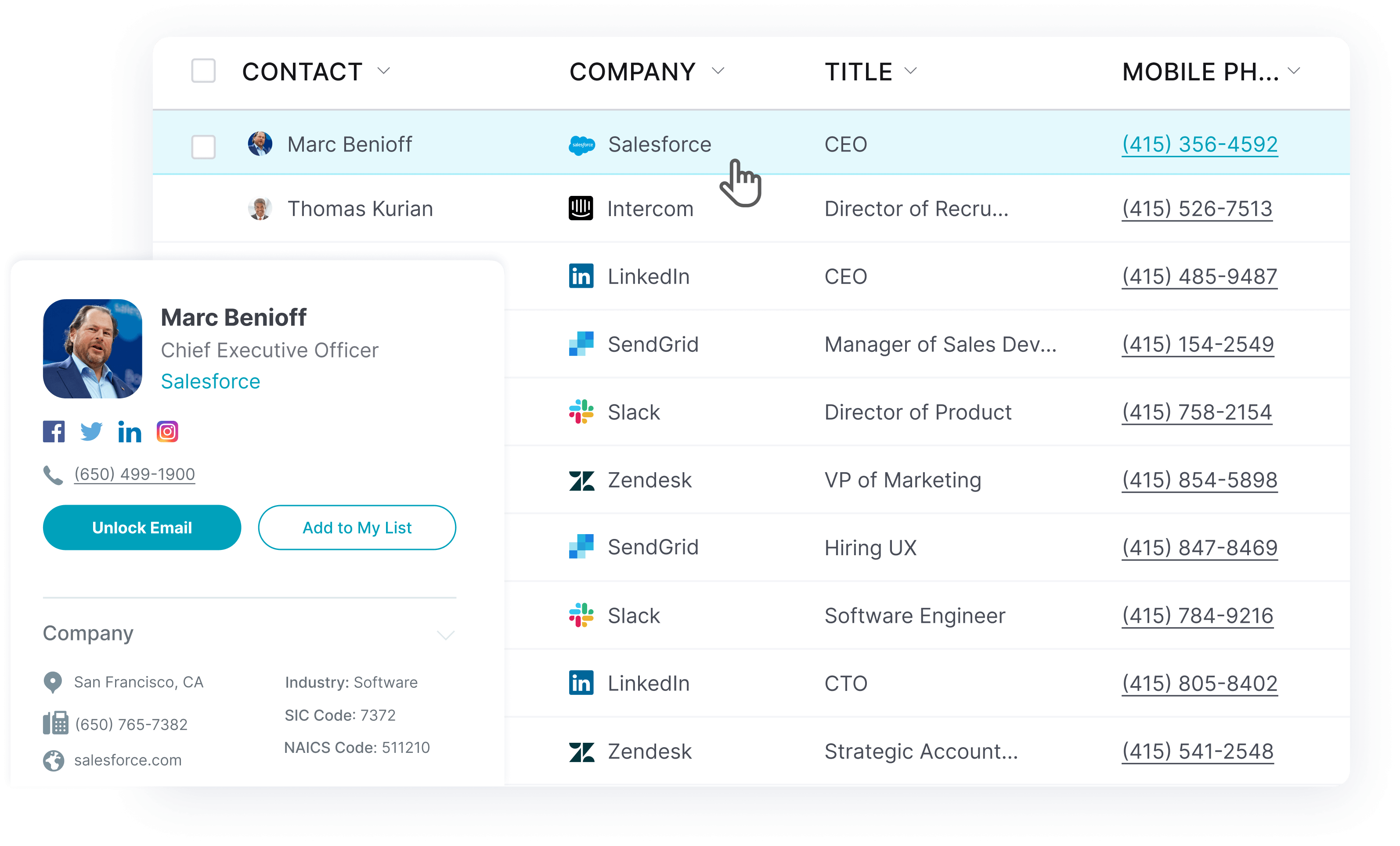 6. Follow Up Email Template After No Response
When there's no response to your initial outreach, a well-written sales follow-up email can be the key to reopening a conversation. But writing a compelling message is easier said than done, which is why we've included a few formulas and tips to make sending a polite follow-up message easier.
Remember to keep the word count low (less than 200 words), use friendly yet professional language, and ensure you include enough details without overwhelming your reader.
Template:
Dear [name], I hope you're doing well. I just wanted to follow up on our recent conversation regarding [the topic]. Is now a good time to discuss this further?
Email Subject: [Your name] from [business]: Following Up About [action]
7. Second Follow-Up Email Template After No Response
Following up after sending an initial email pitch to a potential sales lead can be tricky. When sending a second follow-up email, you must show that you respect the recipient's time while maintaining a professional yet personable tone. If done well, a second follow-up may be your best chance of getting your lead's response. The key here is to re-establish contact in a friendly but purposeful way and suggest setting up a conversation if necessary.
Template:
I hope this message finds you well! I just wanted to check in regarding my recent email about [brief description]. I'd love to have 10-15 minutes of your time to discuss further details or answer any questions you may have.
Subject Line: Following Up on My Previous Email
8. Adding Value to the Customer Experience
Every customer experience matters, so it always pays off to go the extra mile and make your customers feel valued. Use the best follow-up email templates to create positive customer experiences that add value. 
Template:
Hi [name], Thanks for taking the time to purchase/interact with our [services/products]. We hope you enjoyed your experience and if there is anything else we can do to improve, please let us know. We'd love to hear from you.
Here's a guide and more information on how to use [product].
Subject Line: Thank you for your purchase. Here's how to get the most out of it!
9. When You're Asked to Circle Back Later
If your contact prefers to consider their options later, the best way to ensure you stay top of mind is by sending a well-crafted follow-up. A good approach is a brief but friendly introduction followed by specific information about your product or service.
Template:
Dear [name], thank you for taking the time to consider my request. As we discussed, I am happy to circle back at a later date. Please let me know when would be most convenient for you to reconnect on this topic.
Subject Line: Coming Back Around: Your Request
10. Following Up After a Networking Event
After attending a networking event, following up with the people you meet is essential. Send an email expressing your appreciation for the opportunity to meet and exchange ideas. It's also good to mention any specific topics or pain points you discussed at the event. 
Template:
I enjoyed meeting you at the networking event last night. It was great to hear about your work at [their company].
I wanted to reach out and see if you'd be interested in scheduling a further chat. I'd appreciate your insights on my business plan for [their company].
Email Subject: Connecting after [last night's event]
11. Right After a Voicemail
Following up right after leaving a voicemail can be a tricky balancing act. You don't want to appear impatient, but you don't want your message forgotten. When drafting your follow-up messages, keeping professionalism in mind while not being too pushy is important.
Template:
Hi [name], I left you a voicemail earlier this week and wanted to ensure you received it. I hope we can schedule a time to discuss the project further. Let me know what times next week work best for you, and we'll go from there.
Subject Line: Following Up on My Message From [Date]
12. Offering a Gift or Voucher
Sending gifts and vouchers via email is an increasingly popular way to reward customers for their loyalty. When crafting follow-up emails offering these items, striking the right tone of appreciation and enthusiasm is important. Start with a polite greeting, then quickly describe the type of voucher or gift you're offering. 
Template:
Dear [valued customer], [company name] is pleased to offer each of our loyal customers one voucher/gift to express our appreciation for your continued patronage. Thank you for being part of our community! Terms of Use: [details]. Thank You Again!
Subject Line: [Company Name] Appreciation Gift
13. Following Up After a Trigger
Following up after a trigger event is a great way to reach out to someone you've previously communicated with. In any new situation, such as the launch of a new product, a workshop announcement, or a new promotion, it's critical to send out a timely follow-up email. Writing this kind of communication requires honing in on what you are promoting and how your message will be delivered.
Template:
Hello [name], I hope all is well. I wanted to reach out because I noticed something new in [company's updates/newsletter] and thought our [product/service] might interest you. I'd love to chat with you over the phone. What do you think?
Email Subject: Have you seen this?
14. The Post Demo Follow Up
Following up with potential customers after a demo is essential to your sales process. It reinforces your pitch, celebrates the customer's successful trial, and establishes a timeline for an in-depth conversation. When writing this type of email, thank the recipient for their time and restate your product's key features or advantages. 
Template:
"Hi [name], Thank you for taking the time to demo our product! I wanted to reach out and see if you had any questions or needed more information. We'd be happy to create a proposal or address any concerns you may have.
Subject Line: Thanks for trying our [product/service]!
15. When You Don't Hear Back Regarding a Quote
Everyone hopes to hear back quickly after sending a potential customer a quote. But when days go by, and you haven't received a response, it's time to consider sending a follow-up email. It's important to avoid coming across as pushy. The template below can help you strike the right balance between being polite and direct.
Template:
We just wanted to check in regarding our previous email to see if you had any questions or feedback. We'd love the opportunity to work together and hope to hear back from you soon.
Email Subject: Checking In Regarding Previous Quote
16. When There's an Overdue Invoice
When an overdue invoice is causing a headache, sending a professional follow-up email is an effective way to remind the customer of their balance gently. Reiterate the amount due and provide a deadline by which full payment must be received.
Template:
This is a gentle reminder that our system still reflects an outstanding balance for invoice number [invoice number]. Per our original agreement, please ensure that the total amount of [balance] is paid by[deadline]. Thank you for your prompt attention to this matter.
Subject Line: Invoice Reminder: Balance Due on [invoice number].
17. When You're Awaiting a Status Update
Knowing when and how to follow up on an email is critical for getting the information or response you need. When waiting for a status update, you can use a follow-up email template to ensure everyone is on the same page. It can prevent missed opportunities and ensure you're up to date on situations that may have developed.
Template:
I'm just following up on my previous request/email sent on [date]. I'm still awaiting a response and would appreciate an update on this situation.
Email Subject: Follow Up: Status Update Requested
18. Follow Up Email Template for Cold Emails
When crafting a follow-up to a cold email, keep your tone formal yet friendly. Express appreciation for the recipient's time and start by restating your earlier message. It's also wise to add extra value to your offer and ensure your subject line reflects the email's purpose.

Template:
I just wanted to check in on my last email from [date]. Have you had a chance to look it over? I'm happy to answer any questions you have on [subject]. Thank you for your time."
Subject Line: "Following up on [topic.]
19. Following Up After an Interview
As a job candidate, your follow-up email should express gratitude for the interview and reaffirm your interest in the role. It should also reiterate the skills you bring to the table. When crafting a follow-up email to an interview, it's also helpful to mention questions or qualifications that may not have come up during the conversation.
Template:
Hi [name], Thank you so much for taking the time to meet with me today! I enjoyed learning more about [the company] and [the open position]. I am very excited about potentially joining your team.
I'm eager to hear back from you soon regarding the next steps. In the meantime, please let me know if I can provide any additional information. I look forward to hearing from you.
Email Subject: Following Up – Interview on [date]
20. When You're Making a Connection
Making a connection is the first step when building a relationship, and follow-ups can be incredibly effective at creating those connections. Sometimes, connections happen through a referral, which can be even more powerful than a warm lead. Below is a template for when you'd like to introduce someone in your network to another connection. 
Template:
Dear [name], I'm [your name], and I wanted to introduce you and [connection] with each other for [reason]. I think you could benefit from speaking with one another. Let me know if there's anything else I can do to help! Thank you.
Email Subject Line: "Can I introduce you to someone?"
21. When You've Been Ghosted (aka, the Break-Up Email)
Being ghosted after having a good conversation or engagement can be frustrating, and the best way to handle the situation is to write a follow-up message. This type of email should maintain a professional tone while recognizing that things didn't work out as planned. It might prompt the recipient to respond. Even if you don't hear back, you still leave the door open for future sales.
Template:
I understand that life can get hectic, and things don't always work out how we want them to. I enjoyed our conversation and wanted to thank you for taking the time to consider [your product or service]. I wish you all the best in your future endeavors."
Email Subject: "Thoughts After Our Conversation"
Tips for Writing a Follow-Up Email
The key to success in sales follow-up emails lies in understanding how to capture the recipient's attention and encourage them to act. Here are some tips for writing an effective follow-up email.
Pay Attention to the Subject Line
The email subject line is the first thing the recipient will see, so it's important to stand out and entice them to open your email. Here are some tips for writing a great subject line:
Keep it short and sweet: Keep your subject under 50 characters, so it fits within the preview window without getting cut off.
Be descriptive: Avoid generic phrases like "follow up" or "quick question" Instead, be descriptive about what you are following up on or why you're sending the email.
Include relevant keywords: Think about keywords your potential customer might use when searching for a product or service like yours.
Personalization Counts
Personalizing each follow-up email makes the recipient feel like they are being listened to and helps you build relationships. Use contacts' names if you can, refer to previous conversations, or send personalized offers or discounts relevant to their needs.
Always Strive to Deliver Value
When crafting a follow-up, always strive to deliver something of value. That could be helpful information, exclusive access, or answers to their questions. You'll stand out from the competition by delivering value in each message you send. Prospects will get more of what they want and need from your business. 
Keep it Quick
When following up with prospects, it's important to keep your message short and to the point. People receive many emails daily and don't have time to read through long notes; they want you to get to the point and explain why you're contacting them. Your email should be just a few sentences long, with no more than 250 words.
Make it Irresistible
When writing a follow-up, make it as compelling as possible. It should be difficult for the recipient to say no! The best way to do this is by offering something of value (e.g., a free trial period or exclusive offers). You could also include reviews and data showing how other customers have solved their pain points with your product or service.
Mistakes to Avoid When Writing a Follow-Up Email
Follow-up emails are often the key to turning a potential customer into an actual one. However, if you're not careful, you could end up with an email that makes you seem unprofessional or uninterested in the customer's business. To ensure your follow-ups land well and do the job they were intended for, here are some of the most common mistakes you should avoid:
Burying the Lead
When crafting a follow-up email, your intention must be clear from the get-go. A common mistake is placing the most important information at the end of your message. This makes it difficult for potential customers to understand why they've received your email. Instead, start by stating what you want them to do and how it will benefit them. 
Using Improper Spelling or Grammar
Spelling and grammar mistakes can leave a bad impression and reflect poorly on your brand. Correct spelling and grammar will ensure that your message is professional and organized. If possible, have someone else proofread your message before sending it. 
Overdoing It
It's important to remember that less is more when it comes to follow-up emails; if you overdo it with too many messages or a few more ideas than needed, people might be turned off from engaging with you further. But remember: just because someone hasn't responded yet doesn't mean they aren't interested. So, instead of bombarding your contact with multiple messages, give them space before sending another reminder or follow-up email. This shows that you value their time and respect their decision-making ability.  
FAQs: Follow-Up Email Templates
Below are a few frequently asked questions about follow-up emails.
How do you politely follow up on an email?
When following up on an email, it's best to be concise and add valuable content. This could include relevant information or updates that could be helpful to the recipient's decision-making process.
How do you follow up professionally?
Consider the time since the initial contact between you and the other person, and respect their schedule when reaching out. 
What You Need to Remember About Follow-Up Email Templates
Emailing allows you to establish relationships, and following up can help keep the conversation going. But knowing what to say in a follow-up email can be difficult. Using templates as a starting point can help ensure your emails are well-written, concise, and professional-looking. Compelling follow-up emails with interesting subject lines can enhance your sales process and help your team close more deals.