A conference is only successful if you've generated all the conference leads you need.
Conferences and conventions can be great opportunities to find more leads, set appointments for future relationships, and increase brand awareness.
However, generating conference leads involves more than meeting some conference attendees and exchanging a few business cards here and there. If you want to generate more qualified leads, you'll need to take additional steps.
In this article, we'll look at the best ways to generate conference leads. We'll give you a step-by-step guide on how to use various tools and techniques to meet the right decision-makers and generate the leads you need from any conference.
Let's get started.
Quick Links:
What Is Conference Lead Generation?
Conference lead generation refers to a business process involving identifying and familiarizing potential clients among the attendees of conferences and other events.
Conference lead generation starts with research into events where the company can find attendees who fit their user persona. Then the company can decide the best way to highlight its presence at the event, attracting potential leads and introducing them to the company and its products or services.
Conference lead generation allows attendees to find prospects and like-minded individuals to generate sales and foster collaboration with other companies.
How to Generate Leads from Conferences
Here are a few lead generation ideas on how to generate qualified leads from conferences:
B2B list building tools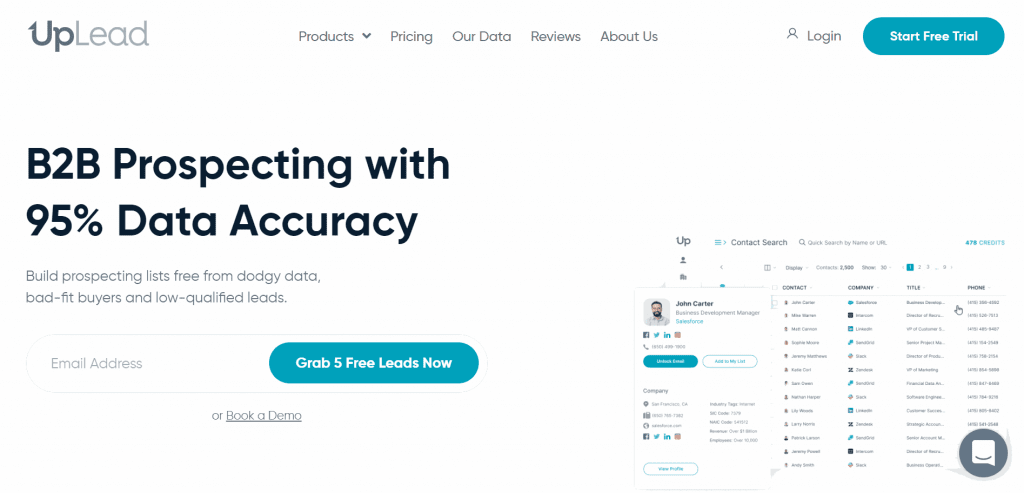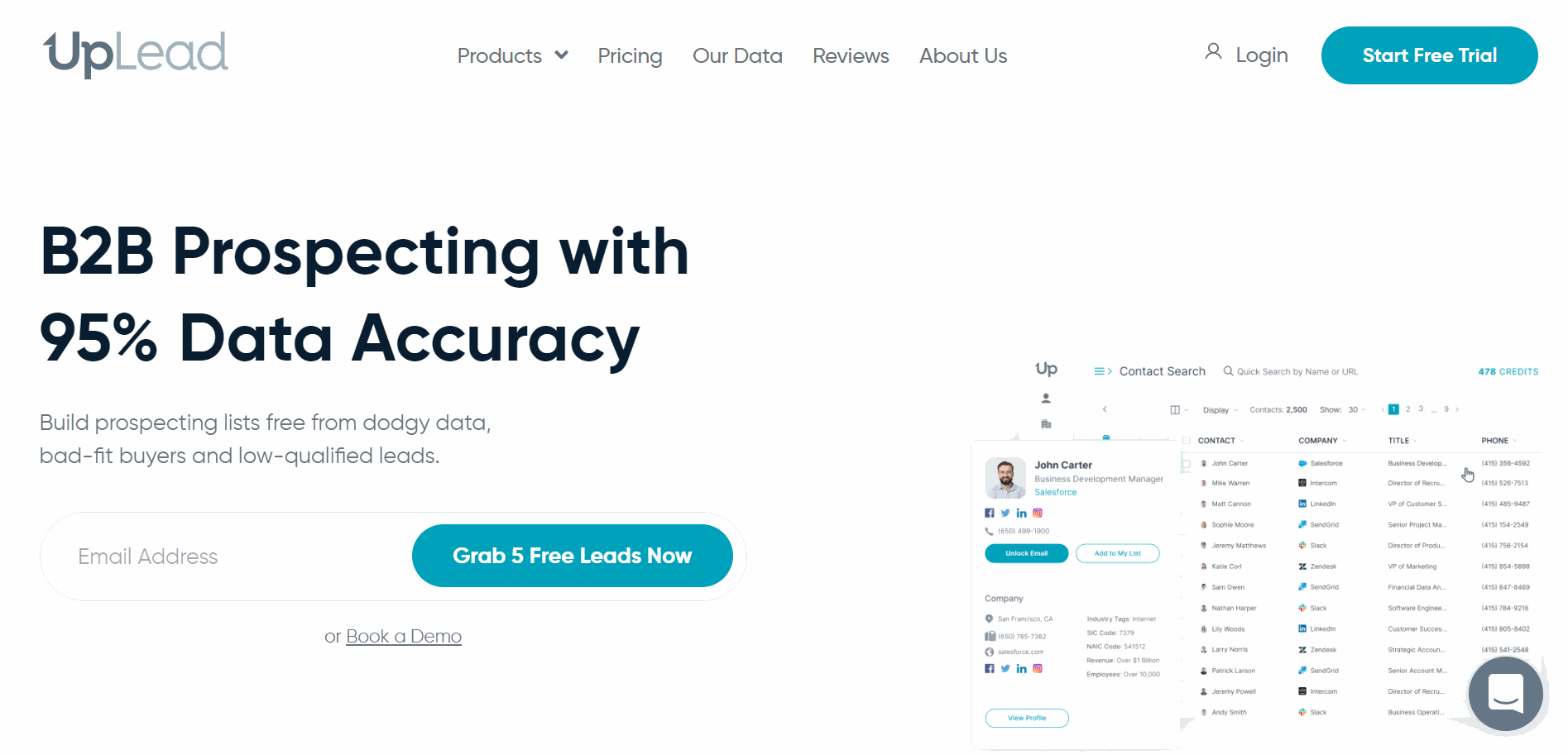 B2B list-building tools allow you to generate leads and expand the information on your current lead lists. With these tools, you can generate leads almost immediately, getting all the information you need about them.
Lead generation tools are made for more than just generating leads during a conference. You can also leverage these tools to research potential leads and tailor your approach to them. For starters, you'll need a good brand representation strategy. Make sure to use a professional logo maker such as Brandcrowd for an appealing logo and use the services of a specialist to help build your brand awareness successfully.
However, list-building tools are only as good as their lists' data quality.
That's why tools like UpLead offer you 95% data accuracy and access to a database of more than 108 million leads.
UpLead helps you with your conference leads by enhancing your data collection capabilities. With UpLead's Chrome extension, you can look up professional information while browsing attendees' LinkedIn or business websites. Then, while you're downloading your lead list, UpLead will verify email addresses in real-time to ensure deliverability.
You can also use UpLead during a conference to look up information about leads and contextualize your follow-ups.
Already have a list of conference leads? Instead of relying on your notes, use UpLead's data enrichment capabilities to add information like job positions, locations, and validated contact information. That way, you can get all the information from a lead, segment your list into the right groups, and engage them with the right campaigns.
And with UpLead, you don't even need to attend an event to get leads out of it. Instead of spending time and money attending individual events, you can search for upcoming conferences and find out who will attend them. You can use UpLead's capabilities to locate relevant decision-makers and target them directly without even meeting in person. This approach allows you to skip the lead generation wait and jump straight into selling to them.
If you're unfamiliar with B2B lead generation, now it's the time to learn.
Try UpLead today, and see if it's a good fit for you.
Start Your 7-Day Free UpLead Trial
Lead generation doesn't have to be all that painful. With UpLead, you can easily connect with high-quality prospects and leads to grow your company.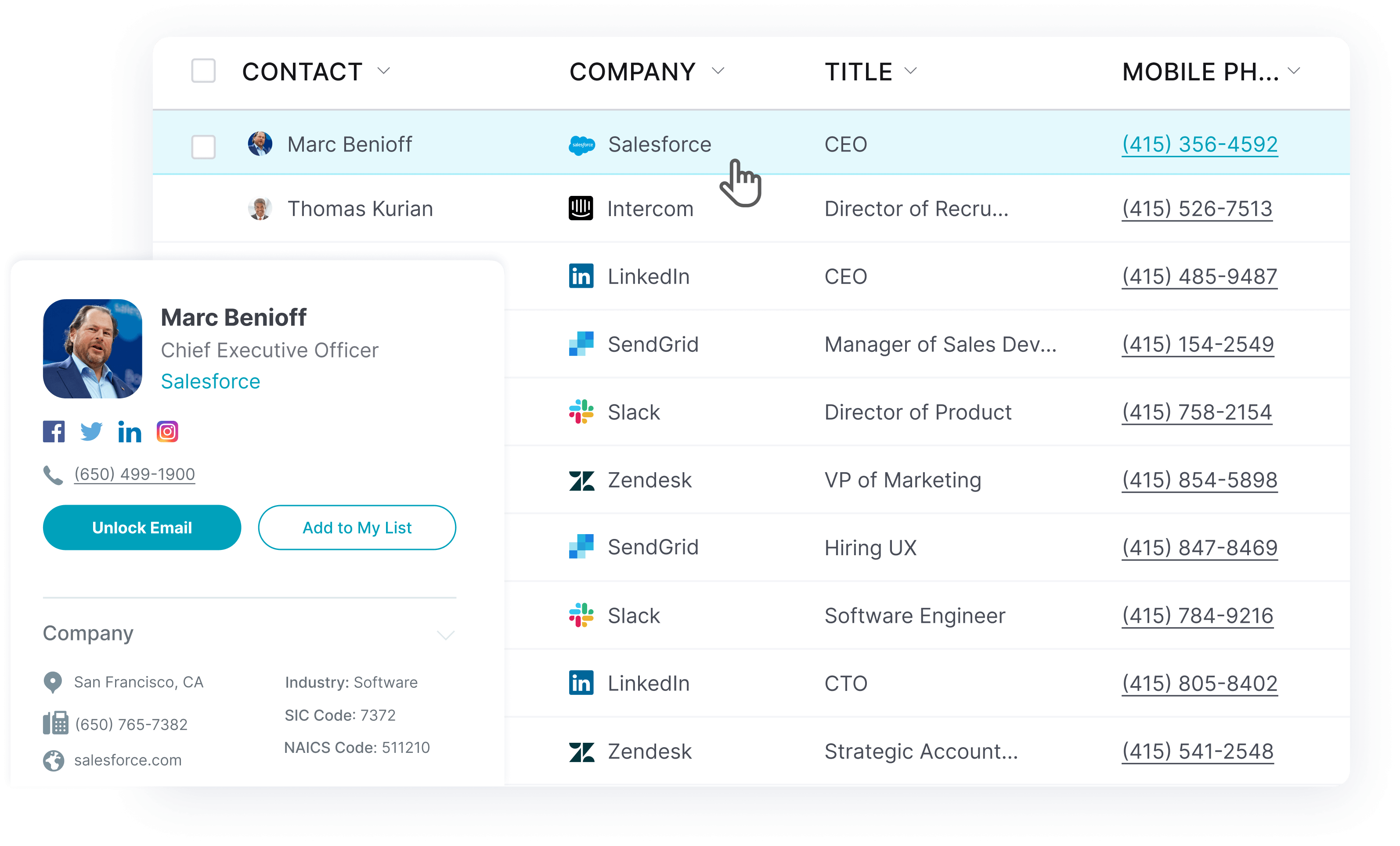 Sponsor the conference
Sponsoring a conference will guarantee all attendees learn about your company, although at a far higher cost.
Previously, you could only generate conference leads from large, in-person gatherings with equally high overhead costs. Now, online conferences offer new business opportunities for companies to sponsor an event with fewer attendees at far more accessible prices.
However, simply adding your logo to a banner will probably not generate the leads you need.
You can use online approaches to help attendees connect with you and leave their contact information. Use technology to collect contact data and qualify your leads, from Twitter hashtags to QR codes leading to a landing page. Then you can place each lead in the best part of your sales funnel to follow up accordingly.
Make sure you're using the right lead magnets for the conference and its attendees, and make it as simple and easy to interact with as possible.
Get a booth
Getting a booth at an event is the traditional way of ensuring most attendees can interact with your company.
The first thing you need to do is ensure you're getting a booth for the right kind of event. Identify conferences where your buyer persona can be found and where they'll actively seek solutions to the pain points you target.
Once you've identified the right event, you'll want to place your booth at the best spot. Placing your booth among booths from industry leaders can increase your visibility but may make a small company look too small. You can also place a booth close to food and drink concessions for more foot traffic, but those booths tend to sell first.
Once you have a booth, you'll need to design it properly. A simple desk and background typically won't get the best results. Instead, you should have interaction opportunities for potential attendees to learn about you and your company. Teach each sales development representative assigned to the booth ways to establish common ground with attendees, identify potential customers, and collect the right contact information.
After a successful event, you should have a list of hot leads to send to your sales team and place on other marketing strategies.
Schedule appointments upfront (and during the conference)
It's always a good idea to schedule appointments upfront. Having a full agenda can help you generate highly qualified leads and relationships needed for business development.
As we mentioned earlier, you can use a tool like UpLead's Chrome extension to expand on the information you find while looking online through the list of attendants. That way, you can contact them to set appointments in advance and have a conversation.
You can start a month in advance, contacting your lead list, asking whether they'll attend the conference, and booking appointments with the most promising leads.
However, you shouldn't spend all your time at the conference attending meetings. Set enough time to get to know companies outside your sphere, and make sure you have enough time allocated to conversations and relationship-building strategies.
You'll also want to schedule appointments during events to follow up with new promising leads while still getting the most out of the event.
Connect personally, and follow up immediately
It's surprising to see just how many conference leads are never followed up on. It can be easy to forget to follow up with the right leads at the right time, especially in the fast-paced hours or days of the event.
However, following up with the leads you generate during the conference is crucial to your success at the event.
To help you keep track of everyone, use the event marketing app to connect with other attendees. Then segment the list, separating high-quality leads from the rest.
If you have already talked to a lead about a specific pain point, you can send them a blog post or case study showing how your company can help them. Make sure to follow up with each of the most engaged leads personally and use email marketing to segment and engage the rest of the list.
Have a process to identify qualified leads
If you want to capitalize on an event, you'll want to make sure you can identify qualified leads and prioritize them.
Get started by informing your teammates attending the convention with you about your target user persona and how to identify them. Make a plan to follow up with them. You may want to redirect highly qualified leads to a VIP attendant from your company or the sales team.
You can also have premium freebies for VIPs and special offers prepared to get them started.
Everything Else You Need to Know About Conference Leads
Here are the answers to a few common questions about conference leads:
How do you get leads from conferences?
You can gain leads from conferences before they happen by searching for attendants who are important to your business development and setting up an appointment with them. You can also sponsor a conference or set up a booth to get a better chance at generating leads from event attendees.
You can also use list-building tools like UpLead to generate conference leads without attending it. Instead, you can view the attendee's list and use the tool to get their contact information and reach out.
How do you generate leads for virtual events?
The key to generating leads for virtual events is engagement. Since you can't exchange a business card, you must develop lead magnets to exchange contact data. You can use hashtags to locate other attendees and join the conversation during a virtual event.
Make sure to develop promotions, coupon codes, and other lead magnets to offer in exchange for contact information so you can follow up with your leads.
How do you set up a booth at a conference?
Start by selecting the right spot for the booth. Be aware of your booth's dimensions and the provided space. Locate any electricity points you need and learn about what the conference provides.
Design your booth around engagement. Attract prospects with product demos or videos about your company playing on a loop. Ensure you have enough teammates present, so they can have a chance to engage with all visitors while still allowing for time to focus on promising prospects.
Promote your booth in advance, and make sure you bring enough freebies and business cards to hand out.
Conclusion
Conferences and other events allow you to establish conversations with prospects, hear from your audience, and connect with other businesses. If you want to ensure you generate all the leads you need during an event, you must prepare in advance, get chances to meet new people and follow up after it.
However, you can't attend every event. If you want to save time, money, and effort, you can transform conferences into lead lists without leaving your office. Simply use UpLead to look up anyone attending the conference. Then you can generate their contact data and connect with them without spending money attending an event.
Try UpLead today, and see if it's a good fit for you.
Start Your 7-Day Free UpLead Trial
Lead generation doesn't have to be all that painful. With UpLead, you can easily connect with high-quality prospects and leads to grow your company.